Last Updated on April 22, 2023 by DMEditor
Back in 2015, Facebook introduced a business mobile Facebook advertising tool called Facebook Lead Ads. The goal for Facebook Lead Ads is to focus on mobile users because 98.3% of Facebook users access Facebook on their mobile devices.
When leads information is stored on Facebook, it can be downloaded manually in a CSV or XLS file within 90 days, therefore they recommend that you download your leads regularly.
Downloads are easy to do but time-consuming, and it is all about timing. It would be best if you reacted to customer interests at the moment it occurs, not hours or days later, because they may have moved on or have changed their mind.
This is where CRM comes into play. CRM is a Customer Relationship Management system that integrates with Facebook Lead Ads and automatically manages your leads for you. This allows you to hone in on customer interaction and to react faster to customers' interests.
So, which CRMS are the best for Facebook leads? Check out my top 7 CRMs for Facebook leads below.
TL;DR: These are my top picks at a glance…
Freshsales CRM (by Freshworks) – Best Overall & Lead Scoring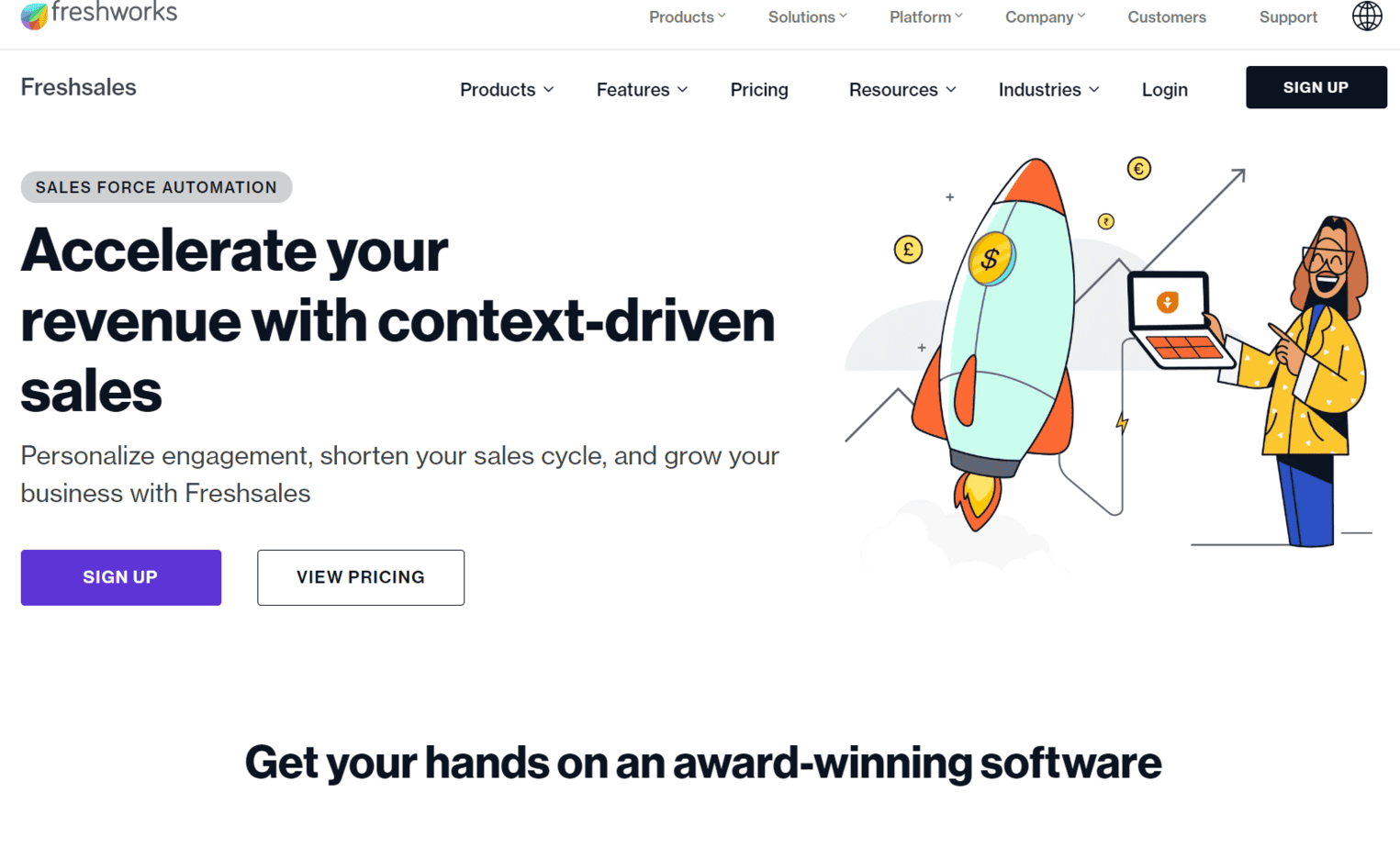 You can integrate Freshsales CRM with Facebook to get insights other CRMs can't give you. This is the case because Freshsales by Freshworks CRM offers a chat tool that links directly with Facebook Messenger so you can monitor engagement from Facebook.
You'll also have access to its AI-enhanced lead scoring so you can see how good the lead generation results you get from a Facebook ad truly are. This allows you to update task lists automatically so you can get the most out of your time.
Your sales and marketing team will have the information they need to see how teams are performing and where you should put more time, talent, and resources.
If you want to do mass customization for things like sales activities, modules, currency type, and language, then Freshworks CRM might be the best option for you. The ease of converting Lead Ads from Facebook to the Freshshales CRM is amazing, and you can get major insights for sales reporting.
There are a lot of ways to automate using this tool, which will make your life and your sales team's lives much easier.
Freshsales Pricing
Pricing for Freshsales CRM is as follows if paid annually and per user:
You can get a 21-day free trial of Freshsales CRM.
Freshsales Pros
Great customer support
Very simple interface
Quick setup
Easy to automate onboarding process for new leads
Freshsales Cons
Lacking visual composer for lead history board
Limited choices for font in email template
Data analysis for large databases is difficult
Not as many 3rd party integrations as some CRM options
Hubspot – Best Scalable Platform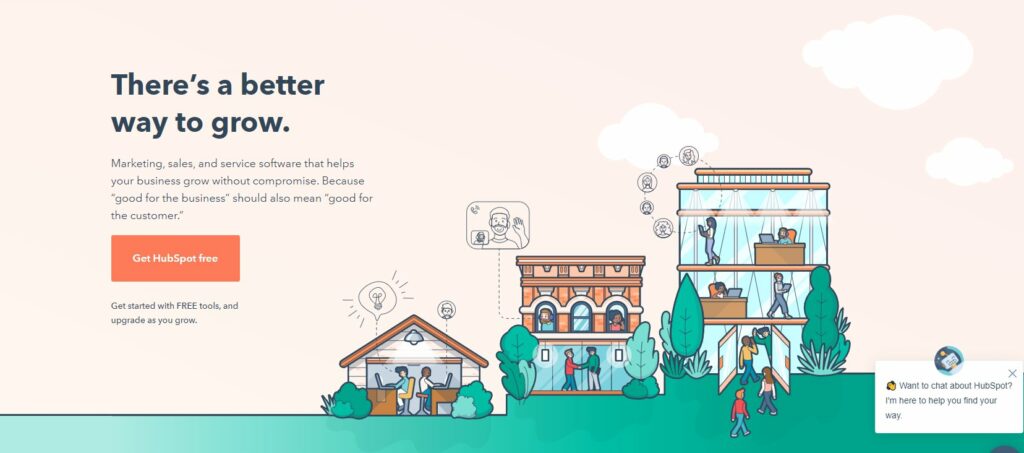 Another heavy hitter in this space is Hubspot. This inbound marketing software is designed to help marketers, and business owners attract visitors to their websites so they can convert them to leads.
HubSpot does a good job of helping you get the leads into the system so you can follow up and turn them into paying customers.
When you use Hubspot, you have lots of software for your marketing, sales, and customer service tasks.
You can easily track, organize, and build relationships with your lead generation and continue relationships with your customers, and if you're looking for app integrations – HubSpot is where it's at. You can integrate with over 200+ apps.
You can use HubSpot to send bulk emails for free, so you can nurture your leads by using personalized emails. You can personalize these emails using the information from Facebook Lead Ads.
The emails also look good on all devices since they are optimized for different devices, from desktops to mobile phones. The built-in analytics will show you emails, offers, pages, and traffic sources that are getting the best conversions for you.
You can easily integrate your Facebook Lead Ads campaign with HubSpot to automate the follow-up processes of users after they sign up. This makes it easy to send a welcome email right after opt-in.
You can sync your Facebook Leads Ads with HubSpot by using Leadsbridge.
Hubspot Pricing
Pricing for HubSpot is as follows if paid annually:
Pros
Social media scheduling made easy
Email marketing with easy templates
Landing pages and forms to track submissions
Well organized menu bar from contacts to marketing and reports
Cons
Expensive and possibly limiting due to the contact cap
Potentially confusing workflows in need of more explaining
Limited customer service availability
Not a lot of integration options
Agile CRM – Best Free CRM for Facebook Leads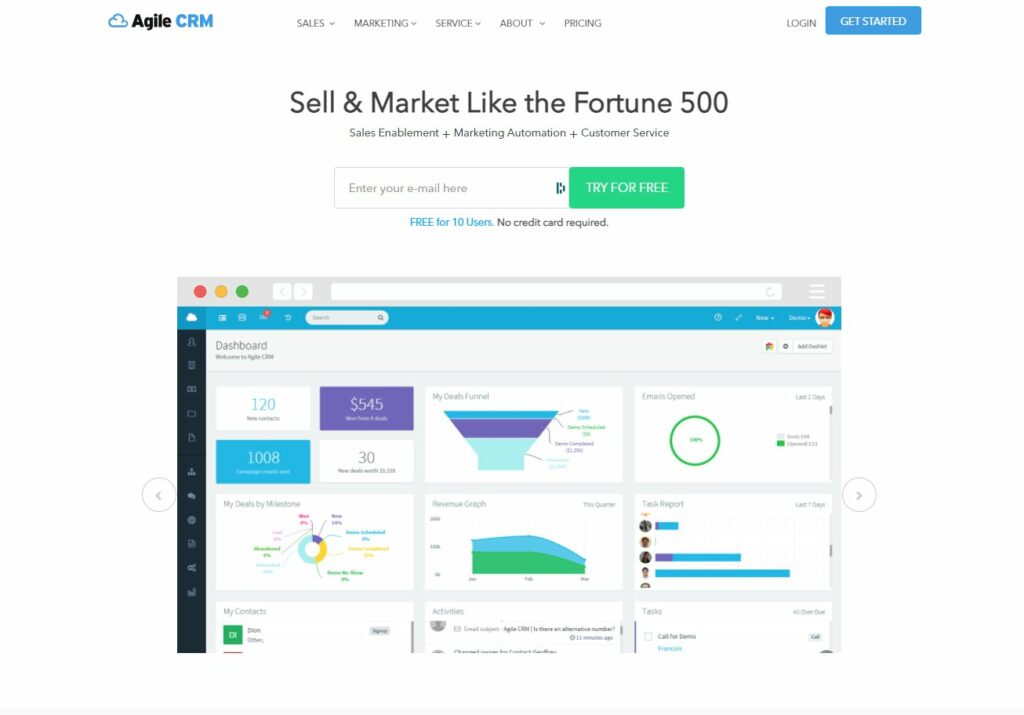 When you use Agile CRM, you'll be able to enhance the contact records with their social media profile. Having this information means you'll get a look into their interests before you ever make contact with them. That's not the only thing that makes Agile CRM my top pick, though.
You can easily automate your marketing by monitoring brand mentions, key influencers, and trends within your market.
The mobile capabilities of Agile CRM are strong, and you are able to quickly generate lead data so you can get in touch with your leads quickly.
Being able to act quickly is important when you're trying to make a sale, and Agile CRM allows you to do this. You'll have access to features for social media reputation management so you can keep your business attractive for potential clients.
Agile CRM even makes most of the features you use with Facebook Business available through their free CRM plan.
You can sync Agile CRM software with multiple popular payment processing applications, including:
Stripe
FreshBooks
Braintree
Xero
You don't even have to have the highest subscription level to be able to access these CRM features.
Agile CRM gives you the ability to customize data fields, deal tracking, and sales pipelines so your potential customers don't get lost in the shuffle.
In fact, this all-in-one CRM allows you to automate sales, marketing, and service all in one platform. You don't have to worry about customer data leaks, and your messaging can stay consistent.
Agile CRM Software Pricing
Multiple price points make it easy to get a good CRM without breaking the bank.
Pricing is as follows if paid annually:
If you have anywhere under 1,000 contacts, you can use the service for free as long as you don't want to use some of their more advanced features like automated voicemails and custom deal tracks.
Agile CRM Pros
Reasonable pricing for a great service
Easy setup and Facebook CRM integration
Fast & efficient tech support
Great user interface
Agile CRM Cons
Out of date help section
Challenges importing contacts
Email limit depends on the package you purchase
Customer support only available during standard business hours
monday.com CRM – Best CRM for Lead Workflow Visibility
If you need to get a high-level overview of lead generation flow from Facebook and across your sales function, monday.com provides the best visibility for lead generation and lead management.
monday.com got it's start in the project management arena, but has since expanded to all core work functions, including CRM & Sales management. This gives it some unique advantages over the rest of it's peers.
With the PM context, it focuses team members on satisfying accomplishment, while providing an incredibly intuitive birds eye view for managers and decision makers within the broader organization.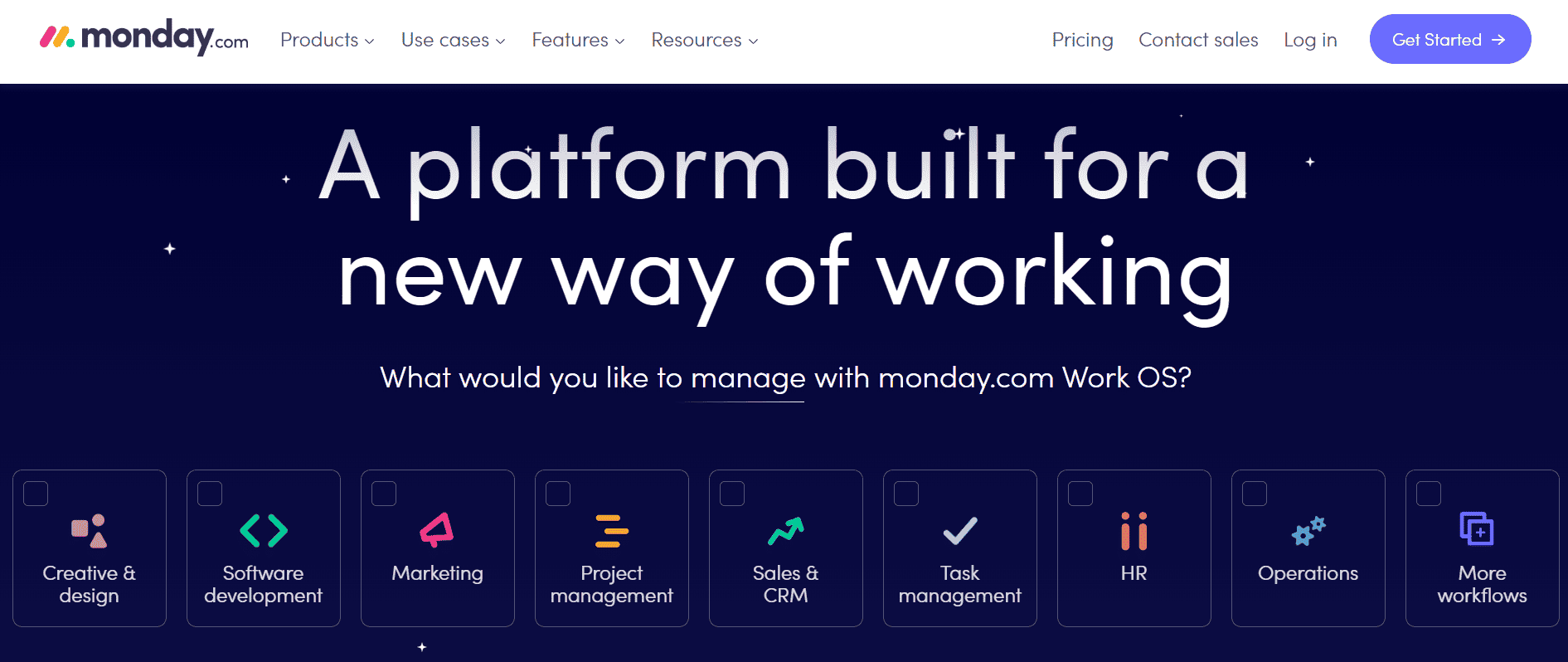 monday.com Pros
Ease of Use: Put simply, monday.com was designed to make getting things done, interesting and fun. The gamification isn't over the top, but it really does feel different and more enjoyable than most dry CRMs.
Workplace Collaboration: It's much easier to collaborate across teams with monday.com, likely due to it's origins as a project management tool. Easily tag people who need to be involved or schedule automated workflows that only involve specific team members at certain points.
Project Management: I find monday.com to provide much better visibility of where sales processes stand from a bird's eye view. Again, imagine a CRM built out of project management principles.
Simple Recipe Formula: monday.com's "recipes" allow for simple data pipes between Facebook Business and monday.com workflows.
Integrations: monday.com easily integrates (natively or via Zapier) with 100s of third-party apps and software.
monday.com Cons
Pricing: Often more expensive per user than some of the other options mentioned in this list (still cheaper than a Salesforce, though). You can check this page where I track the latest promos and deals.
New to the CRM Game: While I love many of the project management elements, monday.com's CRM feels rather different than the other options on this list. This can be a good thing, but might not be what you are looking for.
How Does monday.com Compare to the Competition?
Salesforce CRM – Best CRM for Large Enterprise Facebook Leads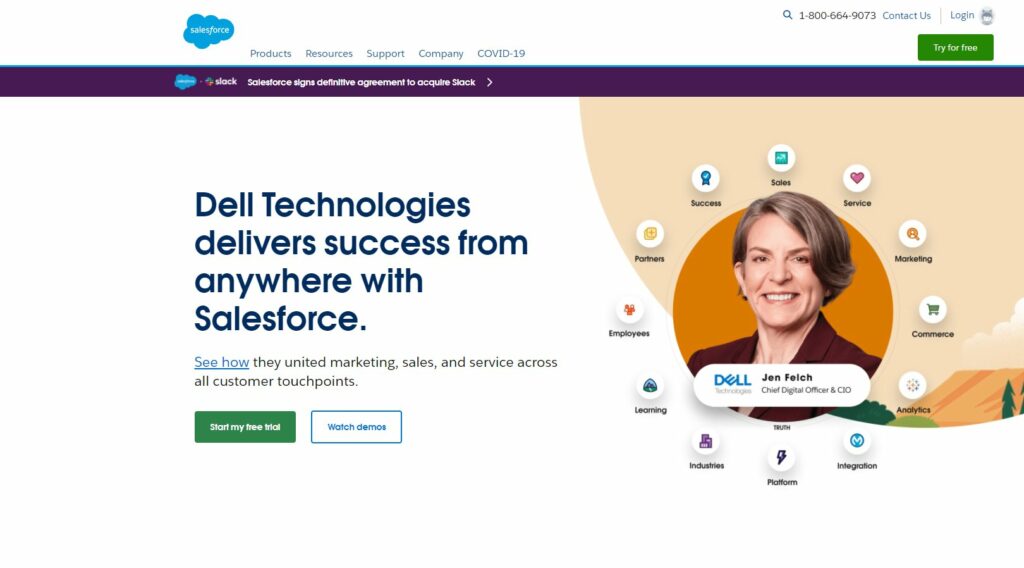 Salesforce is a well-known name for a good reason and is one of the most often used CRMs for Facebook Lead Ads integration. It can help businesses of all sizes connect with their employees, customers, and partners.
This integrated CRM can help you do everything from marketing, sales, commerce, and service. Right now, about 150,000 businesses rely on Salesforce.
Salesforce is a trustworthy option since they've been around for 20 years. If you ask most people in sales and marketing if they've heard of Salesforce, it would be an easy yes.
You can use Leadsbridge so you can integrate your Facebook Lead Ads with Salesforce, so you don't have to use coding to do so. That makes it much easier to segment, manage and sync your CRM with Facebook and integrate your Facebook custom audience and Facebook Online conversions.
You can get a free trial of Salesforce without putting your credit card in and see if it's the right solution for you. You also don't have to download any software to get started.
Salesforce CRM Pricing
Pricing for Salesforce is as follows if paid annually:
You can get a free trial of all the lower plans, but you'll need to contact the company to get set up with the Pardot Growth level.
Salesforce CRM Pros
Customer engagement tools
Visual workflow
Efficient task management
Reliable analytics
Social media integration (social CRM)
Industry leading third-party app integrations
Salesforce CRM Cons
Expensive
Necessary to pay for add-ons to get more out of the software
Unnecessarily cluttered interface
A learning curve that never ends
Less than stellar customer support
How Does Salesforce Compare to the Competition?
Zoho CRM – Best CRM for Facebook Data Synchronization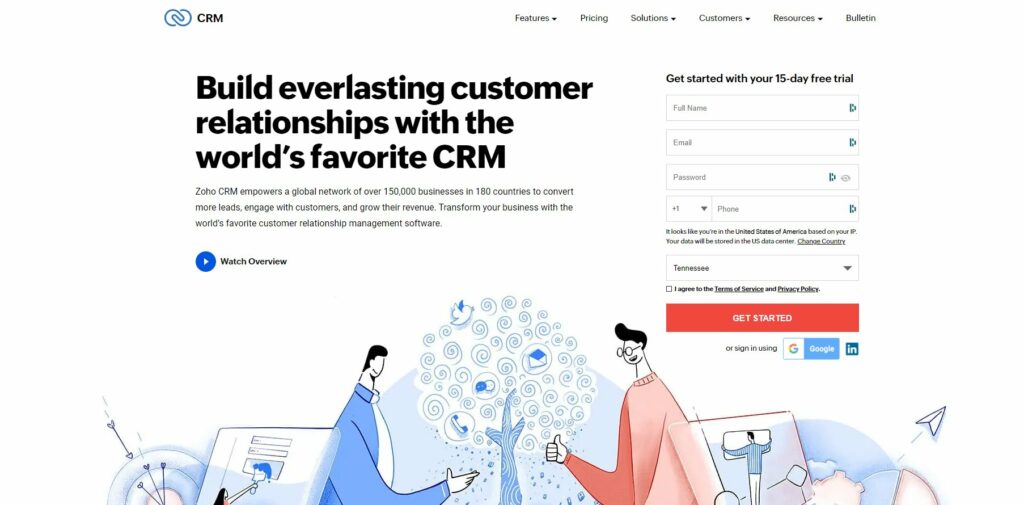 When you use Zoho CRM, its CRM integration features allow you to communicate with leads while monitoring their social activity through the platform. You're able to use tools to manage your Facebook ads as well, which is unique.
Another thing that is unique about Zoho CRM is that the free plan is really good and has many things you need to be effective—but keep in mind that the plan has a three-user limit.
Zoho is proud of its Facebook Ads management capabilities—and rightfully so. This feature makes it easy for you to see what's working and change what's not without extra steps. The sales automation features (marketing automation) within the CRM tool also work with the Facebook integration, and the dashboard allows you to see all social media activity in one place.
You can talk with customers in the ways that work best for you. The options are email, phone, live chat, self-service, social media, and web conferencing. Another helpful tool is being able to see real-time sales reports.
Zoho Pricing
Pricing for Zoho CRM is as follows if paid annually per user:
All plans come with a 15-day free trial except for the ultimate plan. With the ultimate plan, you get a 30-day free trial.
Pros
Data synchronization that makes it easy to see up to date information
Easy to gather feedback, so you provide better service and products
Simple to have live chats with your customers
Highly user-friendly interface
Cons
Less than great customer service
Difficult learning curve
Some features not available in other languages
Social integration is a little lacking
How Does Zoho CRM Compare to Others?
Zendesk Sell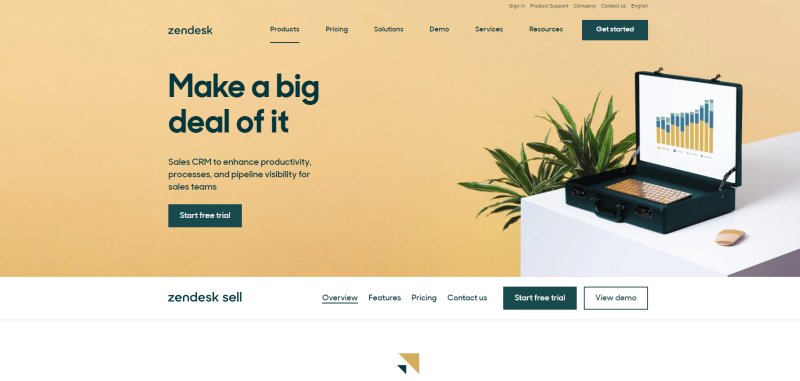 If you use Zendesk Sell, the Facebook integration is limited to lead capture tools. After seeing some of the other options above, this might seem like a major downgrade.
While this might be true, your business might find it useful since Zendesk Sell is one of the few CRMs that are HIPAA compliant and HITECH regulation compliant. If you work in the medical profession, this might be the perfect CRM solution for you.
The automatic new lead capture features from Facebook integration that Zendesk Sell has will make your life easier. Mix that with HIPAA and HITECH compliance, and this is an attractive CRM for health workers.
You may also find the automatic standard reply feature helpful for common questions customers ask. The preprogrammed CRM ticket generation through the Facebook messaging system will make it easy for you to help potential customers with any problems.
Pricing
Pricing for Zendesk Sell is as follows if paid annually and per user:
Sell Team – $19
Sell Professional – $49
Sell Enterprise (great for marketing agencies) – $99
All plans allow you to get a free trial to check them out, or you can just buy right away.
Pros
Inexpensive to get started
User-friendly design
Ability to design your own categories throughout the sales process
Easy to contact customers
Cons
Not able to view previous conversations with a client
Issues with using the goals feature
No section to track activities that happened
Not easy to export data
Honorable Mentions & Runner Up's
These didn't quite make my list as go-to Facebook lead CRM's, but are on my radar to watch:
FAQ about The Best CRMs for Facebook Leads
Question: How do I connect Facebook Leads to a CRM?
Answer: Depending on the CRM you're using, there will be a different way to connect, so make sure to look up their specific instructions. Make sure the CRM you choose will connect with Facebook Leads.
Question: Does Facebook have a CRM?
Answer: You need to connect a CRM to Facebook to manage large numbers of potential clients and current customers effectively.
Question: How can I change my CRM on Facebook?
Answer: In the business integrations section, select the active tab to find the CRM system you wish to remove and then click Remove. Once it's gone, you can replace it with the CRM you want.