Last Updated on April 22, 2023 by Ewen Finser
In case you haven't heard, customer reviews are having a bit of a moment – and for good reasons. Knowledge is power, and the insights garnered from authentic customer reviews are no exception. This data source is immensely useful for both businesses and consumers alike.
For the consumer, positive feedback from genuine buyers can provide the confidence they need to purchase. In fact, customer reviews are such a big deal that many consumers won't consider purchasing without them.
Stats suggest that as many as 72% of shoppers wait to read reviews before buying a product. Another survey similarly suggests that a whopping 93% of customers rely on reviews to determine a business's quality.
On the flip side, customer reviews offer companies a practical perspective into what they're doing well, and more importantly, what they need to do to improve.
All that to say, if you're not already, it's time to start making customer reviews work for your business. Studies show consumers are more likely to respond positively to photo reviews posted by other customers. To put it bluntly, if you're not collecting photo reviews, you're sleeping on a pile of untapped potential.
Thankfully, you have the power to invest in software that can make this process more straightforward (and easier on the eye). One such option is Loox. In light of that, we're going to take a look at everything this platform has to offer.
There are lots to cover, so let's dive straight in!
What's Loox?
Loox is a product review software built exclusively for Shopify. It allows brands of all sizes to collect customer reviews and display them online. Loox provides a fool-proof way of assembling user-generated content that search engines love while simultaneously boosting customer trust in your brand.
Although you can use Loox for any Shopify store if you're selling clothes, you might want to pay particularly close attention. Customers can leave photo reviews that showcase them wearing your apparel.
They can also provide their height, weight, and size so that other potential customers can benefit from their detailed and reliable feedback.
Loox also makes it simple to import reviews from other web sources, which is great if you're selling products on other sites like Amazon and AliExpress.
Loox's Key Features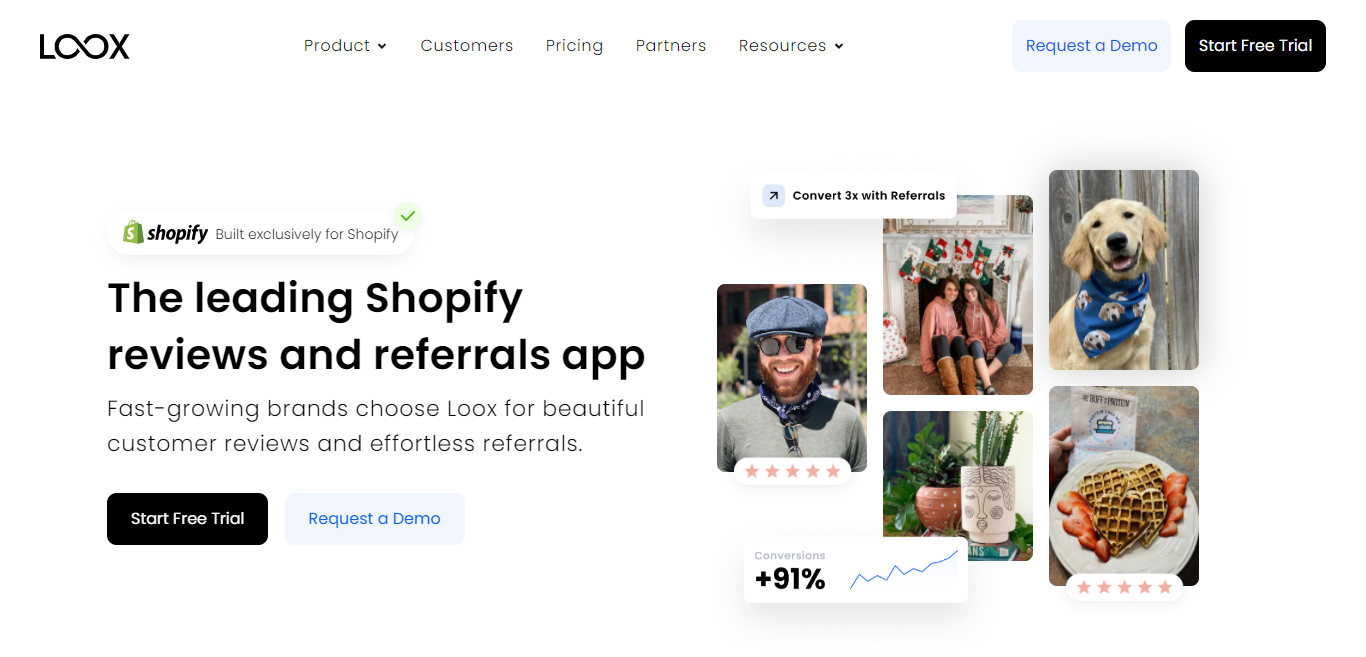 In addition to sporting an easy-to-navigate interface, Loox also comes with a whole host of other features to help boost your brand image and make more sales.
It's easy to install
Loox boasts a one-click install. Just head to the Loox apps store page, click "get," and you're ready to go. This is one of several reasons why Loox is an excellent app for anyone who doesn't consider themselves 'tech-savvy.'
Loox works with any theme
Loox is optimized to work with any Shopify theme (on web and mobile), so rest assured, it will look great no matter what devices your website visitors view it from.
You can import reviews
If you're selling products on other sites and online marketplaces, you can import reviews to Shopify with just a click.
Your emails are fully branded
You can customize your outgoing Loox emails by changing the text and background colors. You can also add your brand's logo.
Email review reminders
Loox automatically sends review requests to customers, prompting them to provide their feedback. Reminders are sent out seven days after the first review request email (if the customer didn't review the product).
This gives the consumer plenty of time to use the product in question before they're asked to leave a review.
You can moderate reviews
You have the power to control which reviews appear on your site. However, you can't edit individual comments.
Inline SEO
Loox's widgets allow Google to crawl through your reviews which helps boost your page's SEO. The content of each review is also searchable on Google.
Loox is social media friendly
You can share customer reviews on your social media channels. This works wonders for spreading the word about your business and driving traffic to your store.
Access to a ratings widget
This shows customers star-based ratings for specific products. This widget usually appears at the bottom of your product pages.
Language support
Loox is available in eight different languages, including English, German, Italian, Dutch, Turkish, Spanish, French, and Portuguese. As a result, your store is made more accessible to international consumers, allowing you to build a more global customer base.
Upsell/cross-sell
Show off multiple products on each web page, and integrate product suggestions into review request emails.
Offer reviewers discounts
This isn't something you have to do, but it's a great incentive if you're looking to increase the number of customer reviews you're receiving. If this strategy is of interest, Loox enables you to issue customers unique discount codes after they've added a photo to their review.
Excellent customer support
Loox has a knowledgeable and responsive customer support team that you can reach via email.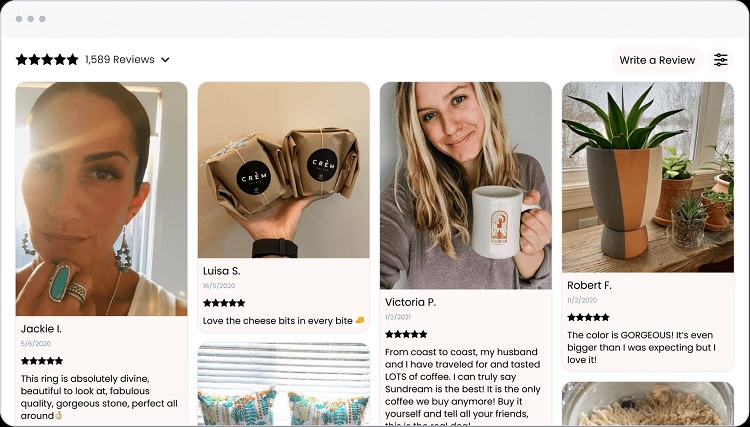 How Much Does Loox Cost?
Loox comes packed with a range of great features, so you probably won't be surprised to learn it's not free. However, they offer a range of pricing packages, so hopefully, you should find a plan that suits your budget.
They offer dynamic pricing, meaning you don't have to pay extra if you're only sending a limited amount of review requests per month. I.e., you're charged loosely based on what you use:
Loox Basic (100 review requests per month) –

$9.99 per month. You can also review request emails, offer discounts for customers leaving photo reviews, and get access to the basic AliExpress importer.

Loox Advanced (500 review requests per month) –

$29.99 per month. You get everything in the Basic plan, as well as all of Loox's widgets, advanced customization, powerful integrations, and access to the full AliExpress importer.

Loox Pro (1,500 review requests per month) –

$59.99 per month. You get everything in the previous plans, plus full customization, Google Shopping, a Facebook tab, and the removal of Loox's branding.

Enterprise (10,000 review requests per month)

$99.99 per month. You get everything above, plus: unlimited referrals, a dedicated customer success manager, an onboarding call, and priority support
Loox also offers a free 14-day trial for testing the software before committing your hard-earned cash. Alternatively, you can request a demo.
Loox: The Pros and Cons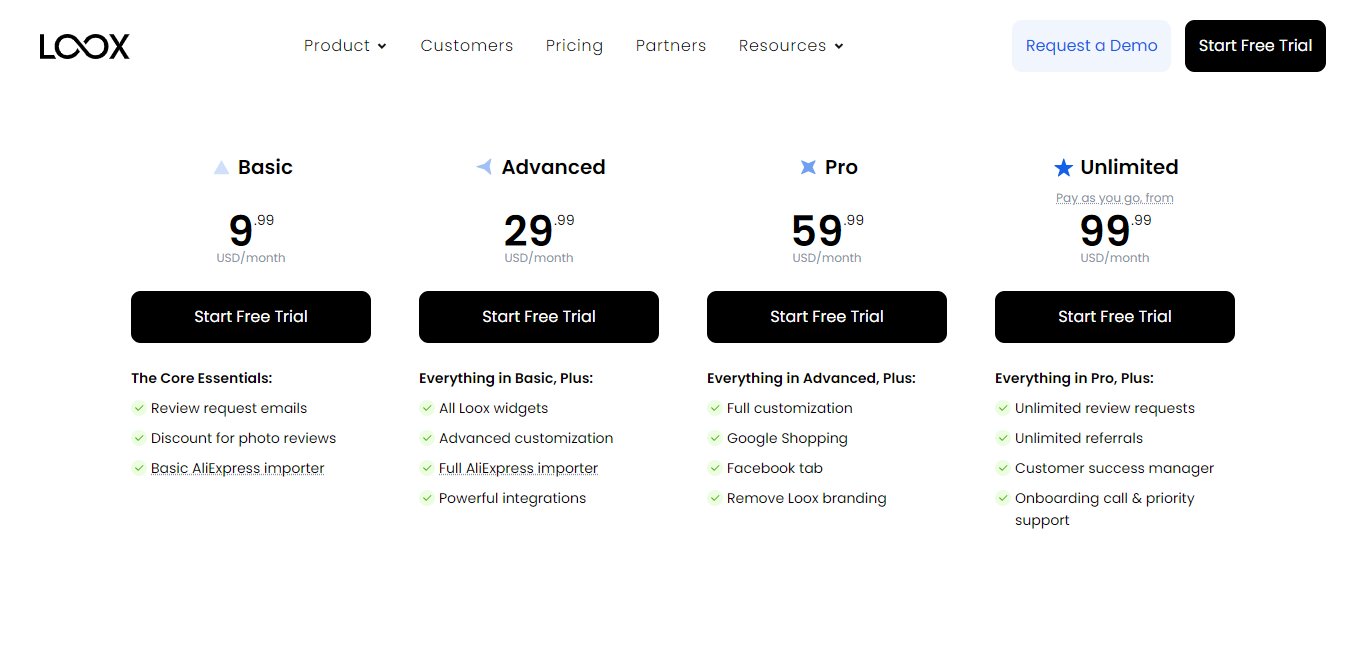 Like most things in life, Loox doesn't come without its pros and cons. These may vary depending on the needs of your business, but let's take a look at the most common ones below.
Pros
It's simple:

Loox is easier to set up and use than some of its competitors. Getting started should only take a few minutes.

It doesn't slow down your website:

Loox is specifically designed to be speedy, so you won't have to worry about it slowing down your site and making things frustrating for your visitors.

Compatible with almost all Shopify themes:

You won't have to compromise your website's appearance to cater to Loox. Loox should work with whatever Shopify theme you're already using.

It's easy to import reviews:

Importing reviews from Aliexpress and Amazon is simple. This isn't a feature that many other competitors offer.
Cons
It's expensive:

Loox paid plans start at $9.99 a month and go up to $99.99 a month. Although the more costly plans include some great features, you may find more affordable alternatives by taking the time to comb through the market carefully.

You can't edit reviews:

Although this prevents businesses from editing reviews so that they look more favorable, you can't edit the wording or grammar mistakes in your feedback. This can make your site look a tad unprofessional.

Its appearance is distinctive:

Even if you decide to customize Loox's appearance, it still has a pretty distinctive look. Some scam websites have used Loox in the past, and if your consumers are aware, it may instill a lack of trust. Our advice: make sure you've built up your reputation as a reputable brand to avoid any potential backlash.

No video reviews:

Your customers can't upload video reviews with Loox. Other competitors offer video reviews as part of their package, so you might want to consider other alternatives if this is important to you.
What About Loox Alternatives?
Loox has many competitors on the market, so if you're not convinced they're the right choice for you, there are plenty of alternatives to consider:
Yotpo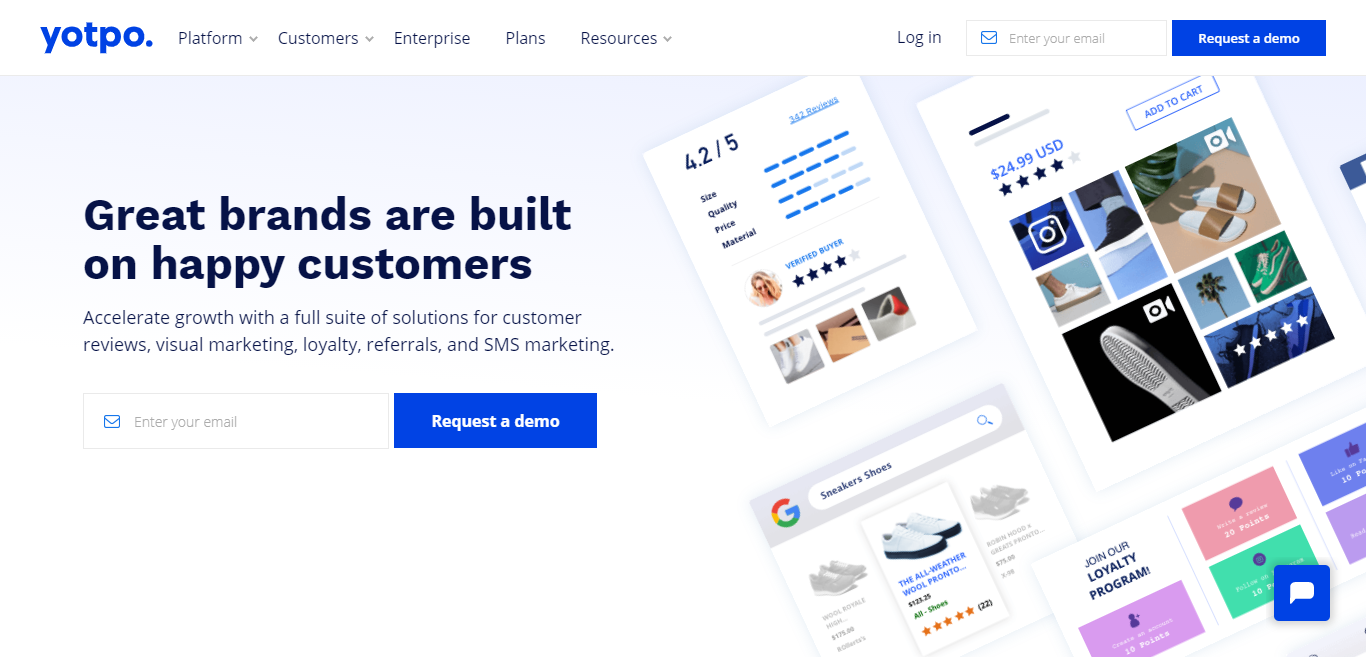 Like Loox, Yotpo is an official Shopify partner and a user-generated marketing platform. Yotpo uses data science to generate up to nine times more customer reviews than any other content solution. It also allows users to submit photos and videos along with their reviews.
By default, each customer can submit up to three photos or ten videos per review. If you wish to collect more than three photos per review, you can contact Yotpo directly.
Yotpo also comes with marketing, analytics, social, SEO, and retention features. Their strategic partnership with Google and Facebook makes it easier for their ratings and reviews widget to include star ratings in Product Listing Ads and Google Adwords.
They also use Smart Social Sharing, which automatically posts reviews and other content directly to your business's Facebook page.
Yotpo offers both free and premium plans that cater to the size and needs of your business. Their free program includes basic content generation and moderation, on-site widgets, customization, analytics, and security. Their paid plans extra features and start from around $19 per month.
Product Review – Photo Reviews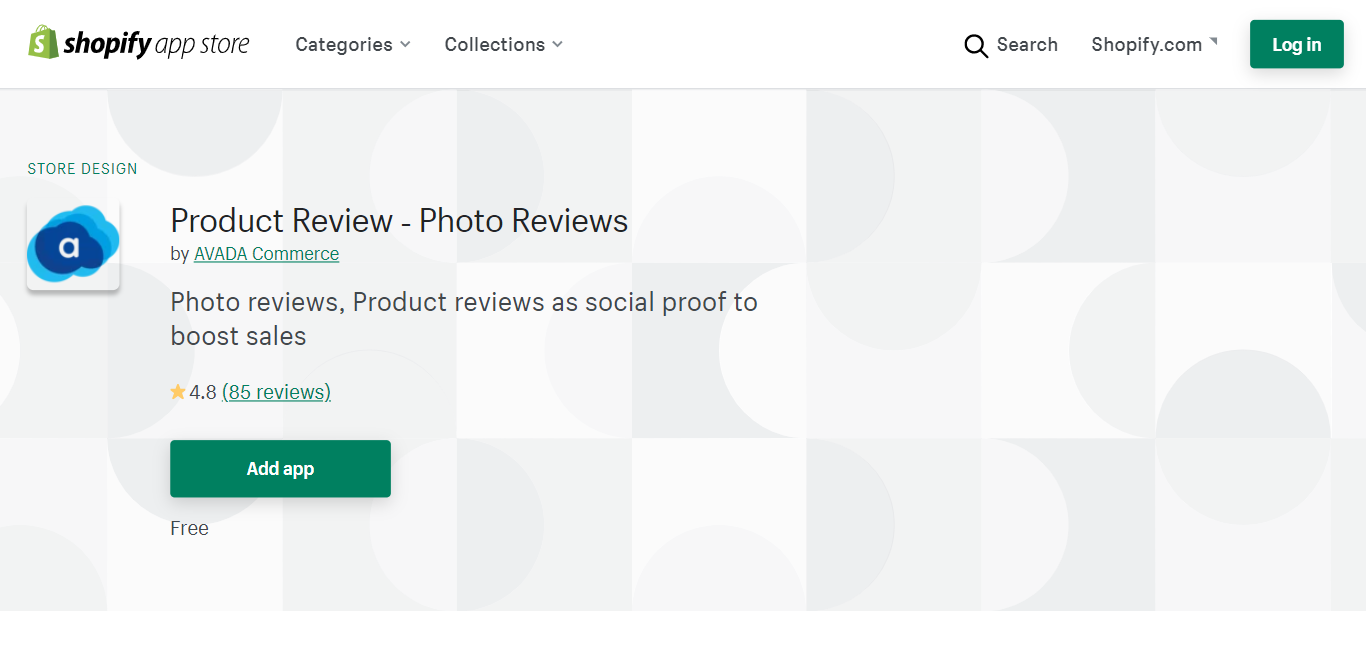 If you're looking to try a free review app, this is one to consider. The Product Review – Photo Reviews app provides features to help you boost conversions, automatically collect reviews, and customize the store's design easily.
The app, created by AVADA Commerce, is available to download from the Shopify app store for free. It comes with a range of features, including review reminders (with specific photo review reminders sent to customers who left a review without a picture) and advanced reports.
These tell you the total number of emails sent, opened, and reviews written. It also features social share, allowing customers to publish their reviews on social channels, helping you improve brand awareness and increase sales. The app is also completely responsive, meaning it's compatible on all devices, including desktop, mobile, and tablets.
PowerReviews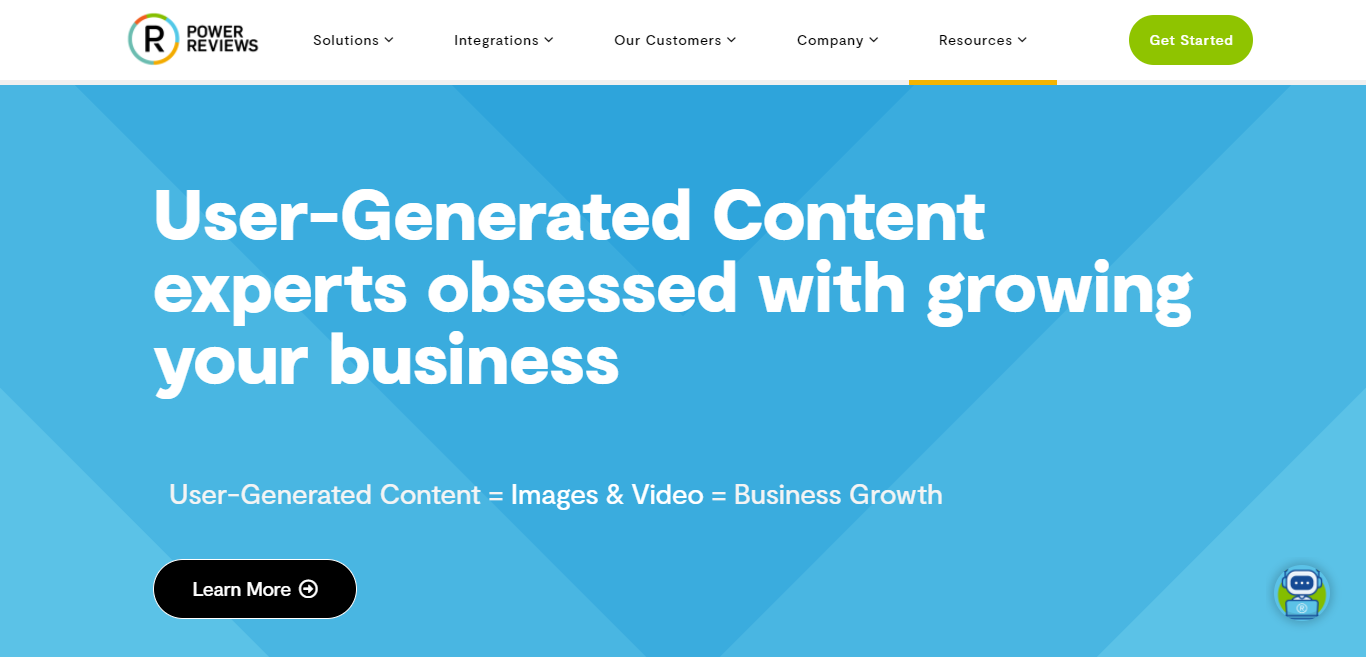 PowerReviews is a feedback and review management suite that promises to drive conversions and sales and collect better ratings and reviews for your business.
The app allows you to manage and automate ratings, reviews, and question-and-answer processes while considering your Google ranking, SEO, customer engagement, and moderation.
PowerReviews goes beyond just a simple review service by assessing customer ratings and creating comparisons with similar reviews to detect trends.
Like its competitors, the app also creates follow-up emails to send to your customers. Automated responses mean you can keep on top of your messages and maintain quick response speeds, increasing customer satisfaction and increasing the likelihood of sales.
PowerReviews also enable consumers to upload content natively, directly from their camera roll rather than through Youtube or other third-party sites. This makes the process as easy as possible, meaning consumers are more likely to leave reviews.
Unfortunately, PowerReviews doesn't offer a free trial or a free plan, and you'll have to contact them directly for more info about their payment plans.
Bazaarvoice Connections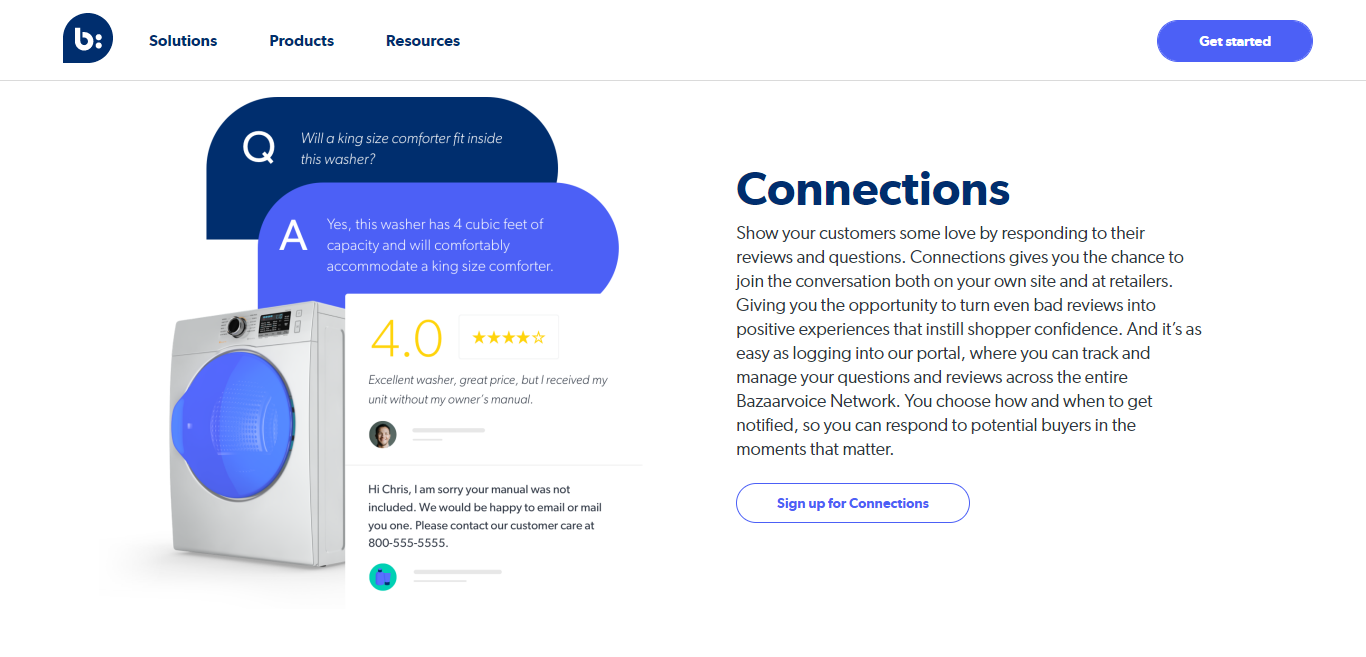 You can use Bazaarvoice connections to communicate directly with consumers about your products. According to their website, when customers interact with the online Q&A retailers who use Bazaarvoice, conversion lifts by around 98%.
Like other competitors, this software allows customers to upload photo reviews. At the same time, you can collect factual data using their own ratings and reviewing features. Their system aims to improve sales by providing automated answers to customer feedback, helping to protect your company's credibility.
Their review highlights feature helps shoppers find what they're looking for with ease. Reviews are separated into pros and cons, which generates an average conversion rate of 3.6% and an increase in engagement by 11.9%.
Bazaarvoice connections offer a free trial and two payment packages consisting of free and premium plans. Their free program (connections basics) enables you to reply to shopper questions and view up to 25 customer reviews from all other retailers in their network.
Once you sign up for a free basic account, you're eligible to upgrade to the premium version. Premium options start at $35 per month and provide additional features like Premium Network Insights, UGC performance tracking, and competitor insights.
FAQs
Before we wrap up this Loox review, we'll attempt to answer some of the most frequently asked questions we hear about Loox:
Question: Can I Customize my Review Request Emails?
Answer: Yes. You can upload logos, edit your subject line, and customize the email's appearance by changing its background and font colors. This can all be done through the Loox "settings" option.
Question: Can I Send Emails to Customers in Their Native Language?
Answer: Yes, you can. Loox is compatible with eight other languages. Loox automatically recognizes the language customers saw during their checkout process, which becomes the default for their emails.
Question: Can I Integrate my Google Analytics account?
Answer: Yes. Loox automatically feeds data about your consumer interactions into your Google Analytics account. To find this data, head to the "events" menu of your Google Analytics account.
Make sure you've got your tracking ID from the Shopify dashboard and copy this into the Google Analytics box. Once you hit "save," Google Analytics will start to collate data.
Question: Can Loox Protect my Reviews from Review Theft?
Answer: Yes. Reviews are added via a URL embedded on the page. Loox can identify the Shopify account linked to the reviews and ensure they correspond with each other. If reviews are found to be stolen, Loox will block them from appearing on the offending merchants' page.
Question: How does Loox Impact my SEO?
Answer: Loox offers built-in SEO solutions and services; you can choose to use them when installing their software. They also provide an integration with Google shopping. Loox implements a specific code in your product pages, increasing your exposure and rankings in Google and other search engines.
Loox: Our Final Thoughts
When you're browsing a saturated market for product review software, it's easy to get overwhelmed. You'll come across hundreds of competitors; most will offer similar tools, but some stand out above the rest.
It's essential to keep in mind your goals: what are you hoping to achieve? Do you want improved analytics? Do you want to build your reputation as a trustworthy brand? Do you want to improve your brand's reach? Or maybe you need software that can condense all the jargon down into bite-sized chunks?
If you're looking for simplicity, Loox is unmatched. However, suppose your budget is a little tighter. In that case, you might want to consider a cheaper competitor.
Ultimately, whatever software you choose will depend on your business's size, budget, and individual needs – these points should be at the forefront of any decision you make. Let us know how you get on in the comments box below; we'd love to hear from you!