Last Updated on April 22, 2023 by Ewen Finser
In this comparison of Infusionsoft vs HubSpot, we will be taking an in-depth look at exactly what marketing automation tool features each of these has to offer, as well as their pros and cons, and the pricing, to help you make the best decision for your business.
Main Differences Between Infusionsoft vs HubSpot
The main differences between Infusionsoft vs HubSpot are:
Infusionsoft doesn't include keyword research and tracking tools, whereas HubSpot has a robust keyword and tracking tool
Infusionsoft doesn't offer social media management, whereas HubSpot does have social media management
Infusionsoft's visual campaign builder resembles what you would find in enterprise-grade marketing software, whereas HubSpot doesn't have a visual campaign builder
Infusionsoft customer and technical support are limited, whereas HubSpot offers more support options and greater accessibility
Infusionsoft makes it clear that their platform is best for 2-25 employees whereas HubSpot is the kind of platform that grows with you
Using a combination of CRM and Marketing Automation software is a great way to scale your business, and quickly too! Today we are going to be looking at two popular CRM and Marketing Automation tools: Infusionsoft vs HubSpot, to see which one is the best option for your business.
There are so many benefits to using CRM software to manage the sales and inbound marketing for your business, including; Helping you to build better relationships with your customers, bringing you repeat business from previous happy customers, saving you hours of time every week by automating your daily tasks, and making more revenue and profits for your business while putting in less physical effort, and much more.
On average, 51% of companies are already using marketing automation technology to skyrocket their businesses, and more than half of those who aren't already using this technology are planning to start using it in the near future. So if you don't want to get left behind, now's the time to get started.
Let's take a look.

Why Go with Hubspot?
Hubspot can replace EVERYTHING. If you are tired of multiple dashboards for your marketing automation, Hubspot solves this problem brialliantly. Start with the FREE CRM, then scale additional features without learning a new platform.
Try Hubspot FREE
We earn a commission if you click this link and make a purchase at no additional cost to you.
In-Depth Marketing Automation Solution Comparison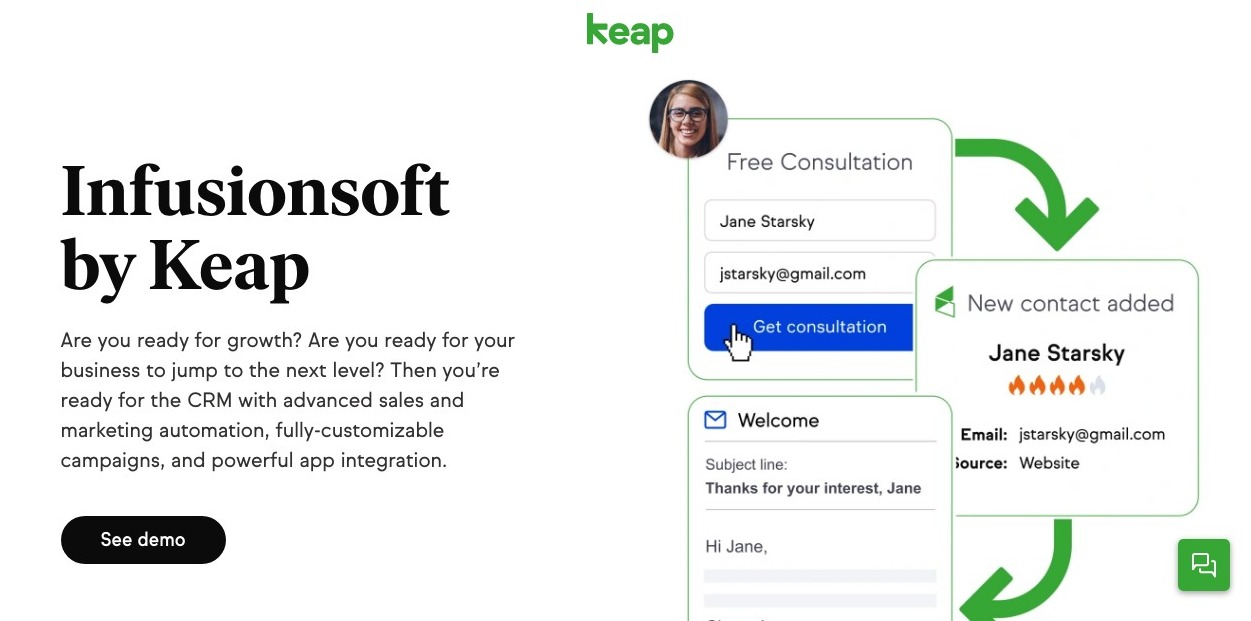 Infusionsoft, which recently changed its name to Keap, is a CRM and Marketing Automation toolkit (campaign builder) that lets you create advanced automated sales and marketing campaigns for your business.
The combination of the automation tools alongside the CRM gives customers a personalized experience and helps work towards building strong relationships with loyal customers.
Keap is designed for a small business or as a marketing strategy tool for a business owner trying to scale up, with the aim to help small business owner audiences succeed in the challenging markets we face today.
Just to clear up any confusion about the name change, Infusionsoft has not been purchased by another company, they simply rebranded and changed their name to reflect their ethics and values towards small businesses!
Infusionsoft vs HubSpot: The Main Features of Infusionsoft by Keap
CRM (Client Management)
Email Marketing
Messages
Appointments
Pipeline
Outbound and Inbound Marketing Automation
Quotes
Invoices and Payments
Integrations
Reporting and Insights
How Infusionsoft (Keap) Works
Infusionsoft by Keap's powerful CRM helps you to organize all of your contacts and clients, without the need for using spreadsheets; you can store all the information you need including contracts, quotes, notes, phone calls, and more, in one place.
The CRM records all of the interactions you have with each customer, as well as tracking their progress in your sales funnel so that if one team member is not available, any other members of the team have access to all of the required information and so can pick up exactly where they left off, giving the customer a sense of security and continuity.
You can connect your Gmail or Outlook email to the CRM so that all of the emails you send are automatically tracked and recorded to the contact profile. This saves you from writing endless notes. Your contacts can be given 'Tags', which will help you easily sort through them when choosing contacts lists for marketing campaigns, and you can choose as many different tags as you want to depend on the needs of your business.
The CRM software can be used alongside the marketing automation software so that any new contacts and leads are automatically welcomed with an email series, and your sales team are alerted based on the contact's needs. You can also save pre-written email templates in the CRM which your team can send out at the click of a button to save time.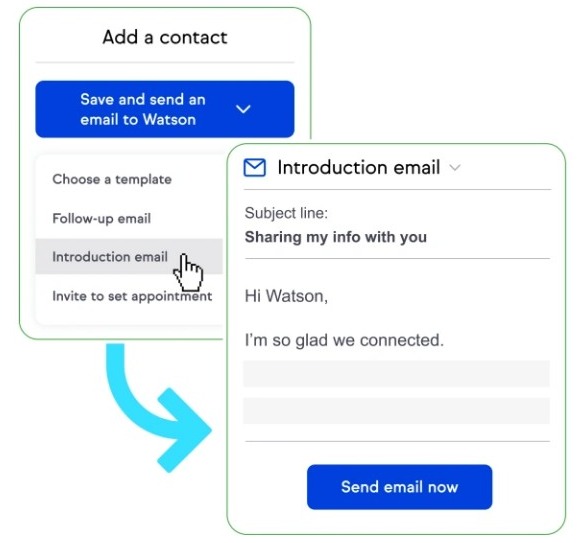 Follow-up emails can be automated too, and if the customer will need to speak with a member of your sales team at any point, the CRM can set a Task to be completed, so that a team member can follow up in person.
Keap's email marketing features make it easy for you to communicate with your customers, generate new business, and nurture your leads in a personal and professional way. There is an extensive range of templates available to choose from, so no matter what type of email you are sending out to your contacts, you will be able to find something right for you and customize it with your own images and branding.
The automation features can save you hours of time each week by automating as much of your lead nurturing and sales process as possible until it's the right time for a team member to step in and close the deal.
As soon as a customer signs up on your website, you can set a trigger for an automated welcome email, or even a series of emails to be sent to 'warm-up' your leads.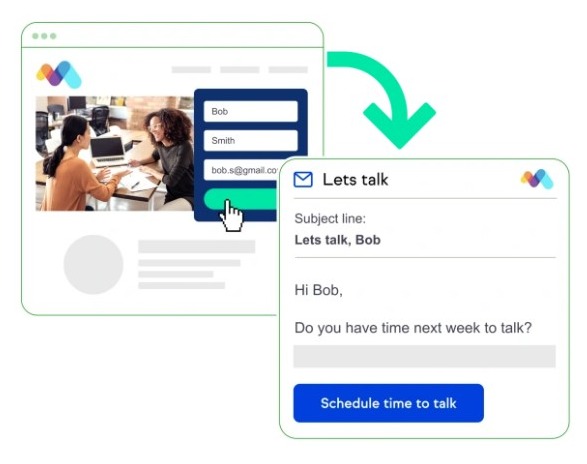 Keap has built-in A/B and split testing so allow you to optimize your email effectiveness, and it also uses intelligent email sending to ensure maximum deliverability rates. The 'at a glance' reporting features allow you to quickly see an overview of your email statistics, including delivery rates, open rates, and clicks.
Keap also has clever messaging features that give you a dedicated 'work' number that allows you to send any important or urgent messages to your customers by SMS/Text message, so they can see it straight away and have the opportunity to respond quickly.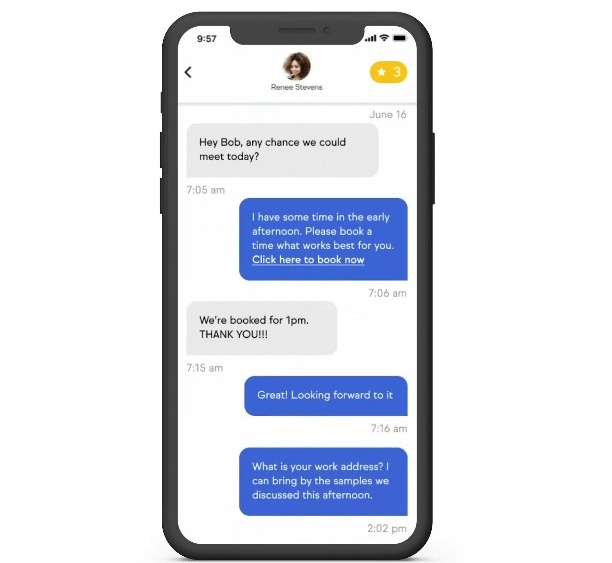 The SMS/text messaging feature also allows you to follow up quickly to any client questions, to improve your overall conversion rate. So that you don't lose track of any messages, you have the option to mark messages as unread so that you can come back to them later, or you can highlight them with a star so that you can easily find them later.
There is also an appointments feature which you can direct your customers to from your emails or messages. This allows the client to view available slots on your calendar and book an appointment online, which will automatically sync with your CRM.
When it comes to sales, Infusionsoft (Keap) has a pipeline feature that allows you and your sales team to easily view and manage each stage of the sales process in a single view.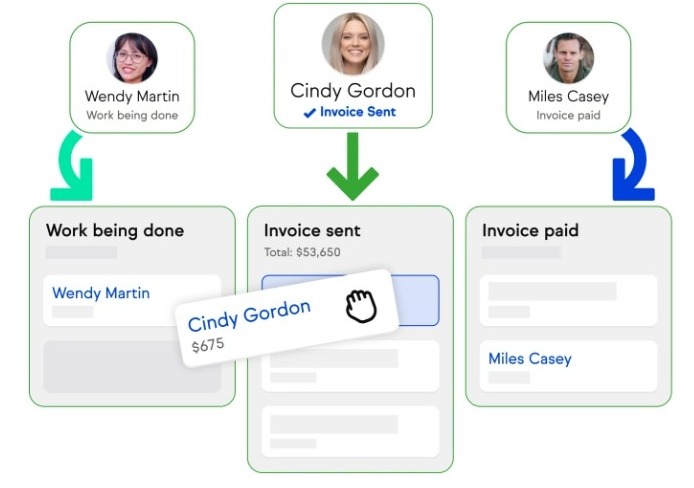 You can easily customize the pipeline dashboard to suit the needs of your business, and you can organize and prioritize your leads with just a few clicks. Once you move a customer from one stage of the sales process to the next, you can easily trigger emails to be sent automatically to save time for your team, allowing them to focus on other areas of the sales process.
Keap can also be used to send professional quotes to your customers, as well as invoices and payments, in just one click. Every quote or invoice that you send can be customized with your company details and branding, and they can all be saved as templates to use again in the future. Your customers can review and accept the quote from their mobile or desktop device, and quotes can be changed into invoices at the click of a button to save you time.
When a customer is ready to pay for their service, they can click 'pay now' on the invoice page, and pay immediately online by credit card, PayPal or Venmo, and if they take too long to pay you can send them an automatic payment reminder email to give them a nudge in the right direction. You can easily see an overview of your invoices and payments, so you know who has paid already, and which payments are still outstanding.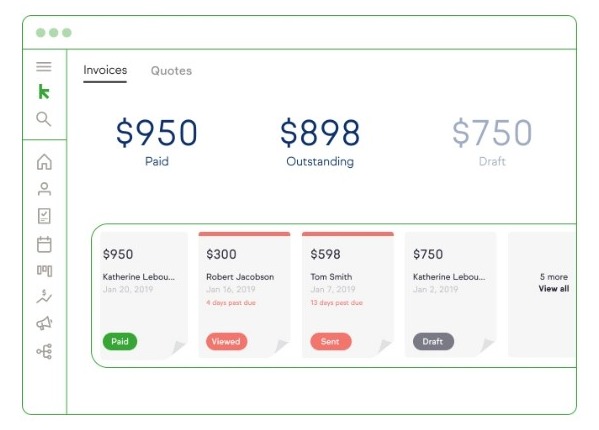 If Keap doesn't already include all the exact features you are looking for, then you can easily take advantage of one of the many integrations available, including Shopify, WooCommerce, Xero, QuickBooks, and more.
The Benefits of Using Infusionsoft Marketing (Keap)
Keap provides all of your CRM and marketing automation capabilities in one place.
There are SMS messaging features that allow you to message your customers directly, as well as enabling the customer to book appointments and respond to you through SMS, which is a great option for service providers to have.
Keap allows you to send customers customized quotes and invoices, as well as enabling them to pay quickly and easily online with a variety of payment methods.
There is a sales pipeline feature which gives you an overview of where all your leads are in the sales process, and automation can be triggered once a lead moves to the next stage in the pipeline.
The software is easy to use, so even if you're not a developer you can easily create automation and beautiful, professional inbound marketing campaigns.
Keap integrates easily with hundreds of other apps, so if you need a function that Keap doesn't already include, you can simply integrate with another tool of your choice.
The Downsides to Using Infusionsoft Marketing
New users who sign up to one of the Keap or Infusionsoft plans are required to pay a one-time onboarding fee which includes coaching to help them get the best out of the software.
This ranges from $99 to $199 depending on which plan you go for, so remember to factor in this cost if you are thinking of signing up.
Fresh Pick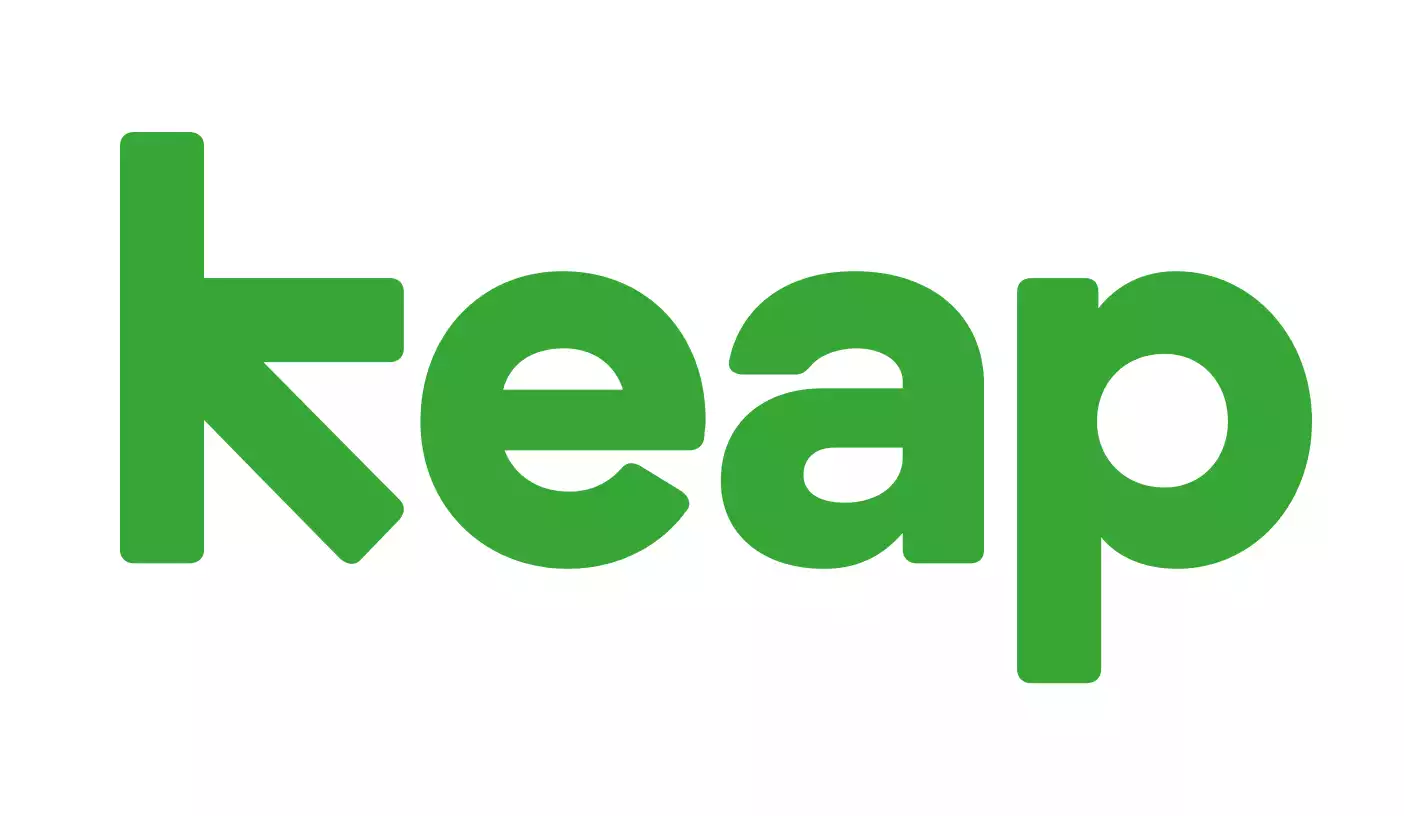 Have You Heard About Keap?
Infusionsoft is better now. Keap is the new name and the system is MUCH easier to use. Fully customizable, expandable based on what you need from basic email automation to advance sales CRM and landing page builder.
Try for Free
We earn a commission if you click this link and make a purchase at no additional cost to you.
HubSpot Overview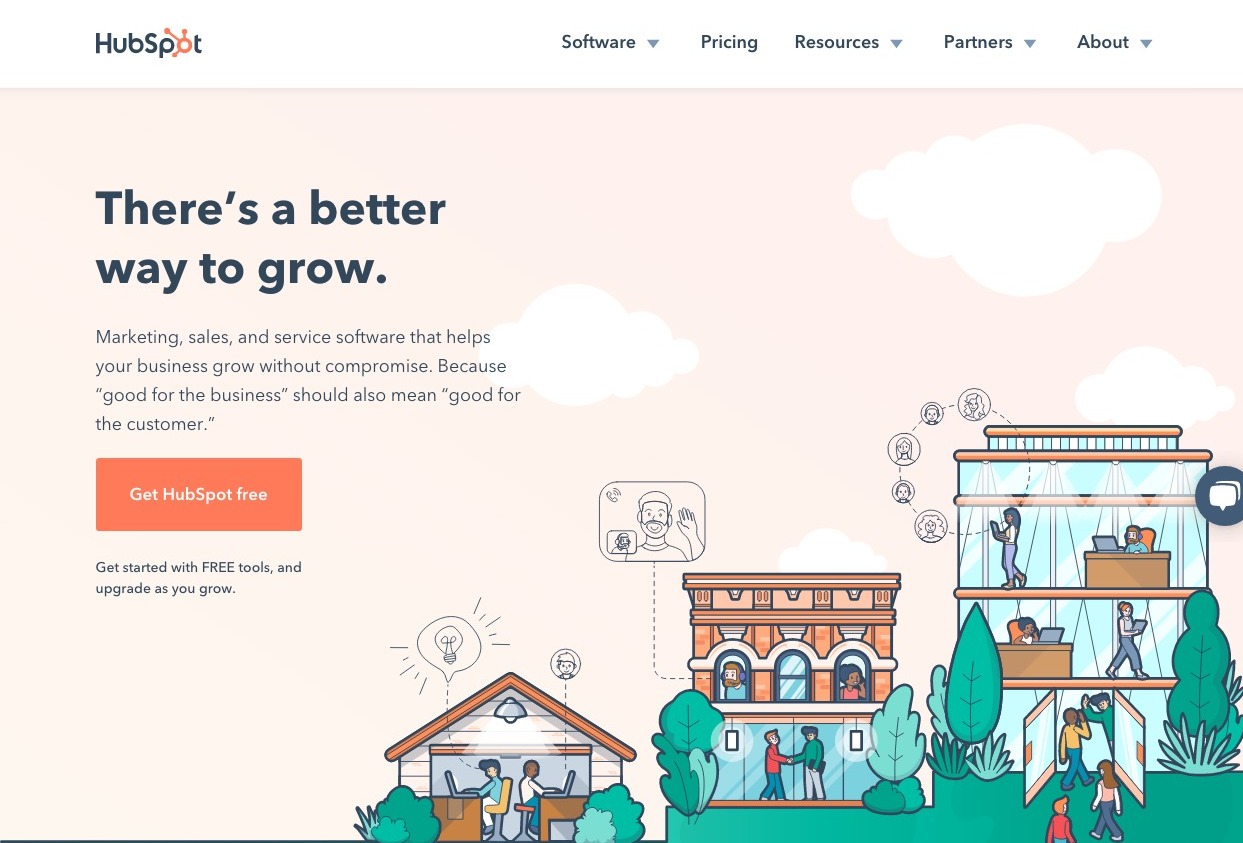 At its heart, HubSpot is a completely free CRM software that allows you to have as many team members and as many contacts as you want, forever! It's a popular choice for small businesses and freelancers, or anyone getting started on a budget.
Although the main CRM is free, HubSpot also offers a range of sales and marketing packages with enhanced features for larger businesses.
As well as being a CRM, HubSpot also has marketing automation features to help you save time and grow your business in the most efficient possible way.
The Main Features of HubSpot Marketing Automation
Contact management
Contact website activity tracking
Create tasks and activities for your team
Gmail and Outlook Integrations
HubSpot Connect integrations
Custom support form fields
Prospects
Ticketing
Conversations inbox
List segmentation
Reporting dashboards
Email tracking & notifications
Email templates
Canned snippets
Team email
Live chat
Reporting
Ticketing
Calling
How HubSpot Works
The HubSpot CRM is very intuitive and easy to use, which is perhaps why it's such a popular choice for startups and freelancers. HubSpot CRM lets you store all the information you need about each of your contacts in one place.
There is a user-friendly dashboard that lets you view your sales pipeline, and see exactly which stage each lead is at in your sales funnel., as well as an overview of your team performance. You can add contacts to your CRM manually, or they can be added automatically when a prospect fills in one of your contact forms online.
Once the contact is in your CRM, HubSpot will automatically enrich their profile with data from over 20 million that you might find useful to know about the contact and their business, such as their social media profiles.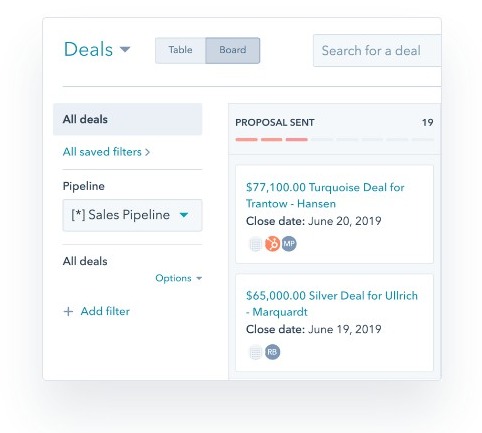 You can easily create tasks on each contact to remind you of anything important, or anything you need to follow up on at a later date so nothing gets missed.
Calls, emails, meetings, and notes are tracked automatically, so if you are away and unable to deal with a contact for some reason, any other member of your team will easily be able to step in and pick up where you left off, without needing to ask the customer for the same information again.
You can connect your HubSpot CRM to your Gmail or Outlook email, so that all the emails you send and receive will be tracked in the CRM too, saving you hours of time logging notes each time you talk to someone over the duration of the week.
The marketing integration also allows you to see when a prospect opens and reads your email, which allows you to follow up at exactly the right time when a customer is already engaged and thinking about your business.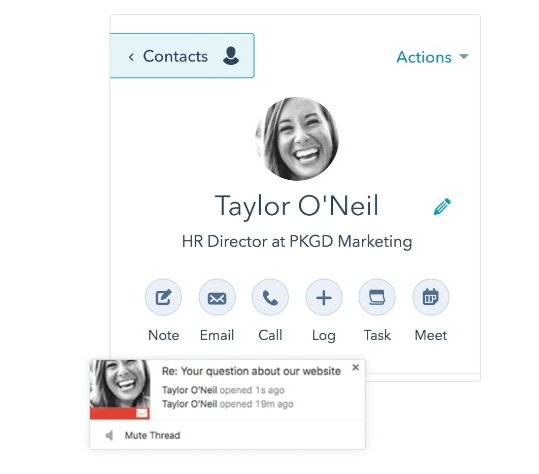 If you would like to schedule a meeting, you can easily send your customer a link that syncs to your calendar, so that they can pick a time that works for you both.
HubSpots email marketing tools make it easy for you to create beautiful email campaigns in just a few clicks. You can choose from one of the free templates available, or browse the market place if you want something more specific. All of the templates are customizable, so you can add your own branding, change the layout, add CTA's, and change the colors, fonts, and images to suit your brand.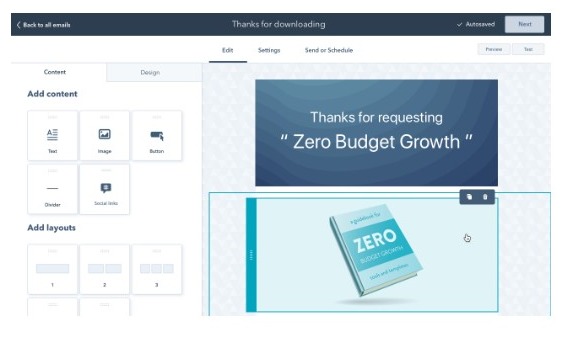 All of the emails you send out to your contacts will automatically be personalized with their name and any other information you want to include, so the customers won't be aware that they are receiving a mass email.
You can optimize your email campaigns by using the A/B split testing features to see which emails, subject lines and content have the best conversion rates. The analytics features allow you to see exactly who has engaged with your email, which links they have clicked, and when, to allow you to create more effective campaigns in the future.
HubSpot includes a live chat feature, which you can easily install on your website in a few minutes, and chat to your customers in real-time as they browse your website. This enables you to quickly answer any questions and overcome any objections when the customer is on your website and ready to buy.
There are some great customer service features too, including ticketing for customer support, reports on response times, and the ability to create canned snippets to quickly answer any frequent questions from your clients.
The Benefits of Using HubSpot CRM for Marketing
The Basic HubSpot CRM is completely free and allows you to have unlimited contacts and team users within your CRM.
You can keep track of your pipeline, and easily which stage in the sales process each contact is at, so nothing slips through the cracks.
HubSpot is very easy to use, there is no real learning curve, so you can get started straight away.
There is a free live chat feature, which enables you to chat with customers in real-time as they browse your site and answer any questions they may have before making a purchase.
You can send personalized bulk emails to your contacts, for free.
HubSpot lets you track when contacts are browsing your website so you can get in touch with them when they are at their most interested.
HubSpot integrates with Gmail and Outlook, and tracks all incoming and outgoing emails to your CRM, so you have a record of everything you have spoken about with each customer.
You can see exactly when a contact has opened and read your emails, so you can follow up with them at just the right time.
HubSpot tracks and logs any activity including calls, messages, and emails, that you have with your contacts, so it's easy to remember when you last spoke and what you talked about, and you can easily set tasks for when you need to follow up.
HubSpot's pricing plans are very flexible, so you can go for the free plan if you are on a budget, and when your business grows and you have more money to spend you can upgrade to one of the more advanced packages with additional features, depending on your needs. There are price points for businesses of all sizes.
The Downsides of Using HubSpot CRM for Marketing
As with Infusionsoft, there are onboarding fees for any of the paid-for monthly packages, which are quite a big upfront cost depending on which package you choose and your marketing campaign needs.
There are also a few reports that HubSpot doesn't integrate very easily with some other platforms such as WordPress, which may be an issue for you, depending on which tools you want to integrate with.

Why Go with Hubspot?
Hubspot can replace EVERYTHING. If you are tired of multiple dashboards for your marketing automation, Hubspot solves this problem brialliantly. Start with the FREE CRM, then scale additional features without learning a new platform.
Try Hubspot FREE
We earn a commission if you click this link and make a purchase at no additional cost to you.
Pricing Plan Comparison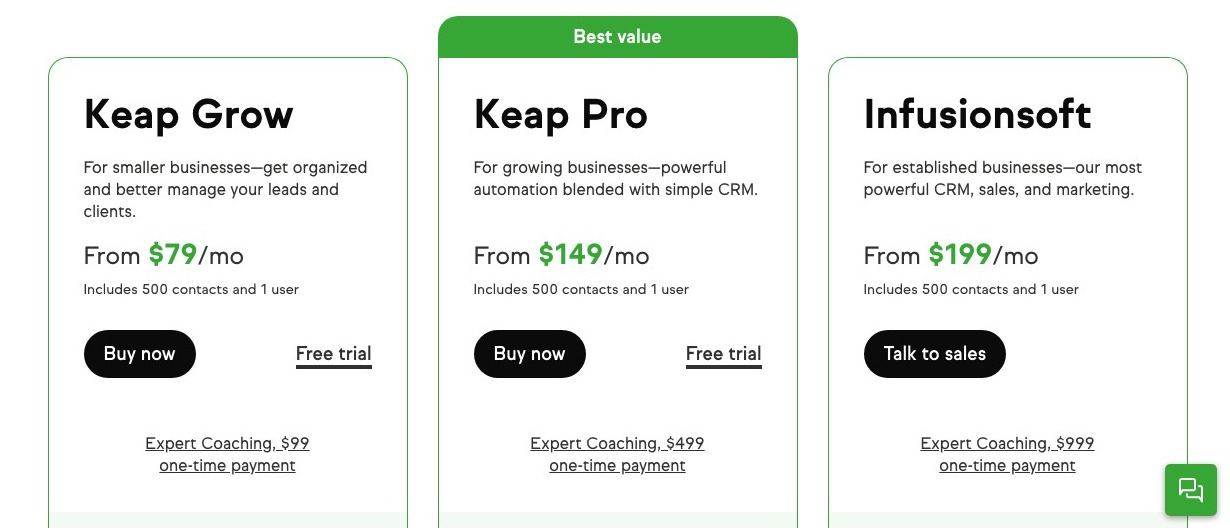 Infusionsoft (Keap) has three main plans available: Keap Grow, Keap Pro, and Infusionsoft, so there is something to suit businesses of all sizes.
Keap Grow starts from $79/month and includes 500 contacts and one user. This plan includes CRM, email marketing, business phone line and text messaging, appointments, quotes, invoices, and payments.
Keap Pro starts from $149/month and includes everything from Keap Grow, as well as marketing efforts and sales automation, recurring payments, landing page builder, and smart forms and reports.
Infusionsoft starts at $199/month and is designed for larger established businesses and agencies. This plan includes CRM, marketing and sales automation, lead scoring and company records, advanced reporting, e-commerce, affiliate management and more.
For the full list of what's included in each package, head over to their website to check out the plans in more detail. There is also a completely free 14-day trial of Keap Grow and Keap Pro, with no credit card required!
HubSpot's basic CRM is free and gives you unlimited contacts and unlimited users. HubSpot's free CRM includes all of the features we have talked about in this review so it gives you absolutely everything you need to run your business for free.
HubSpot also offers some advanced packages available for larger businesses: The Marketing Hub, Sales Hub, Service Hub, and Hubspot CMS.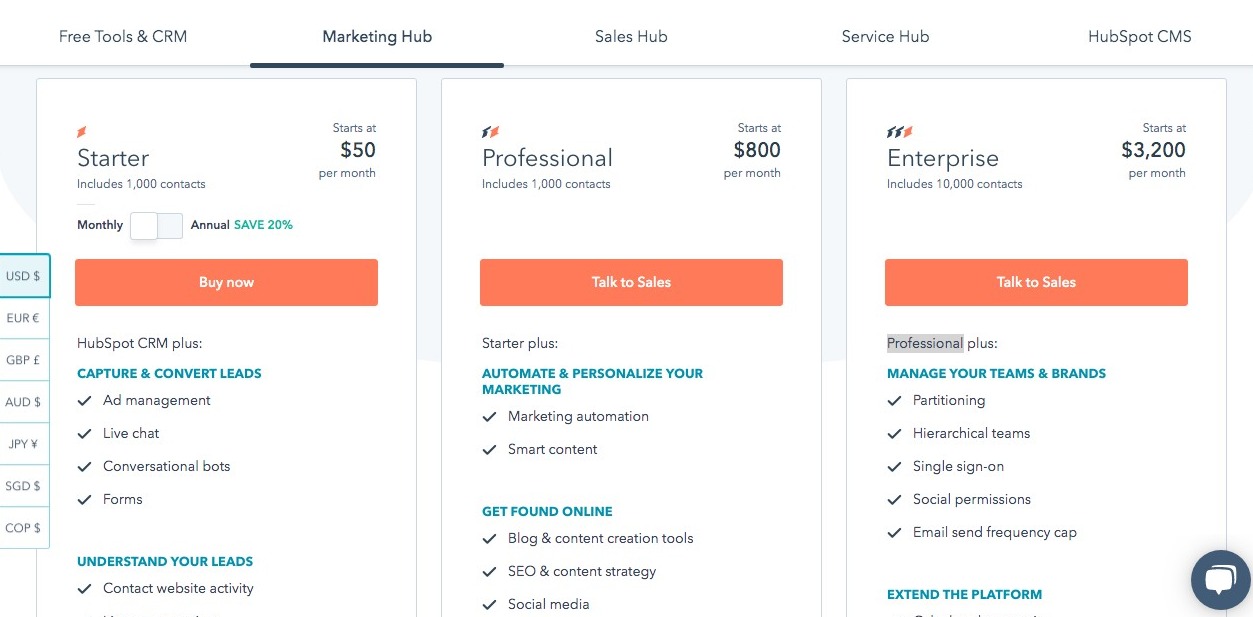 Marketing Hub, Sales Hub, and Service Hub each start from $50/month. They each all include the basic Hubspot CRM, plus some additional advanced features to help you capture more leads, close more sales, provide better service and grow your business.
HubsSpot CMS costs $300/month following the onboarding fee of $1,000. Hubspot CMS gives you all the tools you need to create a powerful high converting website for your business, including landing pages (landing page builder), blog and content creation tools, SEO and content strategy (content marketing), calls to action, smart content, live chat, conversational bots, forms, custom domains, advanced analytics, and more.
If you would like all of these additional extras there is a bundle which you can purchase called the 'Growth Suite'. This bundle gives you access to Hubspot CRM, Marketing Hub, Sales Hub, and Service Hub from just $113/month.
If you would like to try HubSpot for free, Click here to sign up.

Why Go with Hubspot?
Hubspot can replace EVERYTHING. If you are tired of multiple dashboards for your marketing automation, Hubspot solves this problem brialliantly. Start with the FREE CRM, then scale additional features without learning a new platform.
Try Hubspot FREE
We earn a commission if you click this link and make a purchase at no additional cost to you.
Infusionsoft vs HubSpot Frequently Asked Questions:
Why did infusionsoft change its name?
Infusionsoft was the name of a whole company who now have been rebranded to be Keap. Infusionsoft has been maintained as one of their products.
Can I Access The Campaign BuilderWith the API?
By now, you will need to use the FunnelService to complete a goal in a campaign.
Will importing a list twice create duplicate contacts in my Hubspot campaign?
HubSpot will deduplicate the contacts if you import the same list twice, so you will only have one contact per email, avoiding the problems of duplication.
The Verdict: Infusionsoft vs HubSpot – Which is the best CRM for your business?
Both HubSpot and Infusionsoft (Keap) are robust CRMs that would be a huge asset to your business, enabling you to save money and time, and make more profits as your business grows. So which of these tools is better? It's actually quite difficult to say on this occasion, as there are quite a few differences, so it really depends on your business type, and the actual needs of your business.
Since HubSpot is a free CRM with unlimited contacts and users, it's a great choice for most businesses, however, it is lacking some of the features that Keap has, such as the one-click quoting and invoicing, and the ability for customers to click on an invoice and pay immediately online.
Keap is a great choice for any service-based business such as virtual assistants, cleaning companies, building companies, decorators, social media managers and more, due to the fact that the features available (such as SMS and a dedicated business phone number) make it very easy to chat with customers and book appointments.
HubSpot also has some other features that Infusionsoft by Keap doesn't offer, such as social media management tools (on the paid plans) blogging tools, and keyword research tools, making it a great choice for larger businesses and agencies.
Overall, if you're a small business, then Infusionsoft by Keap is a great marketing tool choice for you, and if you are a large company or agency, then HubSpot's paid plans will be sure to have everything you need (including page builder, marketing automation software, lead generation, CRM tool functionality, and analytics), with flexible pricing to match your needs at the time.
If you would like to try HubSpot for free and see what features are on offer then, Click here to sign up, and if you think your business is better suited to Keap, then head over to their website and check out their free 14-day trial.
Still, looking for the right CRM? If you're still undecided then check out our article on the best alternatives to HubSpot, or our article on the best Infusionsoft Alternatives as there might be something there that suits your needs perfectly.
Further Reading Marketing Automation Platform Options: