Last Updated on August 13, 2023 by Ewen Finser
If you are a freelancer looking for a great platform for managing your projects, you've come to the right place.
The universe of project management platforms is massive. And to be honest, most of the systems out there are just plain overkill for freelancers.
Having worked as a consultant on various projects and worked WITH 100s of freelancers over the last few years, I've tried a lot of tools.
In this guide I'll break down what to look for and make some specific recommendations based on popular use cases in the freelance space.
Key Features to Look for in Freelance Project Management Software
When choosing freelance project management software, it's important to consider key features such as multiple views, progression tracking, customizable tools, time tracking, Kanban boards, affordability, and Gantt charts.
Side note: Some of this obviously comes down to personal preference, but these are things that I look for when managing my personal projects.
Multiple views
Multiple views in project management software provide freelancers with various perspectives to manage their projects. This feature allows you to arrange and view tasks based on priority, deadline, or project phase.
Offering an overview of the entire project timeline or focusing on specific details as needed can significantly streamline workflow. For instance, ClickUp provides a versatile platform with multiple viewing options that cater to different working styles and personal preferences.
As such, it's rated among the top tools for managing freelance work effectively in 2023.
Progression tracking
Progression tracking holds a pivotal role in project management software for freelancers. In freelance work, managing multiple projects simultaneously can be daunting and keeping tabs on each one's progress helps maintain order and efficiency.
This feature allows you to log individual tasks within a project, monitor their status, and track the overall progression towards completion. It provides a clear picture of where your focus is needed, enabling better time allocation and resource distribution.
Simultaneously handling varied scopes of work demands meticulous organization. Progression tracking offers visual cues such as color-coding or percentage indicators that give an immediate sense of how close a task or project is nearing completion.
This clarity reduces the likelihood of missing important deadlines or overlooking critical steps in the workflow process, thus improving productivity significantly. The simplified representation also makes it easy to communicate progress with clients or team members without getting tangled in intricate details.
Customizable and collaborative tools
Customizable and collaborative tools are integral features to consider in choosing project management software for freelancers. These tools provide flexibility by allowing adjustments to fit specific workflow needs or preferences.
They also facilitate teamwork, as they often include elements like shared boards or documents for efficient information exchange. For example, Asana and Trello are renowned for their highly customizable interfaces that support numerous integrations and plugins.
This permits a freelancer to align the tools with their unique work style effectively enhancing productivity while maintaining clear communication lines with clients or team members.
Time tracking
Time tracking is a crucial feature to consider when choosing project management software for freelancers. Keeping track of time allows freelancers to accurately bill clients, manage their workload, and analyze productivity.
One excellent option for time tracking is Everhour, which helps freelancers stay on top of workflows such as invoicing, payroll, and budgeting. Another popular choice is nTask, which combines project management with time tracking features.
TMetric is a straightforward and free option that provides basic time tracking capabilities. The best time-tracking apps for freelancers are adaptable and helpful in managing and tracking time effectively while offering additional functionalities like analytics and reporting.
Kanban boards
Kanban boards are a crucial feature to look for in project management software for freelancers. These visual boards provide a clear and organized view of tasks, deadlines, and progress.
With Kanban boards, freelancers can easily move tasks from one column to another as they progress, allowing for efficient tracking of work completed. It's an excellent way to visualize the workflow and stay on top of multiple projects simultaneously.
Additionally, Kanban boards offer flexibility and adaptability, making them suitable for various industries and project types. The use of Kanban boards in project management software ensures that freelancers have a simple yet effective tool to manage their workload effectively and increase productivity.
Affordability
Affordability is a key factor for freelancers when choosing project management software. Many freelancers operate on tight budgets and need software that offers value for money. ClickUp, Hive, Asana, Teamwork, Trello, Basecamp, nTask, and Notion are all listed as affordable options in the article.
These software options provide robust features without breaking the bank. Freelancers can easily find a project management tool that fits their budget while still offering customizable tools and an easy-to-use interface.
It's important for freelancers to consider the cost-effectiveness of project management software to ensure they are getting the most bang for their buck.
Gantt charts
Gantt charts are essential tools for project management, providing a visual representation of tasks displayed against time. They allow project managers to plan tasks, set deadlines, and track progress efficiently.
With critical information such as task assignments displayed in an organized manner, Gantt charts help manage dependencies, milestones, and timelines effectively.
While Gantt charts have their advantages in project management, it is important to note that they may also have some limitations to consider.
monday. com: Best Well-Rounded
monday.com is widely recognized as the best project management software for freelancers due to its well-rounded features and functionalities. It offers multiple views, allowing users to visualize their projects in a way that suits their preferences.
With progression tracking capabilities, freelancers can easily monitor the status of each task and ensure timely completion. Customizable and collaborative tools enable seamless teamwork with clients or other freelancers involved in the project.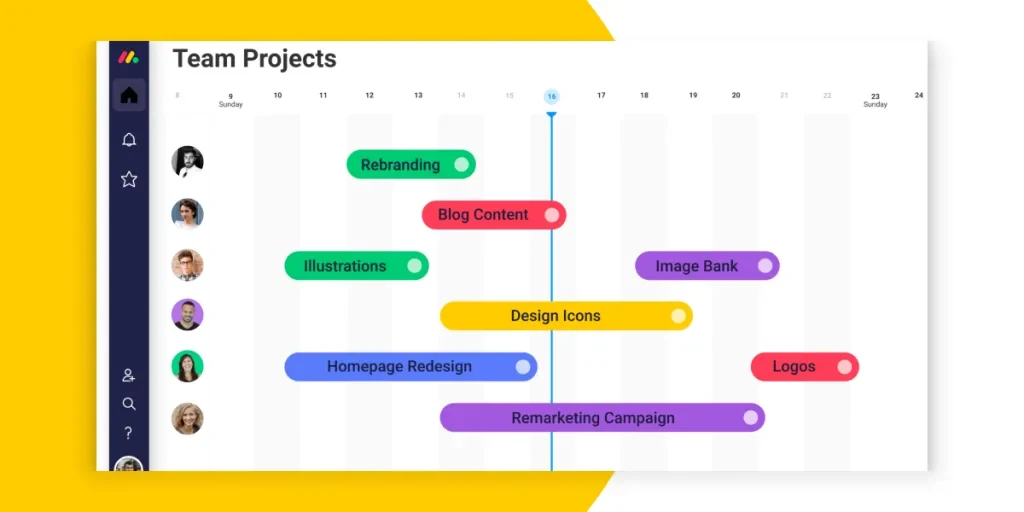 One standout feature of monday.com is its user-friendly interface, which makes it easy for freelancers to navigate and utilize all its functions. Additionally, monday.com offers time tracking features, allowing freelancers to accurately log their working hours and ensure efficient time management.
Another advantage is the availability of Kanban board views, enabling visual organization of tasks into different stages or categories.
Moreover, monday.com provides affordable pricing plans suitable for individual freelancers looking for comprehensive project management solutions. Overall, monday.com stands out as a top choice for freelancers seeking a well-rounded platform that encompasses all aspects of project management from planning to execution.
monday.com vs Competitors
If you are intrigued by monday.com, but curious to see how compares to other popular work management tools, check these out:
ClickUp: Best for Complex Projects
ClickUp is widely regarded as the best project management software for complex projects. It has consistently received high ratings and reviews, with an overall score of 4.8/5. ClickUp offers a feature-rich free plan, making it an affordable choice for freelancers.
The software boasts a great user experience and continuously improves its features based on user feedback.
One of the standout features of ClickUp is its versatility in handling intricate projects. It provides all the necessary tools to effectively plan, organize, and manage complex projects.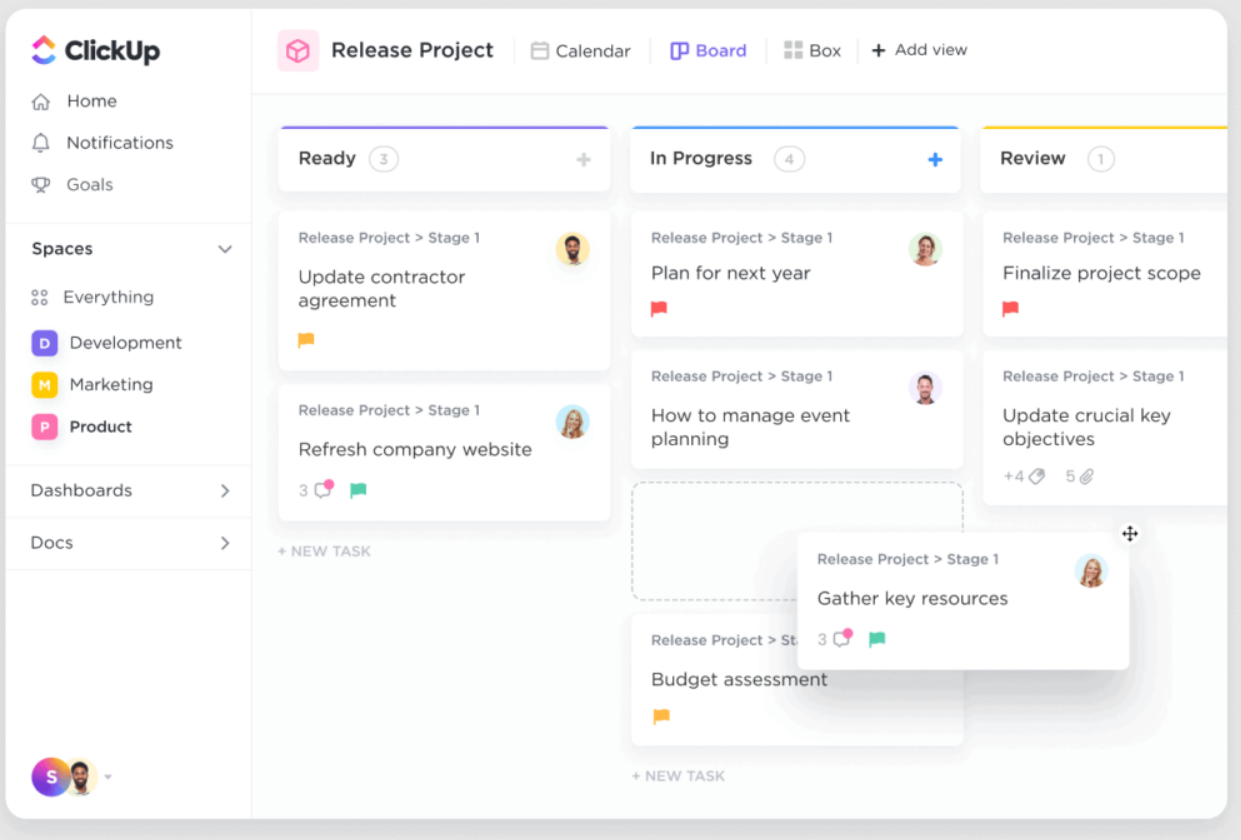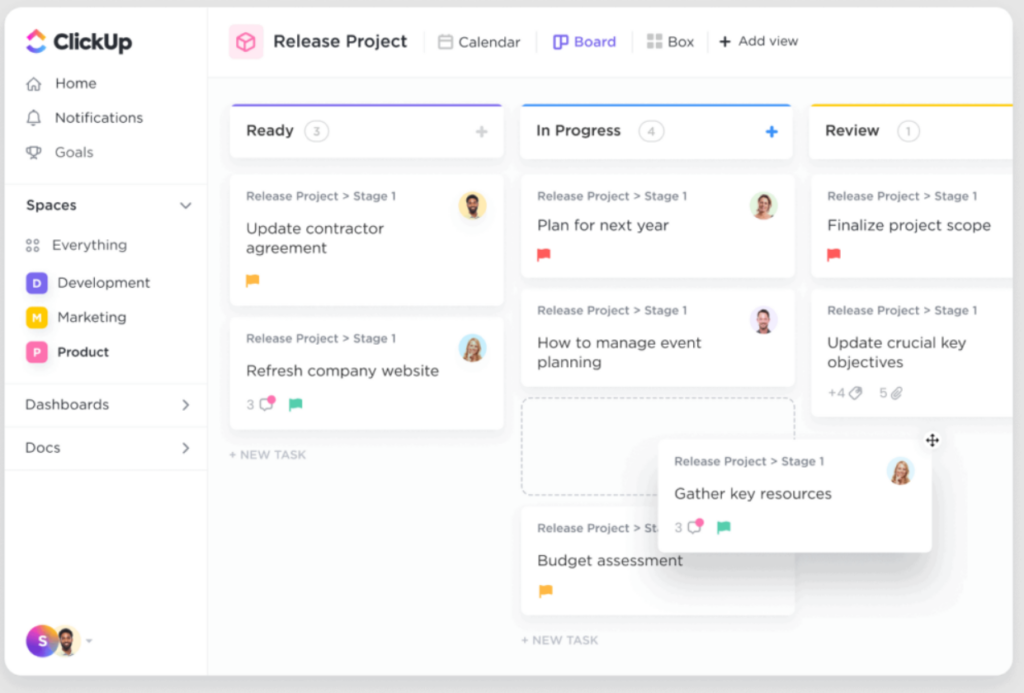 Whether you're working on small team collaborations or larger organizational endeavors, ClickUp ensures smooth communication and effortless coordination among team members.
With plenty of excellent features at your disposal, ClickUp allows you to track progress, customize workflows, collaborate seamlessly with others, and even utilize kanban boards for enhanced visual organization.
For freelancers seeking the ultimate project management tool for their intricate projects, ClickUp comes highly recommended as one of the best options available in 2023.
Clickup vs Other Competitors
See how ClickUp compares to other top project management apps:
Jira: Best for Freelance Agile Teams and Developers
Jira is widely regarded as the best project management software for agile teams and developers. Its customizable features are tailored specifically to issue tracking and bug reporting, making it the ideal choice for software development teams.
Whether your team follows scrum methodologies or prefers agile project management, Jira can adapt to any workflow or team structure.
With its extensive set of features, including scrum management, bug tracking, marketing capabilities, and professional service management skills, Jira is highly recommended for both small and large agile software development teams.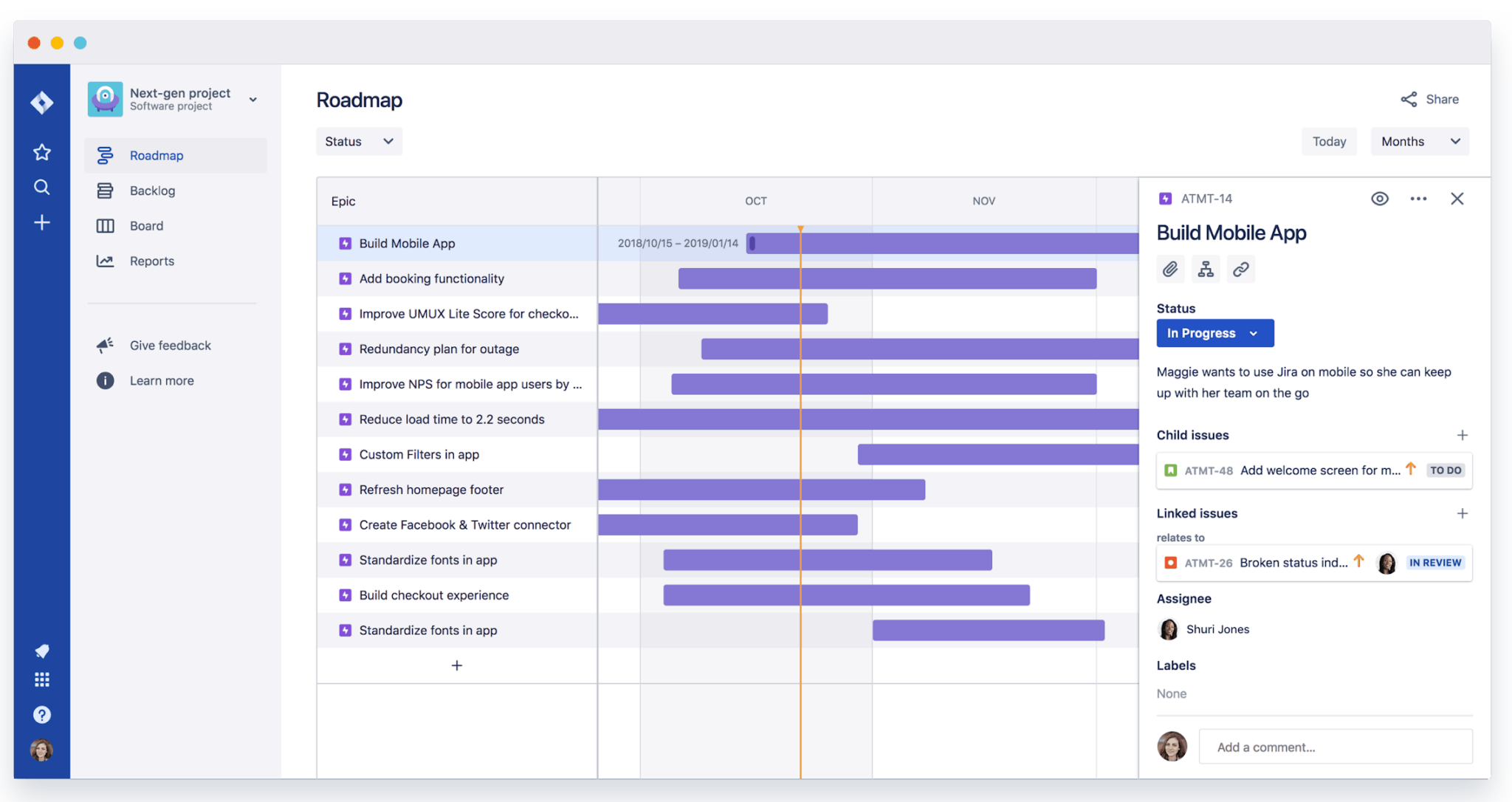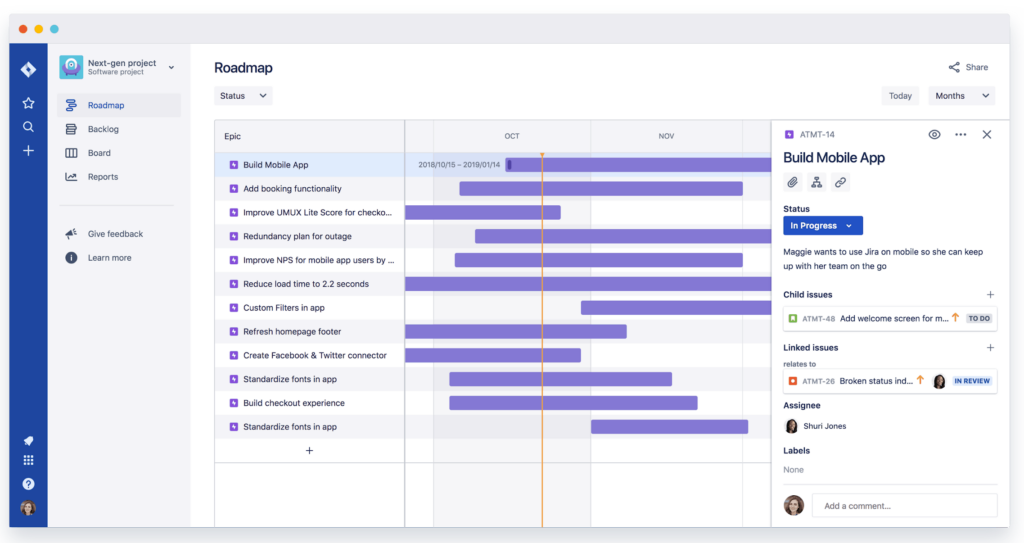 Startups, temporary projects, and small teams in particular favor Jira over other lightweight project management tools like Trello.
If you're looking for a solid choice in managing projects within the fast-paced world of agile development, Jira should be at the top of your list.
Jira vs Competitors
Here's how our editorial team measured Jira vs top alternatives:
nTask: Best for Affordability
nTask is a cloud-based project management tool that stands out for its affordability. It's perfect for freelancers who want a budget-friendly option without sacrificing important features.
nTask is built for small businesses, teams, students, and NGOs, making it versatile and accessible to a wide range of users. This software simplifies work management by offering customizable tools, collaborative features, and time tracking capabilities.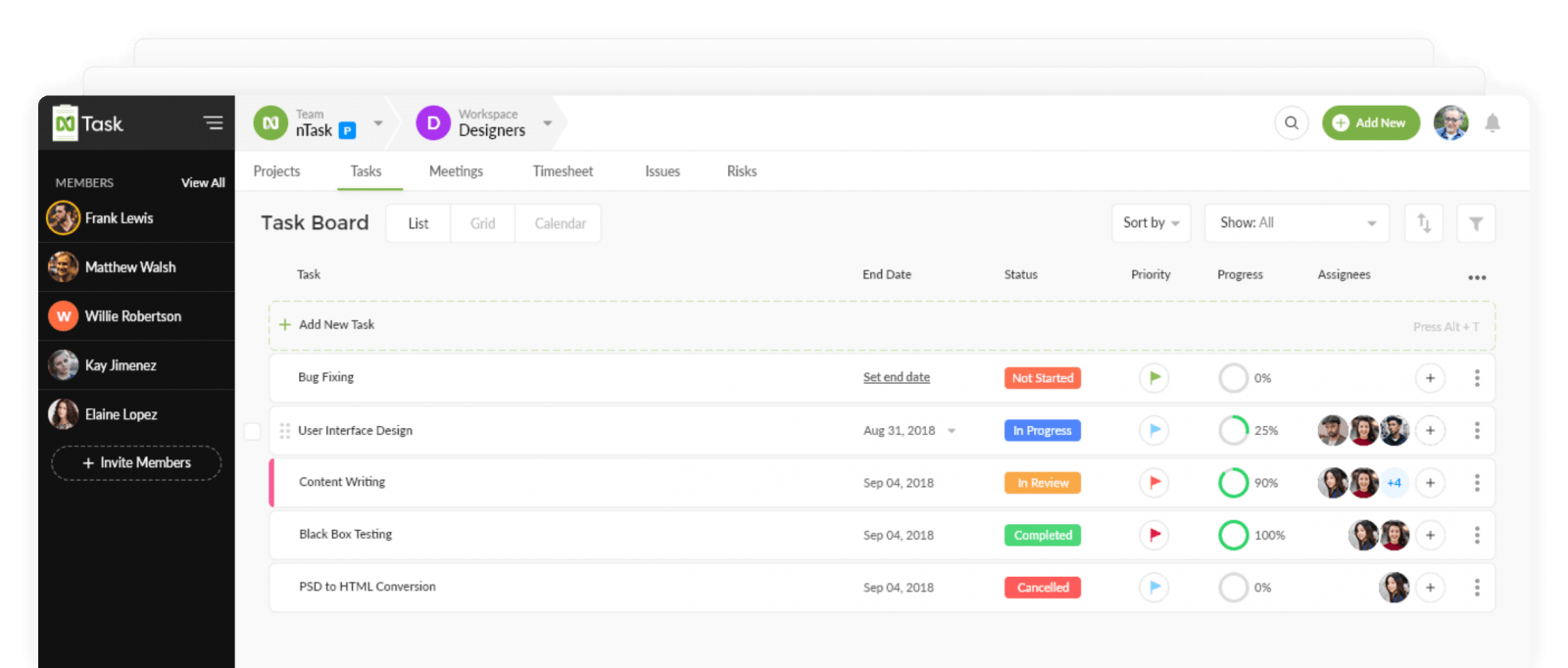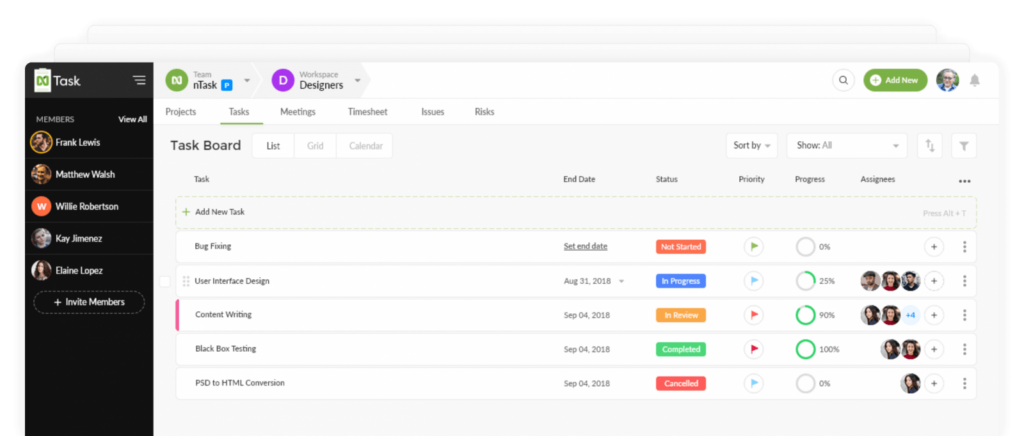 Despite being one of the cheapest project management software options available, nTask doesn't compromise on quality or functionality. Users can rely on this platform to meet all their project management needs while keeping costs low.
Basecamp: Best for Team Communication
Basecamp is a project management software that stands out for its excellent team communication features. With Basecamp, freelancers can easily collaborate with their clients and colleagues, ensuring everyone stays on the same page throughout the project.
I particularly like the ability to ADD my clients to my central Basecamp instance. This features is specifically built for this purpose. Clients get to see progress, but only see the project instance you've invited them to.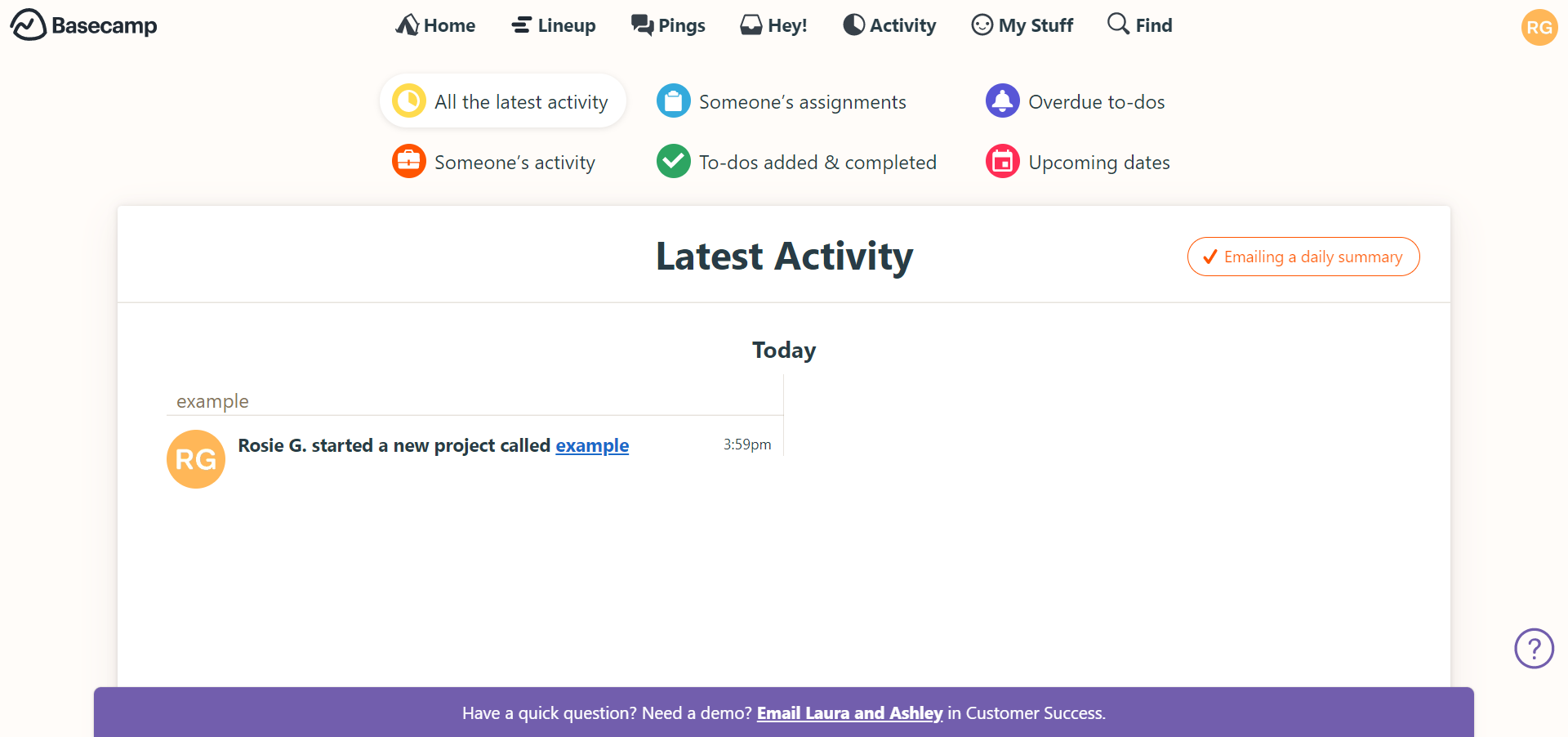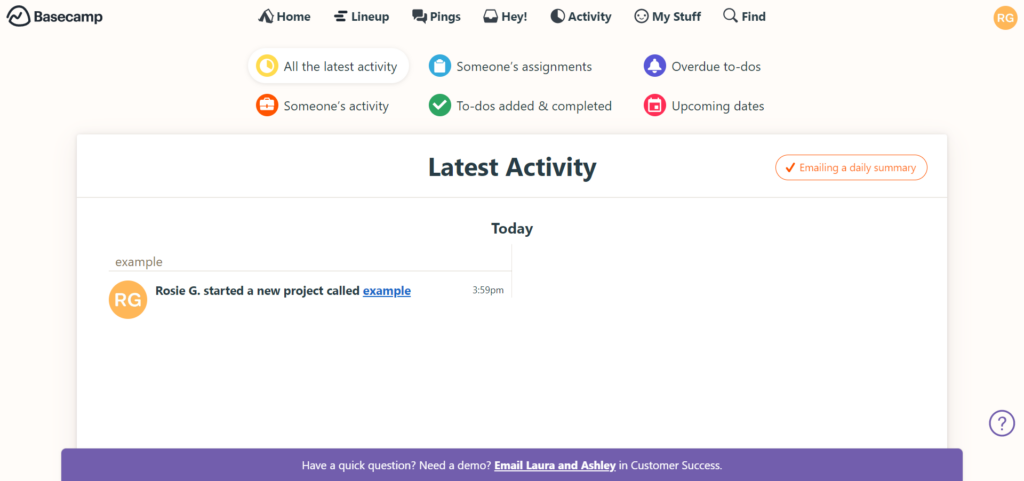 The platform offers real-time chatting and file-sharing capabilities, making it easy to exchange ideas and share necessary documents. Not only that, but Basecamp also provides a user-friendly interface and intuitive features that streamline workflow and keep everyone organized.
It's no wonder why Basecamp is widely used in online teamwork and project management – it's an all-in-one toolkit for efficient team communication. Plus, with its competitively priced packages and flexible pricing options, Basecamp is an ideal choice for freelancers looking to enhance their team collaboration efforts without breaking the bank.
Basecamp vs Peers
Here's how the Basecamp project management software compares to the field:
Trello: Best for Kanban Board Views
Trello is widely regarded as one of the best project management software options for freelancers, especially when it comes to Kanban board views. This popular tool is known for its visually appealing and user-friendly interface, making it easy to organize and manage projects.
With Trello's kanban board style, freelancers can easily track their active project/job status and share information with project managers or clients.
One of the key advantages of using Trello is its simplicity. It offers a straightforward and intuitive user experience, allowing freelancers to get started quickly without any steep learning curve.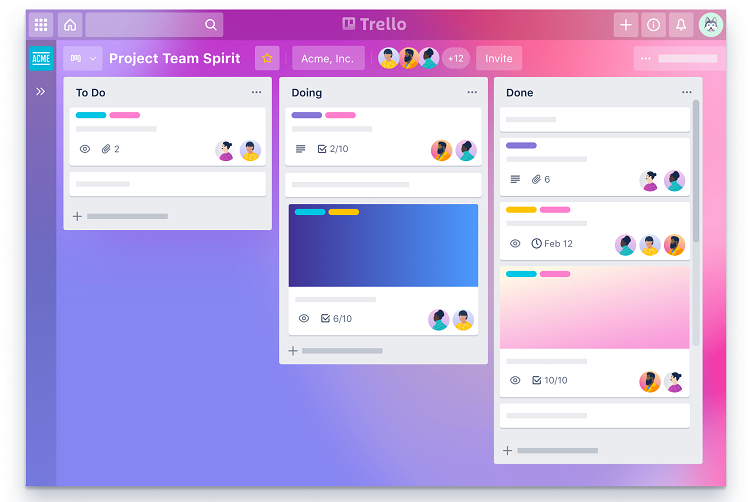 In addition, Trello offers features that automate tedious tasks and promote teamwork among team members or collaborators.
Another reason why Trello stands out is its accessibility. Freelancers can access their boards from anywhere, whether it be on their desktop computer or mobile device. This flexibility allows them to stay updated on their projects even while on the go.
Overall, I really love kanban board views and convenient features, Trello proves itself as an excellent choice for freelancers in need of effective project management software.
Trello vs Other PM Tools
Here's how Trello stacks up to other top productivity apps:
Asana: Best for Freelance Business
Asana is widely regarded as one of the best project management software options for freelance businesses.
Asana offers a range of features that simplify the process of managing projects and tasks, allowing freelancers to stay organized and efficient.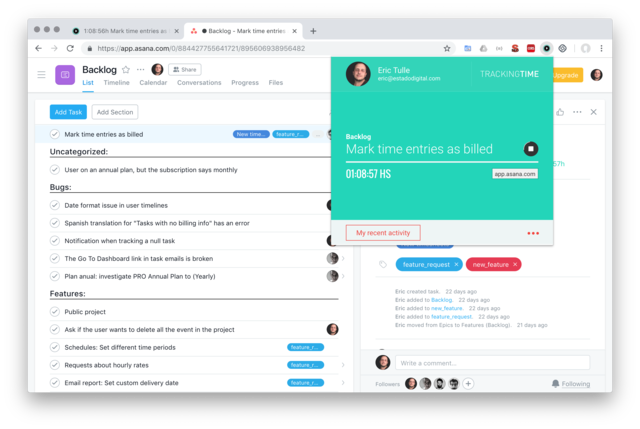 With Asana, freelancers can easily assign, review, and track assignments in one centralized location. This streamlines workflows and improves productivity within freelance businesses.
I personally like Asana for its simplicity and user-friendly interface, making it accessible to freelancers who may not have extensive technical knowledge.
Here's how Asana measures up to the leading project tools:
Wrike: Best for Time Tracking
Wrike is considered the best project management software for freelancers, and its time tracking capabilities are a standout feature. With Wrike, freelancers can easily log their hours automatically and showcase their efforts to clients or team members.
The time tracking tool is integrated right into the project management software, eliminating the need for manual tracking and making it incredibly convenient for users. Not only does this save time for freelancers, but it also allows them to effectively manage their time and showcase their productivity with accurate data collected from the time spent on tasks.
Wrike's comprehensive project management features combined with its robust time tracking capabilities make it an excellent choice for freelancers looking to stay organized and maximize efficiency in their work.
Wrike Compared to Others
Here's how the Wrike system stacks up to the rest:
Notion: Best for Creative Teams
Notion is a project management software that shines when it comes to catering to the needs of creative teams. Whether you're a freelance designer, writer, or artist, Notion offers a versatile platform for collaboration and communication within your team.
With its customizable features and user-friendly interface, it's easy to tailor Notion to suit your specific workflow and preferences.
One of the standout features of Notion is its ability to serve as a hub for both internal project management and client-facing work. You can create top-level pages that act as an organized space for finding everything you need quickly.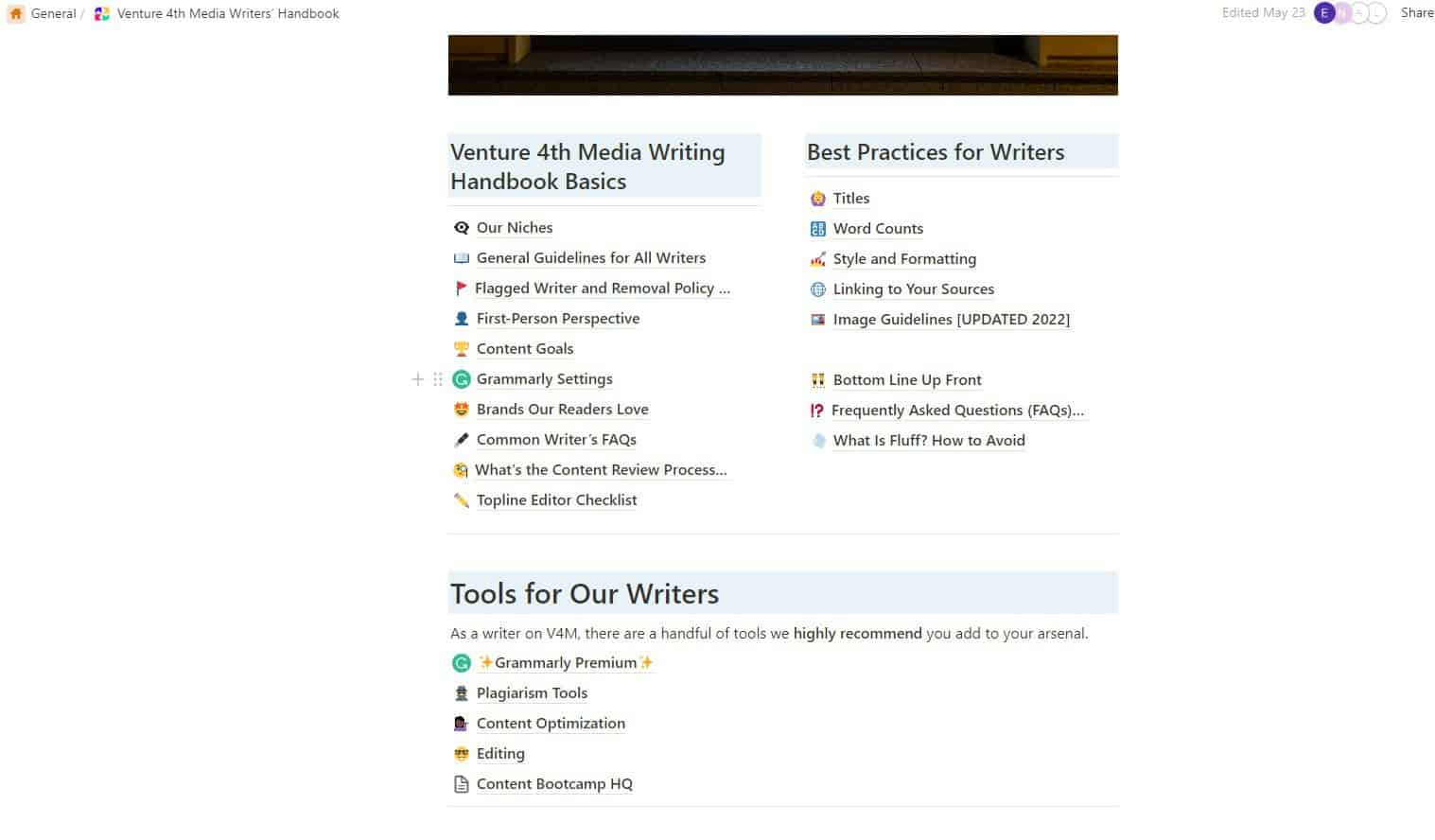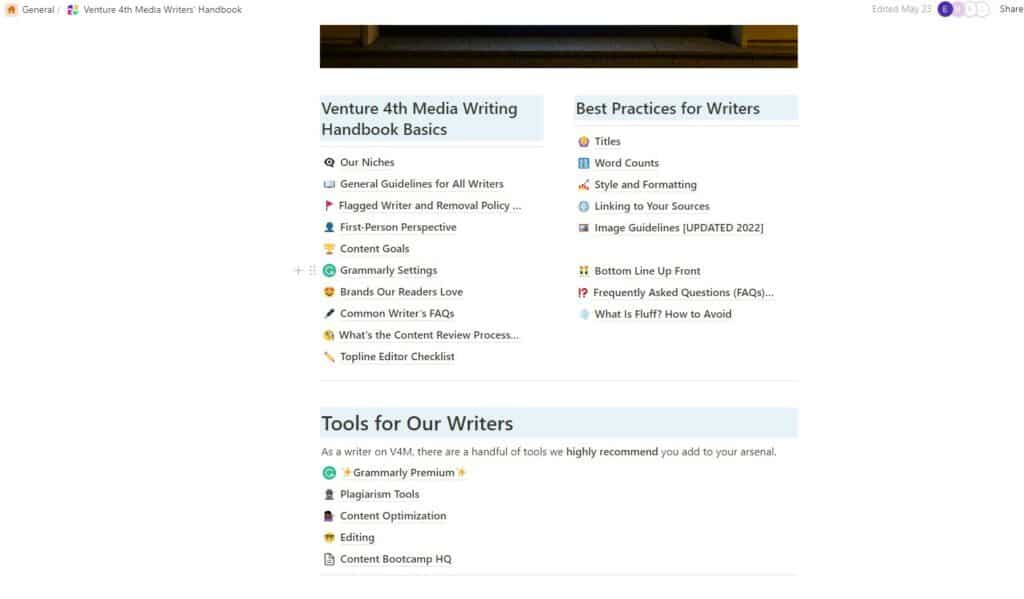 From task management to document sharing and project tracking, Notion has got you covered.
In addition to its flexibility for various types of projects, Notion also excels in facilitating knowledge sharing among team members. It's perfect for stand-up meetings where you can take notes and track agendas all in one place.
I personally love Notion for brainstorming ideas, keeping track of project thoughts and serving as a company-wide Wiki knowledge base.
Notion Compared to Others
Here's how notion stacks up to the competition:
Conclusion: Freelance Project Management
In conclusion, when it comes to choosing the best project management software for freelancers, there are plenty of options available. Whether you're looking for customizable tools, time tracking features, or Kanban board views, there's a platform out there to suit your needs.
From well-rounded options like monday.com to budget-friendly choices like nTask, or even simple Kanban tools like Trello (free), finding the perfect project management software can help streamline your freelance business and improve productivity.
So go ahead and explore these top picks to find the one that fits you best!