Last Updated on July 19, 2023 by Ewen Finser
If you are trying to decide between using Notion vs Craft for personal or business use, you are in the right place!
I've used both platforms personally and have fully implemented Notion in our business as a project management augmentation.
Craft and Notion are highly-regarded tools in the productivity and documentation space. Both platforms have their place, just for different use cases.
This article is a summary of my findings when I compared both directly.
Overview of Craft vs Notion
Craft, launched in 2019, is a document management platform with a sleek, modern design. It's gained popularity among Apple users due to its initial exclusivity to Apple devices.
Over time, it has broadened its user base by launching a Windows app and a cloud-based version.
On the other hand, Notion is an all-in-one productivity app that caters to multiple use-cases including note-taking, project management, and personal database creation.
It's been around longer and has a more extensive user base due to its versatility.
Notion vs Craft Key Feature Comparison
Here's my "at a glance" summary of the key features compared:
| Features | Notion | Craft |
| --- | --- | --- |
| Integration | Notion can be integrated with a wide array of third-party apps such as Google Calendar and Evernote. | Craft has fewer integration options compared to Notion. |
| Collaboration | Notion supports real-time collaboration, allowing teams to work together simultaneously. | Craft also supports collaboration but is more focused on individual content creation. |
| User Interface | Notion's user interface is a bit complex but offers more customization options. | Craft has a more user-friendly and intuitive interface, making it easier for beginners to get started. |
| Templates | Notion provides a variety of pre-made templates for different purposes. | Craft offers fewer templates than Notion, but they are beautifully designed and easy to use. |
| Pricing | Notion offers a free version and premium versions with more features. | Craft also offers a free version, but its premium version is less expensive than Notion's. |
| Offline Use | Notion's offline capabilities are limited. | Craft offers robust offline use, allowing you to work without an internet connection. |
| Platform Support | Notion is available on multiple platforms including Windows, macOS, Android, and iOS. | Craft is currently only available on Apple devices (macOS, iOS, and iPadOS). |
Comparison of Craft and Notion
While both Craft and Notion serve as effective tools for document management, they differ significantly in terms of features and user experience, making Notion vs Craft a nuanced debate.
Craft High Level Summary
Craft stands out due to its sleek design and focus on providing a seamless user experience. It operates considerably faster than Notion and is optimized for offline use. Its simple interface appeals to users looking for a straightforward tool to manage their documents.
However, Craft's strength lies in its emphasis on design and aesthetics. Users appreciate its elegant and modern interface, particularly those who prefer Apple's design ethos.
Notion High Level Summary
Notion, with its broad range of features including databases, tables, and formulas, offers a more versatile tool that adapts to your workflow. However, its complexity can be challenging for new users. Notion's interface is more dense and cluttered compared to Craft's, and it has been known to suffer from performance issues.
Notion's robustness and versatility make it a more comprehensive tool, allowing you to manage varied tasks ranging from project management to personal note-taking.
Notion Key Advantages
From using Notion for the last 3+ years, here's what I've found to be the selling points:
Integration: Notion offers impressive integration with a multitude of other applications like Google Calendar, Slack, Trello, and more, which enhances productivity.
Collaboration: Notion supports real-time collaboration, allowing teams to work together seamlessly on projects.
Customization: With its complex user interface, Notion provides more customization options, allowing users to tailor the platform to their needs.
Templates: Notion has a vast variety of pre-made templates that users can leverage to quickly start projects or tasks.
Pricing: Notion offers both a free version and premium versions, catering to different user needs and budgets.
Database Features: Notion allows users to create, organize, and manage databases, making it a powerful tool for information management.
Cross-platform: Notion is available on multiple platforms including Windows, Mac, iOS, Android, and web browsers.
Wiki Feature: Notion allows users to create their own wiki for project management or knowledge sharing.
Task Management: Notion provides robust task management features, including kanban boards, calendar views, list views, and reminders.
Note-taking: Notion's note-taking feature is comprehensive, with support for rich text, images, to-do lists, and more.
Content Import: Notion supports content import from other note-taking apps like Evernote, making the transition smoother for new users.
Offline Use: While limited, Notion does offer offline capabilities, allowing users to access their content without an internet connection.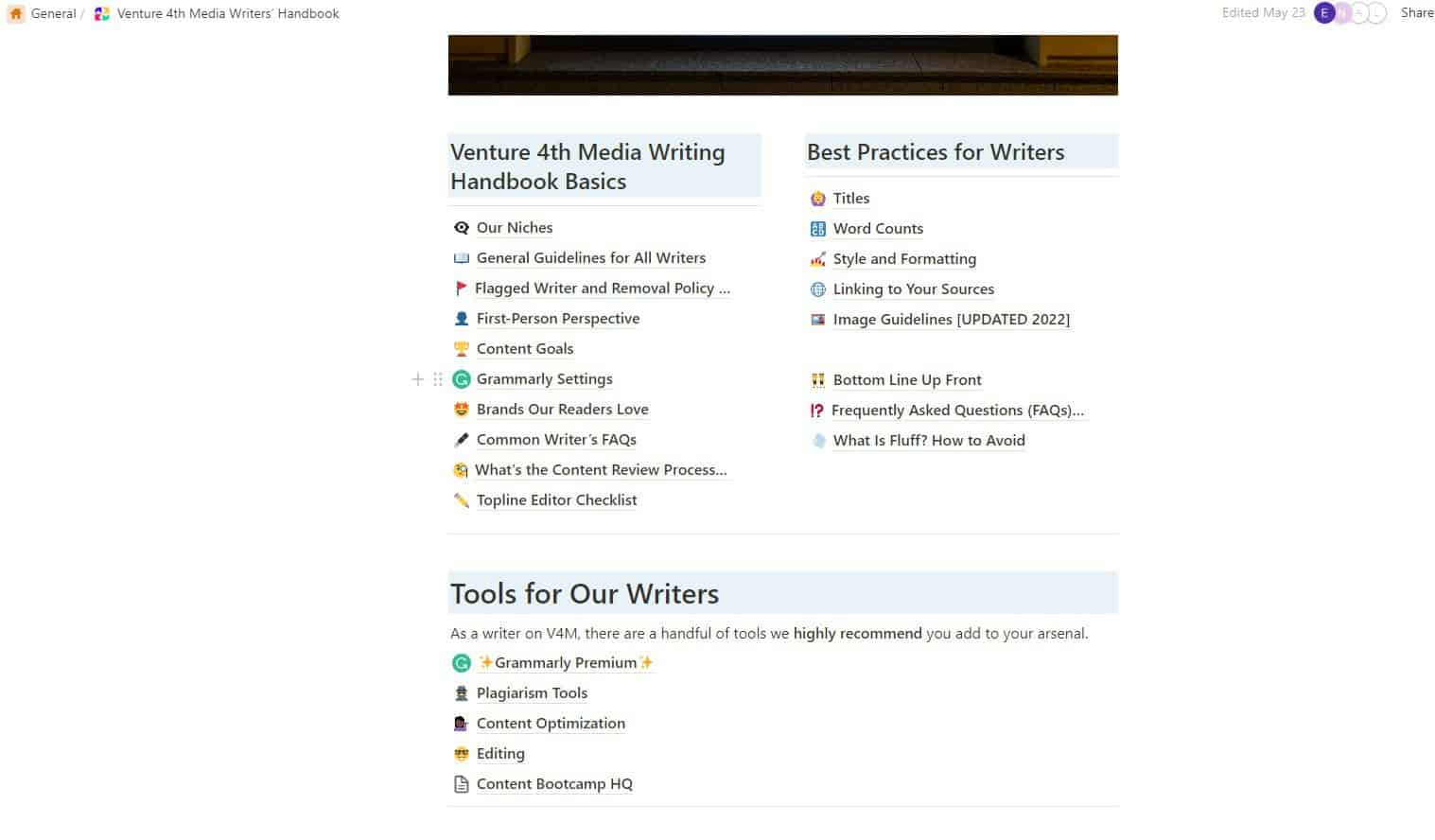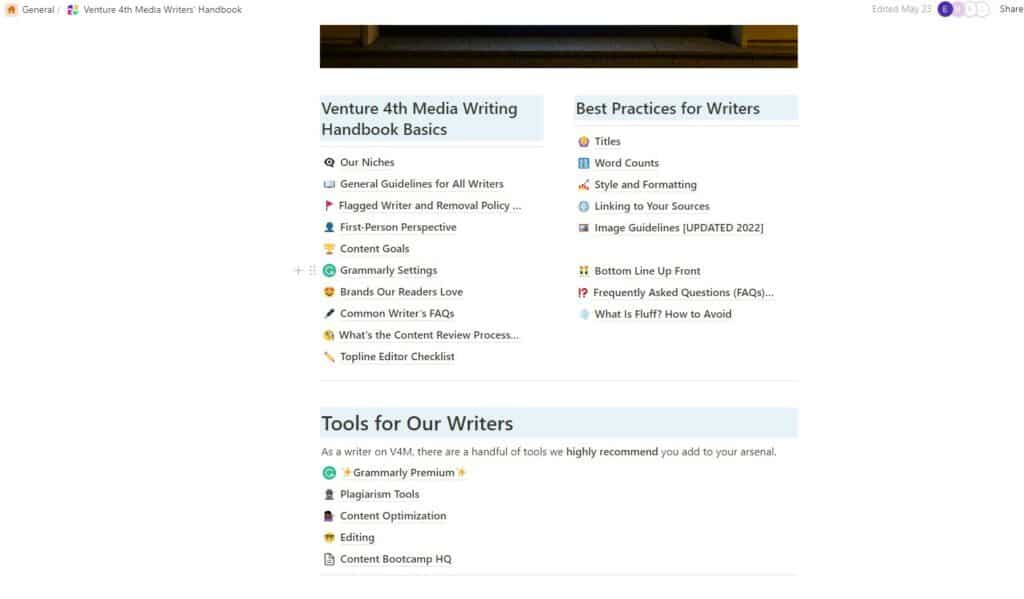 Craft Key Advantages
In contrast, from my personal dabbling with Craft, here's what I've found to be the key advantages of Craft:
Blocks-based system: Craft uses a unique system of blocks for organizing information, allowing for high flexibility in note-taking.
Collaboration: Craft offers real-time collaboration features, enabling multiple users to work on documents simultaneously.
Document Versioning: Craft provides the ability to access previous versions of a document.
Integration: Craft integrates well with other applications and services like Google Calendar and Slack.
Templates: Craft offers a variety of templates to help kick-start your projects.
Content Import: Craft allows users to import content from other sources, making the transition smoother.
Offline Use: Craft supports offline use, ensuring productivity even without an internet connection.
Cross-Platform Availability: Craft is available on macOS, iOS, and web, ensuring users can access their notes from any device.
Pricing: Craft offers both a free version and a pro version with more features at a reasonable price.
Rich Media Support: Craft supports the inclusion of images, videos, and other media in documents.
Markdown Support: Craft supports markdown, which is a popular lightweight markup language among developers and writers.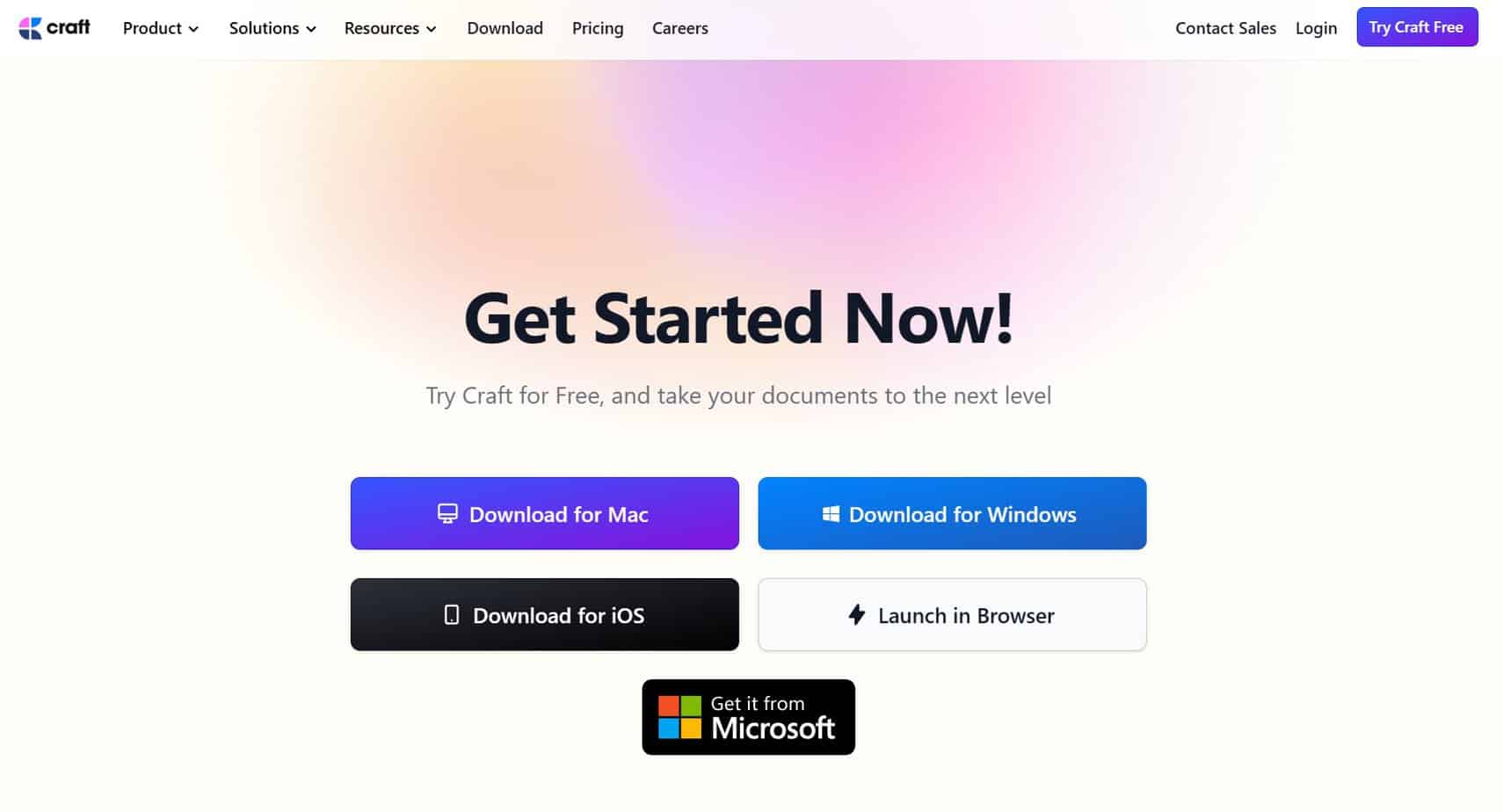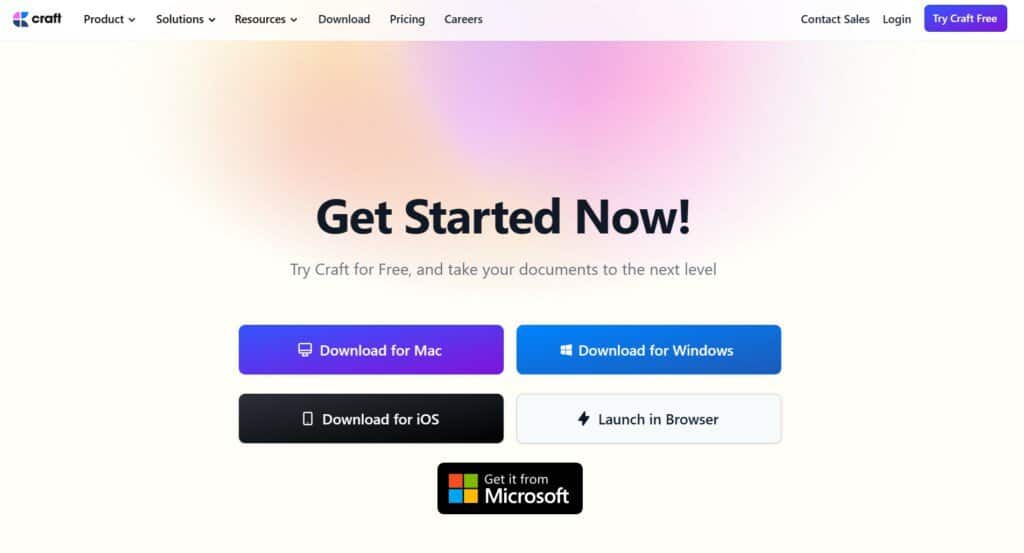 My Take
Craft shines with its multiplatform support, offline capabilities, and customization options. On the other hand, Notion has considerably more features and is more of an open-canvas to customize.
I personally use Notion in our company as a comprehensive knowledge management platform for information sharing across our company. In this sense, I find Notion to be better suited for business use cases than Craft.
Other Notion Alternatives
I've used a wide array of Notion competitors, some that compete directly and others indirectly. If Notion vs Craft wasn't enough, here's how our editorial team (myself included) have evaluated Notion versus other top options:
Craft vs Notion: The Verdict
The choice between Craft and Notion depends on your individual needs and work style. If you're looking for a simple, fast, and visually appealing tool, Craft may be the right fit.
If you need a more versatile and powerful tool, Notion might be your go-to.
The Future of Craft and Notion
The competition between Craft and Notion has stimulated innovation and improvements in both tools. As they continue to evolve, it will be interesting to see how they adapt to users' changing needs and the dynamic landscape of productivity tools.
Right now, Notion clearly has an edge in terms of adoption and business uses cases, but Craft seems to be offering a cleaning UX (almost has an Apple aesthetic) and is a great option for personal notes.
Final Cut: Notion vs Craft
Craft and Notion both offer unique advantages that cater to different user needs. Your choice will depend on your personal preferences, the nature of your work, and your comfort level with the interface and features of each tool. The best way to decide is to try notion vs craft for yourself and see which one best fits your workflow.
My Bottom Line: Personally, I like Craft as a personal note taking device BUT actually use Notion in our company as an integrated knowledge management wiki & resource database. So, if you are looking for the best business applications, I strongly lean towards Notion here.