Last Updated on August 13, 2023 by Ewen Finser
Your team is important and varied, working from all different locations and bringing unique collections of skills together.
Your team also needs to be able to communicate and collaborate so tasks can be worked on together and completed when needed.
It's possible that your team isn't used to working together, and some members may not even be used to collaborating at all.
This is why effective project management is so important – it's often the only way to get everyone working together toward the same goal so that the correct outcome can be delivered.
In this article, we're going to start by asking you a few questions that will help you assess where your business is right now regarding project management.
Then, we'll talk about common project management hurdles, namely the ones that can be solved with the right tool.
After that, we're going to give you an overview of how project management tools can help, then we'll dive into the core features to look for and break them down by sub-feature.
We're also going to tell you about which features may be missing and how these drawbacks of some tools can make project management a lot harder.
To end, we're going to give you three cost-specific shopping tips, talk quickly about choosing the most popular tools, and leave you with a game plan for finding the software that's right for your team.
Understanding Your Business' Current State of Project Management
In order to choose the right project management solution for your business, you need to know how your project management processes and workflows work now. Answer these questions to paint a picture of your current project management situation:
How complex are your projects?
In which areas can your teams improve?
What are the project management styles that your team uses?

For example: Six Sigma, Agile Project Management Tool, Creative PM Team approach…

What is the typical size of a team?
Which tools are you using that aren't delivering results?
Do you have business or productivity applications you plan on using moving forward?
You also may need to team up with your IT director to determine the technical requirements for setting up and integrating a new project management system.
Common Project Management Hurdles
There are a number of hurdles that teams and project managers face all the time, including:
Geographically dispersed teams that are hard to engage or motivate (whether a small team or large team)
Inaccuracy when gathering requirements
Inexperienced project manager
Insufficient goals or vision
Poor communication
Poor estimates of resources and/or time per project task
Project objectives that keep changing
Wasted time searching for emails or attachments
The right project management tool can help or solve many or all of these common challenges.
What Do Project Management Tools Do?
Source: Easy Project
Project management tools help the entire team see a project through from start to finish while ensuring it's coming in on time and within the budget. They let project managers assign goals, schedules, and assign tasks, then allow team members to collaborate in a centralized location for their task assignment.
Documents and versions of documents can be shared and stored for everyone to access, and they can include information about the changes that have been made. Project management software will usually have a dashboard where everyone can get an overview of the project, including status, performance, and overall progress.
Project management tools are there to support the team so they can get the work done, accounting for different work styles (or different projects) and environments. That means that teams can be traditional, like all working within the same office building, or non-traditional, such as remote teams working from international locations.
Core Features of the Best Project Management Tools
Without the right features in the tool you choose, you'll need more tools to encompass everything you need. When teams have to use several productivity tools at once, productivity ends up being limited instead of maximized. Plus, since team members will pick and choose which tools they use the most, it's nearly impossible to get everyone on the same page and communicating effectively. Consider these core features when searching for the best project management software.
Customer Service
No matter how experienced you become with your project management tool, there's going to come a time when you need outside help. Personally, I wouldn't use any important business tool without knowing that there's a customer service team behind it that will help me. Ideally, the software you go with will have two types of support:
Self-service, which could include a rich knowledge base or a lengthy FAQ section
Live support via chat, email or phone
When experimenting with the project management tool, like during your free trial period, give the customer support team a few challenges to see how they respond. Even knowing that they get back to you quickly or that they take a week to respond could impact your decision. If you don't have the extra time to test out customer support, check out reviews to see how other users have experienced the software's customer service.
Document Management
As projects are worked on, team members are going to share documents and make changes to those documents. Project management software lets this happen all within a secure, centralized location. Features of document management may include:
Ability to share files from multiple devices and multiple projects (or even unlimited projects)
A central library where all attachments and uploads can be searched and accessed
Locking files so that changes can't be overwritten
Maintaining up-to-date information and the ability to see what's been done to a document via change tracking, document history and version management
Share documents within all of the software's tools instead of dedicating just one area for document sharing (for example, being able to share documents within communication tools and also on task boards)
Project Management Platform Flexibility
While flexibility isn't necessarily a set of tools within your project management software, it is a highly important component of software, affecting everything from usability to scalability. Here are a few things to pay attention to in terms of flexibility:
Easy setup and project management, whether the project and tasks are simple or complex project setups (with task dependency), and either new or routine
Easily understandable and has intuitive training for users at all stages, whether they're brand new or veteran team members
Tools that can be easily accessed when you need them without getting in the way when you don't
Availability around-the-clock and from any device
Project Management App Integrations
Even the best, most robust project management software may not have every single feature you need, or you may want it to be a complement to certain tools you already use. If you've determined which tools you currently use that will be a help instead of a hindrance to performance, then you'll want to choose project management software that smoothly integrates with your current processes. Here are a few examples of common integrations:
Calendars: Odds are that your team members have personal calendars as well as the project management calendar. Being able to combine the two, particularly so that the personal calendar also shows work information, is a huge help for team members who have a lot of information to keep straight.
CRM Activity: When data is changed in your CRM system, like Salesforce, your project management software can get a notification or be updated as well. For example, if you're working on a project for a specific customer, their customer record can be immediately updated with the latest information.
Email: Automatically add filtered emails into the project management software. You'll be able to see and react to the emails that are most important for the project without getting distracted by emails that you don't need at the moment.
Social Media: Brands often have to monitor their social media profiles for important brand activity, but doing so can become quickly distracting. To get the information you need without falling into a social media hole, look for project management software that monitors your social platforms and pulls in important engagements so you can respond quickly.
Website Activity: It's often important for businesses to know about high-level website activity like filled in forms when it happens. This is particularly important to customer support and sales teams. With project management tool integrations, you can get this information in real-time so that your team can respond quickly.
Management of Resources and Workload
It's important for project managers to have a clear overview of current and upcoming work in order to accurately manage resources and workload (collectively referred to as resource management). These features can help with the following:
Distribute resources based on capacity
View team member availability in order to assign them to tasks
See which team members are working on which tasks, and determine who is overloaded and who can handle more work
Disperse and balance work for overloaded team members
Assign work to team members who have gaps
Track project budgets to ensure you're not exceeding them
A helpful feature is workload self-assessment, which means that team members can give feedback on their own workloads. This lets the project manager know if a team member is comfortable or uncomfortable with what's expected from them. By having this information, the project manager can make changes to resource management and allocation before a task goes past deadline without being completed.
Monitoring and Reporting
Monitoring and reporting features, specifically those in the central dashboard, let the project manager and the team see how all projects are moving forward. Features may include:
Access a digest that gives an overview of ongoing, overdue and upcoming work
Customized dashboards and reports
Metrics and real-time stats that may include charts, graphs and timelines
View how team progress relates to the project's plan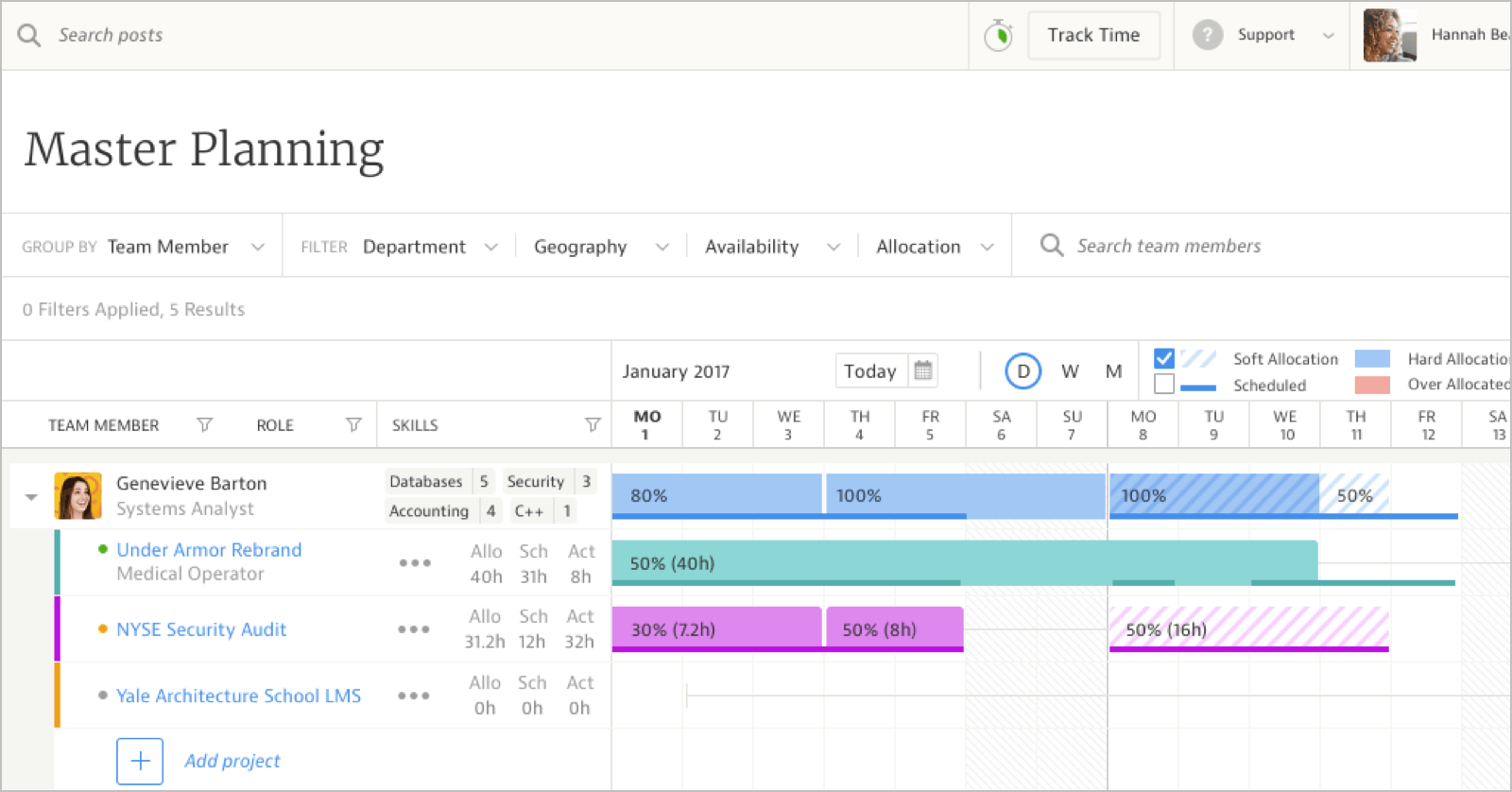 Source: Mavenlink
Project Planning and Scheduling
With project planning and scheduling features in your project management software, you can set goals and also figure out how you'll reach them. Features may include the following:
Create a project template or use already-made ones
Define project requirements so that every team member is on the same page
Design roadmaps for advanced work strategies (agile methodology & agile project management for an agile team)
Schedule milestones and deadlines for tasks so the duration is clear
Use Gantt chart to visualize task schedules and expectations
When it comes to project planning and scheduling unlimited projects, consider using a Gantt chart. These horizontal bar charts will illustrate two important elements of a task: the duration and the hierarchy. The Gantt chart will connect to the tasks that are on your Kanban board (we talk about Kanban boards below) in order to automatically update the project's progress.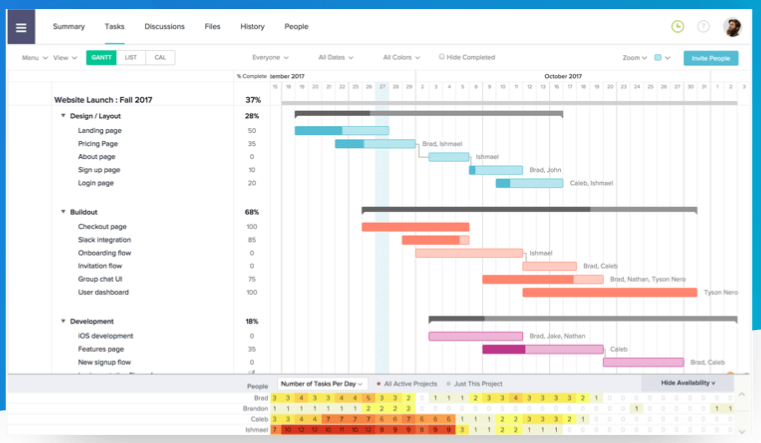 Source: Team Gantt
Security
Project management software should be secure so that the team and only the team has access. Security features may include:
Access control based on roles
Encryption to protect data on all files, including encryption both during transit and while files, are at rest
Multiple backups that will be created and encrypted daily, then stored in a secure location
Privacy controls for sensitive content
Two-step verification
Task Management
Task management features include an array of tools to help assign, organize and prioritize tasks so they are completed correctly and on time. These tools can help with the following functions:
Automatically notify team members about activities and deadlines
Create Kanban boards that include files and comments
Personalize task management for individuals
Set deadlines to tasks so that team members know what's expected from them
Update task list with statuses that the whole team can view
View all tasks, including the ones that are planned but not started; ongoing; overdue; and complete
An incredibly helpful task management tool is the online Kanban board, which is a way to visually organize and manage a project. The Kanban board has cards and each card represents a task. The cards can go in one of three columns based on what stage the task is in Planned, Working On, or Done. As the task moves through these stages, the person assigned to the task moves the card to the correct column. Each card can also have a checklist with sub-tasks so that everyone knows the specific actions that need to be taken in order to complete the task.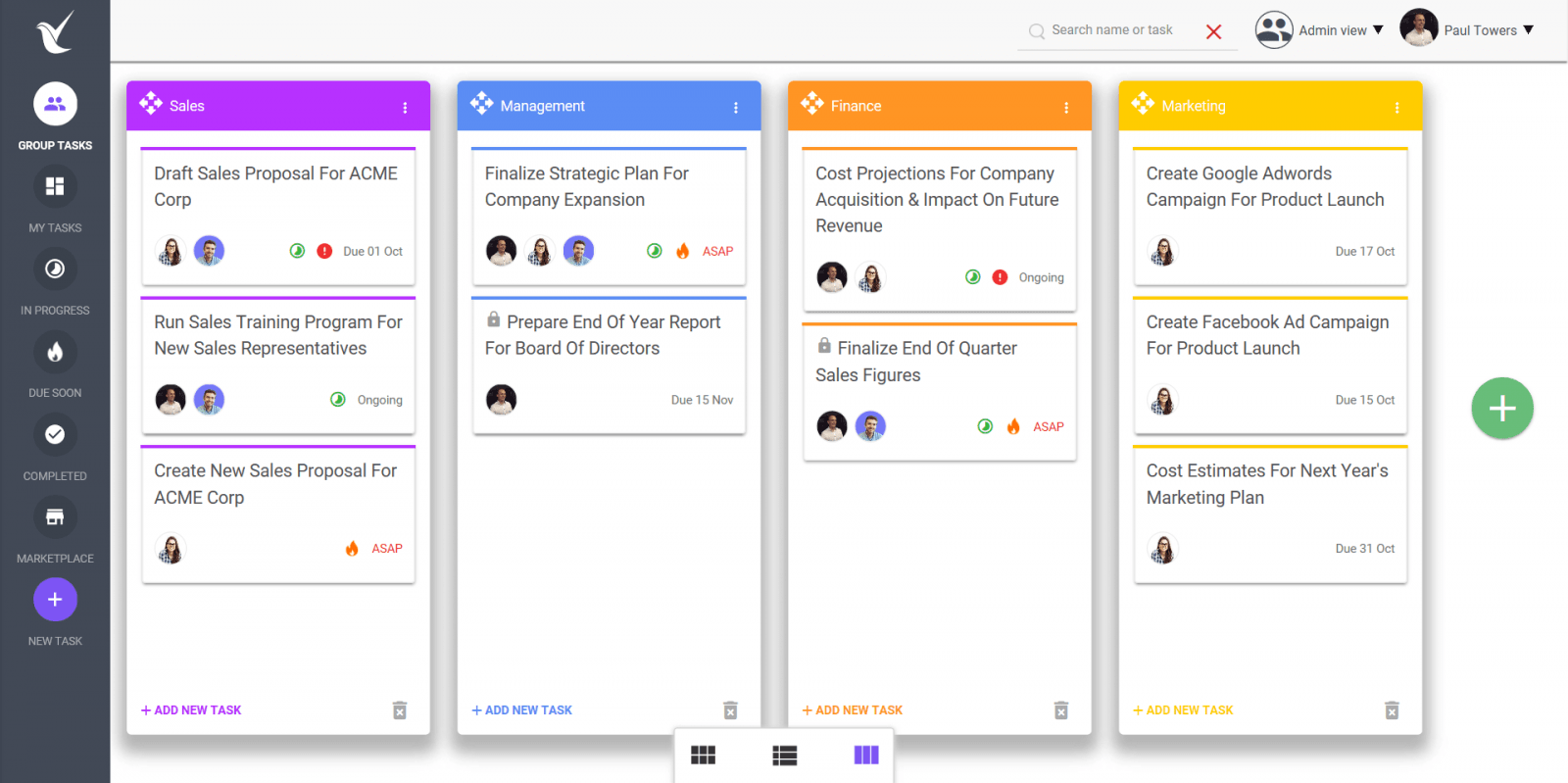 Source: Task Pigeon
Team Collaboration
Team collaboration features let you collaborate with all sorts of team members, whether they're internal, remote team or external partner. Having a virtual, all-encompassing workplace helps the team to plan and work together.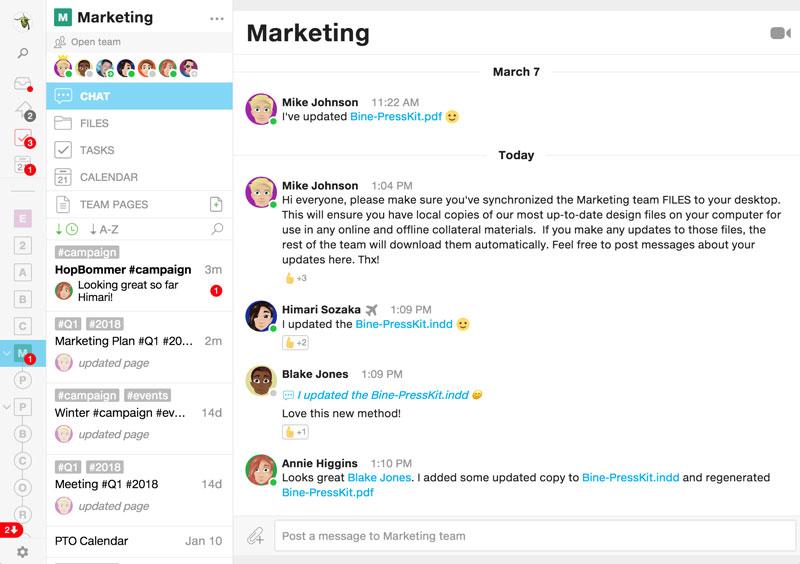 Source: Samepage
Team collaboration features include:
Ability to share data, documents, and contact information
Accessibility on any device, which is especially helpful for traveling team members
Calendars that can be synced to personal calendars
Communication tools that can replace emails, such as one-on-one chat and real-time messaging
Conversation threads to centralize all communication about a task or project, including attachments, comments, feedback and tags
Online meetings that can be scheduled and held within the project management tool
Personal task lists with reminders to keep individual team members on top of deadlines
Visual indicators that eliminate the need for longer messages, such as "percentage complete" indicators on tasks or emoji reactions
When it comes to team collaboration features within a project management app, the most important tool may be the communication tool. While some software will be able to pull in your emails, it's more convenient for everyone to have built-in communication abilities. Here are some perks of having a built-in communication tool:
All information about a project stays within the virtual space, which is much more streamlined than dispersing all of that information to different team members via email. Team members can ask questions, share their ideas and documents, and offer feedback.
Tagging a team member will send them a notification in real-time.
Hashtags make it easy for team members to find specific information within a thread.
When new team members are brought on board, they can easily get up to speed by reading through the conversation threads.
Drawbacks of Some Project Management Tools
When deciding which project management tool is right for you, it's helpful to know the common drawbacks of many tools on the market today. Looking for the features you want to be included is only part of the process – you also want to check that certain features aren't part of the package.
Extraneous Features that Complicate Tasks
At first, it may seem great that a project management tool has a feature for each and every tiny little part of the concept-to-delivery process. However, when there's a tool for every task, this can complicate the project management software altogether. Not only could tasks end up taking much longer than necessary to complete, but the software itself will have such a steep learning curve that it will be impossible to get every team member to learn the software completely.
Missing Features for Simple Tasks
On the other side of having a suite of unnecessary features is missing features for basic, recurring tasks. For example, if your project management tool doesn't have a notifications feature, team members won't be alerted to the milestones they're nearing or the deadlines that are approaching. This limits how well the project manager can communicate with the team.
Lack of Transparency
When status reports are restricted to just a few people on the team, transparency is limited. Team members benefit from seeing how well a project is going and which issues need to be resolved. Unless there's a serious or legal issue to restrict project-related information, consider project management tools that encourage transparency so everyone truly feels like they're part of the team.
Requires Extensive Training to Use
The best project management tools are intuitive and easy to use, which means they don't require extensive training in project management techniques. Tools that have a severe learning curve and require a lot of training are more of a liability than a strength. If the project manager can't get up to speed quickly and also guide the rest of the team to use the project management tool, setbacks and failure are much more likely.
Project Management Frameworks & Methodologies
When adopting a particularly project management software, it's often helpful to first identify what type of framework your existing team is using.
OR, figure out what makes sense for your organization if you don't follow a specific methodology yet.
These are the top project management frameworks and methodologies today:
Waterfall Project Management: This is a linear, sequential approach where each stage of a project is completed before moving on to the next. It's useful for projects where outcomes are well-known in advance.
Agile Project Management: Agile is an iterative approach that emphasizes flexibility, customer collaboration, and delivering small, functional bits of the project at a time.
Scrum: A form of Agile methodology, where a small team works in sprints (typically 2-4 weeks) to deliver parts of the project and then reviews and adjusts their plan for the next sprint.
Kanban: Originating from Toyota's production system, Kanban is a visual approach to project management which helps teams work more efficiently together.
Lean Project Management: This methodology aims to deliver more value with less waste in a project context, focusing on continual improvement and efficiency.
Six Sigma: Six Sigma is a data-driven project management methodology that aims to eliminate defects and reduce variability in processes.
PRINCE2 (Projects In Controlled Environments): This is a process-oriented methodology that provides a detailed, step-by-step guide for managing projects.
Critical Path Method (CPM): This technique identifies all the tasks necessary to complete a project, the time that each task will take, and the dependencies between tasks.
Critical Chain Project Management (CCPM): This methodology focuses on resource management and buffer management, aiming to keep a project on schedule and budget.
Program Evaluation and Review Technique (PERT): PERT is a method to analyze the tasks involved in completing a project, especially the time needed to complete each task and identifying the minimum time needed to complete the total project.
3 Quick Tips for Choosing Project Management Software
We've talked about the features to consider when it comes to finding the best project management software for you, and while that's going to be the main part of your search process, we didn't want to let you go without offering a few more shopping tips, particularly related to price.
Dig into their pricing models. The featured price may be just the beginning. Often, this software has additional pricing for every team or user with the paid plan, which can quickly add up. Even free project management software offers are rarely without strings attached or resource management limitations.
Pay close attention to the features that are offered across the different pricing tiers. The base features may not be nearly enough for your team.
Find out how much customer support you can access for free versus what types of support you'll have to pay for. For example, the knowledge base and certain support tickets may be free, but training may be something you have to pay for.
A Note About Popularity
There are a ton of project management tools out there to choose from, and narrowing down your options can feel like a never-ending cycle of research and note-taking.
While we would never want to discourage you from going with a newcomer to the scene that truly has a wonderful suite of project management tools, we feel that going with the more popular choices is the safest bet.
The products that are most popular are popular for a reason – they have a great track record with customers and they've essentially set the benchmark when it comes to features.
The solutions that are in demand are in demand because they work so well. While these tools may not be the right software solution for you, they're a great place to start.
The Most Popular Project Management Tools
Over the years we've covered a LOT of tools here at TDM. Here are some of the leading tools & related editorial we've created:
monday.com: One of the leading agile project management tools, monday.com has expanded from "just a PM tool" to a full work operating system, with applications in marketing, sales, and beyond. They also now feature 100s of integrations with other software.
Wrike: A stalwart in the pure project management space, a great solution for facilitating cross-department planning, tracking, and resource allocation.
ClickUp: Best for work management, task and time tracking, process management, and goal setting. An excellent tool for teams that require high customization and robust reporting features.
Asana: Ideal for project tracking and team collaboration. It excels in task management, workflow visualization, and deadline tracking.
Trello: Great for Kanban-style project management. It offers simple, visual, and interactive task management with a drag-and-drop interface.
Notion: Best for knowledge management and collaborative note-taking. It provides a unified workspace for documents, databases, and project management.
Basecamp: Ideal for remote team collaboration and communication. It combines message boards, schedules, to-do lists, and file storage for comprehensive project management.
Airtable: Best for creating and sharing relational databases. It provides spreadsheet-like features with a blend of database functionalities for project management.
Microsoft Project: Ideal for large-scale, complex project management. It offers detailed project planning, resource management, and progress tracking.
Smartsheet: Great for collaborative work management. It combines elements of project management, task tracking, and spreadsheet-like data manipulation.
Todoist: Best used for personal task management and small team collaboration. It helps manage tasks and deadlines with features like priority ranking and reminders.
Slack: While not a pure project management software in the traditional sense, Slack has become integral for many companies and their internal communications. It has become a de facto PM tool because of this.
Motion: Motion is a relatively new blend of calendar management, meets inbox management, meets project management. It's useful both as a personal and team productivity tool, leveraging AI to sync the default places where productivity (and project management) often happens into one unified dashboard.
Project Management Tools by Use Cases
We've also started covering various sub-specialty project management use cases, whether by industry or type of work.
Here's some niched down guides to help you narrow things down further;
Project Management Roles
It can be helpful to define the specific PM roles and stakeholders within your organization before adopting a new software framework.
With this in mind, here are some of the key roles to distinguish.
Next Steps
Now that you have a handle on your current project management workflow and you've uncovered the features you do and don't want, it's time to apply that knowledge. Make a checklist that includes both your current and projected requirements, including the features you need.
Also, note which features you'd like but that isn't a necessity (for example, which features you'd prefer to have but won't pay extra before). It's also helpful to determine where you're happy to make a trade for the sake of functionality (which feature would you give up in order to have another one in its place).