Last Updated on April 22, 2023 by Ewen Finser
When multiple teams work on different projects, it can be frustrating and time-consuming to track where each person's at. This is made even more of a challenge if your team's working remotely.
The solution? Project management software like Favro vs Trello. The right platform will simplify communications and enable you to share information with your team in an accessible and safe way. Instead of silo working towards the same goal, everyone can stay connected while gaining an overview of the bigger picture.
That said, in this review, we're comparing two popular project management software: Favro vs Trello. Both are well-known tools; both suit freelancers, SMEs, and larger enterprises and can be used on different devices.
Main Differences Between Favro vs Trello
The main differences between Favro vs Trello are:
Favro has higher prices on the packages, whereas Trello's starter price plans are cheaper.

Favro doesn't integrate with Gmail, whereas Trello does

Favro offers live rep support 24/7, whereas Trello doesn't

Favro doesn't offer a free plan, whereas Trello does offer it
Favro is only accessible via mobile devices, whereas Trello is accessible via Mac and Windows desktops.
Favro vs. Trello: Their Key Similarities and Differences
While these software solutions do have some overlap, there are also a few notable differences. Let's check out both:
Favro vs Trello: Their Similarities:
Both come with Android and iOS apps

Both are suitable for freelancers, SMEs, and larger enterprises

Both offer customers an online knowledge base

Both provide a 14-day free trial with no credit card required

Both are pretty much equally well-reviewed

Both integrate with Google Drive and Calendar, also Dropbox, Github, and Slack
Favro vs Trello: About Favro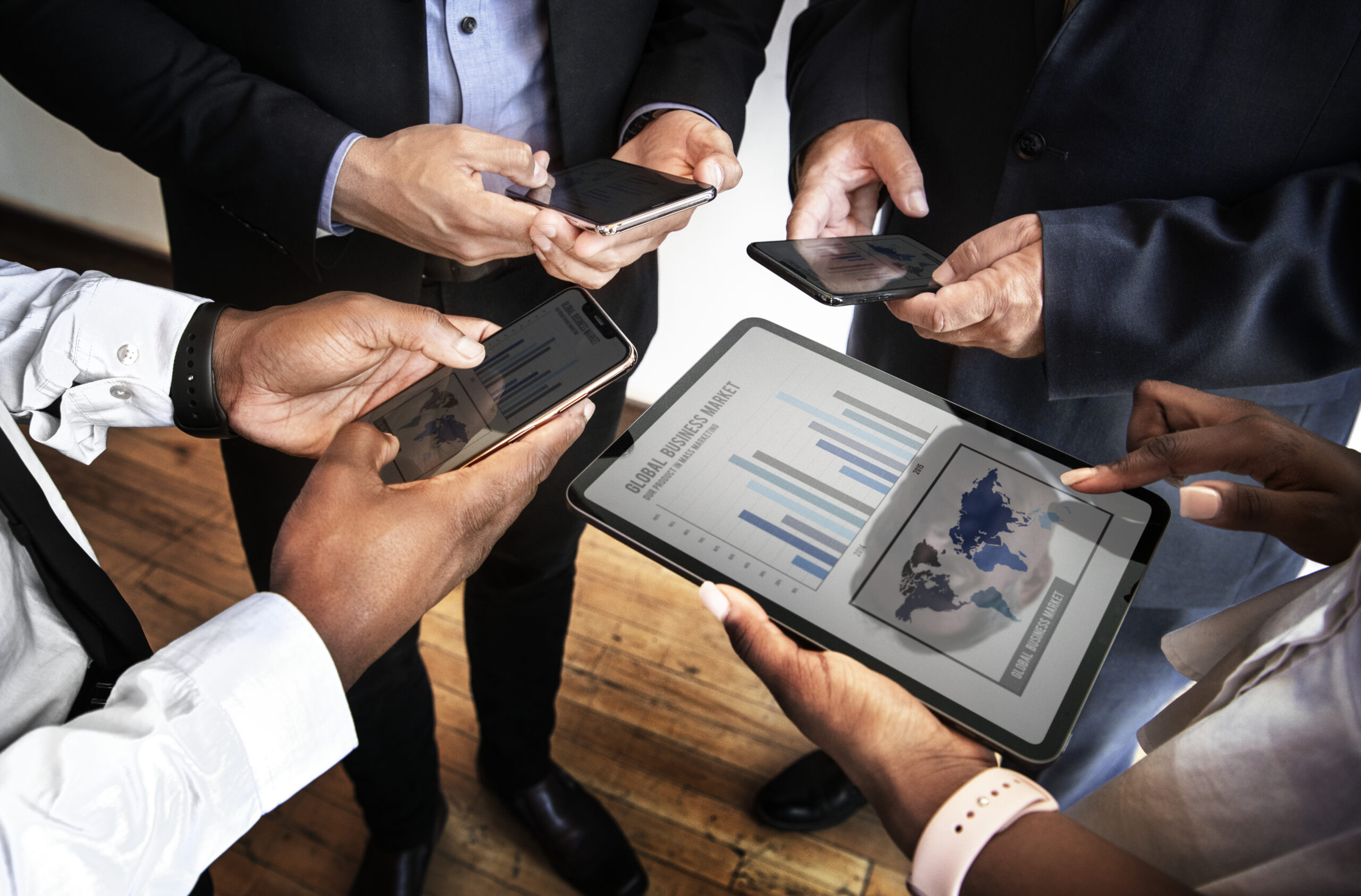 Favro is a cloud-based planning and collaboration platform that enables teams to stay organized when running business projects. Favro users can share tasks on planning boards, and teams can collaborate on projects from one centralized place.
Founded in 2016, Favro's used by well-known companies like Disney, Xbox Gaming, and Resolution. It describes itself as: "The #1 collaborative planning app for fast-growing SaaS and lives games companies."
Like Trello, projects can be broken down into different tasks and lists and monitored individually. Employees can list their tasks on a planning board and update their status, so that project collaborators stay up to date with task progression.
Like Trello, Favro also integrates with all the biggies, including Google Drive, Slack, Jira, and Dropbox, making file sharing so much easier.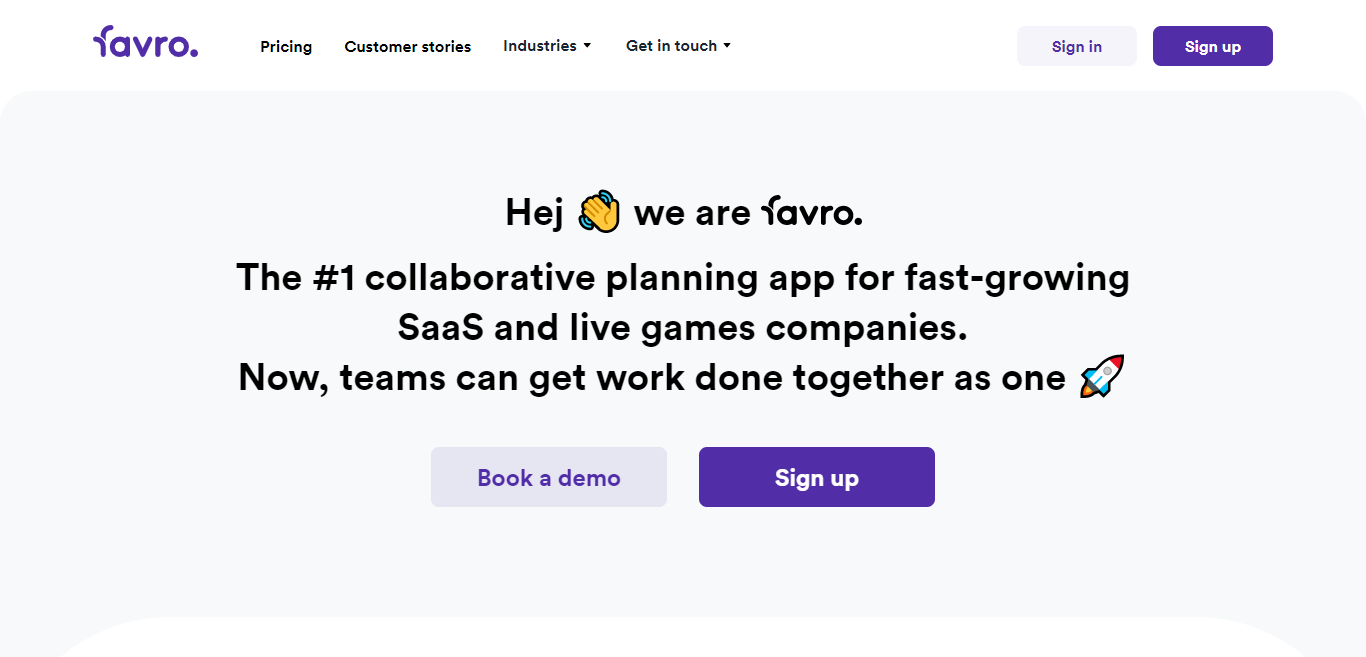 Favro vs. Trello: About Trello
Trello describes itself as a visual way to manage projects and "organize anything." It's actively used by more than one million people worldwide and boasts over four million registered users. In other words, it's big!
Initially launched in 2011, by 2015, Trello had established itself on an international scale. Then, in 2017 it was bought by Atlassian. Companies like Google, Costco, Squarespace, and eBay all use this project management software.
Teams can use Trello to get a shared perspective on any project. Trello can be customized and boasts more than 100 native integrations with other communication and project management tools such as Slack, Google Drive, and Jira.
Put simply, it's a tool for managing projects, tasks, and to-do lists. You have access to visual boards, each of which represents a project. Within each board, you get cards. Cards denote a task that needs doing – think of these like virtual "sticky notes" for your project.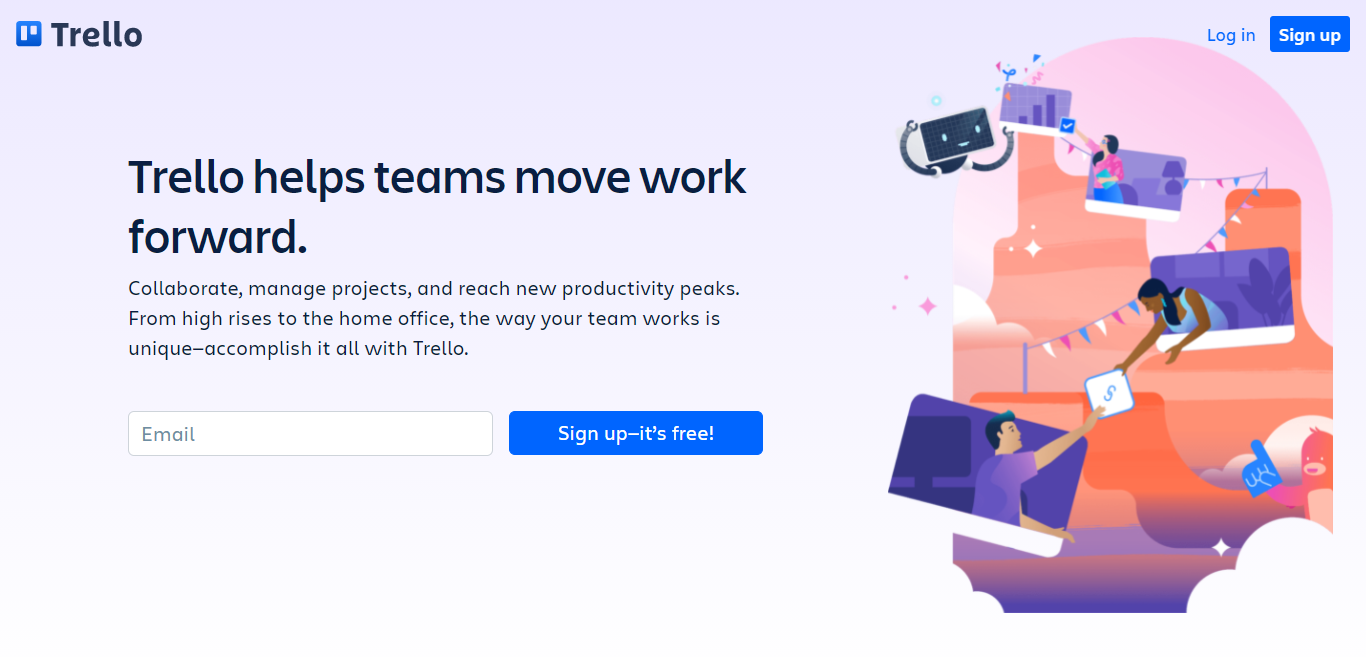 Favro vs Trello: Favro's Features and Prices
The most logical way to provide an overview of Favro's features is to do so in tandem with its pricing structure. Different plans have access to other (and in some cases the same) features. With that in mind, let's take a look at each pricing package in turn:
Favro has three pricing plans, the prices of which vary depending on how many users you have. You can choose from 2, 5, 10, 25, 50, 100 or 100+ users.
The three plans are called:
Lite,

Standard

Enterprise
You can pay either monthly or annually, with a 15% saving on the latter. As such, the quotations below are based on annual billing.
Before diving into the nitty-gritty of each payment plan, it's worth saying upfront that although Favro's a web-based platform, it's only available on Android and mobile devices (including tablets).
The Lite Plan
Prices start at $10.20 per month for two users, rising to $51 per month for ten users, $255 per month for 50 users, and $510 per month for 100 users. Anyone needing 100+ users is asked to contact the sales team for a custom quote.
The following features come with the Lite plan:
You can create an unlimited number of boards.

Access to unlimited backlogs: where you can plan and overview your work

You can create up to five collections: These are workspaces where you can plan and overview work using your boards and backlogs. You can divide your collections by team, project, location, and so on.

iOS and Android apps

Basic support

Authentication protocol via GitHub and Google
The Standard Plan
Prices here start at $13.60/month for 2 users, $68/month for 10 users, $340/month for 50 users, and $680/month for 100 users. Like the Lite package, anyone needing 100+ users has to contact the sales team directly.
You get access to all of the features included with the Lite plan, plus:
You can create unlimited collections (including private ones) so that only you can see the project you're working on

Access to unlimited apps and integrations

You can create and access unlimited boards and backlogs

You benefit from unlimited storage

You can create guest accounts

You can generate reports

You get 1,000 API calls per hour

You get access to standard customer support
The Enterprise Plan
Favro's most expensive plan, with prices starting at $25.50 per month for 2 users, for $127.50 per month for 10 users, $637.50 per month for 50 users, and $1,275 per month for 100 users. Again, anyone needing 100+ users should contact the sales team for more info.
Features include those already mentioned in the Lite and Standard plans, plus:
You can generate timesheet reports

10,000 API calls per hour

You can manage collections

SAML, which enables single sign-on (SSO)

SCIM user provisioning

Access to Data Protection Act and enhanced GDPR support
It's worth mentioning: The slightly complex pricing structure aside, the biggest difference here is that the Enterprise Plan offers far greater security, such as SCIM user provisioning. This allows companies with multiple users to identify data going back and forth between their users and service providers. Favro also offers a data protection act and enhanced GDPR support on its most expensive plans.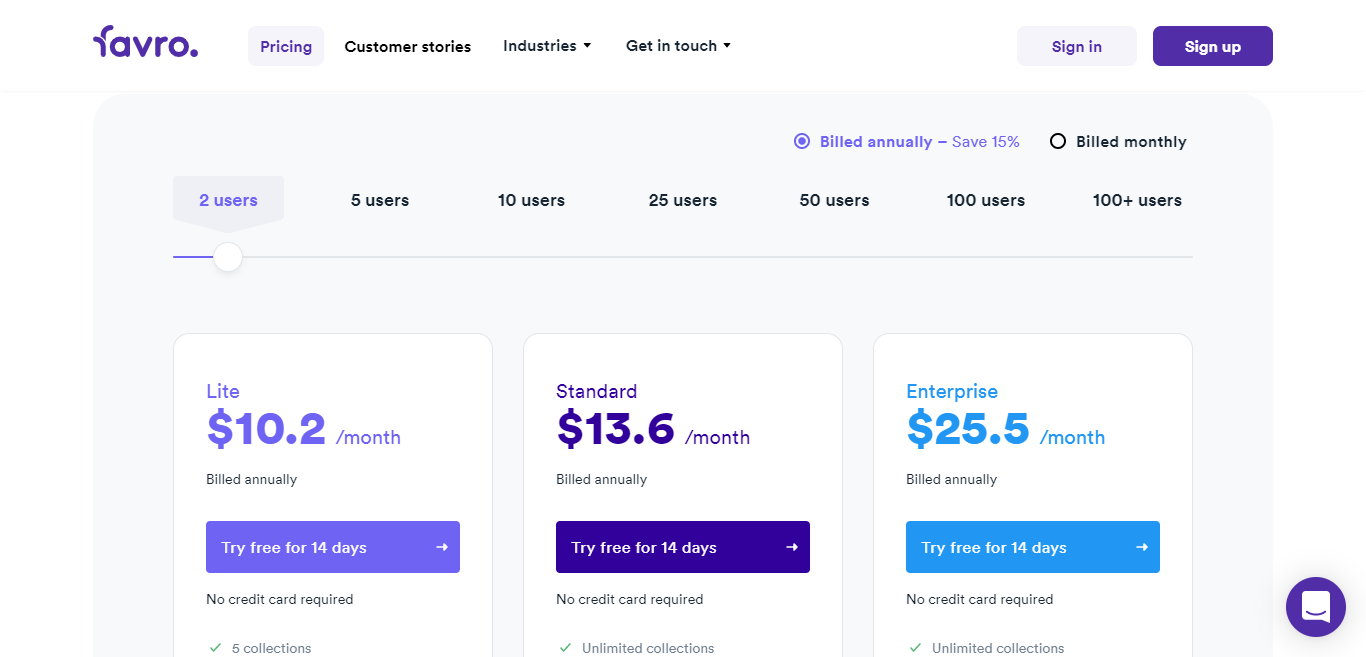 Favro vs Trello: Trello's Features and Prices
Again, the simplest way to outline Trello's features is to do so via its three separate pricing plans:
Free

Business Class

Enterprise
Let's look at each in turn:
The Free Plan
Yes, you heard right. This package doesn't require you to spend a dime – with no credit card required. It's best suited for individuals and small teams running projects.
Here's what you get with Trello's freemium plan:
You can create unlimited cards.

You can register unlimited members.

You benefit from unlimited storage (10MB per file)

Access to an unlimited activity log

You can create up to ten project boards.

You can use one power-up per board. This, along with integrations, allows you to add additional features to project boards.

You can set up to 50 automated command runs per month – No coding is required with Trello's automation builder, Butler. Here, you can automate almost every action on Trello, including creating rules, commands, and buttons. You can set tasks, add task due dates and checklists, and so on.

You can set assignees and due dates.

There are iOS and Android mobile apps available.

You benefit from two-factor authentication for added security.
The Business Class Plan
This is best suited to larger teams of up to 100 people and organizations managing multiple projects. The Business Class plan costs $10 per user per month if you pay upfront annually. Or $12.50 if you prefer to pay monthly.
Customers have access to all the Free features as well as the following:
You can create unlimited boards with limitless power-ups

You benefit from unlimited storage of 250MB per file

You get access to admin and security features

You unlock priority support

You can set up to 1,000 automated command runs per team + 200 per user up to 6,000 per month

Access to different board views, including dashboard, timeline, workspace table, and calendar
The Enterprise Plan
As its name suggests, this plan's aimed at larger organizations with more than 100 teams working across multiple company-wide projects. At the time of writing, there were no costs available on Trello's website. Instead, you're asked to contact Trello's sales team for more info.
However, teams have access to all the features mentioned above, plus:
You can set unlimited automated command runs

You can set attachment and organization-wide permissions

Multi-board guests – you can add multi-board guests to unlimited Workspace boards
Power-up administration

Personalized onboarding

Organization-wide boards
It's worth noting: If you're concerned about security and admin-related features. While the Free plan provides two-factor authentication, it's only with Trello's paid programs that you receive advanced admin permissions. Also, you can only deactivate members and export data with the premium plans too.
Finally, like Favro, Trello is a Cloud-based SaaS and available on mobile devices and tablets. However, it's also accessible via Mac and Windows desktops.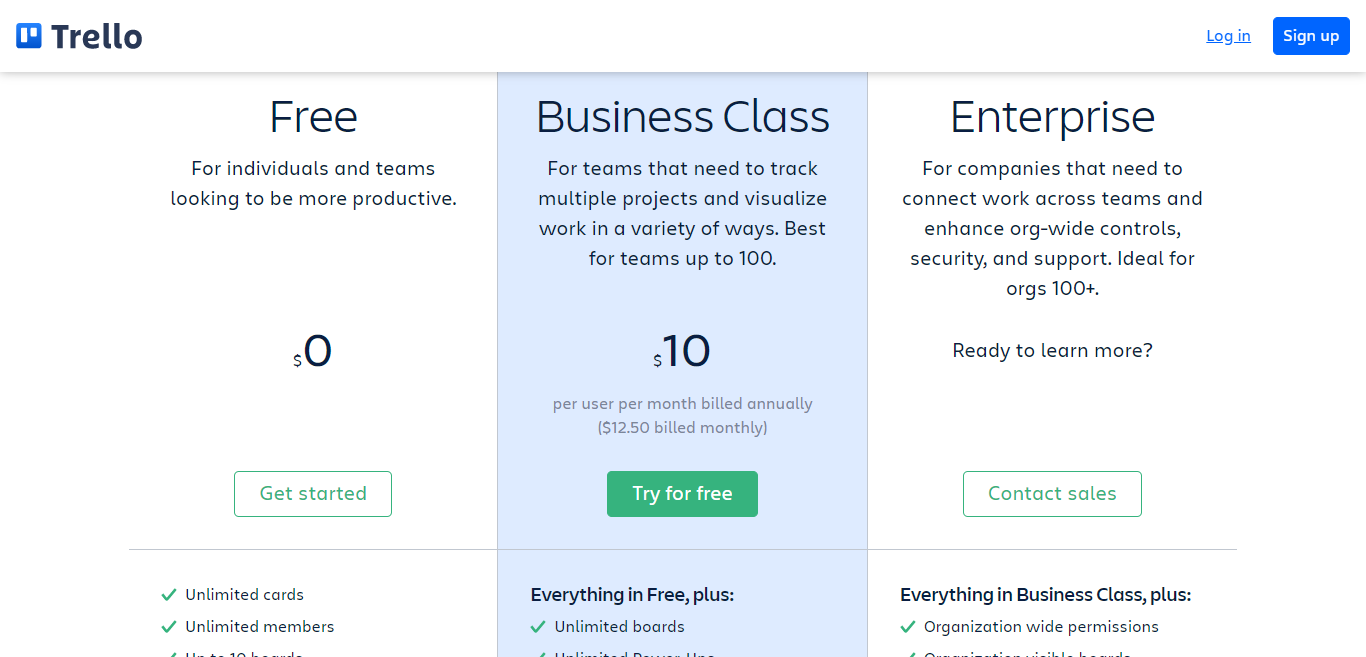 Favro vs. Trello: Their Pros and Cons
To help you digest all the info we've discussed above, we've compiled a quick pro-cons list for both Favro and Trello:
Favro's Pros:
Favro's simple to use, making it easy for your team to pick up

The platform's powerful enough to handle sophisticated organization-wide Agile practices.

There are tons of native integrations you can use

Users can @-mention specific team members.

You can generate reports based on real-time metrics.

Favro is excellent if you're in the game development industry or you're creating content developers.

Favro's time tracking is a handy feature.

It's easy to set start and due dates using Favro's calendar feature.
Favro's Cons:
Some users say that Favro could benefit from hourly task tracking. At the moment, you can only track tasks by days and weeks.

One user said that the mobile app could be improved with a zoom-in/out functionality.

Occasionally the software suffers from minor bugs. That said, users have noted that Favro's quick to update and fix these issues.
Trello's Pros:
Trello operates in real-time, so when an update is made, it appears automatically

Registering members to your Trello account is easy.

Trello works just as well on mobile devices as it does on desktops

Trello's notification system is first-rate, so rest assured your team will be kept up to date.

Trello's pricing plan is easy to understand

Trello's user interface is pretty intuitive
Trello's Cons:
Some users say that Trello's commenting feature could use some improvement. Although users can make comments, they can't be edited once they're published.

Trello doesn't offer a Gnatt chart display.

You can't create documents inside Trello or wiki about boards; the closest to this is a short description.

Some say that Trello is only suited to smaller projects.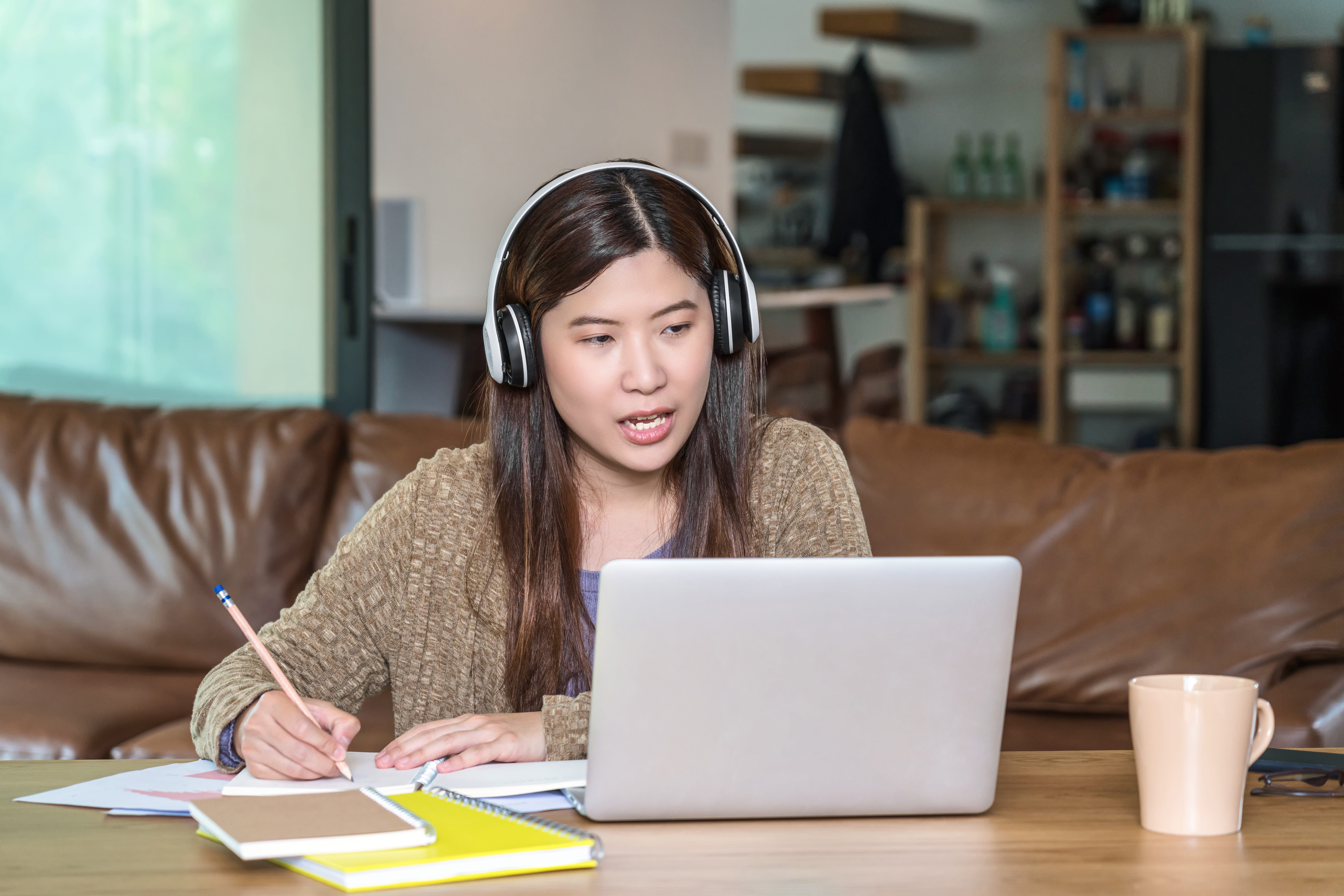 Trello vs Favro: Our Final Thoughts
Whichever project management software you end up using, it's super important you research what each one offers you in terms of prices and features, and integrations. If you're a solo operator who doesn't need a great deal of capacity, then Trello's free plan may well be ideal for you. The same applies if you're looking for tons of integrations, Trello definitely wins on that score too.
However, we liked how Favro splits its pricing structure. You can access higher paid plans with more features even if you only have a couple of users.
We can't tell you which platform to use. Ultimately that's your decision, but it's always worth choosing a solution that can grow with your business. The same goes for the number of projects you believe you'll be running not just now but in the future. So, be sure to take both these factors into consideration before making a final decision!
Good luck, and let us know what you think of Favro and Trello in the comments box below!
FAQs
Question: Do I have to start my boards from scratch?
Answer: The short answer is no.
Trello offers various templates organized into categories, including Business, Engineering, Design, Education, Remote Work, and Project Management. Alternatively, Business Class and Enterprise Plan customers can create Trello templates. These are ideal if you're looking to quickly replicate boards you'll use repeatedly.
It's pretty much the same for Favro. Here, users can create templates from cards, boards, and backlogs, making it effortless to repeat systems you have already put into place for earlier projects. Once you've set up your Favro template(s), you can categorize them into collections that other departments and teams can use.
Question: What kind of customer support is available with Favro and Trello?
Answer: Both platforms offer differing levels of support. In Favro's case, its website has a Resources section, where you'll find advice and answers from the Favro team on topics like:
• Getting started
• Switching to Favro
• Integrations
• FAQ and troubleshooting
Instruction videos about Favro that you can view on YouTube
Favro also offers live chat support and email. Or you can book an email to discuss prices, subscribing, and any ongoing issues you may be experiencing. There's also the Favro Fanatics online community. At the time of writing, here you'll find almost 800 members. It's a private group that's only accessible to Favro subscribers; here, users can network, swap tips, and bounce ideas around.
Last but not least, Favro partners with a company called Broad Cove Insights which offers Favro training. Choose from either the Favro Fundamentals Course consisting of 28 lessons for $150 or the Favro Agile Advanced course comprising 25 lessons for $400.
Moving onto Trello, its support package differs somewhat. Partly because, at first glance, it's simply not as comprehensive as Favro's. Trello has an online Help Center where you can type questions into a search bar. This then populates relevant materials to your query. There are also articles on topics like:
• Getting Started
• Using Trello
• Troubleshooting
• Trello for iOS
• Trello for Android
• Trello Templates
There's also support inside Trello's template section on its website. Here you can read template-related articles on topics including:
• Customer support template
• Building a customer feedback program
Support ticket management for anyone dealing with incoming IT helpdesk queries in their organization
Looking through Trello's price plans, we found that Business Class and Enterprise customers have priority email support. Here, you can expect a response within one business day.
Question: Tell me more about Trello and Favro's integrations
Answer: At first glance, it's clear that Trello offers more integrations than Favro. Trello's integration list is pretty extensive and includes well-known names such as:
• CloudApp
• Dropbox Business
• Freshdesk
• GitHub
• GitLab
• Gmail
• Google Calendar
• Google Drive
• Help Scout
• Hubstaff
• Jira
• Mailchimp
• Microsoft Outlook
• Salesforce Sales Cloud
• ScreenfulSlack
• SurveyMonkey
• Twitter
• Usersnap
• Wistia
• Zapier
• Zendesk
On the other hand, Favro integrates with far fewer apps, which may well deter some potential users. For example, it doesn't integrate with Gmail or Twitter, but it does integrate with the following:
• Dropbox Business
• GitHub
• Google Calendar
• Google Drive
• Jira
• Microsoft Outlook
• Slack
• Zapier