Last Updated on February 15, 2023 by Ewen Finser
Today we are going to be looking at two of the best project management tools currently available: Wrike vs Trello compared.
We will be looking in-depth at all the features these services offer, as well as their pros and cons, and the pricing, so you can compare the two side by side and see for yourself which one will suit your business best.
Running a business can be hard work, and when you have to work and collaborate with a team, things can get even more complicated.
It's important that someone takes charge so that goals and deadlines can be set, and the right tasks can be assigned to the right people to ensure the project runs smoothly.
And to make all of this easier, you can take advantage of project management software.
Bottom Line Up Front Summary, I've tried both Trello and Wrike. Trello worked initially for a basic Kanban board, but as we grew we needed more functionality (integrations, analytics, data). However, Wrike wasn't quite as user friendly. We ended up going with monday.com here (the best of both worlds, user friendly and feature-rich).
Main Differences Between Wrike vs Trello
The main differences between Wrike vs Trello are:
Wrike offers more expansive workflow management, whereas Trello offers a simple Kanban board project tracker
Wrike has built-in Gantt charts, whereas Trello doesn't have native Gantt functionality
Wrike is more customizable, whereas you get what you see with Trello
Wrike is meant to scale up to large enterprise if needed, whereas Trello is gear towards small businesses and teams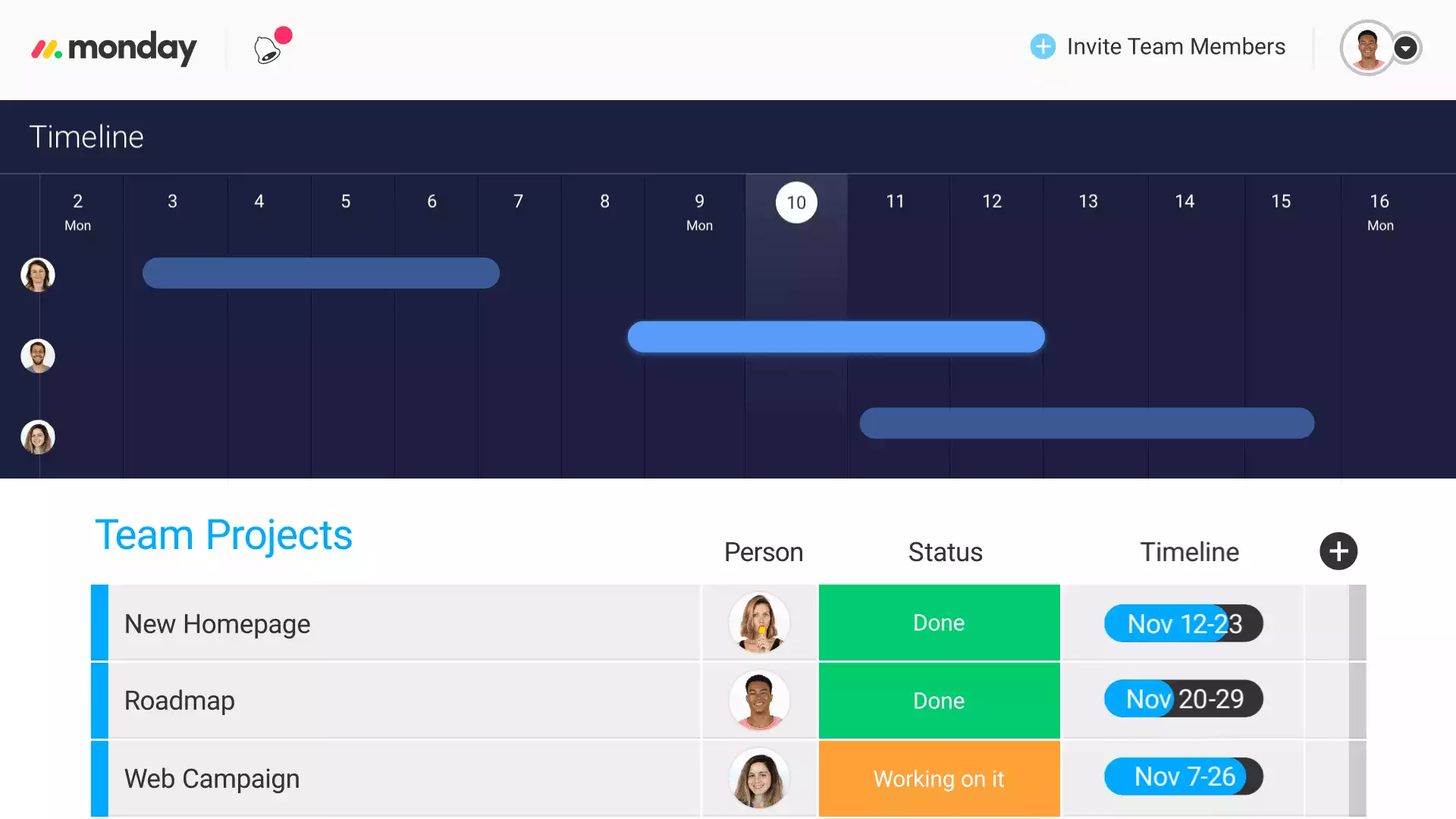 Go with monday.com INSTEAD
Monday is the PERFECT combination of project management and business workflow automation. In fact, I personally use it INSTEAD. Take a free spin to see what I mean.
Try monday.com free instead
We earn a commission if you click this link and make a purchase at no additional cost to you.
You may be thinking that you don't need project management software and that you can manage the projects on your own like you always have done.
But here's the thing…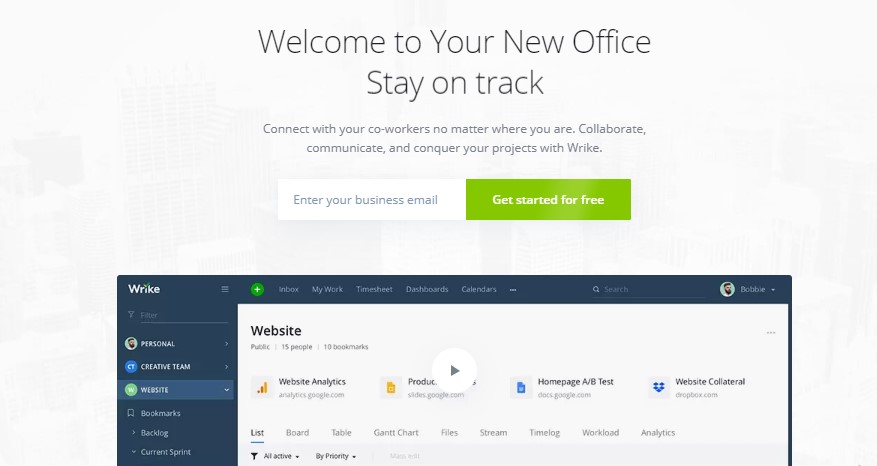 Using dedicated project management software can save you both time and money, by helping you to manage your budget efficiently, collaborate better, and help you avoid any costly mistakes. Here are just a few of the benefits that come with using project management software:
It's easier to collaborate with teams (collaboration tools)
Better Budget Management
Better communication with clients
You can delegate tasks easily (task management)
You can create a project timeline and allocate schedules for different parts of the project
Centralized document sharing
Helps you to standardize sales processes
Enables remote working
Helpful for new team members to catch up on what's already been done and see what's coming up
As you can see, there are loads of benefits to using this type of software, in fact, around 77% of high performing projects are using project management software.
So all you need to do now is decide which one of these tools is right for you.
Before we dive into the main review, we are going to list the main differences between Wrike and Trello, so that if you're in a rush you can grab what you need and run!
Wrike vs Trello in 2023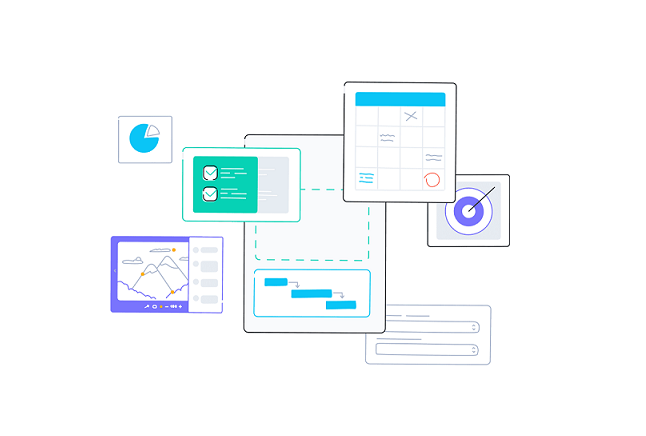 Wrike is a cloud-based project management software that allows you to collaborate effectively with your team and manage all aspects of your project efficiently. It is one of the most well-known project management systems out there and is trusted by big brands such as Airbnb, Hootsuite, Western Union, and Fitbit, so you know you are in good hands here.
Managing your projects with Wrike is easy, and using this software can help you and your team be more productive whilst remaining in total control of your project.
Wrike can help you to streamline and centralize work, strengthen your project planning, refine sales process, increase real-time collaboration (and real-time updates) via the native collaboration tools, and enhance visibility, all in one place. As well as managing your current projects, Wrike also allows you to see a history of projects that you and your team have completed, so you can look back on your year, and learn from previous projects.
Each person on your team will know who is in charge of each task, so nothing gets forgotten and each person has their own responsibilities and deadlines. Being able to see what all team members are working on can help increase accountability ensuring that all tasks get completed and that everyone is on the same page.
At the beginning of each day, any member of the team can check the dashboard to see what their tasks and responsibilities are for the day, reducing the need for meetings and saving hours of time over the duration of the week, as everyone can just get on with their work.
The essential framework of Wrike is made primarily of Folders, Projects, and Tasks. Folders are mainly to contain and organize files and other information for your projects and can be color-coded to help you keep things organized.
Projects are, of course, your actual projects. Projects have an owner (or owners), start and finish dates, and many tasks with one end goal. Colour coding can be used here too.
And finally, we have Tasks. Tasks are assigned to an individual who is responsible for completing the task, and each task has a call to action to complete.
Wrike is suitable for all types of teams, including project management, marketing, creative, and more, so that all teams within your company can streamline their workflow in one place, and teams can come together to collaborate, or do their part on projects when they need to.
An interactive Gantt chart gives you a clear overview of your projects and helps you optimize your project planning with critical path analysis. There is also advanced real-time reporting and workload view which lets you monitor your progress and see exactly where your resources are allocated at any given time.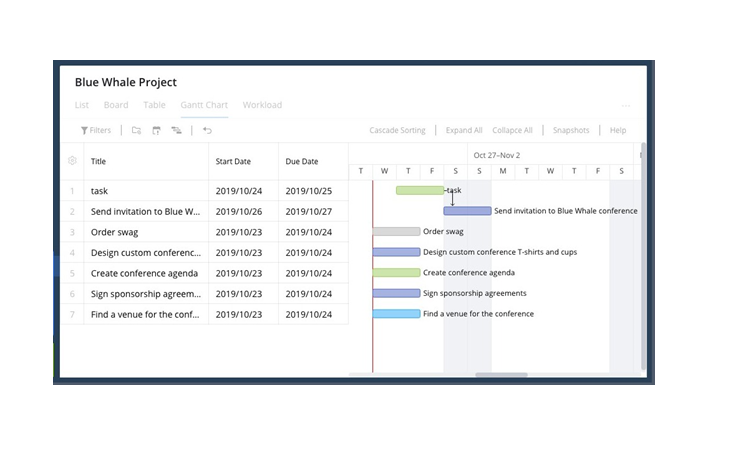 The resource management tools use a drag and drop interface, so you can easily reassign team members if you need to, to ensure each team member has an equal share of work and no one is overloaded with work.
When it comes to workflows, you can easily create email templates to standardize your process, saving you time with each project and making sure that all of your teams are working in the same way. You can edit templates for each project to ensure there is nothing unnecessary or anything that is irrelevant to the project.
As well as creating your own templates, Wrike has a selection of pre-built templates on offer that you can use, depending on what type of project you are working on.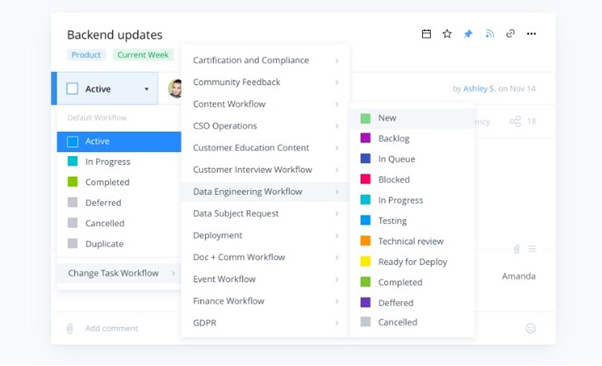 The project and task approvals allow you as a manager or supervisor to approve any work by your team before it is completed. The team member can send a request for approval and you have the opportunity to give feedback by clicking on any area of the document and writing notes, and then either approving it or requesting changes.
Regardless of your business or project type, you can make Wrike work for you as a project management tool, because it's truly flexible and adaptable.
It integrates with most well-known apps, so you can connect your Wrike account to any other accounts that will be useful in managing your project, including CRM, email, Chat/messenger, social media, file storage, CMS, and much more.
The Key Features of Wrike
Task and subtask management
Gantt chart
Advanced integrations including Salesforce
Shareable dashboards
Collaborators
Custom fields and workflows
Real-time reports
Graphical analytics
Calendars
Request forms
Project and task approvals
Time tracking
User groups and permissions
Branded workspace
Mobile management app (easy to use mobile app)
The Benefits of Using Wrike (Pros)
Organize everything you need to complete your project, including a budget, resources, schedule, and more from one place
Collaborate with team members from any department
Save time that would usually be spent in meetings by allocating staff daily tasks and responsibilities
Increased accountability, as every member of the team, can see what the rest of the team is working on
Project and task approvals ensure all work is up to scratch before it is considered complete
Distribute workload fairly between team members, and see what the rest of the team is working on
Project and Task approvals ensure all work is up to scratch before it is considered complete
Distribute workload fairly between team members, and see at a glance how your resources are allocated to ensure it remains fair
Create templates for your workflow that can be used again for future projects, ensuring a company standard
There is a simple free plan available for small business with teams of up to 5 people
The Downsides to Using Wrike (Cons)
There is currently no live chat or messaging function to message team members, you have to 'Mention' the team member you want to communicate within comments (@teammember), although you can use an integration such as HipChat to achieve this.
Although there is a free version plan (not just a free trial), the paid plans are slightly more expensive than other comparable project management tools.

Wrike Rocks for Project Management
Wrike is just BETTER. More integrations (no "walled gardens"), less bulky, and better uptime and reliability overall. Best of all, Wrike let's you pick and pay for only the features you ACTUALLY NEED.
Start Wrike for Free
We earn a commission if you click this link and make a purchase at no additional cost to you.
Wrike vs Trello: Trello Review 2021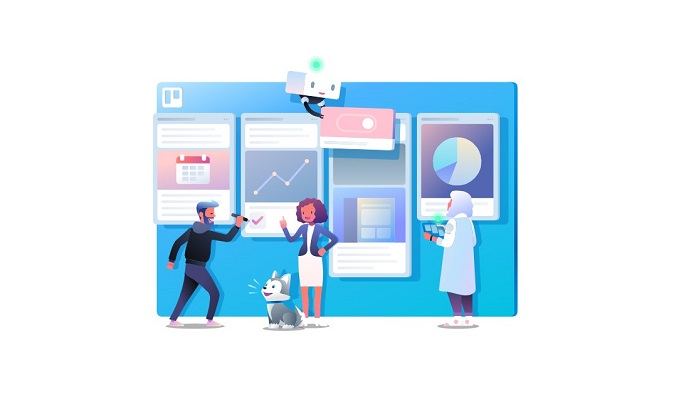 Trello is a project management tool that not only helps you collaborate with others on work tasks but also allows you to organize and share personal projects such as holidays and home renovation projects too, so you can manage your entire life from one dashboard.
Getting started with Trello is simple. Trello boards are essentially lists of tasks (cards – or Kanban baord to-do lists) that you need to complete.
You can add comments, upload files, create due dates, add labels and more to each card, and as you complete tasks on your checklist, a progress bar will let you know as a percentage how far through your project you are.
You can invite as many collaborators to each board as you need to, and assign tasks to different Trello users. It's really easy to allocate a person to a task, you simply drag and drop the person you want to allocate the task to, to the card related to the task.
You can start discussions with team members, and add comments and attachments as required. To make sure members are notified you can 'mention' them in a comment (@teammember) and you can even use emojis to liven things up! The checklists and due dates ensure that you stay on top of all your tasks and you can even add everything to a calendar with the "Calendar power up" feature, or your own iCal feel if you prefer.
Everything on Trello happens in real-time, so regardless of whether you are viewing your Trello boards on your computer or on a mobile app on your phone, you will instantly see when an update has been made with no need to keep refreshing your landing pages. If you have a lot of boards and collaborations on Trello, you can group people into teams such as your company, special projects, family, friends, or any other group you may want to create.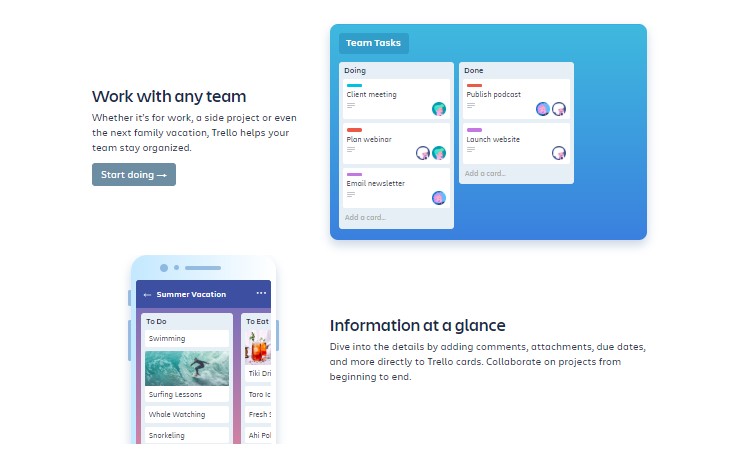 Having a team lets you put all of your boards related to your 'Team' in one place. For example, if you have a team for your company, you would be able to view all of your company boards within your team profile area. Larger companies can even set up different teams for different departments.
Each Trello board has its own dedicated email address, so you can create cards and comment via email. This means that when you receive an email notification from Trello you can reply directly without the need to go into the app, and any attachments you include will be automatically added to the boards too.
Butler is Trello's built-in automation, which is a 'Power up' that can be added to your boards. Butler lets you create simple commands to automate any simple repetitive tasks, saving you time and adding process to your team's workflow.
You can create rules that trigger automatically when actions are performed on boards that include certain tasks. You can also create custom card buttons that perform certain tasks once clicked, board buttons to execute the same task across a whole board, and date commands that execute a task on a certain date.
Since Trello is cloud-based, you can access your account from any device, anywhere in the world, making it a great option for remote teams who need to communicate and collaborate on projects.
If there's something you want to achieve with Trello that it can't already do, you can take advantage of the many integrations available including Salesforce, Slack, Google Drive, and more. Trello also has free public developer API, so if your company has an app or plugin of their own, you can use connect Trello and use it to manage your projects.
The Key Features of Trello
Unlimited personal boards
Unlimited cards
Unlimited lists
Team boards
Task automation
Observers
Custom backgrounds and stickers
Board collections
Team board templates
Power-ups
The Benefits of Using Trello (Pros)
Trello is a fun and easy way to collaborate with your team, and manage both personal and work projects
Very easy learning curve
Satisfyingly simple Kanban style boards
It's a very well known tool, so your team may already know it and know how to use it
There is a free plan available with unlimited users
Trello is a great tool for anyone who likes to view projects visually
Trello works in real-time, so no need to refresh your page for updates, it happens instantly
Very easy for anyone to understand and work with
You will never miss deadlines, each card can have a due date assigned to it, and when the due date is close the card will turn red to let you know the task needs to be completed urgently
Trello can be used on any device, even watches, and phones
Trello has a very easy to use 'drag and drop' interface
Trello has many integrations if you have the time to dig (you can custom stitch Google Drive – for example – into the boards)
The Downsides to Using Trello (Cons)
While Trello is an excellent project management tool, it may not be suitable for larger projects with global teams and true collaboration due to its simplicity. Trello does also not feature useful tools such as Gantt charts, pivotal tracker, or time trackers which may be useful for larger projects.
There's also limited customer support, particularly for the free version. Since Trello is an online cloud-based services application software, it goes without saying that unfortunately it cannot be used when you don't have any data or wifi.
Trello is also not really set up for any special use cases, more of a general PM tool. That said, you can modify it for use as CRM if you are on a budget.
Who is Trello Best For?
Whereas Trello is ideal for small projects, Wrike is better for LARGER projects. If you have many projects with a distributed team, the added Wrike features and views are much more helpful than Trello.
Pricing: Wrike vs Trello Management Solution Compared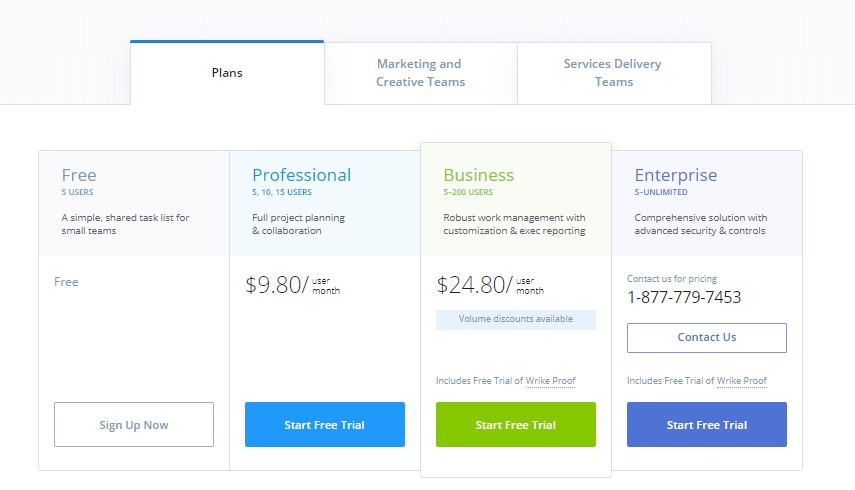 Wrike has a free plan (not just a free trial), as well as two main paid plans: Professional and Business. If your needs are greater than the Business plan offers you can get in touch with Wrike for a quote on plans specifically for Marketers, Professional Services, and Enterprises.
The free plan allows you to have up to 5 users and gives you access to board view, task management, file sharing, real-time activity stream, a spreadsheet view, basic integrations, desktop and mobile apps, cloud storage integrations, and 2GB of storage.
The Professional plan lets you have 5-15 users, and costs $9.80 per user per month. This plan includes everything from the free plan, as well as task and subtask management, Gantt charts, advanced integrations, shareable dashboards, collaborators, from 5GB of storage, and 15GB of video uploads per month.
Then we have the Business plan which is suitable for teams of between 5 and 200 users and costs $24.80 per user per month. This plan includes everything from the professional plan as well as custom fields and workflows, real-time reports and notifications, report templates, graphical analytics, calendars, request forms, project and task approvals, track time tools, user groups and permissions, salesforce integrations, a branded workspace, 50GB of storage and 15GB of video uploads per month.
If you would like to give Wrike a try, you can sign up for their free plan here.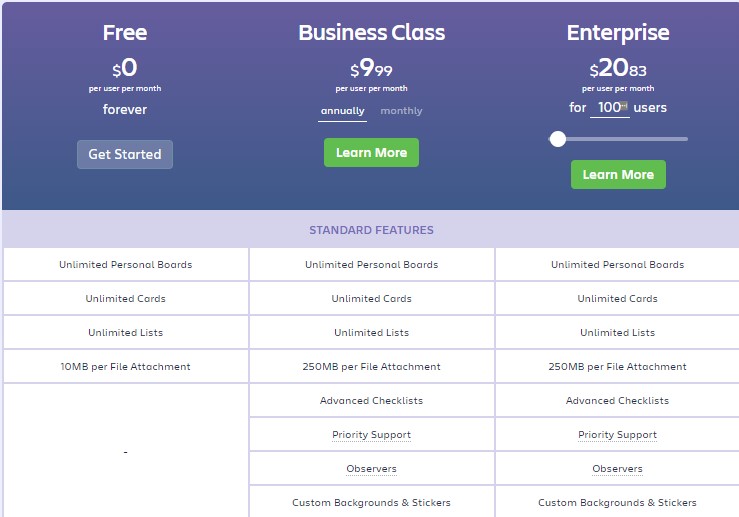 Like Wrike, Trello also has a free plan available with no free trial restrictions. The free plan lets you have unlimited users, unlimited personal boards, unlimited cards, unlimited lists, up to 10 team boards, 1 power upper board, simple automation and commands, and 50 command runs per month.
The Business Class plan costs $9.99 per user per month and includes everything from the free plan, as well as priority customer support, observers, custom backgrounds and stickers, unlimited team boards, board collections, team board templates, unlimited power-ups, custom fields, list limits, card repeater (good for recurring tasks), calendar view, a map view, voting, advanced automation with Butler, and security features.
The Enterprise plan, unlike the Business Plan, starts at $20.83 per user per month for 300 users or less. The pricing is dynamic, so the more users you have the cheaper the price per user gets, for example, if you have 1000 users, the price comes down to $12.92 per user, and for 5000 users the price does down to $5.92 per user.
This plan includes everything from the Business class plan, as well as public board management, personalized onboarding, organization-wide permission, organization visible boards, and attachment restrictions.
If you would like to try Trello, you can sign up for their forever free plan here.
FAQs
Question: What is Wrike used for?
Answer: Wrike is used for project management between a person and its team, so there is no confusion over who will work on what, as all the people in the team will have access to the same files and intervene when there is a need, without any additional access request.
Question: Is Wrike any good?
Answer: Yes, Wrike is definitely good and helps you manage your business all at once thanks to the tools available in one place. You can easily set up your account in a minute, and start using it even without any previous knowledge, and that's why lots of people decide on Wrike. You can have all your employees in one channel, and assign tasks, check when they are ready and additional comments related, among all.
Question: Can I start with Wrike for free?
Answer: Yes, you can start with Wrike for free during a limited period of 15 days, and if you decide you like it, later on, you can subscribe to the most basic plan for $4.79 or choose a better one, in case you have a bigger team.
Question: Is Trello better than Asana?
Answer: Trello is better than Asana in ways of simplicity. Trello has one board where everyone in the team can see all the boards included and who worked on the tasks, whereas with Asana this is a bit more complicated. Also, Trello is better for small businesses that don't work on lots of tasks on a daily basis as the board can get swamped, whereas Asana is for bigger businesses that work on many tasks and need extra features.
Question: Is Trello free?
Answer: Trello is not free, but there are ways to make it free, like starting a 14-day trial or also recommending it to your friends and once they make a purchase, you can use it for 12 months free of charge.
Bottom Line Conclusion: Wrike vs Trello
After looking at both Wrike and Trello management software tools in-depth, we have reached a verdict.
Overall the winner is…
Wrike! (We will come back to Trello management software in a minute). Wrike offers a powerful and sophisticated project management tool that lets you collaborate with your team members (collaboration tools) and organize your entire project from one place.
It has everything you need to organize your team and keep on top of important things such as project progress, budget, resource allocation. It even includes tools like Gantt charts to help you visualize your project timelines, and time trackers so you can see how long each task is taking.
Task management approval ensures that all work is completed to the required standard before it is considered 'complete', and feedback can easily be given if there is still work to be done on a document that has been submitted for approval.
Wrike simply has more features than Trello, and a lot of the tools features that Wrike has would be very important when managing a large project.
So now let's talk about Trello.
Although it didn't make the overall winner, we would say that based on the free plans, Trello is much better. For small projects, Trello is a great option, and lots of people would be able to get by on the free plan entirely since it includes everything you need to manage small to medium-sized projects.
The other bonus of Trello is that you can also use your account to host your own personal boards, such as checklists for your holiday or kitchen renovation.
Trello's free plan lets you have unlimited collaborators, whereas Wrike's free plan only lets you have 5. This makes it very easy for people to use Trello as a general life organizer, as well as for work, whereas Wrike would only be for work.
Trello is also the cheaper option, so it's a great choice for large businesses that are running lots of small to medium-sized projects. The beauty of Trello is in its simplicity. Anyone can use it for anything, but this in itself may mean it's not suitable for single larger projects, which is where Wrike steps in.
Bottom Line Summary, I've tried both Trello and Wrike. Trello worked initially for a basic Kanban board, but as we grew we needed more functionality (integrations, analytics, data). However, Wrike wasn't quite as user friendly. We ended up going with monday.com here (the best of both worlds, user friendly and feature-rich).
Hopefully, this review has helped you to decide which of these project management tools is right for you and your business.
You can take either of these management software tools for a test drive to see if you like the way they work since they each offer a free plan.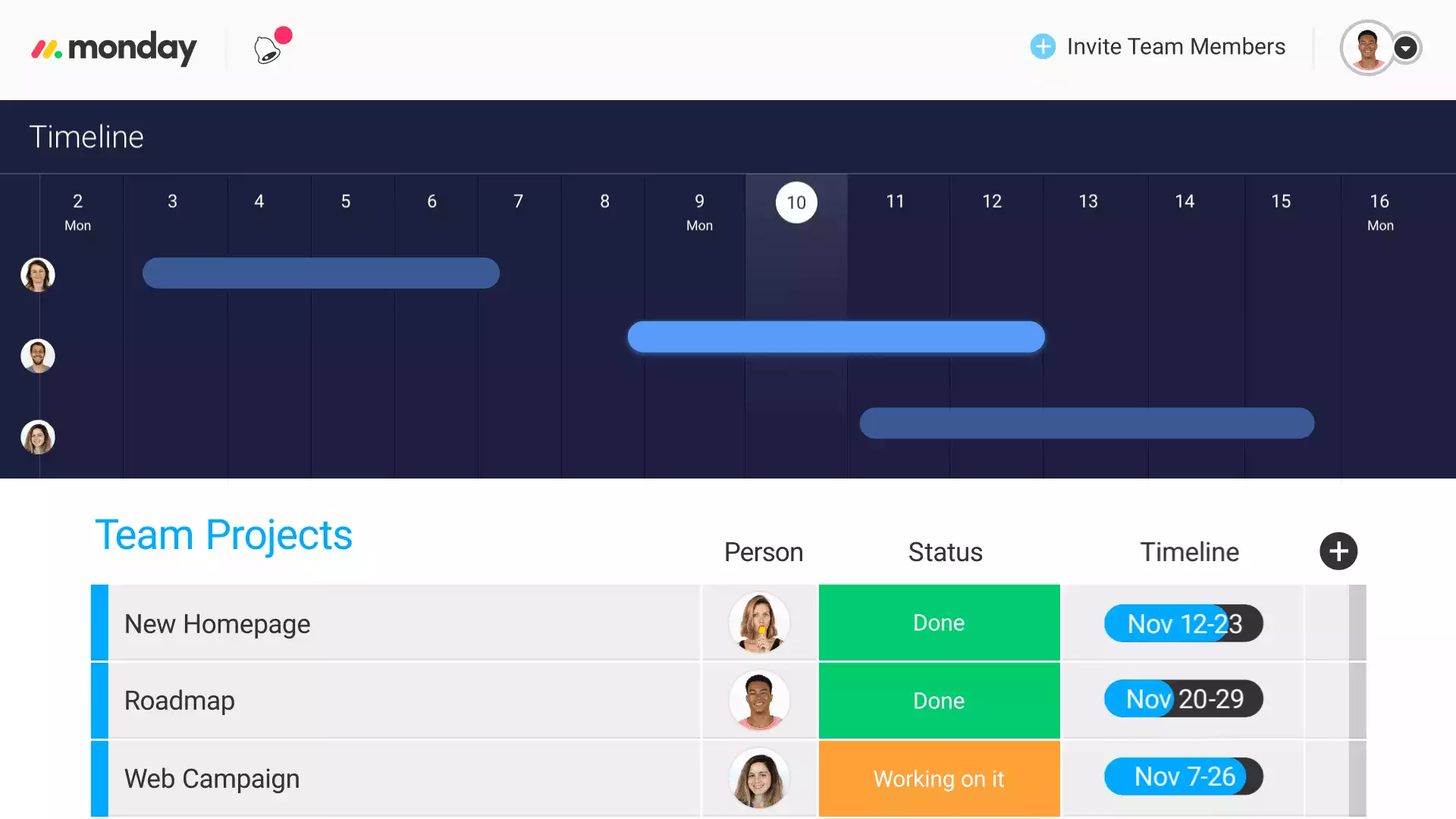 Go with monday.com INSTEAD
Monday is the PERFECT combination of project management and business workflow automation. In fact, I personally use it INSTEAD. Take a free spin to see what I mean.
Try monday.com free instead
We earn a commission if you click this link and make a purchase at no additional cost to you.
Try Wrike for free here, and give Trello a go for free here.
Trello and Wrike Compared to Other PM Platforms
If you are still curious about what else is out there for project management solutions and how both Wrike and Trello compare, check these direct comparison articles out below.
Trello Alternative Work Collaboration Tools