Last Updated on February 15, 2023 by Ewen Finser
Find the right project management application to enhance efficiency, collaborations, and overall growth of your business.
As a business owner, it is all too easy to overlook the importance of project management and its efficiency in your business operations and growth. Yet there's no better way to increase sales, create a healthy bottom line and reduce waste.
Increasing efficiency is not only imperative but also a core mandate for every business with a solid intent to execute management projects with ease in future
If you're a business owner and you've forgotten how effective project management is, Dale Richards, CEO of wattage.com, has this to say to you: "… without effective project management, 9% to 10% of a company's work and output is wasted."
If you've been overlooking your project management efforts and its effectiveness, this is the time to make that turn-around and put your best foot forward.
In this post, we are looking at two of the most effective project management software's in the market and highlighted their key differences.
Whether you're a small business or a company starting out and want to employ project management solutions, this detailed comparison will help you make an informed decision.
Ready? Let's get started.
Bottom line Up Front Summary: While Microsoft Project will do in a pinch, it suffers from being more of an afterthought for Microsoft. The more intuitive, better pure project management tools is definitely Wrike here.
Wrike came into the limelight in 2006 and was founded by Andrew Filve with an objective to enhance typical marketing workflow, whose goal is to make creating approvals, reviews, assignments, requests, and briefs easy and fast.
Since then, Wrike has become an effective project management tool to boost performance for marketers and serves over 80,000 users (and counting) including both small and large online businesses.
What we love about Wrike
Getting started
It's so easy to get started on Wrike. The process is simple and straightforward. Click the green button to get started for free. Enter your business email to create your write account. This process will require basic information to complete your registration. And once you confirm your email, fill up the details and set up your account, you are ready to start.
To proceed, Wrike prefers you select a trial plan valid for 14 days. You have a set of options between Professional, Business, Enterprise, and Marketers plan. The latter is designed with marketers in mind.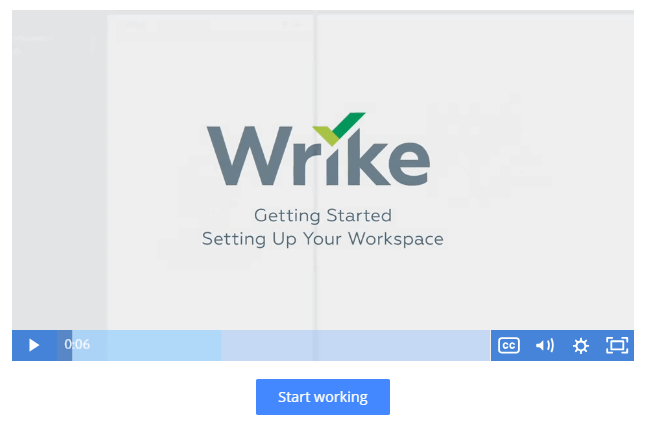 Before you can make your choice and start your trial period, Wrike provides feature information of each project plan to help you compare features and make an informed decision thereafter.
If you're new to project management, these steps will help you choose the ideal plan with the right features, tailor-made for your project management solutions. The first few steps to getting you started require:
Your business email
Setting up your account
Choose a plan
Once you complete these three steps you are officially ready to start.
User interface
The Wrike user interface is easy on the eye. It is pleasing to look at and you will not have a problem navigating through the page or its menu.
If you're having a difficult time comprehending the dashboard or how to use it, there's a welcoming video to help you easily get started on the platform. You won't have a problem setting up your workspace. This will help you to start working right away.
We will try and break down the dashboard into sections for you to understand how they work, and exactly what you will experience on the dashboard as a new user.
The first section of the dashboard provides you with main components including My Work, Dashboards, and Reports. The information you get on this page will give you an overview of these areas and how to set up your team.
The second section of the dashboard highlights the different dashboards, that is Personal and Shared Team dashboards. This area shows how you can set up different tasks and monitor their progress individually either on a personal level or on a shared team level.
The third section, Reports, provides real-time reports of how your team is progressing on the given tasks, and their performance.
And finally, My Work section. This area of the dashboard provides information about the tasks you plan to allocate to your team members either this week or next week or even later.

Type of Tasks/Projects
As the admin, you are able to deploy work to your team by applying a framework of Tasks, Folders as well as Projects. So depending on the tasks at hand you're able to allocate work to individual teams according to the nature of the work.
Invite Users
Inviting users requires adding manually their email addresses. The invitation will be sent out as an invite to a seat. When you are on a 14 day trial period you are allowed only 14 seats. If you want to invite more users on board, you simply purchase more seats.
Other important things that we love about Wrike includes:
Notifications: Wrike allows users to send out instant notifications to keep team members on the loop on the projects they are managing or tasks allocated to them. It's an easier way to reach out to your team in an instant.
Organization: When you're working on a project you want all the steps of the project in one area for your team to have a good grasp of the project and what needs doing at a particular time. This subtask feature on Wrike, helps you and your team to organize your projects and keep everything in one area. Great for task management.
Integration: You can update tasks easily even keep them up to date by integrating them with your email feature. This makes for easy distribution of tasks to your team members.
What we don't like about Wrike
The Wrike Gantt chart
It is not easy to navigate this chart. If you're a new user then you can agree this area requires some bit of work to make navigation easier. The Wrike Gantt chart is designed for advanced management including resource planning, baseline reports, workload view, critical path, etc.

Intrusive Updates
Whenever a project is worked on, intrusive updates appear and many times without users permission. Also, this happens whenever you set up permissions incorrectly. Having too many updates at the same time makes this project management software unusable for some users.
Not User-Friendly
Though designed with the user in mind, the pleasing user interface doesn't make navigation easy or simple for users. Getting project requests entered is not as simple as it sounds or looks. From a navigation standpoint, there is still a bit of a learning curve for first-time users to master.
Wrike Integration ability
Wrike is designed on a stable platform and it's powerful a project management tool. It gets your team easily organized and has proven reliable over time.
However, it doesn't easily integrate into other software systems like other project management software's in the market. This can be improved in future to necessitate software integrations abilities.
Wrike Pricing
When you start with Wrike, the first month is a free trial period you don't get to pay a single cent. However, this only allows 5 users at most. In this first month, you get to enjoy a simple, shared task list for small teams at no cost.
The pricing feature is based on the number of users in a team. In other words, the more the users you have, the higher the plan available for your team. The plans are based on a price per user and are billed annually.

Wrike Rocks for Project Management
Wrike is just BETTER. More integrations (no "walled gardens"), less bulky, and better uptime and reliability overall. Best of all, Wrike let's you pick and pay for only the features you ACTUALLY NEED.
Start Wrike for Free
We earn a commission if you click this link and make a purchase at no additional cost to you.
Initially released 35 years ago, Microsoft Project is a project management software that's designed, developed, and sold by software giant Microsoft.
In the early 1980s, the "project" software was only at its initial stages. Ron Bredehoeft, a PC enthusiast and a former IBM employee breathed life into this "idea" that was later to become Microsoft Project years later. Today, the software markets itself as "the cornerstone of the Microsoft Office Enterprise Project Management (EPM) product."
What we love about MS Project
Getting started with MS Project
Signing up on Microsoft Project is simple as signing up on Wrike. The main difference is that Wrike requires your business email, contact details and other formalities to get you started. However, if you have an outlook email, you can easily sign in right away.
You will notice signing up on Microsoft Project takes you directly to installing Microsoft Office or buying Office 365. In other words, it allows you access to Microsoft Office applications only. If you don't prescribe to the Microsoft app suite, then you don't need to proceed from here.
Management of Projects
Streamlining your projects can only get easier on the Microsoft Project platform. And to help you keep track of your project successfully (including issue tracking), Microsoft Project provides 3 types of management solutions:
Project management – Executing projects on Microsoft Project gets easier when you make use of the built-in project templates and familiar scheduling tools to keep your team productive.
Portfolio management – Prioritizes your initiatives by evaluating and optimizing your project portfolio management to achieve goals and objectives
Resource management – If you are after great executive oversight on tasks and time management activities, you can gain insight into how your company's resources are used crew resource management tools.
MS Project Management Solutions
When you want project management solutions, you have two options to choose from:
Cloud-based solutions
On-Premise solutions
Both solutions come with different prices and features that suit different project management needs. Ensure to compare the two solutions before making an informed decision. That being said, both solutions are useful and easy-to-use.
Pro tip: Make sure to select the right project management solution that will meet your needs and exceed your desires. It is easy to confuse the two if you're not sure of what you want for your management solutions.
Whichever option you choose between the two make sure to compare the prices and features, first and what you stand to gain. Both solutions are priced differently but are charged on a monthly basis. And cloud-based solutions are a lot cheaper than On-Premise solutions.
Other things we love about Microsoft Project
Allows input of a large amount of detail – if you're running a specific project this software will allow you to input large amounts of detail to a specific project. It also provides a plethora of reports for each specific project.
It is flexible. Very flexible – Regardless of whether you're a first-time user or you've been using Microsoft Project for a long time, you can easily input data and received reports even with little knowledge of the software.
Allows input of varied types of data – As mentioned, anyone with little knowledge can input data on Microsoft Project including actual figures and original estimate for tasks, the definition of different subtests, and monetary information of the project, etc.
What we don't love about Microsoft Project
Lengthy learning curve
This project management software is powerful, easy-to-use and intuitive. However, the project software package in its entirety has a lengthy learning curve. It will take time for any new user to learn how to fully utilize the tool even to assimilate all aspect of the package as a whole.
It's rather difficult for anyone (especially project managers) to take advantage of Microsoft Project full capabilities thanks do its lengthy learning curve. If you've never used Microsoft Project before until now, make sure to go through tutorials all guides to help you understand how exactly it works.
High Costs
Microsoft Project is priced relatively higher than Wrike. The software package is priced at $650, which is on the higher side regardless of whether you are a large company in need of the software packages or a company that wants to order over 20 packages or more. You could say the prices are exaggerated and cost an arm and a leg.
It takes time to get started
He is why this is so. There's no specialty book pertinent to learning Microsoft Project. Users could do well with a step-by-step process of learning Microsoft Project to save time. It is cumbersome to understand and maneuver the management software. Microsoft could come up with a guide elaborating each and every step on how to use this software.
Bulkiness
Microsoft Project is not only less useful but too big and complex for users (especially first time users). If you're planning on managing simple projects you're better off using Wrike than Microsoft Project.
Plans & Pricing
As previously mentioned, Microsoft Project offers project management solutions in two ways: On-Premise solutions and cloud-based solutions.
Cloud-based solutions come in three packages including, Project Online Essentials, Project online Professional, and Project Online Premium. The plans include different features advanced analytics, optimal allocation of resources across Project, out-of-the-box portfolio reports etc.
If you stick with Project online essentials plan, you'll be charged $7 every month. And this price does not include tax. On-Premise solutions, we have Project Standard, Project Professional, and Project server plan. The project standard plan costs $650. This plan is for those who don't need collaboration tools and other advanced features for complex projects.
Which Between The Two Project Management Software Is The Best?
Our top pick!
It goes without saying both project management software's are ideal for your management solutions. However, if you're just starting out or you are new to project management, and with a limited budget and need to control costs, then Wrike is the best option for you.
Not only will you save a tons amount of money, but you can also choose the best features on each pricing plan while exploring and moving up to the enterprise plan that allows unlimited users.
Also, the free trial period on Wrike is attractive as it allows you to experience the management software for close to 14 days. This helps in making an informed decision on whether to use the software or not. This is very attractive for new users.
Microsoft Project monthly pricing increases sharply especially if you are seeking On-Premise solutions that allow a comprehensive project management solution. The prices even get higher as you scale the pricing plan. Prices are not indicated whether they are payable monthly or on annual basis. However cloud-based solution prices are payable on a monthly basis.
As your subscribers increase, both software's increase price points. But there's a lot of features and a lot of differences that each platform promises. In regards to reliability and availability, both management tools perform incredibly well. There's no downtime. Sometimes Microsoft Project can feel bulky but it performs perfectly nonetheless.
Compared to Wrike, MS Project is an underrated tool mainly because Microsoft is not keen on continual developing of this tool hence scores less in popularity with agile project organizations. It's definitely a good Wrike alternative to try.
Wrike, on the other hand, offers great flexibility, offers better integration, and it's cheaper thus popular among other tools. However, both software's offer reliable solutions and sow management problems as required of them.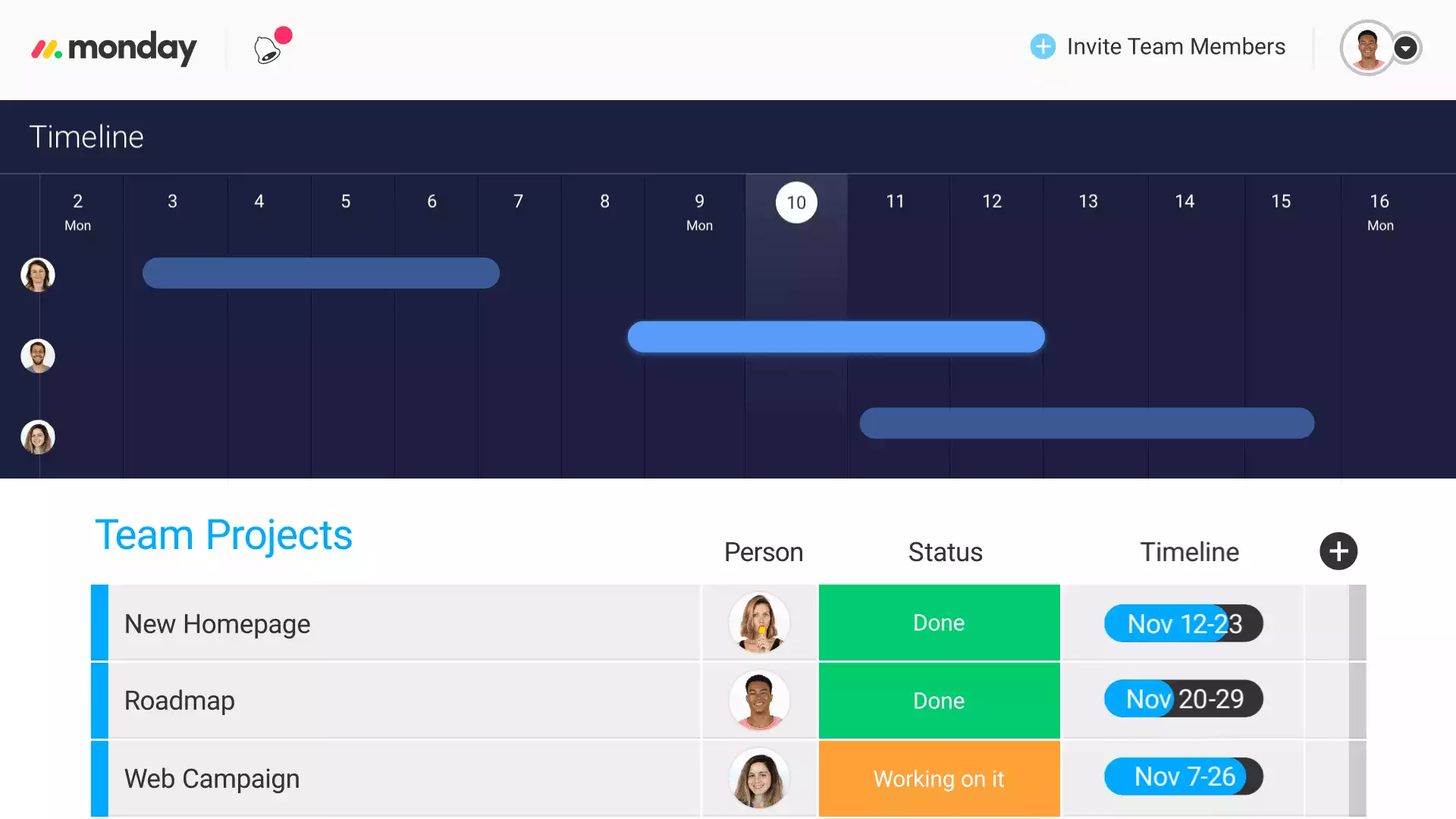 Go with monday.com INSTEAD
Monday is the PERFECT combination of project management and business workflow automation. In fact, I personally use it INSTEAD. Take a free spin to see what I mean.
Try monday.com free instead
We earn a commission if you click this link and make a purchase at no additional cost to you.
Final Word on Microsoft Project vs Wrike
Which project management app is right for you?
If you are still undecided on which project management software to choose for your business, consider taking advantage of free trials of each tool to sample both platforms and the features they offer. That way, you will have a better understanding of what you need and why without spending money on a product you don't need.
Bottom Line: I personally prefer the Wrike platform here when compared to Microsoft Project. You can get started with a Free Trial (risk free), if you are on the fence. THAT SAID, we eventually settled on the more intuitive and user-friendly monday.com solution here.
Here are related articles you may be interested in reading: