Last Updated on April 22, 2023 by DMEditor
The new normal consists of empty offices and teams collaborating remotely. It's fair to say that for many businesses, this has been a difficult adjustment period.
Although complex project management is always challenging, not having your team together in one room can complicate things drastically.
How do you monitor who's working on what? What are the statuses of your pending projects? Are you on track to meet your deadlines?
The solution: Using a reliable project management software
This works wonders for helping you and your team stay on top of tasks both in and outside the office.
Wrike and Teamwork are two such tools. They're a couple of the more prominent names in the project management industry – so, we're comparing them against each other to see which project management suite comes out on top.
Bottom Line Summary: While Wrike offers a whole lot of tools, I find usability and design to be more important. In this respect, the clear winner for most users is Teamwork here. It's easy to use, offers plenty of integrations, and makes project management FEEL seamless. The mark of a great PM tool! That being said, larger enterprises (particularly in web development) might opt for the deeper multi-discipline functionality of Wrike here.
Let's dive in!
Wrike vs Teamwork: Their Key Similarities and Differences
Before we get into it, here's a quick overview of Wrike and Teamwork's most noteworthy similarities and differences:
Their Differences:
Wrike only unlocks specific integrations as you upgrade through its payment tiers, whereas Teamwork's integrations are available with their cheaper premium plans.

Wrike doesn't include more in-built analytics features in its premium plans, whereas Teamwork does.

Wrike doesn't have a native chat feature, whereas Teamwork does. However, this is a different product (that you'll have to purchase separately), Teamwork Chat.

Wrike doesn't provide more resource management features n its native tool-kit, whereas Teamwork offers that and lets you track each team member's workload.
Their Similarities:
You can extend both Wrike and Teamwork using add-ons to create a robust suite of business management tools.

Wrike and Teamwork both come with an open API, so you can adjust their functionality (providing you have the coding know-how or a developer on your team!).

They offer similar project management features and task visibility.

Their pricing isn't too different. While Wrike is slightly more expensive, it's a relatively negligible difference.

Both Teamwork and Wrike offer workflow automation, which you can set up to ensure tasks are approved in the right order.
Who's Wrike?
Wrike makes a straightforward proposition on its website: They help your team improve productivity by 50%, cutting down on the vast majority of your email communications.
Wrike is now used by over 20,000 organizations worldwide and brings 14 years of experience to the table. That's right – Wrike was founded in 2006 and continues to evolve. Fast forward to 2020, and Wrike was awarded the Top Rated Award for Project Management and Portfolio Management by Trust Radius.
Wrike focuses on customization so that you can tailor the platform to meet your bespoke needs. This means being able to modify dashboards, workflows, request forms, and gain full visibility over all your projects.
Recently, Wrike also added the power of AI into the mix, "Work Intelligence." This accelerates results through smart automation and provides advanced communication tools like voice commands and document processing.
Who's Teamwork?
In short, Teamwork is a work and project management tool that assists teams and agencies wanting to improve their collaboration, accountability, and efficiency. With a comprehensive set of add ons, Teamwork offers more than your standard project management platform, filling in gaps that other project management tools leave open.
Teamwork is simple-to-use and boasts an expansive set of tools to help you manage your projects. The software allows you to set up your own workflows to streamline your tasks and innovate your organization.
With Teamwork, you can view pending projects in either board or Gantt chart format, and you get access to resource management tools. All in all, Teamwork adopts a holistic approach to helping you organize your business.
Wrike vs. Teamwork: Their Core Features
Nowadays, project management tools are so much more than virtual to-do lists. So let's see what both Wrike and Teamwork have to offer to help you step up your business's organization game.
NB: Please note, not all the functionality listed below comes included in all their pricing tiers – some of the more advanced features are locked away behind their more expensive tiers.
First up, Wrike:
Wrike's Features
Customizable Project Views for Full Visibility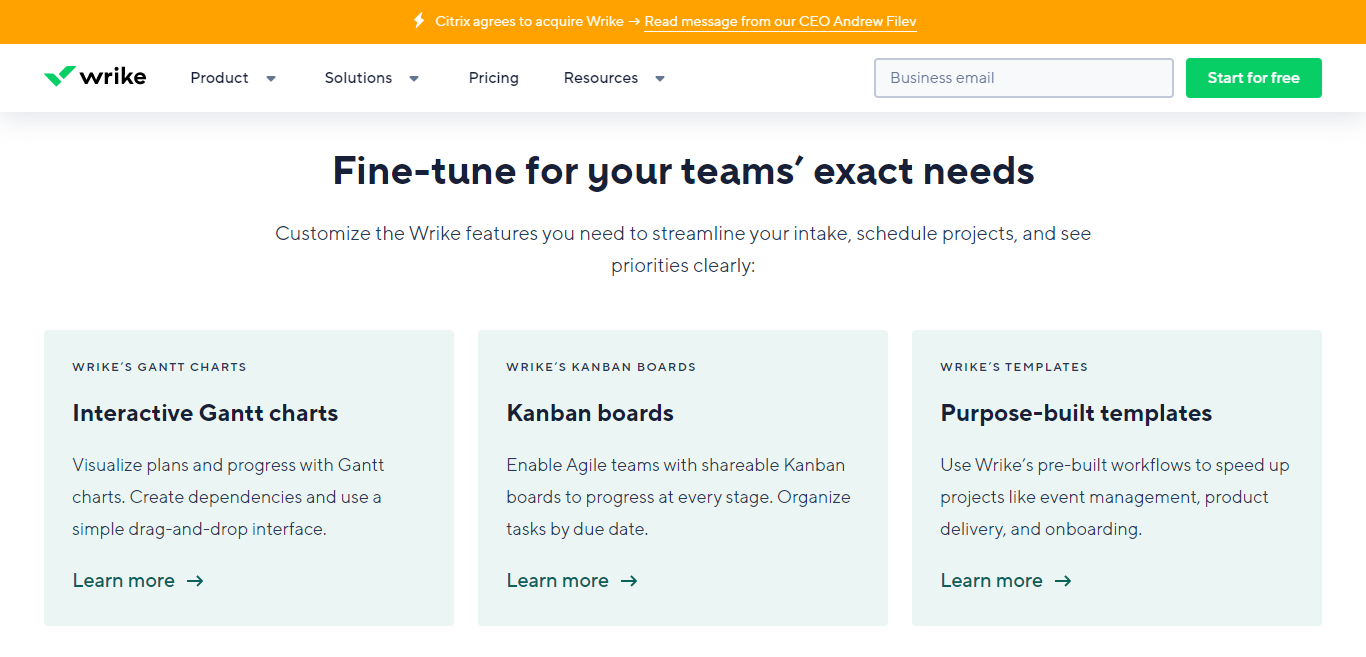 With Wrike, you can view your work just the way you like. It's easy to clarify your priorities with timelines and task lists ordered by importance. Or simply pin important to-dos to your dashboard.
You can use Interactive Gantt charts to help visualize your progress. Alternatively, you can display tasks on traditional Kanban board collaboration tool setup.
Wrike also comes with several project-focused templates that are designed with customizability and flexibility in mind. They have layouts to suit all kinds of scenarios, including agile teamwork, project scheduling, complex projects with phases, marketing campaigns, and much more.
You can create dependencies with a simple drag-and-drop interface to capture even more relevant information. Dependencies clarify the relationship between tasks, so it's easy to see which tasks have been completed for another one to start.
You can also use this feature to clarify which jobs follow after one another. On Wrike's Gantt charts, dependencies are marked with a line linking the tasks. You can also link tasks to a particular milestone.
NB: Teamwork offers a similar feature!
Custom Request Forms
Simplify the creation of new tasks by setting custom request forms that gather all the details you need to automatically generate and assign tasks to the right teams. These forms come with dynamically branching questions and route requests based on the rules you create.
For example, if someone wants to flag a bug that needs fixing by a programmer, the custom request form could automatically ask them to specify whether it's a high or low priority bug.
Then, depending on the response, Wrike can route this new task to a programmer that boasts the necessary skills to get the job done.
You can simply give your team all the info they need without having to ask the same questions over and over again.
Collaboration Tools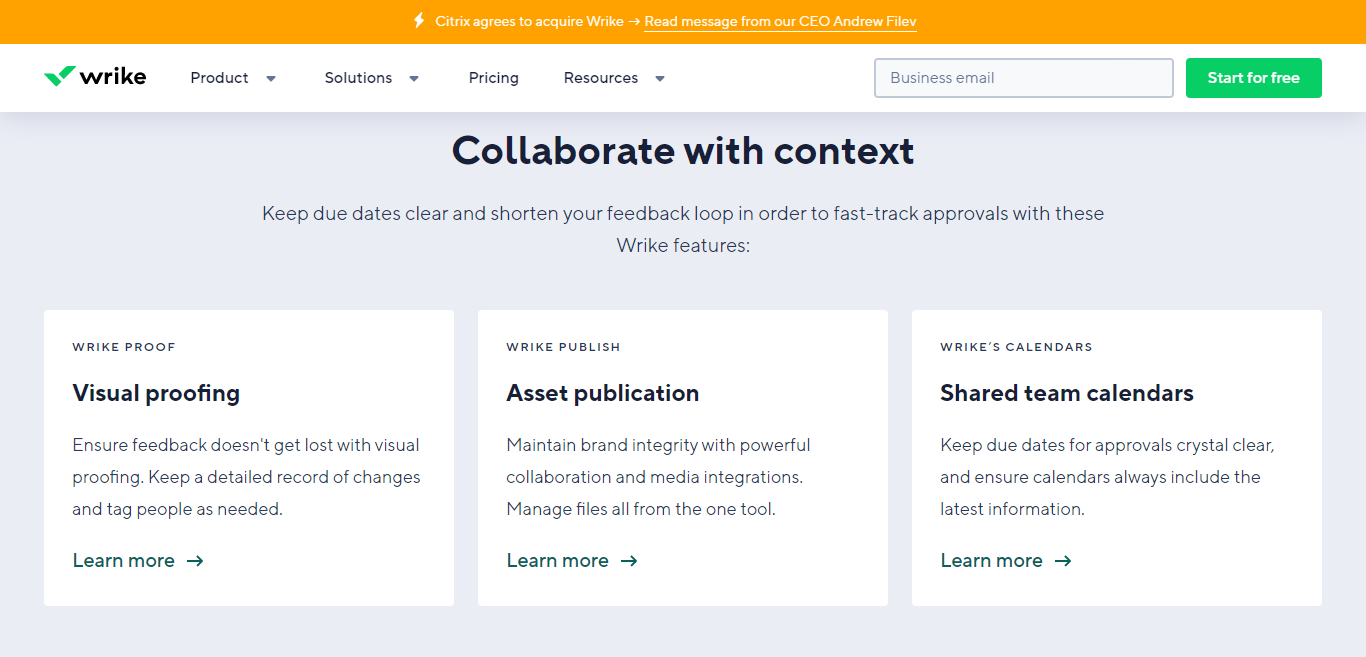 Collaboration is a cornerstone of Wrike. You can comment in real-time on tasks and projects, assign tasks, and @mention your colleagues.
Wrike also comes with a shared team calendar so everyone can keep track of due dates for approvals, events, milestones, etc.
You can also share files and documents. Plus, Wrike's approval and proofing features ensure feedback doesn't get lost.
Automate the Approval Process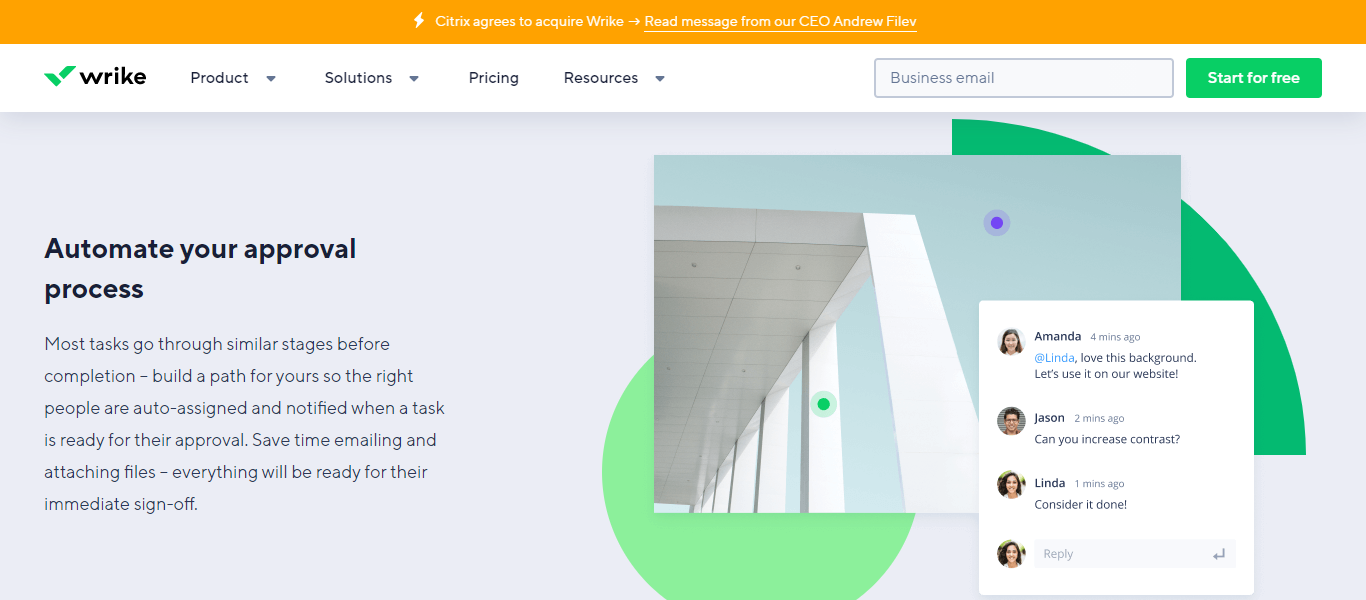 If you're setting recurring tasks that go through a similar procedure to gain approval from the relevant people, Wrike lets you automate and customize this process.
When the job is completed, you can automatically assign the completed project to whoever next needs to take a look. Instead of sending copious emails and attaching files, everything is handed over to the next immediate sign-off…in the correct order!
Tracking and Analytics
Wrike's in-built analytics help you visualize project progress and team performance. This draws on real-time information from Wrike's business intelligence solution. You can also track time manually or with a timer to manage billable hours and streamline invoices.
Finally, Wrike comes with project portfolio management. Here, you can manage everything relating to your project from one centralized dashboard. From here, you can oversee multiple projects and related tasks.
It allows you to group related projects and responsibilities to get an idea of your team's completion ratio. The portfolio dashboard gives you a helicopter overview where you can quickly check if projects are on track.
Wrike Sharepoint Integration
I'd like to highlight this specific integration as it's a question I frequently get asked, particularly for larger enterprise companies who rely on the more secure infrastructure of Sharepoint.
Put simply, Wrike integrates more seamlessly (natively) with Sharepoint, while Teamwork only features a single user / account integration to a specific Sharepoint file system.
Teamwork's Features
Teamwork categorizes its features by function, so with that said, let's see what's on offer:
Project Management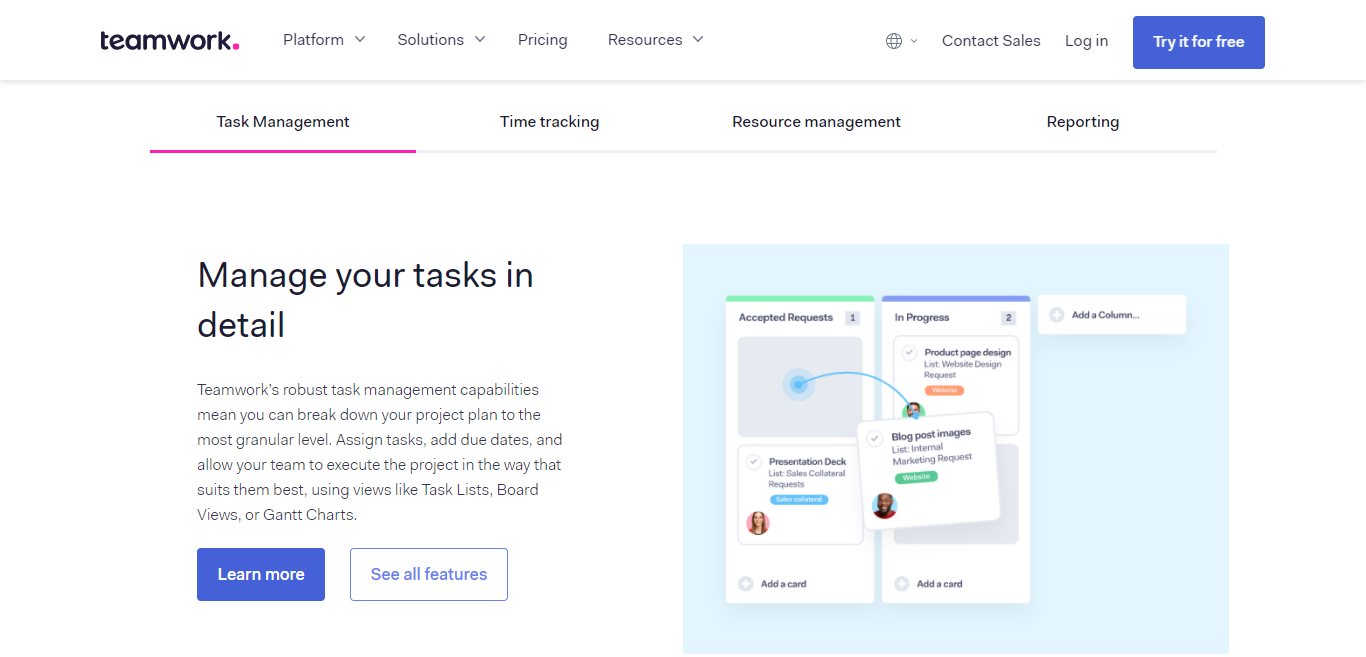 Teamwork's core service centers on project management, empowering you to easily manage multiple projects at once. You can keep tasks organized for each undertaking, upload files, add comments, and collaborate from one centralized project dashboard.
Your assignments are also displayed visually for easy visibility as either a Gantt chart, task list, or board view – the choice is yours.
Portfolio Management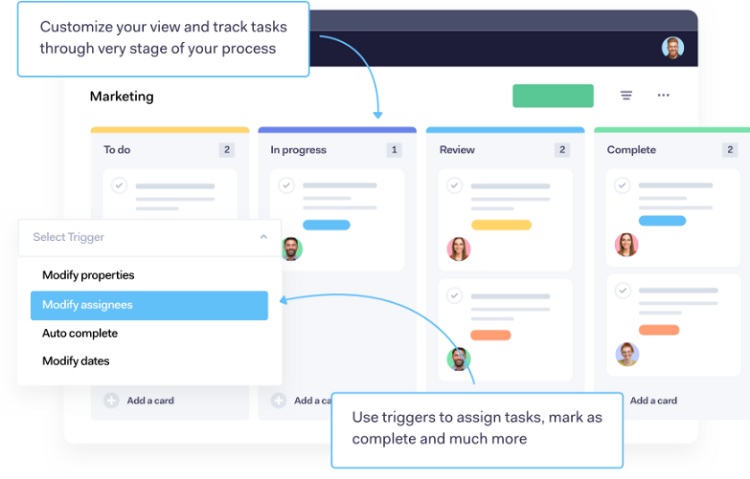 Teamwork's portfolio management dashboard provides a panoramic view of all your ongoing projects. Here, you can organize projects by category and display tasks according to their status:
In progress

Ready to review

Complete
This enables you to see at a glance which projects are on track, and conversely, which are falling behind. In fact, overdue tasks are highlighted to bring them to your attention!
Like, Wrike's workflow automation features, you can also set triggers to automatically move jobs from one team member to another.
Time Tracking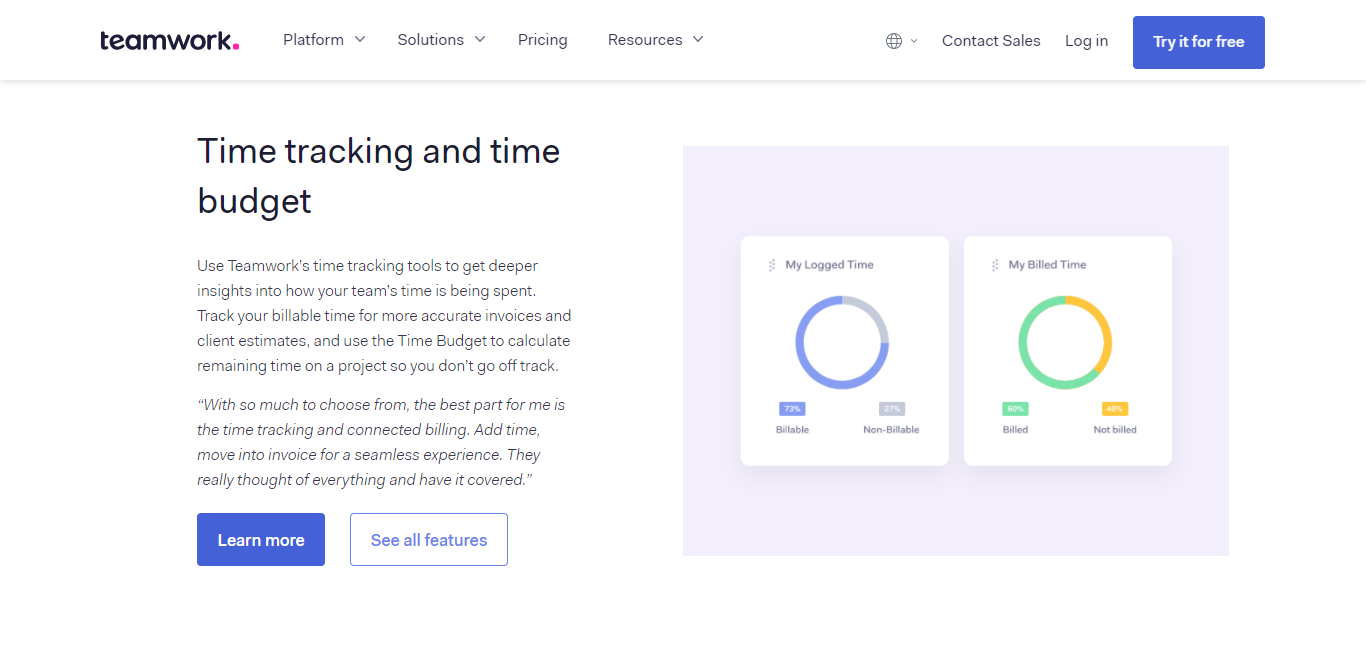 Teamwork comes with in-built time tracking, so you can easily stay on top of billable hours and streamline your invoicing process.
You can also track how long your team spends on each task to get an idea of what eats into their day. This makes pinpointing where staff need help and training much more manageable. The same goes for identifying processes that need improving.
Workload Management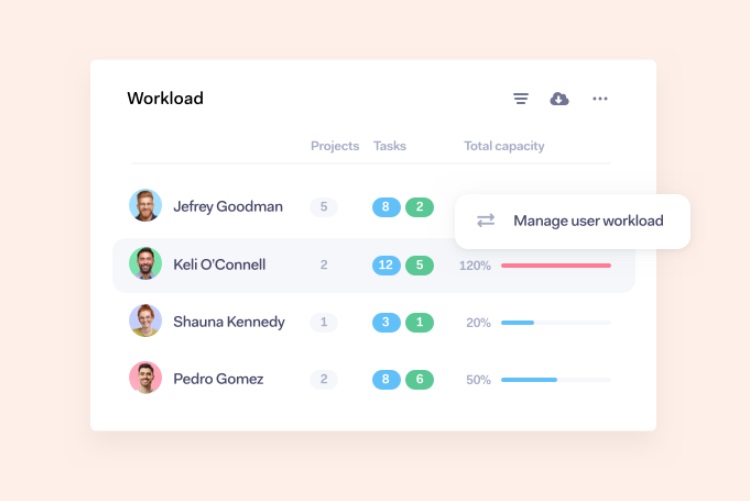 Teamwork also comes with a work management system that makes it simple to ensure operations run as smoothly as possible. For instance, you can easily assign recurring and one-off tasks (the former is a huge time saver!).
You can also map out work in advance and optimize workflows for efficiency. How? Teamwork visualizes how much work each team member has on their plate at any given time.
This makes it easy to assign more tasks to underloaded employees. Likewise, you can relieve the burden from those swamped under!
This form of resource management gives Teamwork an edge, as it isn't included amongst Wrike's native features. To enjoy similar functionality, Wrike users have to purchase the Wrike Resource add-on.
On top of that, daily projects can be broken down into subtasks with due dates, assignees, and privacy settings. Like Wrike, Teamwork provides templates for specific tasks and projects – for instance, project launches, content plans, bug tracking, etc.
Teamwork even comes with a template checklist for onboarding new clients.
Client Access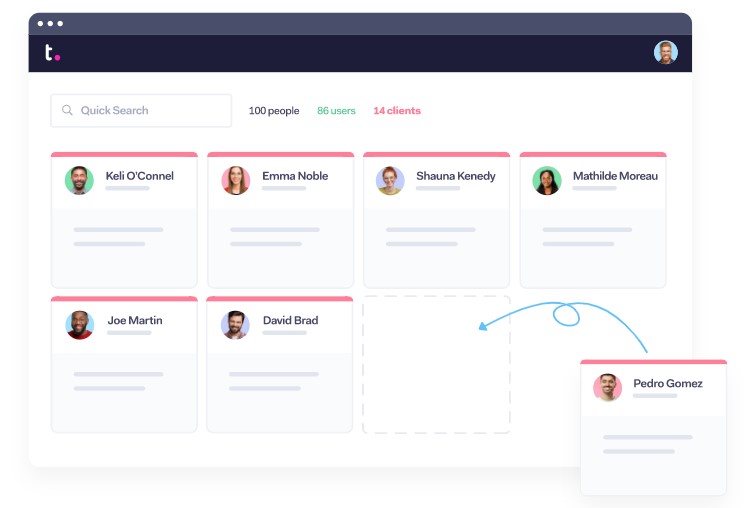 You can grant clients access to your Teamwork account so that they can keep track of their pending projects. From here, they can provide feedback that's immediately visible to the relevant team members.
Don't worry; you can tailor access permissions. So, you can keep things private that aren't ready to be shared.
This is a nifty feature that has one up on Wrike. Although Wrike allows you to share timeline snapshots with anyone, you can't grant clients access to your Wrike account unless they're Wrike customers themselves.
Merge Teamwork with Other Management Tools
If you desire a one-tool-for-all solution, Teamwork might have the answer. While these features aren't included in the product, we're discussing, nor in the pricing below, you can opt to purchase them separately.
All these additional products integrate seamlessly with Teamwork so you can manage your entire business from one tech stack:
Teamwork Spaces –

As its name so aptly suggests, this product allows you to create spaces. In these spaces, team members can share files, edit, and collaborate in real-time. You can manage multiple spaces at once and adjust their individual options, similar to the Google Suite.

Teamwork's CRM –

Here, you create and customize pipelines to manage communications with customers and clients. You can add leads, clients and customers, and keep track of contact details.

You can easily create and send invoices and even apply rotting periods to track whether a deal is likely to come through.

Teamwork Desk –

Again, as its name suggests, this

is a helpdesk tool that allows you to set up inboxes and a ticket support system. You can also create self-help documentation for your customers to access, run reports, and assign customers to specific agents.

Teamwork Chat

– This product enables you to create chat channels for your team to communicate without ever leaving your work-suite.
Wrike vs. Teamwork: Integrations
When choosing the right project management tool, you'll want to double-check it seamlessly integrates with your current tech stack. This is where one-click integrations come into their own. With that in mind, here's what Wrike and Teamwork have to offer in the department:
Wrike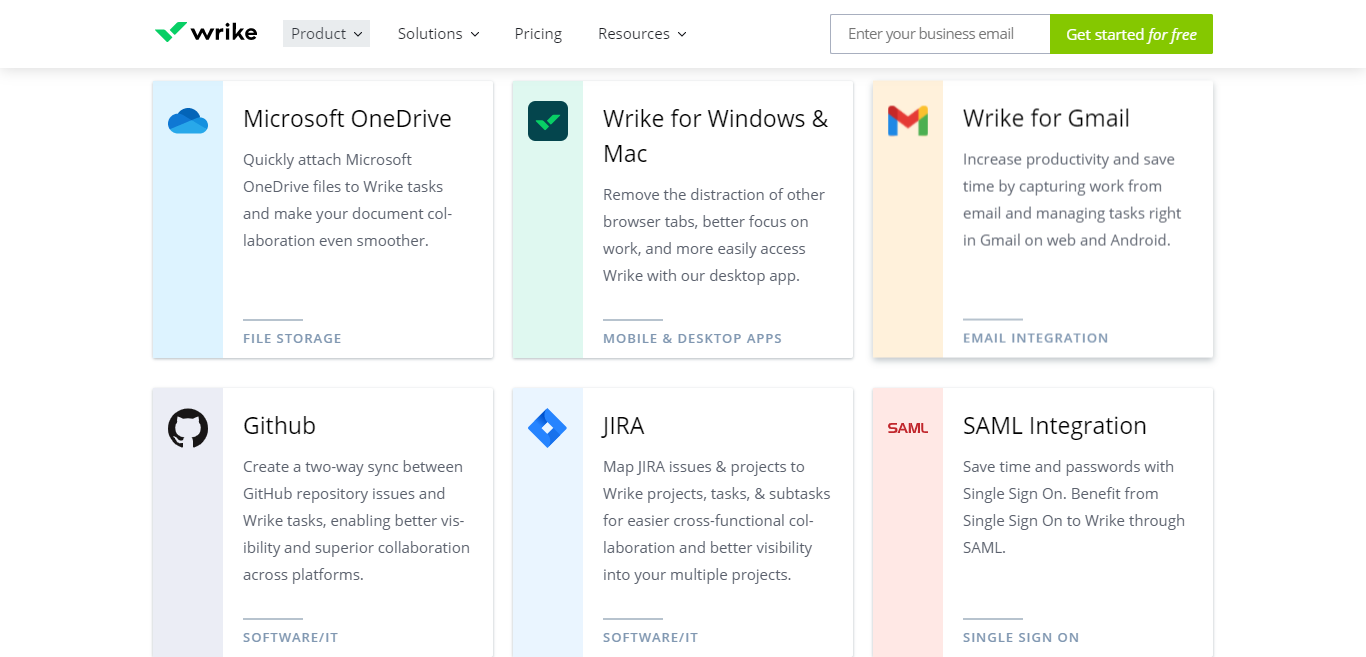 Write provides apps across various categories, including email tools, chats, messaging apps, CRMs, file storage tools, and business intelligence for more advanced analytics. Some of their more popular integrations include Salesforce, Tableau, Microsoft Sharepoint, Google Drive, Jira, and Github.
Wrike's integrations have a more technical focus than Teamwork's. However, you only unlock access to them with Wrike's higher pricing plans (more on that in a sec).
This is worth keeping in mind if you're a small team who may rely on some of these integrations – for example, the cheapest plan doesn't include the full Microsoft Office Suite.
At this point, it's worth noting that Wrike comes with an open API, so if you have the coding know-how or you're lucky enough to have a web developer on your team, you can program the integrations yourself (also good for large teams with custom requriements).
Teamwork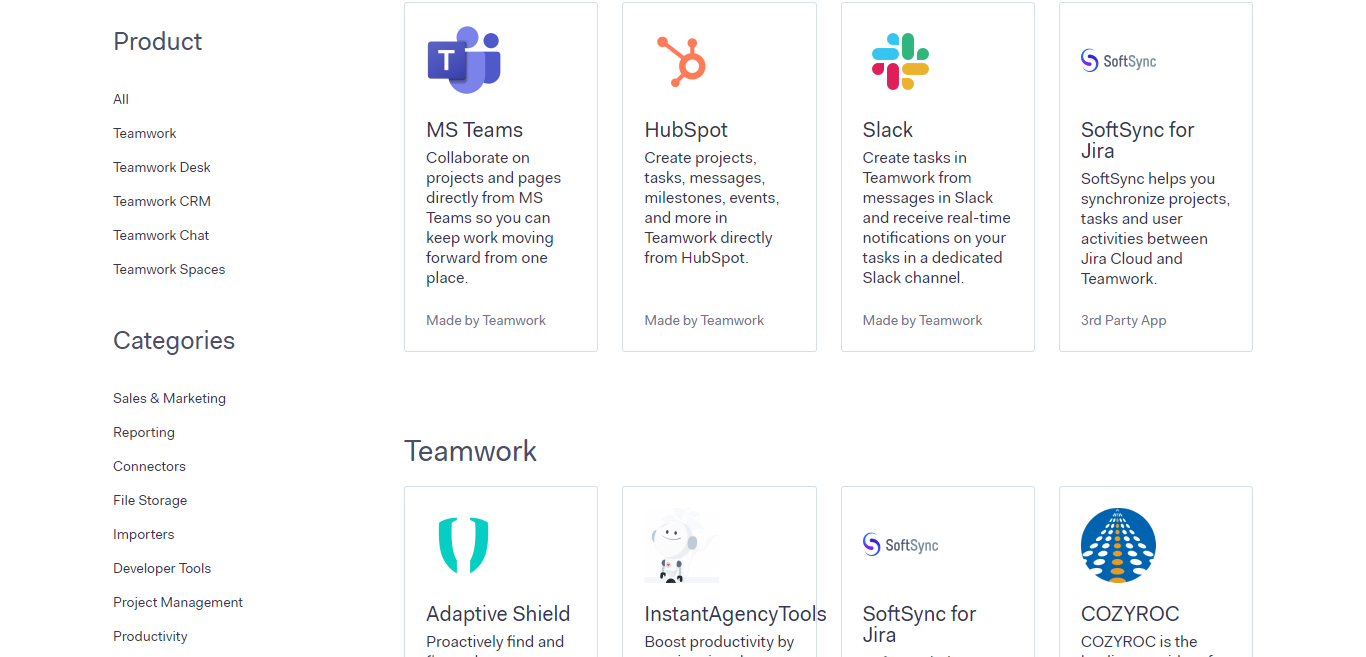 Teamwork also integrates with various tools including, Jira, Hubspot, and Slack. Also, if you're already a Basecamp user, you can import data directly from your Basecamp account and use Blinksale to export invoices.
There's also Clockify and Dropbox, to name a few. Not to mention, Teamwork integrates with Zapier, which enables you to connect with hundreds of other third-party tools.
Wrike vs. Teamwork: Pricing
Both Wrike and Teamwork charge on a subscription basis. So, this begs the question: what do Wrike and Teamwork offer for their prices, and how flexible are their options?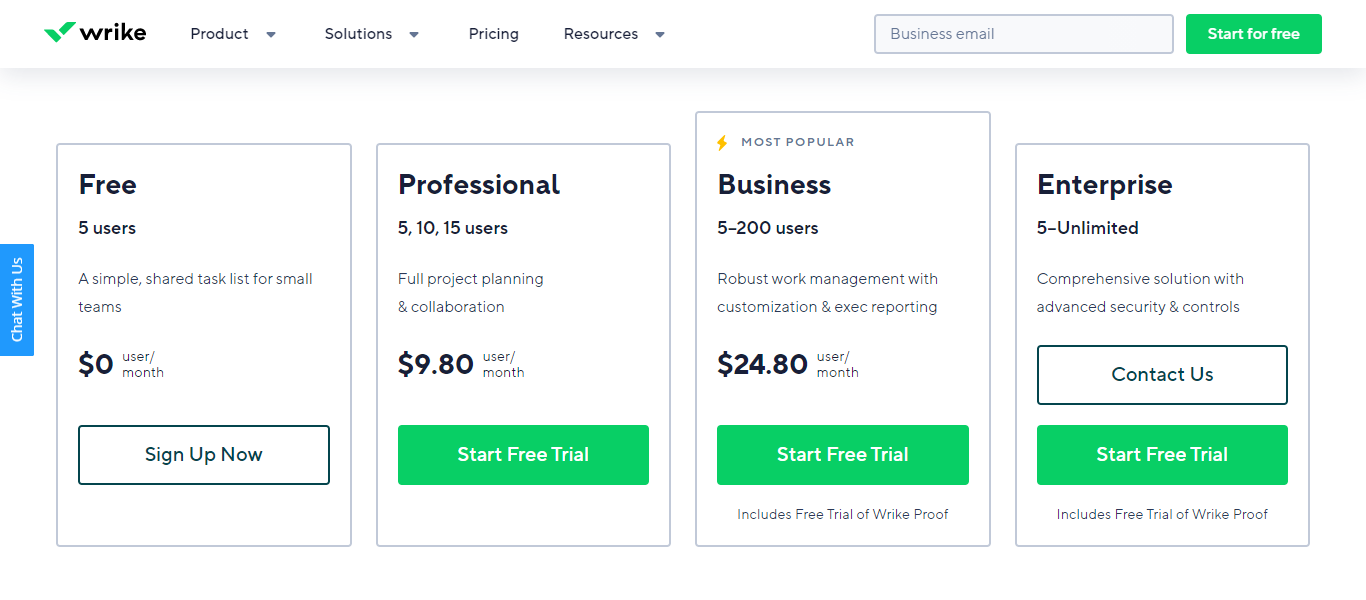 Wrike offers three premium plans, all of which come with the option of monthly or annual billing – the choice is yours. There's also a 14-day free trial period, which you can take advantage of.
On top of that, Wrike also offers a freemium package (which is best for small teams, freelancers, or those wanting to get a feel for Wrike's interface before committing to a premium plan):
Here you can:
Register up to five users

Access a simple, shared task-list

Switch between board and spreadsheet views

Access basic task management tools – you can drag and drop tasks to rank them any way you want.

File-sharing

A real-time activity stream

Google Drive and Dropbox integrations

2GB of space
This costs $9.80 per user per month. In addition to everything in the free plan, you unlock shareable dashboards and Gantt Charts. You can also manage tasks and subtasks and access advanced integrations like MS Project, Excel, and RSS.
You can also register contractors, clients, and teammates from other departments for free! They'll be granted access to the workspace with limited rights.
However, they can view tasks and their own to-do list and see, comment on, and attach files to tasks and projects shared with them. That said, they can't invite new members, track their time, or change workspaces in any way.
The Professional plan can be purchased for 5, 10, or 15 users, which dictates your per-user monthly cost accordingly.
This will set you back $24.88 per user per month and is Wrike's most popular package. It accommodates between 5-200 users. You get everything in the Pro plan, plus:
You can create custom fields on request forms.

You can define and automate workflows.

You can add events and mark milestones and deadlines to your team's calendar.

Access to time tracking functionality

You get shared real-time reports with scheduled notifications. Wrike's powerful report builder visualizes a project's status, and team members can subscribe to receive regular reports.

Report templates allow you to choose whether your reports are formatted in columns or bar/ table charts, and you can create your own filters and groupings.

Visual analytics

You can manage user groups and permissions.

You can create a branded workspace.

Access to up to 50GB of storage

You can upload 15GB of videos per month.

Access to the automation engine, which allows you to set up custom rules to automate repetitive tasks,

A Salesforce integration

A free 14-day trial of Wrike Proof, the add-on that lets you fast track approvals by centralizing feedback and shortening repeat loops.
The Enterprise plan requires you to contact Wrike directly for a custom quote. There isn't a threshold on the number of users you can register.
It comes with enhanced security like IT-controlled admin permissions, two-factor authentication, password policies, and advanced user access controls.
You also gain more storage space (from 100GB) and integrate with third-party services, Active Directory, and Business Intelligence.
Add-ons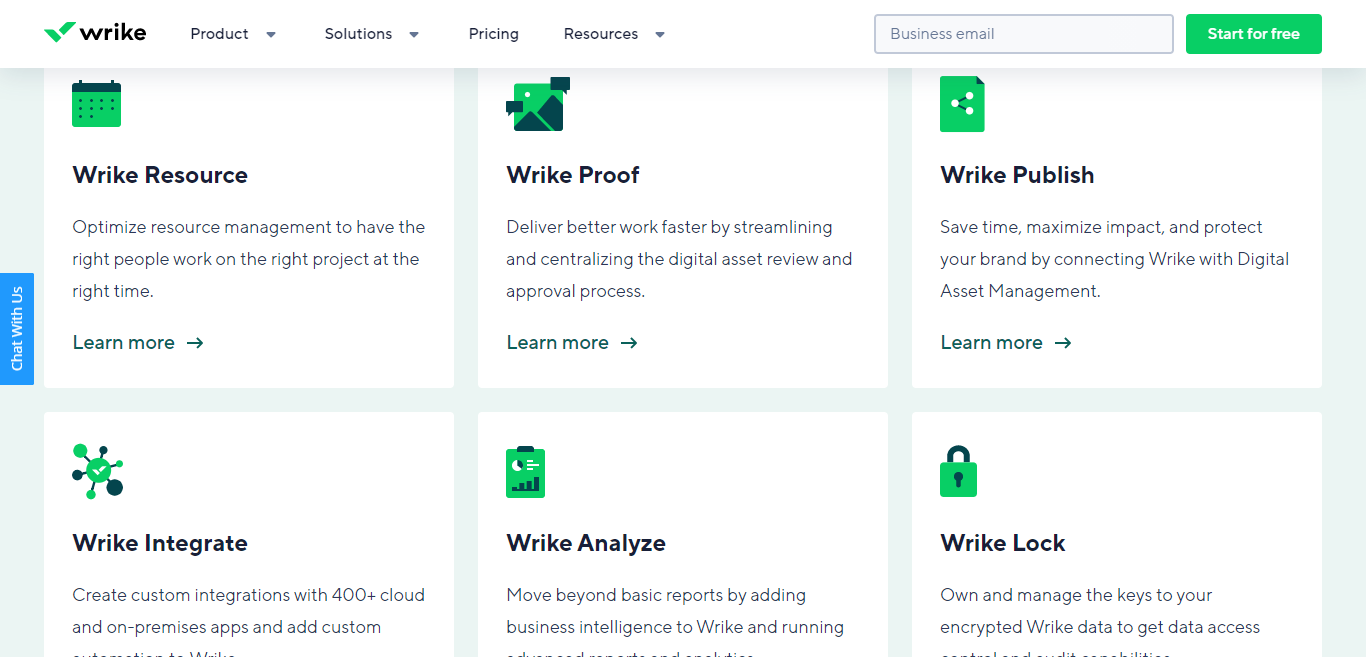 You can also opt for any of Wrike's add-on features to unlock more value for you and your team.
To get a quote for these, you'll have to get in touch with Wrike's sales team to discuss your requirements:
Wrike Publish:

This provides you with a suite of digital asset management tools

Wrike Proof

: Here, you can centralize your digital assets and approval processes so that stakeholders and clients can provide clear, visual feedback from one place

Wrike Resource:

This functions similarly to Teamwork's time budgeting feature. Here, you can quickly spot when a team member is overloaded with work and reallocate tasks to another.

Wrike Lock:

Own and manage the keys to your encrypted Wrike data. This grants you full control and access over your data as well as audit capabilities.

Wrike Analyze

: Upgrade to advanced reports and gain greater visibility over your business. You'll also unlock access to new ways of visualizing information, like pie charts, column charts, area charts, tables, calendar heat maps, and much more.

Wrike Integrate

:

Integrate with 400+ apps, or add custom automations to Wrike.

Two-Way Sync with Github and Jira:

Collaborate with other teams as if they were using Wrike by creating two-way syncs between tasks and issues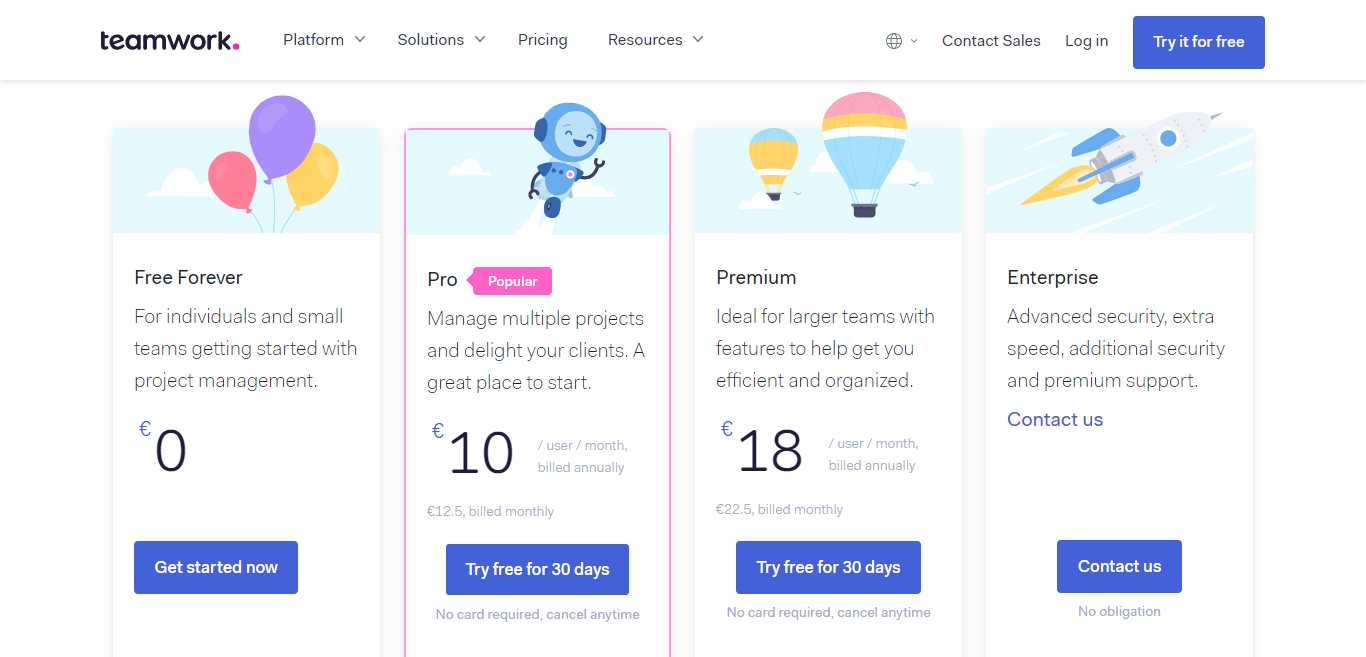 Teamwork also bills per user per month. So, like Wrike, the bigger the team, the more you pay, but unlike Wrike, you can save some money by paying annually. Those reduced prices are what we've listed below.
The good news is that Teamwork, like Wrike, comes with a Free Forever Plan. However, you can only sign up to five users, and you're limited to two projects (a project is where you store and organize your tasks).
Even more, limiting is the 100MB storage restriction. All in all, you'll definitely have to upgrade to make much use out of Teamwork.
The Pro Plan will set you back $11.25 per user per month. You need to register a minimum of five members, so keep this in mind! This package unlocks 300 projects, 100GB of space, project/task templates, and billing and invoicing features. You can also enable limitless clients to collaborate with you.
Next up, the Premium Plan, which costs $18.75 per user per month. Once again, you need to register a minimum of five users. However, you unlock 600 projects, 250GB of space, and advanced project management features, including:
Project tags – you can use these

to manage and organize your projects and make them easier to find in searches.

Access to 'change history' so you can check which tasks have been edited or updated and by who.

You can view the status of pending projects with burndown reporting. This provides a task completion trend that indicates whether all the to-dos are being marked off in time to meet your deadline.

You can set time budgets on projects and calculate how much time is remaining on each.

You can assign custom fields to request more details about tasks.

You can enable 'portfolio management view' for birds-eye visibility of all your projects.

You can create company teams – here; you can assign clients and employees to the same group to start collaborating.

You can manage teams and tasks in bulk.

You can create sub-teams for smaller projects and tasks.

Access all of Teamwork's integrations
Teamwork also offers an Enterprise Plan. For more specific pricing, you'll have to get in touch with Teamwork's sales team for a customized quote. The Enterprise plan unlocks all project templates, over 500GB of storage, unlimited projects, enterprise-level security, and premium support.
Like Wrike, teamwork also offers add-ons with extra functionality to create a full business suite of tools. However, these cover vastly different areas from Wrike's add ons and instead make Teamwork branch out into entirely new areas of business management:
Teamwork Desk

(A helpdesk and ticketing system to manage customer queries), starting from $7 per month, per user

Teamwork Chat

(You can add chat channels to your shared teamwork space), starting from $4 per user per month

Teamwork Spaces

(Collaborate within Teamwork in real-time by editing documents together), starting from $4 a month

Teamwork CRM

(Add a customer relations management system to keep track of leads and prospects), starting from $12 per user per month.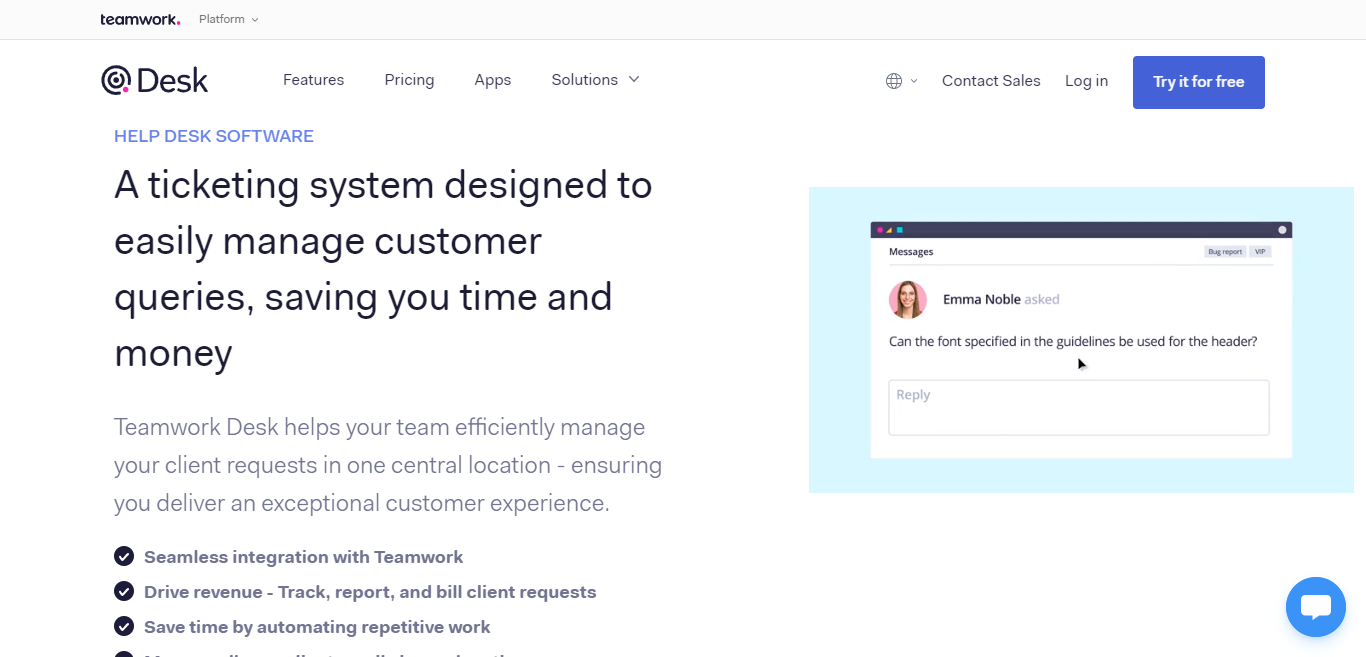 Wrike vs TeamWork: Customer Support
In this section, we'll discuss how easy it is to find an answer with Wrike and Teamwork; in essence, how does their customer service compare?
Wrike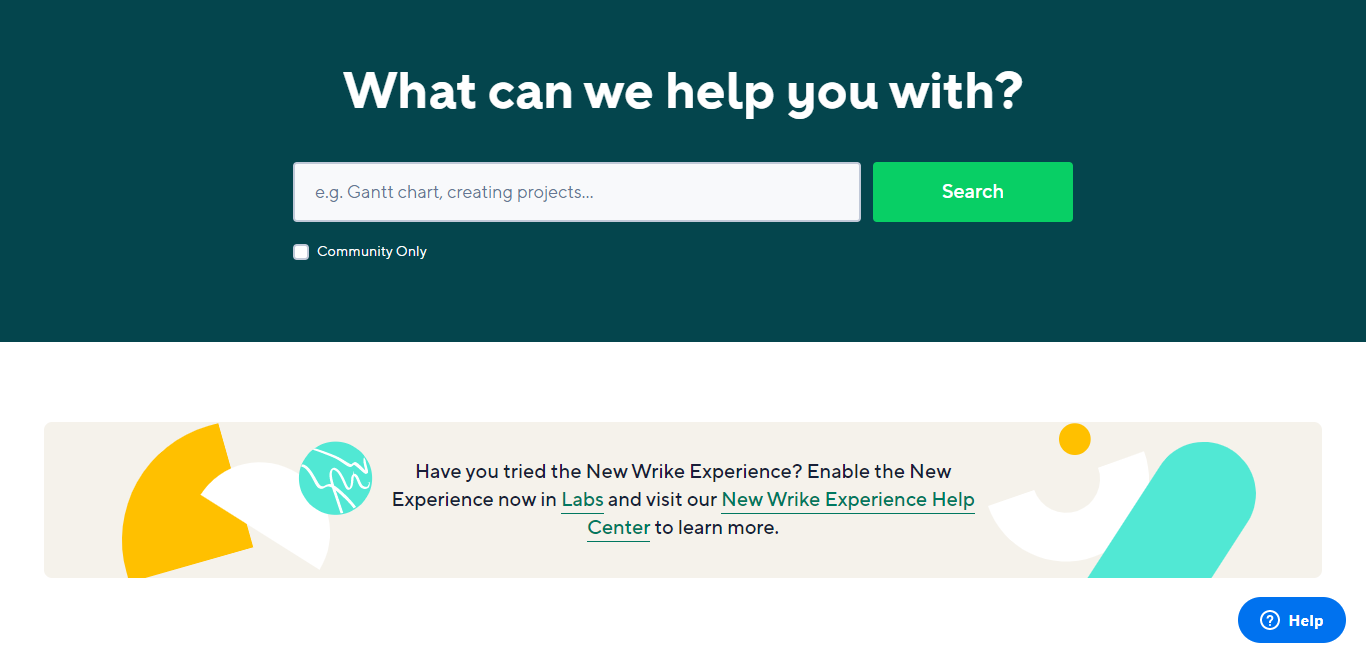 Wrike comes with an online help center. Here you'll find plenty of self-help resources, including guides, tutorials, and answers to frequently asked questions.
You can also access Wrike's community forum, where you can ask questions and share tips with other Wrike users. Wrike also offers feature overview videos, how-tos, and interactive training within the software itself.
They also host monthly webinars and have a developer portal to help get you started with their API. If you need additional help, you can submit a callback request.
Wrike provides 24/7 support to premium users via email, live chat, and phone. They have global agents available so that you can get help in your language and timezone.
Teamwork's Customer Support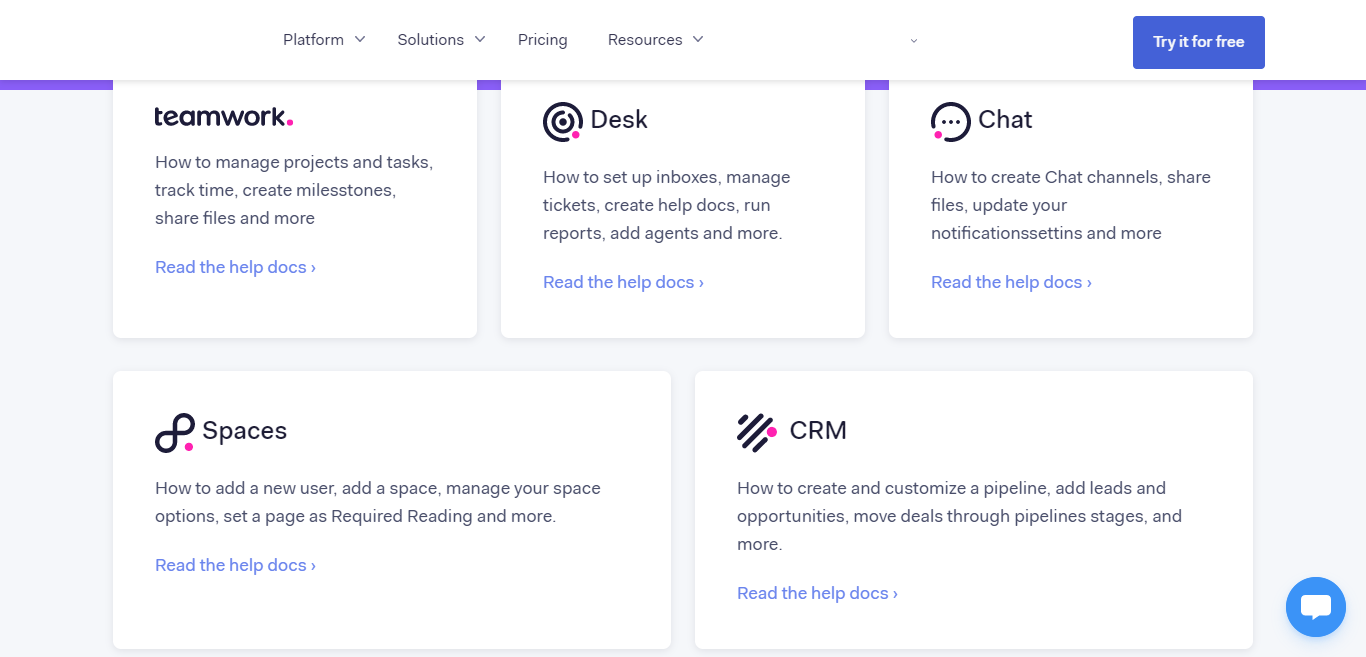 Teamwork also has an extensive online support center where you'll find plenty of guides, tutorials, and, again, the answers to frequently asked questions.
On top of that, now and then, Teamwork hosts live webinars where you can see their products in action, so if that's something you're interested in, be sure to keep an eye out for that!
If you need to get in touch with a support rep, Teamwork is available via email and telephone, Monday to Friday, from 7 am to 12 am GMT. Over the weekends, they provide limited cover. You can also submit a support ticket on their website.
Wrike vs. Teamwork: Pros and Cons
To help digest all the info above, we've made a quick pro-cons list to highlight where each platform shines, and conversely, where they might be lacking:
Wrike's Pros:
With Wrike's add ons, you get access to enterprise-level project management software that out-does most of its more basic competitors.

You benefit from built-in time tracking capabilities.

There's a free plan available.

Wrike's interactive tutorials within its software are helpful.

You get access to detailed analytics with real-time updates.

Wrike is useful for creative and marketing work management.

Wrike makes it easy to coordinate teams and manage calendars for campaigns.
Wrike's Cons:
In comparison to its competitors, Wrike's interface comes with a steeper learning curve.

Wrike's mobile app comes with limited functionality.

Wrike is the more expensive option, which adds up especially on a per-user basis.

On the Professional plan, you're forced to upgrade from 10 or 15 – there's no in-between!

There isn't an in-built chat functionality for communicating with your team – this requires a third-party integration.

Many features that entrepreneurs deem essential for project management, like resource management and reports, are only available as add-ons.

Client-access is very limited. You can only share snapshots of your timeline with clients.
Teamwork's Pros:
Teamwork's Gantt charts and board views offer good task and user visibility.

You can easily view and manage each employee's workload to ensure no one has too much or too little on their plate.

Teamwork offers a whole suite of business management products like Desk, Spaces, Chat, and CRM if you want to add more services.

Teamwork offers in-depth time budgeting and resource management tools (in-built)

There's a free plan available.

You can set up recurring tasks and track billable hours spent on each project.
Teamwork's Cons:
The free plan is very limiting, with just 100MB of space available.

You can't track deadlines.

With so many features on offer, familiarizing yourself with them all presents somewhat of a learning curve.
Wrike vs. Teamwork: FAQs
Still, got questions? Here are a few common inquiries about Wrike and Teamwork answered:
Question: Do Wrike and Teamwork offer discounts for nonprofits?
Answer: Teamwork does offer discounts to nonprofits. You can get in touch with their sales team to activate the deal. This discount is provided on a case by case basis. Wrike falls short in this afea, as they don't offer discounts — instead, they refer nonprofits back to their limited free plan.
Question: Can I manage my workload on the go with a mobile app?
Answer: Teamwork provides mobile versions of its software for android and iOS. This allows you to manage projects and collaborate with your team while you're on the go. Wrike provides very much the same. You can your tasks and inbox – it even includes an offline mode!
Question: Is Wrike secure?
Answer: Wrike's dedicated cages for mission-critical servers are hosted in the US and EU, featuring 24/7 in-person security and fully redundant power backup systems. Wrike's disaster recovery is with Google's Cloud Platform and has several certifications, including HIPAA. They boast an uptime of over 99.9% and continuously backup their data.
Question: Is Teamwork free?
Answer: Teamwork has a limited free plan to allow small teams and collaborators to organize their tasks for up to two projects. Right now, amidst the pandemic, they're offering their software to schools for free. This means teachers and students can sign up immediately to manage their homework assignments, and teachers can see how each student is progressing.
Wrike vs. Teamwork: Final Verdict
Teamwork and Wrike are quite similar in many ways and even offer similar pricing options.
That said, although Wrike offers a robust suite of tools, it presents a steeper learning curve overall. Some of its capabilities are also locked behind its more expensive plans or even require an add-on.
Unfortunately, Wrike doesn't offer resource management tools with its lower-tier plans or even advanced reporting features and some of its native integrations.
In contrast, these are included with all of Teamwork's premium plans, which are generally easier to pick up. I would recommend Teamwork to smaller teams looking for an intuitive and streamlined experience. It's also ideal if you want software you can scale with additional products.
Bottom Line Summary: While Wrike offers a whole lot of tools, I find usability and design to be more important. In this respect, the clear winner is Teamwork here. It's easy to use, offers plenty of integrations, and makes project management FEEL seamless. The mark of a great PM tool! That being said, larger enterprises (particularly in web development) might opt for the deeper multi-discipline functionality of Wrike here.
If you're still on the fence about which platform is best for you, why not take them both for a trial-run? You can register for either their free plans or take advantage of the 14-day trials both providers offer.
Either way, whatever you decide on, don't forget to tell us all about it in the comments box below. Speak soon!
Still Stuck? Check Out Head to Head Project Management Software Peer Comps
If you still aren't sure which project management software is best for your business, our editorial team has an array of field tests on some popular competitors.
Further Reading on Managing Teams and Team Collaboration Tool Options:
Teamwork Alternative for Task Management