Last Updated on April 22, 2023 by Ewen Finser
COVID-19 has significantly changed how many of us work. It's torn teams apart, forcing them to collaborate from home, which has presented challenges to many projects. When you can't physically check in with colleagues, it can be hard to keep track of important tasks, which is why progect management tools like Teamwork vs Asana come handy.
That's why now more than ever, project management software is imperative. The right platform has the power to completely transform how your team operates so that no task is ever overlooked, the review and approval process sped up, and operations streamlined.
So, today, we're looking at two such tools: Teamwork vs Asana. Both claim to help teams stay on track with their to-do lists and make it easy to visualize pending tasks. However, the question remains, which one's better?
Are you ready to find out? Let's get started!
Main Differences Between
Teamwork vs Asana
The main differences between Teamwork vs Asana are:
Teamwork comes with in-built time tracking, whereas Asana doesn't.

Teamwork lets you edit permissions for clients, whereas Asana comes with pre-set guest permissions that can't be customized.

Teamwork allows you to create multiple assignees to tasks, whereas Asana doesn't
About Teamwork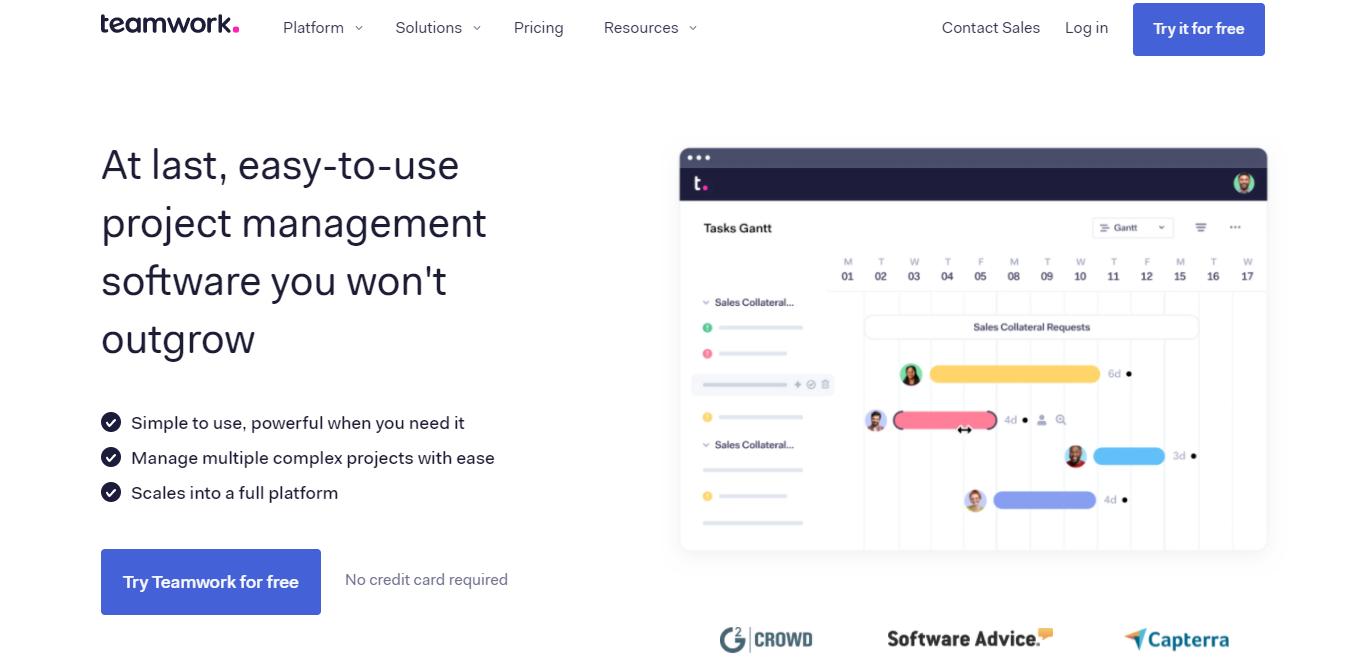 Founded back in 2007, Teamwork brings plenty of project management experience to the table. This hassle-free solution is trusted by more than 20,000 companies and integrates with essential business tools including Microsoft Office and Teams, Google Drive, DropBox, and countless others.
But, even without these handy integrations, Teamwork's project management functionality packs a punch in and of itself.
About Asana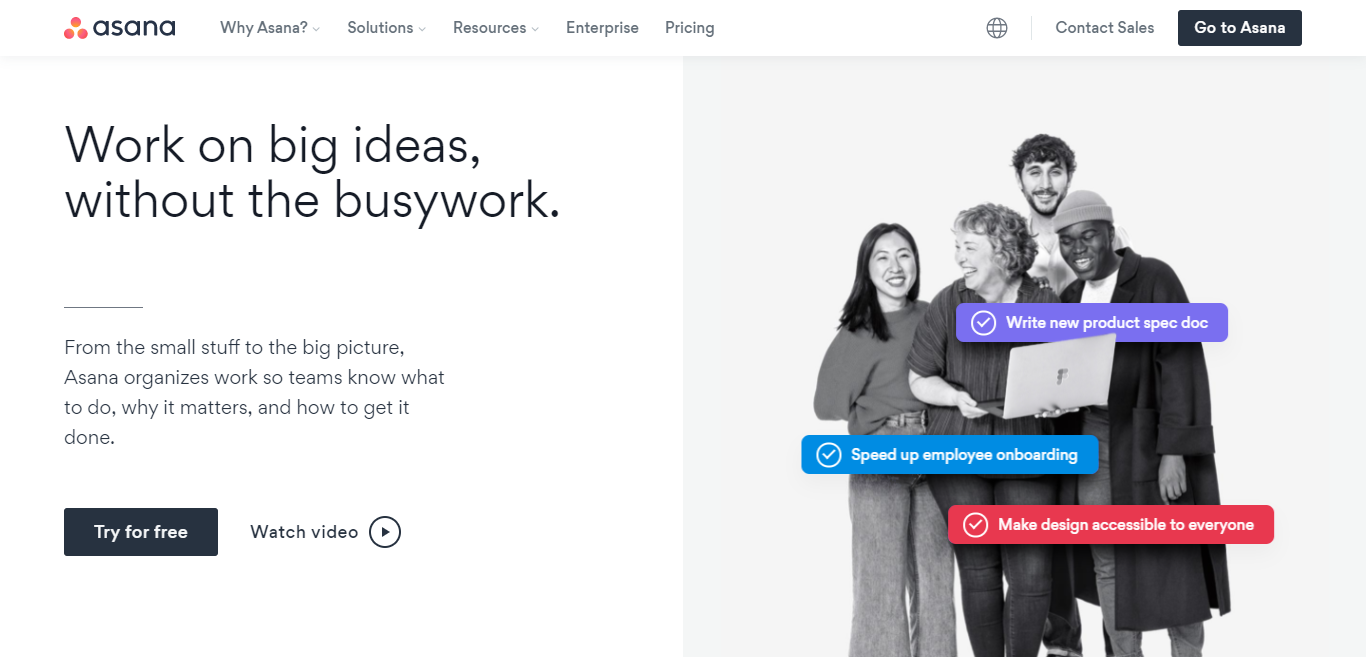 Asana's founders originate from Facebook's Engineering team, where they grew frustrated with how operations started to slow down as they scaled. Coordinating work became difficult, and so they built an internal tool that could reduce the time spent on "work about work."
As such, Asana aims to cut down the time spent on tedious and repetitive administrative tasks that slow teams down.
How?
By promoting an agile approach to project management and encouraging improved collaboration and productivity.
Fast forward to today, and Asana now has offices all around the world and helps teams in over 190 countries.
Teamwork's Key Features
Both Teamwork vs Asana are feature-rich tools with similar project management capabilities. That said, let's compare their functionality, starting with Teamwork:
Project Management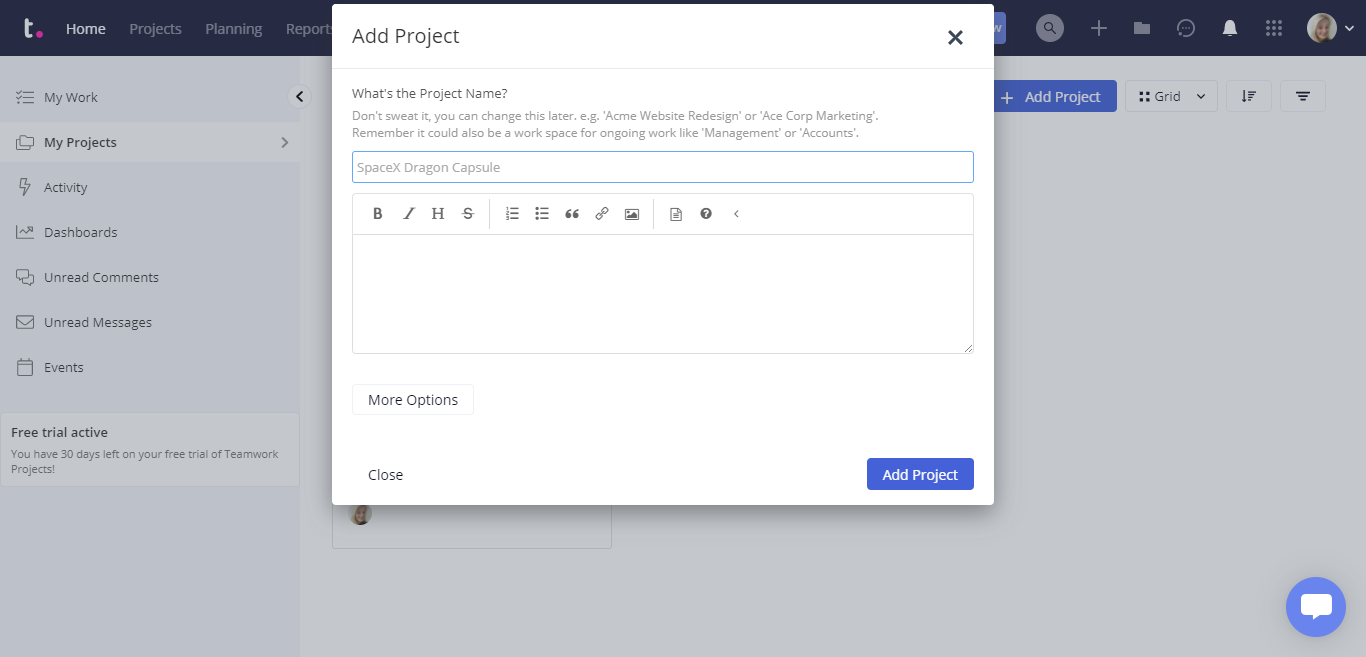 Teamwork empowers you to manage complex projects quickly. You have all the tools you need to keep projects organized. For instance, you can create tasks enriched with comments, custom fields, and file uploads.
You can also create subtasks and 'project teams' where coworkers collaborating on specific projects can do so in separate spaces.
On top of that, you can visualize your progress in a way that suits your team, using Gantt charts, timelines, calendar views, boards, and lists – the choice is yours!
Teamwork also comes with burndown reporting. This indicates whether you're on track to finish a project on time by calculating the rate tasks are completed. You can set task dependencies, assign multiple people to jobs, and set milestones and deadlines.
You can also set automatic triggers that dictate what happens when a task reaches a particular stage. For example, the task 'fix bugs' could immediately be assigned to your quality control team at the appropriate time.
Portfolio Management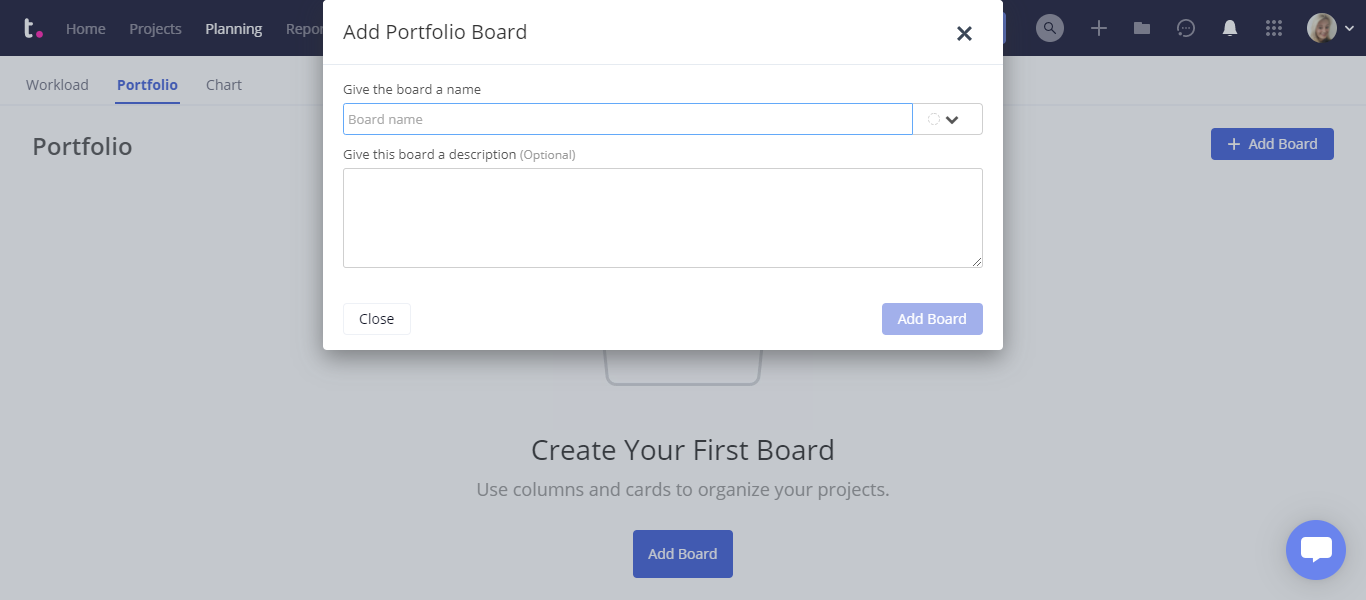 Teamwork's portfolio management features provide an overview of all your projects across overarching project categories. For instance, you might have a portfolio for your marketing projects and another for your website projects. This allows you to keep everything organized with more granular control.
Time Tracking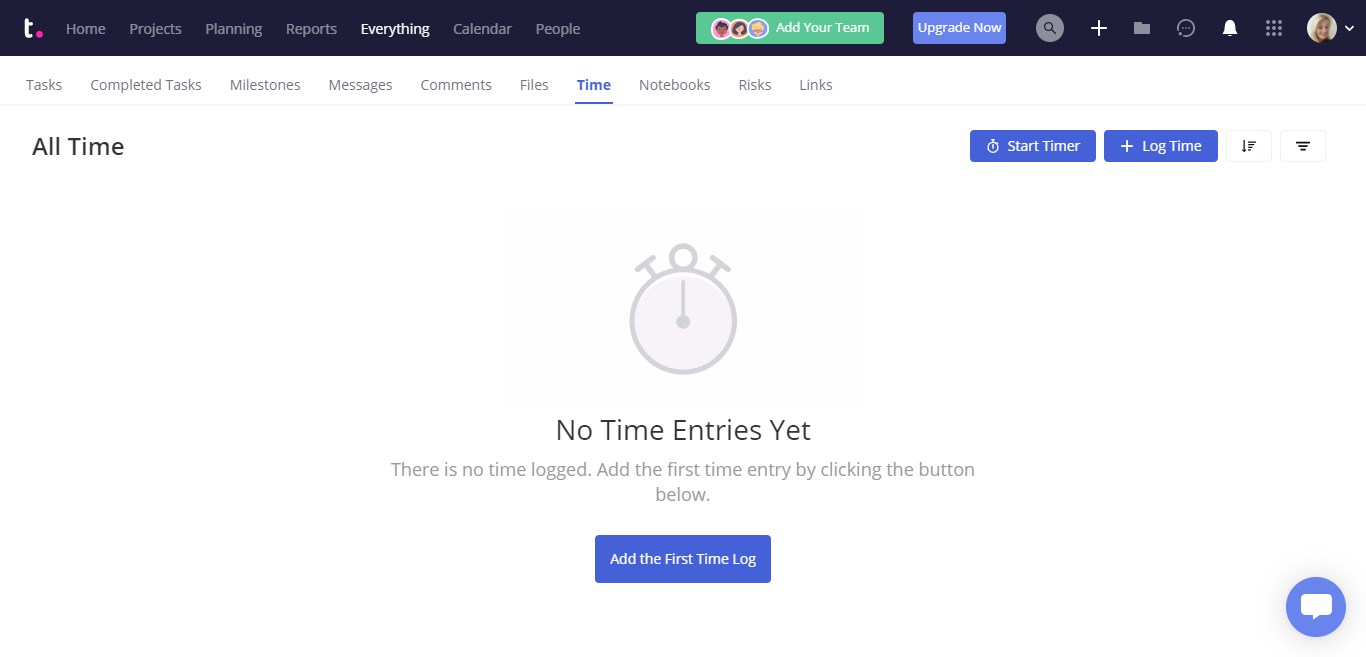 Teamwork comes with in-built time tracking, so you can easily monitor how long specific tasks take. You'll soon get a clear idea of which processes take longer than they should and might benefit from some optimization. It can also track billable hours, making filling out invoices a much easier task.
Workload Management
Teamwork uses a color system to help you visualize how many tasks each team member is juggling. That way, you can see at a glance if anyone's overloaded, and consequently, may struggle to complete tasks to the deadline.
With this info to hand, you can strategically reallocate some of these tasks to more available team members.
Templates
Teamwork comes with plenty of helpful projects and task templates. Examples include checklists for onboarding clients, project tracker templates, bug report templates, and more. You can also create custom templates with additional fields and assign rules that automatically move tasks to the right person. When used to the fullest, this can go a long way to speeding up the approval process.
Client Access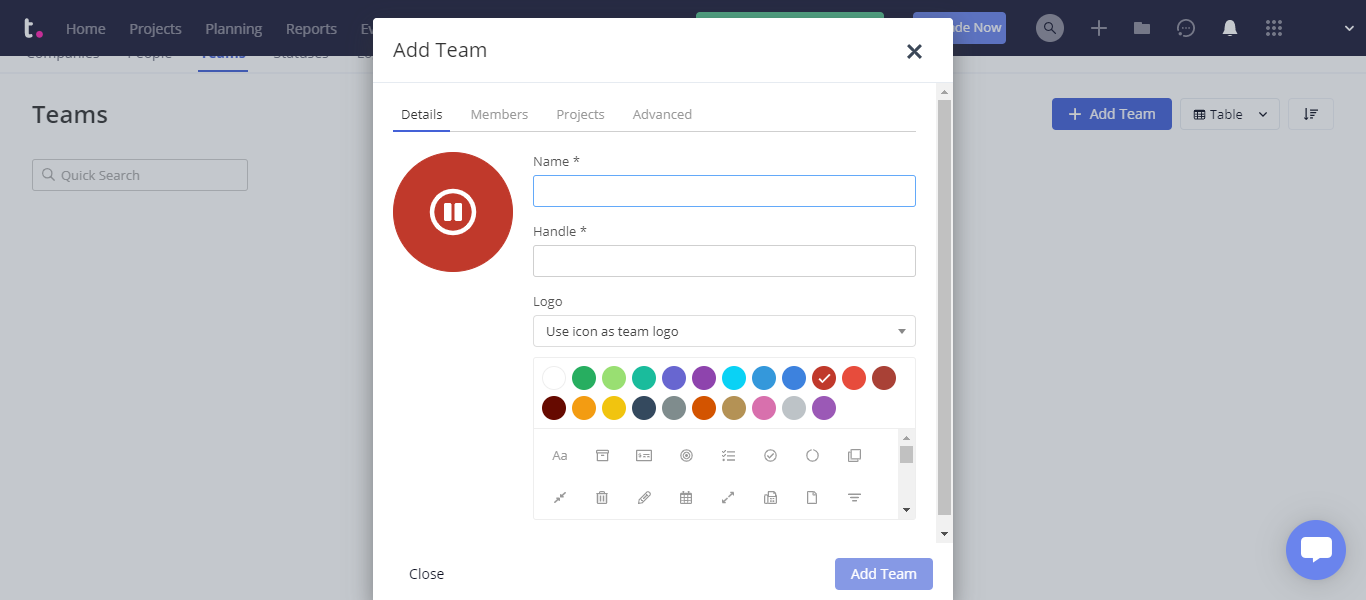 You can grant unlimited access to clients – i.e., you can add as many clients as you want and regulate the permissions they have to view and edit tasks. Clients can add comments, review progress, view reports, upload references, etc., allowing for much closer and productive collaboration.
Add-on Products
In addition to Teamwork's base features, there's a range of add-on services you can purchase to expand Teamwork into a full business-management suite, including:
Teamwork Spaces: This functions similarly to tools like Google Drive, where team members can collaborate on documents in real-time. You can manage multiple spaces at once and edit access permissions for each.
Teamwork CRM: Here, you can manage and keep detailed records of your business contacts. You can also create sales pipelines and set alerts and notifications to remind you about important dates.
Teamwork Desk: This is a helpdesk tool that enables live chat on your website. You can set up inboxes for your support agents so that they can receive and respond to customer support tickets. You can also create self-help documentation for customers to peruse on your website.
Teamwork Chat: This is a chat channel that enables your team to network inside Teamwork more casually.
Asana's Core Features
As we've already mentioned, Asana's suite of features overlaps with Teamwork's somewhat. That said, let's explore what Asana has to offer:
Project Visibility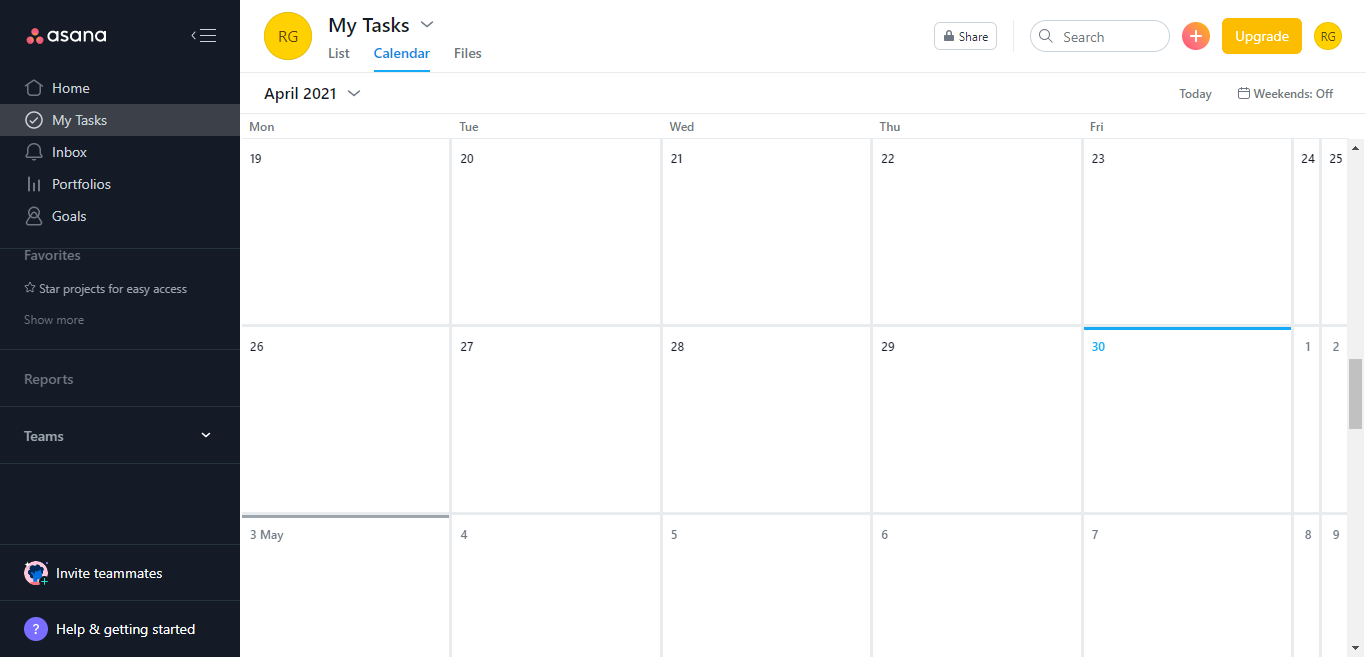 Asana comes with a bunch of different project views, including, list, timeline, and calendar views. The timeline permits you to map out projects as a team so that you can better see the relationship between tasks. Whereas the calendar view provides a clearer visualization of any holes or overlaps in your schedule.
Project Management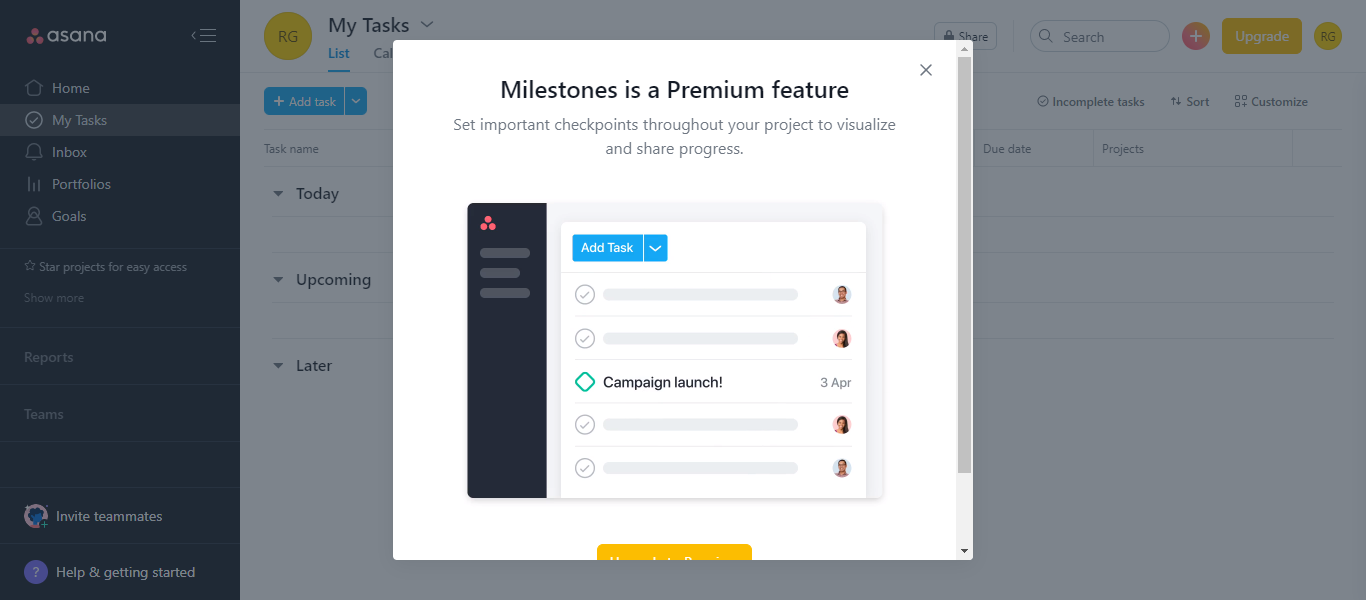 At Asana's core is its project management features. Asana makes it easy to organize your work into shared projects, initiatives, meetings, programs, etc., either as lists or boards.
You can also create tasks with subtasks that break projects down into more manageable chunks. The same goes for being able to add milestones. This makes visualizing significant checkpoints in your project journey much more straightforward.
On top of that, you can assign tasks to specific employees. However, unfortunately, there isn't a way to assign multiple assignees to one task. The only workaround is creating copies of the task and sending them to all the necessary parties.
You can attach files to tasks via DropBox and Google Drive. Also, with custom fields, you can add whatever information you want to the task you're setting. Helpfully, the following fields come as standard: due dates and times, start dates, and dependencies.
You can use forms to establish a submission process for work requests. For example, you could create a form for what a bug report should look like before it's handed to a programmer as a task.
You can further streamline your approval process by automatically assigning finished tasks to the right people for approval. In the same vein, you can create custom templates for projects and tasks.
You can also create teams for departments, job functions, project involvement, and more. Here you can establish their own calendars and conversations that you can either make public or private. This empowers different teams to work without bombarding others with information that doesn't pertain to them.
Lastly, Asana also comes with a text editor that enables you to write briefs within the software.
Views and Reporting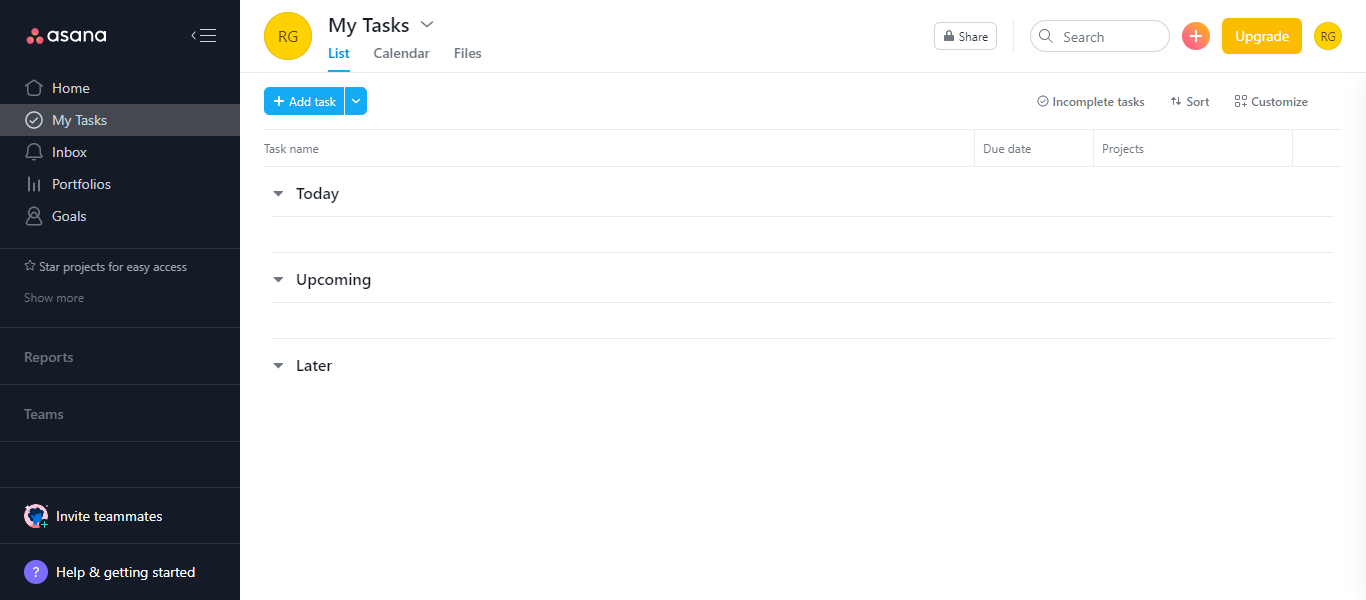 Each team member has a "My tasks" view to help them stay on top of their own to-dos. You also get a real-time overview of the workload spread across projects. From there, you can rebalance tasks accordingly. You can run advanced reports based on specific criteria and save them from monitoring analytics on projects, assignees, and more.
Admin Controls
You can assign vendors, contractors, and partners access to your account as 'guests.' Rest assured, you can limit access to any project or create hidden teams working on confidential projects. You can also establish comment-only projects, which enable you to share info without the recipients being able to edit anything.
On the flip side, if you want to grant particular employees more control over your account, you can assign admin status. Admins can remove, add and manage members and their settings.
Communication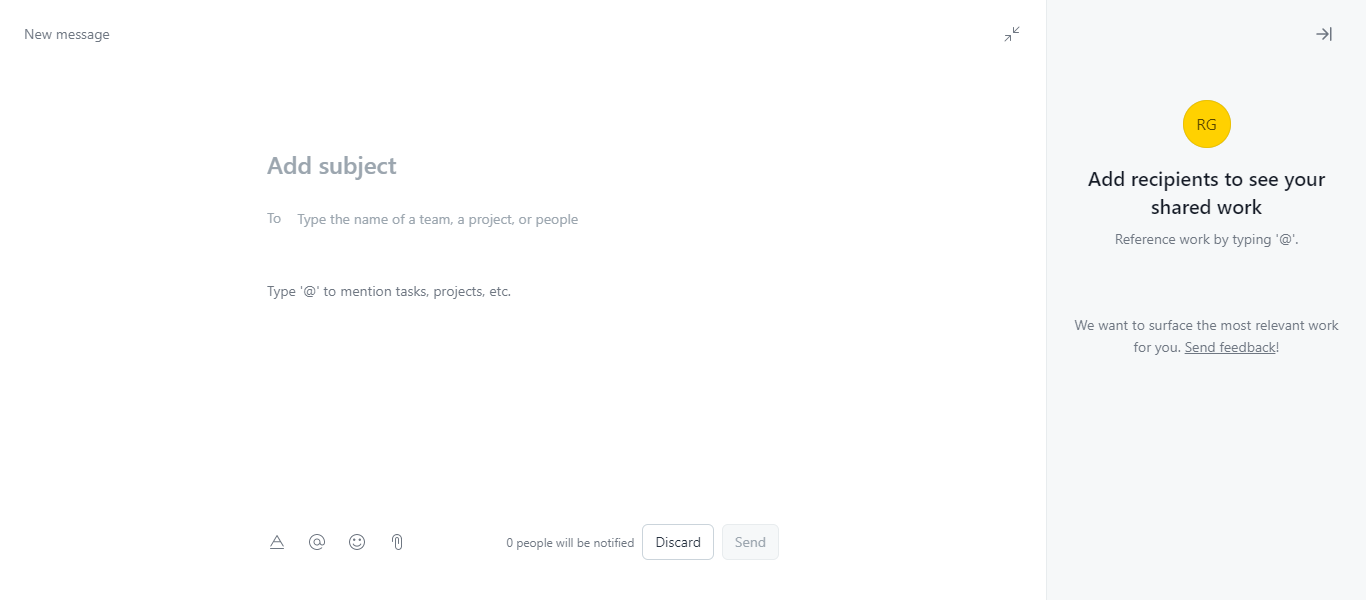 Asana boasts a range of communication features. For instance, you can become a follower on a task or project and receive notifications about any updates. You can also comment on tasks, message other team members privately and create statuses to distill data into highlights.
Features: It's a Tie!
Both Teamwork and Asana cover a wide range of features. Teamwork offers time tracking, multiple assignees, and native burndown reporting.
Although Asana doesn't have these features, it provides a multitude of team collaboration and communication tools that might better suit your workflow. As such, the best choice comes down to the needs of your business and personal preference.
Teamwork vs Asana: Integrations
Your project management tool won't exist in a vacuum; you'll likely want it to play ball with your existing tech stack. That said, let's see which integrations Teamwork and Asana offer:
Teamwork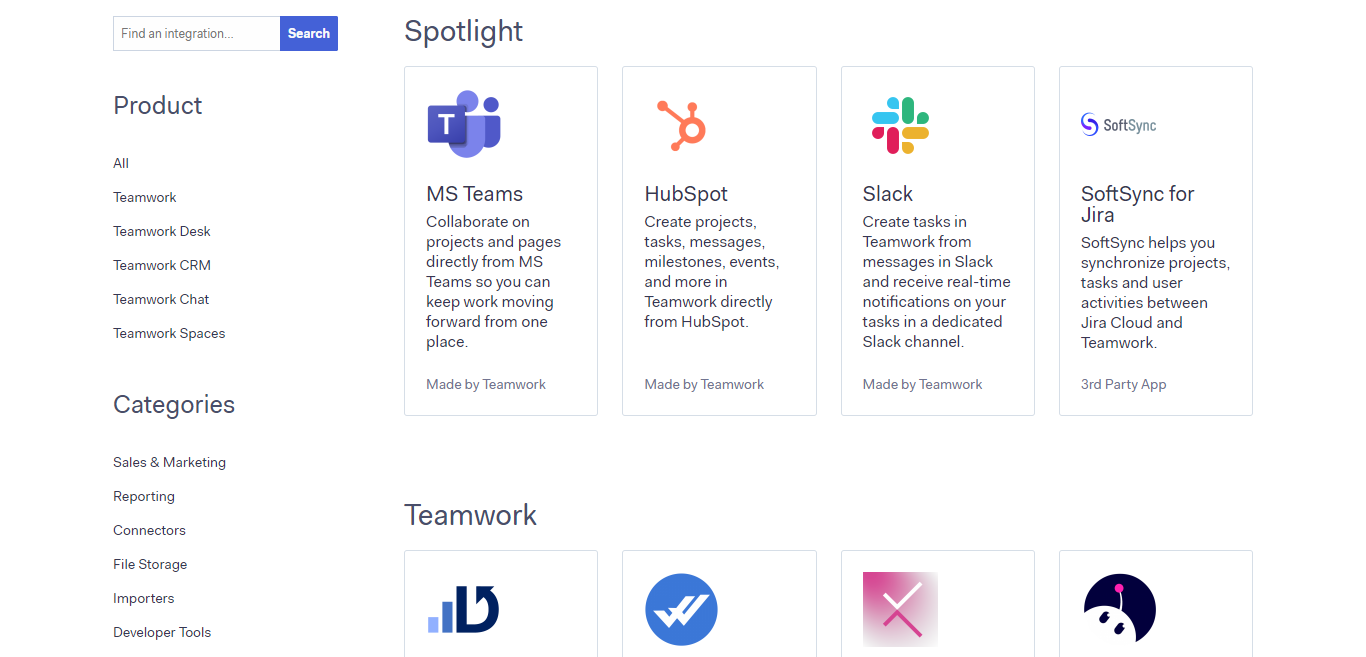 First off, it's worth noting that Teamwork only unlocks its integrations on its premium plans. That said, Teamwork offers plenty of essential integrations that make life easier.
As mentioned before, some of their most notable integrations include Microsoft's business tools like Teams and Office. It also integrates with other heavy hitters like Slack, Hubspot, Dropbox, QuickBooks, the Google Suite, One Drive, and more. Various time-tracking integrations are also available.
On top of that, Teamwork integrates with Zapier, enabling you to connect with over 2,000 tools without writing any code.
Asana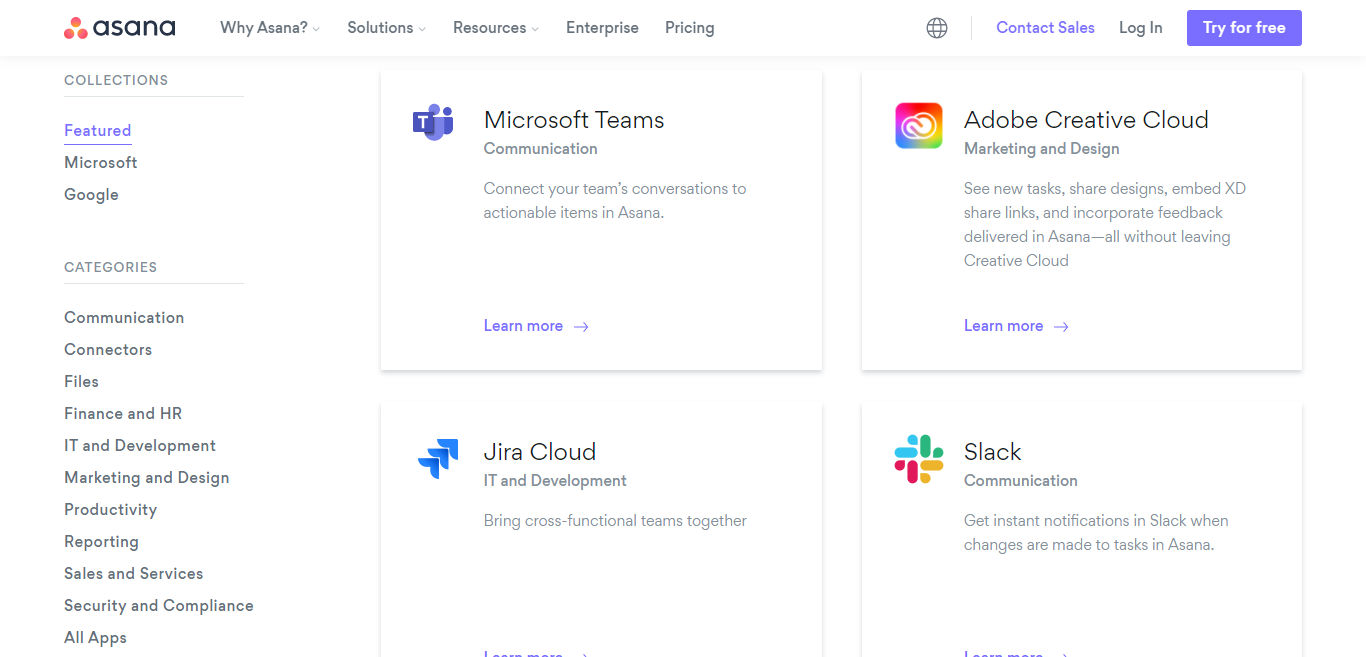 Asana offers similar integrations, including the Microsoft and Google Suite, time tracking tools, accounting software, and more. Like Teamwork, Asana also integrates with Zapier.
It's worth highlighting Asana's integration with the Adobe Creative Cloud. This comes in especially handy for design-heavy teams regularly sharing their progress and mock-up solutions. Unlike Teamwork, Asana unlocks the majority of its integrations with its free plan.
Integrations: The Winner is Asana
Asana and Teamwork cover the same apps for the most part, and both integrate with Zapier. However, Asana has the edge here due to its Adobe Creative Cloud integration. Unfortunately, this isn't something that Teamwork offers. Plus, Asana unlocks access to more integrations than Teamwork on its free and cheapest plans.
Teamwork vs Asana: Pricing
Typically, the price of project management software scales with the size of your team. Consequently, they can present a high monthly cost, so it's important to carefully assess whether you're getting the best value for money. In light of that, here's how much Teamwork and Asana will set you back:
Teamwork's Pricing
Good news! Teamwork comes with a free-forever plan, which is excellent for individuals and small teams just getting started with project management. This is what you'll get without paying a dime:
You can register up to five users

You can create and work on up to two projects

You'll get 100MB of space

Access to Teamwork's standard project management features, including: subtasks, dependencies (how tasks relate and what needs to be done before the next job can start), tags and filters, calendar view, Gantt charts, and limited board and workload views, milestones, and time tracking.
To scale your operations from there, there are two pricing plans to choose from. You can try both of these out with Teamwork's free 30-day trial. Alternatively, there's an Enterprise package available.
However, you'll have to call Teamwork directly to get a custom quote. The Enterprise program increases your storage to over 500GB and allows you to create unlimited projects. You'll also receive a dedicated account manager with enterprise security and support.
The two paid-for plans are as follows:
Pro ($10 per user per month, billed annually)
Here, you can sign up an unlimited number of client users that can review tasks, comment, and stay up-to-date with your project progress. You also unlock 100GB of storage and can work on as many as 400 projects.
On top of the standard project management features included in the free plan, you'll also get the following integrations:
Dropbox

Slack

MS Teams

Microsoft Office

Harvest

QuickBooks

Xero

Google Drive
…and you get access to the following extra features:
Billing and invoicing tools

A limited number of task and project templates

You can add unlimited collaborators with limited editing permissions

You can group colleagues into teams according to the projects they're working on

Webhooks
Premium ($18 per user per month, billed annually)
This plan comes with everything in the Pro plan; however, you can work on 600 projects with 250GB storage space. You also get access to all of Teamwork's integrations, and you unlock advanced project management features like:
50 project templates

Portfolio management

Unlimited workload and board views

Visible change history (You can look back over what's been previously edited)

Burndown reporting (This predicts whether the project is on track to meet the deadline)

Project time budgets

Custom fields (You can add extra information to tasks)

Additional integrations like Hubspot, One Drive for Business, SharePoint, and Microsoft Project

A custom domain with SSL

Subteams

Bulk Management
Platform Add-Ons
As mentioned before, Teamwork also offers several valuable add-ons. We covered some of these tools in the features section, but here are their prices:
Teamwork Desk: This starts at $7 per user per month when billed annually.
Teamwork Chat: This costs $4 a month with the Pro plan, billed per user annually.
Teamwork CRM: This sets you back $12 per user per month, billed annually.
Teamwork Spaces: This costs $8 per user per month on the Starter plan.
Asana's Pricing
Asana's pricing has a very similar set-up to Teamwork's. They, too, offer a free plan and a trial period, with two premium plans and an enterprise solution.
First, let's explore the free plan; here you can:
Manage unlimited tasks, projects, and messages.

Access an endless activity log and unlimited file storage (however, files can't be larger than 100MB).

Register up to 15 team members

Access to a board, list, and calendar view, as well as a project overview.

You can review assignees, due dates, and project briefs.

Access to over 100 integrations
We know what you're thinking; compared to Teamwork's free plan, Asana is incredibly generous! So, how do their paid plans improve on this?
Premium ($10.99 per user per month, billed annually)
In addition to everything included in the free plan, the Premium package unlocks:
Forms

Rules

Milestones

Advanced search and reporting

Dashboards

Timeline view

Private teams and projects

Access to the admin console

Unlimited free guests

Task dependencies

Custom templates

Start dates

Custom fields

Priority support
Business ($24.99 per user per month, billed annually)
Similar to Teamwork, this pricing tier unlocks portfolio management. Furthermore, Asana provides:
Advanced integrations with Salesforce, Adobe Creative Cloud, Tableau, Power BI

Proofing

Lock custom fields

Approvals

A custom rules builder

Workload view

Goals
Enterprise
Finally, the Enterprise plan provides better security and support, including service accounts, cross-regional backups, and data export and deletion.
It also comes with SAML. If this is of interest, contact the sales team to learn more and get a quote.
Pricing: The Winner is Teamwork
If we were just considering the free plans, Asana provides a better offer.
However, once we move on from the free plans to the paid ones, Teamwork offers similar toolkits for a little cheaper. While the difference isn't massive, Teamwork's the more affordable option without compromising on its capabilities.
Teamwork vs Asana: Customer Support
Should you run into any issues or if questions arise, an excellent customer support team must be on hand to help. With that in mind, let's take a look at the kind of customer care Teamwork and Asana provide:
Teamwork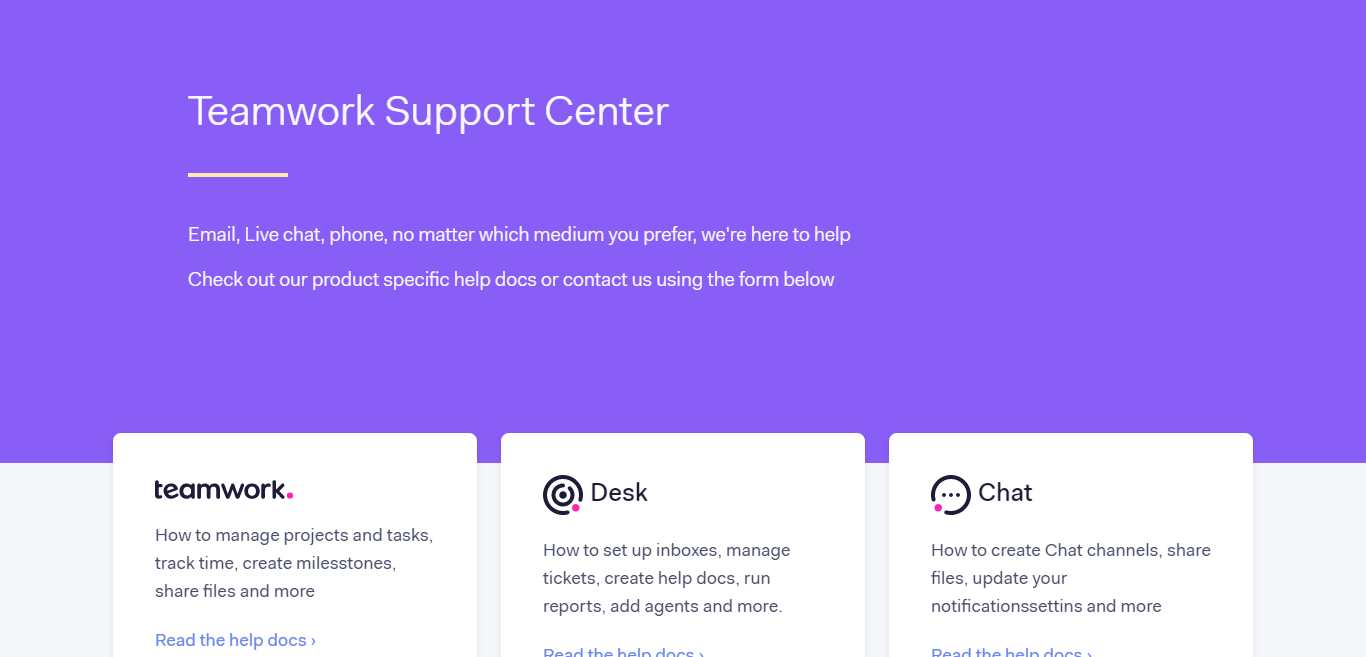 Teamwork has loads of online self-help documentation available on its help center. Here you'll find guides, tutorials, and much more. Teamwork also hosts webinars where they provide product demos, which is an excellent way of getting an overview of the platform before buying.
On top of that, you can contact Teamwork's customer support agents via phone, live chat, and email support – no matter which payment plan you're on. The team operates between 7 AM to 12 AM GMT, Monday to Friday, and limited coverage is available on weekends. However, you can always submit a support ticket outside these hours.
Asana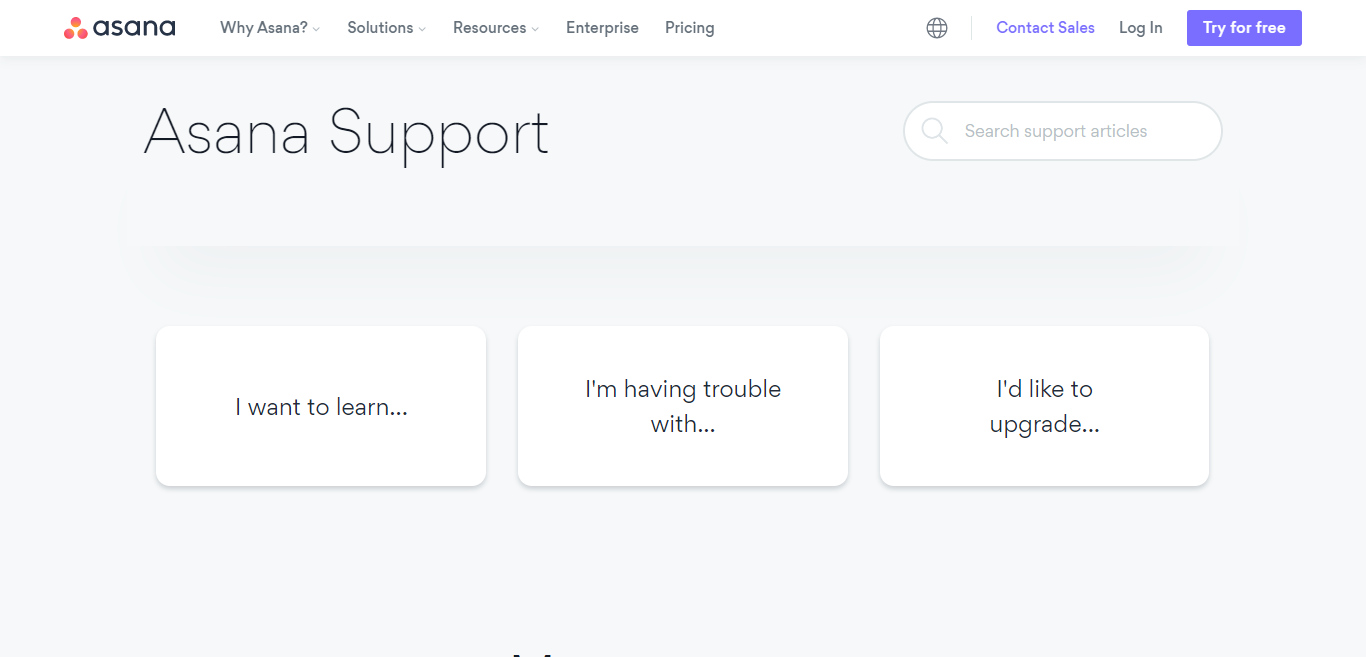 Asana has a wealth of online resources that go beyond standard help center documentation. Besides materials on how to use each of Asana's features, you'll find a community forum where you can network with peers and Asana experts. Alternatively, you can browse and register for their upcoming events and join community programs.
You can also visit the Asana Academy, where you'll find fully-fledged courses on the software. This covers subjects like onboarding, the basics, advanced features, general tips and tricks, on-demand webinars, and more. Asana also provides work management resources on their website to help you adopt better practices.
However, if you want to contact Asana's support team, your only option is to email them. Asana will then get back to you as soon as possible.
Customer Support: The Winner is Teamwork!
While we love how many self-help resources Asana provides, Teamwork offers more reliable customer care with their phone, live chat, and email support.
Teamwork vs Asana: Pros and Cons
We've covered lots of ground, so we thought it would be helpful to provide a clear comparison of Teamwork and Asana's advantages and disadvantages:
Teamwork's Pros
Teamwork offers affordable pricing

A free-forever plan is available

Teamwork offers seamless add-ons you can purchase to form a complete business suite
Teamwork's Cons
Some users have reported in-app bugs

Planning timelines and tasks with more complex requirements are more complicated than it needs to be

Teamwork comes with a bit of a learning curve
Asana's Pros
Asana offers a very generous free plan with unlimited tasks and up to 15 team members

Asana also provides handy time and workload management features

You get access to powerful Gantt chart and timeline views to organize and plan schedules
Asana's Cons
Asana is a little more expensive, which can quickly add up if you have multiple users

There's no personal view to see your own tasks

Like Teamwork, Asana's many features come with a bit of a learning curve
FAQs
Question: Do Teamwork and Asana offer discounts for nonprofits?
Answer: Asana is happy to offer eligible organizations a discount on their Premium or Business plans when they opt for annual billing. Nonprofits can save up to 50% on Asana. Applications for this discount are reviewed by TechSoup.
Teamwork provides discounts to nonprofit and educational institutions on a case-by-case basis. To get a discount code that can be applied at checkout, get in touch with the team and apply.
Question: Do Teamwork and Asana offer refunds?
Answer: Neither Teamwork nor Asana offers refunds. If you cancel your subscription at any point, you can continue using the features you paid for until the billing period runs out. Asana and Teamwork also provide free trials where you can test premium plans for free, no credit card required.
Question: What do customers say about Teamwork?
Answer: Although Teamwork has a smaller userbase than Asana, it enjoys excellent reviews on G2, PCMag, and Capterra. There, its scores range from 4.4 to 4.5. Customers say it's easy to get started using the software. They also praise the task views, the chat thread on projects, and how easy prioritizing tasks are.
Question: What do customers say about Asana?
Answer: Asana enjoys a rating of 4.5 stars on G2 and has been reviewed by over 7000 users. Customers like its team collaboration and management features for agile practices and project management capabilities. However, some say it has a steep learning curve and might be too complex for smaller organizations.
Teamwork vs Asana: Our Final Thoughts
Teamwork and Asana are both powerful tools boasting similar pricing and features. Needless to say, this makes picking a clear winner between the two a challenge.
Ultimately, it might be worth giving both platforms free versions a go to see which interface you prefer. That said, Teamwork may be slightly easier to use for smaller teams compared to Asana, which apparently has a steeper learning curve.
In contrast, if team collaboration and communication are your priority, Asana is a little more advanced in that area. Lastly, it's worth noting that some features aren't present in Asana that Teamwork offers, like burndown reporting, multiple assignees, and time tracking. However, this is easily fixed with Asana's many integrations.
So, there you have it, our take on the Asana vs Teamwork debate. What would be your pick out of the two? Let us know in the comments below. Speak soon!