Last Updated on February 15, 2023 by Ewen Finser
Project management platforms have proven to be excellent management tools for boosting productivity in the workplace and improving team communication. They also assist in teaching a corporate culture that embodies the virtues of teamwork.
Bottom Line Up Front: If you are just getting started or still a small to mid sized company, the more cost effective solution is Asana here. That said, for larger (or rapidly growing) enterprises, the expanded cross-functional features are better with Wrike here.
Choosing a useful PM software is no walk in the park.
It is an investment of resources and time spent not only in vetting the right system for your multiple projects but in learning the system to encourage user adoption.
Project management tools are perfect for your business if;
You are finding it hard to collaborate on tasks.

If it is difficult to to larger groups ( ).
Budgeting and planning are becoming too tricky between teams (even for a ).
If you want to share work and , and project status with different parties.
If you are finding it hard to eliminate bottlenecks and to boost competitiveness.
If you want functionality and visibility on time tracking and time allocation.
Wrike and Asana are project management platforms with a huge following. Wrike project management tool is the large companies answer to the project management bottlenecks while Asana is perfect for a small team.
Want to know what each project management tool has and how they match up? Read on and find out which is the best project management platform for you.

Wrike Rocks for Project Management
Wrike is just BETTER. More integrations (no "walled gardens"), less bulky, and better uptime and reliability overall. Best of all, Wrike let's you pick and pay for only the features you ACTUALLY NEED.
Start Wrike for Free
We earn a commission if you click this link and make a purchase at no additional cost to you.
Wrike has been an astounding success and has over 8000 businesses globally, utterly dependent on its collaboration software and project management features.
Many globally recognized companies like HTC, PayPal and Hootsuite concur that Wrike has been the best invention since sliced bread.
If you are the curious kind or are in the market for a team collaboration system that goes beyond the prowess of Google Docs, dig in with us and find out why these companies pay for Wrike's software.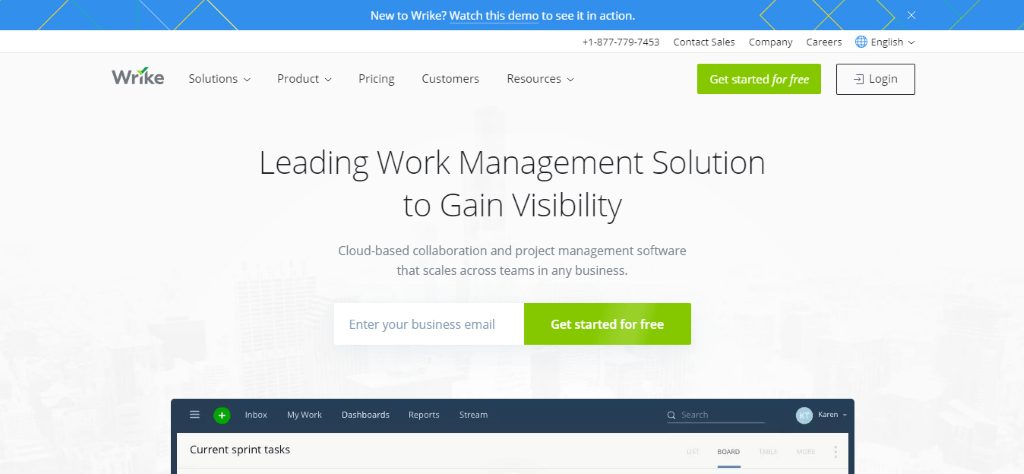 Wrike's success has been fueled by its users' love for it. There have been tons of recommendations and positive reviews about this management tool online.
Since its inception in 2007 Wrike has amassed a huge user and fan base and gone a step further and won significant industry awards. Wrike project management solution says it's out to re-think business productivity and team communication as we know it, and this can only signal more innovation for the platform.
Wrike's feature highlights
 Ease of use
Wrike management tool is a web-based service and therefore requires no maintenance or downloads to use. This makes it super easy in set up helping you and your employees manage your resources and have multiple projects organized as well as a team. Wrike's significant criticism though is that its interface has a steep learning curve and not intuitive in navigation.
Interface and navigation
This project management software may not be the most, but its organization is very sensible and organized. And if you are the mouse type of user, it's a large variety of keyboard shortcuts that help you work fast and check your project status.
Wrike's interface is clean, contemporary-looking and tidy. You can use its themes to brighten it up or to add a border pattern.
Its interface has a three-panel layout whereby if you click on the first panel, its project's task will display on panel 2. If you click on any function and its details will display on panel 3.
Customer support
Wrike has a broad knowledge base with plenty of how-tos and other articles that educate the new user on how to best utilize the platform for multiple tasks and its mobile apps.
There is a guide that helps users to get started with this project management solution. This long guide breaks down the platform into easy to master bits for the new user.
The 3 to 5-minute video tutorials demonstrate the platform's features, and they utilize different narrators to break the monotony of watching one narrator back to back. Amongst the videos, there are past live webinar videos that further demonstrate in-depth on how the platform works.
You can also contact their support staff via email, social media where they have a very active Twitter feed and Facebook. You can also call in and get quick help if you prefer it.
Wrike has a hub
Wrike goes beyond the realm of project management and helps its users manage work that is ongoing into folders. These are tasks that generally do not have a fixed deadline such as the updates of a business blog.
With Wrike, you can create projects, populate them with tasks and assign a person or different users to work on them. You can also create a workflow for all tasks too.
Time Tracking
Its task timer feature comes with a time tracking log that highlights just how much time is spent on a task. You can, for example, assign tasks to your employees then add a date when you expect the tasks done, then start the timer's counter. Alternatively, the time tracker allows you to add time to it if you have difficulties logging in the time live.
The time tracker is handy for task distribution amongst teams especially in law firms and other businesses that bill work by the hour.
Wrike's Android and iOS apps are perfect for logging in time for employees whose tasks oftentimes take them away from their workstations.
Wrike Management Solution Highlights
Editing tasks in real time
This helps in the accuracy and efficiency of time when projects and task management are in the hands of teams. All changes made as the team works are highlighted and groups can work simultaneously without second-guessing what the other team member is working on.
Reporting of projects in real time
Wrike is now able to make snapshots of reports to help give insights at the click of a button. They are a very efficient way to show progress saving time spent on status updates.
Analytics
The platform has an analytics widget that shows a projects overview and status as well as user's workloads.
The feature has performance and baseline charts for comparison of progress on projects and to help to identify any setbacks, there may be in teams. It has a Gantt chart that purposely tracks the timelines of projects and a work progress chart as well.
Management Software Integrations
Wrike integrates with loads of cloud-based software apps such as Dropbox, Microsoft One and Google Drives.
It also works well with other apps such as HubSpot, Jira, Slack, LinkedIn, Chrome integration, Salesforce and Zapier to name but a few. The system also has Android and iOS management software apps.
Wrike API
If your business wants to customize Wrike, then you can acquire API keys and documentation from Wrike's developer website.
Wrike pros
Their user-friendly workflow navigation features work well for most users
Has security features that only allow authorized users to access your business's data
Has mobile management app for easy tracking of tasks and subtasks anywhere anytime
Large groups of users can be assigned duties on the system and workflow tracked by the hour or minute
Real-time collaboration workflow features actually work
Free Trial available (fully featured, all pricing tiers)
Free Plan ALSO available (separate from free trial, limited features)
Cons
The platforms make tasks a bit hard to break up thanks to the creation and build up of tons of comments folders and files with time.
It is a cluttered system that hard for new users to navigate through
 Costs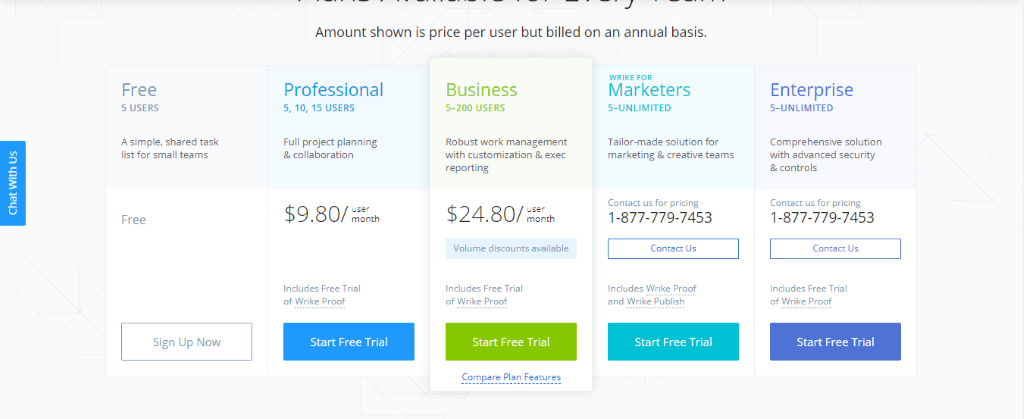 Asana
Asana is a fantastic productivity and collaboration software, perfect for project management. It is not as powerful as full-scale project management platforms, but it much easier to use than Wrike.
Asana, for example, does not have advanced task management tools such as the time tracker and log that Wrike has.
All the same, its intuitive and attractive user interface is a great selling point. The software is flexible too and has a value of over $900 million indicating its prowess. The platform has been in use since 2012 and has many large business clients such as The New York Times, NASA and Red Bull.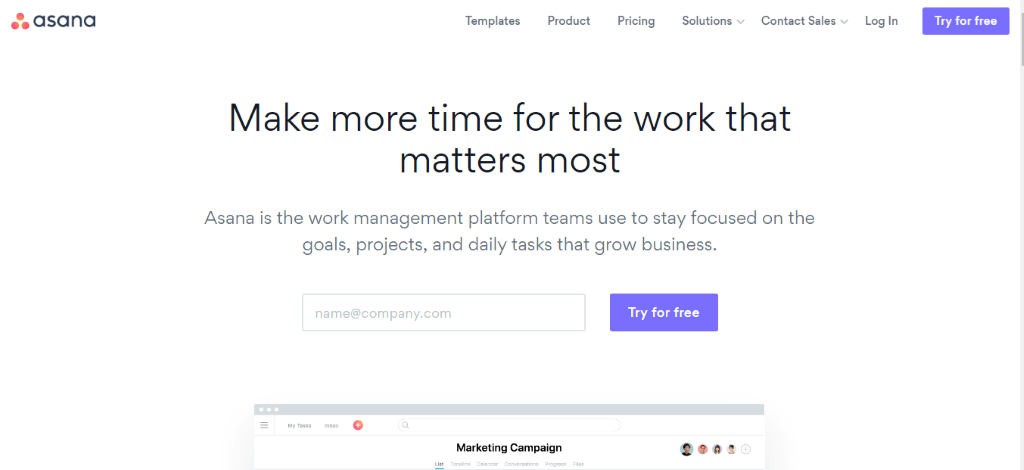 Asana's feature highlights
Asana User friendliness
Asana is very easy to use but is also very unstructured, unlike Wrike's interface. Its screen has sections that with legible controls marked in clear easy to read fonts.
The color used on the interface helps to highlight tasks and its interface looks tidy and uncrowded. Your employees can actually use Asana without assistance from the help section, unlike Wrike.
Asana is also tons of fun and even has celebrations, an Asana feature that triggers cute celebratory animations when a task is accomplished.
There are other exciting fun features on Asana and a beginner guide for anyone who might need help starting out. All things said Asana s fantastic for any user who does not want to spend a significant amount of time learning how to use technically challenging project management and collaboration tool.
Asana Core Features
Asana allows all project management tools the creation of projects, tasks, and subtasks. It also enables you to assign specific projects or tasks to specific users to facilitate tracking of project development. This will help every employee to focus on their tasks and at the same time have a bird's eye view of how other projects are running.
Asana has an attachments system, and larger files can be sent to a cloud storage system. It also has a syncing file system to computers and a dependency management feature that highlights tasks dependent on your employee of choice (task dependencies).
This helps reduce bottlenecks and to keep the project and tasks moving on. You can also comment on the functions and build a meaningful discussion about the project amongst your employees. Once you have assigned duties on Asana, you can view them through a timeline or calendar view.
Asana Integrations
Asana has many useful workspace combinations with other apps that make it an efficient and flowing project management system.
It, for example, has a .csv importer for spreadsheet use on its platform and Zapier, Salesforce, JIRA, and Trello as well. The platform also has an iOS and Android app to help track projects when away from your workstation.
Asana Privacy and security
Asana has extensive compliance and security features, and the platform has taken the General Data Protection Regulation into consideration. It also complies with the EU-U.S.
Privacy Shield for stored data and only allows the full deletion of data in its Enterprise plan. Asana also has put measures in place to ensure that anyone who wants to leave the platform can export their data out as .csv or .json files. Two-factor authentication and single sign-on can also be enabled, if desired.
Asana Budget Tracking
One of my favorite – somewhat hidden – features of Asana is the budget tracking templates.
Using a dashboard like the one below, a project manager can cost scope even the most complex projects: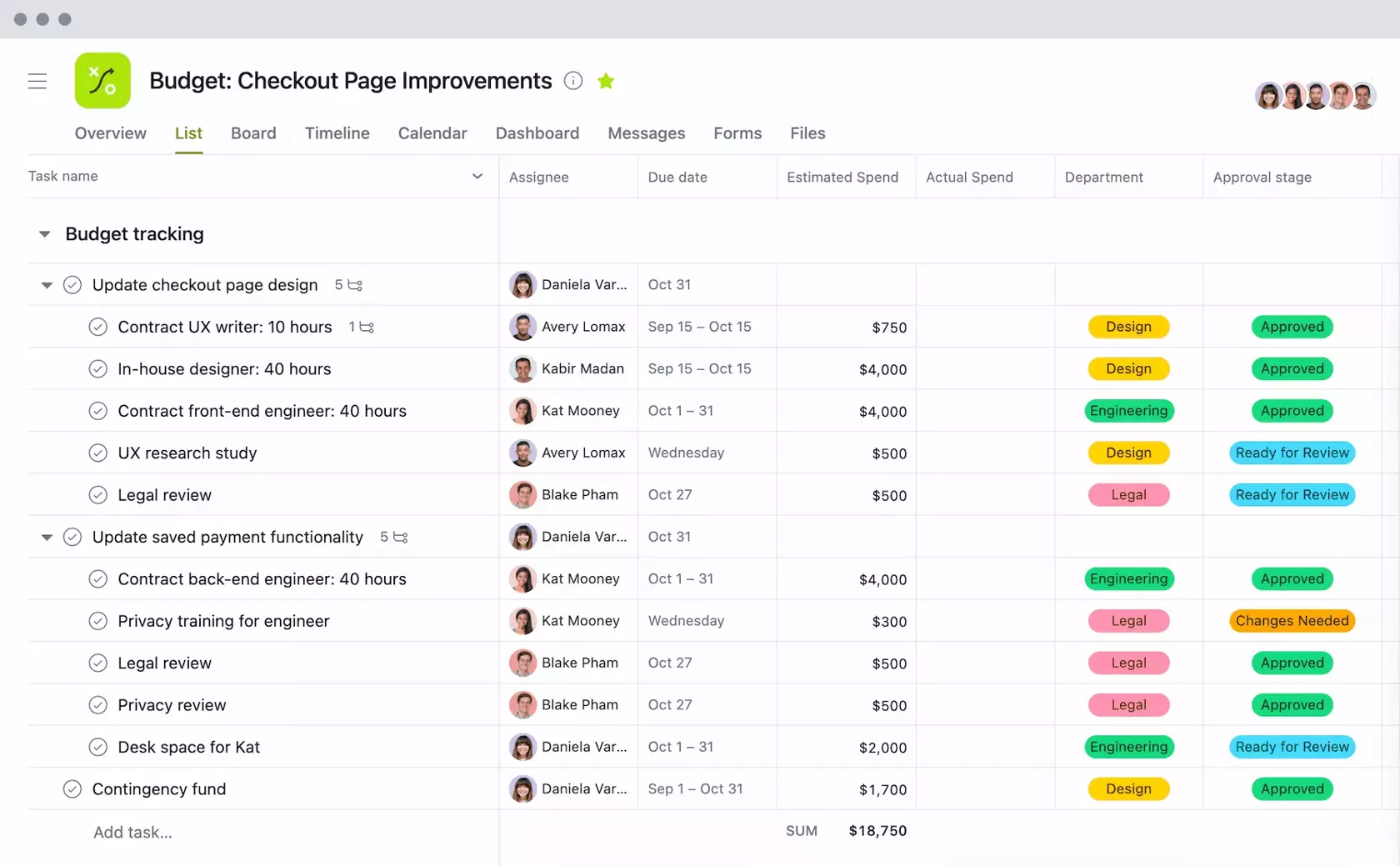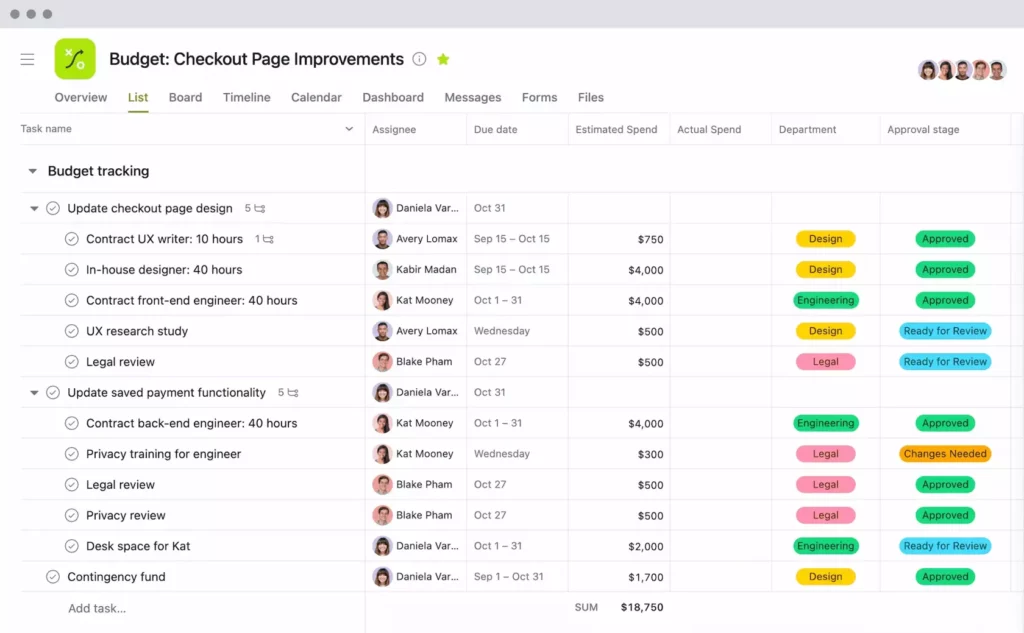 It does take a bit of work to get it configured just like this, but using the "List" format and a simple table, you can easily mimic the above format with your custom requirements (and then reuse for future projects).
Bonus Feature: If you want to integrate live time tracking feedback loops (to track actual vs estimated vs projected costs), the Day.io integration here is awesome for this.
Asana as Lite CRM
While it's not specifically built as a CRM too, our team has figured out a variety of ways to use Asana as a CRM. Not suitable for a large enterprises, but great if you are just getting started & on a budget.
Asana Customer Support and Customer Security
You can contact Asana's customer care communication through live chat, support forms, and their forums too. They do have help pages that are easy to navigate.
Asana Pros
Easy and fun to use app
Asana allows its users to edit and add their own custom fields to enable to track the tasks that matter to them the most.
Handy email notifications functionality that eliminate the challenges of communication and work conversations
Allows also for real tie communication and conversations between teams as well as fast responses, cutting out the need for meetings
All the platforms and dashboards data is well secured on its servers in secure data centers
Basic free version (100% free plan)
Asan Cons
Its offline access is only availed to mobile apps, not desktop use.
It does offer a method of converting to-do lists into boards and vice versa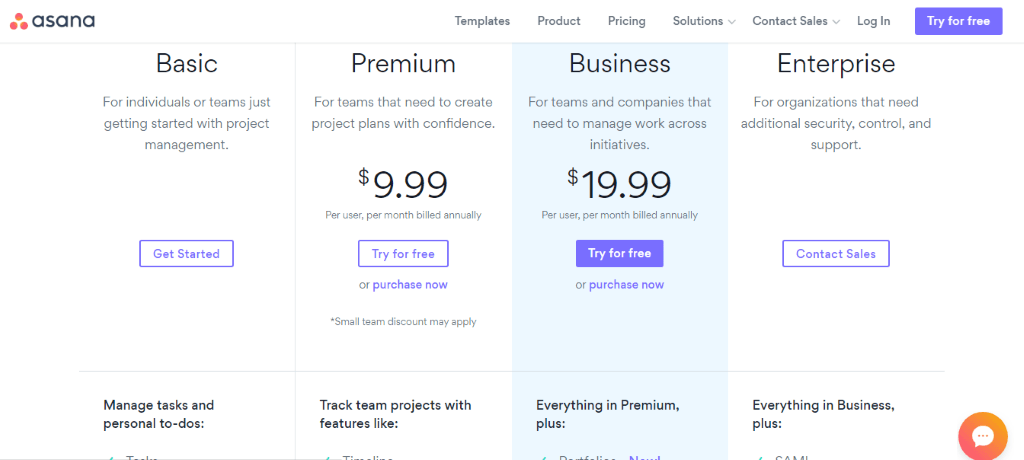 Wrike vs Asana
Asana and Wrike are fantastic solutions for managing projects that positively impact teamwork, collaboration, file sharing, and tracking of tasks and projects. They are both GDPR compliant in matters of data management and security.
There features that are common to both systems, which includes;
Task and document management tool
Reporting and Dashboards
Platforms availability for PC use, Android app and iOS app
Wrike has time tracker functionality and resource management features. It also has a budgeting feature which makes its platform stand out from the crowd.
With Asana, tracking time spent on projects is not as easy. If you want to track a budget for a project, you can do so on Wrike but not on Asana.
With Wrike, you can restrict the budget tracking visibility business dashboards for security purposes.
With both platforms, you can assign, reassign, schedule, create and edit tasks as needed. Wrike goes a step further and offers a workload view to enable the person in charge of a project to keep the assigning of tasks equal and balanced between employees and to avoid abnormal workloads on one person.
Both systems have great support, but Wrike has phone support. Wrike also offers more ways to contact support. Wrike has premium paid support, but Asana does not require payment for help. All you need with Asana is to pay your subscription for your package and enjoy the full package.
 The Final Note: Asana vs Wrike Management Tools
Bottom Line Summary: If you are just getting started or still a small to mid sized company, the more cost effective solution is Asana here. That said, for larger (or rapidly growing) enterprises, the expanded cross-functional features are better with Wrike here.
Asana though is a great tool, user-friendly and more affordable (decent free version tool), so not a bad option, we just prefer Wrike.

Wrike Rocks for Project Management
Wrike is just BETTER. More integrations (no "walled gardens"), less bulky, and better uptime and reliability overall. Best of all, Wrike let's you pick and pay for only the features you ACTUALLY NEED.
Start Wrike for Free
We earn a commission if you click this link and make a purchase at no additional cost to you.
Wrike and Asana Compared to the Competition
If you are still on the fence, consider how both of these project management platforms compared directly to their peers below.
Wrike Alternative Project Management Software Options
Asana Alternative Project Management Software Compared