Last Updated on January 16, 2023 by Ewen Finser
More people are working away from the conventional workplace.
That has meant more teams, small and medium businesses are turning to project management software to help make team collaboration, communication and goal achievement possible.
Asana is one of the most popular project and task management solutions in the market today.
But it's not always the RIGHT solution for every business. Although our team started with Asana, we've expanded and scaled up considerably, meaning we had to change project management tools!
Top Asana Competitors
These are the best Asana alternatives that I've found (and used, rank-ordered by preference):
monday.com: Best Asana Alternative Overall
Trello
Basecamp
Slack
MeisterTask
JIRA
TeamWork
Zoho Projects
Brtix24
Clarizen
ProofHub
Podio
WorkZone
QuickBase
Read on for a detailed review of each Asana Competitor!
Monday.com (previously known as Dapulse) is definitely one of the top alternatives to Asana. Though there are lots of bells and whistles, Monday's primary goal is to help you collaborate and manage your workload and communicate with your team via boards.
Editor's Choice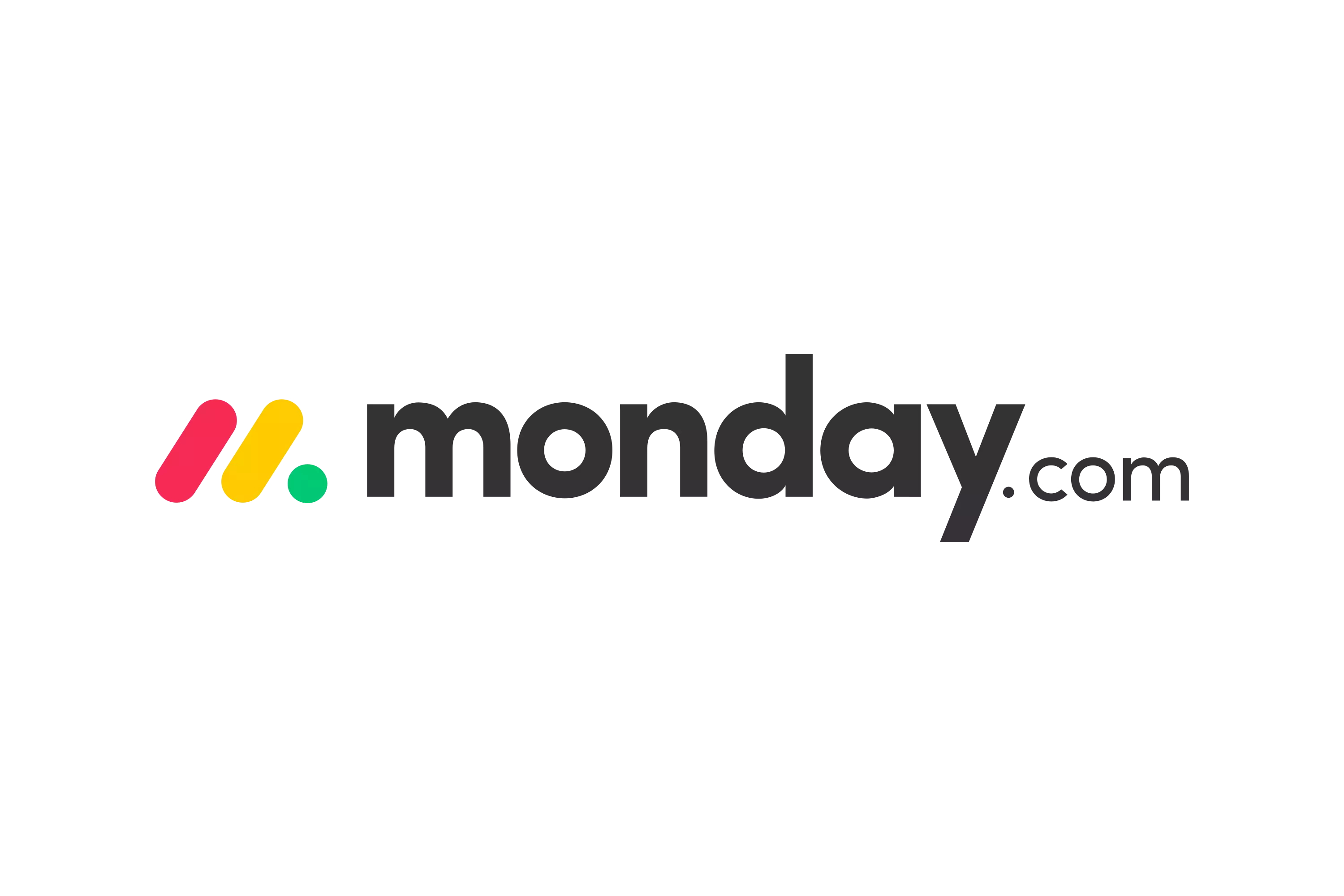 Why Go with monday.com?
Make tasks satisfying to finish! monday.com is quickly disrupting the old guard with a sleek interface, hundreds of integrations, and dozens of workviews for visually imagining and tracking your projects. More than just project management.
Start Managing Your Team Better
We earn a commission at no cost to you which helps keep this blog running!
However, it offers more. Specifically monday.com is offers many different project views and management workflows, including a Gantt chart like functionality. In short, it's a full-spectrum workflow management software vendor.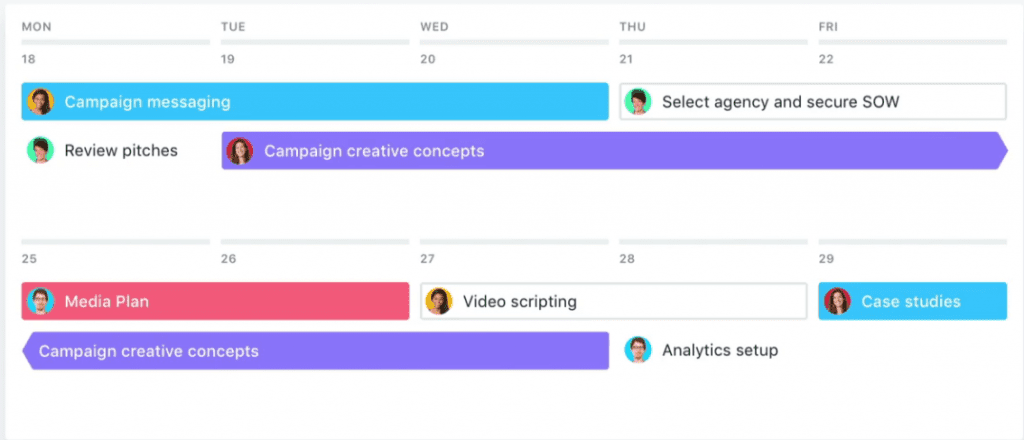 If you need a basic PM tool that will offer a seamless and stress-free experience in terms of ease of use and aesthetic charm, monday.com could be your best choice. It could also be your choice if you need to use the closest thing to Gantt Charts as possible, which Timeline does a good job at.
Another benefit to monday.com is that it's well-liked by users, with generally the most positive user reviews of the bunch (GetApp users, TrustPilot, etc…).
Monday.com does offer a 14-day free trial if you are on the fence.
You can read my full monday.com review for more details.
View monday.com Pricing Structure & Promos
Further Reading:

Wrike Rocks for Project Management
Wrike is just BETTER. More integrations (no "walled gardens"), less bulky, and better uptime and reliability overall. Best of all, Wrike let's you pick and pay for only the features you ACTUALLY NEED.
Start Wrike for Free
We earn a commission if you click this link and make a purchase at no additional cost to you.
But if you want an Asana replacement that can help handle both small team to complex project management needs, the Wrike app could easily be your best freemium project management program.
Wrike is a real-time work management program for small, medium and large organizations no matter the industry they operate in. Team members can create projects, tasks, subtasks and any combination of folders to break a big project into manageable tasks.
It also provides Gant Charts with the ability to set task dependency and track work (task status work management) this way. That way you can really track the progress of your project insight and be flexible since you can foresee outcomes and act accordingly.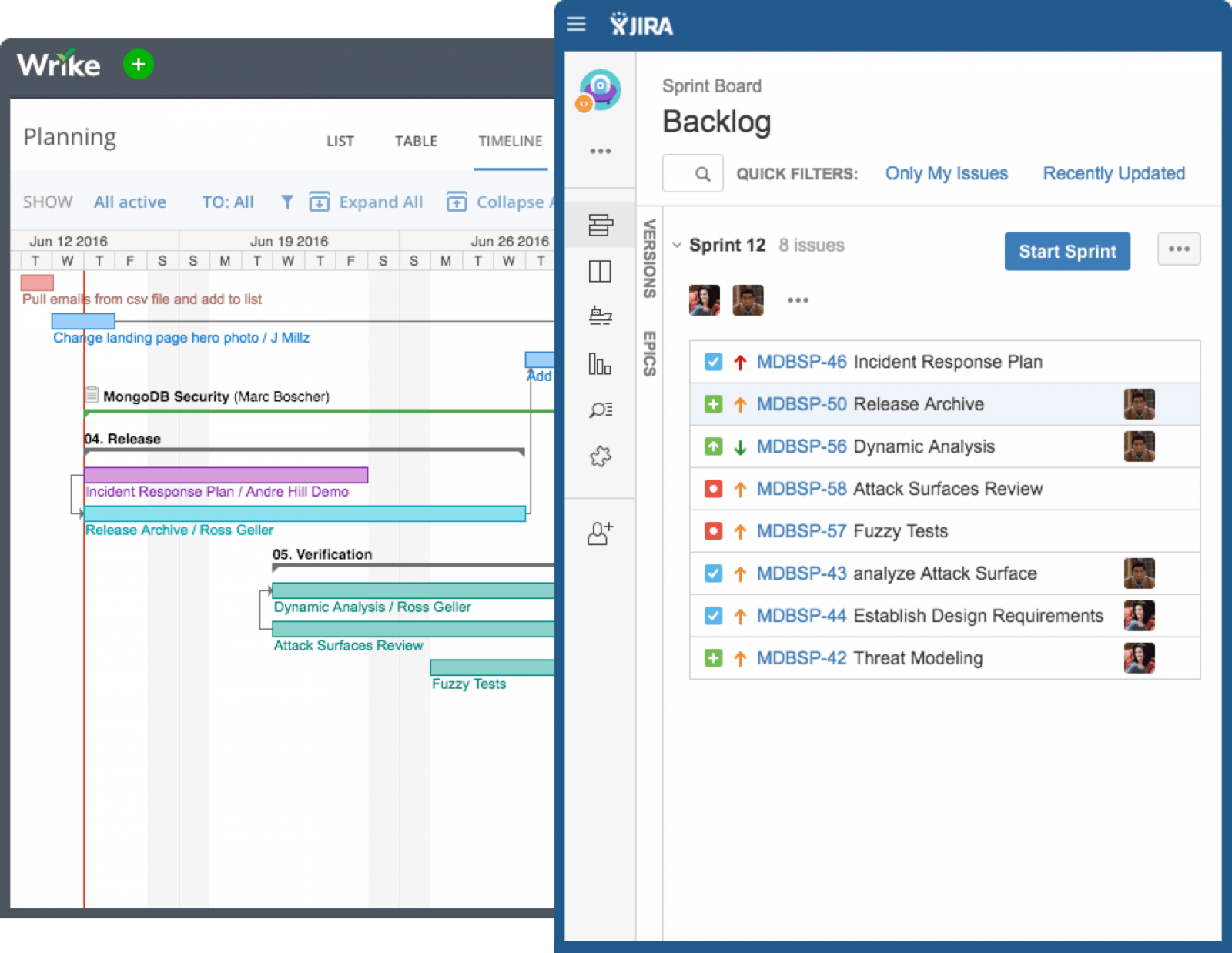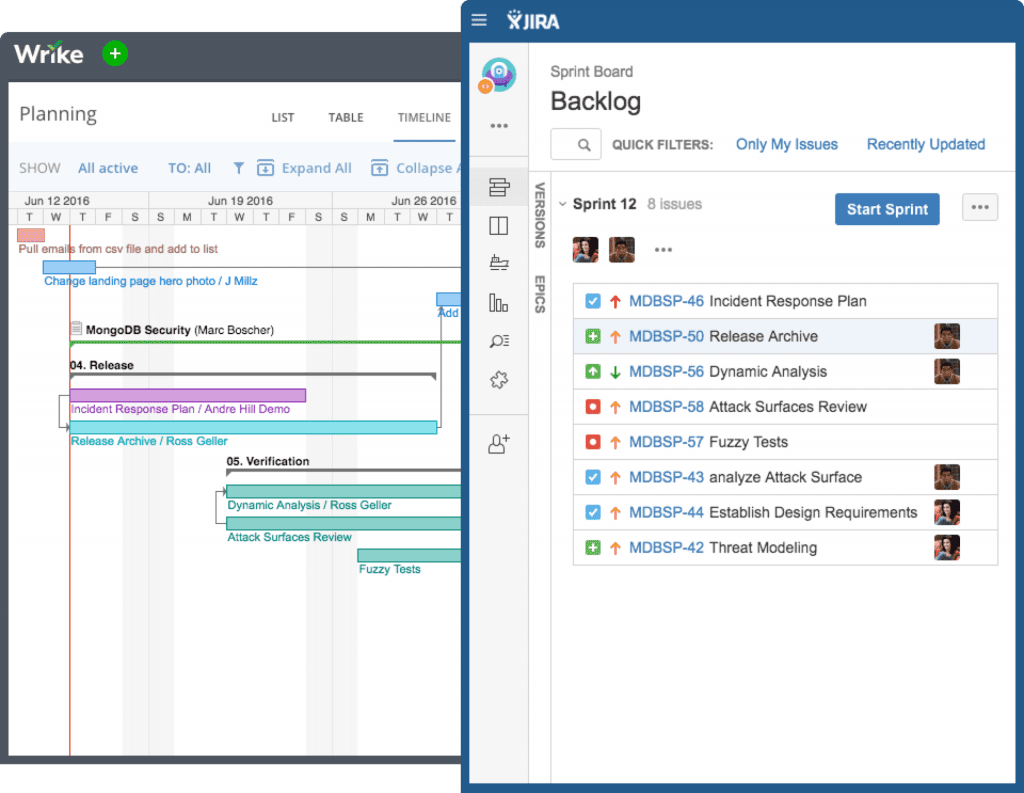 With Dynamic Request Forms, you can request specific information from a team or team member, meaning you'd collect all you need without having to search or scroll down a message thread like you would with Asana, Trello, Basecamp, and Slack.
You can also upload and edit files and conduct file management in real-time. Everyone on-board can the see the changes immediately, so you can all read from the same page all the way. Wrike is also mobile ready, complete with iOS and Android app version for on-the-go team members. Remote teams will also have their documents, brainstorming sessions, plans and project progress data secured with Wrike's legendary project management software encryption.
The online PM solution features a ton of key integrations such as Microsoft Teams (read our Microsoft Project vs Wrike comparison), QuickBooks, Slack, HubSpot, all popular file storage and sharing platforms such as Dropbox and Drive, Salesforce, Evernote, and a custom API for further customization, development, and automation.
Compared to Wrike features, Asana pricing may not offer the best value for money.
Compare the Wrike Pricing Plans Here
Further Reading:
Trello is an excellent Asana alternative for clients looking to switch to an almost equally easy to use collaborative tool for managing projects through task management. Trello uses Kanban project management approach. This is basically a visual approach to PM—much like Asana.
With Trello you get a card/boards style user dashboard to keep tabs on different project aspects. Think of that as a digital version of the Kanban board; you are fundamentally pinning digital sticky notes to a digital whiteboard.
That simple.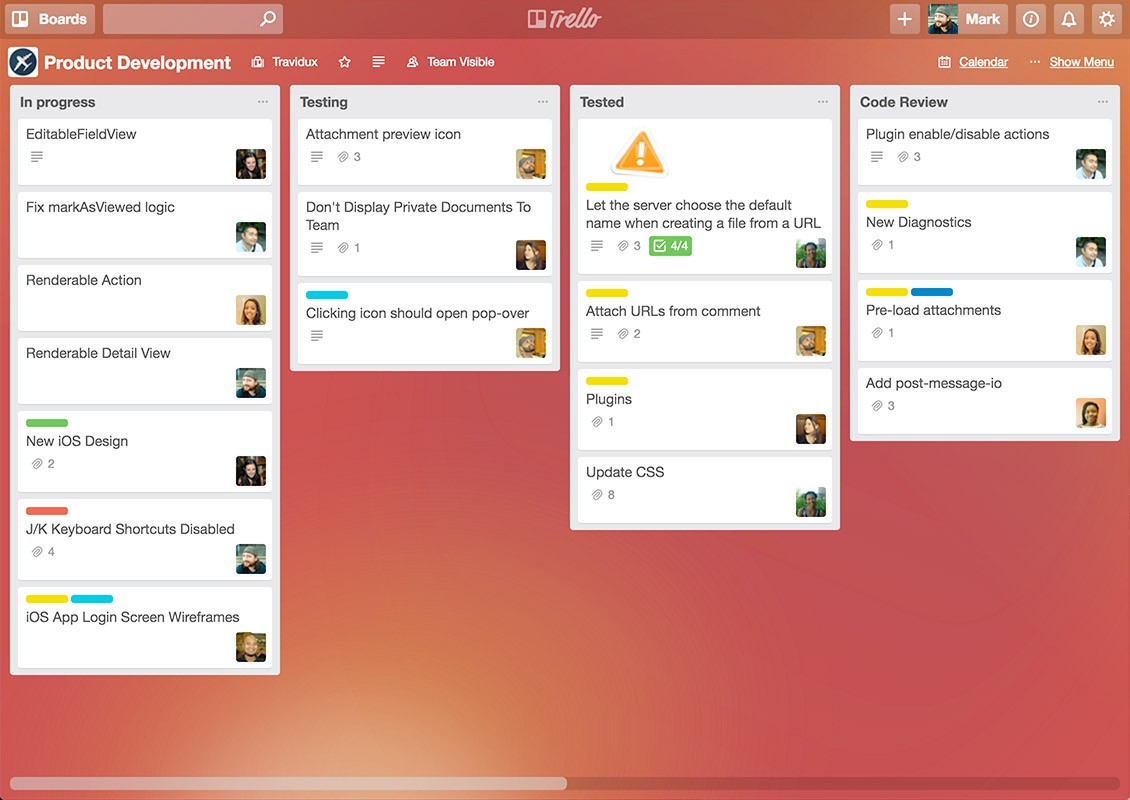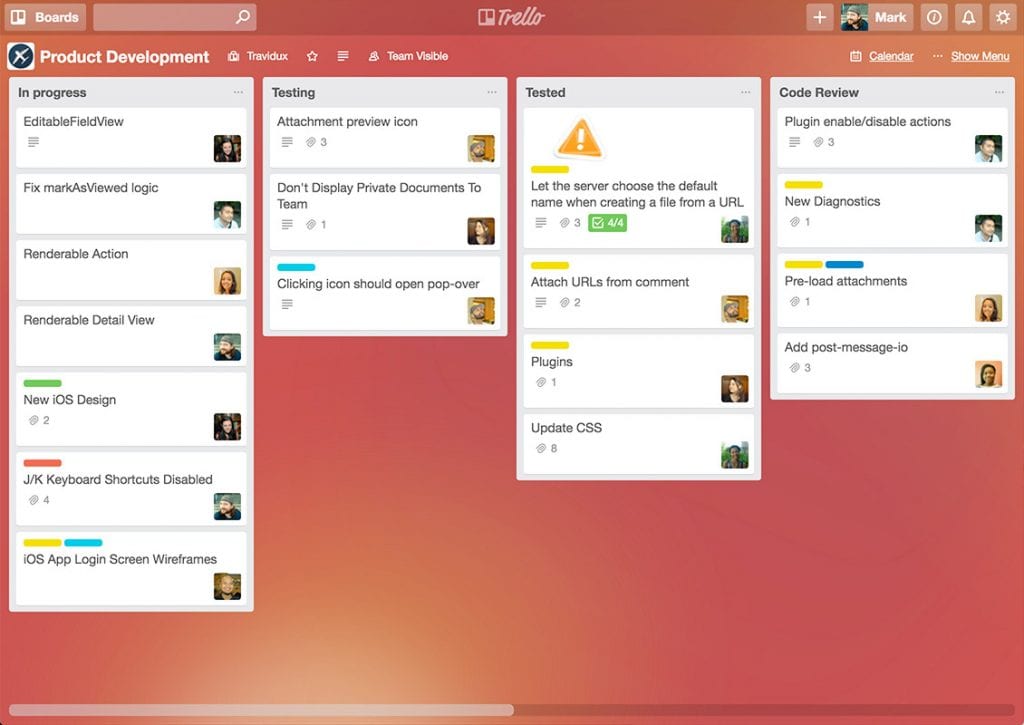 As you work on and complete tasks making, you can drag and drop a sticky note from your "to do" column to "doing" and all the way to the "done" one. This makes it ideal for use in projects that have progressive stages based on underlying tasks (helps with prioritize tasks).
Both Trello and Asana are well known and most users end up deciding between Trello or Asana. That said, many of the same Trello alternatives happen to be top alternatives to Asana as well.
Trello vs Asana (My High Level Take)
Because so many people end up deciding between these Asana or Trello, it's worth exploring the differences. The BIGGEST difference for me is that Trello is set up to be more ephemeral while Asana is better for more complex projects. The simple Trello Kanban board is nice for simple recurring tasks or high level task tracking (e.g. article publishing process), but becomes a bit disorganized if you need to store lots of files or project timelines or budgets.
With the Trello IOS and Android apps you can collaborate on a project while on the go. You can invite clients and other team members, create boards/cards via email, and convert boards to PDF files.
However, Trello lacks Gantt Charts, project estimates, built-in calendar, budgeting and limited dependencies tools.
Further Reading:
A popular Asana alternative, Basecamp is also easy to use, dominantly packed with task management tools and supports unlimited team sizes (unlimited users). The tool allows collaborators to brainstorm online using any platform; from PC and Mac to Android and iPhone.
Users can post milestones, deadlines and share files via sites such as Google Drive. You get tight encryption and more than 100 integrations to boost. Announcements are made through the Message Board. Also, use Basecamp to share project files, assign tasks and follow up on tasks' progress in.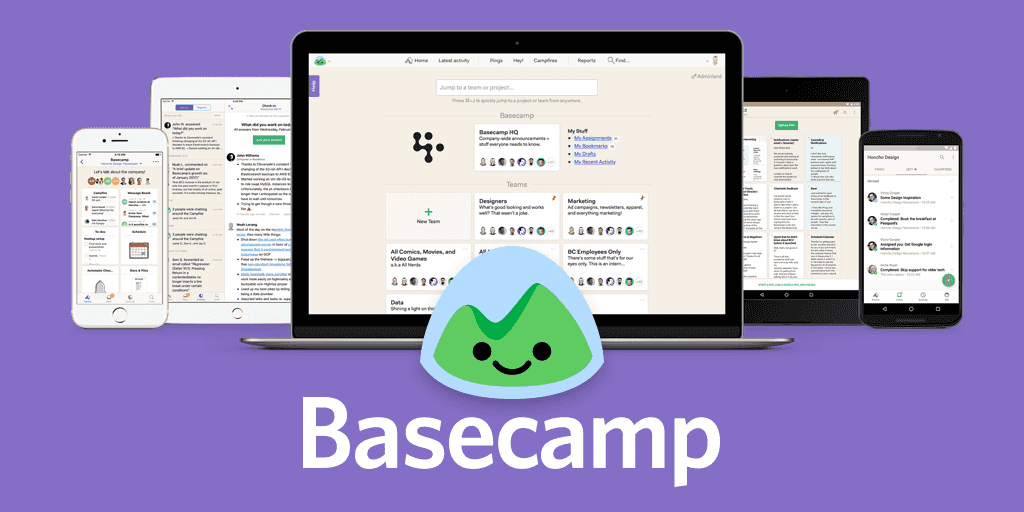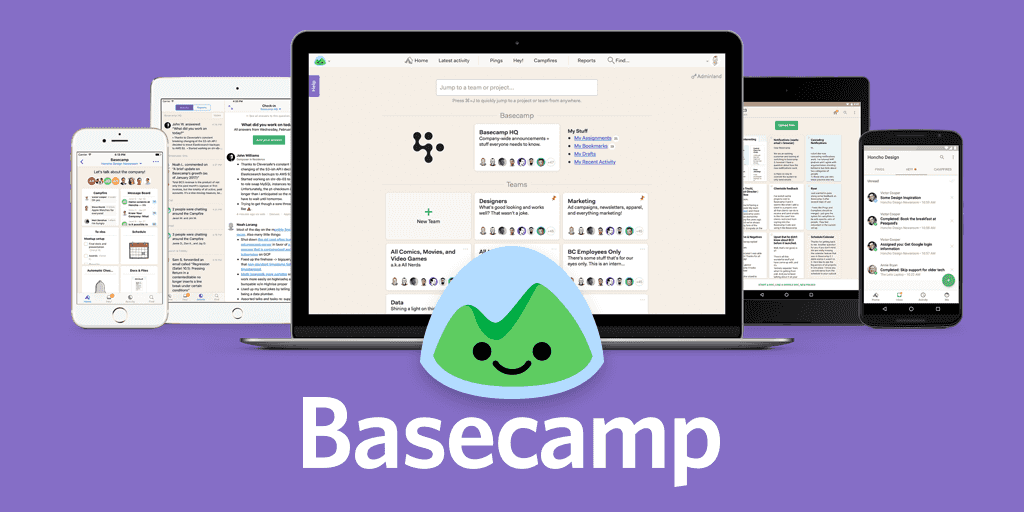 Teams can even use email for communication but Basecamp will re-organize the mail messages and thread them such that they appear like a social media chat to foster conversions. It also autosaves your work in real-time. Even if you left a task half-filled and switched off your computer, you'd still find the task as you left it in the workflow.
However, while Basecamp is targeted at medium to large businesses, it may not offer the essential project management you may need.
For example, while it supports project tracking, file sharing, and mobile apps, Basecamp does not support Gantt Charts, time tracking (how much time spent on projects), dependencies data, workflow project-level reporting, and statistics.
Next on our list of Asana competitors is perhaps the most popular project and task management software option today, Slack helps small teams to collaborate online on a project like they would in person. Like Asana, Trello, and Basecamp, Slack is modeled to make team communications as seamless and rather fun to do as social media networking.
Slack users communicate through public and private channels as well as direct messages. The latter two are best used when there's no need to involve the entire team in a conversation.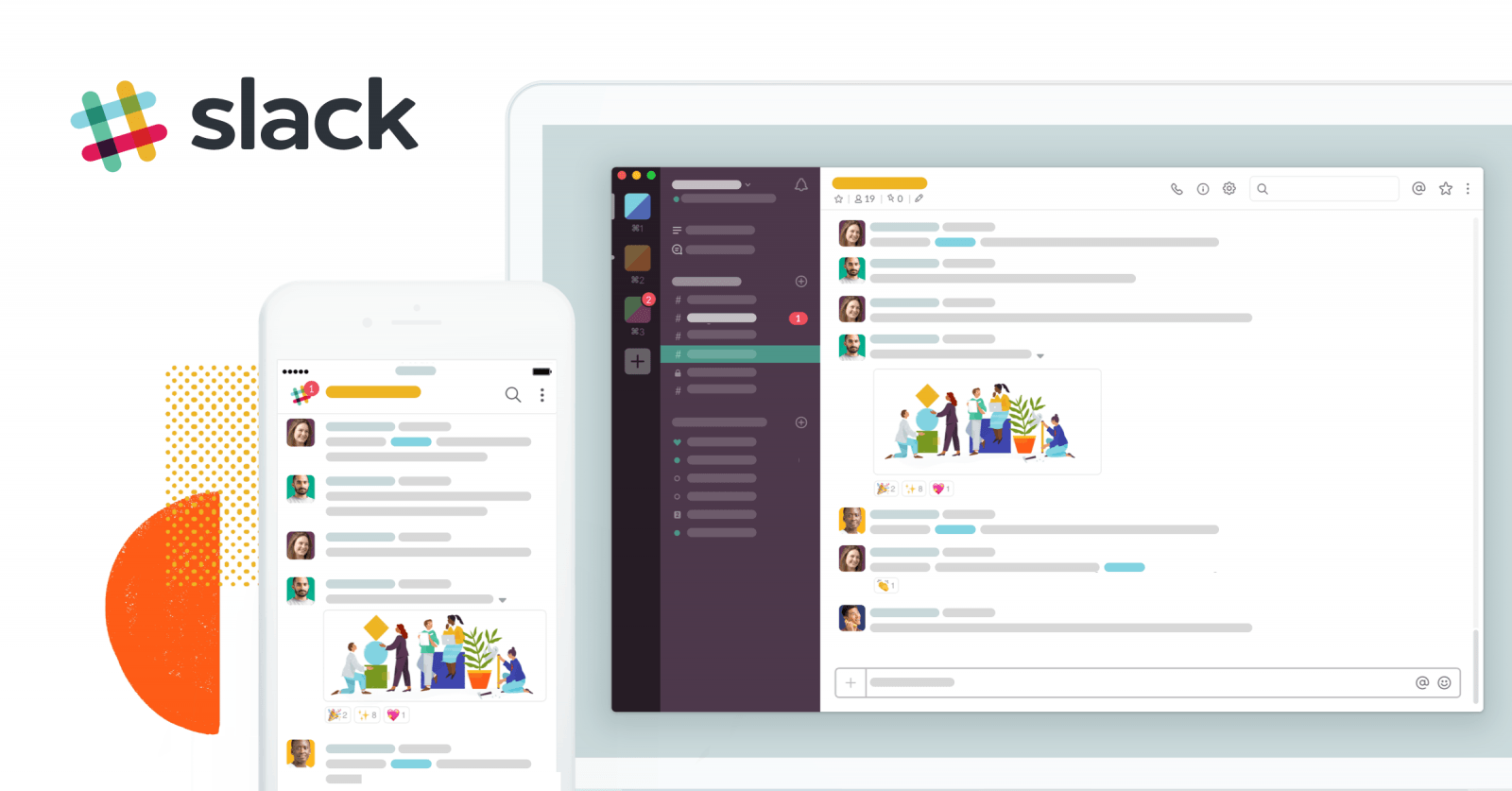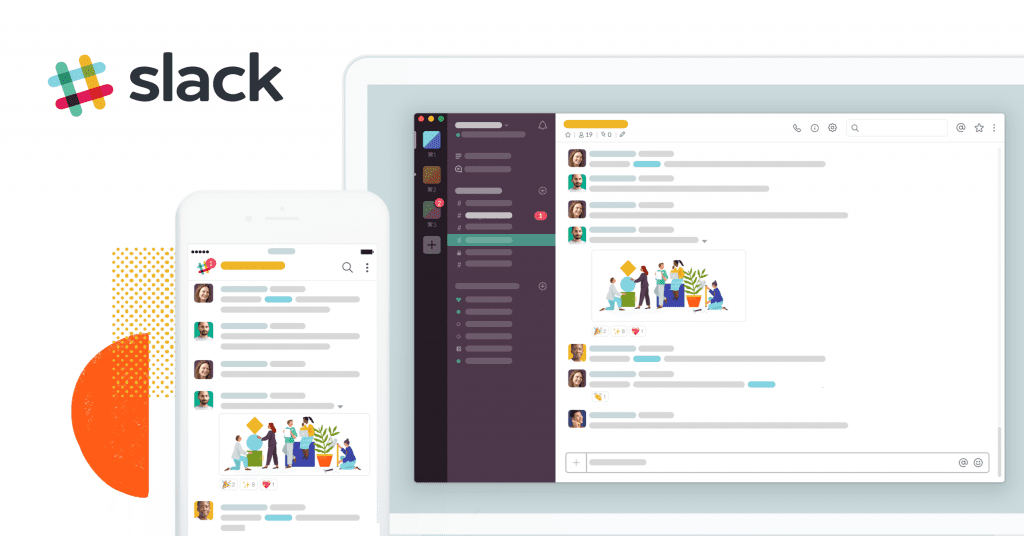 Users get channels, messages, notifications (including email notifications in digest format), can search through messages, add documents, comment on a project, and drag-n-drop files into a conversation.
Users can also use Windows, Windows Phone, Android, Mac and IOS platforms and add social media messages to Slack's Workplace to monitor it (especially important to marketers).
Slack is free for an unlimited number of users for the basic version (limited message search functionality, etc…).
While Slack supports both SMEs and larger enterprises, like Asana, Slack lacks project management solutions like time tracking, budget monitoring, dependencies, and Gantt Charts. But it makes an excellent Asana alternative since both are pretty similar in the flesh.
Still, if you want an advanced PM tool for more than Asana's visual, social media-like and online team communications biases, you may have to purchase an additional program.
Personally, rather than view Asana as one of the many Slack Alternatives, our team uses Slack for communication WITH the Asana integration for the Kanban style workflow view for asaved project template. I try to think about Slack specifically in relation to how it integrates with OTHER third-party tools.
Like Asana, MeisterTask is an online collaboration software tool that takes the task and activities management route to project management.
One of the best benefits here is project leaders can view current activities and active projects from the dashboard. It is easy to add checklist items (to-do list or task list) related to a project task as well. These can be ticked off as done as they are accomplished.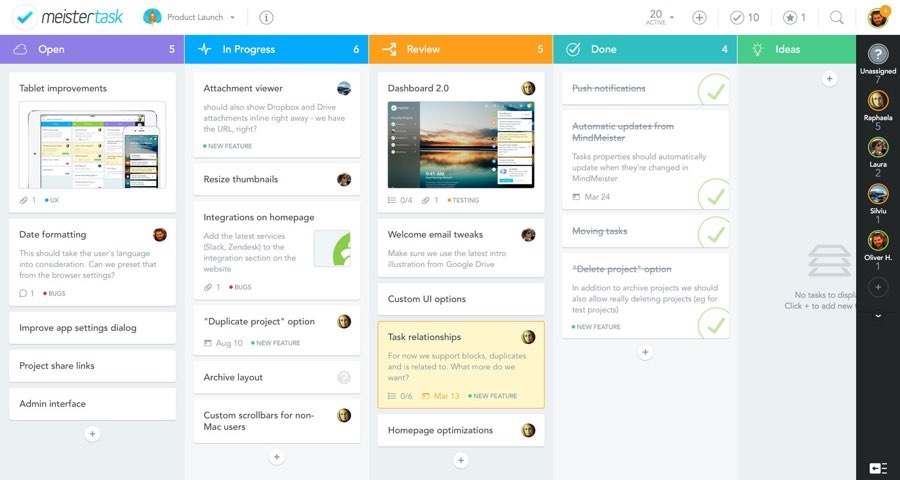 It is easy to create, assign and re-assign a new or ongoing task to a team member, complete with a due date no matter where they are located. That, by simply tagging them in the message platform with "@mention". The tagged member will receive a notification through an accompanying app. And they can get the task done and report back accordingly.
The team member can even upload any attachments from a file sharing and cloud storage platforms like Drive and Dropbox, as well as take and upload photos directly from their phone camera.
MeisterTask is ideal as a top Asana alternative for small business use. More complex projects for medium to large enterprises may not auger well with the application, though.
JIRA was recently acquired Trello (probably as an enterprise level Trello alternative offering), and it is showing of the direction the all-in-one project management software company is taking. JIRA is not the advanced to-do list manager Asana.
With JIRA, you get a comprehensive PM tool for technical projects such as software development. It is especially popular among companies with elaborate IT teams and professional project manager roles.
Such teams can comprise of remote IT experts working together on a small, medium or large development project. JIRA will handle it, including backing up progress in the cloud just in case.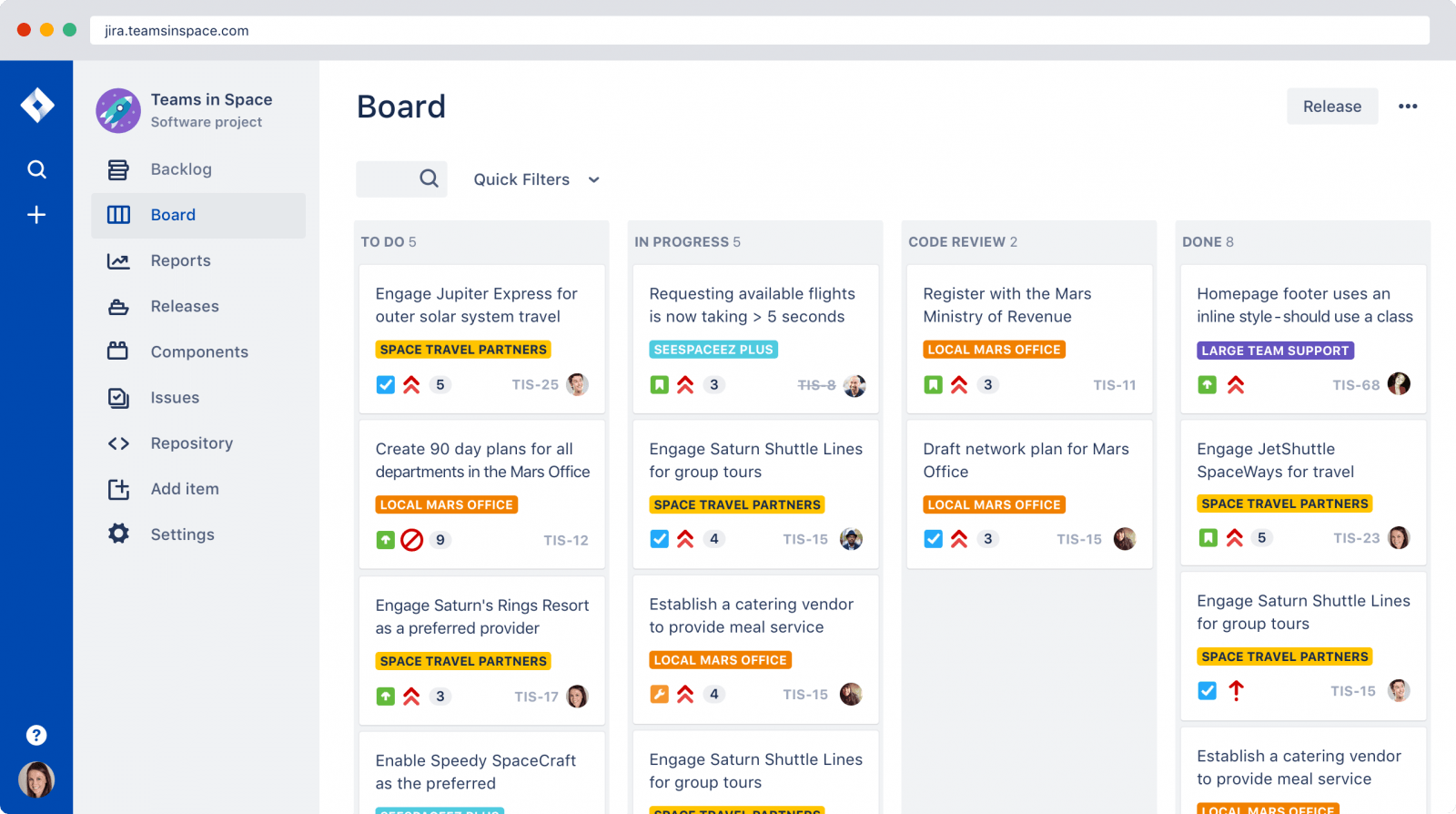 Here's how:
Right off the bat, JIRA offers crucial project planning tools and teams can choose a PM methodology they'd want to use for project implementation. Also, JIRA's Activity Stream is good for tracking project progress in one place.
Teams can use the built-in issue management, monitoring, statistics and reporting tools to keep projects on-course, in time and avoid avoidable mistakes.
Another attractive aspect here is JIRA's scalability, where even freelancers can sign up and grow into the platform's more advanced project management features and benefits with time. JIRA may not have a freemium PM plan (and a rather pricey premium paid plan) but is a solid tool for all sizes and types of organizations.
Further Reading:
Like Wrike, TeamWork is a full-on online project management tool and Asana competitor.
TeamWork users get access to online collaboration tool functionality, team communication channels and file sharing/document uploading support, as well as ability to track project progress with Gantt Charts. With its time tracking tool, it can log work hours, record them as billables, so the hours can be automatically billed to a client or company at the end of a set billing cycle.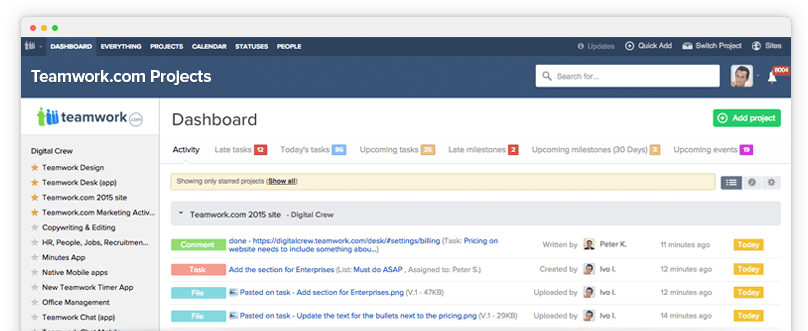 You can also create task manager lists (to-do list), view due tasks, edit and reassign tasks, figure out milestones and see when you achieve them, as well as add unlimited projects, unlimited tasks and companies from your TeamWork dashboard in a few clicks.
Admins choose who to add to a team, who does what, create to-do lists under Tasks that are tied to milestones. That way team performance can be monitored and deadlines beat.
For communication, TeamWork projects beats Asana with its TeamChat management tool (to encourage dialogue and conversations), Messaging and email integration feature benefits. You can reply to emails outside of TeamWork or TeamWork Desk but the emails sync with your TeamWork correspondence.
A special feature here is the ability to input foreseeable project challenges, so you and your team can prepare in advance to solve them and run the project hassle-free. Like Wrike, TeamWork users get to choose among hundreds of PM integrations such as LinkedIn, Zapier, Salesforce, cloud storage and file sharing platforms like Box, as well as use 256-bit encryption for platform security.
You can take advantage of their 30-day free trial to test TeamWork for your PM needs.
Zoho Projects and JIRA play in the extra-large league of PM tools.
The most outstanding benefit to using Zoho Project as a full-on, online collaboration and project management tool is its many tools. All the tools are easily integrated as part of an SME project management ecosystem.
Here's the deal:
You can view almost all important project details on the dashboard or with a few clicks. You can break a complex project into manageable tasks and task lists, assign those to different team members, and monitor progress with detailed Gantt Chart team collaboration. That way you can oversee and predict possible bottlenecks and see what to do about them in advance.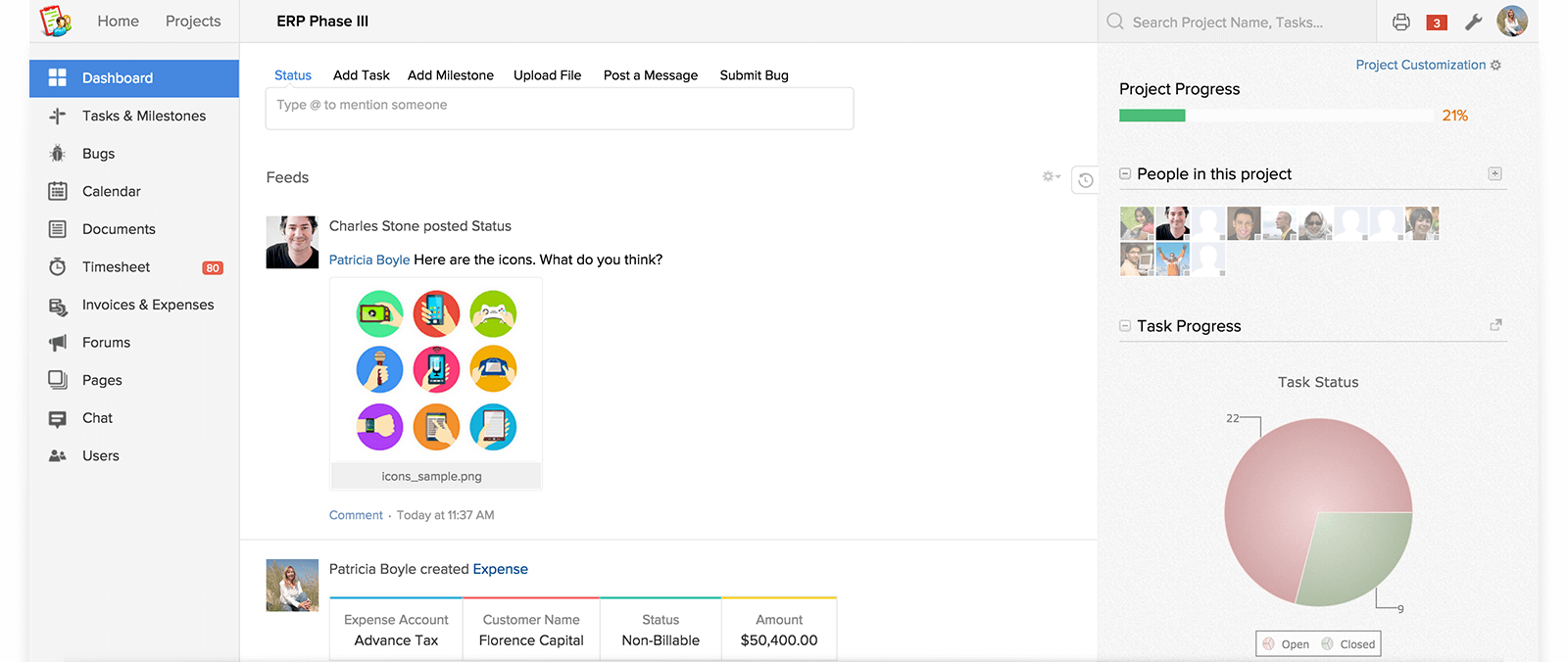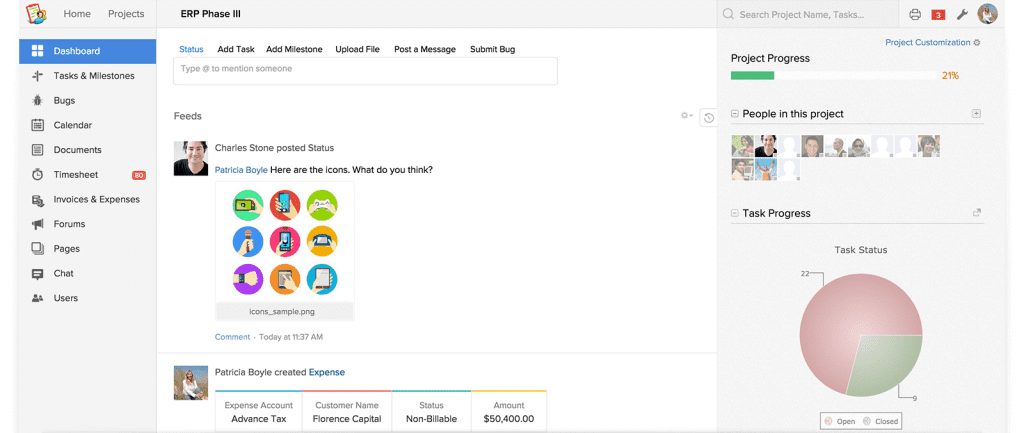 There's also Project Wiki for sharing, commenting on and editing project files (knowledge management). With Zoho's project meetings and built-in calendar, you can set up deadlines, milestones, and workflows to help maintain focus and goal achievement.
And still, on workflows, you can use Zoho Projects' integration with Bitbucket and Github to define custom business rules and workflows in a development project. Every team members will view the edits and be on the same page as the rest of the team.
Zoho Projects includes business apps that you can use with a Zoho account such as invoicing, email automation, cloud computing, CRM, bug tracking, and accounting. So it is likely a one-stop-shop for all project management solutions no matter your company size.
Britix24 differentiates itself as a free project management program for small business with customer relationship management (CRM), collaboration, calendar, and email automation benefits—especially powerful for digital marketing teams and administrators. The free plan IS surprisingly functional.
Britix24 helps small businesses to organize and handle day-to-day operations in a small business using various other tools, integrations and cloud computing technologies. It supports online file sharing and storage, multiple user, multiple projects, and real-time editing, as well as G-Suite and Microsoft 365 support.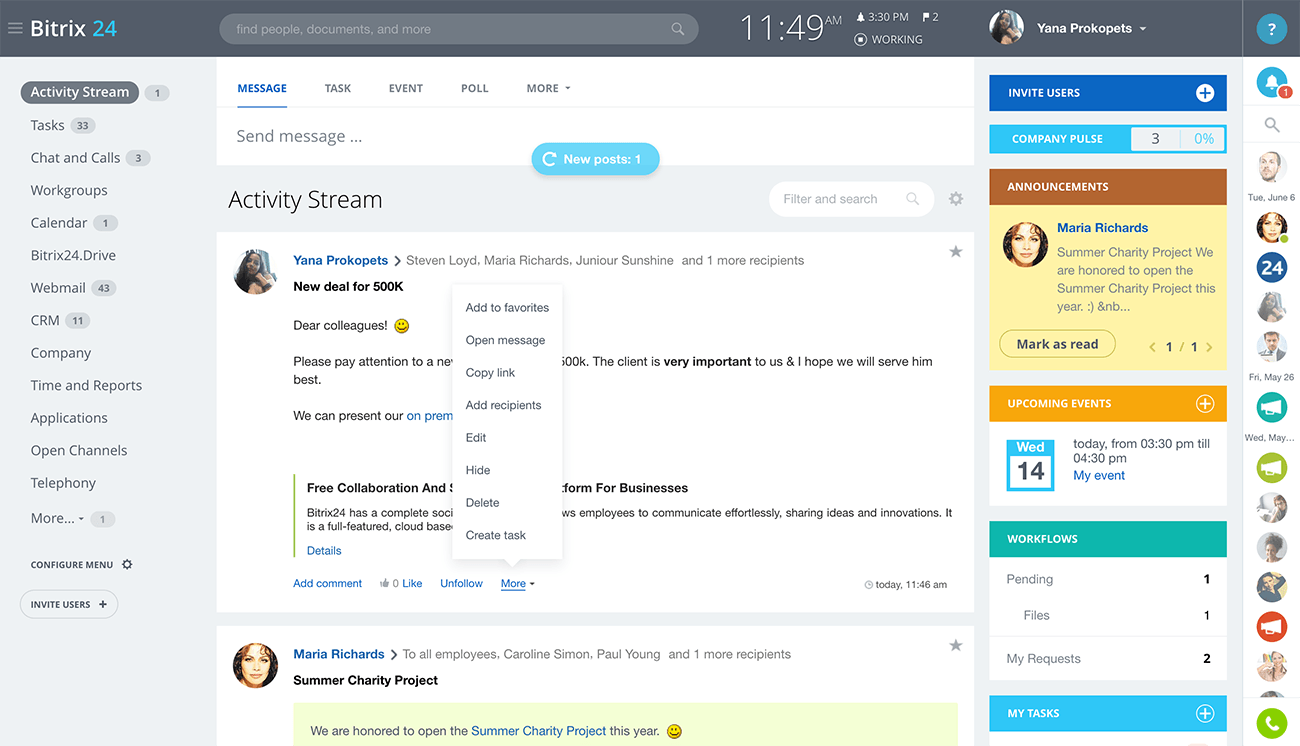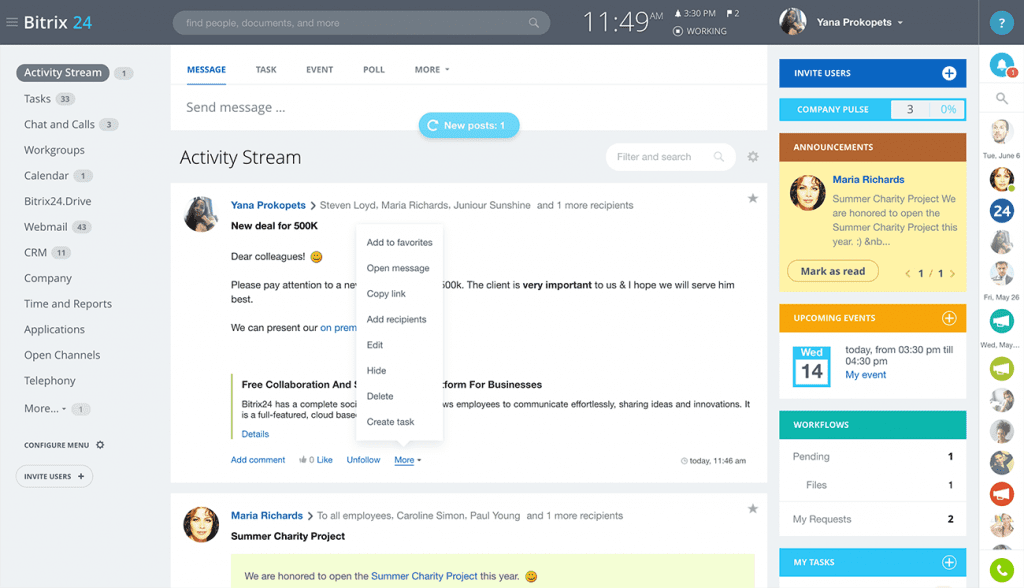 Communication is flawless, too. Members can use their social media accounts to communicate through Britix24, message directly through Open Channels, email, text and video chat. Members can make, receive and record calls and sync logs directly from Britix24.
The CRM feature allows you and your team to engage in full sales cycle management—from leads generation, task assignment, task fulfillment, billing, and invoicing to getting paid. There are HR tools as well, so you can easily hire and onboard new talent or client into your team and get them up to speed with all facets of your project and task management.
All Britix24 features may not work perfectly, but you'd be practically getting a lot more value for your time versus using Asana—free of charge.
Clarizen is one of the best project management software for large enterprises and big projects. It is more than an Asana alternative as it offers advanced benefits such as project break down to tasks and subtasks overview, forecasting and budgeting.


Clarizen takes project planning and execution to another level compared to Asana. It includes budget forecasting and tracking, resource management, risk management, as well as the ability to set dependencies. That way projects start out on the right foundation for successful implementation and delivery, within time and budget no matter the project's size.
With Clarizen, you can choose the best project management methodology to suit your needs and that your team finds familiar or can learn. That includes Agile and Kanban methodologies.
End-to-end reporting (Gantt Charts) and dashboard make it easy to organize and manage all aspects of your large project. You can create mini-projects that also branch out to tasks and subtasks.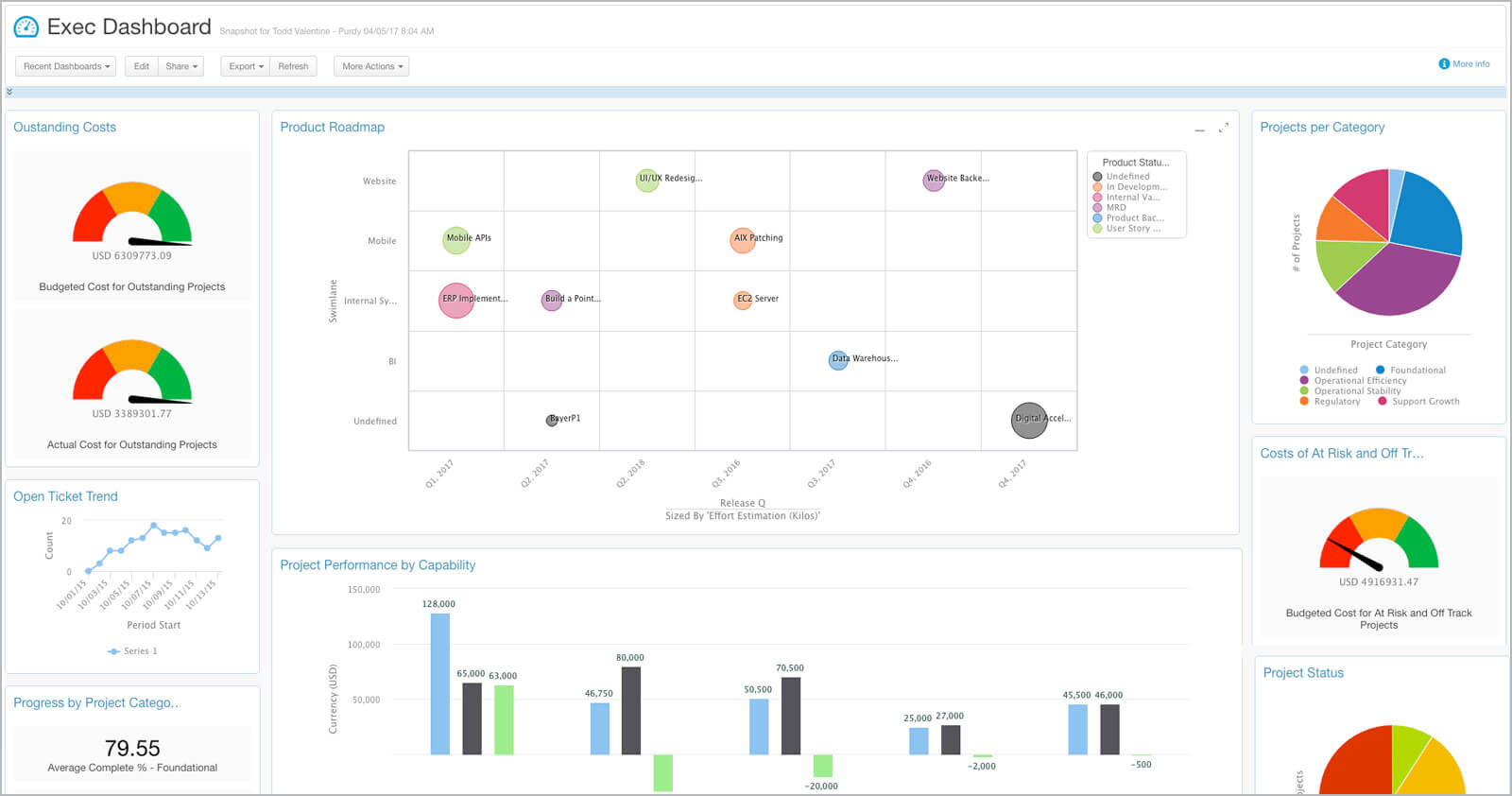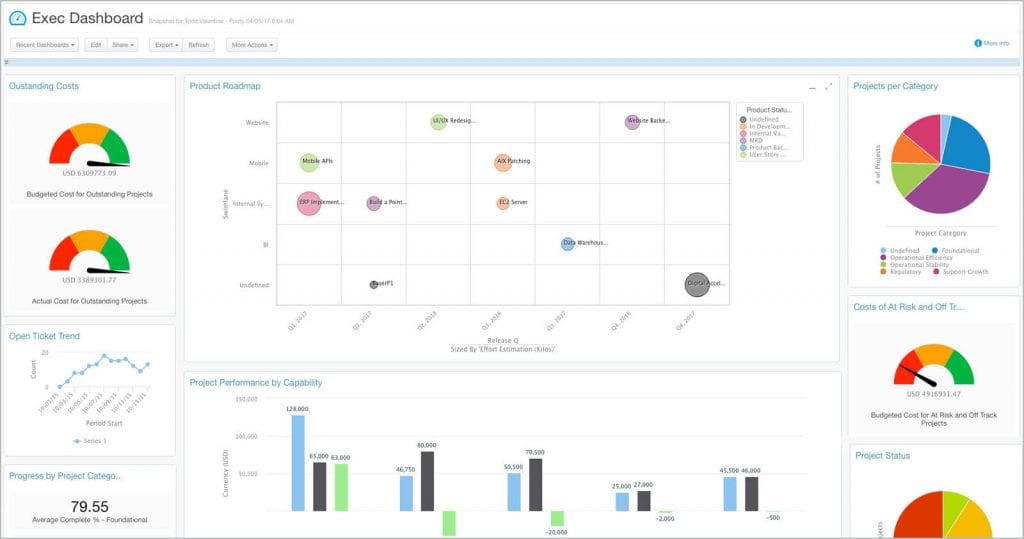 You can assign leadership roles and have several teams working on different mini-projects or tasks at a go. And Clarizen would show you synched up reports, so you know where you are in terms of progress.
However, if you only want to run small projects with small teams, Clarizen may be overkill.
ProofHub brings the power, ease of use and sleekness of several Asana alternatives in one collaborative platform.
Creating a project, tasks, assigning them, and monitoring progress is a breeze.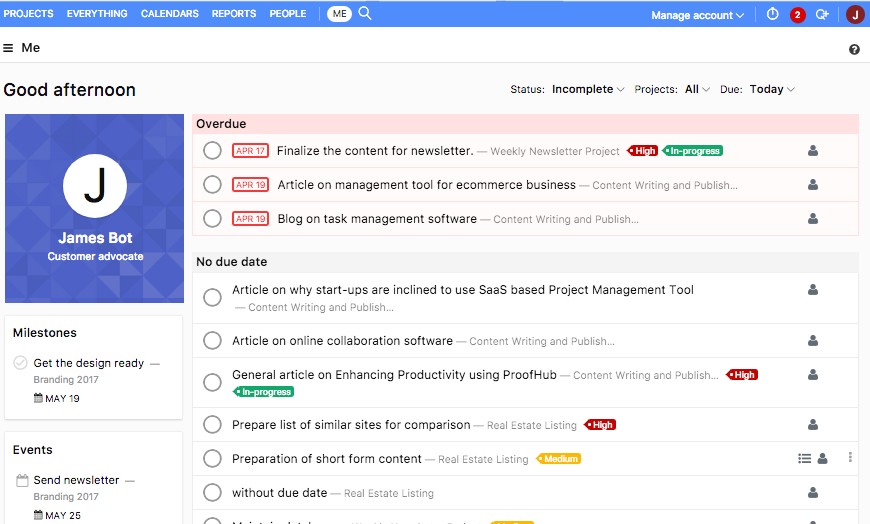 The online project management program not only uses boards to pin tasks and help manage multiple project activities, you also get detailed progress reports and statistics using Gantt Charts.
All communications, including file sharing and editing, happen within the ProofHub application. No need to leave the workplace to log into a different PM tool—not even your Drive, Dropbox or G-Suite account apps. It is all accessible within.
You can personalize your account to emphasize your brand, too.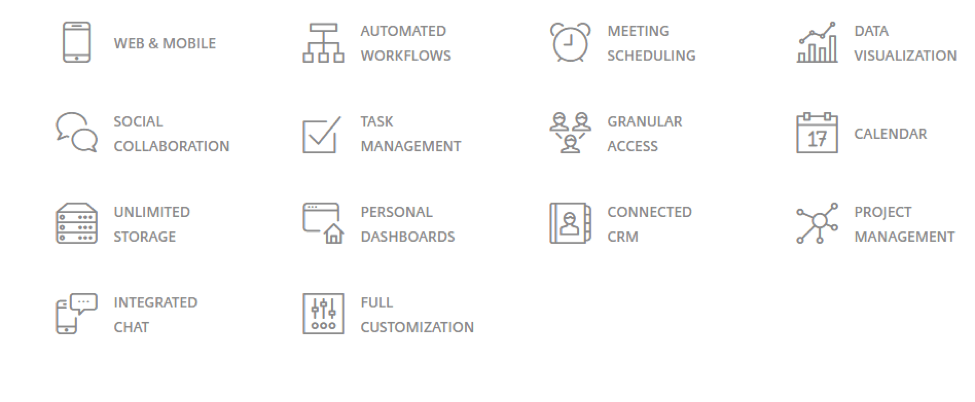 Podio features
This cloud-based project management and collaboration service take all-in-one PM to another level. Podio is practically everything you'll need for any size of project, communication channels, collaborative features and PM integrations support.
Once you are logged in, you and your entire team do not need to leave to get anything done. Everything, from social media engagement and private browsing to calendar management and customer relationships management, is tucked into Podio. Podio and NutCache are excellent replacements to each too.
Project Management Software Honorary Mentions:
These Asana Competitors didn't make our top list, but could still be worth checking out.
What's Wrong with Asana?
With its characteristic visual interface, ease of use, and feature-rich workflow management app concept, Asana is a good project management tool.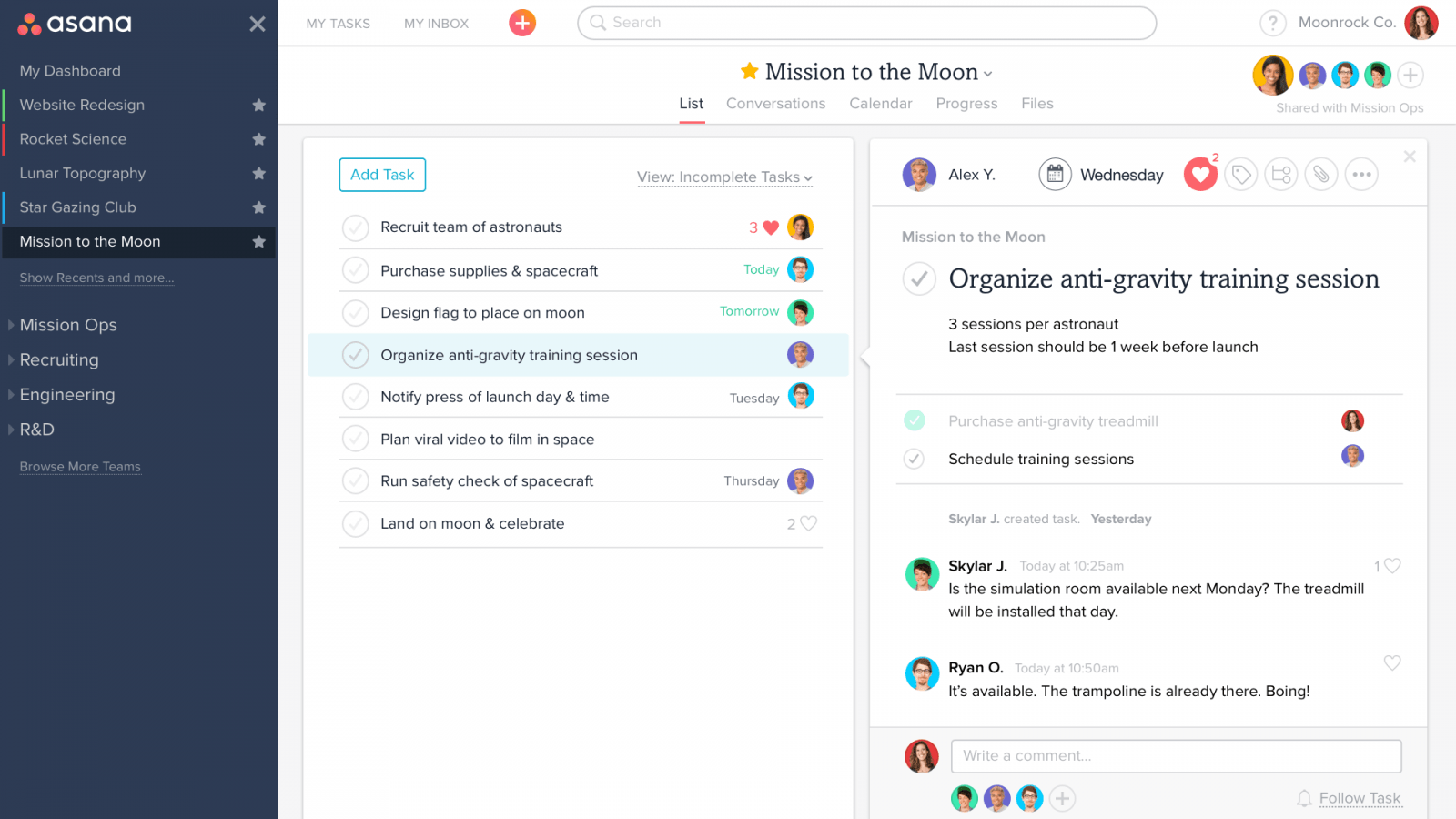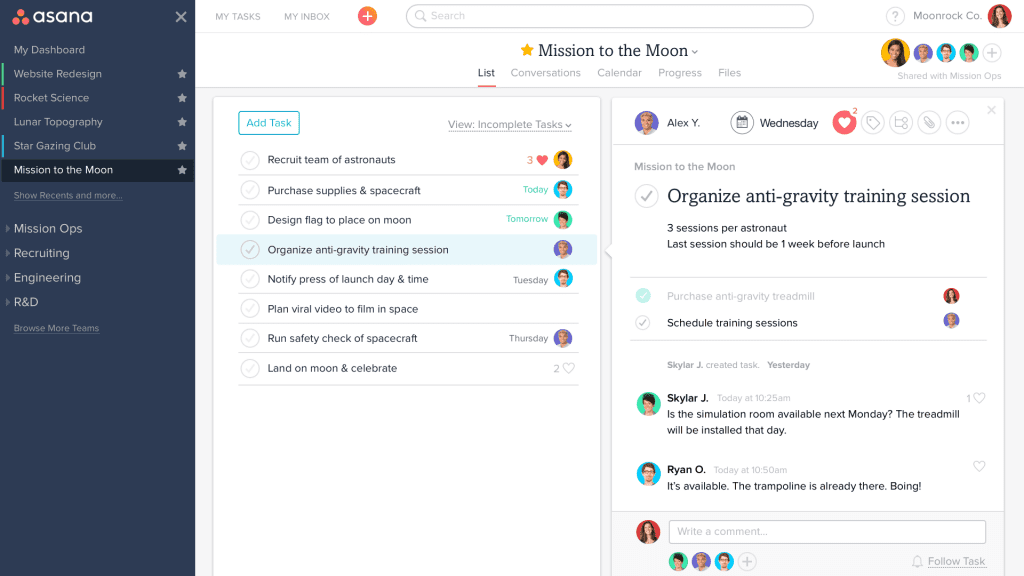 But Asana is not perfect.
For example, while it is simple to get started on and use on a daily basis, Asana lacks the more comprehensive project management tools that Asana alternatives offer.
Asana lacks Gantt Charts, resources and risk management, detailed reporting and statistics, offline support, budget forecasting, as well as profile management.
In fact, a large portion of Asana alternatives in this post makes Asana look like a mere task management tool instead of a full-on project management software solution.
Still, you, your team or clients may still prefer to work with an Asana alternative that is less complex compared to comprehensive Asana competitors. That is especially likely to be the case if you run a small business or non-IT enterprise.
So, what are the best Asana alternatives to try out now?

Source: Asana
In this post, you'll find 15 top project management tools to replace Asana. Some have free project management tools you can try out before signing up for the paid versions. Others offer only paid versions but provide free trial periods for "test-driving" vs truly free plan options.
Top Asana Alternatives: Conclusion
Editor's Choice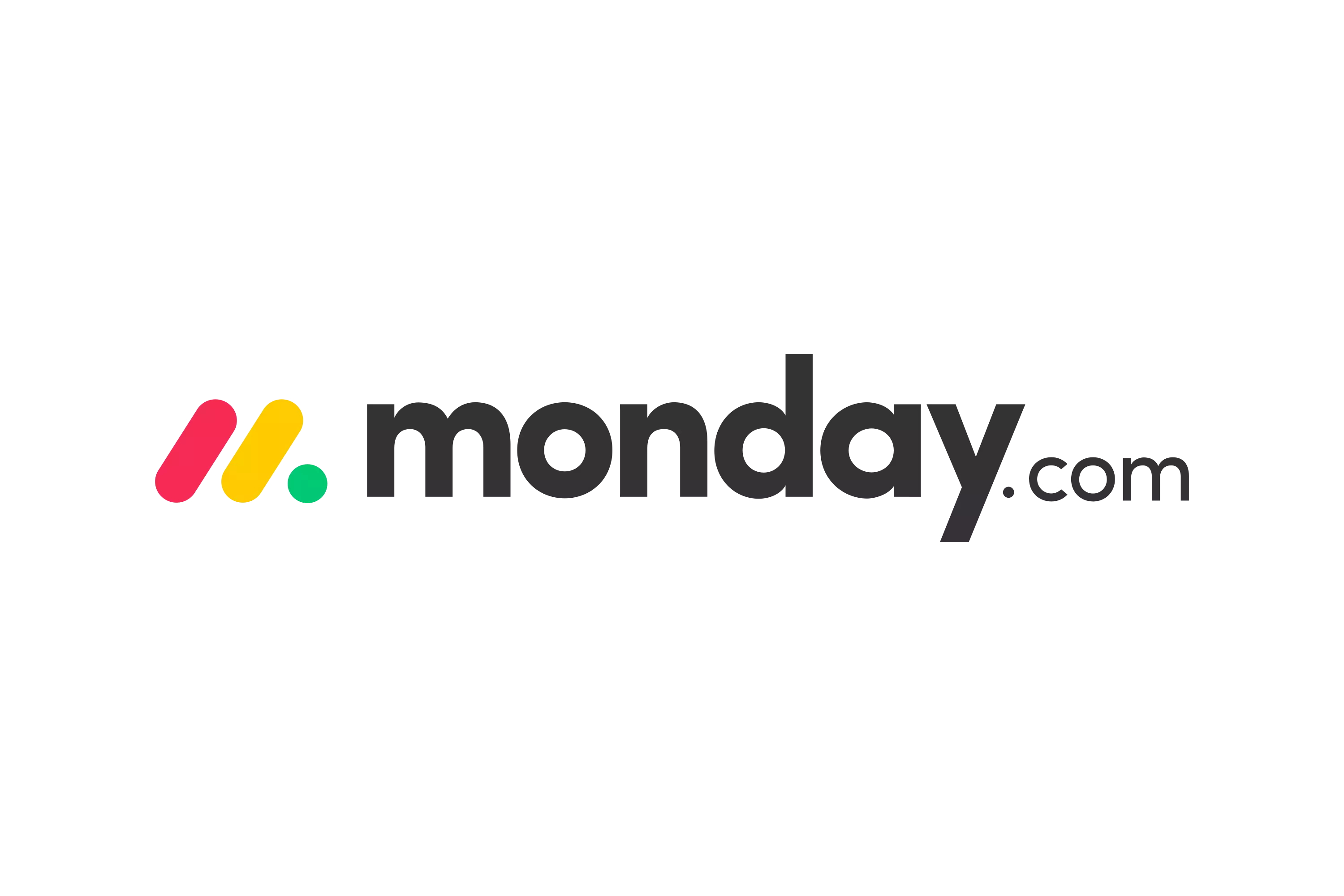 Why Go with monday.com?
Make tasks satisfying to finish! monday.com is quickly disrupting the old guard with a sleek interface, hundreds of integrations, and dozens of workviews for visually imagining and tracking your projects. More than just project management.
Start Managing Your Team Better
We earn a commission at no cost to you which helps keep this blog running!
While Asana's visual cues make it an easy to use project management tool for small businesses, growing small businesses may find its simplicity does sacrifice essential PM tools. There are real pros and cons to consider.
The top Asana alternatives discussed here go beyond the basics of a free plan Asana. Users can find a combination of communication, team collaboration, and task management tools to help push project to successful completion.
Have a top Asana alternative you use that you'd like to inject into this list? Over to you in the comments section below!
Further Project Management Solution Research