Last Updated on April 22, 2023 by Ewen Finser
Establishing a global presence and having my designs distributed worldwide was the most significant challenge I had to overcome as a young creative industry professional.
Becoming more acquainted with the best print on demand journals providers offered me a partial solution to this issue by allowing me to apply my designs to a wide array of stationeries.
Most of the platforms I collaborated with provide a much broader range of services, and I used them to print on clothes, accessories, or even water bottles.
Also, I prefer providers that support e-commerce website integrations to print on demand businesses that only allow artists to sell their artwork on their platform.
I'll take you through all the factors you need to consider when choosing a print on demand journal provider and recommend several platforms that offer excellent printing and shipping services.
Bottom Line Up Front
Professional designers searching for a print on demand provider that allows them to print their work on journal covers can benefit from joining Blurb. The platform has Adobe InDesign and Adobe Lightroom add-ons that let you import files directly from the software.
Prodigi or MOO can be a good option if you're looking for a provider that gives you access to a global audience and distributes your products.
My Top Picks At a Glance
| | | |
| --- | --- | --- |
| Platform | Customization options | Product selection |
| | Mockup generator | Hardbacked journals |
| | None | Over 200 journal designs |
| | Templates | A5 or US letter |
| | BookWright, Adobe Lightroom, Adobe InDesign plugins | Softcover and hardcover |
| | None | A5 hardcover journals |
| | Color and page layout | Softcover journals |
| | Color and page layout | Softcover and hardcover |
| | Customizable front cover | Hand-bound |
| | None | A5 satin covered hardback |
Approaching the On Demand Printing Industry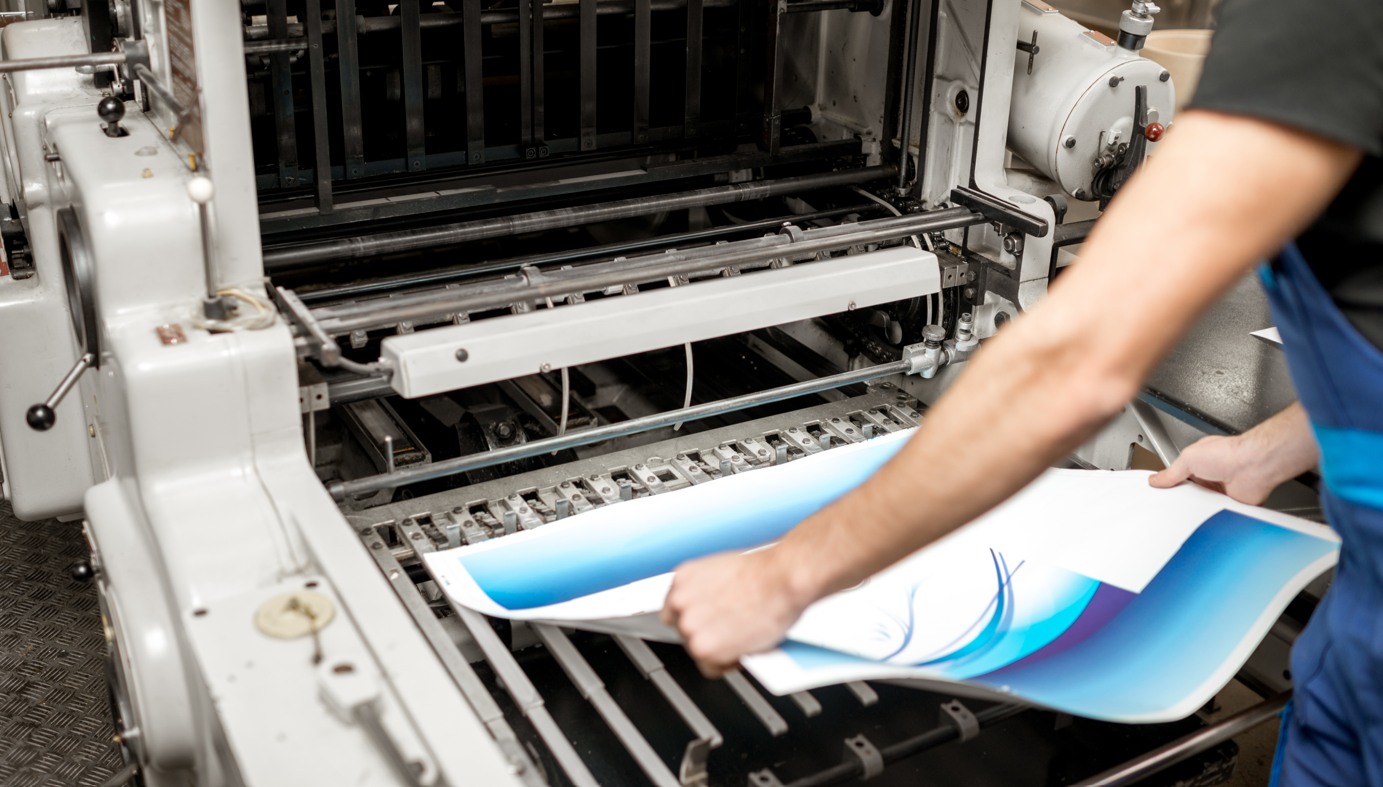 I found out recently that the print on demand market grew by 12% in less than three years. This information reflects a global shift in buying habits as more people choose to shop online than ever before.
Moreover, these platforms allow users to purchase unique items they cannot find at malls or local stores. Notebooks and journals are some of the most sought-after products on print on demand sites, and nearly all industry-leading providers allow their users to print on stationaries.
Some providers don't allow users to list these products on their websites and instead promote, print, and distribute designers' work for them.
Moreover, print on demand platforms don't always have customization tools, and they require their users to submit files along with printing instructions through email. Most providers offer free samples making it easy to check the quality of their printing services.
Journal Sizes and Paper Options
Inquiring about the quality of journals each print on demand provider offers is time-consuming, but it can help ensure that your design is printed on a high-quality product. Most platforms let you choose between hardcover and paperback options in standard A3, A4, A5, B5, or A6 sizes.
Some providers let their users select binding, front cover material, accessories, and other customization options. Still, these features aren't available on all platforms, so you may have to opt for a spiral binding or elastic band accessory simply due to the lack of alternatives.
In most cases, you'll be able to pick one of the following interior pages solutions:
The quality of paper and the number of pages depends on the provider, as some platforms only have journals with less than a hundred pages while others offer products with over 400 pages.
Integration Options and Shipping Times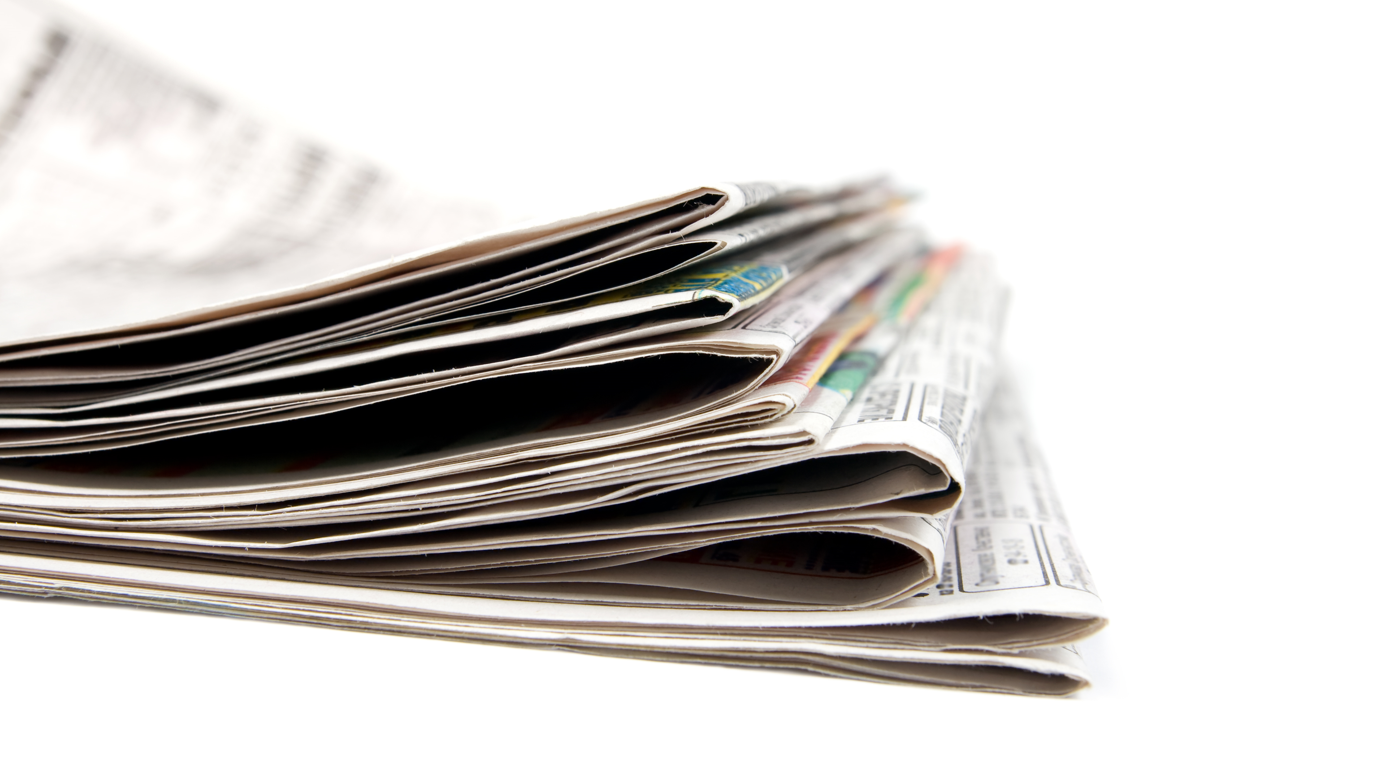 Connecting a print on demand service to your website isn't always possible. So, you must check the platform's integration options if you want to sell journals or similar products through your e-Store.
For instance, providers like Prodigi or Lulu Direct allow you to integrate their services into WooCommerce, Etsy, BigCommerce, and Shopify stores, while platforms like Minted or MOO will only enable you to distribute products through their websites.
Delivery times don't only depend on the platform you choose, as various factors ranging from the buyer's place of residence to customs regulations can affect the amount of time a print on demand journal provider needs to deliver your products.
However, most services need less than ten workdays to fulfill an order regardless of the buyer's location. Shipping costs are usually between $3 and $10, although international shipments can cost more.
Printing Techniques
Some but not all providers include information about the printing techniques they're using on their websites. Even so, I think it's advisable to get in touch with the company's representatives and find out more about their printing process before you decide to use its services.
POD platforms let you order free samples of journals or other products you want to print, so you can make sure that the print quality meets your standards. In most cases, you can choose from several printing methods, including:
DIGISOFT
Debossing
Silk-screen
Digital printing
Laser engraving
Designers are required to submit printing specifications for each of their designs and products, which eliminates the chances of miscommunication.
However, most providers don't accommodate all requirements, so you may not have many options if you want to include your logo or company's details in the journal you're printing.
MOQ and Pricing Options
None of the POD journal providers have minimum order requirements, and they allow buyers to purchase just one journal. Some platforms limit the maximum order quantity, preventing buyers from ordering more than 3,000 products.
Hence, before using its services, you'll need to check the provider's MOQ for journals and other products you'd like to print. Creating an account on print on demand platforms is usually free, but each platform utilizes different pricing methods.
The buyer covers journal production or shipping costs, and they're often included in the product's price. In case you decide to sell journals you design through a POD platform, the provider will take a certain percentage from each commission.
You should also keep in mind that the profits from each sale may go directly to your account, and you'll have to reimburse the platform for printing and shipping costs.
Selection Criteria
Although on demand journal printing is still considered a niche, you'll have plenty of options to choose from. The services these platforms provide aren't identical, although each one eliminates the need to purchase journals in large quantities before you can sell them.
Customization tools, product, and print quality were among the criteria I relied upon during the selection process. Each one has helped me identify platforms that can provide individuals or businesses with excellent printing and dropshipping services.
Some journal providers are better suited for creatives who don't have access to global markets, while others are geared towards businesses with sizable client bases. Most print on demand journal providers I included in the final selection offers free product samples and allow users to test the print quality.
Best 9 Print On Demand Journal Providers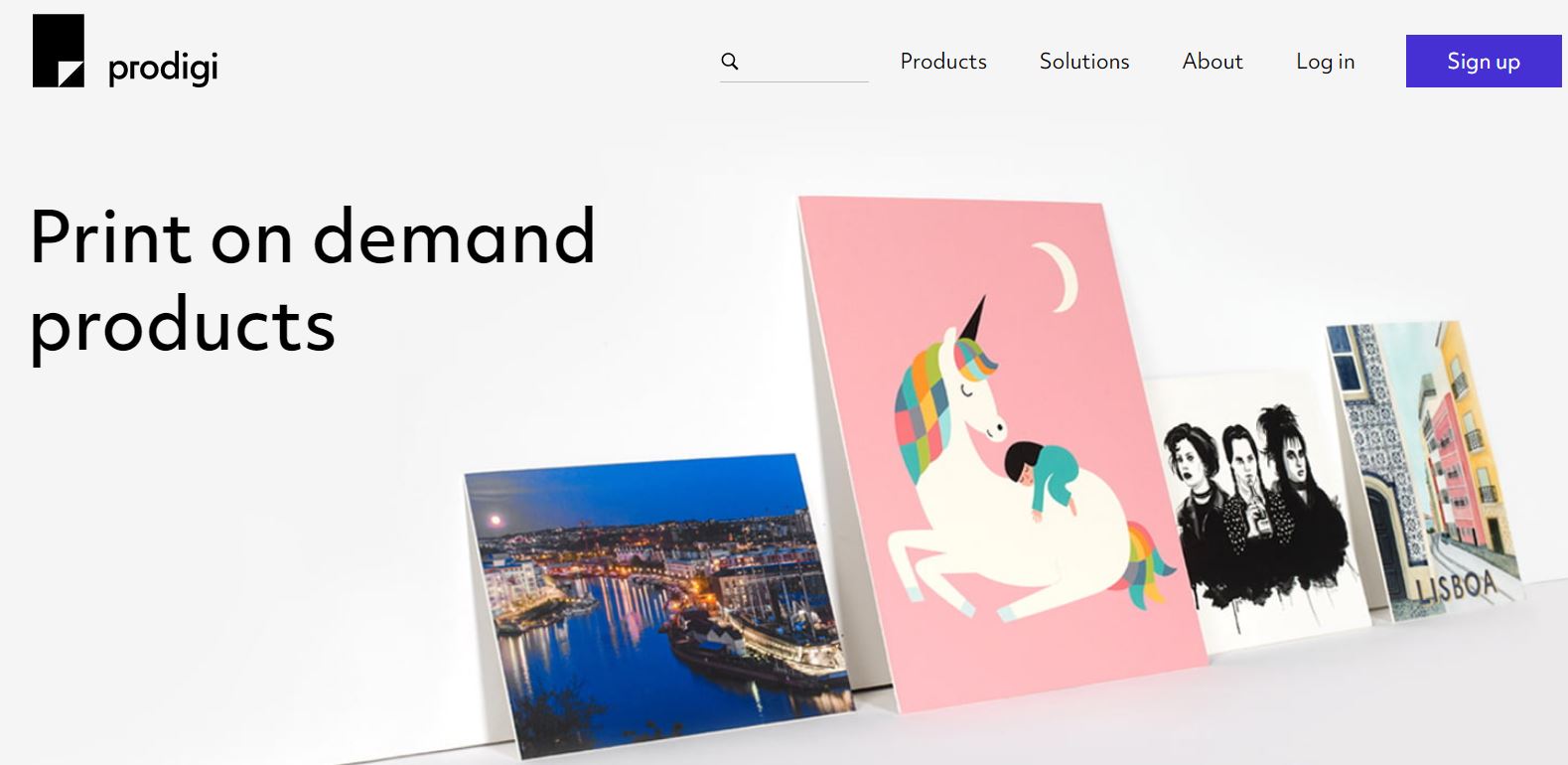 Aside from journals or notebooks, Prodigi lets members of its creative community apply their designs to clothes, stickers, kitchen accessories, and other household items.
The platform supports integrations with all major e-commerce platforms, and you can easily connect it with your Shopify, Etsy, or WooCommerce store.
The journal options include models with laminated hardcovers and a matte finish. All options have 128 pages with blank, lined, or graph paper and 5.2×7.3-inch dimensions. The platform has a mockup generator that allows you to see what the final product is going to look like.
Pros
Prodigi has a vast shipping network
The platform provides high-quality printing services
It offers free product samples
Cons
Users can choose from a handful of journal models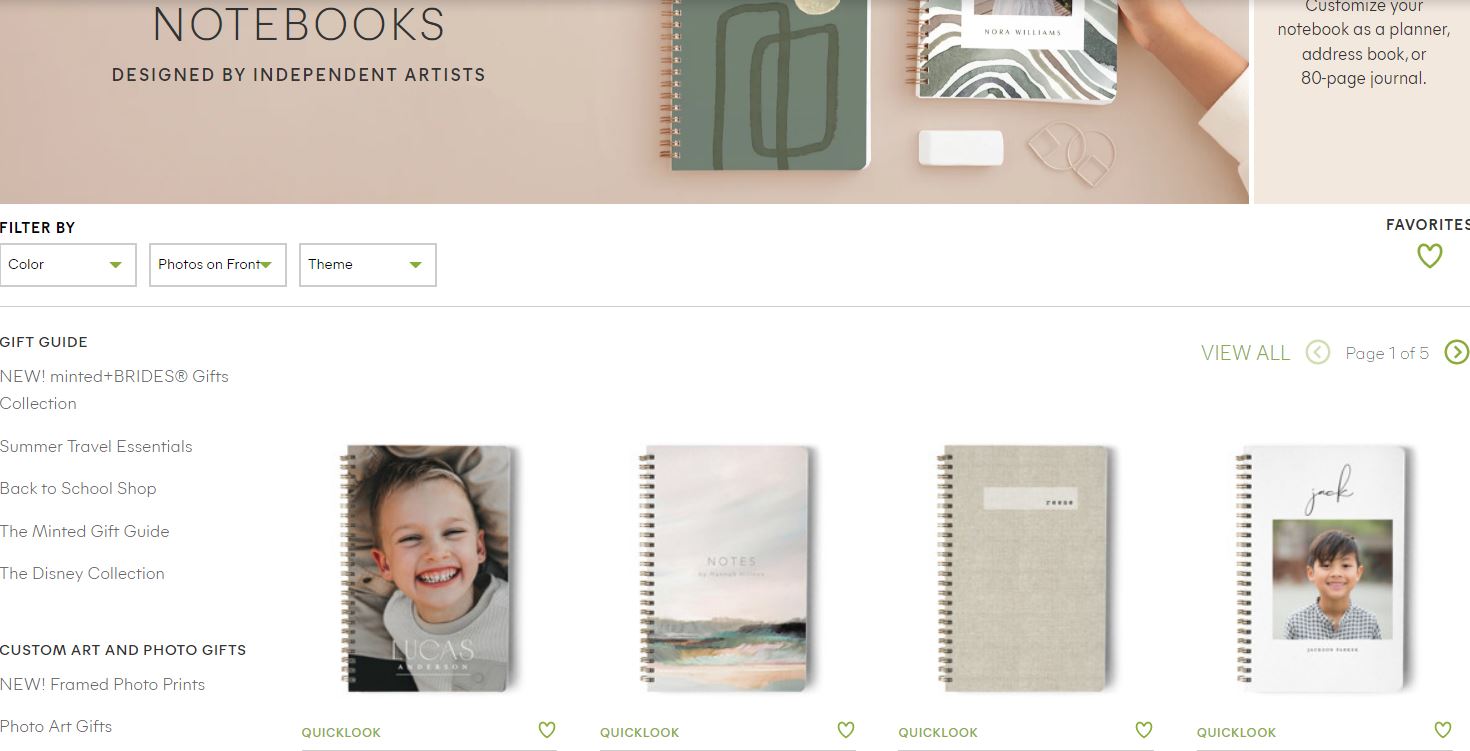 All journals you can find on Minted have spiral binding, so I suggest exploring other options if you're looking for models with a case or saddle binding. The platform works as a marketplace that allows creatives to offer their work to a vast audience.
Designers that join the Minted community can use their work to create custom journals and receive a percentage from each sale. Still, connecting your profile on this platform with an e-commerce website isn't an option.
Pros
All journals are available in multiple colors
Journals can have 80 or 160 pages
Designers are credited for their work
Cons
High shipping costs and journal prices
Joining the platform can be difficult

Lulu Direct is mostly a book-publishing platform aimed at writers, photographers, and magazine owners. Nonetheless, online business owners can use it to customize journals and connect Lulu Direct with their Shopify and WordPress websites.
Journals are available in different sizes, including US Letter or A5, and their prices depend on the size. Most models have over a hundred pages with blank, dotted, graph, or lined layouts. Also, you can choose from paperback and hardcover models.
Pros
It lets users create products for their websites
Lulu Direct provides detailed file guidelines
Users can place bulk orders
Most journals are inexpensive
Also offers print on demand planners
Cons
Lulu doesn't have a mockup generator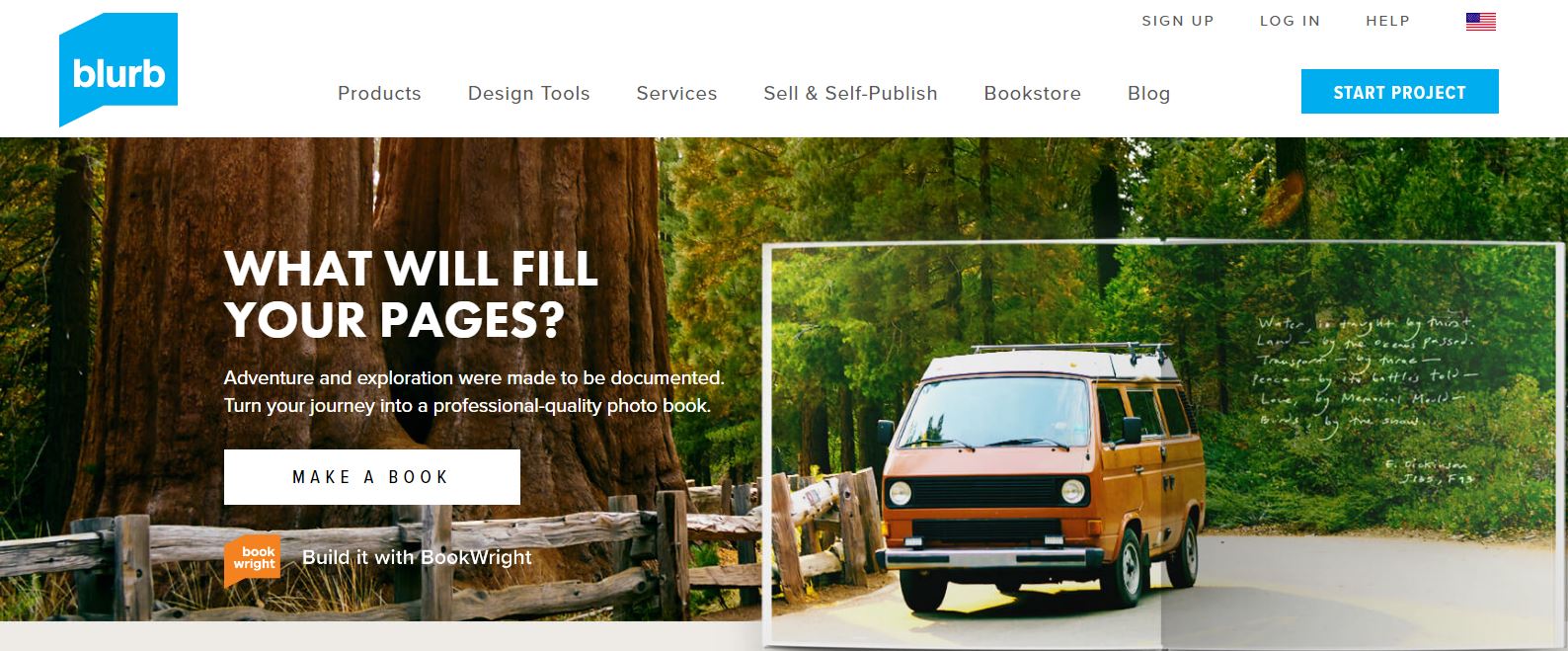 Designing and printing journals with Blurb can help promote your book or serve as a gateway into a niche market. Starting a project is free, and once you join the platform, you can use its tools to customize its design.
Platform cover options include hardcover ImageWrap, Hardcover with a dust jacket, and softcover options, while all journals have 70lbs uncoated paper. The maximum number of pages is 480, and you can choose from 5×8 inch, 6×9 inch, and 8×10 inch sizes.
Pros
Blurb has Adobe Photoshop, Lightroom, and InDesign plugins
Users can sell journals at Blurb's bookstore
It provides shipping services to more than a hundred countries
It has excellent integration capabilities
Cons
Most journals cost more than $15

The versatile selection of journals, fast delivery times, and excellent print quality are some of the reasons why I consider Camaloon one of the best print on demand journal providers. The platform offers more than thirty journal models with spiral, hardcover, and softcover bindings.
Also, you can opt for pocked-sized, A7, A6, or A5 notebook sizes and get a journal that comes with a pen. Journals you can purchase on this platform have plain or lined interior pages.
Pros
Camaloon provides support for businesses with special printing needs
Customizable sizes, great as a print on demand diary
Users can choose from four delivery options
It delivers orders worldwide
Cons
Sample packs aren't free
Users must choose a subscription plan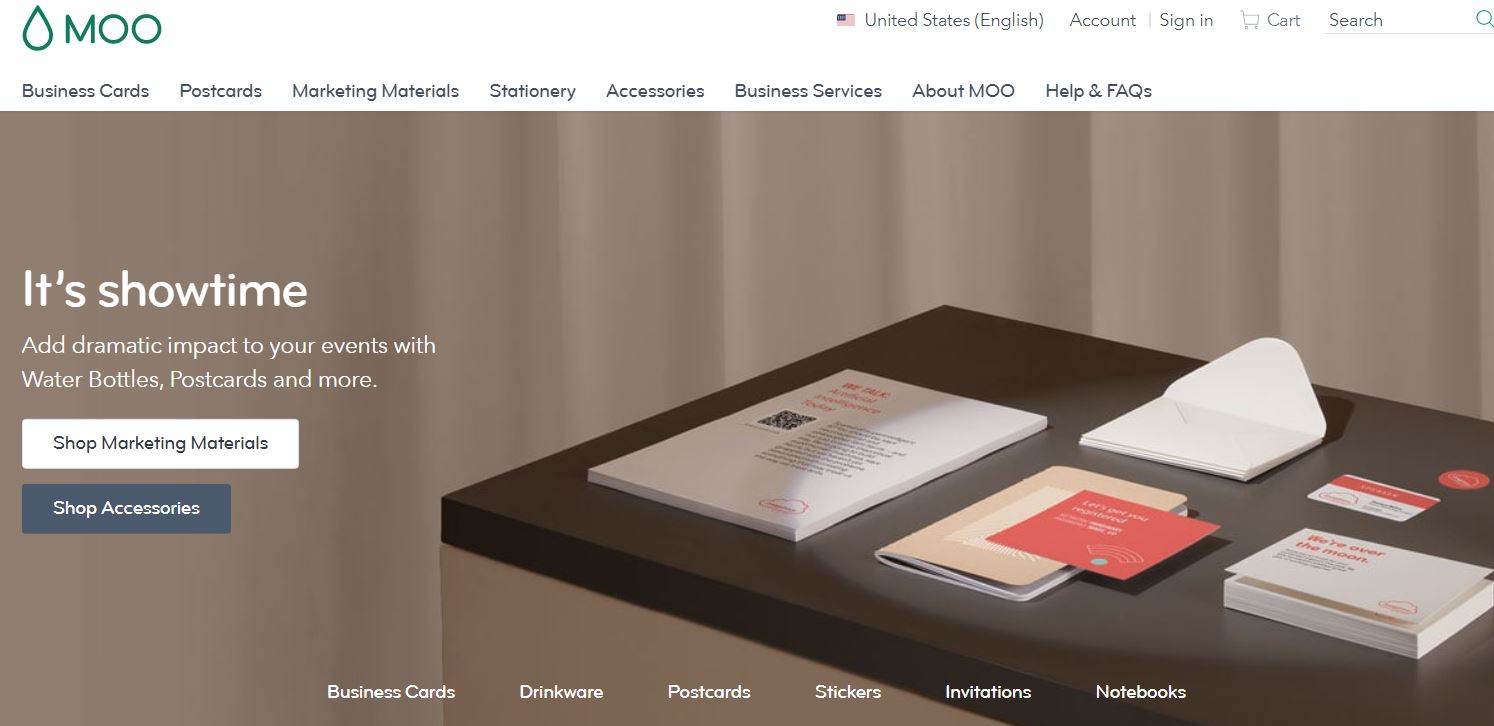 I suggest exploring the journal print on demand services MOO provides if you're already running a successful business. Besides printing on stationeries, the platform lets you create business cards or advertising materials for your company.
MOO lets you upload files from a computer or import them from Etsy and Flicker, but the platform only supports JPEG, PNG, and PDF image formats. Its journals are available in different colors, and their pages can have dotted or lined layouts.
Pros
MOO has special-edition journals
Journal pages are made from Munken Kristall or Colorplan paper
All orders are carefully checked before they're shipped
Cons
No support for PSD, TIFF, or SVG file formats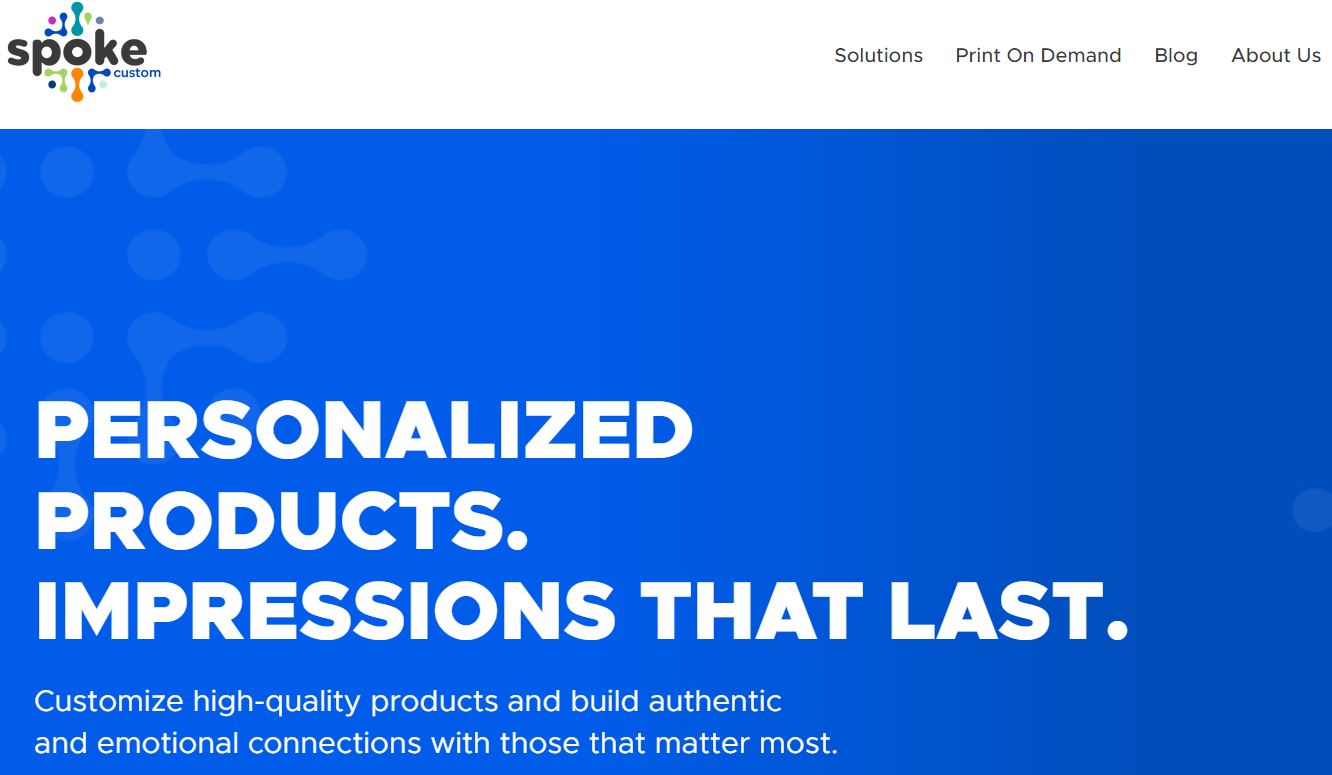 Ambassador Bound JournalBook and Color Pop Bound JournalBook are the only Spoke Custom journal products. Both models are available in different colors, equipped with an elastic strap and their dimensions are identical.
Spoke Custom supports integrations with e-commerce platforms, but it also offers custom API options that let users connect this print on demand service with their website. However, it doesn't have design tools, so all images have to be ready to print when you upload them to Spoke Custom.
Pros
Users can choose from three printing methods
The platform provides learning materials that help companies improve their branding
It provides product personalization solutions for etailers and universities
Cons
It offers only two journal models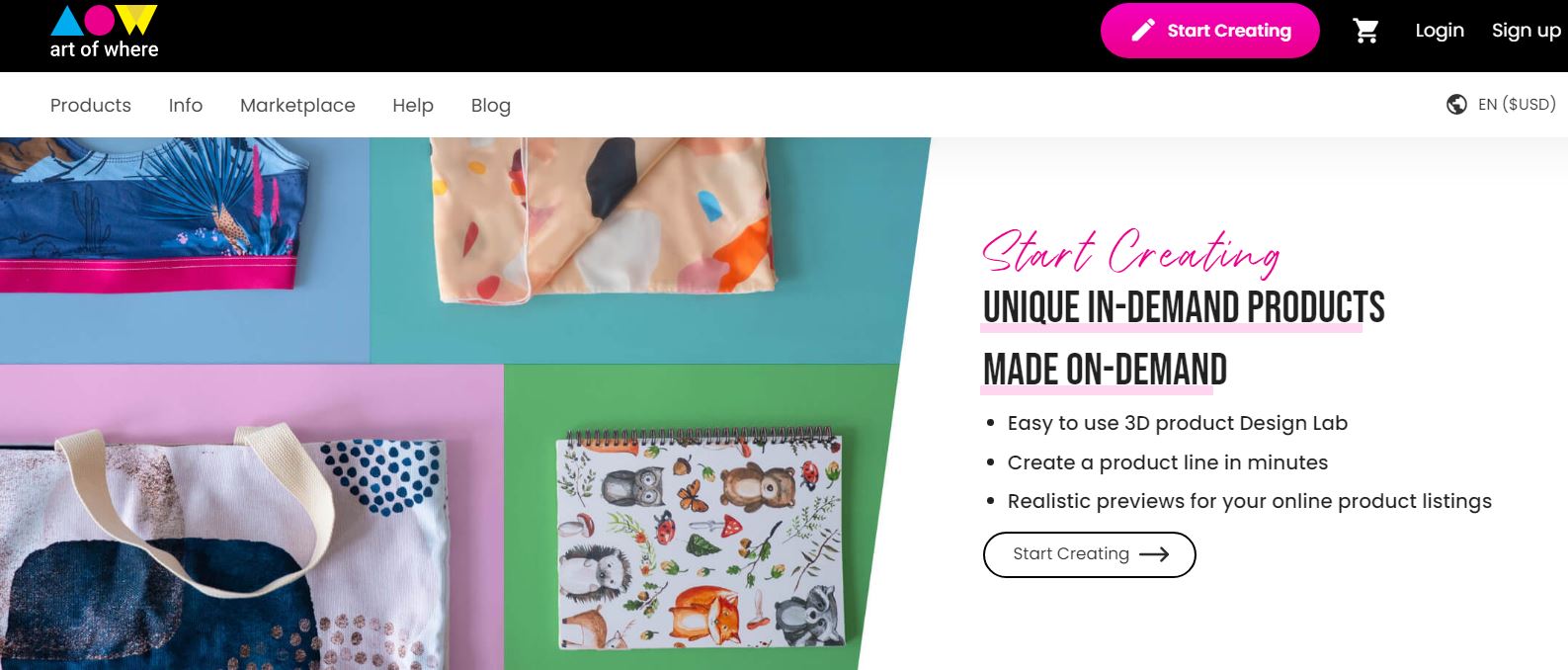 Connecting your online clothing store to ArtOfWhere can be beneficial as it could assist you in extending your clothes collection. The POD platform offers a wide assortment of t-shirts, beanies, shorts, and countless other clothing items.
It features a design lab equipped with all the tools you may need to design a piece of clothing or an image you want to print on a journal. You can choose from two journal sizes and four page layouts. However, ArtOfWhere currently doesn't have journals with more than 48 pages.
Pros
Members can sell their products at ArtOfWhere's store
Effortless integration process
ArtOfWhere has several shipment options
Journal front covers are customizable
Cons
Journals have just 48 pages

Joining the Contrado print on demand platform will grant you access to thousands of products. Also, you can connect your account to your Shopify store and sell your products on both platforms. Contrado has a vast marketplace where you can find virtually anything from swimwear to iPhone cases and journals.
The platform offers a wide array of journals you can customize, and it supplies you with detailed printing instructions. However, all models have the same size, page layouts, and satin covers. Also, none of the available options have more than 80 pages.
Pros
Users can upload their designs in TIFF, JPEG, and PNG file formats
Joining the platform is free
Journals have high-quality paper
Cons
Designers earn just 25% from sales they make through Contrado
FAQs
Question: Can I track orders delivered by print on demand journal providers?
Answer: Yes, most platforms let their users track each shipment.
Question: Which payment methods do print on demand journal providers accept?
Answer: MasterCard, Visa, or PayPal are the most common payment methods these platforms accept.
Question: Do print on demand journal providers have return policies?
Answer: Print on demand journal providers usually have 30-day return policies, but the platform may not issue a refund if you accidentally give a wrong delivery address.