Last Updated on April 3, 2023 by Ewen Finser
While both workflow management tools offer sleek user interfaces and intuitive user experiences, they are not the same features-wise as you'll discover in this Asana vs Monday.com comparison
Wondering whether to choose Asana vs monday.com?
My TL;DR: It's hard to beat the free version of Asana, but for more advanced true workflow & project management, the clear winner is the more robust monday.com here. Remember, you can get started with a 14-day free monday.com trial here if you are still unsure.
Main Differences Between Asana vs Monday
The main differences between Asana and Monday are:
Asana allows for commenting on task, team, and project views, whereas monday.com only allows comments on tasks
Asana allows more advanced permission levels for pages and teams, whereas Monday only allows basic permission setting
Asana offers a 30 day free trial, whereas Monday only has a 7 day free trial
Asana integrates free file storage, whereas Monday does not offer free file storage
Monday offers different views including Chart and Map views, whereas Asana offers more traditional lists, timelines, and boards
Monday offers a cleaner user interface, whereas Asana can get more cluttered over time
Monday offers true Gannt charts natively, whereas Asana requires some customization and integrations to acheive true Gantt charts
Perhaps you do not need the heavy lifting horsepower of an advanced project management software such as JIRA or BaseCamp. Maybe you have a smaller team and simple tasks that you feel only need an easy to use task management service.
Or you probably want to use a simple task management app or project management tools to rev up for when you need a more advanced project management platform.
It is important to get that out of the way; both Asana and Monday.com are not full-on project management software, but more like workflow management apps—project management tools.
That's because they both lack the hallmarks of project management such as actual Gantt Charts and time-tracking tools.
Whatever your needs are, this post will help you make an informed decision in this monday.com vs Asana project management software review.
But before we head out into the comparisons full-force, how about getting a little background information regarding each contender?
Editor's Choice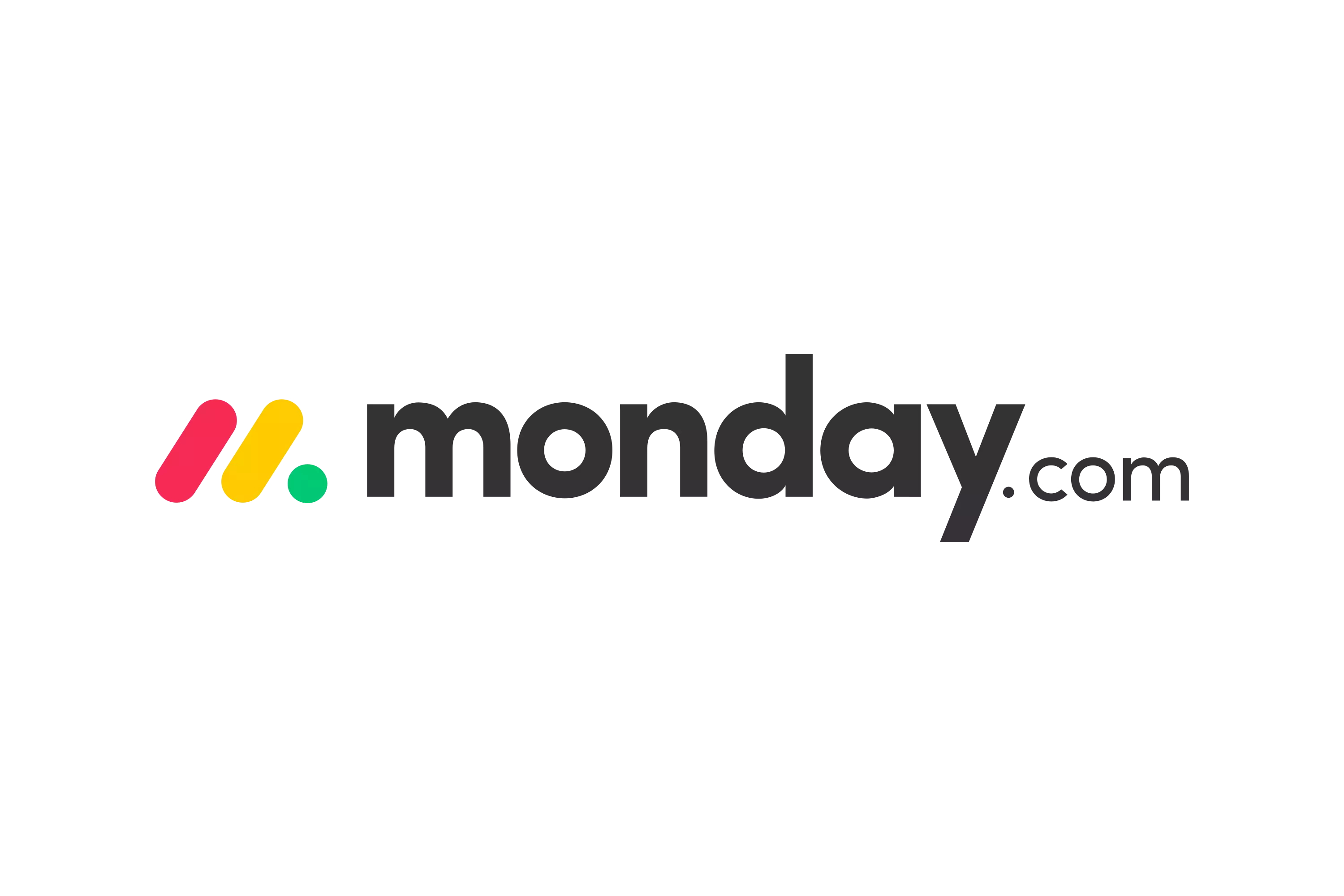 Why Go with monday.com?
Make tasks satisfying to finish! monday.com is quickly disrupting the old guard with a sleek interface, hundreds of integrations, and dozens of workviews for visually imagining and tracking your projects. More than just project management.
Start Managing Your Team Better
We earn a commission at no cost to you which helps keep this blog running!
What is monday.com?
A cloud-based tool, monday.com is an online team collaboration tool that helps small to medium-size teams get things done—on time as a team. The service comes in a monthly, annual or bi-annual subscription. Project members can use Monday.com to share knowledge, project files, tasks assigning, client collaboration, and mapping task schedules.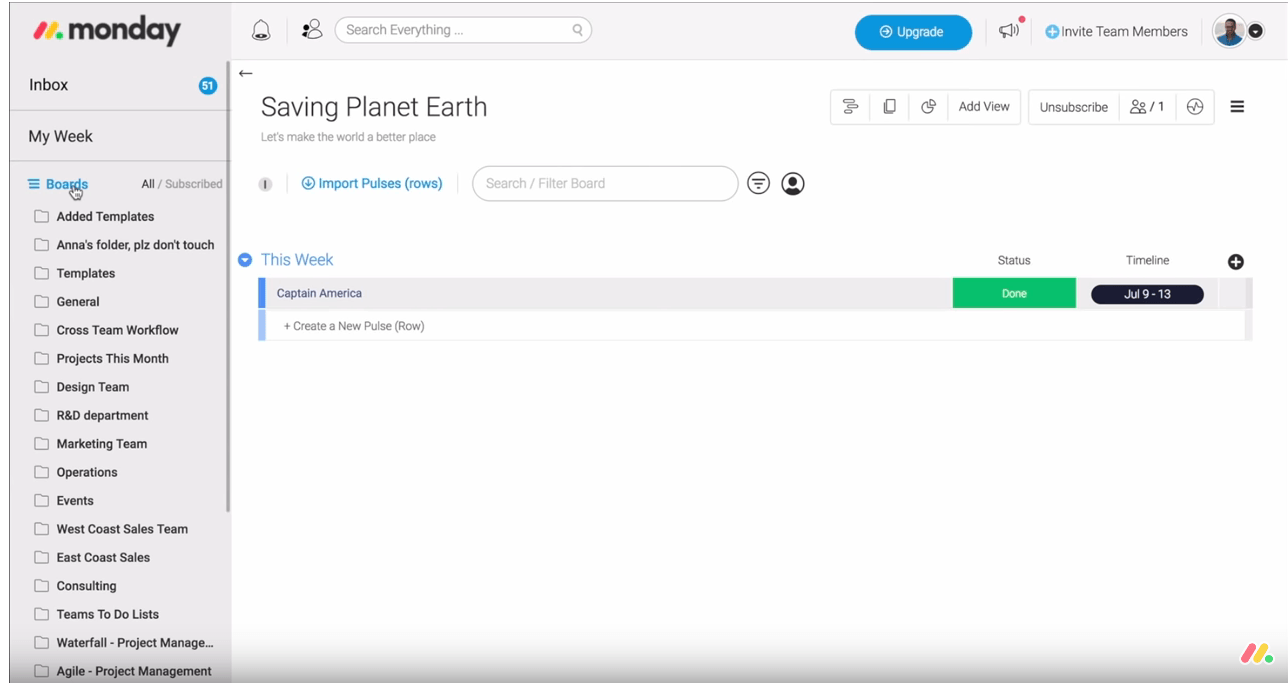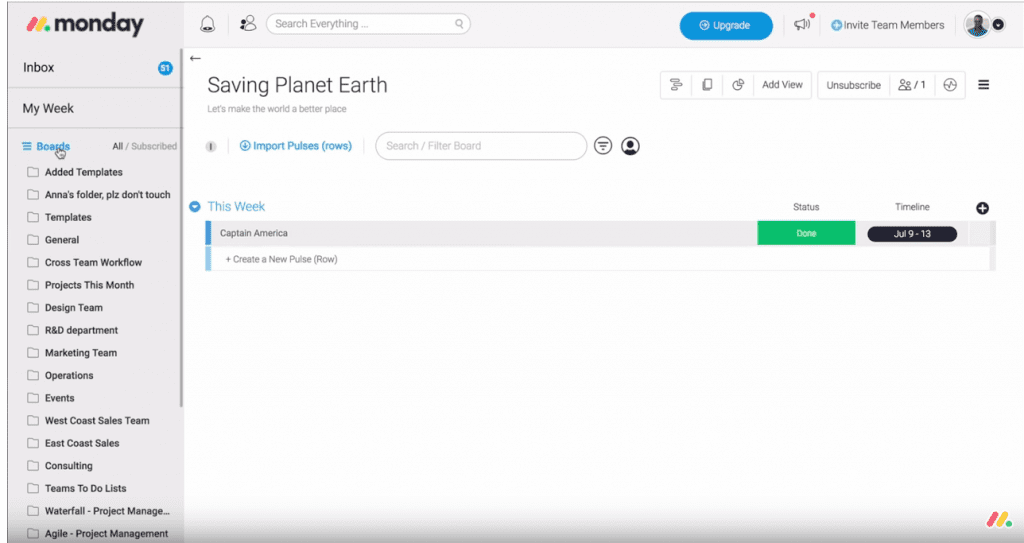 Formerly Dapulse, monday.com will let you create Kanban-style boards (true Kanban board) made up of rows and columns.
You'll find rows on the left, and they represent tasks (also referred to as "pulse", hence Dapulse). On the right of the monday.com task management window, you'll find columns. Columns are where different aspects of your project reside. Those can be due date, assignee, task status, and more.
Editor's Choice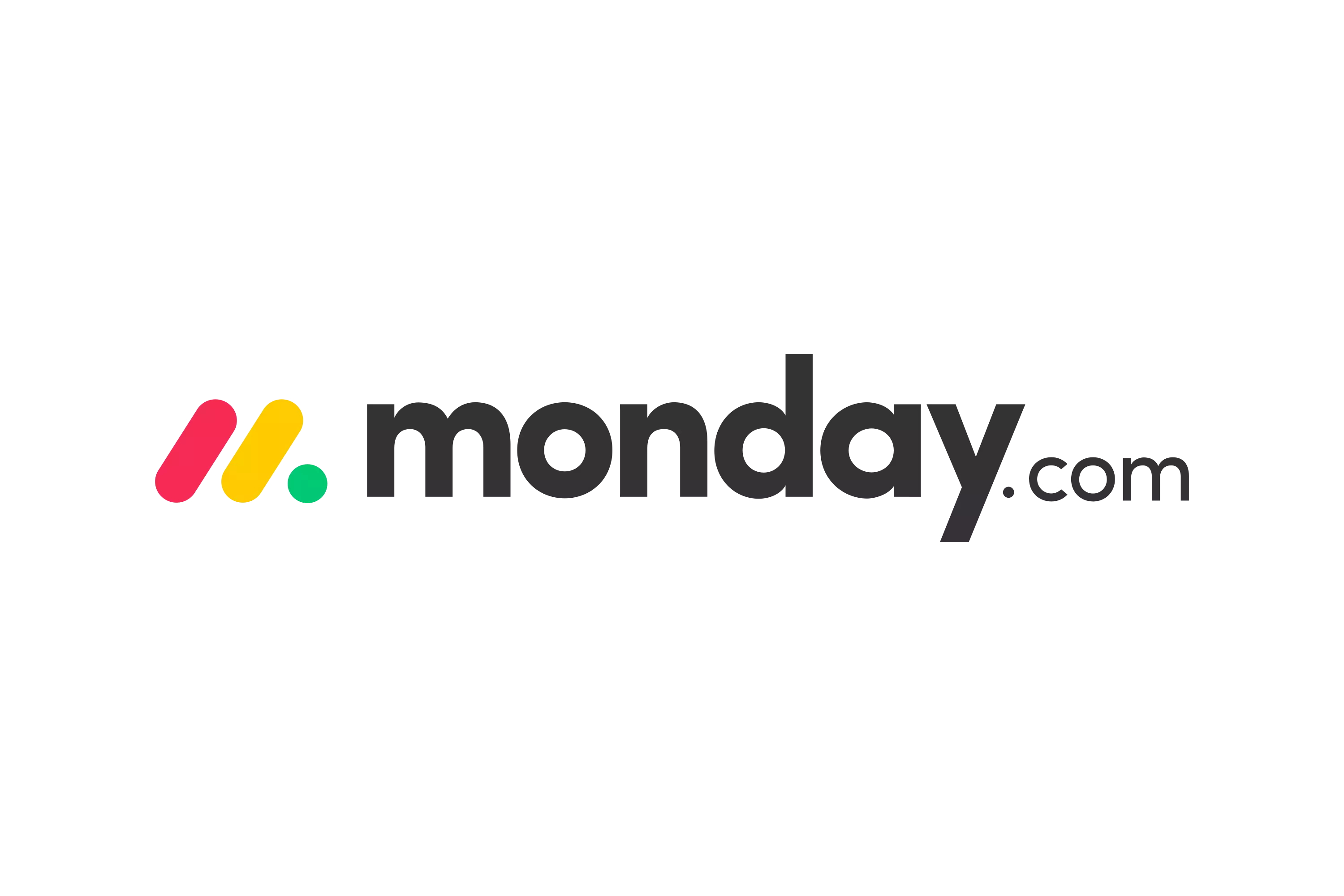 Why Go with monday.com?
Make tasks satisfying to finish! monday.com is quickly disrupting the old guard with a sleek interface, hundreds of integrations, and dozens of workviews for visually imagining and tracking your projects. More than just project management.
Start Managing Your Team Better
We earn a commission at no cost to you which helps keep this blog running!
What is Asana Project Management Software?
Similar to monday.com, Asana is a cloud-based workflow management tool for both small and medium businesses—although the company says all company, team and department sizes can use it.
Asana task management tool allows project collaborators to communicate, collaborate and share knowledge (teamwork), share project files, conduct tasks assigning, create tasks and set due dates and more.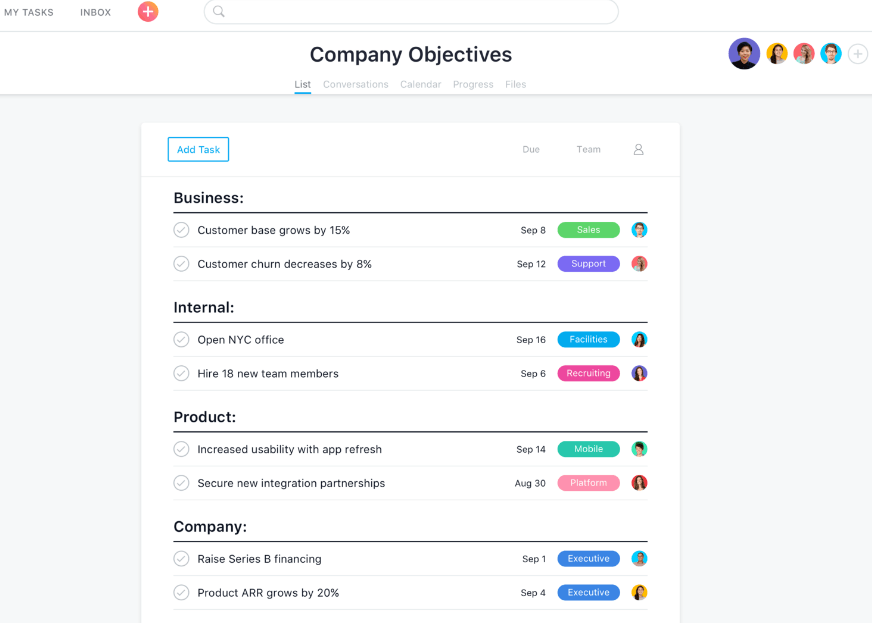 The task management service is particularly resourceful for team projects that are not complex in nature, the one that will not require advanced project management features that it lacks.
Monday.com vs Asana: Which Workflow and Task Management Software to Choose?
We'll dig into the following monday.com vs Asana aspects for in-depth comparison so you can decide with confidence which tool can satisfy your project and task management needs.
As mentioned, monday.com can be a top Asana alternative because both share several workflow management features and benefits. However, knowing the differences between monday.com and Asana can help make a stronger comparison on features that matter most.
Let's get started with the tool overview.
1. Signing Up and Tool Setup
Getting started with either service is easy. Simply enter your work email, hit enter and you're in. You will not be required to enter your credit card details to access either service's free trial.
monday.com allows you to test it out for free for 14 days while Asana has a 10-day trial period.
You'll need to verify your email before proceeding to your new dashboard.
Asana has a "Tour" tab you can tap or click on to learn what to do next, which is handy. If you have a quick question, you can pop it to an Asana representative using a chat pop-up on the bottom-right corner of your screen.
While Monday.com doesn't have the chat function on the site, you can browse through their YouTube channel in case you are stuck and need some help figuring out the next step.
2. Customer Service and Support
Speaking of…
You can also find video tutorials on each providers' YouTube channel. On their respective websites, you can also find documentation, articles, guides, and phone numbers. Both vendors are responsive, quick and give off the vibe that they do know their stuff.
Monday.com offers free daily webinars you can join in to get a walkthrough of their product. You are also free to watch on-demand tutorials and live advanced walkthroughs. These are basically tutorials on how to apply Monday.com in different use cases like industry and client types.
Whether you have the highest paid Monday.com plan or the base one (basic plan), you'll still enjoy 24/7 support through phone, email and via social media channels. But Enterprise paid plan customers get priority support, which means they get responses in under 10 minutes.
Asana project management customer service is pretty impressive as well. Although it does not provide a phone number or email right out the gate, you get instant chat support to get you unstuck whenever you need the help around the clock.
Rarely will you not reach Monday.com or Asana customer support staff. Both are responsive and attentive.
3. User Experience
Perhaps the services' choice to not include all the bells and whistles of advanced project management apps works in their favor in this regard. Both are so user-friendly.
Each uses sleek, responsive and speedy user interface. The color-coded design in each case is not only attractive, but you can tell the design makes navigating the different boards, task list, menu search and whatnots intuitive.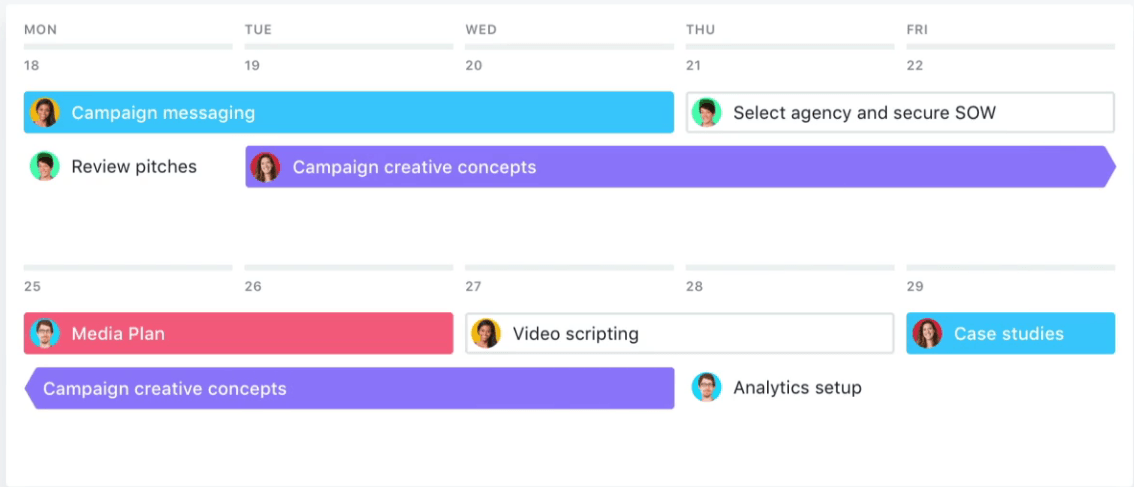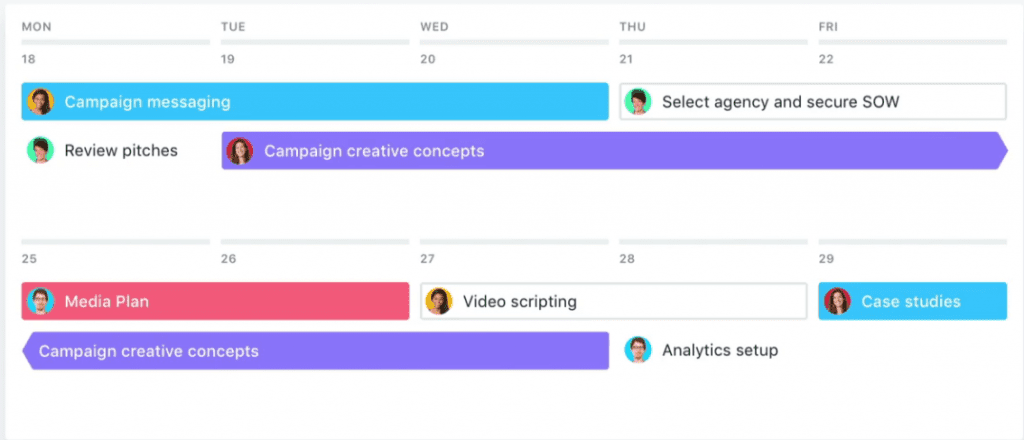 Asana calendar view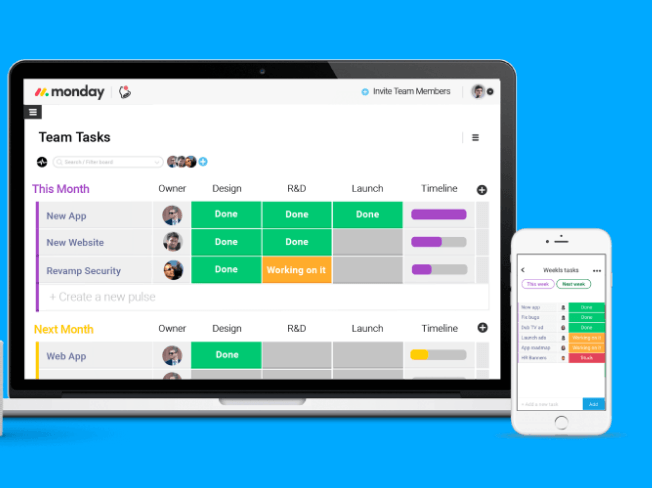 Monday.com Team Task Dashboard
On its dashboard, Monday.com uses colors red to indicate a struggling or lagging task, green for a completed task, and yellow for ongoing work.
It is pretty much the same while using Asana, although the color choices serve a more decorative purpose in Asana.
Brainstorming, file sharing, mentions, searching for specific information, and more reminisce chat threads on social media—something most people have interacted with so many times over that it's become natural to blast through with little to no training.
However, a new team member to project and task management software might find Monday.com easier to get started on and conquer its learning curve compared to Asana. That is probably because of Asana's huge customization options and the many ways you can define a workflow to get started.
When you sign into either choice for the first time, you'll have to customize the boards the project management tools offer and that can take some time getting used to and figuring where to click to activate a certain feature.
Asana does provide dozens of task templates for different use cases or industries to get users started. But you can also create others from scratch and save them in the templates folder for future retrieval and use.
Monday.com will not allow you to do that, so you'll have to create tasks afresh every time even if they are recurring tasks.
Editor's Choice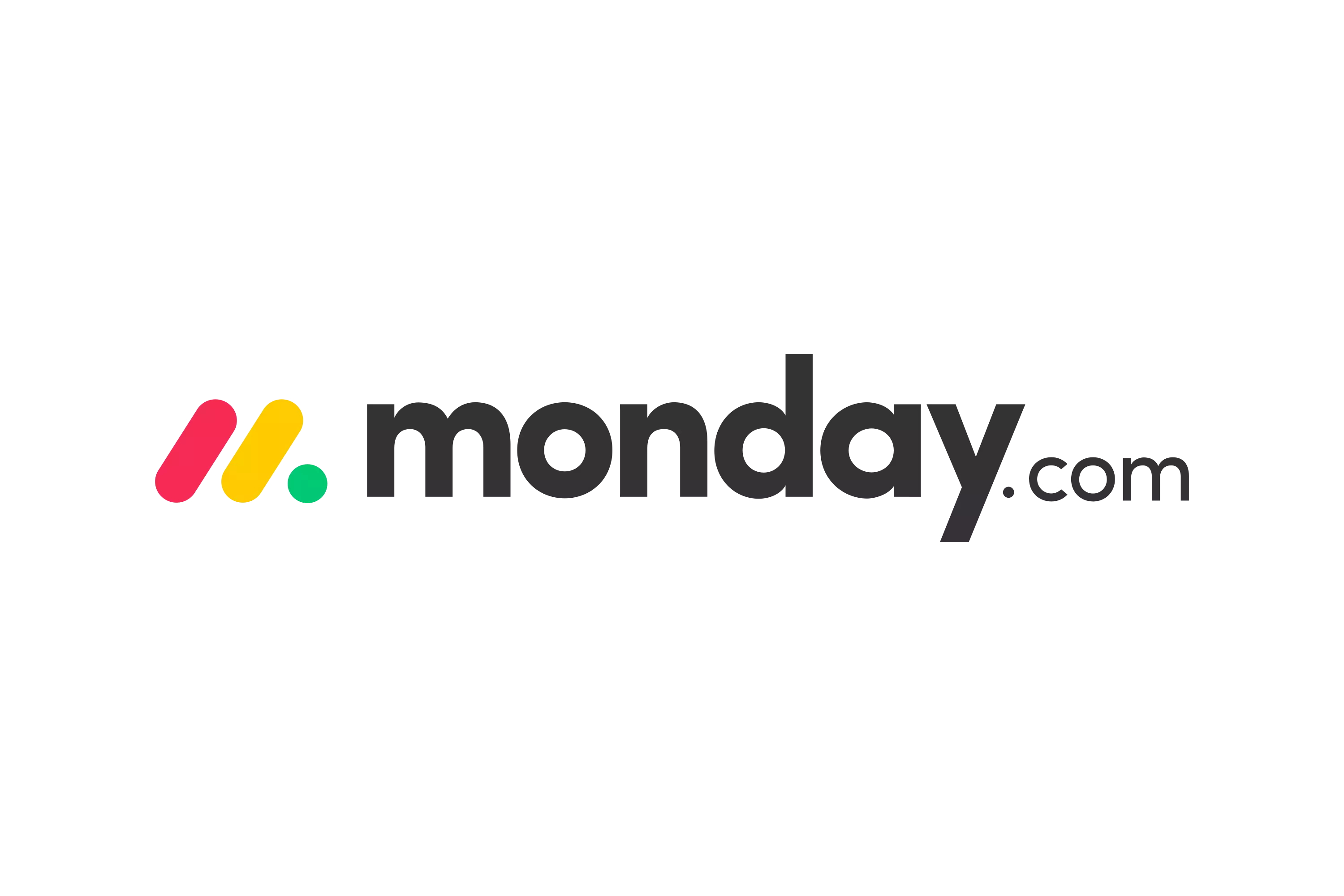 Why Go with monday.com?
Make tasks satisfying to finish! monday.com is quickly disrupting the old guard with a sleek interface, hundreds of integrations, and dozens of workviews for visually imagining and tracking your projects. More than just project management.
Start Managing Your Team Better
We earn a commission at no cost to you which helps keep this blog running!
Asana vs Monday: Differences in Features and Benefits
Aesthetics aside, both team collaboration platforms offer a decent number of project and task management features despite a lack of Gantt Charts support and such. But what Monday vs Asana offers differs, and here's what that means.
Log in to Monday.com's admin dashboard. On the left of your screen, you'll see a rail menu. From there you can organize your boards into folders, so you can access them from one place later on.
You can also add team projects, tasks, missions, to-do list and assign teammates to specific tasks (or projects), which is also true for Asana (similar way to assign tasks).
Asana offers four tabs on its "work" screen; Lists, Timeline view, Calendar, conversations, progress, and file. If you are using a smaller screen, both websites are responsive and will collapse the features to match your smaller screen without cutting out some details.
Take a look: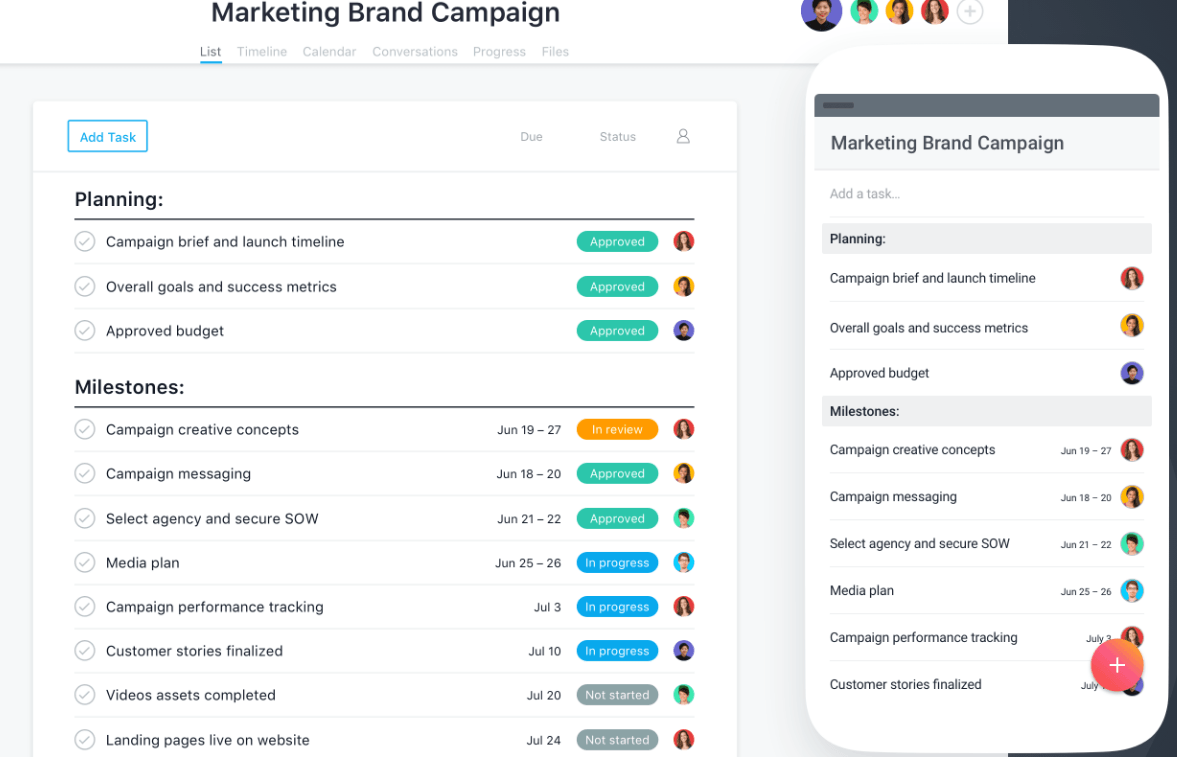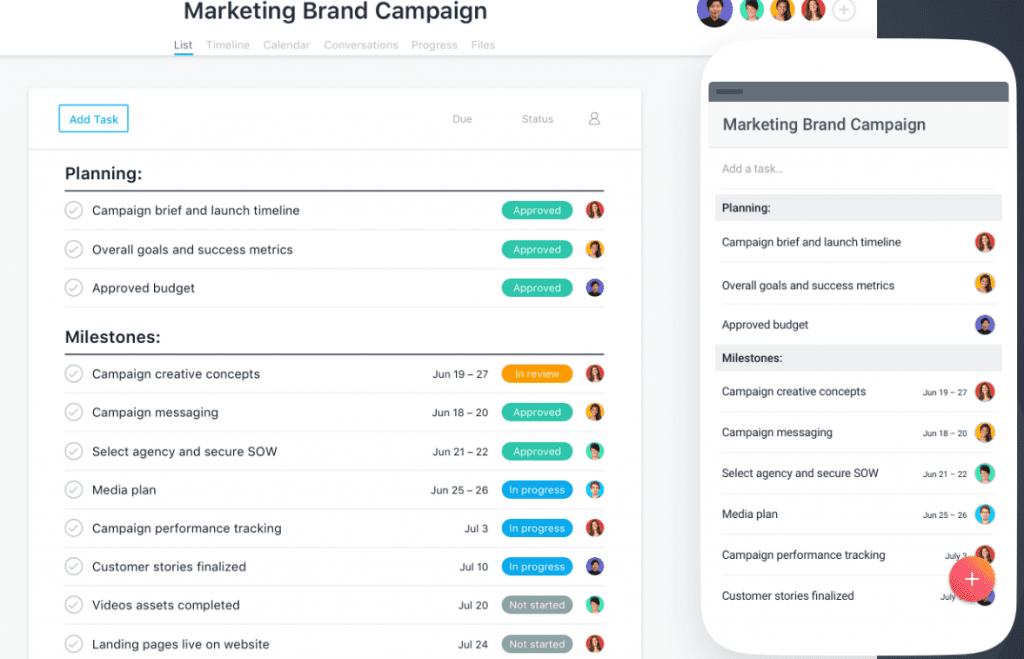 While you don't get full-on Gantt Charts to visually indicate your projects' progress, both Monday.com and Asana provide a Timeline feature for boards with deadlines to beat.
In Monday.com, what Timeline does is to display your to-do list directly above your dashboard, so you know what needs work in one glance.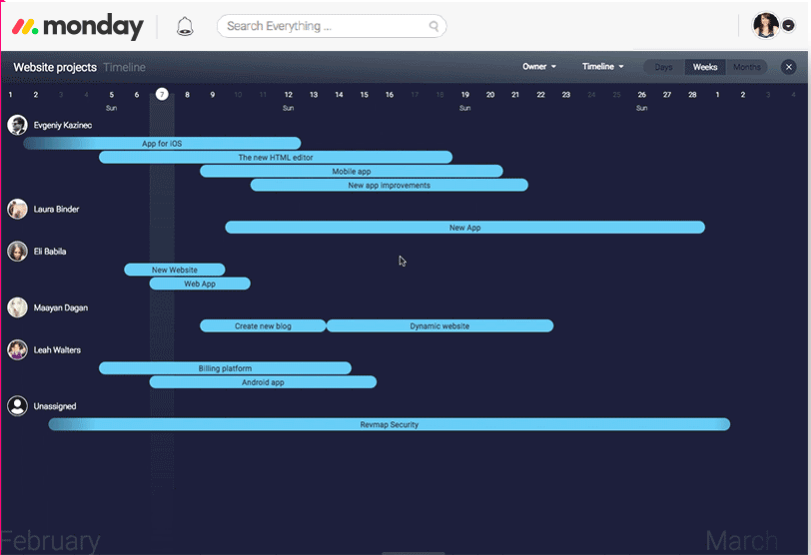 But you can also choose to collapse Timeline from the screen.
Timeline shows tasks as spanner bars. The tasks span over dates (on a color-coded calendar) on which the work needs to be completed by. You can easily drag and drop tasks to effect new work schedules or due dates, as well as expand and constrict Timeline bars to cover more or fewer days as per your needs.
What you might not like though, is you will have to manually set off a notification, informing your team about the changes. It does not happen automatically like in Asana.
You can also tell Timeline is not an actual Gantt Chart because it does not support task dependencies.
Does Asana support dependencies?
Thin lines connect one task to another in Asana.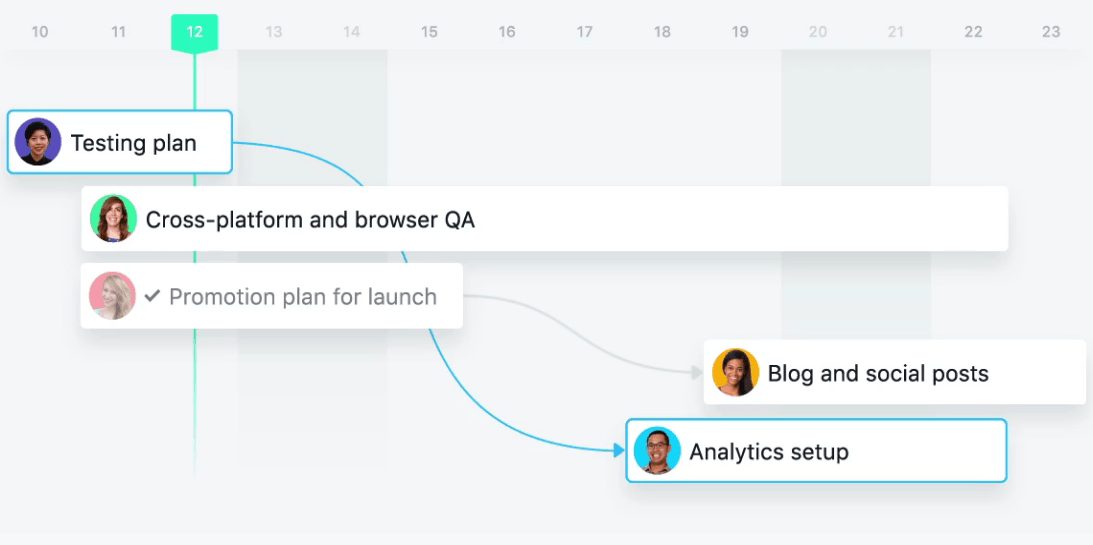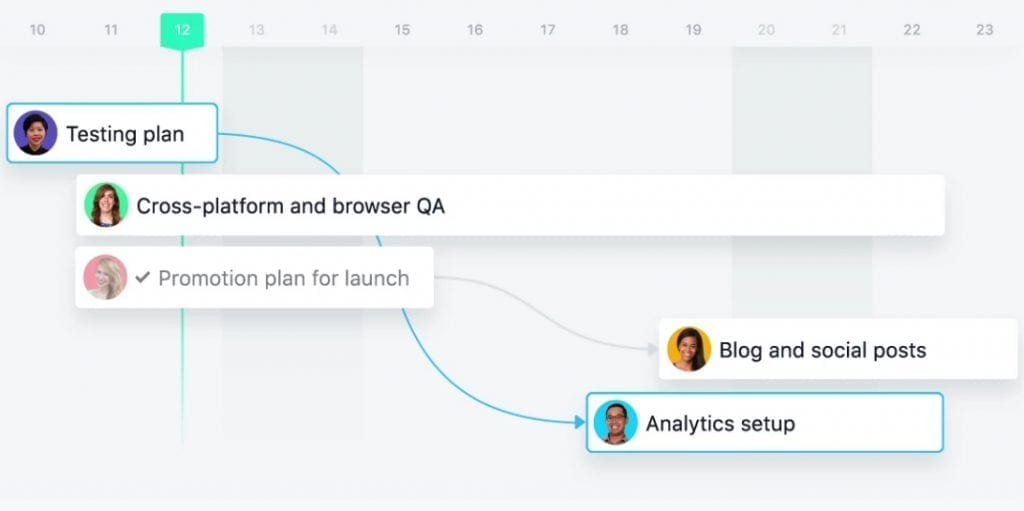 If you move a task's start date, for example, Asana will automatically update the changes to reflect in the due date; it will automatically push the due date forward by as many days as the start date moved.
Then it will inform team members of the changes.
In fact, Asana has a dedicated Inbox feature for that.
Team members (or Project Managers) can find all notifications in one place to avoid having to dig into a pile of back-and-forth emails or chat threads to learn what's new. Monday.com does not provide this.
What one Asana task manager does can affect the next one if the project owner or admin sets the project management systems to work that way in a specific project.
That can be time-saving and convenient.
However, you'll want to set Asana to lock down some documents that some team members, clients or another third-party should not. By default, Asana allows everyone to view and edit every public file. That can mean team members overwriting each other or making too many changes to a single task or project. And that, in turn, can make it tough to follow up on the changes made and practically impossible to continue with other projects.
Read More: How to Use Asana Quickstart Guide.
But you can find the tweak buttons on the left rail menu.
Similar to Asana, Monday.com will let you customize your boards so not everyone can see all files or project progress. Instead, you'll be able to set which boards become visible to clients, manage which boards are shared with team members, and which ones are only accessible to you or with your outright permission.
In Asana, you can authorize access using Asana Admin Settings under "Organizational Settings >> Administration".
In either platform, you can add tags to tasks to make tasks more searchable, add comments, as well as upload, link, and share project files.
Want to find out more about how Monday.com works?
Here is a 14-minute video walkthrough:
[https://www.youtube.com/watch?v=FQhZU2I1jLA]
And here's how Asana works in a nutshell so you can compare both head to head:
[https://www.youtube.com/watch?v=IMAFWVLGFyw]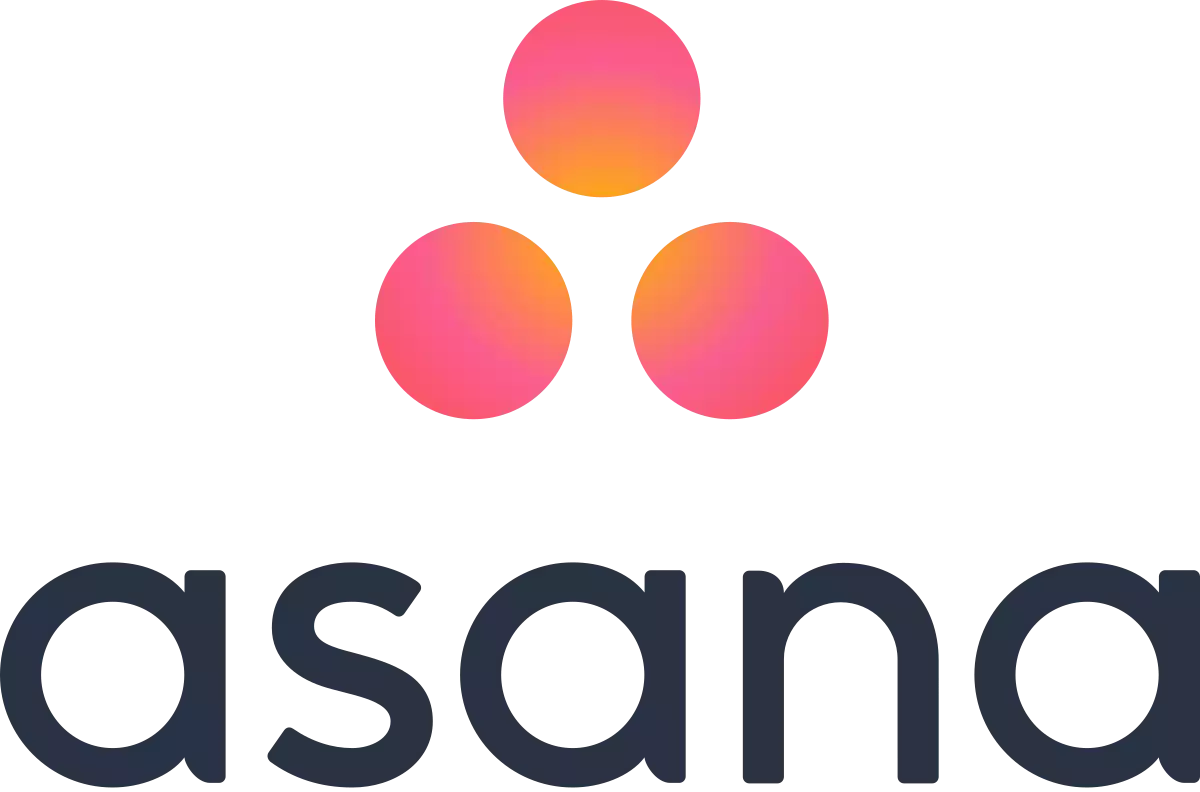 Why Go With Asana Here?
Satisfying to use, integrates with everything, and scales as much (or as little) as you need. This is why Asana is one of the leaders! Also why WE use it for content management in our business.
Try Asana First
We earn a commission if you click this link and make a purchase at no additional cost to you.
4. Integrations and Integration Partners
If you prefer to integrate third-party apps integration to ensure you have everything in one place, you'll have hundreds of options to match with Asana.
More importantly, though, you can integrate Asana with apps that make up for what Asana lacks in terms of project management features.
For example, you can use Dossier to connect Outlook, Gmail, and Slack integration and translate chats and emails into tasks you can respond to in Asana. You can also choose from a selection of over 1,000 Zapier apps including top PM tools JIRA, Trello and Asana, and Slack. You can also connect related apps such as Salesforce, ConvertKit, and Evernote.
With the Asana CSV importer, you can seamlessly upload your date from whichever source so you can handle it from Asana. You can also introduce time-tracking in Asana using an app like Time Camp.
You can easily and quickly attach Dropbox files to tasks from Asana's task pane. You can connect Google Calendar so you can monitor due dates and plan your time. And an Asana Google Chrome extension will enable you to add tasks such as reading an article or watching a YouTube video an Asana task.
Simply copy the URL of the article or video in as a task and you are set. You can also integrate Asana with Google Sheets, Github (for developers), Tray.io, Zendesk, Google Forms, and more.
Asana is also available for mobile team members with its IOS and Android apps available for download. However, bigger screens might be better for handling all the details you'll normally handle at once and on one screen in Asana. But it is good to know you can make things happen while on the go.
Monday.com does provide suitable integrations as well.
In fact, Monday.com and Asana do provide very similar integrations. It is pretty much a matter of connecting the most useful apps to your team and business because you have plenty to choose from Monday.com apps list—including Zapier and IFTTT.
However, do note that while it is possible to view Monday.com tasks in Google Calendar, you will not be able to edit them directly on the latter. You will also not be able to create and synchronize tasks you enter in Google Calendar as the workflow management tool.
5. Pricing Plans
When it comes to how much it will cost you to enjoy the benefits of Asana and Monday.com, you'll have plenty to choose from.
Monday.com pricing tiers follow a less traveled path. Unlike most project management software services, it charges on a per group basis where the minimum number of users is five. Most other services charge on a per person basis.
Let's take an example of the Monday.com base plan: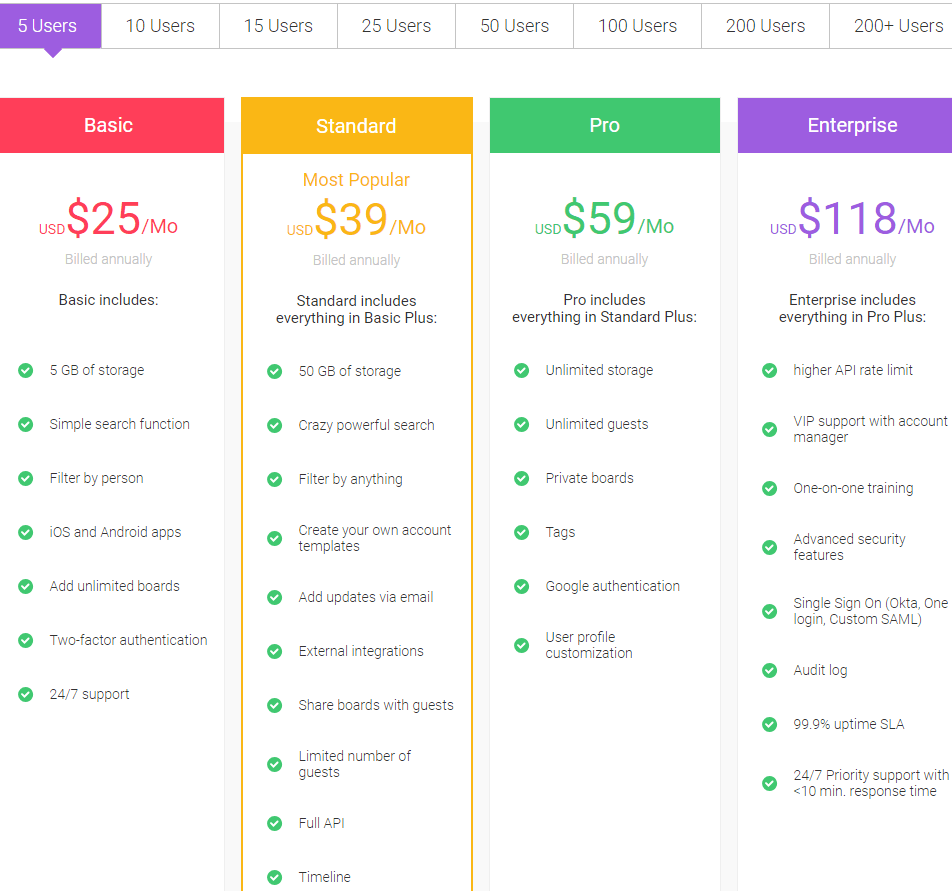 That means if you have 26 users, you can expect to purchase the same plan as someone who has 49 users—clunky.
There is no free limited account. Instead, you can expect to get a 14-day trial to see if Monday.com is the kind of project and task management software solution you are looking for. You can also expect to choose from a monthly, annual or two-year payment plan, with longer commitment attracting larger discounts.
On the other hand to compare Asana: Asana does offer a freemium pricing plan.

The free base plan is limited but supports up to 15 people to manage. While Asana Premium Plan monthly charge is said to be $9.99, you'll be required to fork out the annual equivalent of the monthly subscription in advance to get started with the Asana project management software.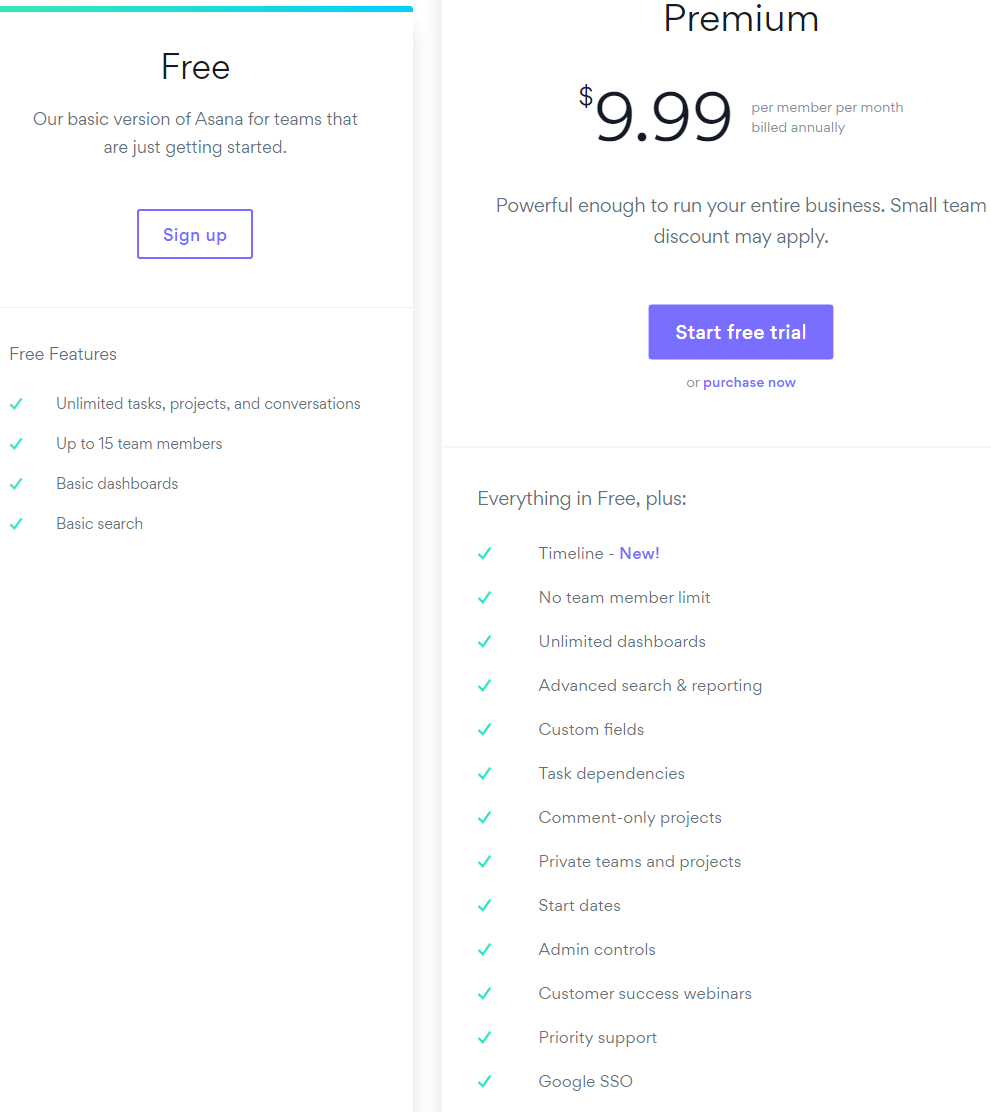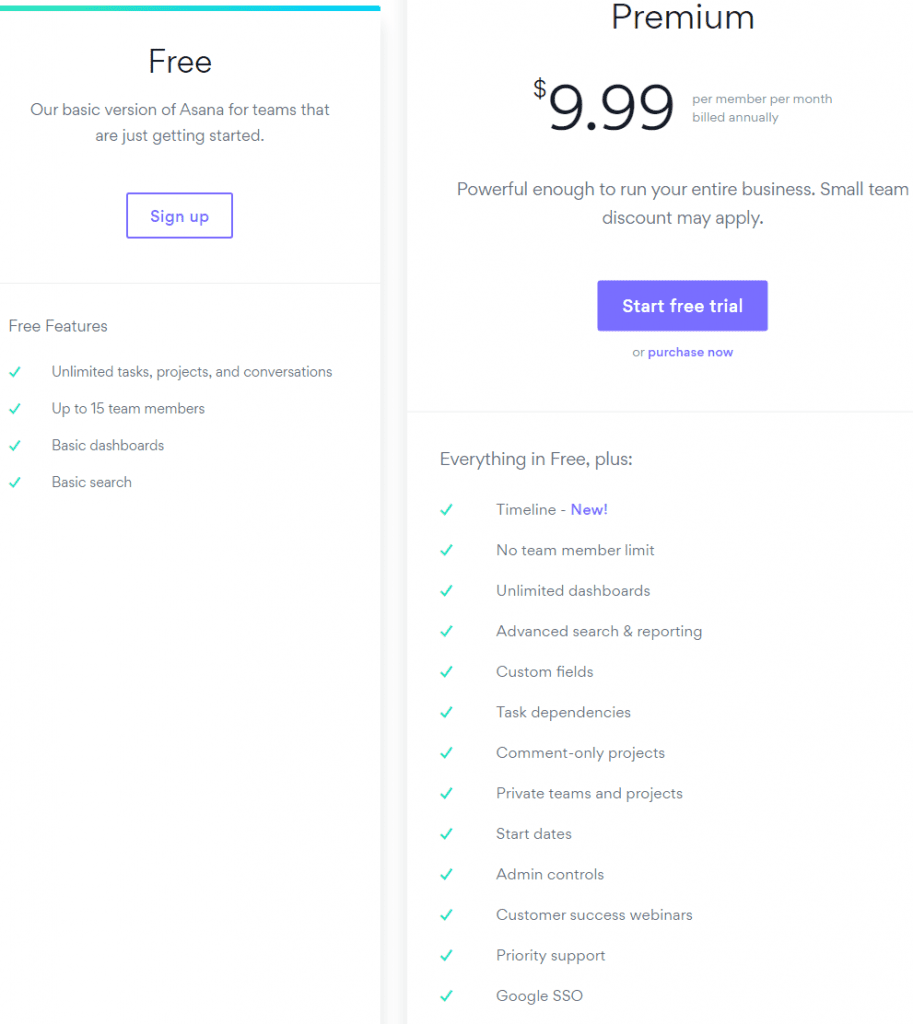 Further Read: Our full analysis of which Asana Pricing Plan to choose.
Multi Functionality + CRM Capabilities [NEW Addition]
One thing that's become clear to me as we've updated this comparison over the last year is that both Asana and monday.com aren't JUST used as simple PM tools anymore.
From my personal experience (and from speaking with other digital shops), companies use these tools in all sorts of creative ways.
While Asana can be hot-wired for many basic use cases, monday.com has REALLY gone above beyond… even building out modules and functionality to support multiple use cases.
For example, monday.com work OS now offers pre-built dashboards & workflows for:
Asana also has some templates and extensibility here, but monday.com has really stepped out in front of this trend.
This is why I really like monday.com as a multi-functional "operating system" for an entire digital company (no toggling between different tools for different departments!). This is a game changer for us.
How to Set Task Dependencies with monday.com
Setting task dependencies is not immediately apparent like it is with Asana, so here's a quick overview to get started.
Click the "+" icon to Add Column
Select "More Columns"
In the search bar enter "dependency"
Once found, click "add to board"
When window pops up, follow the prompts to choose the "time" column and which items are respectively dependent
You can also click the "automate" button in the top right corner when adding a dependency. This will ensure that the date / timeline of the dependent task never initiates before the dependency is completed.
Conclusion: Is Monday or Asana Better?
Editor's Choice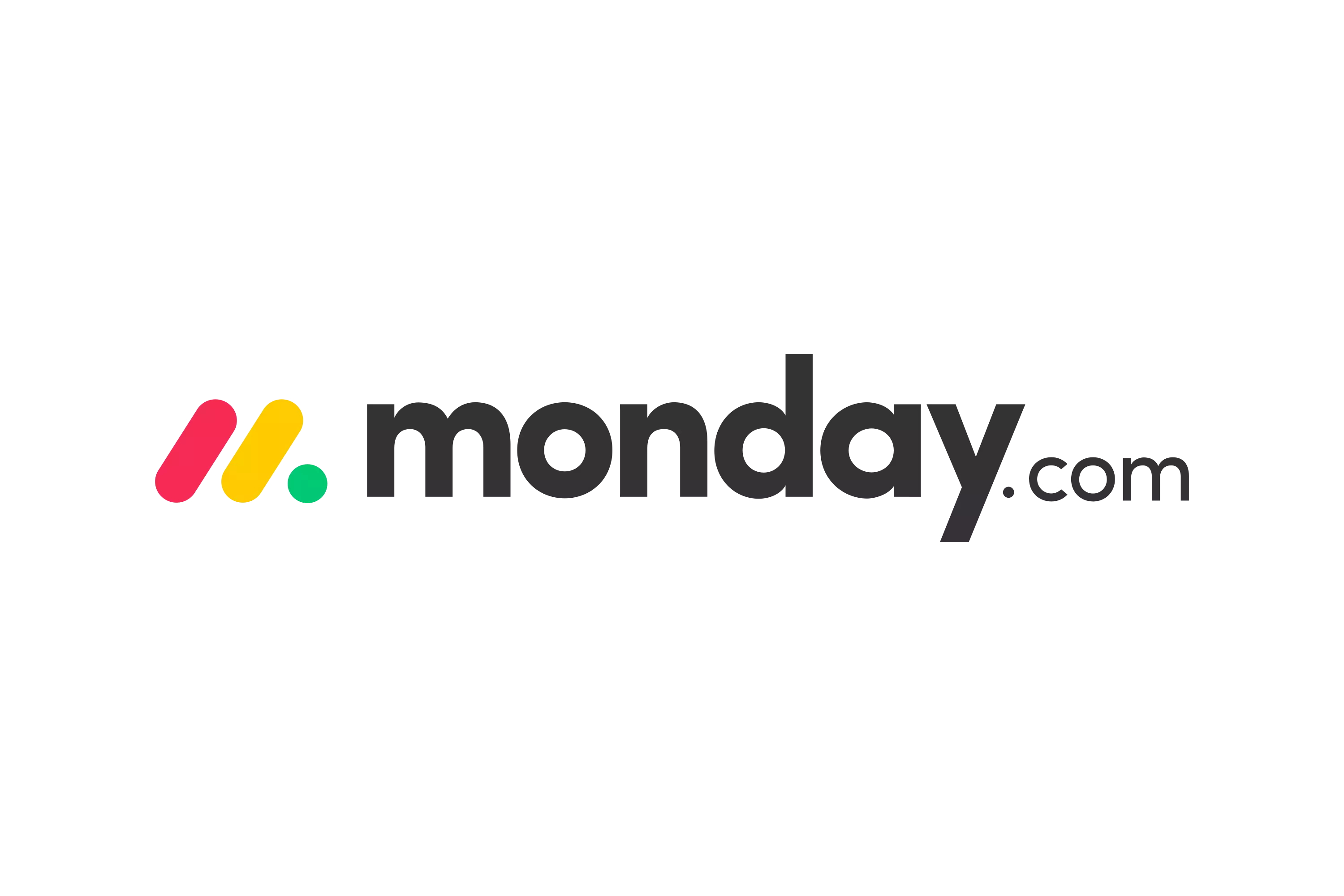 Why Go with monday.com?
Make tasks satisfying to finish! monday.com is quickly disrupting the old guard with a sleek interface, hundreds of integrations, and dozens of workviews for visually imagining and tracking your projects. More than just project management.
Start Managing Your Team Better
We earn a commission at no cost to you which helps keep this blog running!
Depending on what you want to accomplish with either Monday.com vs Asana, both project management software options are easy to set up and get started with for project managers. Their color-coded user interfaces are fast, sleek and intuitive to navigate.
While both Monday and Asana offers a selection of project and task management tools in line with the latest agile capabilities, Asana does provide more bang for the buck in terms of additional feature benefits you will not find in using Monday.com. Despite that, Monday.com also costs $5 more per month than Asana for the base plan.
But if you need a basic PM tool that will offer a seamless and stress-free experience in terms of ease of use and aesthetic charm, Monday.com could be your best choice. It could also be your choice if you need to use the closest thing to Gantt Charts as possible, which Timeline does a good job at.
If you are looking for other alternatives besides the ones we mentioned, it will be worth expanding your search to compare others like Wrike, basecamp, slack, and jira.
Comparing the pros and cons of each when it comes to task management apps, collaboration tools, admin controls, tracking time and features the paid plans will help determine which management app will work best for your team.
Bottom Line Summary: It's hard to beat the free version of Asana, but for more advanced true workflow & project management, the clear winner is the more robust monday.com here. Remember, you can get started with a 14-day free trial here if you are still unsure.
Both are certainly better than alternatives like Microsoft Teams, a basic Trello board (and Kanban boards / apps like Trello), for project management (particularly for multiple projects and team management).
Related Reading on Project Management Tool Functionality for Managing Projects
If you are still stuck, consider some of these specific products compared to both Asana and monday.com.
Other Software Like Asana Comparisons
Other Software Like monday.com Comparisons