Last Updated on July 31, 2023 by Ewen Finser
If you are stuck choosing between monday.com vs Slack, you are in the right place. I've been there!
Our team actually downgraded from premium Slack because we found it wasn't actually helping productivity, just the appearance of productivity.
In this comparison I'll cover how I've thought about the trade-offs between Slack vs monday.com and which to choose.
But first…
My Bottom Line Up Front: Slack is an incredible messaging tool and we use it every day, but it's still just that. We still needed a true project management system (that also integrated with the Slack app). This is why we opted for monday.com here WITH the slack integration.
Things to Keep in Mind
Before we start our review, it's important to get some basic details about both platforms out of the way. Here's what you need to know.
Slack is a diverse messaging platform ideal for businesses of all sizes. Monday.com is technically a project management platform. But if you need a product management platform plus a communication tool, Monday also offers powerful communication and collaboration features.
While both communication tools are effective, they shouldn't replace other communication outlets, such as phone calls and emails.
Monday.com has many new features. These include two-factor authentication, status labels, #tags column, mentions (@), and a new desktop app.
If you choose Slack, it's recommended you set up different channels. For example, have a channel to share important information and another one to chat about topics not related to work.
Slack users can be on multiple teams. This is common for freelancers.
Slack has both a public channel and private messaging options
The Main Differences Between Slack vs Monday
The Main Differences Between Slack vs Monday include:
Slack only aims to keep teams engaged and improve communication, whereas Monday.com is a full project management platform
Slack attracts more diverse businesses, whereas Monday attracts businesses that require an advanced project management system.
Slack is ideal for businesses that only want improved communication, whereas Monday is best for businesses that want an all-in-one tool.
Slack is a communication tool and it has many engaging discussion features such as GIFs, whereas Monday is easy to use but doesn't offer these fun features.
Slack offers an in-app video call tool, whereas Monday is starting to offer more communication features and integrations such as with Zoom.
Editor's Choice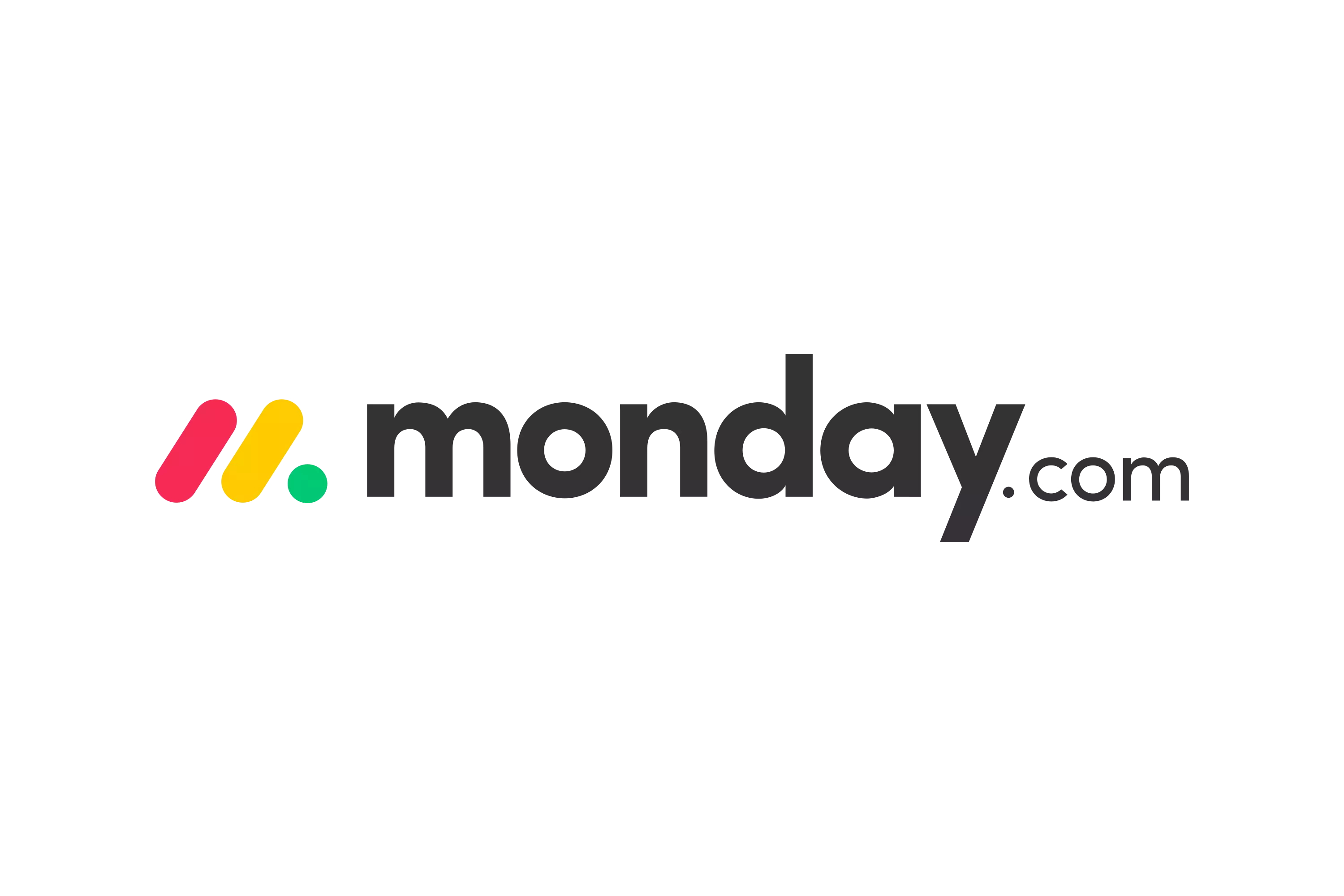 Why Go with monday.com?
Make tasks satisfying to finish! monday.com is quickly disrupting the old guard with a sleek interface, hundreds of integrations, and dozens of workviews for visually imagining and tracking your projects. More than just project management.
Start Managing Your Team Better
We earn a commission at no cost to you which helps keep this blog running!
Did you know the cost of poor business communication can reach $37 billion? Effective communication is more vital now than ever since most businesses are adopting remote and flexible work guidelines.
If you need to improve your internal communications, you first need the perfect vehicle for communication.
More businesses are trusting the business messaging app Slack as well as the project management platform Monday to communicate. While both are different platforms, they both aim to improve productivity and make collaboration easier.
monday.com Ease of Use
Many users report that Monday is easy to use. It's a user-friendly platform with a simplistic design.
Creating a dashboard is easy. First, users choose the design. Users can select the template they want or can use one of the pre-made templates.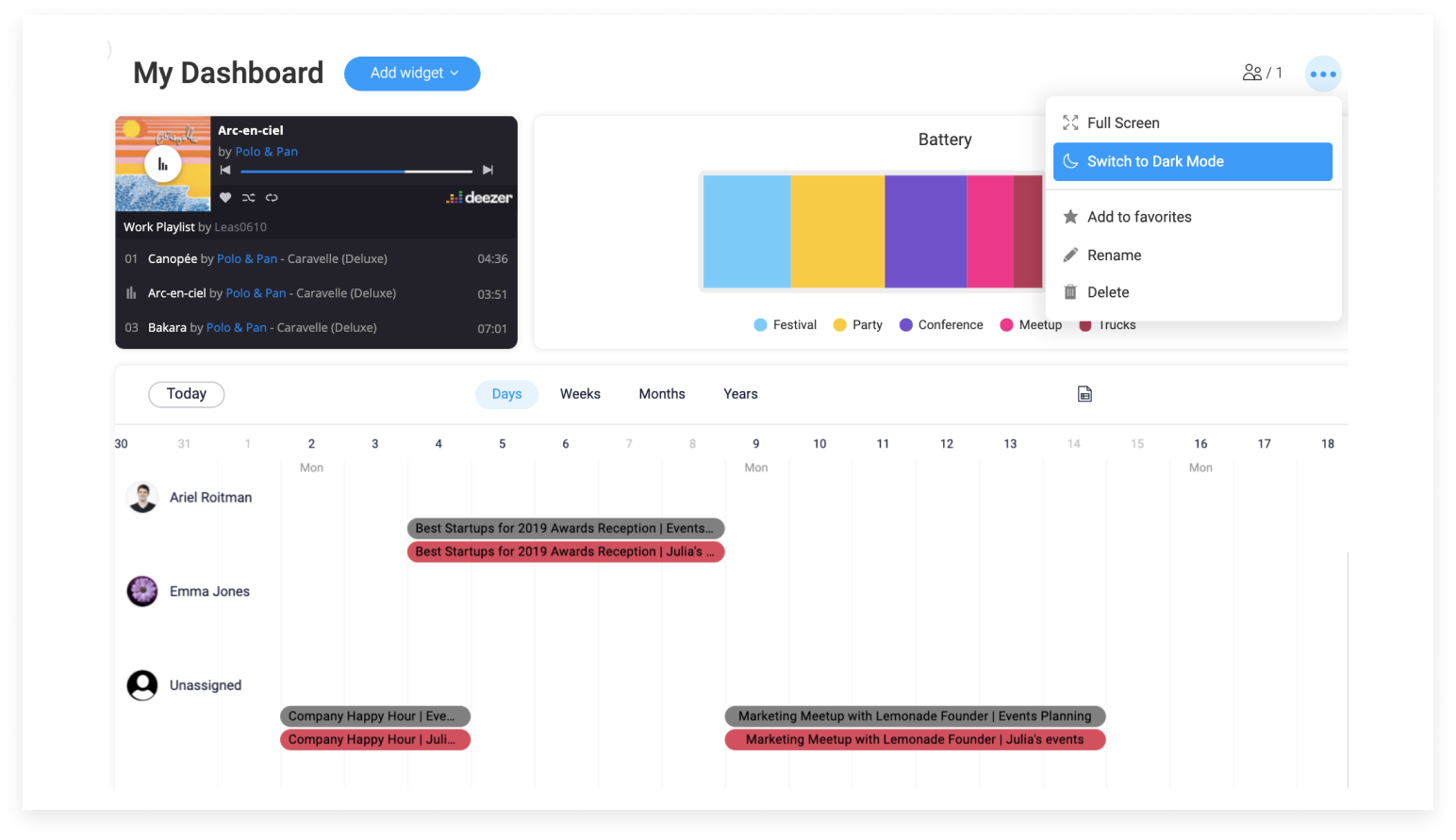 When you use your dashboard, you can easily add items, assign labels, create categories/sections, add team members, and change the filter.
To add or edit an assignment, just click the pencil icon next to the text.
To change labels, just click directly on the label and select a new option. You can also add new labels and edit existing ones.
Slack also offers a user-friendly platform. The left sidebar shows your channels and direct messages. If you are on different teams, your teams will also appear on the left sidebar.
To create a new channel, send a new message, or add a team, just click the plus sign (+) icon next to the corresponding area. The chat section appears in the center part of the app. Just type your message and select "enter" to send.
Overall, both Slack and Monday offer a convenient and user-friendly platform that's easy to learn and use.
monday.com Features and Functionality
Both platforms come with robust features. But who has more and better features?
Project management departments will love how easy Monday makes it to create projects and assign users to them. Monday also has multiple different views to display the project information, depending on the user's preference.
Monday also offers a feature that many competitors don't offer — users can share boards. Your Monday.com board is where projects are stored and you can easily keep track of everything you need to do.
Slack also comes with unique features. For example, you can program bots to answer FAQs that your team may ask in your channel. The format is very easy — you can access your channels and direct messages in one place. You can also easily make phone calls. Just find the person you want to call and click the phone symbol at the upper right corner of your screen.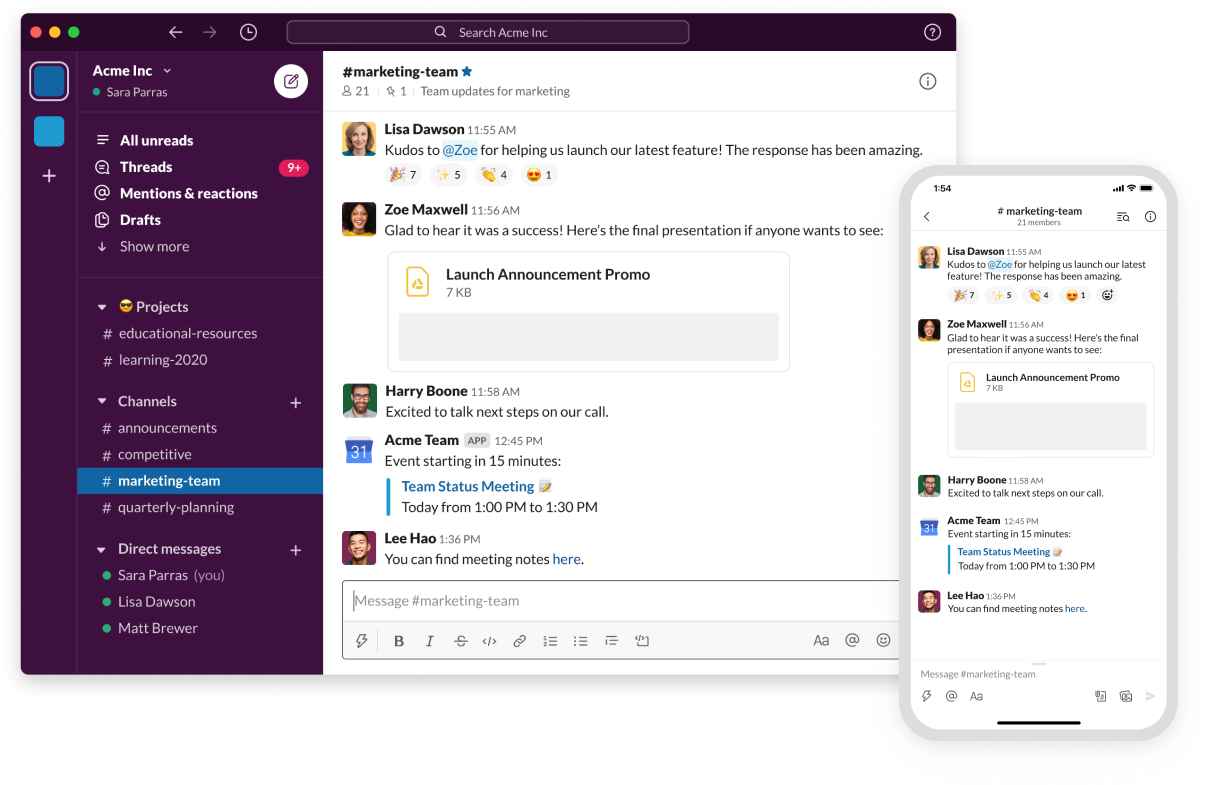 Since Slack is a messaging app, you can enable push notifications on your desktop and mobile app.
Are there are features that one offers that the other doesn't? Monday and Slack have just about all of the same features, except for a few:
Slack offers audio calls directly on the app. You can make phone calls on Monday, but you'll need an integration with an app such as Twilio.
Slack offers real-time chat but Monday doesn't
Monday offers surveys but Slack doesn't
Overall, both platforms offer great features, but Slack offers more features that will satisfy more diverse clients. Therefore, Slack wins this round.
Customer Support
Many users have positive things to say about Monday's support team. If you need help or have a question/comment/concern, you immediately connect with a team member — not a robot.
You can fill out an email form or email them directly. Their customer support is available 24/7. In addition, Monday offers a robust resource center and plenty of videos to help clients answer common questions and to better navigate their system.
What about Slack's customer service? Like Monday, Slack offers an extensive resource center. Their Contact Us page also has an FAQ section. If there's ever a technical problem, Slack responds to tickets in under an hour.
Keep in mind, Slack doesn't offer 24/7 support.
This is another tie. Monday offers 24/7 support while Slack responds to tickets in less than an hour. Both offer educational resources and FAQs for customers. Either way, you can't lose in terms of customer support.
Slack vs monday.com Pricing
Both Monday and Slack have similar pricing tiers. Here's a breakdown of each:
How Much Does Slack Cost?
Free plan
Standard: $6.67/month per active user
Plus: $12.50/month per active user
Enterprise: contact sales
Keep in mind, these are the prices if you pay for a yearly subscription. If you pay monthly, the monthly prices increase. For example, paying month-to-month for the Standard plan will cost $8/month per active user instead of $6.67.
How Much Does monday.com Cost?
Monday pricing tiers (for up to 40 users):
For teams with over 40 members, you'll have to contact Monday customer service for quotes.
As you can tell, Slack has a huge advantage because it offers a free plan. The free plan lets you access 10,000 messages, you can make both audio and video calls, and the free program even integrates with different apps such as Office 365 and Google Drive.
Once you move up to the Standard Plan, you'll receive even more features. For example, you can see your team's full messaging history, group voice and video calls with up to 15 members, unlimited integrations, and more.
While Monday doesn't offer a free plan, their Basic plan does offer some serious features. These include communication features, iOS and Android app, a dashboard, and more.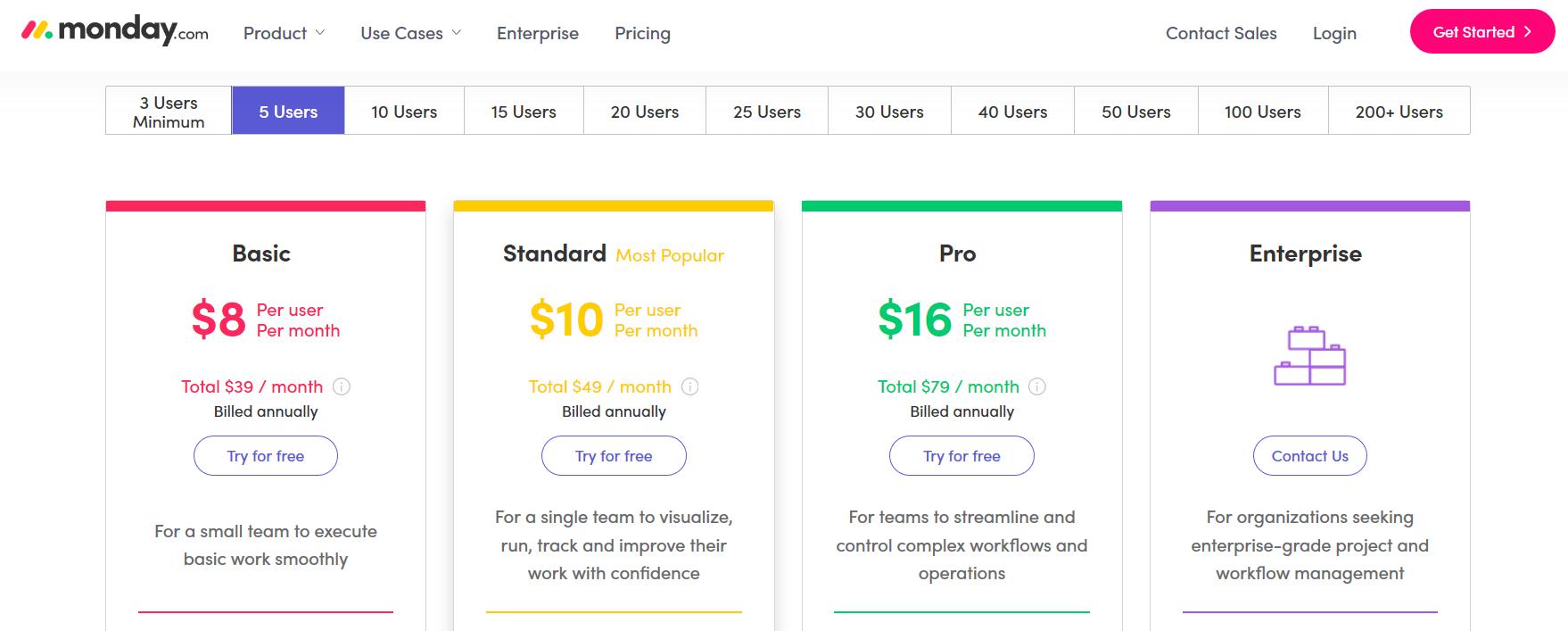 But you really receive features when you update to their Standard plan. You can share boards with guests, have calendar and timeline views, automation, advanced search, three dashboards, and 250 interactions/month.
Monday does offer a free 14-day trial for all of their plans.
Slack workspace wins this round. Their free plan is robust enough for all teams, but they can get even more advanced options when they upgrade only once. While Slack's pricing is difficult, you get more of a value for your money.
While Monday offers great features, users won't experience the full benefits until they upgrade to the Standard plan.
Keep in mind, both companies offer pricing per team size.
monday.com Slack Integration
This might be an obvious statement, but you can actually have BOTH solutions. Slack integrates well with monday.com.
FAQs
Do you have more questions about these companies? Take a look at some of these questions that customers commonly ask.
Can You Change Your Plan?
Monday lets customers change their plan as well as add/remove users. Keep in mind, if you downgrade, you must receive a refund by the refund period. Slack also lets you upgrade or downgrade your plan. Slack will credit you only if applicable.
Are Both Plans HIPAA Compliant?
Monday is. Slack isn't a HIPAA compliant platform but their communication is.
Can You Safely Send Files?
Slack offers an easy way to send a variety of files to other users. You can send these files on a public channel or via private messaging. For security best practices, only send sensitive information by private message and encrypt your files.
Monday only allows file sharing on their desktop program. 500 MB is the maximum file size. However, Monday does integrate with other file sharing programs such as Dropbox, Google Drive, OneDrive, and more.
How Do I Know If I Received a Message?
On Slack, you'll receive a push notification and the unread message will appear on the left sidebar on the mobile and desktop app. You'll also receive push notifications when you receive new messages in your channels, though you can pause these notifications.
To pause notifications, click your thumbnail image and navigate to the "Pause Notifications" menu. Set the time you want to block notifications. You can also set your status as "Away" or update your status in another way via the same menu.
Monday also sends you a push notification about a private message. You can find the message by clicking the bell on the upper left part of the screen. You can also enable email notifications so Monday will also email you if you receive a direct message.
Are Monday and Slack Owned by the Same Company?
Is Microsoft Teams Better Than Slack?
Microsoft Teams is a communication platform that integrates with Office 365. While Microsoft Teams is convenient if you already use Microsoft Office, many users state Slack is easier to set up and administrate. Microsoft Teams is also the best option for larger enterprises since it includes more integrations.
Is Asana Better Than Monday?
Asana and Monday have their pros and cons. Monday is easier to use, offering a more user-friendly platform than Asana. But Asana offers more capabilities than Monday. For example, you have more features on the dashboard, such as subtasks, due dates/times, goals, and milestones.
Monday vs Slack: Overall Recommendation
For this one, we're not choosing one over the other. Rather, we're encouraging businesses to identify their needs and choose accordingly. That's because both tools offer something different.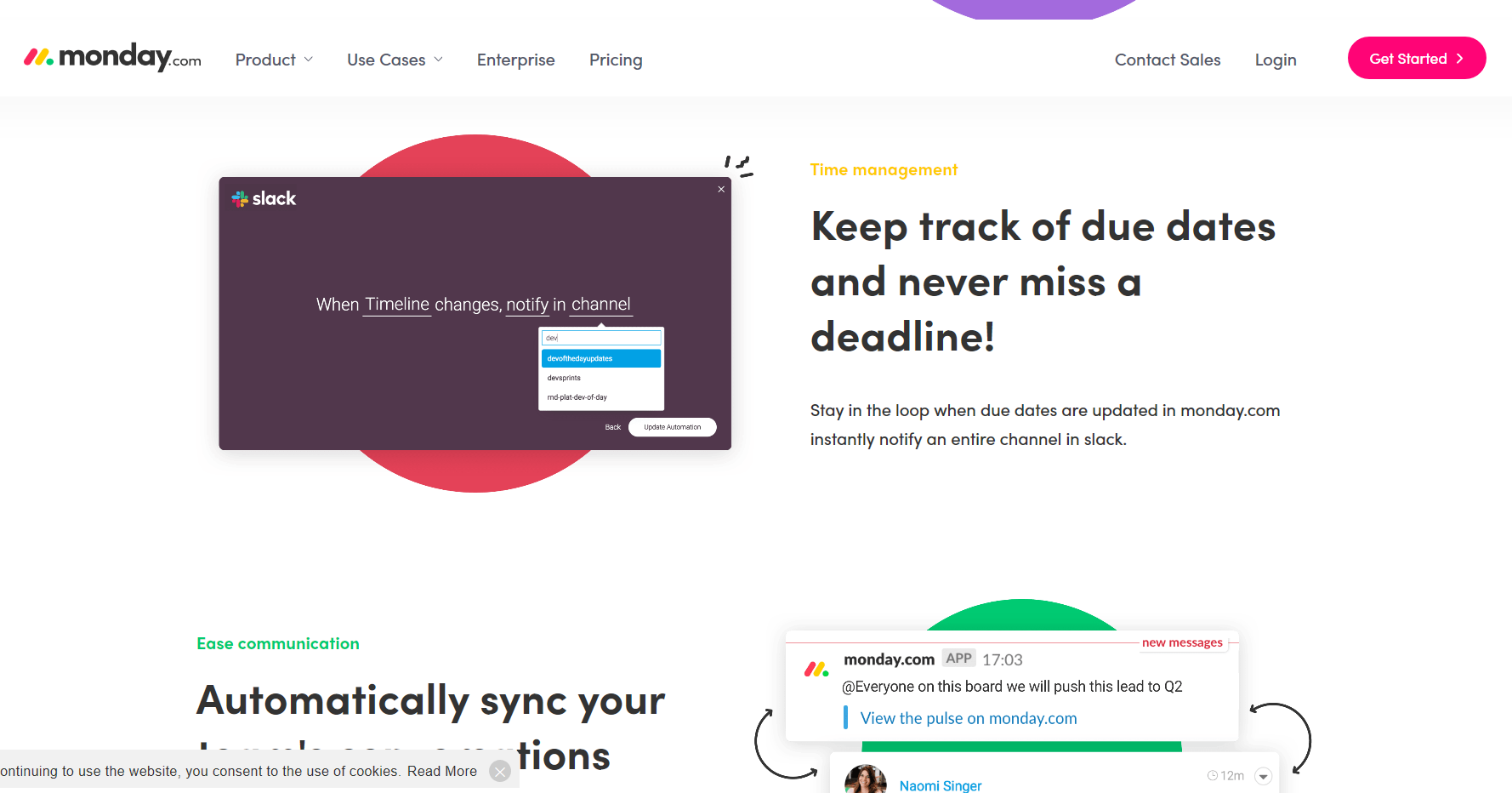 However, more businesses will likely utilize Slack over Monday project management software. Slack offers an affordable messaging system for businesses. They can stay connected to their team and enhance collaboration (full suite collaboration tool).
Slack also offers features such as audio and video calling. You can get these features on Monday, but it requires a third-party integration.
Communication platforms are a big part of remote work success. For more telecommuting tool recommendations, head over to our remote work section.
My Bottom Line Summary: Slack is an incredible messaging tool and we use it every day, but it's still just that. We still needed a true porject management system (that also integrated with Slack). This is why we opted for monday.com here WITH the slack integration.
Slack and monday.com Compared to Peers
If you are still stuck, or just curious how both Slack and monday.com match up to competitors, check out the following comparisons our editorial team produced.
Other Apps Like Slack Compared