Last Updated on April 22, 2023 by Ewen Finser
In a world where most office employees now work remotely (thanks COVID-19), online communication has become a new priority. As such, platforms like Slack and Discord are thriving like never before.
These messaging apps enable you to communicate with colleagues via text messages and voice and video calls through their secure servers.
With the right platform, it's easy to stay connected…and on-topic. So, if you're struggling with multiple email threads but still want to keep your team in the loop, Discord or Slack could be the solution for you.
Despite their very different target audience, these providers offer several similar features. So, with that in mind, we're going to explore what both Slack and Discord have to offer.
Let's dive in!
Main Differences Between Slack vs. Discord
The main differences between Slack vs. Discord are:
Slack was designed primarily for work teams and professional communities, whereas discord is often used by groups of friends, hobby communities, and gamers.

Slack integrates with lots of apps to help you streamline work, whereas Discord doesn't offer these functionalities.

Slack does offer an enterprise solution, whereas Discord doesn't offer this option.
Slack has pricing tiers and the bigger the plan the more functions you unlock, whereas Discord offers pers through it add-on Discord Nitro.
The Similarities:
Slack and Discord are both free to use, but perks can be purchased additionally.

With both platforms, you can create multiple threads and organize servers with numerous topics.

Both enable you to message people directly.

Both Slack and Discord have a browser version and a mobile app.

Both facilitate voice and video calling.
What is Slack?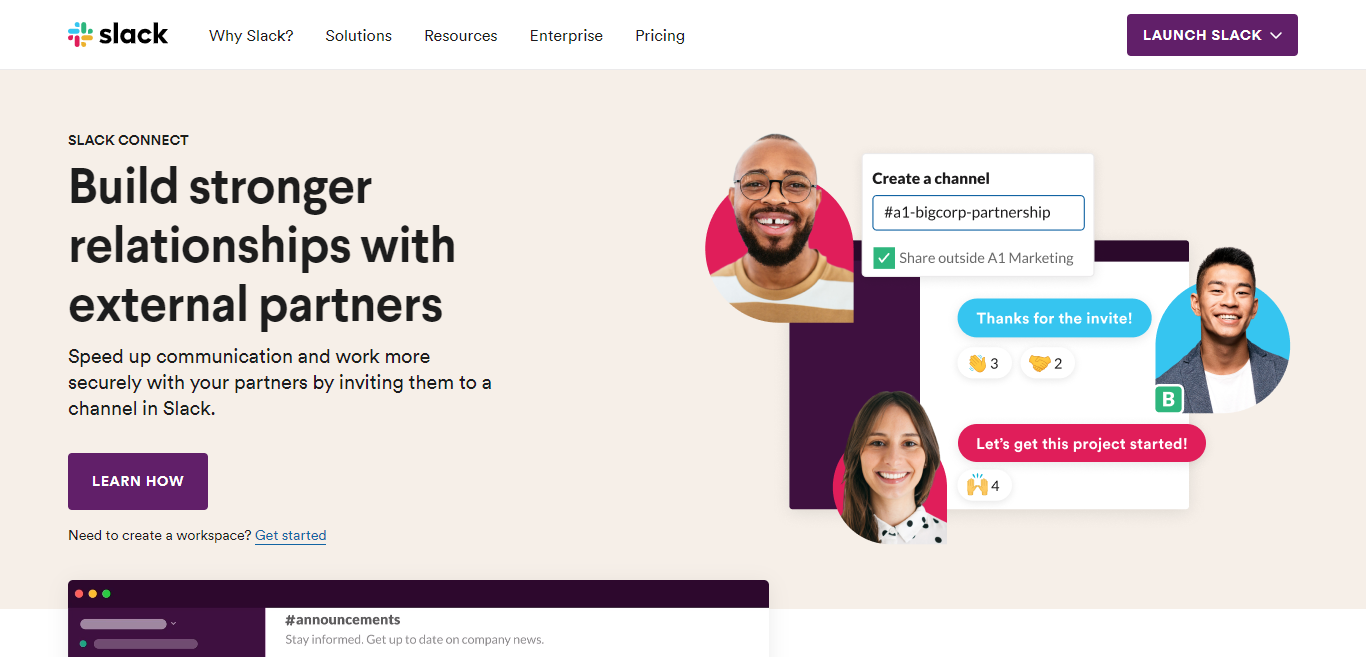 Slack was explicitly designed to replace emails to create a more streamlined virtual workspace for teams of professionals. The platform allows you to create dedicated channels for specific projects and/or topics, where team members can contribute to relevant discussions.
Slack successfully combines text messaging, voice and video calling, file sharing, and integrated workflows and apps from one convenient place so that teams can stay productive…and, more importantly, get to the point.
To date, over 750,000 companies use Slack worldwide, with some of their more notable clients, including the likes of Lonely Planet, FOX, Intuit, and Target.
Who's Discord?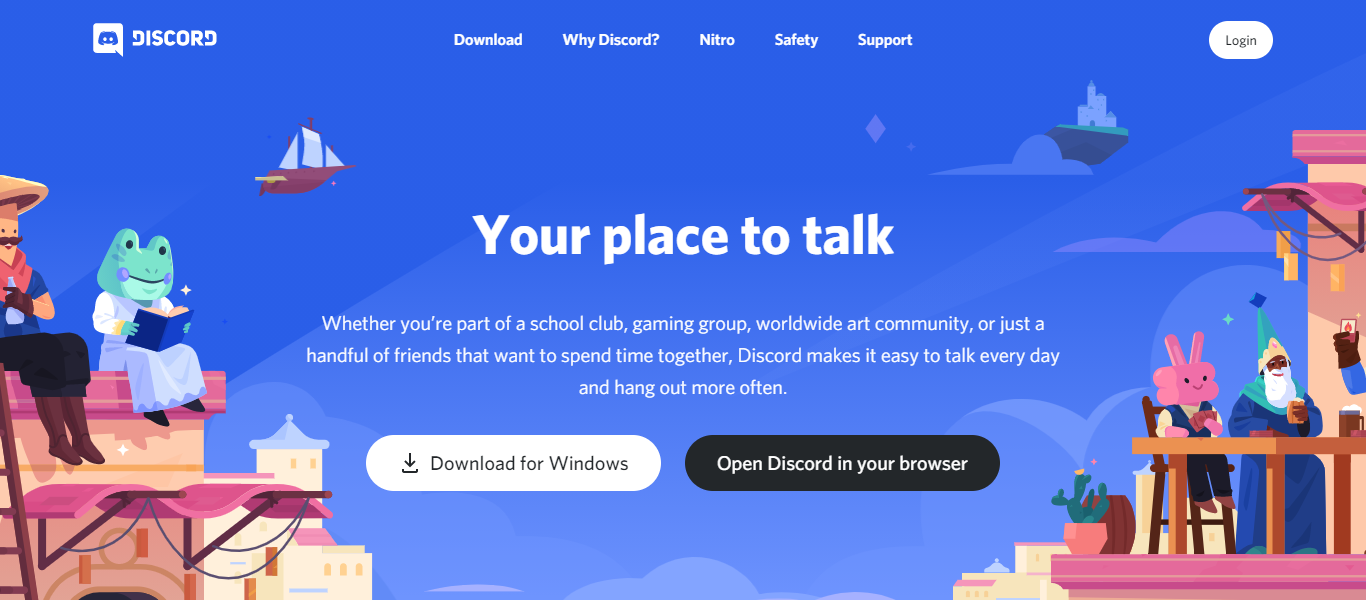 Discord, in comparison, has very different aspirations. This platform, too, allows you to organize your conversations by creating several channels for dedicated topics. You can share files and launch group video and voice calls. Like Slack, it's also great for one-on-one messaging.
However, all this is designed for individual users seeking a community on Discord. The app is wildly popular amongst gamers and various hobbyists who want to form a like-minded community. Discord has effectively replaced Skype as the number one video and voice call platform for casual use.
More than 100 million people use Discord to talk with their communities online (at the time of writing).
It's plain to see; this platform was not created with the same audience in mind as Slack. However, its features still make it an intuitive and handy tool, making it attractive for smaller businesses or teams working in less corporate sectors.
How Much Will Slack Set You Back?
Although Slack offers familiar SaaS pricing tiers, there's also a completely free version available.
In total, there are four plans. The prices indicated below are paid by every team member, except for the Enterprise-level solution.
The Free Plan
This is intended for small teams trying out Slack for an indefinite period. Your message history is limited to 10,000 recent messages, and you can only integrate with ten apps. You can also make a one-on-one voice and video calls.
However, with the free plan, you can only manage channel permissions for the general channel, and Slack's screen-sharing functionality isn't available.
The Standard Plan
This costs $5.25 a month and is intended for medium-sized businesses. This package unlocks complete message history, and your file storage rises to 10GB from 5GB. Plus, you can customize collapsable sections to organize your channels better.
Integrations with other apps are also unlimited, and you can create custom user groups to send more specific notifications to relevant team members.
Voice and video calls can include up to 15 participants, and screen-sharing is enabled. You also gain access to 24/7 support with this plan.
The Plus Plan
Here, the price rises to $9.75 a month. Your file storage cap increases to 20GB per team member, and more compliance measures are unlocked—for example, data exports for all messages and data residency.
You can manage channel posting permissions for an unlimited number of channels, sync your real-time active directory, and manage users with SCIM provisioning.
Your 24/7 support is also guaranteed a four-hour response time.
The Enterprise Grid
Last but not least, this is Slack's most comprehensive package, and as such, it requires you to get in touch for a customized quote. Unsurprisingly, this plan is intended for larger businesses or those in regulated industries.
Here, you can collaborate with up to 500,000 users and unlock priority support. You'll also be able to create customizable policies and centralized controls to improve your server administration. Security and compliance measures are also enhanced (which includes HIPAA support).
File storage per team member is also increased to a whopping 1TB.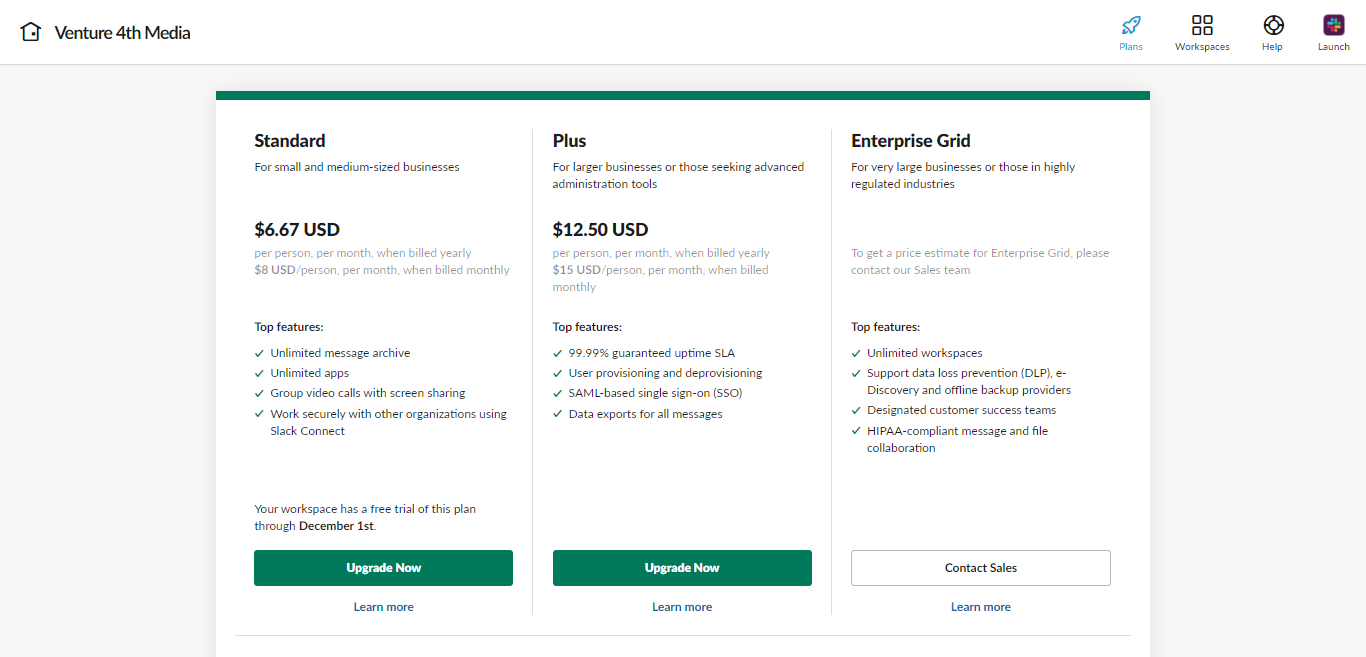 How Much Will Discord Set You Back?
Discord is completely free to use. That's right; you can jump onto the platform, create your own server, invite as many people as you like, and get talking. There's no limit to your message history, and you can build complex servers complete with (some) automation to assist you with member management relatively quickly.
That said, Discord does offer its Discord Nitro Service, which provides some additional functionality. This serves mostly to add extra perks to your communities, like uploading more emojis, using animated display pictures, including profile badges and support servers.
Most importantly, for businesses and teams, Nitro enables you to upload files up to 100MB and enables hi-res videos, screen sharing, and live streaming.
For Discord Nitro, individuals pay $9.99 a month or $99.99 a year for server boosting. However, if you want to access Nitro's perks without the server boosting, the prices lower to $4.99 a month or $40.99 a year.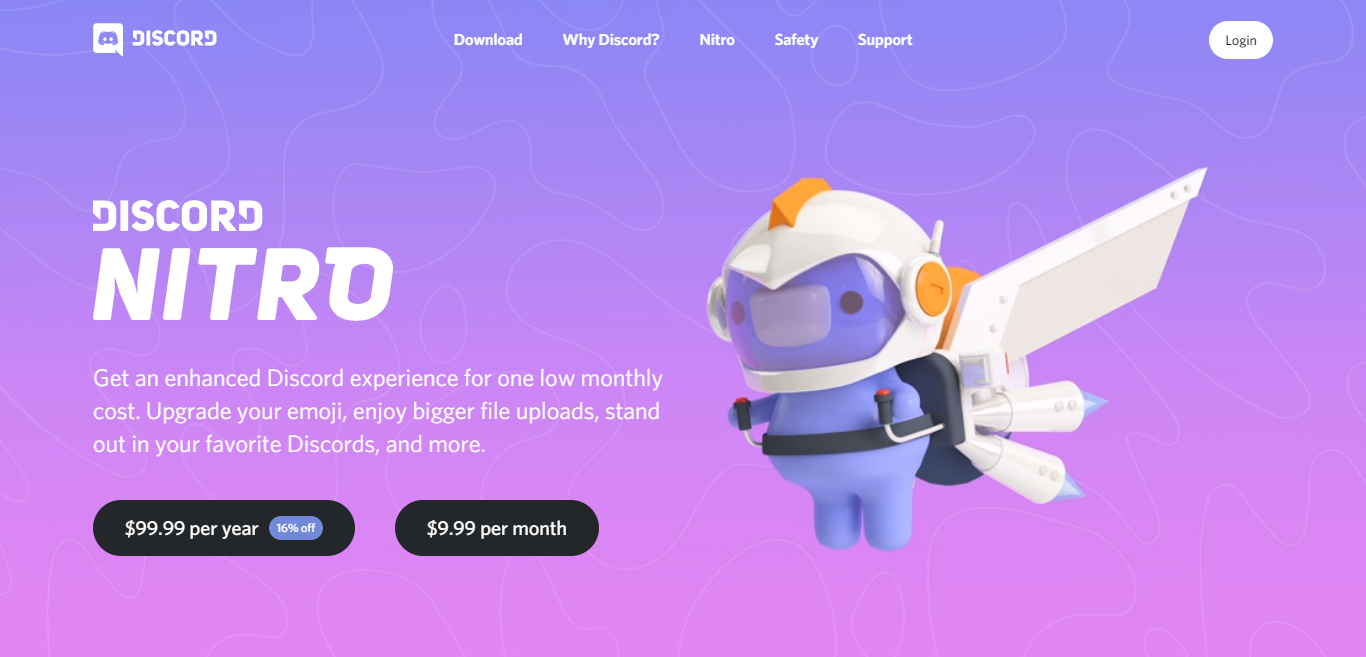 Slack vs. Discord: Features
Now that we've compared both Slack and Discord's concepts and pricing, let's take a more thorough look at what features they have to offer:
Managing Servers and Channels
Discord and Slack's primary function is creating communication channels for dedicated topics, and this works similarly in both platforms. Each server starts with a general channel. From there, you can then add new categories and channels and manage the permissions of each.
Discord
Discord allows you to create multiple servers (or workspaces) as an individual, without any cost. It also provides a considerable amount of control over your user permissions. So, you can keep specific channels locked for members that don't work on a particular project. You can also grant general permissions to any user you wish, like the ability to delete messages, mute members, upload files, create new channels, etc.
By introducing some of Discord's bots, members can also assign their own roles and, therefore, permissions. You can also require that members pass a verification process and fulfill specific criteria before they're given more permissions.
However, Discord limits the number of channels and categories you can create. A single server can host up to 500,000 members, with a category cap of 50 and a limit of 500 channels.
Slack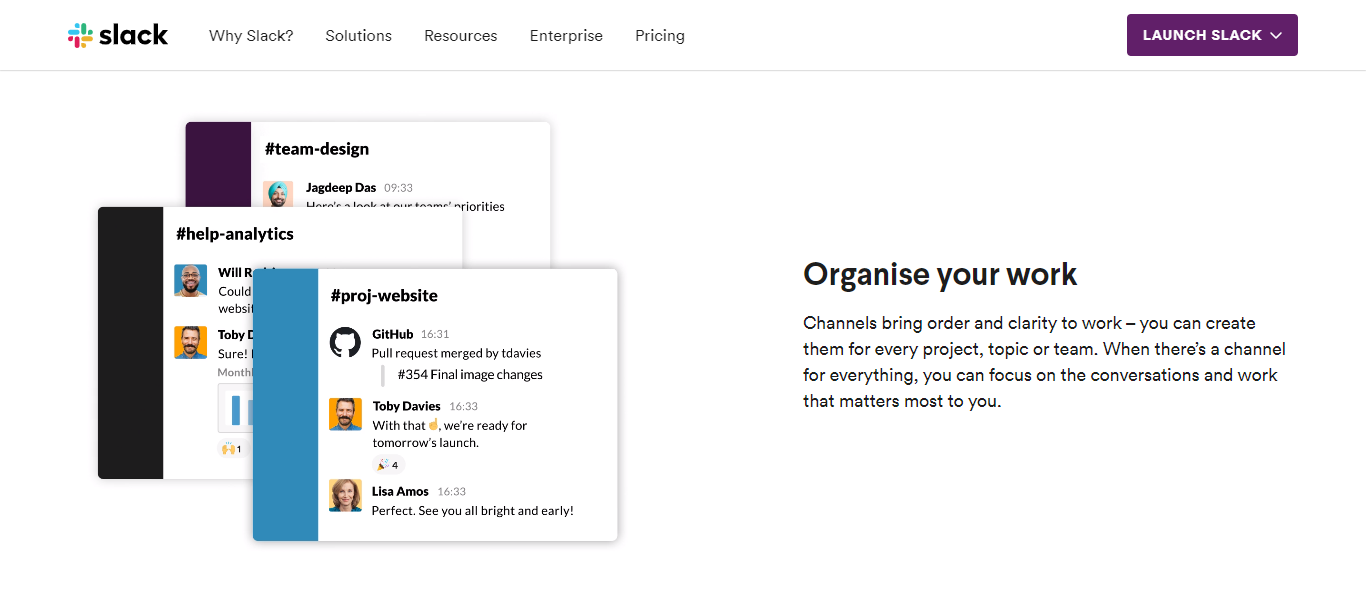 Slack also allows you to manage post permissions. However, it's only from the Standard Plan and upwards that you can control more than just the general channel. Consequently, there are fewer ways to manage and protect your server with Slack's free plan. Having said that, Slack empowers you to create unlimited channels – so it's swings and roundabouts.
Message Histories
Discord
Discord's message histories go on and on. By this we mean, old messages don't get deleted, so you can still return to content from months ago without much hassle. You can also use advanced search options to find individual messages, with filters including:
The date

Words contained in the message

The user who posted it

The channels the message might be found in
Furthermore, you can save a specific message's message link to revisit later on.
However, finding specific files isn't easy in Discord, as there isn't an overview of what files have been uploaded. You can search for messages that contain embeds or files, but this is as advanced as Discord's file searching goes.
Slack
Slack limits your message history with its free plan. However, this soon becomes unlimited with any of its premium packages.
Slack also makes file searches much easier than Discord by allowing you to search for specific messages and files. Then you can filter by user, channel, or date. Slack's search function has undoubtedly been given more thought than Discord's, and its interface is way more intuitive, making it much easier to bring up old files and contextualize them.
On top of that, as Slack integrates with numerous helpdesks and file management software, you can easily create a workspace where you can find whatever you're looking for, whenever, wherever.
File Sharing
Slack and Discord both allow you to share files inside your channels. This is an indispensable asset for online collaboration, as undoubtedly you'll want to underline many of your messages with progress images, infographics, documents, videos, etc.
Discord
In Discord, the file limit for what you can upload is 8MB. If you purchase Nitro, this is raised to 100MB. Beyond this, there's no storage limit, so all your files will always be accessible.
Supported file formats include images, videos, documents, gifs, embedded links, and audio files. You can also throw a zip file in there!
Slack
File sharing in Slack is a little more advanced. Files can be uploaded easier (with context) and be found again just as quickly. You can also deliver documents from anywhere, as Slack integrates with Google Drive, Dropbox, and WeTransfer. Slack also allows for in-line file and document sharing for easier collaboration on larger files.
Integrations
Discord
Discord doesn't offer any integrations. However, you can use their bots to add extra functionality to your platform and/or make managing your server easier.
That being said, while Discord doesn't offer any native integrations, it is available as a Zapier integration. As such, if you're open to using Zapier, you can connect Discord with all manner of tools, including Trello, Basecamp, and, yes, Slack!
Slack
When it comes to integrations, Slack hands down has a professional edge. It integrates with a wide variety of productivity and business apps to help you and your team get the work done. This includes the Microsoft Office suite for starters, as well as Google Drive and Zoom.
Categories for integrations include design, developer tools, customer support, communication, analytics, marketing, office management, finance, project management, productivity, and much more!
Slack's sheer volume of native integrations makes merging Slack with your current toolset a breeze. In total, Slack offers more than 2,200 integrations, so there's a good chance you'll find whatever software you're already working with on there.
Voice and Video Calls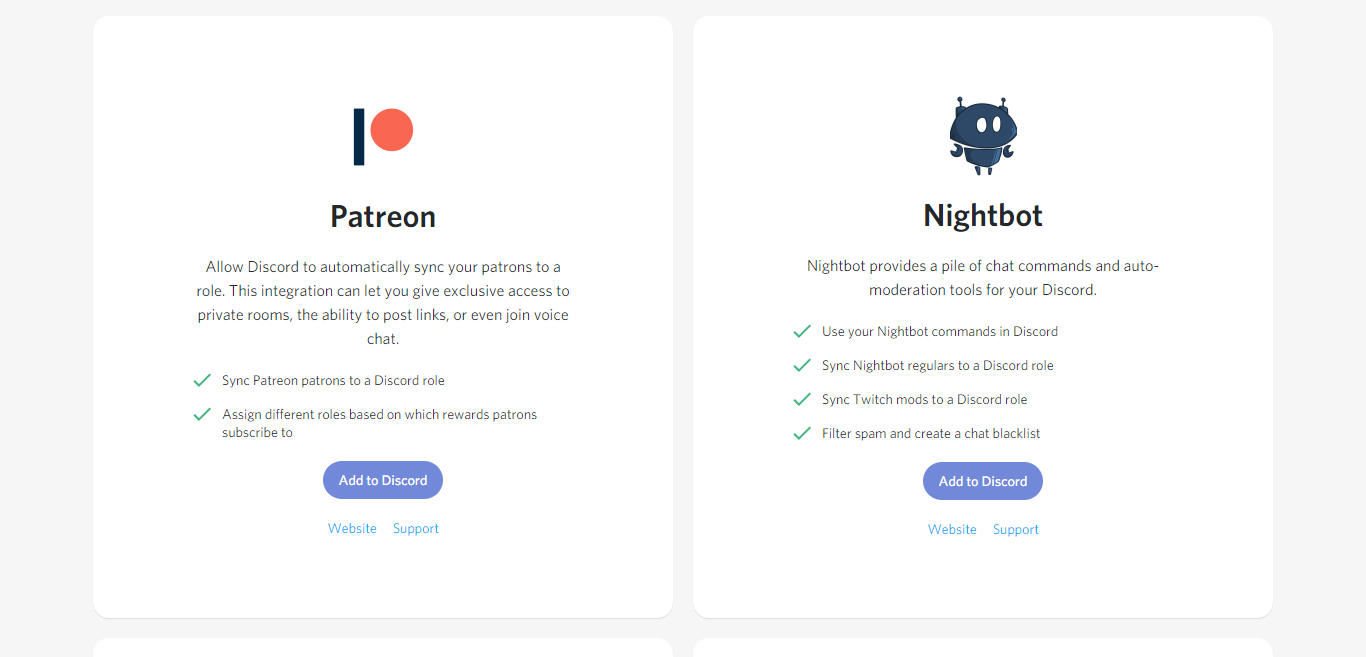 Both Discord and Slack allow you to start voice and video calls with your communities. However, Slack limits group calls and screen-sharing to their paid plans, whereas these features are available for free with Discord. Discord also allows you to live-stream pretty easily too. Plus, Discord's video chats are limited to 25 people. In comparison, Slack caps you at 15.
Needless to say, where voice and video calls are concerned, we have to give Discord the edge. For free, you can chat with large pools of people and access screen sharing, which isn't something Slack offers with its free plan.
Workflows
This Slack-only feature is well worth a mention. Slack allows you to create workflows to automate repetitive tasks using its workflow builder. This comes in handy for speeding up things like filing an incident report, giving someone a shoutout, or making a help desk request. You can also automatically route information to the right people and avoid unnecessary delays.
And thanks to Slack's numerous integrations, the workflows you can create are pretty varied. From sending data into a Google Sheet to adding new clients to your CRM, there's a good chance you can create a workflow to handle it.
Workflow automation is a fantastic tool for businesses that Discord doesn't offer. This is one of the areas where you can really tell that these tools were built for different audiences.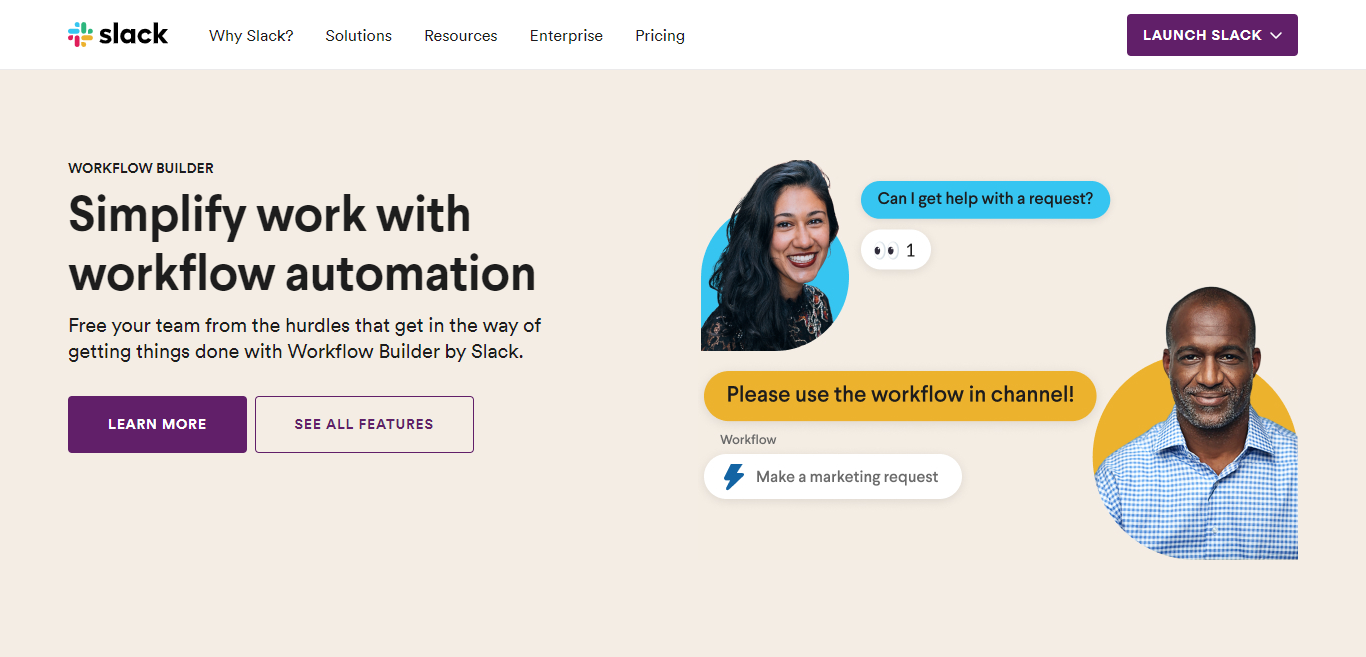 Slack vs. Discord: Their Pros and Cons
To help summarize what we've learned about Slack and Discord, let's take a look at where these tools shine and fall flat.
Slack
Pros:
A free version is available that works well for small teams.

Slack integrates with over 2,200 apps (both professional and fun).

You can host voice and video calls with up to 15 people (with its paid plans)

Slack provides an easy way to search for files and messages and contextualize new content.

You can establish workflows to automate parts of your business.

You can create unlimited channels that enable collaboration on a colossal scale.

Enterprise solutions are available.
Cons:
To facilitate group calls or screen sharing, a paid plan is required.

Permission management is quite limited until you reach a higher pricing plan.

Slack's premium plans are calculated on a per-member basis, which could work out quite expensive.

There are maximum file storage limits per user.
Discord
Pros:
Discord's core functionality is free for anyone to access

You can create and run multiple servers as a single user.

Discord gives you lots of control over user permissions and channel rules and makes it easy to collaborate with other admins to manage a server.

There isn't a file storage limit.

You can host voice and video calls with up to 25 people. You can also screen-share and live stream for free.

You can advertise your channel publically and find new people that share your interests.

It's a fun, friendly, and casual tool.
Cons:
Discord's professional features are minimal, as this isn't what Discord's designed for. You can't automate workflows, finding shared files isn't intuitive, and there aren't any professional integrations. Discord is tailored to hobbyists, friendly communities, gamers, and creatives.

File sharing is minimal unless users purchase Nitro.

There's a 2,000 character limit on text posts in Discord. In contrast, the limit is 40,000 in Slack.
FAQs about Slack Discord Comparisons
Question: Does Slack offer discounts for charities or educational institutions?
Answer: Discounted pricing is available both for educational and charitable institutions. Workspaces with 250 or fewer members can get a free upgrade, whereas those at a larger size get an 85% discount to upgrade.
85% off is also available for educational programs for Slack's Standard and Plus subscriptions.
Question: Do I have to pay for inactive members on Slack?
Answer: Slack automatically checks every day, whether everyone on your team is active. If a member is inactive for a while, Slack won't charge for that member. They'll also add credit for any time you've already paid for.
Question: What are Slack and Discord's primary features?
Answer: Slack is primarily a text communication tool, whereas Discord focuses more on voice communication, streaming, and gaming integrations. In line with this focus, Discord features voice-only channels and group call functionality for free. It also includes push-to-talk call functionality.
Slack vs. Discord – Which Platform is Best for Your Team?
If you've followed this article to the end, you probably now understand Slack and Discord's core differences. As such, it might be evident which communication platform's the better option for you.
In short, if you're looking for a professional tool to integrate with your team to get all your conversations on track, Slack is the choice for you. It has plenty of nifty business features, from workflow creation to file storing and collaboration tools. However, the downside is that, like most professional services, some of Slack's more advanced features come at a price.
On the other hand, Discord offers many of the same features, but whereas Slack's targeted at professionals, Discord is geared towards the individual, casual user. It's great for communities, finding new friends, and staying in touch while playing games or discussing your favorite hobbies.
Business tools, however, are therefore lacking. That being said, Discord still has merit. First and foremost, it's entirely free, meaning you can organize voice and video calls at no extra cost. You can also manage your conversations and topics efficiently. This could be the right solution for you if your needs are solely communication-based, and you're working on a budget.
Discord's also great for any professional overseeing a community surrounding a shared interest or even for some marketers that might want to run a Discord server to engage loyal customers with their content.
Have you tried Slack or Discord out? If so, please share your experiences in the comments below. Speak soon!
Further read: