Last Updated on April 24, 2023 by Ewen Finser
In an era where agile recruitment and talent management reigns supreme, HR managers are experiencing more and more pressure to reap the results quickly, efficiently, and within the law. In light of that, it's no wonder that an increasing number of companies are turning to cloud-based HR software platforms to help.
Sometimes also called human resource information systems (HRIS), such platforms provide companies with a centralized place to keep employee information like payroll processing, benefits, onboarding, etc., all in one place.
With that in mind, we're taking a look at two of the best platforms on the market to give you the low-down on everything they have to offer.
Cue, Namely and Zenefits
Hopefully, this review will save some of your valuable time and give you the information you need to decide which platform (if either) is best for your business.
There are lots to cover, so let's hop straight into it!
The Main Differences Between Namely vs Zenefits
The main differences between Namely vs Zenefits are:
Namely doesn't offer a free version so you have to immediately choose a plan, whereas Zenefits offers a free trial so you can decide if you want to purchase a plan later.
Namely doesn't offer a free payroll for a year which includes small businesses, whereas Zenefits does offer it (at the time of writing)
Namely doesn't reveal its prices on the website and you need to ask them according to your business, whereas Zenfits has all the pricing plans published on their website.
Namely vs. Zenefits: Their Similarities
Namely and Zenefits' core HR features are pretty similar. But, here are some of their standout similarities as HR software:
Both offer a free trial.

Both offer a healthy number of useful integrations.

Both gear themselves towards small to midsize businesses

Both offer monthly subscriptions and per employee pricing.

Both offer extra add-ons.

Neither offer HR functionality for companies larger than 1,000+ employees

Both platforms provide iPhone and Android apps for mobile access.
About Namely HR Software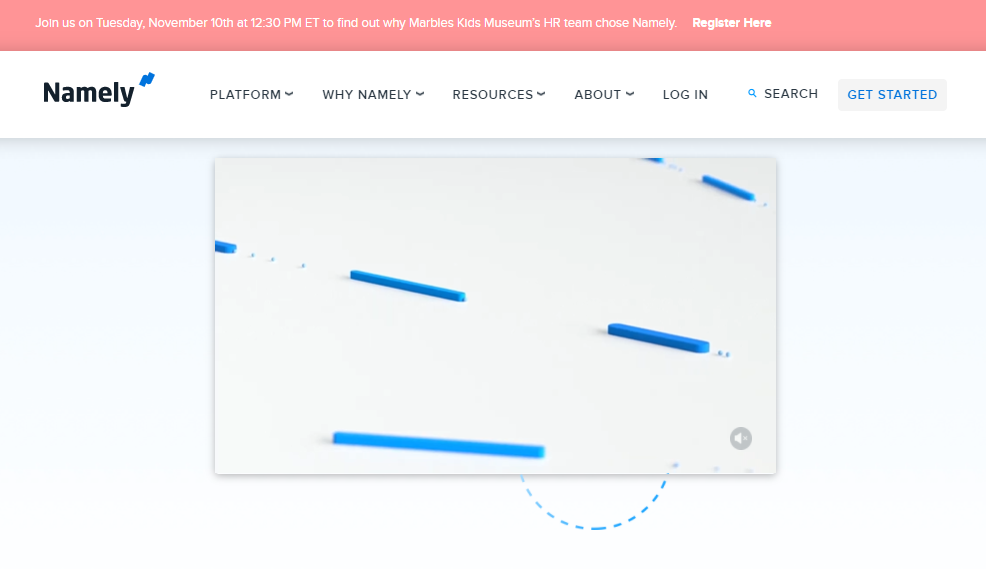 Namely is a US company that was founded back in 2012. It describes its mission as "to help mid-sized companies to build a better workplace" by providing HR staff with "technology, data, and support they need to help employees thrive."
To date, it's used by over 1,400 mid-sized companies and enjoys positive press coverage, having won several awards, including Newsweek's Best Business Tools 2019.
Namely also partners with several venture capital firms, including Sequoia, GGV Capital, and Matrix Partners. Its client roster is equally impressive, including the likes of VitaCoco, ExecOnline, Wunderkind, CSD, and The Motley Fool.
Namely provides its customers with comprehensive HR capabilities for HR teams. One of its major plus points is its benefits administration. You can use Namely software in conjunction with real-life HR consultants to ensure you choose the right benefits packages for your staff (more about this further down).
About Zenefits Platform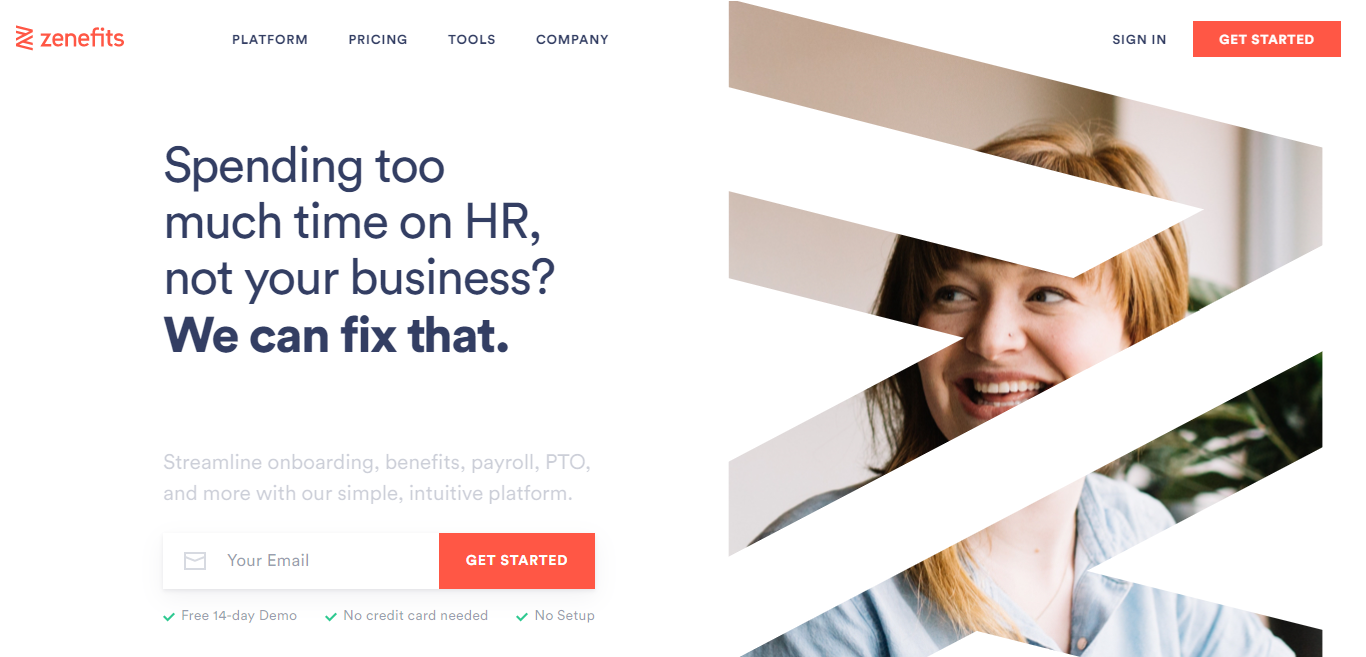 Founded in 2013, Zenefits is also a US company. Based in San Francisco, Zenefits describes itself as an app-based platform that allows you to "streamline onboarding, benefits, payroll, PTO and more" so that you can spend less time on HR and more time on your business.
Aimed at small to medium-sized businesses, Zenefits says its mission is to help: "the underserved small businesses that fuel our economy" by providing "innovative and intuitive HR and payroll software and services purpose-built for these small and mid-size companies."
At the time of writing, there were 11,000 businesses and not-for-profits using Zenefits. Clients include EmTrain, Thanx, MotoRefit, Today's Business, Sonder Mind, and Ylabs.
Similar to Namely, Zenefits also has a few awards under its belt, including the Remote Tech Awards' 2020 award for Overall HR Solution Provider of the Year. And again, like Namely, Zenefits also partners with several brokers, insurance carriers, and HR consultants to help you select the best employee benefits for your business.
Namely's Core Features
Namely offers what it calls a "core HR package," to which you can then add further extensions and services to create a platform that best suits your business's specific needs.
Let's look at the features included in the core HR package first, which are as follows:
A company newsfeed

Appreciations

An employee directory

Org chart

Employee profiles for self-service and workflows

Custom fields

Task Lists

Reporting

Analytics

Performance/goals

Onboarding

eSignature

An E-verify integration

Time off

A comply database
Namely makes it clear they think these are basic requirements of any HR solution, and therefore, they play an essential part in all their packages.
On top of that, there are several HR extensions you can add on.
These are:
Comply Advice & Action: Namely describes this as a "people risk management solution" where you can mitigate any people-related compliance risks. Features include:
Access to certified "Live HR" advisors
A "Living Handbook" so you can easily update your company policies
OSHA Logs for workplace injuries and illnesses
Benefits Administration:
This manages and administers all employee benefit plans. It makes life so much easier for your employees to enroll simply and quickly onto your benefits plans. Features included with this HR Extension are:
Online enrollment

Embedded support

Easy plan configuration

Unified HR and payroll data

Benefit compliance
…to name a few.
Payroll:
This processes your payroll and ensures it's labor law compliant. Features include:
Tax filing

Year-end reporting

Unified HR and payroll

ACA reporting

Automated benefits deductions
Time and Attendance: This is a useful feature for any firm managing hourly workers, as it helps you keep an eye on their attendance and hourly rates.
Other features here include:
Physical time attendance tracking

Mobile tracking software

Scheduling

Overtime
Recruiting & Talent Management: This add-on helps you find and recruit the right talent (talent management)…faster. Features here include:
Job posting and syndication

Interviews and assessments

Background checks

Reporting and compliance

Offer letter tools
Following on from these features, Namely also offers several "Enhanced Services" via its experienced third-party partners.
Here, we're talking about:
Managed Benefits: Receive advice from expert benefits consultants on topics such as:
Employee communications

How to save on costs

ACA, COBRA, ERISA, IRS, and state law compliance
Managed Benefits Pro: This grants access to a third-party insurance carrier to ensure ACA-compliant health insurance and concierge health benefit services.
Managed Payroll: This unlocks third-party help with reducing the administrative headache that sometimes comes with managing your employee payroll. Features here include:

Tax registration services

General ledger configuration

Payroll data entry and imports
Before we move onto Zenefits' features, it's worth noting that Namely's website is also really keen to offer potential customers a free demo or an online tour of the platform. Handy, right?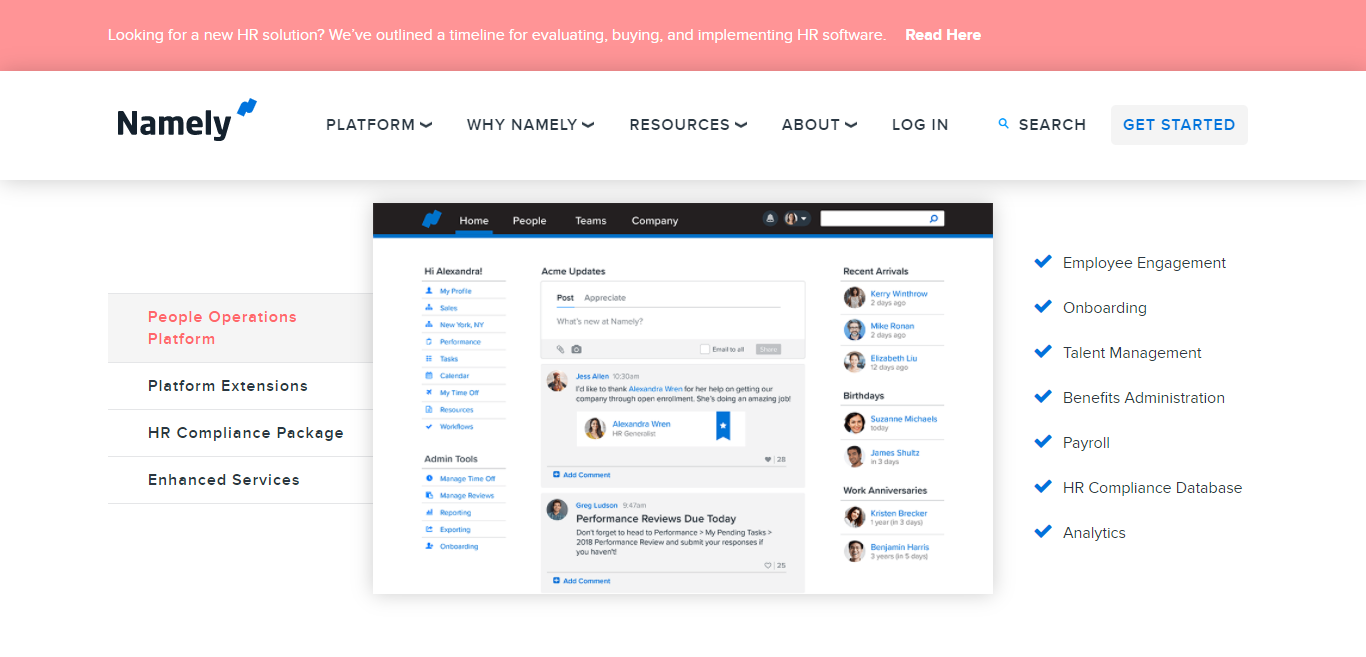 Zenefits Core Features
Zenefits divides its features into four areas, each with their own set of capabilities:
1. HR: This is where all aspects of employee management sit, "from hiring to retiring" with features including:
Making the offer

Employee onboarding

Managing employees (org charts, directories, employee records)

Requesting time off

Leaving the company
2. Benefits: This suite of features allows you to integrate your employee benefits into your HR system, empowering your employees to pick the right benefits package for them, including:
Medical

Dental

Vision

401K

FSA and HSA Accounts
3. Payroll: The purpose of these features is to simplify the pain that payroll can be. Payroll functionality includes:
Unlimited pay runs

Garnishments support

Direct deposits

Tips reporting

Multiple schedules and pay rates

Contractor payments
4. Time Tracking: Here, you can sync advanced time tracking and scheduling tools with your HR, Benefits, and Payroll features. Time tracking benefits include:
Built-in compliance

Timecard fraud protection

Record clock-in location
On top of all the above, you can also purchase the following add-ons (paid on a per-employee basis):
Advisory services: $8 per month/per employee

Benefits admin using your broker: $5 per month/per employee

Payroll: $6 per month/per employee
Plus, Zenefits boasts a long list of integrations, separated into different categories such as employee engagement, time tracking, learning software, accounting software, and so on.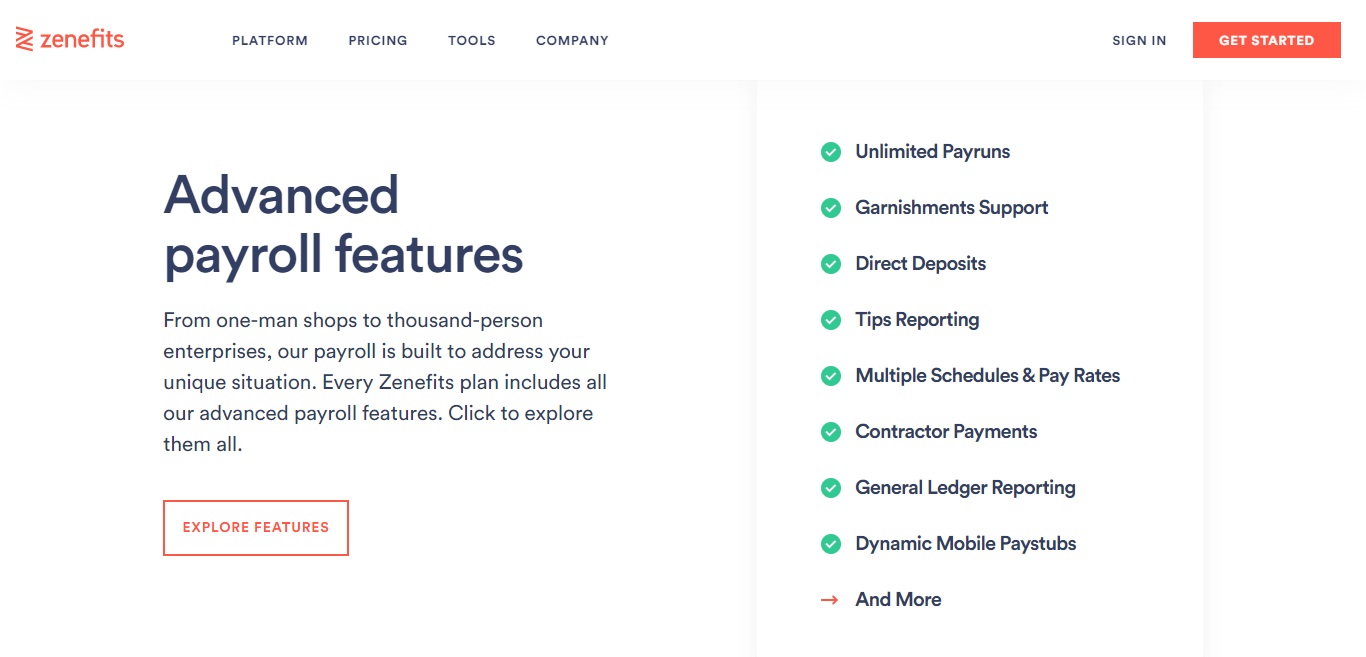 Namely Prices
Namely doesn't release its prices on its website, so we had to dig around a little to see what we could find. The majority of less in-depth online reviews made no mention of prices.
However, we did find one report of Namely prices starting between $12-$30/month per employee. There was also talk of $50-$100 in setup fees. That aside, we suggest contacting Namely directly for a more accurate quote.
Zenefits Prices
Zenefits' website is more transparent about its pricing structure. We've already mentioned the price of some of its add-ons. But, here are the rest of Zenefits' costs:
There are three plans, and with each one, you can then opt for extra add-ons.
The Essential Plan: Costing $8 per month/per employee.
Features include:
Zenefits core HR functions (hiring, onboarding, org chart, etc.)

Time and scheduling tools

Integrations for G Suite, Slack, 401K providers

Access to a mobile app that employees can use while they're on the go.
Growth Plan: Costing $14 per month/per employee. Here, you get everything in the Essential Plan, plus:
Compensation management (including real-time salary comparison data and full workforce salary benchmark visibility)

Performance management (performance reviews, goal setting, customizable review forms)
Zen Plan: Costing $21 per month/per employee. You get everything in the Essential and Growth Plans and:
The People Hub (A company feed for announcements, where employees can like and post comments, and so on)

Employee engagement surveys (You can create customized surveys or use pre-built templates, filter results by employee demographics, etc.)

Well-being (assessments to test employee wellbeing over time, triggered wellbeing content, etc.)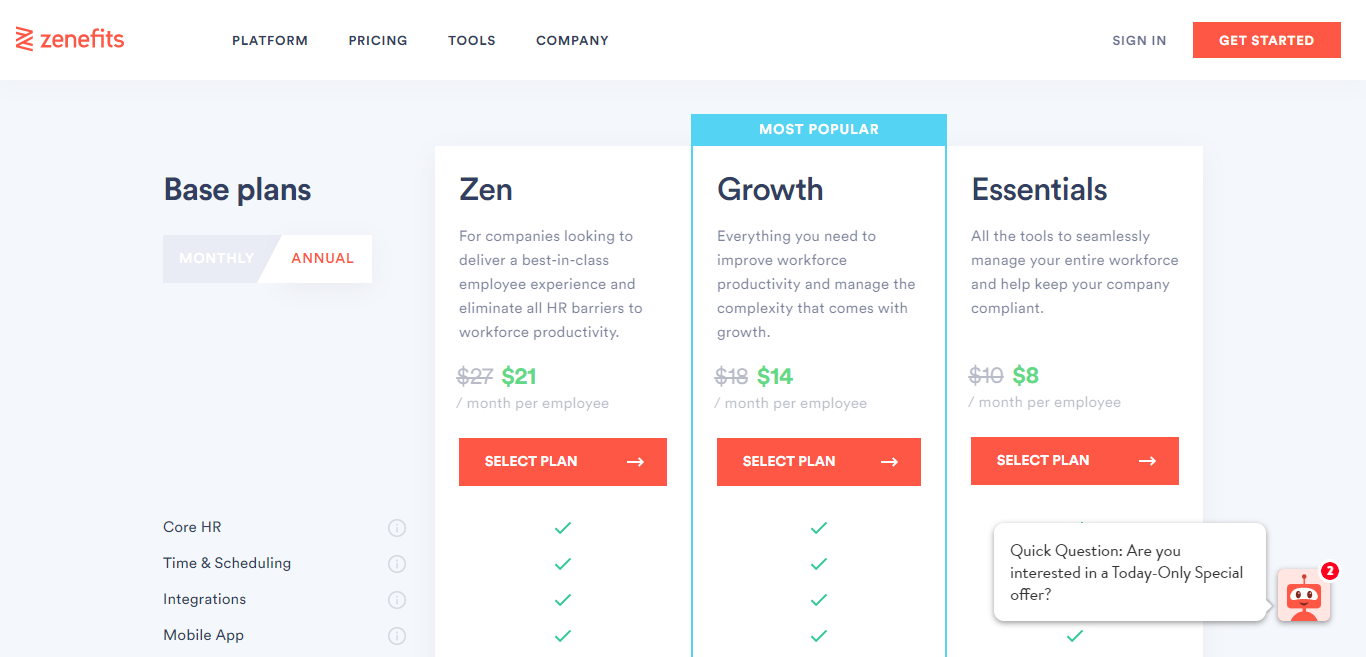 Namely vs. Zenefits: Pros and Cons
All HR software comes with its fair share of pros and cons, so let's see where Namely and Zenefits shine, and more importantly, where they fall short.
Zenefits
First up, the perks of using Zenefits:
The Pros:
Zenefits has a free version and a free 14-day demo with no credit card needed.

Zenefits seamlessly integrates HR, payroll, and insurance.

At the time of writing, Zenefits offered free payroll for a year to "any small business that needs it."

Users love the time tracking feature – it shows the time taken, time scheduled, and time remaining.
One customer praised Zenefits' onboarding tools for making it so easy to automate offer letters and general onboarding items.
Zenefits' set pricing provides customers an affordable and predictable expense.

It's easy to use
The Cons:
Zenefits's customer service team has garnered lots of negative reviews. Regarding both the amount of time it takes to receive a response and the lack of expertise shown by customer support staff.
One customer said they'd like to be able to print pay stubs once payroll is submitted instead of waiting until payday.
Others note that Zenefits' performance management module could use some improvement.
Another said they'd like to be able to filter team member goals to view individual employee targets one at a time, instead of having to scroll through them all.
Some also say they'd like more accounting features and that admin access levels could be more granular.
Namely
Now, over to Namely…
The Pros:
Users love that you can store signed documents directly in the app.
It's easy to submit PTO.
Processing payroll is a breeze.
Namely's customer service has been described as "friendly, quick, patient, and very helpful."
Namely is said to be quick to listen to client feedback and add new features.
The mobile apps for iOS and Android are excellent, and the push notifications come in handy.
Namely offers HR managers some incredible resources, most notably their blog and newsletter.
Users enjoy access to a 'client hub' where you can easily connect with other Namely users to share best practices.
The Cons:
Namely doesn't offer a free version.

There aren't any prices on the Namely website without you giving your details for a free demo.

One user complained that when they went configure their 'Employee Performance Review,' there were a few problems setting up the exact requirements they needed for their goals process flow.
Another user said that Namely's 'Time off management' tool could benefit from employees being able to see the total amount of personal time they're allowed to take off for the current year.
One customer said they'd like to see a native Gmail integration.
Namely puts less of an emphasis on employee benefits in comparison to Zenefits.
FAQs
Question: What kind of support do Zenefits and Namely offer?
Answer: Zenefits has an online Help Center where you can type in your questions or issues and hopefully receive an answer. Here, you can state whether you're an HR person or a company employee to help direct you to the right answer. It also categorizes its Q and As to accurately direct you to the relevant resource – for example, COVID-19, payroll, time off, and so on.
Users can also contact Zenefits' support team via a contact form on its website. However, it's important to note that the Help Center is focused on the platform's features, not on specific HR expertise; although there are small business resources, you have to pay extra for that.
Namely's Support Center has a similar FAQ/Q&A section. Once you're logged into Namely, you can browse their FAQs, access learning materials by topic, watch webinars, and stay updated on new product releases.
There's also a blog and a section for developers. Plus, the company also offers customer-facing social media platforms and a dedicated phone number for general inquiries.
Question: How hard is it to switch to either platform?
Answer: Namely says that it's "easier than you might think," but it also says that its implementation usually takes between six to eight weeks. It also has specialists on hand to guide new onboards through the process.
Whereas, a scour through the Zenefits Help Center told us that onboarding with Zenefits takes about two weeks.
Question: Do these platforms offer any compensation and/or reward features?
Answer: Namely and Zenefits both offer standard payroll capabilities, but neither provide compensation or rewards-related functionalities such as performance-based bonuses. Both platforms concentrate on payroll alone and don't enter into the realm of bonuses and wage adjustments.
Namely or Zenefits: Which to Choose?
We hope we've given you a good overview of what each of these cloud-based HR platforms offers. Both clearly can save your business a lot of time by automating certain HR functions. Zenefits stands out, partly because of its pricing transparency and the fact you can handle such a wide range of employee benefits outside of the standard medical and dental.
However, if you want to make life simpler for your HR team or just have one HR professional in your SME, it's wise to consider either one of these platforms for taking care of payroll, labor law compliance, and HR data (employee data).
Overall, we think that Zenefits is an excellent choice for your company to grow because if you're just starting out, there's a free basic option. Then, once you scale and onboard new employees, you can easily upgrade your subscription to manage your evolving needs.
All in all, Zenefits just feels like a more comprehensive choice.
Agree or disagree? Let us know which one you choose for your SME in the comments box below. Speak soon!
Further read: