Last Updated on April 22, 2023 by Ewen Finser
In this LegalZoom vs Northwest Registered Agent review, we will compare two online platforms offering registered agent services, to determine which one might be the best option for you to set up your limited liability company.
Setting your small business up as a Limited Liability Company (LLC) is becoming an increasingly popular and sensible way to do business. However, you do need to designate a registered agent. The registered agent acts as your official business address, as well as various other services.
You may have considered setting your business up as an S Corp or a DBA and having settled on the LLC, will be looking for the registered agent that will offer you the best service to set up your business.
The bottom line is this: We think that Northwest Registered Agent is the better option. Offering more features for a great price, with much better customer support, we feel that this is the best company offering LLC formation and registered agent services.
In this comparison, we'll be exploring the key features offered by both Legalzoom and Northwest and noting the prices and support available. We'll also have a look at some of the alternatives on offer and some frequently asked questions about LLC formation and registered agents.
Main Differences between LegalZoom and Northwest Registered Agent
The main differences between LegalZoom vs Northwest Registered Agent are:
Legalzoom has lower prices on the surface, whereas Northwest offers more services for the money.
Northwest has better customer service, whereas Legalzoom customer service is adequate but not outstanding.
Legalzoom is a better-known brand serving millions of customers, whereas Northwest relies more on word of mouth because of their great service.
Northwest provides a full year of registered agent services with your purchase of their LLC formation package, whereas Legalzoom offers a reduced price on your first year of registered agent services.
Legalzoom offers a wide range of other business and personal legal services (for a fee), whereas Northwest focuses on the formation and compliance packages.
There are also many similarities between Legalzoom and Northwest Registered Agent. For example, both are an affordable solution, both have many thousands of satisfied customers, and both offer free business education tools.
Now, let's look at these two products in detail.
What is Legalzoom?
Legalzoom formed in 1999 and has since its company formation in 2001, has worked with around 4 million customers, helping to form more than a million businesses. With a big advertising budget, they have made themselves a well-known brand with long corporate reach.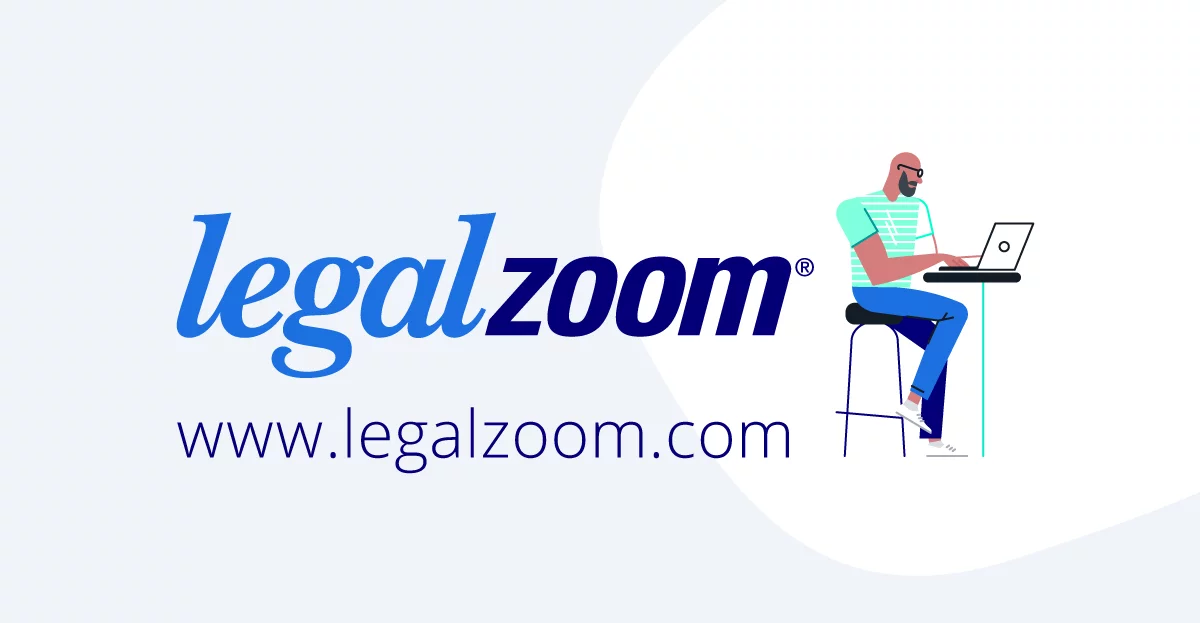 With a focus on the innovative use of computer technology to make legal services accessible, Legalzoom has been noted by the American Bar Association and recognized for their entrepreneurial spirit.
The company began with ten web-based products including estate planning, business formation, and the protection of intellectual property. They are suitable for anybody wanting to start a Limited Liability Company, corporation, or non-profit. Legalzoom provides a full range of legal services for businesses.
What is Northwest Registered Agent?
Northwest Registered Agent began in 1998. With around 2 million customers under their belt, they are not a small business and help from hundreds of new Limited liability companies every day.
With a family ownership and no "sales team", Northwest Registered Agents rely on their great service and core values to build their business.
The solid reputation and trust that Northwest has built up is pretty impressive and they are a great option for those looking to set up a Limited Liability Company or those seeking to find a new Registered Agent service provider.
Features of LegalZoom
LegalZoom offers a wide range of business services. Here are their main features:
Set up different types of companies: LLC, non-profit, corporation, etc.
Offer other, personal legal services such as wills, estate plans, etc.
Give advice and services on intellectual property
Is a well-known and respected brand with a history of innovation
Can give you direct access to an attorney
Ease of use
Your first step in the LLC formation process is to select a name for your potential business and tell them which state you wish to do business. After that, LegalZoom takes you through a range of services they offer to put together your package. The LLC formation fee is just for the LLC, all the other services that you select on the way, such as business protection and operating agreements, all add cost to your package.
All in all, the Legalzoom website is pretty user-friendly, though it can get annoying that every time you press something or go to a new page they are trying to sell you something else.
On the other hand, their checkout pages and order forms are well set out for a transparent process.
Different products and services available
In addition to setting up Limited Liability Companies, LegalZoom also helps establish S Corporations and C Corporations, non-profits, Limited Partnership, and Limited Liability Partnerships and Sole Proprietorship businesses.
Business Naming Services – a host of services including registering a DBA, checking that business names are available, and trademarking your business name are available from Legalzoom and could help ensure that your business is run correctly and your brand is protected.
Acting as a Registered agent is just one of the longer-term business services offered by LegalZoom. They also offer business compliance services, trademark monitoring, and other trademark filings.

LLC Formation
While LegalZoom offers a pretty standard package of completing and filing documents in the relevant states to set up your business, they offer three LLC packages: Economy, Standard, and Express Gold at very different prices.
The main difference between these packages is the turnaround time you can expect. In Economy, you can expect a turnaround of 30 days, the Standard package takes 15 days, and the Express Gold takes just 7-10 days.
You can keep track of the stage your formation is at using an online tracking service.
When you click the button to set up an LLC, Legalzoom takes you through a range of pages offering different services and documents, from Operating Agreements to Tax and legal guidance, each of which is added on to your package (at extra cost).
Some of these may be extremely helpful, but it's worth being aware that they are not part of the base price and though you may not see it on the cost of your LLC, you have added it to your package so it will incur a monthly fee.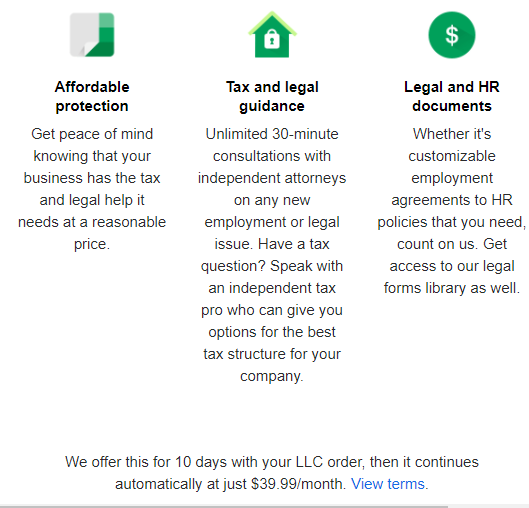 Registered Agent Service
Legalzoom offers a discounted first year of Registered Agent Service if you purchase it with your LLC formation package, coming in at $159 instead of the normal annual price of $299.
With your registered agent service, LegalZoom offers you Business Data Protection (insurance against identity theft), a compliance calendar to keep you updated with annual report and tax return deadlines, and cloud storage to keep all your important business documents.
LegalZoom would receive court documents, tax notifications, annual report notices, and Secretary of State notifications as well as Official state correspondence. In addition, as they are your registered business address, they will probably be in receipt of some of your junk mail, which they shred for you.
Features of Northwest Registered Agent
Here are some of the key features of Northwest Registered Agent:
Full registered business address use
Dedicated and well-trained Corporate Guides for customer service
Initial resolutions
Annual reporting compliance
Same-day business filing
Custom-drafted articles
Online access to formation documents
Membership or stock certificates
Set price packages make decision making much easier
Ease of use
The Northwest website is absolutely fine, and their checkout process is very straightforward. The online forms are easy to complete and there are no hidden costs tucked away in there anywhere.
What we particularly like about Northwest's website is that under each aspect of the business, you get a menu of questions or areas to look at. With Northwest, it is much easier to find all the information you want about the different services before agreeing or signing up for anything. In addition, with one straight-up package on offer, you know exactly what you will be paying and what is included in that.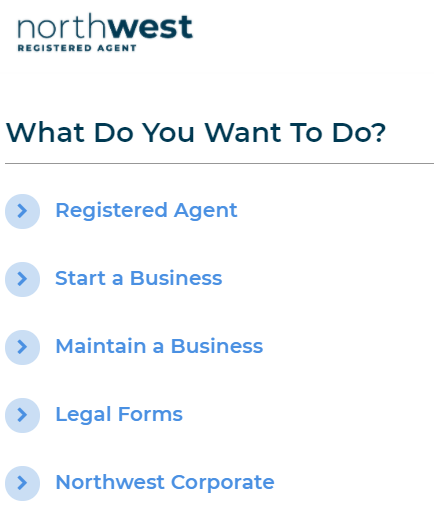 Their online dashboard makes it easy to find all your LLC paperwork.
Different products and services available
Northwest focuses on the key primary packages we are talking about here today: LLC Formation and Registered Agent Services. They also set up nonprofits and Corporations. They are great for anybody wanting to start their own business or somebody looking to change their registered agent service provider. However, they do offer some extra services like mail forwarding and virtual offices, employer identification numbers, corporate book, and seal.
LLC Formation
There are different regulations for LLC formation in different states. This means that for the company, there are different turnaround times. Some are faster than others, however, they do try to be pretty fast.
It is important to note that the price charged by Northwest (and most other LLC Formation companies) is their fee + whatever fee is charged by the state, and these can vary wildly. For example, you pay $150 to set up an LLC in Illinois for two years, whereas you pay $50 in Michigan.
Included in your package when you form an LLC is a namecheck service. Northwest will search the state database to ensure that the company name you want is available. They will then prepare your business articles, outlining your business appropriately so the state can approve the formation of your company.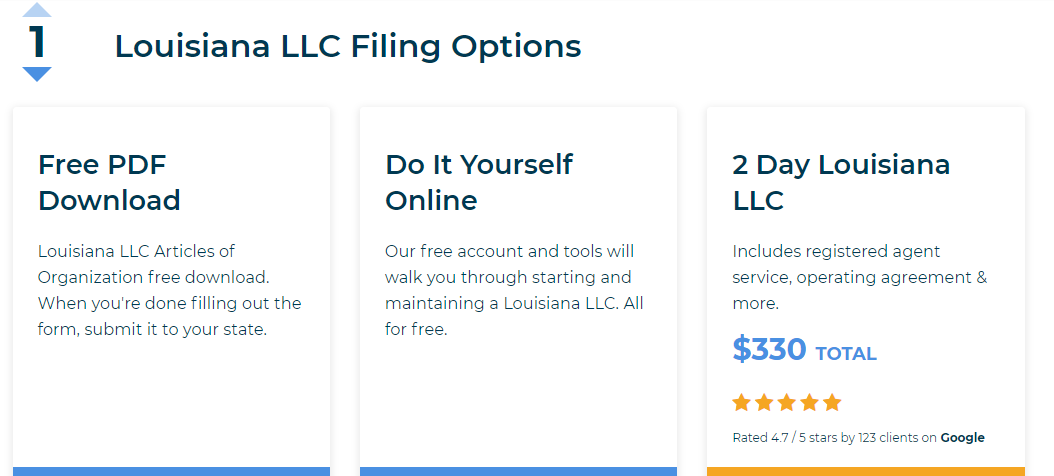 Operating Agreements are not mandatory, but they are a great way to set out the ownership structure of your business, and Northwest Registered Agent offers this service, along with setting up your Federal Tax Numbers or Employer Identification Number.
Your business documents will be processed on the same day they are received and online tracking gives you the option to view real-time the status of your LLC formation and your LLC formation package includes your first year of Registered Agent Service.
Registered Agent Service
This is the bread-and-butter of Northwest Registered Agent, as you can tell by the company name. Your first year of Registered Agent Service is free when you form your LLC with Northwest, and it's $125 per year from then on.
As a registered agent, Northwest is responsible for the receipt of government documents and notifications.
Northwest also offers pre-filled state forms for you, reminders about when your annual reports are due, easy access to a range of business services. In addition, one of the things that set Northwest apart is that they scan every document that they receive on your behalf, so they are recorded on the system and easy for you to access.
You get lifetime support from their Corporate Guides and a guaranteed standard annual price.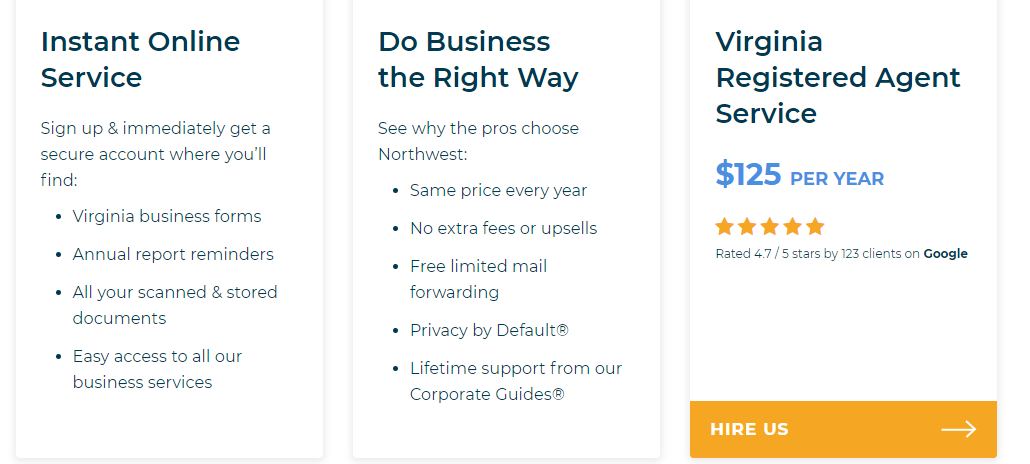 Legalzoom vs Northwest Registered Agent – Support
Northwest customer support representatives are known as "Corporate Guides". Each client has a designated guide, and you can contact them directly with any questions or concerns. In general, the guides are knowledgeable about most issues you may come across. User reviews are very positive about the company as a whole, but they are particularly positive about customer service on offer. Northwest prides itself on answering calls and emails quickly and thoroughly.
LegalZoom offers a Q&A area and Knowledge Centre as well as the ability to send a message from the website. Their customer support phone lines are also open 5 am – 7 pm PT on weekdays and 7 am – 4 pm on weekends.
LegalZoom has mixed reviews on their customer support. On the phone, you usually get a quick and pretty accurate response. However, on the email, you can be waiting for a response for a full week, and even then, it doesn't always accurately answer the question you are asking.
LegalZoom vs. Northwest Registered Agent – Pros and Cons
LegalZoom Pros
All business legal requirements available in one place
20 years' experience in the business
Good customer service
Additional services available such as drafting contracts
A money-back guarantee
LegalZoom Cons
Sometimes it's hard to get a clear price for each service and "starting prices" can often be misleading, with much higher prices a reality.
Customer service, particularly on email queries, is questionable and often delayed.
Northwest Registered Agent Pros
Brilliant support team of "Guides"
Good security
Solid experience in the business
Rely on their service to grow sales
Registered Agent services for the first year are included in your LLC formation
Will match any cheaper prices you find for these services
Northwest Registered Agent Cons
Despite the number of customers, there aren't many reviews online
The starting price point is quite high (though if you consider the cost of the Registered Agent Service this is not an issue)
LegalZoom vs Northwest Registered Agent – Pricing
LegalZoom
LLC formation – starts at $79 to prepare your articles of organization and file them with your state. Also includes a banking authorization letter to help you open a business bank account. State fees for forming an LLC are added on to the different packages.

The higher price package offers some limited extra services, but the main difference is in the filing speed. The Express Gold package also offers you 7 days a week, lifetime, customer support.
Registered agent – $299 per year, reduced to $159 for your first year if you purchase their LLC formation service. They provide a compliance calendar to remind you of annual reports and tax deadlines.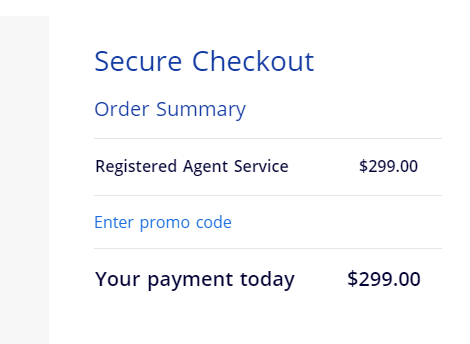 Northwest Registered Agent
LLC formation – starts at $225 to prepare your articles of organization and file with your state to form your company. Includes 12 months registered agent service.
Registered agent – $125 per year. A flat rate, though if you require it in five or more states, they drop it to $100. Local scanning and free online tools like annual report compliance reminders.
Are there any alternatives to Legalzoom or Northwest Registered Agent?
LegalZoom and Northwest Registered Agent are not the only companies offering services to help you set up your LLC. Here are a few others to consider:
Zen Business
Low prices and outstanding customer feedback make Zen Business an intriguing proposition – are they too good to be true?
High quality and affordable and made with small entrepreneurs in mind, Zen Business really does offer everything you need to kick-start your business from registered agent services to EIN acquisition and compliance. They even offer website building services.
With Starter, Pro, and Premium packages, all including your first year of Registered Agent Services, this really is a great option for smaller businesses and entrepreneurs.
We've compared ZenBusiness vs Legalzoom here.
Rocket lawyer
A relative newcomer, founded in 2008, Rocket Lawyer offers online legal services to small businesses. Some of the services on offer include the creation of legal documents and contracts, review of legal documents and contracts, creation of LLC, corporation, or nonprofit business, and legal advice from lawyers.
While you can purchase services as you need them, you can also subscribe to regular support. If your business needs longer-term legal support and advice, then this is a service to consider.
Harbor Compliance
Harbor Compliance is relatively new on the block, established in 2012, but it has really set a new direction, focusing on ensuring that you are compliant with all the relevant business licenses. They set out two main packages: Formation, and Compliance, and do everything you would need within those two areas.
The price is pretty high compared with some of their competitors, but this is justified to some extent by the great customer service.
Check out our comparison of Harbor Compliance vs Legalzoom and our review of Harbor Compliance.
Frequently Asked Questions About LegalZoom and Northwest Registered Agent
Question: Will LegalZoom or Northwest Registered Agent pass my details on to other organizations?
Answer: While many businesses these days appear to have "corporate partnerships" i.e. you-scratch-my-back-I'll-scratch-yours data-sharing agreements, this is not something that either Legalzoom or Northwest indulge in. They both focus on providing their own services well.
Question: What are LegalZoom and Northwest Registered Agent's refund policies?
Answer: Legalzoom has a comprehensive satisfaction guarantee. They say that as long as you request your refund within sixty days, you will get it within five days.
Northwest also has a refund policy but does charge a $25 "you changed your mind" fee.
Question: Do I need a company to help me form a Limited Liability Company?
Answer: Technically, no. You can form your own LLC without a service, and many entrepreneurs do this. However, each state has its own interpretation about how this should be done, so you'll need a good understanding of the regulations in place in your state.
Knowing that this has been done by an experienced agent also gives you the peace of mind that you are completely compliant.
Question: Is it possible to change my registered agent?
Answer: It is possible to change your registered agent. There is a fee and a form to file in your state.
If you are changing to LegalZoom or to Northwest Registered Agent, they do this for you and the fee will not be passed on to you.
Our Verdict: LegalZoom vs. Northwest Registered Agent
So which company would we recommend to help you get your LLC off the ground with all the correct paperwork and to support you with your Registered Agent services? LegalZoom or Northwest Registered Agent?
I think you will be unsurprised to find that we think Northwest is the best of these two options.
While LegalZoom offers a perfectly good suite of services, has a great brand and reasonably happy customers, they just don't have the same attitude to great service and trust that is such a priority at Northwest.
We recommend Northwest to just about anyone. Good pricing, great customer support, and a super range of features.
Further read: