Last Updated on April 22, 2023 by Ewen Finser
In this new world of remote working, the way we approach communications and project management has changed significantly. With your team geographically scattered, it's never been harder to keep track of what team members are up to—no more checking in at the water cooler, nor casual meetings over lunch where you can discuss what's next.
As a result, the importance of project management and communication software has suddenly shot up. Businesses of all sizes are looking for solutions to keep connected and make sense of operations now that people are separated by miles.
In light of that, we're looking at two potential solutions: On the one hand, we have Basecamp. Basecamp is a project management tool that makes tracking to-dos and moving work between team members easy.
On the other hand, there's Slack, a communications tool where you can organize your business into multiple channels to support fruitful conversations across your staff.
This begs the question: which approach is better suited to your business?
Continue reading to find out…
Main Differences Between Basecamp vs Slack
The main differences between Basecamp vs Slack are:
Slack's primarily a communications hub to replace email, w

hereas, Basecamp focuses more on project management, more specifically, tasks and to-dos,

but also

comes with messaging functionality. Overall, this makes Basecamp the more feature-rich option.

Basecamp doesn't come with per-user pricing, whereas Slack does.

Slack allows you to set up group voice and video calls with screen-sharing capabilities, whereas Basecamp's communication features are limited to chat and messaging.

Slack doesn't have any project management features, whereas, as we've already said, this is an area where Basecamp excels.

Slack lets you create basic automation inside channels, whereas Basecamp is all manual.

Basecamp is aimed primarily at small to medium-sized businesses with a well-rounded but mostly basic feature set,whereas, Slack can scale to cater to enterprise-level needs, with multiple workspaces for organizations with several branches.
If you don't have time for an in-depth review or just want a quick overview of what you're getting into, here you go. These are the key similarities and differences between the two tools:
Basecamp vs Slack: Their Key Similarities
Both Slack and Basecamp come with messaging channels to keep your team communicating

You can separate your team into specific project channels/camps with each tool

Basecamp and Slack both provide mobile apps where you can manage operations while you're on the go

You can invite guests/clients to collaborate using both Basecamp and Slack

Both come with a limited free plan for smaller teams or personal use
About Basecamp
Basecamp promises to make the transition to remote working a lot easier. Instead of feeling scattered, stressed, and confused, this project management tool aims to put you and your team back in control.
Basecamp itself has been working remotely for 20 years, which sounds pretty good for managing current circumstances. In 2021, there were over 3.1 million registered Basecamp accounts! Pretty impressive, right?
You can create a 'Basecamp' for each project or team to ensure team members have all the info and communications they need to hit the ground running.
Basecamp allows you to manage tasks and to-dos that can be smoothly moved across to other team members. You can see what others are getting up to, comment on tasks, upload relevant files, and browse through the backlog of things that still need doing!
Like Slack, Basecamp is also a communication tool that comes with a message board and group chat.
About Slack
Unlike Basecamp, Slack isn't what you'd call a "project management" platform. However, when used to the fullest, it can help focus your team on group projects by enabling smooth communication.
Slack is a collaboration hub that lets you organize people, files, and information into relevant channels. Messages on Slack can be found with an advanced search, so nothing ever goes missing.
In that sense, Slack's a decent replacement for email but not necessarily a tool for checking off to-dos and managing tasks. But depending on how your team works, Slack can be an effective way of staying connected and keeping projects rolling.
Slack's already used by teams worldwide, with over 65 fortune 100 companies using it and over 12 million daily active users. With such impressive stats to their name, surely Slack's doing something right?!
Basecamp vs Slack: Their Core Features Compared
When it comes to features, you'll quickly find that Slack and Basecamp boast very different capabilities. So, depending on how you like to work, one approach might suit you better than the other. That said, here are the core tools Basecamp and Slack offer to make remote working easier:
Basecamp Features
First up, let's take a look at Basecamp:
Project Management
With every "Project" you set up in Basecamp (of which you can create an unlimited amount), you can use the following tools:
Message boards:

Here, you can post announcements, pitch ideas, update your team on your progress, offer feedback, etc.

To-dos:

As its name suggests, this enables you to create task lists. You can comment on each task individually to keep track of progress and discuss operations.

Schedules:

Set important dates or share your schedule

Docs and file storage:

Upload docs, files, images, and spreadsheets. Should you wish, you can organize these into folders.

Real-time group chat:

This is ideal for casual team interaction

Automatic check-in questions: Here, managers can send automatic questions to check in with their team like: "What are you working on this week?"
Message boards are similar to forum threads, where you can designate specific channels to specific projects. This ensures only necessary team members stay up-to-date with the discussion – rather than bombarding people with messages about issues that don't pertain to them.
You can also:
Create to-dos with due dates and multiple assignees

View overdue to-dos in their own list

Review upcoming dates and deadlines

Check what each team member has on their plate

Review completed to-dos

Archive tasks and move them to other projects

Send automated reminders when due dates are looming on pending tasks.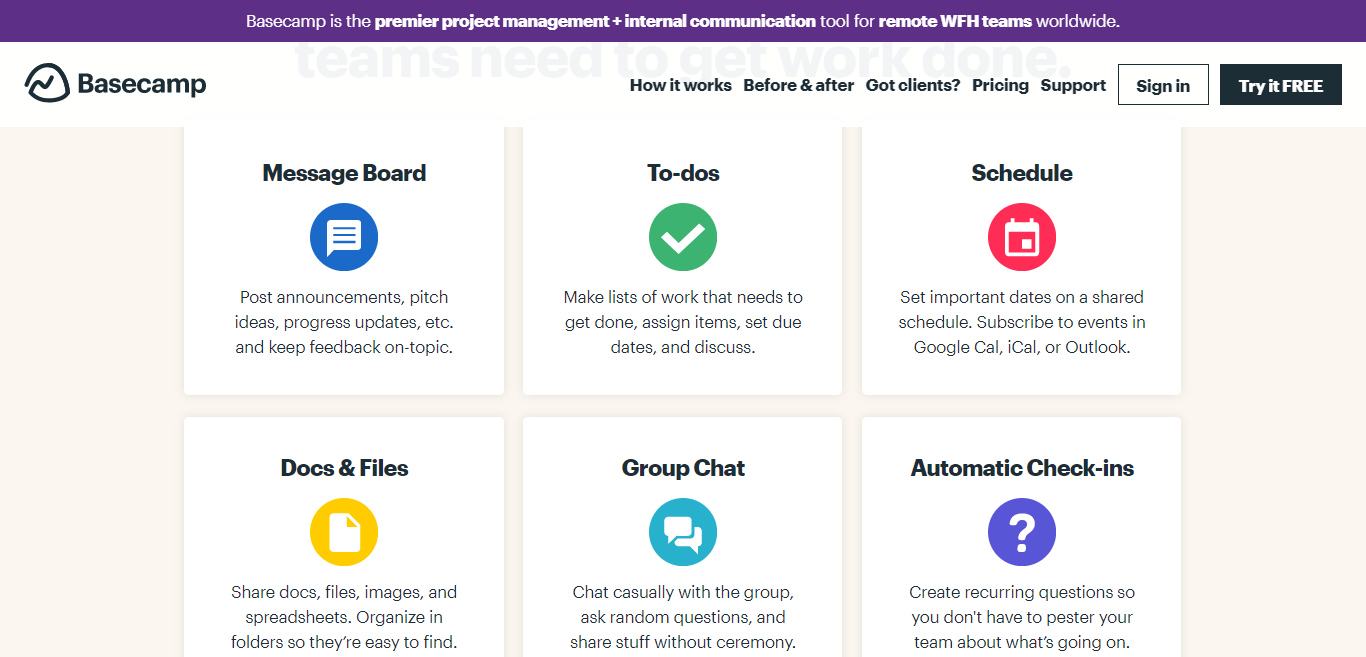 Internal Communication
What makes Basecamp more varied than Slack is that it comes with its own internal communication features on top of the project management tools mentioned above.
Businesses can use Basecamp's Company HQ feature to store employee documents, make announcements, and socialize around the 'campfire' in a real-time group chat.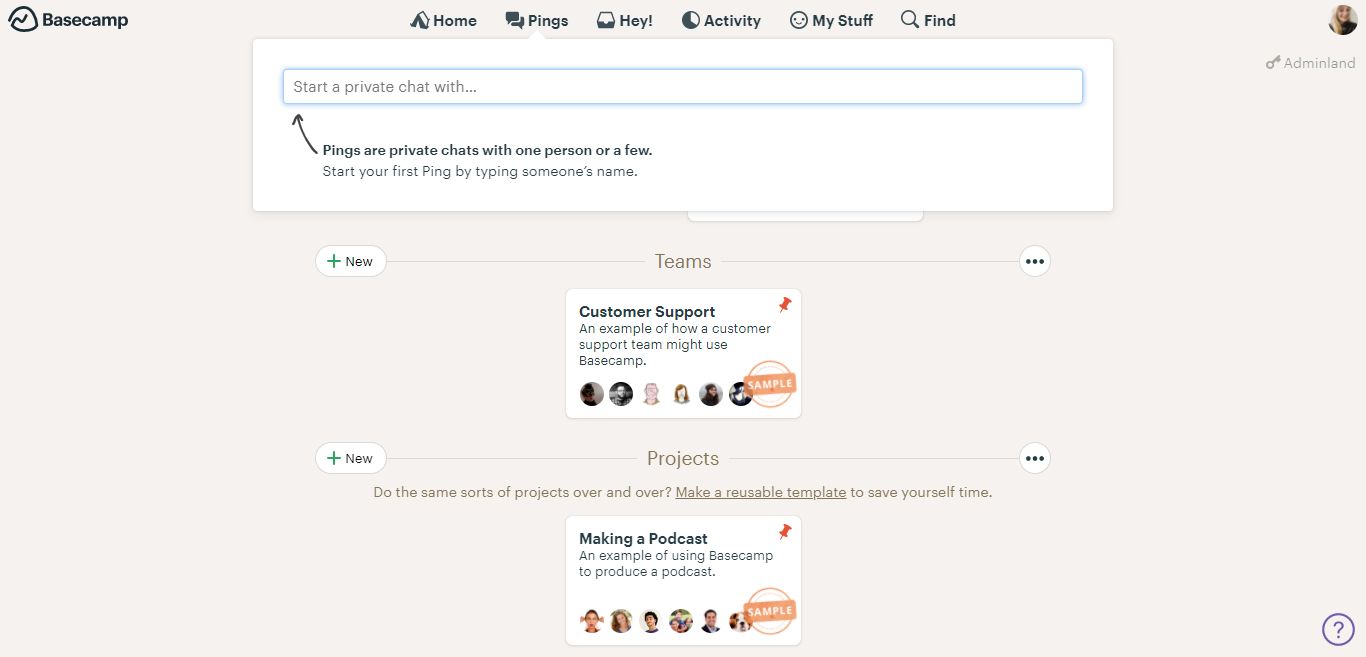 Working with Clients
You can invite clients to collaborate with you and your team. You have full control over which projects they can see. You can also enable them to comment on tasks and join message boards. This makes it easy for clients to provide feedback directly to relevant team members and stay updated with their project's progress.
Slack Features
As we've already hinted at, Slack's a communication hub that allows you to separate various topics, projects, and teams into their own individual channels.
Here you can discuss, address one another directly, upload files for review and search for specific messages using Slack's advanced search and filtering system.
Managing Channels and Communications
Slack's interface feels similar to more casual communication tools like Discord. You can arrange your workspace to include multiple channels organized into folders that you can access from an easy-to-navigate sidebar. For example, you might organize your channels into projects or teams.
Each user also has an area to send and receive direct messages from other users in their workspace. If you want to keep your interface looking neat, never fear; all categories are collapsable and have their own notification settings so you can easily keep track of what's important to you.
You can also share specific channels with other organizations or clients. But, like with Basecamp, you have complete control over what they see and which discussions they can participate in.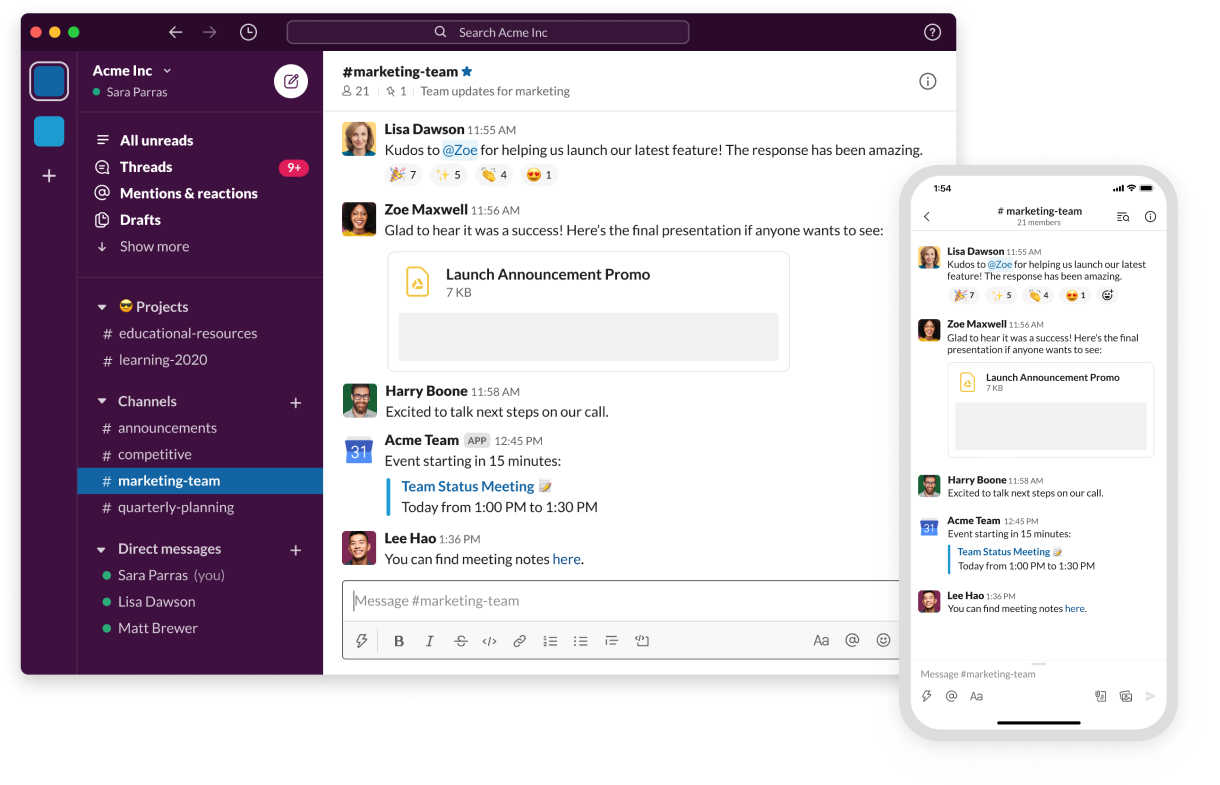 Find Anything Again
With Slack's premium plans, you'll get a complete message history that's fully searchable. So, anyone who joins the channel can get the full context of what's going on.
Slack's search options are reasonably advanced, so you shouldn't have any trouble finding specific messages. You can filter search results by date, words in the message, who posted it, and which channel it was in. Similarly, you can also search through files to find the image, document, video, gif, embedded link, an audio file, or zip you're after.
Voice and Video Call
You can host voice and video calls with groups of up to 15 people, making it easy to call your team from a specific channel and get a live conversation going. Screen-sharing is also available with Slack's premium plans, making it possible to make presentations and demonstrations to your team.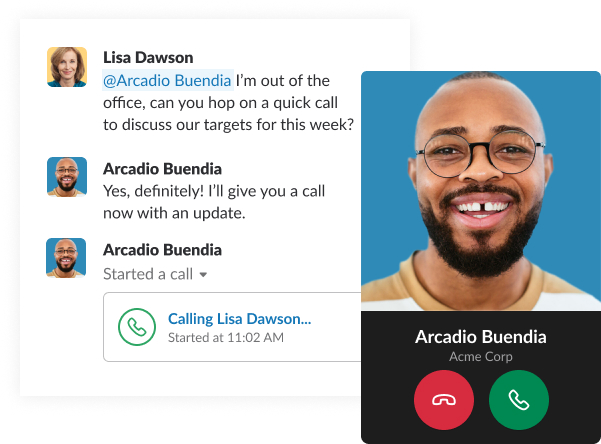 Workflows
Slack allows you to create workflows using its intuitive workflow builder. Here, you can automate repetitive tasks – like filing incident reports, giving someone a shout-out, or filing a time-off request.
Needless to say, this is a colossal time-saver. Also, thanks to Slack's native integrations, you can create more elaborate automation using software that's already a part of your existing tech stack – for example, sending information to a Google Sheet.
Basecamp vs. Slack Features: The Winner is Basecamp!
Slack and Basecamp have different focuses. While Slack's merely a communication tool that relies heavily on integrations to expand its feature set, Basecamp offers both project management and internal communications tools for remote teams. It matches most of Slack's communication features, only lacking voice and video calls.
Compared to Basecamp's competitors, its project management features aren't too complex or advanced. Still, it's an excellent combination of communication and task management functionality that introduces that extra bit of organization and productivity via a user-friendly interface.
Basecamp vs. Slack: Integrations
If you want to extend the functionality of either platform, integrations are crucial. That said, here's what Basecamp and Slack have to offer in this arena:
Basecamp Integrations
Basecamp integrates with a solid number of apps, including Zapier and Automate.io, that allow you to expand on this list of plugins even further. But where native integrations are concerned, you'll find the likes of Harvest, EverHour, EvantoDesk, TestLodge, and more.
In total, there are 72 integrations to choose from. While this is a robust selection, it's not exactly mind-blowing. Also, lots of big-name integrations are missing – for example, Onedrive, GoogleDrive, Microsoft Office, and Dropbox. Basecamp also, sadly, doesn't integrate with Slack!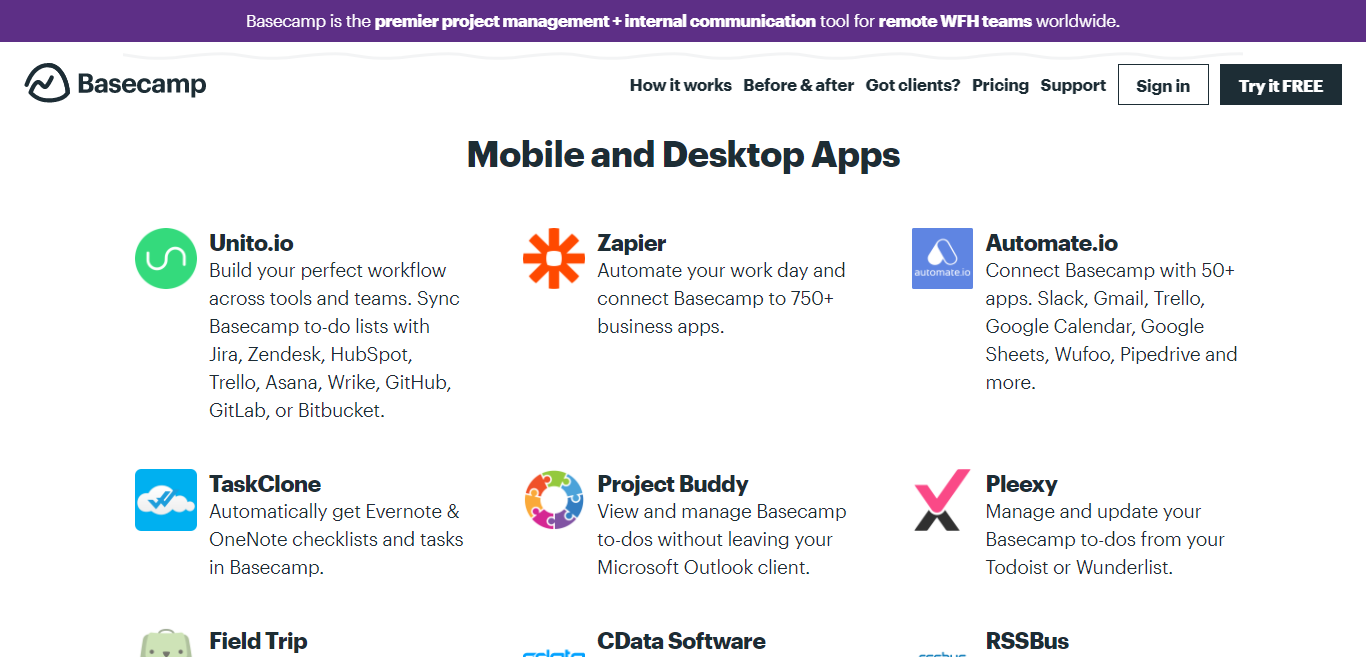 Slack's Integrations
Slack allows you to work with apps within its channels, so any of your integrations can be a part of the conversation. Integrations include productivity apps like the Google Suite, Microsoft Office, One Drive, and Dropbox.
You can also integrate with sales tools like Salesforce and project management platforms, including Trello and Asana, and schedule your time with apps like Calendly. With over 2,000 apps to choose from, you're bound to find what you're looking for.
You can also use Slack's API to build custom apps.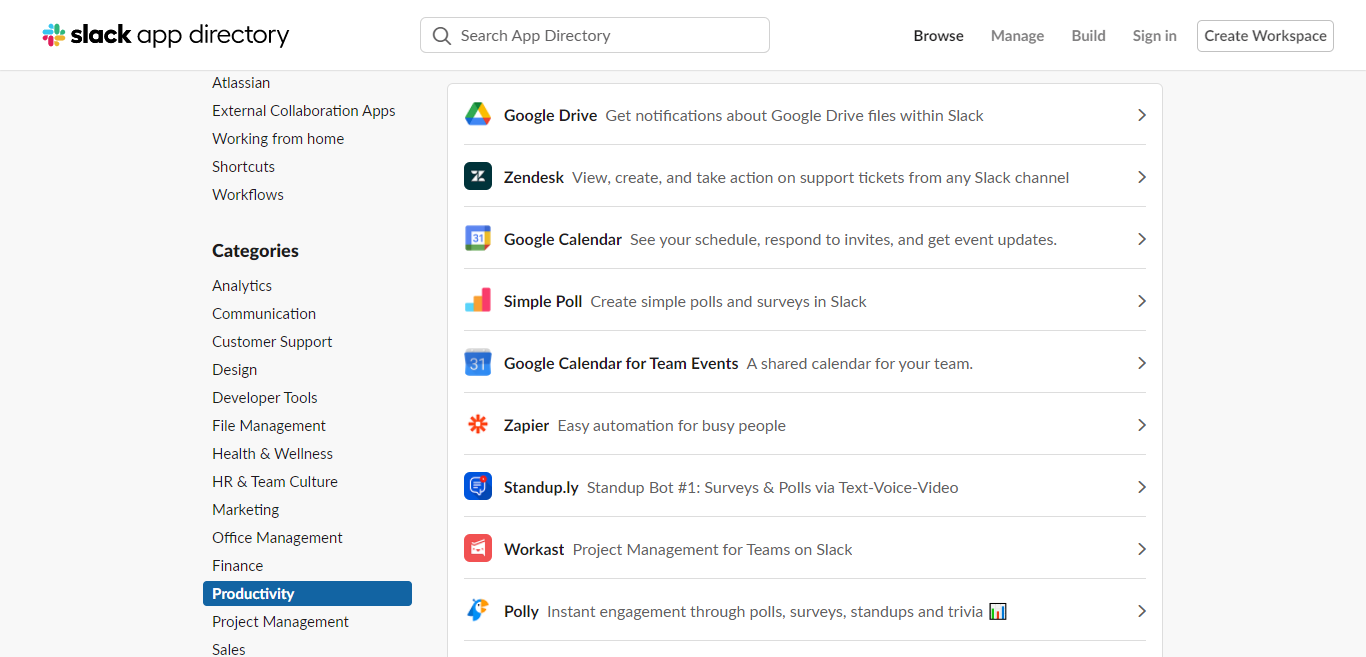 Basecamp vs Slack Integrations: The Winner is Slack!
It's plain to see that Slack trumps Basecamp with its incredibly diverse pool of integrations. This leaves Basecamp somewhat lacking in comparison. For that reason, Slack takes the victory!
Basecamp vs Slack: Pricing
One of the most important considerations with any software is its pricing. Here, Basecamp and Slack are pretty different. But there's good news: A free plan is available for small teams and personal users for both platforms.
Basecamp's Pricing:
Basecamp keeps its pricing transparent and straightforward with its flat monthly fee, unlimited projects, and users. There's only one premium plan, so you don't miss out on any features or services.
Basecamp's Business plan costs $99 per month. You can try before you buy with its 30-day free trial.
Here you get:
Unlimited projects

Unlimited users

500GB of storage space for file uploads

A company HQ from where you can manage teams and organize projects

You can create 'team projects' to provide separate spaces for different groups to collaborate in

You can invite unlimited clients and collaborators to work with you inside of Basecamp

You control how much your clients see and how much editing power they have.

You can create and save project templates

Access to priority support.
But as we've mentioned, Basecamp also provides a Free plan intended for personal projects, freelancers, students, and families. Unsurprisingly, it's much more limiting than Basecamp's Business plan. Here you can:
Work on up to three projects

Register 20 users

1GB of storage space (which is still generous, considering competitors like Teamwork offer only 100MB for file uploads on their free plan.)
However, with the free package, you can't create team projects or grant client access, but all the critical project management and chat features are still there!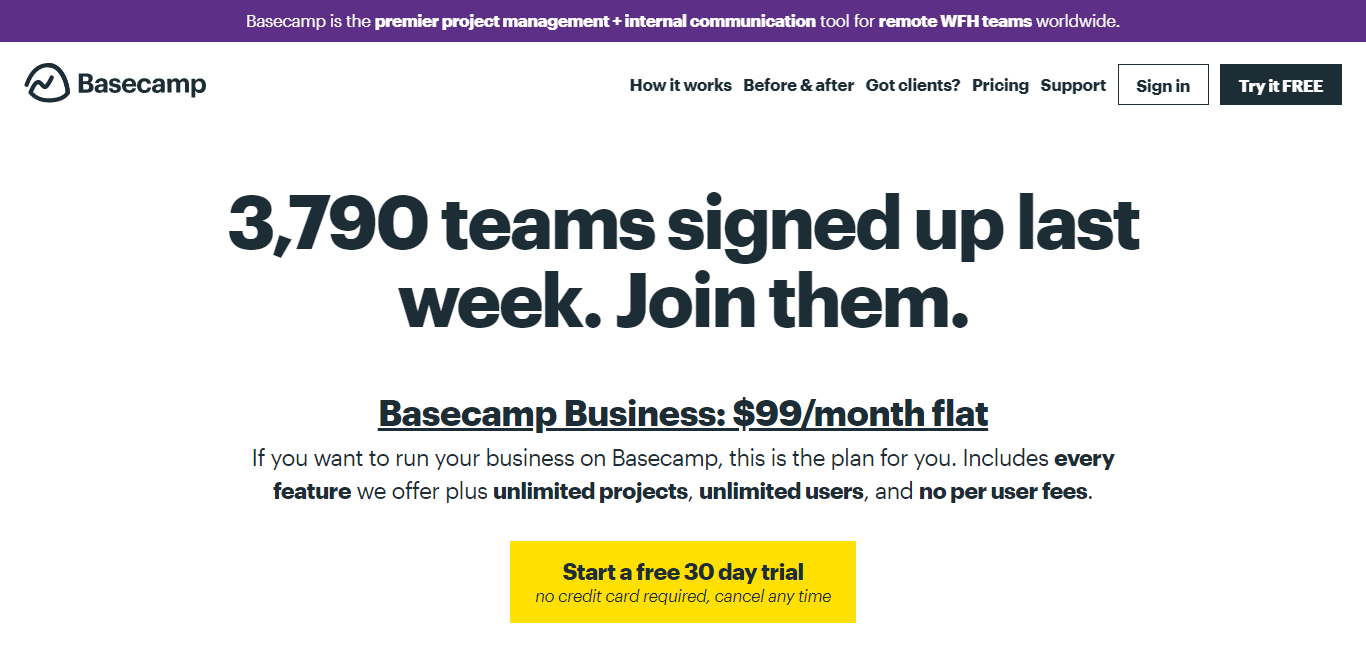 Slack's Pricing:
Compared to Basecamp, Slack's pricing feels more complicated. However, it's not dissimilar to most premium SaaS on the market. There's a free plan, as well as two premium packages and an enterprise solution. You can also test Slack's premium features with its 30-day free trial.
Slack's Free plan is intended for small teams. You get access to ten core integrations like Google Drive, office 365, etc., 1:1 voice and video calls between teammates, and 5GB file storage.
However, message history is capped at 10,000 messages, meaning older messages get lost. Plus, you can't invite clients to collaborate or screen-share.
The Standard Plan
This costs $6.67 per active user per month. On this plan, you unlock:
Your entire message history

Unlimited integrations

Group voice and video calls for up to 15 teammates

Secure collaboration with outside organizations and guests

Screen sharing capabilities
Each team member has 10GB of file storage allowance, and you can customize your workspace to keep teams and projects organized. You also get access to 24/7 support.
The Plus Plan
This costs $12.50 per active user per month and improves upon the Standard Plan. Mostly, this comes with added security permissions and customization. You'll meet all compliance requirements with data exports, benefit from advanced identity management through SAML-based SSO and real-time Active Directory Sync. You're also guaranteed a four-hour response time. Lastly, each team member can fill 20GB of file storage.
The Enterprise Plan
This is custom priced depending on your team's size and requirements. It adds a dedicated account and customer success manager, and you benefit from further security control, including custom terms of service, domain claiming, and multiple workspaces.
NB: One workspace is generally sufficient for one business. Therefore, the enterprise solution is suited to companies managing numerous branches across different locations, where each needs its own workspace.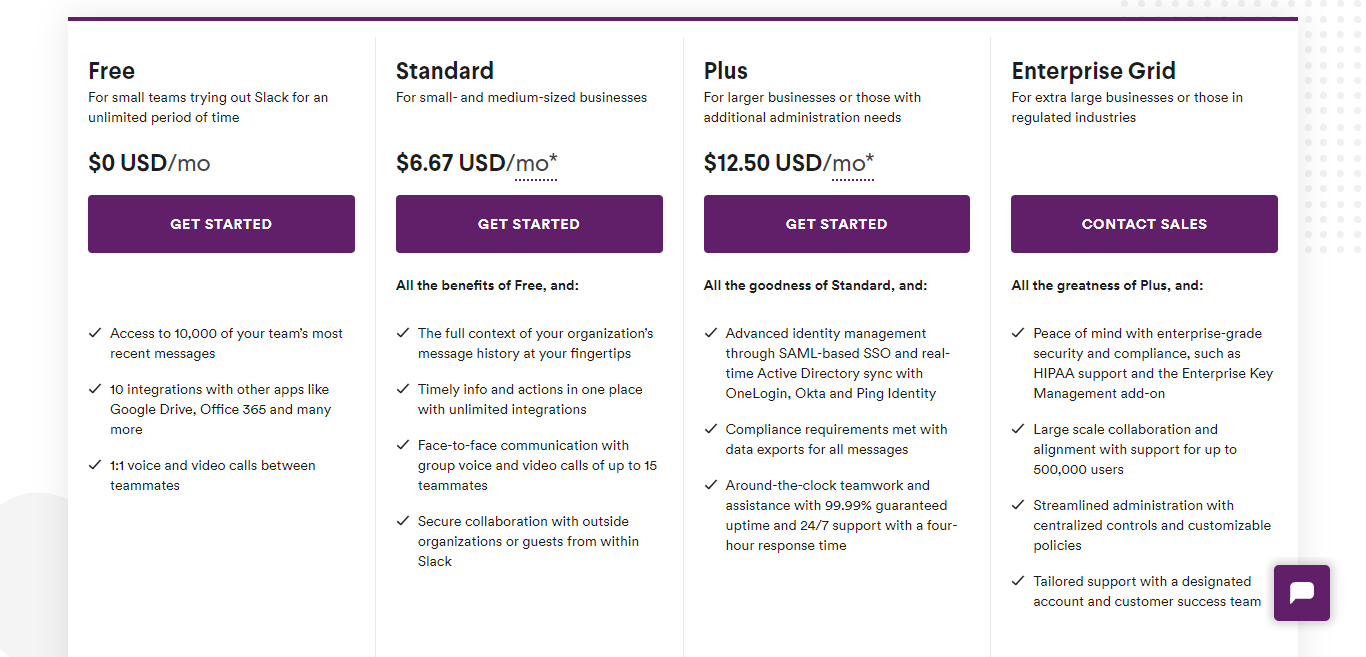 Basecamp vs Slack Pricing: The Winner – Basecamp!
Slack's pricing isn't bad, and it automatically filters out inactive users, which is a plus. But the per-user pricing model can still quickly add up to become quite expensive, and more features are locked away behind paywalls.
In contrast, Basecamp's pricing is more straightforward. It doesn't escalate even as your team grows, making it an affordable option for small to mid-sized businesses.
Basecamp vs. Slack: Customer Support
The last thing you want when coordinating a remote workforce is to experience technical difficulties! As such, high-quality customer support is crucial for ensuring a smooth operation. In light of that, what do Basecamp and Slack have to offer in this arena?
Basecamp
You can contact Basecamp via the contact form on their website. Here, you can attach a file or screenshot to help describe your issue. The team promises a human response and priority support to all paid users with (at the time of writing) an average response time of 25 minutes. However, Basecamp's customer support team is also only available between 8 am and 6:30 pm Monday to Friday, Central Time.
For self-help materials, you can navigate your way to the online help documentation on their website. Here you'll find manuals and how-to guides on how to make the most out of their software.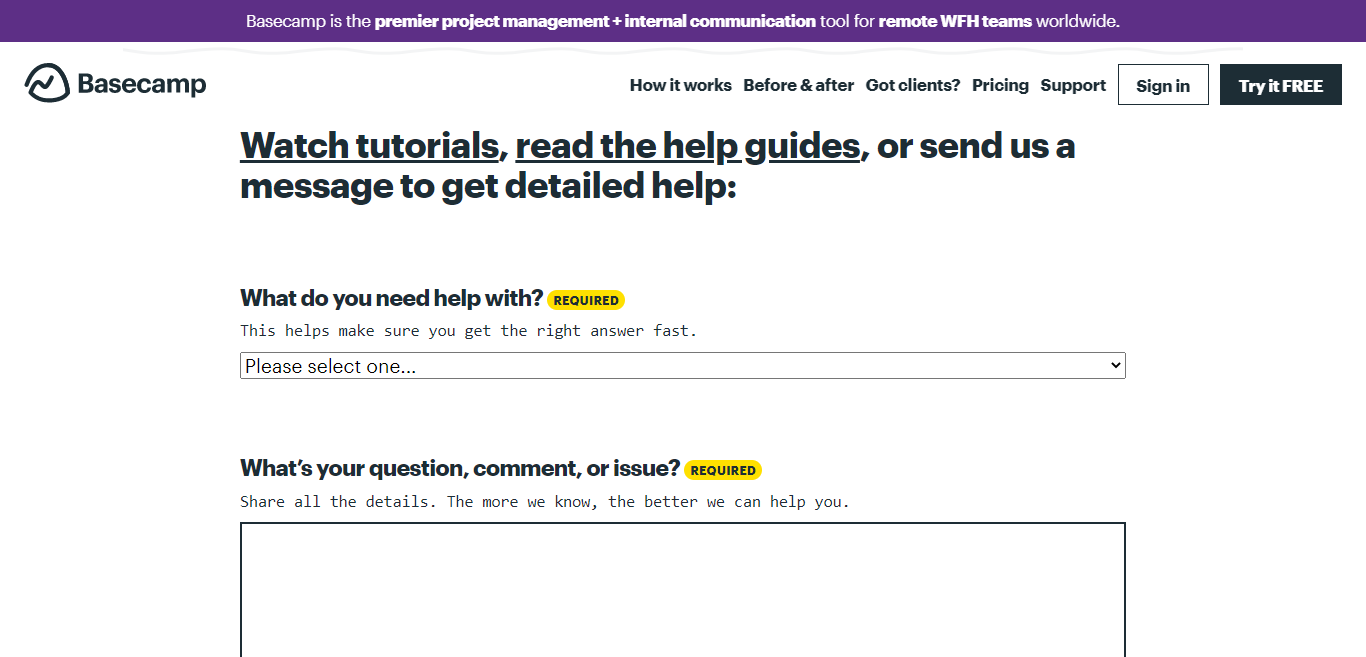 Slack
Unlike Basecamp, Slack offers 24/7 support on all of its premium plans. If you're signed up to the Plus Plan, you're guaranteed a response within four hours. Slack also comes with a help center on their website covering topics like getting started, using Slack, workspace administration, and automating tasks. You'll also find quick tips, like helpful shortcuts to use on the platform.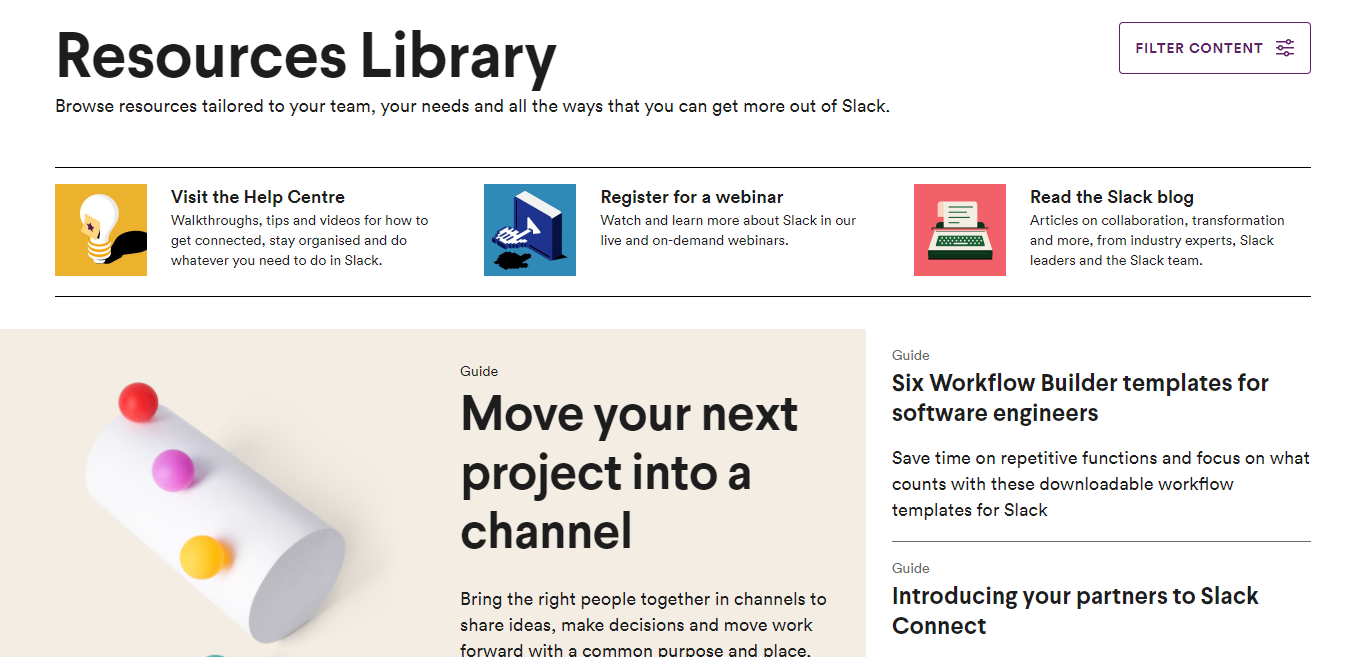 Basecamp vs Slack Support: It's a Tie!
Sadly, Basecamp doesn't offer 24/7 support. Still, it does promise a faster response time than Slack does, even on its more premium plans. That said, it neither offers phone nor live chat support.
Basecamp vs Slack: Pros and Cons
We're nearing the end of our Basecamp vs. Slack review, leaving you to decide which one's better. Hopefully, these pros and cons will help condense everything we've covered and further shed some light on that decision:
Basecamp's Pros:
Basecamp offers both project management and communication features.

You can collaborate with an unlimited number of clients

Flat fee pricing

You can store company documents in Basecamp's company HQ

It's effortless to use

There's a free plan available

There's a mobile app available

Fast-responding, all-human support
Basecamp's Cons:
There isn't 24/7 support

You can't host voice or video calls, or screen-share

Compared to Slack, Basecamp has a limited number of native integrations

There are limited ways to visualize your tasks.

You can't automate workflows.
Slack's Pros:
Slack quickly scaled to accommodate larger businesses and enterprises, as well as small ones.

24/7 support is available on premium plans

There's a free plan available

It's easy to arrange group voice and video calls for remote teams (up to 15 members at a time)

There are tons of native integrations available.

Easy client collaboration with unlimited client access

There's a mobile app available

You can automate some repetitive tasks
Slack's Cons:
Limited functionality – it mainly acts as a messaging platform with more professional appeal.

The per-user pricing model can add up quickly for larger teams.

Managing permissions is limited until you reach higher pricing tiers.

There's a maximum file storage limit per user.
FAQs
Last but not least, we'll round-off this review by answering some of the frequently asked questions we hear about Basecamp and Slack:
Question: What are 'active users' in Slack?
Answer: Slack's pricing is based on active users per month, which begs the question: how are 'active users' determined? Slack automatically checks who are active on the platform.
Once an individual has stopped being active for a while, Slack stops charging for them. They'll also add credit for the time you've paid for already.
Question: Do Slack and Basecamp offer discounts to nonprofits?
Answer: Slack offers discounted pricing for educational institutions and charities. If their workspaces include less than 250 members, they can also get a free upgrade.
Larger charities can get a discount of up to 85% on upgrades, which is also offered to educational institutions on standard and plus subscriptions.
Basecamp offers free accounts for teachers and students! They also provide discounts for nonprofits. You can apply for this by signing up for the free trial and then emailing the team a copy of your 501(c)(3) paperwork. Basecamp doesn't advertise how much of a discount they provide, so get in touch with them to learn more.
Question: Can I use Basecamp and Slack together?
Answer: Unfortunately, Basecamp and Slack don't have integrations to support one another. However, you can connect them with a bit of effort through the Zapier integration or Basecamp's Automate.io integration – both list Slack as a possible connection.
Question: Do Basecamp and Slack offer refunds?
Answer: Basecamp refunds any unused months if you prepaid for a year, whereas Slack won't. It will, however, only charge you for your active users.
This means that if you paid for a year and didn't use it, the unused time is converted into credits, allowing you to use Slack later without paying extra.
Question: How many users can I sign up to BaseCamp and Slack?
Answer: Both Slack and Basecamp enable you to sign up as many users as you like. The biggest difference is that Slack charges per active user, whereas Basecamp's priced using a flat fee. That means no matter how large your team gets or how many collaborators you invite; you pay the same.
Question: Who's Basecamp and Slack best for?
Answer: With their free plans, both Slack and Basecamp are suitable for tiny businesses and teams. However, Basecamp's features remain more suited to small and medium-sized companies where premium packages are concerned. In contrast, Slack scales to meet the needs of teams and organizations of any size.
Basecamp vs Slack: Our Final Thoughts
Both Slack and Basecamp are handy collaboration tools for remote teams. They shine on their own, albeit in different colors. Slack is a great communication hub that combines casual messaging with better search functionality and file management. Announcements, meetings, discussions, and client collaboration are made easier with Slack.
On the other hand, Basecamp combines some of these communication features (like message boards and real-time chats) with project management tools.
It isn't the most advanced project management software on the market and lacks major integrations, automations, and sophisticated task viewing features.
Nonetheless, Basecamp is a robust and very reasonably priced tool for small to mid-sized teams that want to communicate better and keep their to-dos organized.
We think it succeeds at combining the vital communication tools Slack offers and project management, making it the better-rounded tool for business management.
If you're still on the fence, why not give both their free plans a try and see which best suits you? Let us know in the comments below which tool has won you over: Basecamp vs. Slack; what do you think?