Last Updated on August 17, 2023 by Ewen Finser
Remote work is here to stay. In fact, by the end of 2022, 25% of all professional jobs in North America are predicted to be remote. While remote work comes with added flexibility, access to a larger talent pool, and a better work-life balance for many, it also comes with some challenges.
For instance, project managers can't walk from desk to desk to check in on progress and keep tabs on projects. With teams split up sometimes across the globe, businesses must find new ways to stay on top of tasks without interrupting their staff's workflow.
This is where team and project management software like Basecamp and ClickUp come into their own. Whether you're juggling remote workers or wanting a better way to organize projects, these tools can help you and your team work efficiently.
So, with that said, here, I'll take a close look at both project management software. I've been a Basecamp user for years, so I'm intrigued to see how ClickUp compares. More specifically, I'll put their features, customer support, and pricing under the microscope to help you decide which (if either) solution is right for your business.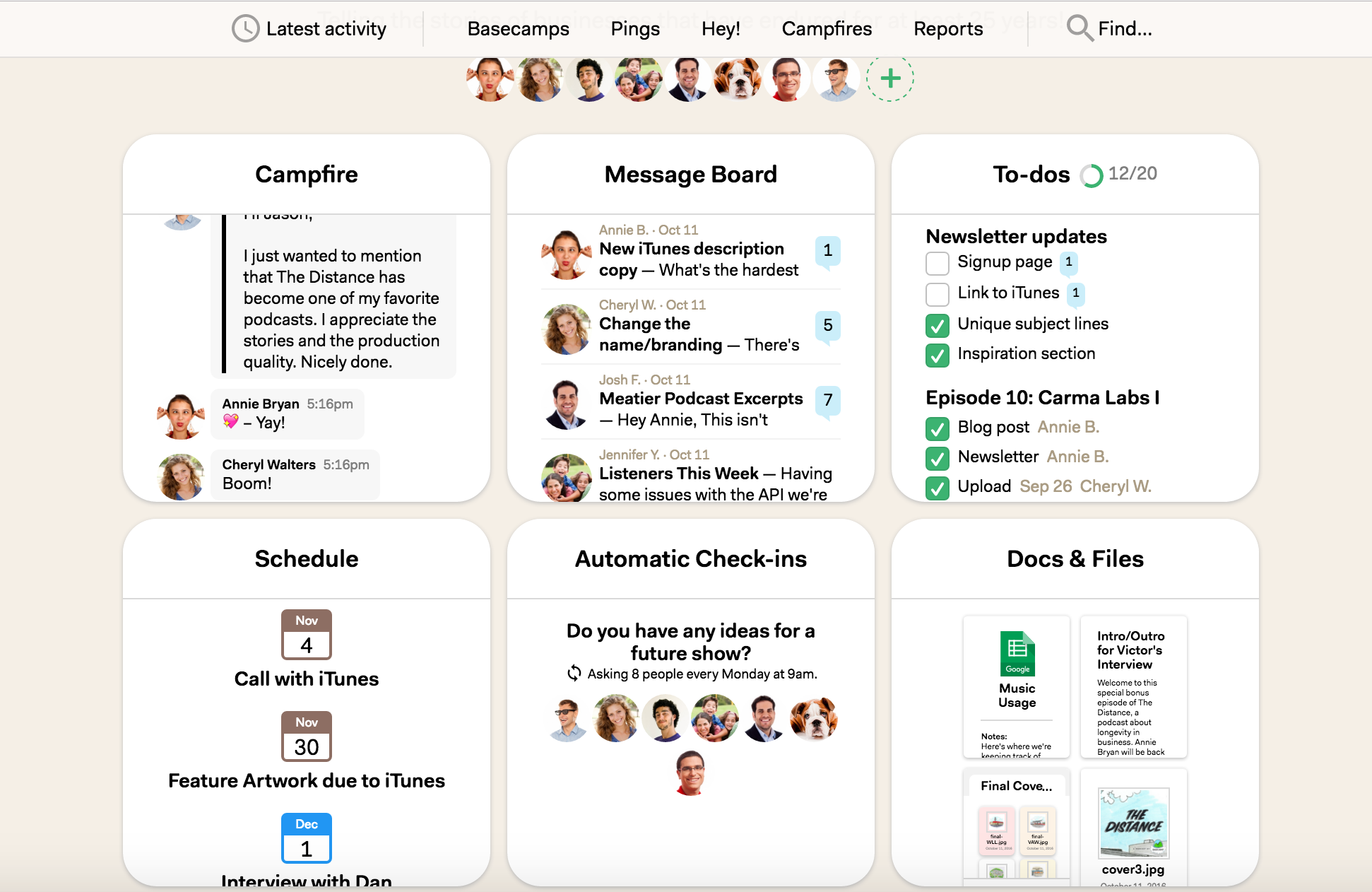 My Bottom Line Up Front: Basecamp vs ClickUp
I think Basecamp is a straightforward and effective task management tool. With intuitive ease of use, it's quick to integrate into workflows and provides everything small teams need to work more efficiently.
In contrast, thanks to ClickUp's sheer array of features, some may find ClickUp somewhat overwhelming. Generally speaking, I think it's better suited to enterprises with multiple departments running large, complex projects. It offers an all-in-one solution with time tracking, team communication tools, and more advanced reporting.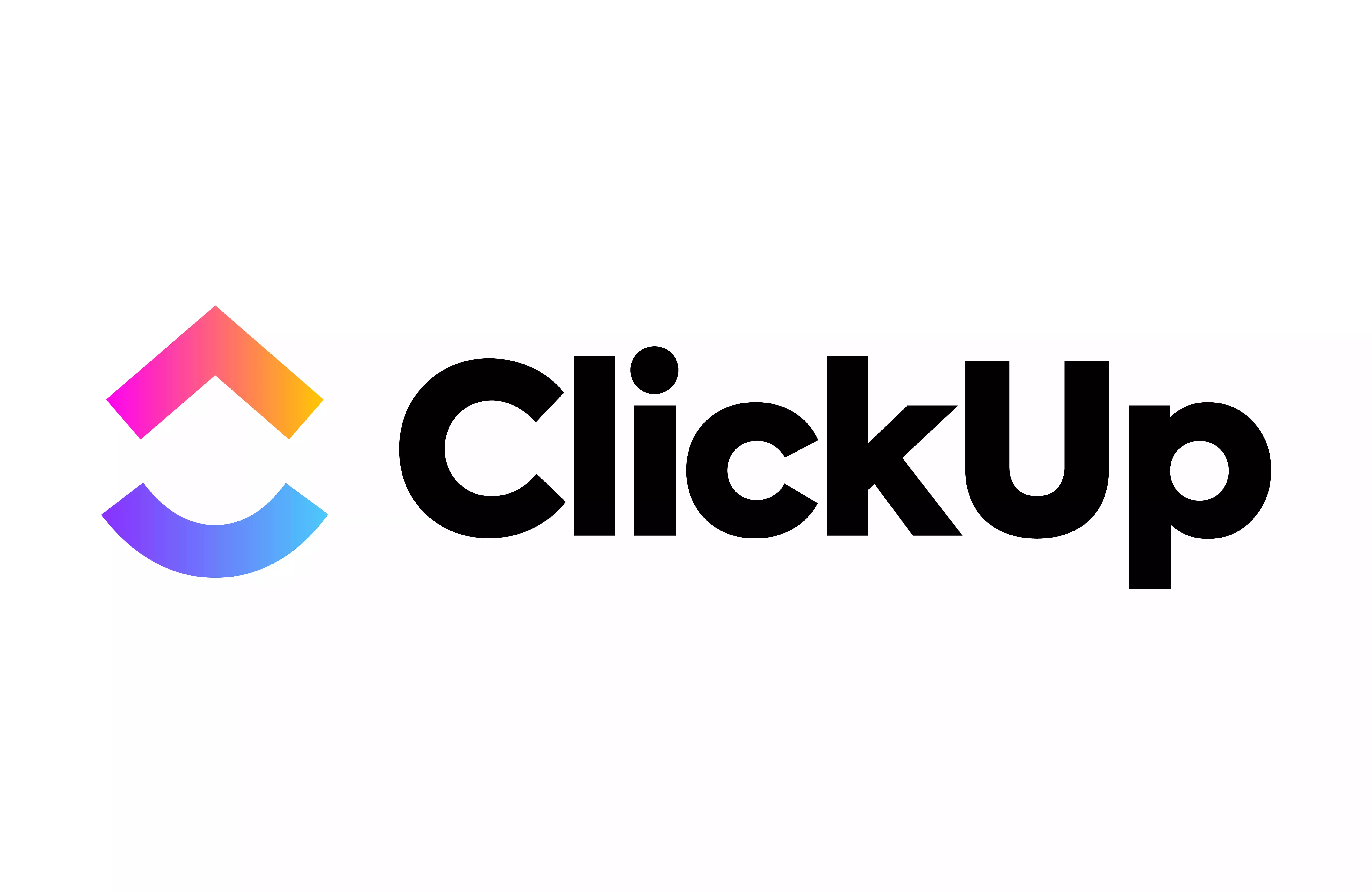 Why Go With ClickUp?
I've been so impressed with how quickly ClickUp has caught up with and even EXCEEDED competitors. They have ALL the integrations, plenty of pre-built templates for any use case, AND additional customization for any workflow.
Check it out Here
We earn a commission if you click this link and make a purchase at no additional cost to you.
How Basecamp and ClickUp Differ at a Glance
If you're looking for a quick comparison of Basecamp and ClickUp's core differences, I've got you covered. Let's take a quick look below:
Basecamp offers one pricing plan, whereas ClickUp offers five different pricing tiers.

ClickUp offers a free plan, whereas Basecamp doesn't.

Basecamp is easier to use thanks to its straightforward simplicity, whereas ClickUp has more features and a much steeper learning curve.

Basecamp doesn't offer in-built time tracking features, whereas ClickUp does

Basecamp integrates with design tools like Figma and the Adobe Creative Cloud, making it more accommodating to designers, whereas ClickUp doesn't offer these integrations.

Basecamp offers fewer task visualizations than ClickUp. These are described as different 'views' in which you can organize and display your tasks.

Basecamp only comes with a timeline, list, and hill view, whereas ClickUp offers Gantt charts, kanban views, and much more.
About Basecamp
For nearly two decades, this project management tool has continued revising its platform not to follow every new trend- but instead to ensure it stays as simple, intuitive, centralized, and effective as possible. Basecamp is on its third official version, following Basecamp 2 and Basecamp Classic.
Basecamp comes with all the core task management features you would expect from project management software. I.e., it helps you organize tasks, track to-dos, you can store and share files, chat with your team, schedule deadlines, and more. On top of this, Basecamp promises all human support.
Its methodology seems to work because it's used by thousands of teams across millions of projects. In fact, Basecamp has a whole testimonial page dedicated to hundreds of its customer's opinions.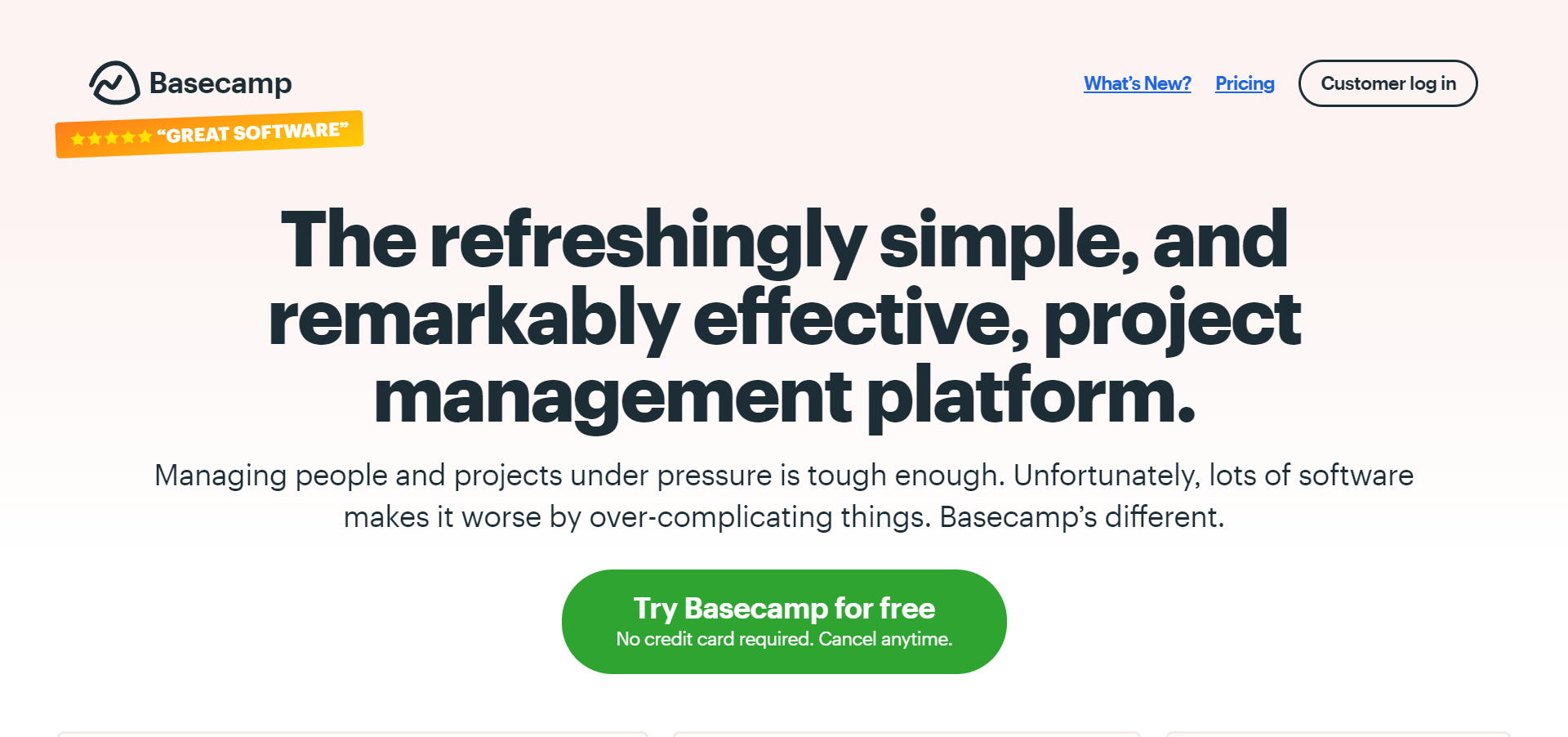 ClickUp was founded only in 2017 but has grown massively since then. Over 800,000 teams already use ClickUp to organize their projects, and it's plain to see why. ClickUp's mission statement is to become the tool that replaces all tools. With centralization at its core, they aim to provide everything global teams need to become more productive.
It offers not just task management features but also live collaboration and editing, time tracking, and email for general team communications. It's a favorite amongst users, winning awards like highest user satisfaction 2020 from crozdesk and a spot on G2's top 100 fastest growing products 2021.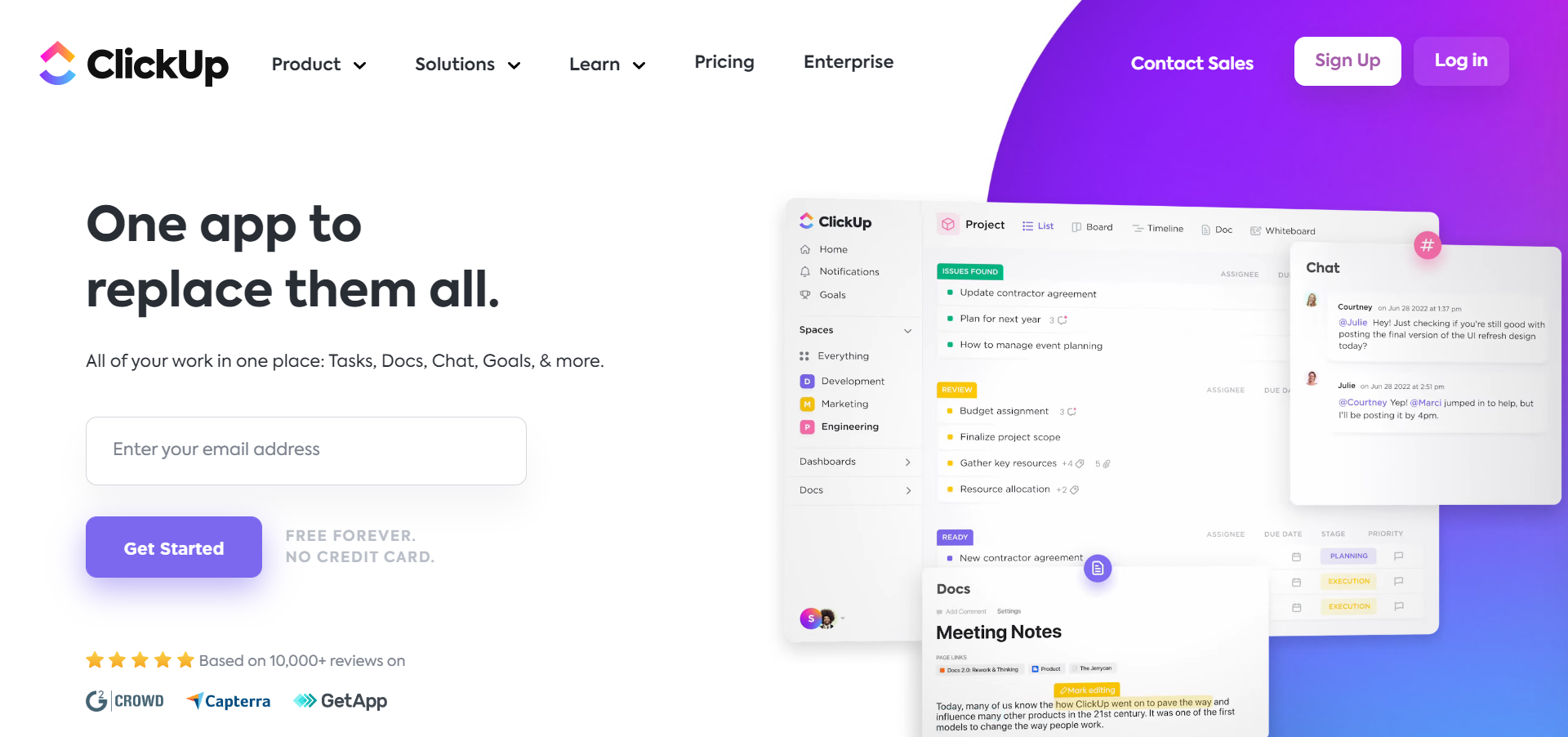 Basecamp's Key Features
Basecamp's features are difficult to organize into categories, but I've tried to do them justice. In the following sections, I'll cover all of Basecamp's core functionality as well as what to expect when you open Basecamp:
Manage Tasks and To-Dos
When you log into Basecamp, you'll land on your home dashboard, also called the HQ, where you can opt to display your logo. From here, each user receives an overview of their ongoing projects, schedule, and assignments- all in one place.
Basecamp's key functionality is 'to-do list' management. You can create unlimited task lists and assign as many team members as you like to them. Notifications are sent automatically when tasks are late. Similarly, once a job is completed, all the relevant people are notified, and the task can be moved to the next appropriate person. This can be done manually (or automatically by assigning dependencies from the start).
You can also add comments directly to tasks. This comes in handy for keeping your team updated and for providing feedback. On top of that, you can turn on hill charts to help you and your team visualize the task's progress. Hill charts show how far along you are on your list of tasks, enabling you to visualize when you're over the "hill ."More challenging tasks are displayed on the incline, whereas finishing tasks are shown after that.
You can add attachments to tasks to provide additional information and group tasks together. Unfortunately, Basecamp doesn't feature sub-task lists like Clickup. However, you can create groups of numbered tasks to achieve the same level of organization.
Basecamp's also in the process of adding a Card Table, which is their take on a Kanban view of tasks. This is a view where tasks appear like cards on a grid, displaying crucial information at a glance. What's great about a Kanban view (the card table) is that you can move task cards from one category to the next to visually display:
What's been done

What's still in progress

What's yet to be started
One final way to review your tasks is in the timeline view. Here your task start and end dates are visible, enabling you to easily see upcoming deadlines.
While I'm on the subject of visualizing tasks, I think it's worth noting that Basecamp doesn't offer Gantt charts or pie charts. It also doesn't enable you to visualize the workload of your team members or overall project progress.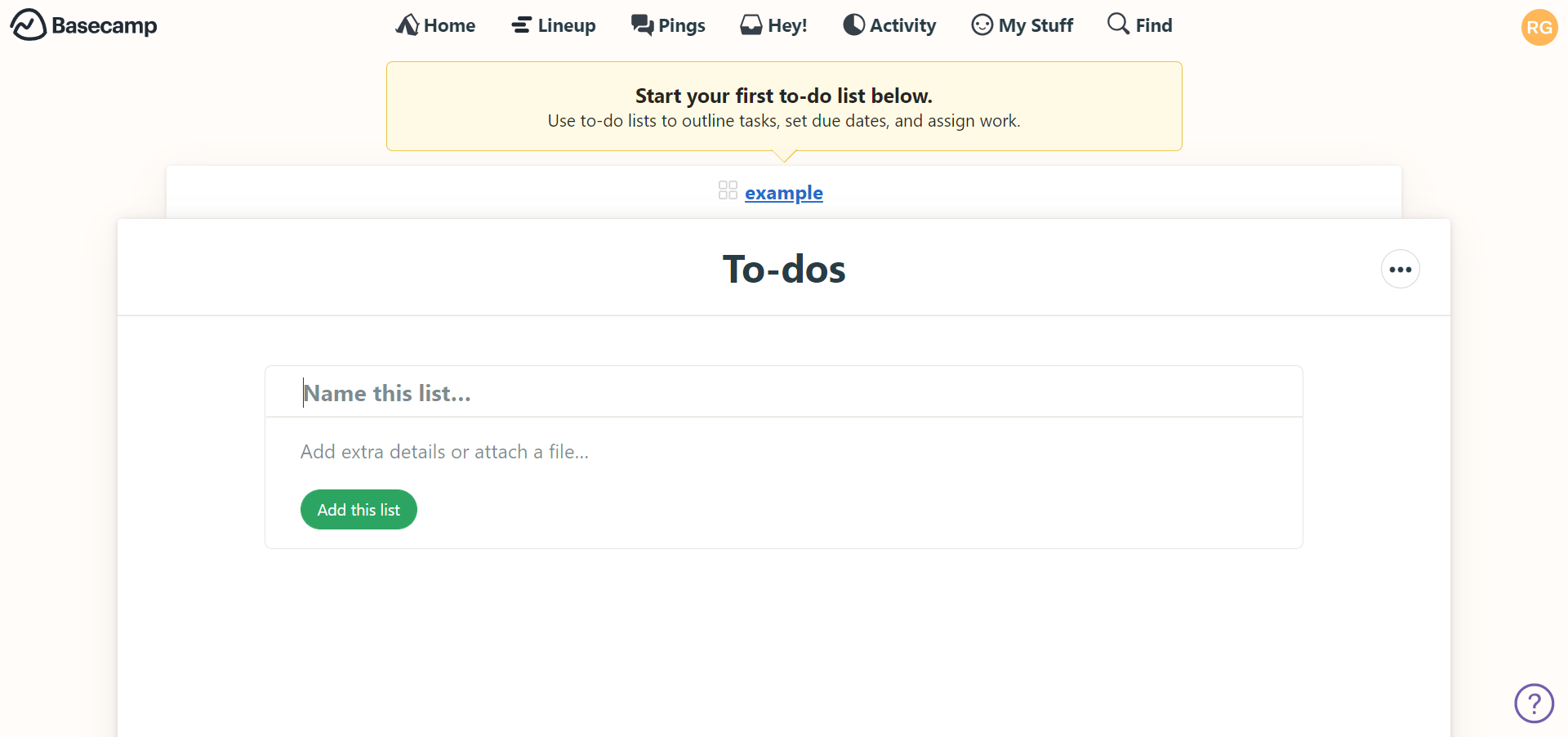 Get an Overview of the Project
Basecamp provides a calendar timeline where you can review upcoming projects. You can also keep an eye on your project's pending milestones and whether tasks are on track to be completed on time.
The view centers on today's date. So, you can see how much progress has been made on individual tasks and what needs to be done in the coming days. Each task is blocked out from its start until its end date and includes info on who and what's involved.
You can easily extend projects and add tasks with times and date ranges. On top of that, you can set recurring events. These come in handy for scheduling weekly meetings, daily check-ins, etc. You can also integrate with Google Calendar, iCal, or Outlook.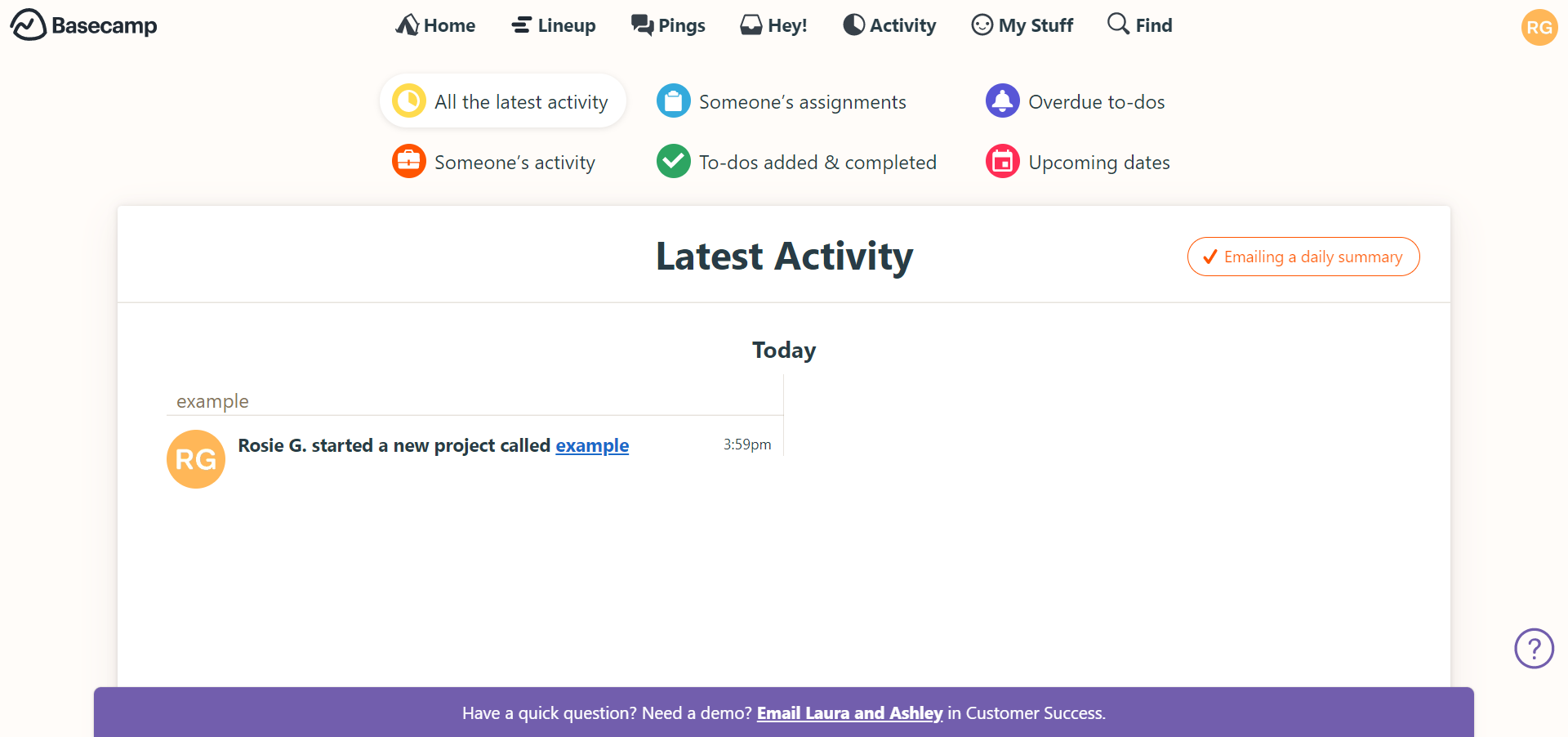 Team Management and Communication
Basecamp makes it easy for your team to communicate. For example, there's a "Campfire" chat area in every project's HQ where your team can chat in real-time to hash issues out quickly.
On top of that, anyone can share, store and leave comments about documents. Users can also decide how they're notified when a task is re-assigned. This includes the option to set in-office hours, so you won't be emailed after you clock out for the day.
Team members can also direct message others. These direct messages are called "Pings." This provides private comms separate from the campfire or project comment sections.
Managers and team leaders can also create regular and automatic check-ins to poll staff, for example, in daily or weekly intervals. This is useful for collecting feedback, checking if questions need answering, or even polling where to go for weekly after-work drinks!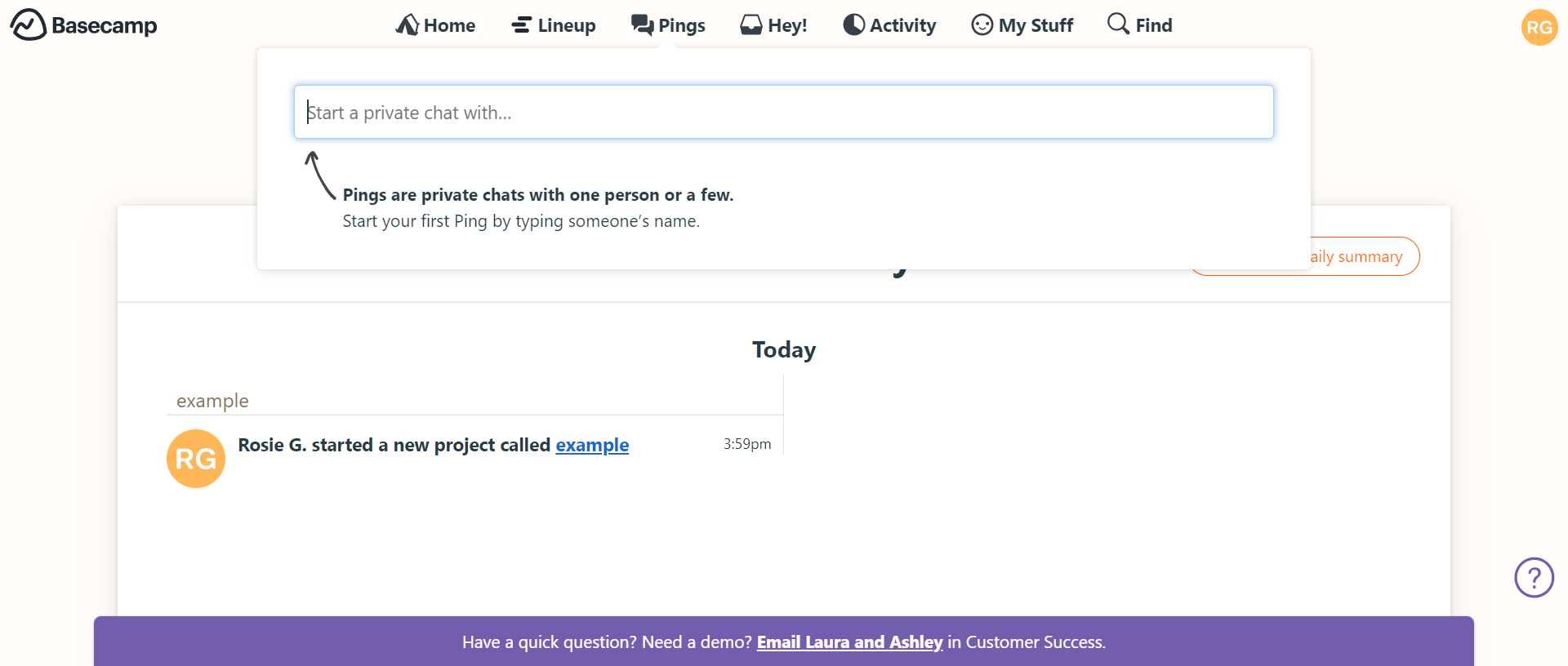 Reports and Analytics
You can review all project changes in real-time from the convenience of a single page. This includes tasks completed, tasks moved, new tasks created, etc. On top of that, you can generate reports summarizing:
Completed tasks

Tasks still in progress

What's overdue

Tasks assigned to a specific individual
ClickUp's Key Features
Now that I've summarized what Basecamp offers, let's look at ClickUp. I can say upfront that ClickUp includes many more features, perhaps at the cost of simplicity and usability. But if you like the idea of customizable dashboards and having several ways to visualize tasks and gain information, ClickUp won't disappoint.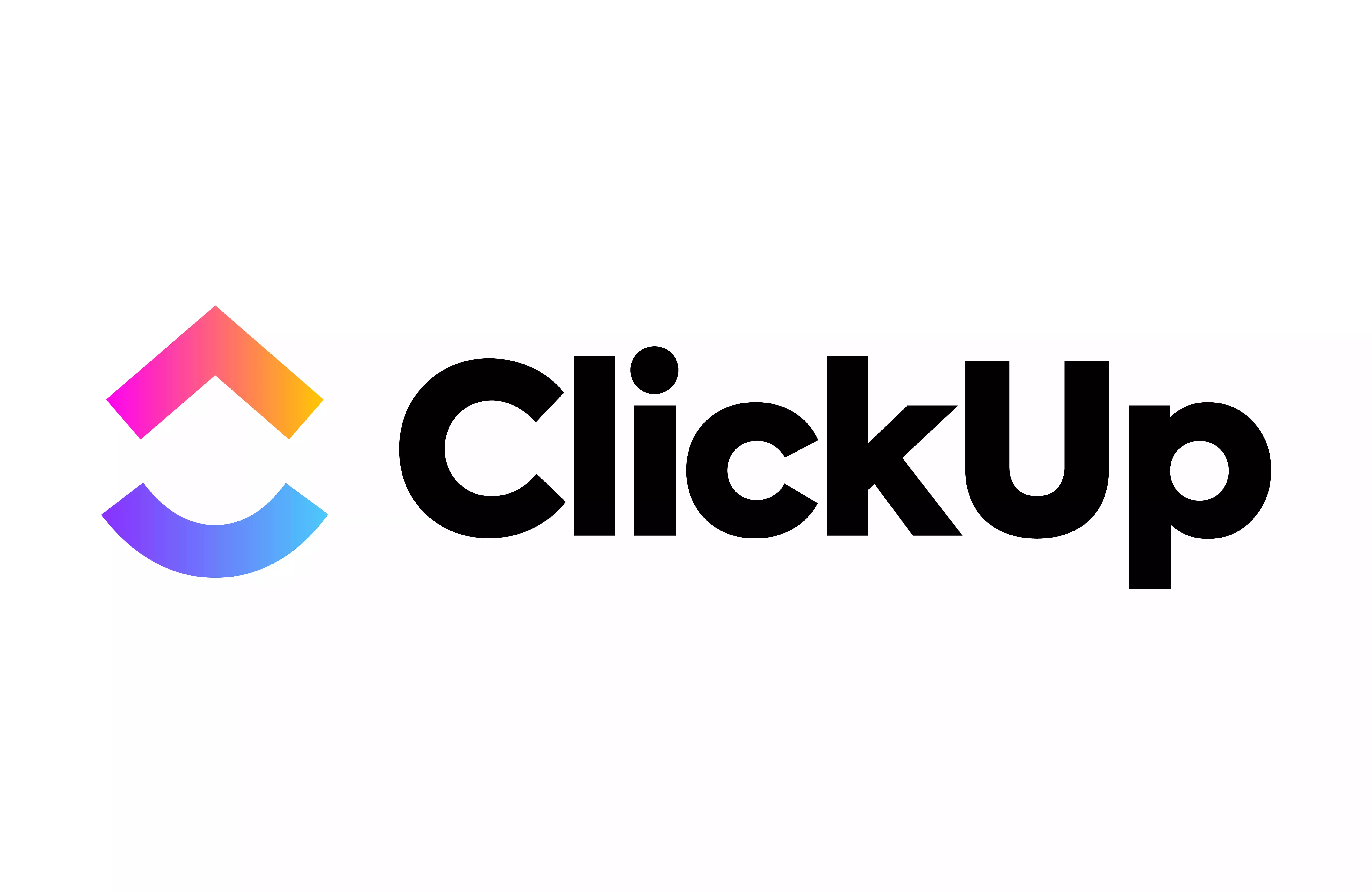 Why Go With ClickUp?
I've been so impressed with how quickly ClickUp has caught up with and even EXCEEDED competitors. They have ALL the integrations, plenty of pre-built templates for any use case, AND additional customization for any workflow.
Check it out Here
We earn a commission if you click this link and make a purchase at no additional cost to you.
Tasks
ClickUp enables you to organize tasks in whichever way suits you best. For example, you can provide teams and departments with their own spaces, group big projects and initiatives together, and break tasks down into lists with sub-tasks. This offers a more granular approach than Basecamp's tasks and groups.
You can also set recurring tasks. These come in handy for scheduling daily reminders and/or weekly check-ins.
Plus, you can create templates with custom fields to quickly launch tasks for similar recurring projects, like bug reports or design briefs.
Where task views are concerned, ClickUp offers:
Task lists

Boards (kanban view)

Calendar

Map (see where jobs are located)

Activity (review who did what recently)

Boxes (see a profile for each team member, including details about their workload)

Gantt charts

Mind Maps – visualize how individual tasks relate to wider projects

Tables – present due dates, time remaining, and notes all in one form

Timeline

Workload – see how much work each team member's juggling
You can also rearrange tasks in bulk or visualize tasks in multiple views simultaneously.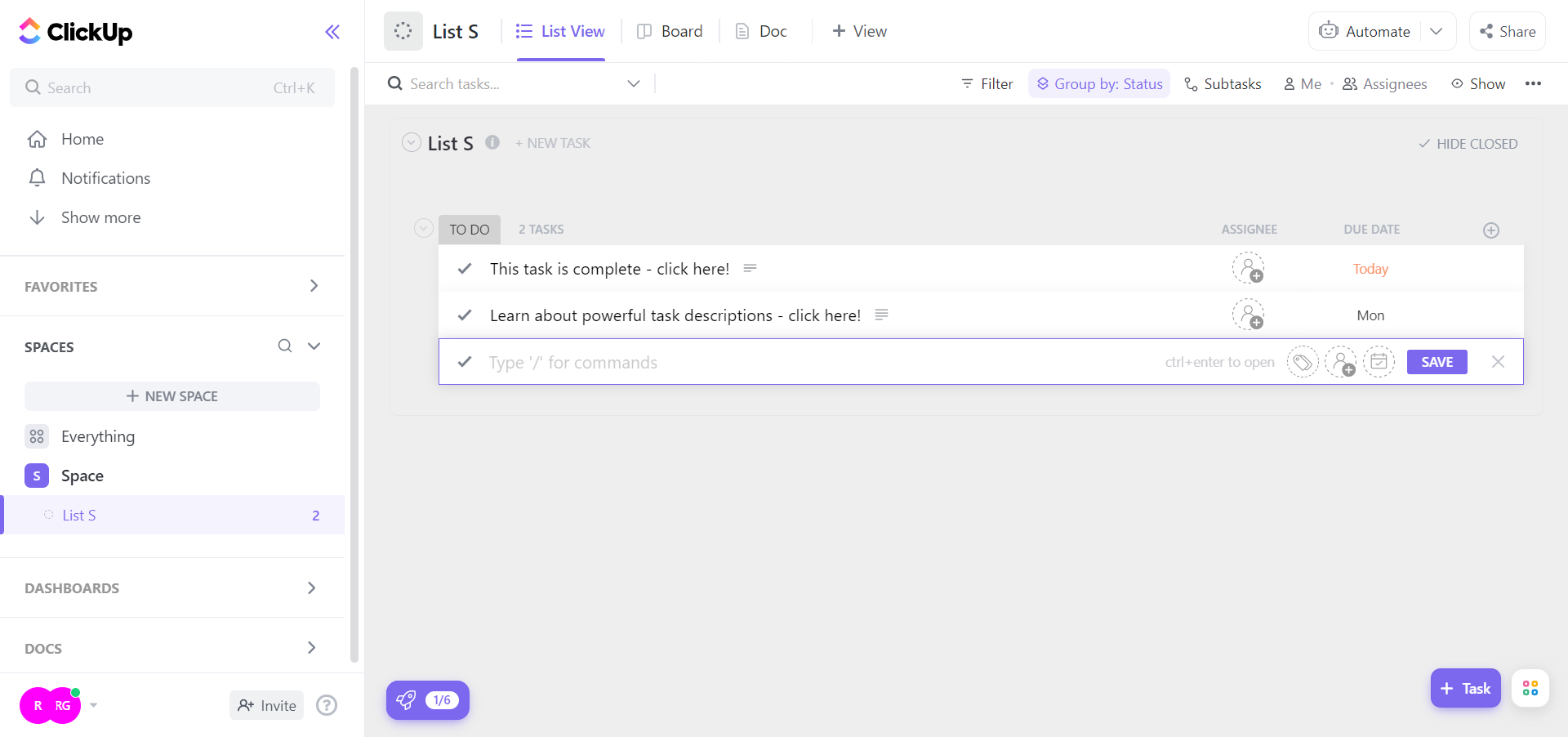 Customization
Where customization is concerned, you can automate who tasks are assigned to for review once a job is finished. You can add custom fields to tasks to add extra information, display who's online, and show dependencies between tasks. Dependencies outline which team members rely on a job being completed before they can progress with a task on their own to-do list. This helps users prioritize tasks as they can see who they're holding up.
On top of that, you can assign multiple people to tasks, flag priority tasks, and add tags for extra clarity. For instance, you can tag tasks according to their department, like "marketing," "bugs," "project design," etc.
You can start and/or schedule sprints to encourage team members to buckle down on tasks. Sprints are an excellent way to gamify lengthy task lists by transforming productivity into a competition. For instance, you could set a start time and duration for each sprint and list tasks that need prioritizing.
You can also assign points to each job to be accredited to the user that completed them. So, as your team completes tasks, they can see how other team members are getting on and try to get ahead. If a job isn't completed during the sprint, ClickUp can automatically schedule it into your next sprint.
There are also a bunch of other UX features. For example, you can opt in or out of email notifications that tell you when a task is done or when you receive a new job to complete. You can also set hotkeys to make ClickUp respond to your pressing needs faster.
For the uninitiated, hotkeys complete frequently needed actions or open specific pages with just the press of a button. For example, creating comments or tasks from selected text, creating a new reminder, opening the notepad, and more.
Collaboration
One cool ClickUp feature I like is its 'whiteboard.' Team members can jot down notes, outline task dependencies, and create flowcharts or sketches. This is an excellent way for remote teams to quickly hash out ideas and clarify pending tasks.
Like Basecamp, you can also comment on tasks and projects and attach files to comments. Artistic directors and managers can even assign comments to specific parts of your image or document. You can even send and receive emails within ClickUp, and automate when emails are sent out to team members.
Finally, like Basecamp, a chat function enables you and your team to communicate in real-time.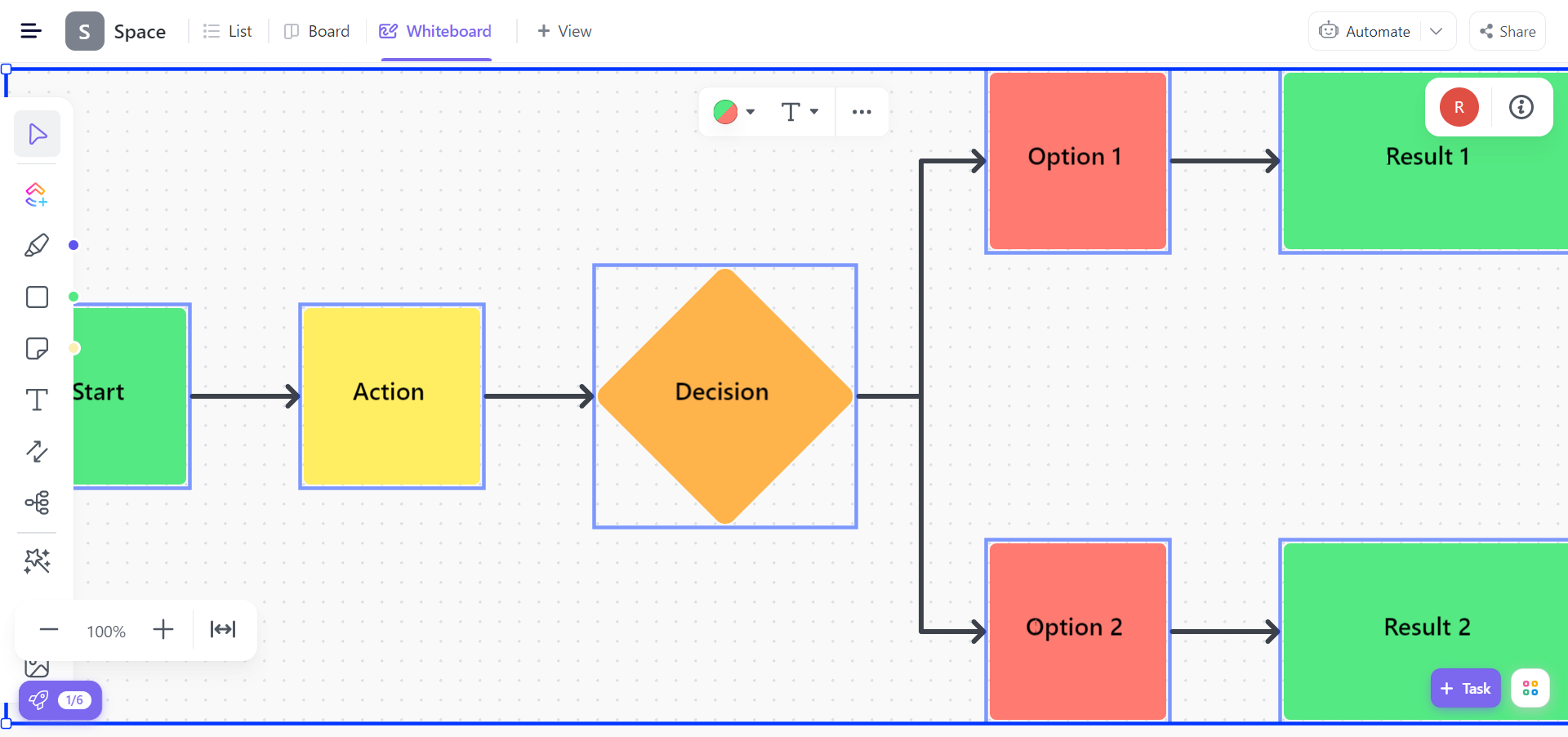 Docs
ClickUp comes with its own document editor. Here, your team can edit docs together in real time. I.e., you can see who's editing what as it's happening.
ClickUp Docs allows you to comment on the document and comes with import and export options. You can save Docs as templates and use them in similar projects. On top of that, you can use ClickUp Docs to create an internal knowledge base for your team.
You can display Docs in your sidebar or beside tasks in your project view. You can also create multi-page documents tagged for relevance, making it easy for your team to find and share the information they need.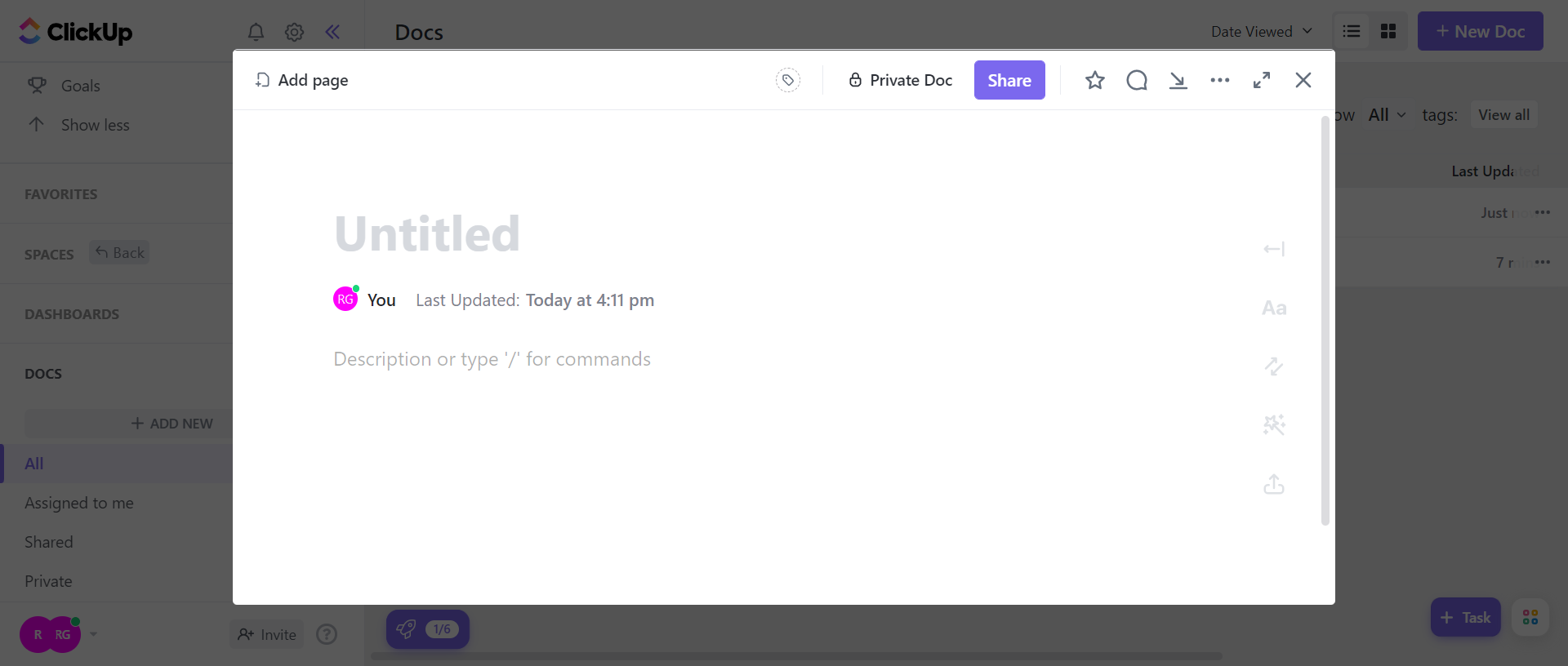 Reporting and Analytics
You can generate real-time reports on your workload, project status, sprint results, and more. These are displayed in a customizable dashboard – i.e., You can add or remove whatever information is most significant to you. I also like that you can measure project goals by tying them to specific tasks. This enables you to review how close you are to achieving a goal from the convenience of your report dashboard.
On ClickUp's premium plans, you can also identify critical paths and slack time. Critical paths show which tasks are an absolute priority for staying on track to meet your goals. Whereas slack tasks are jobs that could be left a little later as they have fewer dependencies and/or looser deadlines.
Time
Unlike Basecamp, you can automatically or manually track your team's time within ClickUp. This enables you to see how long it takes to complete specific tasks, which in turn, helps businesses optimize their future schedules. In addition, the timer is global, which means it keeps track of team members' hours no matter where they use ClickUp: i.e., desktop, mobile, or internet browsers.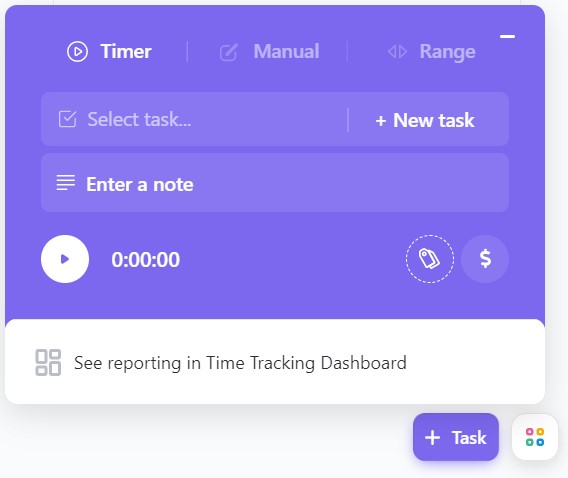 Basecamp vs ClickUp Integrations
Basecamp offers 29 integrations, including:
Dropbox

Figma

GoogleDrive, Docs, Sheets, Slides

GitHub

Mirp

Notion

Onedrive

iCloud Drive

Salesforce

Jira

Slack

Xero

Zoom

Zendesk

The Adobe Creative Cloud
…and more.
In contrast, ClickUp connects with 48 native integrations – including pretty much every tool Basecamp offers, as well as:
Gitlab

Everhour

Timely

TMetric

Webhooks

Vimeo and YouTube

Discord

Loom

Bitbucket

Amazon Alexa and Google Assistant

Twilio

Giphy
However, at this point, I think it's worth highlighting that ClickUp doesn't boast Adobe Creative Cloud or Figma integrations. As such, creative teams using these tools might find ClickUp a little less accommodating.
Basecamp vs ClickUp Customer Support
Basecamp promises all-human support, 24/7. To get in touch, you need to fill out a contact form describing your problem or question and choose a topic that your query relates to. You can also send a file, screenshot, or document for added context.
Aside from this, Basecamp offers a range of self-help materials, including blog posts. There's also an online knowledge base with guides on how to use each Basecamp feature. Basecamp even has books on productivity available in paperback or e-book, with helpful project management tips. But, of course, these have to be purchased separately.
ClickUp also offers 24/7 support, even with its free plan. This is available via a ticketing system, but you unlock live chat support with ClickUp's premium plans. In addition, priority support is available for Business Pro plan users (and onwards).
On top of this, plenty of self-help documentation is available to help navigate ClickUp's numerous features. But that's not all. I love that ClickUp comes with its own university – this includes a range of courses to help you level up your skills. You can also join ClickUp's experts for live webinars or browse its blog for more tips.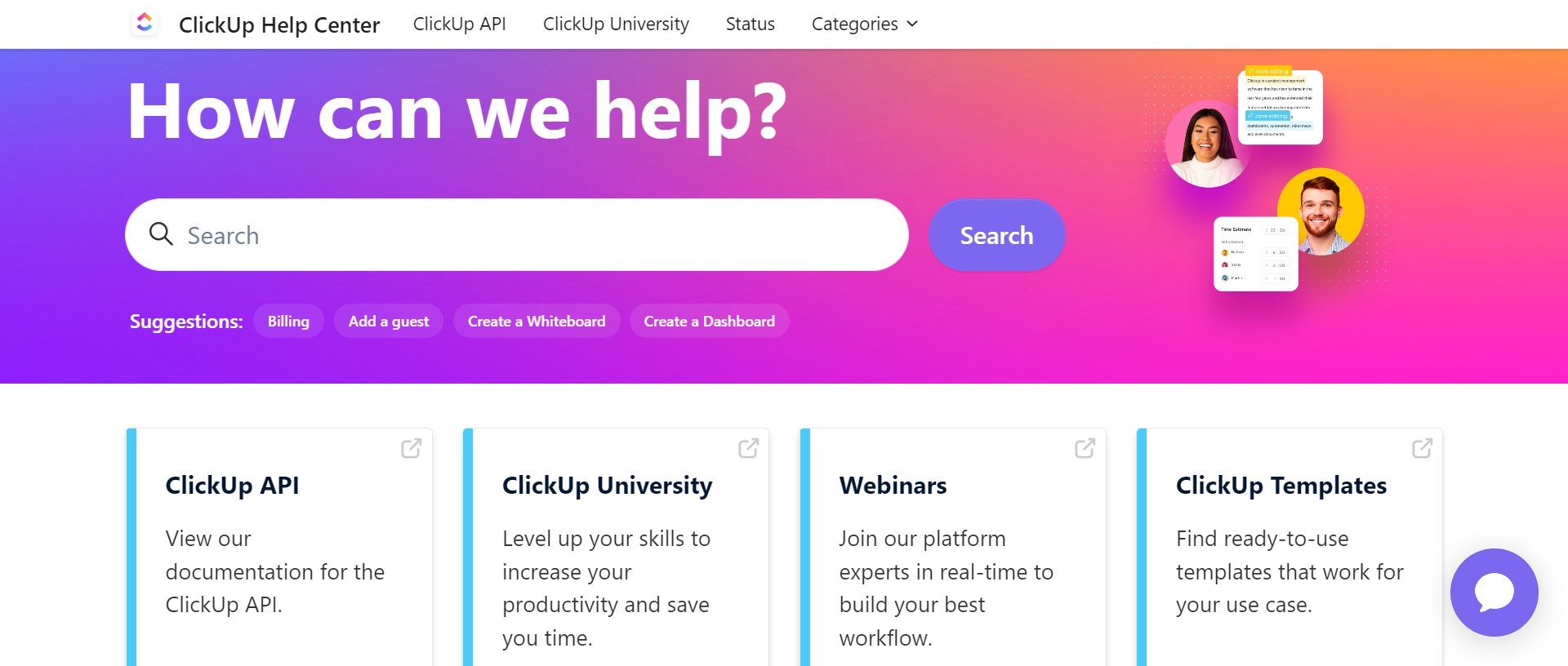 Basecamp vs. ClickUp Pricing
Next, I want to explore Basecamp and ClickUp's pricing. After all, first and foremost, you must ensure that whatever platform you're considering is in line with your budget. With that said, let's see how much Basecamp will set you back:
Basecamp's Pricing
I love that Basecamp's pricing couldn't be simpler. Basecamp applies one price to everything: $11 per user per month.
You only pay for actual team members, not for guests, clients, or contractors – you can invite these to collaborate with you free of charge!
For this price, you unlock:
Unlimited projects

500 GB storage space

24/7 support

Advanced client access

Unlimited software updates

Access to integrations

Access to all Basecamp features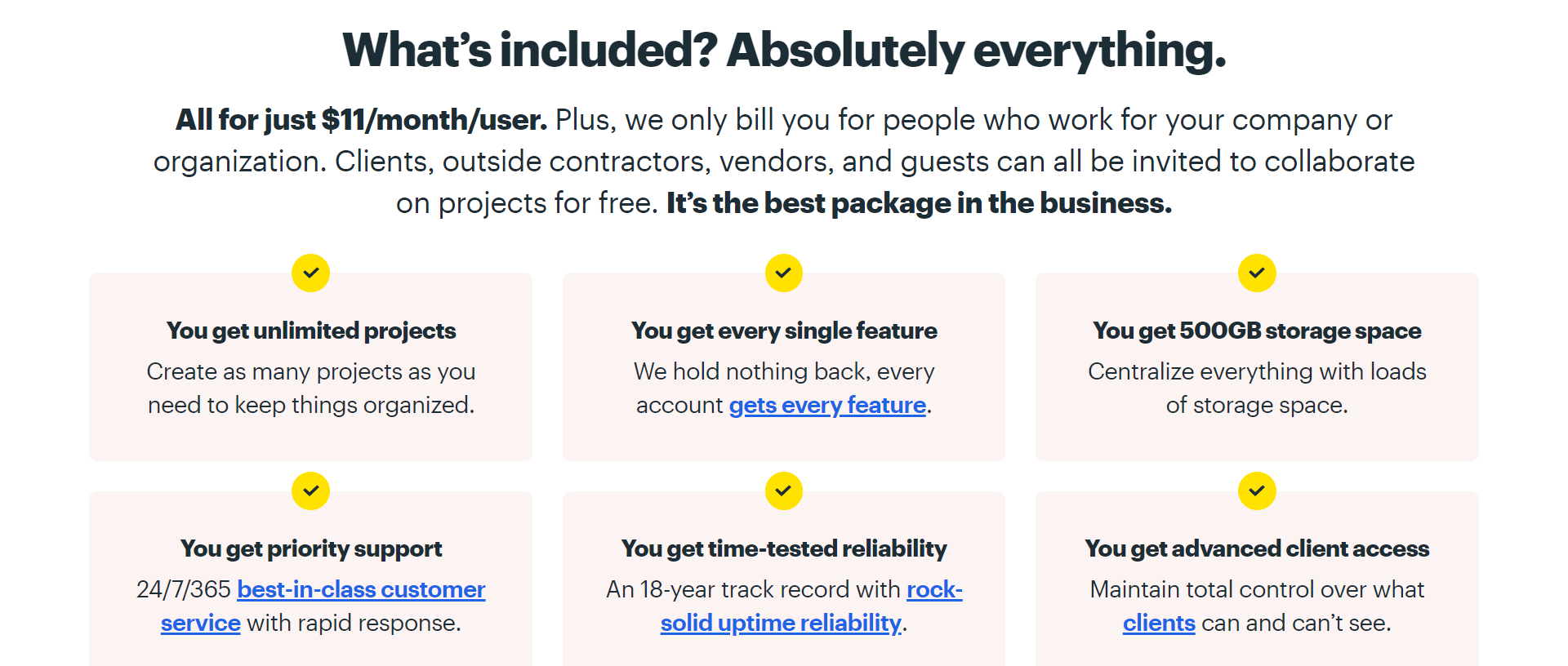 ClickUp's Pricing
Moving on from Basecamp's simplicity, with ClickUp, we return to a more typical SaaS pricing model. ClickUp has five pricing tiers, which you can pay for on either a yearly or monthly basis. With annual billing, you benefit from a discount of up to 45%, so that's what I've listed below:
The Free Forever plan comes with:
100 MB storage

You can create unlimited tasks

You can add unlimited members

Collaborative docs

Team tracking

Sprint management

Real-time chat

In-app video recording

Whiteboards

Kanban boards

24/7 support
Integrations and dashboards on this plan are limited, as are Gantt chart uses and custom fields. You also can't invite guests with differing permissions. Nonetheless, I like this free plan for small businesses – it has the majority of things a small team needs for effective collaboration and project management.
The Unlimited Plan for $5 per user per month unlocks:
Unlimited storage, integrations, dashboards, Gantt charts, and custom fields

Teams (you can organize users into one team on this plan)

You can create goals and assign tasks that help towards their completion. You can also organize goals, projects, and tasks into portfolios to monitor your overarching business initiatives.

The form view

Resource management – for instance, time tracking tools and user workload monitoring.

Agile reporting – for instance

,

tracking project milestones and reviewing critical paths and slack time.

You can invite guests to collaborate and set their permissions.
The Business plan for $12 per user per month comes with:
Unlimited teams

Custom exporting

Google SSO

Advanced automations – Access over 10,000 automations per month and set automated workflows with multiple actions and conditions.

Your dashboard shows which team members are overloaded and who can take on more work.

Advanced time tracking

Get time estimates for each subtask.

Workload management tools

Timeline view and mind maps

Goal folders – easily organize your goals into folders.
The Business Plus plan for $19 per user per month offers:
Share tasks with your whole team, or mention an entire team if you have a comment relevant to their department.

You can create subtasks within multiple lists.

Custom permission and role creation – change the default permissions for guests, workers, and admins.

Designate custom capacities within workload views – for example, if a team member is in training and can't take on as many tasks as the average employee

Increased automations and API

Access to an admin training webinar- to help with your ClickUp onboarding.

Priority support
Finally, there's an Enterprise plan with pricing available upon request; this unlocks:
Add unlimited custom roles

White labeling

Enterprise API

Unlimited custom roles

Default personal views – these are views and dashboards only visible to individual team members.

Single sign-on

Live onboarding training

A dedicated success manager

Access to managed services – You can add admin services or Enterprise support for an additional fee.
You can click here for the complete feature list!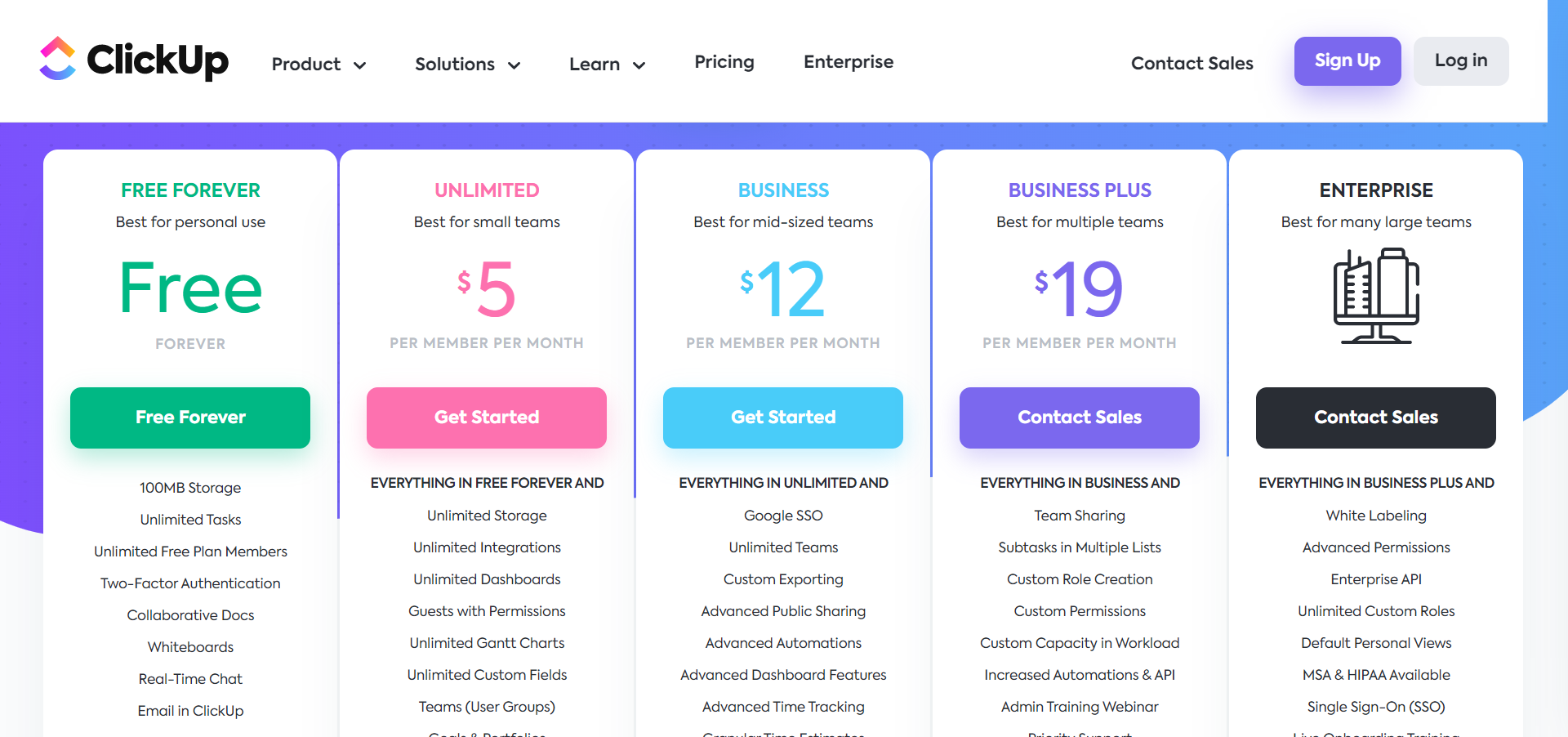 Basecamp vs. ClickUp: Alternative Platforms
Basecamp and ClickUp are undeniably decent options for anyone looking for affordable project management tools. However, they're far from the only options out there. Below I've listed a few other alternatives worth checking out:
Asana
Asana was one of the first pieces of software to make it big in project management. Compared to Basecamp, it offers a more extensive suite of features, including workload management and goal tracking. Still, it isn't quite as overwhelming as ClickUp's interface. Asana also has a free plan that comes with unlimited tasks and projects.
Smartsheet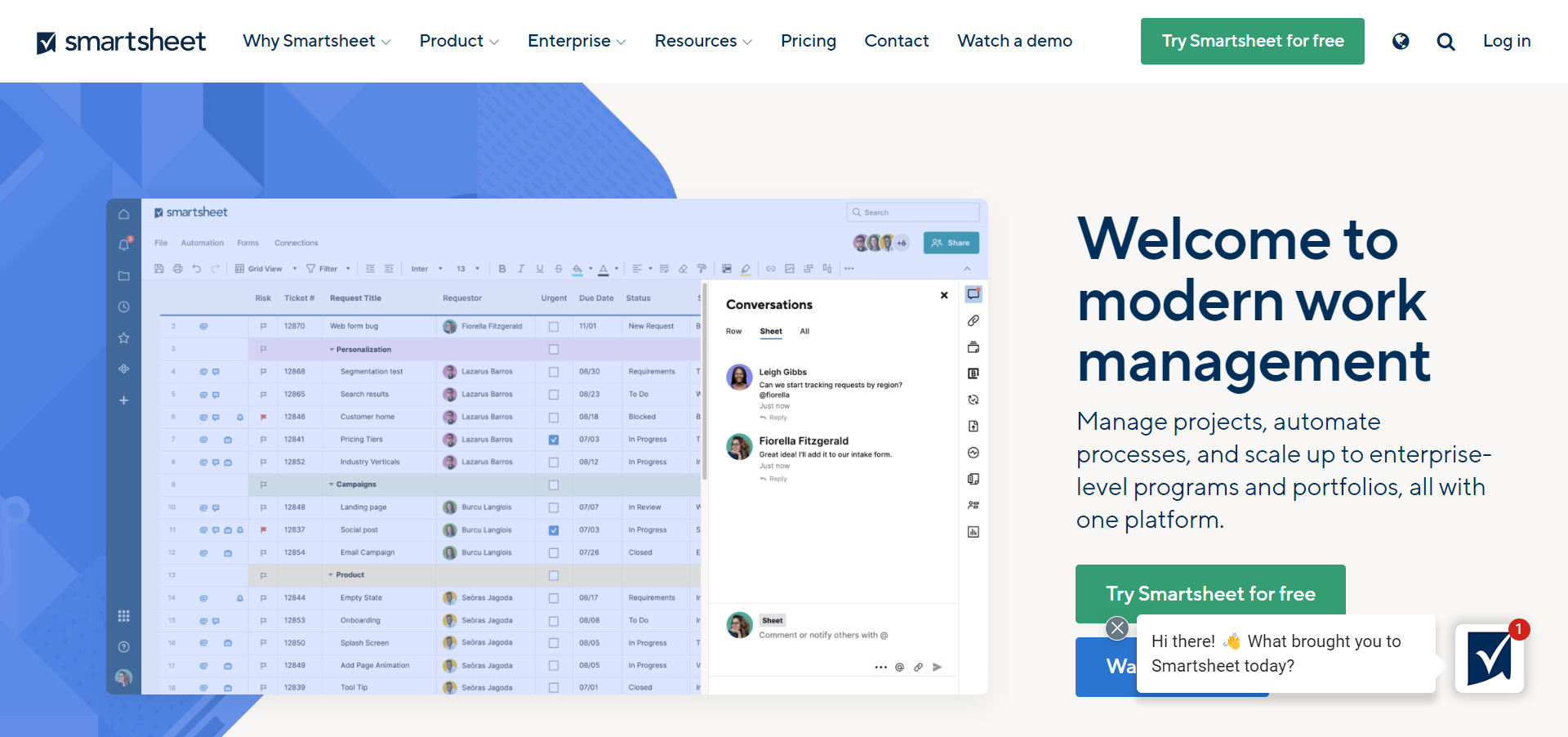 Smartsheet could be the tool for you if you know your way around Excel spreadsheets and love organizing information into tables. Smartsheet is cloud-based and offers different data visualization options and automation – like the ability to set recurring tasks. In addition, Smartsheet is a scalable software, making it an excellent alternative to ClickUp. Prices start at $7 per user per month.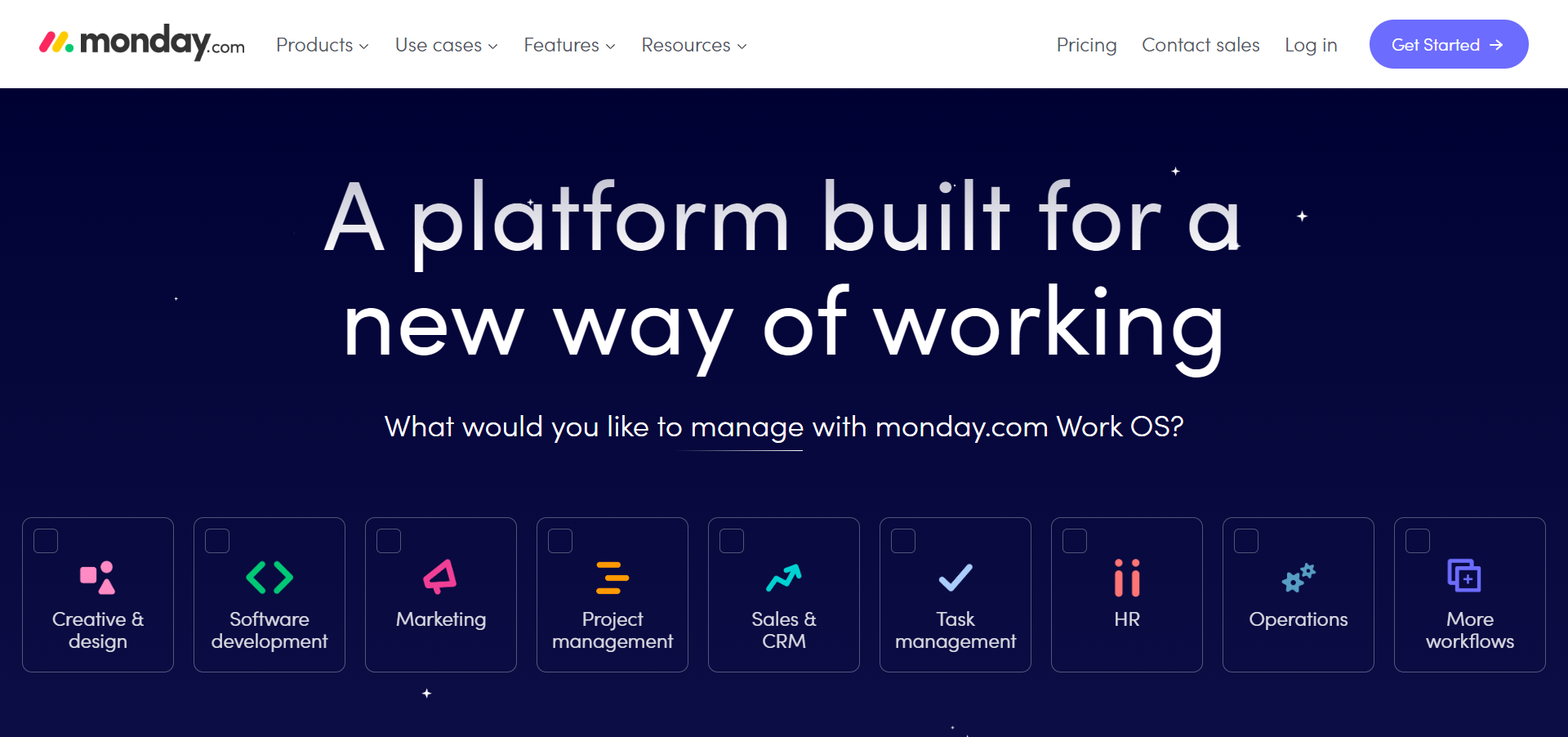 Monday is another all-in-one project management solution that goes a few steps further than ClickUp. Aside from task management and time tracking, it offers design, software development, HR, operations and sales tools, and a CRM. It's free for up to two users. After that, pricing starts at $8 per user per month. An enterprise solution is also available for a custom quote.
FAQs
Question: Do Basecamp or ClickUp offer discounts for nonprofits or students?
Answer: Basecamp and ClickUp are both very affordable tools – ClickUp even offers a free plan for anyone that wants to test it out or use it on a smaller scale.
However, Basecamp offers its services completely free to teachers and students. In addition, it discounts its plan to $9 per user per month for nonprofits – which I think is a pretty good deal! ClickUp also offers discounts to nonprofits, although it doesn't advertise the exact figure.
To apply for the said discount, you'll need to fill out a quick form with your organization's name, how many users you need, and what your nonprofit does.
Question: What does the web say about Basecamp and ClickUp?
Answer: ClickUp has an astounding 10,000 reviews across G2, Capterra, and GetApp. The G2 reviews are pretty positive, with an average of 4.7 out of five stars. Users love the ability to create various workspaces for each business or project. However, many point out that ClickUp comes with a significant learning curve. Navigating its many features can be complicated and overwhelming for first-time users.
In contrast, Basecamp isn't quite as well reviewed on G2. It boasts just over 5,000 reviews accumulating an average of 4.1 out of five stars. Users state that the software lacks fundamental tools, like Gantt charts, subtasks, and time tracking. On the other hand, Basecamp is generally praised for its ease of use and excellent customer support.
Question: Which languages are ClickUp and Basecamp available in?
Answer: ClickUp is available in English and French. But, it's also testing its software in Beta for Spanish and Brazilian Portuguese. Basecamp, on the other hand, is only available in English.
Basecamp vs. ClickUp: My Final Verdict
I hope you've enjoyed taking a closer look at Basecamp and ClickUp with me. Truth be told, I find it challenging to pick a favorite out of the two because both are useful in their own unique way.
There's no denying that ClickUp has an awful lot more to offer when it comes to features. It includes time tracking, a much more comprehensive range of views and customizations, more in-depth automations, goal and workload trackers, and more. I also like that it comes with a free plan and very affordable pricing.
However, it can be overwhelming, having tried ClickUp before for simple projects. Suppose you don't want to spend a while learning how to organize tasks and would prefer to get stuck into a new project. In that case, ClickUp probably isn't the best solution. That's why I'd only recommend ClickUp to larger teams looking for a permanent solution to organizing their tasks and projects.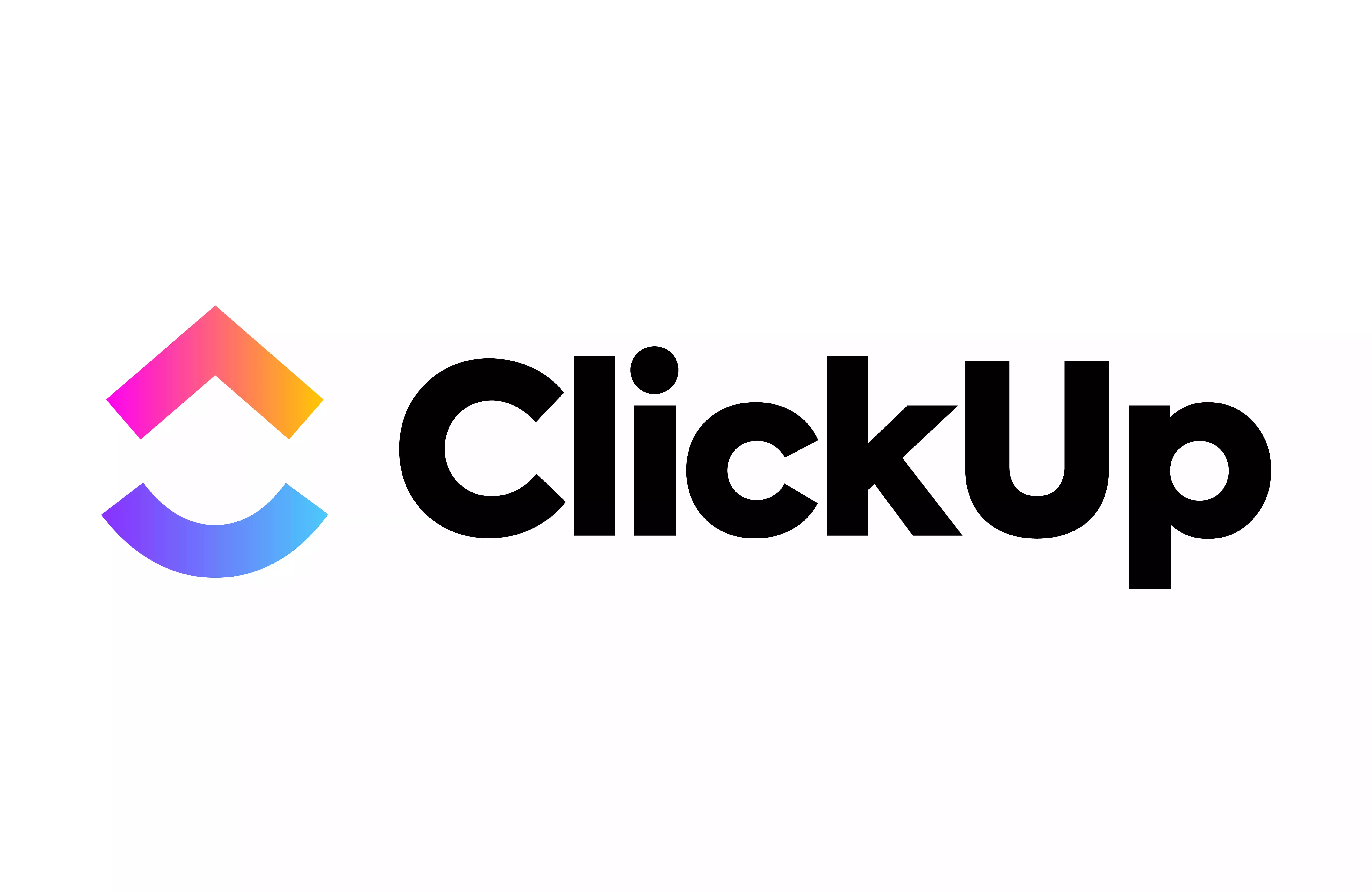 Why Go With ClickUp?
I've been so impressed with how quickly ClickUp has caught up with and even EXCEEDED competitors. They have ALL the integrations, plenty of pre-built templates for any use case, AND additional customization for any workflow.
Check it out Here
We earn a commission if you click this link and make a purchase at no additional cost to you.