Last Updated on April 22, 2023 by Ewen Finser
Workplace communication is one of the biggest concerns in professional settings, especially since the workplace is shifting to a remote environment. That's why there are more communication tools that businesses can use to collaborate and stay connected.
The modern organization has two main communication tool options: communication apps and project management apps with communication features. The two biggest players in both categories are Slack and Asana.
Slack is a communication app that makes collaboration and file sharing quicker, easier, and more secure. Asana is a project management app that organizes your projects, tasks, and goals.
Which platform is best for your company? Here, we compare both programs and identify their pros and cons.
Main Differences Between Slack and Asana
The main differences between Slack and Asana are:
Slack is a communication app, whereas Asana is a project management platform.
Slack lets teams collaborate with the entire organization in smaller groups, whereas Asana uses communication on projects.
Slack has to be used by a group of team members, whereas Asana can be used by an individual
Slack doesn't offer webinars while Asana does
Things to Keep in Mind
Both Slack and Asana offer a free pricing tier. The free tier has restricted features and only benefits certain organizations. We'll go over the pricing later in this article.
Asana isn't only used for communication. You can create projects, tasks, and even goals. You can also monitor your project spending. Asana offers many features to make the project management process easy.
While those who need project management assistance will love Asana, they may not require all of those features
Both platforms are ideal for businesses of all sizes, including solopreneurs and tiny startups
Pricing
As stated previously, Asana and Slack are both freemium products. This means they offer a free pricing tier as well as paid tiers.
Asana's Pricing
Asana offers a variety of tiers suitable for businesses of all sizes (and all budgets).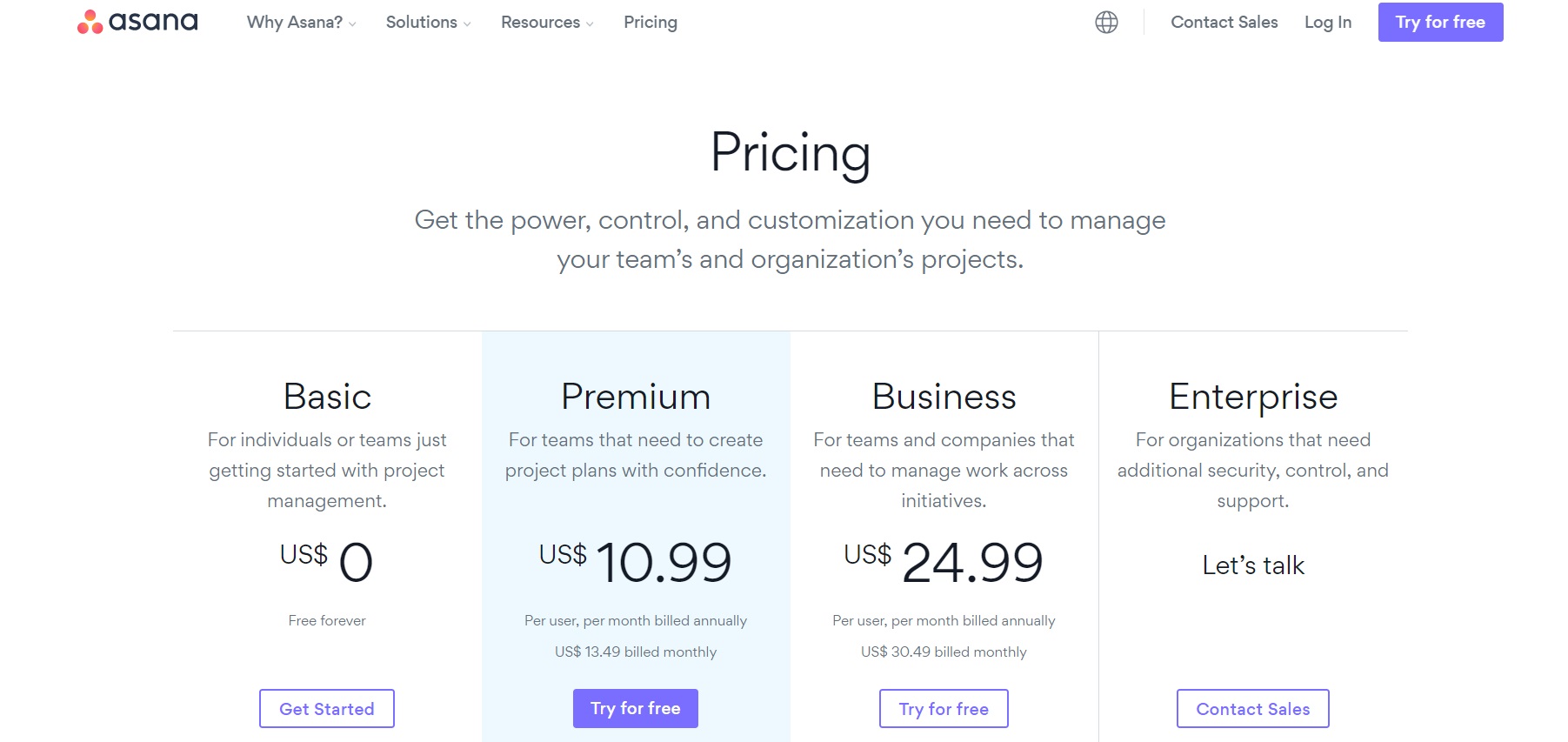 The pricing tiers include:
Asana also offers annual pricing that includes serious savings. Annual Asana pricing includes:
Premium: $10.99/month
Business: $24.99/month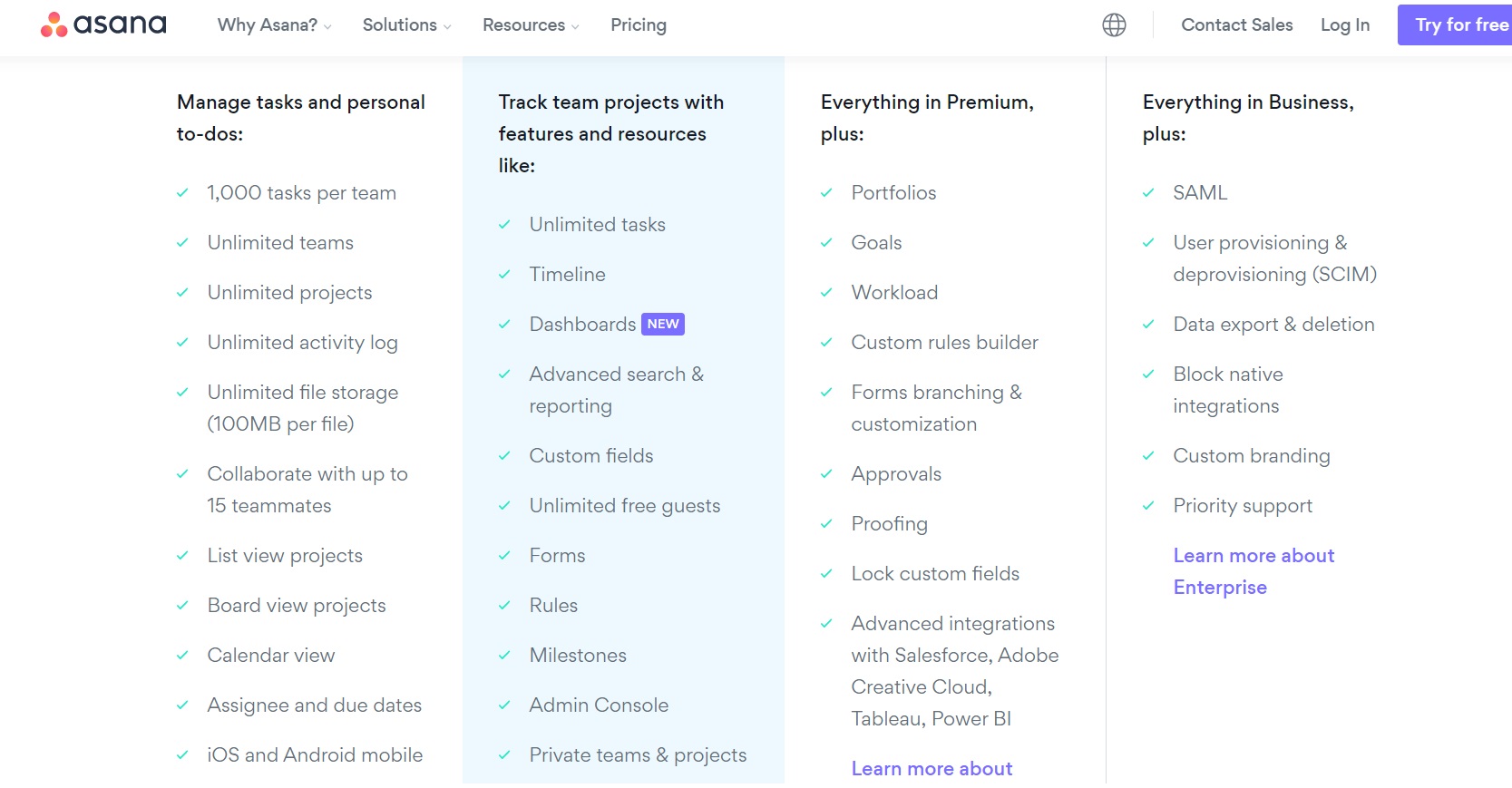 Which plan is right for you?
Premium is suitable for organizations that need to create and manage projects. You receive a powerful timeline, unlimited tasks, advanced search and reporting, dashboards (a new feature), custom fields, and more.
The business plan is ideal for larger organizations that need to manage projects across many teams. You can not only create projects and tasks but can create goals, portfolios, you get a custom rules builder, manage your workload, and more.
Enterprise includes more control, added security features, and more support. Other features include user provisioning and de-provisioning, SAML, block native integrations, data export and deletion, and priority support.
If you're unsure which plan you need, you can always try the Basic (free) plan. This free plan includes:
Unlimited teams
Collaborate with up to 15 team members
1,000 tasks per team
Unlimited activity log
Unlimited projects
Unlimited file storage
Board view projects
List view projects
Assign and due dates
Calendar view
Time tracking
Mobile apps for iOS and Android
100+ free integrations
As you can see, Asana's free version is extremely powerful. It not only rivals Slack's free tier but also other project management competitors, such as monday.
If there's a specific tier you want to try, Asana offers a 30-day free trial.
Slack's Pricing
Like Asana, Slack offers a free product. While it also has its limitations, most small-to-medium size businesses can use this option.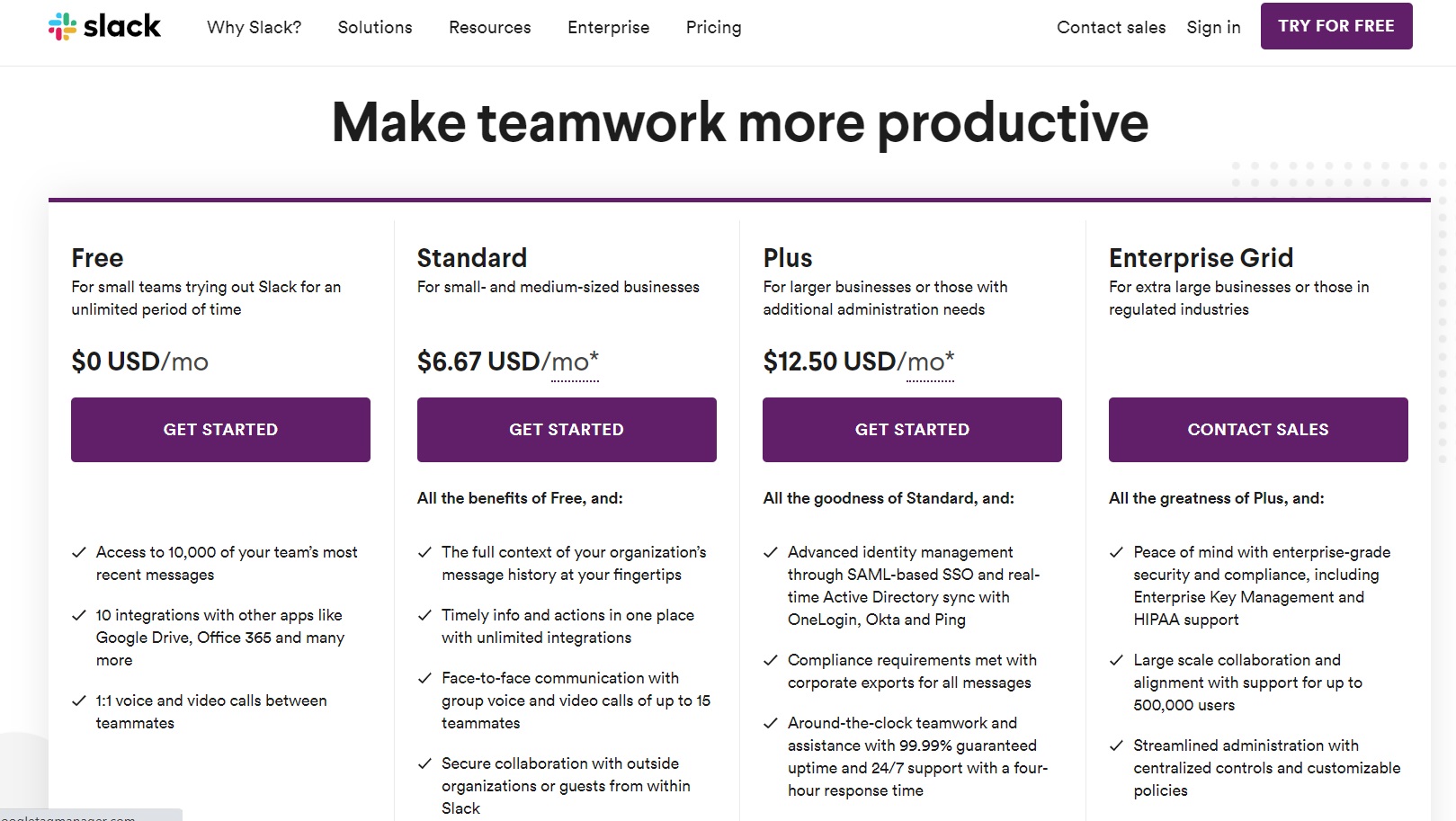 Before we look at Slack's free service, let's look at their paid ones:
Standard: $6.67/month
Plus: $12.50/month
Enterprise: contact sales
As of now, Slack doesn't offer annual pricing.
The standard plan is best for small and medium-sized businesses. You receive unlimited integrations, full message history, secure collaboration, and face-to-face communication including group video chat (up to 15 members).
Plus is ideal for larger organizations. You receive compliance requirements with file uploads, advanced identity management, 24/7 support, and more.
Enterprise is best for large corporations. You can add u to 500,000 users, enterprise security and compliance, tailored support, streamlined administration, and more.
How does the basic plan compare? With the basic plan, you get:
10 integrations (such as Office 365 and Google Drive)
10,000 of the most recent messages
One-on-one voice and video calls
One workspace
5 GB file storage
Two-factor authentication
Data encryption
Can only manage the #general channel
Standard customer support
Asana wins this round. Even though they're more expensive than Slack, their free service is far more powerful than Slack's. But this ultimately depends on what you need.
Using the Platforms
While customers have stated both platforms are easy to use, you'll inevitably have to get over the learning curve. Which platform is the most user-friendly?
Signing Up
First, signing up for both platforms is easy. Just provide your email. From here, you'll be required to create an account. If you're signing up for the free tier, you don't include any personal or credit card information.
Keep in mind, it's recommended you use your work email to sign up. Both platforms will automatically match you with your team. If you don't have a work email, just use your personal email and find your team.
Slack has a few more initial steps than Asana. For example, you'll have to add your basic information, such as your display name. You can also create a profile, but you don't need to do this immediately.
From here, you can use both products!
Layout and Design
Asana and Slack have similar layouts. The main screen is in the center and there's a left-hand sidebar for navigation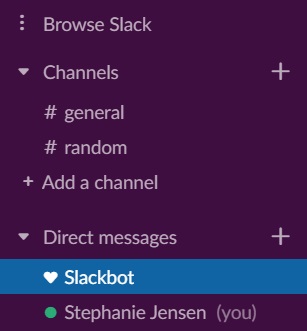 In Slack, you can change the color scheme (called themes). You can alter the theme by accessing your team's drop-down menu, selecting "Preferences" and selecting "Themes."
Slack separates the themes into different categories:
Clean and minimal
Dark and dramatic
Bright and cheerful
Accessible and clear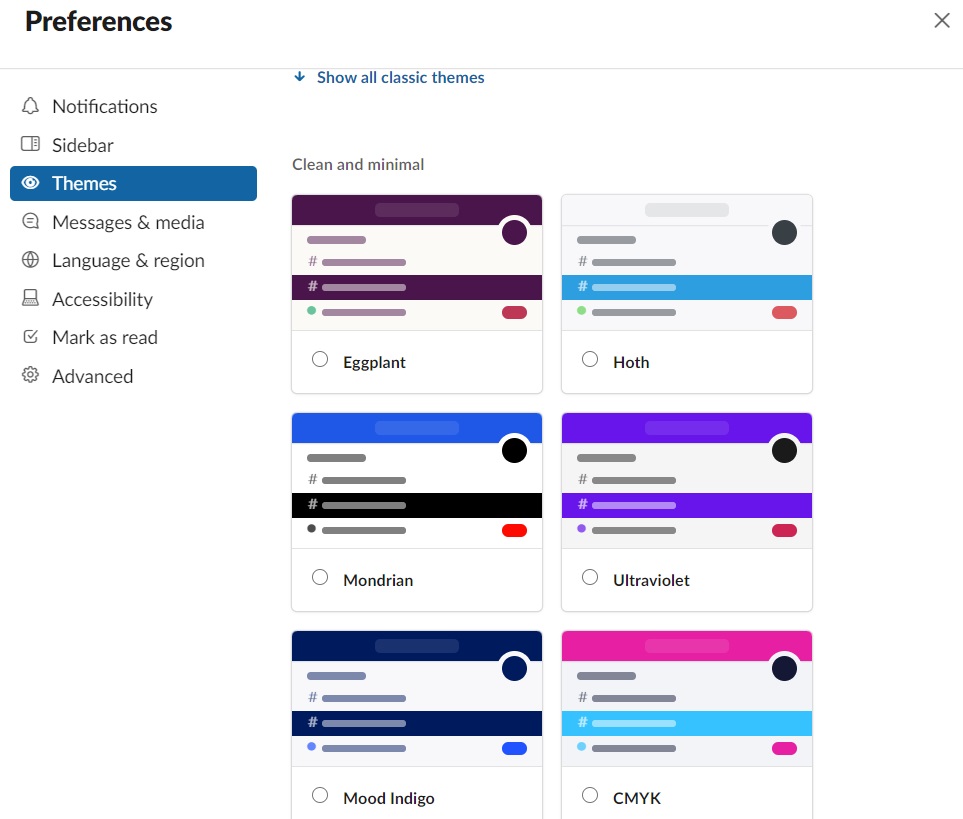 I'm a "dark and dramatic" kind of gal, so I chose the theme "Nocturne." The sidebar is black with light gray font while the chat window still has a white background with black text.
In Asana, you can change the background photo. Change your background photo by clicking your avatar, going to "My Profile Settings," click "Display," and choose a photo. I love all things spooky so I chose the spooky image, which is a photo of a full moon.
Asana: Creating Tasks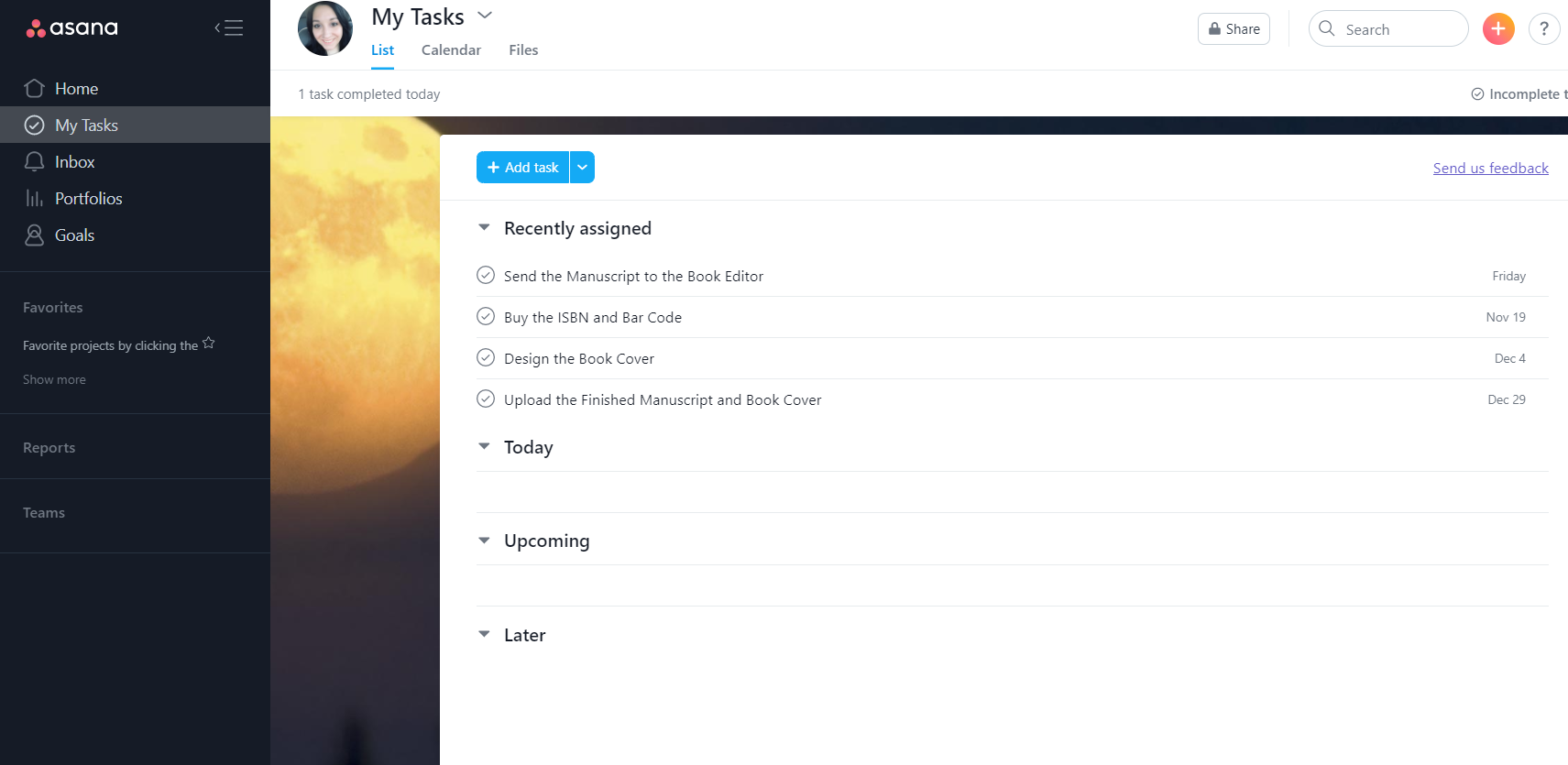 If you're ready to create your first task, head over to the plus sign at the top of the screen.
I'm making this project about self-publishing a book. You can also create separate projects in Asana, but you have to be in a team. I'm using Asana alone, so I can't create projects — only tasks.
The tasks I'm creating include writing the first draft, making simple edits, sending the manuscript to the editor, designing the book cover, purchase the ISBN and barcode, and uploading the book on the print-on-demand service.
You can click on each task to edit them or mark them as "complete." I already marked "write and edit book" as completed, so the next step is to send the manuscript to the editor.
Asana sets the display in list-form automatically, but you can choose the calendar display by clicking the "calendar" option from the top bar.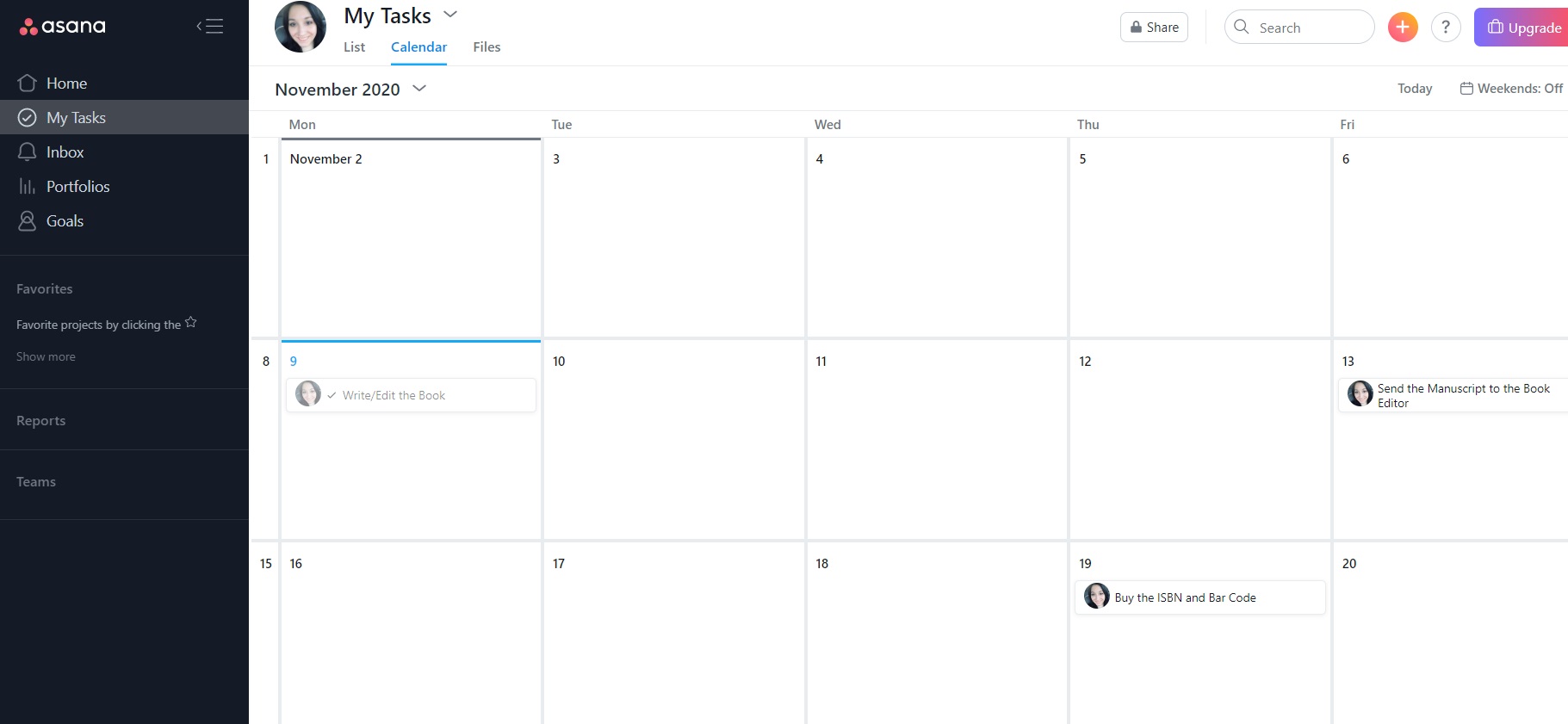 Slack: Sending Your First Message
Once you're added to your team, your team members' names appear in the left sidebar as well as the channels you're on. Simply click the message or channel you want to check or write in. The message or channel will appear in the center screen with the text box at the bottom. Just type in your message and click "enter."
Overall, Slack and Asana are easy to use. But Slack is better for the first-time user, so Slack wins this round.
Features
Both platforms are very different, so they come with different features. Which features will benefit your team?
Slack
Here's a breakdown of Slack's core features.
Messaging. By far Slack's most sought-after feature is their powerful messaging tool. You receive messages in real-time on a convenient chat display, like any other chat tool. You can chat directly as well as on channels and threads.
File sharing. You can easily share projects, documents, and more via Slack's convenient file sharing feature. On the text box, there's a paperclip icon you'll click to upload a file. You can upload up to one GB per file.
Voice and video calls. If you're on the free plan, you can't make video calls on Slack and you can only call one person at a time. I've used their voice call feature and experienced many errors. I wouldn't recommend using this feature.
Integrations. Slack has more than 800 integrations in total; however, you'll only access 10 of them on the free plan. You can choose any 10 of the 800 integrations to add to your account. After you reach 10, you'll have to delete an integration to add one.
Asana Features
Asana has different core features from Slack and they also have more features. Here are the most valuable features.
Projects. Projects are a combination of tasks that are shared among a team. These can also include meetings, initiatives, and programs.
Tasks. Tasks are assignments that are broken up into manageable segments. You can add tasks to projects to better organize your work.
Subtasks. These are individual tasks you add under a task. Subtasks can also be steps to complete a task.
Task assignees. These are the owners of tasks as well as anyone else working on the task.
This section has no clear winner. Both platforms are different and offer different features, so choose the one that benefits you the most.
FAQs
Question: Is Asana Better Than Slack?
Answer: Asana offers more features but Slack offers more ways for you to communicate with your team. Overall, the platform you choose depends on your needs.
Question: Should You Choose Asana Over Other Project Management Platforms?
Answer: Asana not only offers more advanced features than competitors but their free plan is extremely robust. I recommend Asana over the competition.
Question: Can Asana Integrate With Slack?
Answer: If you're not sure which platform to choose, Slack offers an Asana integration! This way, you can keep your projects organized and communicate with your team without deciding which platform to use.
Asana vs Slack: The Final Verdict
There's no clear winner here. Both Asana and Slack are powerful platforms that offer a free product as well as paid tiers. You can also integrate Asana with Slack if you're not sure which program to choose. How does Slack compare to Asana's competitor monday? Click here to find out!
Answer: If you're not sure which platform to choose, Slack offers an Asana integration! This way, you can keep your projects organized and communicate with your team without deciding which platform to use.
Further read:
[interact id="61950894e81e4200184210da" type="quiz" mobile="false"]