Last Updated on April 22, 2023 by Ewen Finser
Businesses large and small often work on multiple projects at any one time. Some projects have crossover elements, while others involve employees working on several projects at once.
Either way, when numerous teams collaborate on various and often wide-ranging projects, it's hard to keep on top of everyone's progress and whether deadlines are being met. That's before you take into account the difficulties of remote working and multi-site setups!
Increasingly, businesses are looking towards project management software to:
Share information

Simplify communications

Be transparent

Be accessible while working towards the same goal
That way, everyone stays connected and gets an overview of the bigger picture they're working towards.
With so many perks to using project management software, we're looking at two such providers: Asana and Jira. Both allow users to plan, track and review projects, and are suitable for individuals and teams alike.
We're taking a deep dive into the following areas:
An overview of Asana

An overview of Jira

Asana's features and prices

Jira's features and prices

FAQs

Our final verdict
Strap yourselves in because there's lots of ground to cover – let's get to it!
Asana vs Jira: Their Key Similarities and Differences
As with many project management platforms on the market, there will be crossovers and areas where they differ. That said, let's look at the key similarities and differences between Asana and Jira.
Asana vs Jira: Their Key Similarities
Both offer free plans

Both offer Kanban boards

Both offer plans suitable for freelancers, SMEs, and larger enterprises

Both offer real-time progress tracking
Asana vs Jira: Their Key Differences
The main differences between Asana and Jara are:
Jira is aimed much more at engineering teams building software, whereas Asana has a much broader reach.

Jira's free plan is for a maximum of ten users, whereas Asana has a cap of 15

Asana's free plan offers unlimited file storage up to 100MB per file, whereas Jira's file storage totals 2GB.

Jira's free trial is less generous at just seven days and is only available for the Standard and Premium plans, whereas Asana's is 30 days and available on all programs.
Asana: An Overview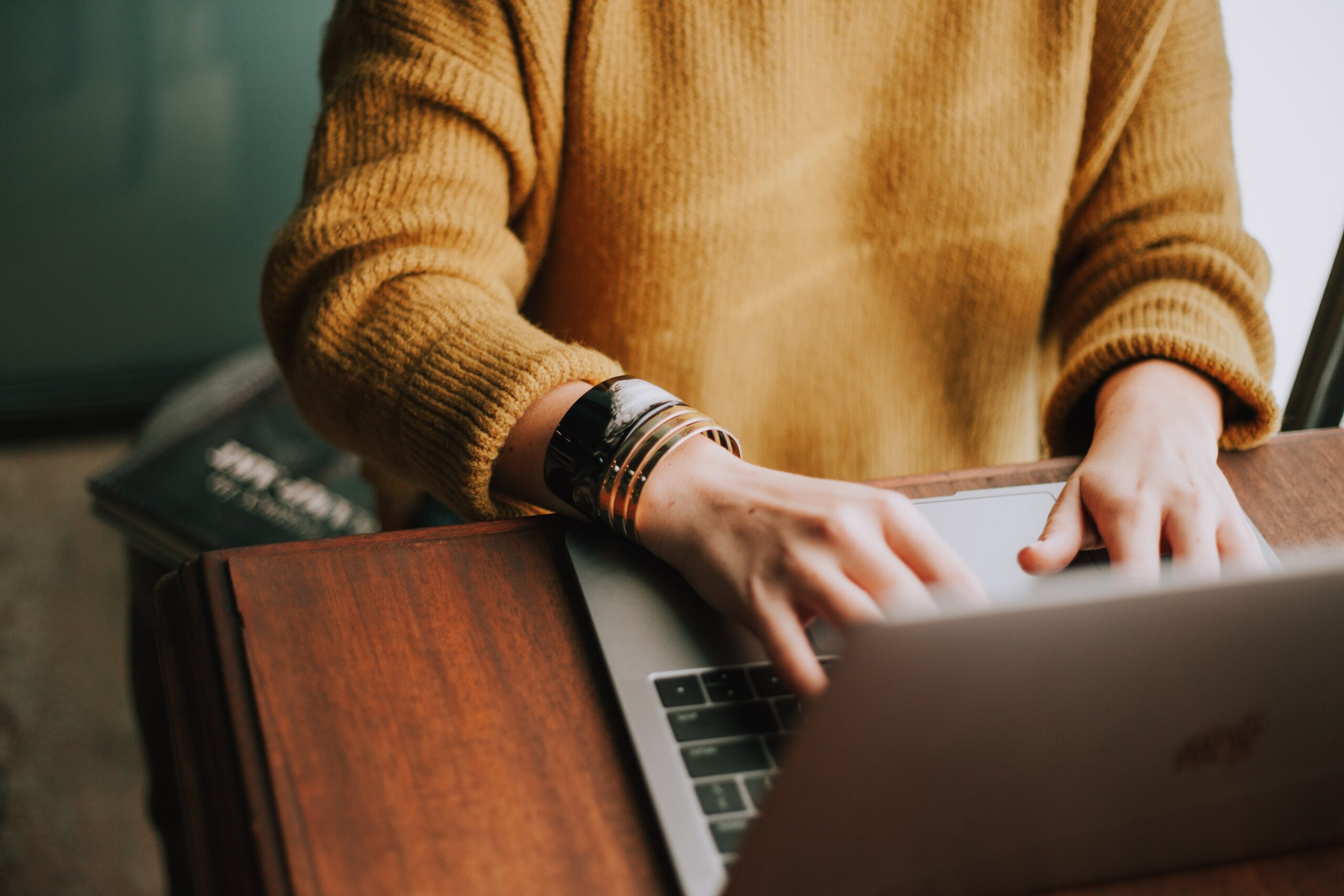 Founded in 2008 and based in San Francisco by ex-Google Justin Rosenstein and one of Facebook's founders Dustin Moskovitz, Asana is a web and mobile app specifically designed for teams to collaborate at every project stage in real-time.
Asana's homepage describes the app as enabling businesses to organize "work, so teams are clear about what to do, why it matters, and how to get it done."
All project tasks, notes, tags, workspaces, etc., are visible on one centralized dashboard for anyone to see. Everything is kept updated in real-time so that all team members can stay on the same page. Work can be organized into shared projects as lists, and different teams can then split these into separate tasks. User permissions can also be assigned without needing to use email.
Asana's better-known customers include Uber, Spotify, Deloitte, Birchbox, MailChimp, and ClassPass. Impressive, right?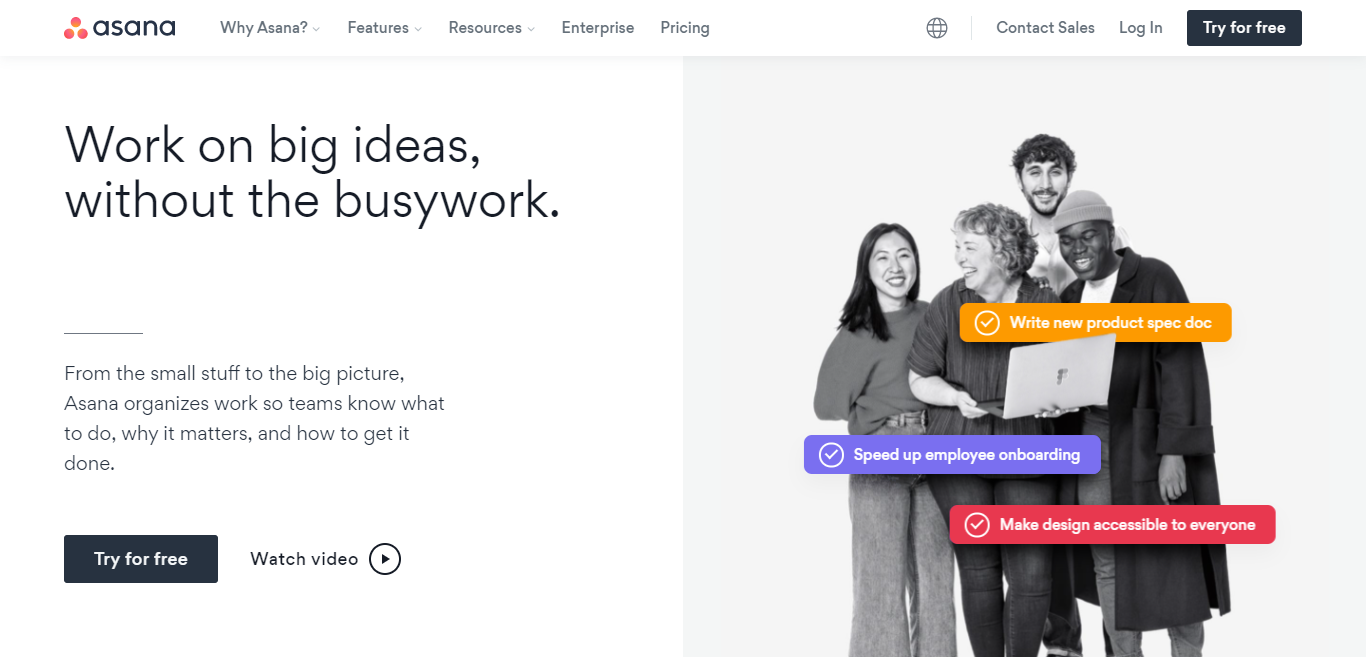 Jira: An Overview
Jira was developed by its parent company Atlassian, which also owns Trello. While broadly described as a project management tool, Jira can also be used for bug and issue tracking.
Since we're talking about project management tools here, let's focus on that area. As far as project management is concerned, Jira allows businesses to plan, track and manage their software development. It differs in this way from Asana, with its website clearly describing it as "The #1 software development tool used by agile teams."
Jira enables software teams to plan and track software development projects with complete visibility. It has agile reporting features so that each team member can track real-time progress. Teams can use Jira when developing or updating software and monitoring project progress and issues. Users can utilize Kanban boards and Scrum boards where everything is visible from start to finish.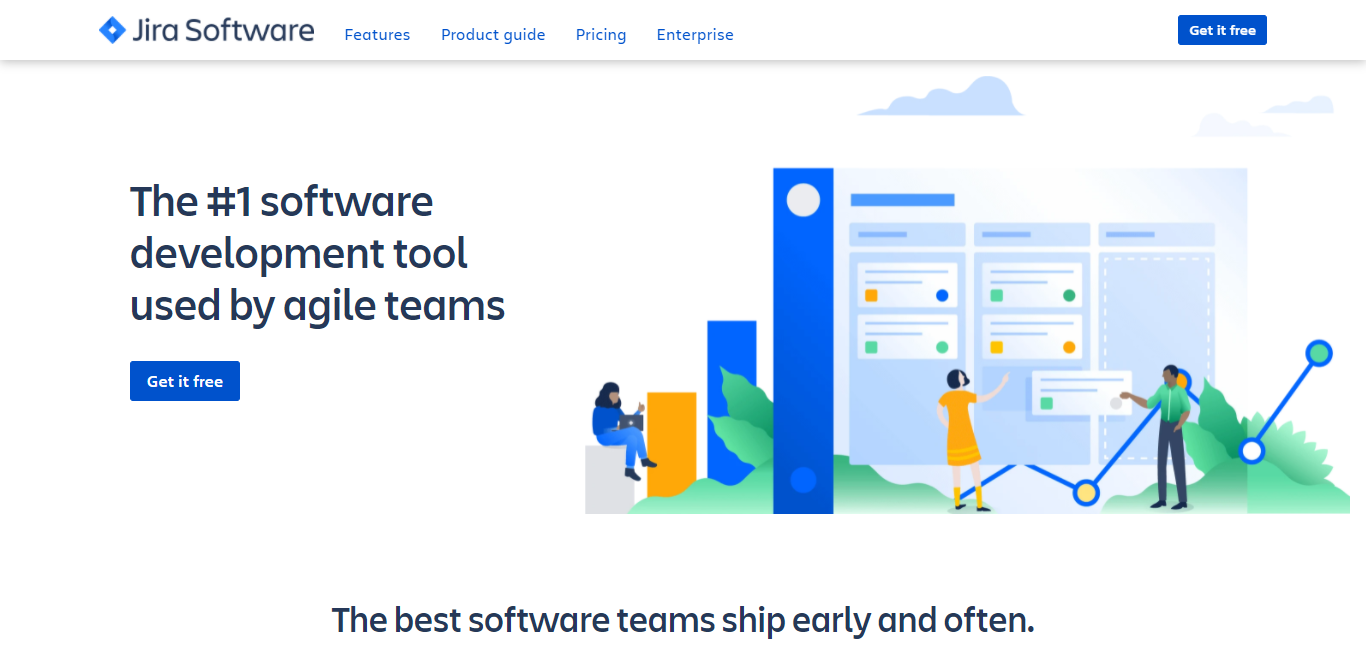 Asana vs Jira: Asana's Key Features and Prices
Asana has an almost overwhelming array of features at first glance. So here, we're focusing on its core functionality before providing an overview of its pricing structure.
Asana's key features are as follows:
Timeline: You can build Gantt charts quickly and plan project timelines
Boards: You can use Kanban boards to track project progress
Calendar: You get access to a shared calendar when you can view all your team's work in one place
Dashboards: Here, you can see real-time project status updates on any area of work
Goal setting: This feature is aimed at CEOs and executives wanting to set and track company goals and the work that supports those goals.
Workload: See at a glance how much work teams have on their plates across multiple projects so that you can reallocate work to less busy teams. That way, no one is overwhelmed.
Sync work: Using the mobile app, you can sync your work in real-time to your phone so that you can work on the go.
Forms: Asana forms are there to minimize any confusion when colleagues submit work requests during a project. Asana enables you to submit and manage work requests from one centralized place.
Automation: This saves time on routine tasks by automating jobs like setting deadlines, shifting deadlines, auto-assigning colleagues to new tasks, and so on.
Portfolios: Asana calls this feature its "mission control" space. I.e., it's where you can see the progress and status in real-time of all projects from strategy to execution.
Each of these features is designed to simplify the project management process. So that nothing is lost in the execution of workflows.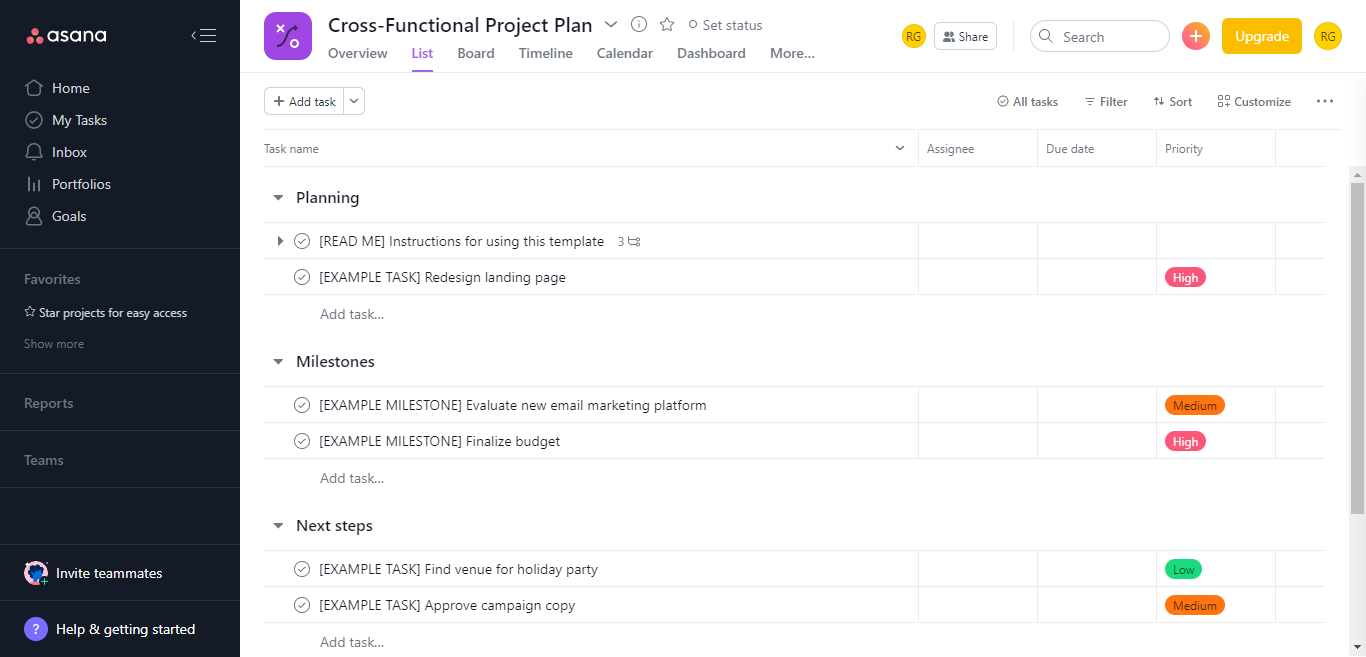 As for Asana's Pricing, Let's Take a Look:
Asana has four separate price plans: Free, Premium, Business, and Enterprise. Each program offers several valuable features, including unlimited integrations with third-party apps, endless tasks, unlimited file storage, unlimited messages, and compatibility with iOS and Android mobile apps. Asana also comes with a free 30-day trial.
Let's take a look at each pricing package in turn:
Free plan: This is free for up to 15 team members. Users have access to a limited range of dashboards but benefit from unlimited projects and conversations. It's best suited to individuals and teams just starting with project management.
Premium Plan: This costs $10.99 per user per month when you pay annually. It's aimed at teams needing to create project plans. It has all the Free plan features, plus: single-sign-on, admin controls, and reporting across unlimited projects.
Business Plan: This costs $24.99 per user per month when you pay annually. You get everything in the Premium plan, as well as access to the customs rules builder and advanced integrations with Salesforce, Adobe Creative Cloud, Power BI, and Tableau.
Enterprise Plan: This is a bespoke plan aimed at larger organizations. So, you'll need to contact Asana directly for a quote. No prices were available on the Asana website at the time of writing. Users have access to all the Free, Premium, and Business plan features as well as more administrative controls and same-day support.
Asana's features are too numerous to list in this review. However, its pricing page has a handy reference table where you can compare each pricing plan and the features available in each. We recommend checking that out first so that you get a clear picture of exactly what you're getting for your investment.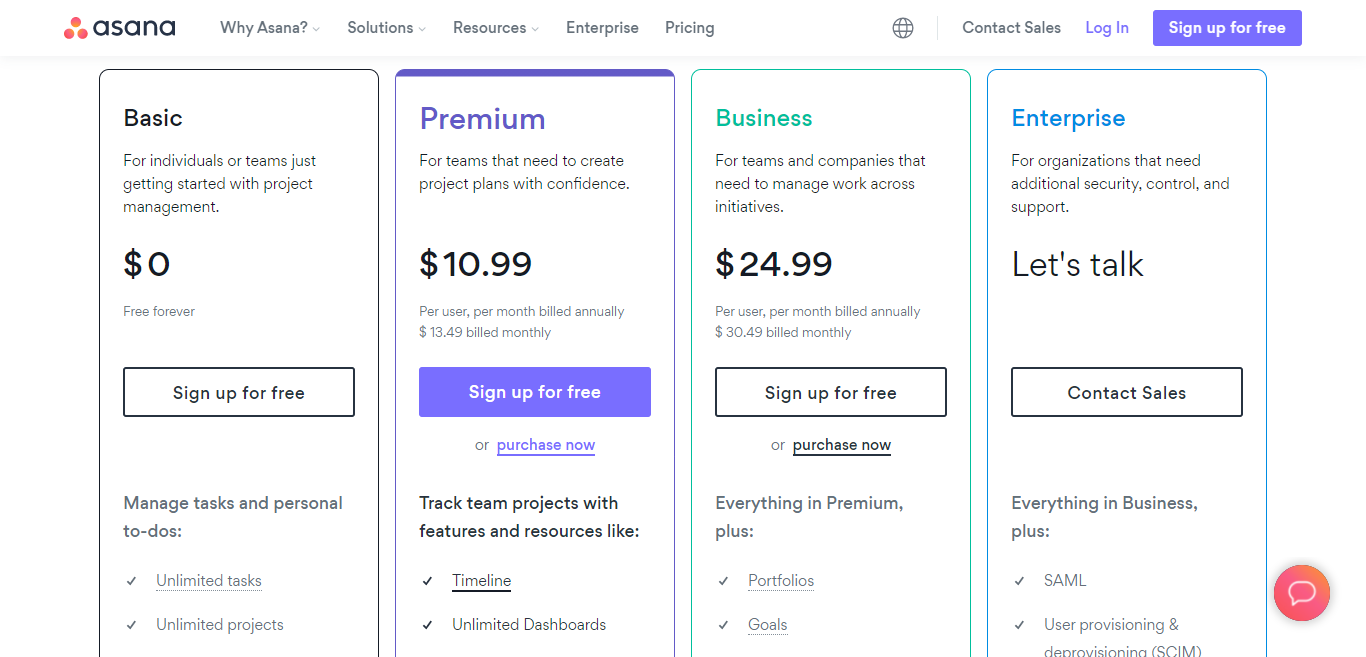 Asana vs Jira: Jira's Key Features and Prices
Jira describes its features as having the necessary "software project management tools for project management teams." That said, here's an overview of its key features:
Scrum boards: This customizable feature allows software development teams to collaborate on projects from one centralized platform. This makes it easier to hit deadlines, get an overview of what everyone's working on and what stage they're at while benefitting from increased transparency across the project.
Kanban boards: Teams can visualize workflows, see what tasks are up next, spot and avoid bottlenecks, and access real-time visual metrics to track project progression.
Roadmaps: There are two types of roadmaps: Basic and Advanced. Their purpose is to map out the project's bigger picture, communicate project plans to all relevant parties, and track team capacity. Roadmaps help teams forecast potential problems during a project. Basic roadmaps are available across all programs. In contrast, advanced roadmaps are reserved for Premium plan subscribers and above.
Agile reporting: You get access to 12+ out-of-the-box reports that offer real-time insights into how each team is performing.
Code status: This allows you to see the code and deployment status at any point in your software development project.
Automation: Like Asana's automation, Jira's automation helps you save time by automating tasks in a matter of seconds to boost productivity.
Security: Jira makes a point of highlighting its security as a feature, emphasizing its connection to Atlassian and security backed up SAML SMO, 2-step verification, and 99.9% SLAs.
What's important to point out here is that Jira's emphasis is on software developers and their projects. The result is that some of the language used isn't always aimed at unfamiliar users. In this way, it's more niche than Asana, which at first glance appears to have a much broader reach.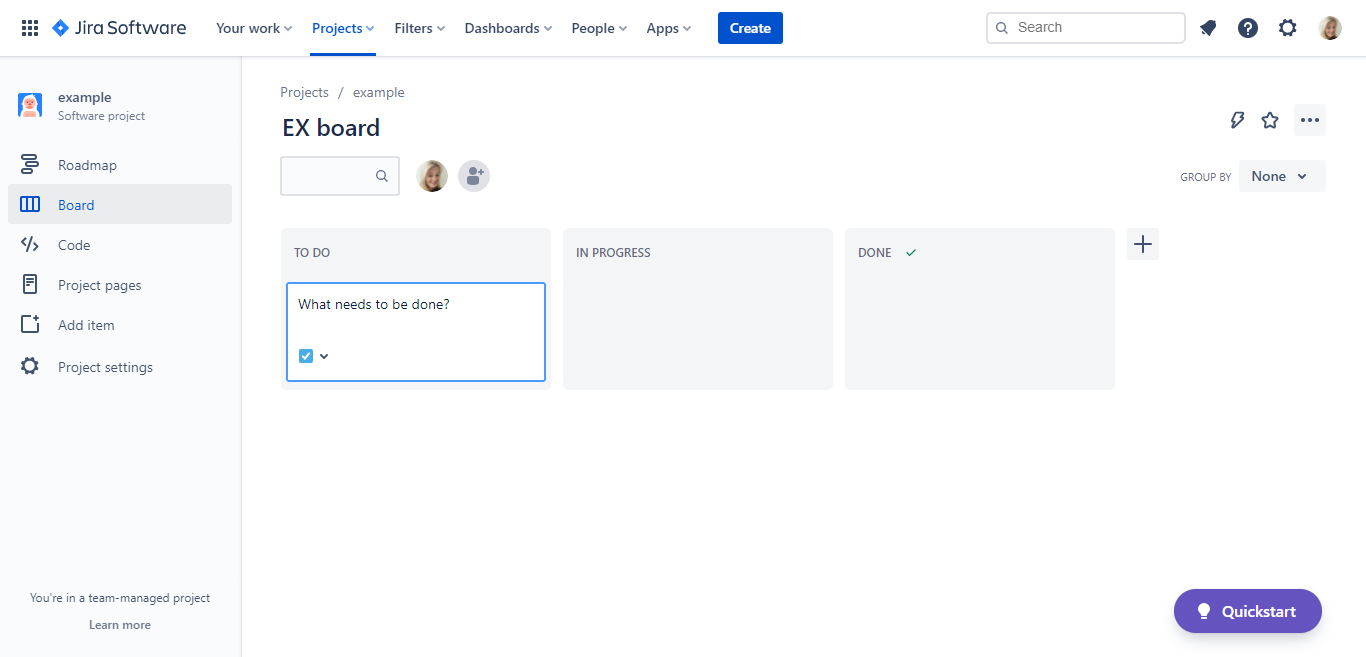 Jira's Pricing
With that in mind, let's take a look at Jira's prices. Like Asana, there are four plans: Free, Standard, Premium, and Enterprise. Prices are based upon the number of users you have, with Jira's pricing page setting a minimum of ten users. As such, this review bases its prices on that figure. You can try Jira for free, but only on its Standard or Premium plans and just for seven days.
Free Plan: This is free forever for up to ten users. It's aimed at small teams and individuals. With this package, you get access to the following features: Scrum and Kanban boards, agile reporting, 2GB file storage, and integrations including Trello, Slack, Google, and Zoom.
Standard Plan: This costs $7 per user per month if you pay annually, with a user maximum of 10,000 users. It's geared towards growing teams. On top of the features included in the free plan, you'll also get access to roadmaps, 250GB file storage, and global and multi-project automation.
Premium Plan: This costs $14 per user per month if you pay annually. It also has a user threshold of 10,000. It's directed at larger organizations that want to scale how they work together and track projects. Some of the additional features to those listed in the Free and Standard Plans include 24/7 premium support and unlimited storage.
Enterprise Plan: Prices were unavailable on Jira's site at the time of writing. This is a tailored package, so you'll have to contact Jira directly for a custom quote. This plan is aimed at larger organizations on a global scale with more stringent security requirements. Some additional features here include:
Access to Atlassian (with the other plans, you have to pay an additional fee for this)

24/7 enterprise support

Data storage on the Atlassian global cloud
Like Asana, Jira's pricing structure is neatly set out on one page, making it possible to compare what you get in each pricing plan.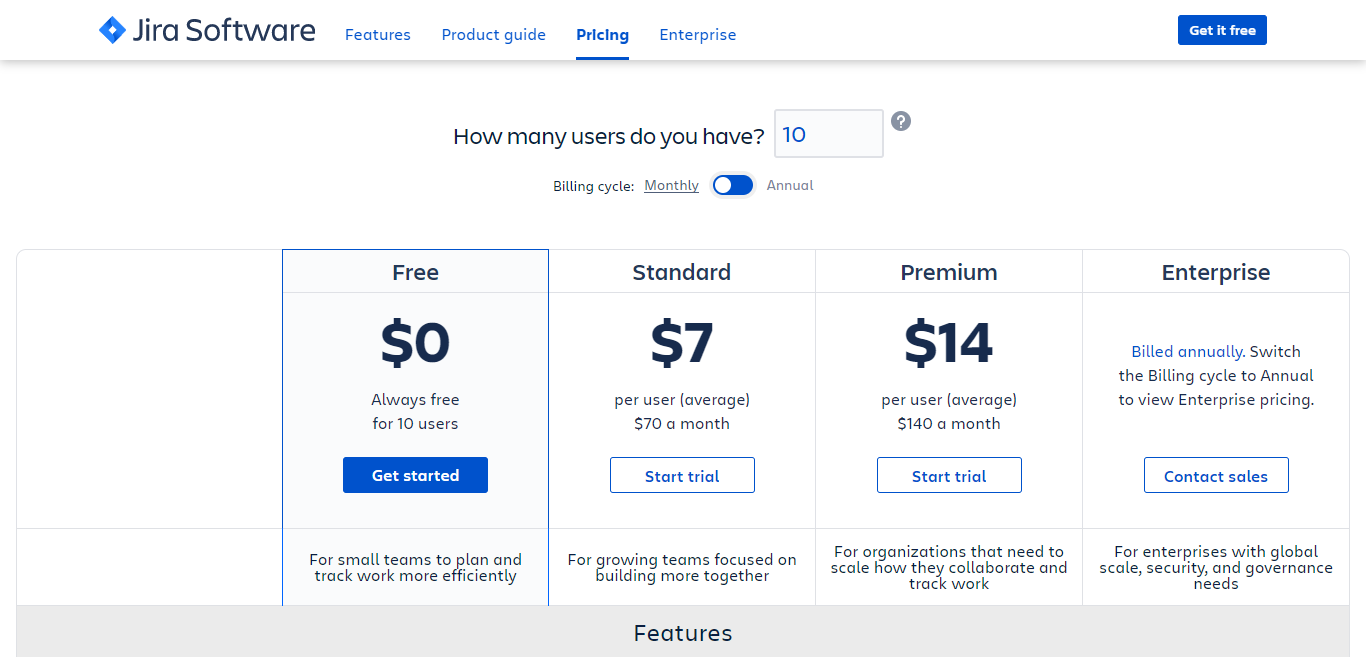 FAQs
Question: What's Asana and Jira's customer support like?
Answer: At first glance, there isn't a lot of difference between the two. However, Jira subscribers only get 24/7 support if they're Premium or Enterprise Plan subscribers. Free and Standard customers receive community support and support during local business hours (9 am to 5 pm).
Jira's community support consists of articles and blogs on the Atlassian website, video tutorials, and access to user forums. Topics covered include using the Jira Cloud and FAQs about migrating to Jira. The downside of this support is that it's full of jargon, assuming a certain level of knowledge that not every user will have.
Asana's support differs in that all subscribers apart from Free plan users have access to priority support. You can also access online support via blogs, events, video tutorials, guides, and a community forum where you can converse with other Asana users. There's also a separate platform for developers wanting to build apps.
Question: Tell me more about Asana and Jira's integrations.
Answer: Both platforms offer a generous number of integrations, some of which we've already referred to in this review. There are 100+ app integrations on offer for Asana users, all of which aim to simplify project management. These include Adobe Creative Cloud, Google Calendar, Dropbox, MS Outlook, Trello, Slack, MailChimp, Jira Cloud, MS Teams, and many more.
Jira's native integrations differ in that many of them are less well-known. However, there are famous names in the list that we've already mentioned, such as Google Drive, Trello, Slack, and Zapier. Other integrations are separated into categories aimed at specific teams:
• Design: including Invision, Adobe XD for Jira and Gliffy.
• IT: including Jenkins, Dynatrace, and GitHub
• Business: including Google Sheets, Confluence, and MS Excel
Software engineering: including BitBucket Cloud, LaunchDarkly, and CircleCI.
Overall, Asana appears to offer more integrations with well-known apps. However, it's worth noting that Asana's audience is much broader, while Jira is more niche.
Question: Is it easy to cancel your Asana or Jira subscription?
Answer: Suppose you've invested in either and decide it isn't for you. Perhaps it doesn't meet your needs? Or maybe your organization simply isn't at a stage where project management is a priority? In that case, there's no point in paying for something you no longer need.
In Asana's case, the answer to this question was easy to find. Paid subscribers log on, click their profile page photo, select Admin console and go to the Billing tab, where they can cancel their plan. If you're on a free trial, you do the same. Just make sure you cancel your free trial during the 30 day trial period so that you're not charged.
Asana Free Plan users can cancel any time. Paid users can also cancel any time, with the cancellation kicking in at the next payment period.
Now onto Jira. Unlike Asana, there really was little transparency when trying to answer this question. Asana is upfront and tells you how to cancel its pricing page with helpful links to its cancellation policy. With Jira, it was a little more complicated.
Its pricing page has very little detail. There's only a sentence saying that if you want to cancel any Atlassian product, you'll get a refund "with your first paid month" for monthly subscriptions. Or "within 30 days of payment for annual subscriptions." So, we took to Google, which directed us to the Atlassian site for a more expansive answer. Basically, you log into your account, go to Billing, the Manage Subscriptions, and select Cancel Subscriptions.
Asana vs Jira: Our Verdict
It's never easy making that final decision, but if we had to put our money on one of the two, we'd go for Asana. Why? Because it's more transparent about its features, and its website is easy to navigate and understand. It's aimed at a much broader market than Jira.
While it's possible to use Jira on non-engineering/software development projects, Jira's website is written with that audience in mind. Suppose you're new to project management software and/or you have no experience in the tech industry. In that case, you may find it hard to understand.
Before deciding which to go for, it's always important to do some thorough research of your own. It's also worth taking advantage of any free trials on offer and clarifying why you want project management software and what you want it to do.
Are you ready to try Asana, Jira, or both? We hope you find our review helpful and that it acts as an initial guide to helping you decide which software is best for your project teams. Let us know how you get on in the comments box below!