Last Updated on January 8, 2023 by Ewen Finser
Online forms
They are not just for capturing leads anymore. All types of web businesses are now building web forms for additionally collecting customer feedback, conducting market research, interviewing job applicants, as well as converting leads.
And as you've probably figured out already, the subsequent results are not exactly uniform across the board. Rather, what you end up achieving with your online forms depends on a myriad of factors, including the forms' overall design and optimization.
It goes without saying that, you can't simply paste a random HTML form template onto your webpages and hope for the best. That's not how things work.
If you want to maintain high conversion rates and positive responses, then you have to try harder.
A good way to start would be leveraging the best form builder tools on the market.
This article provides just the perfect foundation by walking you through the entire process of choosing the best form builder tools for your business. And more specifically, it reveals all the critical factors you should consider while assessing your options.
Then to top it off, you also get to discover 5 top form builder solutions in various use cases- the best free form builder tool, the best form builder tool for generating leads, the best form builder tool for online payments, the most intuitive form builder tool, as well as the best form builder tool for surveys and questionnaires.
Before we get into all that, however, what exactly is a form builder?
What Are Form Builder Solutions?
For many years, online forms used to be ugly. Web developers typically built them with basic layouts mixed with bland, uninspiring designs, and rigid functionalities.
There's only so much we could do with them. Plus, the process of creating web forms was pretty technical, as it involved a lot of coding.
Thankfully, however, all that changed when form builder tools ultimately came to the rescue. By introducing simple and intuitive tools for creating web forms, form builder apps essentially replaced web developers in the equation.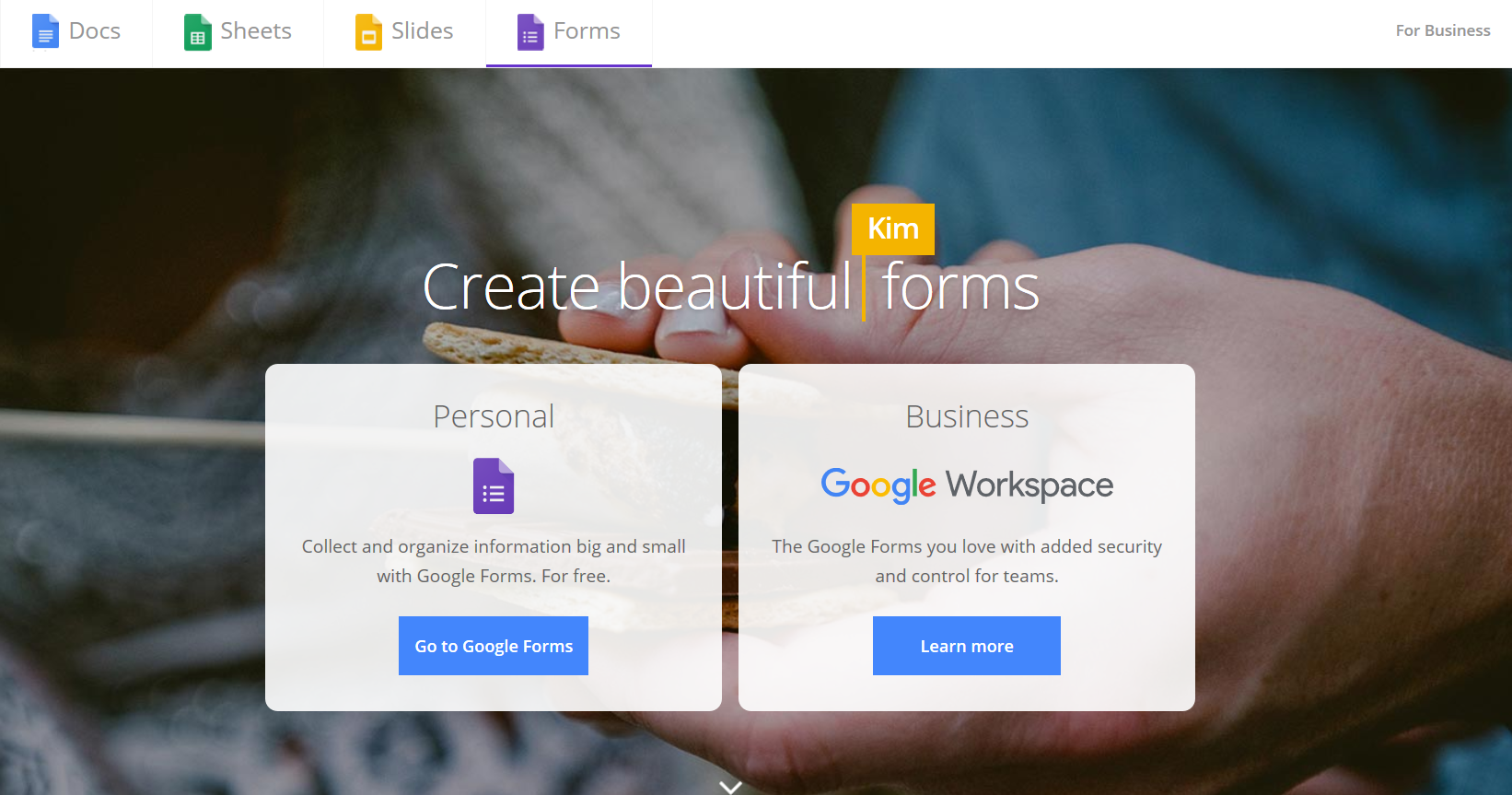 Today, form builders are particularly renowned for their visual editing capabilities that give you the power to design and integrate various types of online forms. And the best thing is, you don't need any technical skills or experience.
It's largely a matter of plug and play- after choosing a desirable form template, you're supposed to customize its layout, embed the whole thing, and voila.
But, make no mistake about them. While form creation and editing are widely considered to be the core capabilities, some form building tools happen to provide much more.
A particularly common approach here, for instance, is supplementing form building features with CRM capabilities to form a fully-integrated system. In other words, a customer relationship management suite that can generate leads from web forms, and then channel them to the subsequent nurturing tools.
But that's not all. The best form building tools even come with intelligent automation capabilities. They can target and respond accordingly to web visitors based on your preset parameters.
However, don't get me wrong. Form builder solutions do not specialize in lead engagement alone.
While marketers often use them for creating lead engagement forms, salespeople occasionally leverage their feedback forms for collecting customer reviews, while researchers use them to set up forms for compiling qualitative data.
Your capabilities, overall, depending on the type of form builder you choose for your business.
The Challenge of Finding The Best Form Builder Tools
Sadly, it turns out picking the best form builder software is easier said than done. A simple Google search alone is bound to give you an overwhelming range of options.
Then to make matters worse, form builder apps come in all shapes and sizes. You'll notice that they vary in not only features and pricing, but also in structure. So much so that some of the most popular form builder tools come embedded in larger software suites. Not as standalone solutions.
Therefore, all things considered, we could agree that the whole form builder software market is a Wild West of sorts.
No worries for you though, because, fortunately, you've just stumbled upon the most comprehensive set of resources on the best form builder tools.
How You Stand To Benefit From Our Form Builder Tools Section
To make the whole selection process much easier for you, we've taken the time to try out a wide variety of form builder solutions. Then using the subsequent test findings, we've prepared detailed unbiased reviews of all the dominant form builder tools on the market.
What's more, you'll even read comparison reviews that pit the apps against their closest competitors. So, you should be able to make an informed decision if you ever find yourself torn between two or more alternatives.
And with that, let's now get started by exploring how you can sort through all the options and, ultimately, identify the best form builder tools for your department, company, or business…
Choosing the Best Form Builder Tools – The Main Factors to Consider
Form Objectives
What do you intend to achieve with your web forms? Are you, for instance, planning to expand your mailing list? Or, are you perhaps seeking to conduct research on industry trends and customer preferences?
The trick here is to first determine the type of information you'll be seeking from your respondents. Then using that, you should be able to come up with the basic web form objectives, which should then help you zero-in on the most appropriate form builder tools.
While you're at it, you might also want to consider the specific platforms on which you'd want to run the forms. Most form builder tools create forms with limited integration capabilities.
While some can only run on standard platforms like WordPress, others can be embedded with all sorts of third-party sites and standard social media platforms.
The best form builder tools, however, are universally compatible. That means you can comfortably deploy them on any website.
User Interface
The fundamental objective of leveraging form builders, as we've established already, is simplified form editing and design. They are essentially developed to give you an easy way of creating and managing your web forms.
So, of course, it only makes sense to compare the form builder tools by their user interface. That means evaluating not only the editing tools but also the overall layout, as well as the corresponding form management functions.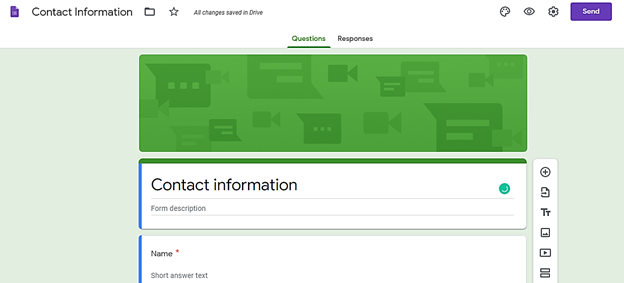 Generally, the best form builder tools come with an elegant and intuitive user interface that perfectly balances between ease-of-use and overall flexibility. They allow you to design and customize your form via a responsive drag-and-drop editing window, without necessarily limiting the accompanying programming capabilities.
That means web developers can as well choose to dive right into the underlying code to tweak the technically intricate stuff.
Form Templates
While a rich array of design tools is always a plus, the fact of the matter is, you probably won't always have the time to create your web forms from scratch. Hence, it's advisable to take into account even the form templates, as well as the edits they support.
A word of caution though. Don't be quick to go for the form builder tools that provide many templates. Instead, you should always prioritize the quality of the templates over quantity.
You could, for instance, check the designs and customizability of various templates. The best form builder tools on the market facilitate all sorts of edits on their attractive pre-built templates.
What's more, they manage to offer solid template options across multiple relevant campaign categories. You can, for instance, find yourself a solution that comes loaded with templates for lead generation, plus checkout, mailing list subscription, lead conversion, and so much more.
In addition to that, you might also want to stick with templates that have been adequately tested. This makes it easier for you to hit your conversation targets and maintain impressive performance stats over the long haul.
Campaign Optimization Features
Although high-quality templates will give you a great head start, you still need to optimize your forms further to achieve the best possible campaign outcome.
And what does that mean?
Well, in a nutshell, optimization is all about tweaking and adapting your forms to your specific campaign goals. If you intend to generate leads, for instance, you need to set your forms to target new visitors while ignoring active subscribers.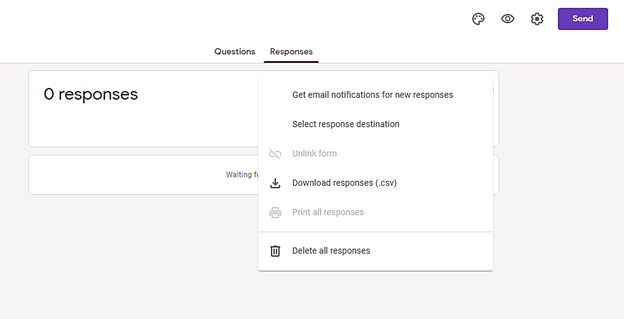 That said, the best form builder software provides dynamic customization features that are capable of supporting different types of campaigns. Plus, their accompanying forms can be automated across multiple levels to effectively target different types of audiences at once.
Performance Analytics
Imagine creating a presumably perfect web form campaign, and then launching it without tracking its deliverables.
What would you base your subsequent decisions on? How would you eventually judge your campaign's success levels? And even if you happen to count the number of leads generated, how would you calculate the overall campaign ROI?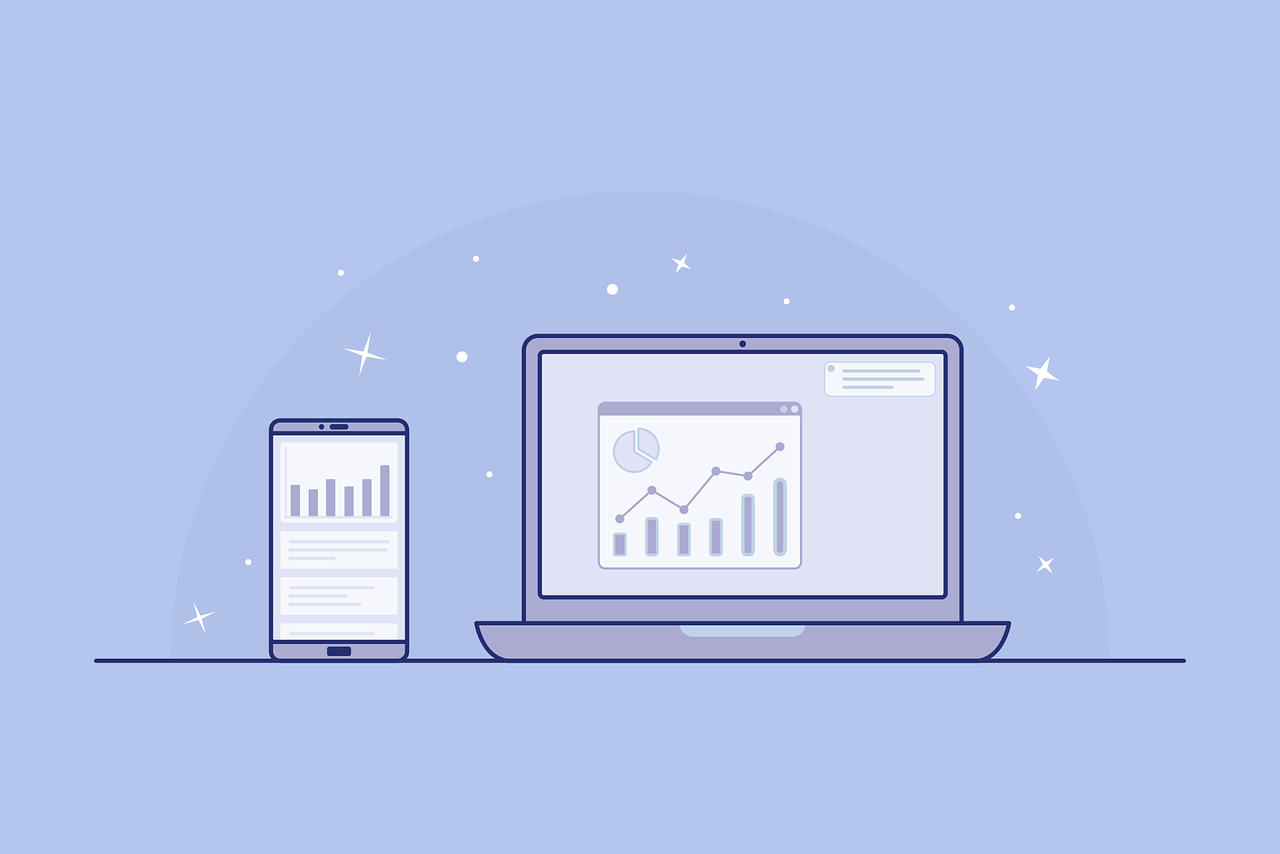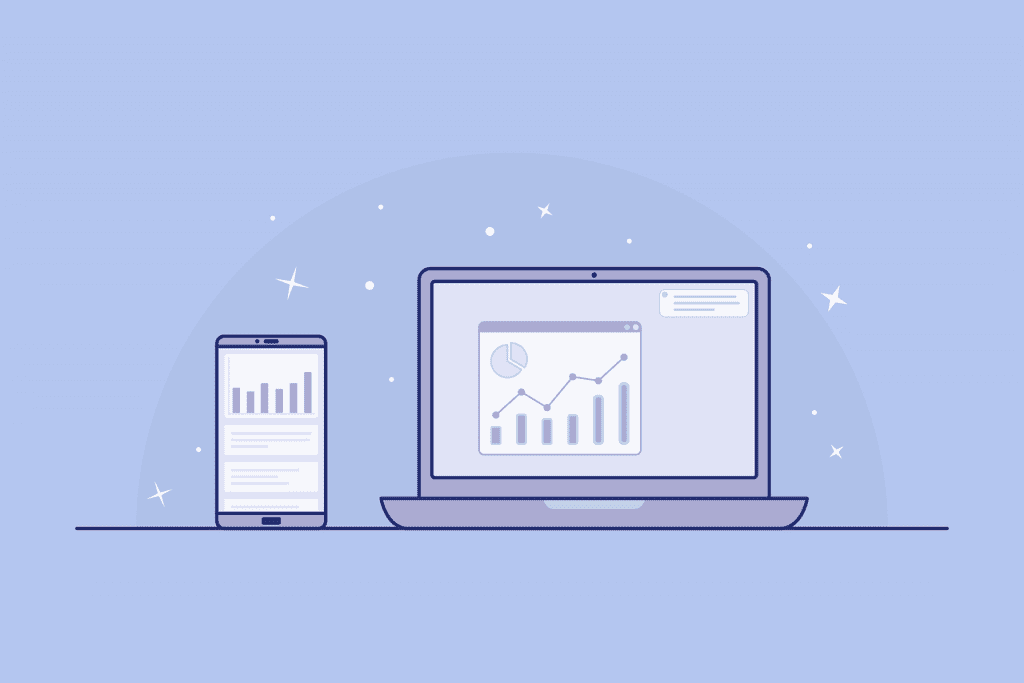 Failing to measure the relevant campaign parameters is like flying blind. And to avoid that, you need to get yourself a form builder with a comprehensive set of analytics.
What does that mean?
Well, for starters, don't settle for the lead count alone. The best form builder tools are capable of generating in-depth campaign insights from a wide range of parameters.
Apart from the number of visitors responding to your forms, they track and analyze the amount of time taken by each individual, the overall engagement rate, as well as the corresponding session abandonment rate.
As a result, you get to identify the type of form elements that your target audiences respond to, the best times to run each campaign, the form fields with the best response rates, etc.
This allows you to not only review the overall ROI of each campaign but also pinpoint the possible weaknesses, as well as discover any additional opportunities.
It doesn't end there though. Form builders should also be flexible enough to accommodate custom reports. In other words, they should give you the privilege of setting up your own personalized performance reports- based on what you consider as the core campaign parameters.
Pricing
It goes without saying that software solutions apply different pricing schemes. And when it comes to form builder tools, you'll notice that the price variations can be fairly huge.
On the lower end of the spectrum, you'll find form builder apps that cost nothing. They are completely free of charge. Then as you start climbing through the ranks, you're bound to discover considerably cheap form builders that will cost you less than $10 a month.
Now that's quite a sharp contrast compared to the other end of the spectrum, which typically features integrated form builders. They come embedded within CRM solutions that cost as much as a couple of hundreds of dollars per month.
But, that's not all. You might also stumble upon enterprise solutions with packages that stretch beyond a thousand dollars per month.
It's worth noting however, that pricing is not always directly proportional to quality. The costliest form builders might not exactly turn out to be the most advanced. Similarly, some of the presumably cheap form builder tools could prove to be costly liabilities over the long haul.
Hence, you might want to use a calculative approach here. Instead of comparing the form builder tools by their pricing, take into account the corresponding value of each solution
Consider the type of features you're bound to get from each of the form builders' pricing plans. Then for additional accuracy, you could calculate your potential returns based on the number of leads you're bound to generate and convert from each tool.
In the end, it's always advisable to settle for a pricing strategy that accommodates progressive growth. This allows you to upgrade your features as the business expands, while still maintaining a favorable balance between pricing and value.
The Top 5 Form Builder Tools On the Market
Here's a breakdown of the leading form builder tools we've sampled…
HubSpot Online Form Builder
Leadformly
Gravity Forms
Jotform
HubSpot Online Form Builder: The Best Free Form Builder Tool
Among the rich array of tools in HubSpot's war chest is a powerful form builder. One that merges basic form creation with flexible customization, plus advanced, high-tech optimization.
And the best thing is, it's completely free of charge.
The editor itself comes in the form of a drag-and-drop designer. And with it, the HubSpot Online Form Builder gives you the power to customize more than a dozen types of forms and up to 1,000 form fields.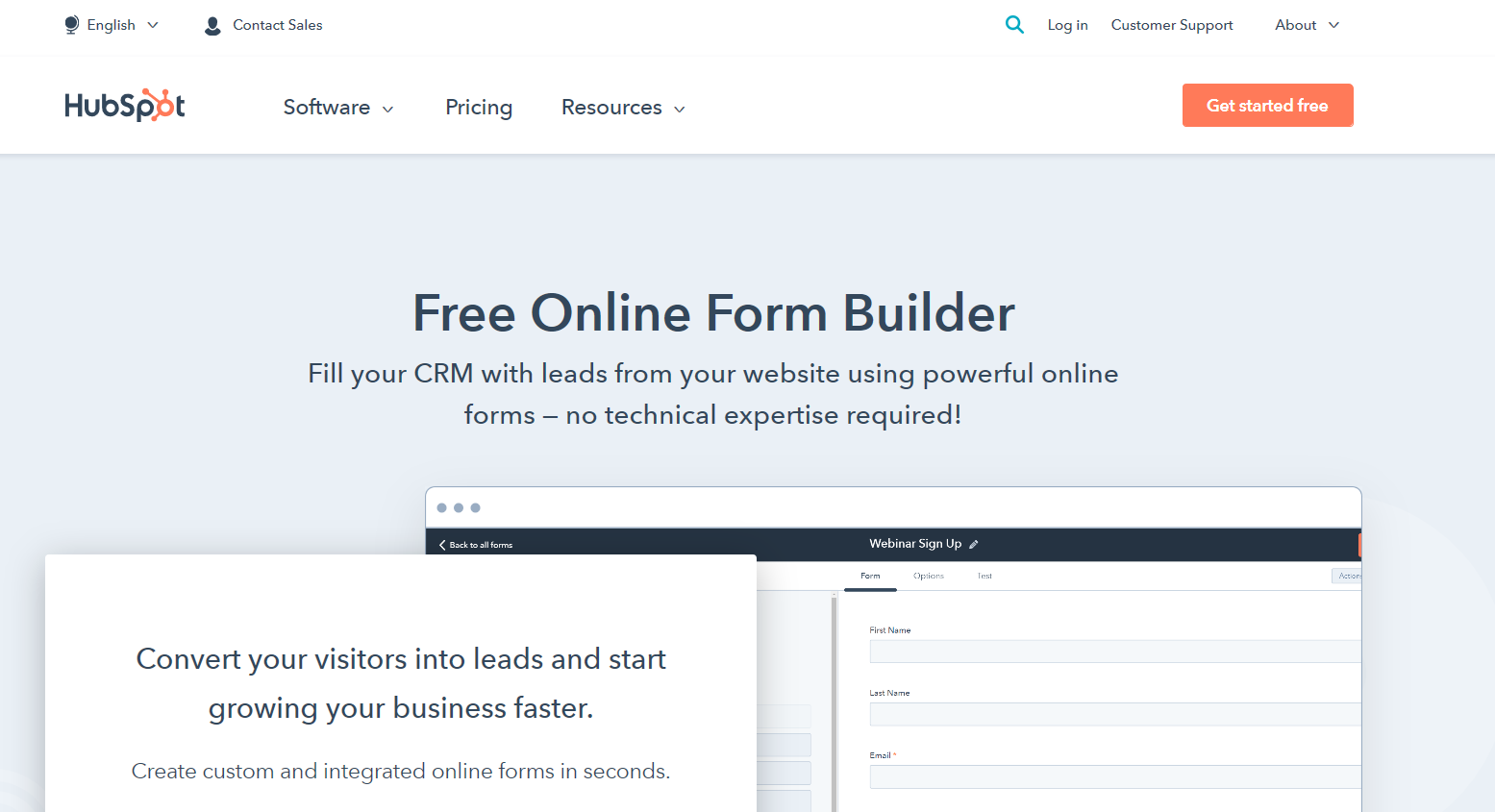 The whole editing process is, in fact, considerably easy, intuitive, and straightforward. You don't need any technical skills to select forms, work on their elements, or integrate them with your site.
And once you're done, the forms will subsequently link with your contact database, and proceed to generate leads from your site. The leads are then channeled to the free HubSpot CRM for nurturing.
Sadly, however, you won't be able to do much beyond that point. The free version of HubSpot CRM only allows you to set reminders, plus connect with your leads through basic emails and calls.
However, you could otherwise unlock HubSpot's fully automated follow-ups through a Marketing Hub upgrade.
Leadformly: The Best Form Builder Tool For Generating Leads
If you're having trouble dealing with form spammers, then Leadformly is certainly worth trying out. This form builder tool has proven to be one of the best in capturing leads and blocking spammers.
At the center of all that is a specialized spam trap called the 'honeypot', which the company developed to replace the standard online captchas.
But, don't get me wrong. I'm not saying that captchas are poor at blocking spam. On the contrary, they have proven to be quite effective. But, at a heavy cost.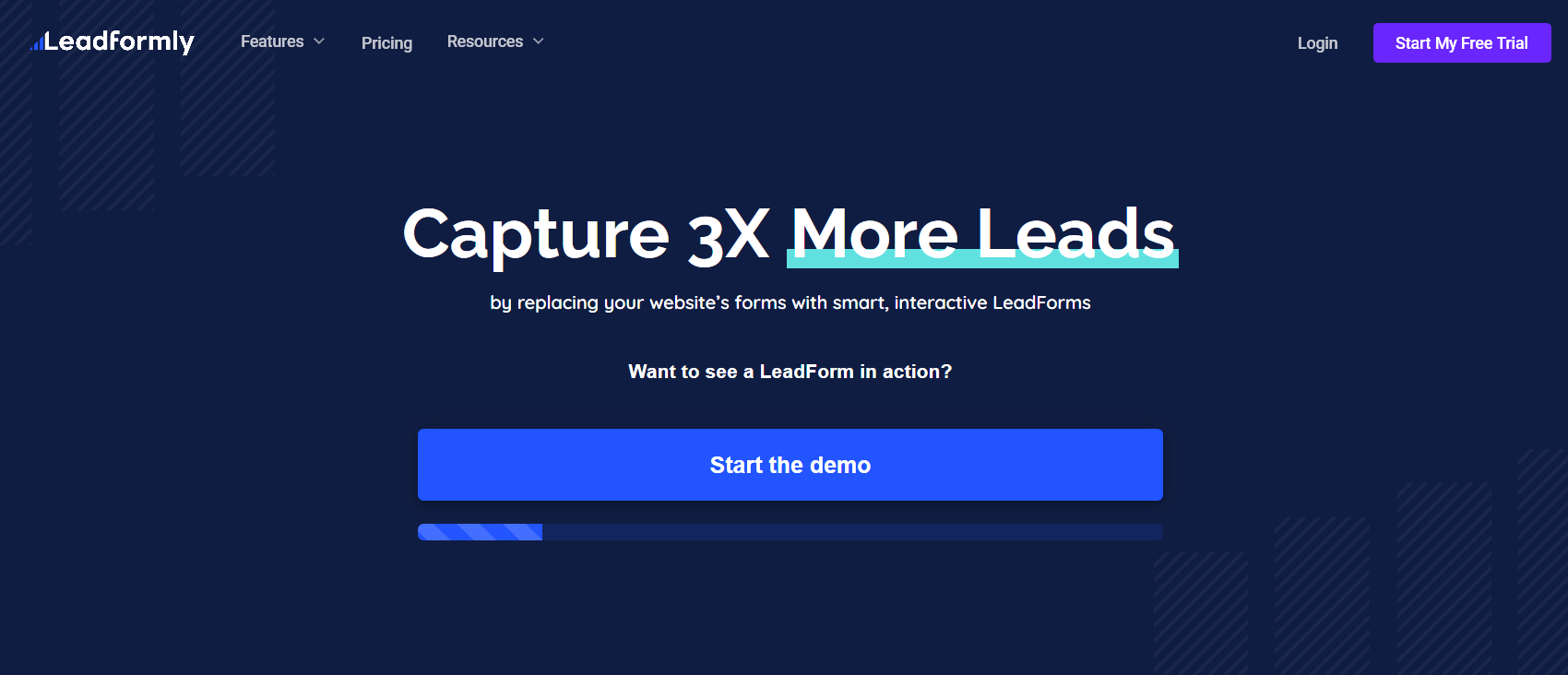 You see, a captcha is a double-edged sword. While it's capable of preventing spam, it also ends up negatively affecting your lead generation.
And that's precisely where the likes of Leadformly come in. The honeypot alone manages to eliminate spam without subjecting genuine prospects through hurdles.
What's more, Leadformly comes with form templates that have been specifically optimized for lead generation. The company repeatedly conducts A/B tests on its form elements to identify what works with leads and what doesn't.
Then to top it off, Leadformly provides 24/7 technical support, advanced analytics, unlimited forms, dynamic conditional logic, multi-user management, plus a drag-and-drop form builder, among other high level features.
Gravity Forms: The Best Form Builder Tool For Online Payments
As we've established, web forms do much more than just capturing leads. You can, for instance, embed forms with your site's checkout to collect customer details and facilitate quick transaction processing.
In that case, you might want to take advantage of the forms offered by Gravity Forms. This is yet another powerful form builder tool for creating different types of dynamic web forms.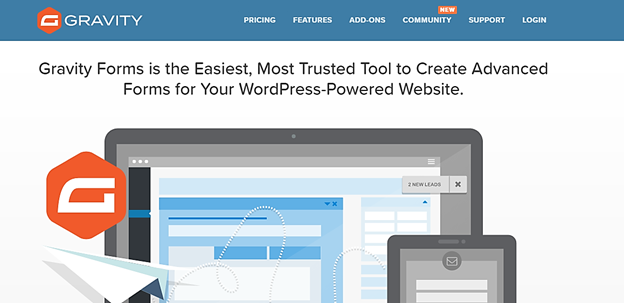 And although it features custom HTML insertion, conditional formatting, intuitive drag-and-drop editing, and spam blocking, the most outstanding thing about Gravity Forms is its rich array of payment integrations.
This is where you get to set up robust checkout forms by seamlessly integrating major payment gateways such as Stripe, PayPal, and Authorize.net.
Here's the kicker though. Apparently, Gravity Forms is not open to just any website. Only WordPress sites can leverage its forms.
Further Reading:
Typeform: The Top Form Builder Tool For Questionnaires and Surveys
Another common use for web forms is running online surveys plus questionnaires.
And when it comes to that, Typeform happens to be one of the biggest, if not the leading, dominating force. Site owners, businesses, students, and researchers rightfully consider it the best form builder tool for surveys because of its straightforward editing process.
Typeform is particularly ideal for creating, administering, managing, and analyzing conversational surveys and questionnaires. Its basic set of editing tools has been perfectly optimized to deliver immersive experiences.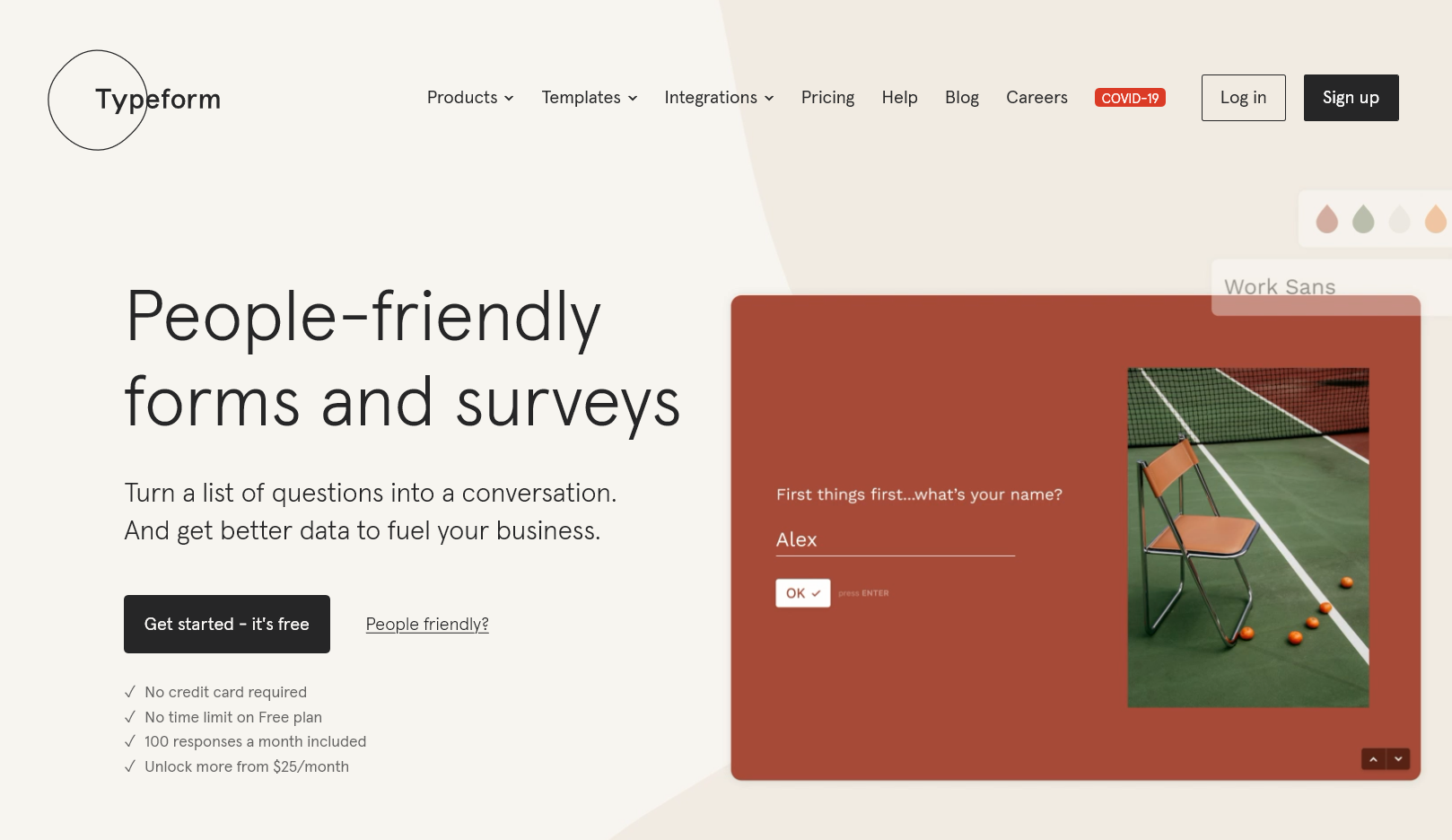 In essence, you get to build both open-ended and closed-ended questions using different types of text and graphics. The forms support even videos, images, and animated GIFs. Such extras give you the power to keep your target audiences engaged throughout- from start to finish.
And speaking of beginnings, Typeform also happens to provide intuitive welcome screen designs. Plus, it allows you to custom them based on your survey goals and audience objectives.
And after everything, you get to analyze all the survey results through a well-organized set of detailed insights.
JotForm: The Most Intuitive Form Builder Tool
Jotform is a robust form builder tool that comes with a fast, seamless, and immersive customization framework.
At the top is a very responsive and intuitive visual editor, which supports all the essential graphical and layout tweaks you might need. It works hand in hand with Jotform's extensive collection of form templates, which currently stretches beyond 10,000.
So, in short, you should have an easy time finding a form design that perfectly suits your campaign goals. Jotform even categorizes them based on type and industry to help you sort through everything.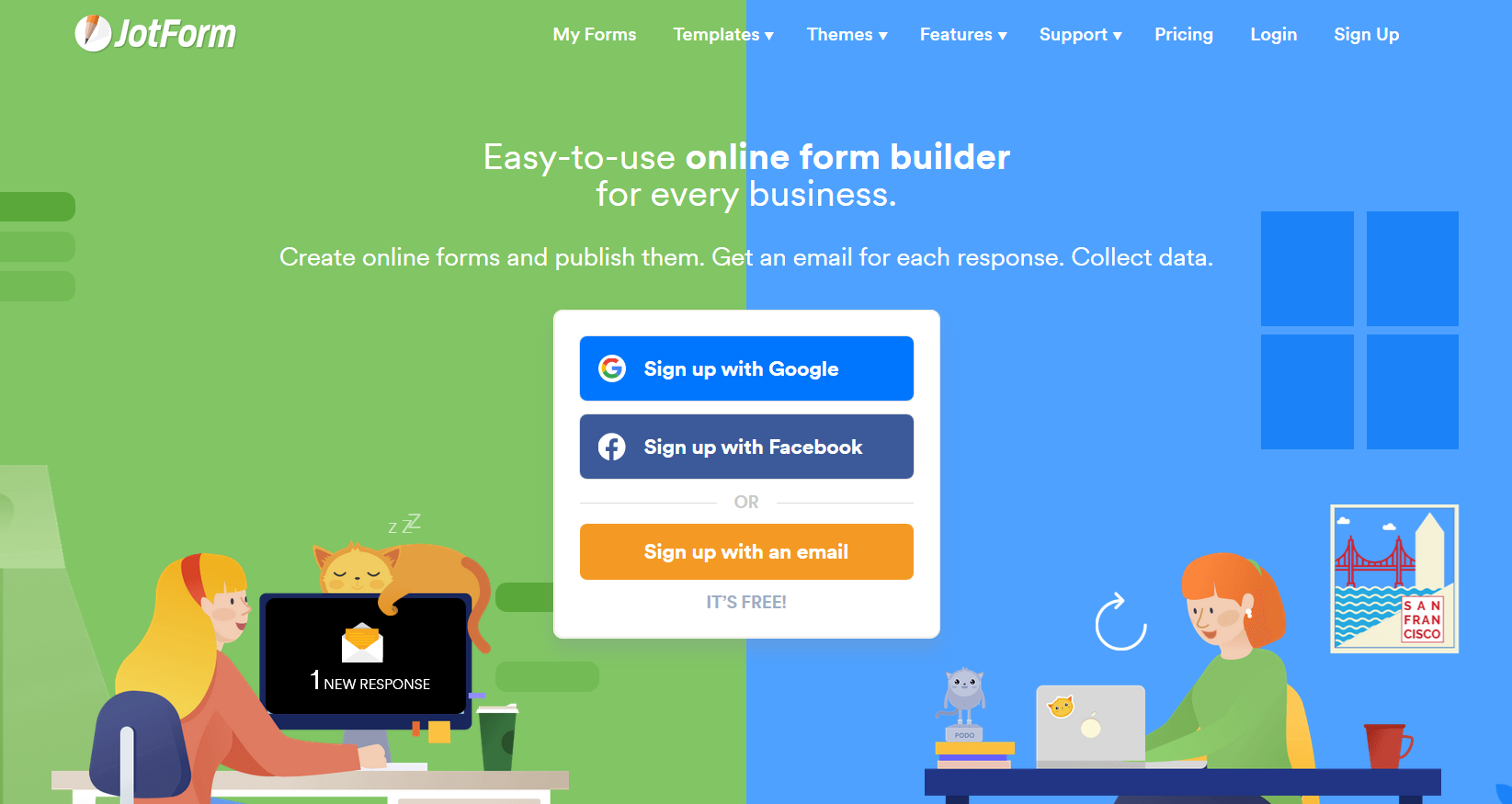 Then get this. You don't have to pay anything. Although the Jotform's capabilities are best unleashed through its premium plans, at least it's Starter plan generously provides a decent set of features for free.
Other notable features include; online payments support, online and offline collaboration, automated form organization and storage, online widgets, mobile form building, multi-layered form security, etc.
Over To You
Now that we've covered the basics, I'd say you're on your way to finding the best form builder tools. There's just one final thing you need to do.
Yes, that's right. It's about time you familiarized yourself with the available options. You can only choose the best after analyzing the top solutions in detail.
And to help you with that, we've compiled unbiased reviews of all the best form builder tools on the market. Our review articles cover not only the essentials but also the accompanying secondary features. You get to learn everything- from the outstanding strengths and weaknesses to the pricing and performance of each form builder solution.
And while you're at it, feel free to explore the rest of the sections. We also feature reviews of digital marketing tools, site builders, CRM applications, eCommerce platforms, etc.