Last Updated on April 22, 2023 by Ewen Finser
In our post, we will be comparing two of the top project management tools out there ClickUp vs Asana.
Streamlining the organization of tasks and assignments is an integral part of running a productive workplace -which is why around the office, to-do lists are worth their weight in gold.
Having a list of clearly defined goals works wonders for planning how the day will unfold. It's also a fact that checking items off a to-do list fills us with a sense of accomplishment, which prompts us to be even more productive.
Bottom Line Up Front Summary: It's worth highlighting that ClickUp's decisively cheaper (almost half the price of Asana) and offers a similar suite of features. ClickUp also provides more accessible customer support with its live web chat function and direct email address. So, where price and customer care are the clear differentiators, ClickUp's our winner!
ClickUp vs Asana – Main Differences
The main differences between ClickUp vs Asana are:
ClickUp's is the least expensive option of the two, whereas Asana costs almost twice as much

ClickUp offers live customer support via their web chat, whereas you can only reach Asana via email support tickets.

ClickUp provides a refund within the first 30 days of purchase, whereas Asana doesn't have a refund policy

ClickUp's free program provides users with unlimited tasks and users, whereas Asana's free plan is limited to 15 users and only offers straightforward task management tools

ClickUp's still designing similar functions, whereas Asana boasts more advanced automation triggers and actions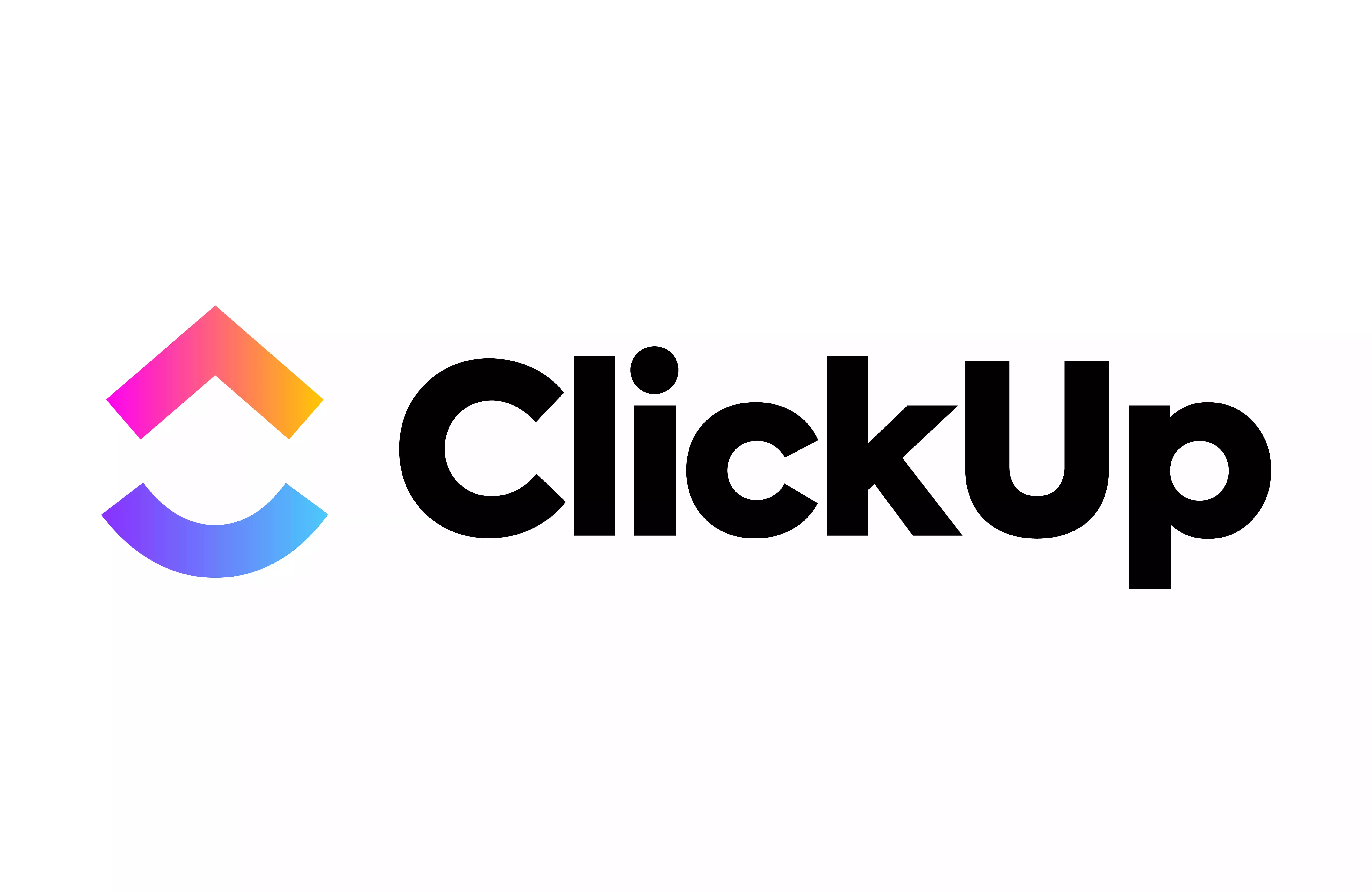 Why Go With ClickUp?
I've been so impressed with how quickly ClickUp has caught up with and even EXCEEDED competitors. They have ALL the integrations, plenty of pre-built templates for any use case, AND additional customization for any workflow.
Check it out Here
We earn a commission if you click this link and make a purchase at no additional cost to you.
However, it's easy to lose traditional to-do lists. Have you ever written all your outstanding tasks, stuck it somewhere on your desk, just to start yet another list…because you couldn't find the first one.
Don't worry; you're not alone – we're all guilty of it. Having too many jobs scattered across different places quickly gets confusing, and productivity suffers as a result.
This is why productivity management tools have boomed in recent years.
Asana and Clickup are two such examples. Both these apps can help you and your team organize tasks and projects, stay focused on objectives, report on progress, and check off jobs from the convenience of one, highly-visible platform.
So, we've taken a look at both services to compare their features and pricing. Read on for an in-depth review of ClickUp vs Asana, and see if you think either of these platforms could boost your team's productivity!
Don't want to keep scrolling? We've got you covered. If you're after a quick comparison, here are the key differences and similarities between ClickUp and Asana.
ClickUp vs Asana Project Management Platform – Main Similarities
The similarities Between ClickUp vs Asana are:
Both ClickUp and Asana offer free plans for individuals and small teams – these are perfect if you're new to project management.

ClickUp and Assana both offer three premium plans, including an enterprise-level solution with custom pricing.

ClickUp and Asana provide users with similar features, including – different display views, task organization, progress tracking, and workload management tools.

Both platforms are easy to use

Both ClickUp and Asana integrate with Zapier and a large number of third-party apps for unlocking more organization, time tracking, source control, and team communication functions.
About the Project Management Solution Company's
ClickUp considers itself the 'newcomer and underdog' of their industry, slowly climbing their way to the top with a great worth ethic and the intention of working both harder and smarter.
They hope to grow 1% every day and give their users the best customer support experience they've ever had. Lofty goals? Perhaps. Nonetheless, ClickUp won Capterra's seal for 'best value and best ease of use' in 2019, amongst other rewards.
ClickUp's mission is to make the world more productive by providing the right toolkit for displaying and managing several tasks from one platform. They hope to simplify and streamline workflows and create a space that inspires and facilitates productivity.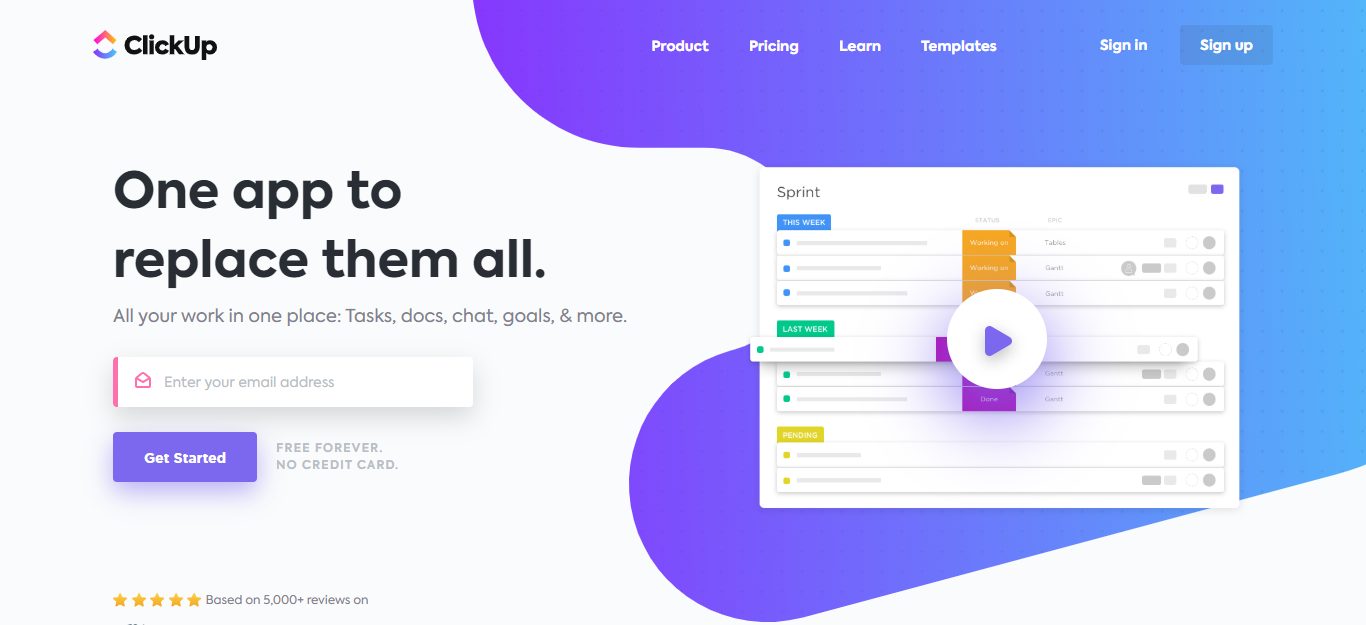 Asana hopes to deliver better organization to the chaos work can be. How? By providing a place where you and your team can plan everything. From the finer project details to big picture stuff, you can use Asana to map it all out.
Asana helps every team member to familiarize themselves with their responsibilities, so they can collaborate better with one another, and consequently, produce higher quality results.
Asana's client roster includes big names like Tesco, Deloitte, RedBull, and Roli – impressive, right?!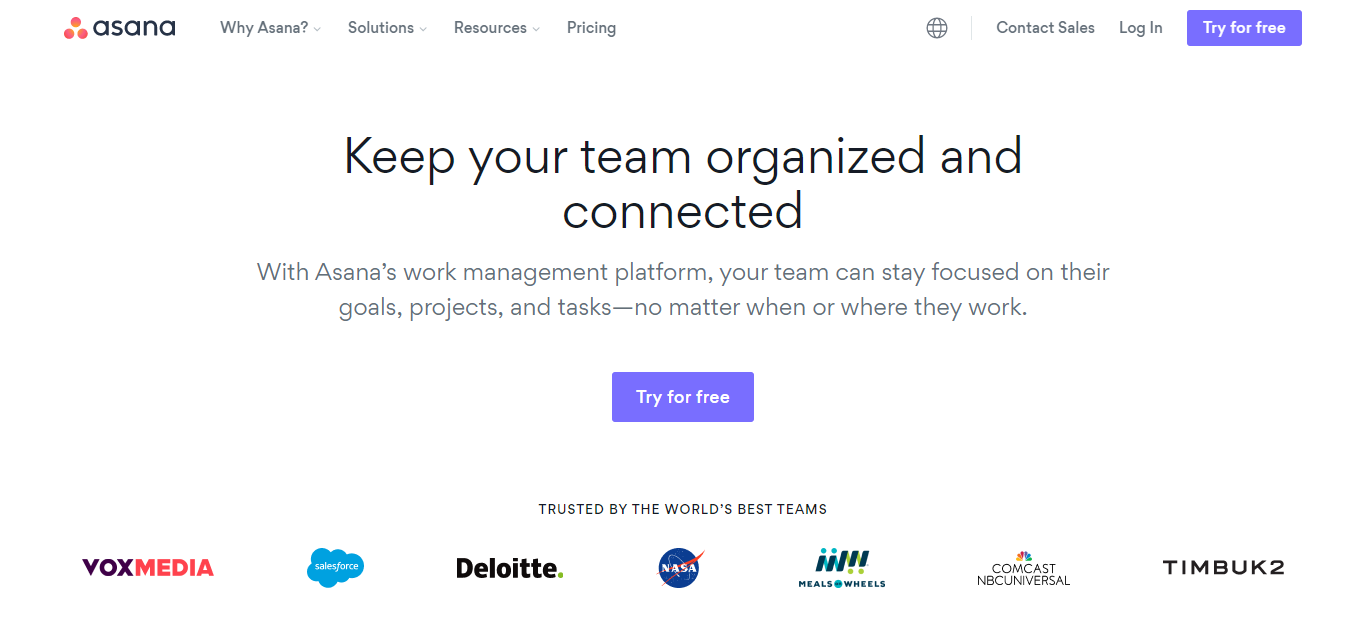 ClickUp vs Asana – How Do Their Features Compare?
ClickUp Project Management Software
As we've already alluded to, ClickUp aims to provide a space where teams can organize all their tasks, overview their projects, and collaborate effectively – without using too many apps! ClickUp's core functionality revolves around the following areas:
Process Management
You can streamline projects and to-do lists by utilizing the features below:
Custom statuses – You can set custom-defined project status to communicate where a project is at – so if you and your team want to use industry-specific jargon to better convey your project's progress, that's entirely possible.
Checklist templates – Checklists can be saved and reused as project templates, so you don't have to create a checklist from scratch each time.
Multiple assignees – You can assign several people or parties to a task or multiple projects.
Task dependencies – Highlight when ClickUp task completion relies on a different job being done first. You can see which jobs the task is linked to, which work is outstanding, and which projects are blocking others from being completed.
Set recurring checklists – For recurring tasks, you can repeat the same lists on any schedule.
Resolve comments – You can check off comments containing action items; this helps to keep your board organized and looking tidy.
Goals – Here, you can set your overall project objective, and access a dashboard to monitor your progress, i.e., you'll see how many tasks have been completed.

Workload charts – This makes it easy to monitor which team members are working at maximum capacity so that you can assign new tasks to those with lesser workloads.
Reminders – Set reminders to keep you and your team collaboration focused on what needs doing to meet any looming deadlines.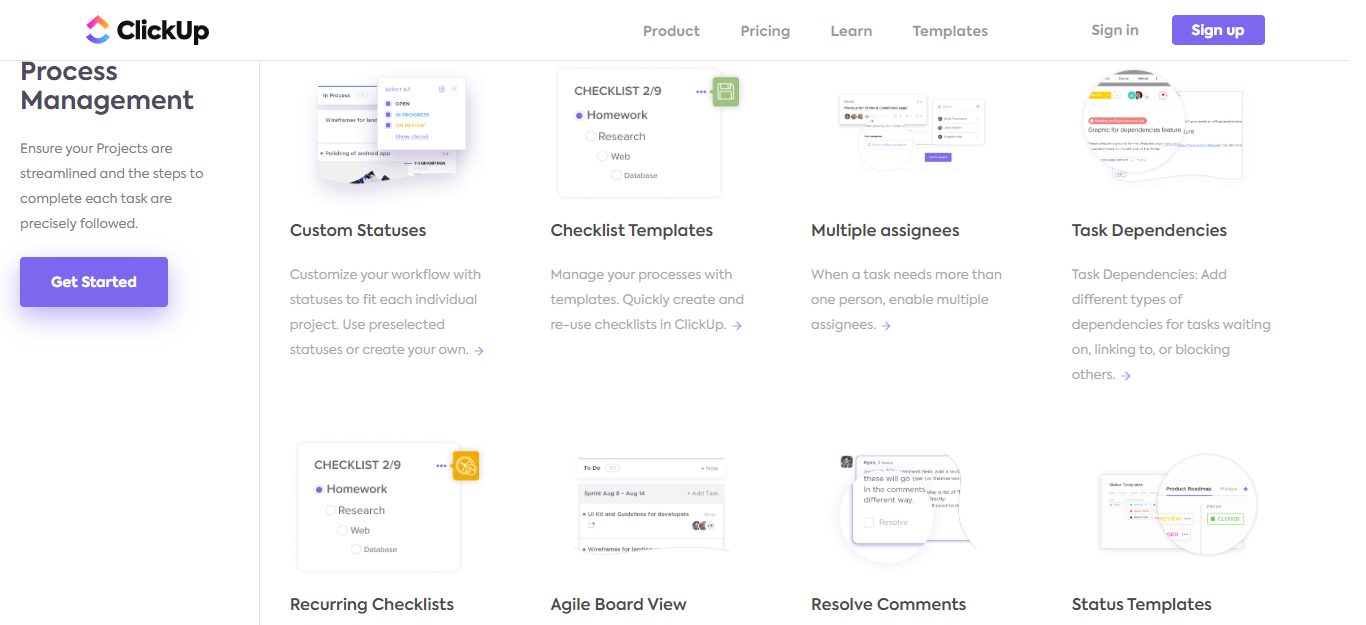 Task Management Software
ClickUp makes it easy to manage your workload with 'task checklists.' You just drag and drop your outstanding tasks to reorder your priorities, and away you go!
There are five ways you can view pending jobs – list, board, box, calendar, and Gantt chart view. You can toggle between these options to help keep a better track of deadlines, start dates, and progress-stages.
Time Management
ClickUp enables you to track your time, so you can see how you and your team spend your precious hours. On top of that, ClickUp provides tons of time management features, including:
Being able to set and check off due dates

Sync your calendars (including deadlines and event details)

You can schedule and

set start dates for tasks

Create time estimates for anything you're working on
Collaboration and Reporting
Every change you make inside of ClickUp is automatically reflected on all connected devices, which makes real-time editing across the whole of your team a reality. You can see when others are making changes or posting comments so you can avoid collisions.
Not only that, but you can also assign new collaborators and tag specific team members to draw their attention to a task or comment. You can allow guests and clients limited access to projects, lists, and tasks and adjust your privacy permissions to control who sees what.
The team reporting tool also provides an overview of what the entire team is up to. When combined with the 'Process percentage' feature (which allows you to quickly determine how much outstanding work this is on a project or list), you can better manage your resources.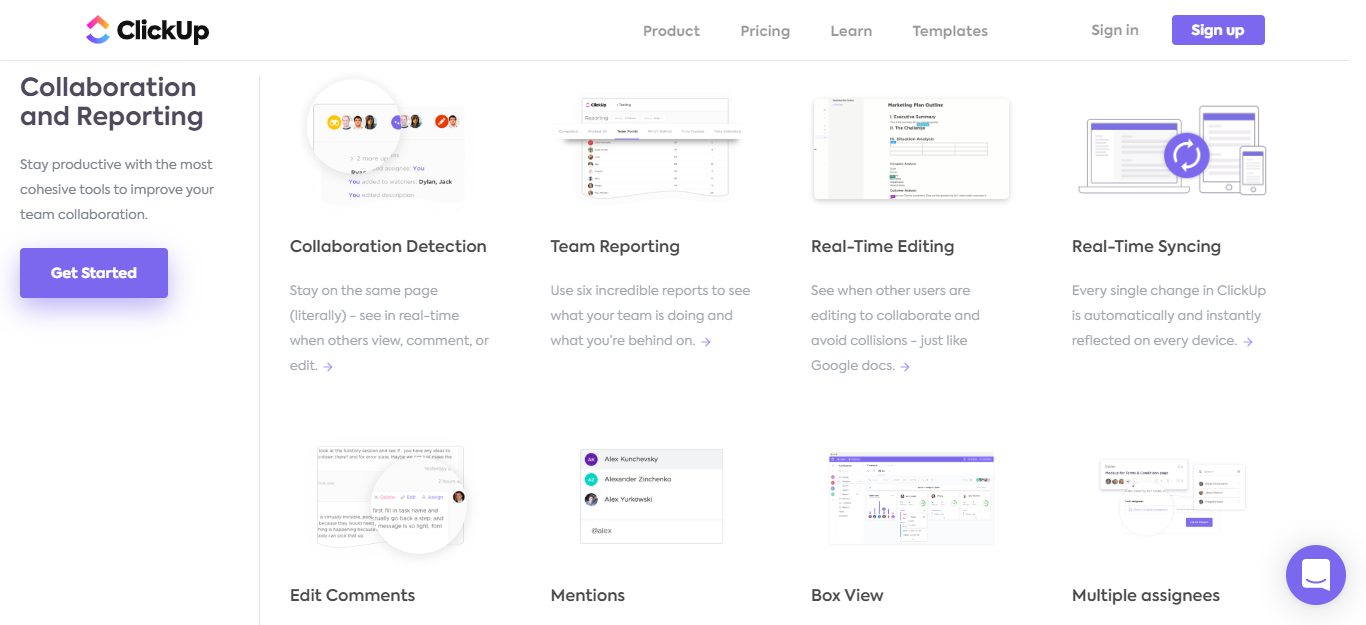 Asana Project Management Software
Asana works similarly to ClickUp – you can see where everything stands on your digital pinboards. So, you can visualize at a glance, your pending Asana tasks, and ongoing projects. Asana also provides automation tools to simplify your workflow, reduce errors, and, ultimately, save you time.
Some of Asana's core project management features include:
The Timeline
You can either create your project timeline from scratch or import CSV files to help you build an actionable schedule. Either way, you can modify and share these timelines with your team.
Asana makes it easy for you to mark the start and end dates and note who's associated with what task. This key feature enables you and your teammates to visualize better which tasks need completing first so that you can hit the ground running with your project.
Portfolios
Asana's 'Portfolios' feature allows you to monitor all your initiatives from the convenience of one place. In short, it's a control center for all of your goals and tasks. Here you'll see the priority, process, project status, and start and due dates of your unfinished work.
You can even group projects inside of a portfolio – this comes in especially useful if you're running several projects that are relevant to each other together – for instance, sales and marketing objectives often overlap.
You can also view a project's progress in real-time and share portfolios with stakeholders and other team members to keep everyone in the loop.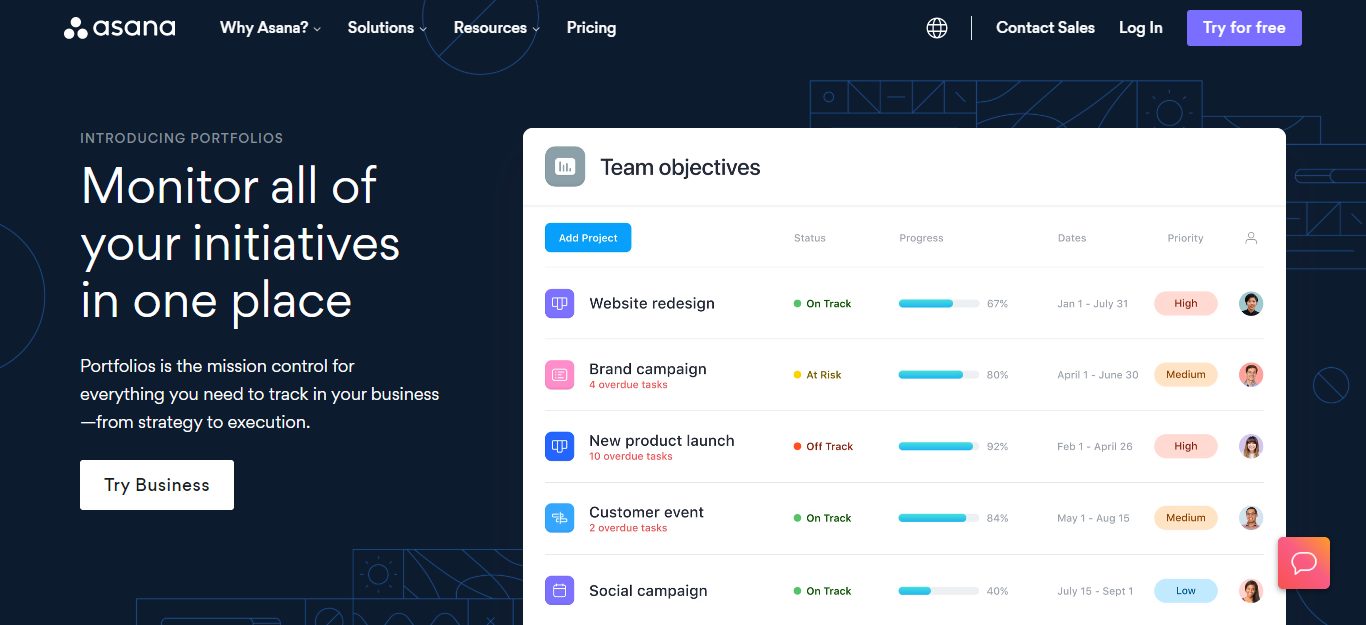 Workload Management
Asana makes it easy to track the workload of each of your team members. They generate timeline charts that indicate which days are busiest for each employee. With this info to hand, you can then allocate tasks to workers with less on their plate.
You can assign values to tasks, i.e., you can communicate how 'important' a task is by assigning how many hours or points it's worth. Asana then factors that into the overall workload and progress calculations of your projects.
If you notice a workload imbalance, i.e., some staff have tons to do, and others very little, simply drag and drop tasks to reassign them to other team members. It really is that simple.
Forms
Forms can be used to streamline work requests. Manage new incoming tasks by customizing how they should be set up and filled out, so each new job is ready to be tackled with all the required information. You can also use forms to request assistance on tasks from other team members. Form templates include IT requests, creative requests, and work requests.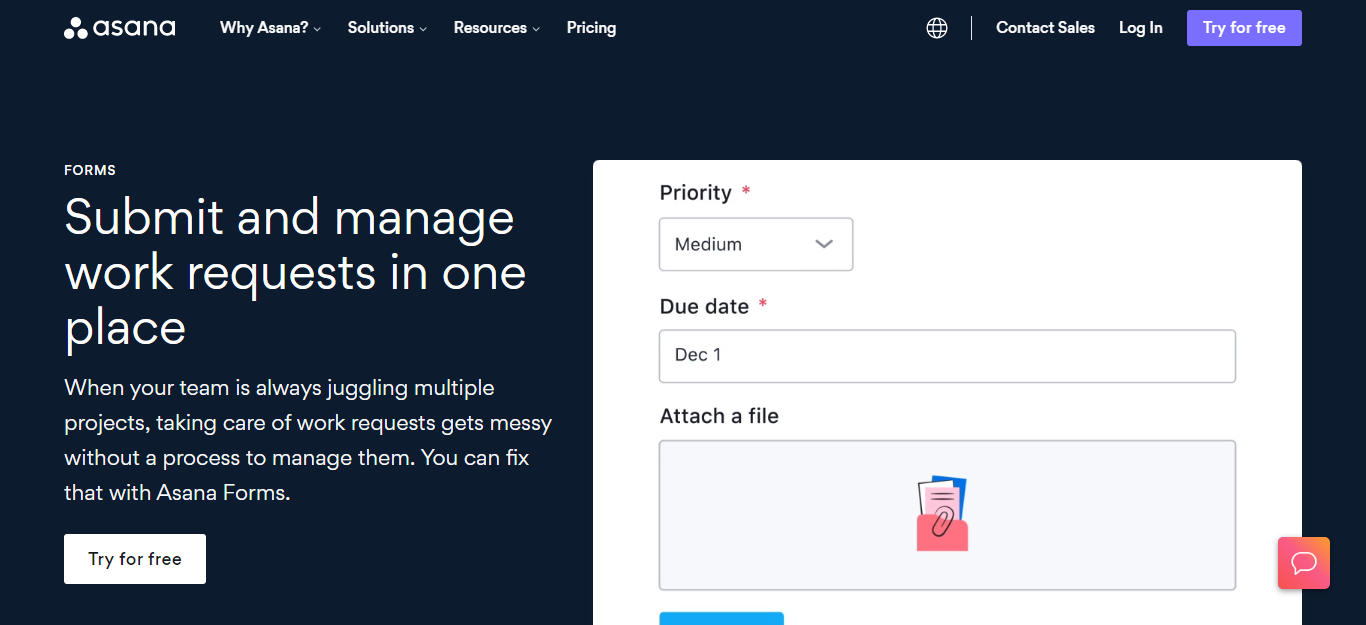 Project Management Software Integrations
Both ClickUp and Asana feature a wide range of integrations you can use to extend the functionality of the platforms. Below we've listed a few examples of their native integrations; however, for a full list, you'll have to visit their respective websites.
ClickUp integrates with:
Slack

GitHub, Bitbucket, Gitlab

GoogleDrive

Outlook

Dropbox

Vimeo and YouTube

Chrome

Time tracking apps like Timecamp, Promodone, Timeneye, Timely, and Clockify

Zoom

Zendesk
ClickUp also automatically imports your data from other project management tools like – Asana, Trello, Todoist, Basecamp, Monday.com, and Jira – so switching over to their platform is a relatively painless process.
Asana's integrations include:
Salesforce

Adobe Creative Cloud

Tableau

Slack

Office 365

Gmail

Jira Cloud

Github, Bitbucket, Gitlab

Time tracking apps like Everhour, Velocity, HourStack, Timely, TSheets, Pomodone
It's also worth noting, both ClickUp and Asana integrate with Zapier, which enables thousands of third-party integrations from all across the web.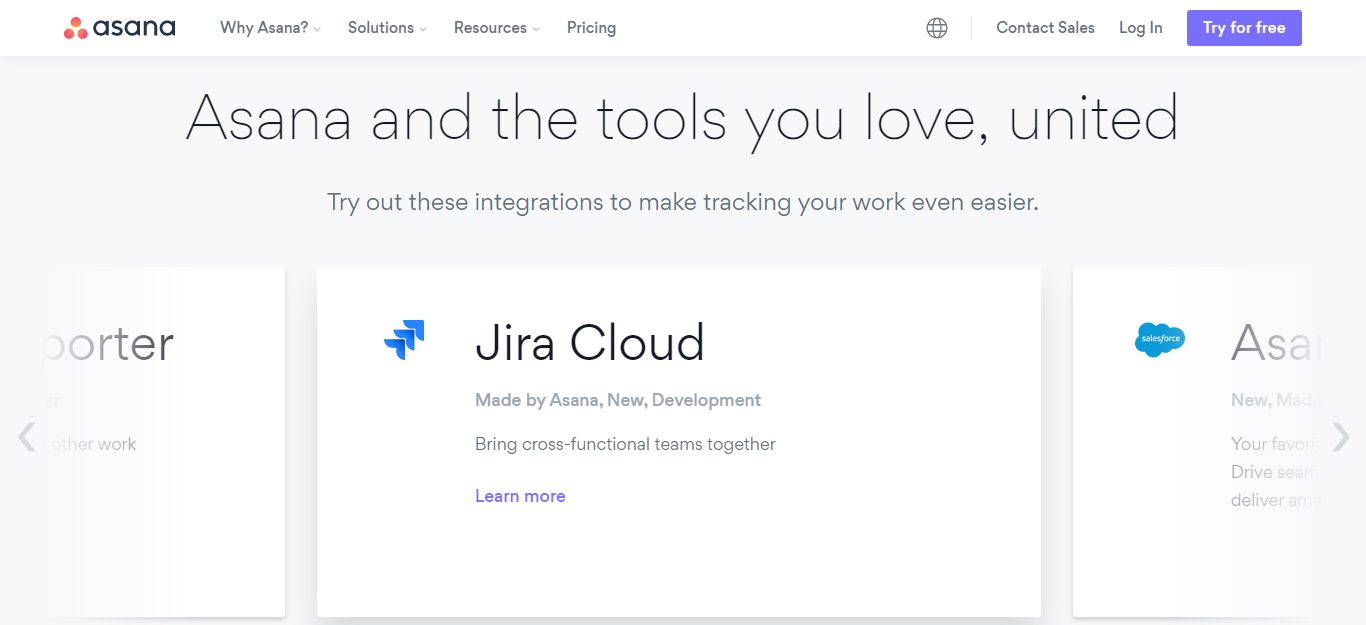 ClickUp vs Asana – Here's How They're Priced
ClickUp offers a free plan (with no expiry date, so you can use it forever). This allows you to set unlimited tasks (and unlimited projects), and you can register as many users as you want. So, it doesn't matter the size of your team; you can test ClickUp to see if it's a good fit…without spending a dime!
After that, there are three premium plans available, which function on a per member, per month basis. You can pay either monthly or annually – it's entirely up to you.
As we've just mentioned, ClickUp offers a free plan. This is excellent for dabbling in project management and learning the ropes, but it's not great for prolonged use. The free program, while allowing unlimited tasks and users, restricts you to 100MB of storage space.
* Storage is affected when you upload files, not by setting and completing tasks within the app – so if you only want to track progress on your to-do lists, you can do so without limitation with virtually unlimited storage.
You also don't get privacy permissions, so all guests are given full access. Plus, dashboards, portfolios, and goals are also limited to 100 uses each. So as you can see, anyone who's serious about project management will likely want to upgrade to a premium plan.
This costs $9 per member per month, or $5 per member per month when billed annually.
This grants you unlimited space and unlocks the following features:
Five guests plus two per extra seat, with read-only permissions.

You can use 1,000 automations a month.

Access to unlimited portfolios, goals, and forms

You can generate reports

Cloud Storage

You can delegate reminder and set f

uture recurring tasks
You can view today's activity on the pulse overview (The pulse overview show's who's online, what they're working on, and what you did that day). On higher plans, you can see the work completed over more than just a day, so it creates an activity log.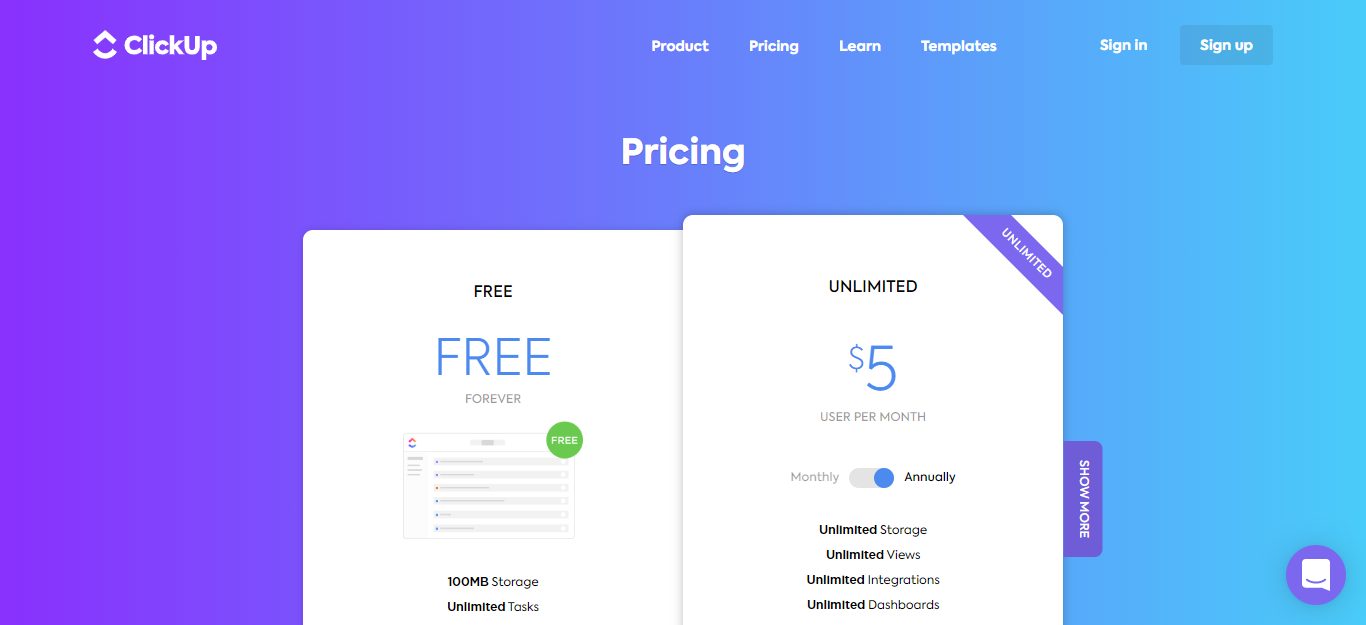 This will set you back $19 per member per month, or $9 per member per month when paid annually.
This package provides enhanced security features like two-factor authentication and Google single sign-on. Plus, you get everything in the Unlimited plan, plus:
Privacy permission settings for portfolios

Branded and customized forms

10,000 automations per month

You can view historical data in the live overview

You can create folders for goals

Enable custom exporting

Workload management

Private, protected and default views
You'll need to contact ClickUp's sales team for custom pricing. The Enterprise package unlocks all of ClickUp's features, entitles you to 100,000 automations a month, and provides access to priority support, including a dedicated customer success manager and custom onboarding and training.
You'll also get security features like:
Microsoft, Custom SAML, and Okta Single Sign-On

HIPAA compliance

Contract and legal review

Custom permissions you can set for guests, members, and admins

You can restrict public sharing and

who can add guests

Add and remove users via API
Asana's pricing isn't dissimilar from ClickUp's. They, too, offer three premium plans and one free package. Asana also charges on a per-user, per-month basis and can be billed either monthly or annually.
Asana's free plan is limited in terms of project visibility, which is expanded on in its premium plans. However, you can manage personal to-dos, with the following features:
You can set tasks and display them in a list, board, or calendar view

Assignees, i.e., you can assign someone a job and mark it as their responsibility.

You can set due dates

Collaboration with up to 15 teammates
This costs $11.59 per user per month, or $9.40 per user per month billed annually.
The package provides you with:
A timeline view of your tasks

Advanced search and reporting

Custom fields

Unlimited free guests

Forms

Rules – i.e., you can set rules to automate important actions inside of your workflow

Milestones – These allow you to visualize significant checkpoints in a project, so you can measure and share progress with your team

An admin console

You can set private teams and projects

Access to priority support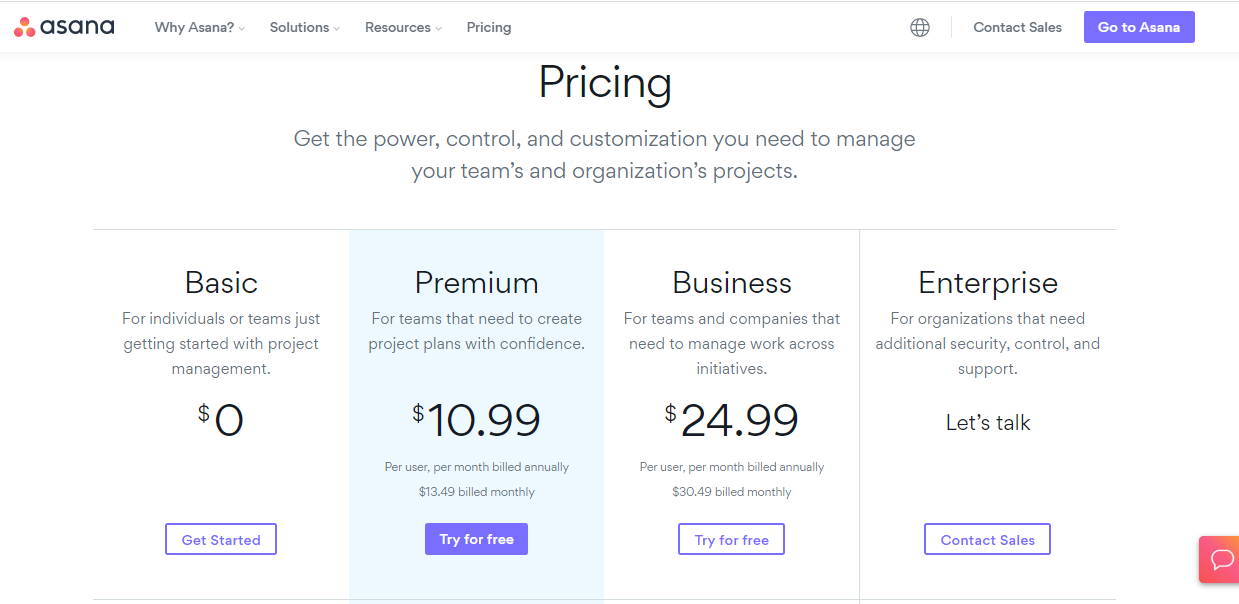 This will set you back $25.69 per user per month, or $20.99 per user per month, billed annually
On top of everything included in the premium plan, you also get access to:
Portfolios

Workload visibility

Custom rule builders

Approvals – You can set up and clarify approval processes, so everyone knows what they need to do to get their assignments approved

Proofing

The ability to lock custom fields – You can prevent teammates from integrating your Asana account with any software or apps you don't want to connect with.

Advanced integrations with Salesforce, Adobe CC, Tableau, and Power BI
If you think you could benefit from this package, you'll have to contact Asana's sales team for a custom quote. This program entitles you to the following features:
Data export and deletion

Block native integrations

Custom branding

User provisioning and de-provisioning (SCIM)

SAML

Priority support including service accounts (where you can build automations and integrations inside of Asana), and cross-regional backups
Who Offers Better Support? ClickUp or Asana?
ClickUp:
ClickUp's team is available 24/7, including holidays. You can contact them via their online contact form, email, or leave a message in their live chatbox (if you can't get through to an agent).
Their website also provides plenty of support documentation, including a product demo. You can even connect with a ClickUp consultant or trainer if you feel you need extra help. However, these cost extra. ClickUp provides a list of consultants you can contact, that charge either a per-project or hourly basis.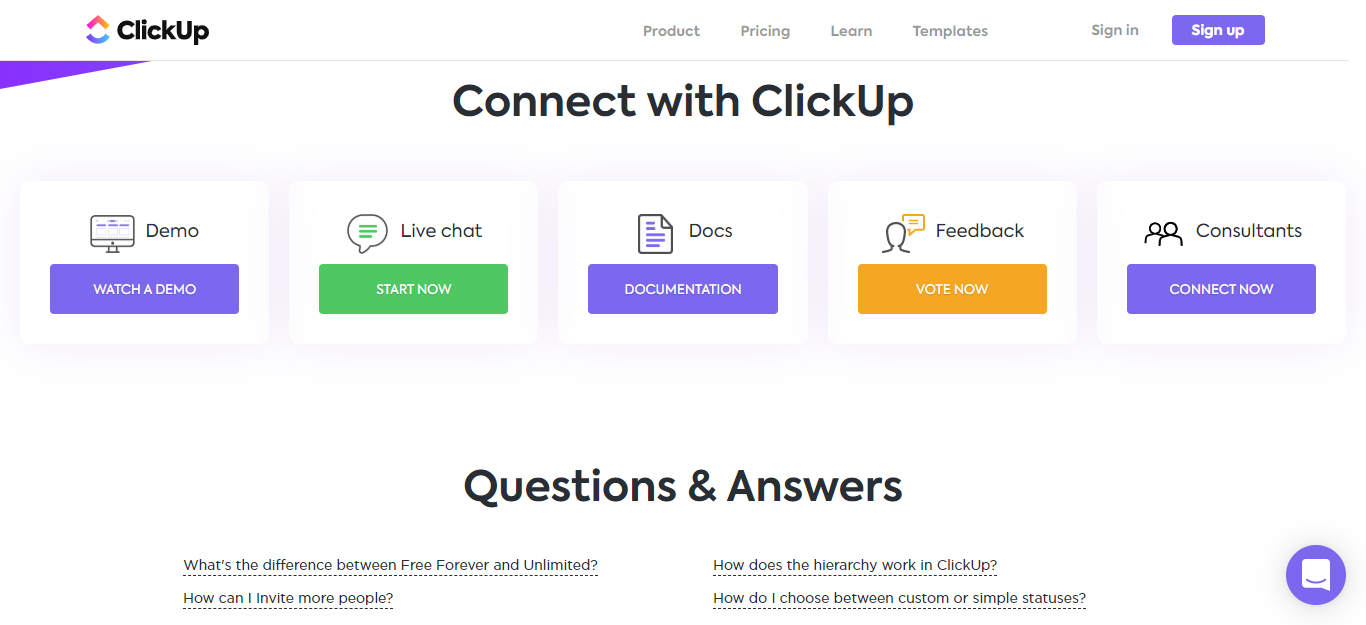 Asana:
Over on Asana's online help center, you can access plenty of helpful guides. You'll also find the Asana Academy here, where you can participate in webinars and interactive courses.
If the online support documentation doesn't answer your questions, you can get in touch via a support ticket and/or join Asana's forum. Here you can interact with Asana's massive community, network, and seek help from your peers.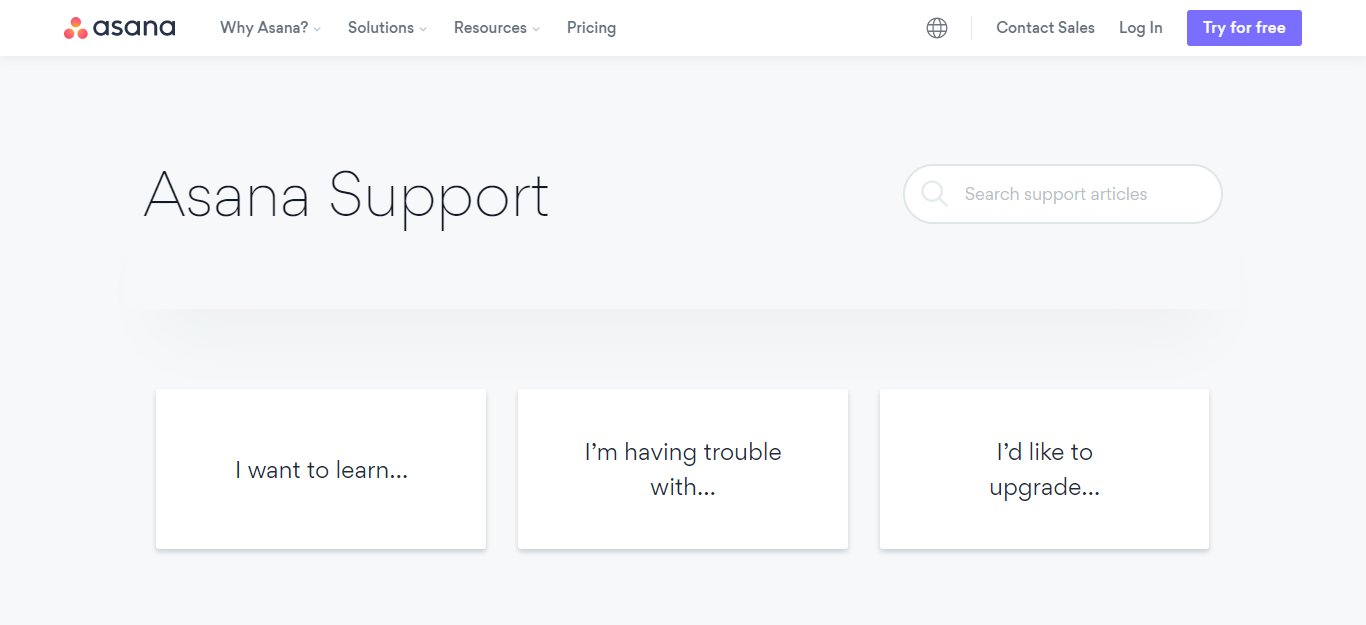 ClickUp vs Asana – The Pros and Cons
Like all software, both ClickUp and Asana come with their advantages and disadvantages. So let's take a look at what these platforms do well and where there's room for improvement…
ClickUp
The Pros:
ClickUp offers a robust free version, complete with sophisticated features, and no limits on users and tasks.

ClickUp is easy to use, quick to pick up, and provides users with efficient, albeit basic onboarding.

ClickUp's Zapier integration, alongside its many third-party apps, empowers you to extend the platform's functionality massively (should you want to).

There are plenty of ways to display tasks, including calendars, Gantts, and timelines.

ClickUp continually releases new features and provides a roadmap of where their product is going in the future. The software is always improving.

It's suitable for teams and solo users alike

ClickUp is cost-effective, offering amongst the most affordable per user, per month pricing on the market.
The Cons:
ClickUp doesn't provide automation as standard; you have to use a third-party app (however, they're currently working on this).

The Gantt chart view isn't as flexible as Asana's

The software is occasionally laggy while processing several tasks at once, or switching between views.
Asana
The Pros:
Asana has a powerful Gantt chart and timeline view

Integrations with Google Suite and Adobe Creative Cloud make collaboration within design-heavy fields simple.

Asana is rich in features and provides plenty of project management tools.

Asana's portfolios feature makes it easy to overview objectives and keep track of projects.

Asana has a free plan that can be used by up to 15 people.

Asana provides automation triggers and interactions which you can use to streamline workflow.

There's ample support documentation available, which allows for a smooth onboarding experience.
The Cons:
You can't assign multiple assignees to a task.

There's no personal view to oversee your own tasks – you can only navigate the overall workspace.

As there are so many features available, there's somewhat of a learning curve for new users.

The app doesn't feature two-factor authentication.

Asana doesn't offer a refund policy.

Asana's free plan is more restrictive than ClickUp's

Asana is nearly twice as expensive as ClickUp – a cost that quickly adds up on a per-user basis.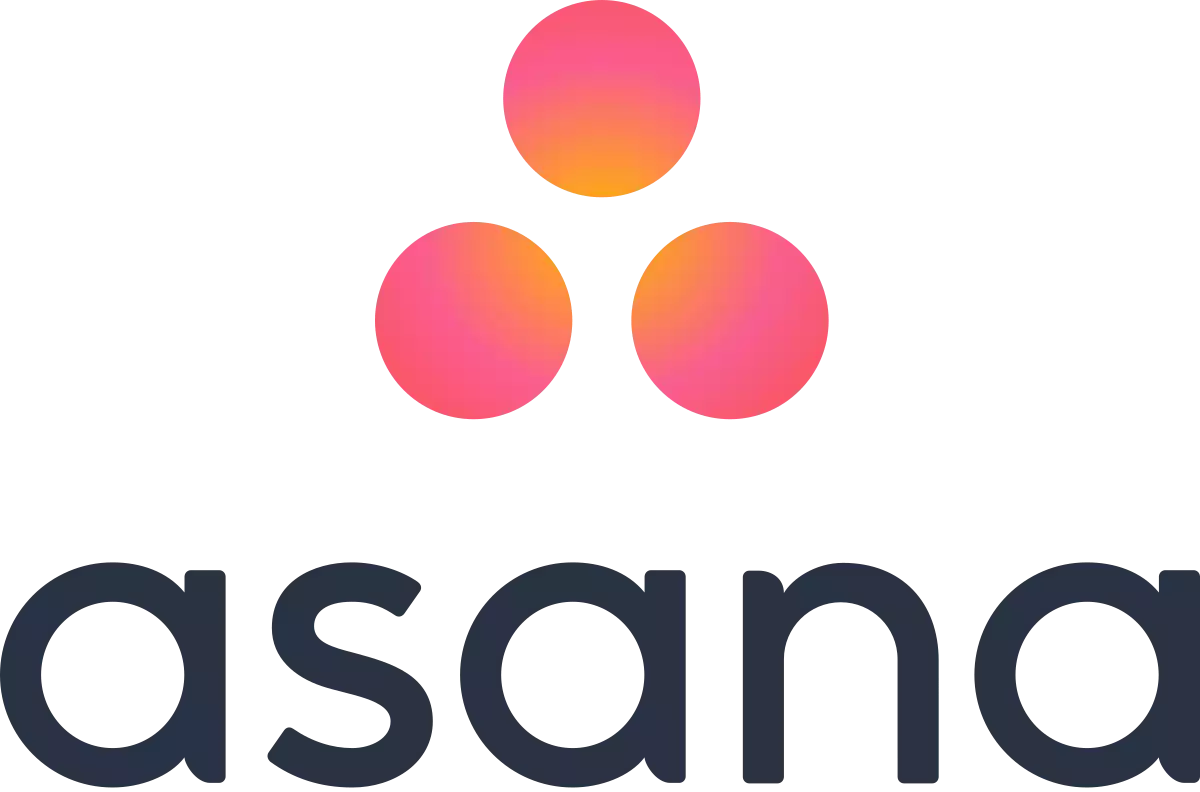 Why Go With Asana Here?
Satisfying to use, integrates with everything, and scales as much (or as little) as you need. This is why Asana is one of the leaders! Also why WE use it for content management in our business.
Try Asana First
We earn a commission if you click this link and make a purchase at no additional cost to you.
Is Asana HIPAA Compliant?
If your organization in any way deals with confidential health information, HIPAA compliance is a top concern. I'm sometimes asked if Asana is HIPAA compliant. The short answer is no, Asana is not HIPAA compliant out of the box.
While Asana does encrypt via SSL and say they keep data secure, their servers are not encrypted and they offer no discernible HIPAA compliance standards.
Is ClickUp HIPAA Compliant?
Interestingly, ClickUp DOES offer a HIPAA compliant setup if you opt for their Enterprise Plan here. This clearly separates ClickUp from Asana if you are in the healthcare industry.
The main catch is that ClickUp Enterprise is a relatively expensive option, generally costing at least $12,000 per year. Still, for many healthcare organizations, this might be more affordable than what an IT services provider is billing in a contract.
Does ClickUp Integrate with Asana?
While they are definitely competitors, there may be some instances where you want to use Asana for one type of workflow and ClickUp for another. Surprisingly, there are a fair number of users who do just that and Zapier offers an integration to connect the two.
How to Import Asana to ClickUp
If you've decided to upgrade from Asana to ClickUp, ClickUp has a very intuitive auto-import functionality here. With a few clicks, you can literally import your entire Asana setup and it looks & feels remarkably similar.
You still might need to do some cleanup and re-categorization, but since ClickUp was really built as an improvement over Asana, it uses many familiar design principles.
ClickUp vs Asana: Common FAQs
How Secure is Asana?
Asana uses physical, procedural, and technical safeguards to protect your data. All your info is regularly backed up to prevent loss of work, and to better aid recovery in the unfortunate event, the system goes down.
Asana also hosts your data in secure SSAE16/ SOC2 certified data centers, utilizes firewalls, and guarantees restricted access across their servers. They even work with third-party security researchers to ensure they're implementing the best possible cybersafety practices.

How Secure is ClickUp?
ClickUp is both GDPR and HIPAA compliant and abides by the Privacy Shield framework. ClickUp provides end-to-end security and is hosted entirely on Amazon Web Services.
End-to-end security/encryption ensures that all info is only passed only between communicating users and is designed to prevent 'eavesdroppers' or anyone intercepting that data. Business plans also benefit from additional security features, including encryption at rest, two-factor authentication, and single sign-on (SSO).
Do Asana and ClickUp Provide Discounts for Non-Profits?
Asana offers non-profit organizations a discount on their Premium and Business plans (when paid annually). This can be as much as 50%. If you think your non-profit could be eligible, you'll have to apply via one of their partner sites (depending on where you're located) – for the UK, it's CharityDigital, and for the US it's TechSoup.
ClickUp also offers discounts for non-profits, as well as for the disabled, less fortunate, freedom fighters, environmental activists, and more. Their non-profit discount is 35%.
What's ClickUp's and Asana's Refund Policies?
ClickUp provides a 100% satisfaction guarantee – a full refund can be granted within the first 30 days of purchase, no questions asked.
Asana, on the other hand, doesn't offer refunds. Should you cancel your plan before its renewal date, you retain access to the features you've paid for until the end of the subscription period. Afterward, all data and tools associated with your paid-for plan are lost.
ClickUp vs Asana: Which is the Better Tool for You?

Why Go With ClickUp?

I've been so impressed with how quickly ClickUp has caught up with and even EXCEEDED competitors. They have ALL the integrations, plenty of pre-built templates for any use case, AND additional customization for any workflow.

Check it out Here

We earn a commission if you click this link and make a purchase at no additional cost to you.
So, having read this review, are you ready to start managing your pending projects and tasks from the convenience of one platform? If so, either ClickUp or Asana will come in handy.
Truth be told, it's a close race between the two. They both offer similar features at the same scope.
In light of that, we recommend checking out their free plans to get an idea of which system you prefer. Asana boasts more advanced automation features, whereas ClickUp is quick to innovate – they're continually producing new and exciting tools.
Bottom Line Summary: It's worth highlighting that ClickUp's decisively cheaper (almost half the price of Asana) and offers a similar suite of features. ClickUp also provides more accessible customer support with its live web chat function and direct email address. So, where price and customer care are concerned, ClickUp's our winner!
Do you have experience using either platform? If so, tell us about in the comments below how they rate as the best project management software options – speak soon!
Further Reading on Productivity Platform Options and Project Management Tools
Asana Project Management & Resource Management Research
ClickUp Project Management & Collaboration Tools Research