Last Updated on April 22, 2023 by Ewen Finser
In our ClickUp review, we will discuss the best features, pros, and cons and factors to consider when choosing your organization's project management platform.
It's safe to say most entrepreneurs and working professionals long for better organization for both themselves and their employees and colleagues.
You probably also want to streamline your company's projects from the convenience of one platform.
If you can relate – the most sensible option is investing in project management software. It doesn't matter if you're a large-sized company, a small business, or a solopreneur, you still want to be organized in your planning, right?
There are literally dozens of project management software platforms out there to choose from, but today we're taking a look at one of the most popular ones on the market, ClickUp.
We're going to give you the lowdown on:
Who ClickUp is
ClickUp's key features
ClickUp's templates
ClickUp's prices
ClickUp pros and cons
ClickUp switching
ClickUp's customer support options
ClickUp's integrations
ClickUp Review: Who's ClickUp?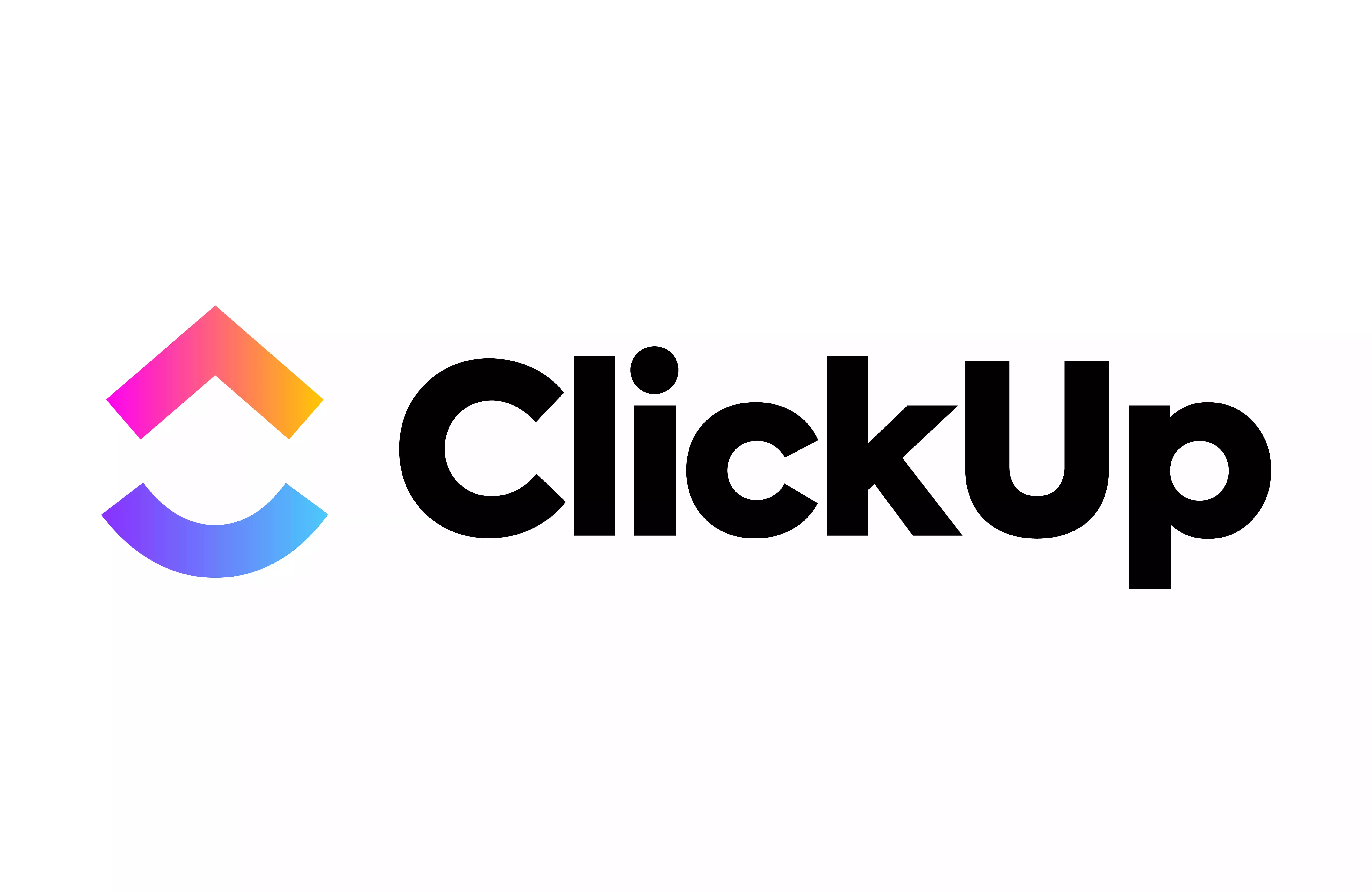 Why Go With ClickUp?
I've been so impressed with how quickly ClickUp has caught up with and even EXCEEDED competitors. They have ALL the integrations, plenty of pre-built templates for any use case, AND additional customization for any workflow.
Check it out Here
We earn a commission if you click this link and make a purchase at no additional cost to you.
Founded by Zeb Evans and Alex Yurkowski in 2016, ClickUp is a cloud-based collaboration and project management software. According to its website, it aims to "make the world more productive, together." Their mission states that while they're big fans of productivity software, it's their belief that it's "broken" – and they want to change that.
So, ClickUp wants to make people 20% more productive by saving them time.
How?
The answer: By providing everything in one place, on one app.
Using the ClickUp app, you can centralize all workflows, to-do lists, calendars, emails, events, project management, and spreadsheets. So when ClickUp guarantees users save one day a week – we can well believe it! In fact, they "analyzed the time saved by over 4,000 teams after switching to ClickUp" and found they got "52 days back every year!." Impressive, right?
ClickUp is a web-based tool, so you don't need any specific hardware or downloads to use it on your computer. Its customers include big names like Airbnb, Netflix, Google, Nike, and Uber.
Overall, ClickUp's features allow you to create:
To-do lists
Projects using customizable tools
Documents, wikis and knowledge bases
Migrate Google Sheets and Airtable Bases over to ClickUp and edit them from there
Keep project-related emails and online conversations in one place
Use ClickUp's calendar view to plan events, schedule and create tasks, and sync in real-time with Apple, Google, and Outlook.
Create reminders that can be repeated (which comes in handy as a task manager if you do the same tasks regularly)
Set goals, track their progress, and create project reports in real-time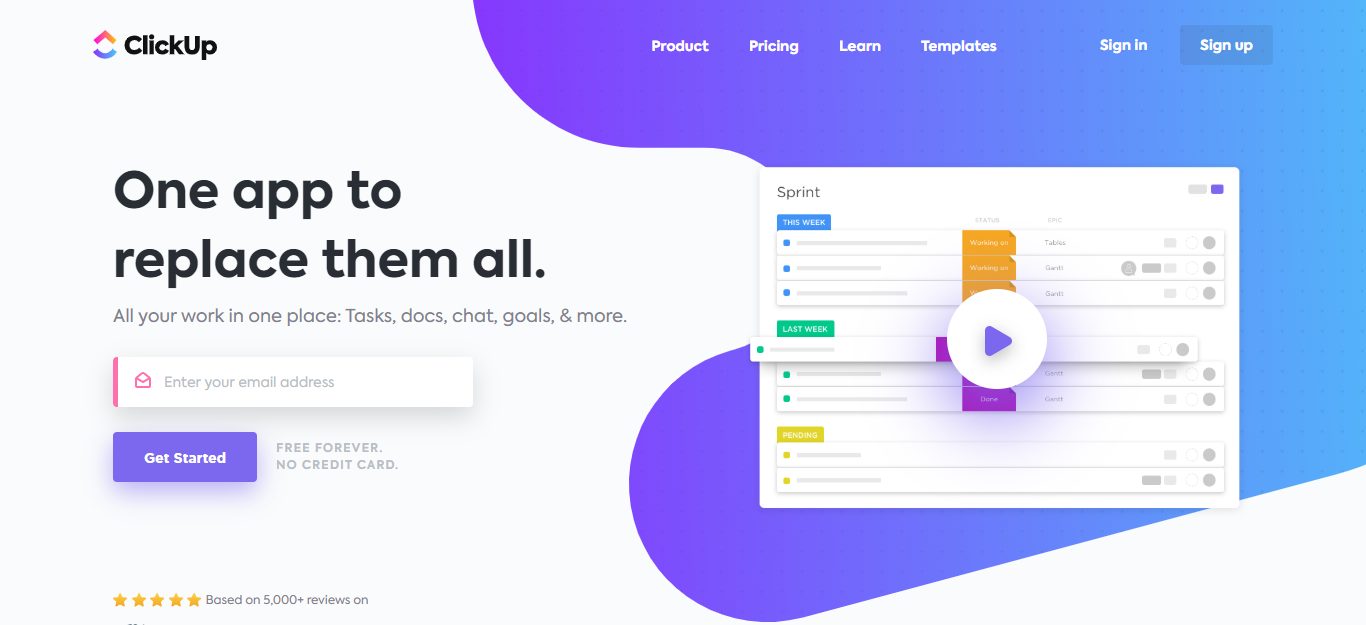 ClickUp Proprietary Features
The app program describes itself as having "all the features, without all the mess." ClickUp's functions are separated into the following categories:
Process management
Task management
Time management
Complete customization
Integrations (see separate section below on integrations)
Reporting and collaboration
Apps and devices
Other
Coming soon (new feature development)
Each of the above headings boasts its own list of features. So, we're going to take a look at what some of these are below…
Process Management
ClickUp's process management features allow users to streamline projects. You can use these tools to ensure every strand of your plans and assignments are in one place where they can be easily monitored and located.
The process management tools allow you to do the following:
Update the task status of your workflows
Use checklist templates and recurring checklists for repetitive tasks
Assign tasks to multiple people
Communicate to your team the jobs you're waiting on and what's ready to go.
You can create wikis and documents on whatever you're working on, so it's all in one place.
When a comment on a workflow contains an action, you can mark it as "done." This works wonders for keeping on top of your to-do lists.
You can also set and monitor project goals, see who's working on what (and how fast), and create task reminders.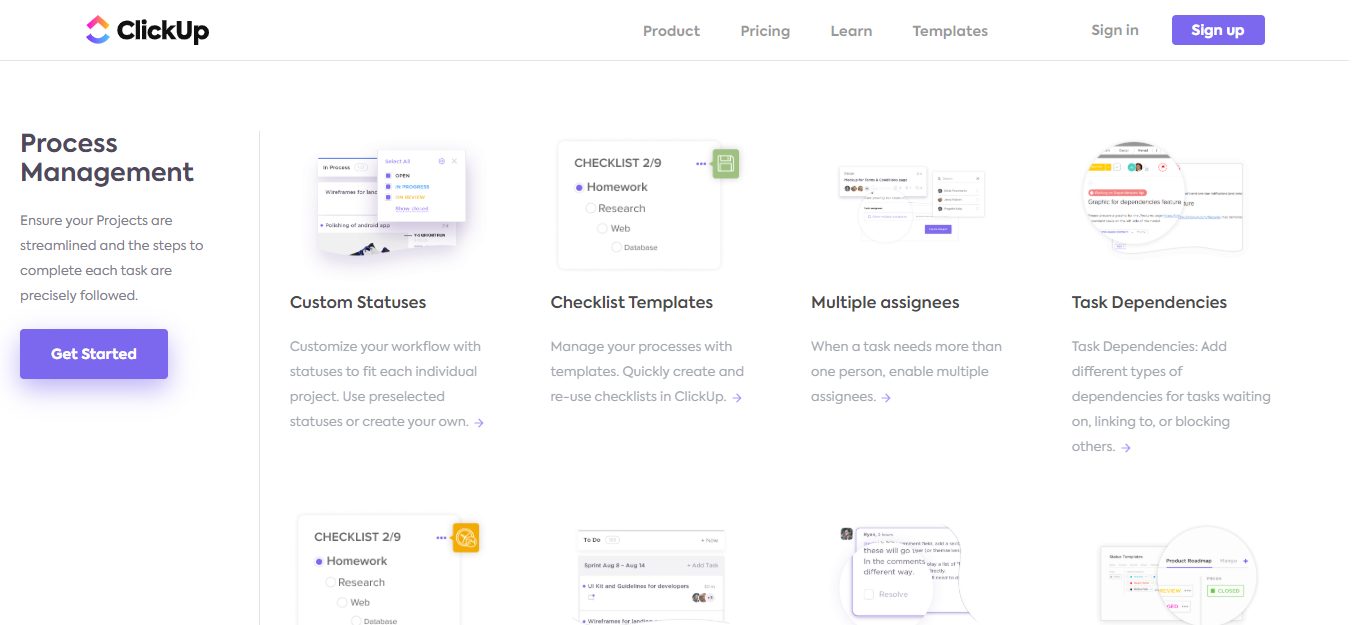 Task Management
The key to any Clickup Review is in the Task management tools. The task management tools allow you to handle tasks within a project and reorganize or reprioritize them according to your needs.
You can:
Set recurring tasks
Use filters to find specific workstreams
Set reminders for particular jobs, be they daily, weekly, or monthly
List jobs in any category or order you like
You can change the due dates of tasks if deadlines and priorities change (or modify overdue tasks)
Here you can also access to ClickUp's drag and drop features and templates (all of which are customizable).
Time Management
ClickUp provides a variety of time management features that allow users to manage their calendars, team's capacity, and track milestones. It's possible to sync information with your Google Calendar, and view tasks day-by-day, week-by-week, and month-by-month.
You can also track time automatically and add due dates, so you never miss a deadline. This includes adding start and finish dates for tasks, and you can view how long jobs are taking to complete. There's even a Gantt Chart feature that allows users to plan, schedule, and prioritize tasks by creating a project timeline.
You can also specify when tasks are due to be completed/delivered (including the time of the day). Then you'll get notified when they're due and been produced – or if a deadline has been missed.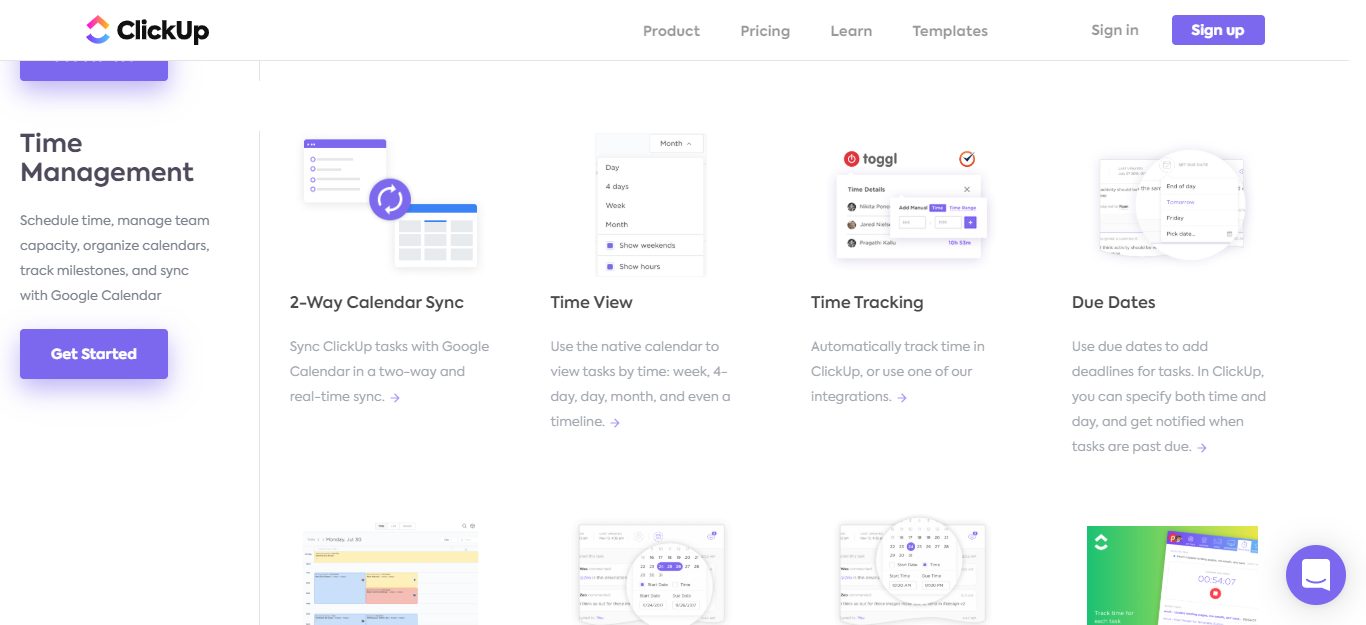 Complete Customization
Here you can customize projects by:
Creating workflows
Setting privacy options for specific team members
Assigning work to particular people
Marking tasks as done and adding jobs that need working on
Categorizing tasks to make them easier to find
Adding spreadsheets
Adding custom color themes to separate different project streams
Accessing 'Dark Mode' if you're working at night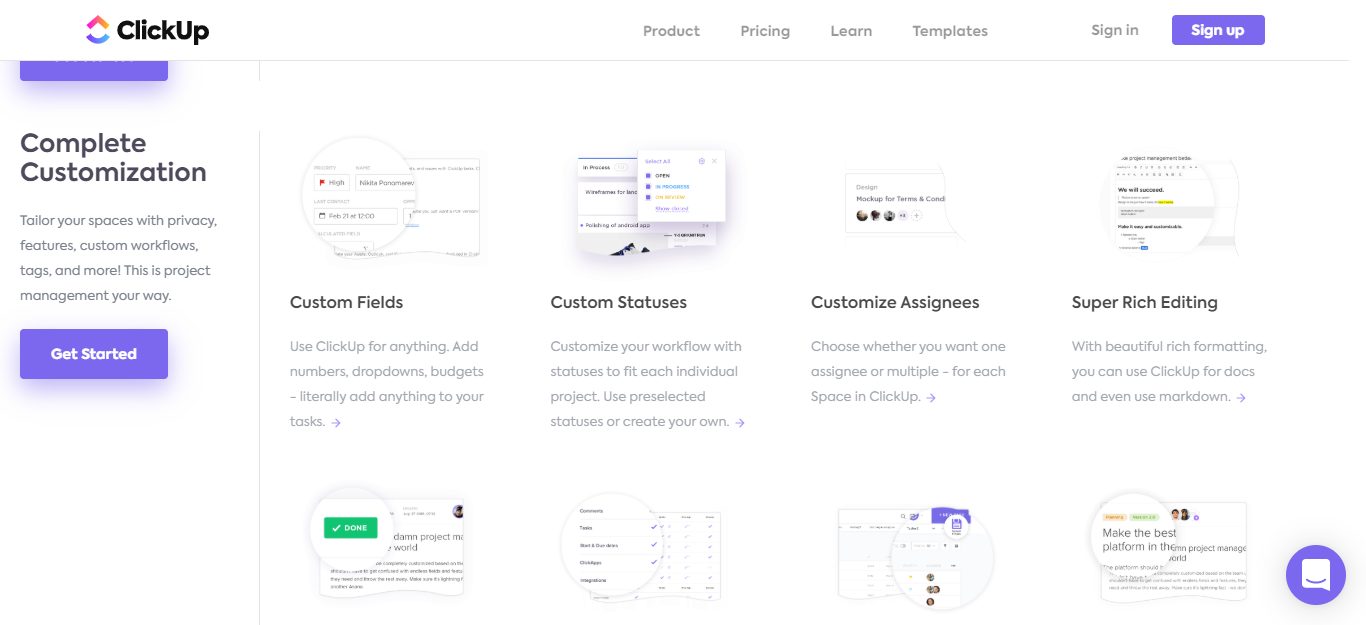 Reporting and Collaboration
A variety of reporting and collaboration tools make it possible for teams to work together. You can see what each other is working on and progress with tasks using real-time editing.
You can also:
See if you're behind on a deadline
Edit comments
Sync workflows
Assign multiple tasks to various employees
Add start and due dates for workflows and paste images
You can add guests to projects with limited access (so they can only get an overview of your projects and lists – rather than a nitty-gritty list).
You can also publicly share work, and host discussions about a project stream with anyone (or everyone) involved.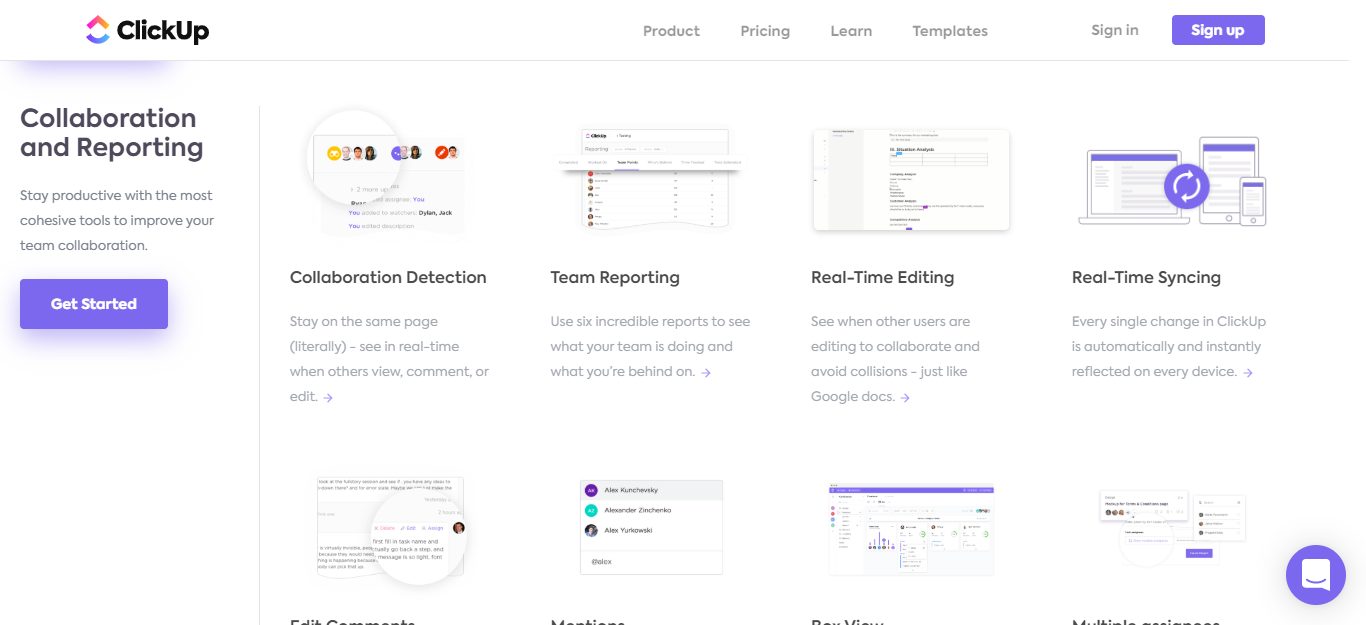 Apps and Devices
ClickUp's app can be downloaded onto multiple devices, including mobile, desktop, Alexa, Chrome, Google Assistant, Image Markup, and Gmail.
For example, with Gmail, you can create tasks via your email account. Therefore, you can attach emails to tasks without ever leaving your Gmail account.
It's also worth noting: ClickUp is compatible with all modern browsers, iOS, Android, and Amazon Fire devices. You can also use it on Linux, Windows, or Mac.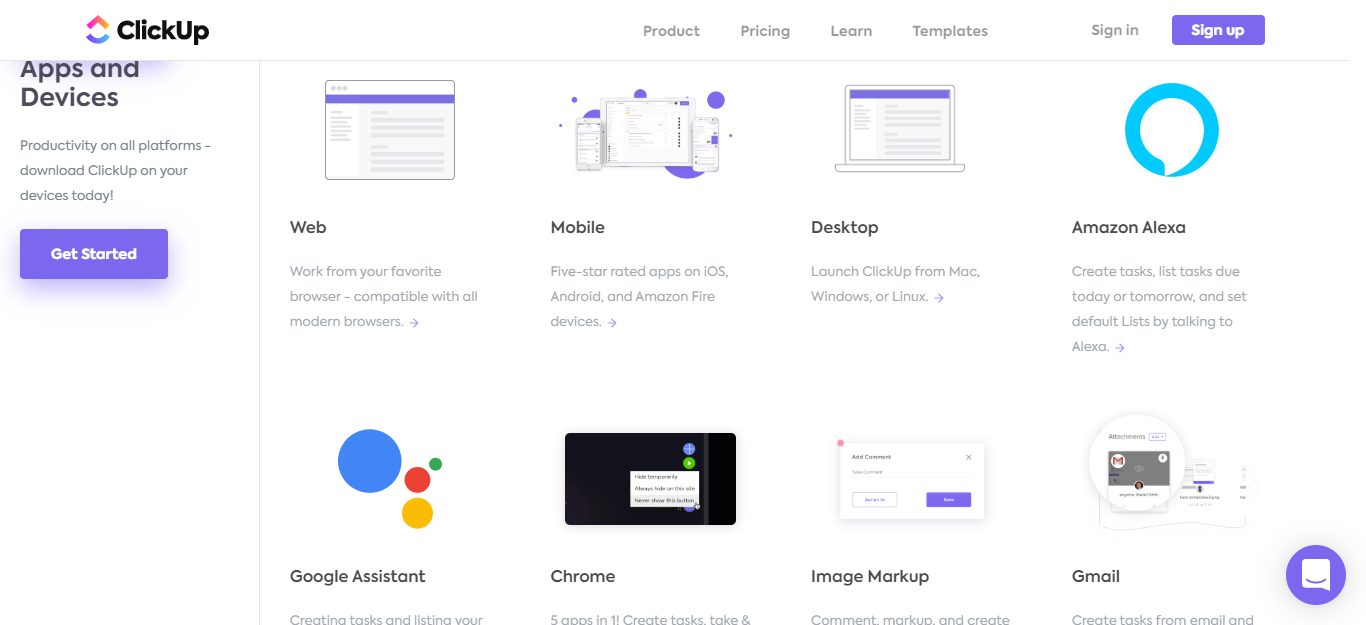 Other
This is the heading where ClickUp lists all the unique features their own team has built. These include /Slash Commands, which allows you to type / in ClickUp and never have to use your mouse. There's also QuickSwitch where if you type K, you can switch to different Lists and Spaces.
There's also a Referral Program to encourage users to recommend ClickUp with friends, family, or colleagues. If they sign up, you get reward points that convert to cash. So, 150 points score you $1.50.
Coming Soon
ClickUp says it has teams working around the clock in "8 time zones to get features implemented, tested, and released." At the time of writing, several features were in development, including:
White Label: Enterprise Plan users can use this to remove ClickUp's branding
Mind Maps: Another visual means of mapping out a project or a plan
Localization: Here, ClickUp's talking about adding different language translations, including Polish, Japanese, Portuguese, Turkish, and Czech.
Firefox and Safari Extensions: To enable you to track time, capture screenshots, and create tasks while you use these internet browsers.
ClickUp Templates
ClickUp offers several different types of templates. A quick glance shows there are at least 19 categories of models to choose from.
But, some of the main ones promoted by ClickUp include:
Design
Development
Education
Event Planning
Finance
Marketing
Media
We took a peek at some of the above templates and found them to be well-designed and easy to navigate. Examples of how you might use them include:
Design: These templates are for designers who want to keep their work all in one place. They're ideal for businesses specializing in architecture, clothing design, interior design, etc. If you're a graphic designer, there's also a template with embedded design examples and a timeline for the design process.
Development: These templates help you track your project's progress, targets, and development. There are even templates that the ClickUp people call "Epics," which allows you to break the project down into more bite-size pieces to fine-tune your project goals and targets.
Education: Here's a set of templates used by universities and colleges, including Berkeley, Ohio State, and the University of Waterloo. The models are designed to manage admissions, market potential students, and arrange class and syllabus timetables. Educational institutions get a 35% discount if they sign up for these!
There are also templates for students to track tests, assignments, projects, and papers all from one place. For teachers, there are templates for tracking individual students' progress. Education-wise, ClickUp seems to have a template to suit everyone!
Event Planning: These templates are used by event companies such as Warner Music Group, Stubhub, and Live Nation. Event planners can list and manage all aspects of their event in one place.
Finance: These templates allow you to track your finances and budgets accordingly. There are accounting templates to manage invoices, sales records, predicted income, and expenditure. There are even templates to help you when your firm is being audited and for tax planning.
Marketing: These are A/B testing templates you can use to track all your marketing campaigns. They'll help you keep an eye on which campaigns and ads produce the best results. You can also use them to plan your campaign schedules, monitor conversion rates, and hone in on different stages of your campaigns. Rest assured, you'll never lose track of where they're at.
You can also track campaign costs using the promotional calendar. So if, for example, you're running a marketing campaign that includes discounts and special promotions, there's a place you can trace its start/end dates and so on.
Media: Media templates are perfect for content creators. If you're a blogger, you can track and manage your blog posts and keep a content calendar. That way, you know when you're posting and how often. The same applies to anyone using social media in their work. You can plan your social media posts and keep track of their frequency using these templates. There's also a template for anyone who creates YouTube videos, here you can store all your ideas, graphics, and videos in one place.
If you want, you can even build a template manually. You only have to do this once and then save it. Then you can use it again and again for whatever project you're working on.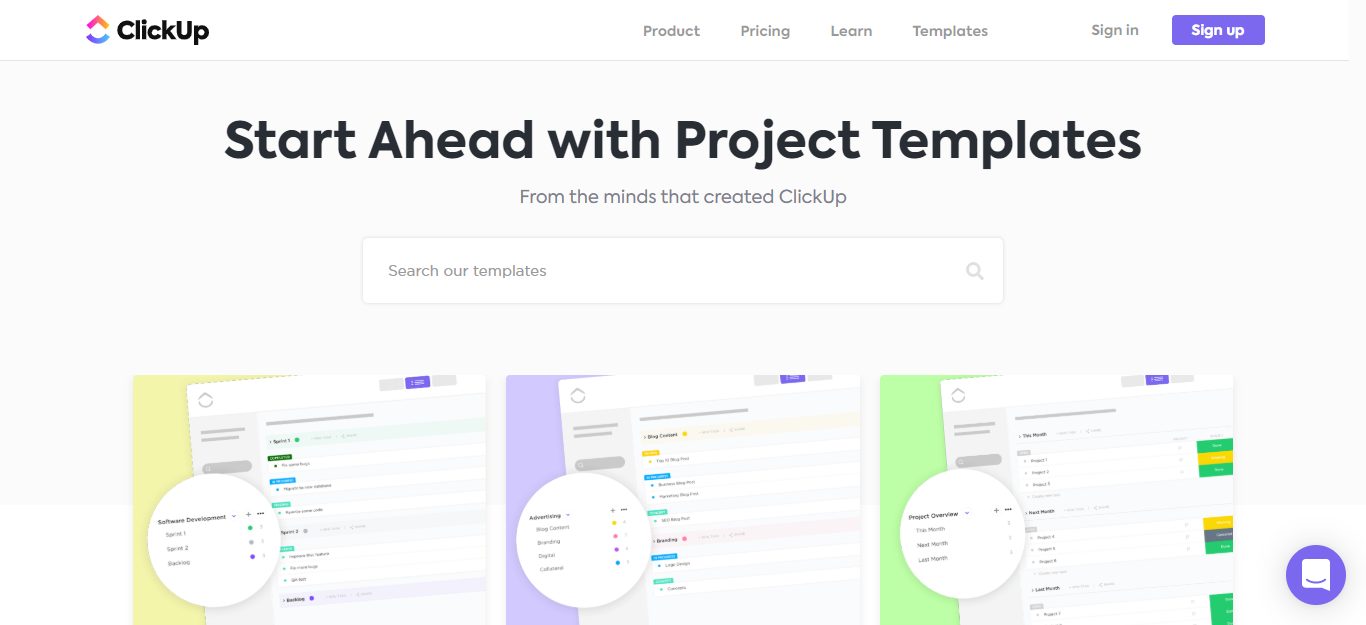 ClickUp Review: How Much Will ClickUp Set You Back?
There are four plans available:
Free Forever: You don't pay a dime!
Unlimited: $5 a month
Business: $9 a month
Enterprise: This is a bespoke plan
Obviously, as with all software platforms, the amount you pay determines the features you get access to.
Let's take a look at each plan and analyze their similarities and differences…
Similarities:
All four plans give you the following:
Unlimited users
Unlimited tasks (unlimited projects)
24/7 support
Privacy and sharing
Real-time collaboration
Task Dependencies
Integrations: 50+ native integrations, Zapier, Time Tracking, Integromat
Differences:
All plans get unlimited storage apart from the Free Plan where you get 100mb
All programs get unlimited Custom Fields apart from the Free Plan, where you get 100.
The number of permitted guests vary with each plan. On the Free Plan, guests must be given full access with no customized permissions allowed. The Unlimited Plan allows for 5 guests, and the Business and Enterprise allow for 10 guests.
There are Permissions on all plans apart from the Free Plan.
As far as Integrations go, all four plans have the same features apart from the Free Plan. Here you don't get integrations with Google Drive, Dropbox, Box Cloud Storage, or OneDrive Cloud Storage.
Only Enterprise customers get Priority Support and a dedicated account manager.
When we dived into ClickUp's more advanced features, it was clear there were more differences than similarities. Some examples include Unlimited Goal setting for all plans apart from the Free Plan. This only gives you 100 goals, and Reporting, Cloud Storage, and Gantt Charts are only offered to fee-paying customers.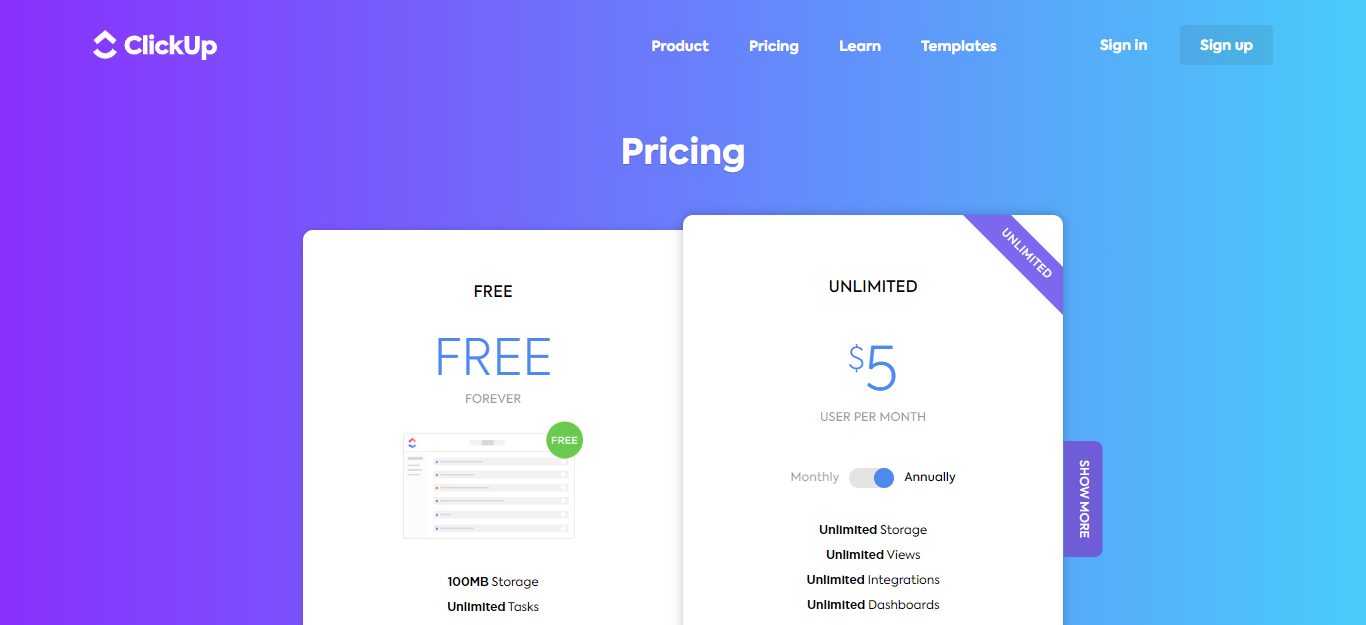 ClickUp Review: Pros and Cons
Let's start with the perks.
The Pros:
It's inexpensive
You get access to multiple features
There's a good choice of templates
You can register an unlimited number of users on all plans
It's suitable for both teams and individuals
They have an easy-to-navigate and customer-friendly website
ClickUp's modularity for rich customization (deep modularity), fits many business models
The Cons:
The Free Plan offers a limited amount of storage and goal-setting options
Only fee-paying customers get reporting, cloud storage, and Gantt Charts
Users have to customize a lot to enjoy the full benefits of ClickUp
ClickUp Review: Switching
For anyone already using productivity platform apps such as Trello, Asana, or Monday – ClickUp allows you to migrate and automatically import your information. The switch is reportedly pretty easy.
ClickUp Review: Customer Support
All customers (no matter their plan) get access to 24/7 support. But, only Enterprise consumers receive their own account manager and priority support.
However, there's plenty of online self-help resources users can access. So, you may find the answers to your questions without even speaking with a customer support agent.
For example, there are video tutorials on YouTube where you can see ClickUp in action, including explainer videos such as What is Click Up? How to Navigate ClickUp and a series of tips on topics like Filter by Location, Cleaning Up Your Statuses, and Sharing a List Publicly.
Users can also access webinars covering areas like Working with Clients Using ClickUp, ClickUp for Sales Teams, and How to Use ClickUp Dashboards. Some webinars are live, and others are pre-recorded, so you can watch them in your own time.
There's also a blog, which at first glance, looks pretty comprehensive. It covers subjects like How to Create Your Own CRM in ClickUp, What is a Gantt Chart (and how do you use it), and How to Stay Focussed and Disciplined at Work.
For anyone who needs extra help and a walkthrough of what ClickUp offers, the Learn Center gives you access to a ClickUp specialist. However, you'll have to pay extra to access a coach. After all, you'll receive tailored guidance for your business from a real-life consultant (so this seems fair!)
There's also an online onboarding guide, a platform demo, and a graphic explaining ClickUp's hierarchy. This demonstrates how ClickUp is organized in comparison to other project management tools such as Monday, Asana, Trello, Basecamp, Jira, and Todoist. It's a useful and transparent comparison of ClickUp and its competitors – without sticking the boot in.
For users who want to contact ClickUp, their site says you get "24/7 world-class support. Always free." There's an email address you can send queries to, and you can also connect with ClickUp via live chat, and check their frequently asked questions and documents. Here you'll find popular topics like, What makes ClickUp different? How do I change plans, and How can I invite more people?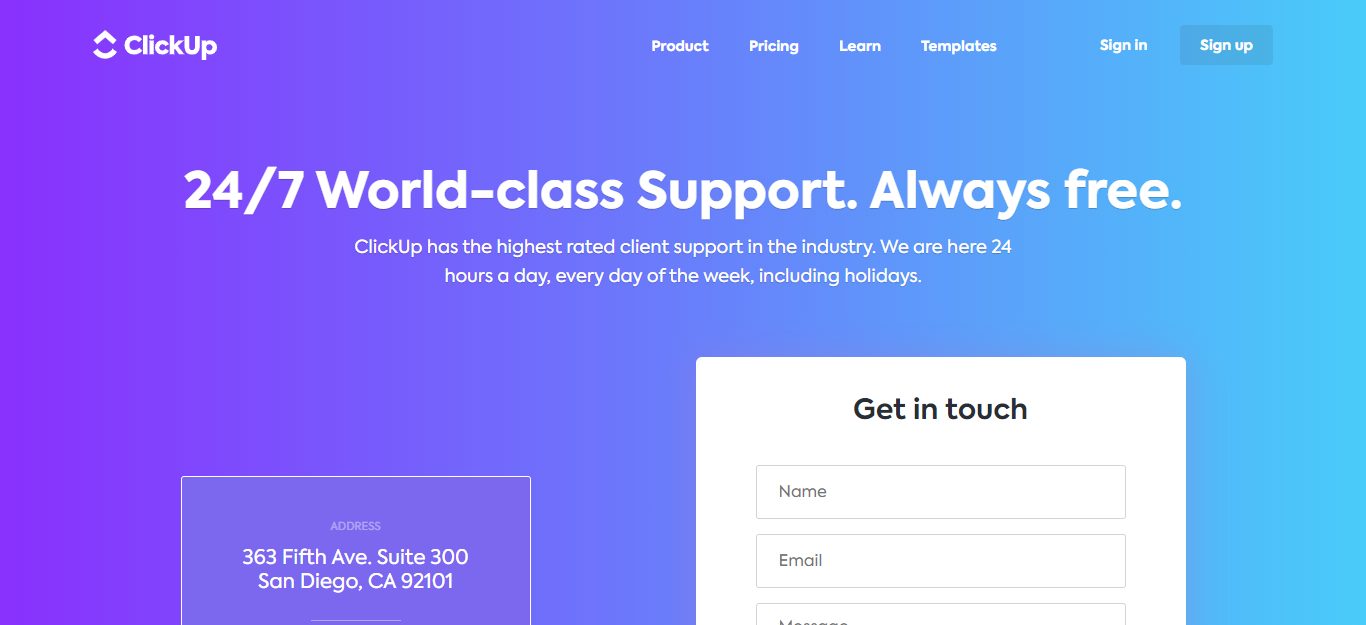 ClickUp Review: Integrations
ClickUp provides native integrations with other productivity tools such as Google Drive, GitHub, Harvest, Dropbox, API, Slack, Zapier, YouTube, Chrome, OneDrive, Outlook, and many more.
But, they say they're releasing one new integration every week. So, be sure to keep your eyes peeled for updates on that! There are also external integrations that link with ClickUp, and these include Shift, CloudApp, Station, Google Sheets, Salesforce, and HubSpot.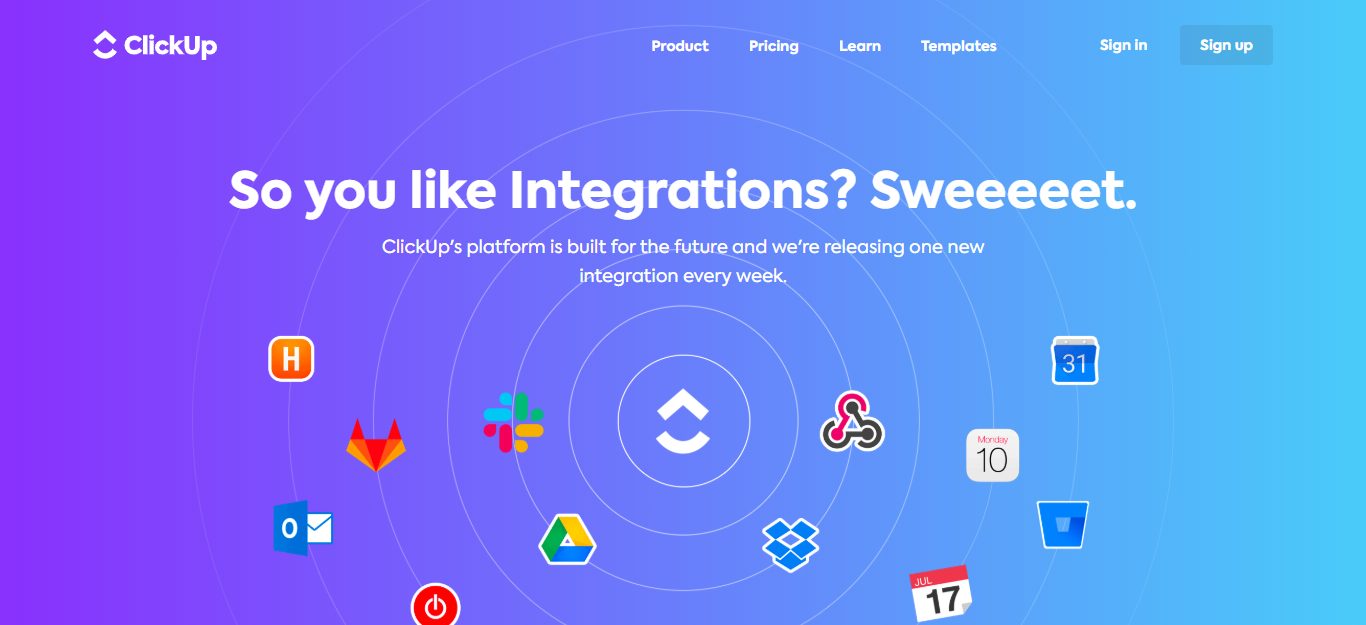 What Are People Saying About ClickUp?
All the review sites we looked at seem to love it. Users on TrustRadius are enthusiastic about how easy it is to use and organize projects. The average rating here is around 4.5 stars.
Some TrustRadius users say ClickUp's main drawbacks are that tasks attached in emails are "in a weird format." There was also mention that "creating new projects can be a little confusing at first." Also, "with the frequent new features, it can be hard to keep up on what to implement and where to navigate to it."
ClickUp's own website likes to show off how much people love it, saying, "people love us, and we love them back." Cheesy? Yes. But is it true? It seems so. Capterra users give it 5 stars, G2Crowd, Software Advice, and GetApp the same.
Common niggles are the ones mentioned above and that the number of ClickUp features can be overwhelming at first. One user said that "one area of improvement can be in terms of the reports it provides. Currently, the reports seem very limited and may have scope for improvement."
But, people like that it's excellent value for money – you get a lot for free, it's reliable, and it's fast. What's not to love? Most reviewers also considered other project management tools such as Asana and Trello. However, they settled on ClickUp because of its speed, flexibility, ease of use, and value for money.
Frequently Asked Questions
Is ClickUp secure?
ClickUp is hosted entirely on Amazon Web Services (AWS), providing end-to-end security and privacy features built-in. All ClickUp web application communications are encrypted over 256 bit SSL, which cannot be viewed by a third party and is the same level of encryption used by banks and financial institutions.
Is ClickUp really free?
There is a free version of ClickUp. But ClickUp pricing starts at $5.00 per month, per user.
Is ClickUp a CRM?
With ClickUp's Custom Fields feature, you can create unique task IDs to track a budget, organize client contact information, or pretty much anything else you can imagine.
ClickUp Review: Verdict
From the offset, we think ClickUp looks good. The website is easy to read, understand, and navigate.
The number of templates available seems somewhat overwhelming to start with, and we wonder whether some of them are superfluous to requirements. We also think there's a lot of "puff" in the language. This can be a bit irritating to wade through to get to the nitty-gritty of what you need from ClickUp.
That said, I'm in LOVE with Clikcup's modularity as a project management tool!
What's clear, however, is this tool's good value for money, offers a lot to free users (who don't need lots of storage), and works wonders for organizing your business. After all, not all 5,000+ positive reviews can be wrong, can they?
Given there's much to sing about here, try the free option first, especially if you're migrating from another software tool or are on a limited budget. It's free and will only cost you some time while you learn the ropes, test them out, and eventually migrate across to an affordable paying plan.
ClickUp is a relatively new kid on the block, but in our view, it's worth more than just a second glance.
If you are curious, it's definitely worth taking for a spin (free) here.
Let us know what you think in the comments box below!
Further Reading on Project Management Options:
[interact id="61950894e81e4200184210da" type="quiz" mobile="false"]