Last Updated on April 22, 2023 by Ewen Finser
When it comes to investing in your business, it's imperative you get the most bang for your buck – and purchasing project management software is no exception!
But, with so many options out there, how do you know which is best for you?
In light of that, we're putting two leaders in the project management game under the microscope: Teamwork and ClickUp. Hopefully, by the end of this in-depth comparison, you'll have a better idea of which (if either) software is right for you.
There's lots to cover, so let's dive in!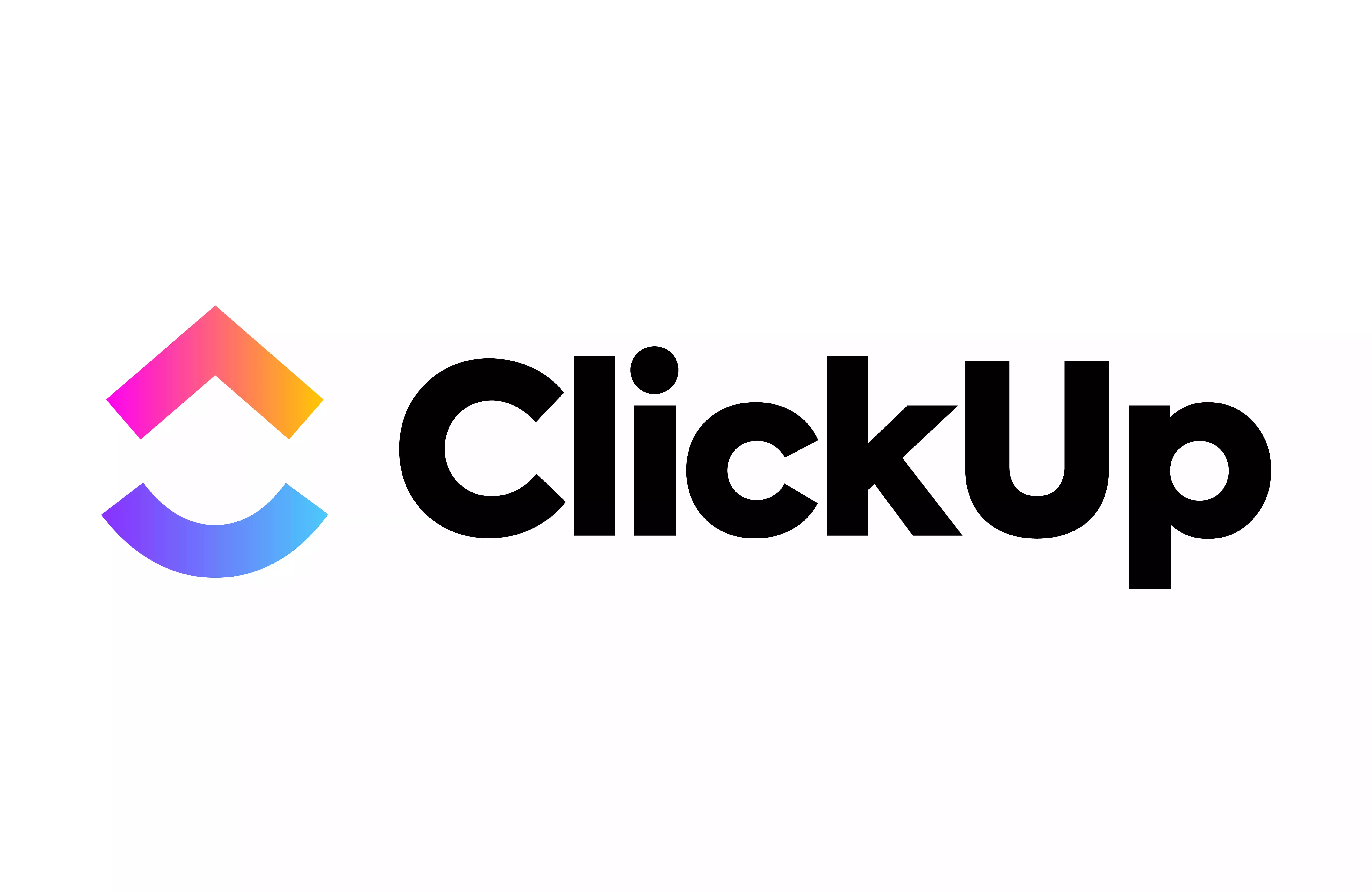 Why Go With ClickUp?
I've been so impressed with how quickly ClickUp has caught up with and even EXCEEDED competitors. They have ALL the integrations, plenty of pre-built templates for any use case, AND additional customization for any workflow.
Check it out Here
We earn a commission if you click this link and make a purchase at no additional cost to you.
Main Differences Between Teamwork vs ClickUp
The main differences between Teamwork vs ClickUp are:
Teamwork can be run via the Windows phone app, whereas ClickUp will yet have to facilitate this.

Teamwork offers additional products to create a full business suite (these include Teamwork Desk, Chat, CRM, and Spaces), whereas this isn't something ClickUp provides.

Teamwork places more emphasis on client collaboration tools, whereas with Clickup the number of guests you can invite is limited on your pricing plan and you can only assign clients read-only permissions.
Teamwork's customer service team has set operating hours, whereas ClickUp offers 24/7 human customer support.

Teamwork is the more intuitive and beginner-friendly tool, whereas ClickUp's sheer array of features can seem overwhelming at first.
Their: Similarities
Teamwork and ClickUp both run seamlessly on desktop (Windows, Mac, and Linux) and mobile (iOS and Android).

Both target freelancers, small, medium, and large companies making both their client pools extremely varied.

These software systems work efficiently for up to 1000 people.

Both offer customer service via the phone, live chat, and video tutorials.

Both ClickUp and Teamwork offer limited free plans.

ClickUp and Teamwork both offer similar project management features, including portfolio management, tasks that you can split into subtasks, milestones, and multiple assignees.

Both tools enable you to create workflows to keep jobs moving smoothly between team members.
Who's Teamwork?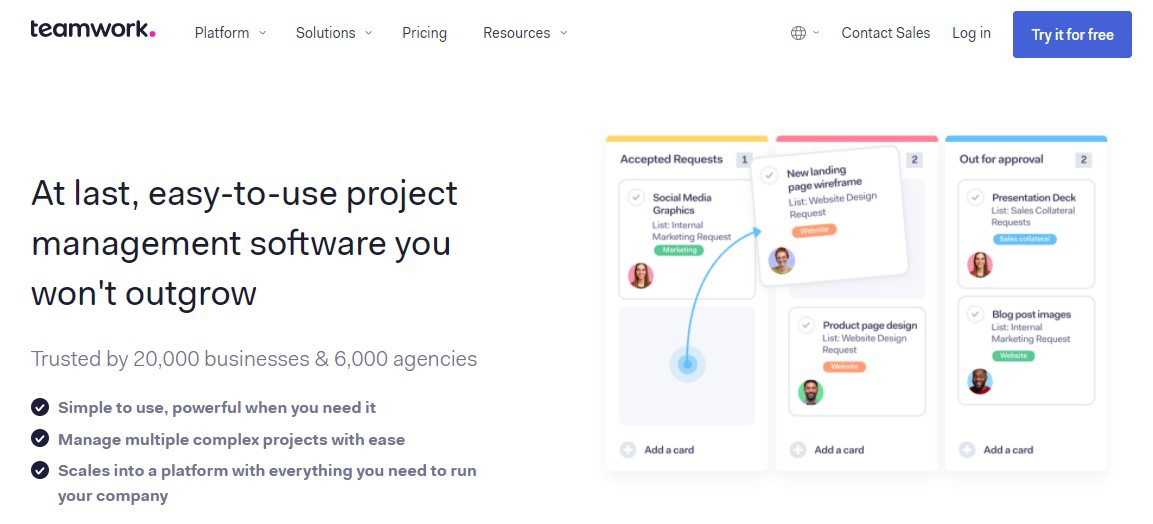 Founded in 2007, this Irish-based web software company offers its clients hassle-free solutions to their project management issues.
Trusted by over 20,000 companies, Teamwork took the world by storm by integrating essential business software into one centralized platform. Notable names include Microsoft Office, Microsoft Teams, Google Drive, Dropbox, and countless others.
Since its launch, Teamwork has developed additional products: Teamwork Desk, Teamwork Chat, Teamwork Spaces, and Teamwork CRM. They work seamlessly together to provide everything you need to manage and operate your online business from one place.
Needless to say, it sounds pretty nifty, right?
ClickUp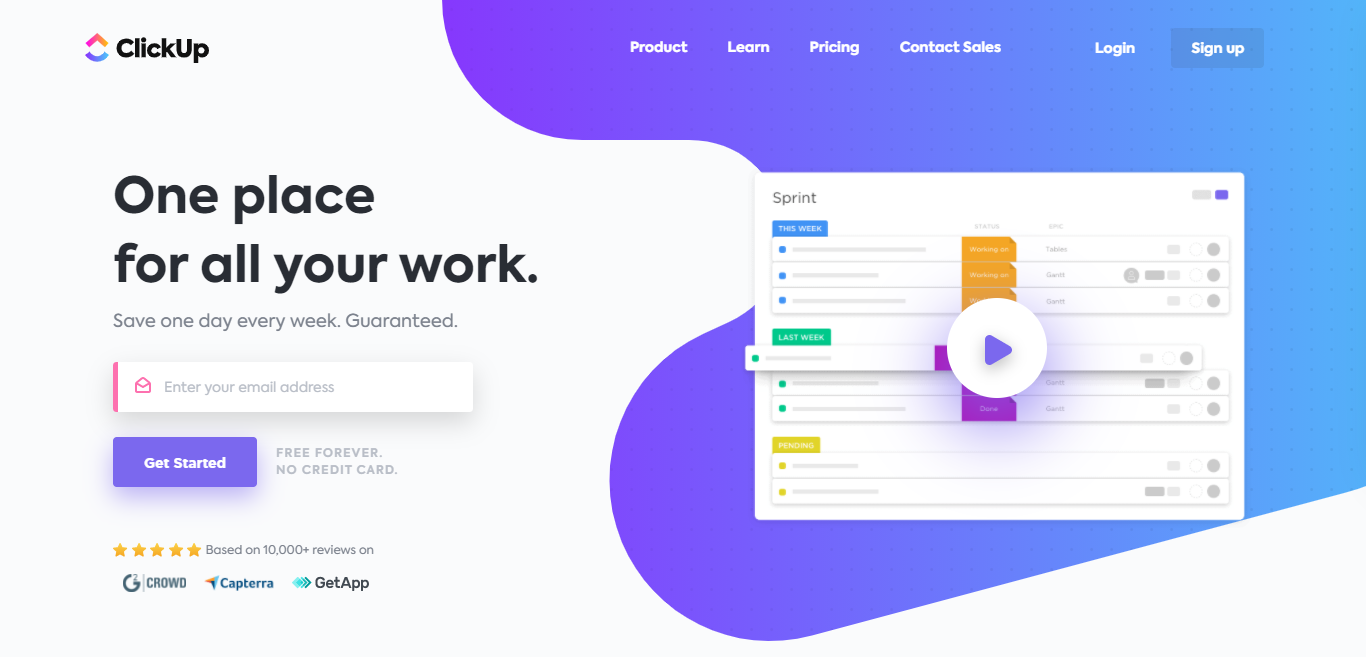 Founded in 2017, ClickUp is serious about 'fixing' productivity. Starting out as a general project management tool, ClickUp has been described as "full-featured and adaptable" from its conception.
Fast forward to today, and ClickUp's always looking to innovate its software with new features, with its audience steering these efforts.
ClickUp empowers their followers to vote for the innovations they want to see and enables them to rate their latest updates. Consequently, ClickUp has become one of the most versatile and user-led project management solutions on the market.
ClickUp's mission is to "Save people time by making the world more productive." In fact, they promise to "save you a day a week" using their project management software. With 52 extra days a year, just imagine what your business could do! That said, it's no wonder GetApp recently named ClickUp No.1 in their Top Management Software category. The solution received an impressive average of 4.7 out of 5 for versatility, app integration, and much more!
Teamwork vs. ClickUp – Their Core Features Compared
Both Teamwork and ClickUp promise to save you time and hassle where project management is concerned, and how they achieve this lies in their features. With that said, let's take a granular look at the toolkits these providers offer…
Teamwork's Features
Project Management
Teamwork's core function is helping manage your tasks and projects. You can easily organize all projects and tasks inside project dashboards.
From here, you can upload files, comment on tasks, and collaborate with your team. As well as that, you can visualize assignments in whichever way suits you best, using Gantt Charts, task lists, or board views.
Portfolio Management
Teamwork's 'Portfolios' enable you to manage more extensive and complex operations, each of which could include multiple projects. Here, you get a panoramic view of all ongoing projects, making it easy to review which tasks are in progress, ready to review, or completed.
You can also set triggers that automatically move tasks between team members whenever they're ready for the next stage of your workflow.
Plus, Teamwork makes it easy to visualize when projects are starting to fall behind by indicating which tasks need completing for you to stay on track.
Time Tracking
Teamwork comes with in-built time tracking for more straightforward billing. This makes it easy to track how many hours were spent on a task, which, needless to say, goes a long way to streamlining your invoices.
Not only that, but you can also use this tool to get a more accurate feel for which tasks eat into your team's day, and conversely, which are quick to complete. With this info to hand, you're better positioned to streamline and improve your current operations to ensure maximum efficiency.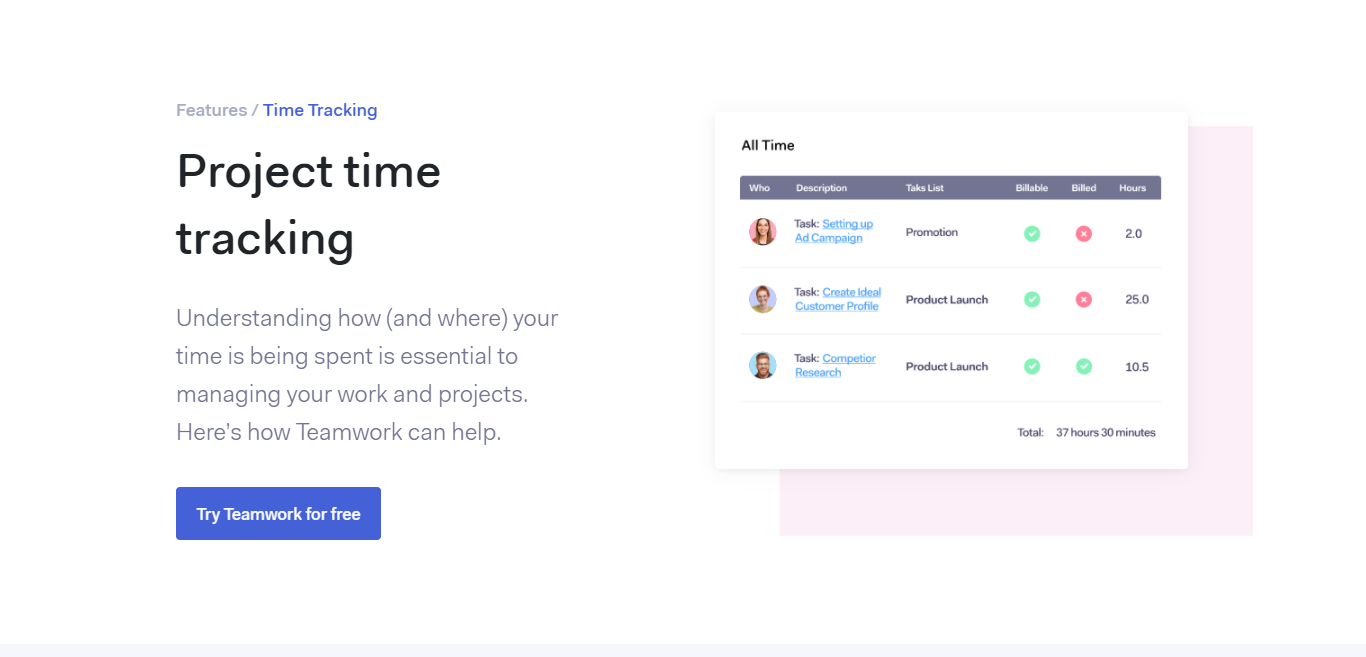 Managing Workloads
Teamwork comes with a nifty work management system that helps you assign tasks to those with the time and capacity to complete them.
Using this system, you can review which team members have lots on their plate and, likewise, who could take on more work. With these insights, you're much better positioned to distribute the workload more effectively.
Teamwork also permits you to map out workflows in advance, making it easy to assign recurring and/or one-off tasks. On top of that, you can break daily projects down into subtasks complete with due-dates, their own privacy settings, and assignees.
This is made easier with Teamwork's templates – all of which have been optimized for specific workflows. For instance, checklists for onboarding new clients, product launches, content plans, event plans, bug tracking, and much more besides!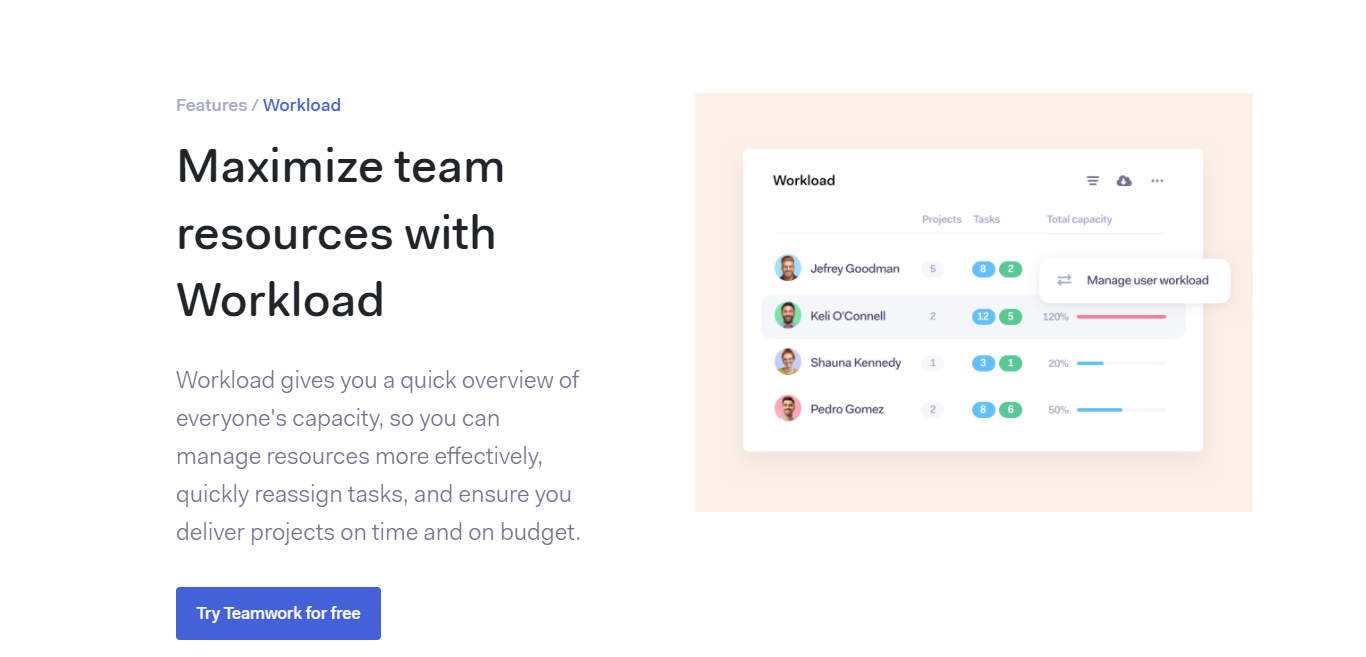 Working with Clients
With Teamwork, you can provide unlimited access to your clients. Fear not, you're in control of what they can and can't see, but there's no limit on how much you can involve them in the project – and when. Clients can review and provide feedback on your work from one centralized place from start to finish, making collaboration a breeze.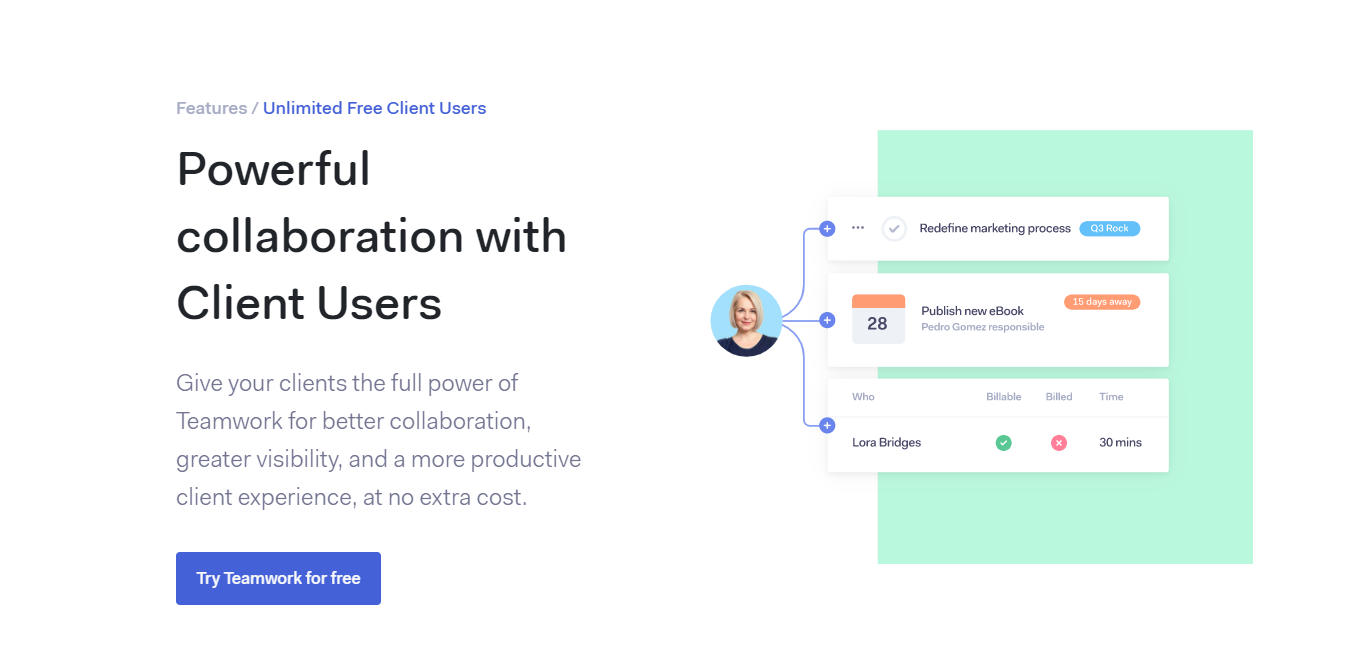 Scaling Teamwork
If you're looking for a project management platform that you can scale into a comprehensive suite of business tools, Teamwork doesn't disappoint. It comes with plenty of add-on services that extend its functionality to surpass just project management:
For example, the Teamwork Desk enables you to create inboxes and a ticket support system to provide better customer service. Alternatively, Teamwork CRM is a fully-fledged customer relationship management system.
This includes everything you need to track your leads and nurture your relationship with them. With Teamwork Spaces, you can create collaboration spaces to edit work with other team members in real-time, similar to Google Suite.
And finally, Teamwork Chat adds a chat functionality so that your team can touch base throughout the day, a bit like Slack.
All these Teamwork products integrate seamlessly with each other, so you can create a one-stop solution for all your project, team, and customer management needs.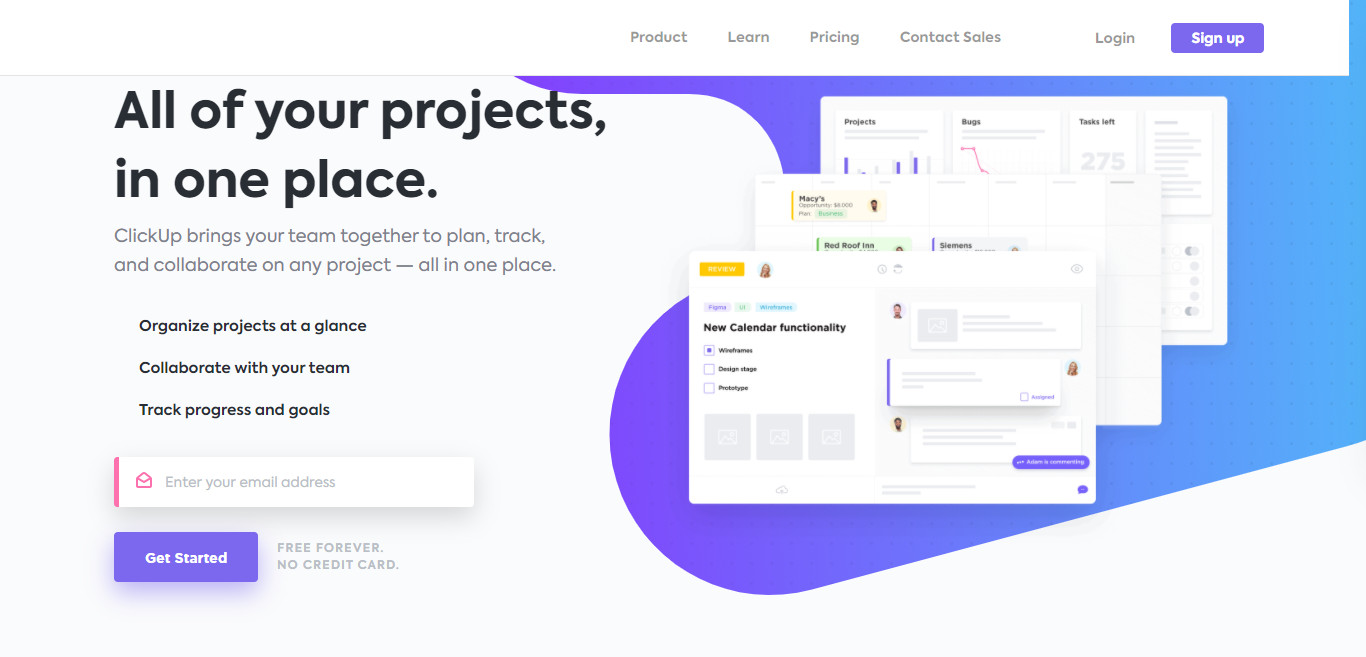 Project Management
ClickUp makes it easy to work in the way you find the most visually appealing and stay on track when it comes to project management. You can choose between a significant number of task views, including:
List view

Table view

Activity view

Gantt charts

Timeline

Mind Maps

Code embedding

Board view

Box view

Map view
…to name a few!
You can create custom statuses for your tasks, making it easy to track their progress using terms and descriptors that matter for your project. You can also establish task dependencies. These come in handy for clarifying what needs doing first before other tasks can continue.
On top of that, you can assign multiple people to each task to ensure all necessary contacts are kept in the know. You can also create project milestones, reminders, goals, and scrum points. The latter assigns a value of importance to each task so that your team knows what to prioritize.
You can overview the workload each team member's currently dealing with using ClickUp's workload view. This monitors the work capacity each team member has and how many tasks are already on their plate.
ClickUp also comes with a checklist template so your team can quickly go through recurring processes and check tasks off as they go. This is ideal if you're looking to create a consistent approach to recurring tasks, like weekly desk cleaning or getting ready for team show-and-tells.
Lastly, you can also develop wikis and docs within ClickUp. That way, your team can keep everything they're working on organized, and the whole team stays informed about crucial project details. For example, you could create a wiki for your product catalog.
This could include documentation on each individual item. Everyone on the team can quickly look up what it does, its costs, other specifications, etc. Otherwise, docs function similarly to Google Docs, meaning you can collaborate in real-time and use nifty templates to frame the information you want to present.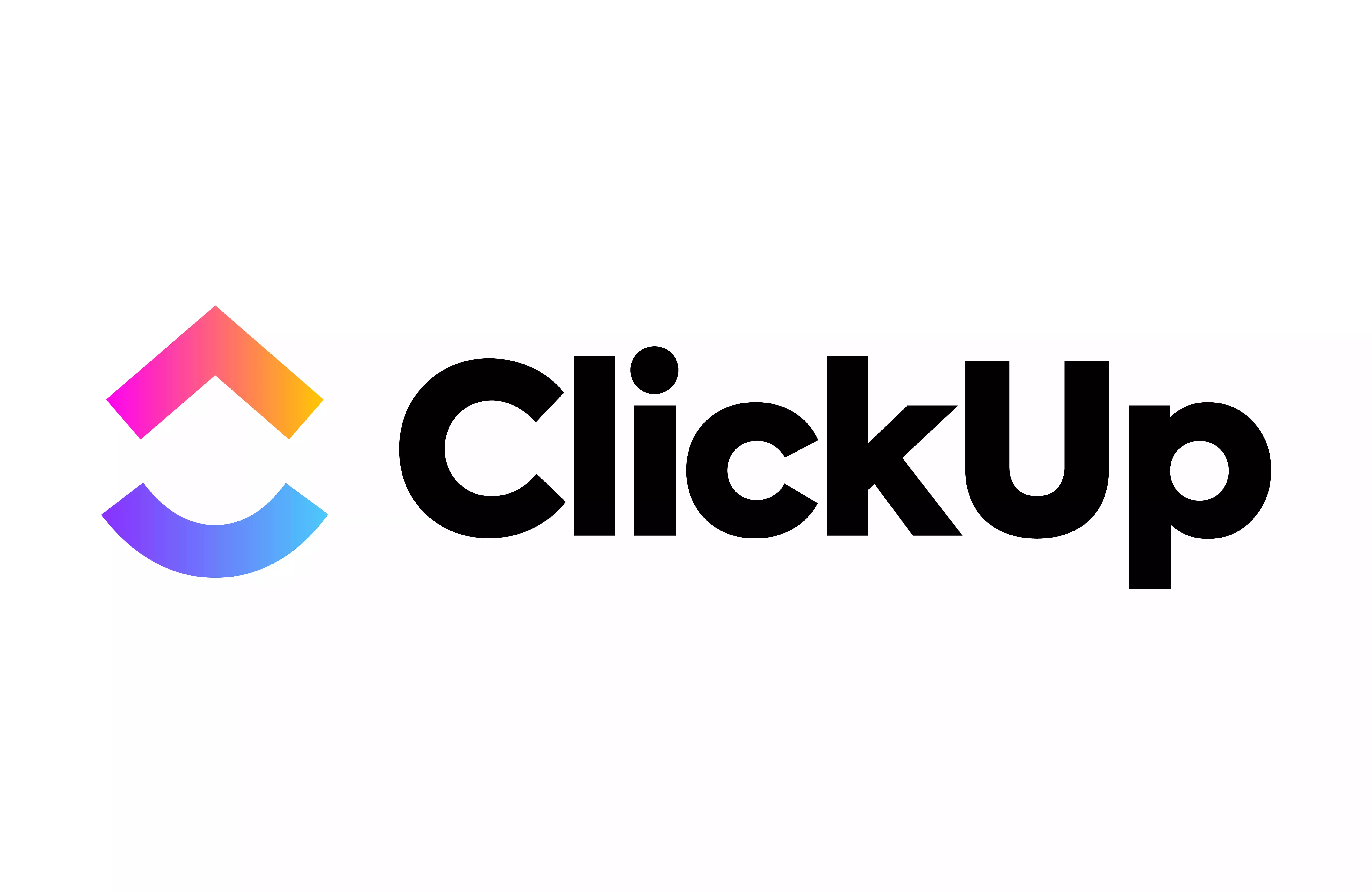 Why Go With ClickUp?
I've been so impressed with how quickly ClickUp has caught up with and even EXCEEDED competitors. They have ALL the integrations, plenty of pre-built templates for any use case, AND additional customization for any workflow.
Check it out Here
We earn a commission if you click this link and make a purchase at no additional cost to you.
Task Management
ClickUp makes it easy to:
Filter and search for your tasks.

Set recurring task

Save your favorite views (like list views, workload views, table views, etc.…) to your own personal sidebar to access them quickly.

Use the multitask toolbar to apply one action to several tasks, like checking off several to-dos at once.

Display tasks in several views (box, calendar, Gantt charts, mind maps, timeline, workload, tables, or maps). The choice is yours!

Reorder things using ClickUp's drag and drop interface

Save templates for anything, from spaces, projects, lists, tasks, and more.
Also, instead of keeping loads of tabs open, you can minimize tasks in ClickUp's task tray to keep things clean.
Time Tracking
You can track time automatically either using ClickUp's in-built time tracker or one of its integrations. This makes it easy to track how much time you and your team have spent on a project and the hours you need to pay contractors for.
Time tracking also enables you to spot trends – i.e., how long do specific tasks typically take your team? Is there anything you can do to speed up the process? etc
Scheduling Tools
ClickUp also makes it easy to schedule all your tasks and deadlines, so it's easy to view when a project is due.
ClickUp's scheduling tools enable you to:
Drag and drop unscheduled tasks into the time view

Set start and due dates

Add time estimates to tasks

Sync with calendars
Customization
You've probably noticed that ClickUp comes with plenty of features you can customize – views, templates, statuses, etc.
But you can also:
Pick the color theme for ClickUp's interface

Enable dark mode

Create custom tags

Create custom filters to help you find what you're looking for more easily

Set custom user roles
At this point, it's worth noting that a white-labeled version of ClickUp is also available. This enables you to design the platform to reflect your brand's aesthetic.
Collaboration
ClickUp comes with plenty of handy collaboration tools, such as real-time editing on documents. For reference, this works much the same as Google Docs.
You can also:
Edit comments. When you've made a mistake in a comment you've posted, you don't have to delete and rewrite. Just edit it whenever.

Detect when collaboration is happening in real-time.

Tag team members in comments

Take screenshots with the chrome extension to mark up and show your team.

Embed links

With ClickUp recognizing the programming language you're using is easy. The software will mark up relevant functions with easy-to-read color coding.
Resource Management
ClickUp's resource management tools provide an insight into who's overloaded with tasks. You'll also get team reports to see what everyone is up to.
These reports offer insights about your team's progress and show which tasks are being worked on, who's behind, who's ahead, and what's been completed. You can even get time estimates to see how long it will likely take until other tasks are finished.
You can also set team points to introduce a little competition into the workplace. This fun initiative enables you to reward productive team members based on a reliable measure of their activity.
There's much more to consider…
ClickUp's feature list is impressive, and it would be impossible to do it full justice here. While we've discussed its key hallmarks, it's worth visiting their website to check out a full rundown of everything the software has to offer.
Teamwork vs. ClickUp: Integrations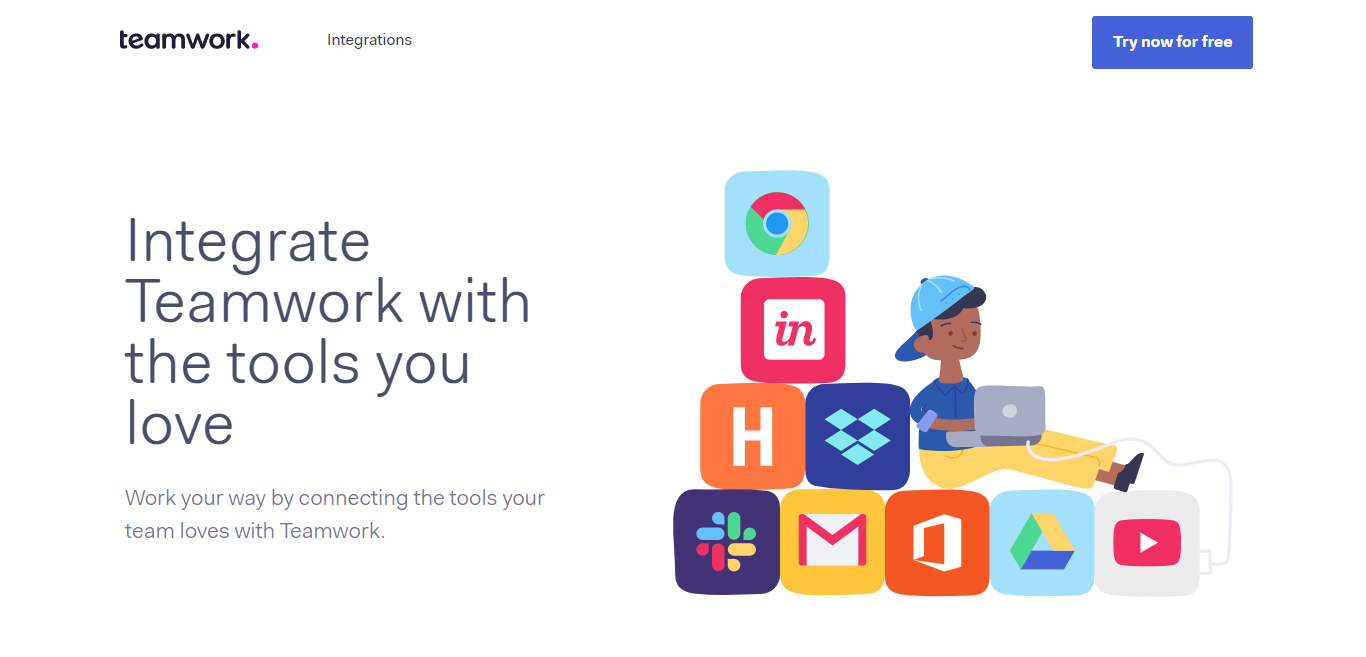 Project management by nature is a juggling act, permeating into all areas of your business. So, you need to pick a solution that seamlessly integrates with your current tech stack. This is where native integrations come into their own…
Teamwork
On top of Teamwork's native features, you can integrate with various other tools, all of which can be reviewed on Teamwork's website. But here are a few noteworthy mentions:
Slack

Hubspot

Dropbox

Google Drive

Clockify

Harvest

Chatify

Gmail

QuickBooks Online

Xero
…and many more!
You also have access to an API key, so you can go beyond these native integrations and build your own!
ClickUp
Like Teamwork, ClickUp also boasts numerous integrations, including Zapier and an open API. So if you have the coding know-how, you can create your own custom integrations.
Some of ClickUp's most popular native integrations include:
GitHub

Slack

Google Drive

Harvest

DropBox

Figma

Microsoft Teams

Zoom

Calendy

Discord
…and many more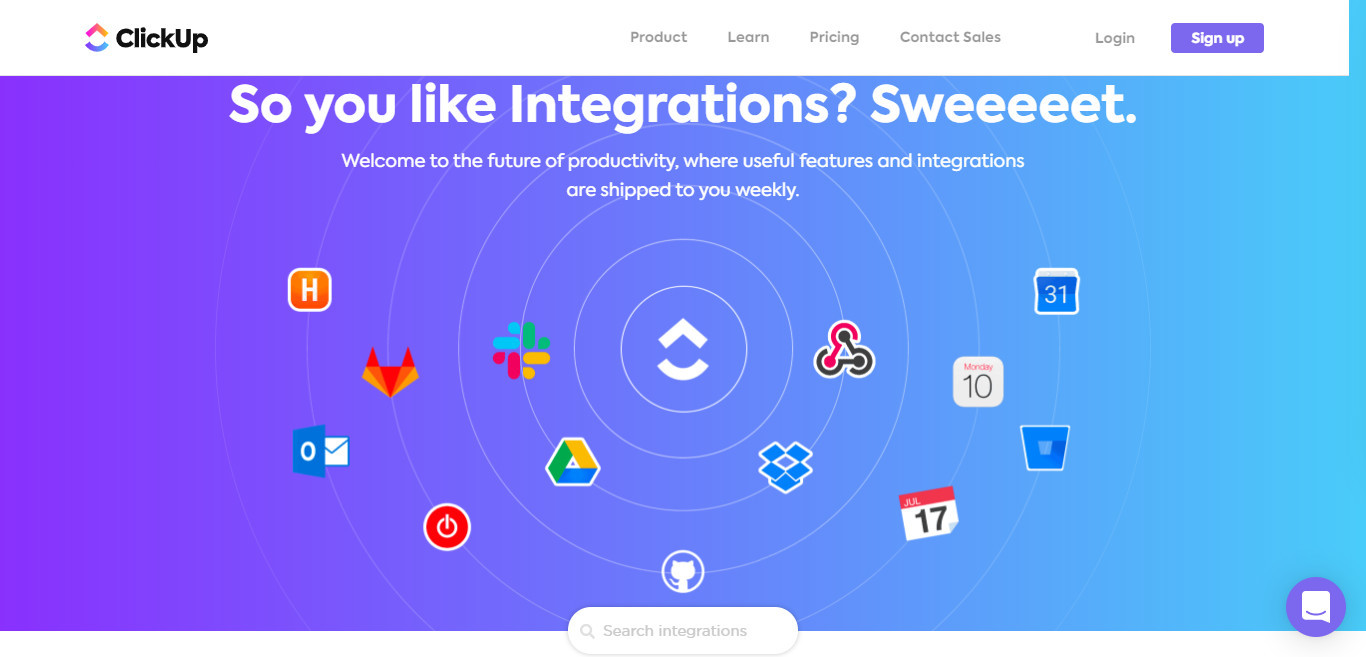 Teamwork vs. ClickUp: Customer Support
If you're looking for a project management tool to use for years to come, you'll want to know you're in good hands if an issue arises. That said, let's take a look at the customer support each platform has to offer…
Teamwork
Teamwork's self-help resources are pretty impressive. Its online support center is nothing short of extensive. Here you'll find plenty of tutorials, how-tos, and guides that will solve most of your problems.
Teamwork's support team is also available via email or telephone, between 7 am to 12 am GMT, Monday to Friday. They also provide limited cover on weekends, and you can submit a ticket on their website at any time.
On top of that, Teamwork also hosts live webinars where they showcase their products, which is a great way to better look at them before signing up.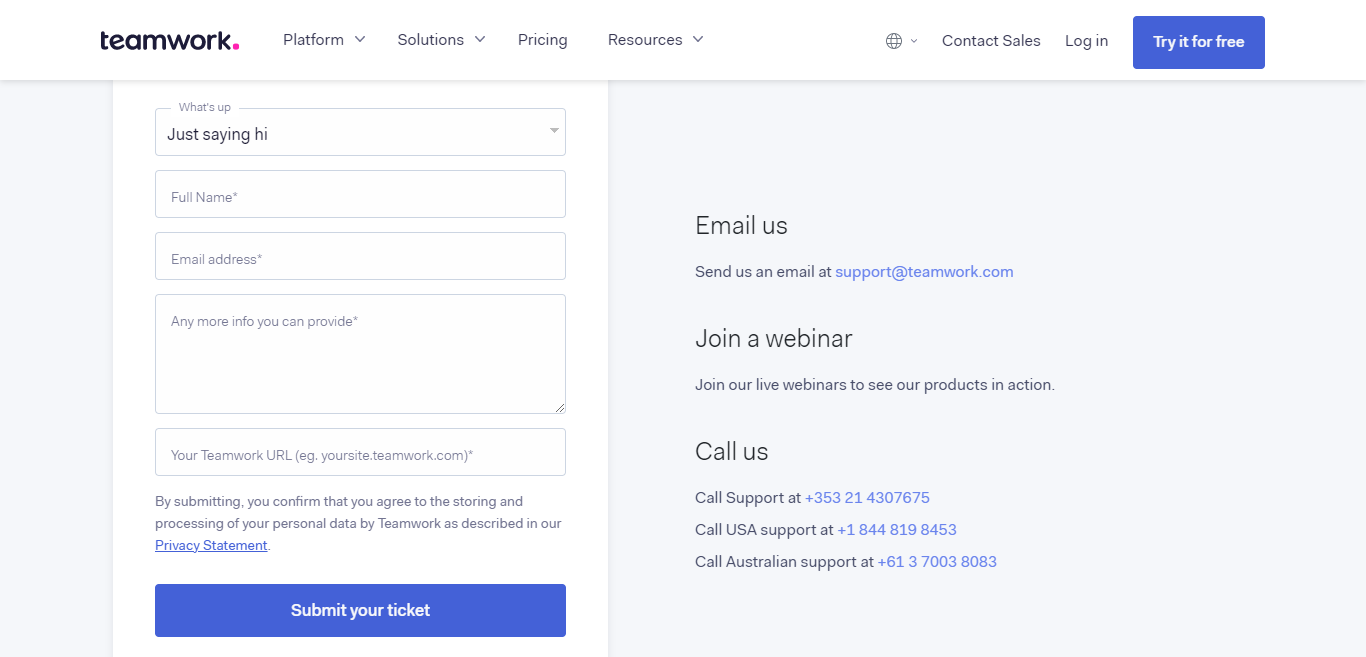 ClickUp
Unlike Teamwork, ClickUp aims to offer 24/7 availability. You can contact them via their online form, email, helpline, or live chat.
Or, if you prefer to go down the self-help route, you'll find online support documentation similar to Teamwork. Most notably, guides and tutorials explaining exactly how to use their software.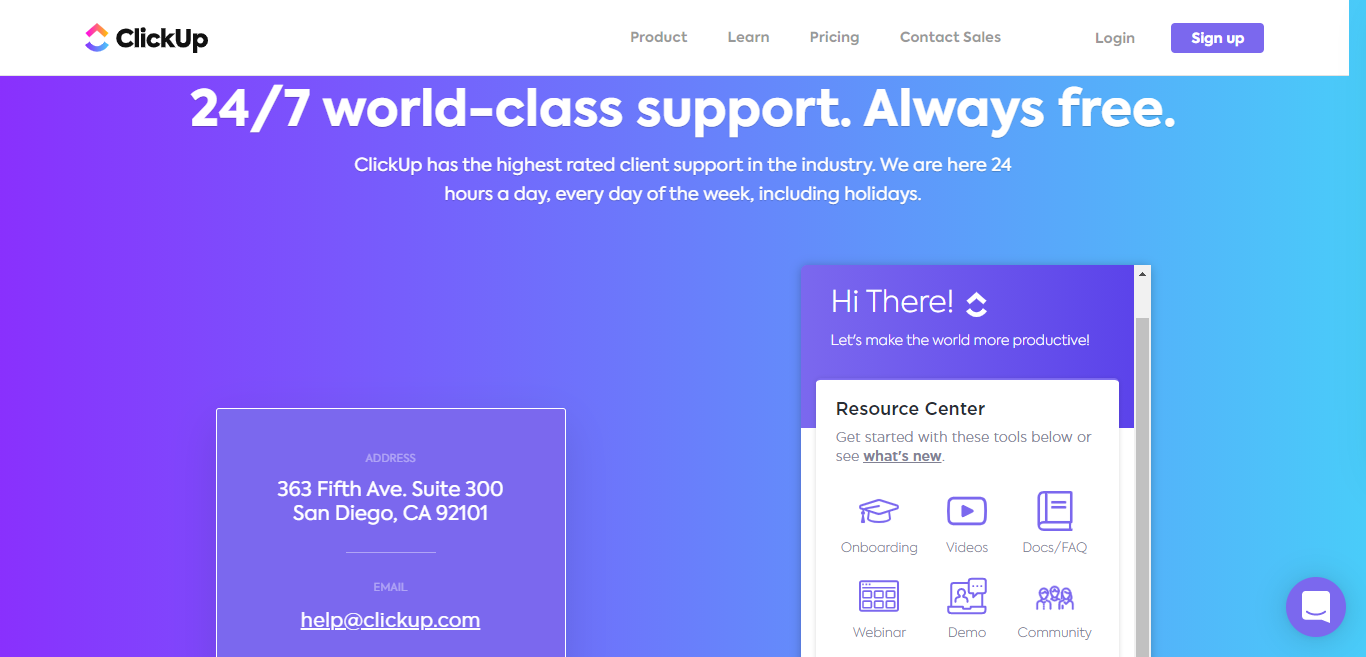 Teamwork vs. ClickUp: Pricing
Better project management has the potential to improve your productivity, and therefore revenue. But, naturally, this is off-set by how much you pay for the software itself each month.
That said, let's look at what Teamwork and ClickUp provide for your money…
Teamwork
For all Teamwork's pricing plans, you can opt for either monthly or annual billing. If you opt for the latter, you'll make a saving. Below we'll take a look at each tier in turn (prices below are based on annual billing):
Teamwork's Freemium Plan
Small teams can get started managing their projects with Teamwork's free package. With this plan, you can:
Register up to five users

Work on two projects (a project is where you organize all your tasks and subtasks).

Access limited space (100 MB of storage)
The Pro Plan
This costs $10 per user per month and lets you manage up to 300 projects with full client access and 100GB storage. You'll also unlock 20 project templates, unlimited board views, and billing and invoicing tools. Plus, you'll get access to all of Teamwork's standard integrations.
The Premium Plan
This will set you back $18 per user per month and enables you to work on up to 600 projects with 250 GB of storage. You'll also get access to advanced project management tools, including:
50 task templates

Project tags

Portfolios

Access to the change history (see what tasks have been edited or moved)

Time budgeting

(keep an overview of how much time you have left until a deadline, so you can plan how many hours to allocate to tasks and team members)

Custom fields

Burndown reporting. This lets you see how quickly you're burning through tasks on the way to your next milestone. The burn rate on a set of tasks can be visualized on a graph, so if your burn line crosses over the ideal, you know you're off track.
Advanced integrations also become available, including One Drive for Business, Hubspot, and SharePoint.
The Enterprise Plan
If you need more out of your project management software, get in touch with Teamwork's sales team for a customized quote. On top of a tailored plan that meets the exact needs of your business, the Enterprise package comes with:
Your own customer success manager

SSO support

500GB of storage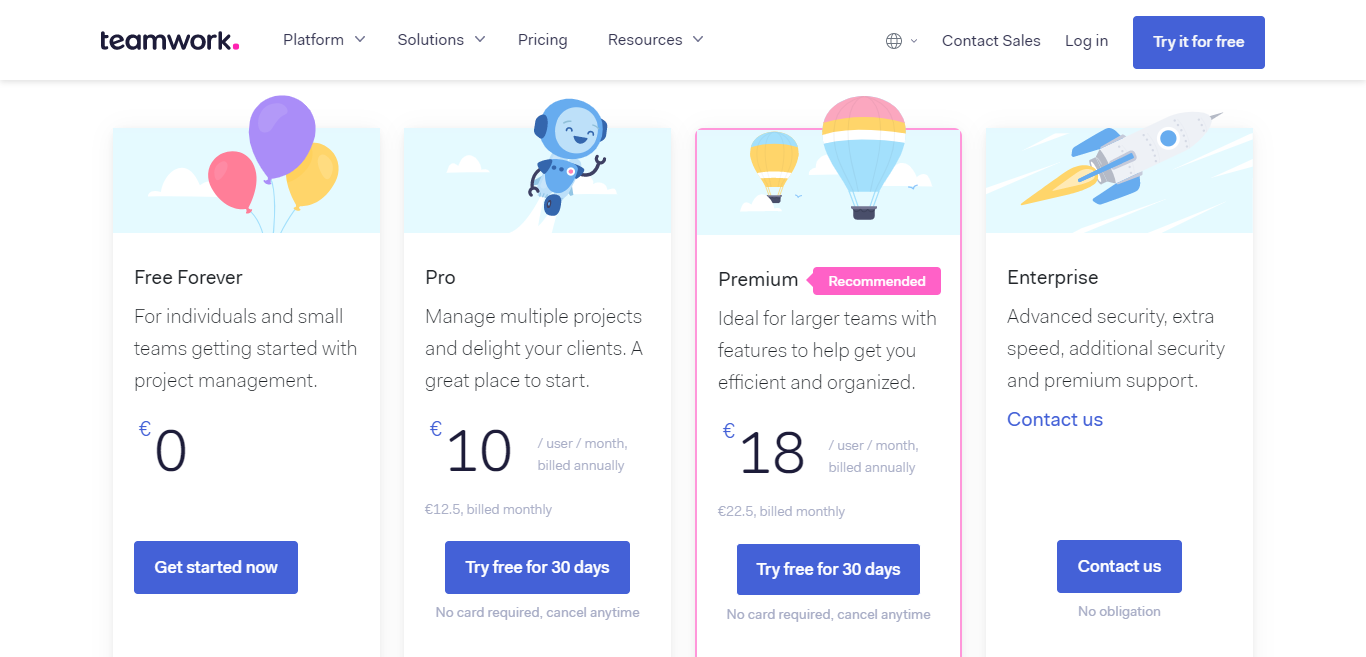 ClickUp
If you're impressed with Teamwork's affordable pricing, be prepared to be wowed by ClickUp's inexpensive rates.
ClickUp also offers a free forever plan that claims to provide everything a solopreneur and small team needs. More specifically, you'll get:
Unlimited tasks in up to five spaces – spaces are the second level of the hierarchy where you can customize everything. These are used to organize overarching processes like reporting, marketing, or customer support.

Many advanced features are 'trialed,' so you can only use them 100 times before upgrading. This includes portfolios, goals, custom fields, custom views, mind maps, timeline views, workloads, and much more.

100 MB of storage
Now let's look at ClickUp's paid-for plans (prices based on annual billing):
The Unlimited Plan
At just $4 per user per month, you'll get:
Unlimited spaces

Custom views

File storage

You can assign unlimited read-only permissions to guests.

Full access to the previously limited project management features: mind maps, custom fields, etc.)

Your dashboard comes with limited widgets. Widgets are the building blocks for dashboards, providing valuable insights into tasks, sprints, projects, tables, time tracking, priorities, assignees, and more.

You can activate 1,000 automation per month.
You'll also get reporting, milestones, Gantt charts, and can schedule recurring tasks.
The Business Plan
This costs $9 per user per month and comes with everything listed above, plus:
You can

customize your forms to ensure your colors and logo reflect your brand.

10,000 automation a month

Unlimited timeline and workload view (in previous plans, this was limited to 100 uses each)

More granular time estimates to calculate how long a task might take. You can now track time estimates per assignee.

Goal folders. Here, you can group weekly goals, align business objectives, and organize your milestones more neatly.

Work-in-progress limits. Here, you can limit how many unfinished tasks each team member can take on, so no one takes on too much at once.
The Enterprise Plan
This unlocks premium support and advanced security. For instance, you can customize security rules and permissions to a great degree, and you'll enjoy HIPAA compliance.
The Enterprise plan can be wholly white-labeled and ups your automation limit to 100,000 per month. To get a quote, you'll need to get in touch with ClickUp's sales team directly. Here, ClickUp invites users to make a deal.
Please note: You can enter how much you're willing to pay per user per month and negotiate a more custom offer with ClickUp directly. This is an option on any of their premium plans!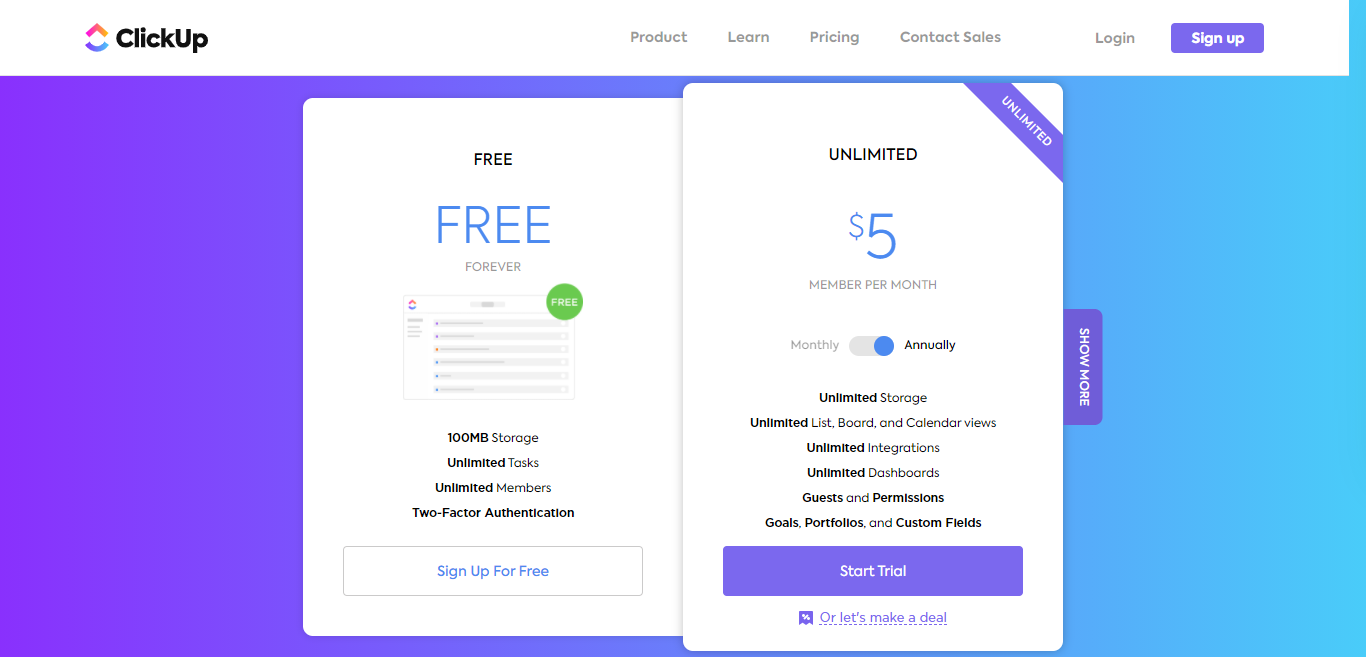 Teamwork vs. ClickUp: Pros and Cons
If you're looking for a quick overview of everything we've covered today, this is it. Nothing beats a short pro- cons list to draw out the highlights (and the dark side) of Teamwork vs. Clickup.
Teamwork's Pros:
Teamwork provides a feature-rich system that combines basic and advanced tools.

You can quickly organize your projects with just a few clicks. Manage teams, schedules, and resources efficiently and spend more time collaborating

Streamline communications with workflows that get tasks sent to the correct people

Teamwork integrates seamlessly with other products that create a full business suite, including a helpdesk, chat, and CRM system!

Make use of the mobile version to manage tasks on the go.

Affordable pricing

You can control the time budget of your team and overview workloads easily.

You can invite as many clients as you want to view your progress and collaborate.

Teamwork also comes with portfolio management.

Free plan available, albeit limited.
Teamwork's Cons:
Frequent bugs have been reported on the app.

Planning complex timelines and defining tasks is a little more complicated than necessary.

It's not entirely start-up-friendly as it can be complicated to use. Teamwork is better suited to anyone that has worked with project management software before.

The reporting is relatively basic.

There aren't many customization options.

There aren't as many project views available as ClickUp offers.

The Free plan is significantly limited with only 2 projects.
ClickUp Pros:
You can assign tasks to multiple projects.

Powerful collaboration tool, perfect for web research, document editing, or even discussing code within the app

There are plenty of views available so you can visualize tasks in whatever way suits you best.

The interface offers plenty of customization options. You can customize colors or white label the software. You can also drag objects into your sidebar and task tray so every user can keep information relevant to them readily available.

Incredibly feature-rich for quite a low monthly cost per 2user.

One of the most affordable project management tools on the market

Logical search filters and easy categorization process

Plenty of time management tools

There is a free forever plan that comes with unlimited tasks and members.
ClickUp Cons:
Guests are more complicated to manage and quite tricky to input into the system.

With all the features available, the app can be quite complicated. It's easy to make it more involved with the many drag and drop functions that could mean users accidentally clutter their space.

To access all features, you will need to upgrade to a higher plan.

Dates can be confusing in the list templates.

ClickUp comes with a steeper learning curve than most project management tools.
FAQs
Question: Do ClickUp and Teamwork offer nonprofit discounts?
Answer: Teamwork provides discounts to nonprofits and educational institutions on a case-by-case basis. To apply for a discount, get in touch and present your case. If you're successful, you'll be given a code to present during the checkout process.
Similarly, ClickUp offers discounted pricing if you're bettering your community through education or a charitable organization. Again, you'll have to email ClickUp to negotiate a price with them directly.
Question: Are Teamwork and ClickUp free?
Answer: Both Teamwork and ClickUp offer free plans. These are ideal for small teams with limited budgets, or for anyone looking to test the software before committing their hard-earned cash.
However, the free programs are quite limited in terms of storage space (100 MB) and functionality, so if you're serious about project management, you'll have to upgrade eventually.
Question: Is ClickUp a CRM?
Answer: ClickUp is primarily project management software. That said, you can use its features to set up a CRM within your workspace.
You'll need to create a space to house your CRM and create a hierarchy using custom fields to record all the information you need about your clients. If this sounds cumbersome, you might be better served with Teamwork and its official CRM add-on.
Question: Can I try ClickUp and Teamwork's premium plans for free?
Answer: Yes! Teamwork offers a 30-day free trial so you can check out its premium plans, or you can use its limited freemium package for as long as you like.
Conversely, ClickUp doesn't come with a trial. Instead, it encourages users to give them a spin with its free plan. They also have a 30-day money-back guarantee should you not be satisfied with ClickUp's premium service once you sign up.
Teamwork vs. ClickUp: Our Final Verdict
Both Teamwork and ClickUp are feature-rich systems that really pack a punch where project management is concerned. But, which one's better?
It's a tough call, as, in many areas, Teamwork and ClickUp offer similar features. They're also quite affordable, so even small businesses can seriously consider both options.
However, when it comes down to it, ClickUp's cheaper and offers an overwhelmingly vast number of features. It's ideal for all sized teams, as its highly customizable interface allows for various projects.
On the other hand, Teamwork is an excellent option if easy client access and collaboration are essential for your business. Teamwork's also the perfect choice if you're looking for a system you can scale to manage many aspects of your business. Regardless of which subscription you opt for, Teamwork is suitable for mid to large teams.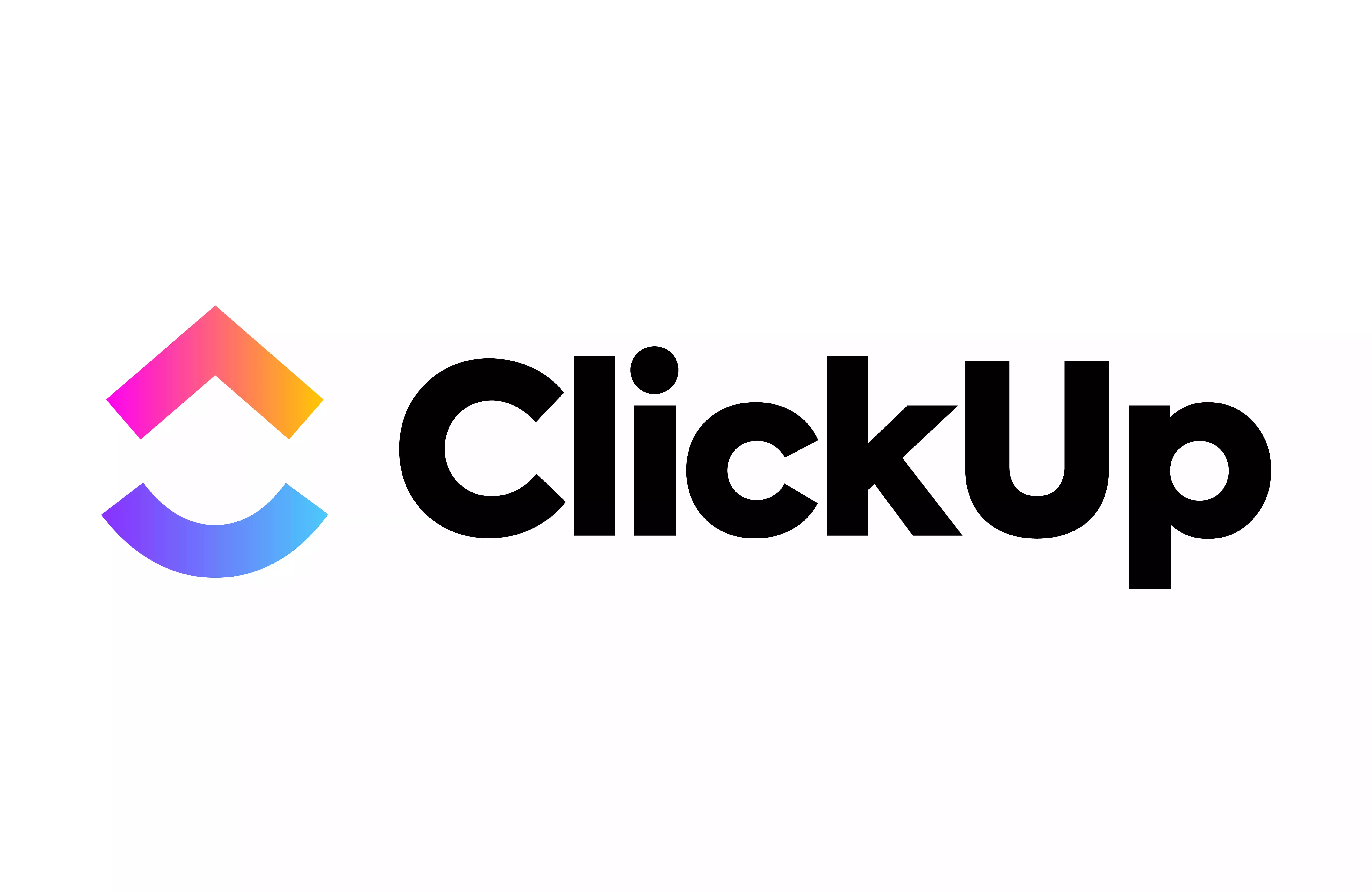 Why Go With ClickUp?
I've been so impressed with how quickly ClickUp has caught up with and even EXCEEDED competitors. They have ALL the integrations, plenty of pre-built templates for any use case, AND additional customization for any workflow.
Check it out Here
We earn a commission if you click this link and make a purchase at no additional cost to you.
What's your favorite project management platform? Let us know in the comments below, especially if you've tried either Teamwork or ClickUp before.
Further read: