Last Updated on April 22, 2023 by Ewen Finser
As a small business owner, I'm aware of how difficult it can be to minimize chaos and boost your team's efficiency. I've learned from years of practice that using separate apps to store client contacts and manage projects often results in chaotic customer relationships and misunderstandings between members of different departments.
Implementing the best CRMs for project management erases these issues and allows organizations to focus on increasing customer satisfaction while improving sales.
Each business has its own set of requirements, and determining what your organization needs to be more efficient is always the first step in choosing the right customer relationship management software, or CRM, for project management.
I'll take you through the key aspects of these software products and use my experience with them to help you pick the best one for your team.
Bottom Line Up Front
Asana and Salesforce are powerful CRM project management cloud-based platforms that include tools sales or marketing teams need to maintain communication with their clients. The options these two CRMs for project management offer depend on the subscription plan you choose.
However, you may not need a robust system like Asana or Salesforce if you're running a small business. So, you should consider Copper or TeamWave if you're working with a relatively small team on medium-sized projects.
My Top Picks At a Glance
| | | |
| --- | --- | --- |
| CRM | Maximum admin roles | Client list size |
| | 2 | Unlimited |
| | Unlimited | Unlimited |
| | 1 | 10,000 contacts |
| | Unlimited | 200 active tasks |
| | 1 | 15,000 to 150,000 |
| | Unlimited | Unlimited |
| | Unlimited | 1,000 to unlimited |
| | Unlimited | 2,500, 15,000 or unlimited |
| | One per workspace | No contact list size limit, but users of the Free plan can't import files larger than 100 MB |
Common Project Management CRM Types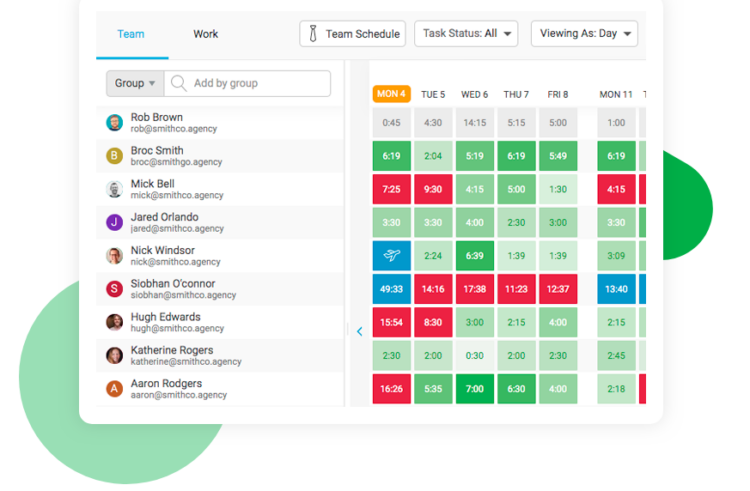 Functionalities of CRM solutions are similar since most platforms offer the tools that enable users to organize contacts, discover new leads, send automatic emails or gather customer retention and profitability data.
Some CRM platforms also have productivity tools that allow managers to create projects, assign tasks to team members, or simultaneously monitor the progress of multiple projects.
Operational, collaborative, and analytical CRM platforms can have project management features that extend their capabilities. For instance, operational CRMs for project management software simplify tracking leads or generating new tasks.
On the other hand, analytical CRMs help teams make sense of the information they gather by creating comprehensive reports or visualizing data.
It's also worth noting that most CRMs for project management combine features of collaborative, operational, and analytical platforms as they contain tools required to enhance cross-departmental collaboration, observe project performance or streamline customer communication.
Key Features of Project Management CRMs
The vast majority of CRM solutions with project management features are web-based, and all their users need to access them is an internet connection. Desktop-based solutions are slowly becoming obsolete as a growing number of organizations store their data on off-premise servers.
The software you pick should offer functionalities that facilitate workflows and allow all team members to find the information they need quickly. Here are some of the vital features a CRM for project management software should have:
Contact and email management tools
Unlimited projects
Simple task assignment options
Project tracking and reporting features
Collaborative tools
Process handover options
The solution you choose should be highly customizable so that you can adapt it to your business's specific requirements. Its project management tools should include document sharing and storage options that allow users to access and edit all documents added to a project.
Advantages of CRMs for Project Management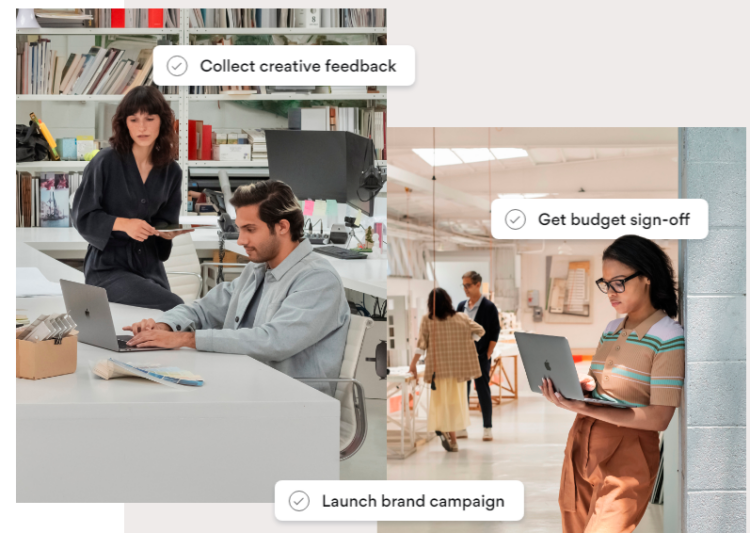 Using two or more apps to manage client communication and projects used to be standard practice. In recent years, this trend has been shifting as over 80% of businesses claim that keeping their data in the same place can improve efficiency.
These systems enable organizations to declutter processes and decrease the costs of using multiple platforms to manage projects and client databases. As a result, marketing, sales, and collections teams can use the same platform to participate in different stages of a project.
CRMs for project management can help businesses build better relationships with their clients by allowing them to define and assign tasks to members of different departments.
These platforms are easy to use, so small or medium businesses don't have to spend significant resources on training their employees. They also help unify the goals of marketing and sales departments and automatically update the customer data.
Integration Options
Although they have a vast arsenal of built-in tools, the functionalities of CRMs for project management aren't infinite. However, most cloud-based platforms support app integrations and allow businesses to connect multiple systems.
A platform like Asana supports integrations with thousands of sales, design, or file management apps that widen its range of functionalities. So besides its on-board project management tools, you can also connect productivity and reporting apps that can help you manage projects more efficiently.
Keep in mind that some CRMs for project management only support integrations through Zappier, and you'll have to get one of the platform's subscription plans to extend the cloud-based software's functionalities.
Moreover, you can use this option to combine data you keep in apps like Salesforce and Accelo to create sales pipelines and automate processes.
Pricing Plans
The range of tools you'll have at your disposal depends on the subscription plan you choose. Free versions of these platforms limit the maximum number of contacts or project members. Also, most CRMs for project management only have free trial periods that usually last a couple of weeks.
During this time, you can test their capabilities and determine if they're the correct option for your business. Prices of starter plans vary from $5 to $40, while business plans usually cost more than $40 per month.
Nearly all CRMs for project management provide solutions for large businesses, but the monthly cost of these subscription plans exceeds $100. Moreover, you'll have to contact the service provider if you're searching for solutions tailored to a specific industry.
Selection Criteria
Nobody knows your business better than you do, and you should utilize this knowledge when choosing cloud-based software to help you manage projects and client relationships.
The size of your contact list or the number of team members who participate in projects you manage are some of the factors that can help you decide which software and subscription plan to pick.
My goal during the selection process was to identify platforms that provide CRM and productivity tools for small, medium, and large businesses. Hence, the solutions I featured in this article are suitable for organizations of all sizes.
I considered the platform's file storage, customization, and task assignment options while selecting the best CRM software for project management.
Top 9 CRMs for project management
Asana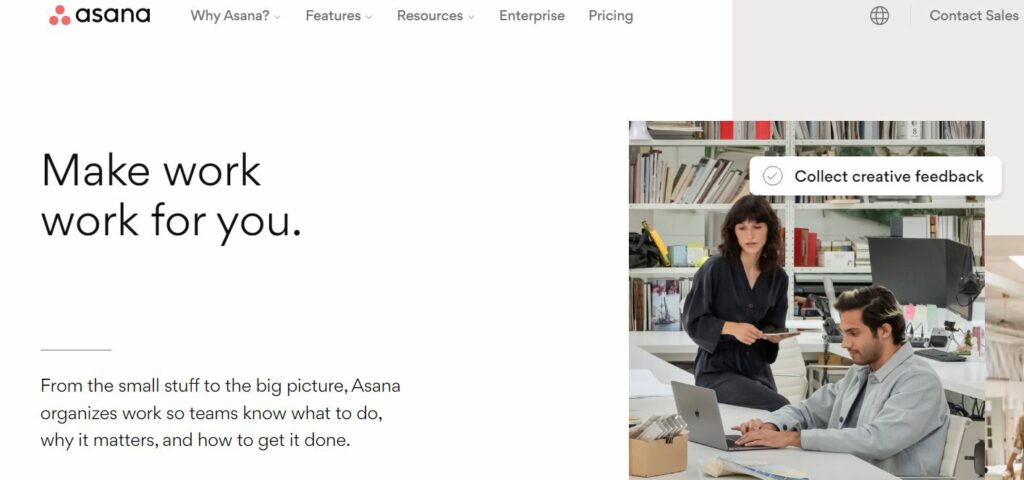 Besides providing various project management options, Asana also has all the tools organizations need to send automatic emails, add new customers to their client databases, or track accounts.
The platform also supports CRM integrations allowing you to manage customer communication through third-party applications. The free version of Asana doesn't limit the number of projects, tasks, or messages its users can create.
However, if your team has more than 15 members or you'd like to generate unlimited dashboards, you'll have to get Asana's Premium or Business subscription plan.
Pros
It offers a wide array of project templates
Asana supports integrations with thousands of apps
It has excellent automation tools
Versatile workflow options
Cons
The platform limits the maximum number of project admins to two
Its built-in CRM tools could be better
Read More:
Insightly CRM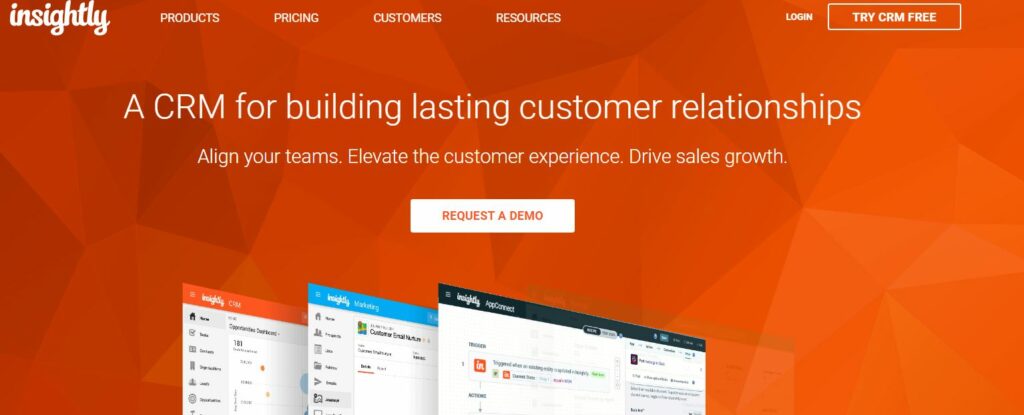 Designing an email, creating a customer journey, or monitoring how your projects are progressing with Insightly is easy. The cloud-based platform has advanced analytics tools that allow you to track and visualize key project metrics.
All subscription plans contain project management tools, so you'll be able to sync calendars, track tasks or configure processes regardless of the option you choose. Moreover, businesses can opt for one of Insightly's marketing plans to grow their client base and run efficient online advertising campaigns.
Pros
It allows organizations to create apps they can use internally
Users can set milestones or monitor projects with Insightly
Effortless app integration
It encourages cross-departmental collaboration
Cons
Read More:
Salesforce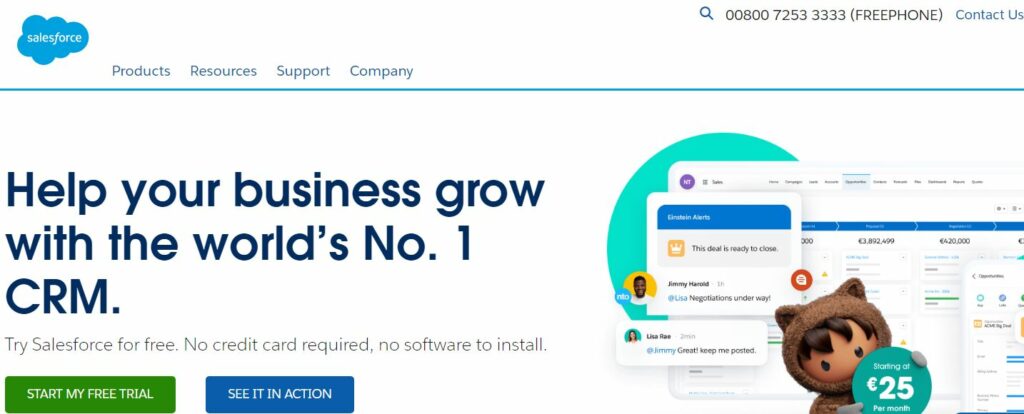 The on-board project management tools Salesforce offers don't allow you to do much more than track task progress. However, you can extend its functionalities by getting one of the applications designed specifically for this platform from AppExchange.
Salesforce has a broad range of options that can help sales, service, and marketing departments improve their performances. Each of these products is sold separately, so if you purchase the platform's sales package, you won't have access to its marketing or analytics tools.
Pros
The platform has a resource center
Salesforce is suitable for a wide range of industries
It utilizes Einstein AI to automate processes
Powerful data analytics tools
Cons
The built-in project management features are underwhelming
Read More:
Wrike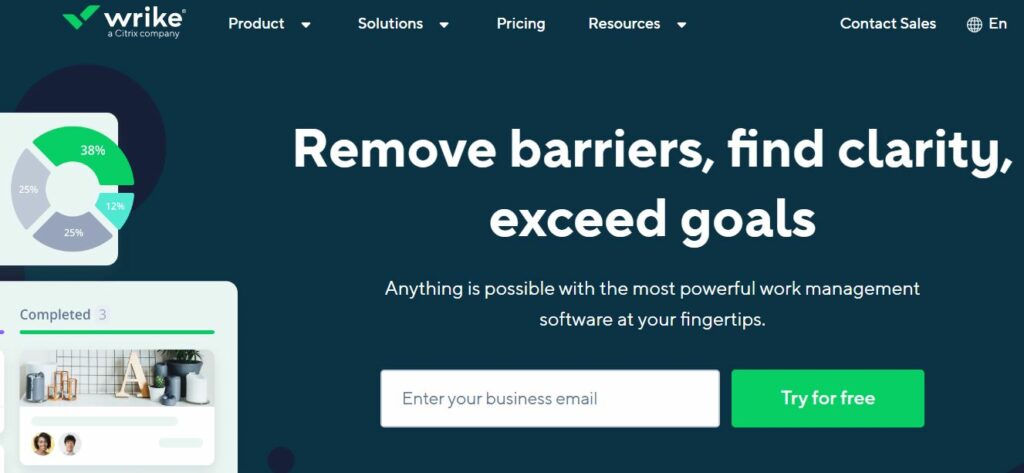 Project templates, customizable tools for small or large teams, and generating Gantt charts are among Wrike's features that can help you manage your project more efficiently.
This platform offers solutions for creative, marketing, IT, and various other teams that include tools they need to access the data or maximize revenue. You can only build basic contact management systems with Wrike as its ability to send emails or track leads is limited.
Integrating Wrike with CRM software is arguably the best option if you want to use it to maintain communication with your clients and manage projects.
Pros
High security standards
Organizations gain access to various use cases
Wrike has web, mobile, and desktop apps
It supports external collaborations
Cons
The software's free version limits the range of active tasks
It only offers essential CRM tools
Read More:
TeamWave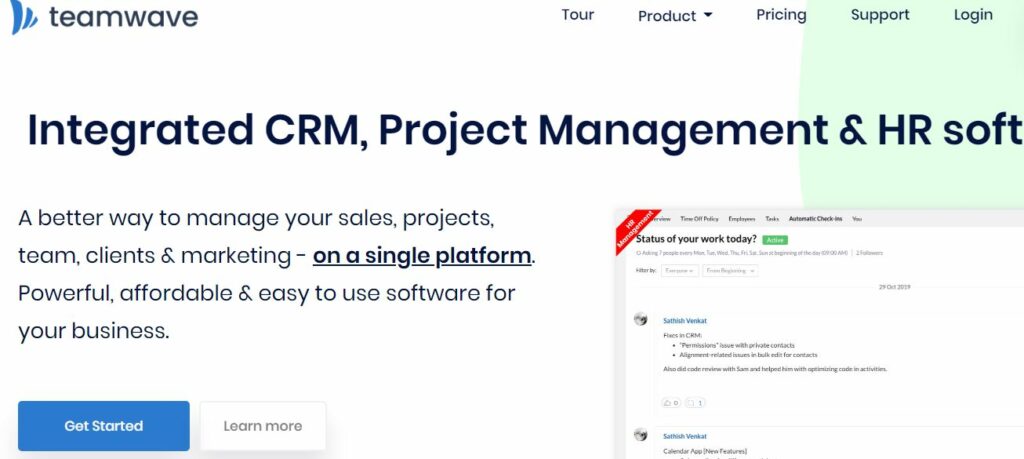 You don't have to be a CRM or project management guru to start using TeamWave. The platform is intuitive, so managing your contacts, creating sales pipelines, or collaborating with colleagues from different departments won't be difficult.
The platform also has a time-tracking feature that measures how much time each team member spent working on a particular project. The dashboard gives you a real-time overview of the key project metrics and lets you create reports you can use to present the results your projects accomplished.
Pros
All activities are customizable
TeamWave has a Gmail add-on
The platform lets users develop custom features
It supports Zappier integrations
Cons
The Starter subscription plan limits the number of contacts to 15,000
Accelo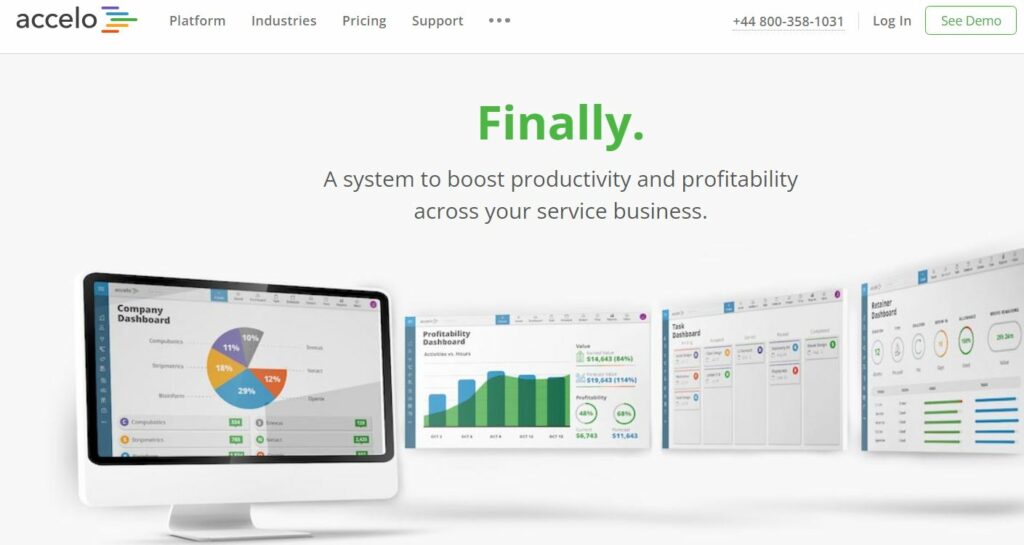 Whether you run a digital creative agency or an engineering company Accelo can help you elevate your business to a new level. Its CRM features include client database customization, tracking client interactions, and automatic lead generation.
Also, you can use the software to oversee projects from start to finish and forecast their outcomes based on the information displayed on the dashboard. Accelo enables project managers to create custom workflows and schedules with automated rules or raise invoices based on project progress.
Pros
Assigning tasks and setting milestones is simple
Accelo offers solutions designed for specific businesses
Excellent customer support
It's an excellent choice for small and medium-sized organizations
Cons
Its automation options are unreliable
BigContacts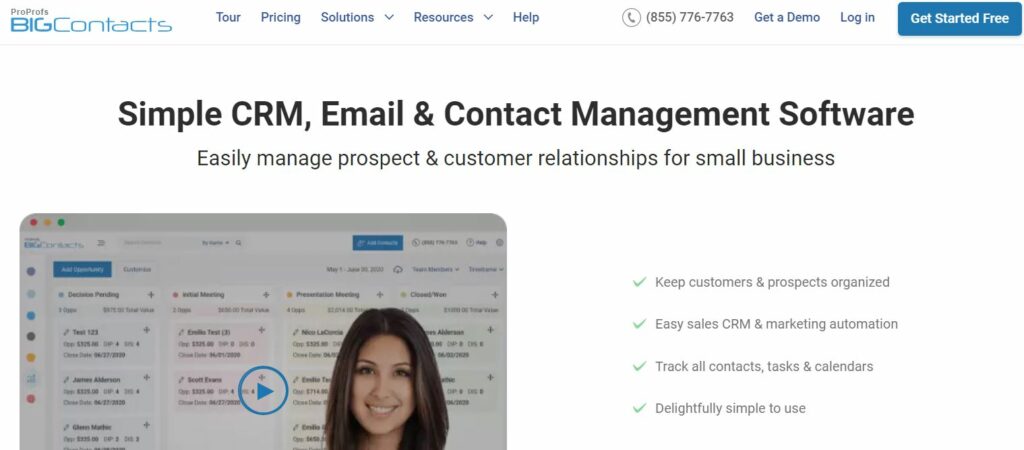 Even though it is primarily a CRM software for small businesses and startups, BigContacts still has basic features that allow you to manage tasks or organize your calendar. I think its most significant value lies in deals and sales tracking features that provide an overview of the sales pipeline and store all data in one place.
Opting for the BigContacts platform can be useful if you're planning on running email marketing campaigns as you can set up automatic email drips, use free templates to design emails, or integrate it with other apps to broaden the reach of your campaigns.
Pros
It's equipped with excellent reporting tools
Contact dashboard stores all client information
High file storage capacity
It provides a wide array of email templates
Cons
It lacks advanced project management tools
Contact capacity depends on the subscription plan
Copper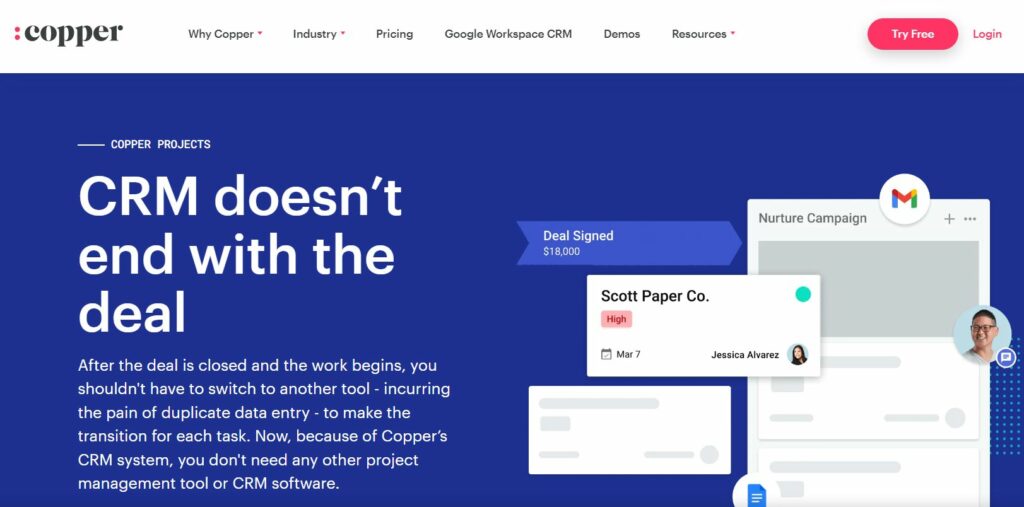 With a client base that includes more than 30,000 companies, Copper is one of the leading CRM platforms that incorporates project management tools. You can test this web-based software for two weeks before choosing one of its pricing plans.
None of the subscription models limit the maximum number of users, but the app's Basic version supports only 2,500 contacts. Also, features like reporting and workflow automation are only available with Professional and Business subscription plans.
Pros
Copper supports Google Workspace integration
It features Kanban boards
Effortless task automation
iOS and Android-compatible app
Cons
It's not an ideal fit for large businesses
Read More: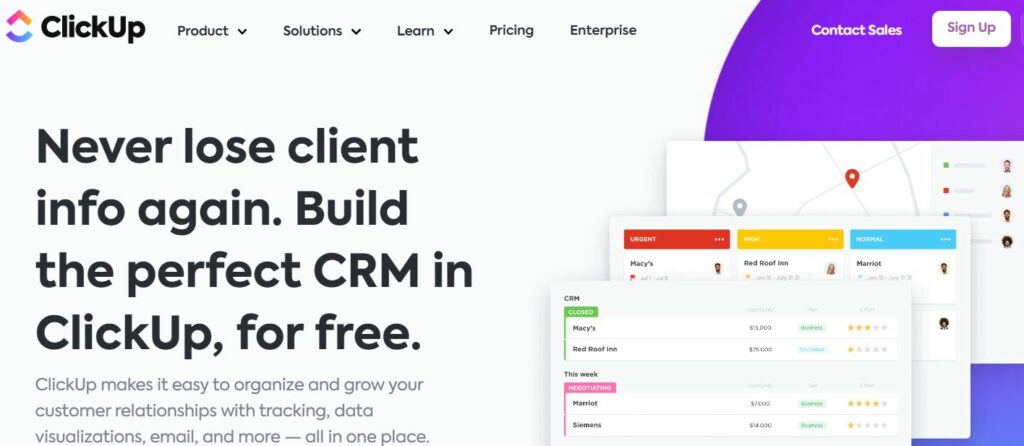 Setting up a CRM in ClickUp isn't complicated, but going through this process won't produce impressive results. This is mainly a project management platform that supports CRM integrations, so you can easily pair it with Salesforce or similar software.
I am impressed by its collaborative tools, as it lets team members create documents together, use whiteboards to develop new project ideas, or communicate through Chat while working on a project.
ClickUp has excellent learning resources that help users get more comfortable with the platform's features.
Pros
Customizing the software doesn't require coding skills
It is suitable for product management and non-profit organizations
All subscription plans have outstanding safety features
All pricing options are affordable
Cons
It can't manage large contact databases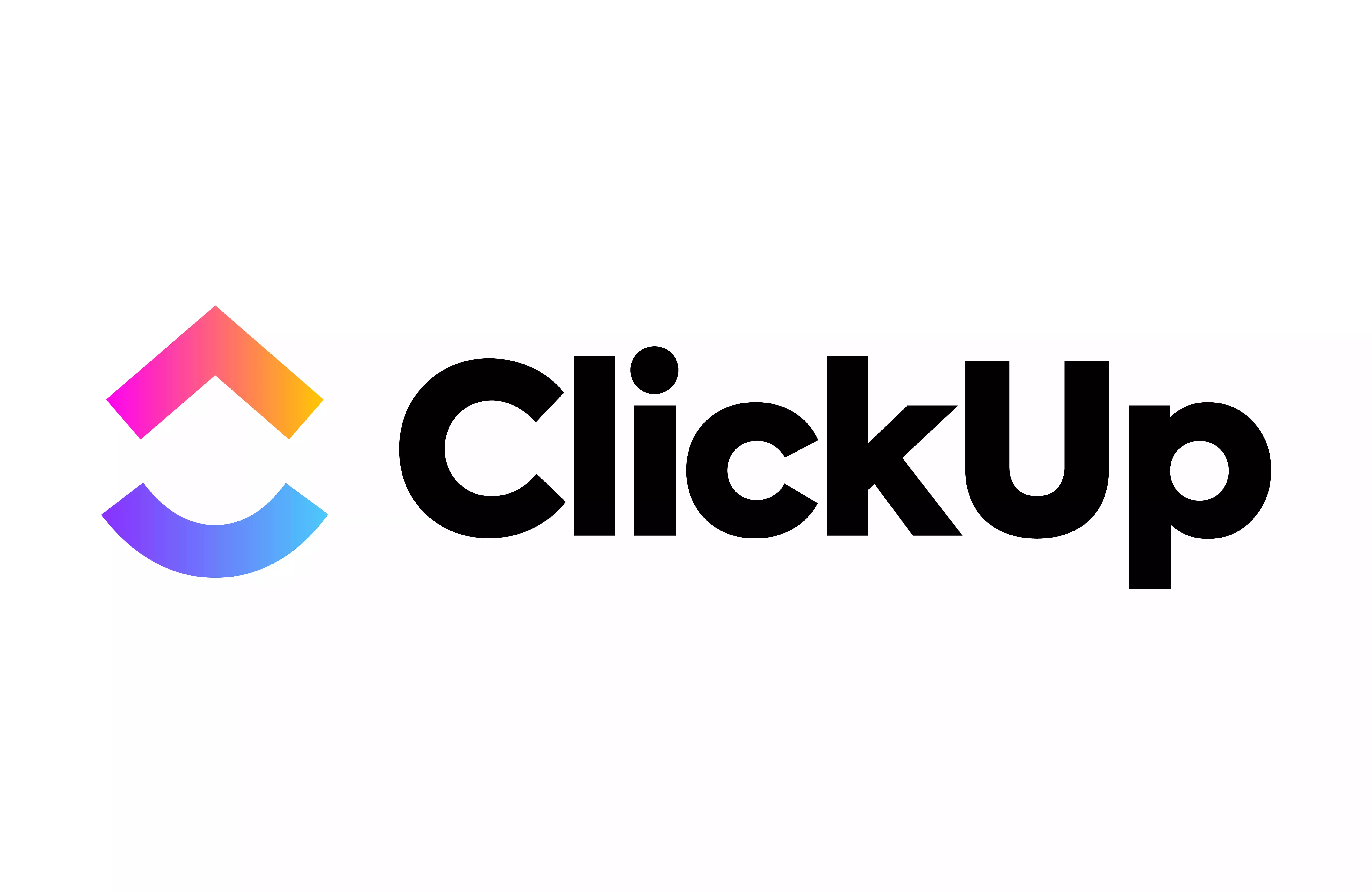 Why Go With ClickUp?
I've been so impressed with how quickly ClickUp has caught up with and even EXCEEDED competitors. They have ALL the integrations, plenty of pre-built templates for any use case, AND additional customization for any workflow.
Check it out Here
We earn a commission if you click this link and make a purchase at no additional cost to you.
Read More:
FAQs
Question: What Project Duration can I set in a CRM for Project Management Software?
Answer: These software products don't limit project duration, and you can create a project that lasts for a day or more than five years.
Question: Do all CRMs for Project Management Have the Bulk Emailing Option?
Answer: This feature isn't available on all platforms, so you must check if the software you'd like to get can send emails in bulk.
Question: How Long does it Take to Implement a CRM for Project Management in a Business?
Answer: Implementing these software products in a business takes one to three months.
My verdict: Which CRM for Project Management has the Most to Offer?
Finding software that perfectly balances contact and product management options can be challenging since most platforms favor one or the other. So opting for Asana will give you access to excellent project management tools and limit your capacity to update contacts or send automated emails.
Salesforce does the opposite as it focuses on CRM tools while its project management options are limited. I think Copper and TeamWave offer the best of both worlds, although they're not an ideal solution for large organizations.