Last Updated on April 22, 2023 by Ewen Finser
Despite Wrike's global success with over 20,000+ companies in over 140 different countries, the project management software niche has an ever-growing list of competitors. Mainly due in part to businesses needing personalized solutions for their company size, industry, and collaboration style.
Wrike combines an Enterprise-level project and resource management tool. While small to medium businesses can use Wrike, the platform is more aimed at larger, Enterprise-level users.
The platform's free plan supports small teams of up to 5 users and includes a generous number of features including task management, file sharing, real-time updates, basic integrations, a mobile app, 2 GB of storage, and multiple task management viewing options.
Plus, for under $10 a month, Wrike will throw in Gantt charts, Microsoft Project integration, collaboration tools, and over double the amount of storage space.
The Wrike dashboard uses a 3 pane system which differentiates it from its competitors. The left pane houses resource management including projects, teams, and finances. The center of your screen is a fast track for creating a new task, assigning tasks, and setting deadlines. The right pane lists all of your tasks for quick skimming.
Another benefit of Wrike is its power form builder. A weakness of most of its competitors, Wrike can customize forms according to your specific business needs.
The platform's request system provides users with automatic task assignments, populates tasks with form information, archive forms, and assigns them to a relevant team member.
Task tracking (task management) can keep a project manager up to date on which projects are active, which team members are working, and when the project will be complete.
Time trackers help encourage maximum productivity, while detailed reporting shows top-performing team members, milestones, and any conflicts that may arise such as past-due deadlines. To keep your projects secure, Wrike offers two-factor authentication support.
Even with all of the benefits, Wrike is not without disadvantages.
Unfortunately, onboarding can be difficult, mobile apps have limited functions, and comments cannot be assigned.
If you are a current Wrike user or are researching project management tools, I've provided the 7 best Wrike alternatives below so you can quickly compare how the platform's competitors stack up.
1. Airtable
Airtable provides a simple to use interface that integrates the best offerings from Google Sheets and Excel to organize lists, entry-level CRM, and manage inventory. It is perfect for users who need inventory tracking and to-lists all in one place.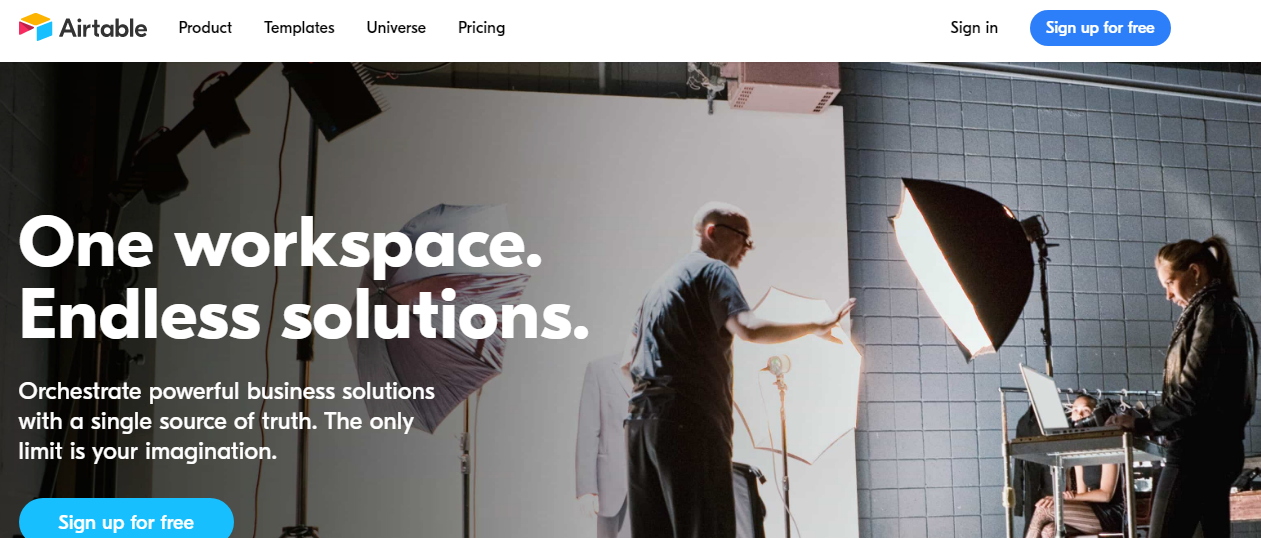 Pre-made templates for content calendars, project trackers, event planning, and more make onboarding a breeze. Choose from multiple views including the classic spreadsheet, calendar, gallery, and the Kanban tool.
Depending on the plan you choose, you can store files from 2 GB to 1,000 GB which helps you organize attachments on the cloud without paying for an additional service.
To make up for shortcomings in the project management area, Airtable offers integrations to GitHub, WordPress, Slack, and more. Unfortunately, you will have to subscribe to a higher tier plan, making most competitors more affordable to scale.
Pros

Cons

Project managers can assign tasks
Task commenting
Multiple dashboard viewing options
Monthly content calendars and spreadsheet organizers
Project progress tracking

Significant learning curve compared to Excel
No spreadsheet formula builder
No overall messaging system for team members
No auto-refresh
Pricing
Free trial
Discount for nonprofits (50% off monthly fee for Pro and Plus plans)
Free Plan
Unlimited bases
1,200 records per base
2 GB attachment space per base
2 weeks of revision and snapshot history
Plus Plan
($12 per month, $10 per month when paid annually)
Unlimited bases
5,000 records per base
5 GB attachment space per base
6 months of revision and snapshot history
Pro Plan
$24 per month, $20 per month when paid annually
Unlimited bases
50,000 records per base
20 GB attachment space per base
1 year of revision and snapshot history
Enterprise Plan
Contact for pricing
Unlimited bases
Increased records per base
1000 GB attachment space per base
3 years of revision and snapshot history
Further Reading on Airtable vs Other Workflow Management Tools:
Asana provides a robust team management solution. All tabs update in real-time including progress view, portfolios, tasks, custom fields, and more. Templates are available to standardize repetitive projects, cutting down planning time for project managers.

Use Asana for complex projects including marketing drip campaigns, light CRM functions, project launches, and eCommerce websites. Individual team members have a clear visual view of task responsibilities and expected deadlines.
Asana is also available in English, French, German, Japanese, Portuguese, and Spanish for ease in global remote working. The platform is used by Disney, NASA, and Spotify.
Pros

Cons

A large variety of app integrations, Gmail, Zapier, Slack, Microsoft Teams, Salesforce
Kanban view
Gantt charts
Free plan with all the basics
Project templates
Mobile app for on the go task management
Customer Success Programs for all customers on paid plans
Asana Academy

Too many project options for small teams
Tasks can only be assigned to one person
No resource management
Email support can take up to 24 hours
Free trial
Discount for nonprofits (50% discount for Premium or Business plans)
Basic Plan
FREE
Unlimited tasks
Unlimited projects
Unlimited activity log
Unlimited file storage (100MB per file)
Collaborate with up to 15 teammates
List view projects
Board view projects
Calendar view
Assignee and due dates
iOS and Android mobile apps
Time tracking with integrations
100+ free integrations with your favorite apps
Premium Plan
$13.49 per month or $10.99 when paid annually
Free plan plus:
Timeline
Dashboards (NEW)
Advanced search & reporting
Custom fields
Unlimited free guests
Forms
Rules
Milestones
Admin Console
Private teams & projects
Business Plan
$30.49 per month or $24.99 when paid annually
Premium plan plus:
Portfolios
Goals
Workload
Custom rules builder
Forms branching & customization
Approvals
Proofing
Lock custom fields
Advanced integrations with Salesforce, Adobe Creative Cloud, Tableau, Power BI
Enterprise Plan
Contact for pricing
Business Plan plus:
SAML
User provisioning & de-provisioning (SCIM)
Data export & deletion
Block native integrations
Custom branding
Priority support
Further Reading on Asana vs Work Management Systems:
ClickUp provides task-based management for all types and sizes of businesses. It offers advanced communication and collaboration tools.
You can assign tasks to one or all team members. Comments can be resolved and projects can be viewed as seen in the main dashboard or rearranged according to the team member's unique working needs.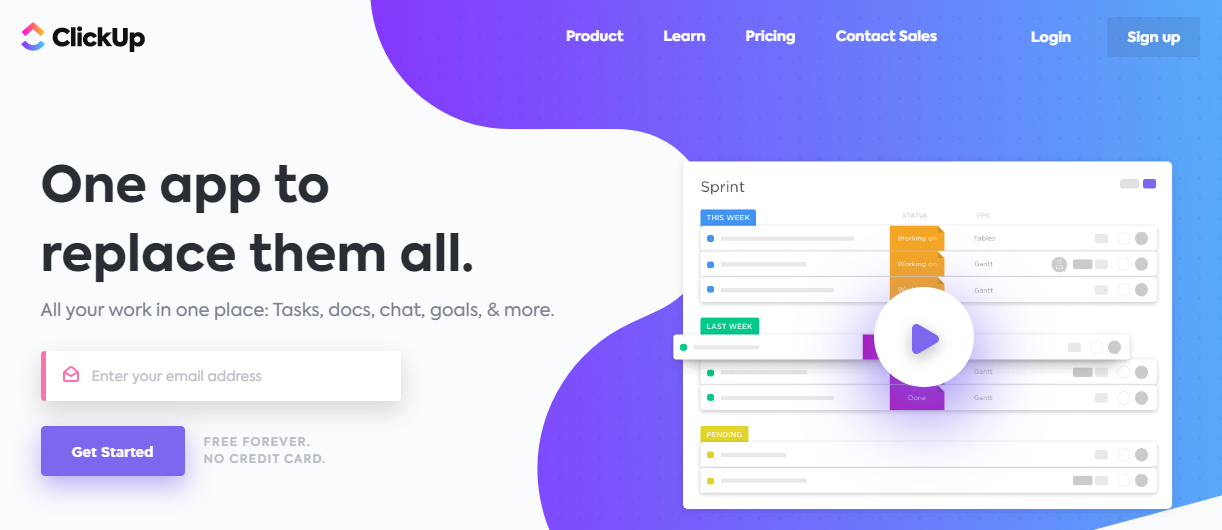 Easily email a task to ClickUp from Outlook. Using a unique address link for an individual task, simply forward the new task email to the unique address link. Your email instantly becomes a part of the ClickUp task including email contents and attachments.
The ClickUp community can easily submit ideas for improvements to the platform. Each week ClickUp releases upgrades to support its users and their business needs.
Pros

Cons

Releases new features every week based on users' needs
Affordable
Reasonable learning curve
Great for transitioning workers to remote projects
Auto reminders for out of sight, out of mind tasks
Email a task, from your inbox to ClickUp using a unique link

The mobile app lacks a clean UX
Timeline and form views need improvement
Not enough color differentiation between tasks
Pricing
Free trial
Negotiated pricing on Unlimited Plan
Discount for nonprofits (35% off monthly rate)
Free Plan
100 MB Storage
Unlimited Tasks
Unlimited Users
Unlimited Plan
$9 per month or $5 per month if paid annually
Unlimited Storage
Unlimited List, Board, and Calendar views
Unlimited Integrations
Unlimited Dashboards
Guests and Permissions
Goals, Portfolios, and Custom Fields
Business Plan
$19 per month or $9 per month if paid annually
Unlimited Plus:
2FA and Google SSO
Goal Folders
Custom Exporting
Private, Protected, and Default Views
All Dashboard Widgets
Extra Guests
All Automations
Mind Maps & Timeline Views
Advanced Time Tracking
Workload
Enterprise Plan
Contact for pricing
Business Plus:
Single Sign-On (SSO)
Contract Review & HIPAA
Increased API Limits
Dedicated Success Manager
Advanced Permissions
Advanced Workload
Custom SAML
Extra Automations
Custom Onboarding
Training Program
White Labeling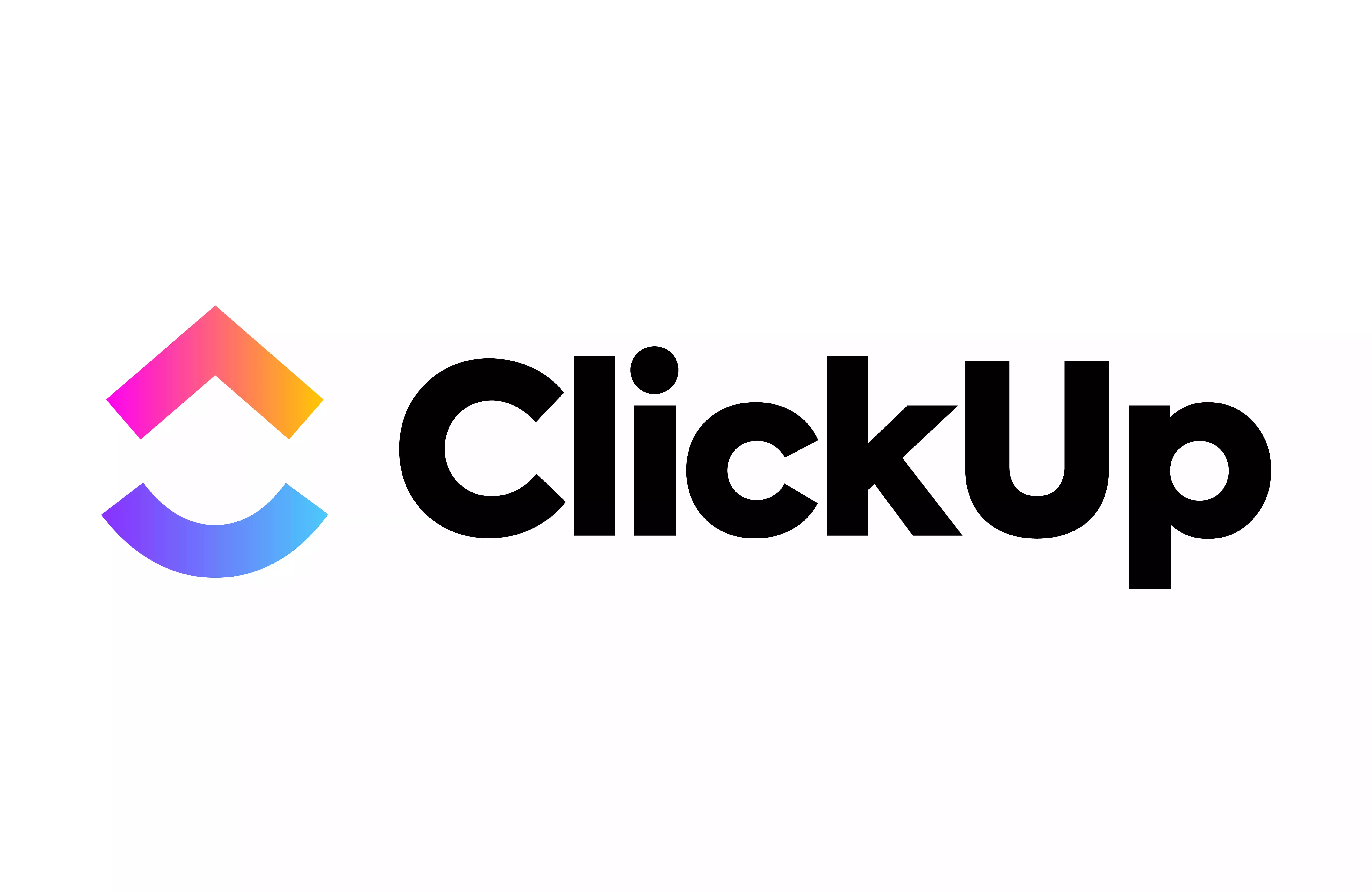 Why Go With ClickUp?
I've been so impressed with how quickly ClickUp has caught up with and even EXCEEDED competitors. They have ALL the integrations, plenty of pre-built templates for any use case, AND additional customization for any workflow.
Check it out Here
We earn a commission if you click this link and make a purchase at no additional cost to you.
Further Reading on ClickUp vs Other Project Management Software:
If your business is already using the Microsoft Office suite (MS Project) you may be interested in Microsoft Project.
The platform can add project management capabilities to an already well-known powerful and stable office software.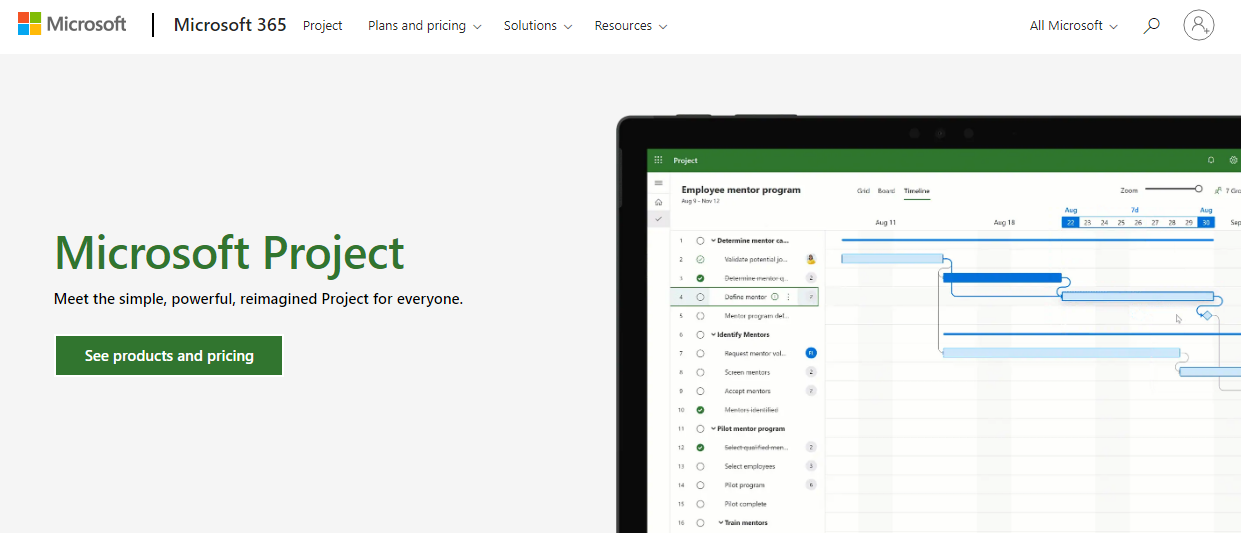 Main features include a shareable calendar, Gantt charts, resource tracking, and time tracking.
However, the platform is pricey and has a steep learning curve. Microsoft Project is best for large enterprises with healthy budgets. Unlike competitors, to complete your project management tasks you will need to integrate with the whole line of Microsoft software including Microsoft Teams, Excel, Word, Planner, and Outlook.
Pros

Cons

Works seamlessly with the Microsoft product line
Gantt charts
Resource tracking
Excellent customer support

Complex, a steep learning curve
Expensive
File sharing only supports email export
Uses must select a percentage for project tracking (as opposed to in progress or complete)
User experience can be improved
Pricing
30-day free trial
Discount for nonprofits
Project Plan 1
$10 per user per month
Project Home
Grid view
Board view
Timeline (Gantt) view
Collaboration and communication
Co-Authoring
Project planning and scheduling
Project for the web app
Project Plan 3
$30.00 per user per month
Plan 1 plus:
Reporting
Roadmap
Timesheet submission
Resource management
Desktop client
Project for the web app
Project online app
Project online desktop client app
Project Plan 5
$55.00 per user per month
Plan 3 plus:
Portfolio selection and optimization
Demand management
Enterprise resource
Further Reading on Microsoft Project as a Wrike Alternative:
Monday.com offers a project management tool with color-coded boards. The boards indicate whether the task is in progress, complete, or if and where any team members are stuck.

Multiple board viewing options include by Date, Person, Status, Text, or Timeline. This is helpful in complex projects to balance out project responsibilities.
Monday.com serves small to large businesses. More notable clients include Adidas, Samsung, and Uber.
Pros

Cons

Color-coded boards all on one dashboard
All project communication and files stay with the relevant board(s)
Clients can be invited to see their project progress
No date limit search of all projects, files, and images
Timeline (Monday.com's version of Gantt charts)

The basic plan lacks necessary features like private messaging and integrations
Using an all-in-one dashboard can be hard to navigate, cluttered
Pricing
Free trial
Free plan for students, faculty, student organizations, and Greek Life
Discount for nonprofits (yearly plans)
Basic
$29 per month (3 seats minimum, save 18% when paying annually)
Forms
Communication with context
Unlimited free viewers
iOS and Android apps
Dashboards
(1 board per dashboard)
Standard
$36 per month (3 seats minimum, save 18% when paying annually)
Basic features, plus:
Timeline & Calendar views
Guest access
Advanced search
Automations
(250 actions per month)
Integrations
(250 actions per month)
Dashboards
(3 boards per dashboard)
Pro
$59 per month (3 seats minimum, save 18% when paying annually)
Standard features, plus:
Private boards
Chart view
Time tracking
Formula column
Automations
(25,000 actions per month)
Integrations
(25,000 actions per month)
Dashboards
(10 boards per dashboard)
Enterprise
Contact for pricing
Pro features, plus:
Enterprise-scale
Automations & Integrations
Enterprise-grade security
& governance
Advanced reporting
& analytics
Multi-level permissions
Tailored onboarding
Premium support
Dashboards
(50 boards per dashboard)
Further Reading on monday.com vs Other Project Management Software:
Trello helps teams keep their projects organized. The platform offers a free version as well as paid Business and Enterprise plans.
Trello is designed to work with boards.
Each board is broken down into lists. Lists have individual cards that incorporate details such as the team member working on the project, custom task checklists, and team collaboration comments.
Labels can be used to improve search capability. Trello is available on any smart device. Changes are recorded in real-time and auto-synced.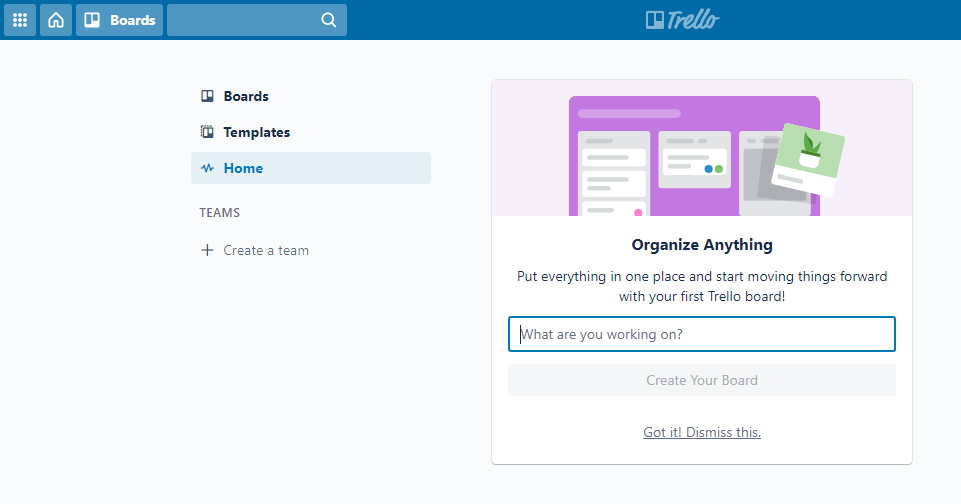 Users can purchase Power-Ups to add integrations to the platform that include HR, IT, simple CRM, or marketing.
Pros

Cons

Power-Ups (integrations with Google, Slack, Salesforce, and more)
Easy to set up and use
Up to 250 MB file attachments
Can restrict membership invitation, remove former employees
Custom branding
Quickly export data

Cards can only be organized in a linear fashion
Not for complex projects
Lack of hierarchies between tasks and projects
Trello Pricing
Free Trial
Discount for nonprofits (75% off Business Class and Enterprise)
30% discount for educational institutions
Free Plan Feature Options
10 Boards per Team
Unlimited Cards
Unlimited Lists
10 MB per File Attachment
Business Class Plan Feature Options
Unlimited Boards per Team
Unlimited Cards
Unlimited Lists
250 MB per File Attachment
Advanced Checklists
Priority Support
Observers
Custom Backgrounds & Stickers
Board Collections
Team Board Templates
Enterprise Plan Feature Options
Unlimited Boards per Team
Unlimited Cards
Unlimited Lists
250 MB per File Attachment
Advanced Checklists
Priority Support
Observers
Custom Backgrounds & Stickers
Board Collections
Team Board Templates
Additional Admin and Security Features
Further Reading on Trello vs Other Project Management Tool Options:
If you are running a simple website or blog, Basecamp is a good choice for smaller projects. You can track your project and see the progress in real-time, easily communicate with team members, complete group projects, and store any attached documents relevant to the project.
Basecamp has a powerful search function that lets you search across projects, conversations, and more to find what you need quickly without digging through a lot of fluff.

All files are auto-backed up on an hourly basis. Two-factor authentication keeps your account secure.
Basecamp also provides a separate mailbox (Hey! Menu) for all notifications related to your projects and account. You can customize how you receive (and how often) alerts.
Pros

Cons

Small project management
Chat and message board
Calendar to schedule out tasks
File storage
Powerful search within the platform
Two-factor authentication
Notifications to keep track of multiple projects

Limited actions
No task priority option
Lack of customization
No time tracking
Pricing
Free trial
Free for teachers and students
Discount for nonprofits (10% off)
Basecamp Personal
Free
3 projects
20 users
1 GB storage space
Basecamp Business
$99 per month (15% discount if paying annually)
Unlimited projects
Unlimited users
500 GB storage space
Company HQ
Team projects
Unlimited clients
Advanced client access
Project templates
Priority support
Further Reading on Basecamp vs Other PM Tools:
8. Other Best Wrike Alternative Options + Runner's Up
The following are some "other" Wrike alternatives that may be helpful in specific situations.
Smartsheet: Great for sheet-based tracking and advanced Gantt chart functionality.
Teamwork: Great if you need something like Wrike, but client focused instead of the large enterprise feel of Wrike.
Best Wrike Alternatives | Frequently Asked Questions
Which Wrike alternative has an app?
Most Wrike alternatives have an app, including all of the alternatives I have listed in this article (Airtable, Asana, ClickUp, Microsoft Project, monday.com, Trello, and Basecamp.
What can a Wrike alternative help with?
A Wrike alternative can closely align with your goals or be specific to your industry or team collaboration. Some competitors offer advanced billing and automation services.
Is there a free software similar to Wrike?
Yes. Similar software that offers a free plan includes Airtable, Asana, ClickUp, Trello, and Basecamp.
Does wrike integrate with Outlook?
Yes. Wrike subscribers can find the Outlook integration by locating the Apps & Integrations tab on the Wrike dashboard. In Outlook, go to the add-ins store, search for Wrike, and add it to your navigation bar.
Does wrike have a desktop app?
Yes. You can access Wrike from any device using your browser. The desktop app is compatible with Windows, Mac, Android, and Apple.
Conclusion: Wrike Competitors
While all of the 7 alternatives have their pros and cons, it's important to decide which features you need in a project management software.
Is the visual layout of tasks important? Time-tracking? Level of a learning curve?
Fortunately, all of the alternatives I've listed have free trials so you can try before you buy.
Did I list your favorite alternative to Wrike or do you have a different recommendation? Please let me know your thoughts in the comments.
Further Reading on Workflow Management & Collaboration Tool Options: