Last Updated on January 11, 2023 by Ewen Finser
Microsoft Project is a popular software solution that helps project managers develop plans, assign resources, track progress, assess budgets, and analyze workloads when managing a team.
The software offers features like project scheduling tools and built-in templates, so administrators and members of the team know exactly where each project stands in real-time.
These are the best Microsoft Project alternatives:

Wrike Rocks for Project Management
Wrike is just BETTER. More integrations (no "walled gardens"), less bulky, and better uptime and reliability overall. Best of all, Wrike let's you pick and pay for only the features you ACTUALLY NEED.
Start Wrike for Free
We earn a commission if you click this link and make a purchase at no additional cost to you.
But if you want a MS Project replacement tool that can help handle both small to complex project management tool needs, the Wrike app could easily be your best freemium project management program.
Wrike is a real-time work management program for small, medium and large organizations no matter the industry they operate in. Team members can create projects, tasks, subtasks and any combination of folders to break a big project into manageable tasks (work breakdown structure).
It also provides Gantt Charts with the ability to set task dependencies and track work this way (pivotal tracker tool, etc…). That way you can really track the progress of your project and be flexible since you can foresee outcomes and act accordingly. In short, it's a more interactive Gantt Chart.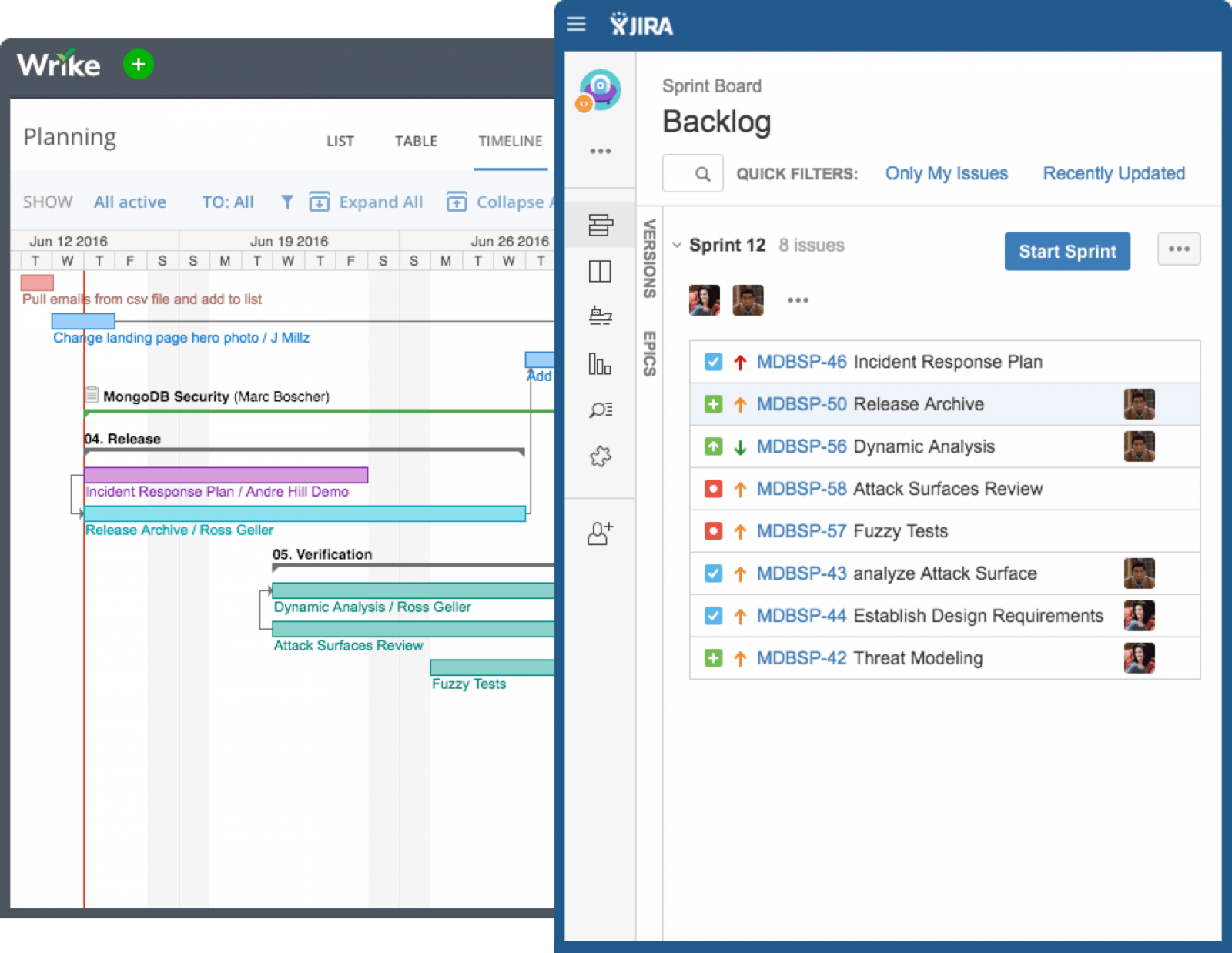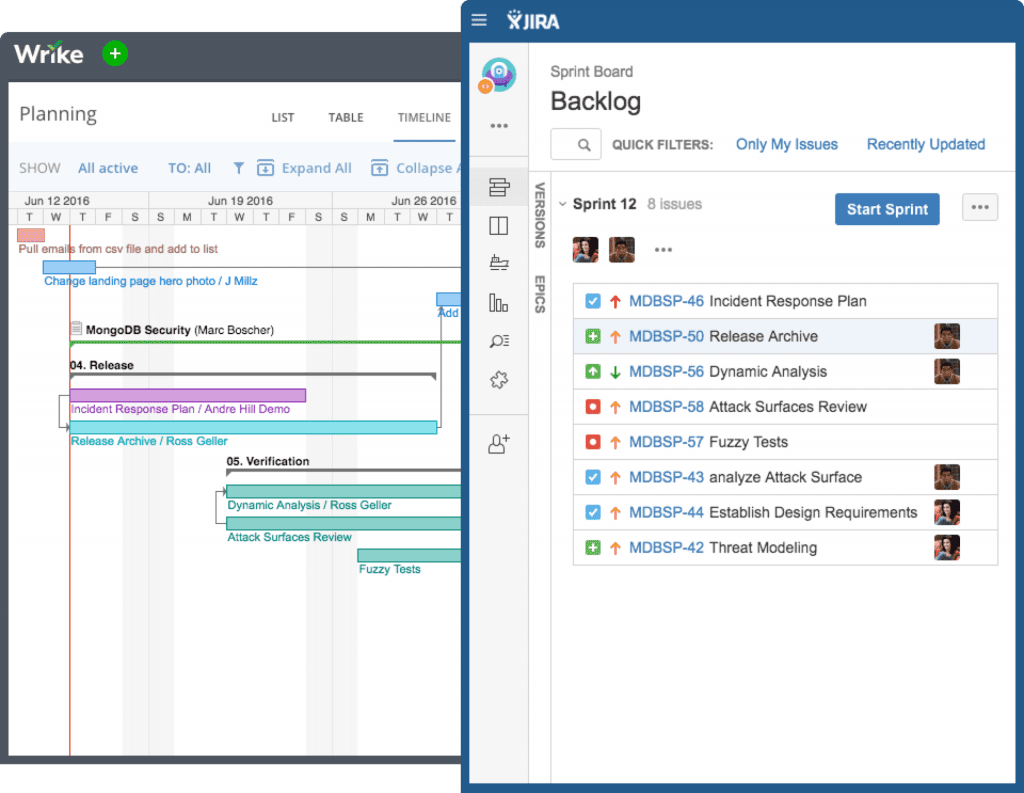 Further Reading:
Monday.com (previously known as Dapulse) is definitely one of the top Microsoft Project alternatives. Though there are lots of bells and whistles, Monday's primary goal is to help you collaborate and manage your workload and communicate with your team via boards.
Editor's Choice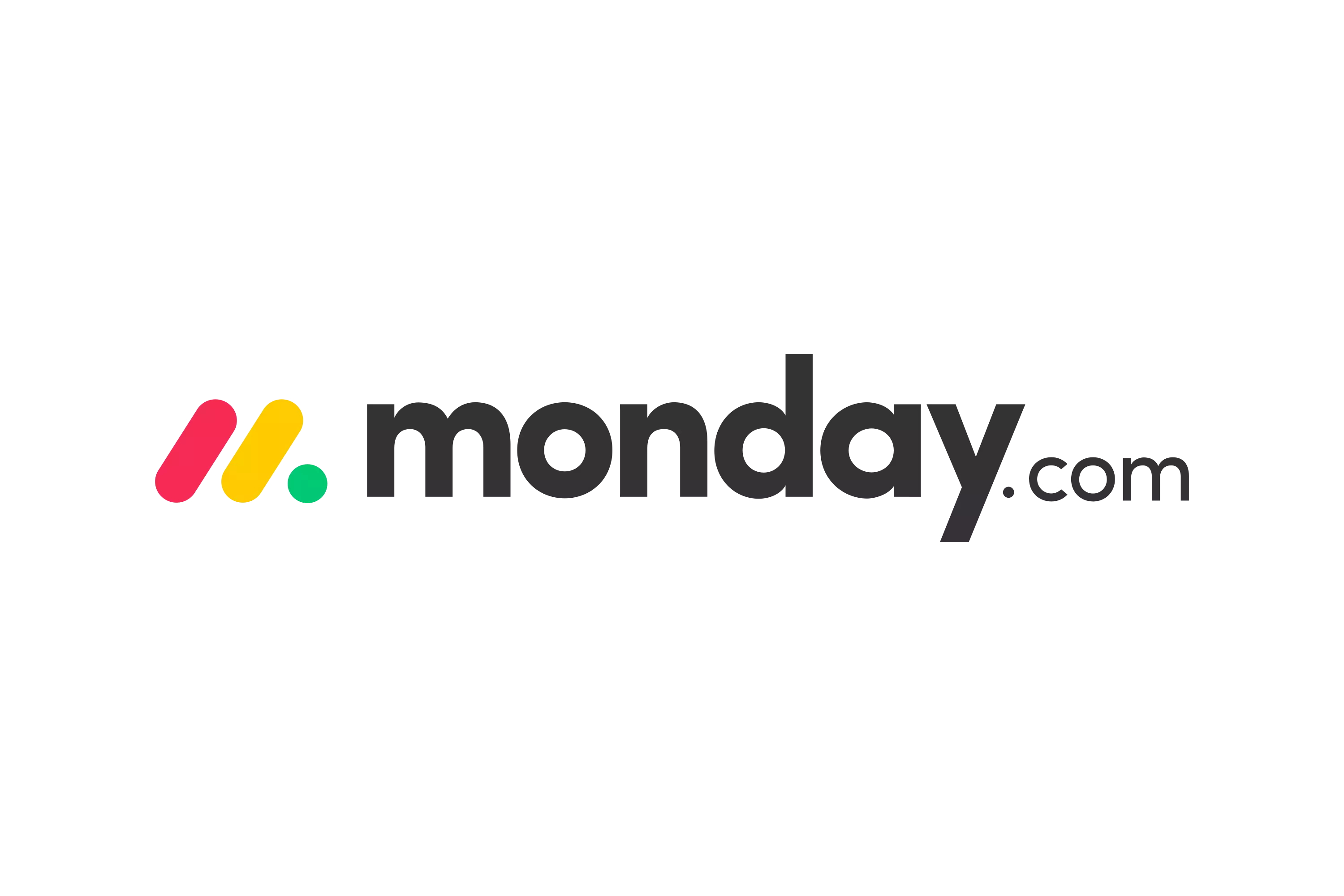 Why Go with monday.com?
Make tasks satisfying to finish! monday.com is quickly disrupting the old guard with a sleek interface, hundreds of integrations, and dozens of workviews for visually imagining and tracking your projects. More than just project management.
Start Managing Your Team Better
We earn a commission at no cost to you which helps keep this blog running!
However, it offers more. Specifically monday.com is offers many different project views and management workflows, including a Gantt chart functionality. In short, it's a full-spectrum workflow management software.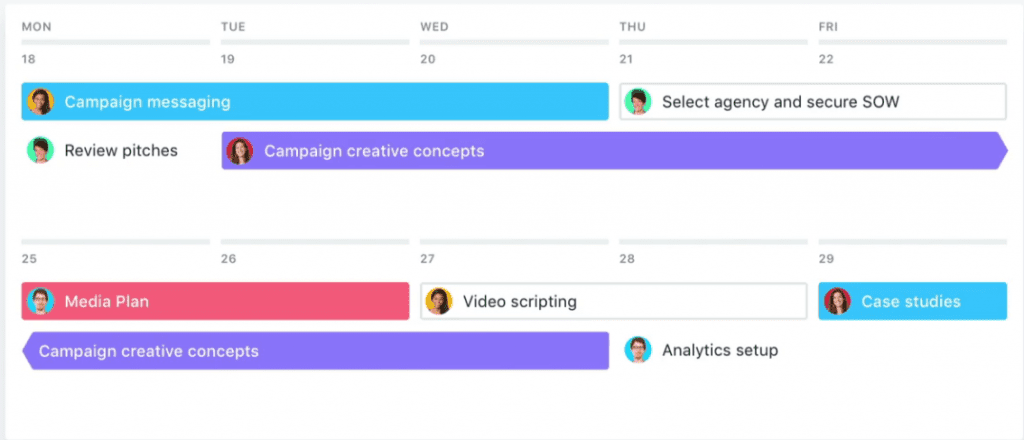 If you need a basic PM tool that will offer a seamless and stress-free experience in terms of ease of use and aesthetic charm, monday.com could be your best choice. It could also be your choice if you need to use the closest thing to a Gantt Chart as possible, which Timeline does a good job at.
Monday.com does offer a 14-day free trial if you are on the fence.
You can read my full monday.com review for more details.
View monday.com Pricing Structure & Promos
Other MS Project Alternative Options Compared to monday.com:
ClickUp has a streamlined, user-friendly design that helps you get right to project and team management. Plus, if you're phasing Basecamp out but aren't yet ready to sever all ties, you can integrate ClickUp with Basecamp. It's newer for sure, but a great alternative to Microsoft Project already!


Project Management Models
Setup the best project management model for you and your team, including agile and waterfall models. You can adapt and customize the model to meet your needs, too, and to cater to your team's favored approach.
Multiple Views
ClickUp has three different ways to view and organize your tasks: board, box and list. There are also different ways to set the project status of your tasks. With Simple Statuses, you just mark the project task as either done or not done. With Custom Statuses, you move the task to one of the custom status group you setup.

More Features
ClickUp's features are called ClickApps, and they include:
Activity stream
Assigning and resolving comments
Customized and multiple assignees
Image editing
Rich editing
Recurring tasks
Time tracking
Two-way sync with Google Calendar
See a full list of ClickUp's features and integrations here. There's also a Chrome extension that you can install here.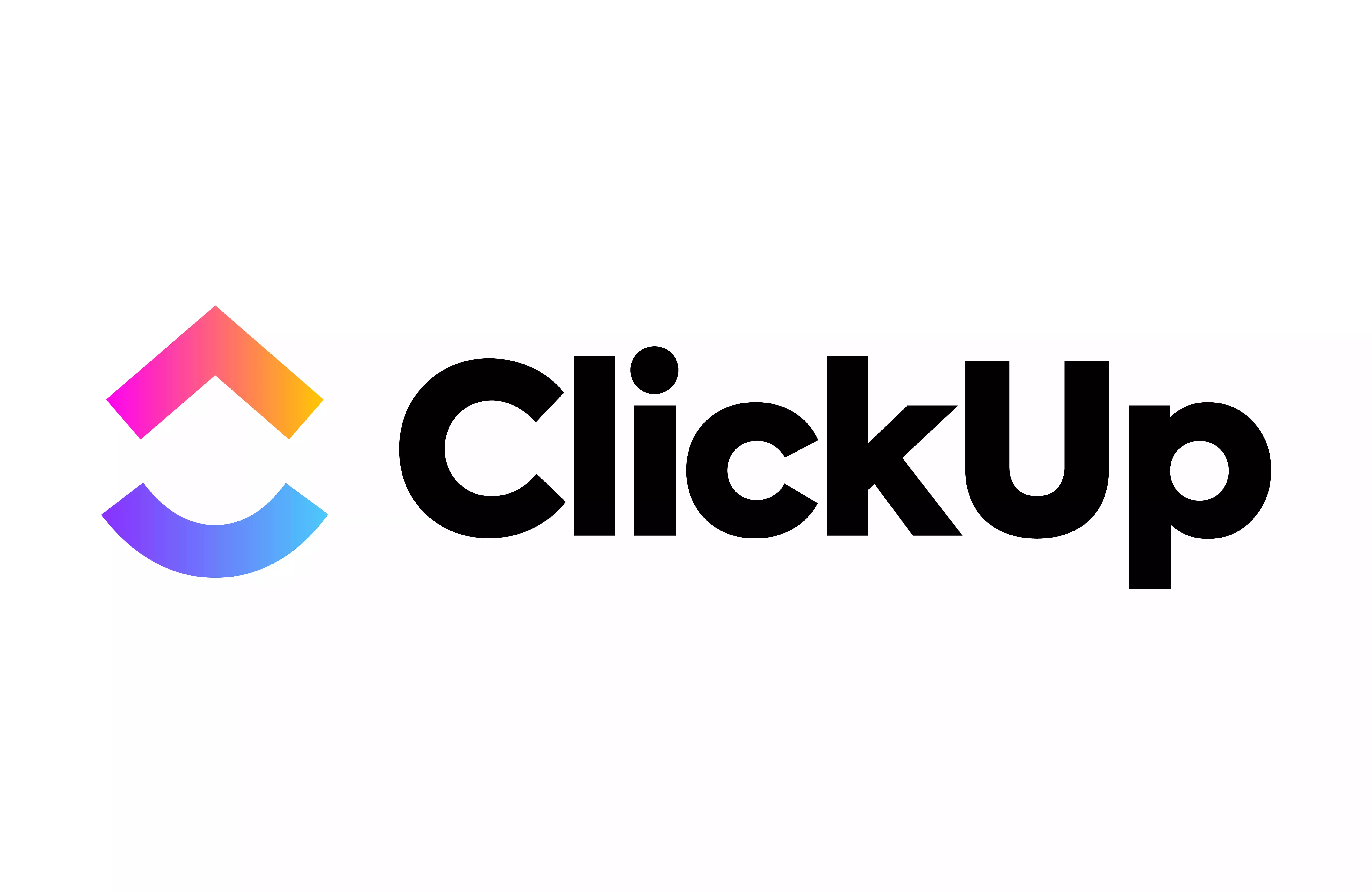 Why Go With ClickUp?
I've been so impressed with how quickly ClickUp has caught up with and even EXCEEDED competitors. They have ALL the integrations, plenty of pre-built templates for any use case, AND additional customization for any workflow.
Check it out Here
We earn a commission if you click this link and make a purchase at no additional cost to you.
Further Reading on Other Microsoft Project Alternatives Compared to ClickUp:
#4 Teamwork Projects

Teamwork.com offers three software solutions to help manage your business: Teamwork Projects, Teamwork Desk, and Teamwork Chat.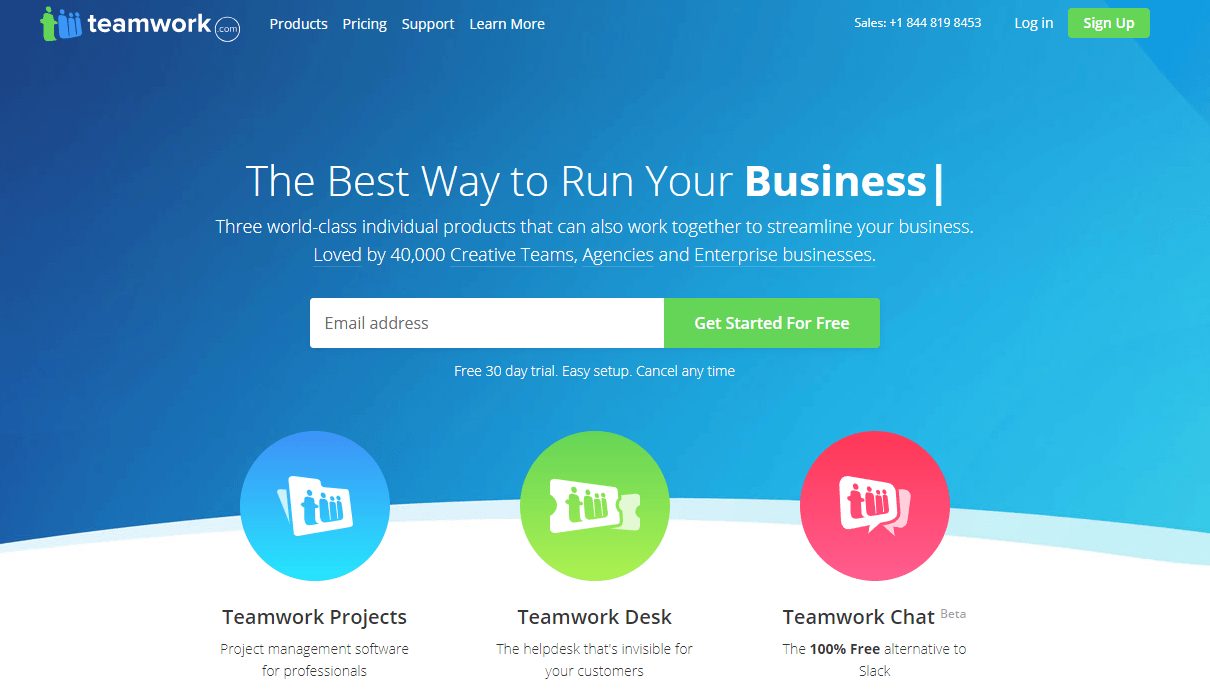 Teamwork.com promotes its project management software, Teamwork Project, as the practical, easy-to-use project management solution:
Remember at the beginning of this article when I remarked on how lackluster Microsoft's presentation of MS Project was to me as a potential buyer?
Teamwork does a much better job with their virtual introduction: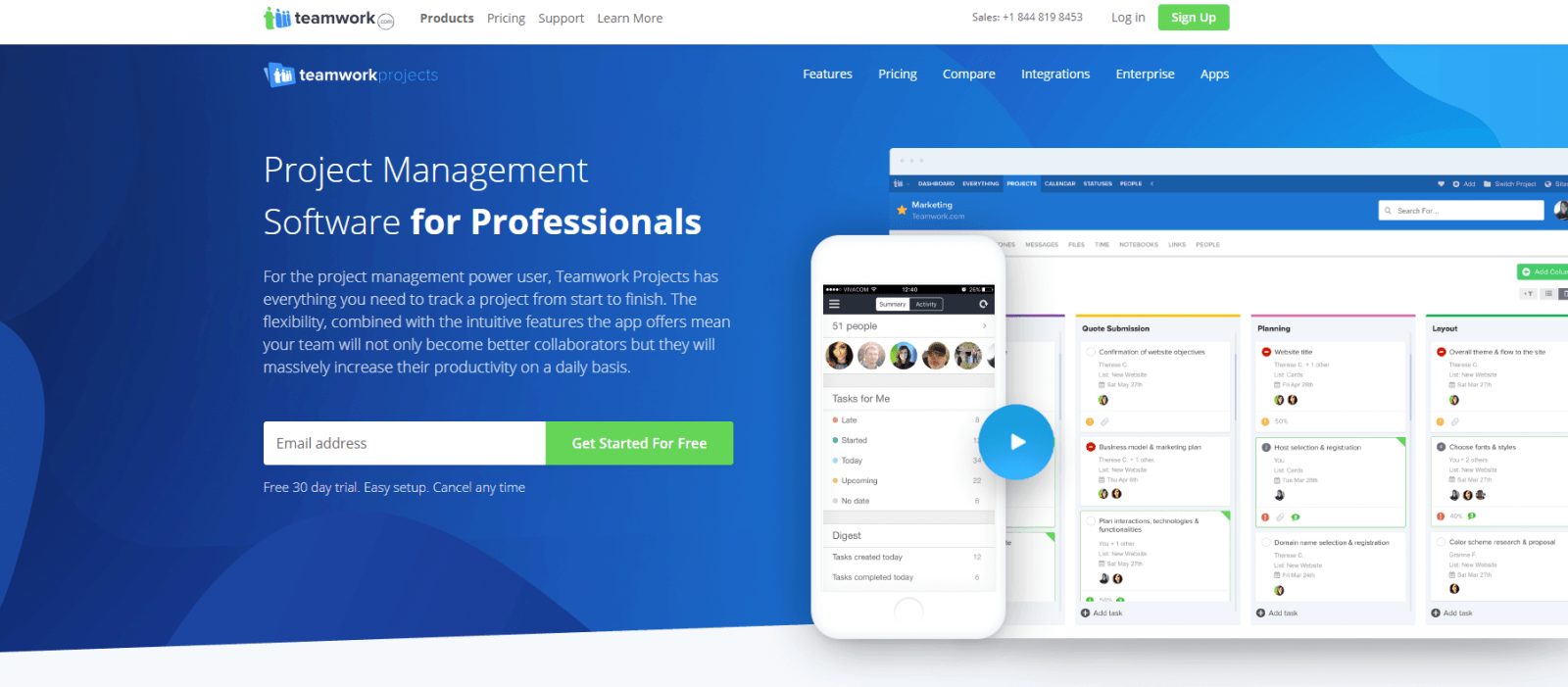 Teamwork Projects will keep your projects, tasks, and files in one place to allow for easy collaboration for your team (similar to MS project file storage, but more accessible).
Its dashboard looks like this: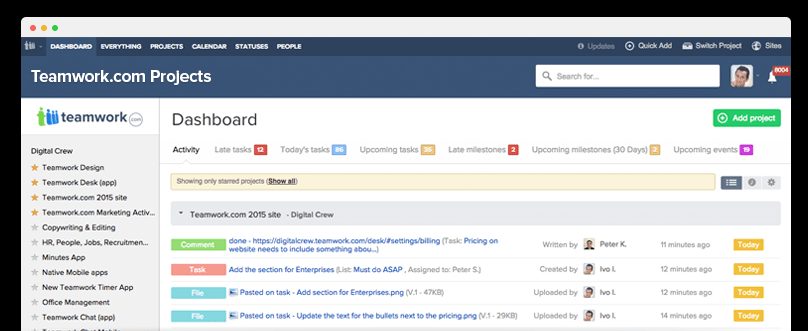 Features of Teamwork Projects
There are a ton of features listed on the Teamwork Projects website.
Here is a brief review of the first two main features followed by a summary of the remaining 12 features to save some time. To learn more about a specific feature, click here.
The project feature includes many tools that help organize, manage, and keep your initiatives moving in the right direction.
These features include: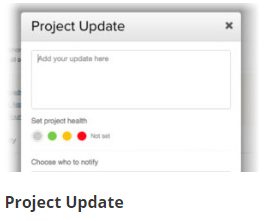 Most of these items are self-explanatory and, in my experience, are typical attributes of project management software in general.
As an owner, I liked the Project Role feature because it helps you as a project manager more effectively manage your team and the unique skills they each bring to your project.
What the Tech Troop Thinks
Regarding the Project feature, the Tech Troop likes the ability to customize the projects by role and finds the customizable reports useful. Reviewers say it easy to add users, assign permissions, and assign tasks and the dashboard organizes multiple projects well.
Feature 2: Task Management
The Task Management feature will help you scale and adjust your workload to optimize the efficiency of your team daily. Multi-tasking-control freaks rejoice! This one's for you.
These features include:





What the Tech Troop Thinks
One reviewer had this positive comment about the usability of the Task Management feature:
"The feature I like best is email communication tracking. When you add a comment to a task and send it to the assigned resources, all email responses are automatically captured on the same task. This helps prevent key decisions or conversations from being lost in offline email threads."
—Verified Reviewer, Capterra
The Remaining 10 Features of Teamwork Project
While I would love to dive into every feature of Teamwork Project, I also don't want you, dear reader, to get bored or cross-eyed from reading the small text for 12 more pages. To see the fancy accompanying images or to learn more about each one, click here. For cliff notes folks like me, read on.
Here are the remaining ten features of Teamwork Project:
Feature 3: Milestones

With each task you log into Teamwork Project, you can attach checklists, assign team members, and add descriptions with the project managment tool so everyone understands the "who-what-when-where-and-why" regarding what they're doing.
The Milestone Feature also includes a calendar that, you guessed it, lists the milestones, and the administrator can customize each milestone by tagging groups or individuals to get everyone on the same accountability train.
Feature 4: Messages

You can streamline your communication efforts using Teamwork Project's messaging system to keep everyone up-to-date on each project individually, or collectively as a whole. It works like any other email service, allowing group messaging, archiving, privacy settings, and attachments.
Feature 5: Files

Using Teamwork Projects, you can store, update, and group your files via the cloud for your team to easily access from anywhere.
Feature 6: Time Tracking

Teamwork's Time Tracking feature can help you track billable hours, log time spent on a project, or monitor how your team is using their time. It also allows you to estimate the time a project will take to complete, export time records, and it plays nicely with third-party apps.
Feature 7: Billing
Teamwork Project's billing feature doesn't accept and deposit your payments, BUT it does set you up for success through its invoicing capabilities and can easily integrate with third-party apps like QuickBooks and FreshBooks that will handle the actual payments.


The billing feature makes it easy to create invoices using the data submitted by your team for each project. Your team's billable time logs and hourly rates are combined with the expenses accrued during the project to give your clients an accurate, professional invoice backed by data. These invoices and this data can be exported to PDF, HTML, and Excel so you can manipulate and present the data in a variety of ways.
Feature 8: Notebooks

The Notebooks feature is like the big white dry-erase board a manager uses in meetings when presenting to a team; however, this version never is wiped away and extends the conversation indefinitely.
The Tech Trop loved the Notebook feature because you can share ideas and then revisit them later anytime with a few clicks. The team can write and share content on Notebooks, update and observe changes within versions, and there is an option to download or print the notes.
As a manager, you determine who has access to each notebook, you can tag people to get their attention, and you are in control of the comment section.
Feature 9: People, Contact, Companies
Think for a minute just how many different places hold your contact information: your phone, address book, for all you Baby Boomers and Elder Millennials perhaps it's a Rolodex.
The "People, Contact, Companies" feature is that only super cool, because it helps managers see all the working parts of their business in real time backed by user data, and team members can find access to questions in an instant.

Teamwork Project's People, Contact, & Companies feature stores all the information that relates to your business in one place. You have the option of adding unlimited users, companies, and contacts into this feature.
Project Managers create customized profiles and permission settings for each user and see at a glance what they are working on each day.
Project teams and lists are easily edited and exported.
Users share what they are working on through user status updates while managers can observe user projects, tasks, milestones, login history, user's API codes, and view daily project reports.

As a manager that is tired of using multiple apps to manage my business, I like this feature. Give me all my data and access to people in one place, and I'm happy. The only thing that is missing is the last feature: the calendar.
Feature 10: Calendar
The last feature (but certainly not least since we all use it to plan our hopefully bright and successful futures) is the almighty calendar.
Teamwork Project's calendar offer s a full view of upcoming milestones, events, and tasks. As with most online calendars, you can choose your view to see individual tasks, milestones, or event details, and it's fully customizable.

From an administrative standpoint, this calendar will help make your life easier by notifying attendees of upcoming events, tasks, and milestones based on your predetermined settings. You may invite individuals, groups, or your entire team with a few easy selections and you can also set permissions allowing others to project schedule as well. There is also a privacy option, so if you don't want everyone coming to your party, you can select the lucky few and only they will have it appear on their scheduling tool interface.
But wait! There's More! (Features, that is)
Honestly? I'm curious of the price of this project management software seeing the never-ending list of features. As a writer, I feel it's my duty to research and relay the facts to my audience so let's soldier on, shall we?
Feature 318 (or 11): Apps and Add-ons

Yes! There is an app for this. Teamwork offers both an iOS App and an Android App for smart devices, and there is a timer desktop app for all those still clinging to their Macs and PCs. There is also a Teamwork Projects Chrome extension you can use tons of other integrations that you probably already use.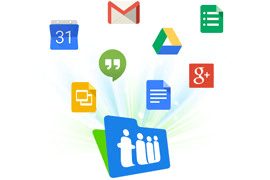 I'm excited about the Google App option that could make it an easier experience for me as the proud owner of hundreds of passwords for various online accounts. Using Google Apps for Business, you only need to log in once to access both Google Apps and Teamwork.com which will help me stay sane and productive.
Only Last List of Features (I promise):
Using Teamwork Projects, you can:
Keep Everything Private (or not) and Tag Everything: you control what people see
View all the comments on everything at once using the "Everything Tab"
Create custom domains and logos for your business
Customize touch and favicon to match your branding
Create a custom color for your brand
Share links, manage risks, complete API, and create keyboard shortcuts.
*Drops the mic*
That's the best I can do with listing the features of this alternative to Microsoft Project. For more information on a particular feature, or to see if they added anything else in the past five minutes (which is a total possibility), click here.
Teamwork Project's Security and Reliability
I would be remiss not to address the security and reliability assurances provided by Teamwork regarding this software since as owners we know, the most critical aspect of project management software is that it works, and it keeps project data safe.
According to Teamwork, their system has a 99.9% uptime (hey, nobody's perfect) and they offer customer support all day, every day of the week. All data is kept secure with a 2,048-byte length certification supplying a 256-bit AES encryption and all they retain all data on their system for at least five years.
Now, onto pricing as a Project alternative.
Let's view this the quick and easy way, thanks to Teamwork Projects' website: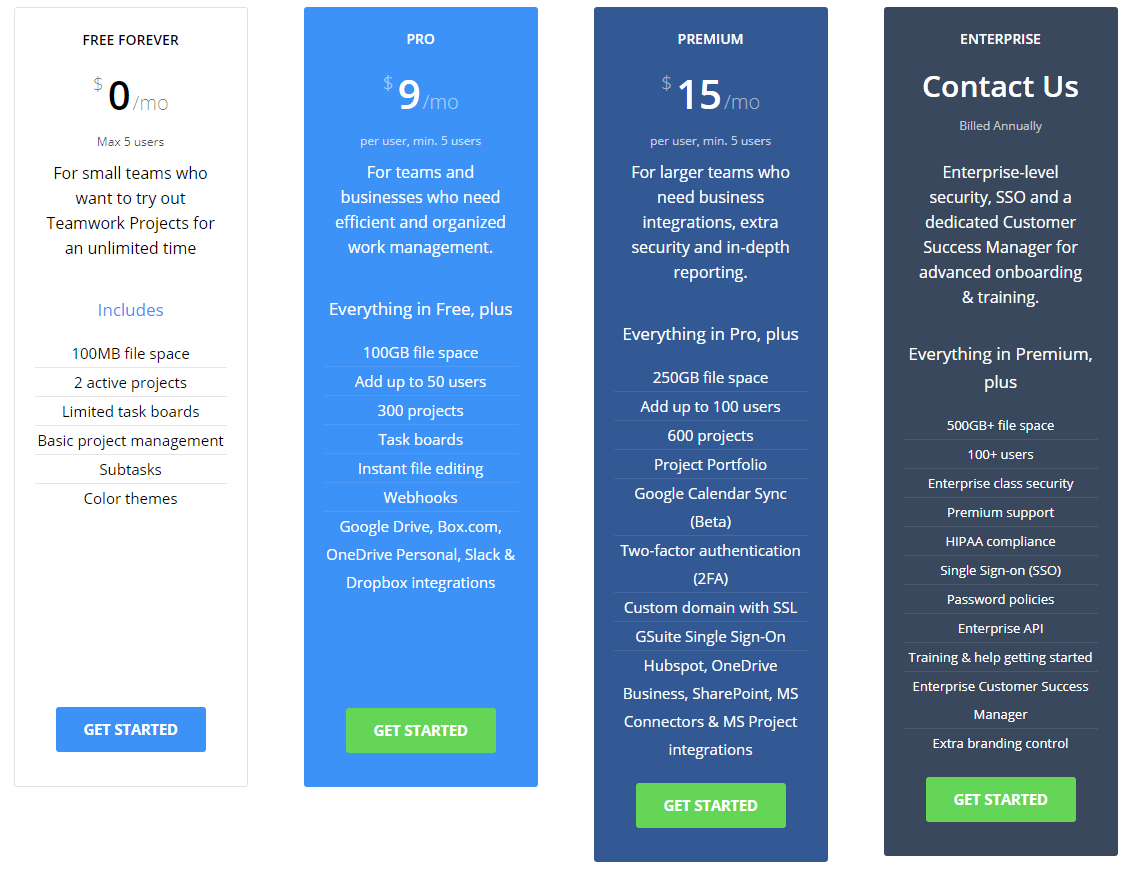 All these plans come with unlimited free collaborators, the same security and reliability assurances, and offer a 30-day free trial. Teamwork also offers a money-back-guarantee saying that if you don't love the software, you will receive a refund.
There is no contract so that you can cancel anytime and there is a free plan available (although, it does have its limitations.) They do offer discounts for not-for-profit organizations and for schools which is noble and lovely, and there is an option to pay either monthly or per year.
Microsoft Project vs Teamwork Projects: What the Tech Troop Thinks
There is no true "winner" here since they both perform similar functions albeit differently and some with more pizazz with various features.
For larger and enterprise-sized businesses, the Tech Troop says Microsoft Project is the ideal project management software for your organization with a few caveats:
Your company already uses or plans to use Microsoft products. This is to ensure your products work well together, so you reap the full benefit of this software.
You should have at least a few dedicated IT professionals who know how to work this software before purchasing it. Otherwise, there is a steep learning curve for them and an even larger one for everyone else they need to train.
You plan on using it to manage multiple groups and projects over a long period.
The Tech Troop agrees that Teamwork Projects is a solid alternative to Microsoft Project, especially for smaller and mid-sized businesses that need the organizational benefits from implementing this kind of software, but not the in-depth analysis and micro-management features larger enterprises require.
Reviewers loved how easy to use Teamwork Projects is compared to the more complex alternatives, and they gave it high ratings for the all-encompassing nature of the software that captures all the data and provides the tools they need to work strategically no matter where they are conducting business. They liked how the software is easy to use and understand, and how the data helped everyone do their job better, from Project Manager on down.
Now that we have an alternative for those looking for the less-intensive, small to mid-sized businesses, let's now look at a Microsoft Project alternative for larger businesses called Liquid Planner.
Further Reading on Other MS Project Alternatives vs Teamwork:
#5 Liquid Planner: Another Alternative to Microsoft Project

LiquidPlanner wants to help your team work strategically and smarter. That is my initial first impression; in their words, they offer:
"Dynamic project management software designed to help teams thrive in competitive industries."
They believe their software that is based on predictive schedules and real-time visibility empower teams to work on the right project, at the right time.
According to my Tech Troop, LiquidPlanner is more involved and perhaps a bit more complicated than Teamwork Projects, but easier to use and more engaging than Microsoft Project.
Let's run through the LiquidPlanner's features and pricing and see what we think about it.
This time, dear reader, you can expect only six features. I'll try to keep them short and sweet.
Feature 1: Smart Schedules
LiquidPlanner is aptly named to reflect the one constant in business and life: change.
The business that can respond quickly and effectively to this change are the ones that succeed, and that is what LiquidPlanner is basing their product, and their marketing pitch to me and you, on this notion.
Well played, LiquidPlanner. You've got my interest, tell me more about this smart schedule of yours.
So, here's how it works:
There is not much explaining needed here; you enter a project, make assignments, estimate time, and determine a deliverable. This kind of simple inputting is ideal for a writer like me.
Feature 2: Resource Management Tool
Using LiquidPlanner's Resource Management feature, you can view your team's workload and know at a glance, who needs hours and who needs help.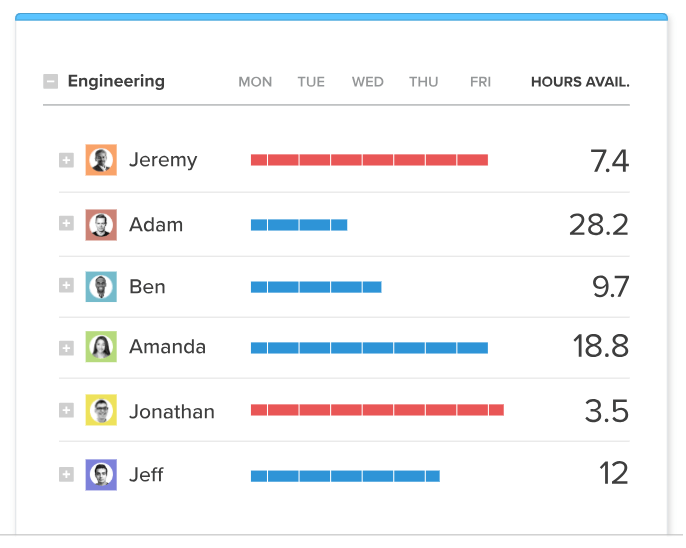 For project planning purposes, you can quantify workload over a specific timeframe: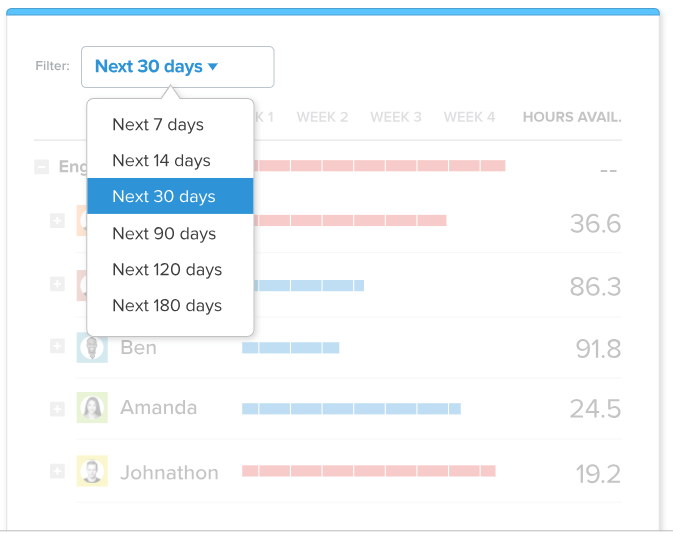 In real-time, you can see who needs help and balance the workload across your team to make sure deadlines are met: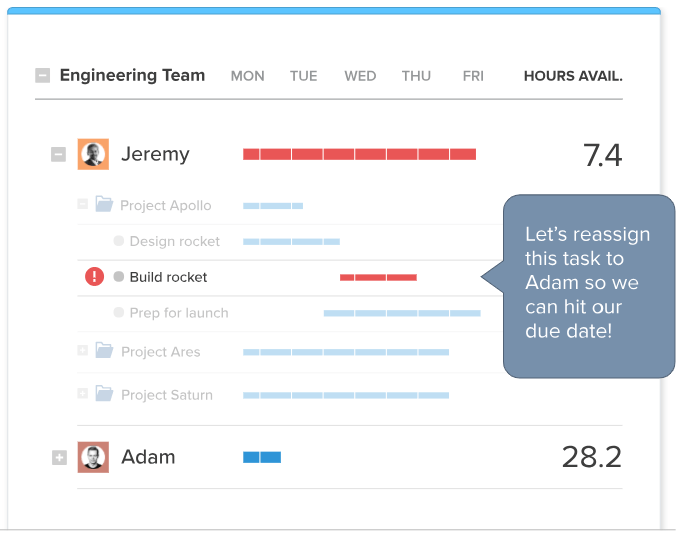 I like how LiquidPlanner presents this information via an easy-to-read-and-understand graphic. I don't want small type or too much information blaring from my computer screen, give me the data that helps me run my business more efficiently. This kind of graphic does just that.
Feature 3: Cross-Project Visibility
How many times have you wanted to see the bigger picture of your business? This feature will give you just that to gain insight into the project progress, risks, and budgets for all your projects at once.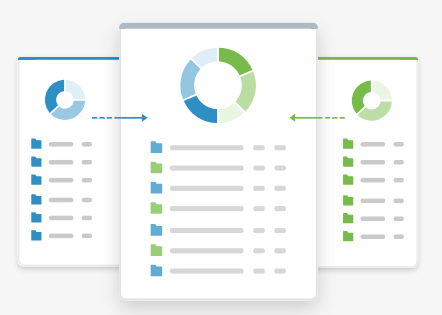 Using LiquidPlanner, you can combine all your projects into one report to get that quick snapshot of your business for planning purposes or to show potential investors.
LiquidPlanner can also provide:
Dynamic trend reports
Roll-up totals of task data to gain insight on performance
Filters to help you quickly find the information you need without digging through data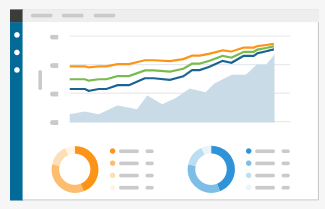 There are also customized dashboards you can create to share with stakeholders and clients to update them on the status of a project, or to convince them to buy what you're selling.
Cross-project visibility also features a card view to help you manage the workflow of your business.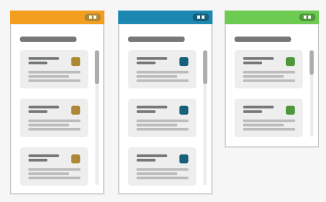 Instead of guessing where a project stands or chasing down your employees for an update, this Kanban-style flow of "Pending" to "Approved" to "In-Progress" customizable cards will give you the real-time information you need to run your business efficiently and effectively.
Feature 4: Contextual Collaboration

The Contextual Collaboration allows for teams to talk based on project, task, or in general no matter where they work. This feature allows team members to upload files and link live documents (project document) from Google Drive, Dropbox, or Box and will offer alert based on your personal preferences. You have the option of getting someone's attention with @mention comments, and you can keep things in context using #tags.
Feature 5: Integrated Time Tracking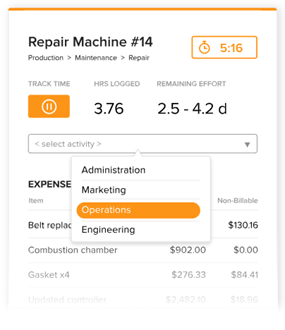 Integrated timers and timesheets help keep everyone on your team accountable for their work, and it helps justify costs to your clients.
Using this LiquidPlanner feature, you can:

I liked this feature because of the data it provides. This information can help when negotiating contracts of similar size and scope, so you don't end up losing money in the end due to poor projections.
Feature 6: Advanced Analytics
The last feature is for all you data nerds (myself included) that love to find new ways to improve workflow patterns. This feature will help you see your business in a whole new light and give you the information required to make necessary changes that in turn will make you more money.
It looks like this: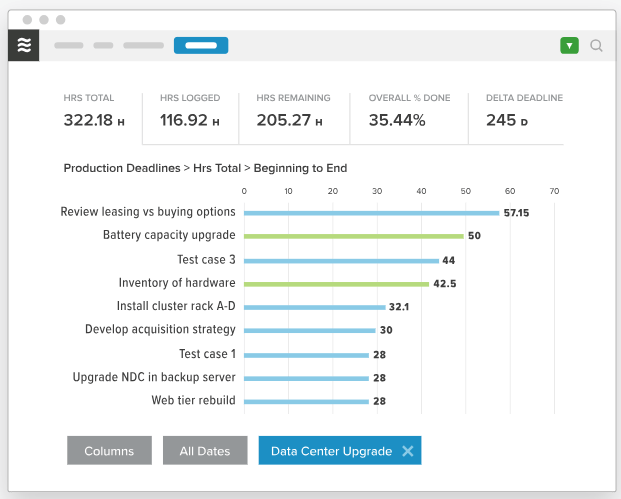 Advanced Analytics will help you:
Project performance
View Costs and profits by project or collectively
Evaluate how your business utilizes resources
Track client data
Forecast baseline trends
The Tech Troop loves how data is presented by LiquidPlanner in a simple, easy-to-read way and appreciated how easy it is to customize their reporting.
Additional Features
In addition to the six major features of LiquidPlanner, there are 12 others worth mentioning before we talk about pricing:




For more information on these features, visit their website.
LiquidPlanner Pricing Options
LiquidPlanner offers a 14-day free trial that does not require a credit card. There are two pricing options, LiquidPlanner Professional paid plan for $45 a month per user, and LiquidPlanner Enterprise plan for $69 a month per user. Professional is for departments and small to mid-sized businesses that handle multiple projects. The Enterprise option is for larger organizations that need to multi-task in a significant way.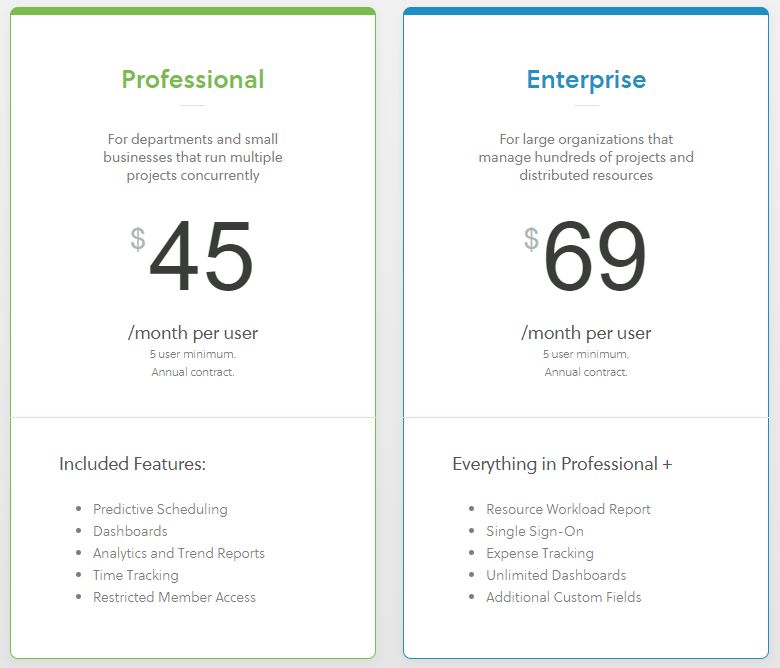 Both Professional and Enterprise include:
Comments within Tasks
Time Tracking
iOS and Android Apps
Analytics
Phone and Email Support
API Access
Google Drive, Dropbox, and Box Integrations
Unlimited Internal Dashboards
Here are the other differences you need to know when deciding between the two options:
| | | |
| --- | --- | --- |
| Feature | Professional | Enterprise |
| | | |
| Document Storage | 100 GB | 500 GB |
| Virtual Members | 25 | 50 |
| Active Tasks | 2,000 | Unlimited |
| Clients | 100 | Unlimited |
| Custom Fields | 20 | 50 |
| External Dashboards | 10 | Unlimited |
| Onboarding Package | Silver | Gold |
| Resource Workload Report | Not included | Included |
| Expenses | Not included | Included |
| Single Sign-On | Not Included | Included |
Microsoft Project vs LiquidPlanner: What the Tech Troop Thinks
The Tech Troop thinks that LiquidPlanner is an excellent option for mid to large-sized businesses that don't want the hassle of working with Microsoft Project but need something more than what Teamwork Projects or something similar can provide.
Reviewers say LiquidPlanner offers all the tools you need to manage multiple projects at once remotely, and most say it's easy to use. There were some that claim there is a learning curve, but not a steep learning curve.
When compared to Microsoft Project, reviewers said they preferred the simplicity of LiquidPlanner, and some mentioned Teamwork Projects as a good alternative as well for the same reason.
The project management tool looks like this: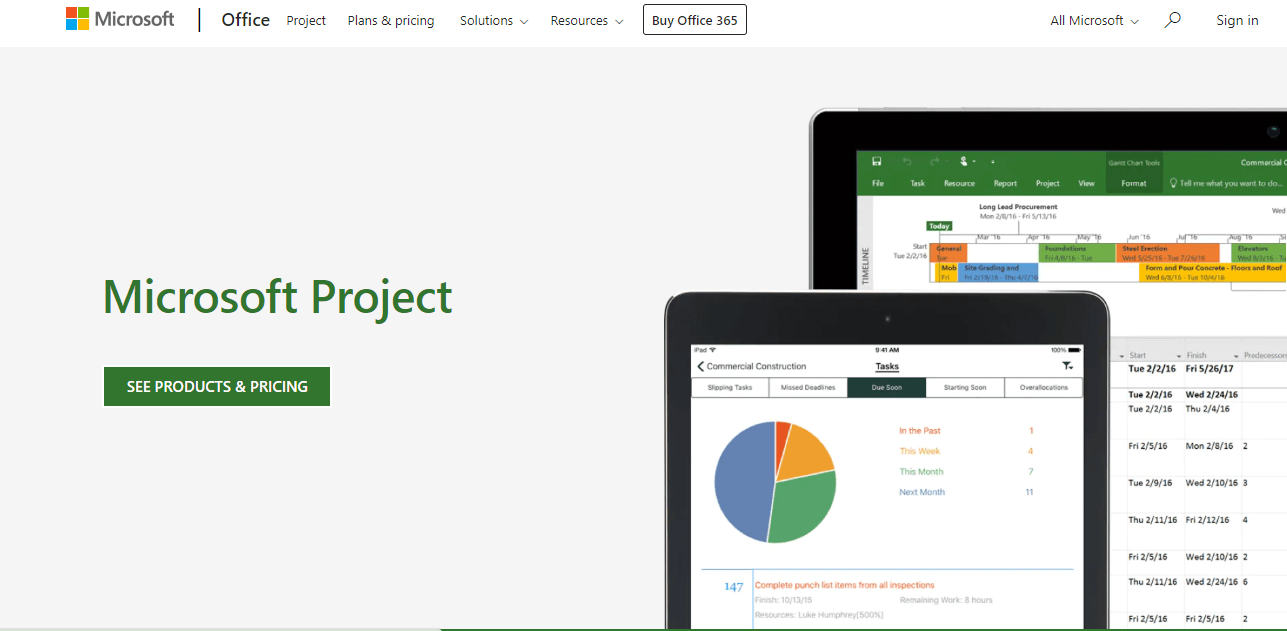 Ah, Microsoft. The familiar colors, the MS Excel-looking green header above with the reliable bland boxes underneath. Unless you're still using a Brother Word Processor from 1987 this should look familiar to you. At the same kind, it's not exactly a Kanban board or open source.
I'm willing to bet the marketing executives banked on these feelings of nostalgia and familiarity to sell you Microsoft Project making you feel it was the only choice. After all, why try something new?
Well, as Cher yelled in the movie Moonstruck in 1987, "Snap out of it!"
There ARE Alternatives to Microsoft Project
There are plenty of project management software alternatives to Microsoft Project!
There is no "one-size-fits-all" solution and thanks to a legion of smart individuals who know how to develop such things, you have options. And these Microsoft Project alternative tools might work better for you and may even cost you less money as a great alternative. (Pause for applause)
I am a writer that loves all things technology, and I have a group of friends called my Tech Troop that do as well. I will explain what Microsoft Project is and provide two user-endorsed alternatives to check out.
I am approaching this review as someone who has used project management software solutions before as a project team member and now as an owner, would like to purchase a project management solution to manage my team of writers.
For Microsoft Project and each alternative, I will list reasons verified users love it, the most-heard complaint according to my Tech Troop, and then the pricing options with a link.
My goal is for you to find a software solution that works for your business, and who knows? You might decide Microsoft is best for you after all and come back to your happy place of green headings and bland squares (e.g. you don't really need a Microsoft Project alternative afterall). To each, their own.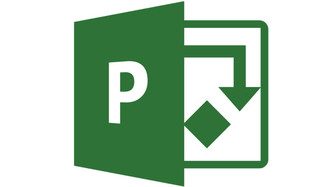 I'm a marketer at heart and love a great first introduction by a brand. When I land on a homepage for the first time, I don't need to be blown away by imagery or sounds, but I do want the site to pique my interest enough to want to learn more.
I'm disappointed when I see Microsoft's Project homepage: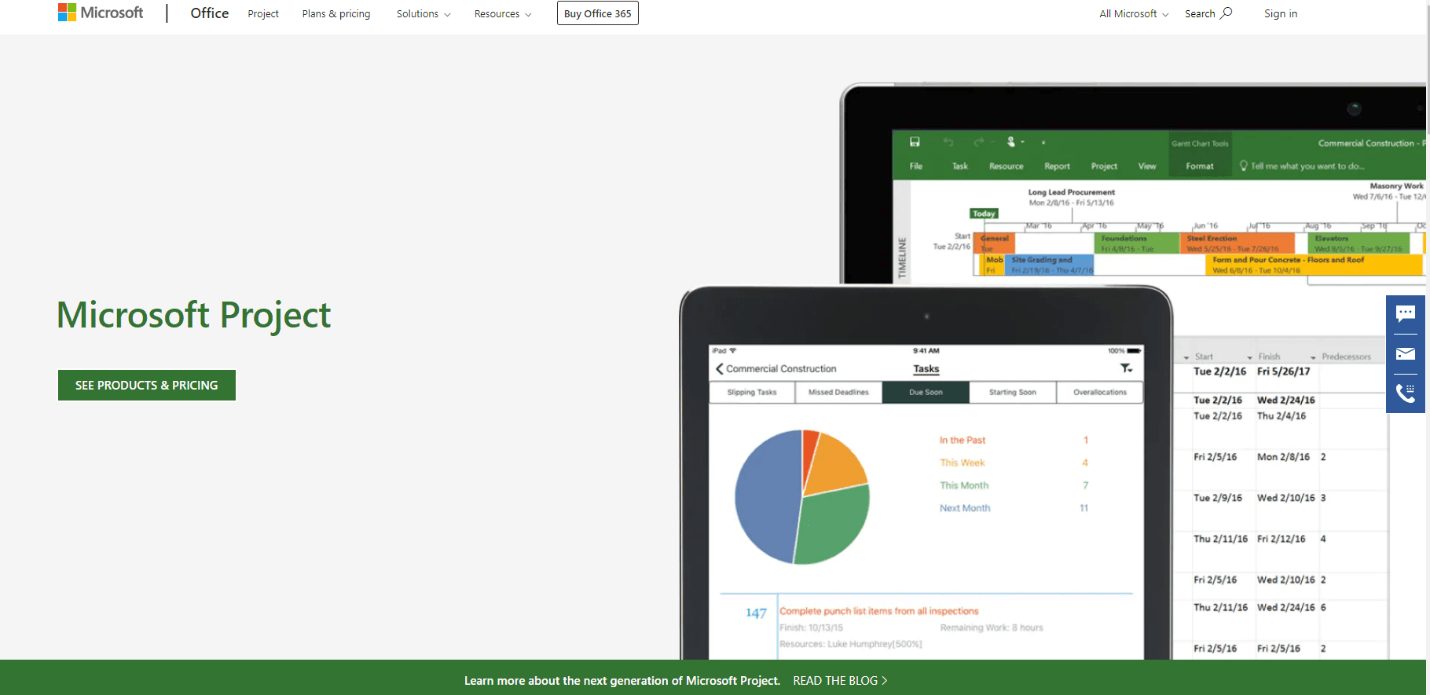 My initial reaction? Meh.
I know it's not a glamorous product to sell, but you can tell Microsoft isn't putting too much effort into convincing me to buy. This tells me they are relying on their brand to sell this software, which is fine, but disappointing.
Moving on, let's see what it's all about. I'm shaking off my initial reaction because sometimes, the best surprises come in plain packages and I want to give the software a fair look before diving into alternatives.
So, what is Microsoft Project?
Microsoft claims its project management software will streamline project, resource, and portfolio management to ensure you stay on top of all your projects.
Microsoft Project Management includes:
Built-in, customizable templates: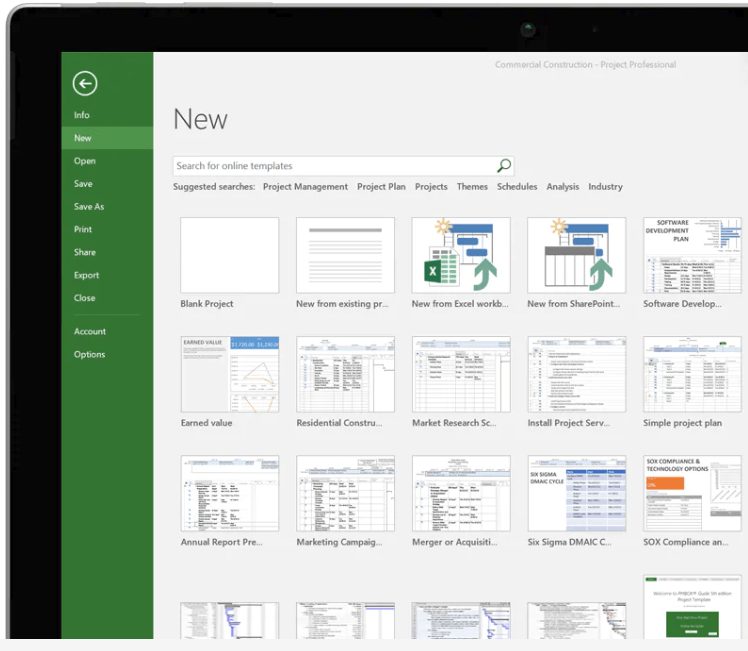 Project planning using project scheduling features like Gantt chart views and pre-populated pulldown menus: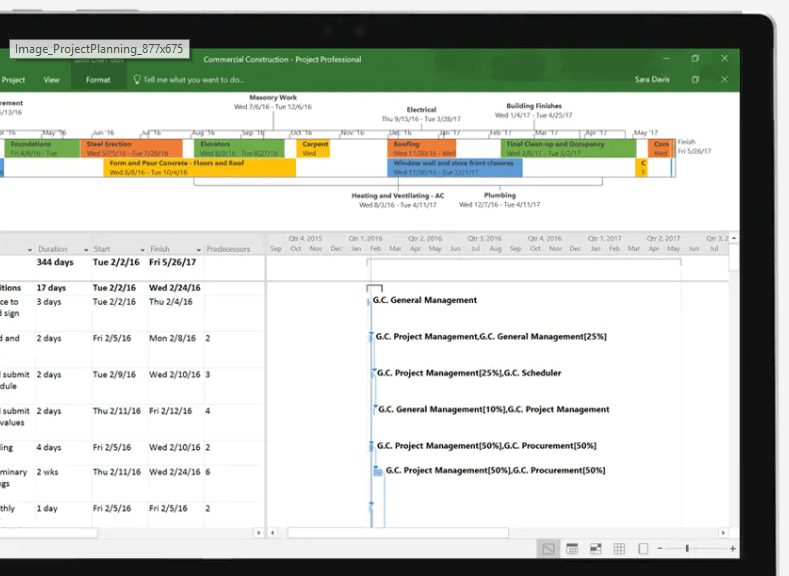 Out-of-the-box reports that you can share to keep everyone updated on a project: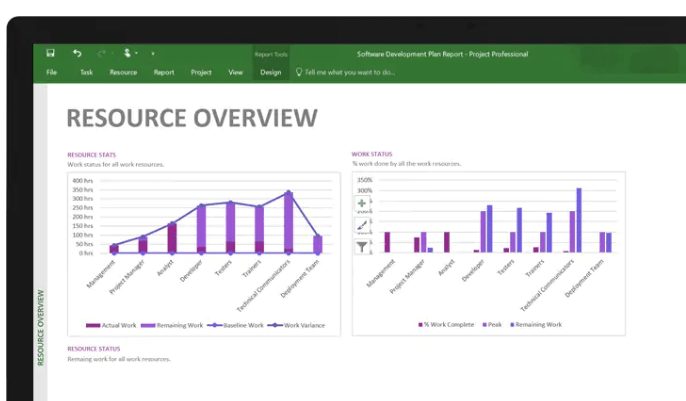 Multiple timelines that you can customize and share with your team and project stakeholders: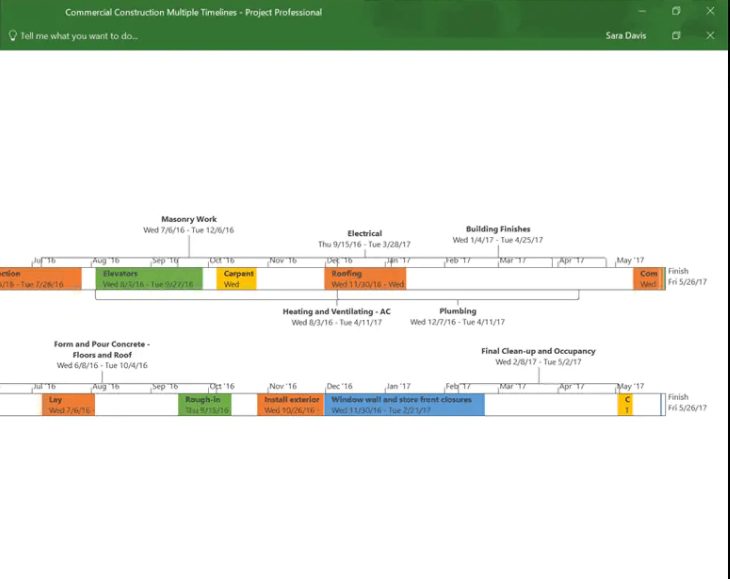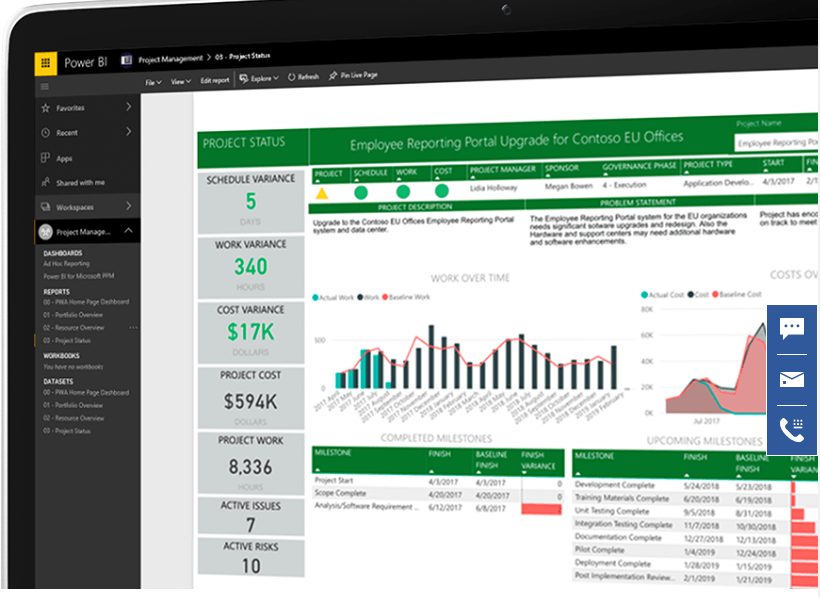 What the Tech Troop Says
Overall: Microsoft Project is a great project management solution if you already use the Microsoft Suite in-house and have someone familiar with the software that can hit the ground running once installed.
Pro: For high-level projects that are complex, MS Project is a powerful project management tool that can help manage projects that have many different moving parts. Maybe for this reason you don't really need an MS Project alternative.
Pro: You can enter a lot of detail and customize it according to the project. Project dates, notes, and projected baselines versus reality all help make managing projects easier.
Pro: Data is presented in a variety of ways using calendars, charts, and an interactive Gnatt chart view. The Gnatt chart is included in many project software management solutions and Microsoft's version; the data can be manipulated within the chart and reflected in the cell field data. That means sliding a bar in the Gnatt chart to indicate a larger percentage of a project completed will automatically increase the value in the corresponding cell.
Con: Certified users have claimed it takes some time to learn how to use the app, and if you don't already know how to use it, there is a learning curve. Many reviewers claim it takes a long time to learn how the software works, and even longer to realize its fullest potential when mastering it for your business. Also, many complained Microsoft does not offer tutorials to help you get started with the app specifically, leaving you to search online to answer questions.
Microsoft Project Management Solutions Pricing Plans
You can purchase Microsoft Project two ways: by adding it to your existing Office 365 subscription or by buying a standalone version to implement in-house.
These options sound simple enough, right?
Wrong.
Here is where it can get tricky so before I begin explaining the pricing options, ask yourself these two questions:
Do I want Microsoft Project available via the cloud-based app? (meaning anyone on your team can access it using the Internet)
Is a hosted version of Microsoft version better for my team? (meaning it is not available via the cloud and can only be accessed in your place of business)
Your answers to these two questions will decide which project plan is best for you.
Microsoft Project via the Cloud
There are three pricing levels for purchasing the cloud-based version of Microsoft Project: Project Online Professional, Premium, and Essentials.
(Please note: you must already have a Professional or Premium membership for the Essentials option.)
Project Online Professional

Premium

Essentials

Cost:

$30/user/month

$55/user/month

$7/user/month*

Included:

Microsoft Project

Microsoft Project

Microsoft Portfolio

Advanced Analytics

Resource Management Features

Can only access Microsoft Project.

Number of users per license:

5 computers

5 computers

Access:

Cloud, web browser

Cloud, web browser

Cloud, mobile, browser

Team members can update task status, share documents and communicate on projects.

Project desktop application for 5 users

Microsoft Project

Project Online Professional

Premium

Essentials

Gantt charts

Customization templates and burndown charts

Projects saved to the cloud for collaboration purposes

Resource management and task assignment

Data and demand management through standardized process

Advanced analytics using strategic goals

Resource allocation tools

Out-of-the-box portfolio reports
I hope this chart gives you a better understanding of how Microsoft offers the cloud-based version of Microsoft Project. For more information on these plans, visit the pricing section of their website.
The Standalone Microsoft Project Purchase
If buying a license via the cloud seems confusing or unnecessary, you may want to consider purchasing a standalone version to use in-house.
On-Premise Solutions include the Project Standard, Project Professional, and Project Server.

Again, to save time so we can dive into the alternatives, this chart gives you a quick overview of what is included in each on-site package.
| | | | |
| --- | --- | --- | --- |
| Microsoft Project | Project Standard | Project Professional | Project Server |
| Cost: | $560 | $940 | Scalable |
| | | | |
| One license covers 1 PC user | | | |
| Manage tasks, reports, and business intelligence | | | |
| Collaborate with Skype for Business (sold separately) presence | | | |
| Manage resources | | | |
| Sync with Project Online & Project Server | | | |
| Submit timesheets, analyze time spent for payroll & invoicing | | | |
| Data and demand management through standardized process | | | |
| Advanced analytics using strategic goals | | | |
A few thoughts on the standalone version:
The Project Standard option is a one-time charge of $589 and only includes one user license on one computer. So, if you're looking for multiple users and resource management tools (not included), this cheaper option might not be the best one.
As with most software packages, purchasing the "next level up," or Project Professional will get you everything included in Project Standard plus resources management capabilities and the ability to sync with Project Online and Project Server. This option would be best for larger businesses and might be worth the extra money.
Enterprise businesses should contact Microsoft directly for a standalone quote which you can do by clicking here.
Now that we are all fully up to speed with the latest features and pricing options of Microsoft Project, we can now find similar alternatives to it.
My Tech Troop has chosen two alternatives to Microsoft Project, and they are (drumroll, please):


What do you think of these MS Project alternative choices?
All three project management software solutions have their merits, but what matters is what your business needs. For me, I plan on using LiquidPlanner to start by project management software journey and hopefully as my business explodes, I'll move up the ranks to Teamwork Projects and who knows, maybe someday Microsoft Project!
My biggest takeaway from this review is the scalability and sustainability of these solutions, and how uniquely tailored it can be based on what you do for a living. I hope this helped you find your custom solution, and I wish you a well-planned and managed future.
Read Further on MS Project Alternative Tools for Easy Project Management: