Last Updated on April 22, 2023 by Ewen Finser
Task management is a necessity, often a tedious one. You have to monitor what everyone's doing; constantly compare your team's progress to your goals; and ensure that your team members know what one another is doing.
The more successful your business is – the more clients and projects you have to juggle – the harder this gets, which is why team and project management tools have become a saving grace.
It's not hard to find an app or tool that will help you monitor your projects, task management, and team, but it is difficult to know which one is the best for your unique purposes.
If you've used Basecamp in the past, or you know a bit about it but don't think it meets all your needs, consider these Basecamp alternatives.
Editor's Choice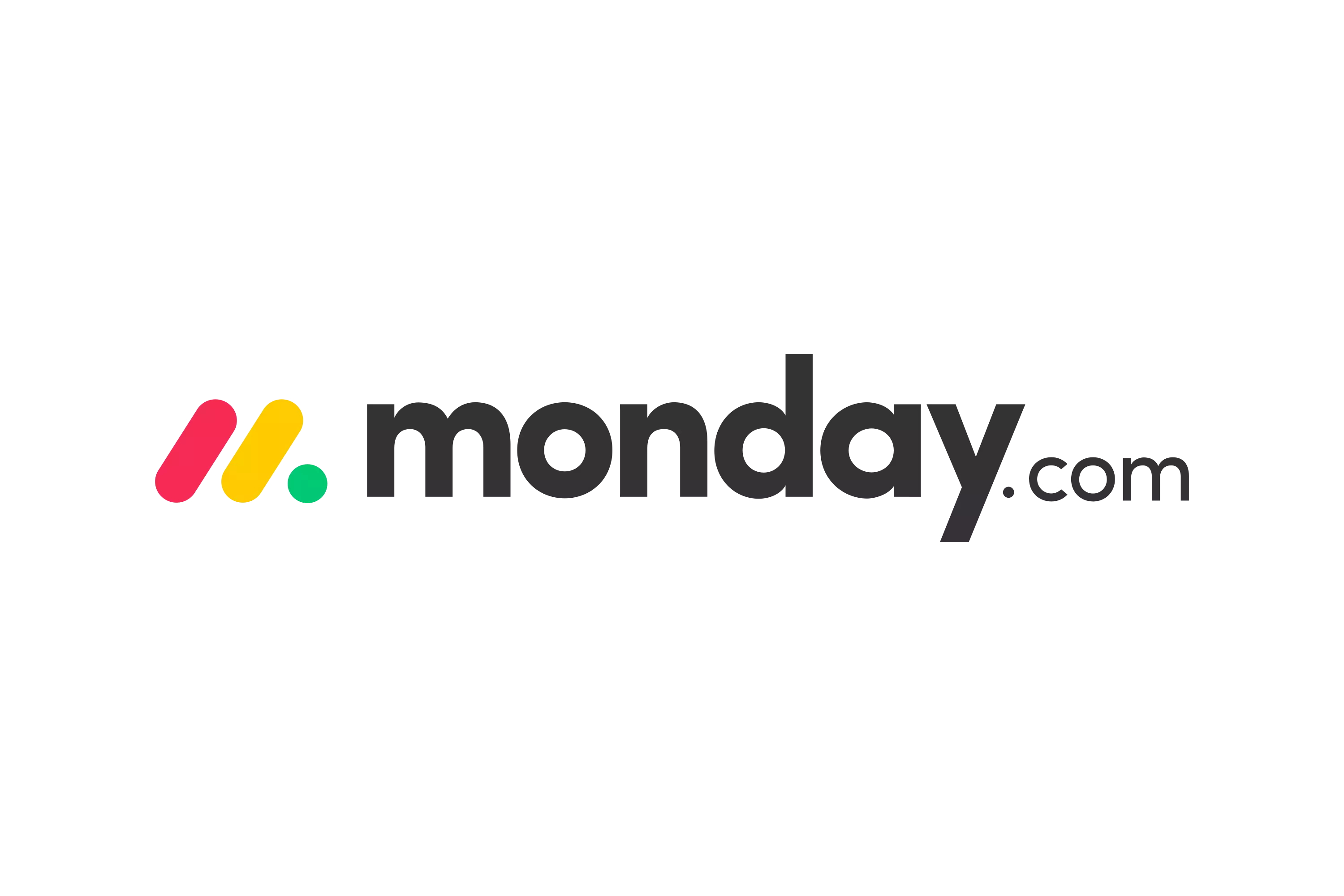 Why Go with monday.com?
Make tasks satisfying to finish! monday.com is quickly disrupting the old guard with a sleek interface, hundreds of integrations, and dozens of workviews for visually imagining and tracking your projects. More than just project management.
Start Managing Your Team Better
We earn a commission at no cost to you which helps keep this blog running!
Basecamp's Major Drawbacks
The main complaint users have about Basecamp is that it isn't evolving quickly enough.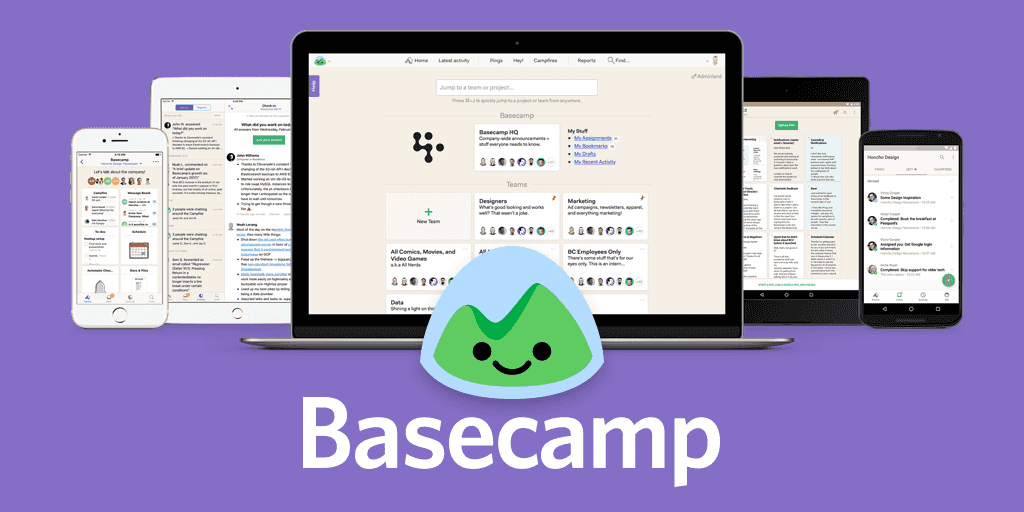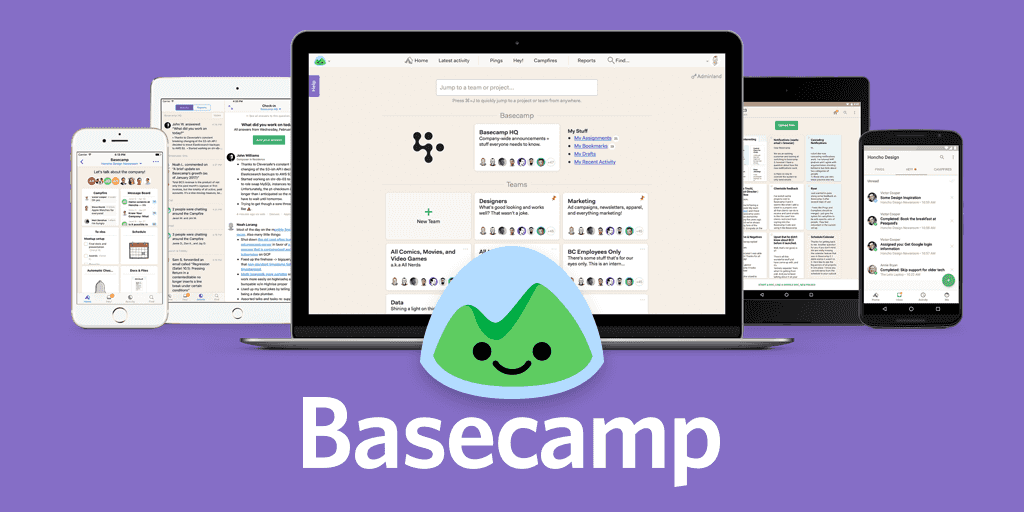 It was created in 1999, and while it's made improvements and can support integrations that help you do a lot of the things you want to do, it feels sluggish and a bit outdated, especially when compared to the market's newcomers and more tech-savvy alternatives. It's simply not agile or feature-rich enough for everyone. Hence the need for a good Basecamp alternative.
Here are 14 project management alternatives to Basecamp.

Wrike is especially useful for large teams as a leading Basecamp competitor, including those that are spread out around the country or the globe. The elegant, easy-to-understand interface includes a dashboard that you can customize to your liking.

Wrike Rocks for Project Management
Wrike is just BETTER. More integrations (no "walled gardens"), less bulky, and better uptime and reliability overall. Best of all, Wrike let's you pick and pay for only the features you ACTUALLY NEED.
Start Wrike for Free
We earn a commission if you click this link and make a purchase at no additional cost to you.
Real-Time Collaboration
One of Wrike's best features is the real-time document editing, similar to Google Drive documents and spreadsheets, which make it easier for teams to collaborate. Your team can also continue to collaborate and manage tasks on-the-go thanks to the powerful mobile app.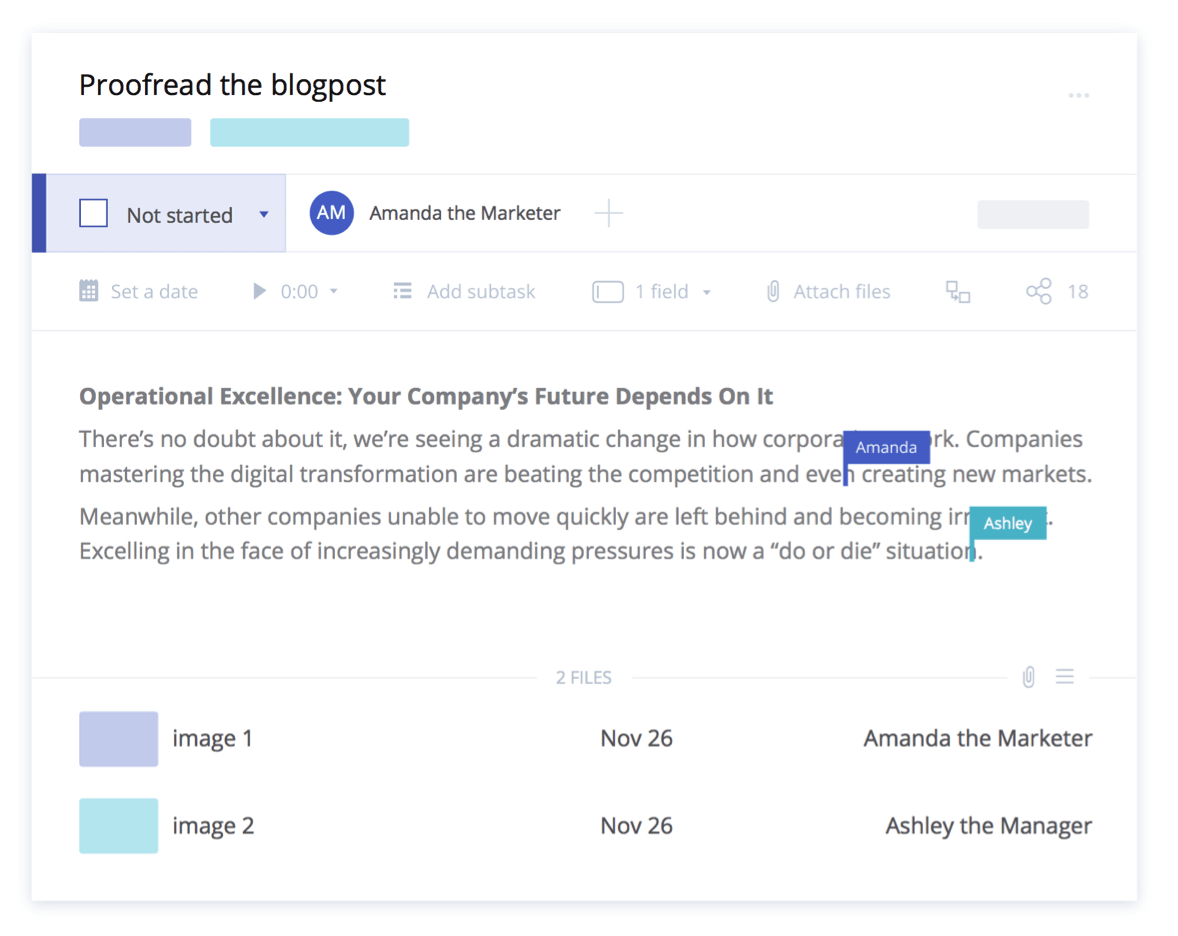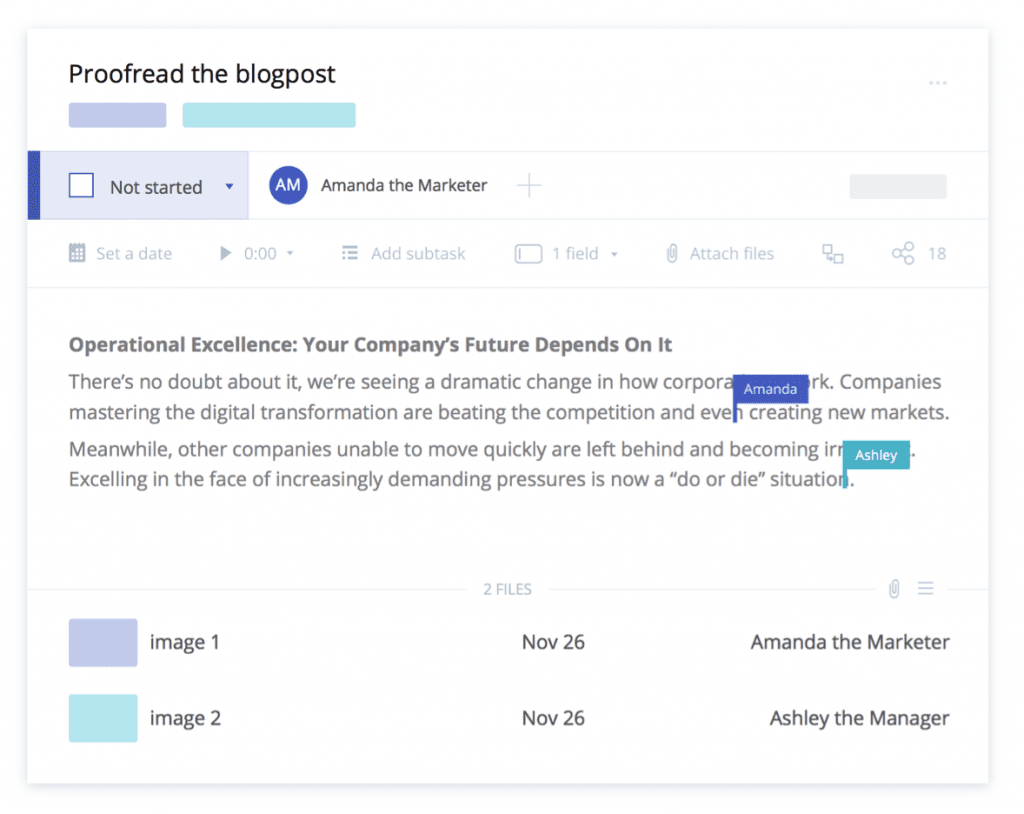 Google Apps Integration
If you already use Google Apps, you'll have an easy time combining them with Wrike. You can attach Google Drive documents within the Wrike system and you can integrate to-dos into your Google Calendar.

Wrike Rocks for Project Management
Wrike is just BETTER. More integrations (no "walled gardens"), less bulky, and better uptime and reliability overall. Best of all, Wrike let's you pick and pay for only the features you ACTUALLY NEED.
Start Wrike for Free
We earn a commission if you click this link and make a purchase at no additional cost to you.
More Management Software Key Features
One of the ways that Wrike stands out from Basecamp is that you can include single task dependencies in multiple projects.
Additionally, the rich knowledge base with case studies and learning resources, and you'll want to turn here as you get more used to Wrike and are ready to try out the advanced features.
Customized reports
Detailed time tracking
Integrations including Box, Dropbox and Google Drive, plus several mobile apps
Project hierarchy
Recurring tasks
Various charts, including baseline, Gantt and performance charts
View several projects and sub-projects on one screen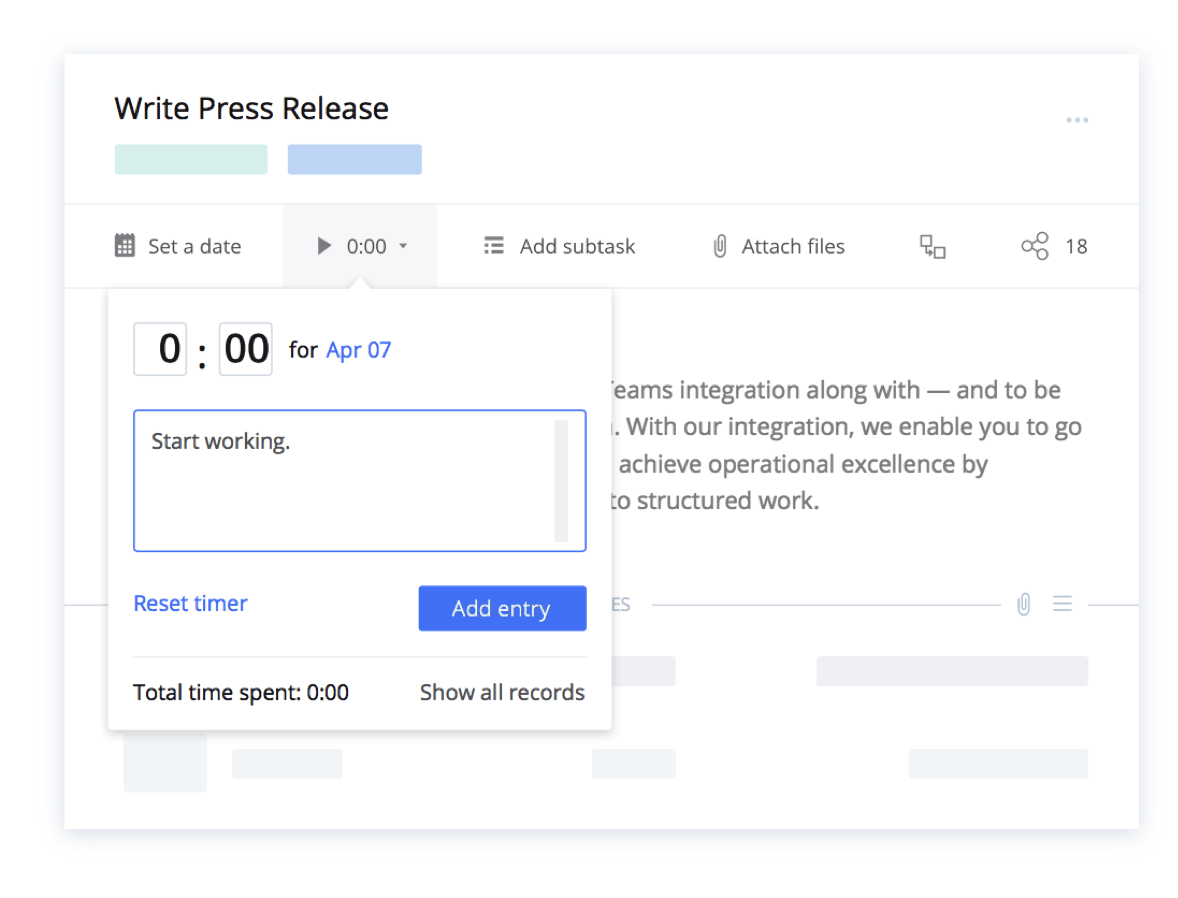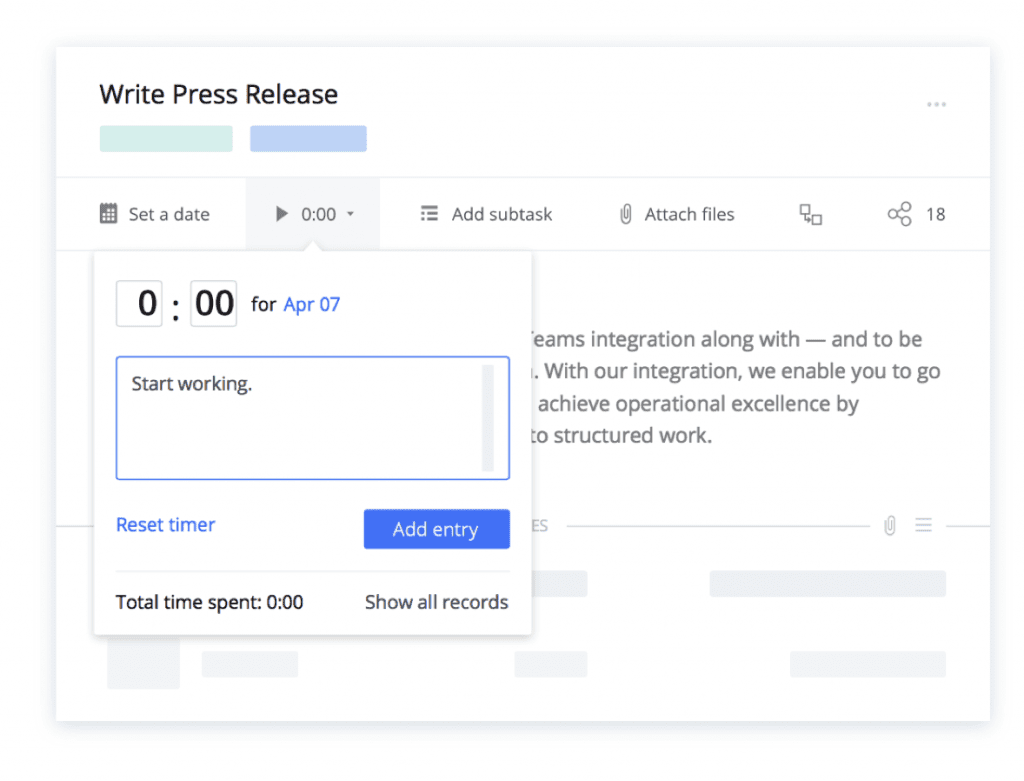 Pricing
Wrike has five plans available as a Basecamp alternative, starting with the free plan for up to five users. One of their plans is expressly for marketing and creative teams. Find out more about their plans here.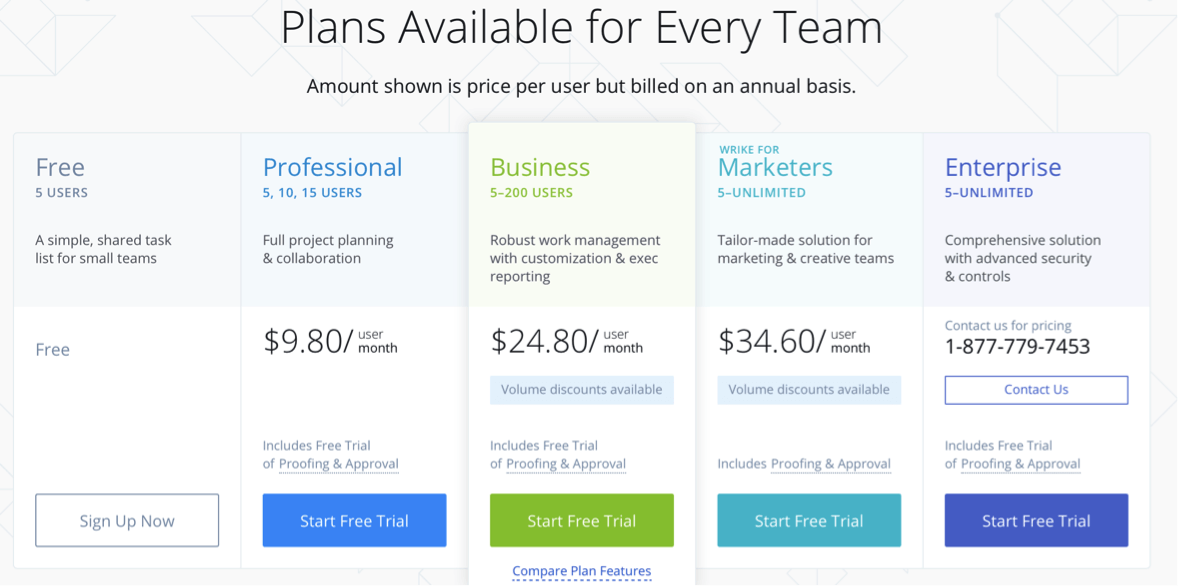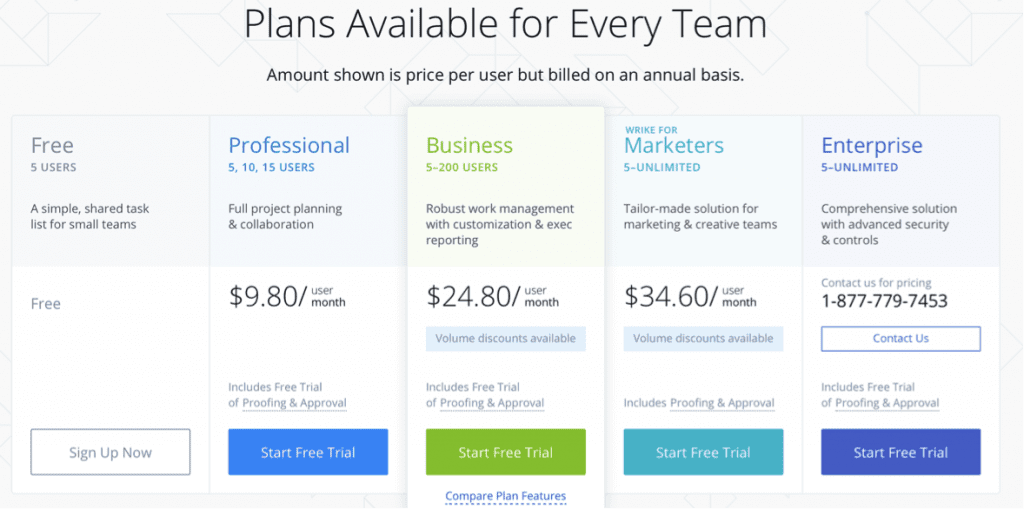 Take a Free Trial of Wrike Here
Further Reading: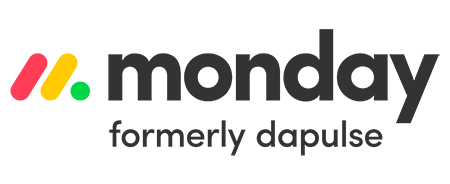 monday.com is a great tool if you need rich team collaboration features and prefer a spreadsheet-type layout for organizing projects.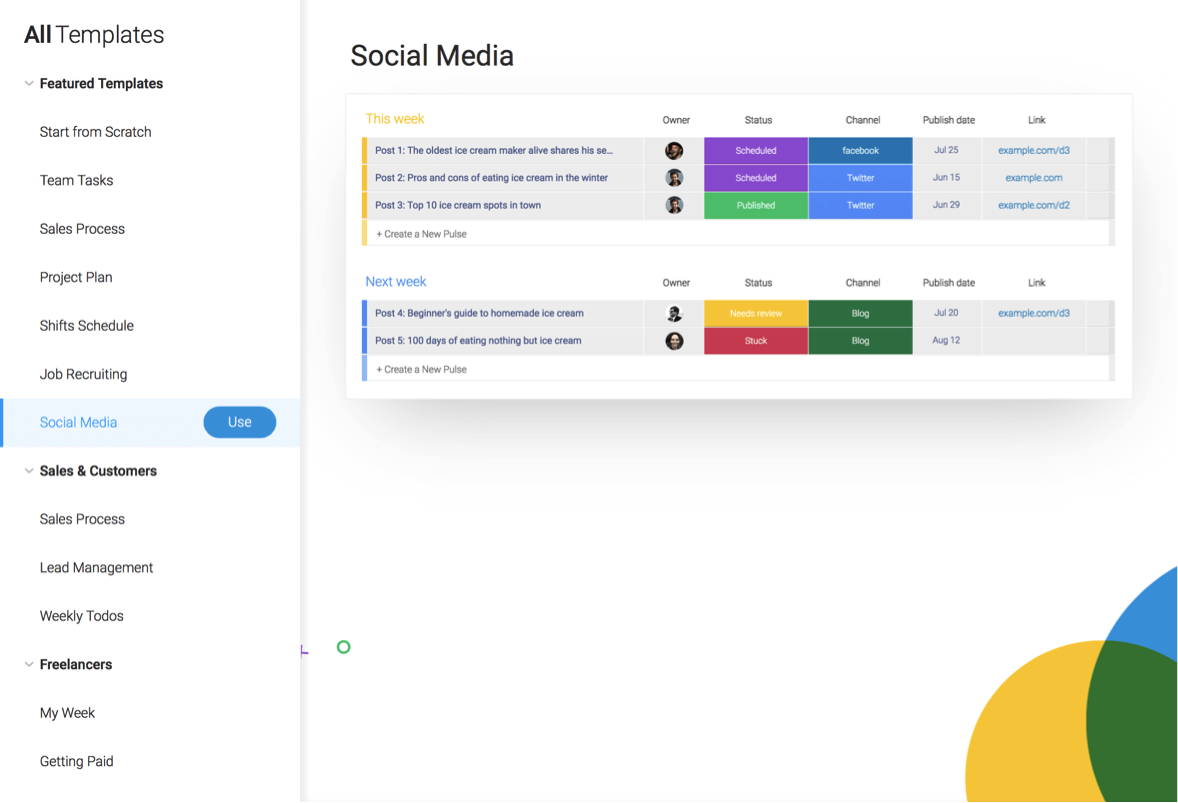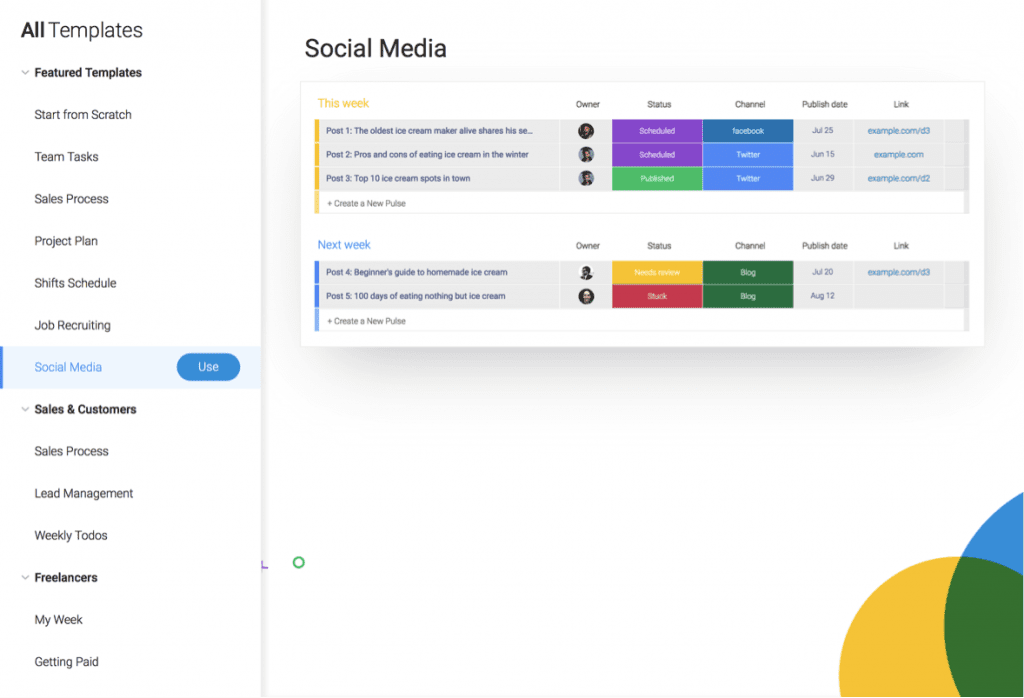 Highly Customizable Workflows
There are a ton of options for customizing your workflows (maybe too many, at least when starting out), and tons of templates to choose from as well. While this can be overwhelming at the beginning, it's ideal for managers and teams who feel that they can't get what they need from other project management tools and would prefer to design their workflow from the ground up.
Editor's Choice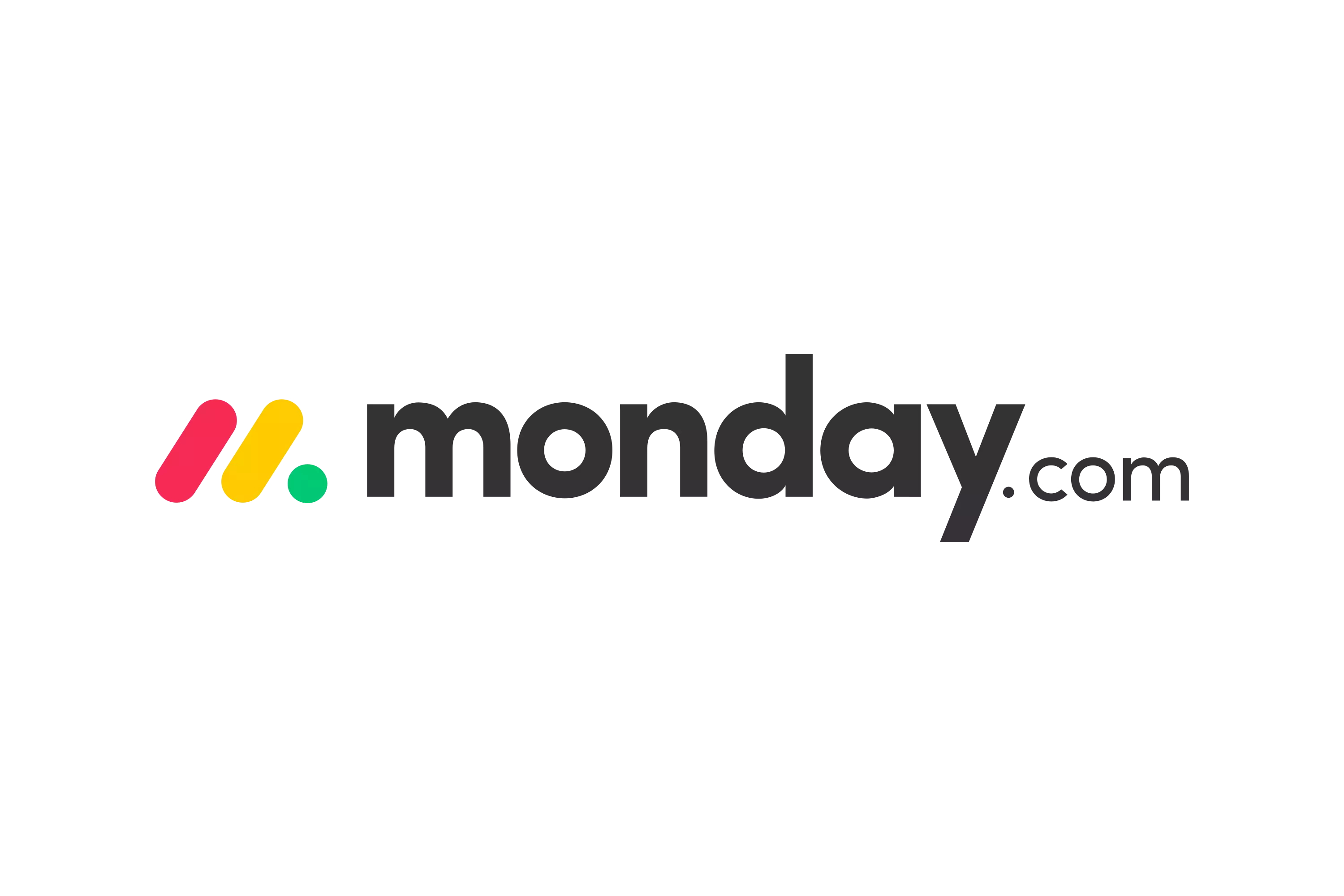 Why Go with monday.com?
Make tasks satisfying to finish! monday.com is quickly disrupting the old guard with a sleek interface, hundreds of integrations, and dozens of workviews for visually imagining and tracking your projects. More than just project management.
Start Managing Your Team Better
We earn a commission at no cost to you which helps keep this blog running!
Integrations
Several of the plans include API access, which is great for teams who can build their own media integrations. Or, you can integrate with Zapier, which opens up other possibilities. There's also one-way Google Calendar integration.
More Interface Features
Board and table views
Commenting and discussions
Custom fields
Mobile app
Timelines for project planning
Paid Plan Pricing
Pricing starts at $25 per month for up to five users with the Basic plan, but you can go upwards from there to choose your plan based on the features you need and how many users you have. Find out more here.
Editor's Choice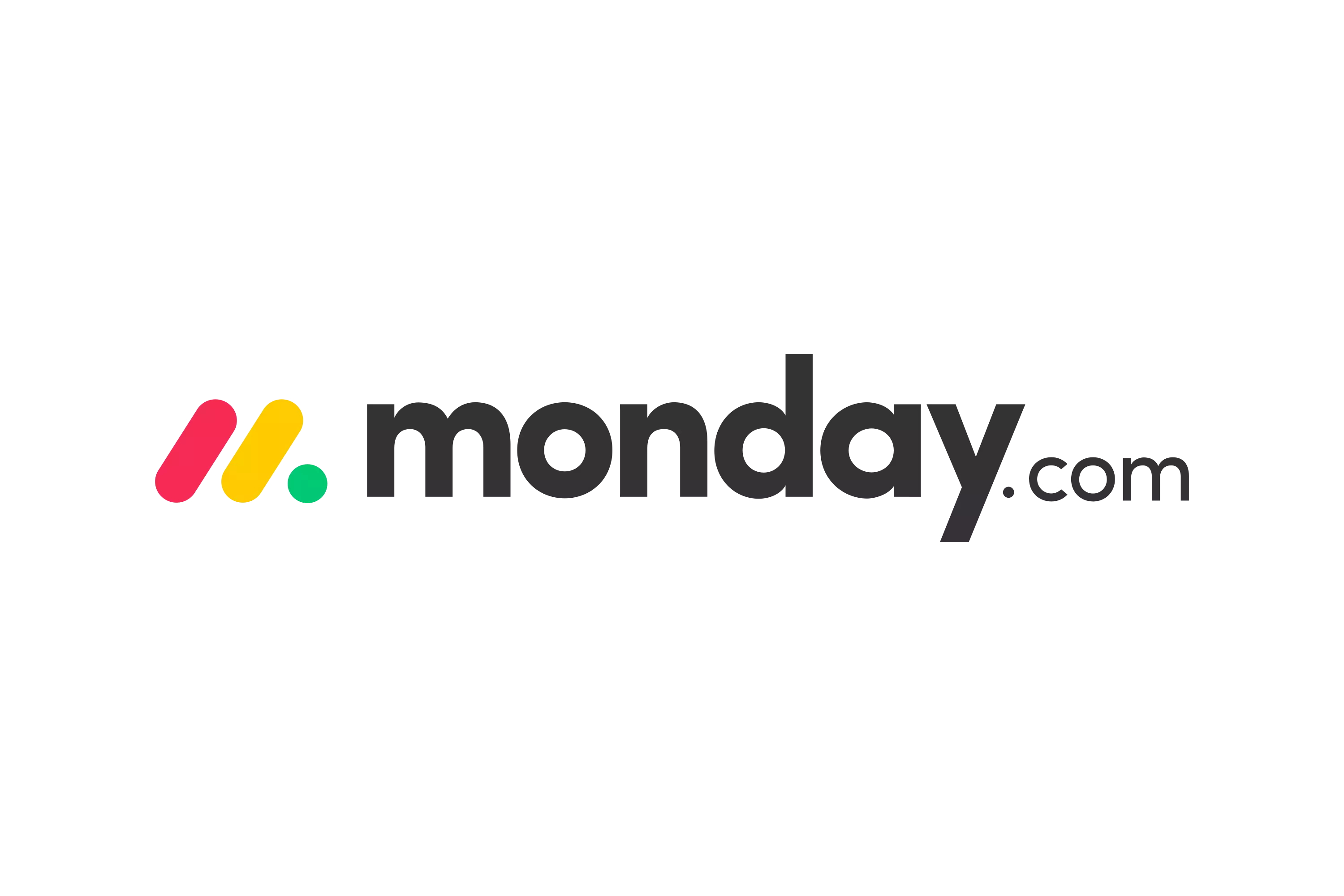 Why Go with monday.com?
Make tasks satisfying to finish! monday.com is quickly disrupting the old guard with a sleek interface, hundreds of integrations, and dozens of workviews for visually imagining and tracking your projects. More than just project management.
Start Managing Your Team Better
We earn a commission at no cost to you which helps keep this blog running!
Further Reading: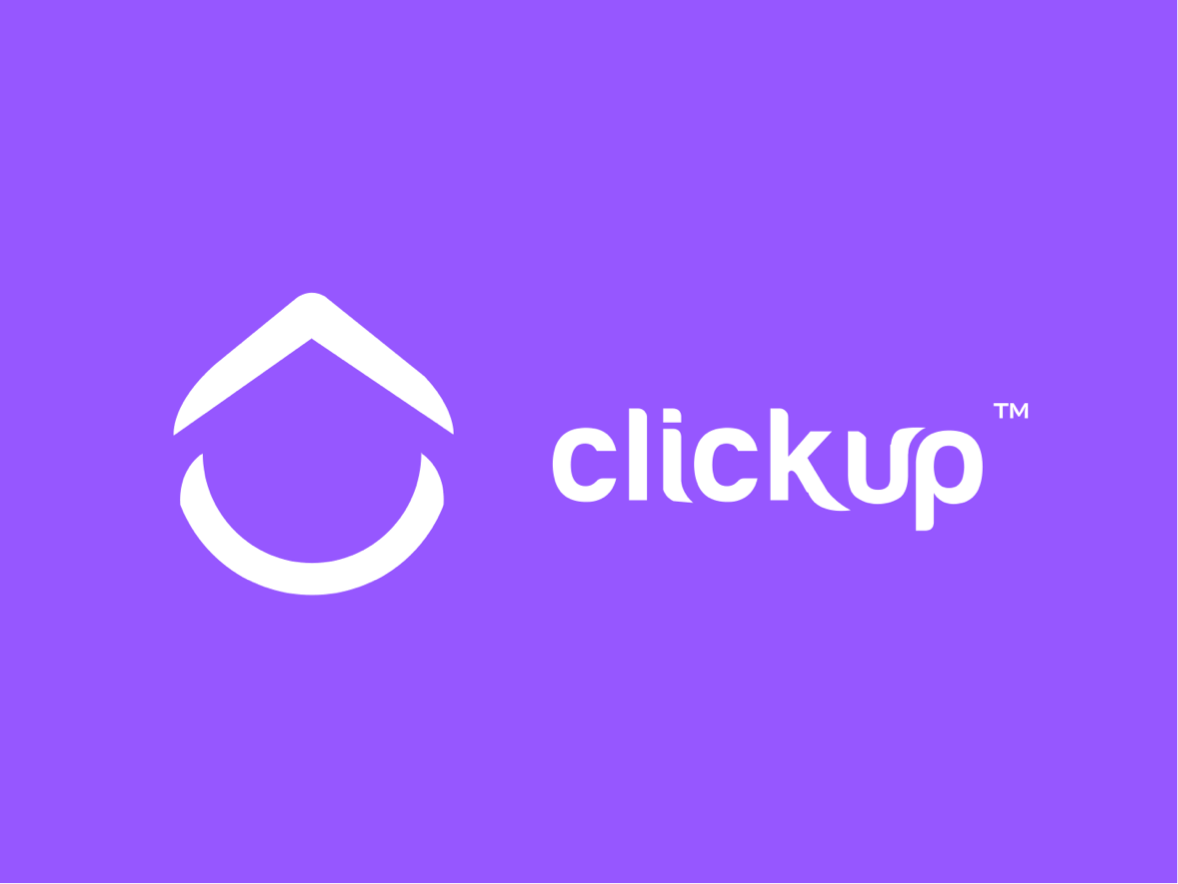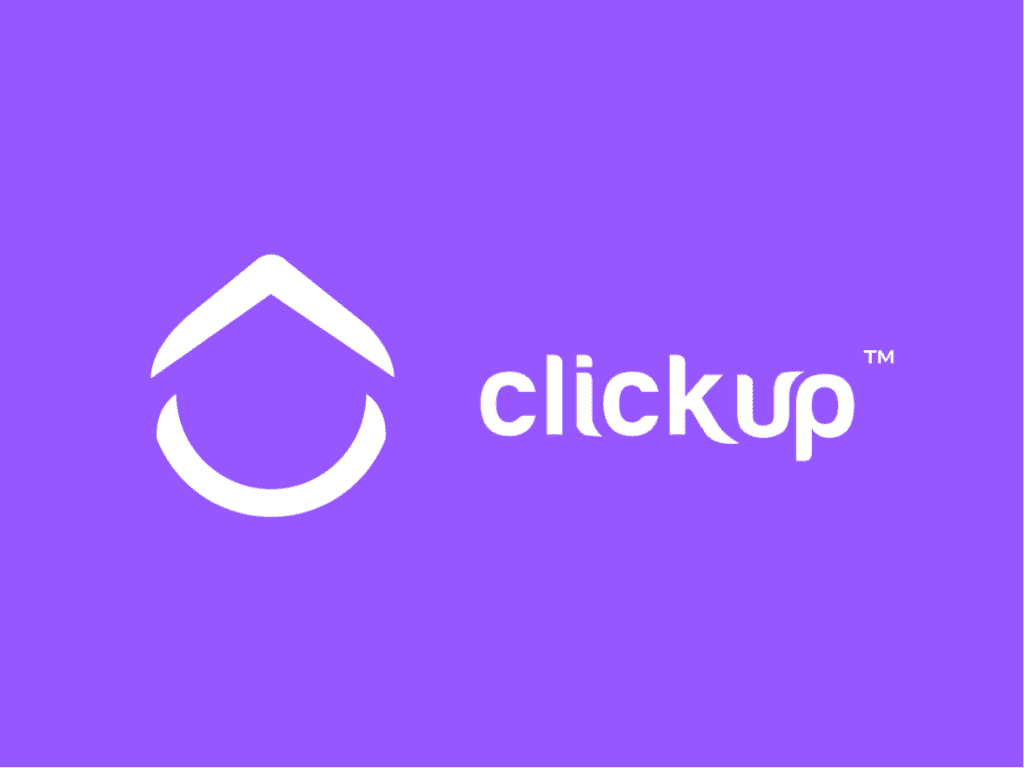 Like Asana, ClickUp has a streamlined, user-friendly design that helps you get right to project and team management. Plus, if you're phasing Basecamp out but aren't yet ready to sever all ties, you can integrate ClickUp with Basecamp.


Project Management Models
Setup the best project management model for you and your team, including agile and waterfall models. You can adapt and customize the model to meet your needs, too, and to cater to your team's favored approach.
Multiple Mangement Tool Views
ClickUp has three different ways to view and organize your tasks: board, box and list. There are also different ways to set the status of your tasks. With Simple Statuses, you just mark the task as either done or not done. With Custom Statuses, you move the task to one of the custom status group you setup.

More Management Tool Features
ClickUp's features are called ClickApps, and they include:
Activity stream
Assigning and resolving comments
Customized and multiple assignees
Image editing
Rich editing
Recurring tasks
Time tracking
Two-way sync with Google Calendar
See a full list of ClickUp's mangement tool features and integrations here. There's also a Chrome extension that you can install here.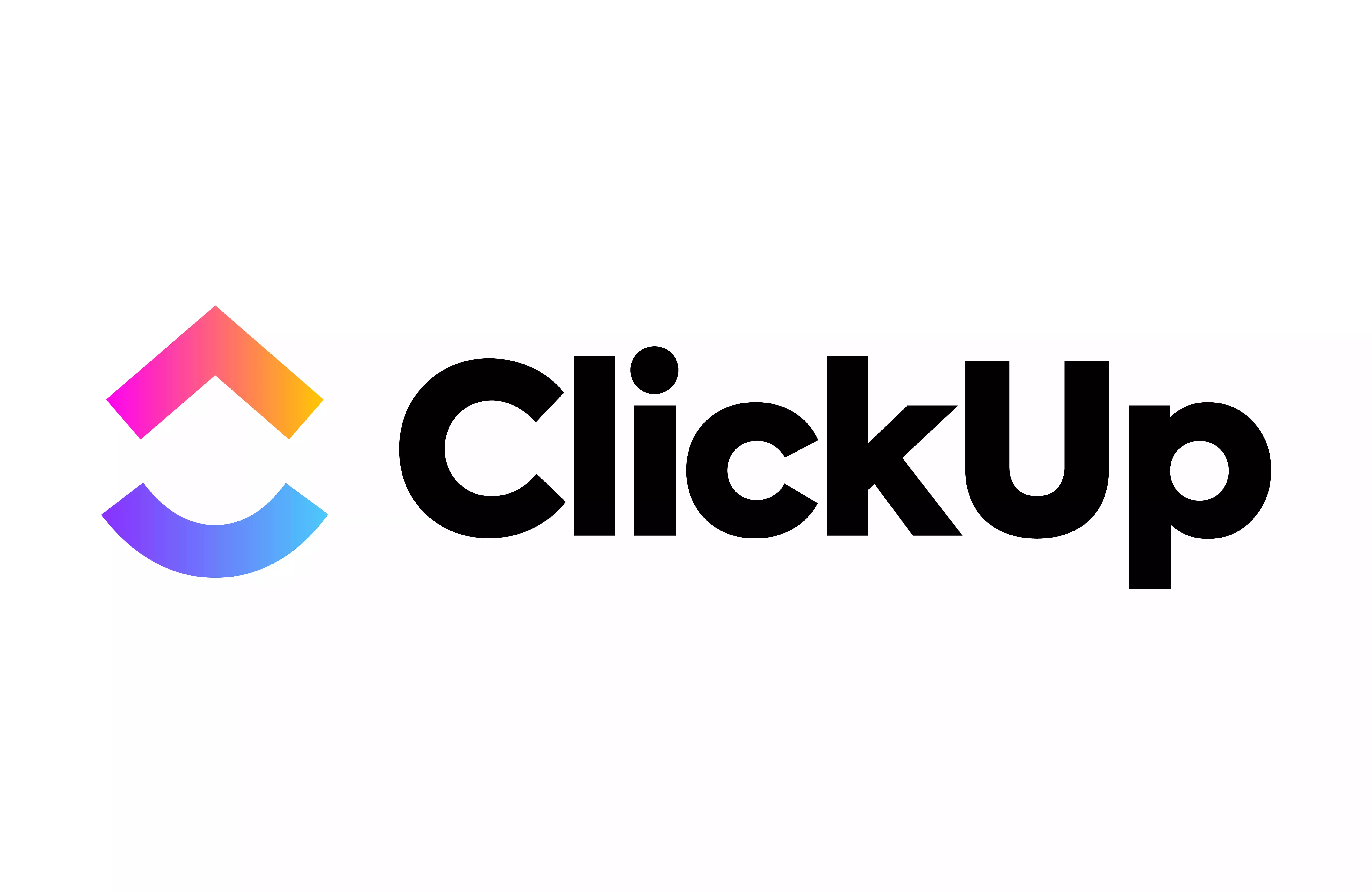 Why Go With ClickUp?
I've been so impressed with how quickly ClickUp has caught up with and even EXCEEDED competitors. They have ALL the integrations, plenty of pre-built templates for any use case, AND additional customization for any workflow.
Check it out Here
We earn a commission if you click this link and make a purchase at no additional cost to you.
ClickUp has a free version as well as an Unlimited version that costs $5 per user per month (unlimited users and unlimited projects with no price inflation). Find out more here.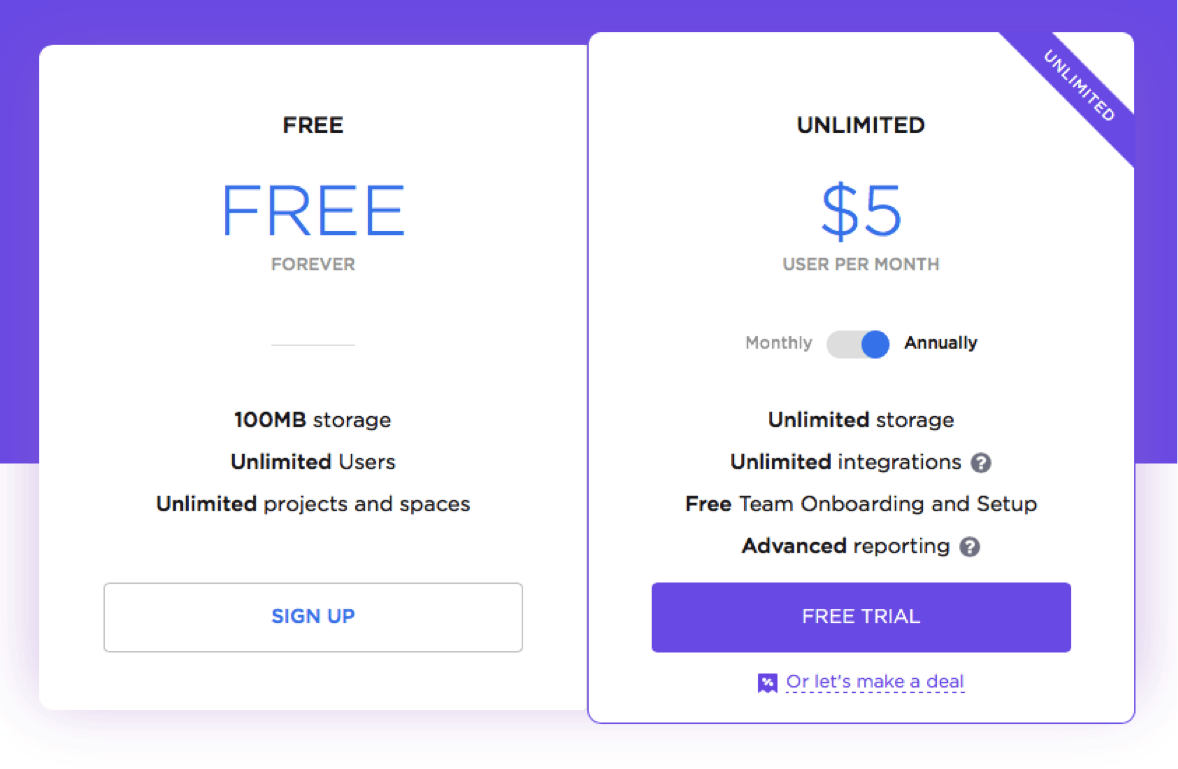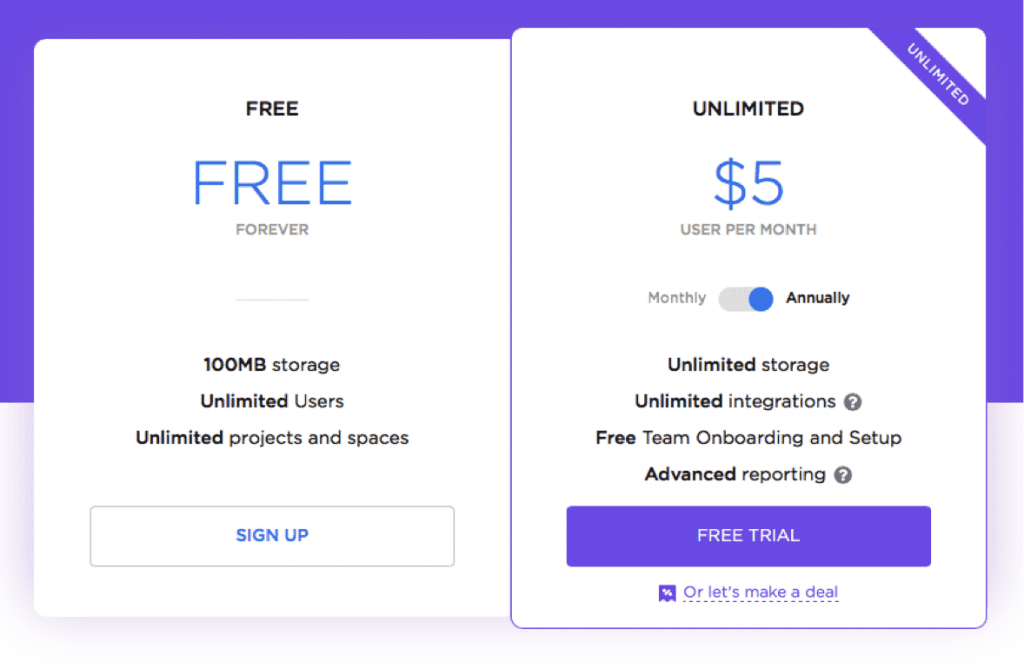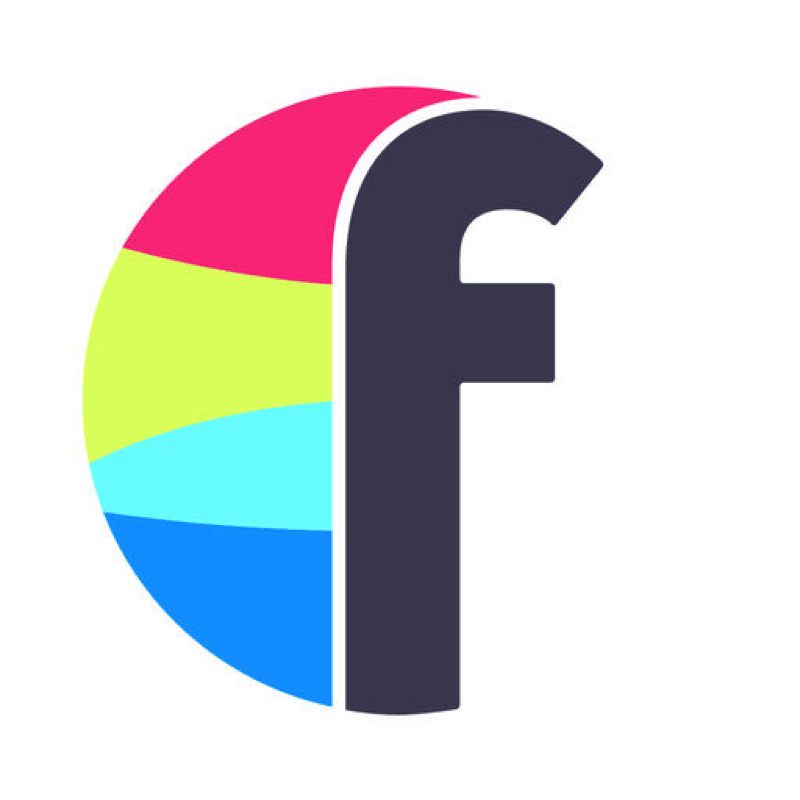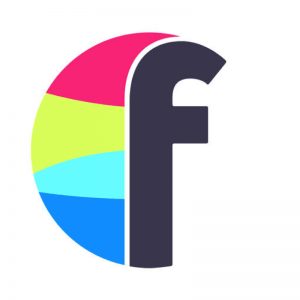 Flowdock is mainly used as an inbox and chat service for teams so that everyone can collaborate, communicate and get on the same page for task management. It's also a space where you can get updates for your apps and start discussions about them.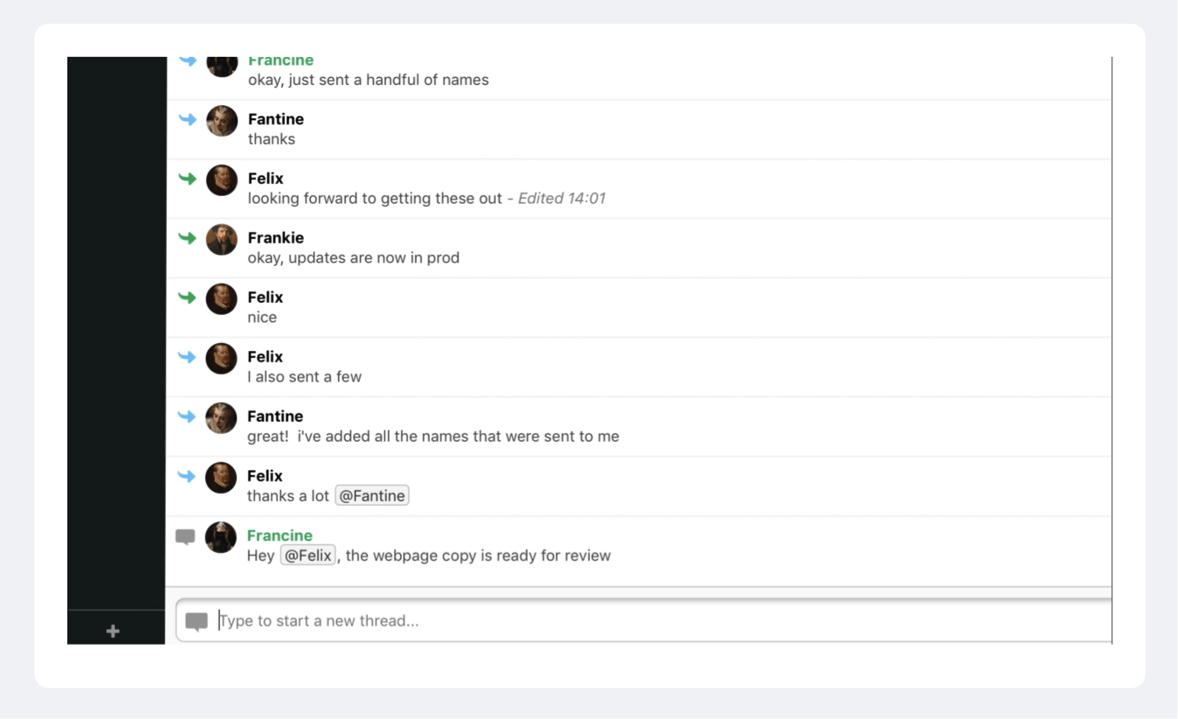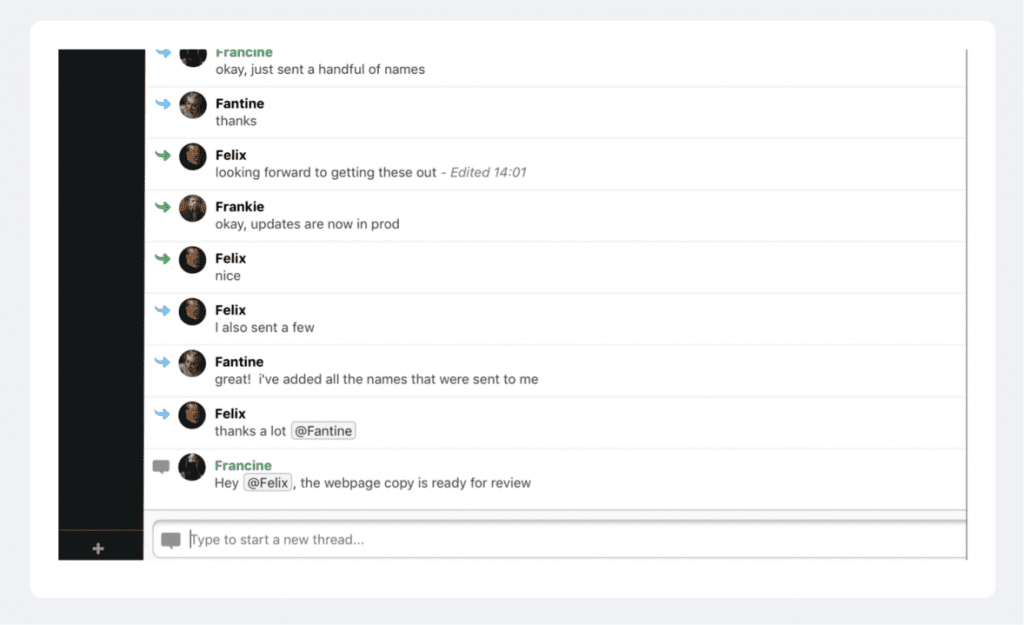 Public and Private Messaging
You can speak with your team in both public and private. "Flows" apply to public messaging, and private messaging is also available. You can also create sub-conversations within main conversations.
Smart Search
Flowdock's tagging features helps you organize conversations for easy search and referencing. There's also regular text search functionality in case you need to find a topic that you didn't tag.
More Features
Apps for iOS and Android, Mac and Windows
Customizations for desktop and mobile notifications
Drag-and-drop file uploading and file sharing
Previews of images, links and videos
Pricing
There are three pricing options for Flowdock as a Basecamp alternative, and you can find out more about each plan here.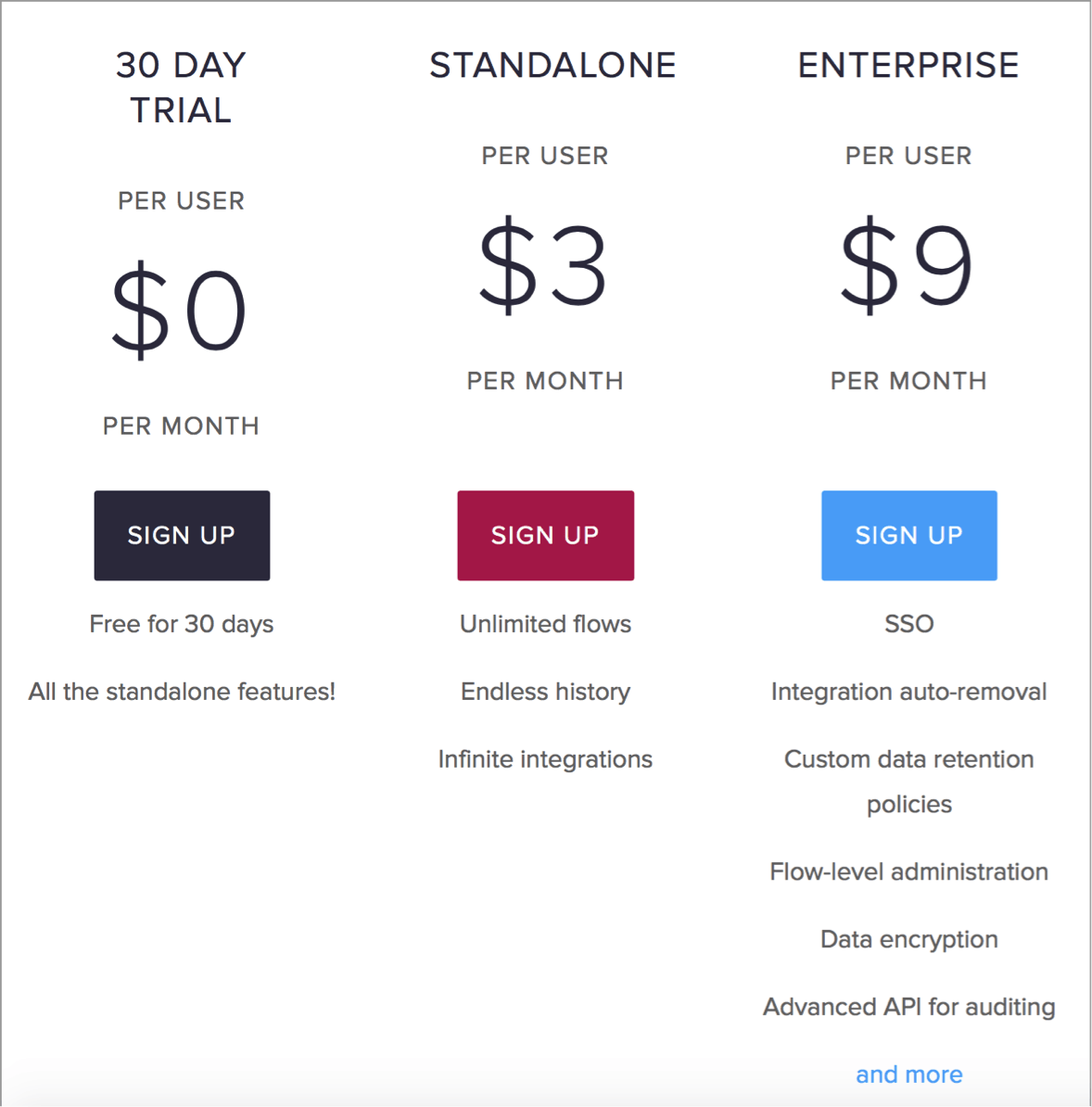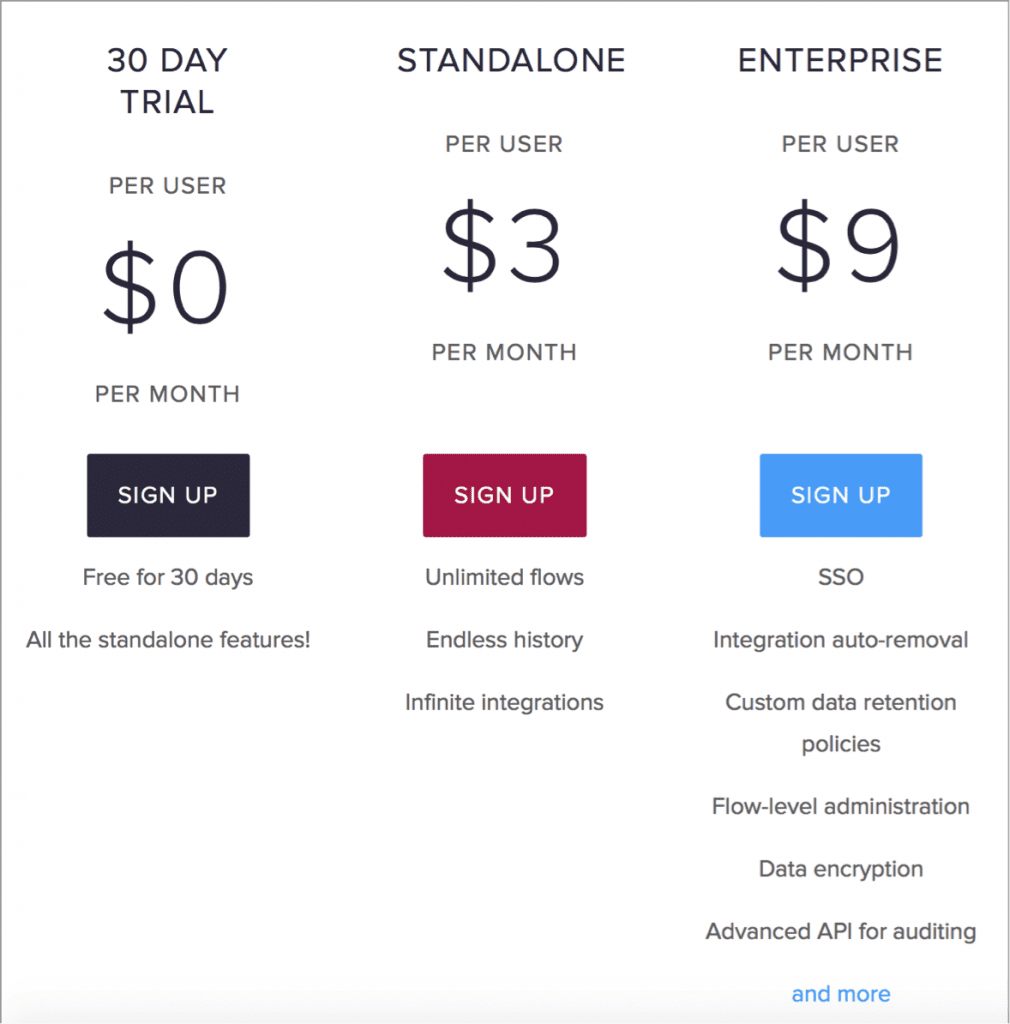 Bitrix24 is ideal for startups, small, and medium-sized businesses that need basic customer relationship management (CRM) and lead management tools. There are more advanced capabilities, though, like software automation, file sharing and email marketing integrations.
Collaboration and Social Tools
Think of Bitrix24 project management software as your company's own personal social Intranet, beyond just a project management tool. Your user collaborations and communications about customers and projects will be centralized, and there are social features like blogging, "likes," photos and social networking apps.
More Features
Calendars
Document sharing (file sharing)
File uploading
Tasks and task comments
Time tracking
Work groups
Pricing
This chart is just the beginning of their multiple pricing models. You can toggle between cloud and self-hosted versions as well as price vs. feature differences. Find out a ton more here.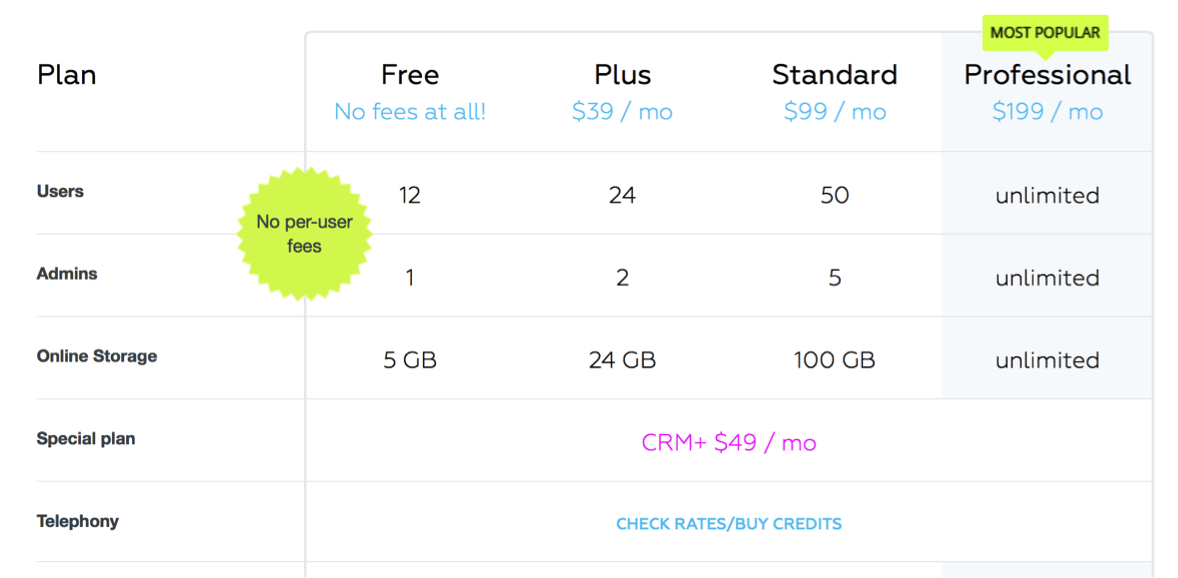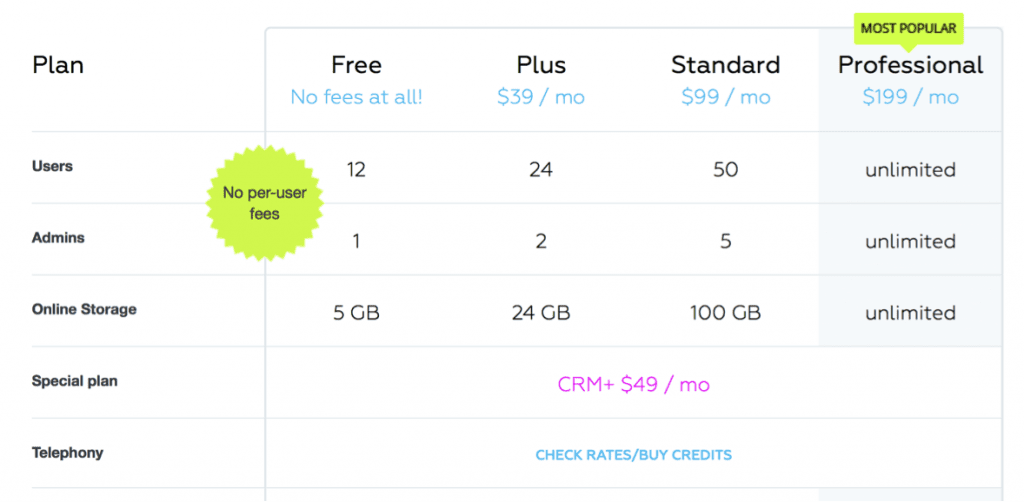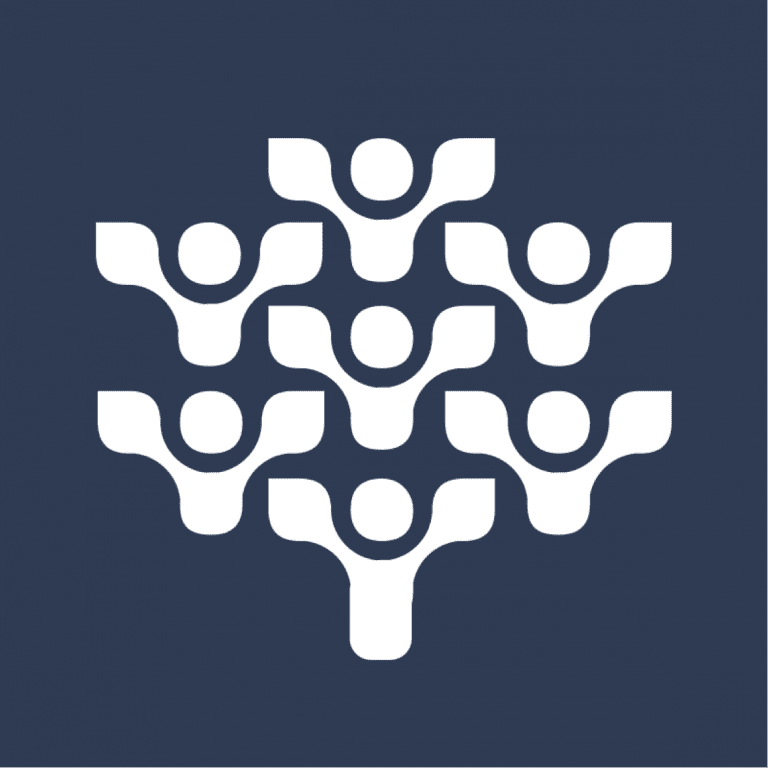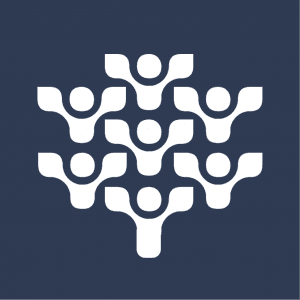 Freedcamp is open source software for managing projects and plans for both work and personal life, making it an excellent crossover for startups, entrepreneurs or freelancers who think of their job as part of their lifestyle. As it sounds, the tool is essentially a free basecamp version (although it has evolved on it's own).
Powerful Freemium Model (Open Source)
The biggest draw of Freedcamp is that the free version (free plan) is incredibly useful even for larger teams with a lot of project management tool needs. Standard features include:
Calendar
Discussion and message boards
Shared filed management (easy to share files)
Task lists and management
Time tracking
Plus, you can add any number of users and projects to the free version, and there are no storage limitations (note that files can't be larger than 10MB).
More Features of the Free Plan
Browser alerts
CRM tools
Integrations
Invoicing
Social media integration
Weekly data backups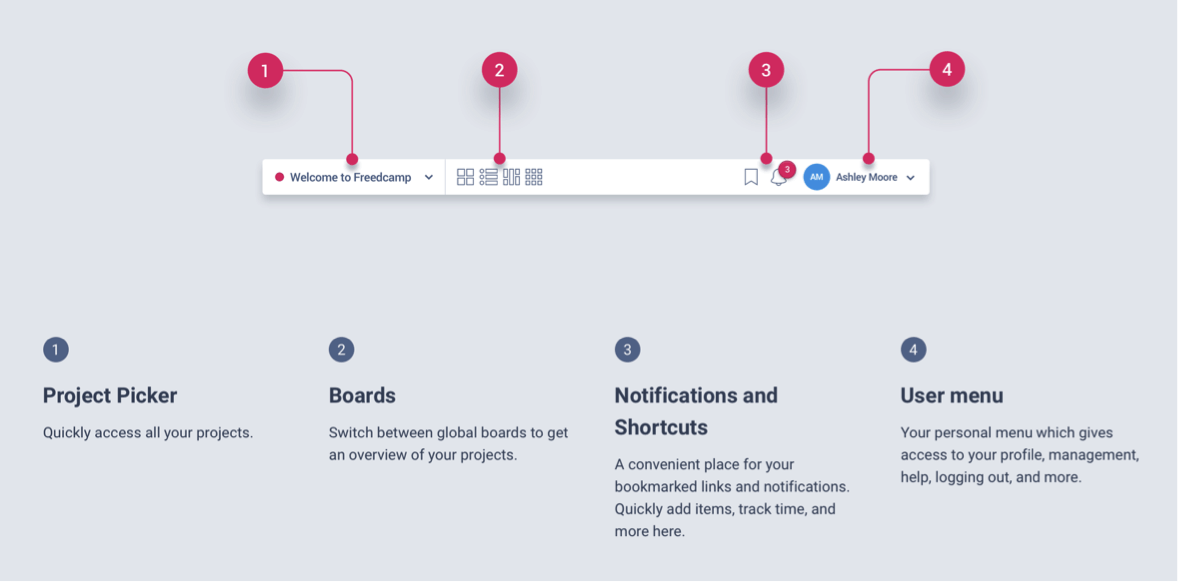 Project Management Software Pricing
Freedcamp is free to use regardless of your team, projects or storage needs, but there are upgraded accounts available if you want access to advanced features. Find out more here.

The main purpose of JIRA is to log and assign projects and assign tasks, and to then set priorities. Also, while any type of company in practically any industry can effectively use JIRA, it has enhanced software development capabilities, if that's what you're after.
Agile Project Management Software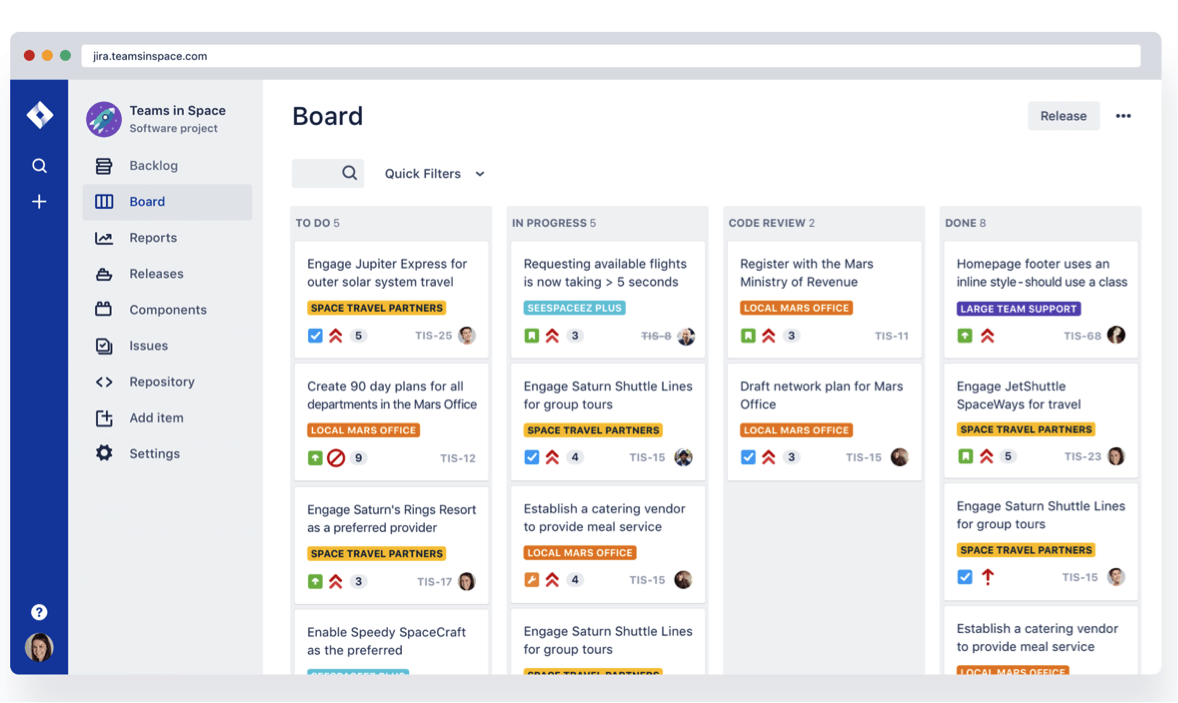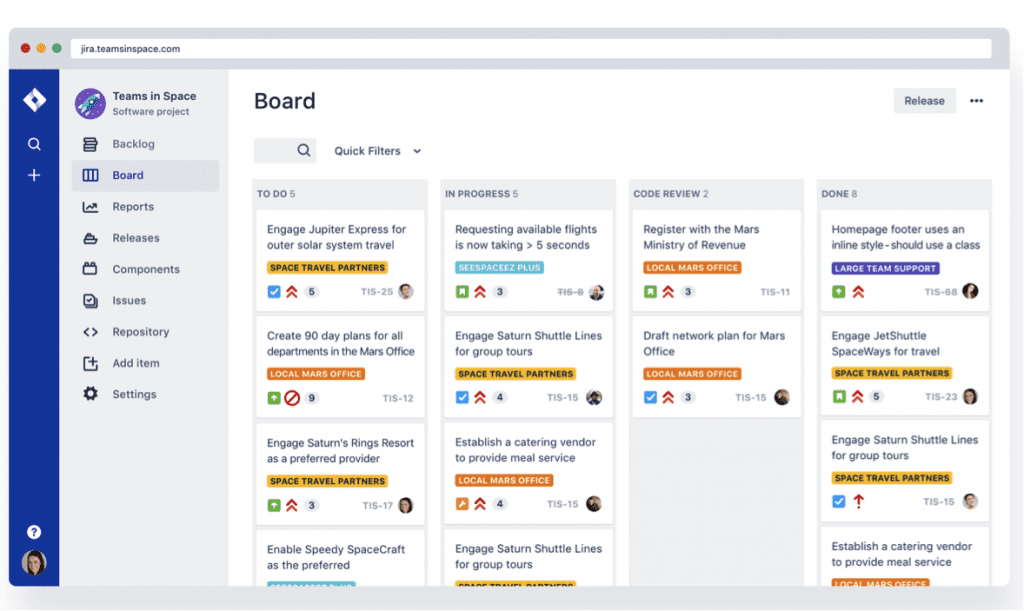 The cornerstone of JIRA is agile project management that combines Scrum and Kanban approaches (referred to as Scrumban). The idea is that you and your whole team will see the entire project, details and all, so that nothing slips by. As soon as something happens that will be of interest to a team member, they'll receive a notification.
Software Development
You can also manage your app development through every stage, starting with ideation and going all the way to launch, and plan, track and release your software.
There's also a self-hosted option, if you feel you need even more flexibility. Find out more about using JIRA with an open source license here.
More Task Management Features
Customizable workflows
Google apps integration
Real-time visual data reports
Time management
Time tracking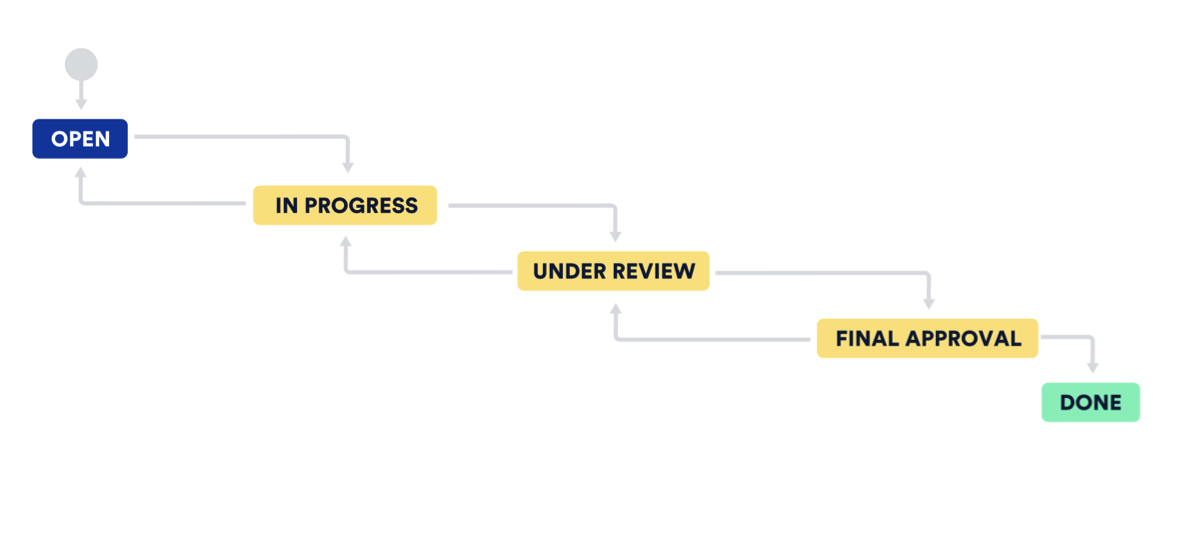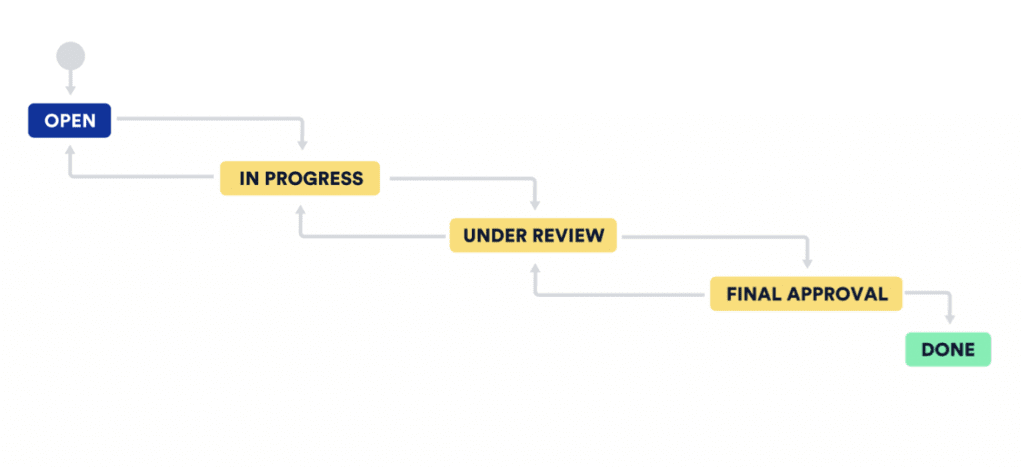 Pricing
There are multiple pricing options for cloud and self-hosted plans for this management solution. Find out more here.


LiquidPlanner is a highly responsive website with simple drag and drop usability. It's used by businesses to manage projects, multiple tasks, team members and time.
Elaborate Management Features
LiquidPlanner is for the business owner who needs a lot of in-depth features and is happy to pay for them as a Basecamp project management alternative. With a steeper price tag than many of the other options on this list, LiquidPlanner is for medium-to-large businesses who will utilize the software's complex features instead of getting lost in them.
Smart Deadlines
LiquidPlanner takes the data that you enter to determine realistic deadlines, which makes it easier for you to set expectations for your team members. The system will also adapt if estimates (expense tracking), priorities or resources change mid-project (resource management).
More Features
Advanced analytics
Customizable personal dashboards
Deadlines
Milestones
Multiple assignees to projects
Project creation and sub-projects
Tasks and sub-tasks
Ticket queues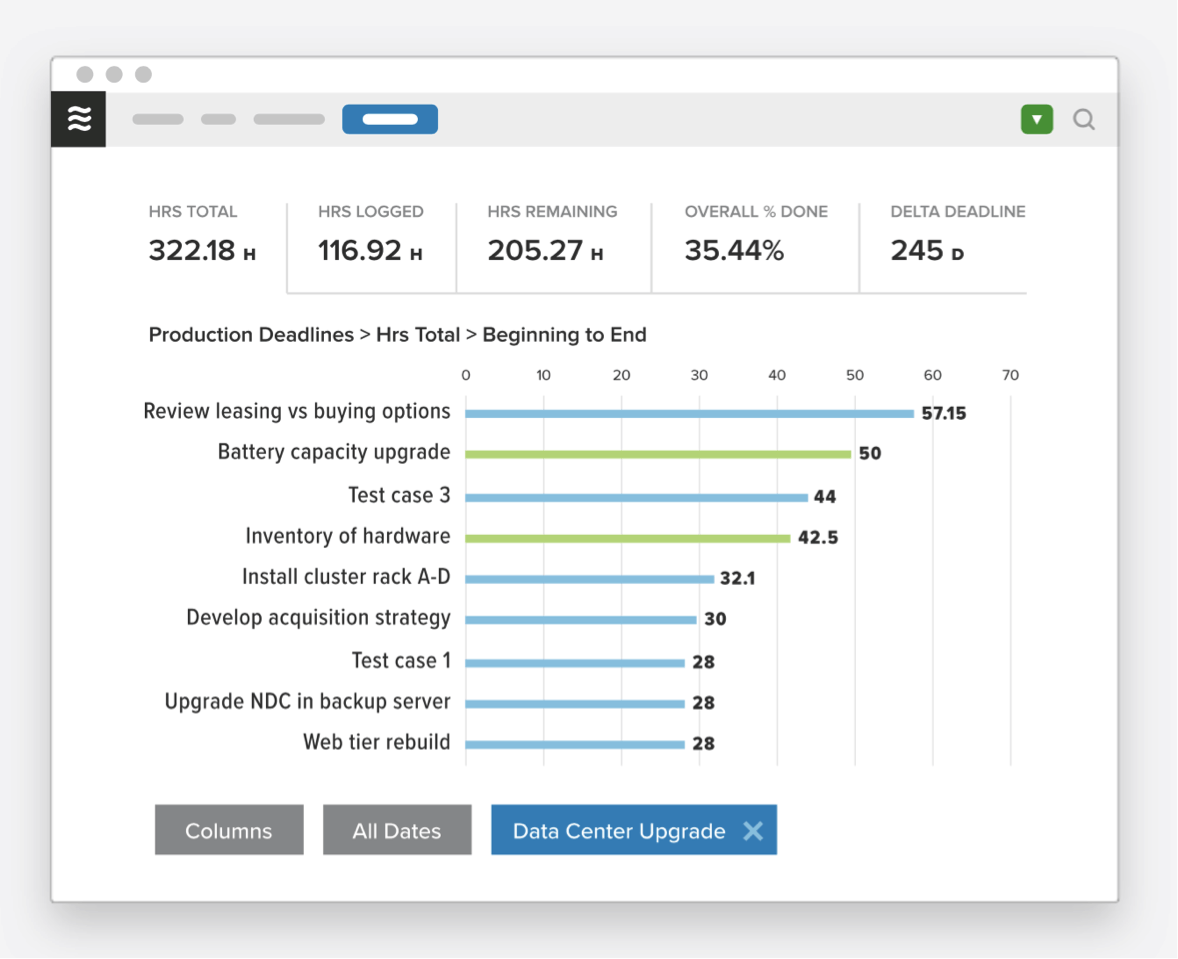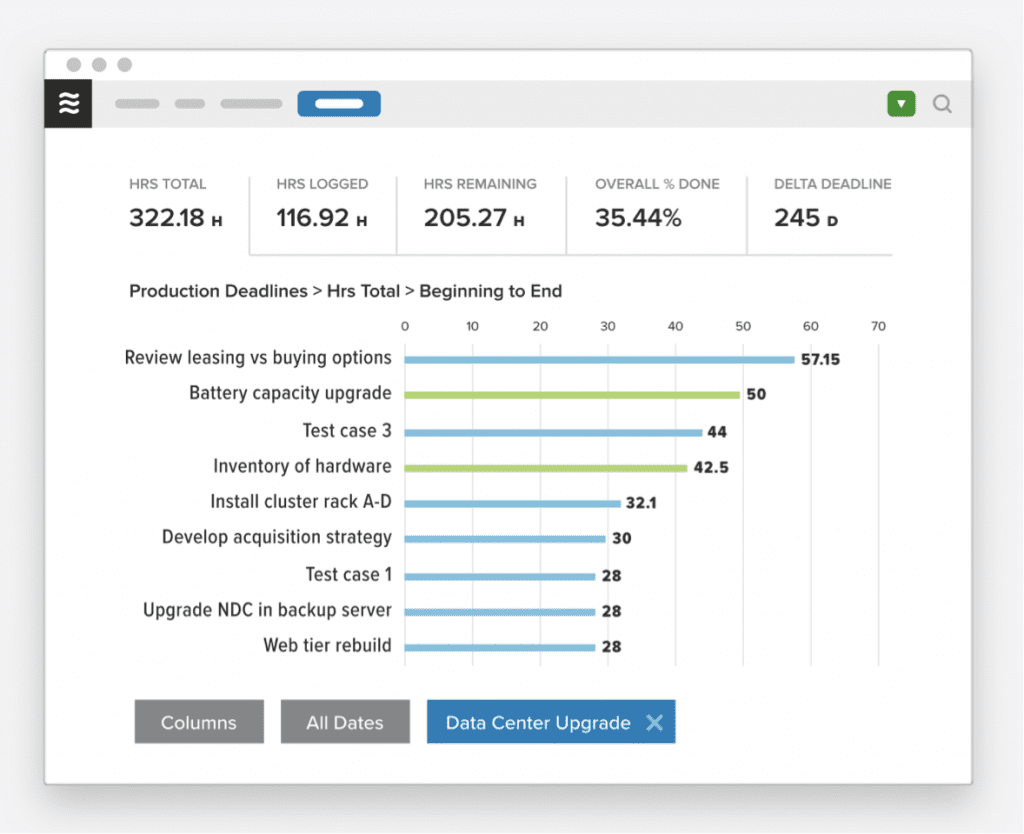 Pricing
LiquidPlanner has two plans: the Professional plan for $45 per month per user and the Enterprise plan for $69 per month per user. Find out more here.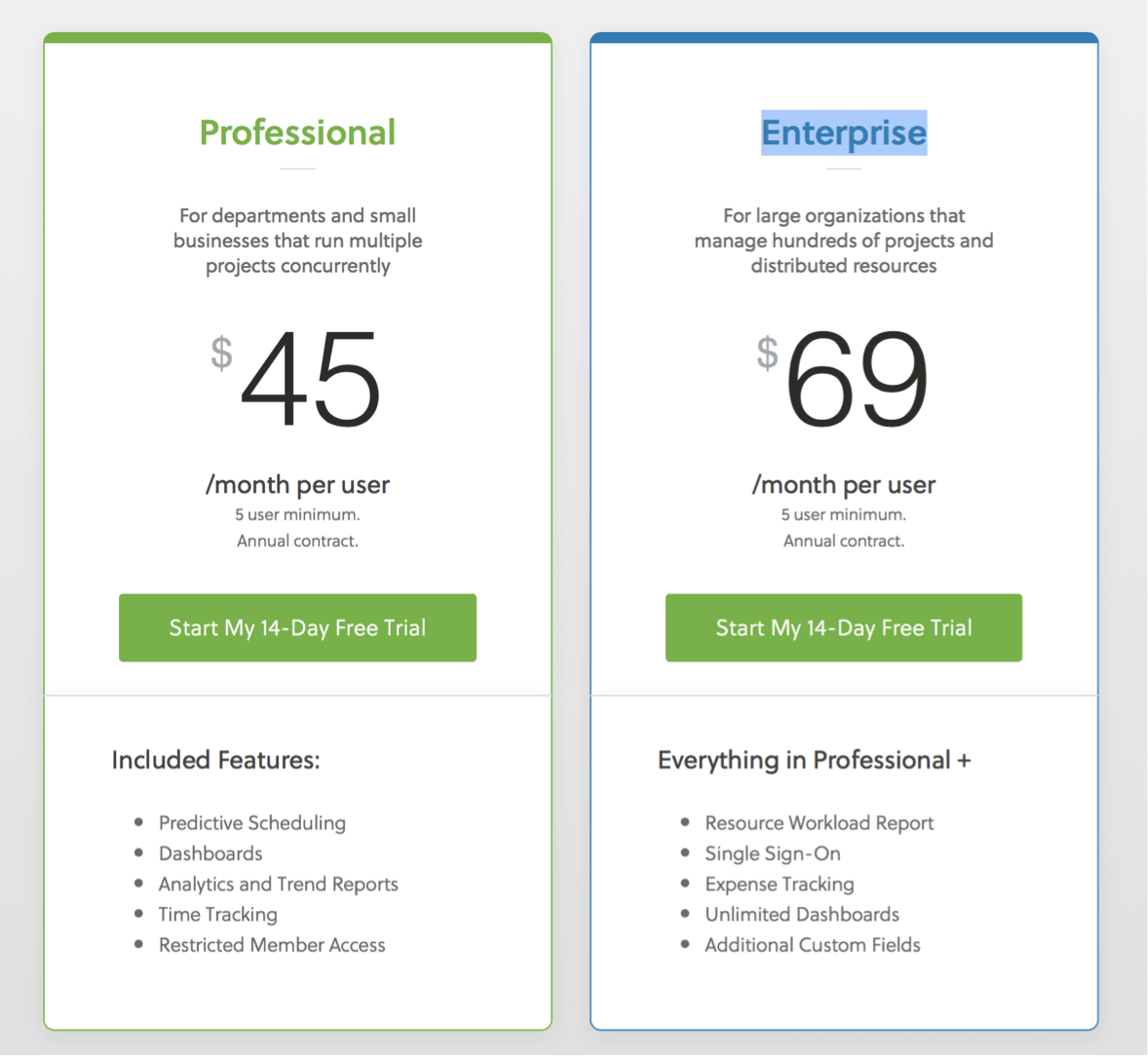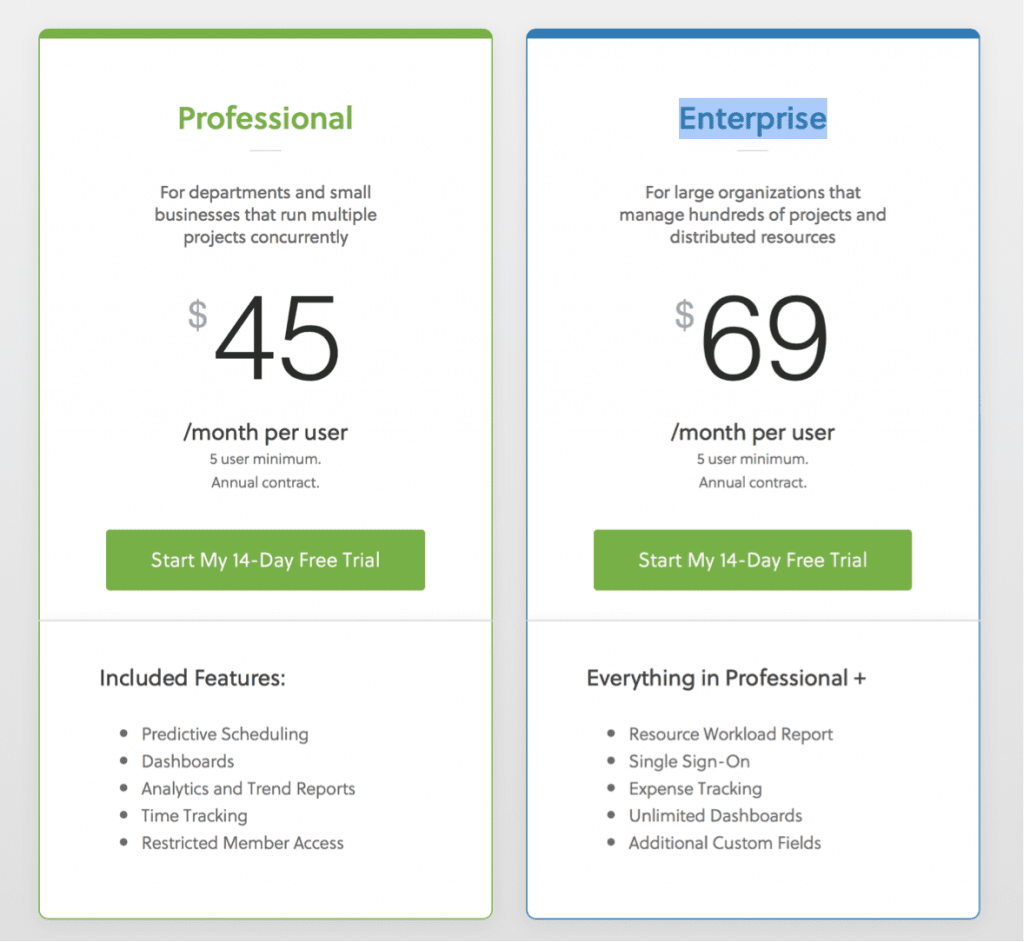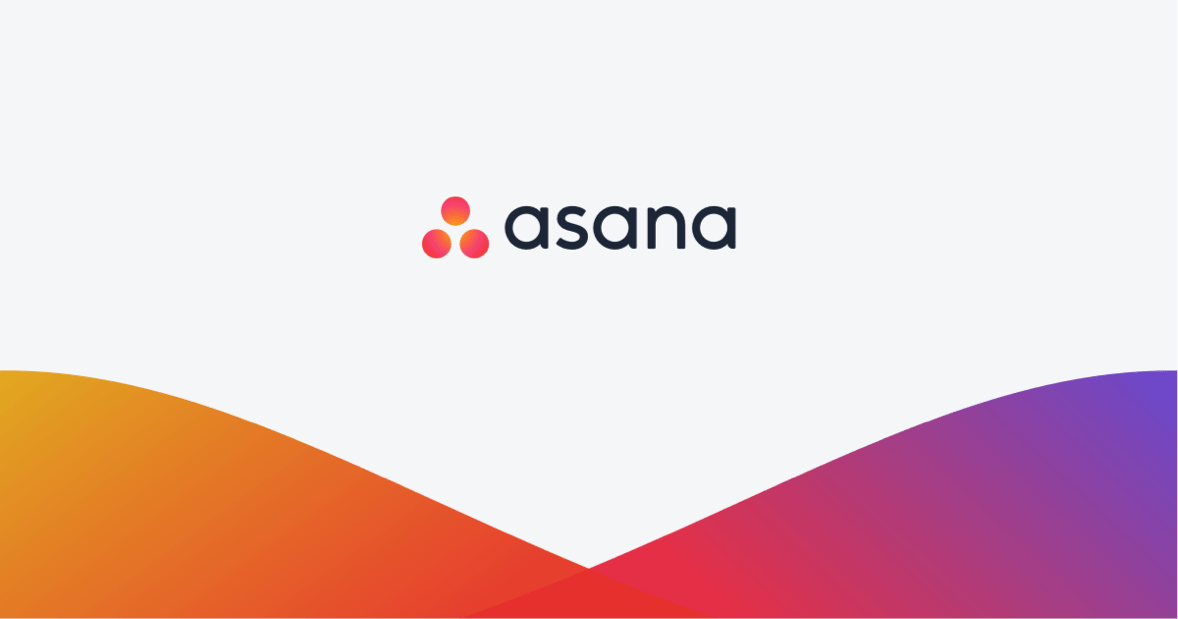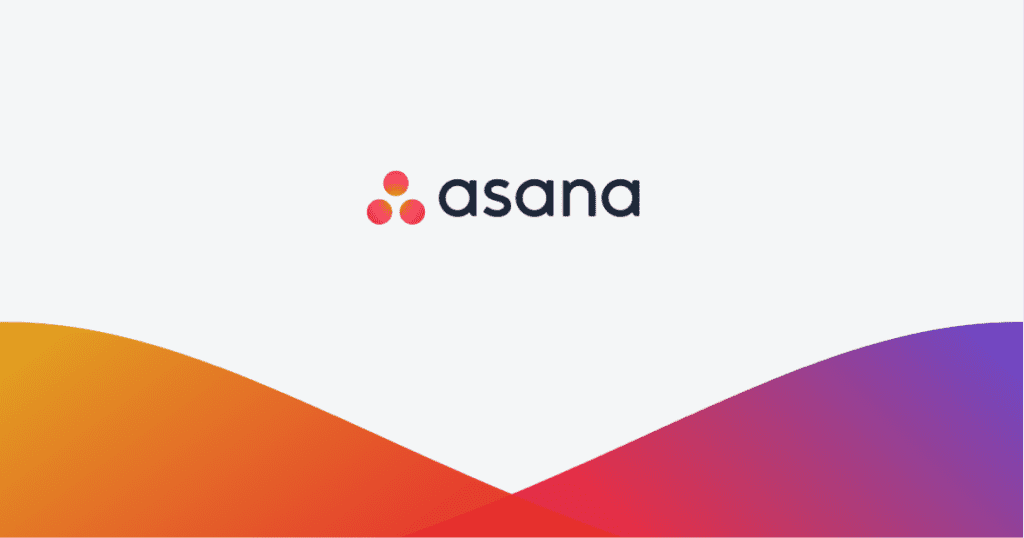 Asana is one of the most popular team management tools and management software cout there, used by small and medium-sized businesses, including growing startups. The interface is a huge part of its appeal – it's sleek, modern and simple, and incredibly easy to learn and use.
Team Collaboration Tool
With Asana, you can add more than one person to a task; follow tasks and add other followers to them; and collaborate with your team in a real-time solution.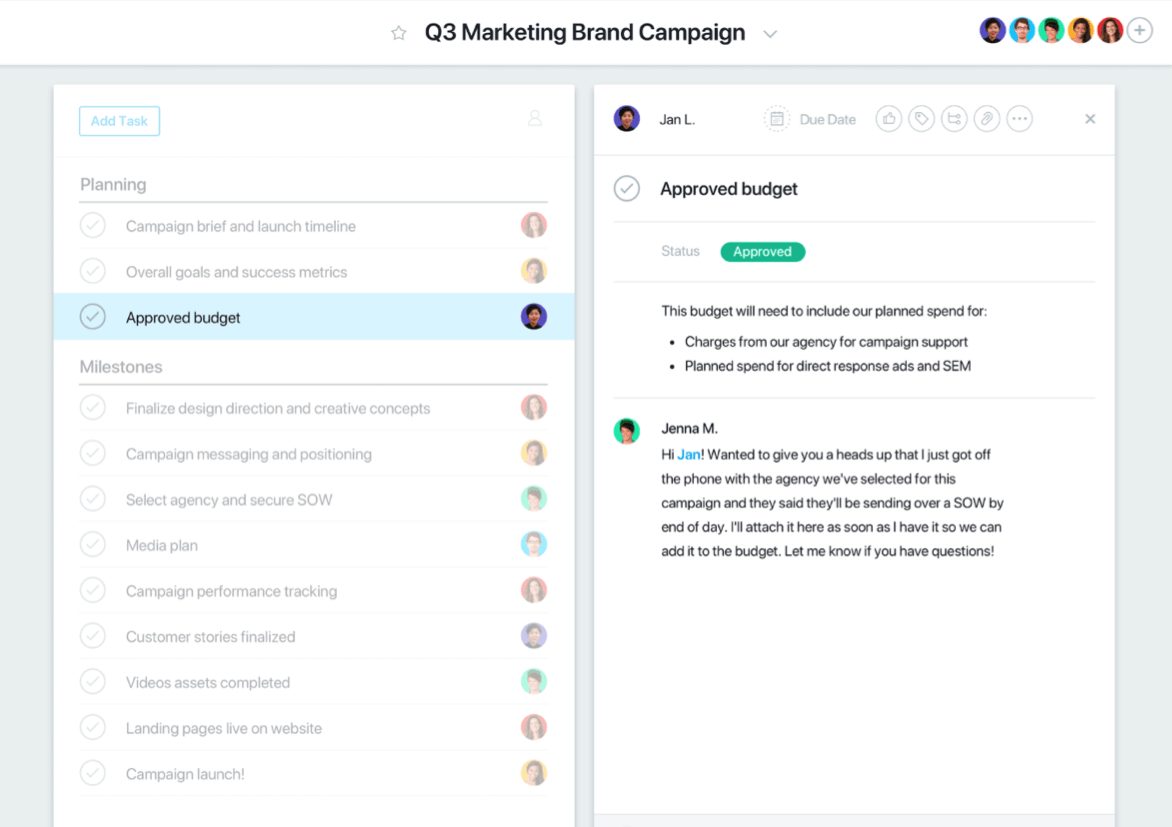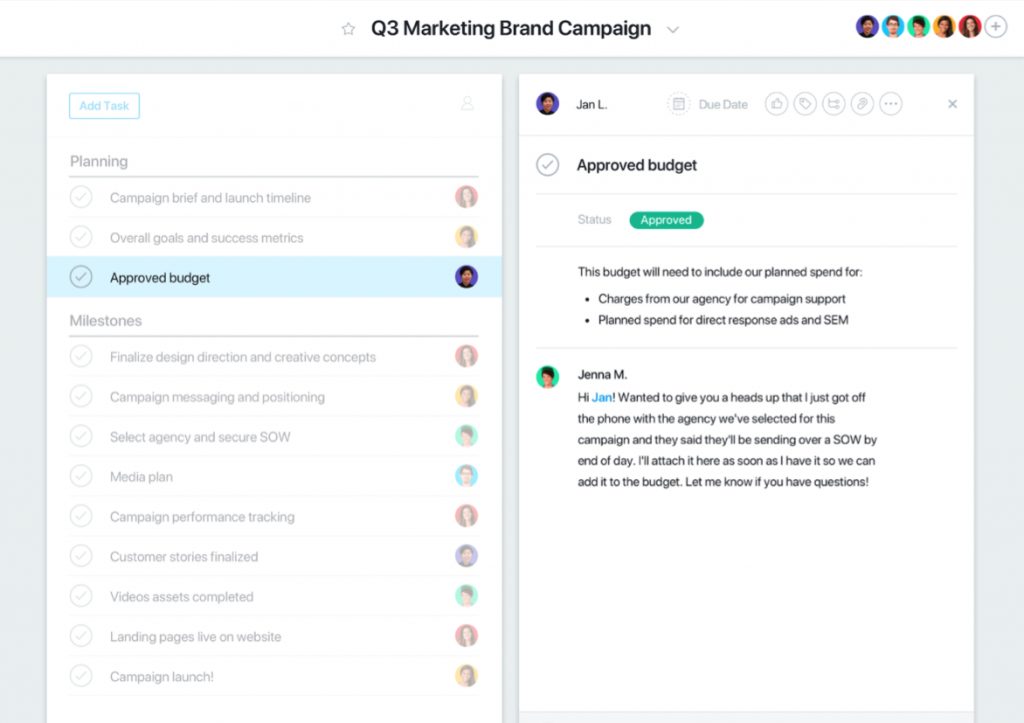 Tool Integrations
Asana isn't meant for storage, which is why there are limits on the files you upload (100MB per attachment). This is also why they integrate with cloud storage services, though. Integrations include many of the apps you use every day, like:
Dropbox
GitHub
Google Drive
Slack
WordPress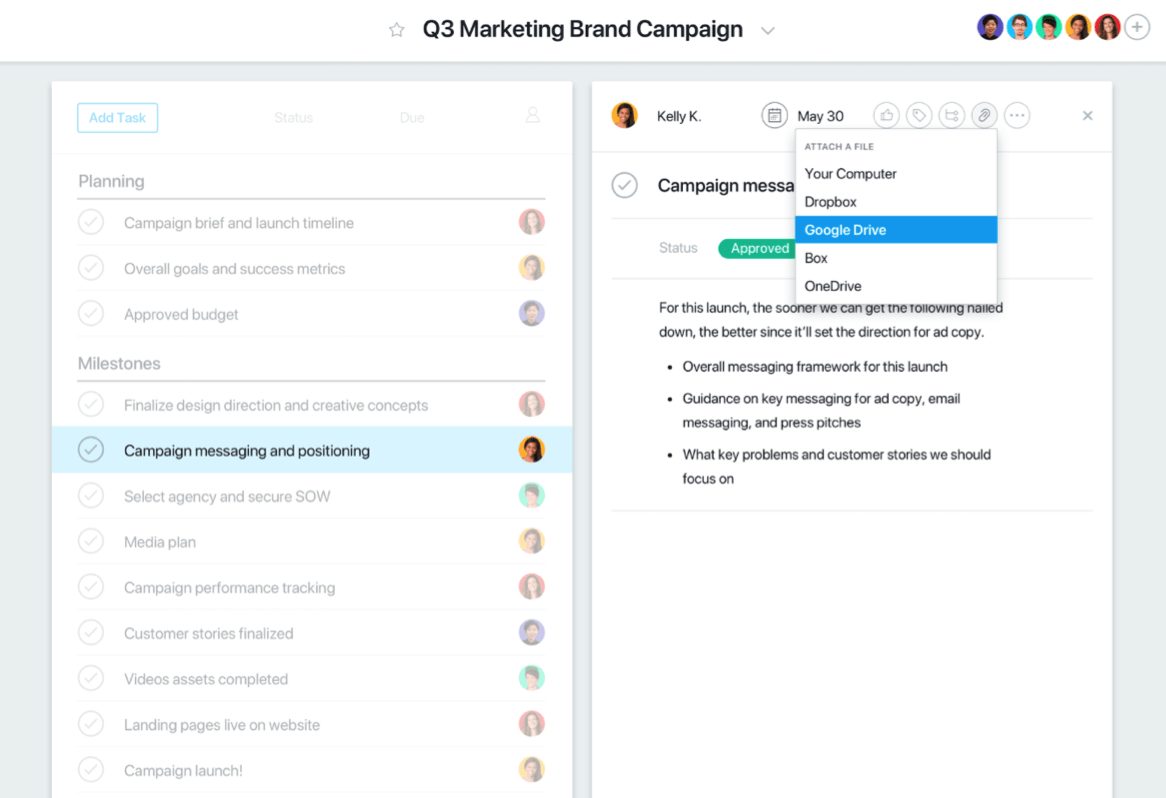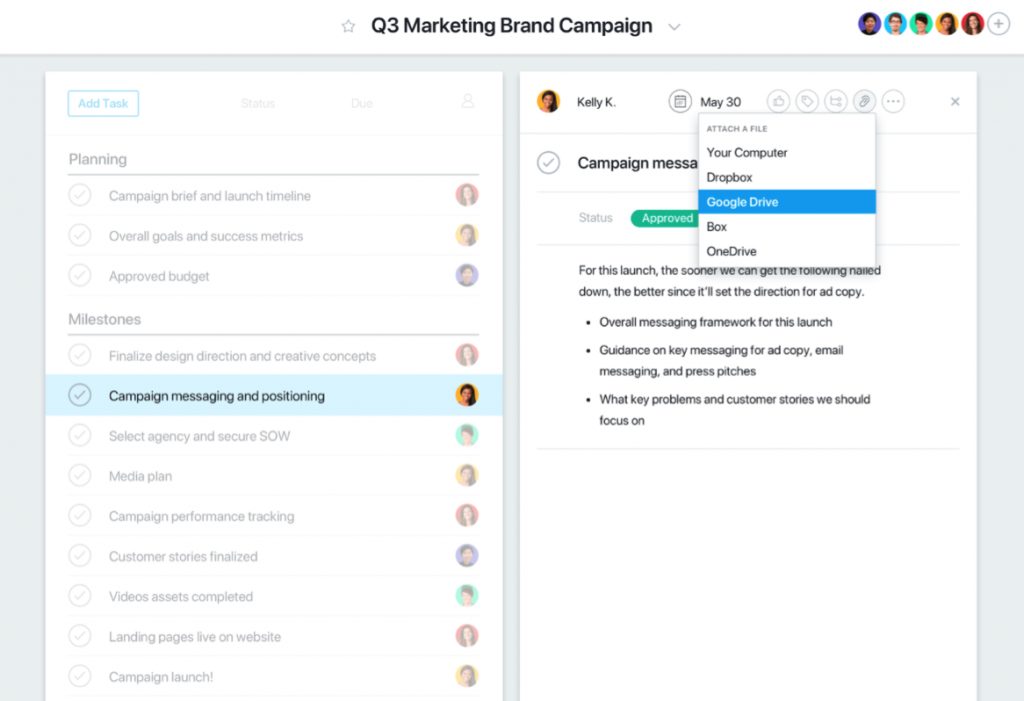 More Features
One of their latest features is the Timeline for better project planning. Additional features include:
Activity feed with notifications
Due dates, goals and reminders
Calendar view
Mobile and tablet compatibility
Multiple workspaces for better organization
Project permissions
Social media sharing
Time tracking
View of team member tasks and priorities
Platform Pricing
Asana has three pricing tiers. The free version is called Basic; the Premium version is $9.99 per member per month, which you pay for annually; and the Enterprise version can be setup by speaking with a customer support specialist. Find out more about pricing here.
Some users find that the paid plans are pricey, especially if you have a lot of team members. Smaller businesses and solopreneurs, though, may be able to work just fine with the free version full-time.
Further Reading:


Podio is used for project management and is ideal for smaller businesses that need to handle an assortment of business processes in one system. It strongly focuses on team collaboration, evident in features like filing sharing from anywhere in the Podio system and Facebook-style liking.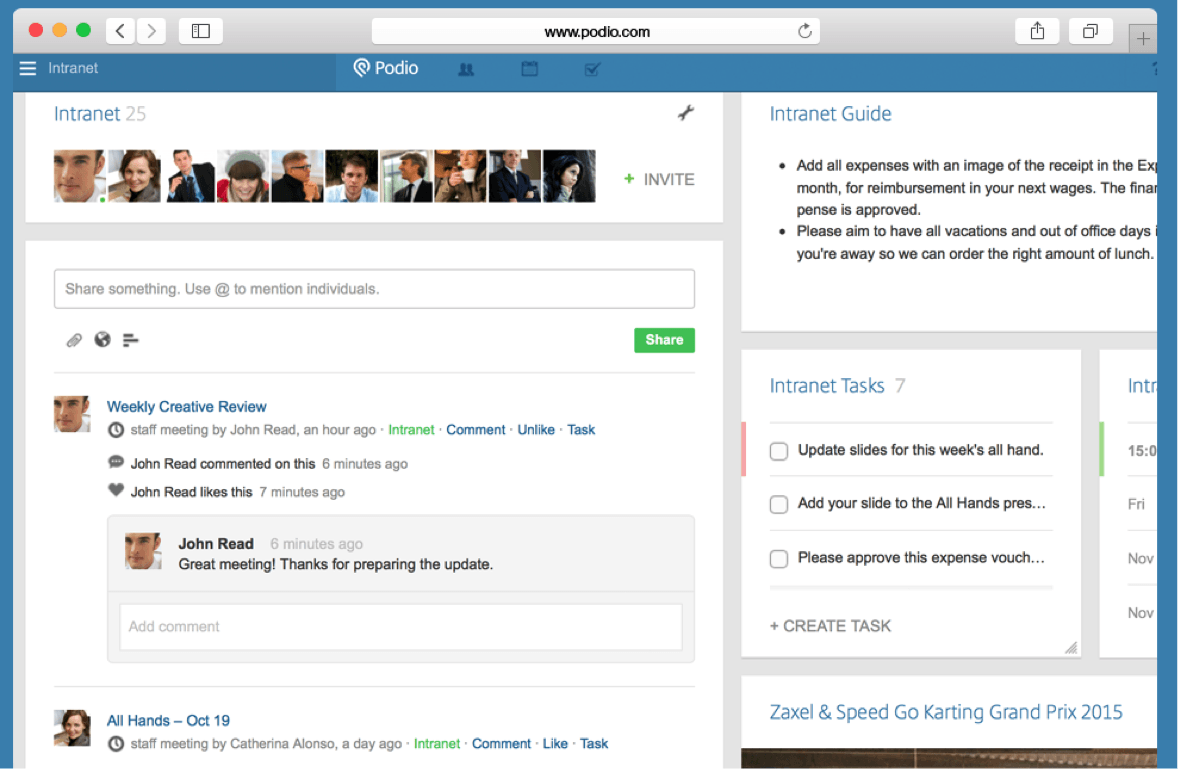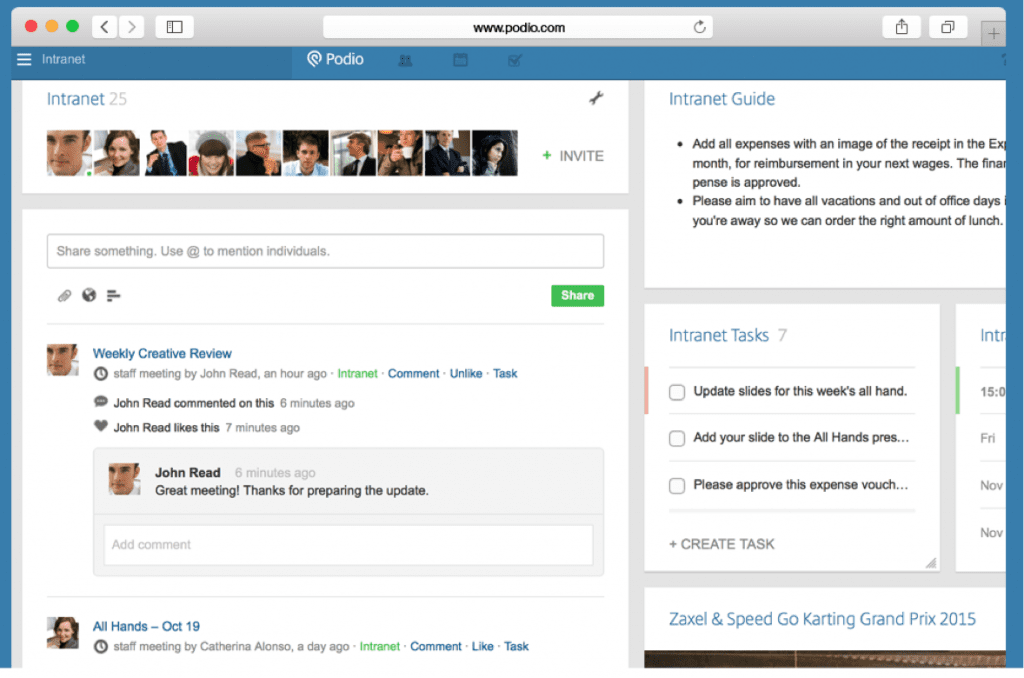 Open API for App Creation
One of Podio's best features is that it has an open API that lets you create and connect your own apps. You can build custom apps to suit your unique needs and to cater to your specific workflow, and you don't need tech or development knowhow to do it.
You'll also be able to access the App Market, which is home to hundreds of no-cost apps created by the Podio community.
Unique Integrations
Podio integrates with the same services most team management tools do, like Dropbox and Google Drive, but it has a couple of surprises, too: Evernote and MailerLite (a MailChimp alternative), which are often left out of integration options. Other integrations include Campaign Monitor, FreshBooks and Zendesk.
More Features
Bird's-eye view of tasks
Compatible with web browser, Android and iOS
Instant message and video chat
Private and open workspaces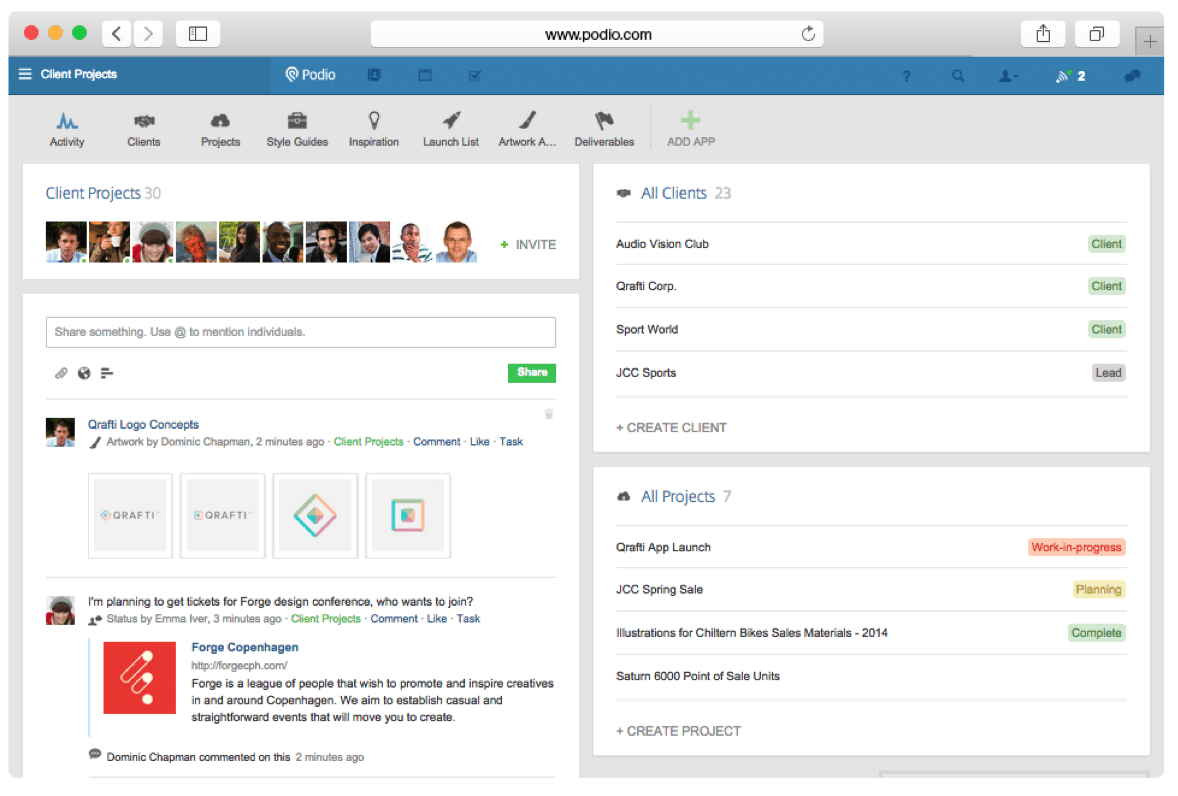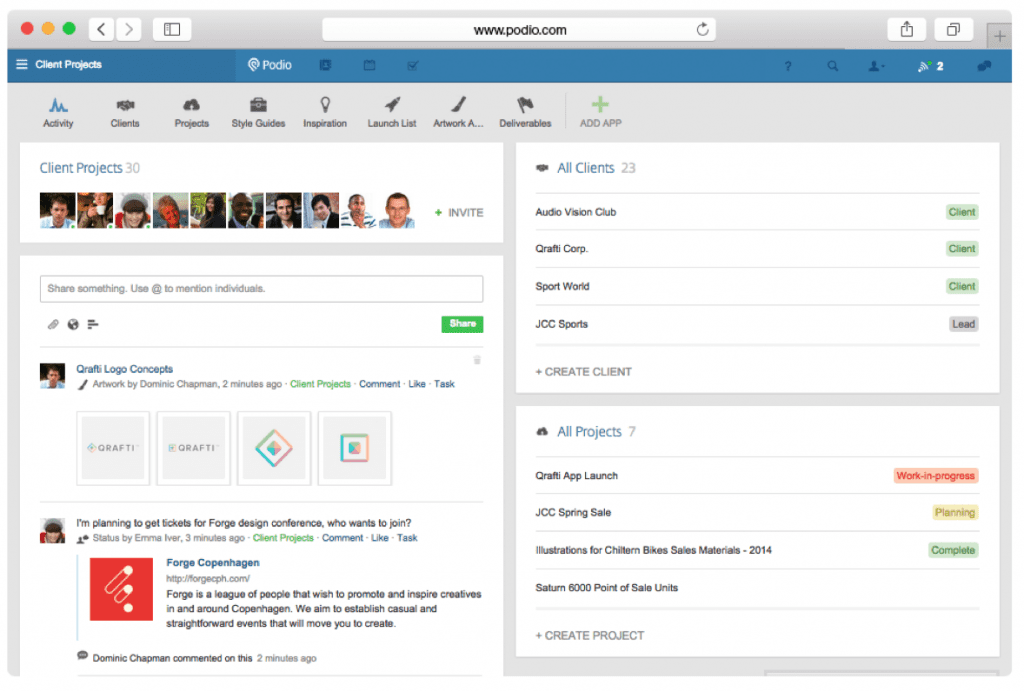 Pricing
There are four pricing models, starting with the free version for up to five employees and going up to the Premium version for $24 per month. Find out more here.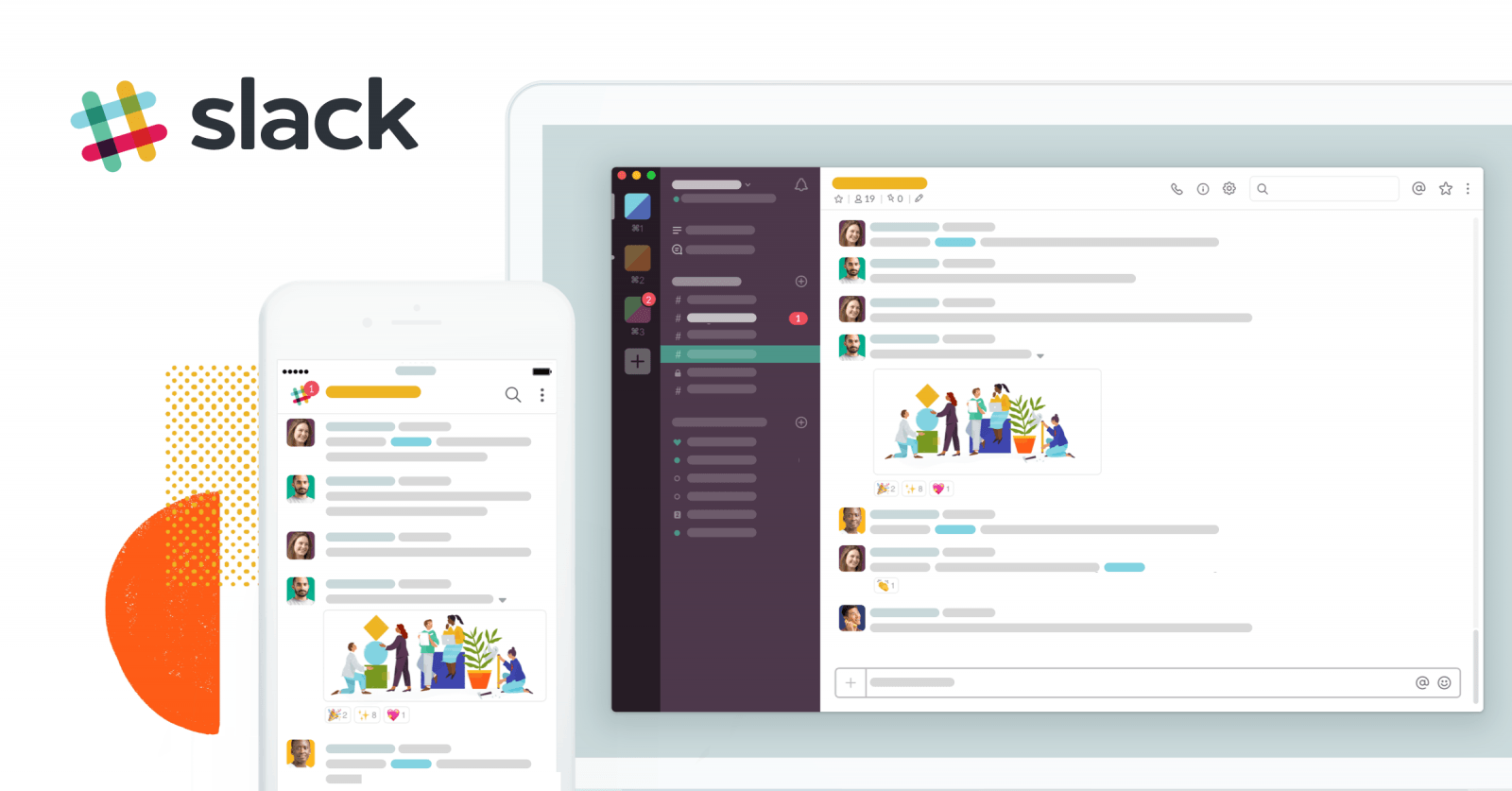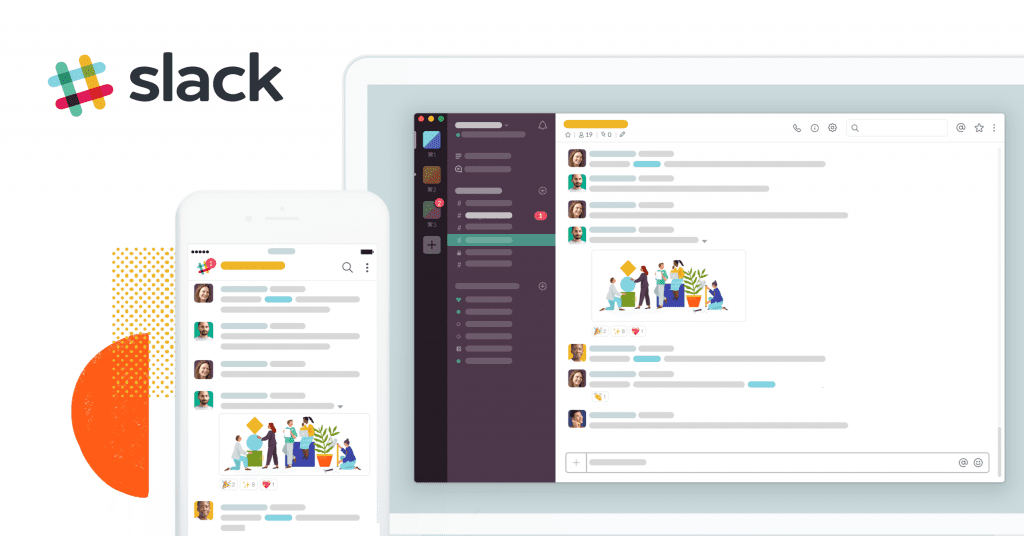 Slack is a way for teams to communicate better, and while it doesn't eliminate the need for email, it can streamline your email and communication processes to make your workflows much more efficient (and you can still enable email notifications for daily or weekly activity summaries).
Customizable Notifications
Slack can do a lot, which can be overwhelming for new users. One of the best ways to feel more in control is to customize notifications. For example, you can tell slack the keywords to monitor conversations for, and when those words are mentioned, a badge will pop up next to the associated channel.
You can also set the "Do Not Disturb" for certain times of the day. Plus, you can have different notification settings for the desktop and mobile apps.
More Features
Color coding
Desktop, mobile and web access
Integrations with various tools
Message editing after posting
Previews of links
Private direct messaging
Toggle between Slack accounts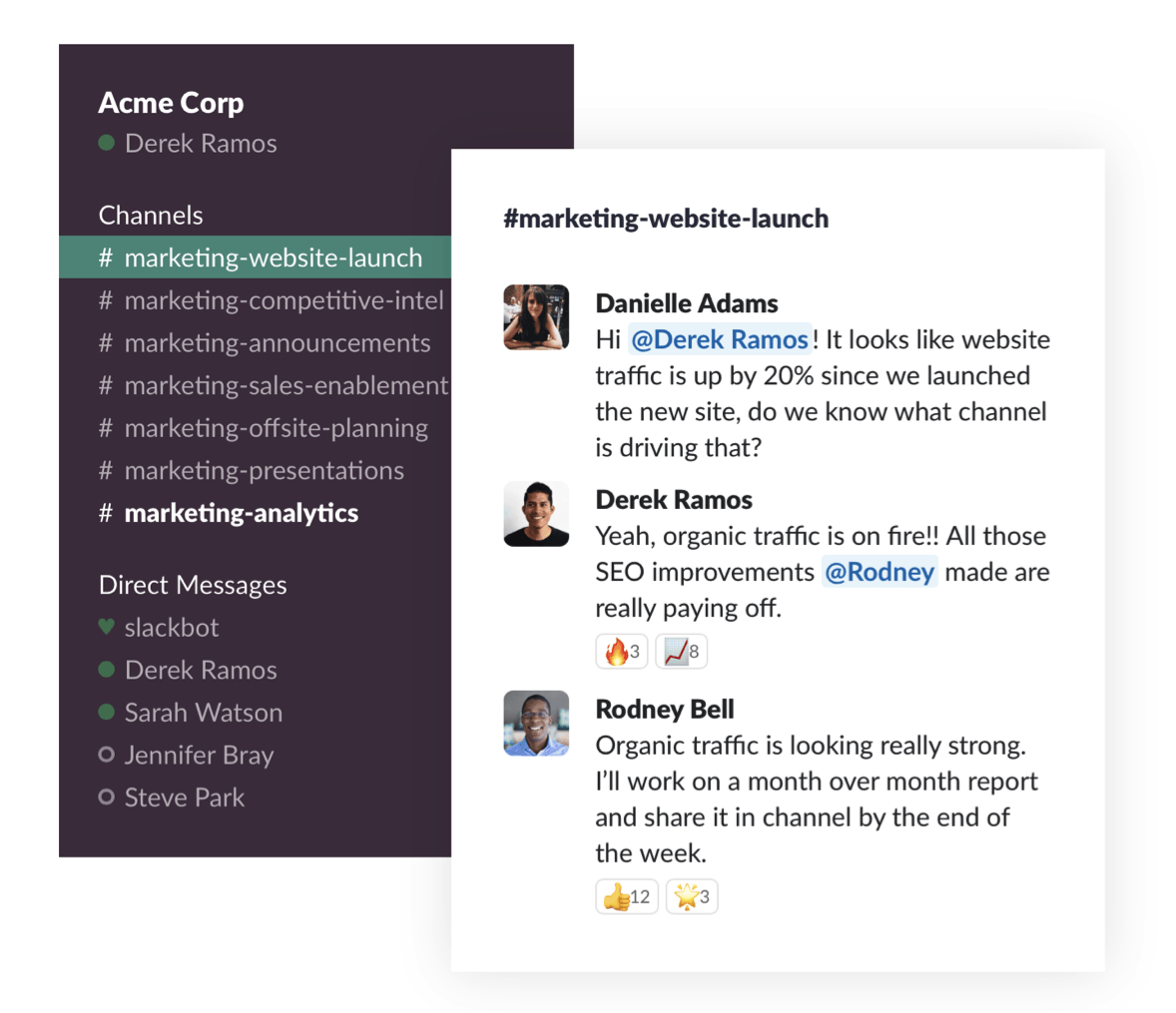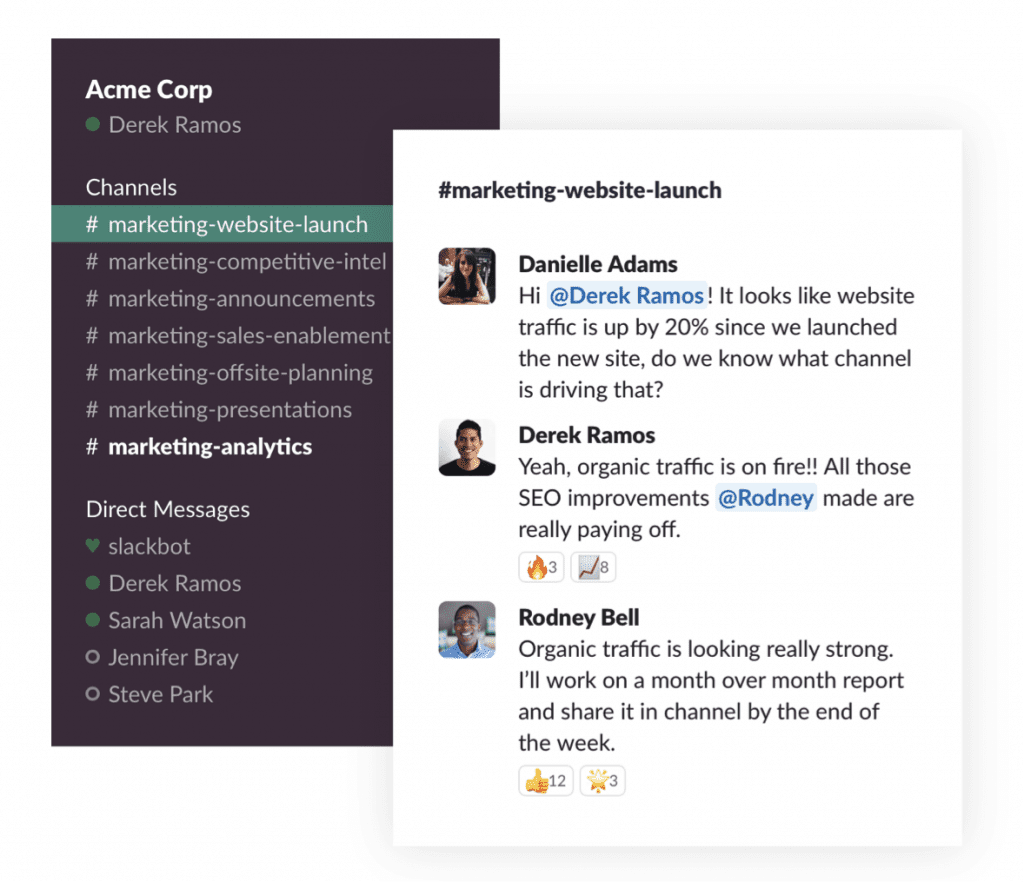 Pricing
Smaller teams who want to explore Slack for the first time can start out with the free account to learn the ropes. After that, accounts start at $8 per month per user, and discounts are available with annual billing. Find out more here.
Teamwork Projects (there's also Desk and real-time Chat from Teamwork) is a full-service project management tool. When you open the app each morning, you'll be shown an overview that includes your team's activity like messages, task list and completed goals.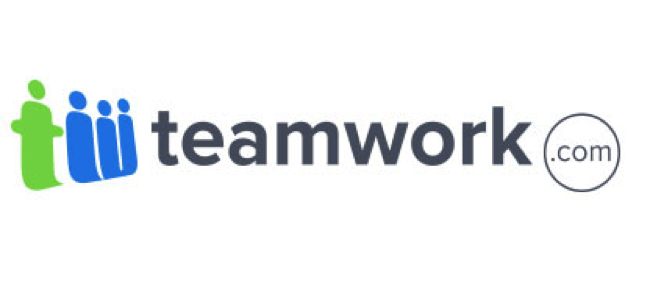 Color Coding
For people who do best with visual organization, Teamwork's color coding is incredibly helpful. Colors can be customized to differentiate tasks to easily distinguish between them in the Activity stream. Plus, the current day's activity is shown in orange, making it simple to stay up-to-date.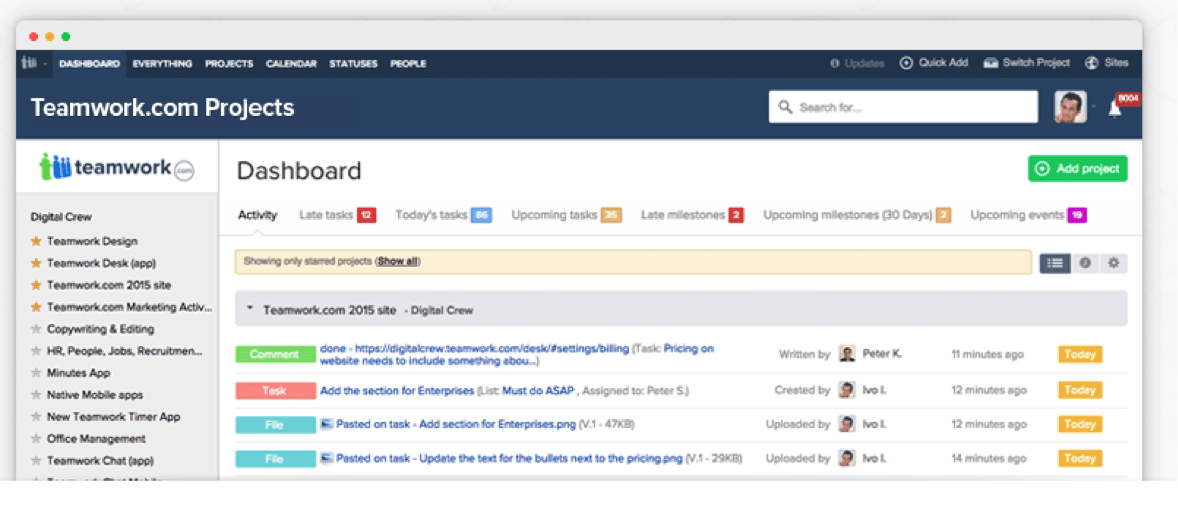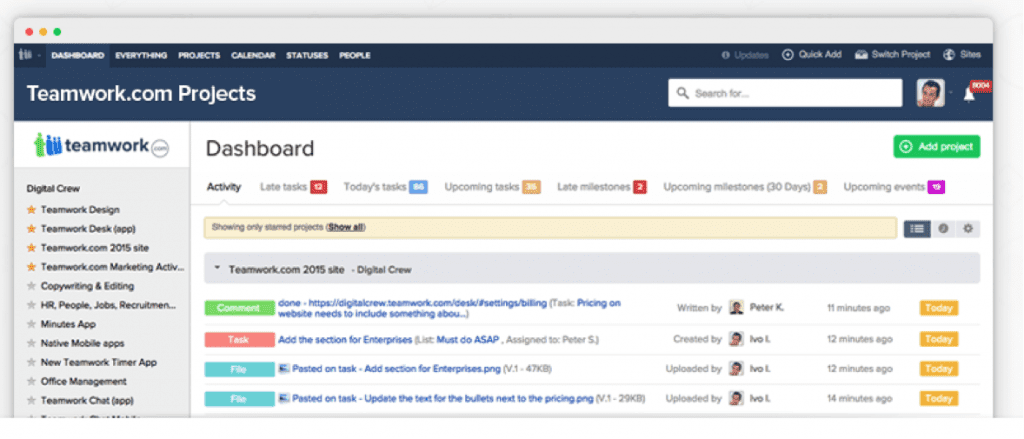 Multiple View Options
There are all sorts of ways to view projects and progress. The most simplistic views are the activity summary and the milestone overview, but you can also view by calendar, your projects, statuses and even team members. Then you can hone in even more with sub-views like project tasks, messages and files.
More Features
Advanced privacy options
Android and iOS apps with regular updates and all desktop features
Deadlines
Gantt chart view
Group messaging
Google apps and Zapier integration
Kanban board view
Milestone tracking to break large tasks into smaller goals
Multiple assignees per task
Recurring tasks
Sophisticated search functionality that learns as you use it
Time tracking
Project Pricing
Teamwork Projects has three options: Pro for $9 per user per month, Premium for $15 per user per month and the Enterprise plan with custom pricing. Find out more here.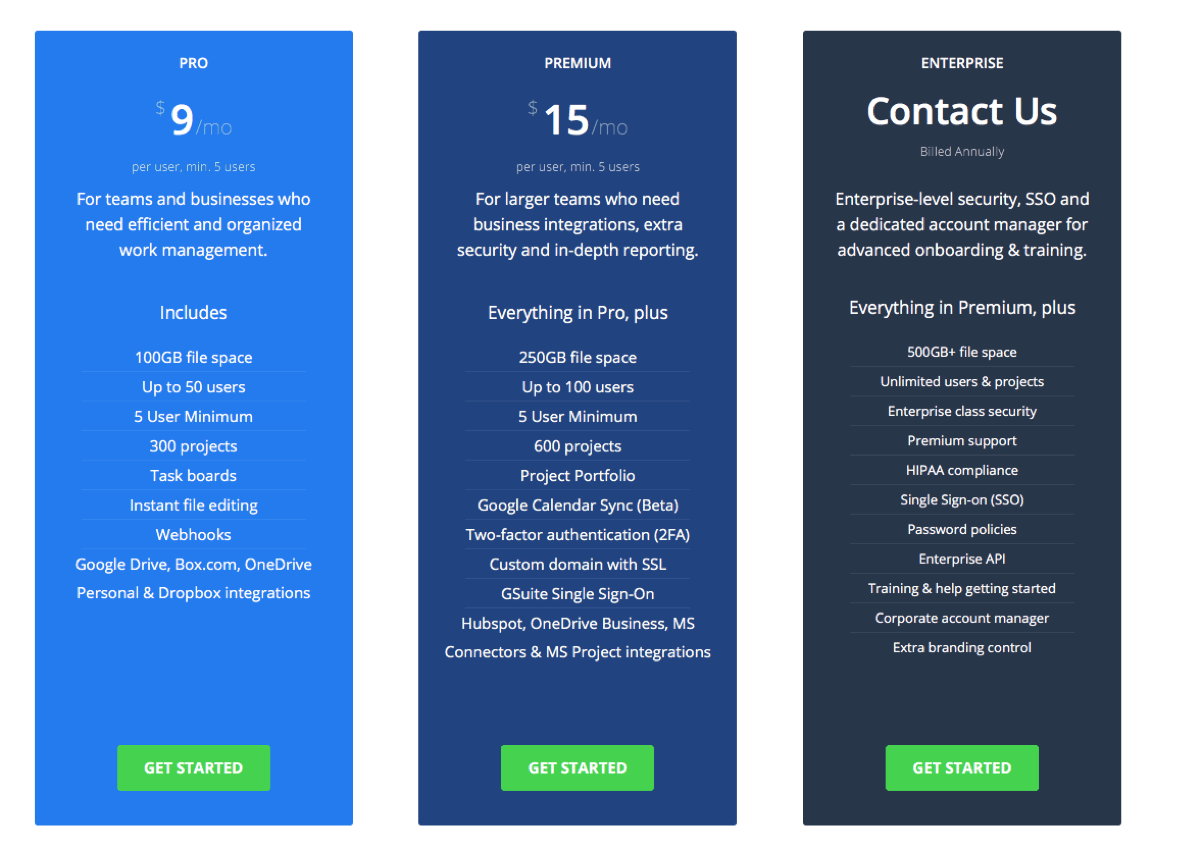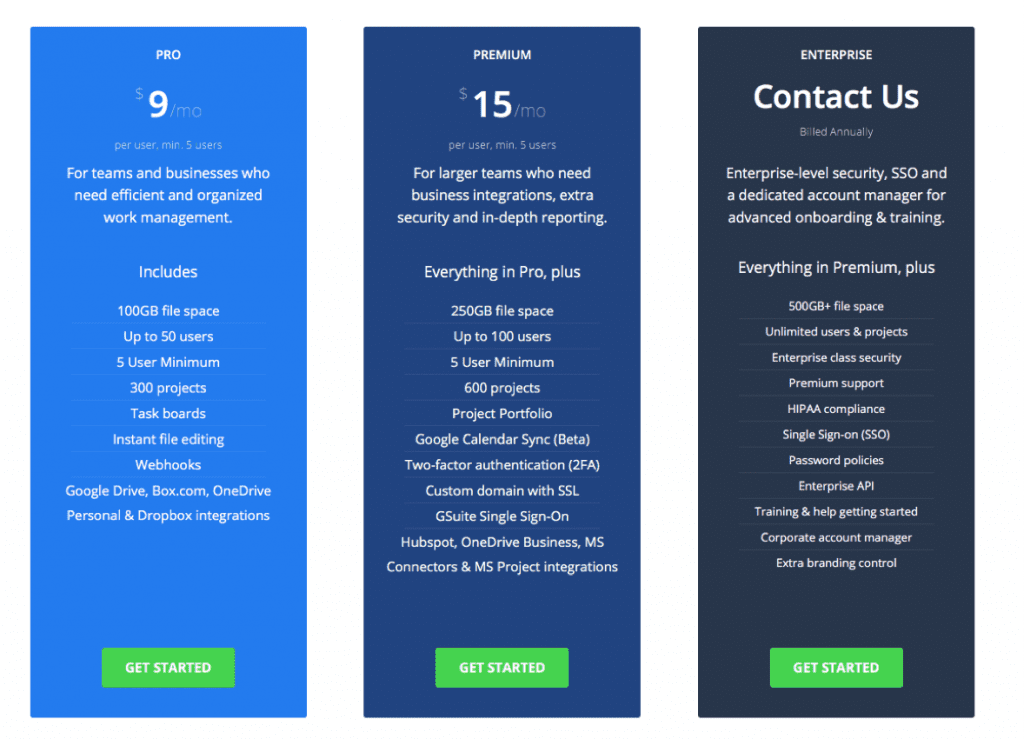 Trello is one of the best Kanbar board tools available today, and it's especially helpful to individuals and teams (particularly a smaller team less than 10 people) who like to see how much progress they've made, along with which tasks are still pending or are currently being worked on.
Recurring Tasks Workflow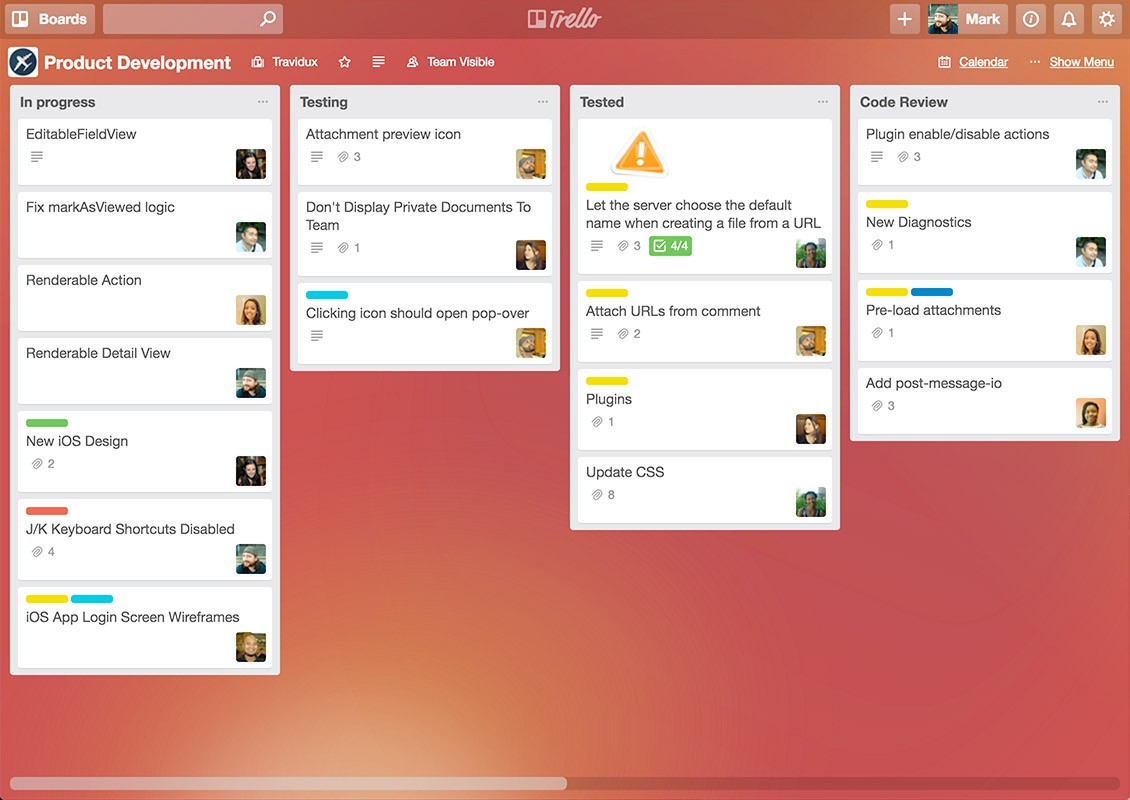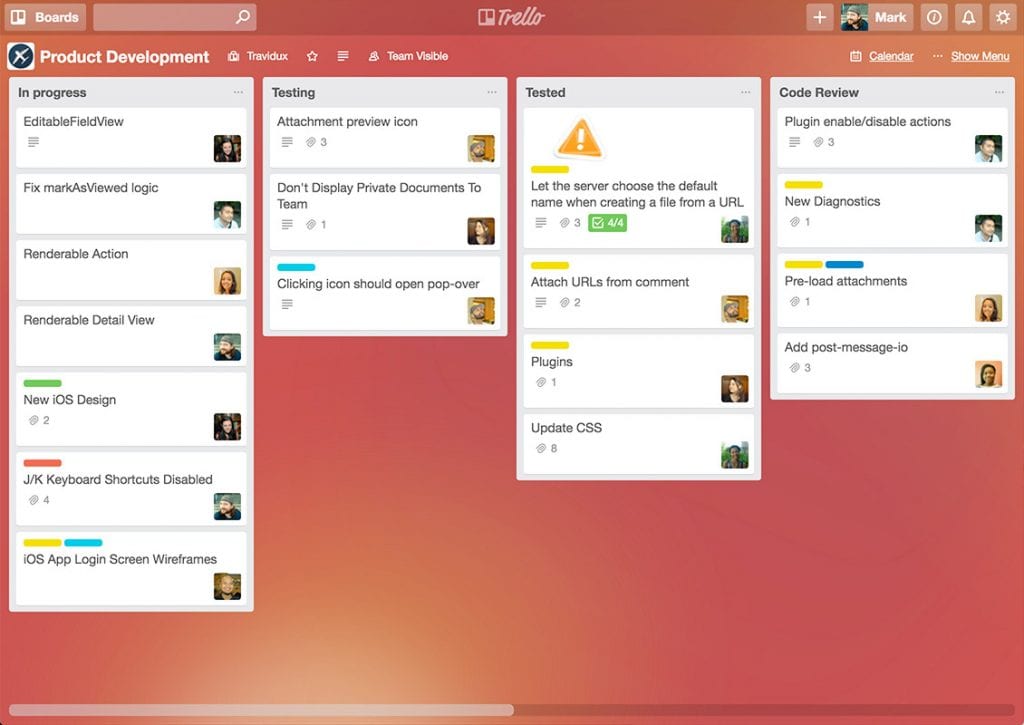 Project management software doesn't always have the option to create recurring tasks, and even if it does, functionality is sometimes limited. With Trello, you can set certain tasks to recur practically whenever and however often you want them to, and you can set them to automatically be added to the board of your choice.
Power-Ups
Trello has something called Power-Ups, which you can add to your boards to suit your specific needs. For example, with the Countdown add-on, you can add a countdown timer to your tasks. See a list of available Power-Ups here.
More Features
Archiving
Categories, labels and tags
Checklists with progress meter
Data filtering
File and attachment uploading
Drag-and-drop functionality
Pricing
You can do quite a bit with the free account, but by upgrading to one of the paid accounts, you can do things like further customize your boards and upload larger attachments. Find out more about the pricing tiers here.

Zoho has a host of software available for a variety of reasons, but Zoho Project is what you'll use for project management. This highly responsive tool is great for even complex projects, and two-factor authentication keeps your information safe.
Customization
Customize your dashboard so the most relevant charts and updates are shown to you first. Also, as you setup projects and invite others to participate, the tools that will be most useful to you will automatically show up as suggestions.
Live Chat
One of Zoho Projects' best features is the real-time chat functionality that you can use from within the workspace, saving you the trouble of having to click to another app or screen.
More Key Features
App integrations
Collaboration tools
Document management
Gantt charts and full Gantt chart functionality
Issue tracking tool
Timesheets and invoices
Useful add-ons


Pricing
There's a free plan for up to five users, plus four additional paid plans starting at $20 for up to 15 users. Find out more here.
Even the most responsible freelancers, contractors, business owners and team leaders forget something now and then. There are also a lot of creative types who can't seem to remember a thing unless it's written down. With one of these tools, or a couple of them combined, you'll have an easier time keeping your entire team on track.
Frequently Asked Questions
Are deleted slack messages really deleted?
This team communication tool allows you yo delete the messages you send on Slack, and they cannot be seen or recovered by anyone.
Does basecamp work offline?
Basecamp do not work without a stable internet connection.
I cannot sign in to my Zoho Account. What should I do?
Zoho is a very secure time tracking tool and great to organize your project tasks. One of their security measures is to block the account if the platform perceives there's a threat in the network. By doing this, they study the case within 24 hours and if there is nothing to worry about, they enable the access again. If your account is still blocked, you can contact the Zoho Accounts support team to reach for help.
Is Slack messaging secure?
Slack is a great team communication platform with file sharing features, and great to assigns tasks to your team. Also, one of their main promises is to keep the safety and privacy of your business, but as any other platform, we recommend to not use this tool to share passwords or sensitive data.
Final Word: Top Basecamp Alternatives
Personally, I find the intuitive interface and functionality of Wrike to be the most similar to Basecamp (but with subtle improvements).
Editor's Choice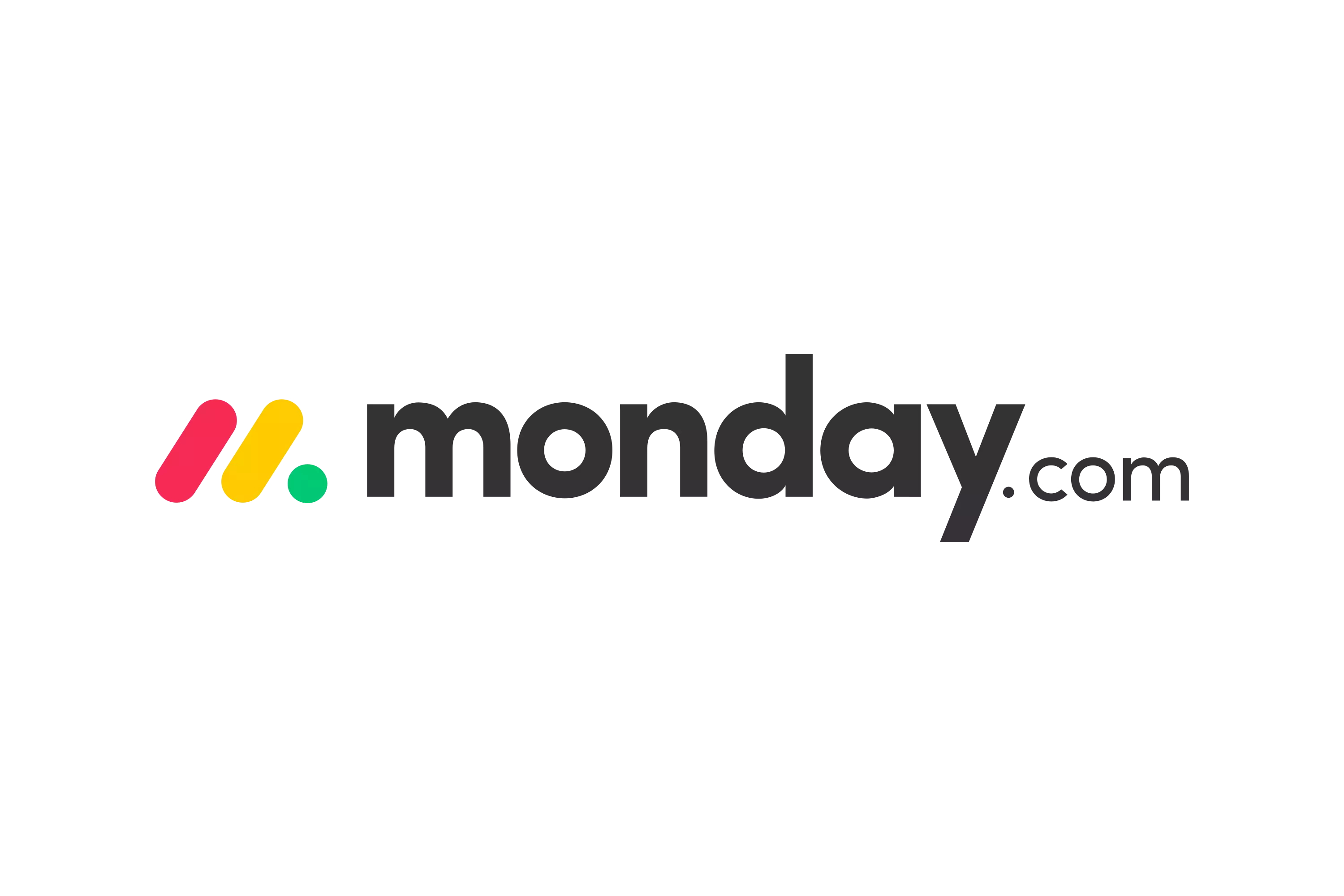 Why Go with monday.com?
Make tasks satisfying to finish! monday.com is quickly disrupting the old guard with a sleek interface, hundreds of integrations, and dozens of workviews for visually imagining and tracking your projects. More than just project management.
Start Managing Your Team Better
We earn a commission at no cost to you which helps keep this blog running!
ALL of the options discussed are certainly worth looking at, but if I had to pick just one, I'm going with Wrike. They DO offer a fully featured free trial version here, so be sure to test it out.
Still Stuck? Here's Some Further Reading on PM Tools