Last Updated on April 22, 2023 by Ewen Finser
If you are looking to make a decision between Basecamp and monday.com, you've come to the right place.
I've literally been in the exact same place, trying to determine which team collaboration tool is best for our company.
While I do have a favorite, the truth is there are specific use cases were each make sense!
But first, here's my overall take…
Bottom Line Up Front Summary: These are both competent tools, but I much prefer the robust reporting, progress tracking and project automation found with monday.com plans here. That said, if you are looking for a simpler "calm work" solution, Basecamp works well.
Main Differences Between Monday.com vs Basecamp
The main differences between Monday.com vs Basecamp are:
Basecamp only has one paid-for plan where you're charged a one-off fee to access all features, whereas Monday.com bills you on a per-user, per-month basis.

Basecamp reporting features are more limited, whereas Monday.com reporting is more robust with general project progress, budgets, KPIs, etc.

Basecamp relies on integrations offering similar functionalities, whereas Monday.com comes with built-in automation tools.

Basecamp doesn't have a custom plan available, whereas Monday.com provides a custom plan for enterprise-level clients

Basecamp offers a limited free plan, whereas Monday.com only provides a free trial.

Basecamp only provides how-to-guides and manuals, whereas Monday.com boasts various types of self-help materials, including video tutorials and a forum community.
Editor's Choice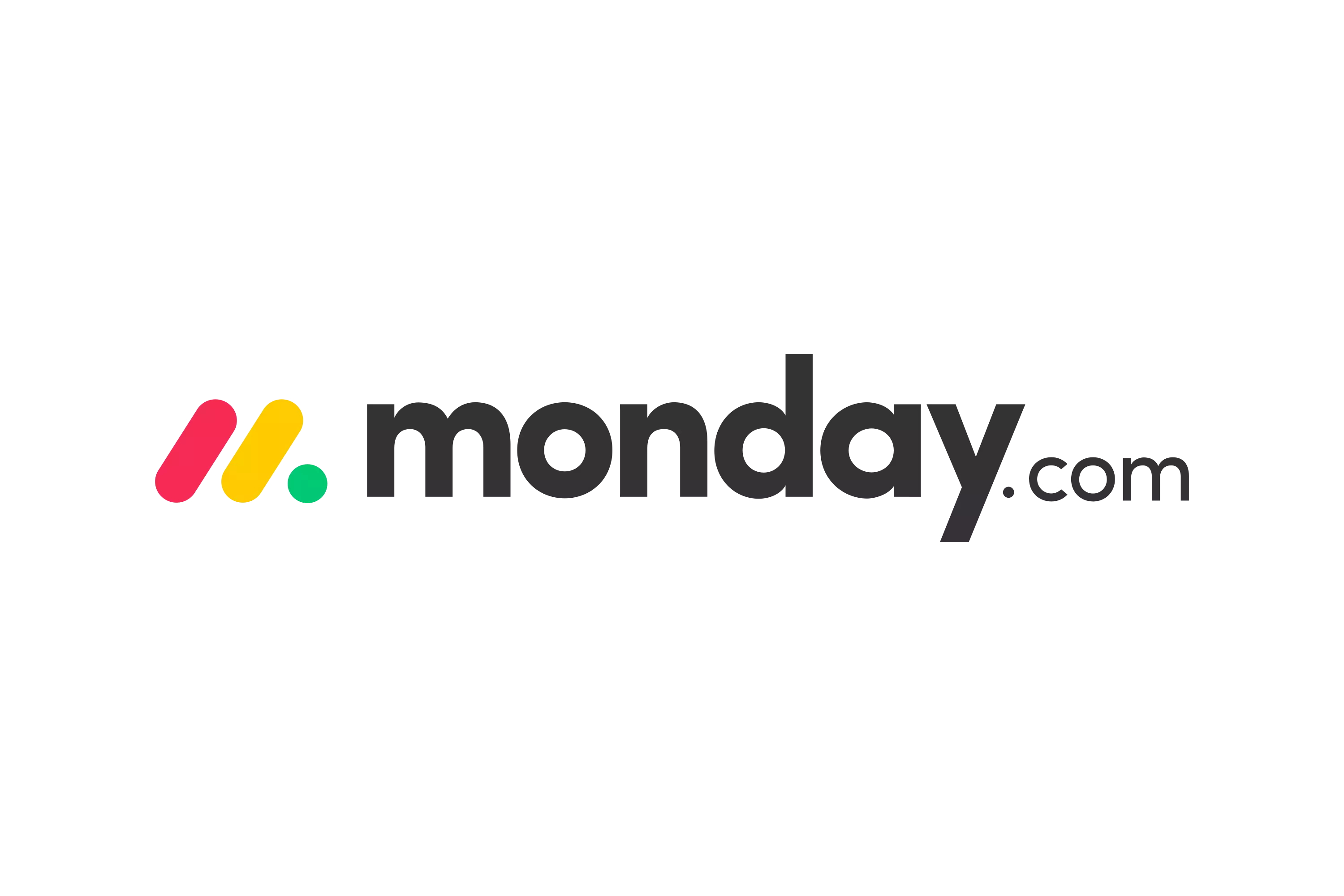 Why Go with monday.com?
Make tasks satisfying to finish! monday.com is quickly disrupting the old guard with a sleek interface, hundreds of integrations, and dozens of workviews for visually imagining and tracking your projects. More than just project management.
Start Managing Your Team Better
We earn a commission at no cost to you which helps keep this blog running!
This is where software like the Monday.com app and Basecamp app come into their own.
Both tools promote collaboration (callaboration software) and better visibility over your team's tasks, task dependency, and projects (task management and resource management). You can set to-do lists, assign them to the responsible parties, and track their progress.
But, which is better for project management: Basecamp or Monday.com?
We're going to answer that very question in this review, so continue reading to find out more…
Similarities Between Monday.com vs Basecamp
The key similarities between Basecamp vs Monday.com are:
Both tools integrate with Zapier.

Basecamp and Monday.com both center on users creating boards, where they can list and assign tasks, check jobs off as they're completed, and receive notification about their progress.

Both services offer mobile apps for IOS and Android.

Both offer free trials – Monday.com's is 14 days long, whereas Basecamp is 30 days.
So, now we've covered the main differences and similarities between the two, let's delve into the nitty-gritty…
What's Basecamp About?
Jason Fried, CEO of Basecamp, spotted an issue – namely, that companies are hectic and disorganized places, so effective team communication and collaboration is often a problem. So, In 2004 Basecamp was brought to life to provide a solution.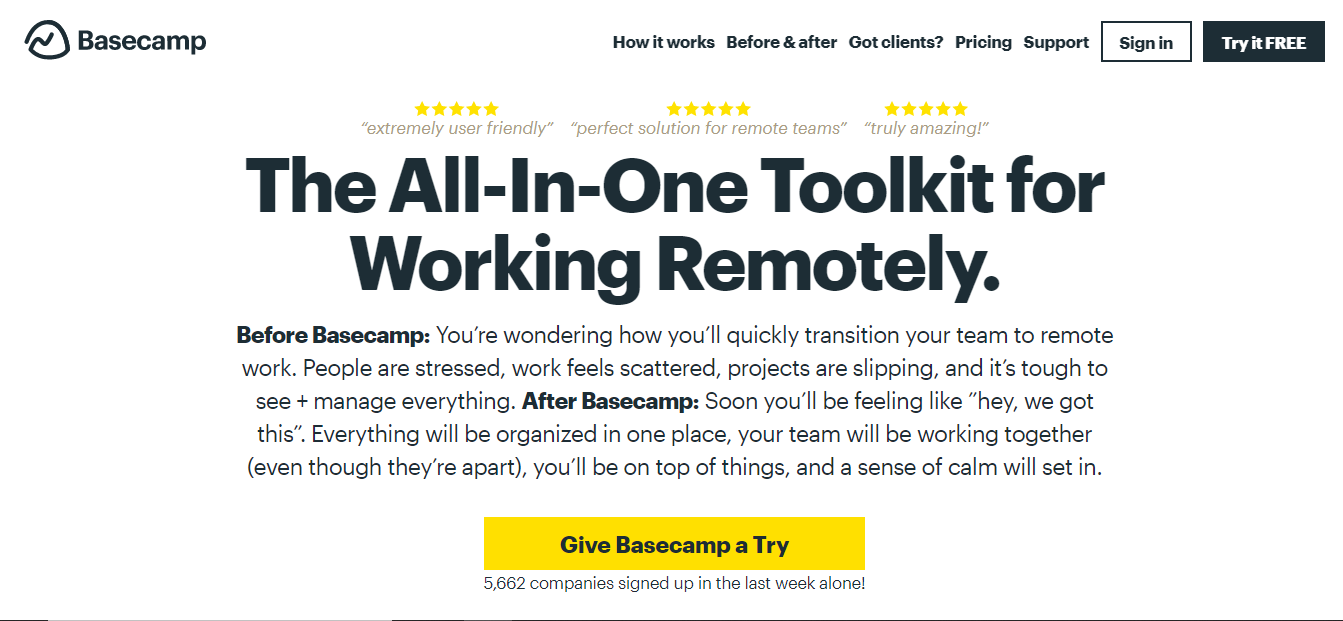 How?
Well, in short, Basecamp provides an efficient way for you and your team to liaise with one another and manage projects (project management tool). Gone are the days where you had to trawl through long streams of emails where important details go undiscovered.
Instead, Basecamp empowers you to break down your work into separate projects. Then inside each 'project,' you can utilize message boards, group chats, file storage, and set schedules and to-do lists.
Basecamp provides everything you need to ensure teams work efficiently and stay informed on whatever progress is being made…without long and tedious meetings.
Today, Basecamp is a real success story; it's used internationally and has become somewhat of a global phenomenon. Basecamp boasts over 3.3 million accounts, across three different versions – which says to us, they're onto something worth looking at!
Monday.com vs Basecamp: Who's Monday.com?
Monday.com launched in 2012, with the firm belief that transparency, ownership, and accountability should underpin our working environments.
In recent years, Monday.com has expanded from its foundling New York branch and opened a new office in Israel. To date, an impressive 201 industries across 141 countries use Monday.com!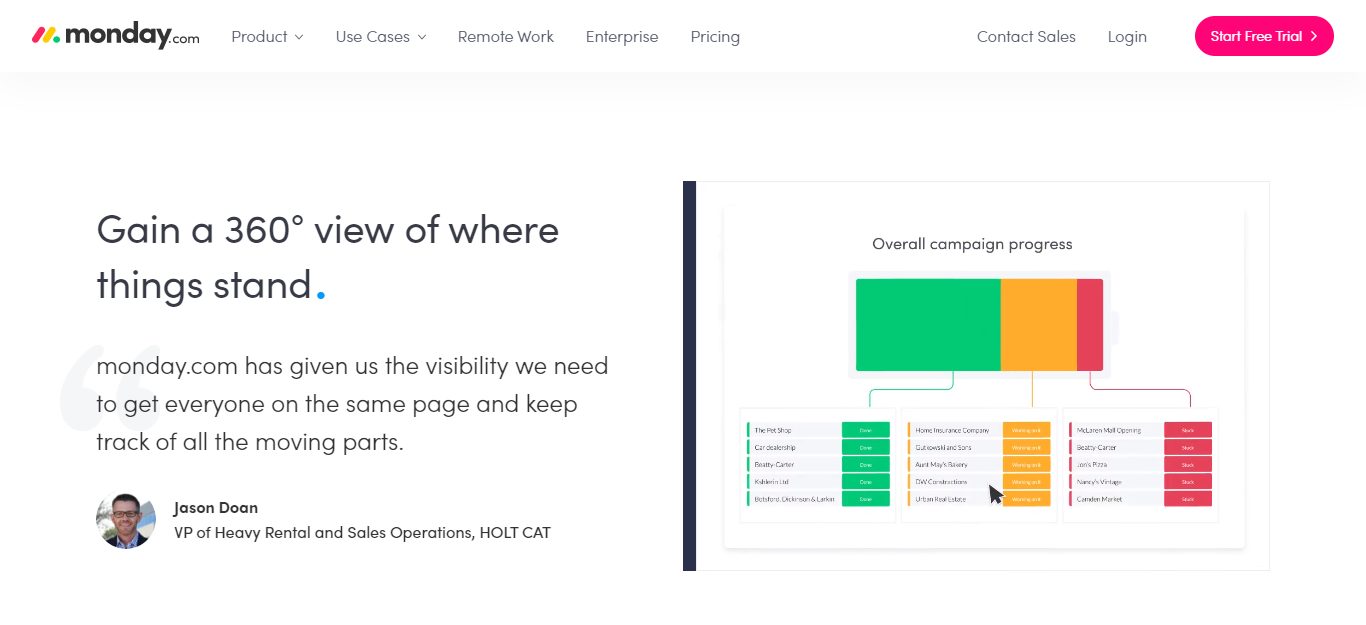 For those who don't know, Monday.com is a triumphant work operating system that's explicitly designed for project management. Monday.com is a simple, yet visual, web-based platform, that assists businesses with delivering projects on time and within budget. This solution provides everything you need to manage and track your projects to ensure maximum productivity.
Similar to Basecamp, teams can allocate task management to specific team members and organize their work by creating action boards. Here you can brainstorm ideas, provide feedback, upload edited files, set deadlines, and assign schedules to specific team members.
Basecamp's Most Notable Features
As we've already alluded to, Basecamp is an easy-to-use tool for organizing tasks, projects, and teams, and then keeping track of their progress.
You can create various boards for different projects and assign team members to specific functions inside of that project. Basecamp promises to provide all the functionalities that tools like Slack, Asana, Dropbox, and Gsuite's Docs and Calendar offer – inside of their app, for a flat fee.
With each project you set, you can provide a description and upload files. You'll also get access to an audit log of changes and comments posted by both you and your team. Similarly, your workers can also upload files. This comes in handy for highlighting any issues they want clarification on and for demonstrating the progress they've made.
Once a task is completed, it can be marked as such. You can then move it into an archive or assign it to another user.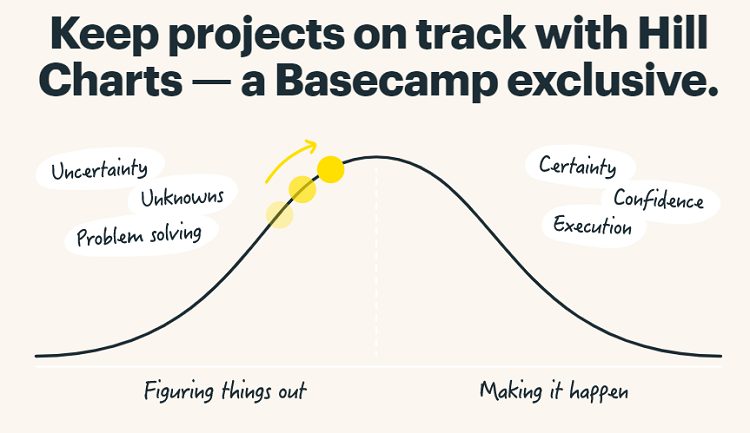 So, how do you create a Basecamp project?
First of all, click on the project section of your dashboard and press the '+New' button. Then give your project a name and press save. Once you've launched a project, you'll see six handy tools;
Campfire (This is an informal group chat, you can use the @ sign to message specific team members. Campfire's don't have size limits, so they're perfect for larger groups or large teams.)

Message boards (you can post announcements, pitch ideas, update on progress, provide feedback)

To-dos (lists of what needs to get done, due dates, and a catalog of the team's progress)

Schedules (set important dates and share your timetable)

Docs and Files (upload docs, files, images, and spreadsheets and organize them in folders.)

Automatic Check-ins (Basecamp sends team members frequent prompts to make sure they are ahead of a task.)
When you're ready to include your team inside of your project, press the 'invite people to the project' button. This is located at the top of the page. If you wish to make any changes to your project's name, description, or admin, hit the '…' button in the right corner.
Basecamp also comes with milestone tracking. This allows users to see how much progress they've made towards an objective and how many tasks still need completing. This creates an accurate picture of whether they're on track for meeting any pending deadlines.
You'll also get access to tons of collaboration tool functionality, including group chats and message boards. For the uninitiated, group chats are actual chat rooms where you can freely converse with your team (more casually), whereas message boards are more like forum threads for long-form answers and relevant discussion about your projects. You can also upload various materials to message board and to-do threads – including pdfs, images, etc. Handy, right?
Basecamp also makes it easy to keep people in the loop with catch-up emails that summarize your progress. Basecamp will automatically review all the tasks you and your team have checked off, compile them, and notify the relevant parties. And for an improved work-life balance, you can set notifications, so they only pop up during working hours.
Let's look at a few of these main features in more detail!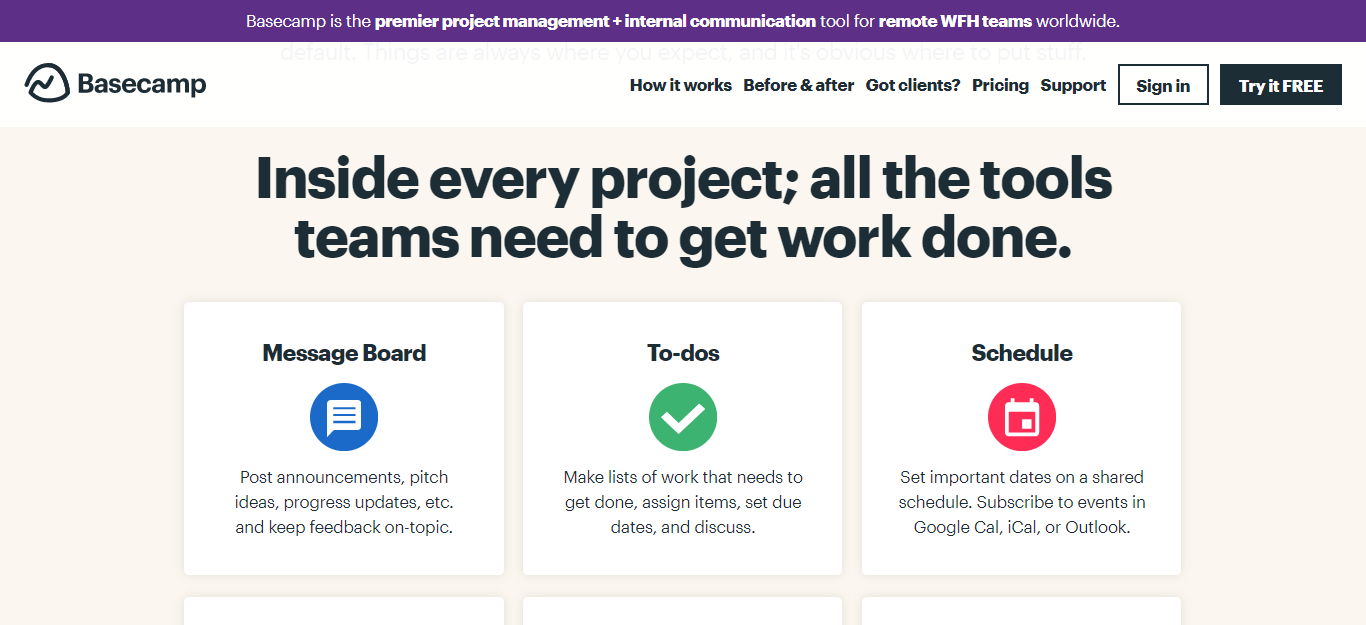 Schedules
When you launch a project inside of Basecamp, a schedule is created consisting of any key dates, events, and deadlines for the project. This is accessible to everyone working on the project, so rest assured, your entire team should be on the same page. You can also notify employees if scheduling changes, which gives you the flexibility to change plans as your project evolves.
To-Do Lists
Inside of your project, you can also set to-do lists to help break work down into manageable chunks. Here you can assign individual tasks to either specific team members or multiple people, and you can set due dates for each task on your list. You and your team can write helpful notes or comments about each task, and you can follow up with any jobs that are overdue or outstanding.
Document & File Storage
Finding those all-important documents is sometimes a struggle – especially if they're attached in a long-forgotten-about email. Luckily, Basecamp enables you to store all your docs, images, data, and files in one centralized space. So, everything you need to complete your work is conveniently kept together.
Everyone in your team can access this storage space anytime, anyplace – so if you want to give staff the freedom to work remotely, Basecamp facilitates that.
Not only that, but you can also reorganize the order of your files and color code them so that your colleagues can locate the info they need with just a few quick clicks. Simply drag and drop files onto the board to store them safely away.
Message Boards
If communication among your team is disjointed, you'll be thankful for Basecamp's message board. Here you and your colleagues can post all your project-related comments and questions in one place for everyone to see.
You can also make these message boards your own by customizing them. For instance, you tag team members to draw their attention to particular messages and embed images and files into your post. We also love that users can show whether they agree with someone's message by 'applauding' their post!
Monday.com's Features
Monday.com works similarly, i.e., you can also create boards for managing bigger projects or your everyday work. From there, you can automate your workflows.
Monday.com's code-free automation minimizes the chances of human error, including assigning tasks using specific tags, like 'needs design' to a particular designer in your team.
Monday.com also offers plenty of ways you can view projects as a whole, including chart and timeline views, so you can visually plan your team's workload.

This project management solution also provides you with the tools you need to track your business's budget and finances. You can also generate reports on the company's KPIs and produce detailed progress charts.
And if you're on the run, not to worry, Monday.com also comes with a mobile app so you can easily switch to on-the-go management.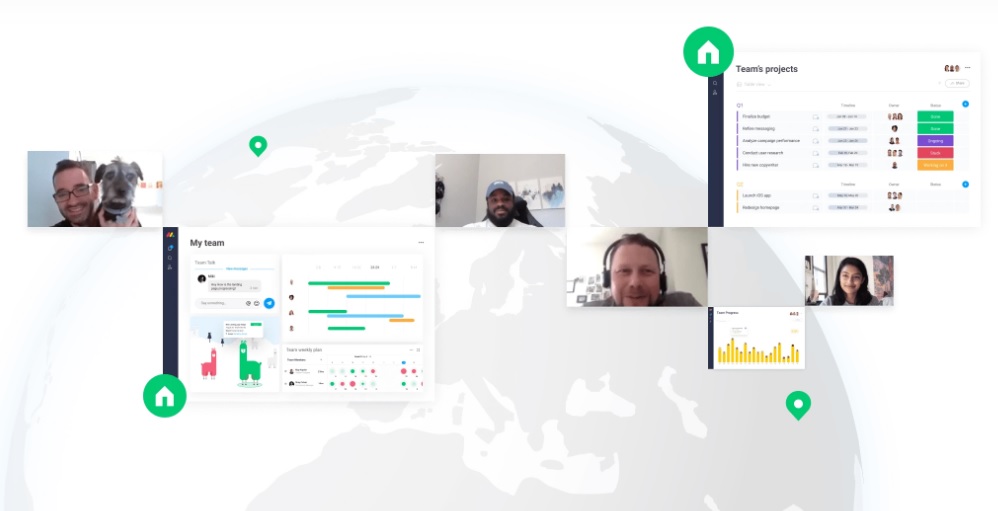 There are tons of features you can utilize to help you plan and manage your projects:
Forms: Capture job applications from your website
Timeline view: View your tasks in a timeline that marks their start and due dates
Calendar view: View functions on a calendar so you can easily see when they're scheduled for completion
Kanban Board view: This is a card-based view of all your jobs so that you can see them at a glance on one page.
Automation: You can set tasks to be filed elsewhere, and use Zapier integrations to trigger other tools and functions automatically.
Notifications: Get notified when a job is set or completed, or when a to-do is reassigned
Workload trackers: This gives you an overview of which team members are swamped with work, and which have greater availability
Updates: You can receive updates as your team progresses through their ongoing tasks
Time tracking: Track how you and your team spend your time
Guest permissions: Allow guests varying levels of access to your management dashboard. For example, you can specify whether they're permitted to read through your progress and comment on ongoing tasks
Workspaces: Create separate workspaces for different projects and assign users and tasks to them
File sharing: (this one's self-explanatory)
Below, we'll explore some of these features in more detail:
Dashboards
Want to see important info at a glance? Dashboards are the answer!
Here you'll find a summary of all your project's key details, including its progress across multiple boards. With a quick scan of your dashboard, you'll soon see which tasks need your attention.
You can also customize your dashboard by choosing which info is made a priority, and you can select whether you dashboard's public or private.
Want a hard copy? Don't worry; you can print it out! Click on the three dots in the corner of the page, and a print option becomes available!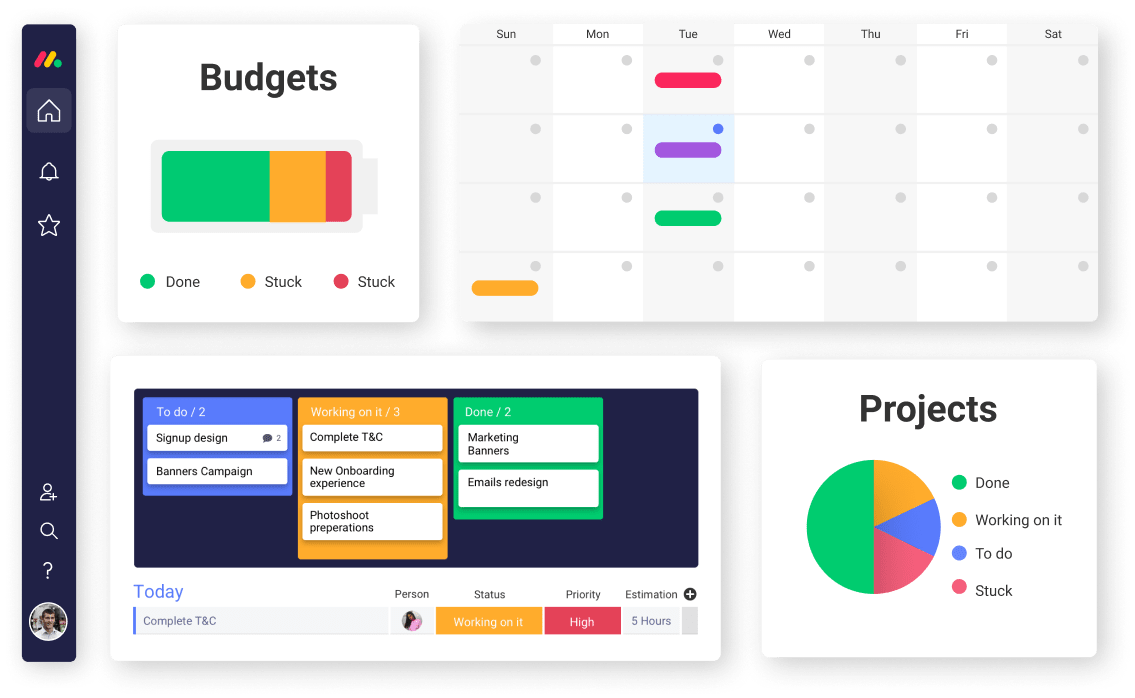 Views
As we've already alluded to, you can display your data in several different ways – including timeline, Gnatt chart, calendar, and Kanban layouts. Monday.com's 'views' tab is a popular feature because users can analyze their project data in whatever way they're most comfortable.
Consequently, they may gain insight into their project, which might otherwise have been overlooked. These 'views' provide an accurate picture of the progress being made and are often decent indicators for whether you're on track for meeting your deadlines.
Time Tracking
With Monday.com's time tracking column, you'll get an accurate picture of how and where you and your team spend your time. Knowing where your time goes empowers you to make better decisions about how your project progresses.
You may be wondering, how does the time tracking column work? In short, when you're ready to start a task, click on the '+' icon, press more columns, and choose 'time tracking.' Start the timer!
If you want to take a break from a task, pause the timer to give a more accurate reflection of how long it took to complete the job. Over time, you'll build a history log of how you spend your time, which you can then export and view on third-party tools like Excel.
Automations
Automations save valuable time by streamlining your workflow. You can use automation for a range of actions, including date reminders, a moved item on board, pricing, status changes, etc. You just tailor the automation to meet your needs, so you don't have to do as much work manually.
To get started, head to the board you want to create an automation for. Then press the automation button at the top of the page. For the automation to work, you need to pick an automation recipe.
In simple terms, this is the action Monday.com automatically provides on your behalf. Here you set the parameters, i.e., the instructions for Monday.com to act upon.
Then, voila, you're done!
Basecamp vs Monday.com – How Do Their Features Compare?
At their core, Basecamp and Monday.com's features are very similar. Both allow you to create boards, collaborate with your teams (collaboration tool), assign tasks, and measure progress.
However, Monday.com gives you more in the way of project visibility with their different viewing options. It also allows for budget tracking, workload tracking and generates fast and detailed reports – which are all features Basecamp lack.
Integrations
Where integrations are concerned, Basecamp and Monday.com overlap somewhat. For instance, they both integrate with Zapier, which connects with hundred of different third-party tools. But, let's look at what each platform has to offer…
Basecamp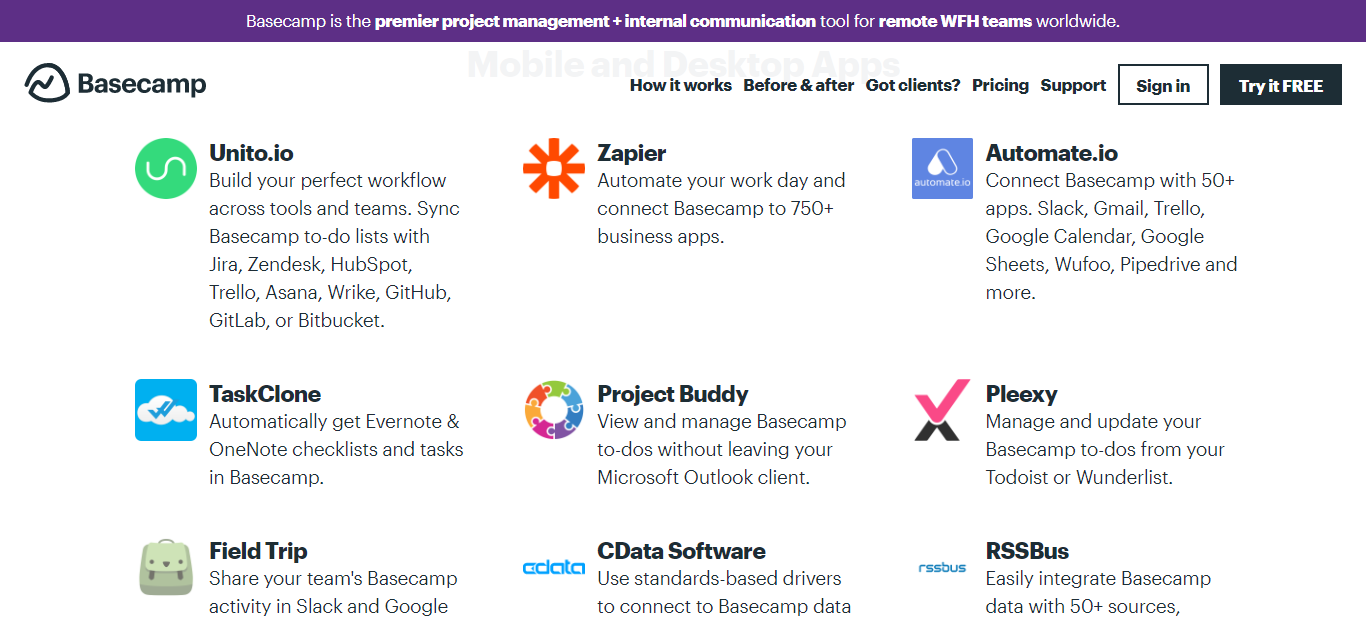 Basecamp has native integrations for:
Unito.io

Zapier

TaskClone

Zitflow

CData Software

Field Trip

Project Buddy

Retool

Zoho Flow

Automate.io
Just to name a few!
If you're looking for a specific extension or function, you can narrow down your search by using Basecamp's integration categories, including:
Mobile and desktop apps

Time tracking

Invoicing and accounting

Reporting

Charts

Planning and software development
These are just a few of the headings, but you get the idea!
Monday.com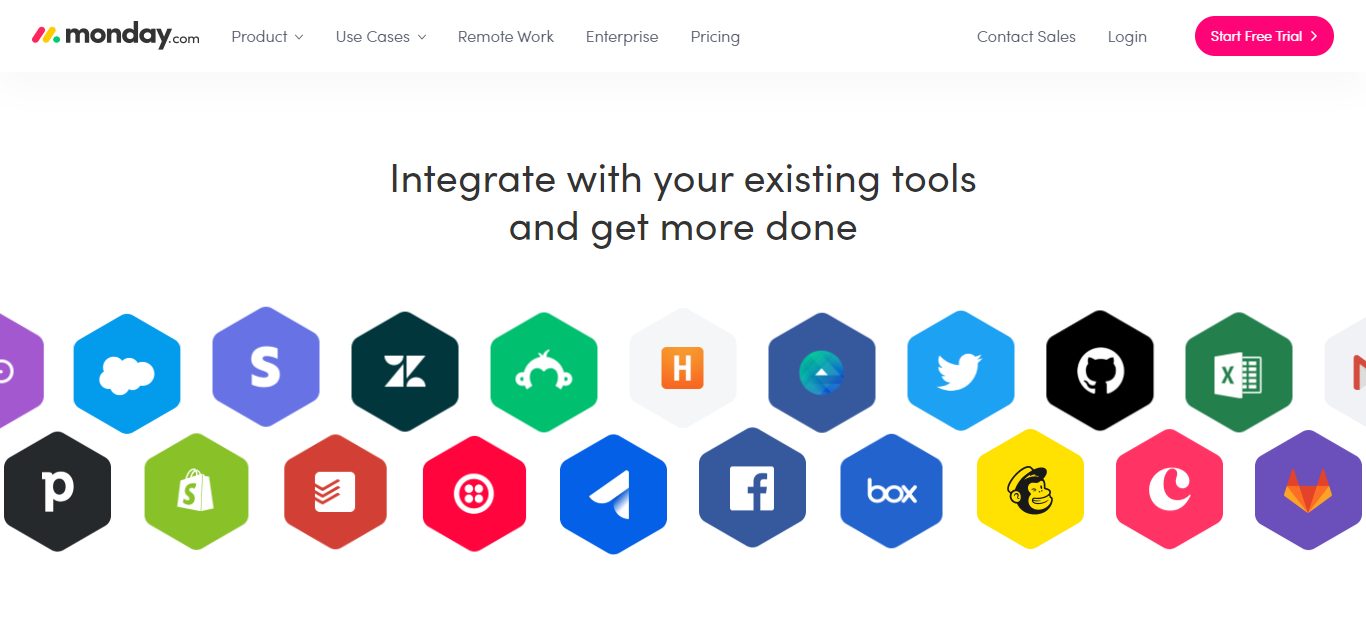 Monday.com boasts the following native integrations:
Zoom

Slack

Zendesk

Jira

Typeform

Excel

Salesforce

Facebook ads

Microsoft Teams

Dropbox

Asama

Trello

Mailchimp

Github

Everyday G-Suite integrations
Basecamp's Pricing
Basecamp keeps its pricing incredibly straightforward. You can enjoy a 30-day free trial (no credit card details needed). Then, after that, Basecamp charges $99 a month.
The core business plan allows you to build unlimited projects, with as many users as you want, with 500 GB worth of storage. You'll also get access to project templates, priority customer support, and you're able to run team projects.
Or, if you don't have an entire business to run, and you just want an organizational tool for personal use, you can utilize Basecamp's Personal Plan for free. This limits you to 20 users, three projects, and 1 GB of storage without any of Basecamp's fancy features. For a small team, this might be sufficient to organize your workflows.
Bear in mind: Basecamp gives you two months for free when you purchase their service for a year upfront. They also provide free accounts for teachers and students, and a 10% discount for non-profits!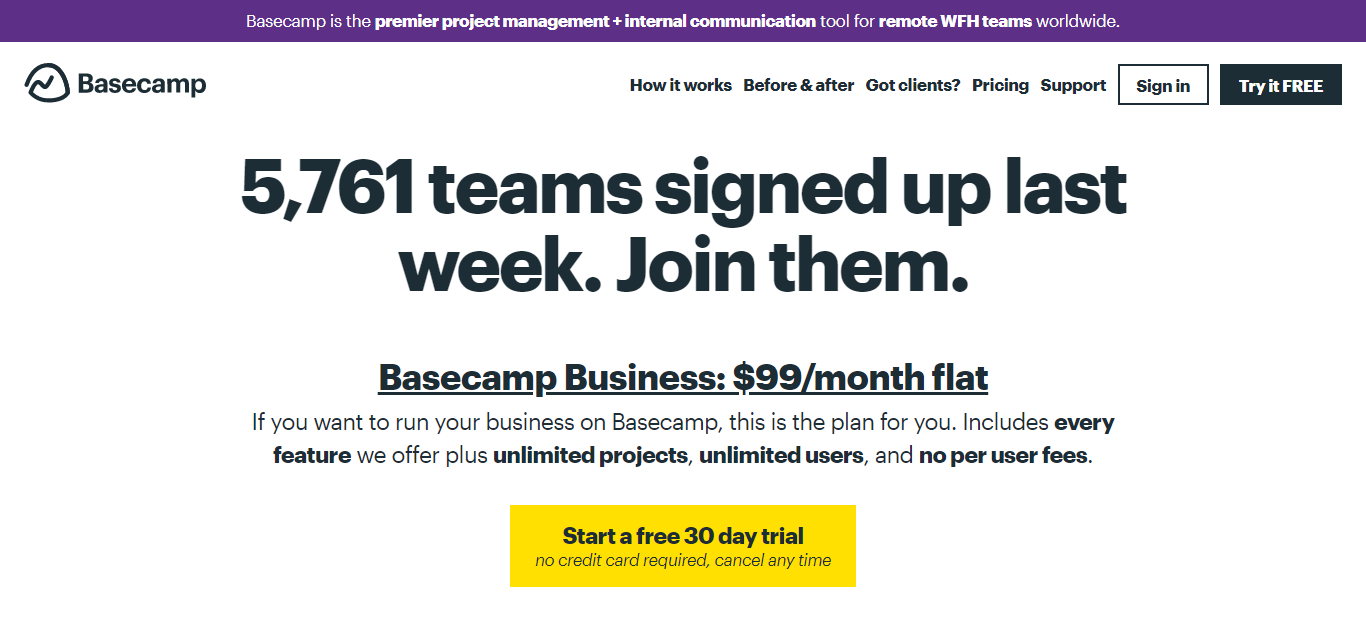 Monday.com's prices are more involved than Basecamp's, as this solution comes with four different paid plan.
Like Basecamp, you'll save money if you pay upfront for an annual subscription – 18%, to be exact. For their non-profit discount, you need to fill in a form with info on your team, and Monday.com will get back to you with any applicable discounts.
Monday.com also charges per user/per month rather than a flat-fee per tier. They offer a free 14-day trial (free version) on their Pro plan.
This sets you back $8 per user, per month. The cheapest package they offer is a five-user plan at $39. This gets you:
5GB of file storage

Unlimited boards

Free viewers (anyone with read-only rights to the content on your account)

A whiteboard integration (this a digital whiteboard where you can brainstorm and collaborate with other team members)

A Zoom integration

Embedded documents (here you can embed documents to edit and work on from within Monday.com).
You're allowed one board per dashboard, and you get access to two-factor authentication. However, your activity log is limited to one week.
To better understand how the user-count may affect the price, let's take a look at how much even the basic plan might cost with more users.
For five users, the basic plan costs $39 a month.

For 20, that rises to $159 a month.

If you have 50 users, that's $399 per month.
This will cost your $10 per user per month. For this, you'll get three boards per dashboard and 250 actions a month for automation and integrations. You'll also enjoy 50 GB of space and an unrestricted activity log.
You also gain access to timeline and map views, advanced search (you can search everything in your account, including images and files), and form customization (you can add your company logo and change the background color).
You'll have to shell out $16 per user per month for the Pro plan ($79 a month for five users). This unlocks unlimited storage space, time tracking, the chart-style view, custom tags, and private boards. Plus, your integration and automation actions increase to 25,000 per month.
If you're a much larger enterprise, contact Monday.com to get a quote for their Enterprise Plan. This custom package unlocks tailored onboarding and provides enhanced security features like advanced account permissions, HIPAA compliance, an audit log, session management, and a 99.9% uptime SLA.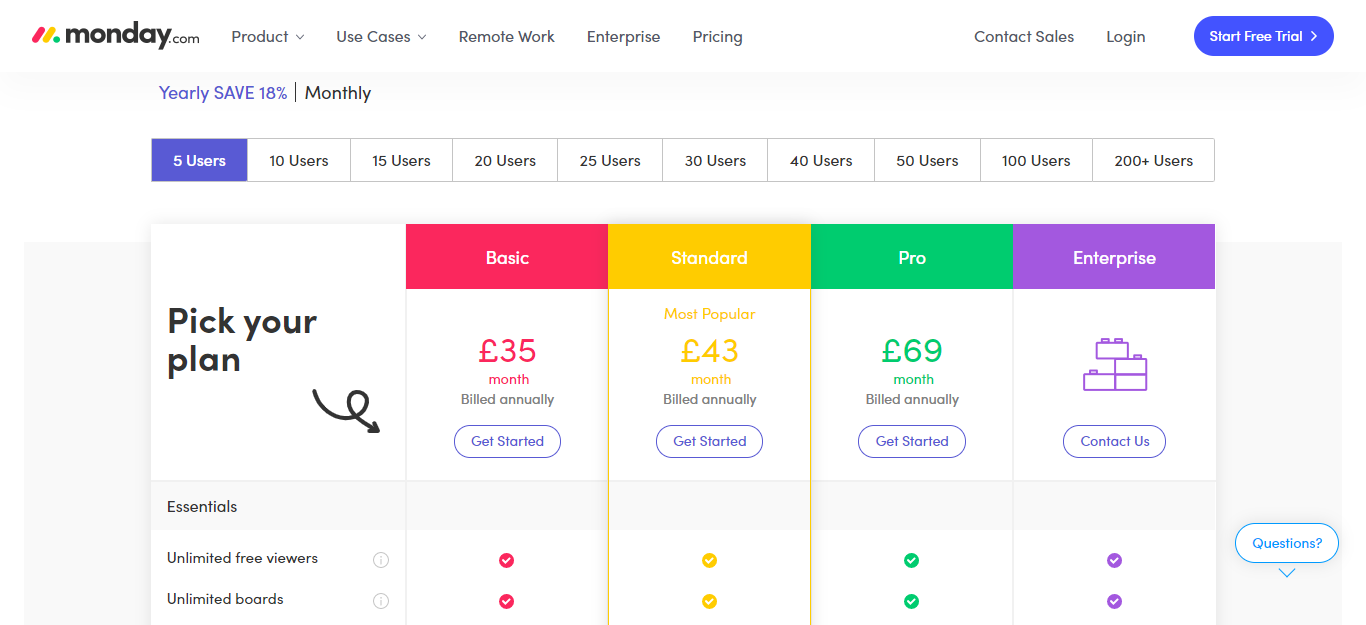 So, How Do Basecamp and Monday.com Compare Pricing-Wise?
If you're a small team, Monday.com provides a cheaper option than Basecamp, albeit with limited functionality. Then, swinging to the other extreme, Monday.com also offers a scalable solution for enterprise-level organizations. However, as your team grows into that mid-tier bracket, Basecamp's flat monthly fee for all its features with no arbitrary caps will provide better value for money.
Basecamp's Customer Support
You can contact Basecamp via their online contact form; here, you can attach files and screenshots to help describe whatever issue(s) you're facing. The company updates its expected response time on their website and promises you'll always talk with a human, never bots.
Their customer support team is active between 8 am and 6:30 pm (Central Time), Monday through Friday. Alternatively, if you prefer the self-help route, you can navigate through Basecamp's how-to guides, manuals, and FAQs to create a broad knowledge base structure.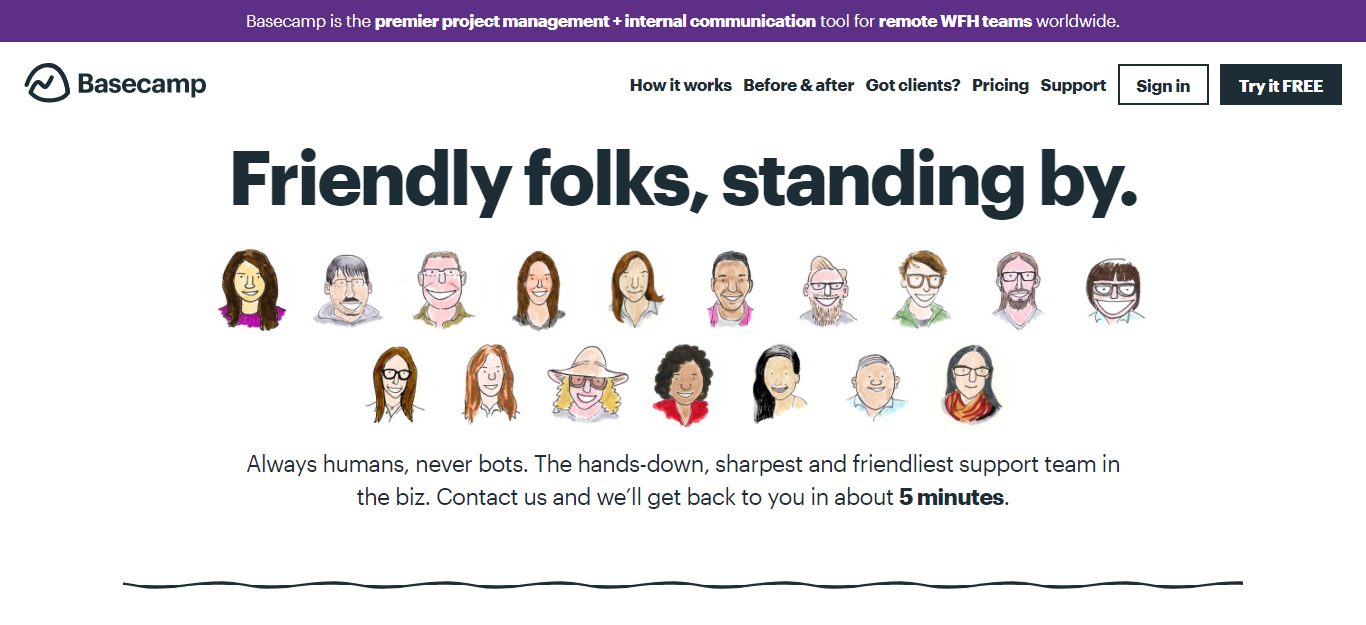 Monday.com's Customer Support
Monday.com provides users with an online knowledge base where you'll find: written tutorials, video tutorials, webinars, and the community forum. On this forum, you can request features and integrations and network with other entrepreneurs. You can also contact Monday.com's customer support team via their online form for either support or bug tracking.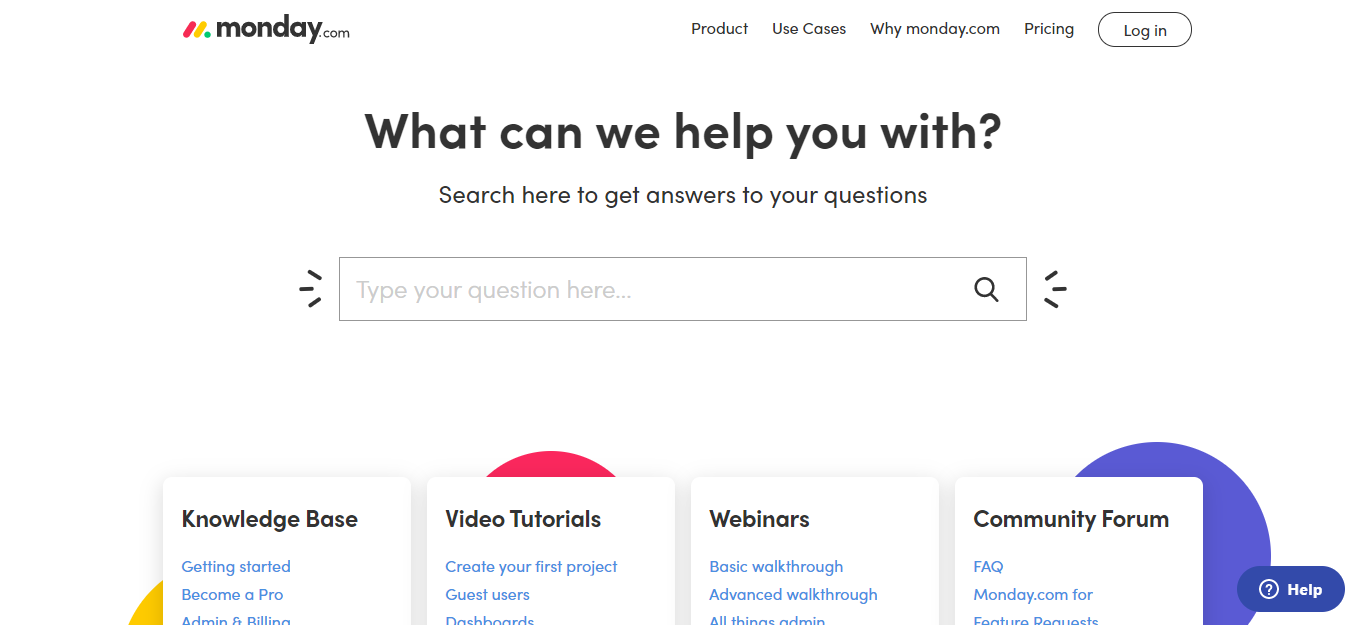 Monday.com vs Basecamp: The Pros and Cons of These Solutions
Let's look at Monday.com first.
Monday.com Pros:
It's very visual

Monday.com allows users to personalize their schedules, so your

team can arrange their work to suit them.

It's easy to use.

Monday.com improves communication across your remote team – having all your documents and conversations kept in one place enables workers to stay updated on the latest developments while providing access to everything they need to get their jobs done.
Monday.com Cons:
Monday.com can become very busy with notifications; some users say it feels too cluttered at times.

You have to pay more to get access to more functions.

To expand, you have to pay for additional users in fives. So, if a company has six users, you're billed for the cost of ten.

It can get expensive.

Some users say they'd like to see more in-built integrations with third-party tools.

There's not an option to repeat a task.
Basecamp's Pros:
Basecamp's pricing is reasonable; it doesn't penalize companies for growing or expanding in size.

It's simple to use – very newbie-friendly!

Users like how Basecamp informs users about a project's progress – team members can see at a glance what actions have been completed and which tasks remain outstanding.

It's easy to add new users to projects (in theory unlimited users – although you have to pay at various break points).

It's straightforward to integrate your email account.

Basecamp's customer s

upport is very responsive – so if you have an issue, you won't have to wait for ages to get a reply.
Basecamp's Cons
Basecamp's project management functions are somewhat limited – for instance, they don't offer schedule charts, which is something Monday.com does.

It's difficult to filter uploaded files by their document type.

There's not a rating system to show which tasks are a priority for completion.

Basecamp's reports are very basic.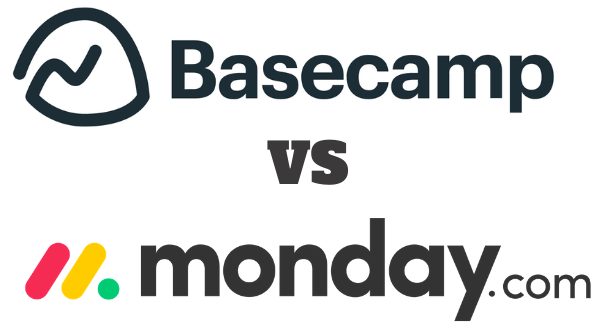 Editor's Choice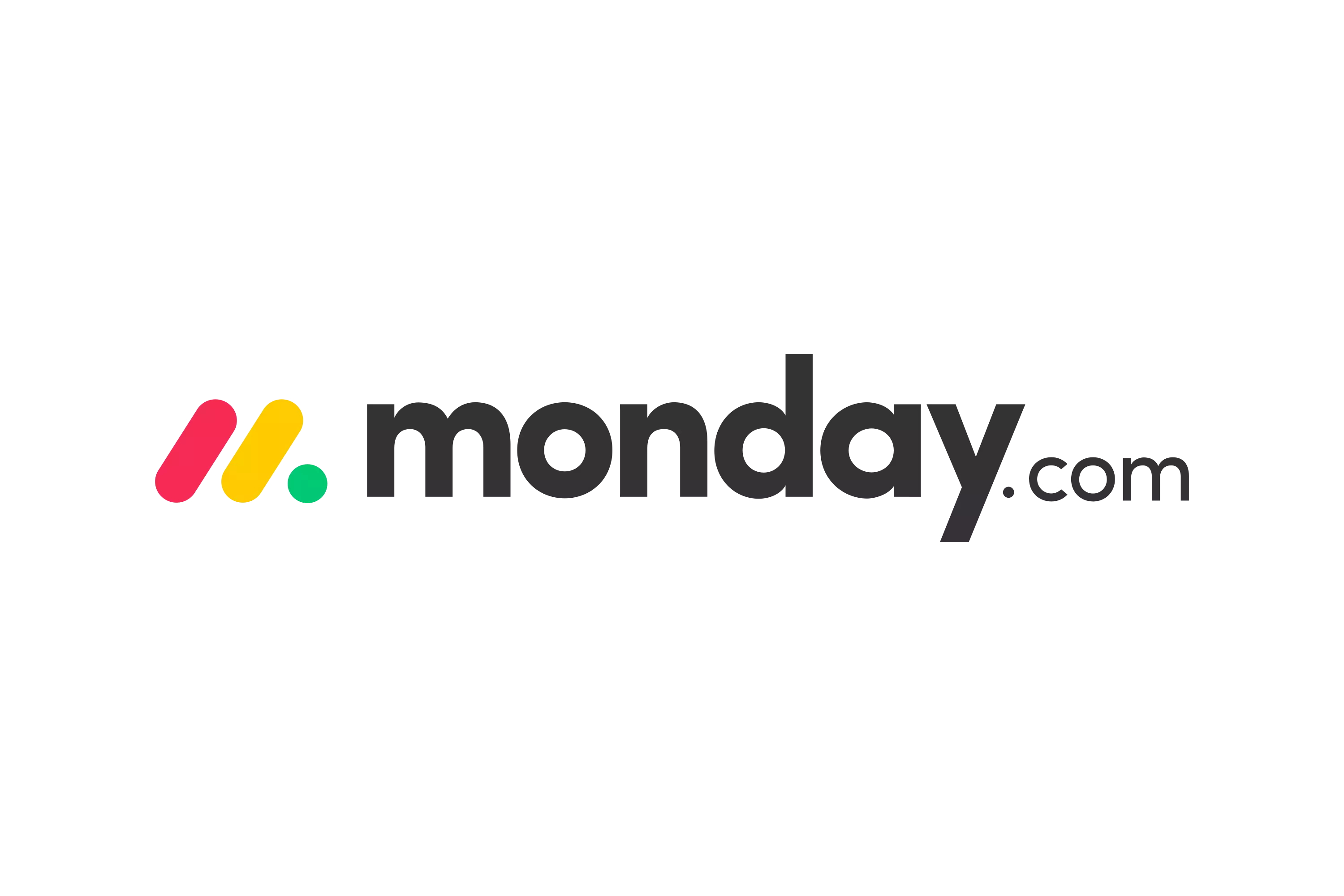 Why Go with monday.com?
Make tasks satisfying to finish! monday.com is quickly disrupting the old guard with a sleek interface, hundreds of integrations, and dozens of workviews for visually imagining and tracking your projects. More than just project management.
Start Managing Your Team Better
We earn a commission at no cost to you which helps keep this blog running!
Monday vs Basecamp: Frequently Asked Questions
What's the Difference Between Basecamp, Basecamp Classic, Basecamp 2, and Basecamp 3 project management software?
In 2012, Basecamp released Basecamp 2 – at this point, the first Basecamp then became known as Basecamp Classic. Basecamp Classic is still supported and used today, but it doesn't receive any updates. You may be thinking, what's the difference between Basecamp Classic and Basecamp 2? In short, Basecamp 2 includes an updated interface and a new discussion board.
In 2014 Basecamp 3 was born. Basecamp 2 is still supported and has many active users. So, if you're wondering whether to get Basecamp 2 or 3, it depends on what features you're looking for. Basecamp 2 has three main differences to Basecamp three:
Basecamp 2 has almost three times more integrations than Basecamp 3, including Kilfolio.

Basecamp 2 provides a full calendar view, but Basecamp 3 gives users a schedule view.

Basecamp 2 allows members to use email to contribute to a project.
So, in summary, Basecamp 2 still has functions that users still want and need. It depends on how essential these functions are to delivering your project. But if you want the latest version, with the newest updates and more tools to collaborate with your team (collaboration software), then Basecamp 3 would be what you're looking for!
What are Monday.com's Latest Feature Updates?
Lots of Monday.com's updates come from user requests; they're always listening to their customers to improve their service. Some of their more recent updates include:
Being able to export charts and dashboards as a: PDF/ PNG/ JPEG/ SVG and CSV so you can print and share your data!

Providing access to a search bar inside of the 'views' tab.

Adding column ID when in 'Development Mode.'

Introducing a timeline summary (which provides an overview of how long the project will take, and responds to any changes throughout the project, to give a realistic timescale for completion)

Integrating Eventbrite, which helps teams streamline their event planning.

Being able to search through your notifications to find what's relevant to your work
Is Monday.com Financially Accessible to Startups?
Monday.com offers startups a discount! To get this sorted, write an email to [email protected].
On Monday.com, Can You Have More Than One Owner of a Task?
Yes, you can assign a task to more than one user – you click the plus sign located next to person #1.
How Secure is Basecamp?
Basecamp protects your data, which is backed up daily and stored in multiple locations. The servers are under constant surveillance (under both internal and external monitoring for 24 hours a day, seven days a week). Not only that, but all resting data, card transactions, bank details, and any data in transit to Basecamp, is encrypted.
Where Can I Learn How to Use Basecamp?
Once you have a Basecamp account, Basecamp provides lots of support. For instance, they have weekly online Q&A sessions, video tutorials, and hand out guides to introduce new customers to how Basecamp works. Don't worry; if you're still struggling, they also have a blog with plenty of how-to guides.
How Can I Delete a Basecamp project?
If you're on the Home page, click the menu button, which has three little horizontal dots in the top right corner of the page. Select 'delete' from the list and confirm you want the project deleted
Gannt Chart for Basecamp 3 & Basecamp 2
One drawback of Basecamp is that there's no simple built-in Gannt chart functionality. For some businesses this is fine, but for others that rely on this type of project synchronization, it's a pain.
Fortunately, there are some great third party integrations with Basecamp. So, if you love the UI/UX of Basecamp and just really need Gantt chart functionality, check out these integration options:
Can You Integrate Basecamp with monday.com?
While the two platforms don't actively promote this option, you CAN technically integration both systems using either Zapier here OR automate.io here.
While there's obviously some redundant features, this can work well if you enjoy some aspects of one platform for certain use cases (but not all) over the other.
Who Should Use Basecamp?
Basecamp is best suited to entrepreneurs, freelancers, small businesses, and groups within larger organizations. Their pricing is very affordable for all team-sizes without feature limitations. Basecamp provides an intuitive way for project managers and team leaders alike to plan, organize, and track their tasks – so if that's what you need, Basecamp's certainly worth considering.
Who Should Use Monday.com?
Whereas Monday.com is a more scalable solution for enterprise-level organizations. So, if you're looking to organize and consolidate projects across several in-house departments, Monday.com boasts the sophisticated features you need to achieve exactly that. With its advanced reporting, project tracking, and budget management tools, Monday.com offers a more comprehensive service.
However, due to its user-based monthly pricing, this service quickly becomes expensive. So, if you're a small to mid-sized businesses on a strict budget, Monday.com probably isn't the best option for you.
Monday.com vs Basecamp: Which is Best for Your Team?
Bottom Line Up Front Summary: These are both competent tools, but I much prefer the robust reporting, progress tracking and project automation found with monday.com plans here.

Both Monday.com and Basecamp provide the tools you need to keep your team and tasks (task management) perfectly organized. But, although they're similar in how they operate and display information, they boast noticeable differences…as explored throughout this review.
We hope you enjoyed this comparison and feel better prepared to set up your team to work remotely, or simply more efficiently! Let us know below which one you'd choose – good luck!
Editor's Choice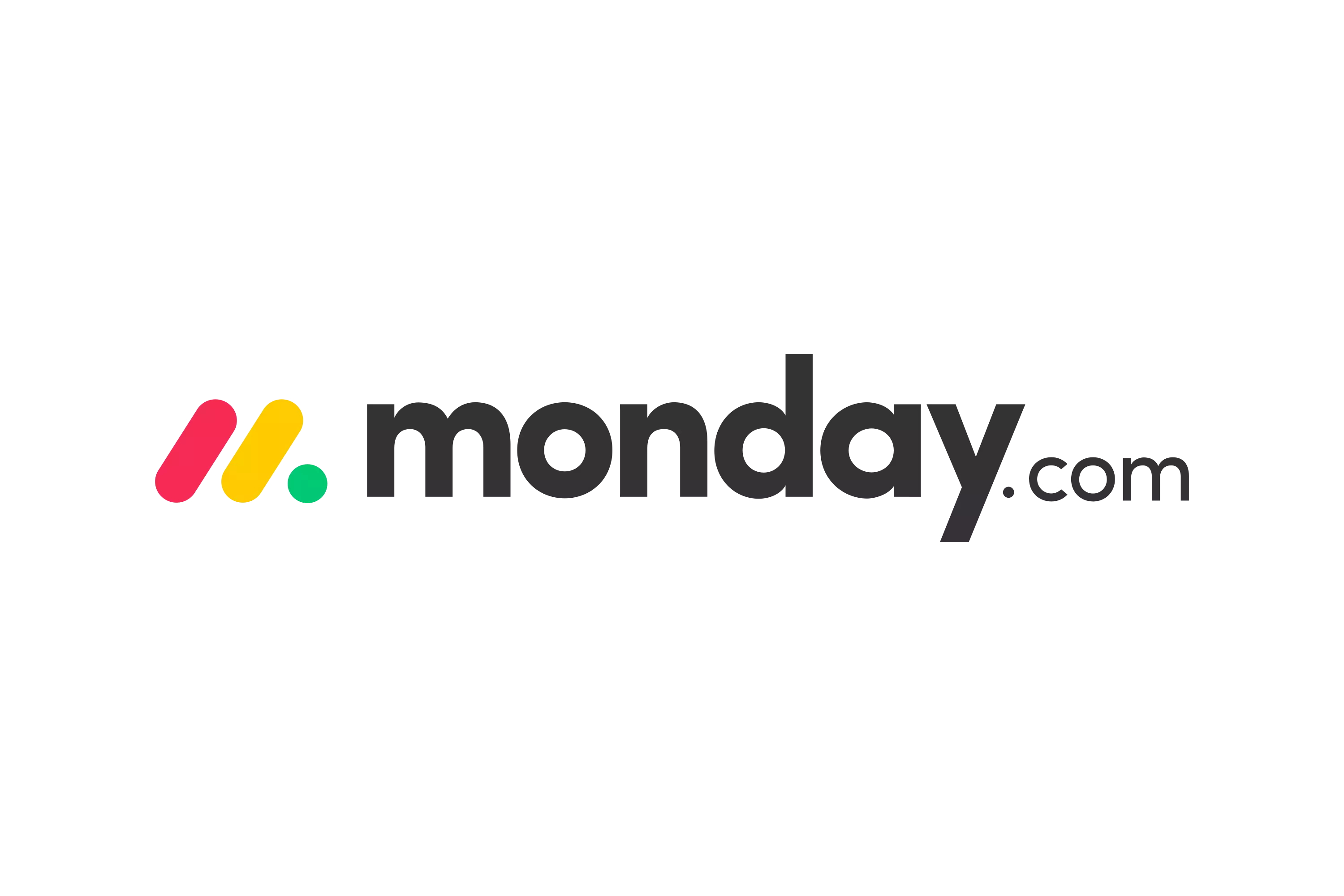 Why Go with monday.com?
Make tasks satisfying to finish! monday.com is quickly disrupting the old guard with a sleek interface, hundreds of integrations, and dozens of workviews for visually imagining and tracking your projects. More than just project management.
Start Managing Your Team Better
We earn a commission at no cost to you which helps keep this blog running!
Other Project Management Software Compared and Collaboration Tool Project Planning Tools
If you are still not quite decided, check out how some of the other popular collaboration tool platforms and project planning tools compare against monday.com and Basecamp.
Other Tools Like monday.com Compared
Other Tools Like Basecamp Compared