Last Updated on April 22, 2023 by Ewen Finser
When it comes to project management, things quickly get overwhelming. That's why teams need an intuitive and flexible way of tracking their tasks, communicating about projects, setting milestones, and organizing information.
In an increasingly digitalized world, gone are the days where professionals use sticky notes to manage their extensive to-do lists. Instead, project management tools like Basecamp and Teamwork have become popular options for small and big teams alike.
Suppose your team is struggling to juggle their tasks, or you're trying to adjust to remote working while keeping communications alive. In that case, you might consider signing up for a project management tool like Basecamp or Teamwork.
So what do these two platforms have to offer?
The Main Differences Between Basecamp and Teamwork
In short, here are a few things that differentiate the two platforms:
Basecamp is a great project management tool, whereas Teamwork offers a more extensive suite of tools. Including "Spaces," where users can share documents and collaborate on edits.

Basecamp offers deadline tracking, whereas Teamwork doesn't.

Basecamp's focus is simplicity, whereas Teamwork is more about providing as many features as possible in one program.

Basecamp doesn't have its own API center, whereas Teamwork does.

Teamwork prices its services per user per month, whereas Basecamp offers a fixed monthly price with unlimited users and projects.

Teamwork comes with features like recurring tasks, Gantt charts, and more detailed reports; whereas Basecamp doesn't have.
The Main Similarities Between Basecamp and Teamwork
Now that we've covered the differences, let's explore their similarities…
Both Basecamp and Teamwork have a free plan. In Teamwork's case, this limits you to two projects and only 100 MB of storage. In contrast, Basecamp's free program is a little more extensive (more on this in the pricing section below!)

Both tools come with mobile apps and web-based applications.

Core project management features are well represented across both platforms. Most notably, activity tracking, task management features, to-do lists, a calendar, and integrated commenting and chatting.

Both Teamwork and Basecamp come with a 30-day free trial.
Now we've covered the core similarities and differences, let's look at both platforms in more detail…
What is Basecamp?
Basecamp offers users plenty of project management and team communication tools, ensuring your business is kept organized and accessible. The software encourages better communication between team members. This, in turn, reduces the number of meetings required to keep everyone up to date, making it an efficient alternative to messy email threads.
The idea behind Basecamp is to break work into bite-size chunks. Usually, by assigning specific team members individual projects. By separating work into projects, you create an accessible space for your team to collaborate and hit the ground running. With just a few clicks, the relevant team members can access all the necessary documents, messages, files, tasks, appointments, meetings, etc., from the convenience of one place.
Basecamp is brilliant for teams of all sizes, from small businesses to top corporate enterprises. However, it isn't one of a kind and has a prominent competitor worthy of note…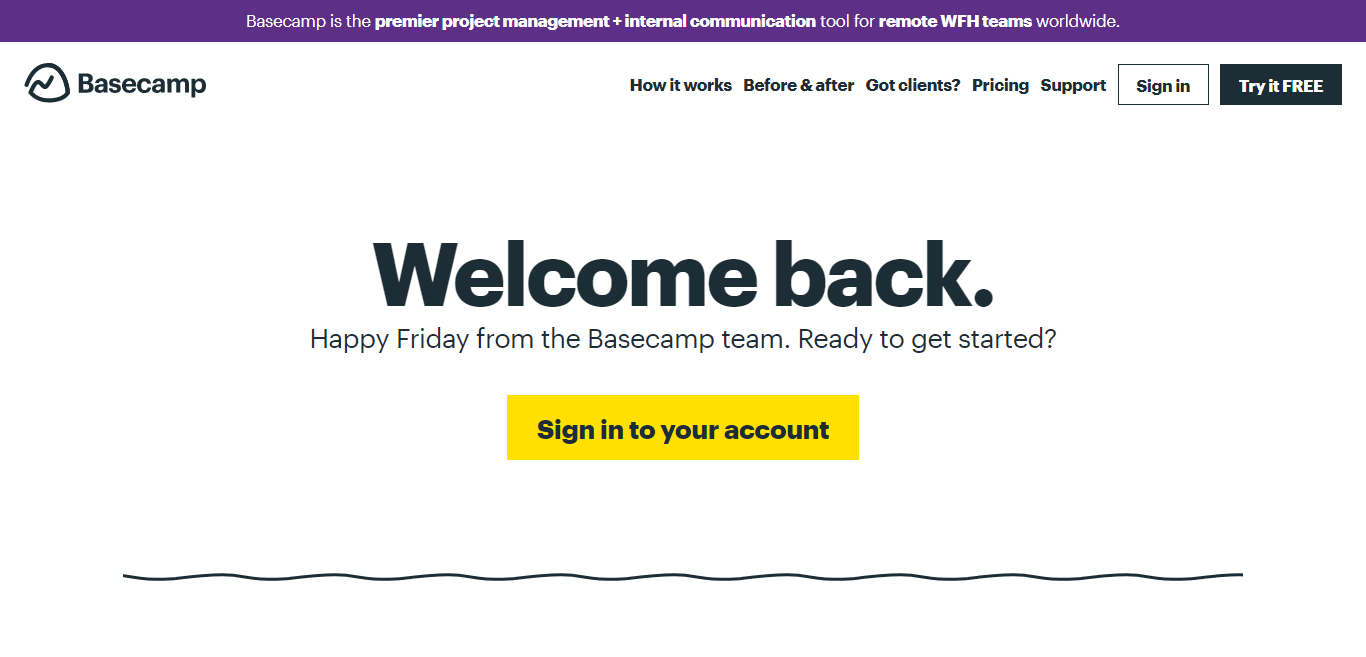 About Teamwork
Teamwork, like Basecamp, is also a work and project management software. It provides assistance to in-house teams and agencies to develop and improve their collaboration, accountability, and efficiency.
Trusted by over 20,000 companies, Teamwork provides a choice of innovative tools to help you get organized, such as linear task lists and visual boards. The flexibility of Teamwork aids project management and enables you to work in whatever way's best for you and your team. The software is simple, high-performance, and flexible, making it an excellent solution for collaborating on projects.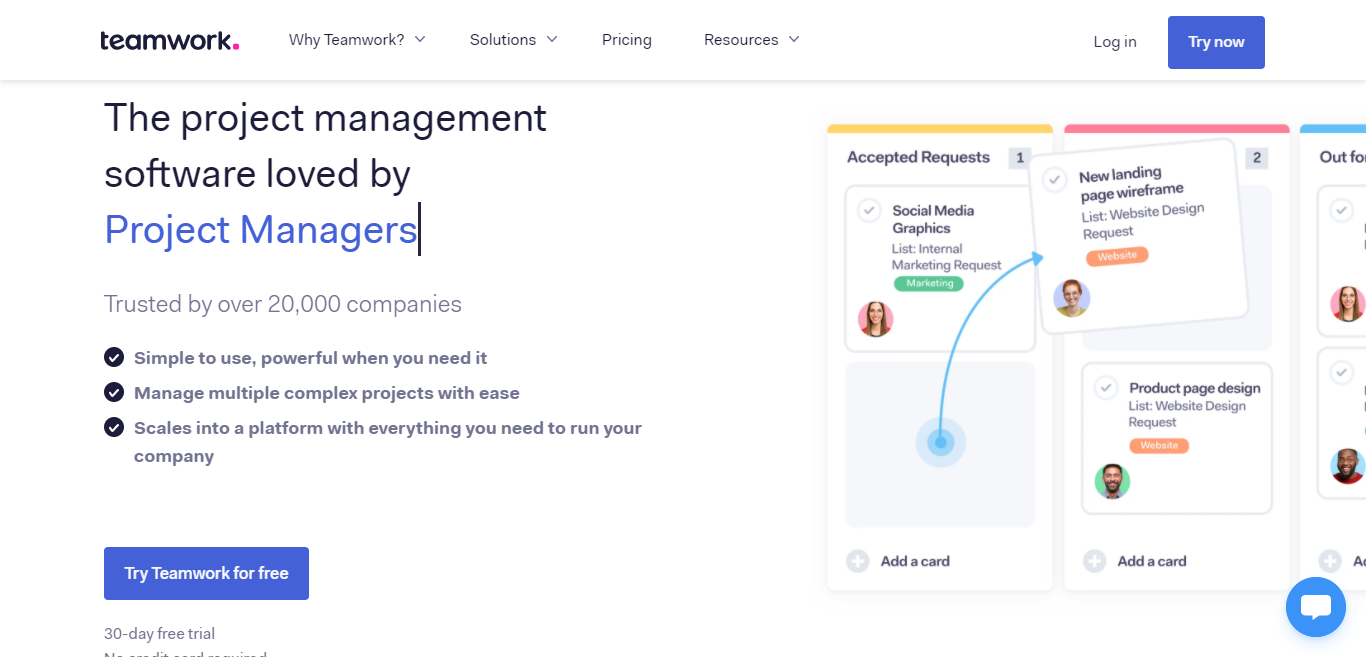 Basecamp vs. Teamwork: Their Core Features
Depending on the team's structure, size, and the challenges it faces, you might require a feature-rich system to handle all your tasks and organize entire projects. This is, perhaps, where Basecamp and Teamwork differ the most.
As we've already hinted at, where Basecamp is an easy-to-use project management tool, Teamwork is less focused on simplicity. Instead, it aims to offer a robust and extensive set of features to cover as many areas of business organization as possible.
With that said, here's how Basecamp's and Teamwork's core features compare:
Basecamp
Project Management
Basecamp makes it easy to split workloads into 'projects.' When you create a project on Basecamp, you can include everything related to it –
the people involved, all discussions, documents, files, tasks, important dates, deadlines, etc.
On top of that, here are some of the other project management features on offer:
Message Boards.

Here, users can post announcements, pitch ideas, update others on their progress, and keep feedback on-topic.

To-Dos.

This is precisely what it sounds like. You can create lists of outstanding tasks, assign items to relevant team members, discuss assignments, and set due dates. Once a job is marked as completed, it can be passed onto the next appropriate team member or be archived.

Schedule.

Here, you can set important dates like project milestones, deadlines, and events. You can integrate these with Google calendar, iCal, or Outlook.

Docs and Files.

Share documents, files, images, and spreadsheets, and organize them into easy-to-find folders.

Group Chat.

Casually chat with the group and stay in touch with the team.

Automatic Check-ins.

You can create recurring questions that check if a task has been completed – negating the need to continually nag your team members in person!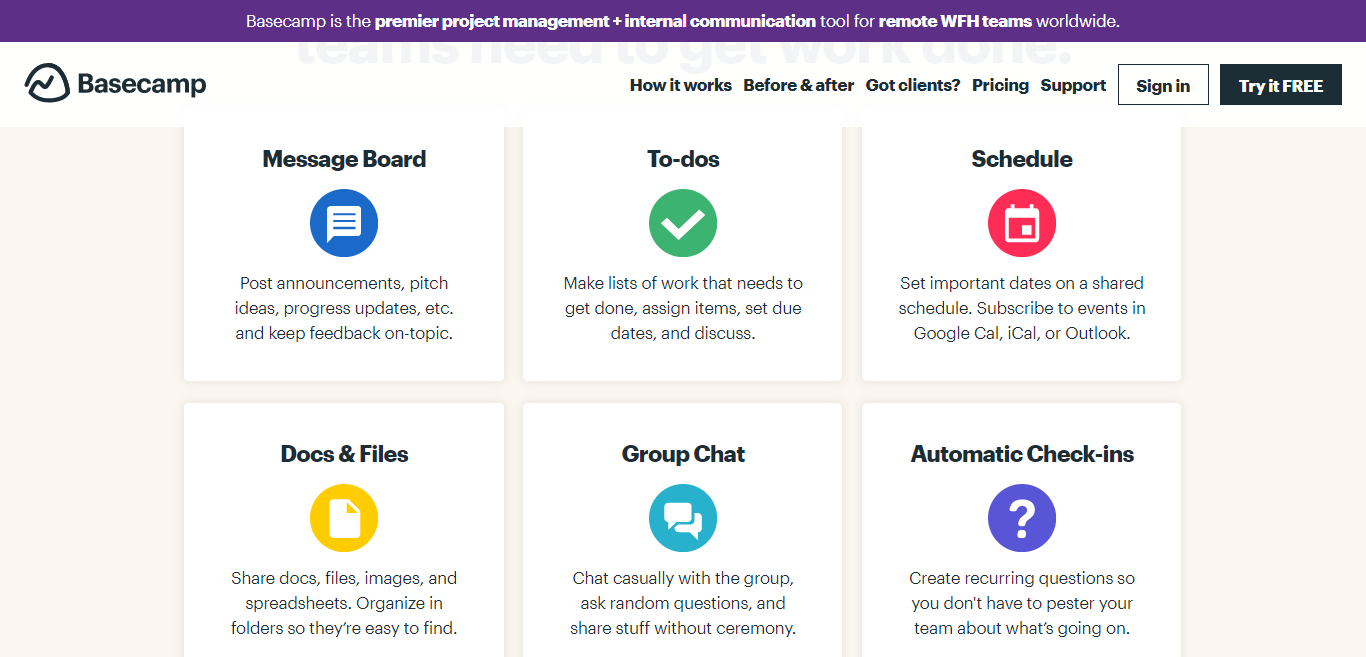 Adjust Notifications
To ensure you and your team maintain a work-life balance, anyone can change their notification settings to only receive updates within work hours. You can also pause notifications at any time.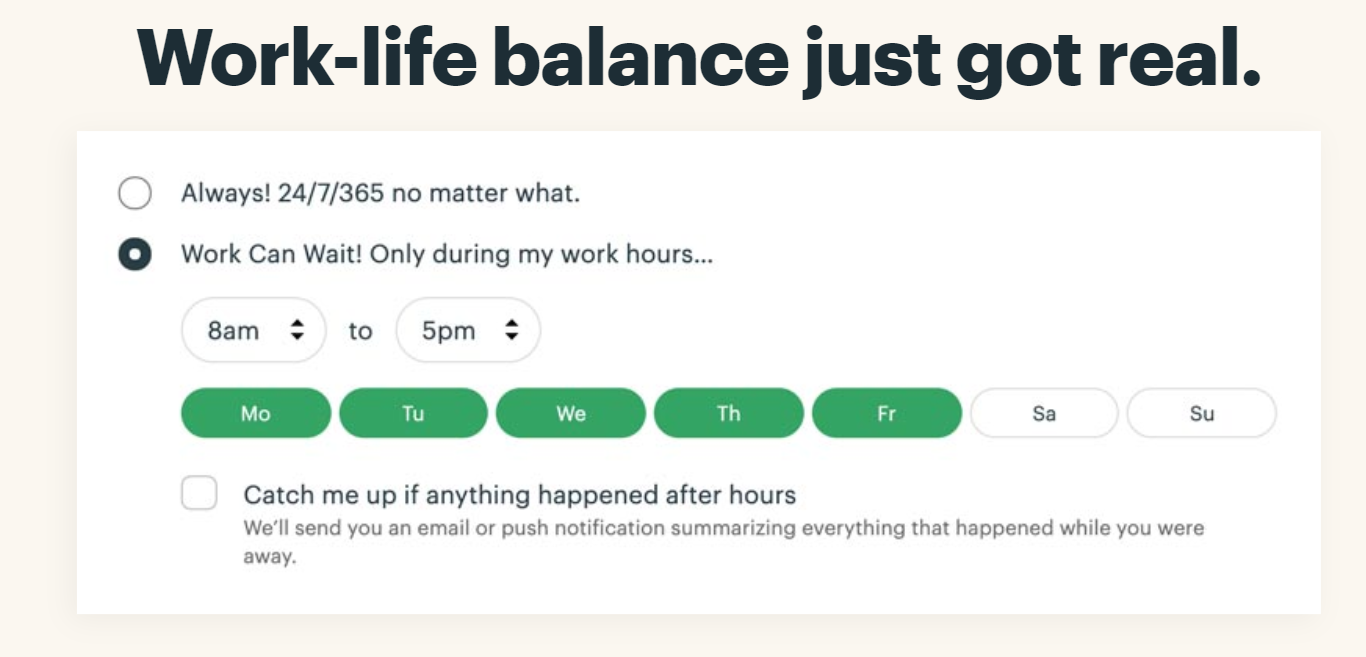 Team Management Tools
Business owners and execs, as well as managers, can automatically check-in with their team. You can set up weekly questions like "What are you working on this week?" to quickly get an overview of what everyone's up to.
It's also easy to keep an eye on all overdue to-dos with just a glance. Also, being able to see which tasks are assigned to which team member enables project managers to re-allocate work to ensure no one's swamped.
Hill Charts
Basecamp doesn't come with Gantt charts, but it does provide its own exclusive chart: Hill charts. These work alongside your to-dos and show you where the project is at. They aim to provide more context at a glance, allowing you to spot problems before deadlines.
Hill charts visualize progress over time with history snapshots. Each update can also be annotated. This makes it more evident if someone is stuck at a task.
Business Management Tools
On top of its project management features, you can create a virtual 'Company HQ.' These features enable you to:
Make announcements

Store employee documents

Run a virtual "campfire" where you and your teammates can socialize around

Organize employees into groups

Create team spaces
You can also give your clients access, which allows them to check on their project's progress, share their feedback, and voice any questions or concerns. Everything remains private until you want to share it. Because Basecamp keeps things simple, rest assured your 'Company HQ' will be easy for clients to navigate.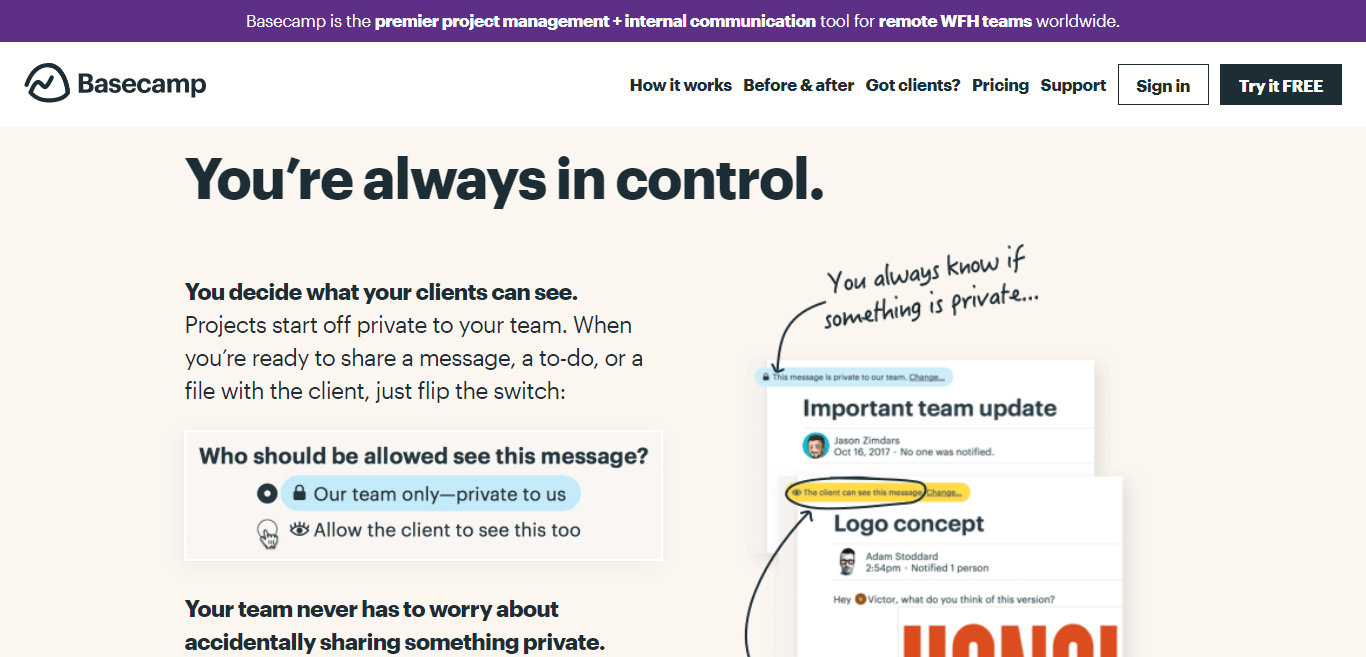 Teamwork
Project Management
Teamwork provides all the functionality you need to manage multiple complex projects at once. Like Basecamp, Teamwork enables you to create 'Projects.' Within each project, you can list tasks, upload files, add comments, and collaborate with your team from one central location.
Teamwork also helps team members and managers visualize progress. You can view projects as a task list, Gantt chart, or a board view – the choice is yours!
While these features are similar to Basecamp, on top of that, Teamwork provides additional, more advanced project management tools, including:
Portfolio management:

This feature provides a panoramic view of all ongoing projects. Projects can be organized by category and are displayed to highlight which tasks are in progress, ready for review, or complete. You can also set triggers to automate administrative tasks to keep work moving smoothly between team members.

Time tracking:

Track how much time team members spend on tasks (or working in general). With this info to hand, you'll soon recognize where processes need improving or who needs a helping hand. This same feature makes tracking billable hours a breeze and syncs with your accounting tools to ensure all the necessary departments and parties are kept on the same page.

Workload management:

Teamwork's work management system makes staying on track easy. You can set recurring and one-off tasks, map out your work, and optimize workflows to create more efficient processes for your team. On top of that, you can discern who's working on what with just a glance. These insights better position you to take the necessary actions to avoid staff burnout. Within seconds you can view who has lesser workloads and delegate new assignments accordingly. Plus, to make your team's work more manageable, you can break daily projects down into tasks and subtasks, with the appropriate due dates, assignees, and privacy settings.

Templates:

You can create and save task templates. If routine jobs need doing, you can produce in-depth templates to help ensure whoever's working on the task has all the info they need to do it justice. Teamwork even has pre-made checklist templates for onboarding new clients and project tracker templates to help you track project progress – to name a few!

Resource management:

Yes, that's right,

Teamwork also acts as your resource manager. You can easily view which resources are at your disposal to help you make better business decisions. You can even track the resources you'll need for each project, which, over time, should provide a better understanding of your project requirements and timelines.

Client access:

Similiar to Basecamp, you can also grant your client's access to the platform to help them stay informed and updated with your progress. You can offer them this surge in visibility and collaboration at no extra cost. How you go about tailoring access and permissions is up to you, so you only share what you're ready to share. You can also permit clients to add comments on tasks or even add tasks and task lists themselves. It's entirely up to you how closely you collaborate with your client.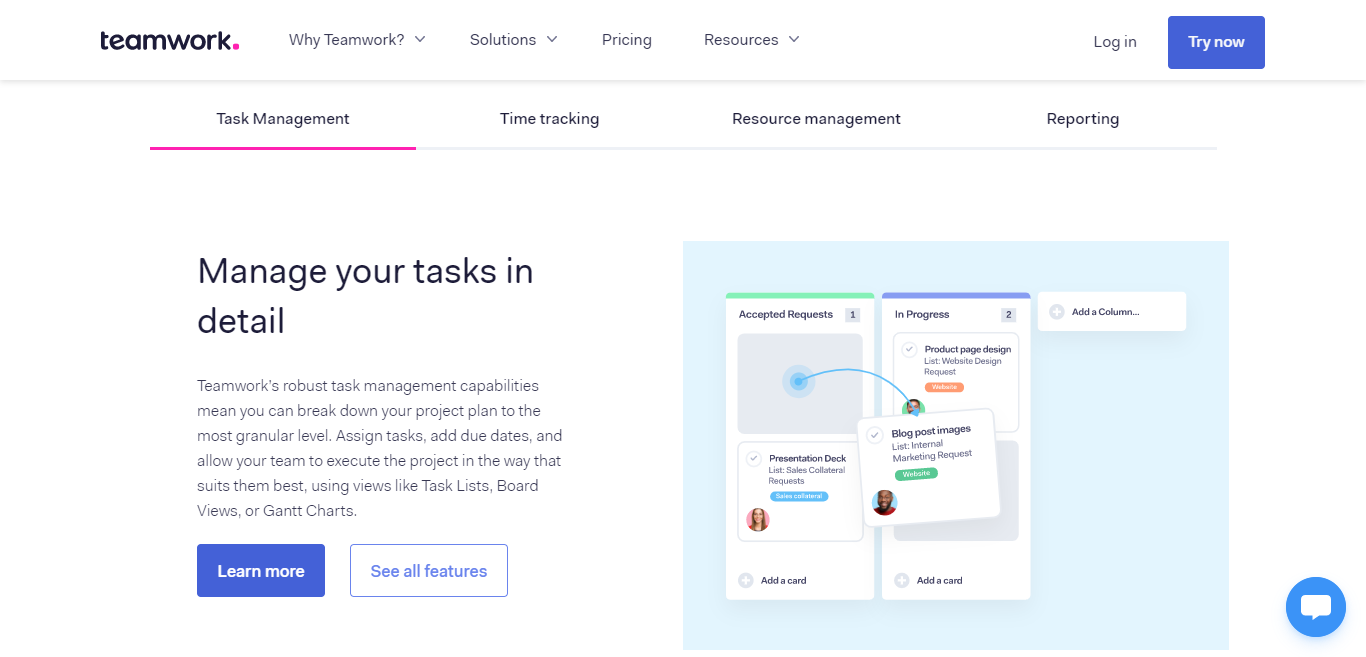 More Products
Aside from their core project management features, Teamwork also offers solutions for other areas of your business that we'll quickly dip into. All these products come at an additional cost that's calculated per user.
Spaces:

This is a relatively new feature where you can create designated 'spaces' for team members to share files, edit, and collaborate in real-time. Similar to the Google Suite, this enables teams to tackle problems together.

Teamwork's CRM:

This is another new feature. Here you can create and customize pipelines to improve your communications and relationships with clients and prospects.

Teamwork Desk:

As its name suggests, this is a help-desk tool. You can set up inboxes, manage support tickets, create self-help documentation, and run reports.

Teamwork Chat:

As you may have guessed, this feature enables you to set up chat channels for your team.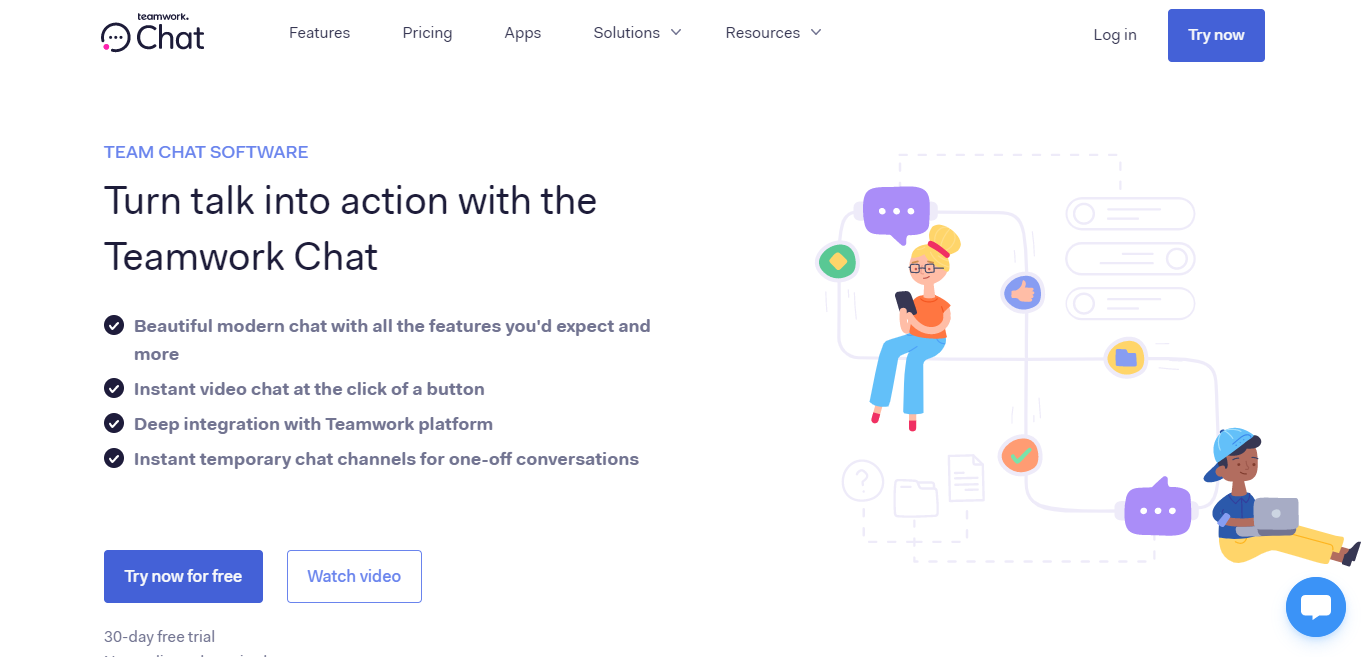 Basecamp vs. Teamwork: Integrations
Both Basecamp and Teamwork integrate with Zapier, enabling them to work alongside thousands of third-party tools. Aside from this, they integrate with a list of similar apps, including several time tracking tools and collaboration spaces like Slack and Unito.
Basecamp vs. Teamwork: Pricing
Now for the bit you've all been waiting for – the pricing. Here's how Teamwork and Basecamp compare.
Basecamp
Basecamp keeps its pricing simple. There are no tiered plans, so you don't miss out on any of Basecamp's features. Instead, you're charged a flat fee of $99 a month. This provides you with:
Unlimited projects

Unlimited users

No individual user fees

500GB worth of storage

The Company HQ

You can grant access to unlimited clients and contractors

Priority customer support
Best of all, if you pay a year in advance, you can get 15% off. Students and teachers can sign up for Basecamp's full feature set for free, and nonprofits can take advantage of a 50% discount.
If $99 a month is still too expensive, smaller teams can sign up for the limited personal account. On this free plan, you can:
Work on up to three projects

Register up to 20 users

Use one GB worth of storage space
As you can see, with the free plan, you don't benefit from team projects, project templates, or client access. Despite that, we think Basecamp's freemium package is still pretty generous!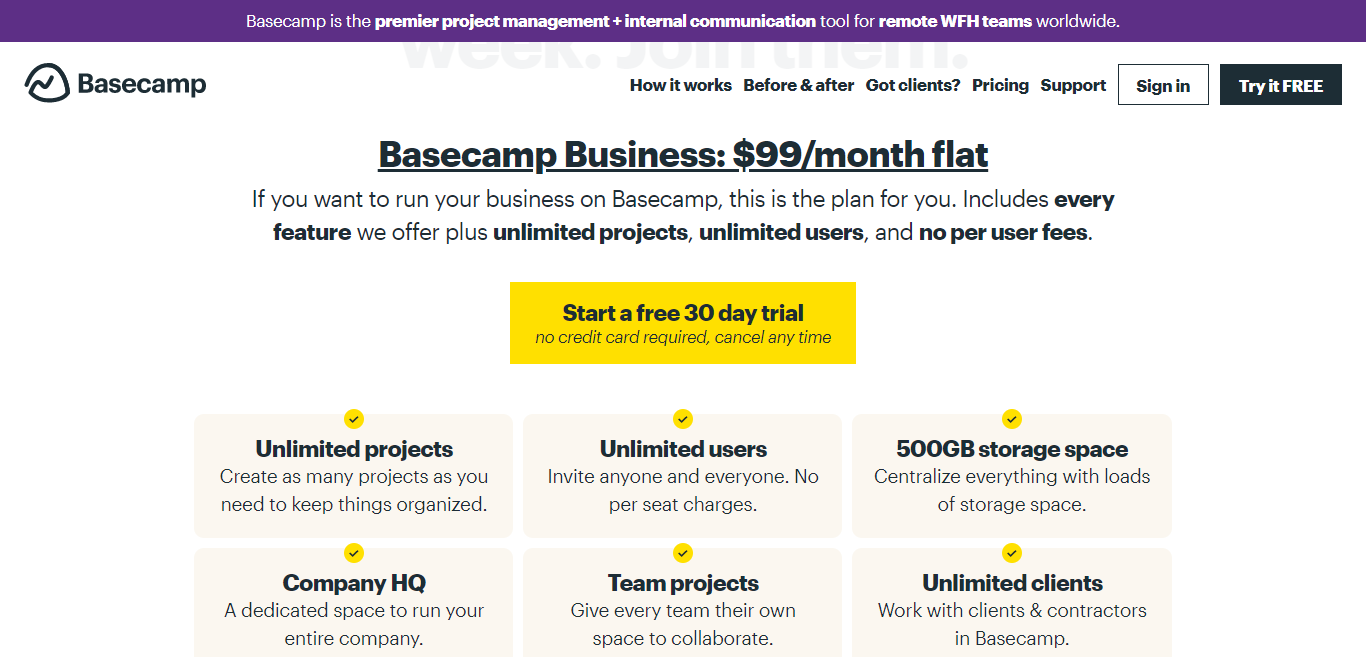 Teamwork
Teamwork's pricing resembles a more traditional SaaS set-up. You're billed per user, per month, with savings to be had if you pay annually.
*The costs below are based on annual billing.
The Free Forever plan is, as the name suggests, free! However, you can only enlist a maximum of five users, and you're limited to two projects and 100MB storage. In comparison to Basecamp's free plan, Teamwork pushes you to upgrade much sooner.
The Pro Plan is available for $10 per user per month, but you need to sign up a minimum of five users. For this, you get 100 GB worth of space, unlimited client users, and access to Teamwork's billing and invoicing features. You also unlock 20 project and task templates.
The Premium Plan costs $18 per user per month and also requires at least five users to sign up. This expands your project limit to 600, and you gain access to 250 GB of storage and advanced project management features, including:
Project tags.

These allow you to manage and organize your projects more efficiently and find them quicker in searches and reports.

Change history.

This is an overview of when and how tasks were altered.

Burndown reporting.

Assess projects by keeping an eye on trends and task completion rates.

Set project time budgets

Add custom fields to provide extra details for tasks and projects.

Portfolio management.

This gives you greater visibility over all your projects and tasks.

Unlock access to all integrations

Create teams associated with specific companies

Create subteams to further organize work

Manage tasks and teams in bulk
Finally, Teamwork also offers an Enterprise plan. You'll have to get in touch with them for a quote. However, what we do know is that you'll get everything listed above, plus access to all project templates, over 500GB of storage, and unlimited projects on this plan. On top of that, you'll benefit from improved security and customer support.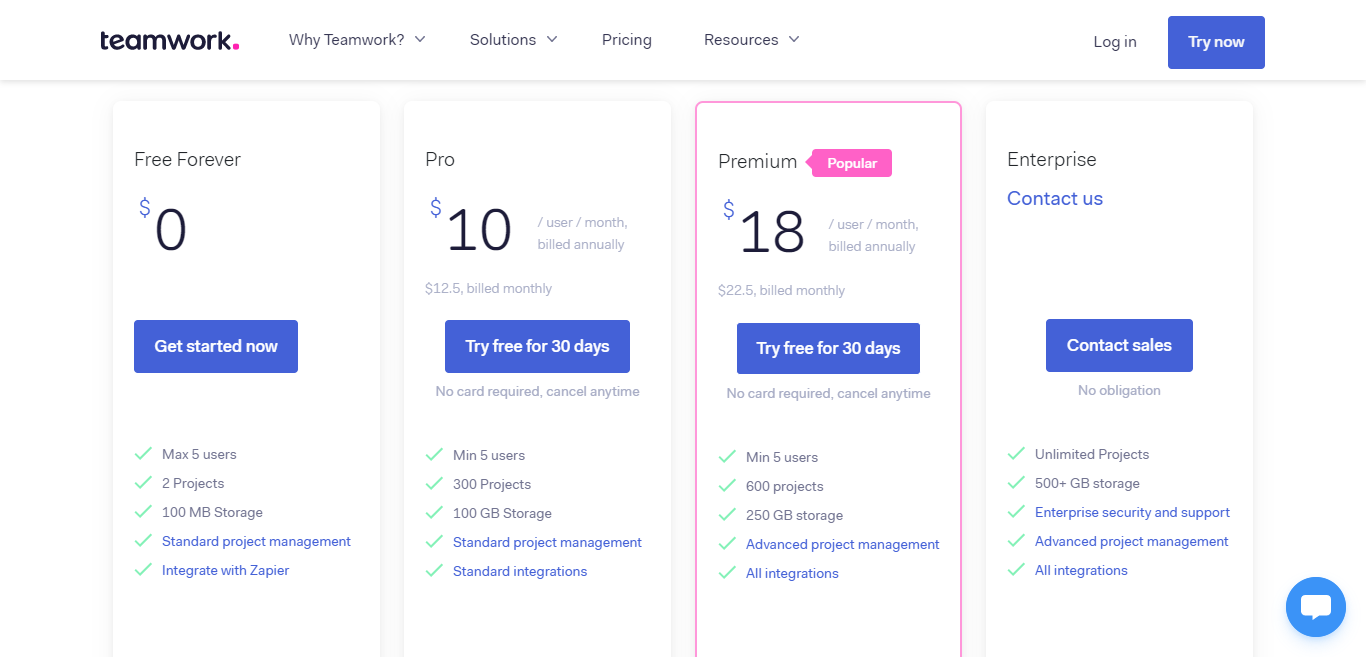 Basecamp vs. Teamwork: Customer Service
If something goes wrong, or you're unsure how to make the most of the software, stellar customer support is vital. Here's how Basecamp and Teamwork compare in this department:
Basecamp
BaseCamp promises all-human, no-robot contact. Simply fill out the subject line and add your questions. You can expect the team to respond between 8 am and 6:30 pm Central Time, from Monday to Friday.
Alternatively, if you prefer the self-help route, you can watch tutorials or read one of their many guides online.
Unfortunately, no phone or live chat support is available. But with such short response times, does it matter?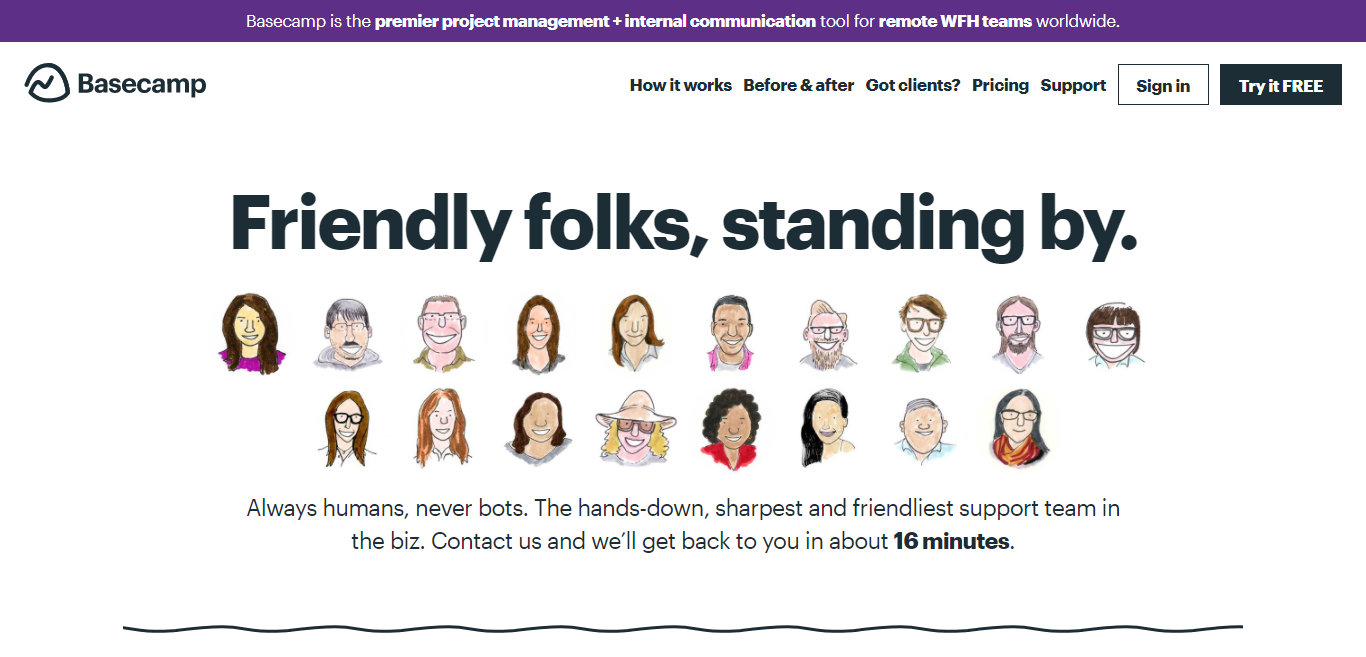 Teamwork
Teamwork has an online support center. Here you'll find answers to frequently asked questions, self-help guides, and tutorials that provide everything you need to know to help you get started. Teamwork also runs live webinars from time to time, which are worth checking out!
As well as that, Teamwork's support team is available via email or phone from Monday to Friday, 7 am to 12 am GMT, with more limited hours over the weekend. Alternatively, you can easily submit a support ticket via their website.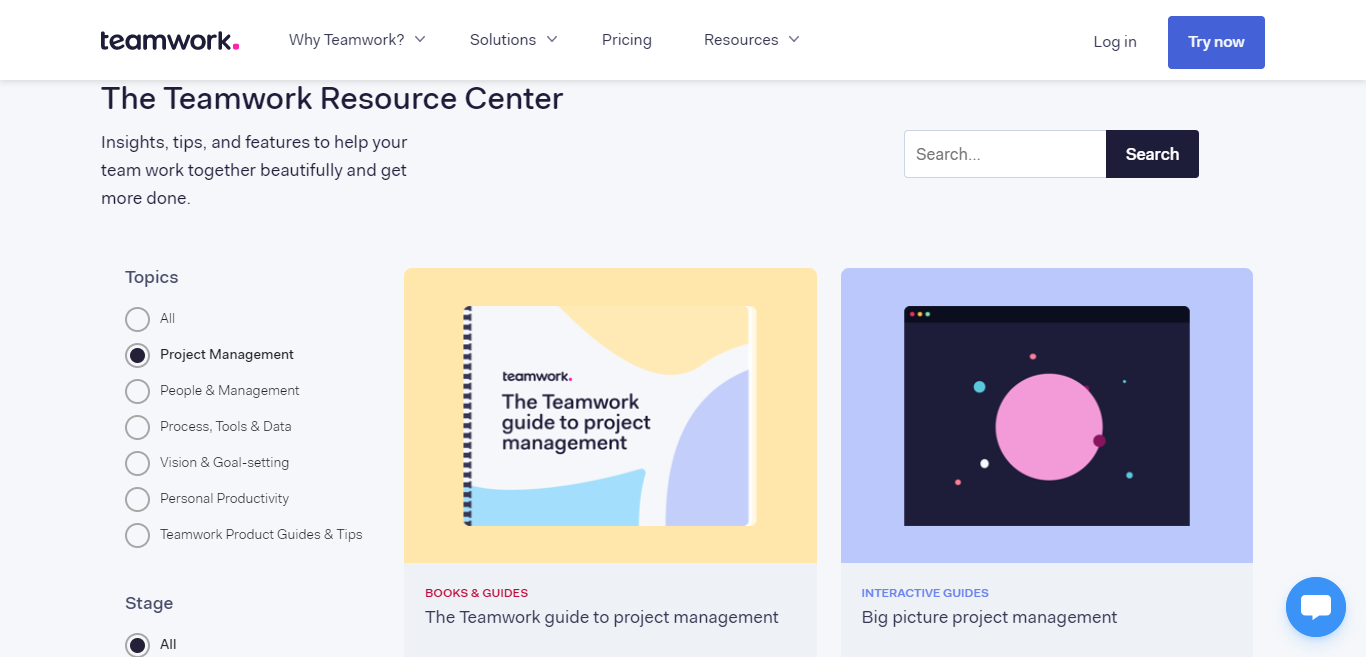 Basecamp vs. Teamwork: Pros and Cons
We're nearly ready to wrap up our review of Basecamp vs. Teamwork. But before we give a verdict, let's review the pros and cons of both tools to get a quick overview of where they excel and fall short.
Basecamp
Let's start with the perks:
The Pros
Basecamp focuses on project management essentials and is very easy to use.

Basecamp's pricing is incredibly transparent, with no feature limitations. You just pay a flat fee to unlock all features, unlimited projects, and users. This makes Basecamp considerably more affordable than its competitors, especially if you have a large team.

The free plan is a good solution for individuals, small teams, or families.

You can track deadlines more extensively than Teamwork allows.

Customer support promises swift response, with no bots thrown into the process.

Hill charts provide fantastic visibility over how tasks progress over time.
The Cons
If you're after a full suite of business management features, Basecamp won't isn't right for you. It's a more basic tool that focuses on project management alone.

You can't view your tasks as Gantt charts.

There's no native time tracking feature.

Basecamp isn't very scaleable – i.e., it's not intended for enterprises or huge businesses.

There's no API center, so you can't develop your own integrations.
Teamwork
Again, let's start with the perks:
The Pros
You can view projects as Gantt charts or board views, with excellent visibility of each task and user.

Phone support is available.

You can set up recurring tasks, measure billable hours, and employee time spent per project.

If you want a fully integrated solution for your business, Teamwork is more scalable – especially its enterprise solution. There's plenty of room to expand with Teamwork's additional business management products like Teamwork Desk, Teamwork Spaces, Teamwork CRM, and more.

Teamwork goes more in-depth where resource management and time budgeting is concerned.
The Cons
Per-user pricing quickly makes Teamwork a much more expensive tool in comparison to Basecamp. With just nine users, you pay a higher monthly sum with limited features on the Pro plan.

The free program is more limiting and isn't suitable even for freelancers or small teams in the long run.

There's no deadline tracking feature.

Teamwork, while intuitive, isn't quite as easy to use as Basecamp.
FAQs
Last but not least, we'll finish this comparison by answering some of the most frequently asked questions we hear about Basecamp and Teamwork.
Question: Do Basecamp and Teamwork have mobile apps?
Answer: Yes! You can use both Basecamp and Teamwork while you're one the go. Both tools provide mobile apps for android and iOS devices. Teamwork also offers an app specifically designed for Windows Phones.
Question: Are discounts available for nonprofit organizations?
Answer: Basecamp offers 50% off their software for nonprofits. Students and teachers can also sign up for free. Teamwork also provides discounts but you'll need to get in touch with them to access them.
Question: I've not used project management software before. Which tool is more intuitive?
Answer: Basecamp is simpler overall and easier to use. Whereas, Teamwork has some additional features, and, as such, its interface is more cluttered and presents a steeper learning curve. Suppose you're looking to try out project management software for the first time. In that case, Basecamp's Personal plan offers a great starting point!
Basecamp vs. Teamwork: Our Final Verdict
Both Basecamp and Teamwork are robust and useful project management tools, but their target audiences are distinctly different. We can easily say that larger businesses and enterprises will find Teamwork more flexible and extensive.
You can quickly transform Teamwork into a full business management suite to include more than just project management features. Most notably, a fully integrated CRM, help desk, and more. On top of that, Teamwork's time tracking and billing features make it an excellent option for anyone looking to manage their employees and payments.
Also, thanks to Teamwork's API, companies with developers at their disposal can expand integrations as much as they want. That said, while Teamwork's project management alone is suitable for smaller businesses, the pricing can quickly get expensive as you add more users. Not to mention, many of Teamwork's features aren't available until you shell out for their more costly plans. As such, Teamwork might not be the right fit if you're a smaller business with a limited budget.
Basecamp, on the other hand, does well as a basic project management tool. We particularly like its own unique way of displaying information using Hill charts. Also, with the Company HQ features, there's plenty of scope for small businesses to manage their employees, teams, and clients more efficiently.
While Basecamp won't scale in the same way Teamwork can, it's a perfect solution for smaller teams. Its transparent and flat-fee pricing makes it a strong competitor for budget choices. Not to mention, teams just starting out may even find Basecamp's freemium plan enough to get by on.
If you recognize yourself within one of these target audiences, the choice should be easy! But if you're still doubting, both Basecamp and Teamwork offer free trials, so you can check out their full features for 30 days and go from there!
Out of Basecamp and Teamwork, which software would you prefer? Let us know in the comments below.
Further read: