Last Updated on June 1, 2023 by Ewen Finser
Businesses are spending and accepting more cashless payments than ever before. If this sounds like your business, you'll need a powerful system that offers flexibility and security. With so many payment networks available, it can be difficult to find the perfect one — especially if you're a global business.
Fortunately, international companies have a powerful option: Veem. Veem is a payment network that aims to make international money transfers easy for small businesses. Ever since they formed in 2014, they changed the way businesses get paid around the world.
Is Veem worth it? We tried our Veem for ourselves. Here's our comprehensive review.
What is Veem?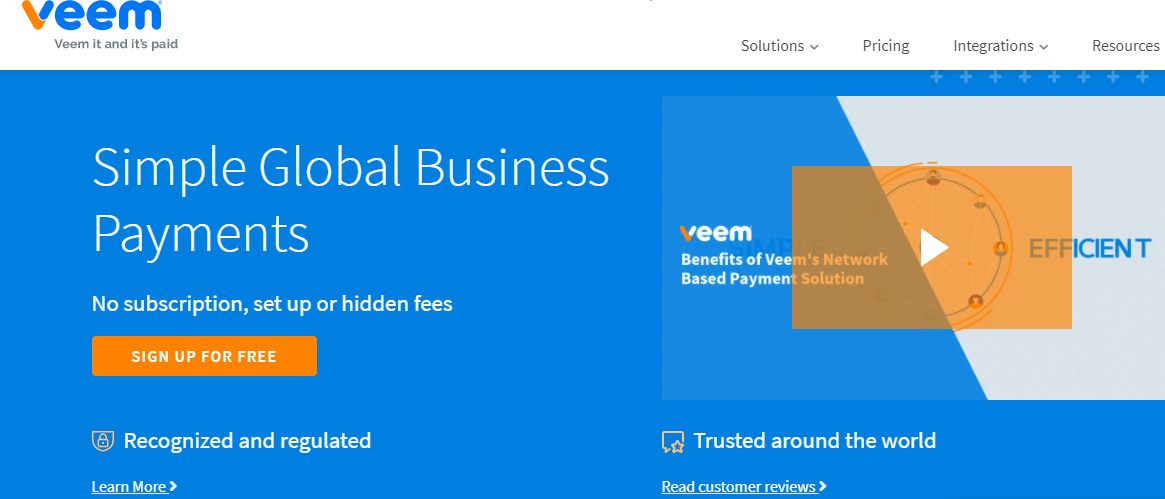 First, let's cover some of the basics. Veem is a payment network that offers secure payments and international payment transfers. They completely revolutionized wire payment transfers for businesses, making them as simple as buying a cup of coffee.
Veem's speedy platform streamlines the money wiring process, costing your business less.
What Technology Does Veem Use?
What's the secret behind Veem's success? Blockchain. The blockchain is a database that stores transaction data in "blocks." These blocks are linked using cryptography. This makes the system almost impossible to hack or change, offering businesses serious security.
Blockchain offers more benefits than security. The blockchain takes out the banking middle man, making wire transfers quicker and cheaper.
How Veem Can Benefit Businesses
Veem offers a technology-first approach to send and receive funds via wire transfers. Before, wire transfers required hands-on work that would cost businesses a lot of money. Not only that, but it would take a significant amount of time to receive the funds.
Lower Fees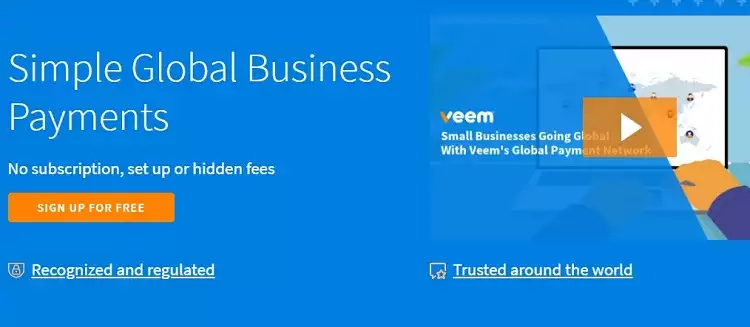 Why Go with Veem?
If you find yourself making regular contractor payments and are sick of paying through the nose for fees, give Veem a try. It might not fully replace a PayPal, but there's no harm in using both and saving significant money on fees where you can.
See How Veem Works
We earn a commission if you click this link and make a purchase at no additional cost to you.
What Countries Does Veem Support?
We established that Veem caters to businesses needing international wire transfers. But can you use Veem in your country? Veem supports over 60 countries, so you can likely use Veem in your country as well as in different currencies.
Here are some of the countries that Veem supports:
United States
United Kingdom
Canada
Australia
Austria
Belgium
Bulgaria
Cyprus
Croatia
Denmark
Czech Republic
Finland
Estonia
Germany
France
Hungary
Greece
Ireland
Iceland
Latvia
Italy
Luxembourg
Lithuania
Mexico
Malta
Netherlands
Monaco
Poland
Norway
Romania
Portugal
Slovenia
Slovakia
Sweden
Spain
Switzerland
And more
Check here for the full list of countries that Veem supports. Keep in mind, not all countries on this list can both send and receive business payments.
Veem Benefits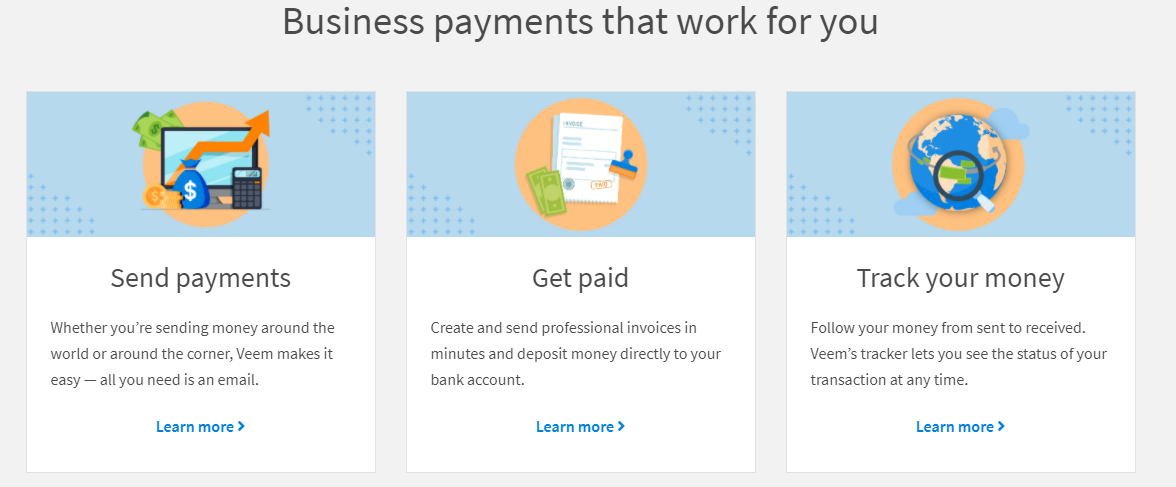 We already covered some of Veem's benefits, but it's essential we go over the full range of benefits that you can experience.
Free and Cheap
Is Veem too good to be true? Is it really free? Okay, maybe it's not totally free, as we will cover later in the article. But Veem only charges a small foreign exchange rate and has one fee that's easily avoidable. So yes, Veem can be free. And even if it isn't free, it's at least cheap.
Competitive Foreign Exchange Rates
Do you want to avoid that $20 fee but are wary about foreign exchange conversion rates? Don't be. Veem can convert currency rates at some of the fairest prices around.
What do Veem's foreign exchange rates look like? Here are a few examples:
$0 – $4,99: 1.9%
$5,000 – $9,999: 1.8%
$10,000 – $24,000: 1.7%
$25,000+: 1.5%
These rates are significantly less than what you would receive from your bank and businesses also save on larger transactions.
No Hardware Necessary
You can send an international money transfer yourself, all without installing hardware yourself. You can use Veem on their website. Surprisingly, Veem doesn't have an app yet. Hopefully, that will change.
Veem Drawbacks
Unfortunately, Veem isn't totally perfect. Here are some of the cons we experienced.
No App
We mentioned this in the last section, but it's important to emphasize this drawback. Veem is only available online, there's no app right now. While we're sure that will change soon, this puts Veem at a serious disadvantage.
Fortunately, their interface is responsive and you can still send and receive funds via their mobile website if you're on the go.
USD Fee While Abroad
We will go over the only Veem fee in detail in another section. But for a briefer, you pay a $20 fee if you send someone money in USD while they're in another country.
Sure, avoiding the USD fee is pretty easy. However, there may come a time when a contractor or other professional is traveling in another country and you'll have to pay them in USD. Forking over the $20 isn't easy, but at least it's better than the alternative.
No Credit Card
Veem only lets you send and receive payments via your bank account, not a credit or debit card. We're not totally cool with this; I personally don't like using my bank account or even my debit card for anything.
However, we're sure this will change. With more competitors supporting credit and debit card transfers, Veem will likely jump on the bandwagon in the future.
Only Business Transactions
One of my personal issues with Veem is how it's only made for B2B transactions, not personal ones.
For example, my boyfriend lives in a different country than me, I frequently travel, and I have friends that live around the world. If I need to send my boyfriend or a friend money, I would appreciate the fair foreign exchange conversion rates and the free wire transfers.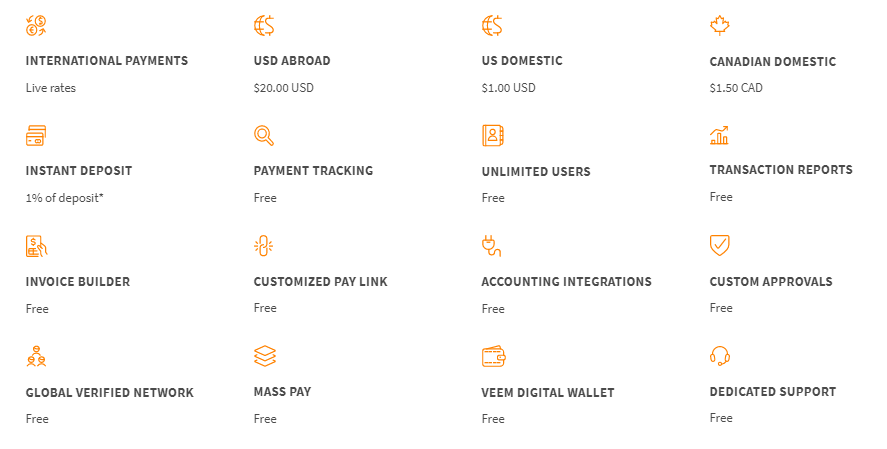 Do you get all of these great benefits for free? Not exactly. So, how does Veem pricing work?
For starters, signing up for an account is free. Not only that but processing most payments is completely free. You'll have to pay a foreign exchange fee when sending payments in a different currency, but they're less than the competition and most banks.
There's only one charge that's avoidable for many businesses — you'll have to pay a $20 fee if the receiver opts for a wire transfer outside of the U.S. in USD.
Let's take this scenario as an example — let's say you own an American company and you're sending money to a stakeholder in Europe. If the receiver opts to receive the payment in euros, you avoid the fee. But if they prefer to be paid in USD, you have to fork over $20 USD.
Who Should Use Veem?
Simply put, any business or sole proprietor will benefit from Veem, especially if you send and receive international payments. For example, if you work with international vendors and attract a global customer base, you'll get great use out of Veem.
When signing up for Veem, they offer solutions for both businesses and sole proprietors. This scored points with me; I'm only a freelance writer, and most of these B2B platforms offer a system that's way too advanced for my personal needs.
What Users Are Saying?
Sure, these benefits look great on paper. But what are users, including us, saying? Let's look at the most common feedback that Veem receives.
User-Friendly
The product is very intuitive and the dashboard is very self-explanatory. You can find the main actions on the left menu bar, including sending and receiving payments. You can turn the menu visibility off and on by clicking the three lines at the top left.
Signing up is easy, though there was a bug when we tried to enter our address. There's an address search function that wasn't letting us select the correct address. However, they offer a manual entry option so we chose that.
Free/Cheap
Everything in life that's free is better, right? This is why this is one of the many perks of Veem. Veem has made businesses very happy since most of their wire transfers are free.
Though Some Delays Are Inevitable
While Veem is faster than going through your bank, you'll inevitably experience some delays. For example, you may have to wait up to a week to receive your payment — especially for large payments. It's inconvenient but still better than the alternative.
Honestly, we didn't receive any wire transfers through Veem so we can't say 100% how accurate this is. We would just say to keep this possible delay in mind and continue checking your account for the transfer, whether you're sending or receiving the funds.
Lower Fees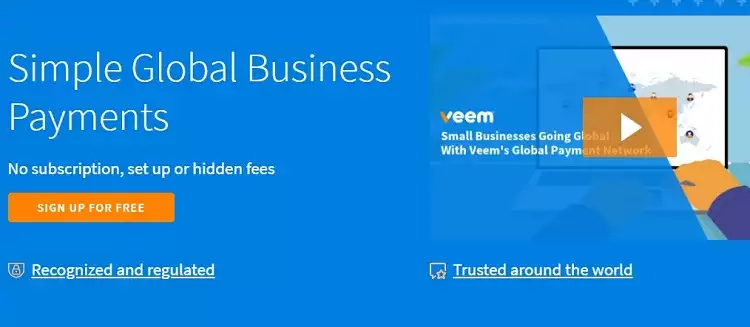 Why Go with Veem?
If you find yourself making regular contractor payments and are sick of paying through the nose for fees, give Veem a try. It might not fully replace a PayPal, but there's no harm in using both and saving significant money on fees where you can.
See How Veem Works
We earn a commission if you click this link and make a purchase at no additional cost to you.
Does Veem Support Integrations?
Veem supports integrations with various big-name brands. For example, you can sync Veem with major bookkeeping software companies such as QuickBooks and Xero. Invoices and payments will be automatically added to your books.
Veem can also integrate with the following third party service provider platforms:
Zapier Integration capability
Netsuite
Shopify
Quickbooks
Xero
Is Veem Safe & Legit?
With any relatively new payment solution, there's naturally some distrust about whether it's a legitimate platform or not. With good reason!
Thankfully, while Veem may be new it IS a genuine platform.
Veem is fully licensed in 47 US state under a national Money Transmission Licensing program.
Other compliance and certifications include:
PCI-DSS Complaint (data security standard)
SOC2 Certified (audited data security controls)
Regulated by FinCEN (Financial Crimes Enforcement Network of the US Dept of Treasury)
Regulated by Fintrac (Canada)
Regulated by AMF (Quebec's financial markets)
Regulated by FlexewalletV (an international payments specialist licensed under Australia's financial services agencies)
Veem also has a responsive customer service team and on-call fraud alert team (if needed).
Veem has also been covered and reviewed by many leading national news publications of record.
Alternatives to Veem
While there aren't many competitors that offer the perks that Veem offers, you may receive more benefits from their competitors. Here are a few similar alternatives.
Authorize.Net

Authrorize.net is a payment processing system that lets businesses accept e-checks and even credit card payments online. While this service comes with multiple fees, it's a good solution if you need to accept credit card payments.
PayPal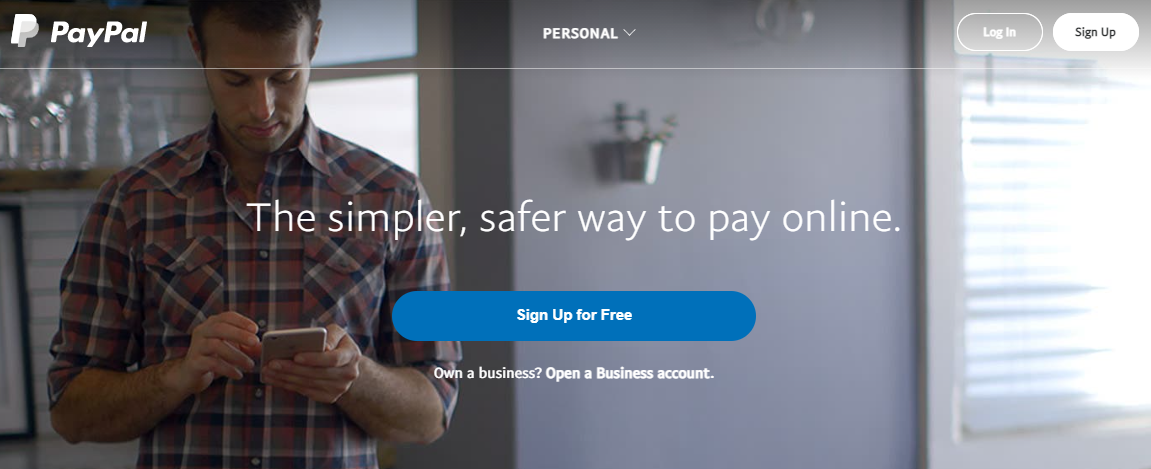 We should all be familiar with PayPal. They're the head honchos of online payment systems. Anyone can use PayPal for all transactions and you can send money in different currencies via PayPal. Unfortunately, PayPal does come with heftier fees for international money transfers.
How to Use Veem
Are you ready to get started with Veem? One of the many benefits of this platform is you can easily start using Veem. Here's a step-by-step guide.
Sign Up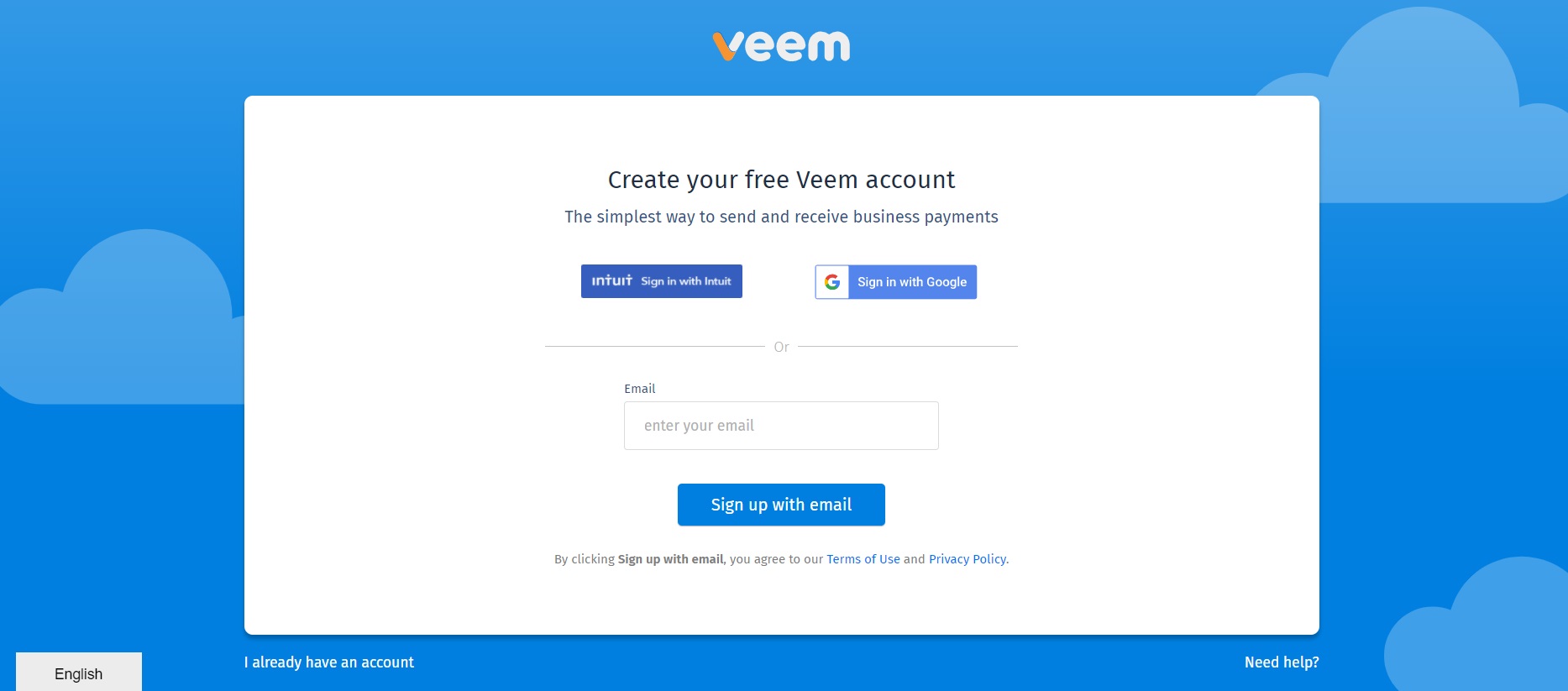 First, you need to sign up. You can do so by clicking this link. Just follow the instructions and enter the necessary information that Veem requests. This information includes your country, your address, your business details, and your bank account information.
Have the Recipient Sign Up
If you're sending money via Veem, you'll need to ask the recipient to also sign up and enter their information. From here, you can send and receive money!
FAQs
Question: If Veem only charges a $20 fee for certain transactions, how do they make money?
Answer: While we don't know the full answer to this question, it's suspected they make most of their money from foreign transaction fees.
Question: Is Veem Legitimate?
Answer: Veem uses highly secure blockchain technology for quick and effective transactions. Since the blockchain offers optimum security, you have little to worry about. We enjoyed Veem and the platform has generally received great reviews.
Question: How can you accept a Payment?
Answer: Veem will notify you when you receive a payment via email. From here, you can approve the payment in the email.
Question: How do you withdraw money from Veem?
Answer: If you have money in your Veem wallet, you can withdraw it into your bank account.
Question: How long do Veem payments take?
Answer: Some reviews we read complained that larger payments take as long as one week. But you should receive your payment in one to three days.
Our Veem Review: The Final Verdict
If international money transfers are a major factor in your business, you'll be happy to discover that Veem offers a technology-focused solution to wire money transfers without waiting and spending a lot of money on fees. Veem is extremely affordable, signing up is quick, and you'll receive your money in a short amount of time.
Veem has some drawbacks where competitors may shine. They don't support personal transactions and they currently don't have an app. If you're willing to work around these drawbacks, then Veem is a great solution for you.
Two of Veem's competitors are Stripe and PayPal. Will either of these platforms work better for your business? Read our comparison to find out!
Lower Fees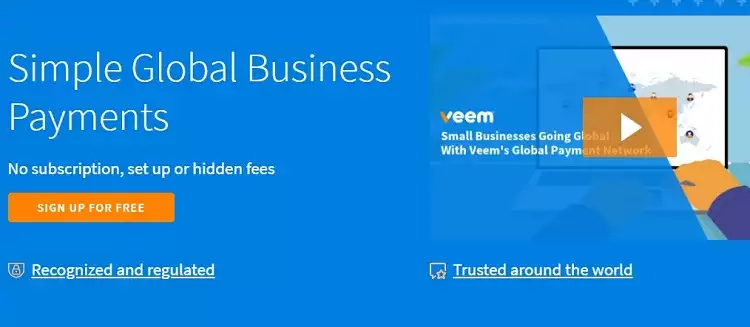 Why Go with Veem?
If you find yourself making regular contractor payments and are sick of paying through the nose for fees, give Veem a try. It might not fully replace a PayPal, but there's no harm in using both and saving significant money on fees where you can.
See How Veem Works
We earn a commission if you click this link and make a purchase at no additional cost to you.
FurtherReadin gon Related Payment Solutions: