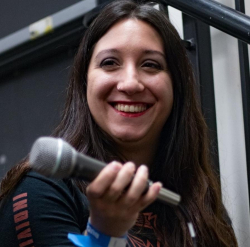 Latest posts by Stephanie Jensen
(see all)
Last Updated on December 28, 2021 by DMEditor
Project management is one of the most essential roles in an organization, but only 21% of companies have standardized systems in place. If you're better at organizing your project management team, you should choose a system that puts productivity (productivity tool) and collaboration at the forefront. And two of these systems are Teamwork and Monday.
Both platforms are rich in features, easy to use, and offer incredible functionality. But is one better than the other? While they both have their pros and cons, some businesses may prefer one platform over the other.
Here's our comparison of Teamwork and Monday, covering which platform we like more than the other.
Main Differences Between Teamwork vs Monday
The main differences between Teamwork vs Monday are:
Teamwork has a free account option, whereas but Monday doesn't have one
Teamwork doesn't offer budget and resource management features, whereas Monday does offer these.
Teamwork offers mobile apps but only a cloud app for the PC, whereas Monday has more app options, especially on Windows and Mac.
Teamwork only offers documentation and webinar training, whereas Monday offers live and in-person training as well as documentation and webinars.
Things to Know About Teamwork and Monday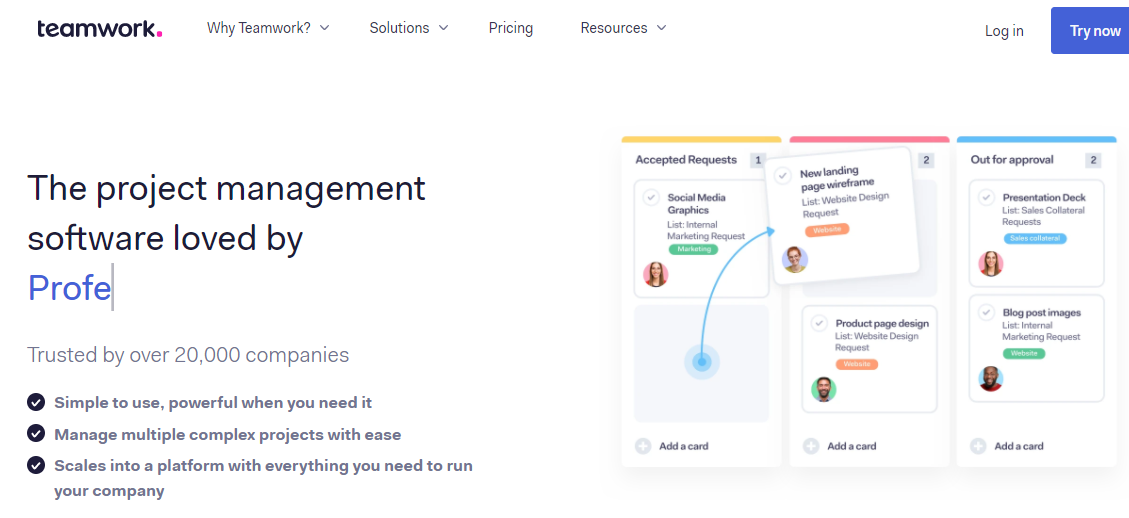 A variety of different professionals can use both platforms, from freelancers to large enterprises
Even though Monday doesn't offer a free account, they still offer a free trial. Teamwork offers a 30-day free trial for their paid plans
Both platforms offer a variety of integrations
Both platforms offer an easy-to-use dashboard to track all projects and users
Both platforms offer robust security, including HTTPS, encryption, multi-factor authentication, and more
Pros and Cons
We'll go into more detail about the different features and how both platforms compare to each other. For now, let's go over some basic pros and cons.
Teamwork Project Pros
Add users to specific tasks
Easily manage individual tasks as well as whole projects
User-friendly platform with few learning curves
Different dashboard viewing options, including a calendar view
Teamwork Project Management Software Cons
No separate boards
Restricted to task lists, no full-project view options
Doesn't have the most aesthetic visuals
Monday Project Management Software Pros
Communication and tasks are available in one place
Manage both projects as well as individual tasks
Supports various integrations across all plans
Aesthetic and intuitive interface
24/7 support
Monday Project Management Software Cons
Only supports large projects and/or larger businesses
No free plan
Does have an intense learning curve
Not as easy to keep track of team members
Team and Client Access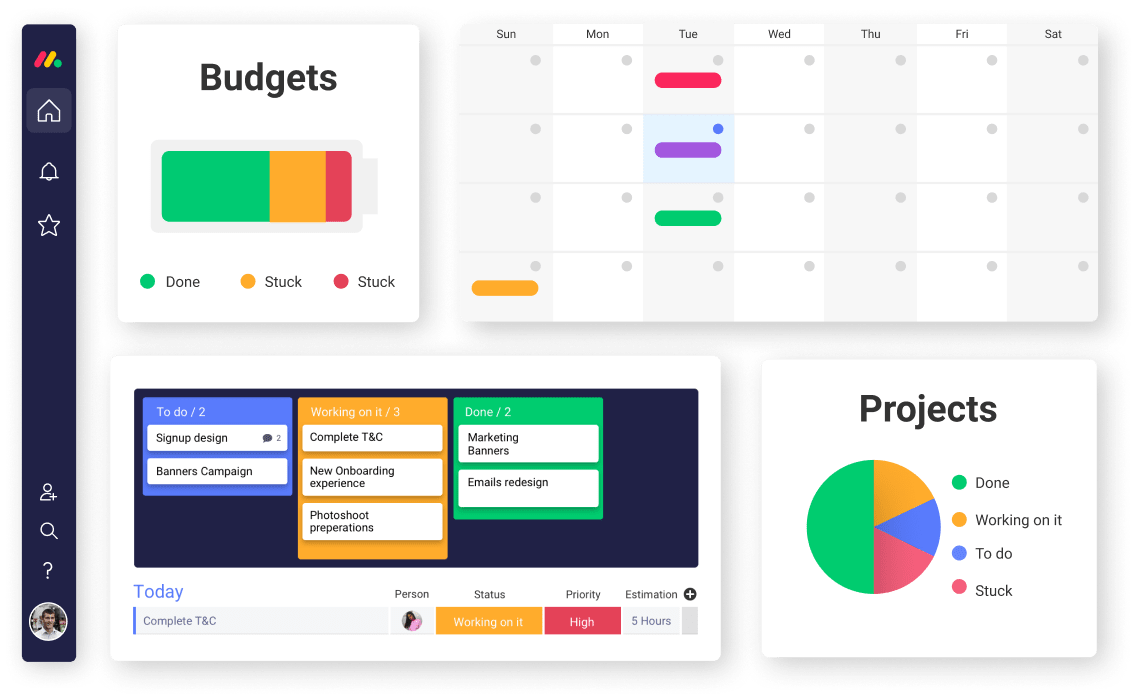 One of the most important factors to look for in a project management platform is how many people can access your platform and what they can do on your account. You'll want to ensure both team members and potential clients can access the board.
With Teamwork, it depends on what plan you choose. The free plan only allows a maximum of five users. The other plans charge per user, ranging from $10 – $18/month and user. If you suspect you'll need lots of users, signing up for the Enterprise plan may be worth it.
However, Monday has a huge advantage — unlimited free viewers. Free viewers have read-only access to the platform. This may be what most teams need; only extra staff members and clients may only need to read through your projects and the progress your team is making.
Monday has the better option for extra team members and clients to access their software, all included in even the basic plan. Therefore, they win this round.
Task Management Software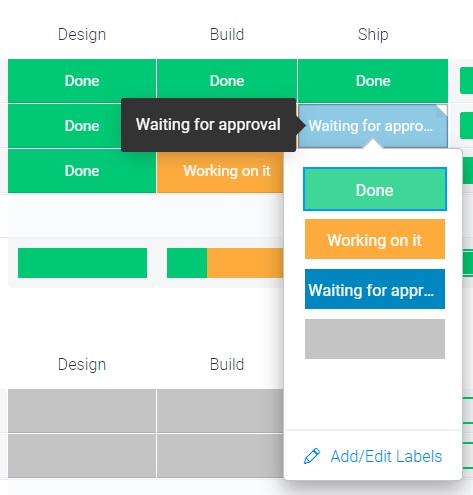 How can managers assign and track tasks with both project management and portfolio management tool platforms?
Monday offers a convenient template to manage tasks with ease. You can share this project template with their team, editing their tasks, the specific task description, and managers can see the progress and who completes their tasks and when. This template is easy to edit, thanks to its drag-and-drop editor.
In addition, you and your team can add labels to better track tasks. Monday also offers communication and notifications in one place to keep up with team members and enhance collaboration (collaboration tool).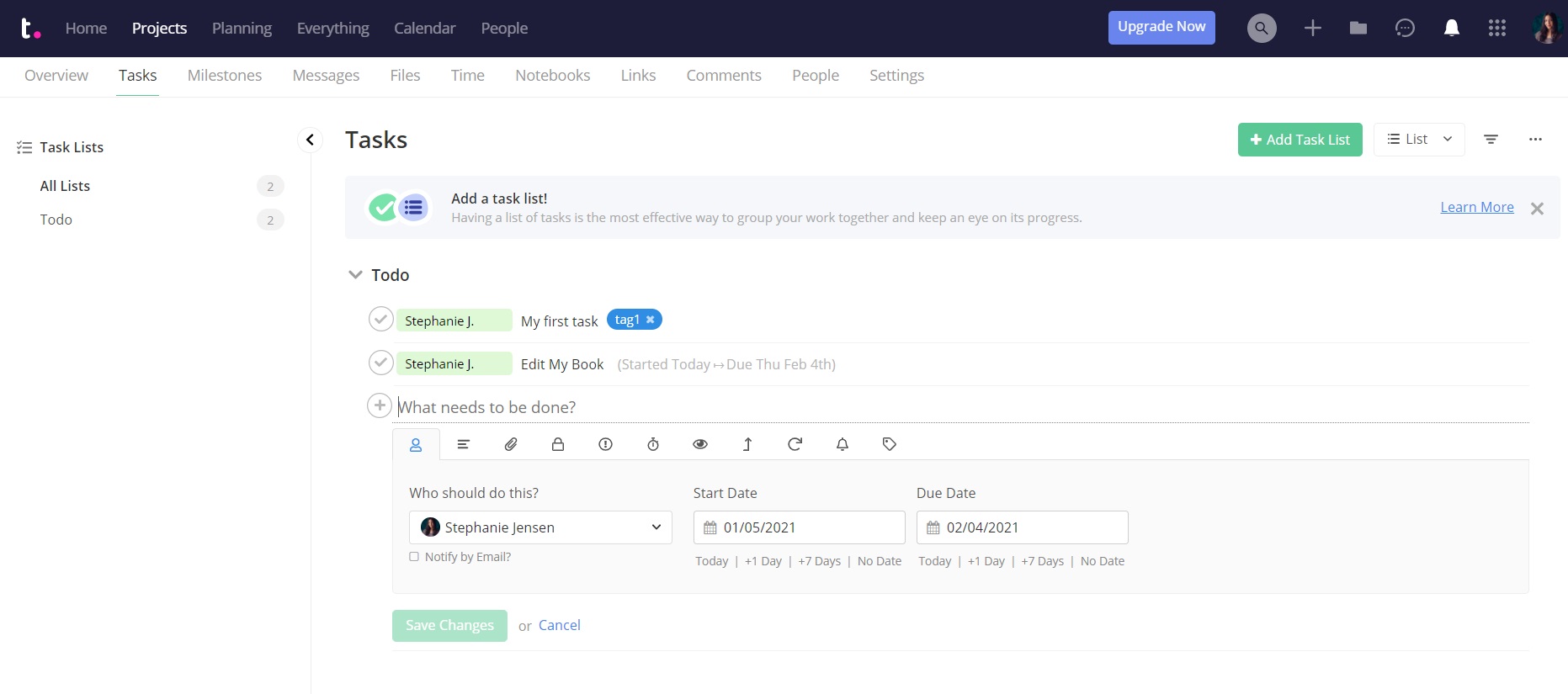 However, Monday does lack in comparison to Teamwork. Monday's template doesn't offer task dependencies or subtasks. In addition, management can track different tasks and add comments in Teamwork.
Both platforms vary in task management performance. Monday is ideal for easy shareability, collaboration, and editing while Teamwork's task management is best for complex projects that require multi-task management.
Integrations
Both Monday and Teamwork offer integrations to make your workload more efficiently. But which platform offers the most or the best integrations?
Teamwork supports a variety of different feature integrations, including:
HubSpot
Microsoft Teams
Unito
Slack
COZYROC
SoftSync
WebWork
And more!
Not only that, but Teamwork supports unlimited actions to your integrations. The only downside is certain integrations are available on specific plans. For example, you can't integrate with Google Drive on the free plan but can on their paid plans.
Monday also supports powerful integrations, including:
Microsoft Teams
Outlook
Slack
Dropbox
Google Calendar
Zoom
Excel
Google Drive
LinkedIn
Gmail
Zapier
OneDrive
Adobe Creative Cloud
And more
You can also set up your integrations easily on their platform. No coding is required.
The amount of actions you can take depends on your plan. Their Standard plan lets you have 250 integration actions per month while the Pro plan lets you have 25,000 actions.
Both platforms have their pros and cons with integrations. While they support advanced integrations, there are some restrictions. Teamwork only allows certain integrations on their paid plans and Monday limits the actions you can take. Overall, the plan you choose should offer your integration and the number of actions you're expected to take.
Project Size Scope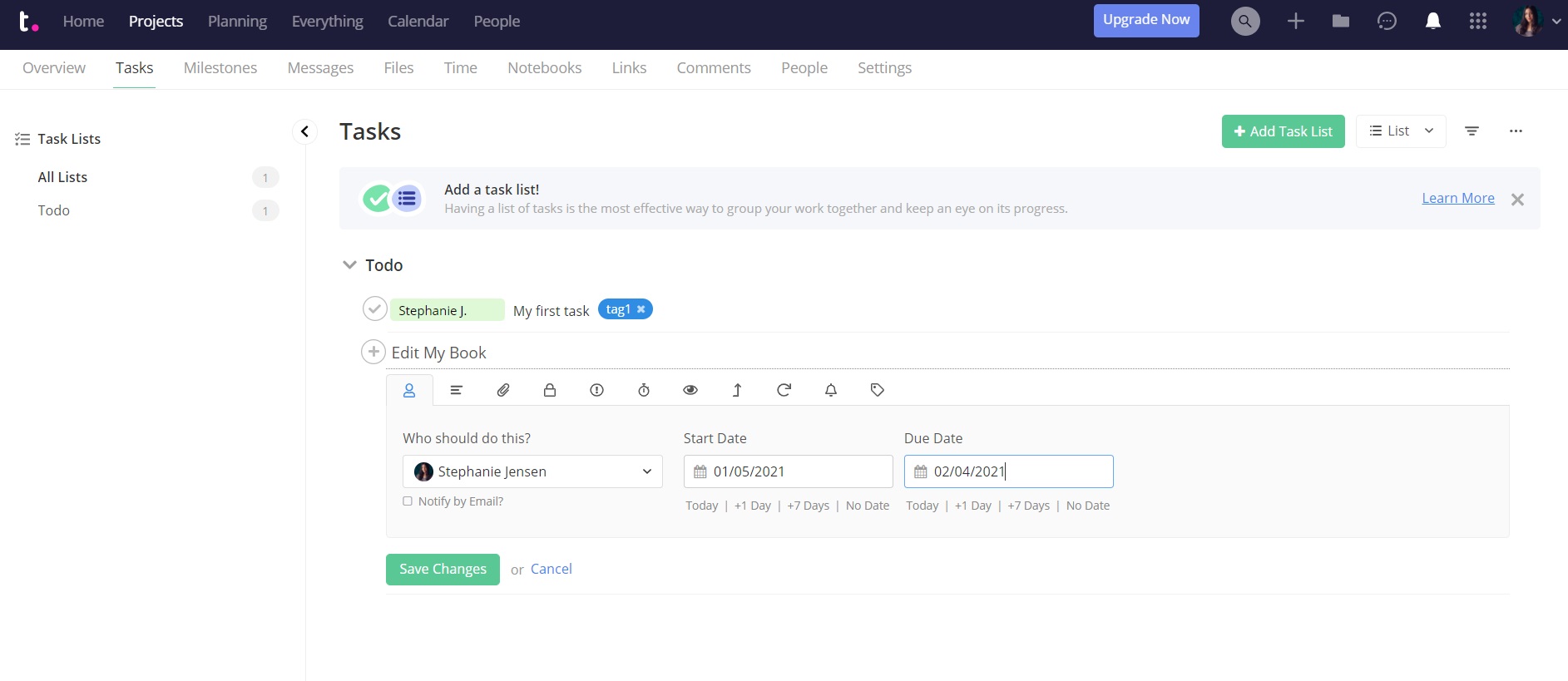 Some teams may only need simple projects while others have large and complex projects. What does the project size scope look like for both systems?
Teamwork is by far the most flexible one. They offer a free plan for solopreneurs and small teams. But they also offer an Enterprise plan for businesses that need unlimited projects and more complex requirements.
But Teamwork offers other benefits that Monday doesn't offer. I like how they offer start and end dates for tasks. You can also measure task effectiveness by:
Setting progress
Adding comments
Setting reminders
More

Monday doesn't offer a free plan, but their entry-level plan is powerful. Your business can get unlimited boards and over 20 columns. Their Enterprise plan is also more advanced than Teamwork. Teams can automate many functions, receive analytics and reporting, and more.
Teamwork wins this round because they're flexible. Their free plan has powerful benefits, so even the smallest teams can track complex projects without spending a dime. Monday's plan only supports advanced projects and larger businesses, which may not be helpful for new and small businesses that don't have a lot of capital to spend on project management.
How Much Do These Platforms Cost?
In addition to a free plan, Teamwork offers the following plans and prices:
Pro: $10/user/month
Premium: $18/user/month
Enterprise: contact sales
Monday doesn't offer a free plan but does have more paid plan options:
Basic: $11/seat/month
Standard: $14/seat/month
Pro: $22/seat/month
Enterprise: contact sales
What I like about Monday is how you can customize the pricing page based on how many "seats" (or users) you need.
Underneath the monthly cost is how much you'll pay per month based on how many seats you want. I like this transparent pricing model; I'm also bad at math and I'm sure other customers struggle with calculations, so this pricing page takes some of the guesswork out of budgeting.
FAQs
Question: Can you use these platforms as a CRM?
Answer: Monday offers a CRM dashboard that lets you handle customer on boarding, your sales pipeline, marketing, and client projects in one place. Here's more information about Monday's CRM.
Teamwork also offers CRM software to easily manage your leads and better execute sales. You can learn more about Teamwork's CRM here.
Question: Are there any other project management platforms?
Answer: I've tried several project management systems other than Monday and Teamwork. I'll be honest, Trello and Asana are my favorite. As a free platform, Trello is a very powerful and easy to use. You can customize your boards in different ways, add team members, and track progress/completion. Asana is another very customizable and you can easily create tasks and set due dates. I highly suggest you look into these companies.
Question: What is a Gantt Chart?
Answer: A Gantt chart is a type of chart that shows the visibility of a project's schedule. The main purpose of the Gantt chart is to better visualize a project, its status, and the activities needed for completion. The chart named after the inventor, Henry Gantt, who designed this chart around 1910-1915.
Both Teamwork and Monday support Gant-like views, which is the best option for those who work better visually.
Teamwork vs Monday: The Final Verdict
Overall, we like Teamwork better. Teamwork offers a free plan so freelancers and new businesses/startups can organize their projects. Even their free plan is powerful; Teamwork offers better team management and their system is easier to use than Monday's.
However, Monday offers many benefits. They're a powerful solution for larger teams and businesses with complex projects. Their pricing is also more transparent and they offer more benefits for multi-member teams and even clients.
We also suggest businesses look into Asana and Trello. I personally like these project management platforms better than Teamwork and Monday.
Or, you can read our guide on how to find the best project management tool.
Further read:
Our Recommendation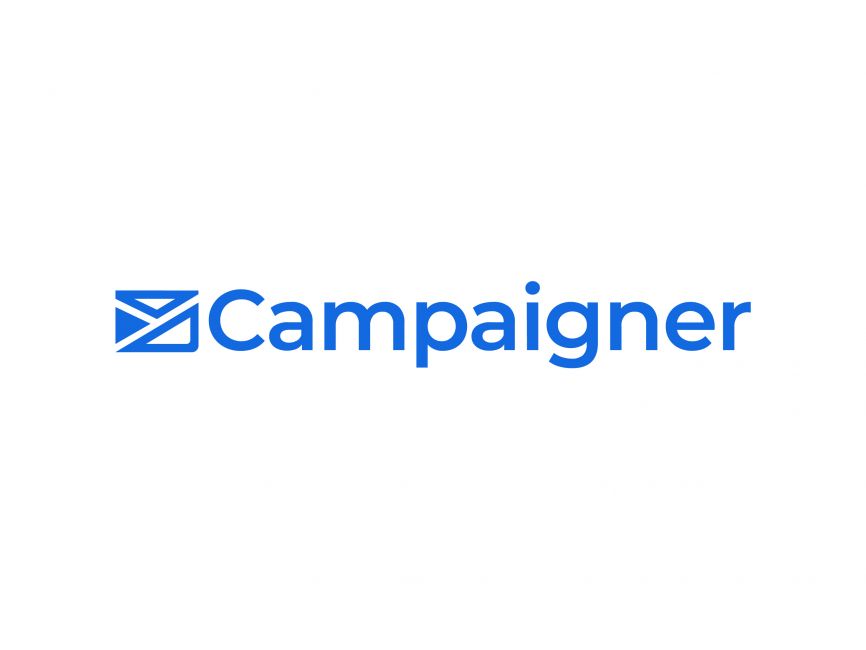 Have Your Heard of Campaigner?
Drive sales and revenue using advanced marketing automation, intuitive reporting and powerful personalization through email and SMS. Try Campaigner for free!
Start Your FREE Trial
We earn a commission if you click this link and make a purchase at no additional cost to you.