Last Updated on June 20, 2023 by Ewen Finser
The catch-22 of having a successful business is that it gets increasingly difficult to manage as you acquire more clients, projects, and responsibilities.
Project and team management tools are your best chance to harness the chaos into calendars and workflows that help you thrive. In this monday.com review, we're going to explore project and team management tool Monday, which has both browser and mobile app abilities.
What is Monday?
Formerly called dapulse, Monday's tagline is, "Simplify the way your team works." After using the project management tool, I'm not sure "simplify" is the right word, though users who appreciate Monday won't need a "simple" tool, but instead a capable, customizable and fruitful one – and they'll get it.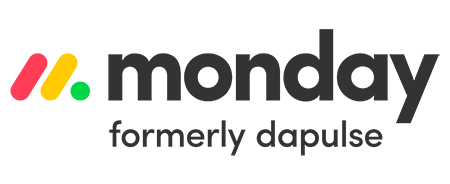 Though there are lots of bells and whistles, Monday's primary goal is to help you manage your workload and communicate with your entire team via boards (while borrowing from Kanban boards, it's SO much more than basic Kanban board).
In this sense, it's not JUST a project management tool or management software suite.
Editor's Choice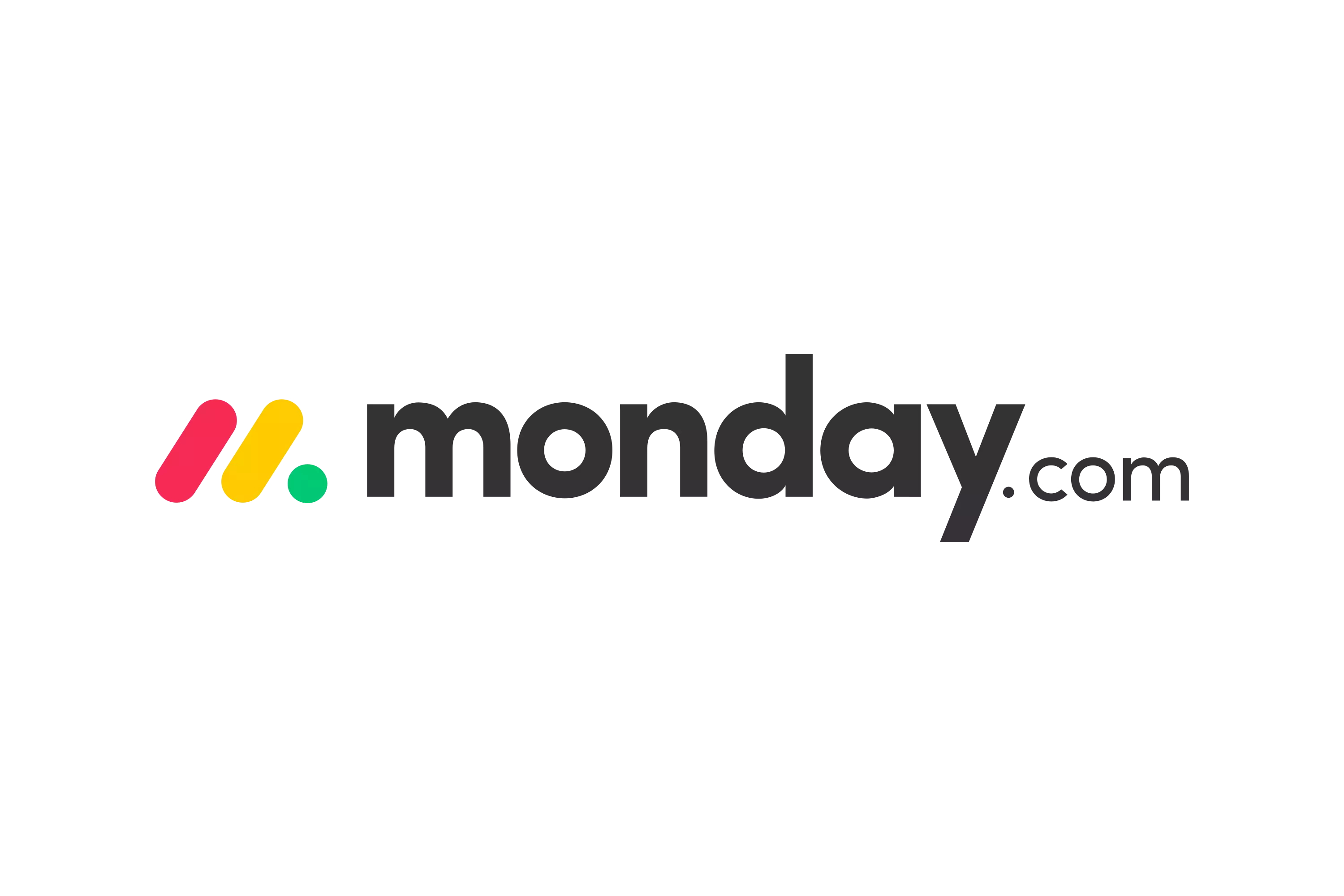 Why Go with monday.com?
Make tasks satisfying to finish! monday.com is quickly disrupting the old guard with a sleek interface, hundreds of integrations, and dozens of workviews for visually imagining and tracking your projects. More than just project management.
Start Managing Your Team Better
We earn a commission at no cost to you which helps keep this blog running!
monday.com Sign Up Process
Right on the homepage, you enter your work email and then click Create Free Account.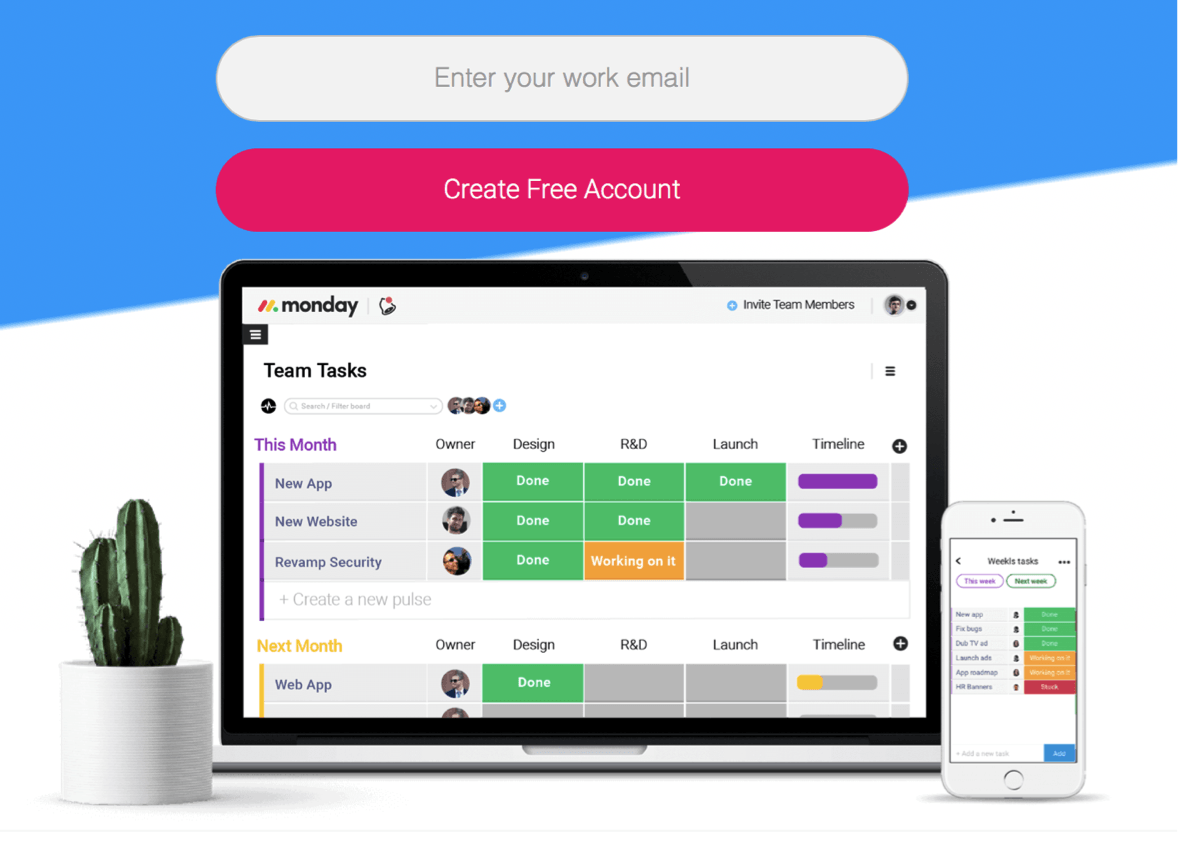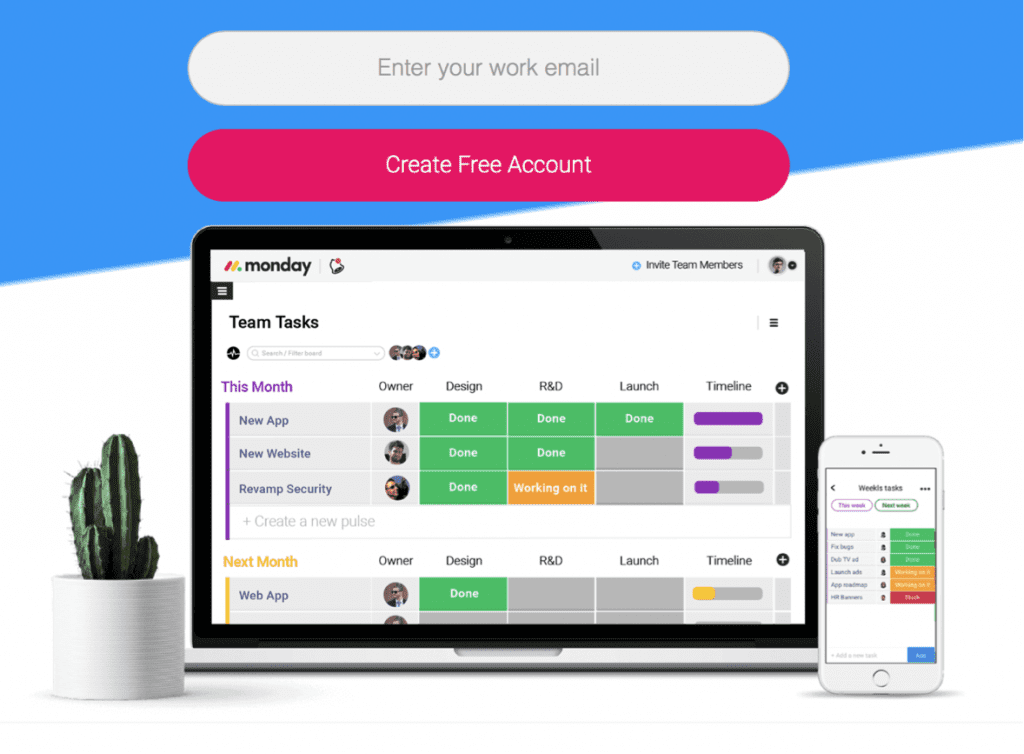 They send you a six-digit code to your email account in order to unlock the free trial. I received the email with the code immediately, then entered it on the page. It took me to another signup page that asked for some more info.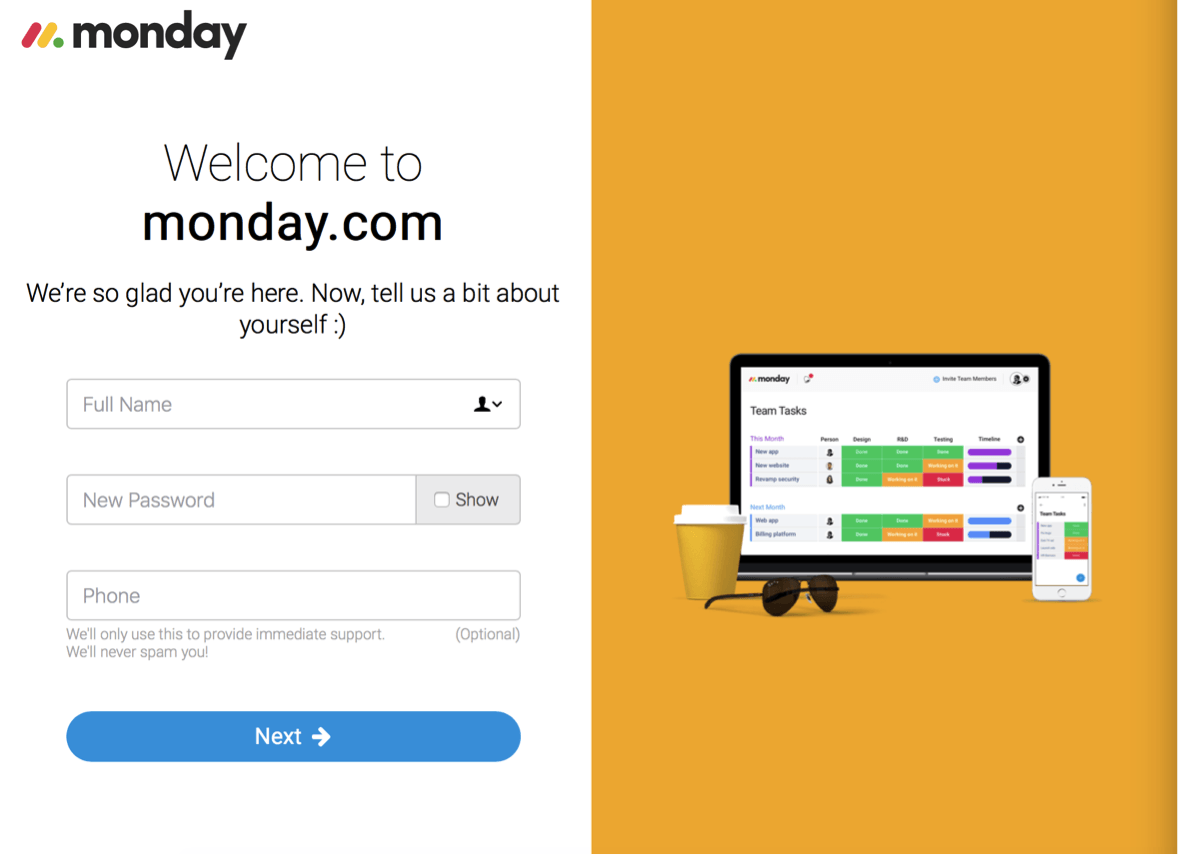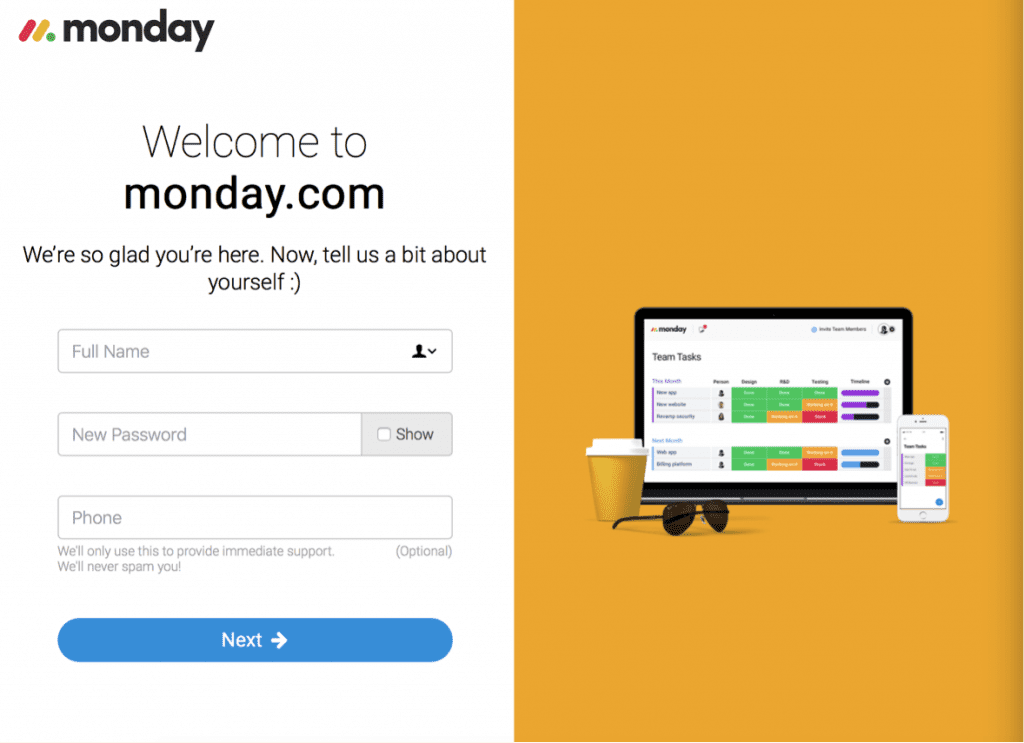 On the next screen, you're asked to enter information about your team. I like that there's an option for "Only me," because sometimes solopreneurs aren't represented in work management tool options.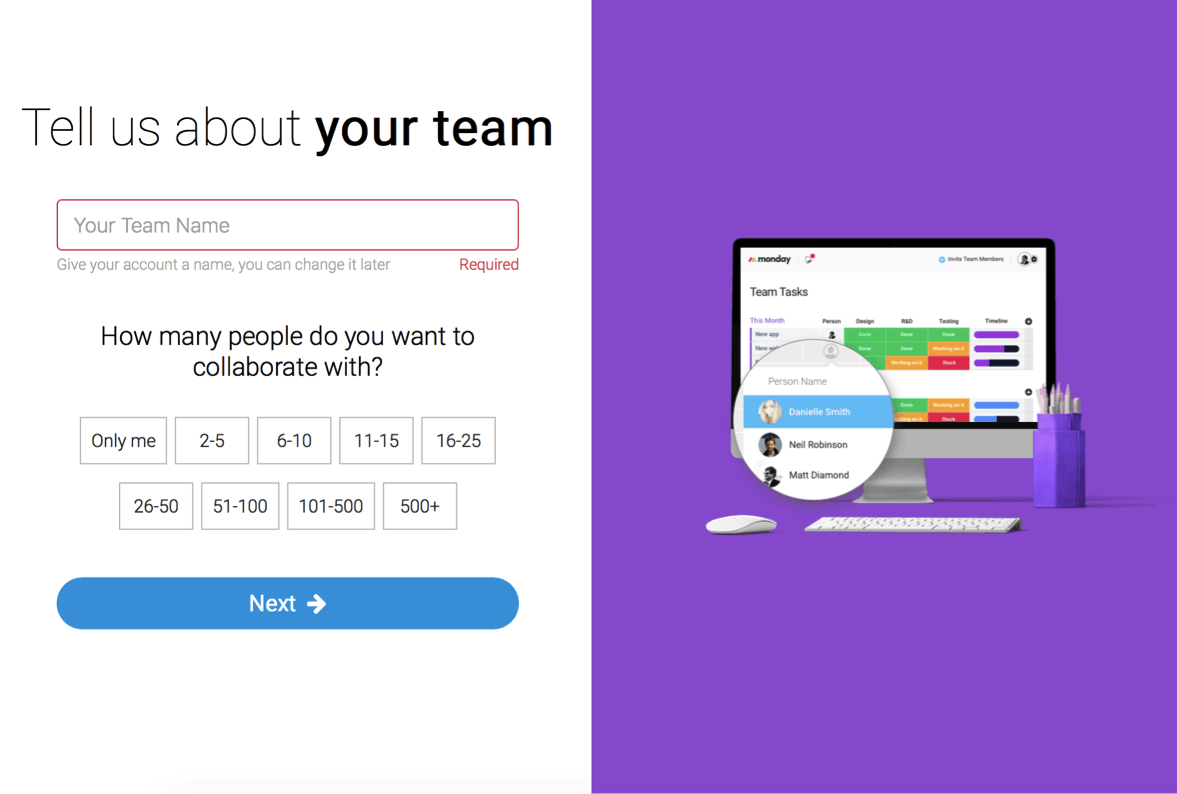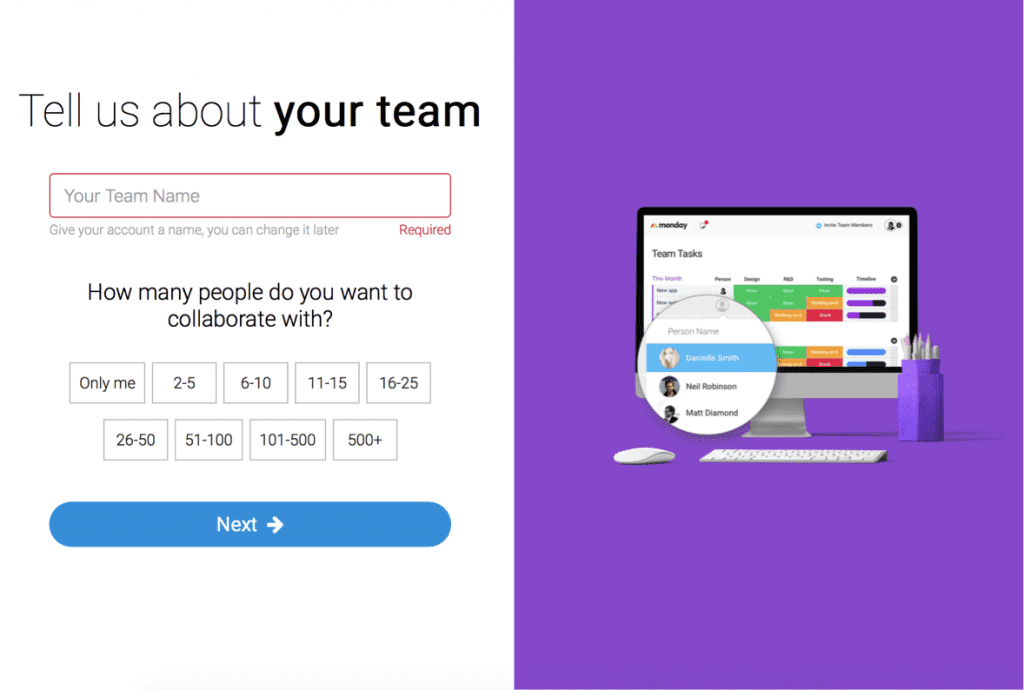 There's yet another page, and I now wish the signup process were quicker. I'd almost prefer one or two pages with more questions to fill out than several pages that I have to continually click through.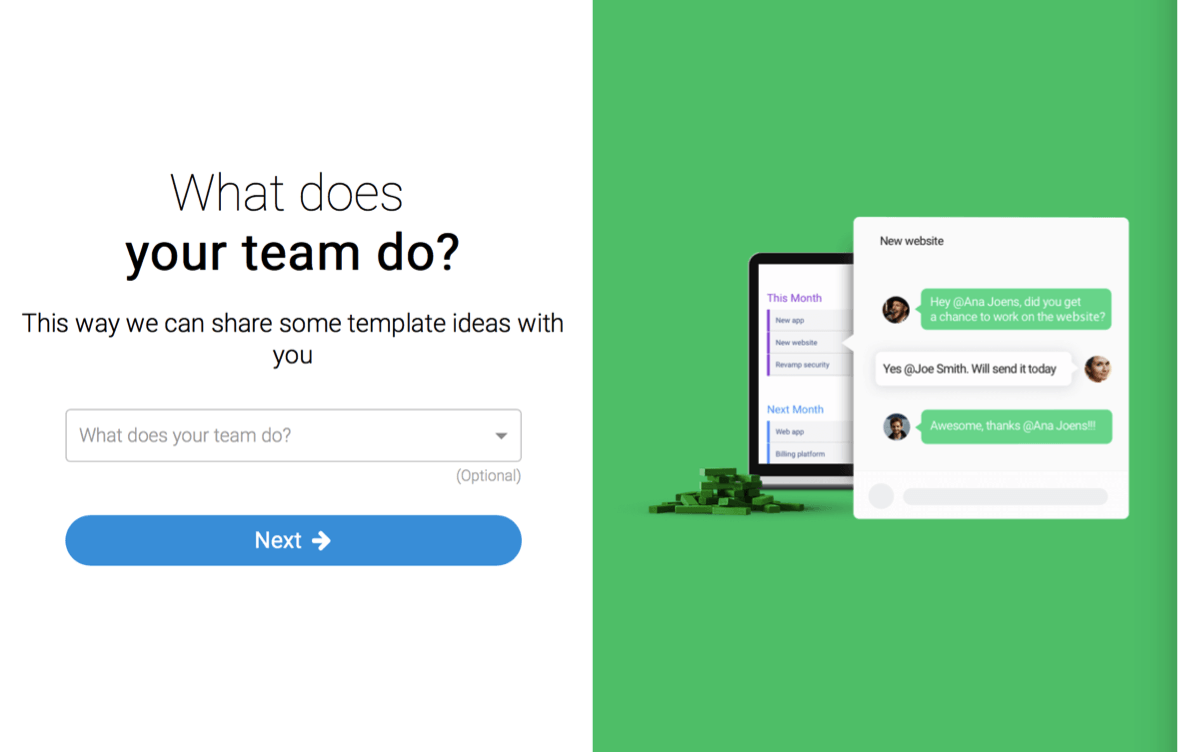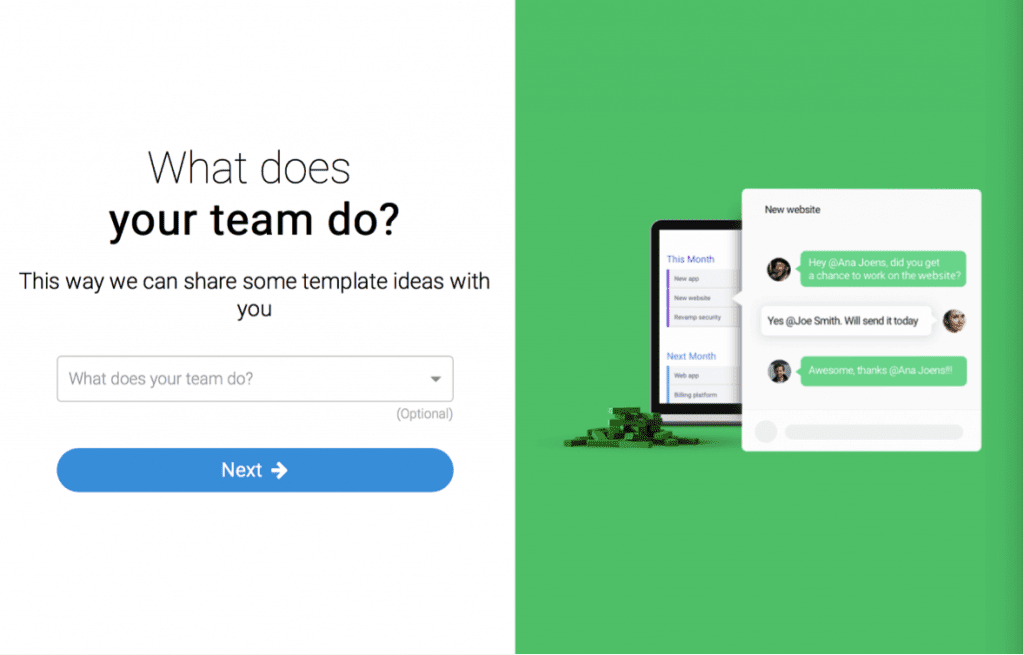 Also, the dropdown menu under "What does your team do?" includes a lot of options, like Accounting, Business Development, Design, Project Management tool, etc.
I'd guess that a business owner with a big team of people would have trouble choosing just one answer since a team usually covers several different aspects of running a business. I just opt for "Other" and then write in "Online Marketing," which is one of the suggestions.
The last signup screen is to choose your account URL. I opt for the one that's already filled in. It's important to remember your URL, because this is what you'll be using to sign in moving forward (you can always request the link again using your email, though).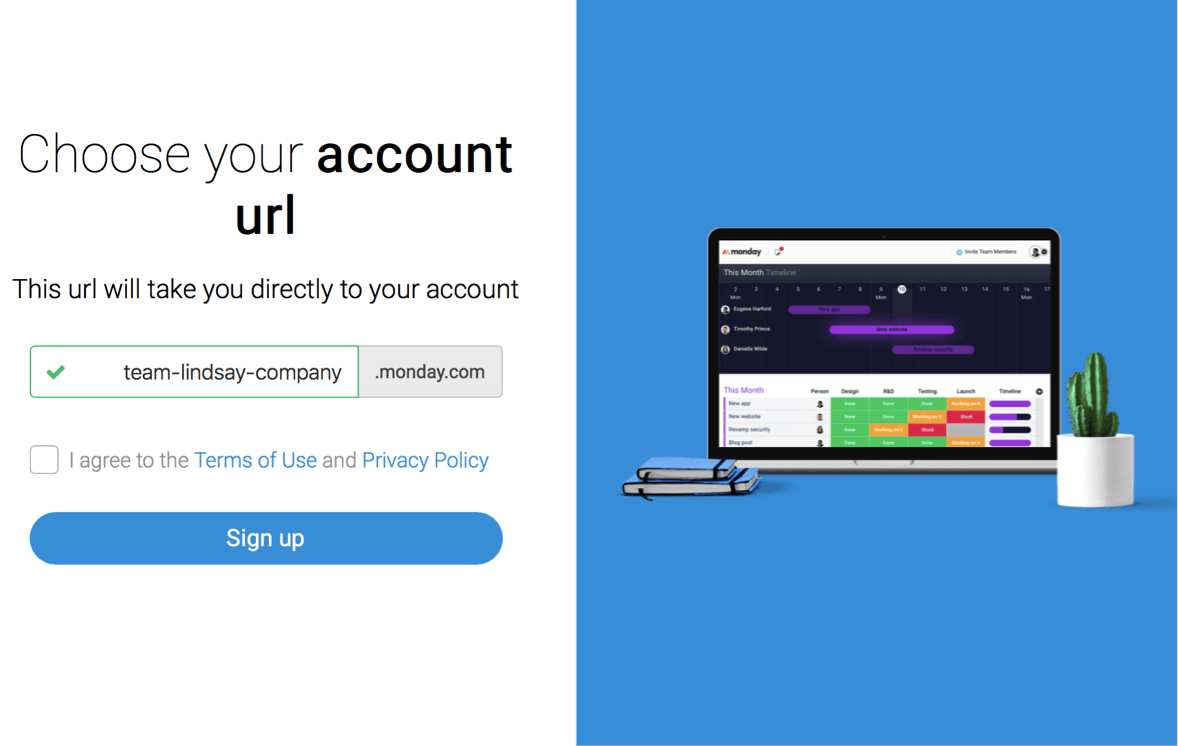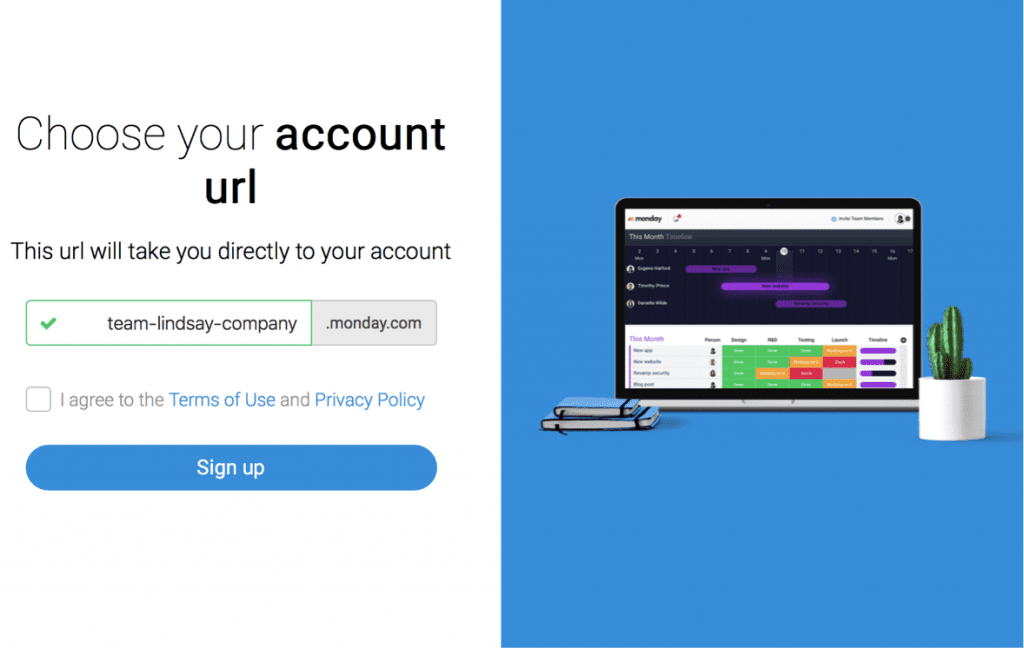 Next, you can add people who are on your team by sending them an email invitation and choosing if they should be an Admin or not. Admins are able to invite other users and manage your account. This is a good option for people in a management position or to send to an assistant who should have access to everything.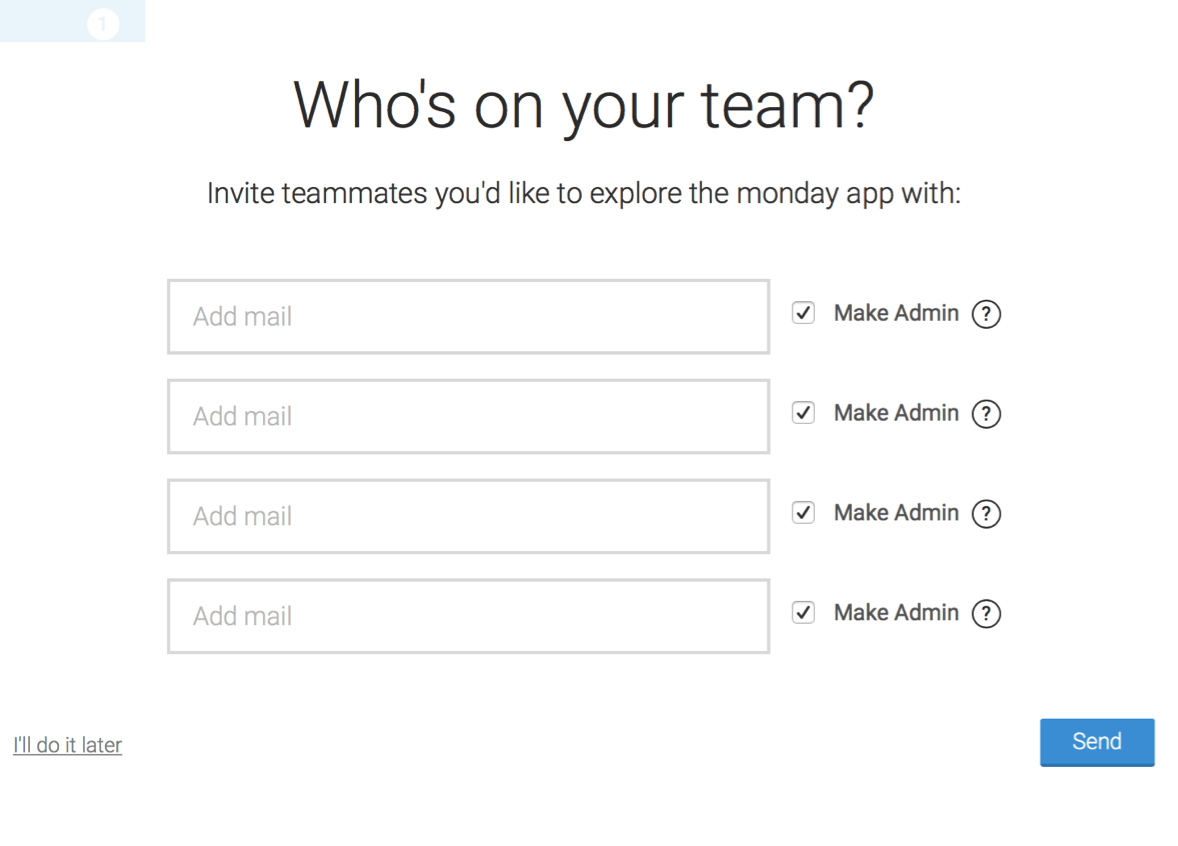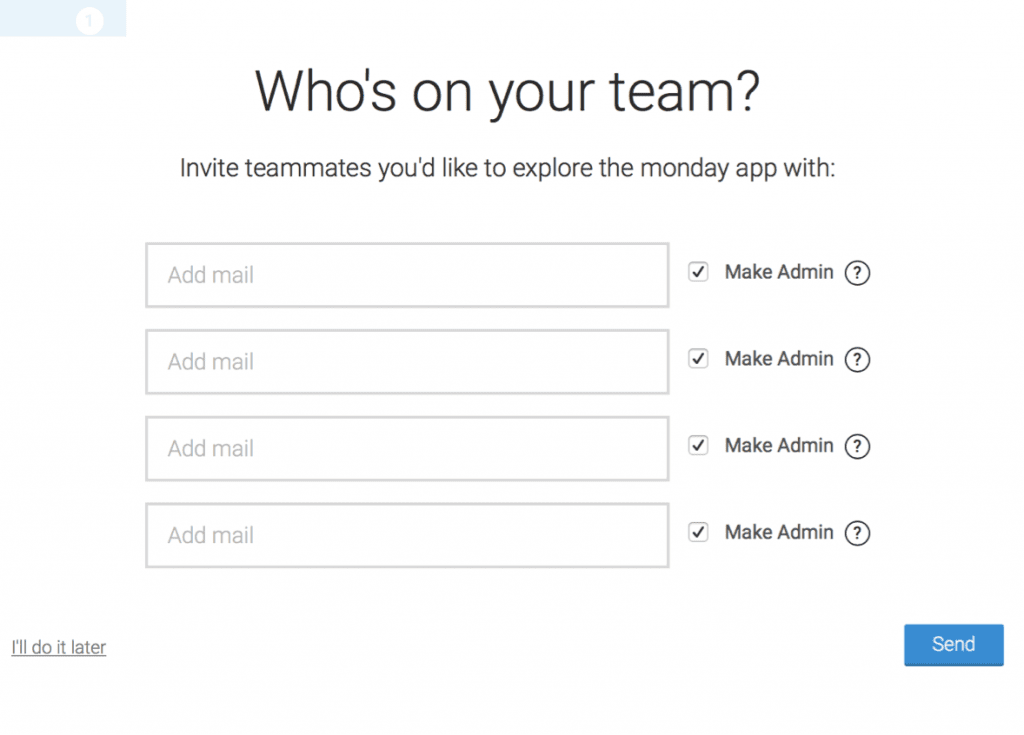 Now that I'm done with the signup process, it's time to get started.
How to Use monday.com
The first thing that comes up is the dashboard with a pop-up that tells me where to start. I love this because I don't have to figure it out on my own.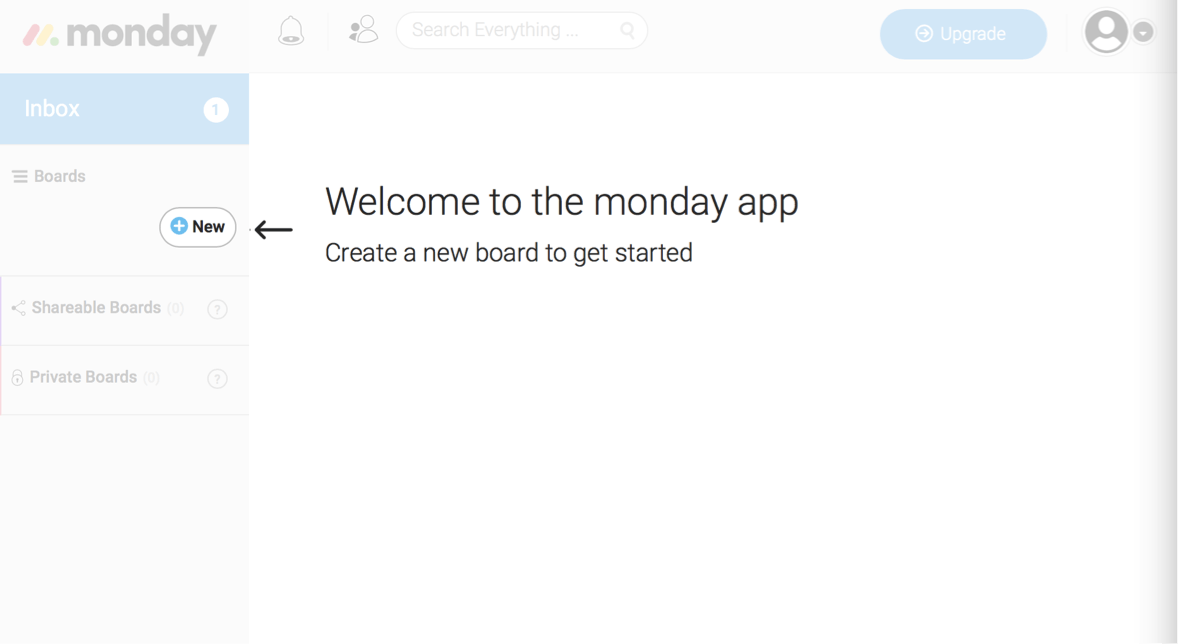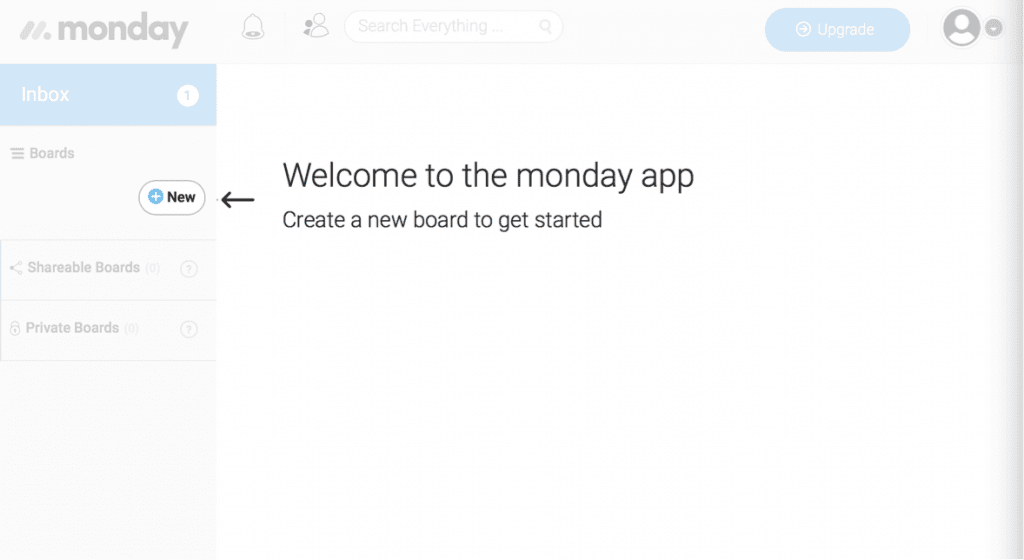 I create a new board and a list of options pops up under a Featured Templates list. There are several pre-made templates to choose from based on what I want to use it for. There's also an option to create a template from scratch.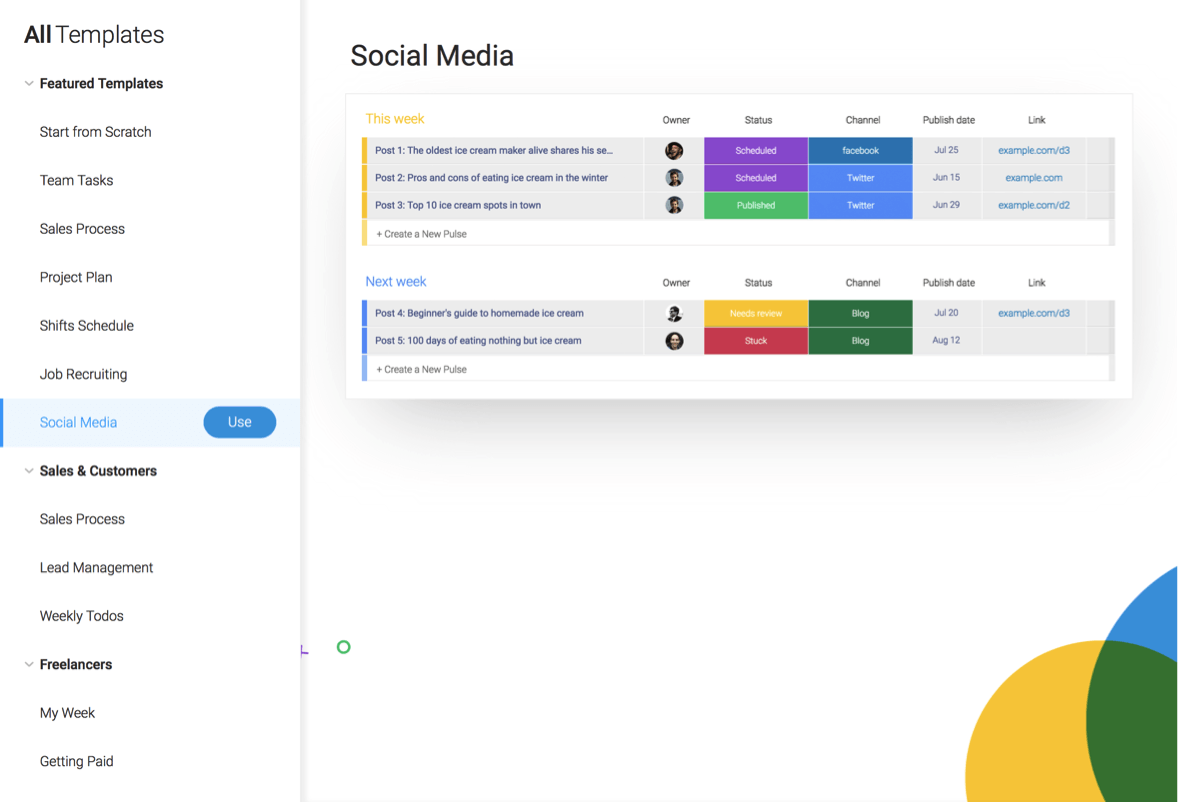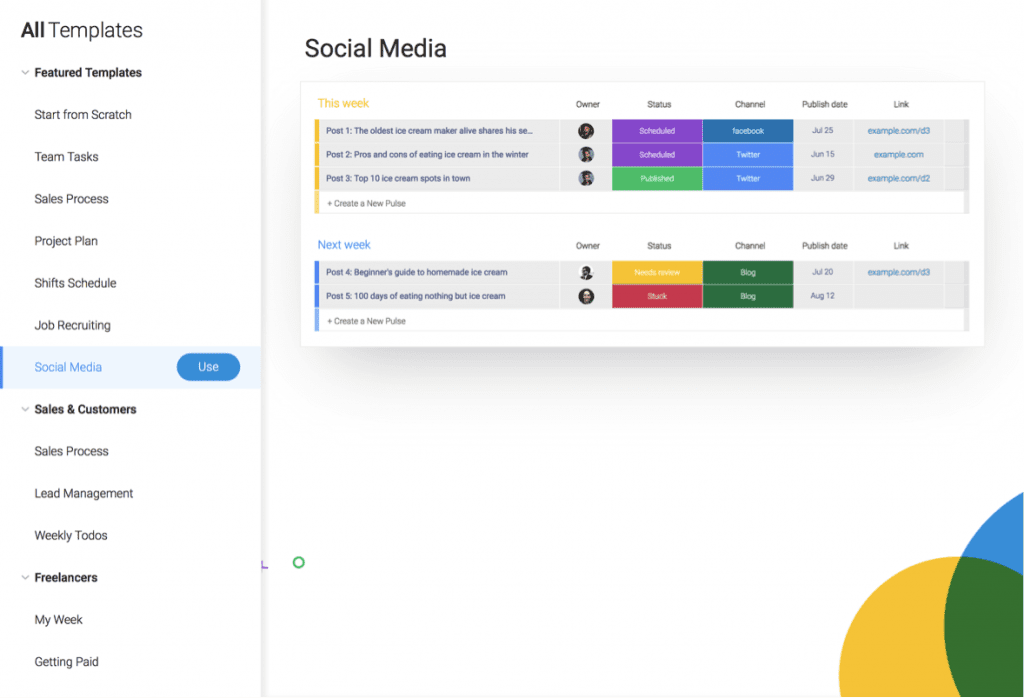 I choose My Week under the Freelancers menu. There's an option to import my existing data by copying and pasting rows. I'm not sure what type of data they want, though, because I haven't really seen the template yet. I skip this for now.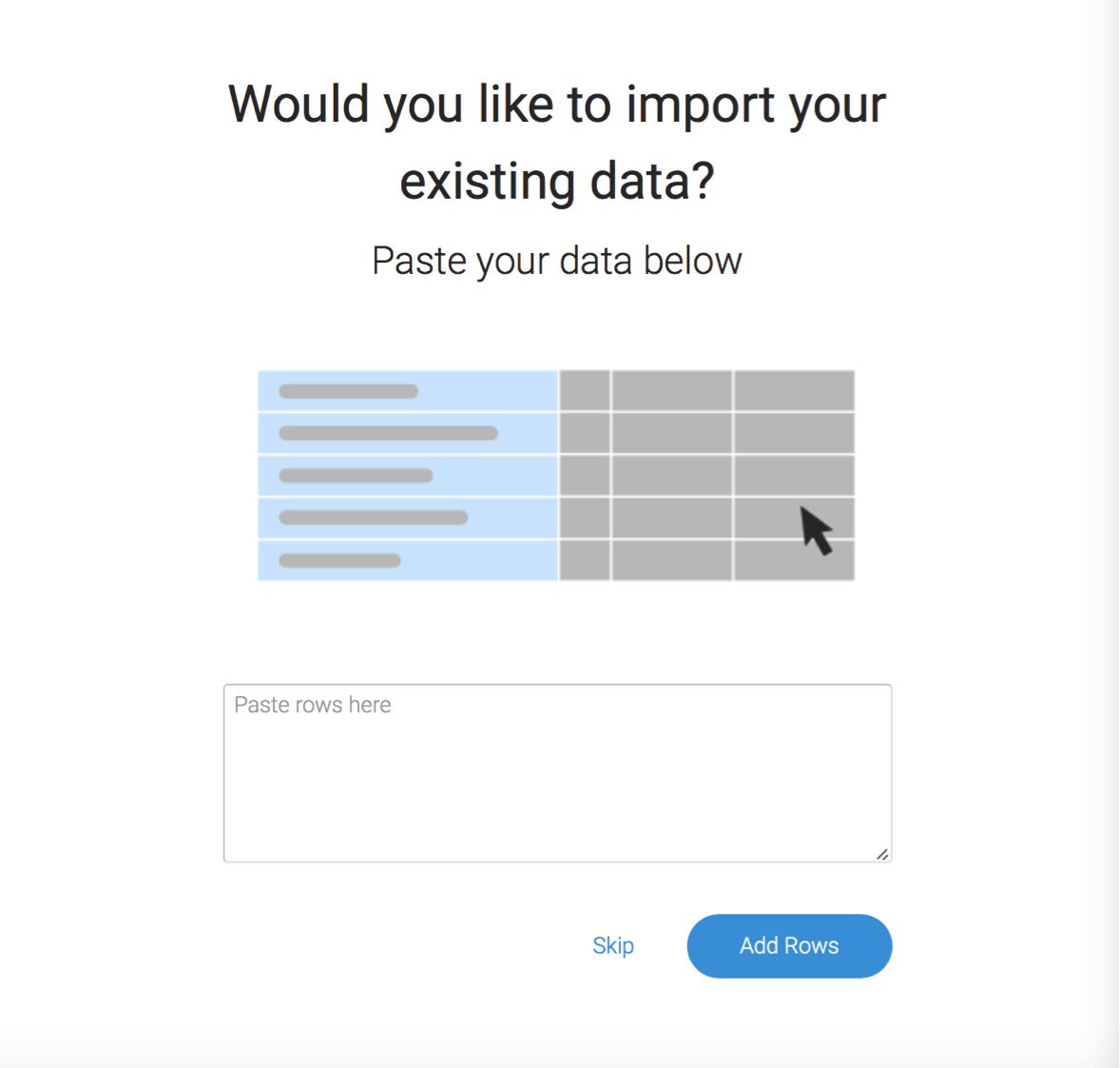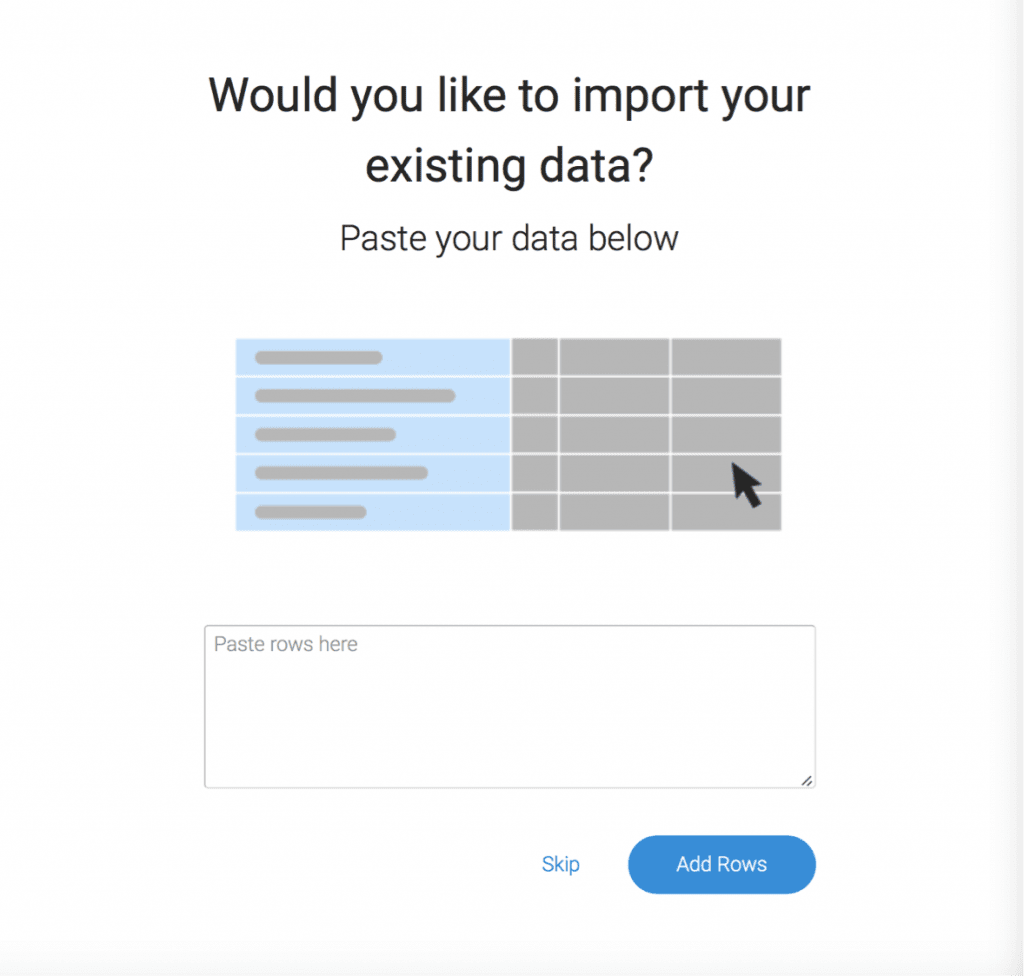 On the next screen, there's a pop-up video on the bottom that I can play to see how to use the board. (It gets annoying, so just hover over it to "X" out.)
How to Create a monday.com Board
No monday.com review would be complete without talking about the boards. Now that I have a template to play around with, I'm ready to actually build my board.
Again, I see a prompt to import my data, which they refer to as Pulses instead of spreadsheet rows (functioning similarly to an excel spreadsheet). I'm still not sure what this is, but I'm interested, so I grab data from a random spreadsheet from my Google Drive to import.
I figure the Sheet that I use to track my virtual assistant's assignments (time tracking / activity log) is a good one to try out.
I copy the data from the sheet, which includes several columns and rows.


I paste the info in the box, just as it says to. It only copies the first column, though, which I don't really understand.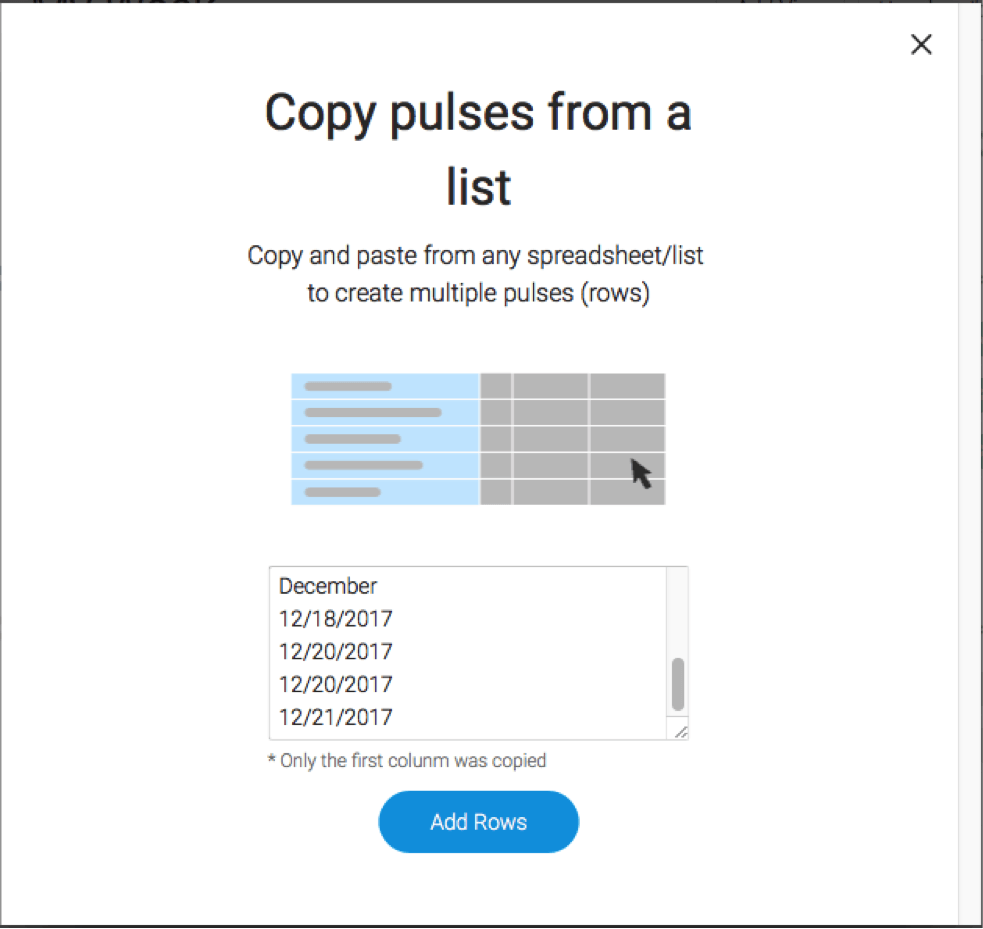 This is frustrating because it seems to be a feature Monday is pushing, but it's not at all clear how or why to use it. I click "Add Rows" to see what will happen, and this is how the data uploads to Monday.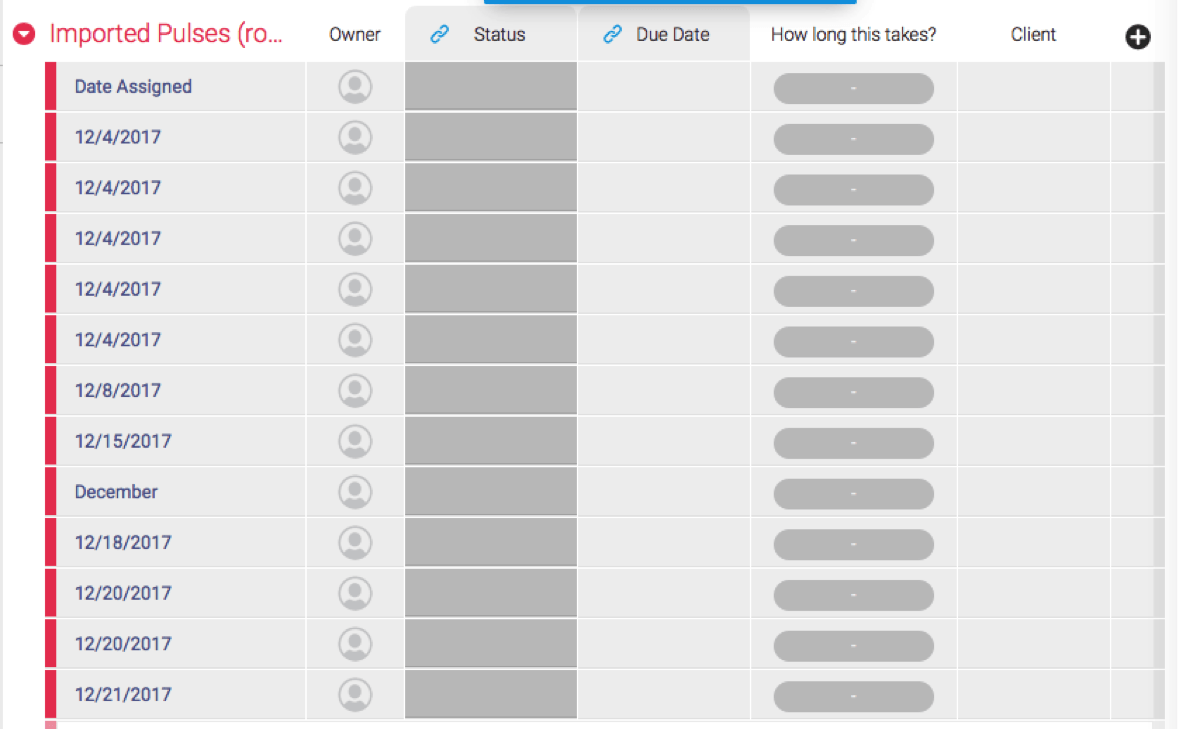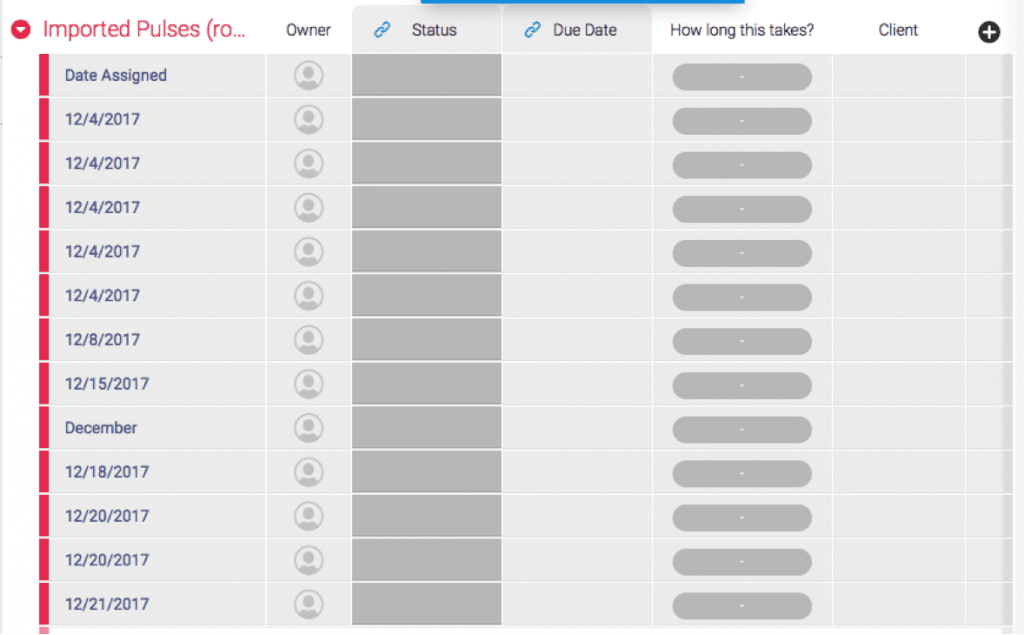 monday.com Tasks and Subtasks
Now that I can see how the info converts to Monday, I think it's best to add a single list of tasks (and sub tasks) for the task management tool. I delete this import, then go back to my Google Sheet and copy just the column with the task names in it, then import it to Monday just like before. This looks better, although I can't figure out their color coding.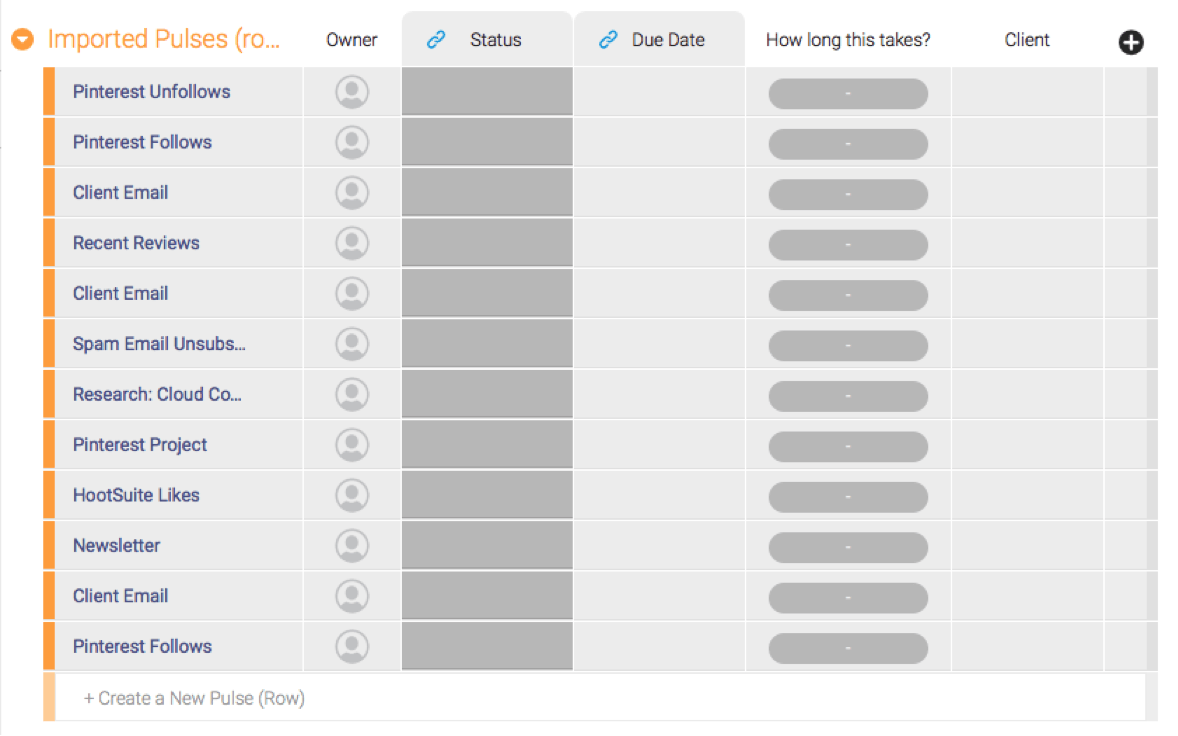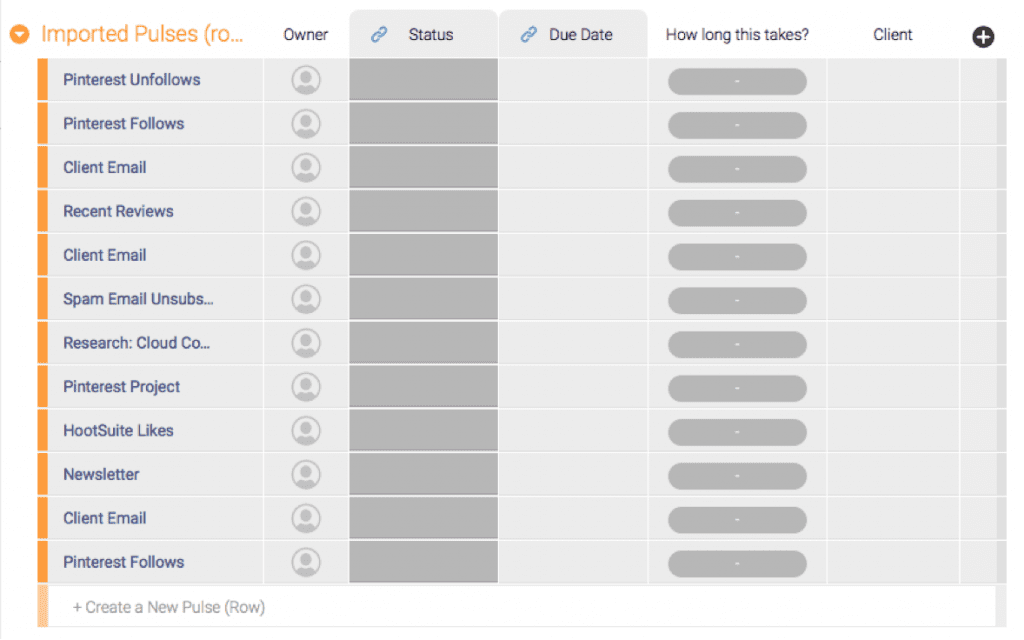 Now I want to fill in these other columns. I click the task Status field, and this pops up.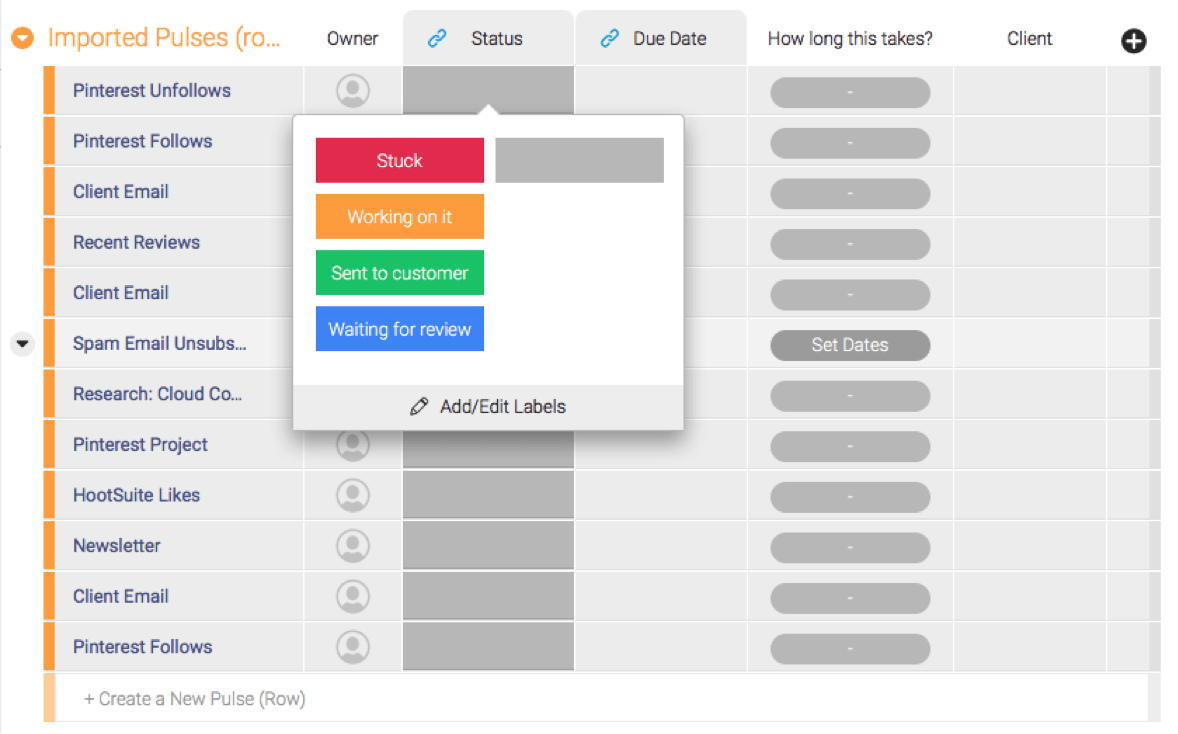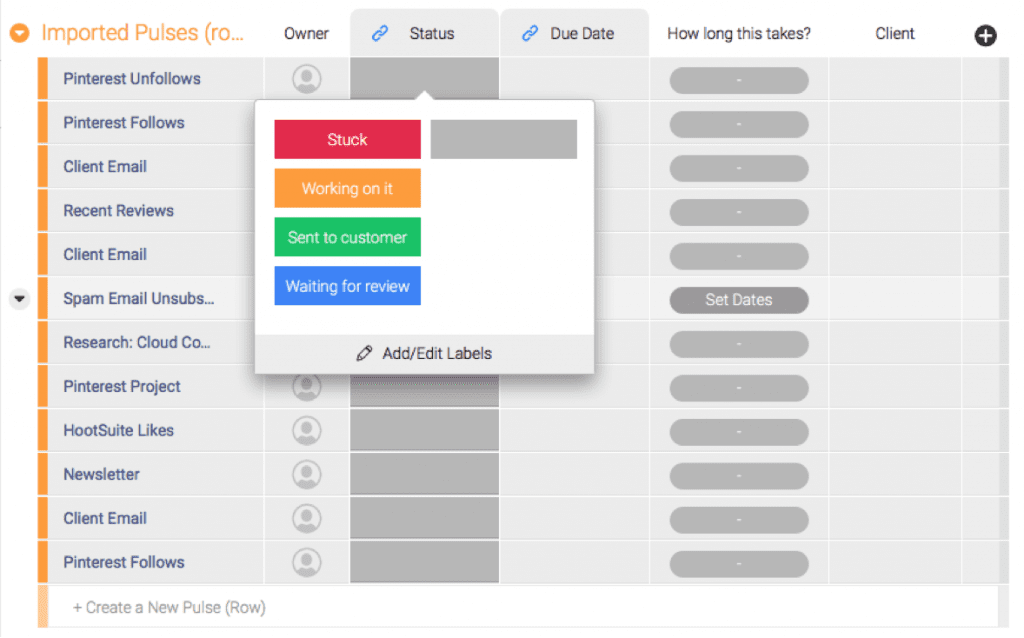 These don't really apply to these workflow tasks, so I decide to edit the labels (which I did for our recurring tasks and task management).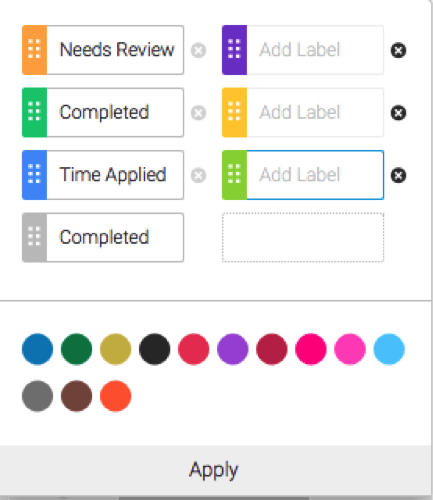 Figuring out how to color code and delete labels could be simpler, but I'm able to work with it for now.
I fill out the rest of the chart view (similar to a Gantt chart), and I also find that I can add multiple clients to a task.
I love this because I often have to do the same task management for different clients, and this negates the need to create a separate row (or Pulse, in Monday com project management software terms) for each one.
If I were to assign tasks to my virtual assistant, he would be able to group similar tasks together to get them done more efficiently.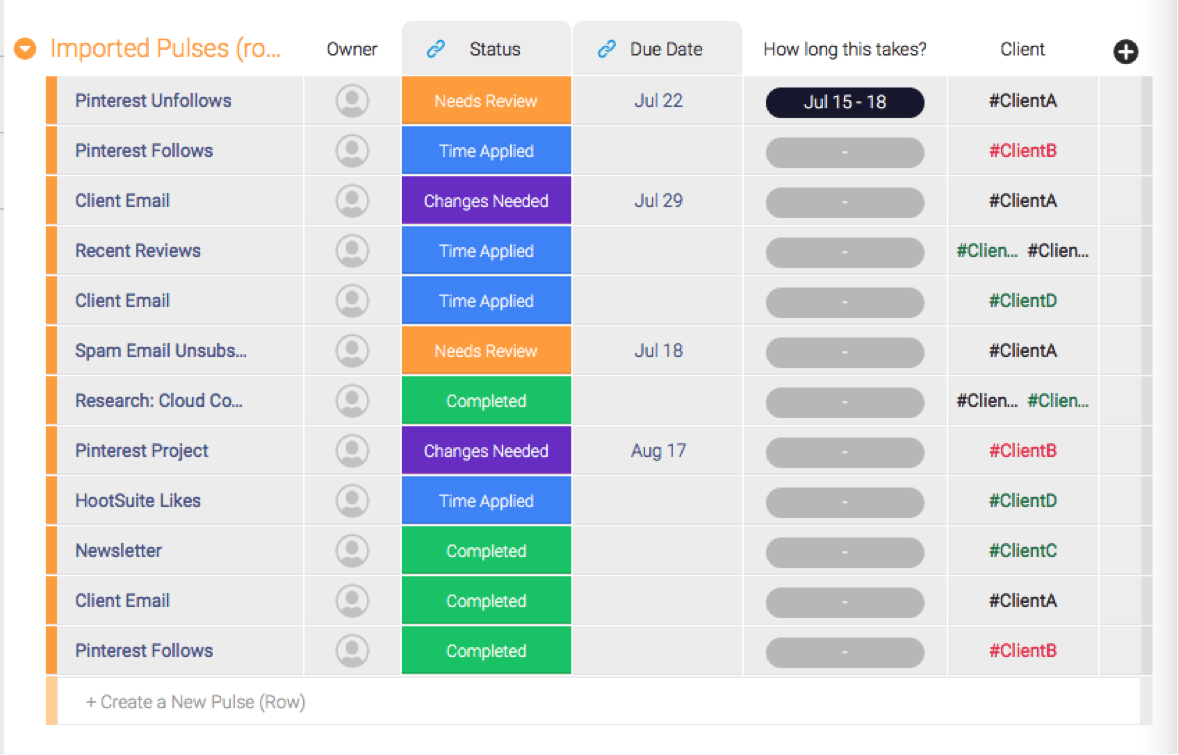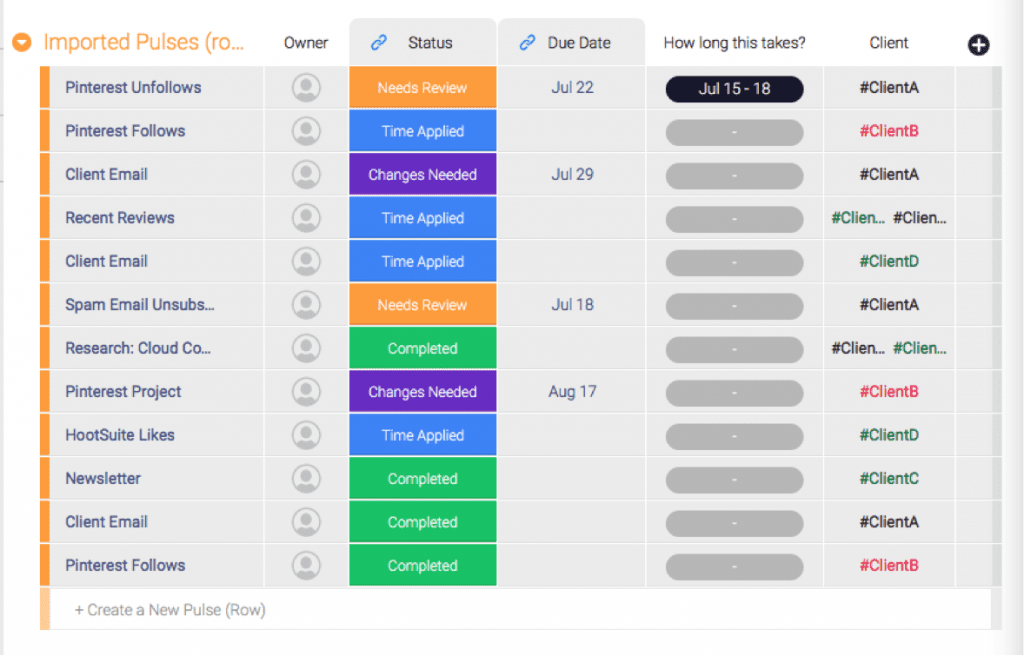 I also like that when I scroll down, the info I entered in the main management chart has been segmented based on due dates.
Monday.com Workflow Overview
This tool makes it easy to see both a complete overview of my task management and also a smaller overview of the work that has to be done this week and next week.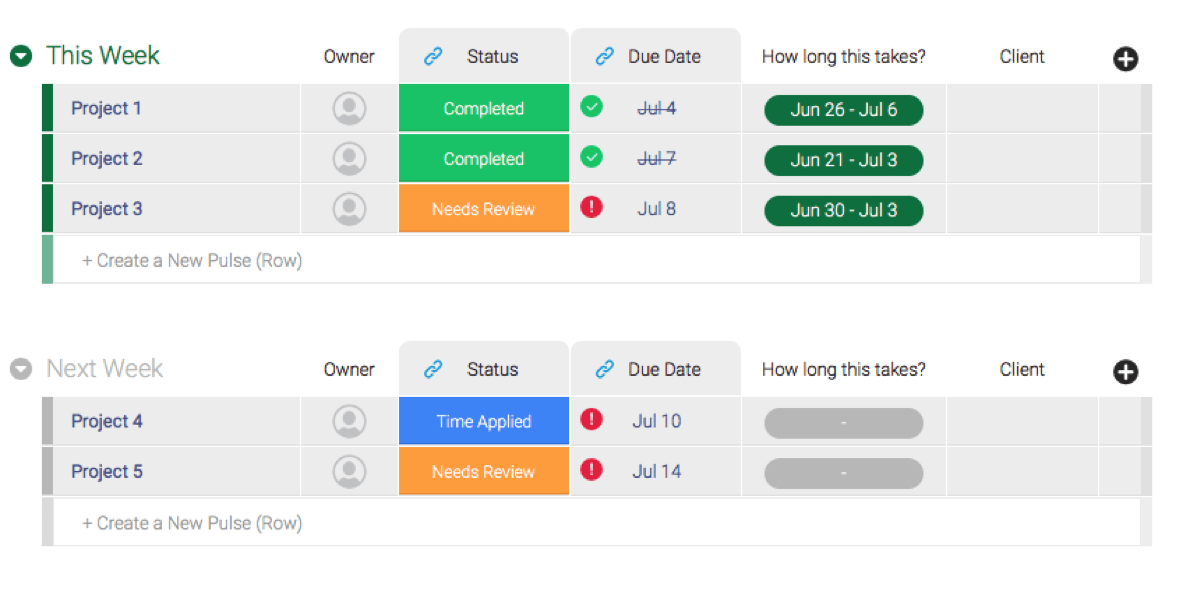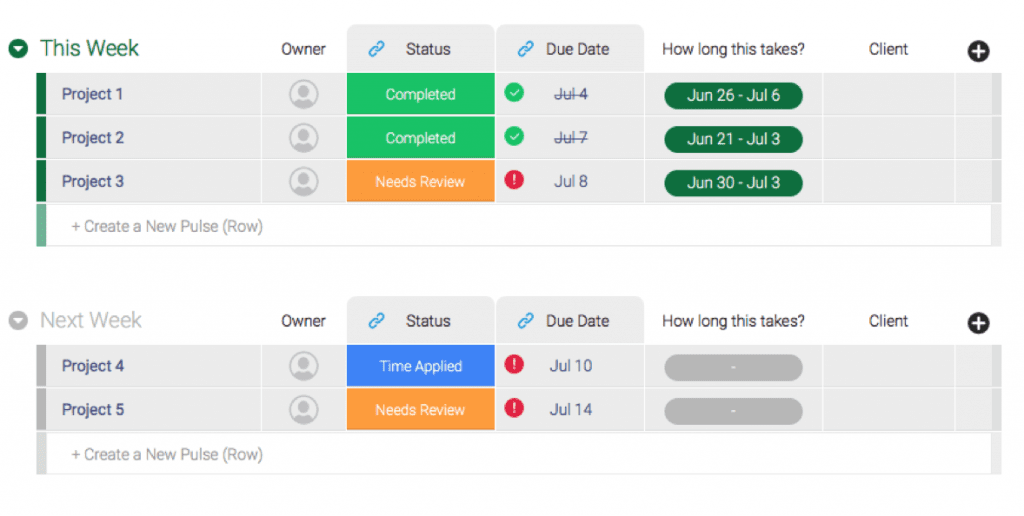 It doesn't look like it goes beyond that, though, since I set one Due Date for mid-August that's not reflected in the weekly views. I decide to find out if I can see weekly or monthly views for further in the future.
I find that there are multiple views to add, but it doesn't look like I can get the same sort of synopsis as with the week overviews. I can see a calendar for August and beyond (much like Google Calendar), though, which is somewhat helpful.
monday.com Integration Partners
The management boards themselves have several tool features, including:
Add tasks, to-do list items, missions, and projects
Assign people to work on specific projects or tasks
Plan your and your team's workload in advance
View statuses to determine progress


There are also collaboration and communication features, including:
Comment on team members' work or give a thumb's up
Get real-time notifications via desktop or mobile
Mention individuals or entire teams in the Pulses
See who's working and who's available to take on tasks
Moreover, you can invite your clients to view information about their projects, too, which is a great and easy way to keep them on top of your progress without having to manually update them every day or week. They'll feel involved with this collaboration tool and it won't take any extra communication on your part.
Additional platform automation features include:
Ability to scale as your needs evolve with a complex project (multiple boards, multiple projects, team collaboration)
Drag and drop documents and files
Integrations with tools like Dropbox, Google Apps, and Zapier for advanced automation & extra storage space
Rich search functions for assignments, images, projects, and updates
Learn more about Monday's features here.
Project Management Software Ease of Use
The Monday platform is pretty easy to use (with a simple onboarding process), and it looks great, but there are certain usability issues that are minor yet nagging user interface issues.
For example, when I clicked the "How long this takes?" column in my Imported Pulses chart, it automatically opened the Timeline above, which took up half the page, limiting how much of the chart I could see as I scrolled through my tasks.
There's an "X" on the Timeline to close it, but it wasn't immediately obvious, so I just used the chart like this for a while, which was inconvenient and probably not the intended timeline use.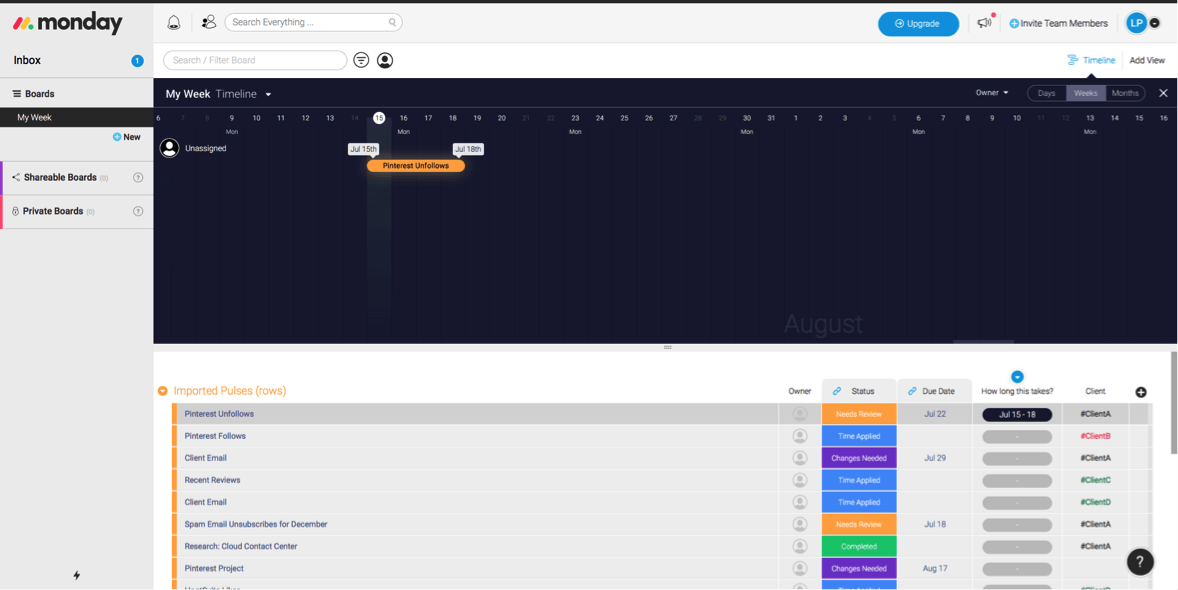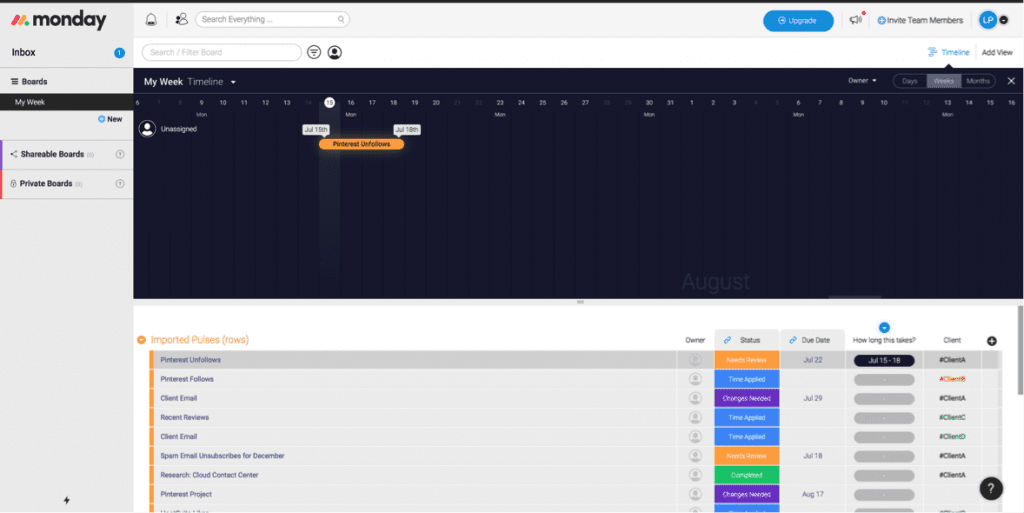 I found myself wanting an even more intuitive tool that knew when I used certain features for the first time and could direct me to everything I would want to know about them.
I love that there are multiple ways to view my workload and that I can toggle between them whenever I want. Some days, I'm in the mood for a fluid view, like with the calendar, and other days I want something much more straightforward, like the list of tasks.
It's also incredibly convenient that there's Android apps and iOS apps so that I can use Monday even when I'm not in front of my computer.
There are a lot of pricing options. To start with, there are four plans to choose from.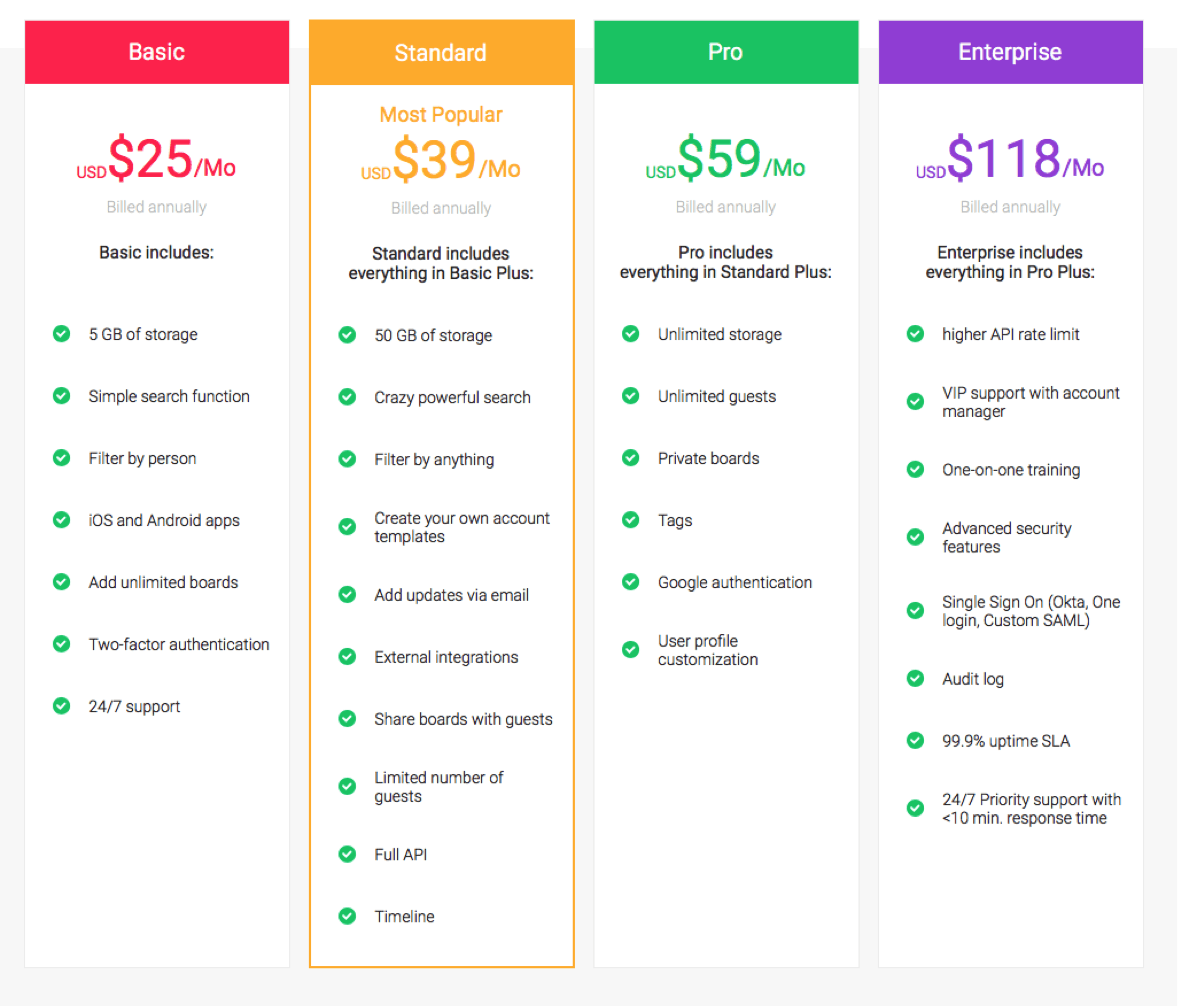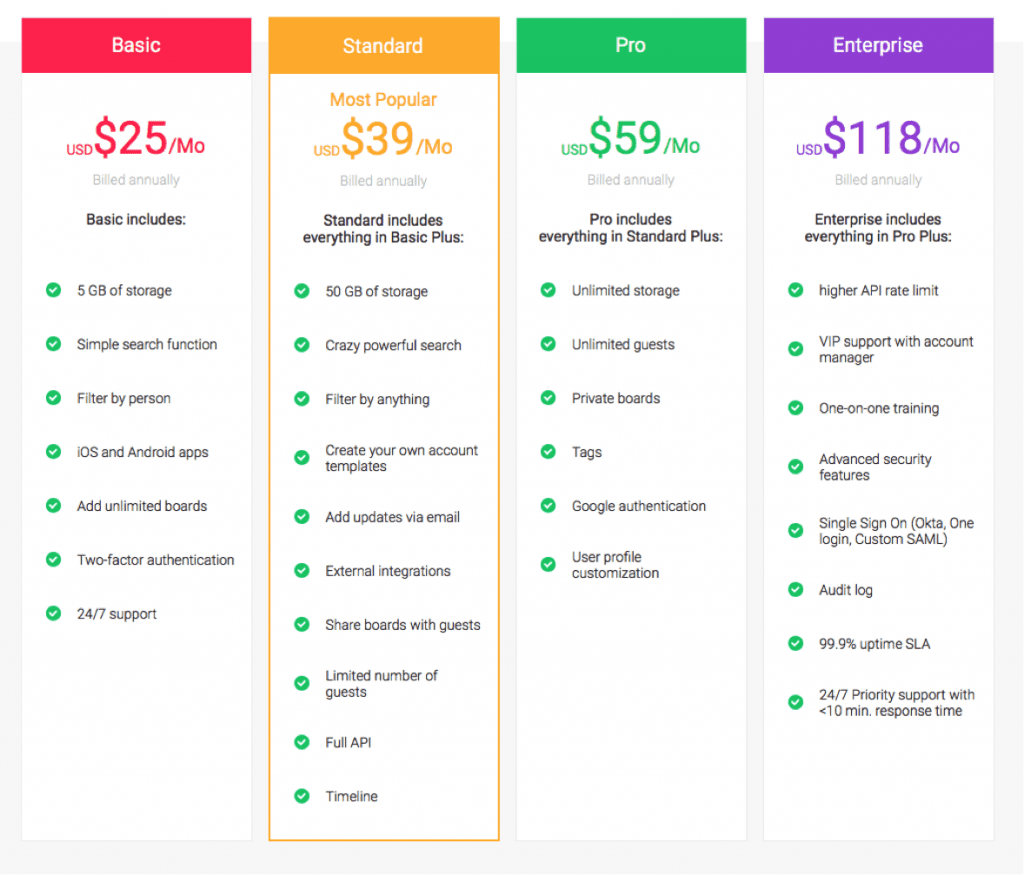 Within those plans, the software vendor price changes based on how many users you have. It also changes if you choose monthly, yearly or two-year billing, and you get tiered discounts for anything over monthly billing. Visit the pricing page here.
As you can tell from the table, they tend to push MOST users towards the Standard Plan to start with.
Editor's Choice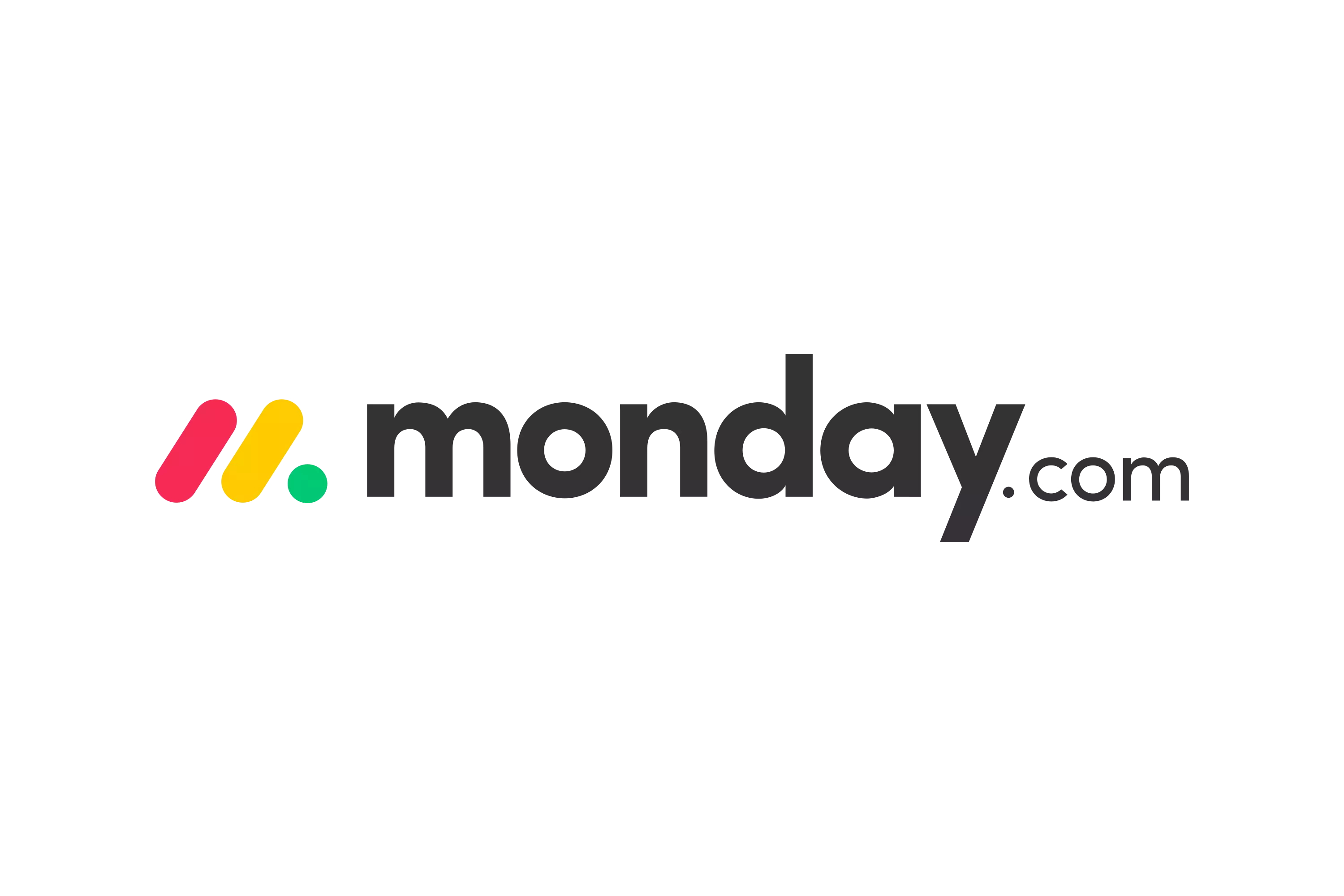 Why Go with monday.com?
Make tasks satisfying to finish! monday.com is quickly disrupting the old guard with a sleek interface, hundreds of integrations, and dozens of workviews for visually imagining and tracking your projects. More than just project management.
Start Managing Your Team Better
We earn a commission at no cost to you which helps keep this blog running!
There's also a 14-day free trial that lets you sample the Pro plan and you don't need to enter your credit card information to sign up for it. During my free trial, I was offered this discount, so it pays to let the free trial run out in case you're offered a deal, too.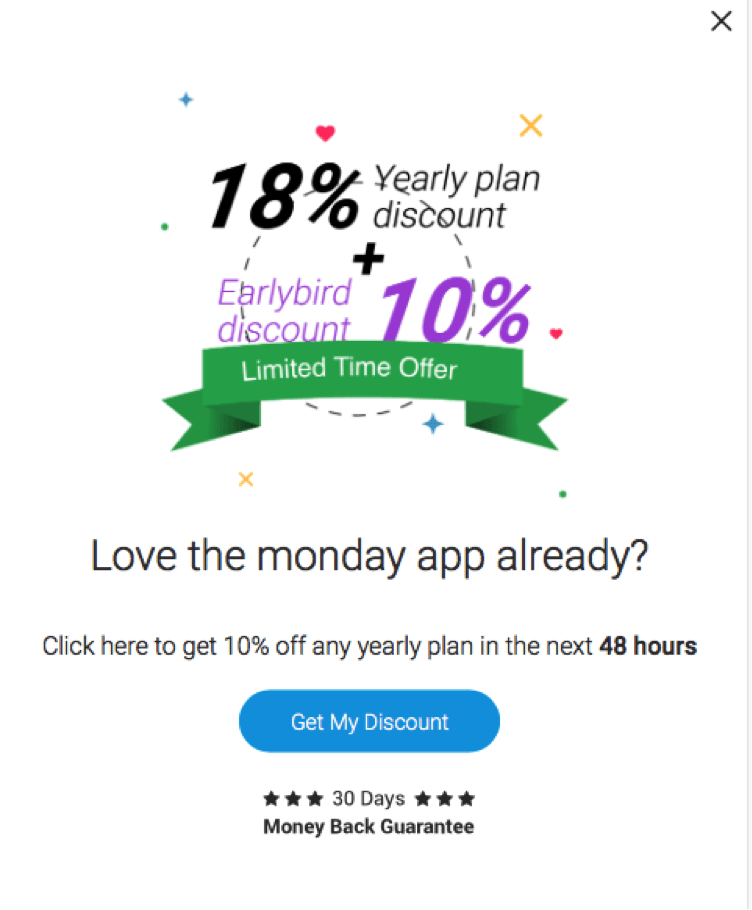 monday.com Customer Support Feature
Every Monday plan, including the most inexpensive Basic plan for $25 per month, comes with 24-7 customer support, making it a great choice if your team is spread out around the globe in all different time zones.
They have such a great knowledge base, though, that it seems to head off any need you'd have to contact the customer support team. For example, they have walk-through webinars to teach you how to use Monday (with multi-language support); project management guides; and articles that answer their FAQ. They also don't hide their Contact Us form and info, which is a breath of fresh air.
I also think it's worth mentioning how often I was sent newsletters after my signup.
I immediately received two welcome emails, one with details of my login information, the other with a link to a video about how much I can do with Monday.
The next day, I had another email about how three different teams use Monday, and there were three examples of templates that I could add to my account. Then I got an email with a news announcement about a funding round, whatever that is. And then another email with highlights from the day before.
This was all before 10 a.m. on day two of having the service in my role as project manager. Five emails in under 24 hours seems excessive, even though I'm sure that I can unsubscribe from some of them.
Also, when you login, you're immediately taken to your Inbox, where I had an intro message waiting for me with a few tips for making the most of my experience.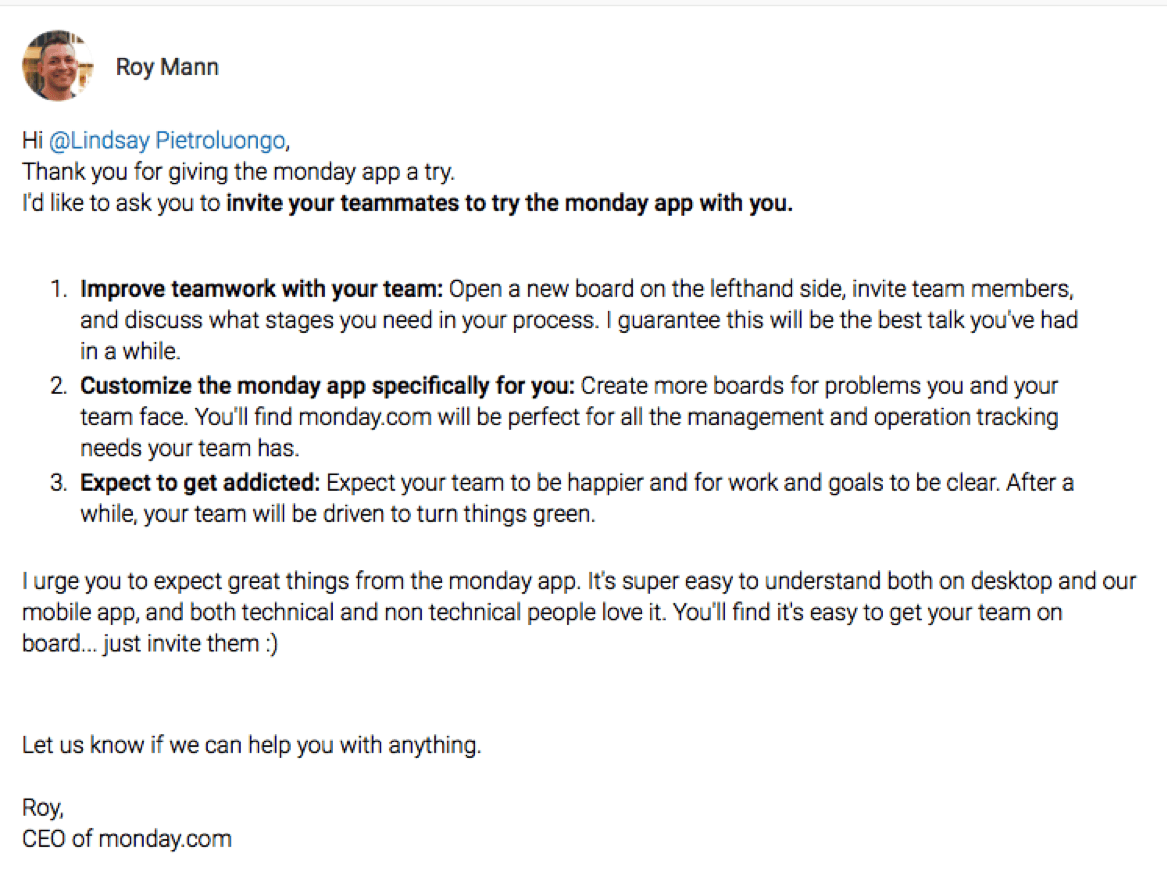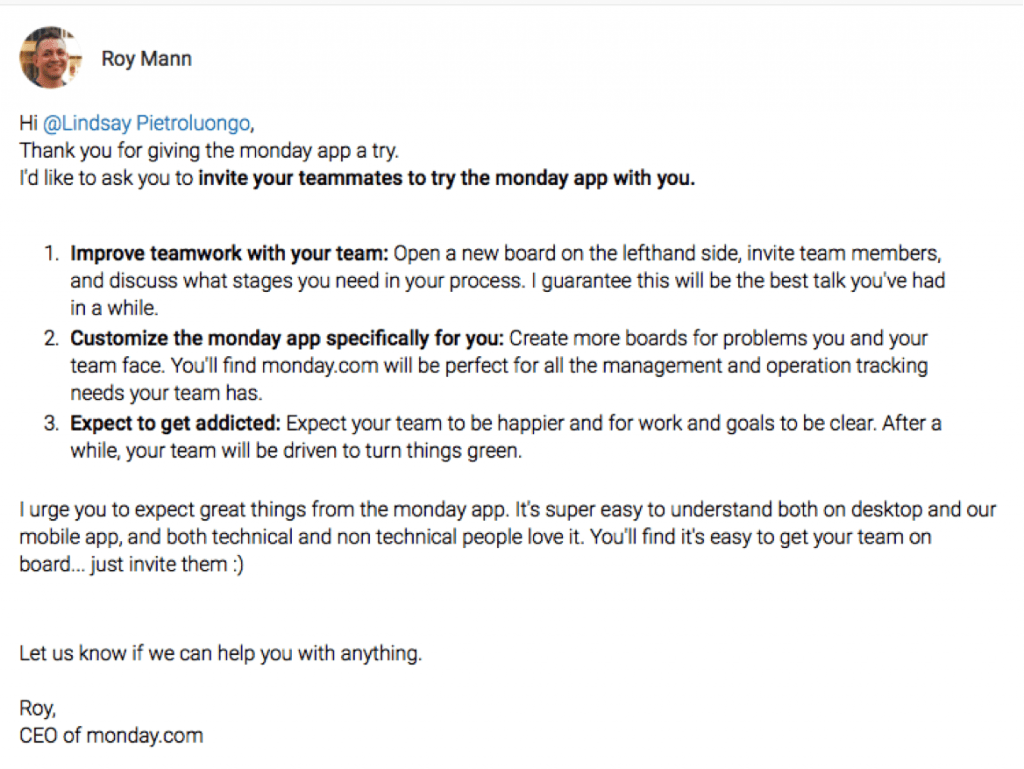 Conclusion: monday.com Review
The Monday app may have a ton of options and a bit of a learning curve, but I also get the distinct feeling that there are endless ways to create boards and to have them suit my needs (and free up my time with automations).
This isn't just a simple productivity app.
It also appears that I can customize boards to fit each type of client or project, even if they're vastly different from one another. The iOS and Android app are similarly functional as mobile apps, too.
It's a little misleading that the free trial automatically puts you on the Pro plan, which is the second most expensive one, but since learning the boards is the primary part of using Monday, I'll take that knowledge with me even if I downgrade to the Basic plan.
In short, there are pros and cons to monday, but overall it's one of the BEST software solutions in the customizable workflow automation space that I've used recently.
Editor's Choice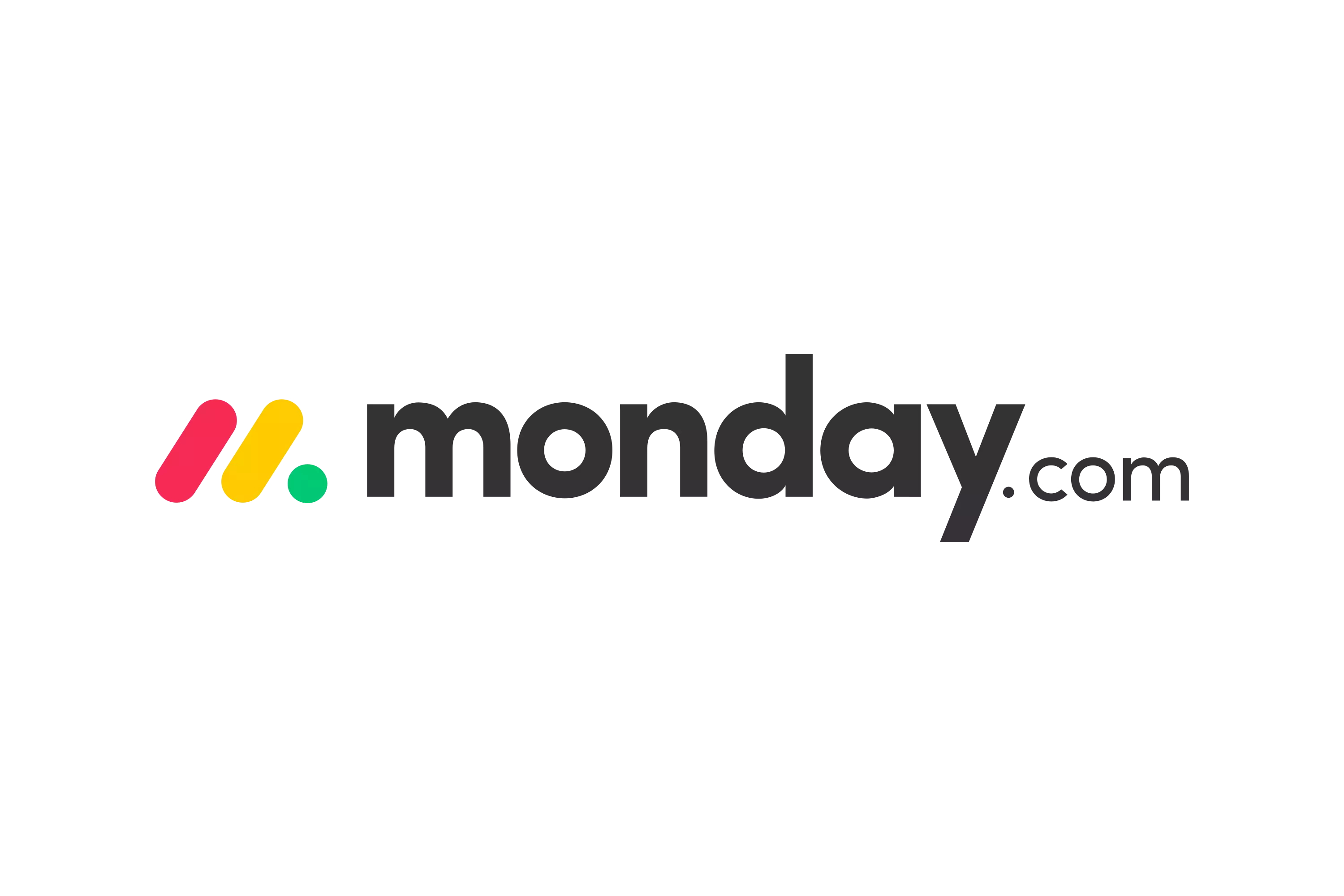 Why Go with monday.com?
Make tasks satisfying to finish! monday.com is quickly disrupting the old guard with a sleek interface, hundreds of integrations, and dozens of workviews for visually imagining and tracking your projects. More than just project management.
Start Managing Your Team Better
We earn a commission at no cost to you which helps keep this blog running!
Further Reading on Workflow Management Tool and App Options
If you are interested in monday.com but want to see how it compares to other apps for managing projects, check these comparisons out.