Last Updated on August 4, 2023 by Ewen Finser
Productivity apps have gained immense popularity as they've become essential tools for time management, task organization, and efficient workflow. Among these, a particular app that has been receiving significant attention from productivity enthusiasts is the Motion app.
I was immediately intrigued by Motion because it seems to bridge some gaps in my workflow management between calendar manager, inbox management, and project management.
In this article I'll provide my review of the Motion app, diving into its unique features, functionality, and discussing whether it's worth the investment.
What is the Motion App?
Motion, also known as UseMotion, is an innovative task management, calendar, and meeting scheduling application. Launched in 2019, Motion has quickly gained a reputation as a game-changer in the productivity app arena, with over 20,000 users comprising high achievers and teams.
What sets Motion apart from other productivity tools is its artificial intelligence (AI) capability which facilitates the auto-scheduling of tasks and reshuffling of your calendar when unexpected assignments crop up.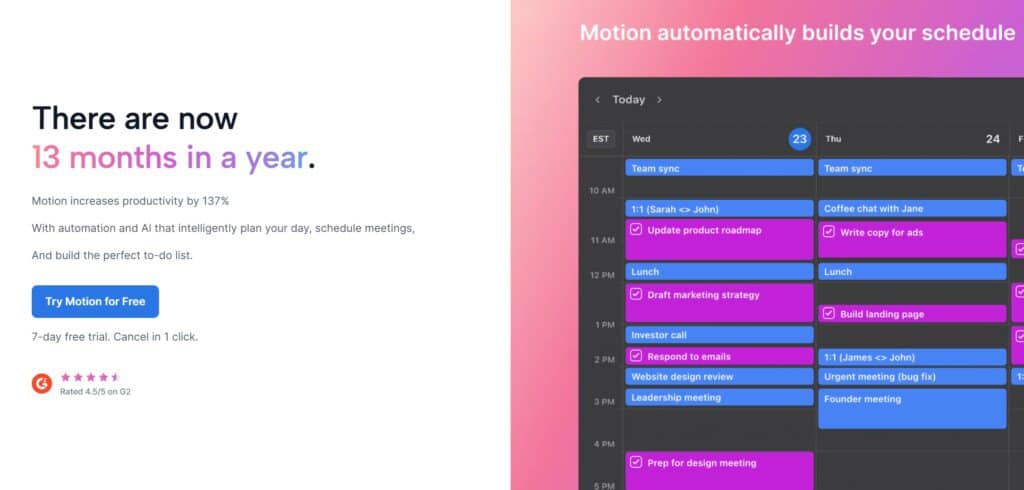 Motion App: How Does It Work?
Understanding how Motion's auto-scheduling tool functions is crucial to leveraging its full potential. Unlike other productivity tools, Motion doesn't automatically prioritize tasks based solely on their creation.
Rather, users need to input details about each task, such as the duration, deadline, and preferred execution time. Based on this information, Motion's AI algorithm prioritizes and schedules tasks on your calendar.
Should an unexpected task arise, users can add it to the calendar and adjust its details. Motion's AI will then reshuffle your tasks accordingly. Similarly, if a task requires more time than initially planned, users can edit the duration, and Motion will auto-adjust the schedule.
This feature set is fairly innovative and unique! The best way I can describe Motion is a personal and team productivity app + project management operating system hybrid.
Key Features of the Motion App
AI-Based Scheduling Tool
The AI-based scheduling tool is the star feature of the Motion app. Once you input your tasks and their details, the AI algorithm will automatically prioritize and schedule them on your calendar. Moreover, Motion's AI can reshuffle your calendar when there are emergent tasks or events, saving you the hassle of manual rescheduling.
Universal Calendar Syncing
Motion offers universal calendar syncing and integrates with Google Calendar and Microsoft Outlook. This means you can easily import your data from other calendars and view it in Motion. The color-coded blocks on the calendar differentiate between native tasks and those imported from external calendars.
Task Management Efficiency
Motion's task management system is designed for efficiency. You can easily create tasks and sub-tasks, set due dates and reminders, add notes, and attach files. The Motion app also allows you to share tasks with your teammates either by adding them as watchers or assigning them specific tasks.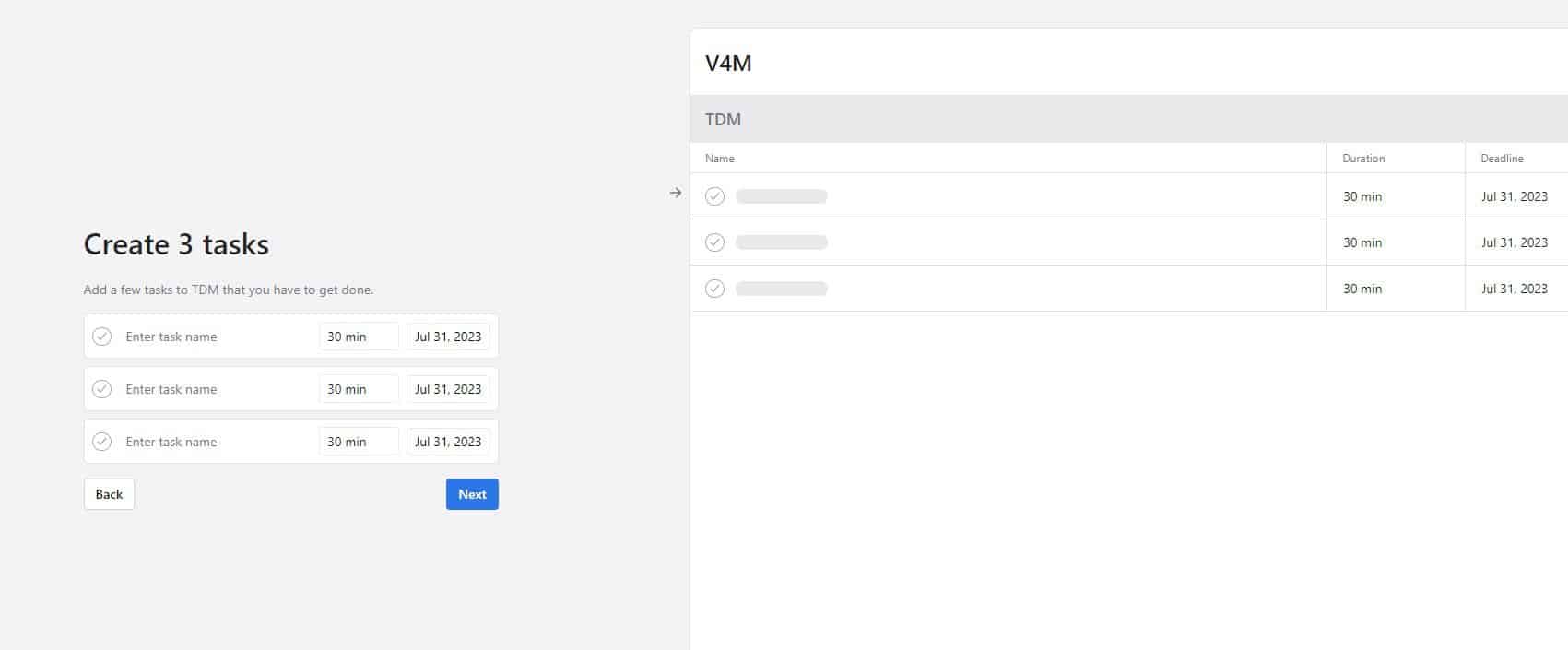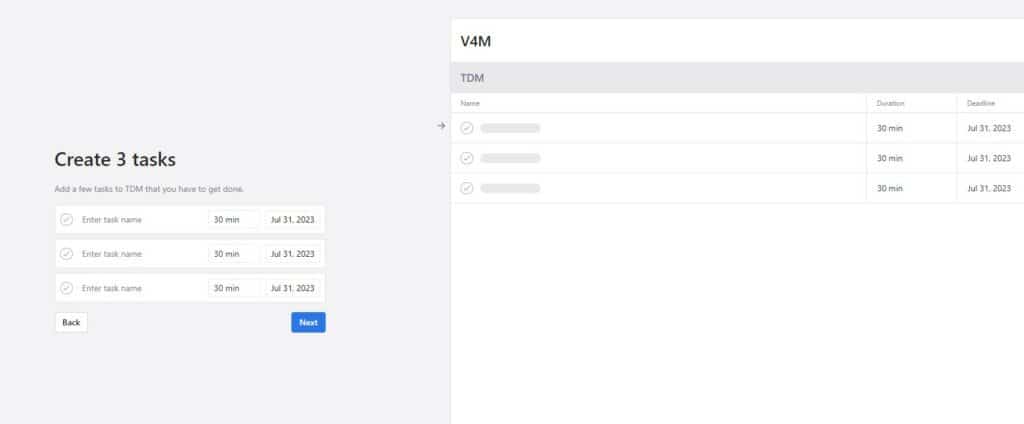 Meeting Scheduler
The meeting scheduler is another robust feature of the Motion app. With this feature, one can easily schedule meetings with a few clicks. You can invite attendees, choose a time and date, and add a location. The meeting scheduler also provides a built-in to-do list that lets you keep track of all your tasks.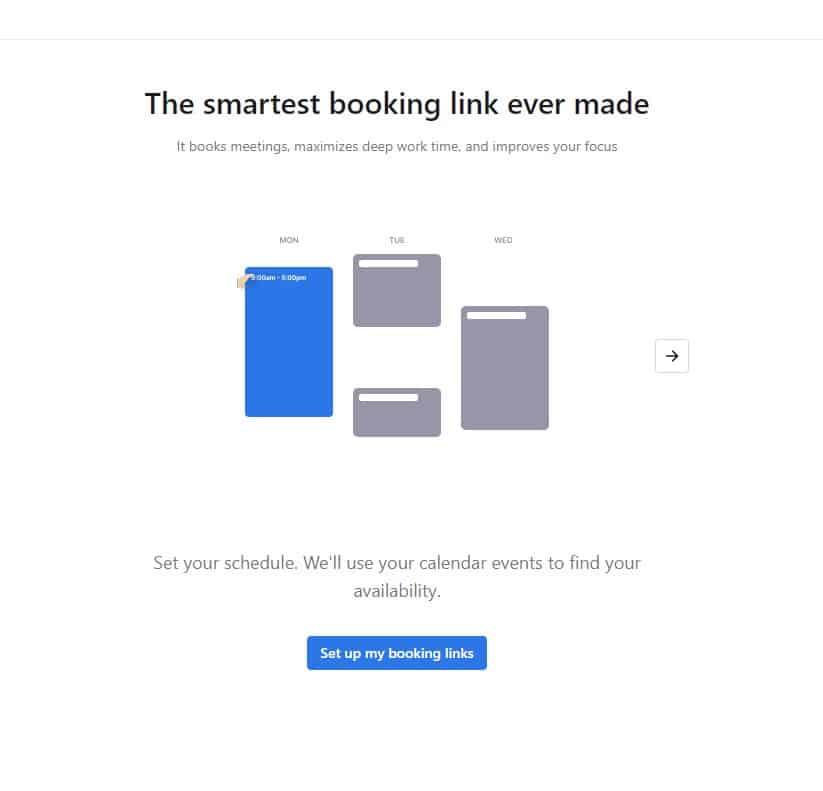 Focus Time, Timeboxing, & Pomodoro Timers
Motion offers several productivity-enhancing features like Focus Time mode, timeboxing, and Pomodoro timers. The Focus Time mode allows you to set a boundary between meetings and work sessions, helping you stay in control of your time. Timeboxing allows you to split long-duration tasks into smaller chunks, making them more manageable. The Pomodoro timers provide short breaks to keep you focused and productive.
Motion Project Management
Motion isn't positioned as a project management tool per se, but I can see they are headed that way. Especially if you opt for the team vs individual plan, it feels almost like a Trello, ClickUp or Asana: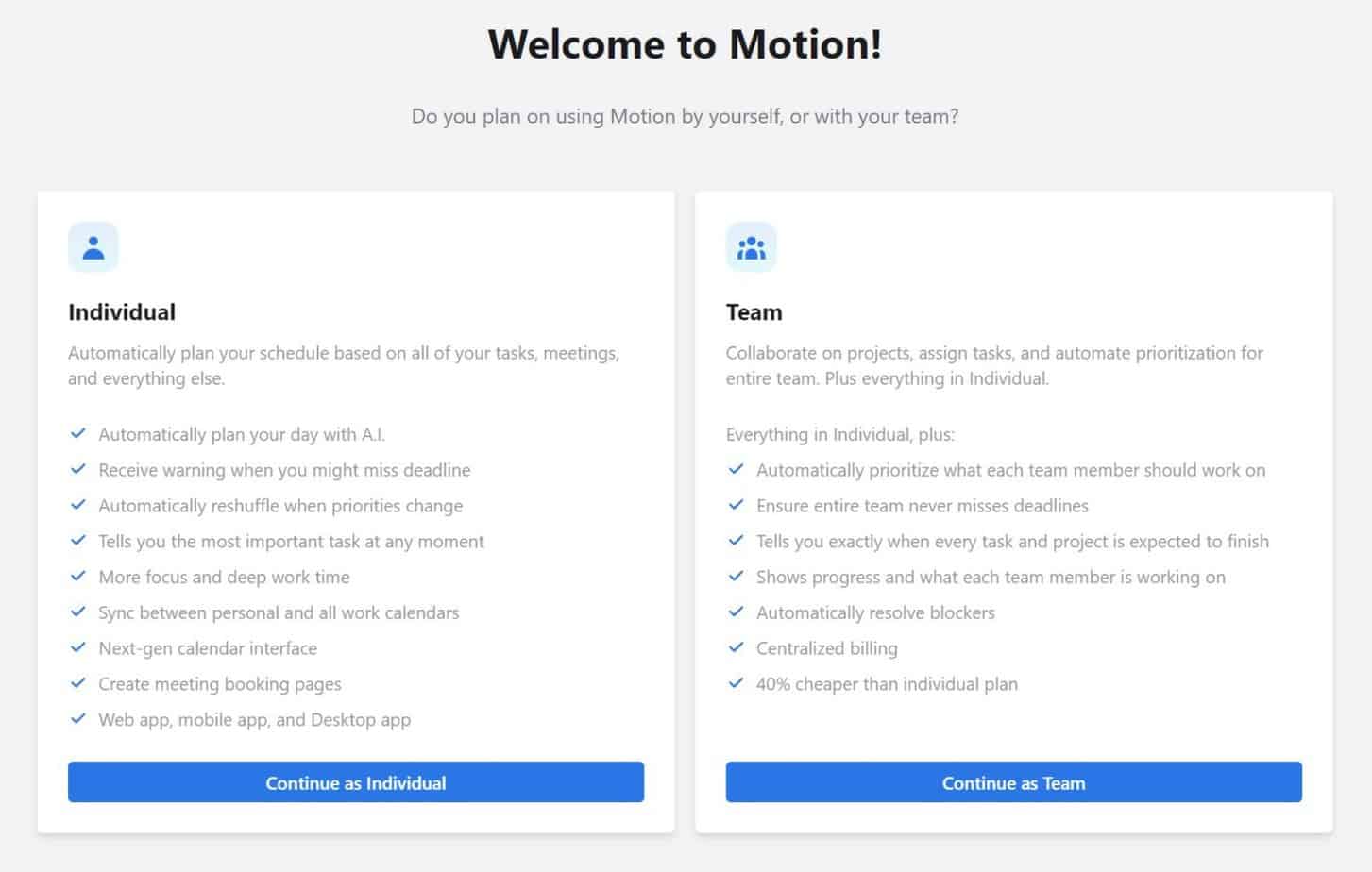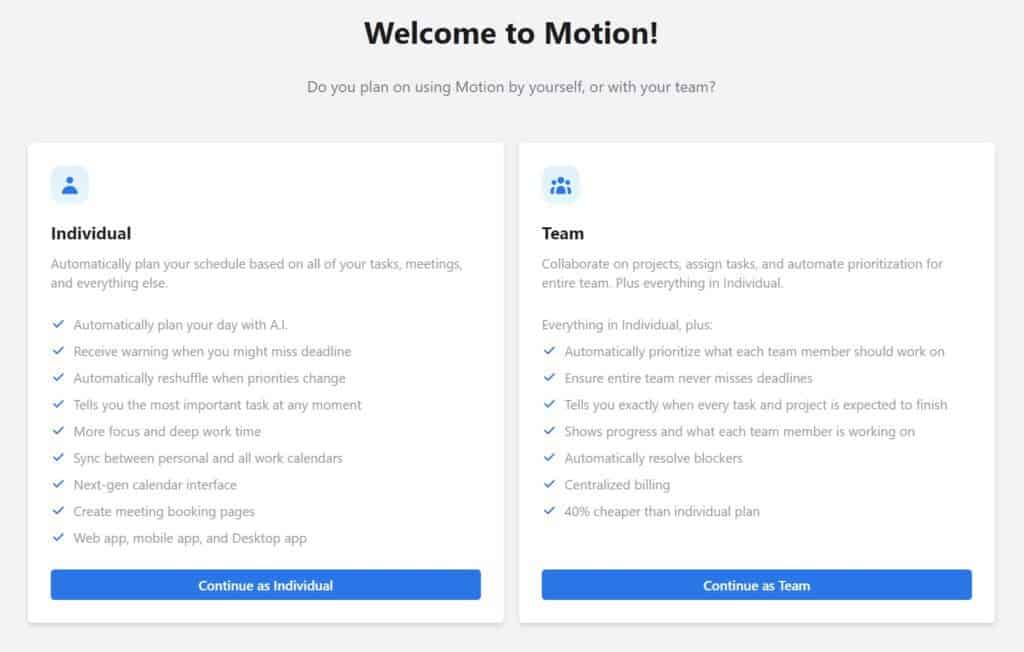 In particular I was impressed with the relatively clean interface for project management, especially for a platform that actually does so many different things.


Having the different tabs allows me to view progress and planning through space and time, with a similar effect to a Gantt chart. The quick Kanban sub-tab toggle is a great improvement on the limitations I've felt with project management tools Like Trello and Asana in the past.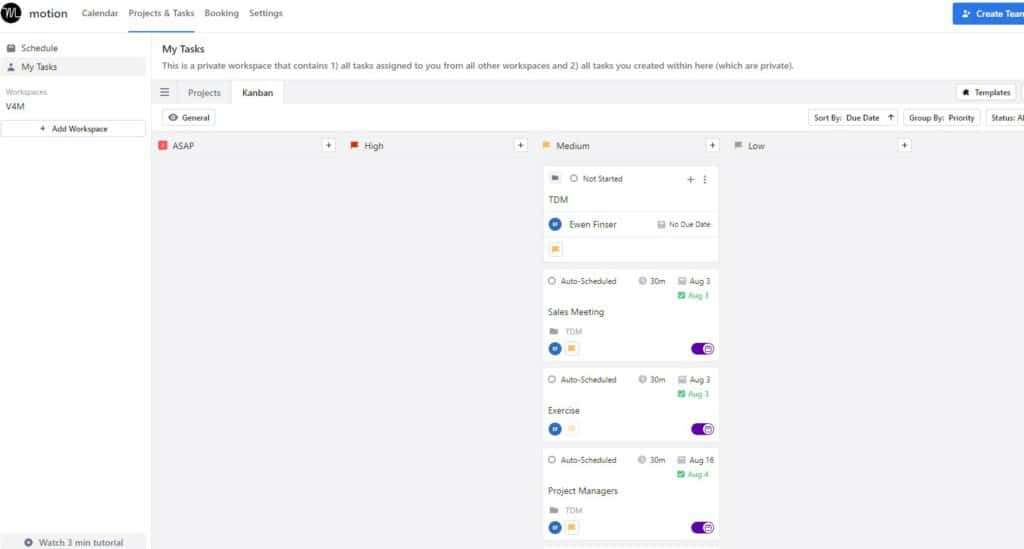 How Does Motion Handle Unexpected Tasks?
When an unexpected task comes up, you need to add it to your calendar and fill in the necessary fields. Motion will then reshuffle the task list and calendar for you. The same goes if a task needs more time to complete than planned, click on each and edit the duration.
Pros and Cons of Motion App
Pros
Powerful and feature-rich task management tool

Great scheduling feature for easy meeting booking and tracking availability

User-friendly interface

Lots of customization options
Cons
Does not have a built-in chat system like some competitors

Priced higher compared to its competitors

Not as well-known as some other task management tools in the market

Need more third-party integrations
Customer Support
Motion offers customer support in the form of a query page in Notion and 24×7 email support. They provide a support page where you can find answers to anything like their keyboard shortcuts, their calendar, task, scheduler, and everything else that is bothering you.
Motion Pricing
The price for Motion is $19/month if billed annually, which isn't that expensive, however, the price goes up to $34/month if you decide to go with the monthly billing plan. You can try the app for 7 days for free as well.
Motion Alternatives & Competitors
One of the reasons I run this site is because I've always compared tools and software to the FIELD. In this case, Motion is fairly novel, so direct competitors are few and far between. BUT, there are some popping up AND some legacy players that may be more suitable for your use cases.
Here's other similar tools and platforms I considered alongside Motion:
Sunsama: I've just started trying this one out, so I don't have a fully formed opinion yet. It does have a similar feel and function to Motion, but with a less ambitious goal of personal task manager & calendar (it's pitched as your "digital daily planner"). I do like that it really focuses on integrations versus trying to replace other tools. E.g. it easily imports and syncs with Asana, Notion, Slack, Trello, etc… Sunsama might be a good solution if you are primarily focused on personal productivity management and don't want to go "all in" on another tool.
Reclaim.ai: Reclaim focuses more on the "AI" side and more narrowly on calendar and schedule management. Good if you'd like to leverage AI to manage your calendar, but don't really need the other Motion features.
Notion: Notion isn't a direct competitor by any stretch, but it's flexible framework and "building blocks" approach means you might be able to DIY much of the same functionality as Motion, but leaving more adaptability to your personal or business use cases.
monday.com: I feel like Motion wants to compete with monday.com when it grows up. Motion feels like the "work operating system" that monday.com has become, with the ability to serve project management, CRM, and more use cases.
Is Motion Worth It?
Motion's task manager was what really helped me save more time. The way it automatically just plans my workday really helped me cut down on the downtime between tasks and meetings, as well as not forget tasks that just usually slip through.
Given that the app has a free trial, I'd suggest seeing how the app works for you and then signing up for the annual plan since the yearly savings are quite good. At the end of the day, it depends on how much you value your time, if it helps you save an extra 30 minutes to an hour per day, then the 63 cents you spend on the tool every day will be worth it.
Conclusion: Is Motion Legit?
Motion's AI-powered auto-scheduling feature is a game-changer in the realm of productivity apps. By automating the scheduling process, Motion helps me stay organized and manage their time more efficiently. Like any tool, a lot of the appeal comes down to your personal approach to aesthetics, workflow, and business needs!
I'm really excited to be an early adopter of this platform and it FEELs like a breakthrough software. What I love is that it fully integrates inbox management, meetings, and project management into a unified "operating system". This isn't something that any other inbox management service OR project management app (or CRM for that matter) has fully mastered.
Bottom Line: Motion has a lot to offer almost any digital native operator or team. It's still early (some features are rough around the edges), but this is one app I'm personally sticking with right now, using every day.