Last Updated on August 9, 2023 by Ewen Finser
If you are like me and a long time power user of WordPress, it wasn't immediately obvious that there were any CRM solutions available.
I'm a big fan of not "task switching", so staying in my WordPress flow has plenty of advantages. But most of the CRM tools out there are not intended to be used with WordPress in mind. In fact, some of the big players like Hubspot even have their own CMS as an add-on (making the CRM the focal point).
Thankfully, there ARE some very capable CRM plugins worth considering. If you are looking for a great WordPress CRM plugin, I'll walk you through the steps and picks I settled on after extensive research.
Understanding CRM and Its Importance
Customer Relationship Management (CRM) is software that assists businesses manage their interactions and relationships with leads, prospects, and customers. It enables businesses to store, organize customer data, track customer interactions and communications, and manage sales and marketing efforts. CRM tools can boost customer service, increase customer retention, and stimulate sales.
When integrated with WordPress, it can significantly enhance the website's capabilities. WordPress CRM plugins allow you to place a form on your site and route any form entries to a separate CRM platform. If you need professional features, or you've already signed up for a CRM and you just need the WordPress connection, this can be the best option.
Types of CRM
CRM systems can be tailored for specific types of businesses or tasks. So, understanding your business needs and how a CRM can alleviate some pressure from your job becomes critical. Here are some specializations that CRMs can cater to:
Sales Focused CRM – Designed to help sales teams manage communication, deal value, and lead scoring.
Marketing Focused CRM – Includes built-in tools that connect with advertising platforms and email marketing tools and often provide a level of automation for marketing efforts.
Project Management/Invoicing CRM – Ideal for service-based teams that need client management post-sale including managing projects.
Niche CRM – Created for particular industries such as Real Estate, SaaS, or Health Care.
Why Use a WordPress CRM Plugin?
There are a few reasons why a plugin specifically makes sense for certain use cases:
Ease of Integration: WordPress CMS plugins integrate seamlessly with my existing WordPress site. This saves me a lot of time and reduces the technical hassle of trying to connect two separate systems.
Cost-Effective: Many WordPress plugins are free or come at a lower cost compared to standalone CRM software. This makes it a cost-effective solution for my small business.
User-Friendly: As I'm already familiar with the WordPress interface, using a CRM plugin within this environment is much more intuitive for me. I don't have to learn a completely new system.
Unified Dashboard: Having my website and customer relationship management in the same dashboard simplifies my workflow. I can access and manage everything from one place.
Customization: WordPress plugins often provide more customization options, allowing me to tailor the CRM to fit the exact needs of my business.
Selecting the Best CRM Plugins for WordPress
When choosing a WordPress CRM plugin, you should consider several key features. A good CRM plugin should have a complete contact capture system with form builders and options for placing those forms on your site. It should also feature multiple databases for storing customer information and using custom fields so that the database is suitable for your unique business needs.
Additionally, a reporting module with charts and printable reports, visual pipeline management, messaging tools for sending out notifications to the admins and clients, and a clean interface for both admins and customers are also crucial.
With these considerations in mind, let's explore some of the best WordPress CRM plugins available today.
Top CRM Plugins for WordPress
WPForms + HubSpot or Salesforce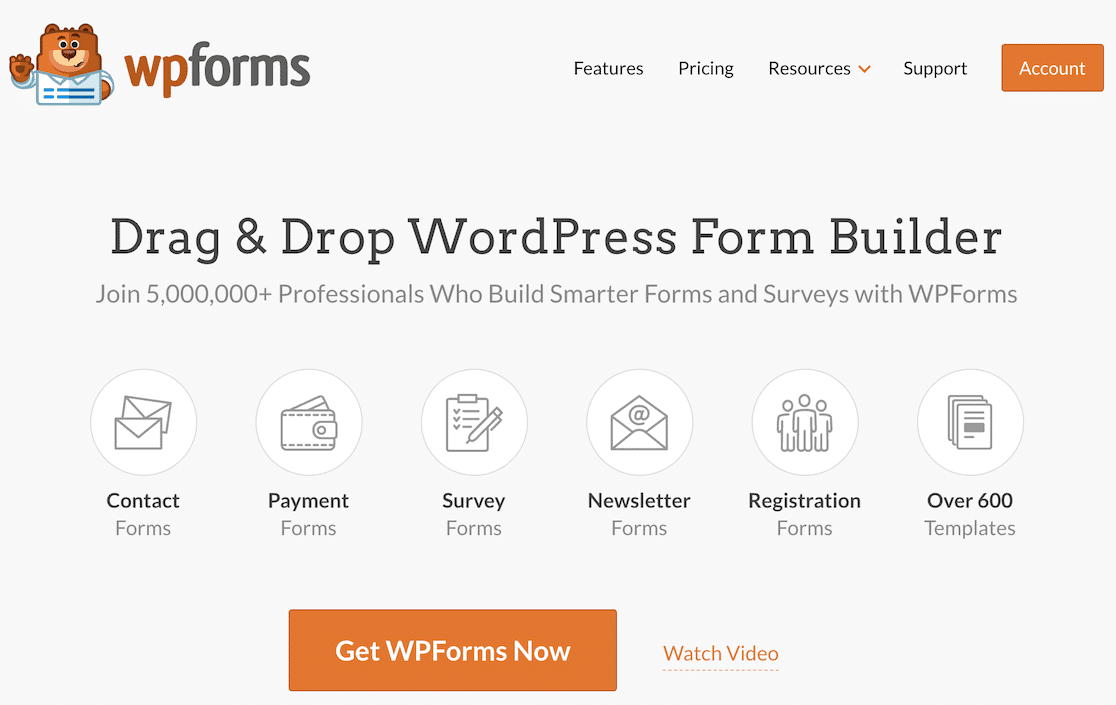 WPForms is an excellent choice for WordPress CRM integrations. It stands out as a form builder and an integration tool for HubSpot and Salesforce with your website. WPForms enables you to send your contacts and leads directly to your CRM from your website form without writing a single line of code.
The WPForms HubSpot addon connects any lead generation form directly to your HubSpot CRM with their Elite license. You can send data automatically, without copying and pasting contact details, and without the risk of losing valuable leads.
The Salesforce addon provides direct integration with your CRM, saving money by not having to pay for a 3rd party connector app or a developer to set this up. It's extremely easy to create a WordPress-Salesforce integration on your web forms.
WPForms Elite starts at $299.50 per year and has a 14-day money back guarantee.
Hubspot CRM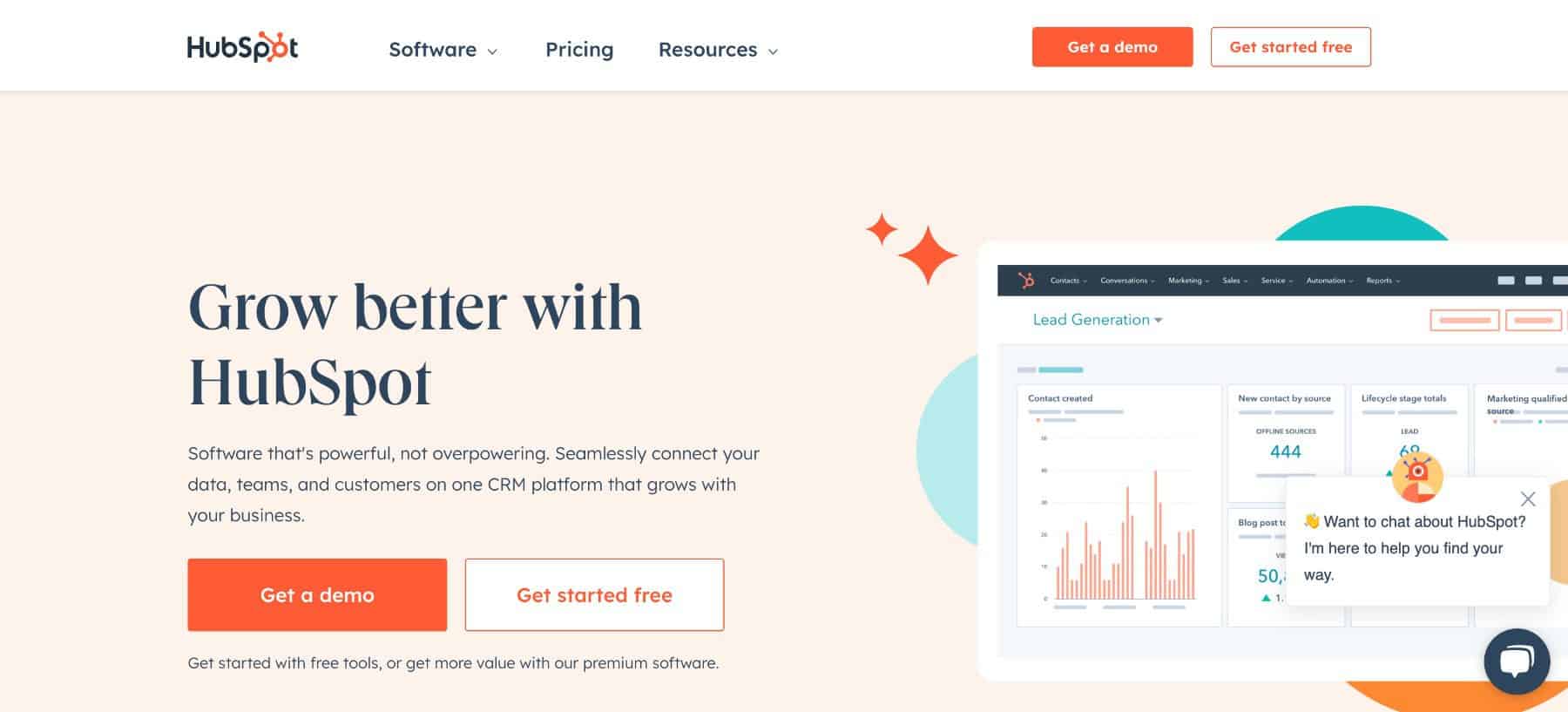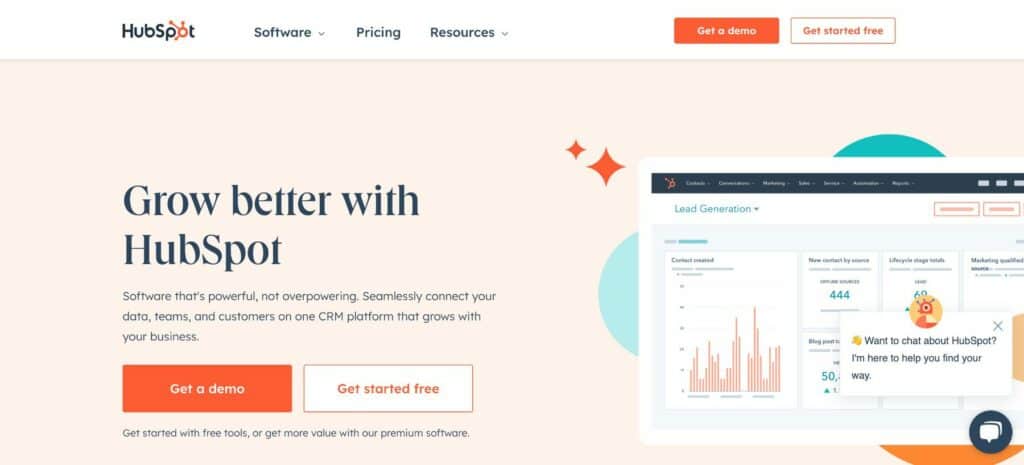 HubSpot is often recognized as one of the top CRMs for integration with WordPress due to a variety of reasons. First among these is the ease of integration (Hubspot integrates well with MANY platforms), which simplifies the process of syncing the two platforms.
It also provides a range of tools for lead generation, enhancing the ability to attract and retain potential customers. Similarly, HubSpot offers marketing automation capabilities, allowing for streamlined, efficient operations.
The other advantage of using Hubspot is getting synced up with their analytics capabilities, which provide valuable insights for businesses.
For companies on a budget, HubSpot offers a free starting option (it's essentially their lead gen offer for their entire suite… but stays free even if you only just use the CRM), making it an accessible choice. Lastly, the robust customer support ensures that any issues or queries are quickly and effectively addressed.
Jetpack CRM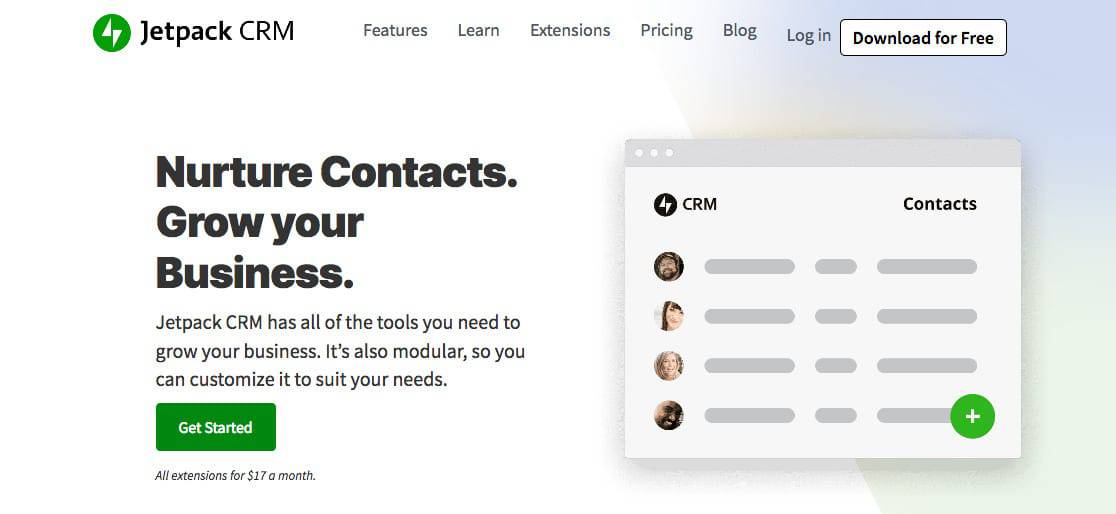 Jetpack CRM, 'The Entrepreneurs' CRM for WordPress' is a simple CRM solution with a budget-friendly pricing structure. Jetpack allows you to get set up for free giving you access to all core features like contacts, quotes, invoices, transactions, tasks, and forms.
The paid version starts at $11/mo for the Freelancer plan, billed annually.
WP ERP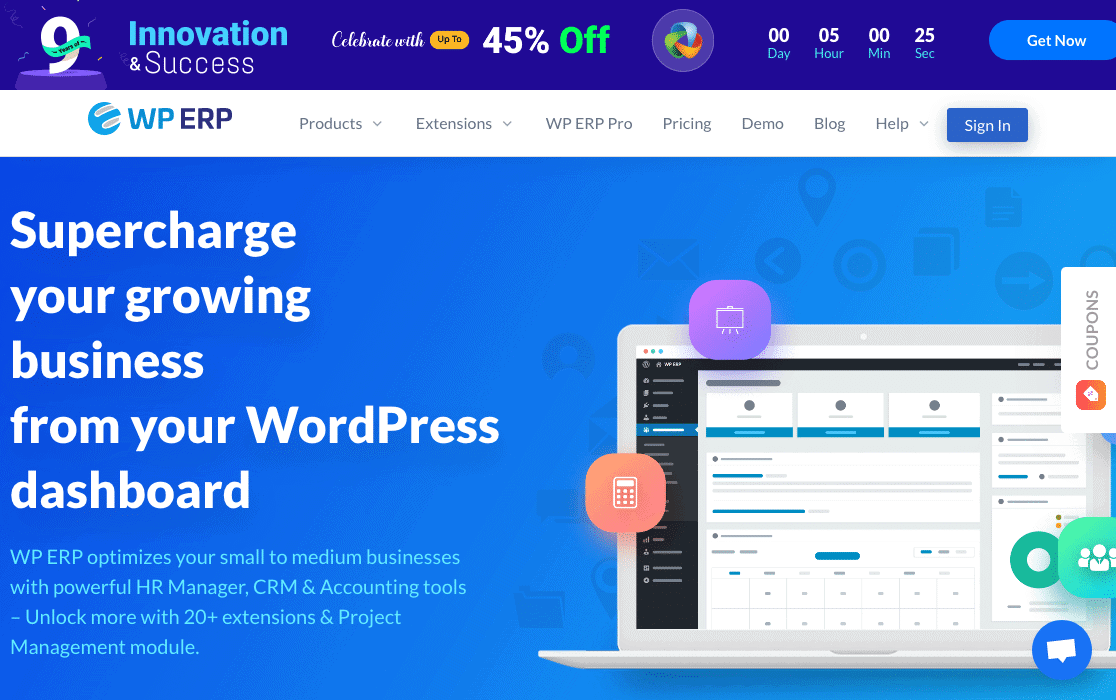 WP ERP is aimed at small to medium businesses and is ready to use from your WordPress dashboard. It allows you to easily track and follow up queries with leads, subscribers, and clients. It also comes with an easy-to-use CRM sales dashboard coupled with a contact management system.
The paid version of WP ERP starts at $12.99/mo for 1 user. Addons are charged on top.
WP CRM
The WP CRM plugin offers a feature-rich CRM right onto your WordPress dashboard. It allows you to manage projects, assign individual tasks, track marketing campaigns, and help smoothly convert your leads.
WP CRM free is available on WordPress.org. The paid version is priced from $99 per website per year, right the way up to $249 per website per year.
Groundhogg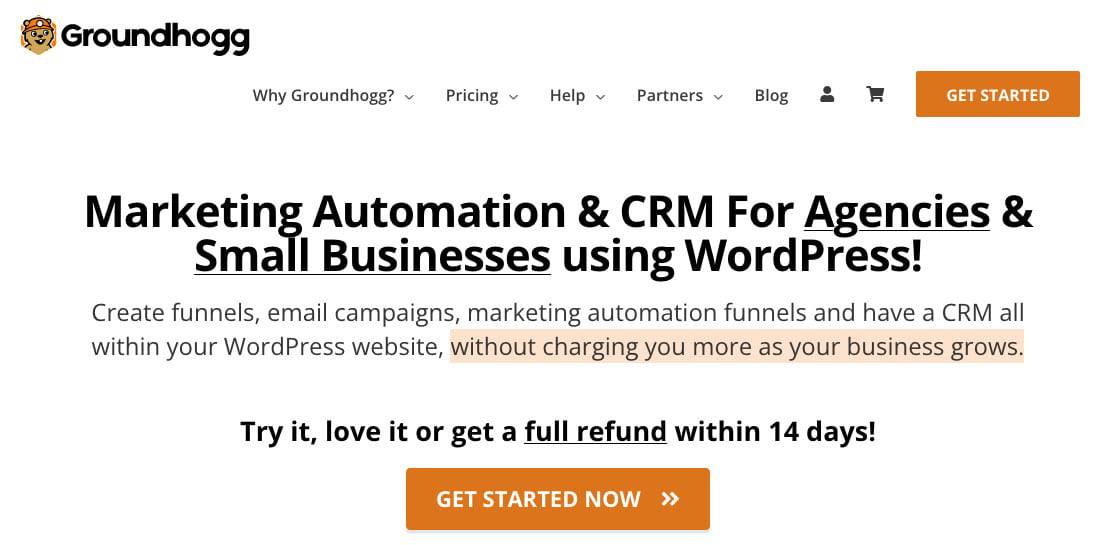 Groundhogg is another great option. Its main focus is on creating sales funnels, email campaigns, and marketing automation. With Groundhogg's $40 per month pro version, users can enjoy "everything you need to maximize results and consolidate your business."
Bitrix24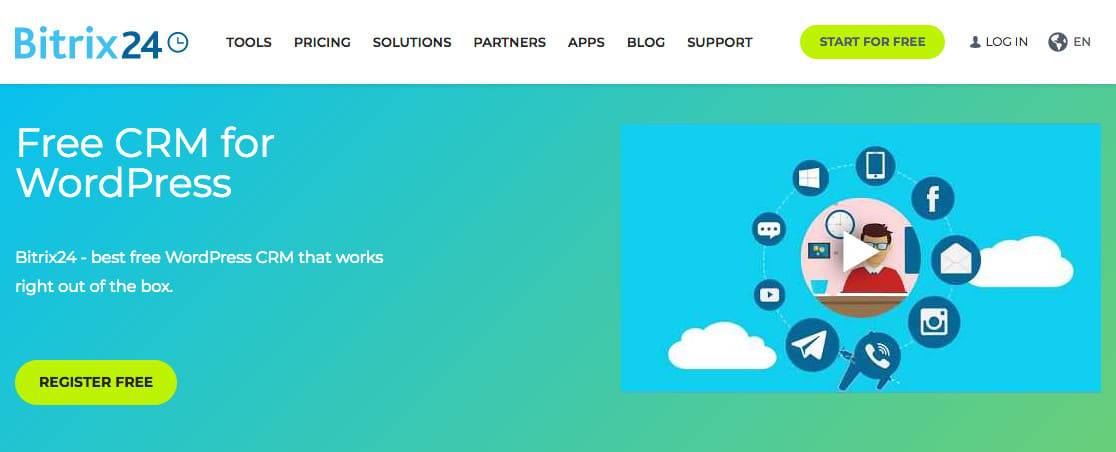 Bitrix24 is a powerful WordPress CRM tool. It's free for unlimited users but features are limited, with monthly premium plans starting at $16.80 (if paid yearly).
What's the Best CRM Plugin for WordPress?
After analyzing these plugins and platforms, the best CRM plugin for WordPress is WPForms With HubSpot or Salesforce. WPForms is the best form builder for WordPress, and the direct integration with HubSpot or Salesforce makes it easy to connect your forms to your CRM.
Final Point on WordPress CRM Plugins
CRM plugins play a critical role in enhancing the functionality of your WordPress site, helping you manage your customer relationships better.
Whether you're a small business, a growing enterprise, or a large corporation, there's a CRM plugin out there for you. Remember, the right CRM plugin for your WordPress site depends on your specific business needs, so choose wisely.
Looking for Specific CRMs By Use Case?
If you are running a specific type of business, check out these guides to CRMs by business type (also from our editorial team):