Last Updated on April 24, 2023 by Ewen Finser
According to AFP Global, the nonprofit donor retention rate for 2020 (43.6%) was an over 4% drop from 2019.
With donor retention rates decreasing year after year, it's more important than ever to have a professional system to help you build a deeper donor relationships with current and potential donors, volunteers, and board members.
Several CRM (customer relationship management) platforms cater to nonprofits, but trying out each one doesn't make sense. Fortunately, we've found the best CRMs for nonprofits and included the features, limitations, and pricing for each one.
We hope this information will help you make an informed decision on the best CRM and help you achieve your fundraising goals.
1. Best CRM for Nonprofits: Monday.com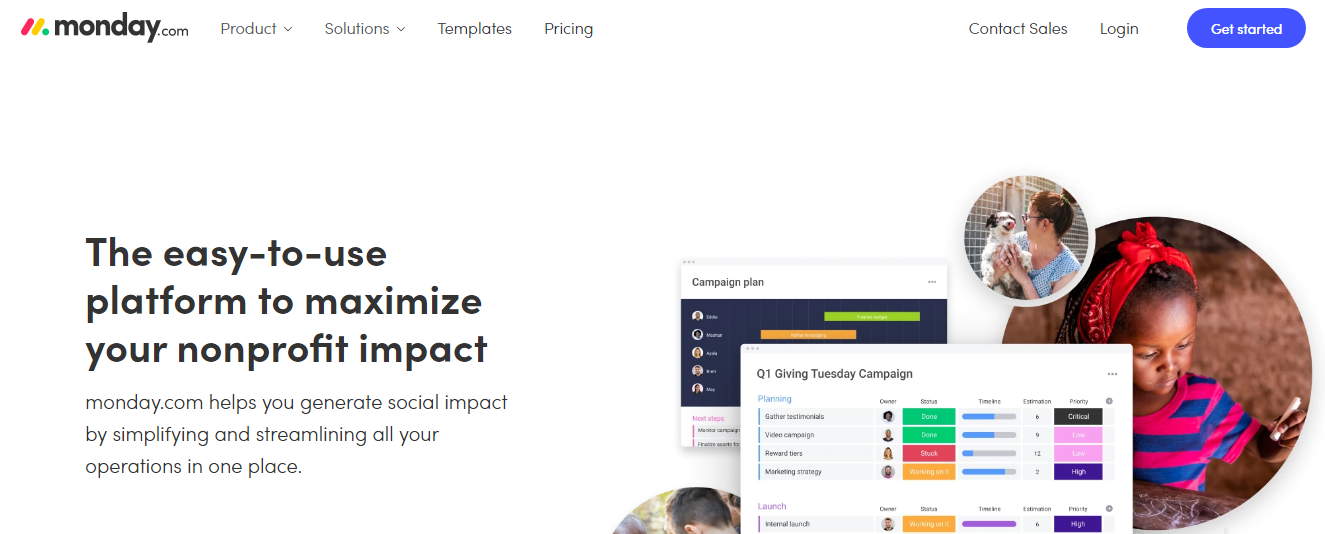 Monday.com specializes in remote collaboration and project management. Quickly onboard a new team of volunteers.
Have a big fundraiser coming up? Use Monday.com to assign tasks to each board or team member, so nothing falls through the cracks. Plus, view the entire project in timeline view, workload view, and chart view.
Why Go with monday.com for Nonprofits?
Many of the nonprofit specific tools we tested were YEARS behind modern sales CRMs. Because monday.com ALSO serves the B2B market (and is a market leader), they are constantly improving the tools. Most of the non-profit exclusive tools suffer from lack of budget & resources. BUT, unlike many other B2B tools, monday.com has a pre-built template & support for nonprofits (and special discounts). It's really the best of both worlds and why I recommend it as the first option here.
Features
Monday.com has a marketing automation center, so you can quickly select pre-built automation or custom-build your own to customize any project. Integrations like Slack keep your team updated in real-time and a key reason we included monday.com as the best CRM software here. Tag a specific user and skip searching through your texts and email by attaching any documentation needed during the project.
Limitations
Projects can get complex with separate boards, groups, etc. In addition, the platform can be intimidating to new users. It can also be challenging to see if you will meet the deadline with multiple team members in different phases of the project.
Pricing
Monday.com has special pricing for qualifying nonprofits. To see if you are eligible, you will need to fill out this form. Monday.com will get back to you within seven days. Depending on your needs, you can also start with Monday.com's limited free CRM plan.

Little Green Light is geared for small to medium-size nonprofits. The platform is excellent for various niches, including religious, arts, cultural, and environmental. It also integrates with popular nonprofit software, including Zapier, MailChimp, PayPal, Stripe, QuickBooks Online, and more.
Little Green Light Features
Little Green Light can record event attendance and create workflows to decrease the time it takes for daily tasks. In addition, the software is affordable while keeping an impressive amount of features.
Little Green Light Limitations
Although customer service is quick to respond, Little Green Light only has email support. As a result, email marketing, supporter engagement and fundraising features were less advanced than competitors (reflected in lower cost).
With Little Green Light, you won't have a contract, pay setup, or cancellation fees. Instead, the pricing structure is based on the number of constituents. For only $45 per month, the CRM software will support up to 2,500 constituents. In addition, little Green Light offers quarterly, bi-yearly, and yearly discounts.
Online donation processing is also available. Fees start at 2.2% + $0.30 transaction fee + 1% Little Green Light fee (capped at $50 per month).
3. Bitrix24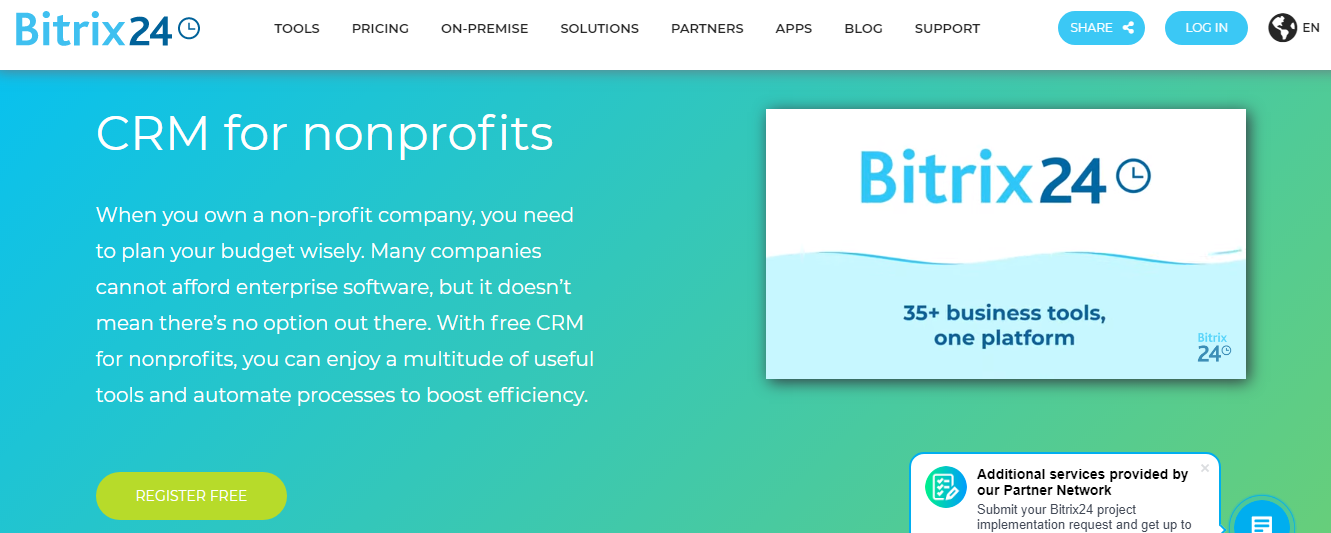 Bitrix24 offers a free cloud-based or on-premise CRM tool for nonprofits. With a less than a one-minute setup and up to 12 users, you can efficiently utilize the platform to discuss instant messenger style and organize volunteers.
Features
Primary features include contact and lead management, email marketing, product catalog, quotes and invoices, and workflow automation and marketing automation.
Limitations
A few limitations of Bitrix24 are its overwhelming UI navigation, its expensive features, and the platform has a learning curve.
Pricing
Free version available for up to 12 users (limited storage). The CRM+ plan starts at $55 per month.
4. Blackbaud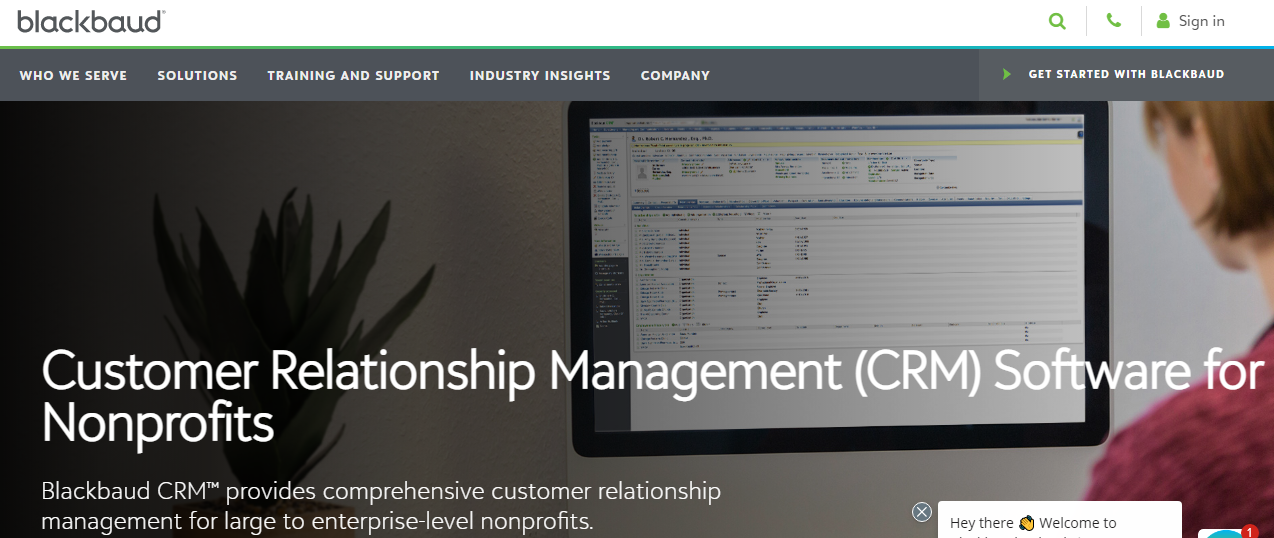 Built for enterprise-level nonprofit organizations, Blackbaud CRM can update information in real-time even when users are entering donor profile data from smartphones.
Features
Features like ResearchPoint (identifies connections, wealth, etc.) and lead tracking help you follow a contact from initial contribution to becoming a major donor.
Limitations
Multiple users report that customer service is lacking. Clients also feel that donor data entry is tedious and could be more automated.
Pricing
For up-to-date pricing, contact or live chat with a Blackbaud CRM representative.
5. Bloomerang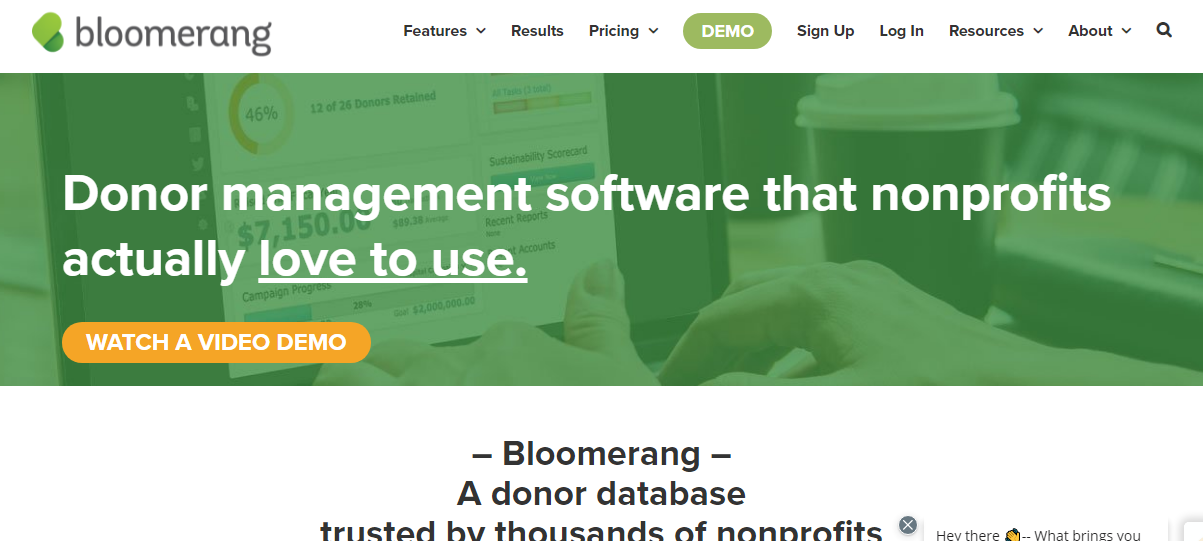 Bloomerang can help you with donor management, volunteers, sponsors, and grantees. Real-time reporting provides essential engagement and retention data.
Features
Bloomerang offers a donor engagement scoring (even available on the free plan) that measures all interactions a donor has with your organization. Donor engagement scoring is vital for quickly identifying which donors are worth pursuing a current need. A wealth screening rates your contacts in order or funds donated.
The platform has a free option for new organizations that need more than Excel but can't afford a complete CRM system. Plus, you can also migrate data from Blackbaud, NeonCRM, Salesforce, Salsa CRM, and more.
Limitations
Users have issues with Bloomerang's dashboard, including not showing donors or transactions on a single screen. In addition, the lack of a combined dashboard can lead to additional time verifying transactions or looking for a particular contact. Currently, Bloomerang does not integrate with popular social media platforms such as Facebook and Instagram.
Pricing
Bloomerang bases its pricing on the number of contacts you keep in your database. Every plan has unlimited users included. If you need over 40,000 contacts in your database, Bloomerang can create custom pricing for you. Prices range from $99 a month (0-1,000 contacts) to $499 a month (25,000 – 40,000 contacts).
Small organizations can start Bloomerang for free (up to 250 contacts), $19 per month (up to 500 contacts), $59 per month for 750 contacts, and so on.
6. CiviCRM

CiviCRM is open source, meaning it is free to use. It can be customized to your organization's needs and, depending on your development skills, can be integrated with other CRM software.
Features
Easily integrate with any CMS platform and connect to WordPress, Joomla, Drupal, and more. Peer to peer campaigns
Limitations
Although CiviCRM has a mobile app, it is not robust enough to use when on the go. For example, the CRM can glitch if you don't update right away. It also doesn't integrate with QuickBooks Online.
Pricing
Contact EveryAction for current customized pricing.
7. DonorPerfect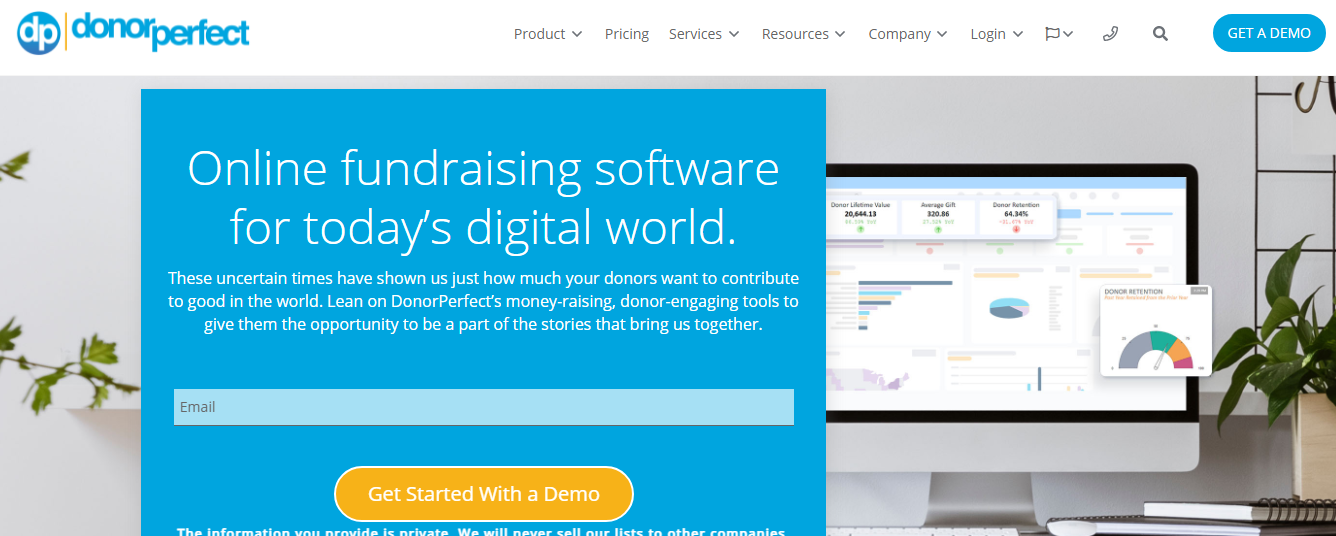 DonorPerfect provides nonprofits with fundraising CRM support. It can handle donations, receipts, email marketing, and reporting. The platform integrates with Constant Contact, automated online forms, and supports recurring donations. Plus, DonorPerfect can launch silent auctions as well as live, mobile, and online fundraisers.
Features
Uses appreciate the large, clean font to navigate data entry easily. Multiple departments can process a donation or look up a donor. A wide variety of training is available and valuable to get the most out of the DonorPerfect tool options. The advanced reporting tool can single out a donor or donation with ease.
Limitations
DonorPerfect supports popular integrations. However, once your nonprofit organization understands and uses DonorPerfect, you will often find that you need add-ons. Each add-on to the base CRM software comes at an additional cost, something you might not have calculated when you started at the base monthly price.
Pricing
DonorPerfect has five-tier plans. Pricing starts at $99, with the Enterprise plan costing $799 per month.
8. EveryAction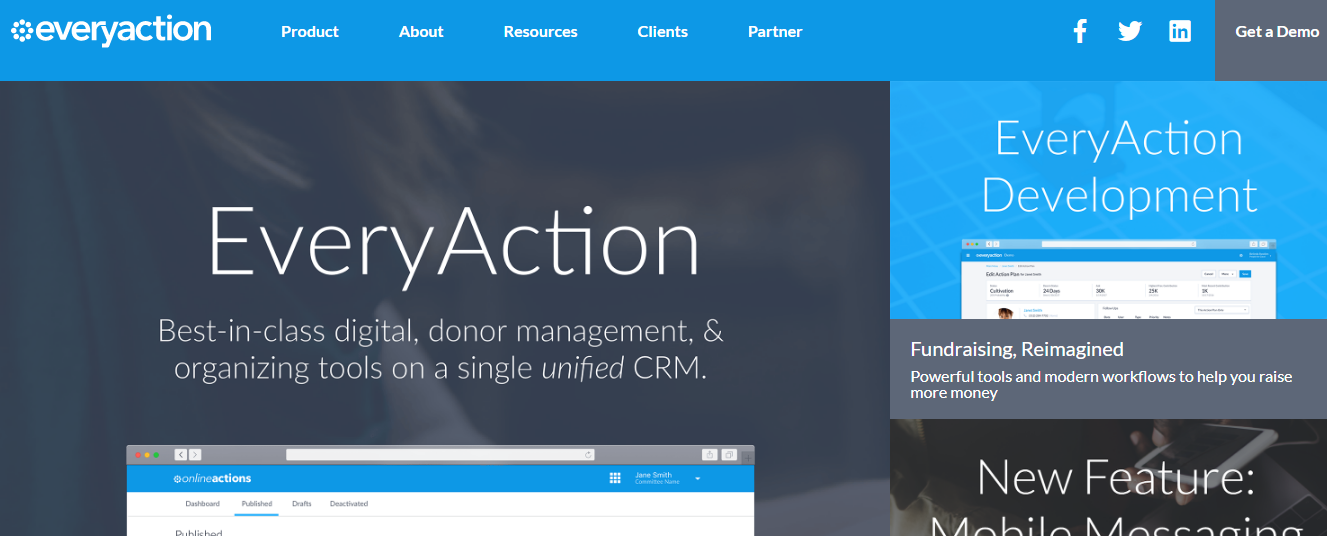 If you are looking for an all-in-one solution that frees you from database integrations and third-party apps, EveryAction could be the best option for you. Unique features like moves management, an essential nonprofit process in which prospective donors go from cultivation to solicitation. Plus, optimized forms with one-click actions, Zoom events, and integrated text messaging help EveryAction provide services to top nonprofits like Planned Parenthood, NextGen, and NAACP.
Features
Customizing standard tools such as email marketing, events, supporter activation and fundraising gives a professional look by combining the nonprofit's mission and branding to increase engagement. EveryAction also features an in-house drag and drop email creator, making it quick work for you to send out multiple emails every month without the need for a designer.
Limitations
To take full advantage of the CRM, you often have to manually move data and spreadsheets between tools with EveryAction. Manually dealing with multiple data streams can be tedious and time-consuming.
Pricing
Contact EveryAction for current customized pricing.
9. Fundly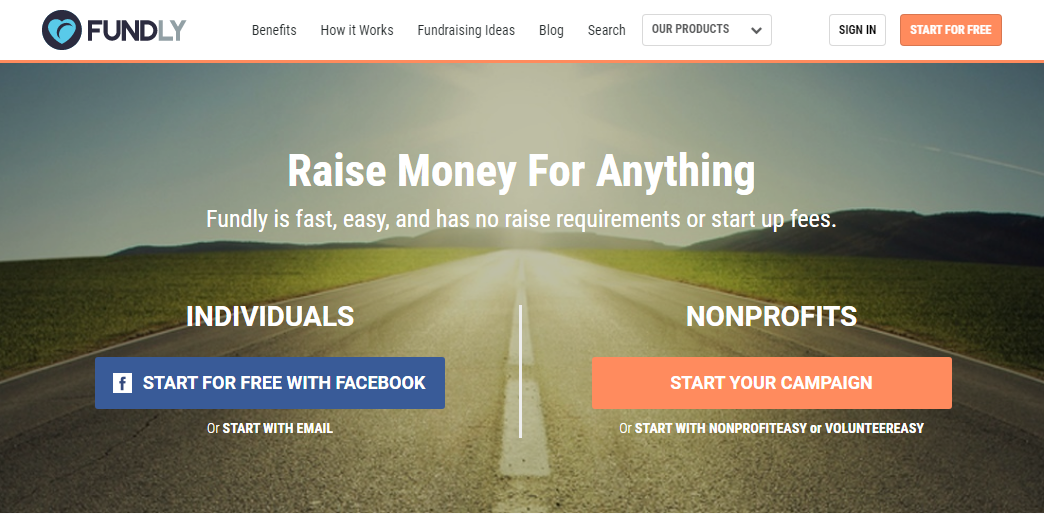 Fundly offers a mobile-friendly platform that includes responsive donation landing pages with embedded photos and videos. In addition, integrations with Gmail, Yahoo, Survey Monkey, and Constant Contact help users customize their communication without creating new email addresses.
Fundly has social media support, including social sharing (including Facebook's OpenGraph) to increase the reach of campaigns. Quickly keep donors and volunteers aware of fundraisers, milestones, and general updates.
Features
The platform also has specific filters and custom data entry properties that allow the user to pinpoint a volunteer or donation. For example, if you need a volunteer to paint, if you gather that information from each volunteer, you can quickly put a painting team together without having to remember each volunteer's strengths or passions.
Users praise Fundly's customer service for its professionalism and responsiveness. Plus, if you need help right away, a daily drop-in session over Zoom is available for quick questions.
Limitations
Pricing for add-ons can get expensive quickly. There is also a learning curve for particular sections, such as volunteers, that most nonprofits might find confusing since they don't fully utilize the feature.
Pricing
Fundly offers transaction based pricing: Fundly platform fee 4.9% + credit card processing fee 2.9% + $.30/transaction*.
Stripe and international campaigns have varying fees: US + Canada (Stripe) 2.9% + $0.30 per transaction, United Kingdom 2.4% + 20p per transaction, Australia 1.75% + $0.30 per transaction (domestic) and 2.9% + $0.30 per transaction (Int'l & AmEx)
10. Kindful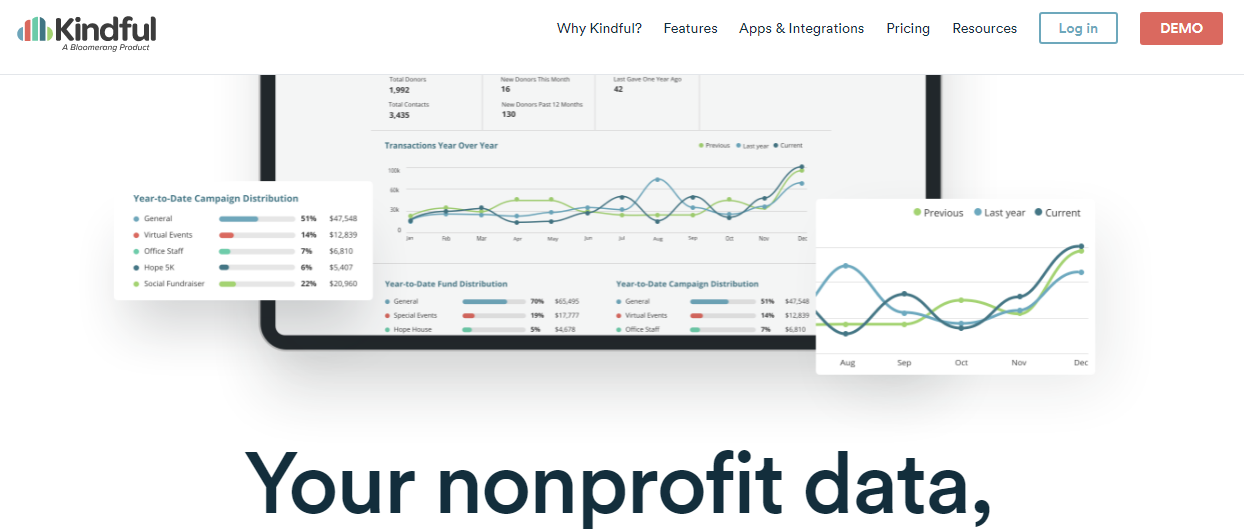 Kindful is a cloud-based platform that can come alongside your organization as you scale. It provides a database for online giving, engaging donors, and revenue reporting. With Kindful, you can design an unlimited number of donation pages, so each is personalized to your specific campaign.
Features
Kindful integrates with Facebook and Twitter so you can keep your donors and volunteers up to date in real-time. It even keeps track of all of your donors' social media connections so you can continue to expand your reach without starting from scratch.
The platform integrates with several third-party payment processors like PayPal and Stripe and eCommerce tools like Shopify, Eventbrite, and QuickBooks.
Limitations
Users state that sometimes third-party integrations can be buggy but that usually, customer support can resolve the third-party issue.
Pricing
Pricing is based on the number of contacts and starts at $100 per month for 1,000 contacts. You can also request a quote for a Kindful product bundle which includes a customized, a la carte type software. Since Kindful is based on the number of contacts, every tier plan consists of Kindful's features.
11. Keela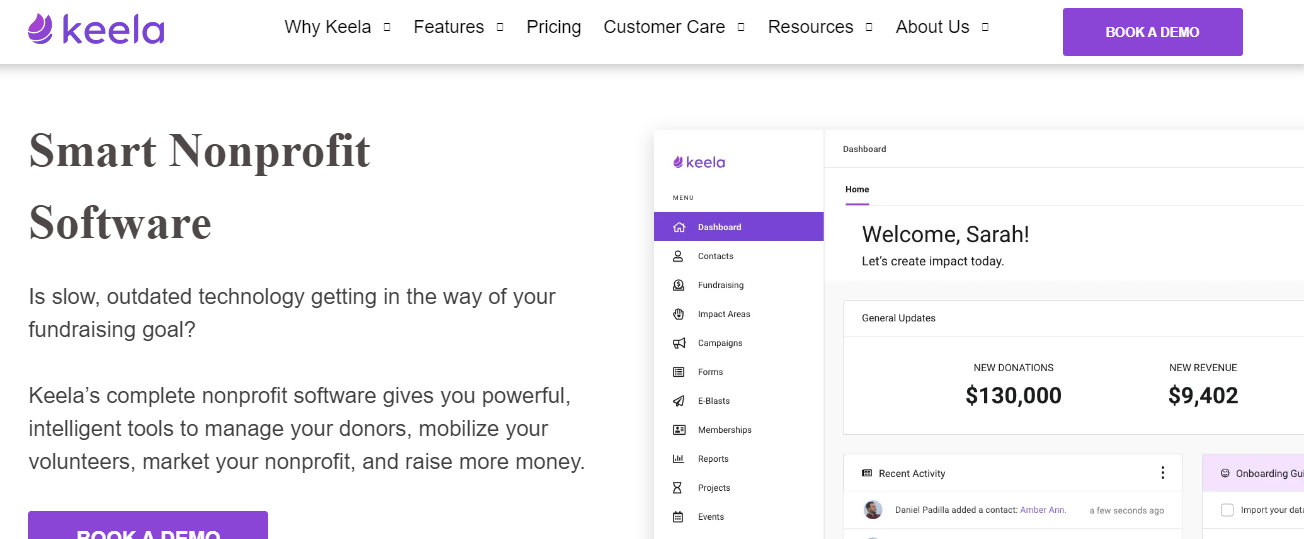 Keela features a built-in CRM so that all of your data is in one place. For example, you can add detailed contact profiles, save conversations, and send automated email thank you notes after a donation has been made.
Features
Keela's CRM automatically detects a duplicate contact, so you will never have to worry that you store many dead leads. In addition, the same contact feature is beneficial when running reports or paying for an email marketing service that charges by the contact. Customer support also has high praises, especially with their less micro-manage, more DIY approach to onboarding.
Limitations
Reporting is simplified and could allow users access to more custom fields to enhance data collection. In addition, users often get frustrated with the amount of clicking it takes to complete a task when the navigation and functions could be simplified.
Pricing
Pricing is based on several contacts. Rates start at $49 per month (paid annually) for 500 contacts. You will receive a 20%+ discount for paying annually. Keela features unlimited forms, emails, donations, and email support. The platform also offers custom Keela software bundles.
12. Neon CRM

Neon CRM is a cloud-based CRM that services nonprofits of all sizes. The platform provides extensive help with fundraising, donor management, supporter membership, event registration, and more.
Features
With Neon CRM's donor software, you can follow each donor through online and offline donations. With the platform's fundraising actions, accept donations from multiple avenues, including website forms, emails, event registrations, and membership renewals. Plus, automated emails and customized web forms keep you engaged with potential and current donors, volunteers, and board members.
Limitations
One thing missing from the all-in-one platform is online auctions, silent auctions, etc. In addition, in-house social media and email marketing do not function as well as popular integrations.
Pricing
To view Neon CRM's pricing, you must fill out a form with your business information. Once submitted, you can view the pricing guide to see if Neon CRM is right for your budget.
13. Nutshell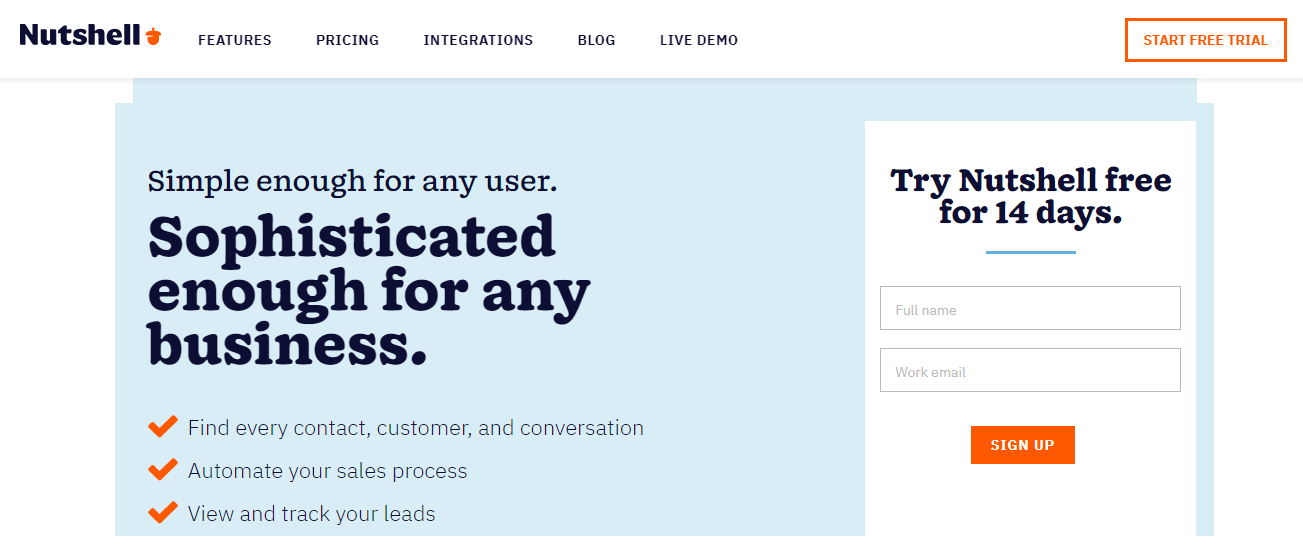 Nutshell focuses on the growth and collaboration of sales and marketing. It provides sales automation (marketing automation) and email marketing and well as unlimited data and contact storage.
Features
Nutshell offers integrations with G Suite/Gmail, QuickBooks Online, Constant Contact, Mailchimp, Slack, and Microsoft Office/Outlook. Reporting tools are customizable to your specific needs. Android and iOS apps keep your team connected even on the go. Plus, apps can save audio and video recordings so you can quickly reference meetings with clients.
Limitations
Nutshell does not offer automatic removal of duplicate contacts. Duplicate contacts can occur when integrating with Gmail or Outlook. Must upgrade to Pro for most features; the extra cost per user per month can price out smaller organizations.
Pricing
Nutshell has two paid packages, Starter and Pro. Starter starts at $22 per month ($19 if paid annually) and Pro at $39 per month ($35 if paid annually).
Both plans an increase in the cost depending on how many users and contacts you have. For example, if you choose the Starter plan with five users and support 10,000 contacts, your monthly cost is $210.
14. Salesforce.org

Salesforce for nonprofits (Salesforce.org) provides a robust CRM that encourages engagement between the nonprofit and its donors. It also offers support for fundraising campaigns, grants, and general donations. In addition, the platform can automatically sync information from third-party apps, saving significant time in data entry costs.
Features
The CRM is stable and collects data straightforwardly and safely. Users appreciate automation and notification features. Free add-ons for nonprofits help customize the experience. For example, advanced reporting provides a detailed account of contacts, campaigns, etc.
Limitations
The interface can be overwhelming for new users. Salesforce could benefit from a stripped-down version for smaller companies and increased employee adoption of the software. Pricing can be vague and add up quickly. In-house mass email is clunky and limited. Most users use a third-party integration that can add to monthly costs.
Pricing
Pricing varies based on the organization. Nonprofits can choose from the Nonprofit Success Pack (NPSP), Experience Cloud, Accounting Subledger (Starter and Growth), Elevate (Fundraising), Insights Data, Program Management Module (PMM), Nonprofit Cloud Case Management, Outbound Funds, Grants Management, and Premier Success (premium customer support).
Further Read: Salesforce vs Pipedrive.
15. Salsa CRM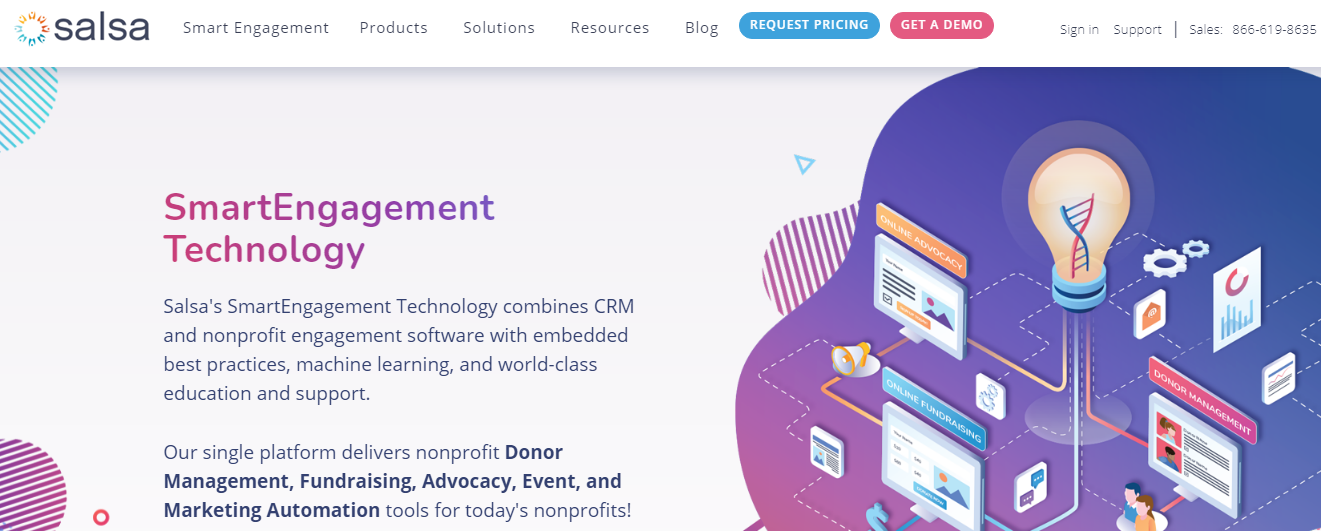 Salsa CRM solution can track all of your donors and their respective actions in one platform. Through this detailed database, you can engage with intention.
Advanced features such as donation matching, mobile donations, grant and gift management, list segmentation, email marketing, A/B testing, and more provide a well-rounded CRM for nonprofits.
Features
Salsa offers gift forecasting through cultivation reports. In addition, the CRM integrates with WealthEngine and DonorSearch for advanced insights. Mobile-friendly donation pages are easy to customize with drag-and-drop tools. The platform also accepts donations, such as one-time donations, customized donations, and recurring donations.
Limitations
Users state that reporting can be disjointed and hard to complete the way the organization needs the information. In addition, it lacks customization options like website integrations, email marketing video, and RSS embed. Users feel like it takes more clicks to do simple tasks than it should.
Pricing
Salsa offers competitive personalized pricing based on your organization's current needs. No hidden charges or per-user fees. Contact them using this form for a quote.
16. Wild Apricot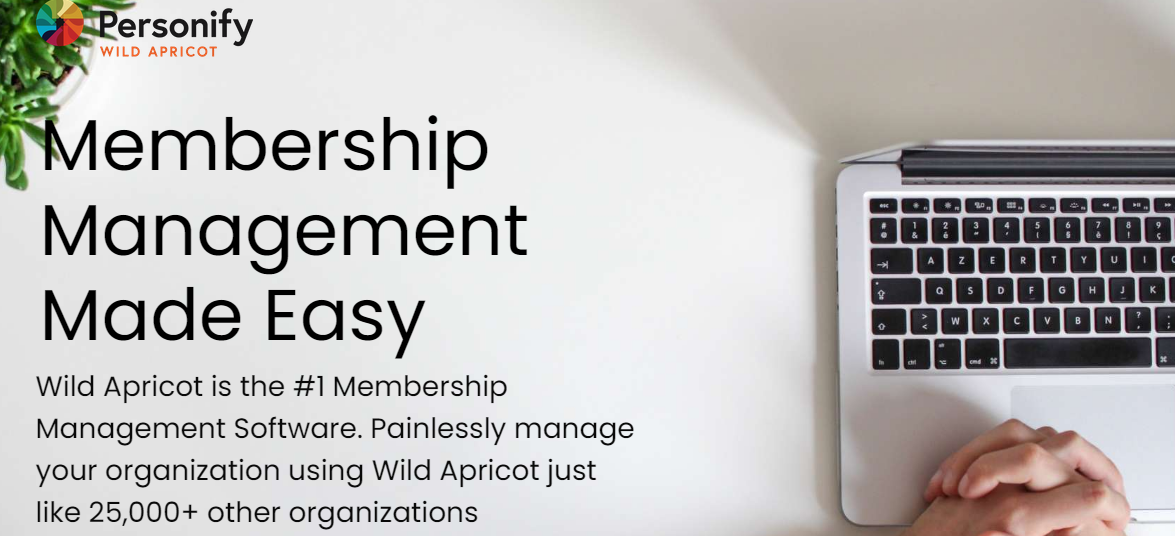 Wild Apricot is member management for nonprofits and clubs. Quickly import existing spreadsheets, email marketing capabilities, and advanced financial reporting tools.
Features
Wild Apricot provides a wide variety of tutorials to get you up and running fast. Then, use the pre-designed templates to set up events or collect donations.
Limitations
The content management system (CMS) needs updating and may be challenging to navigate.
Pricing
Wild Apricot offers per contract pricing. The software is free for 50 contacts and features paid solutions for more than 50 contacts ($40 per month for 100 contacts, $50 per month for 250 contacts, etc.) Save 10% by prepaying for one year of service, 15% when prepaying for two years of service.
What to Look for in a Nonprofit CRM
The donor management features you need for your nonprofit are specific to your organization. You should make a list of necessary tools before choosing a nonprofit CRM solution. Making a list of needs and wants can help you decide which CRM to choose.

Some standard features to look for include:

Fundraising
– Donation pages, forms, and buttons
– Recurring giving
– Text to give
– Crowdfunding
– Event registration

Donor Management
– Email receipts
– Automatic tax summaries
– Donor segmentation
– Newsletters

Donor tracking
– Reporting
– Integrations
– Email marketing
– Accounting
– Fundraising
– Event registration
– Payment processing
FAQs
Question: Why use nonprofit CRM software?
Answer: Nonprofits can benefit from using CRM software in many ways. Some of the advantages are better engagement with supporters and donors, efficient data organization, and more successful fundraising efforts.
Question: Who uses nonprofit CRM software?
Answer: Qualifications may vary among CRM software companies, but most groups that fall under the charitable organization, educational, social change, and those designated at a 501(c)(3) and 501(c)(4) can use a nonprofit CRM platform.
Question: What sorts of donor management features are included in nonprofit CRM tools?
Answer: The donor management features you need for your nonprofit are specific to your organization. You should make a list of necessary tools before choosing a nonprofit CRM. Making a list of needs and wants can help you decide which CRM to choose.
Some standard features to look for include:
Fundraising
– Donation pages, forms, and buttons
– Recurring giving
– Text to give
– Crowdfunding
– Event registration
Donor Management
– Email receipts
– Automatic tax summaries
– Donor segmentation
– Newsletters
Donor tracking
– Reporting
– Integrations
– Email marketing
– Accounting
– Fundraising
– Event registration
– Payment processing
Question: What are the benefits of Nonprofit CRM tools over traditional CRM tools?
Answer: Nonprofit CRM tools specialize in event and fundraising capabilities. Workflows are also created especially for nonprofit ease of use.
Although most features in traditional CRMs are applicable for nonprofits, choosing a nonprofit-focused CRM can provide you with better pricing, specialized customer support, and personalized features that cater to your organization.
Best CRMs for Nonprofits – Final Thoughts
Top Non-Profit CRM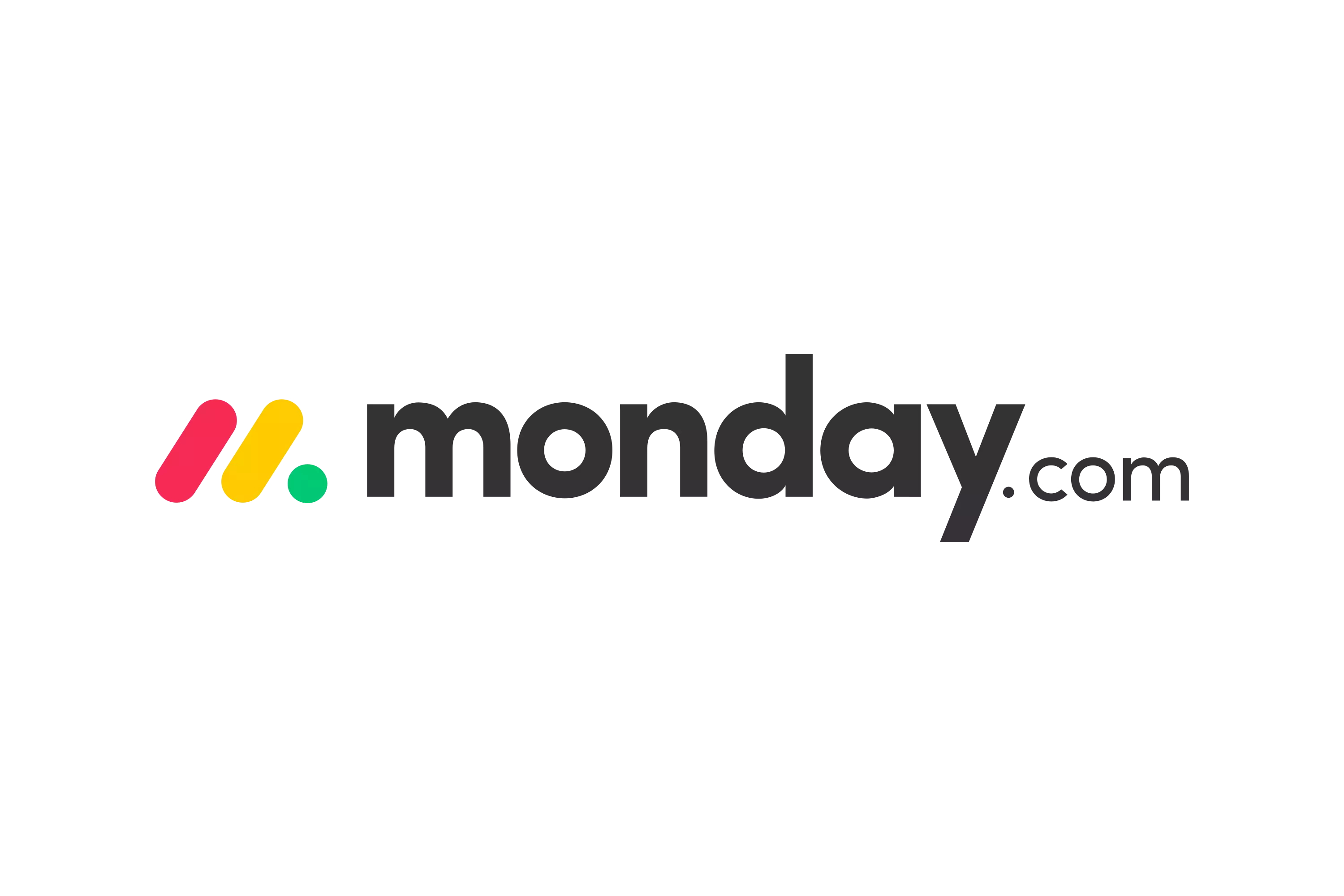 Whether you choose your CRM solution based on budget or features, deciding to take your nonprofit to the next level is a big step. That is why it is vital to choose a system that helps you engage with your donors and meet your fundraising goals.
Select the best nonprofit CRM software that makes donors want to volunteer, donate more frequently, and look forward to your growth. After all, the passion you have for your nonprofit is about more than money, and your CRM should reflect that too.
Further Reading on CRM Solutions: