Last Updated on July 18, 2023 by Ewen Finser
If you are trying to figure out if Mailchimp or Hubspot is right for your business, your in the right place.
I've used both of these marketing platforms over the years for various brands that we operate. They are both stalwarts in the industry. There's much to be said for sticking around in the marketing world!
That said, these really are platforms geared towards different types of marketers.
SO which is best?
I'll break down the main differences and core features, leaving you with clear recommendations for when to choose which (and why)…
A Snapshot of Mailchimp and HubSpot
Mailchimp and HubSpot are both robust marketing platforms, albeit with distinct focuses and functionalities.
Mailchimp began as an email marketing service targeting small businesses, but it's evolved into an all-in-one platform that includes features like marketing automation, CRM, content tools, and more.
On the other hand, HubSpot is primarily a CRM tool that also offers a suite of sales, marketing, content management, and operations tools.
Here's a high level comparison of the core distinctions as I see them:
| Features | Mailchimp | Hubspot |
| --- | --- | --- |
| Email Marketing | Advanced email marketing tools, A/B testing, segmentation, and analytics | Comprehensive email marketing tools, A/B testing, personalization, and detailed analytics |
| CRM | Basic CRM with contact management | Robust CRM with detailed contact profiles, sales pipelines, and deal tracking |
| Marketing Automation | Basic automation features, mainly limited to email campaigns | Advanced marketing automation capabilities, including workflows, lead nurturing, and behavioral triggers |
| Reporting & Analytics | Reporting on campaigns, audience growth, engagement, and ROI | Comprehensive analytics on all marketing efforts, including website, email, social media, and ads. Integrates with Google Analytics |
| Landing Pages | Drag-and-drop builder, limited customization options | Highly customizable landing page builder, A/B testing, and conversion tools |
| Social Media | Scheduling and publishing, ads management, and basic analytics | Social media scheduling, monitoring, publishing, reporting, and ads management |
| Content Management | Can create basic landing pages, not designed as a CMS | Full-fledged CMS for creating, managing, and optimizing website content |
| Pricing | Free tier available, paid plans start at $9.99/month | Free tier available, but premium features require a paid plan starting at $45/month |
| Customer Support | Email and chat support, with 24/7 support for premium users | 24/7 phone and email support, plus a comprehensive knowledge base |
| Integrations | Integrates with popular apps and platforms, including WordPress, Shopify, and Salesforce | |
| User Interface | User-friendly interface, but a bit more busy | Clean, intuitive user interface, easy to use |
Comparing Mailchimp and HubSpot: Key Considerations
When deciding between Mailchimp and HubSpot, several factors come into play, including your budget, business goals, and the users who will be handling the tool. Here's a quick comparison of the two platforms from a broader perspective:
| | Mailchimp | HubSpot |
| --- | --- | --- |
| Users | 14 million | 150,000 |
| Integrations | Over 250 | Over 1,000 |
| Countries served | 200 | 120 |
| Subscription price | Starts at $11 per month | Starts at $45 per month |
Email Marketing Features
Mailchimp and HubSpot both offer powerful email marketing tools. They provide drag-and-drop email builders, email personalization, A/B testing, dynamic send times, and device optimization. Moreover, they support transactional and eCommerce emails, with paid tiers offering access to data analytics and comparative reports.
Mailchimp stands out with its 100 professional-looking templates, allowing for quick email design. However, HubSpot edges out slightly when it comes to customization, enabling personalized messages for each contact that align with your unique branding.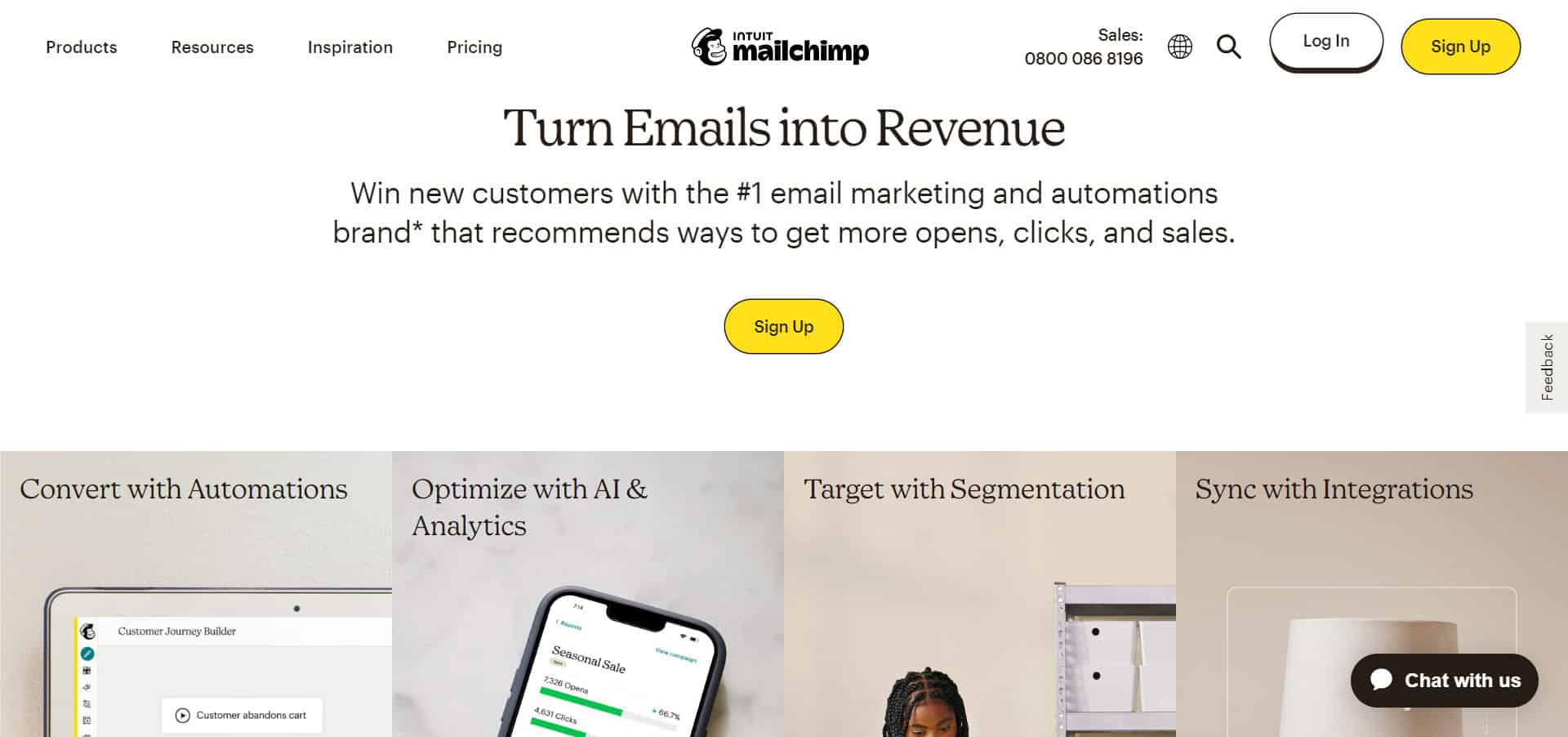 Analyzing Contact Management Capabilities
With a growing business comes an expanding contacts database. Hence, a marketing platform should provide a robust contact management system.
Mailchimp's contact management is integrated into its marketing CRM, leveraging segments and tags to create groups.
On the other hand, HubSpot offers list management and custom contact properties, even in its free version, providing a more in-depth view of each contact.
Evaluating Marketing Automation
Marketing automation is a crucial feature of any marketing platform. Mailchimp offers content optimization tools and a customer journey builder, with over 40 pre-built customer journeys for deeper customization.
Conversely, HubSpot offers robust tools for marketing automation, including automated workflows and cross-functional operations, although some features are limited in the Starter plan.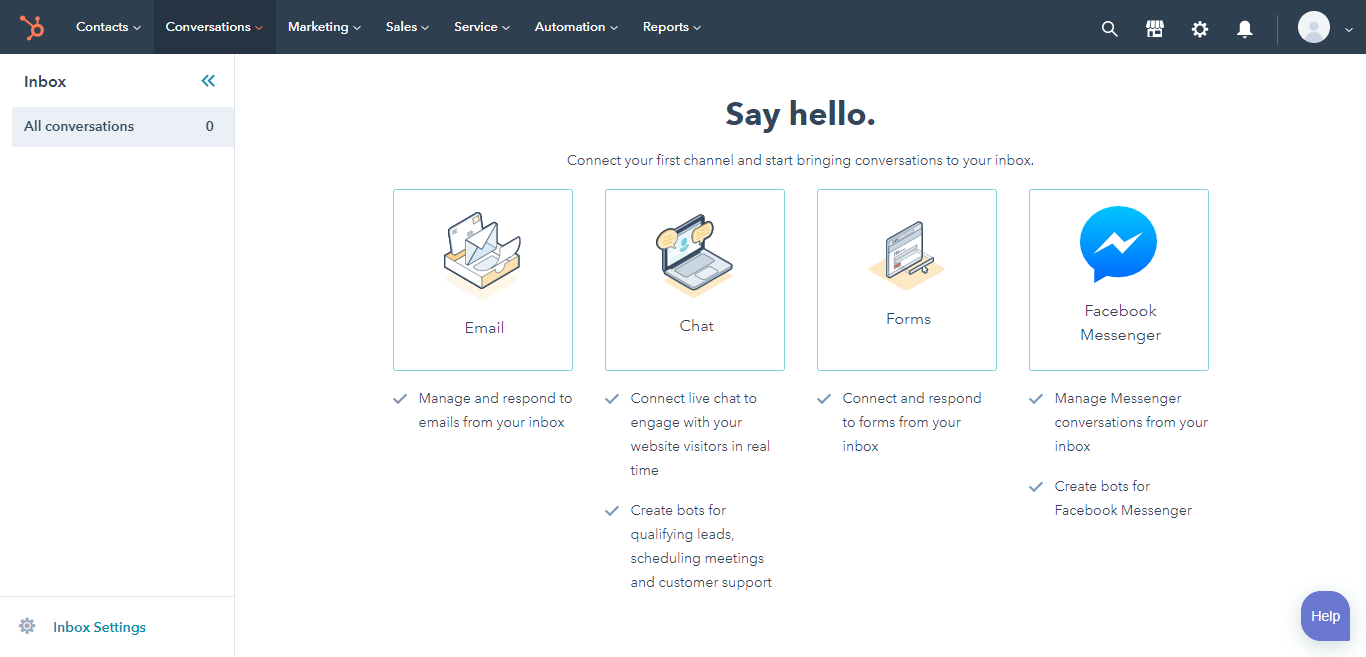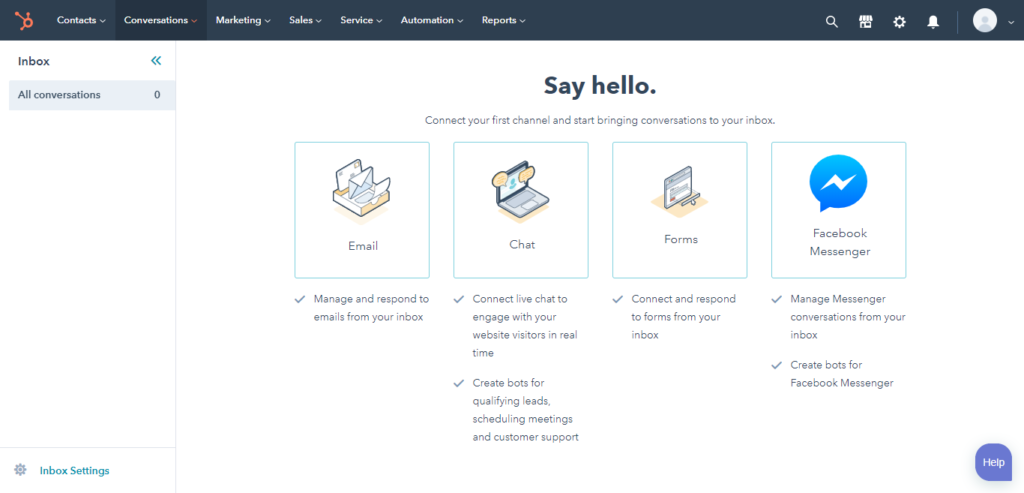 Assessing Social Media and Ads Management
In today's digital age, social media has become an essential platform for engaging with customers and promoting products or services. Mailchimp provides a tool for posting and managing ads on Instagram and Facebook, as well as managing Google display ads.
Meanwhile, HubSpot offers more comprehensive social media management options, allowing you to post comments on your social media posts directly from your HubSpot account and manage all your ad campaigns on different platforms.
Supported Languages: Which is Best?
For businesses operating internationally or with remote teams, support for multiple languages is crucial.
Mailchimp supports several languages based on browser settings, and its mobile app is available in five languages.
HubSpot software is available in several languages, although services and support have limited language availability compared to the software systems.
Hubspot Supported Languages
English

German

Spanish

French

Italian

Japanese

Portuguese (Brazil)

Dutch

Korean

Chinese (Simplified)

Chinese (Traditional)
Mailchimp Supported Languages
English

Spanish

French

German

Italian

Portuguese

Dutch

Swedish

Russian

Danish

Norwegian

Finnish

Polish

Turkish

Thai

Japanese

Mandarin Chinese

Korean

Arabic
Analyzing Data and Analytics
Data and analytics are critical for making informed business decisions. Mailchimp consolidates all your email marketing data in one place, with an analytics dashboard displaying all your campaign metrics.
HubSpot, on the other hand, offers powerful data and analytics tools for marketing, allowing you to customize object data into reports and build dashboards to share with teams.
Comparing Pricing
Mailchimp and HubSpot both offer tiered pricing, from free versions for small businesses to premium ones for large enterprises.
However, HubSpot's pricing is significantly more expensive than Mailchimp as it's geared towards larger enterprises.
Companies That Use Hubspot
Sometimes it's helpful to see which well-known companies use specific software as it can place your organization relative to their markets.
Here's some top companies that use both Hubspot and Mailchimp:
Accenture

Avid Technology

ClassPass

Doordash

G2

INBOUND

Mention Me

Mitel

Slack

Subaru

Trello

Wistia

Zapier

Zendesk

Zoom Video Communications
Companies That Use Mailchimp
Vice Media

TED Conferences

Magnolia Bakery

The Tasting Table

The Rocket Science Group

Apartment Therapy

Billabong

The Economist

Random House

Munchery

Huffpost

Wired

Everlane

Lonely Planet

BuzzFeed

Pitchfork Media

Bon Appetit

The Atlantic
You can see that Mailchimp has a strong affinity with media publishers, whereas Hubspot is more aligned with software companies and established big businesses.
Making the Final Decision: Mailchimp or HubSpot?
The choice between Mailchimp and HubSpot ultimately boils down to your specific business needs and budget. If you're a small business with a limited marketing budget and simple automation requirements, Mailchimp is be a better fit.
However, if you're a larger enterprise or a business planning to scale, HubSpot's advanced features and robust platform quickly justifies it's higher price point.
Mailchimp and Hubspot Competitors Compared
I've tried a LOT of marketing suites over the years and our editorial team has covered a variety of tools in head to head comparisons. You may want to consider how both of these services stack up against some of them below.
Conclusion: My Bottom Line
Both of these platforms have their use cases, but I have some clarity on which is best for certain types of businesses.
Just need a good email marketing service? Just go with the simple and straightforward service offered by Mailchimp here. If you might need Hubspot's features at some point, it's really not worth the distraction just yet.
Looking mainly for a CRM or sales tool? Stick to Hubspot here. Mailchimp's basic CRM utility is quickly surpassed by Hubspot's breadth and usability. They're one of the most valuable marketing platforms in the world for a reason!
That's not to say that Mailchimp doesn't have solid CRM features.
The way I'd describe it is that Mailchimp is an email marketing suite with a built-in CRM to support email. Whereas, Hubspot is a sales automation platform with built-in email marketing functionality.