Last Updated on April 22, 2023 by Ewen Finser
Automated tools like AWeber vs Mailchimp make email marketing a breeze, enabling you to brand your newsletters, schedule campaigns at the best times, automate sales funnels, and even create other marketing materials, such as landing pages.
I've worked in and around the digital marketing space for the last six years and used both Aweber and Mailchimp at various points, so I'm intrigued to dive deeper into how they compare.
If you're interested to find out which offers better features, pricing, customer support, and more stick with me!
I have lots to cover, so let's dive straight in!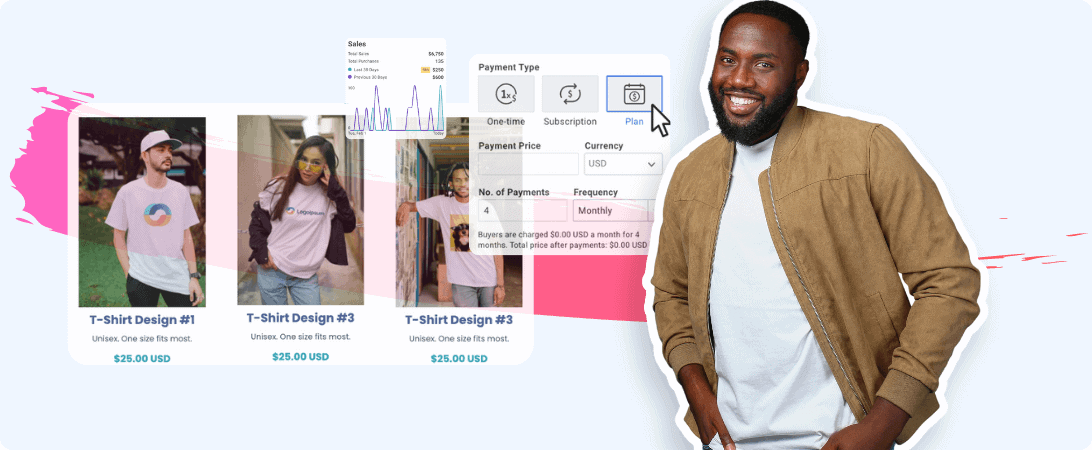 My Bottom Line Upfront
All in all, I think AWeber and Mailchimp are both well-suited to small businesses. They cover all the email marketing basics, including automations, segmentation, and analytics.
That said, Mailchimp offers more advanced features overall. However, you have to opt into a costly premium plan ($299 per month) to access these.
Main Differences Between AWeber vs Mailchimp
The main differences between AWeber vs Mailchimp are:
Similarities
Both allow you to create landing pages using a drag-and-drop editor.

Both come with marketing automation and segmentation features.

Both offer a variety of email templates.

Both tools offer a free plan.

Their mid-pricing-tiers are similarly priced, though Mailchimp's plans are slightly cheaper until its Premium plan.
Differences
Mailchimp offers a pay-as-you-go plan, whereas AWeber doesn't

Mailchimp offers more advanced segmentation and customer journey functionality, however, at a much higher price than AWeber.

AWeber only has one premium plan with all features included, whereas Mailchimp has several, with important features locked behind price walls.

AWeber allows you to send web push notifications, whereas Mailchimp doesn't

Aweber comes with around 600 email templates, whereas Mailchimp only provides 100.
About AWeber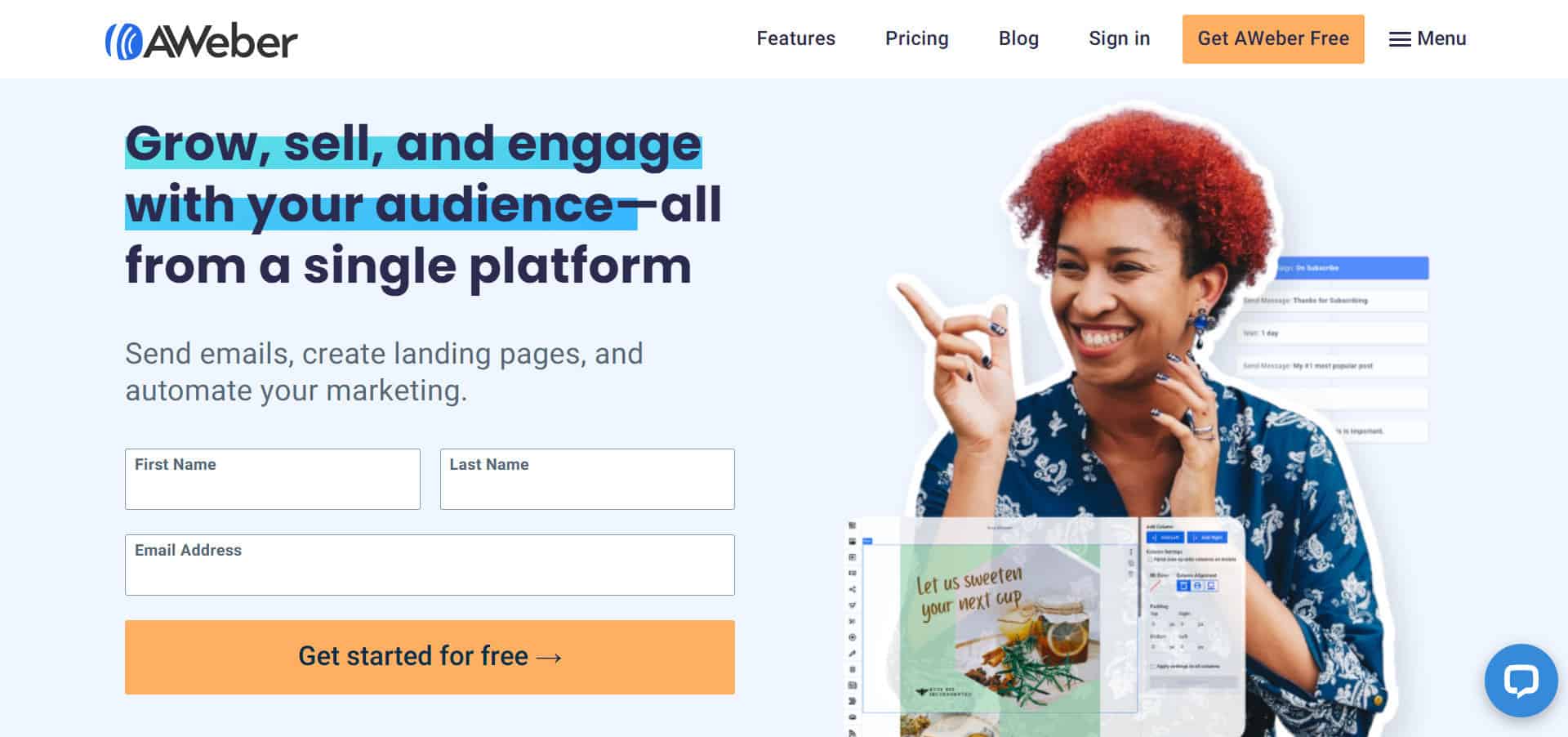 AWeber is by no means a new kid on the block. The platform has been around since 1998, providing decent solutions for small businesses wanting to send targeted emails. Fast forward to today, and they have just under 1,000,000 small business clients under their belt.
That said, AWeber is less advanced than competitors like ActiveCampaign or Klaviyo. However, its ease of use, pricing transparency, and generous free plan make it ideal for new brands and solopreneurs with smaller email marketing budgets.

About Mailchimp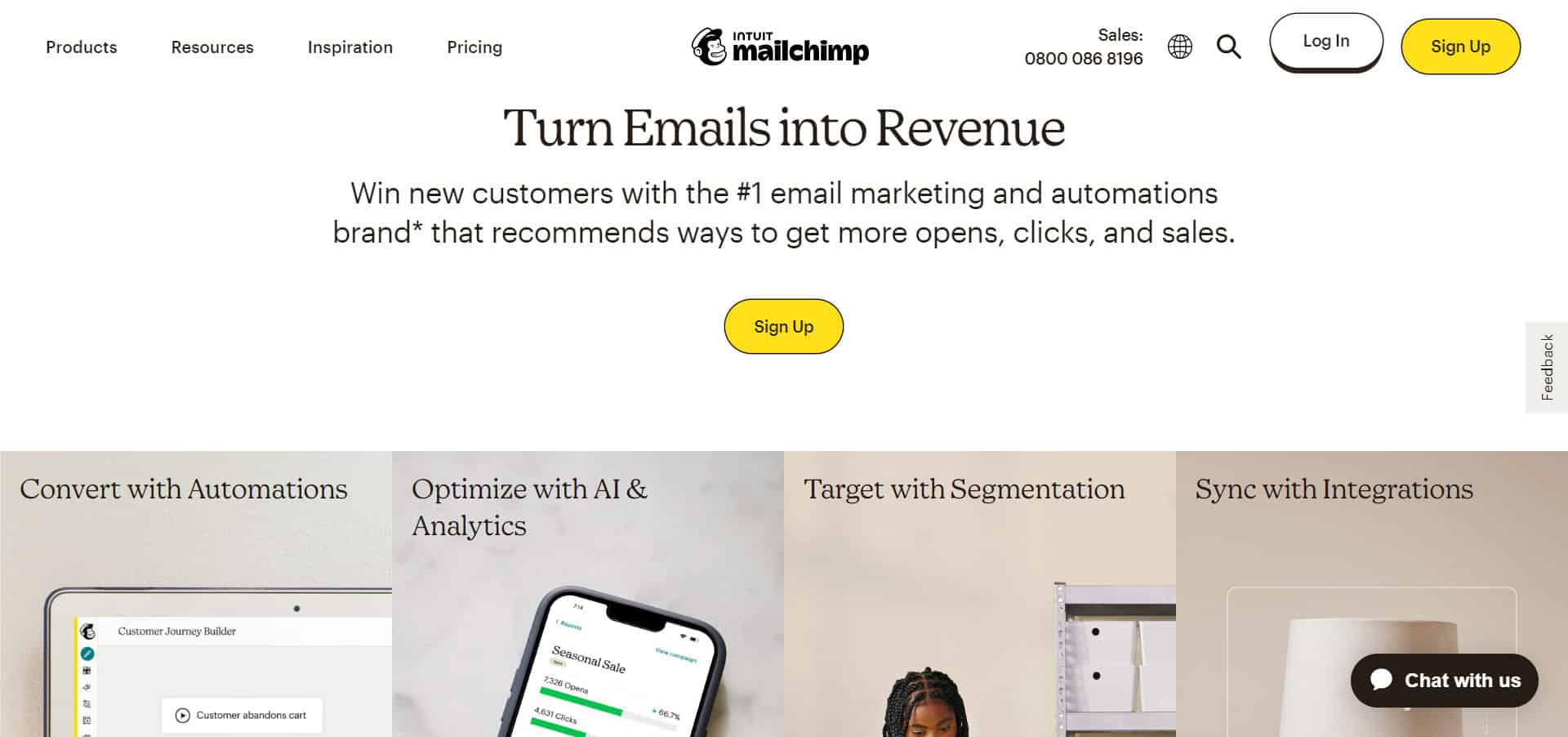 Mailchimp launched in 2001 with similar intentions: To offer email marketing services for smaller businesses. Then, the platform was known primarily as a newsletter tool.
Whereas, now it also serves eCommerce businesses with a set of more advanced features, for instance, multivariate testing, advanced segmentation, and content optimization. At the time of writing, over 16 million users rely on Mailchimp, so they have to be doing something right!
AWeber vs. Mailchimp: Email Templates and Email Editor
Both AWeber and Mailchimp come with a selection of pre-designed email templates that you can customize to suit your brand's needs. In addition, all templates are responsive, meaning your emails will resize flexibly to fit the size of the user's screen.
However, AWeber is a little more plentiful in this regard. It offers around 600 templates, though their designs are somewhat repetitive, so only around 170 feel distinctly different. On the other hand, Mailchimp provides just 100 templates to choose from.
Both tools have intuitive and visual email editors that you can use to customize your emails.
MailChimp allows you to choose a template and edit the appearance of each section or element by selecting options from a sidebar. You can drag and drop additional elements like images, logos, banners, and more in between sections by clicking a plus symbol. AWeber works much the same way.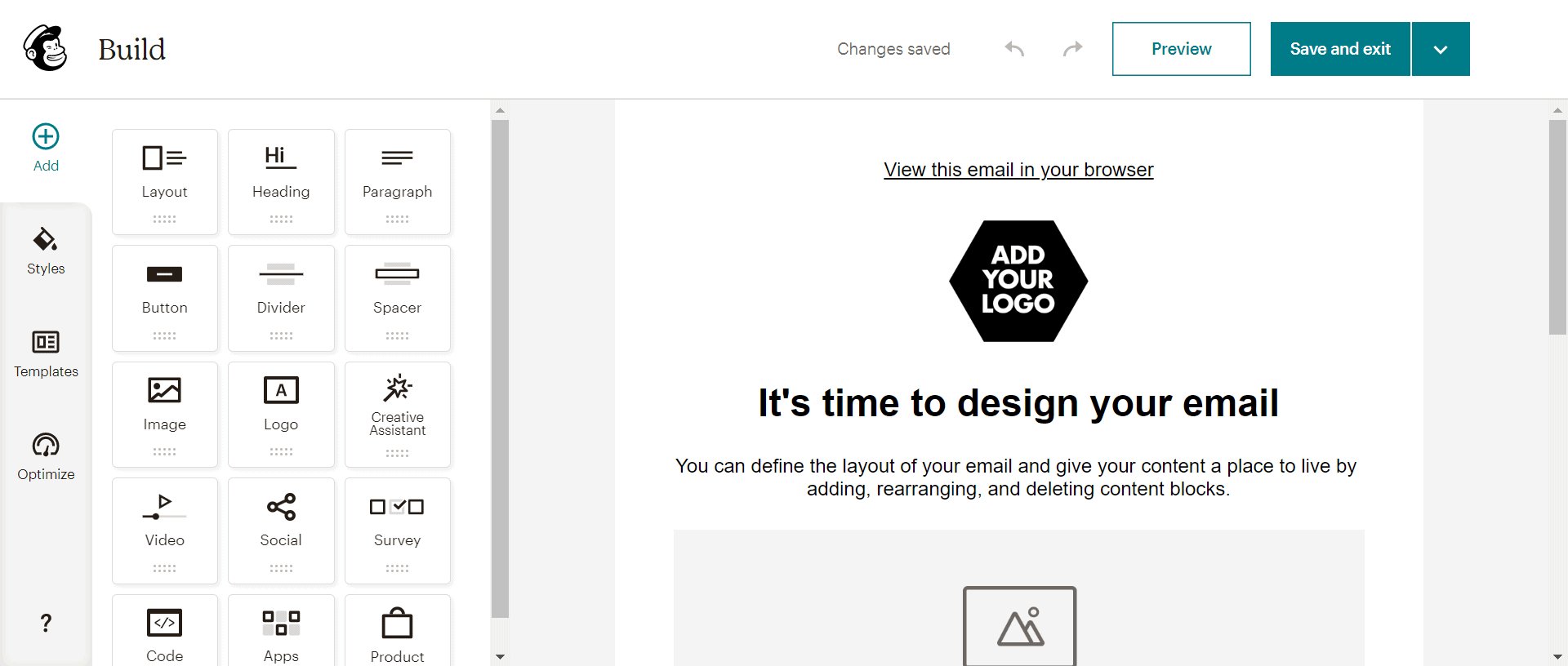 Alternatively, if you have programming smarts, you can access your email's code to make more granular edits. Both AWeber and Mailchimp also allow you to personalize your emails using dynamic tags to insert, for example, your customer's name or age!
Mailchimp goes a little further with dynamic content blocks. Here, you can add blocks such as product recommendations and decide which audience segments can see them! Both also come with preview modes, enabling you to see what your emails look like on different devices before you send them.
At this point, I have to note that one neat Aweber feature is its automatic collection of:
Logos

Images

Brand colors

Text
…from your social media and website to make it quicker to repurpose into email content. Handy, right?
AWeber vs. Mailchimp: Segmentation
For the uninitiated, email segmentation allows you to separate your audience into groups based on their demographics and/or user behaviors. This enables you to send targeted emails based on their interests/pain points/interactions with your brand, etc., increasing the likelihood of the recipient opening and acting upon the email's CTA.
Mailchimp and AWeber enable you to segment your email list based on your chosen criteria. However, unless you subscribe to Mailchimp's premium plan, neither allows you to send emails to more than one of the segments you've created.
Looking closer at Mailchimp's premium plan, you benefit from flexible audience filtering with unlimited conditions, which isn't available on its lower plans or with Aweber. In contrast, its basic segmentation limits you to five conditions per segment.
With Mailchimp's premium plan, you can add segment conditions with and/any logic, whereas AWeber only uses "and" logic. This means subscribers have to fulfill all conditions you add, whereas, with Mailchimp, you can add subscribers so long as they fulfill any of the conditions added.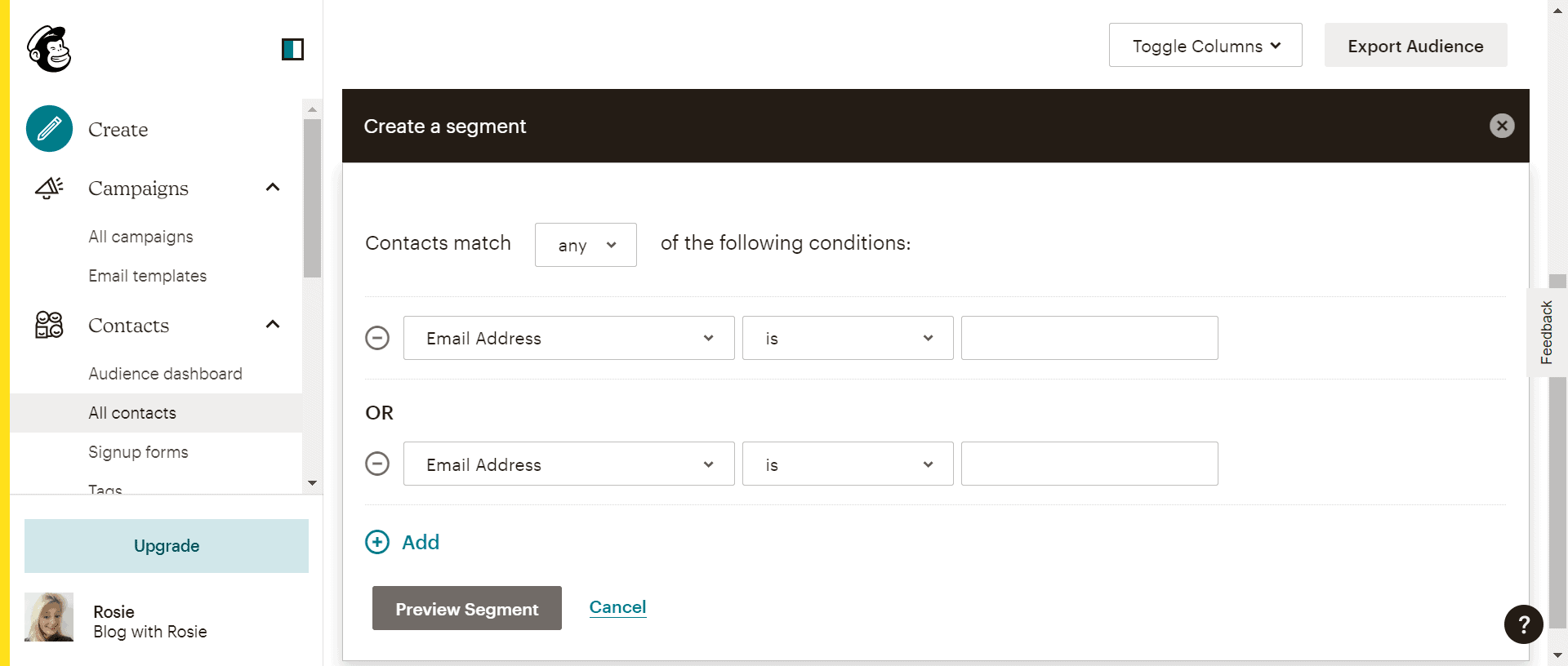 AWeber comes with basic segmentation features, including creating segments based on user activity. For example, whether readers clicked a specific link, visited a particular website, were based in a precise location, or opened (or didn't open) a particular message. You can also manually or automatically apply tags to add subscribers to segments.
Also, while AWeber doesn't let you send emails to multiple segments, you can broadcast to multiple subscriber lists. These are often broader than specific segments as they might be based on who signed up for which online form. However, while they're not as fine-tuned as conditional segments, sending to more than one list is still an improvement over Mailchimp.
AWeber vs. Mailchimp: Autoresponders
Autoresponders automatically send emails in response to a pre-set trigger, such as a new purchase, an abandoned cart, when someone subscribes to your newsletter, etc. Both MailChimp and AWeber come with basic autoresponders.
With AWeber, you can send automated newsletters whenever you upload new content, like YouTube videos, podcasts, or blog posts. You can even integrate with Etsy to send product recommendations and upsells based on previous purchases.
Alternatively, you can use AWeber's simple drag-and-drop email workflow builder to create marketing automations based on user behavior. I.e., emails sent based on your subscriber's previous interactions with your emails. For instance, you could send an automated campaign once a customer's been inactive for a set time to encourage them to revisit your store. Similarly, you could arrange automated campaigns to welcome new subscribers or resend emails to customers that didn't open them.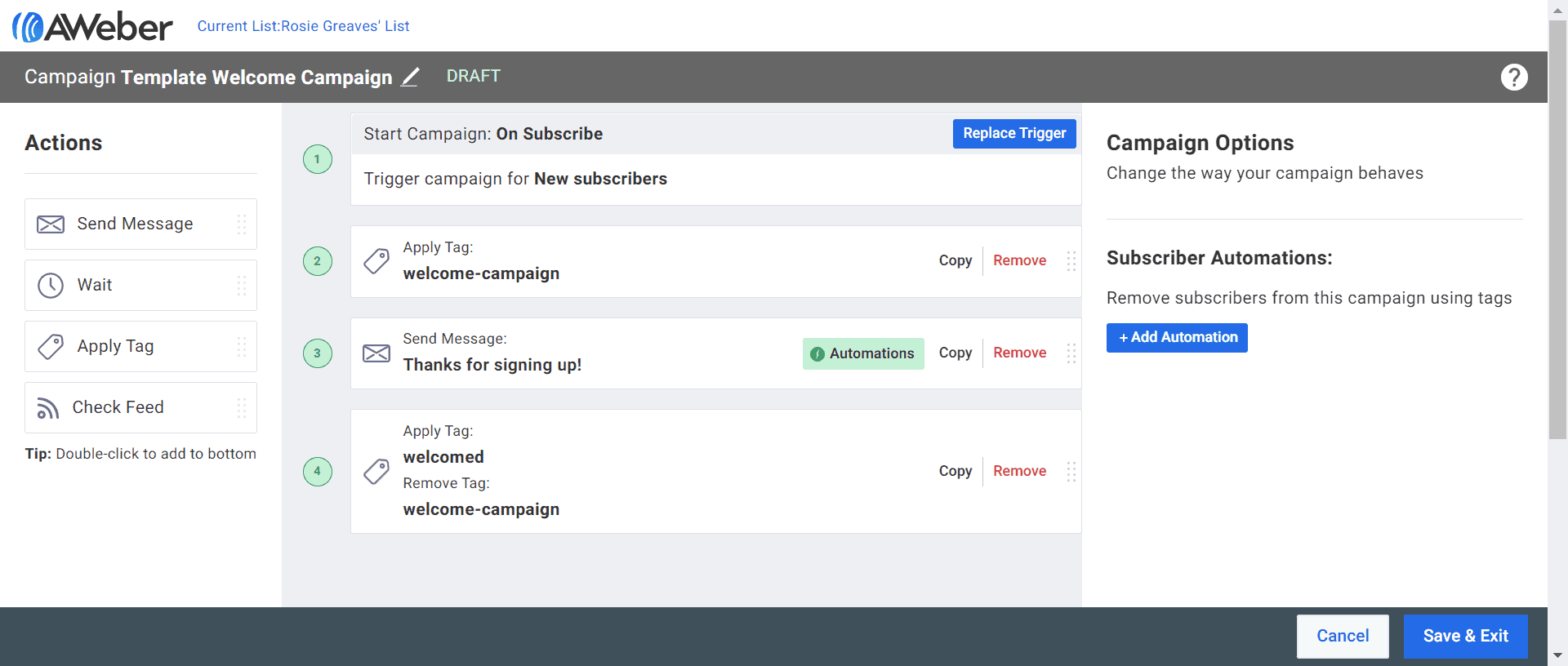 MailChimp's marketing automation is more complex, allowing for more fine-tuned sales funnels. It will enable you to create sophisticated customer journeys with messages triggered on an "if" and "or else" basis. This is a vast improvement on AWeber's autoresponders because it allows marketers to cater to different customer behaviors within one workflow.
Again, it's worth noting that MailChimp's full customer journey feature is only available on its most expensive plan, which is significantly more costly than Aweber's premium plan.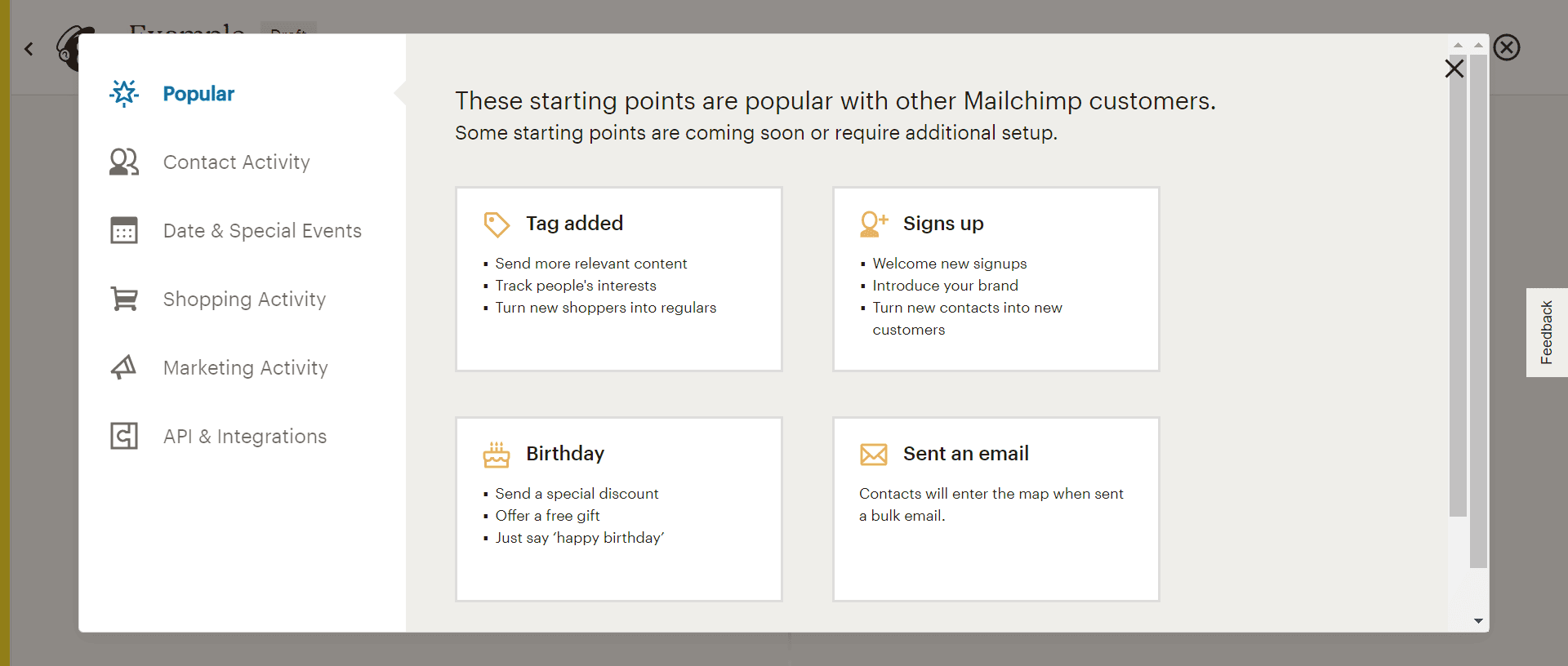 AWeber vs. Mailchimp: Analytics
Email analytics allow you to see whether campaigns are attracting attention or going ignored. Mailchimp and AWeber provide insights into your click, open, and bounce rates. On its premium plan, AWeber offers message, audience, and account analytics, as well as web page and email sales tracking.
Where AWeber's reporting is concerned, its reports come with handy charts showcasing each metric. In addition, AWeber also offers A/B split testing functionality to assist you with optimizing your campaigns.
Overall, AWeber's reports are easy to read and intuitive, but the data isn't anything innovative. You'll find all your basics covered, but nothing far beyond that.
Mailchimp also consolidates email analytics into real-time reports. This includes easy-to-read click maps, which track where readers click once they've opened your emails. On its premium plan, Mailchimp also provides a content optimizer that reveals which email elements haven't been fully optimized. For example, it can:
Point out overly wordy paragraphs

Assess how well text and visuals are balanced

Check your typography's readability

Ensure you have the right links and CTAs
…and more.
Aside from offering A/B testing, you can also compare your email performance to rivals in your industry. I.e., you can review how your unsubscribe, click and open rates compare to others and benchmark your reports. Additionally, comparative reporting on the pro and premium plans allows you to compare data from your campaigns to see which strategies further engagement.
Overall, where analytics and reporting are concerned, Mailchimp is slightly more sophisticated. Not only does it provide statistics but also helpful tools to act on these insights.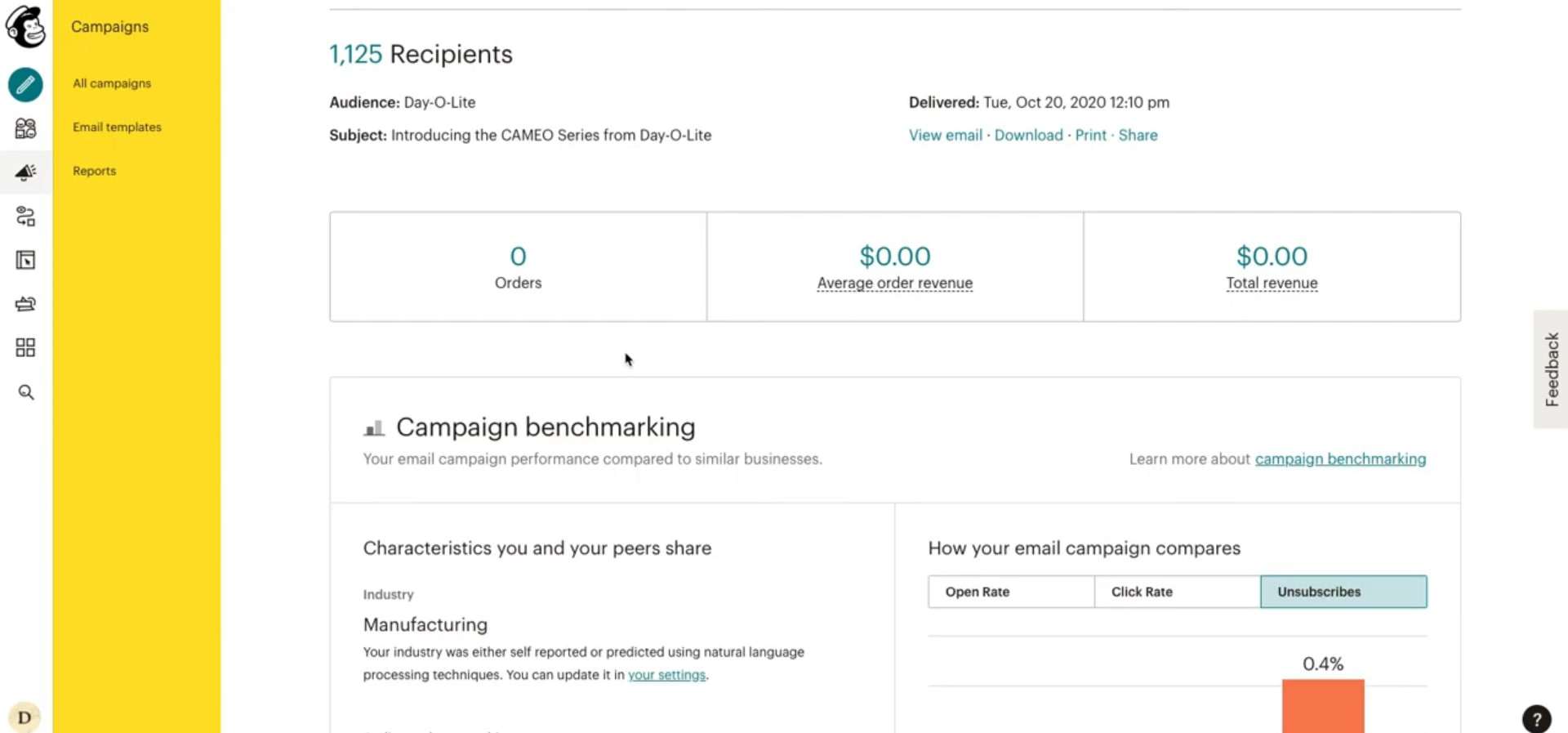 AWeber vs. Mailchimp: Integrations
AWeber offers 300+ app integrations, whereas Mailchimp offers a similarly impressive 200+ integrations. Both include integrations for eCommerce services, landing page builders, social media platforms, CRMs, and more.
Noteworthy examples on both lists include:
Shopify

WordPress

Quickbooks

PayPal

Stripe

Typeform

Patreon
However, Mailchimp integrates with a few more popular design tools than AWeber, including Adobe Photoshop and Canva.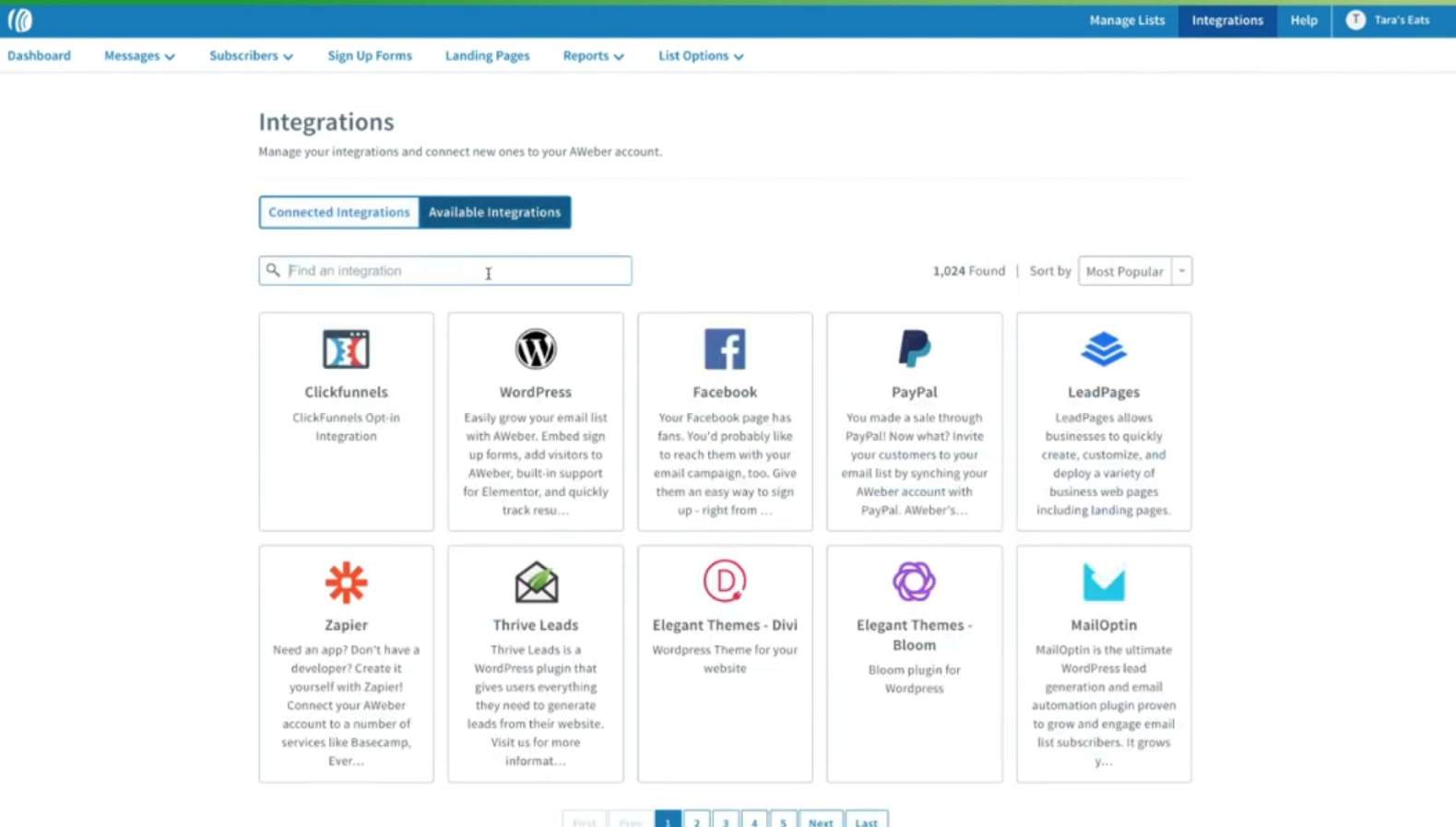 AWeber vs. Mailchimp: Pricing
Now that I've covered the crux of what these two platforms have to offer, let's examine how much these two tools will set you back:
AWeber's Pricing
AWeber's pricing is based on the size of your subscriber list and comes with four different plans. You can opt to pay monthly or annually. The latter comes with extra savings.
First, AWeber's free-forever plan is limited to 500 subscribers. In contrast, you can use the other two premium plans with any subscriber count.
The free plan comes with the following:
One email list

3,000 email sends per month

One landing page

One email automation

Basic email support

Basic email templates

You can sell products and services with Aweber eCommerce at 1% transaction fees

Basic sign-up forms (no split-testing)
To access more advanced features, there's the Lite plan for $12.50 per month (based on 500 subscribers, when billed annually). This comes with the following:
Three landing pages

Three email automations

24/7 support

Advanced message analytics

You can buy and connect domains

Sign-up form split testing

You can create one custom segment
The Plus plan costs $20 per month (for 500 subscribers when you pay annually) and unlocks:
Unlimited email lists

Unlimited landing pages

Unlimited email automations

Unlimited custom segments

Priority 24/7 support

Access to the full template library

Advanced reporting and analytics (including audience and account metrics, email sales tracking, and web page tracking)

Sales tracking

AWeber's branding is removed from your emails

0.6% transaction fees when you make a sale
Finally, there's an unlimited plan, but to learn about its pricing, you have to contact AWeber directly. This plan is intended for users with over 50,000 subscribers and offers a fixed price for unlimited subscribers.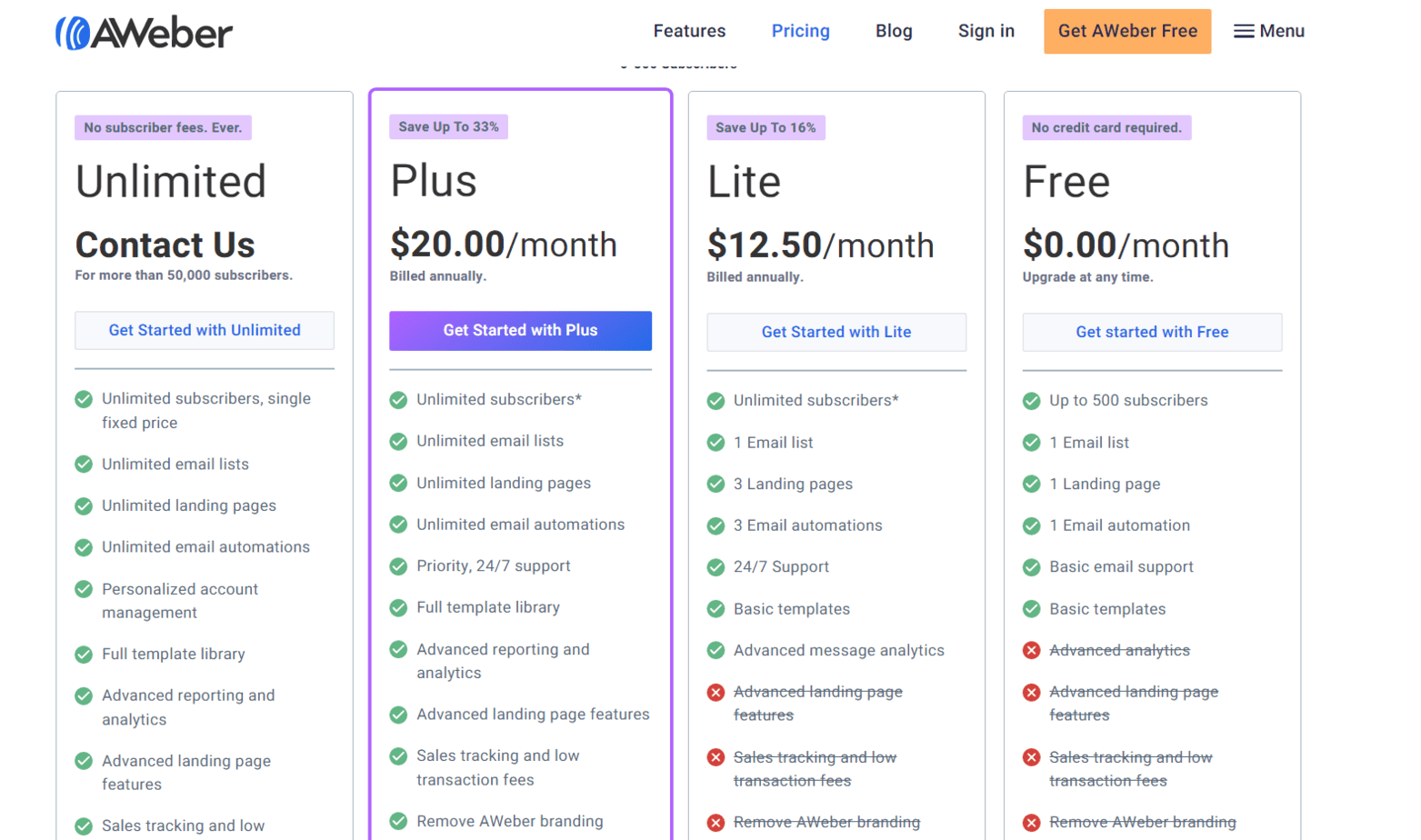 Mailchimp Pricing
Mailchimp offers a free plan for 500 contacts, and 2,500 monthly email sends. You can sign up one user and receive email support for the first 30 days. In addition, the free plan includes forms, landing pages, all integrations, pre-built email templates, and basic reporting.
After that, three further premium plans are available. These become more expensive if you want to increase your contact list.
Below I've quoted pricing for 500 subscribers:
The Essentials plan starts at $11 per month and comes with the following:
5,000 monthly email sends

50,000 contacts

Three users

24/7 email and chat support

Custom user permissions for up to two user roles

The removal of Mailchimp's branding

A/B testing

Emails scheduling

Automated customer journeys
The Standard plan is Mailchimp's recommendation. You can test this plan free for a month, then pricing starts at $17 after that. The standard plan comes with the following:
6,000 monthly email sends

100,000 contacts

Five users

Four custom access roles

Enhanced automated customer journeys (allowing you to put customers on a journey map from three different starting points (such as different sign-up forms or channels)

Pre-built journeys

Custom-coded templates

Predictive segmentation

The content optimizer

Send-time optimization

Dynamic content
The Premium plan starts at $299 per month and unlocks the following:
Unlimited contacts

150,000 monthly email sends

Unlimited users

Priority and phone support

Five custom access roles

Multivariate testing

Comparative reporting

Advanced segmentation

Access to a dedicated onboarding specialist
Mailchimp also offers a pay-as-you-go plan, which allows you to purchase email credits. Each email sent to an individual contact costs one such credit. Credits expire after 12 months. This is a good option if you send infrequent campaigns.
You can buy credits in blocks. These start from 5,000 credits and go up to 25,000,000. These credits operate separately from Mailchimp's plans but come with the same features as the Essentials plan. The lowest bundle (5,000 credits) is charged at $150, which works out to $0.03 per email.

Aweber vs. Mailchimp: Customer Support
AWeber offers 24/7 customer support via phone, live chat, and email, no matter your pricing plan! Its support is, in fact, award-winning, dating all the way back to 2015. The platform has won more than 15 awards for its support overall. Aside from making it easy to connect with the team, AWeber also offers extensive online support documentation, including video tutorials.
Mailchimp, on the other hand, only offers phone support on its expensive Premium plan. On cheaper plans, you get live chat and email support. Their phone lines are open from 9 am to 5 pm, Monday to Friday, whereas live chat and email are available 24/7. Mailchimp also has an extensive knowledge base with valuable guides. Another neat support feature is that you get popup tips and suggestions while navigating the email editor.
Aweber vs Mailchimp: Pros and Cons
Before we wrap up, here are Aweber and Mailchimp's most noteworthy advantages and disadvantages.
Aweber Pros
Flexible and quite affordable pricing plans.

Every paid plan comes with unlimited email sends

You get access to 24/7 phone, live chat, and email support on all plans

Over 600 email templates are available

AWeber enables you to create and send web push notifications
Aweber Cons
AWeber's marketing automation, segmentation, and analytics features aren't very sophisticated.

Subscribed and unsubscribed contacts count as billable contacts, so you have to delete unsubscribed contacts from your lists, so they don't count toward your limit.

Sales tracking is possible, but you can only track the specific URL your email link led to

.

This is a little cumbersome compared to more powerful automation tools.
Mailchimp Pros
Cheaper plans, as well as pay-as-you-go options, are available for those with more straightforward, more infrequent email marketing needs.

Mailchimp has neat data-related tools like a content optimizer, click maps, and competitor analysis.

Self-help popups in Mailchimp's email editor helpfully guide you through some of MailChimp's features.

Mailchimp comes with more advanced marketing automation and segmentation. However, this is only available on its Premium plan.
Mailchimp Cons
The free plan is more limiting than AWeber's. For example, your support is cut off after one month, and you get fewer monthly email sends

.

Monthly email sends are limited on every plan.

Some of Mailchimp's more advanced features come with a very high price tag, like advanced segmentation, premium support, the content optimizer, and unlimited users.

You can't create web push notifications.

FAQs
Question: I have many contacts, but I don't send emails too frequently – is there a better tool available?
Answer: If you want to keep a long contact list, you could check out Sendinblue. Sendinblue allows you unlimited contacts and imposes no daily sending limit. On its cheapest plan, you can send up to 20,000 emails per month for $25.
Question: Does Mailchimp offer other services besides email marketing?
Answer: Mailchimp allows you to purchase a domain and manage your social media posts from your central dashboard. You can also run Facebook and Instagram ads all from within Mailchimp!
Question: How good is Mailchimp and AWeber's deliverability?
Answer: Mailchimp has a deliverability rate of 73.53%. In comparison, AWeber's deliverability rate is 78.68%.
Aweber vs. Mailchimp: My Final Verdict
All in all, I think AWeber and Mailchimp are decent email marketing solutions for small businesses and solopreneurs. They cover all your basic email marketing needs, from landing page creation to email automation. Out of the two, I think Mailchimp offers more advanced functionality overall. However, its free plan is a little more restrictive than AWeber's, and you'll have to pay a very steep premium to unlock advanced features.
If unlimited email sends and good customer support are your priorities, I recommend AWeber above Mailchimp. AWeber is slightly easier to use overall and comes with 24/7 support on all premium plans and unlimited email sends.
However, I stand by the observation that, overall, neither tool offers ground-breaking automation, segmentation, or reporting. So, suppose you have more complex email marketing needs and want to fine-tune your strategy. In that case, I recommend checking out other, more advanced alternatives like ActiveCampaign or Klaviyo.
That's all, folks; let me know your thoughts on AWeber and Mailchimp in the comments box below!