Last Updated on September 1, 2023 by Ewen Finser
If you are wondering if Later is legit, you are in the right place!
If you are a social media manager or an entrepreneur looking for a reliable social media tool to employ in your content marketing strategy, you may have heard of Later, a popular social media scheduling tool.
In this review, I'll dive into the features, usability, pricing, and overall performance of Later to help you determine if it is the best tool for your needs.
What is Later?
Later is a versatile social media scheduling and management platform that allows users to plan and schedule social media posts across multiple platforms including Instagram, Facebook, Twitter, and Pinterest. It was initially developed for Instagram but has since expanded its functionality to cater to other social media platforms.
How Does Later Work?
Later offers an intuitive drag-and-drop interface that makes scheduling social media posts a breeze.
Users can plan their posts by simply dragging images or videos from their media library and dropping them onto the calendar on the desired date.
The media library allows users to upload content directly from their computer or sync with cloud storage services like Dropbox or Google Drive. Once the media is in the library, users can start crafting their posts.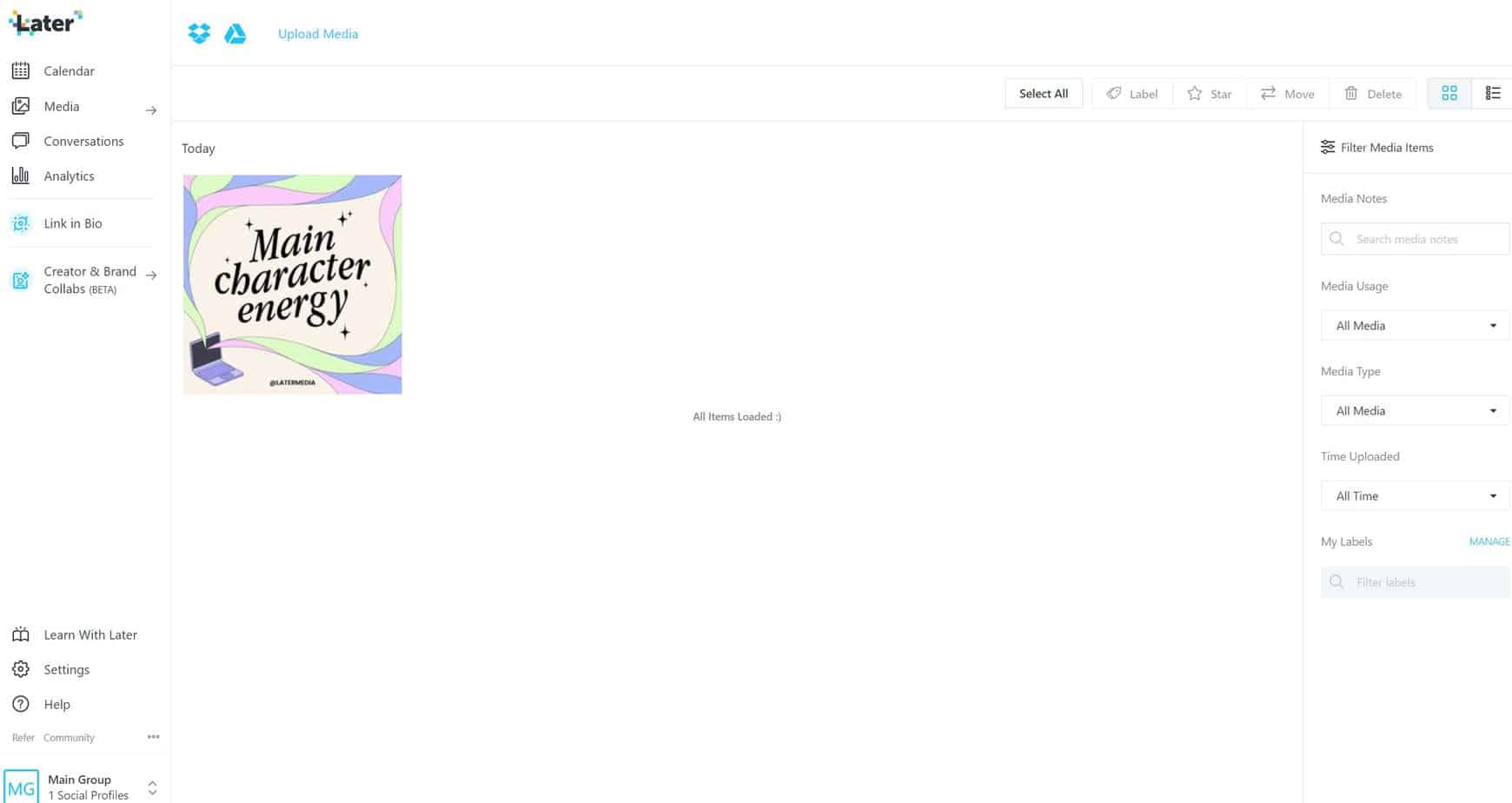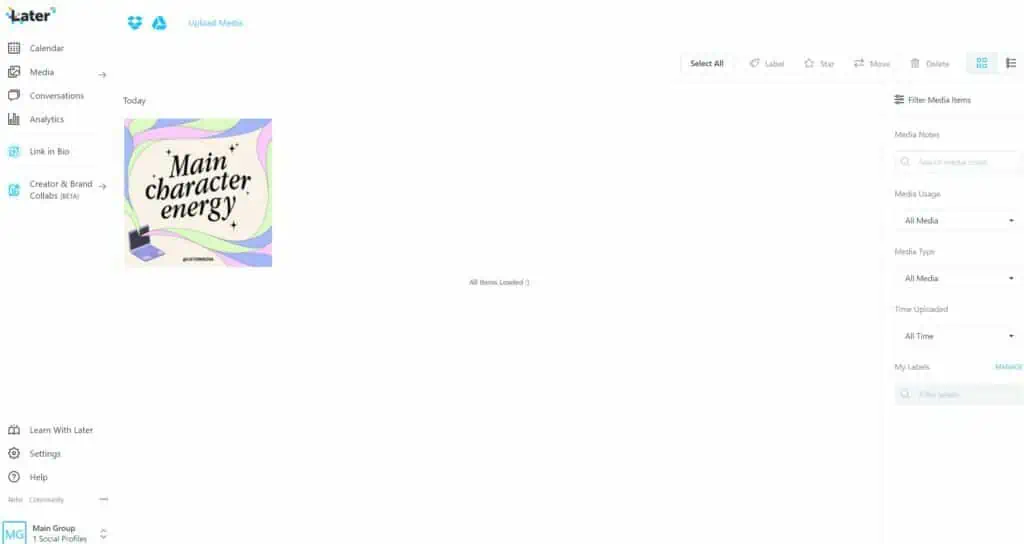 Creating a Post
Creating a post is as simple as selecting an image from the media library and dropping it onto the calendar. Once the image is in place, users can start crafting their post using the 'Create Post' option.
Later also offers a hashtag suggestion tool to help users maximize their post reach. After typing in a single hashtag, the tool provides a list of related hashtags sorted by relevance.
After crafting the post and selecting the desired hashtags, users can set the time for the post to go live. The scheduled posts are then displayed on the calendar, giving users a visual overview of their social media plan.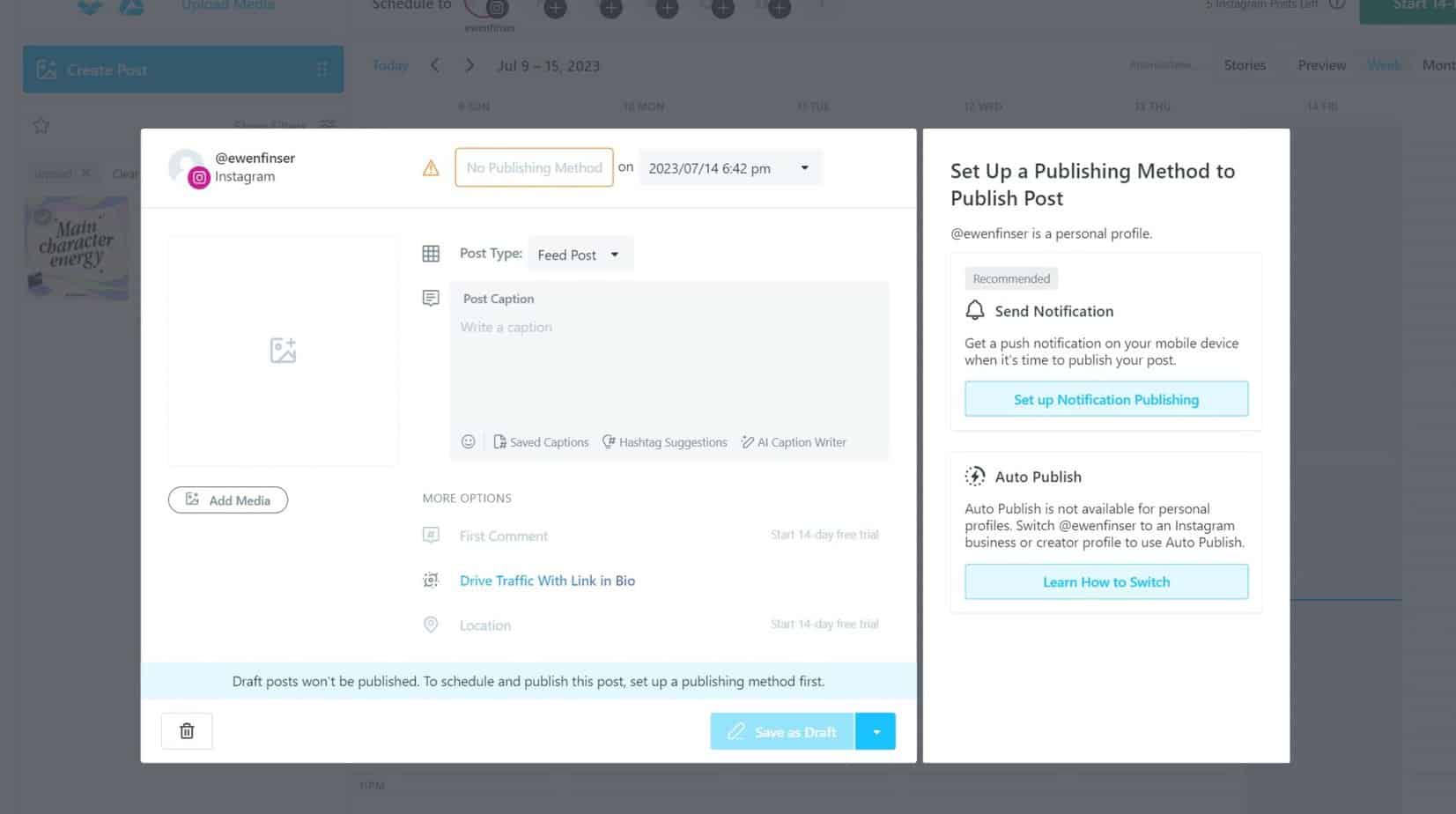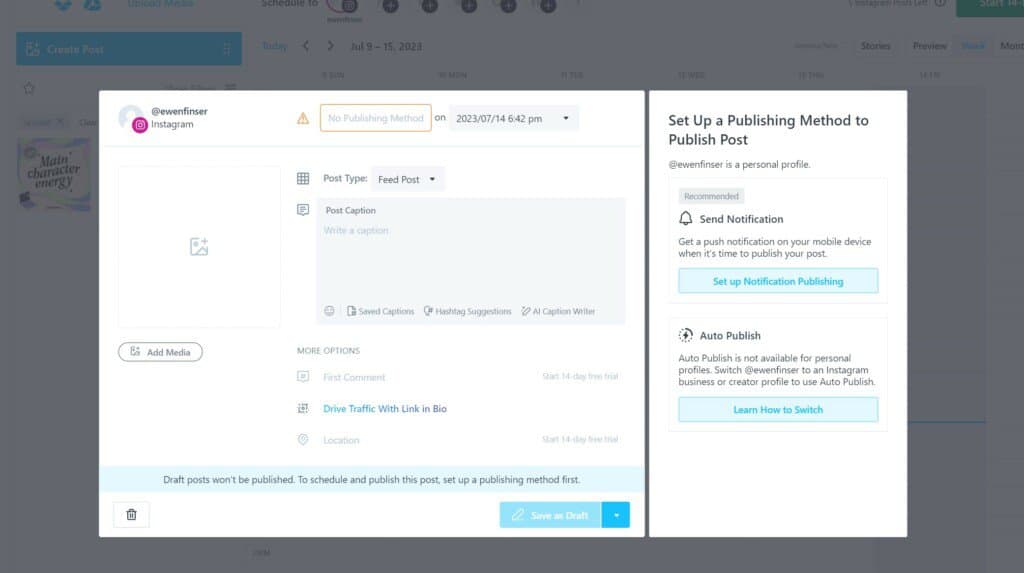 Key Features of Later
Later is packed with features designed to simplify social media scheduling and boost the effectiveness of your social media strategy. Here are some of the noteworthy features: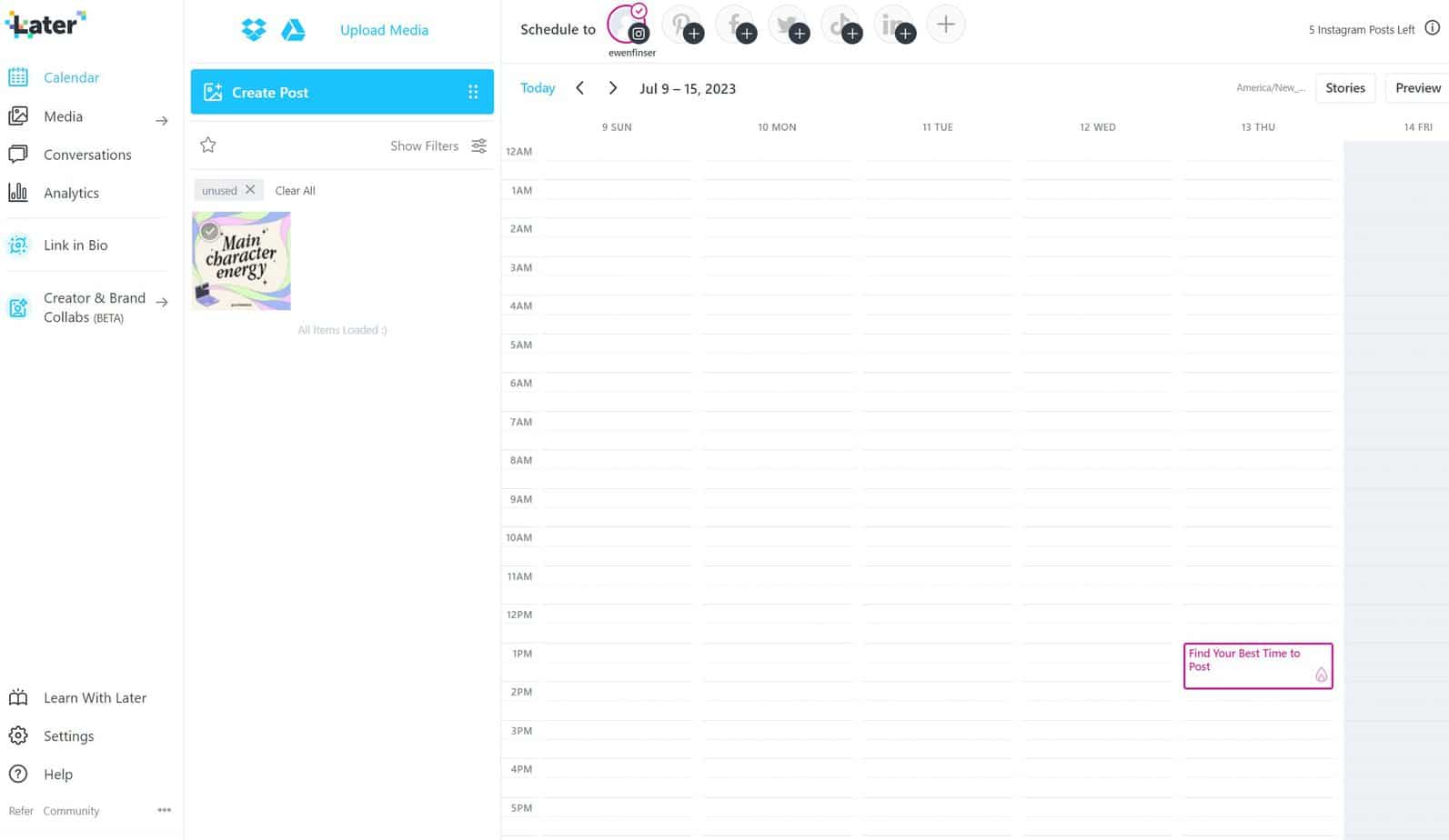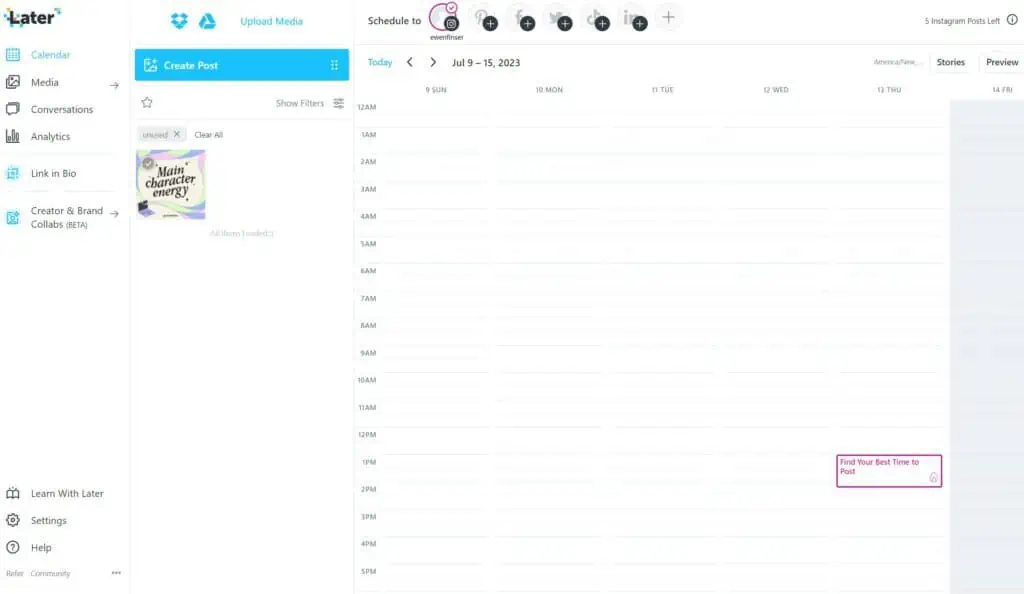 Drag-and-Drop Post Scheduling
This feature allows you to easily plan your social media posts by dragging and dropping images or videos onto the calendar.
Visual Content Calendar
The visual content calendar gives you an overview of your scheduled posts, making it easy to plan your content in advance.
Media Library
This feature allows you to store and categorize images and videos for future posting. You can sort images by platform, brand, campaign, or account.
Detailed Analytics
Later provides detailed analytics of your social media performance, giving insights into your account growth, audience engagement, post performance, and hashtag performance.
Conversations
This feature, available only for Instagram, allows you to review and reply to comments, helping you engage with your audience.
Collect Media
Later's Collect Media feature allows you to save and share content from other Instagram users (with their permission), making it easy to incorporate user-generated content into your social media strategy.
Linkin.bio
Later's Linkin.bio feature allows you to create a custom landing page with clickable images that can lead your Instagram followers to specific URLs.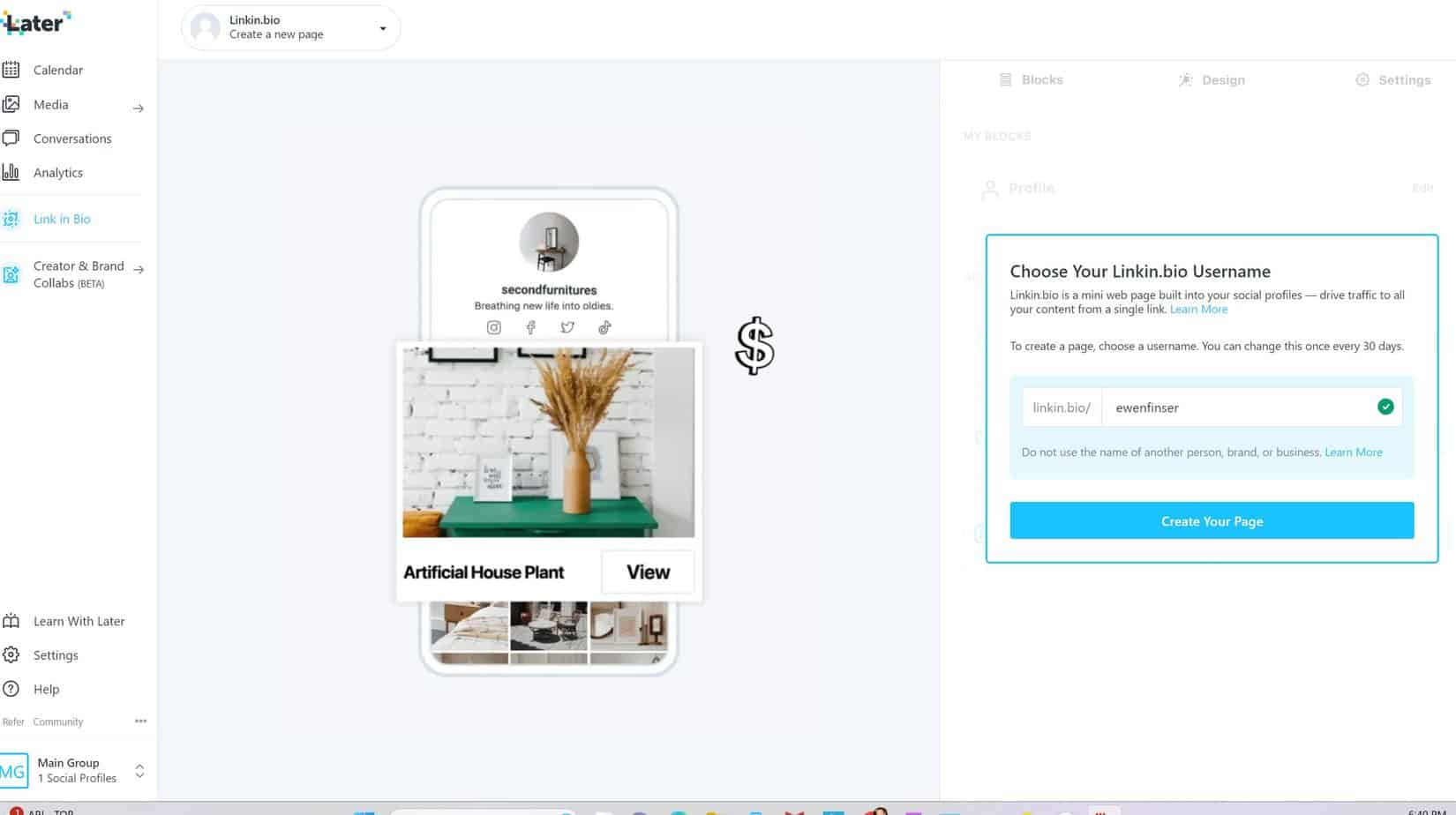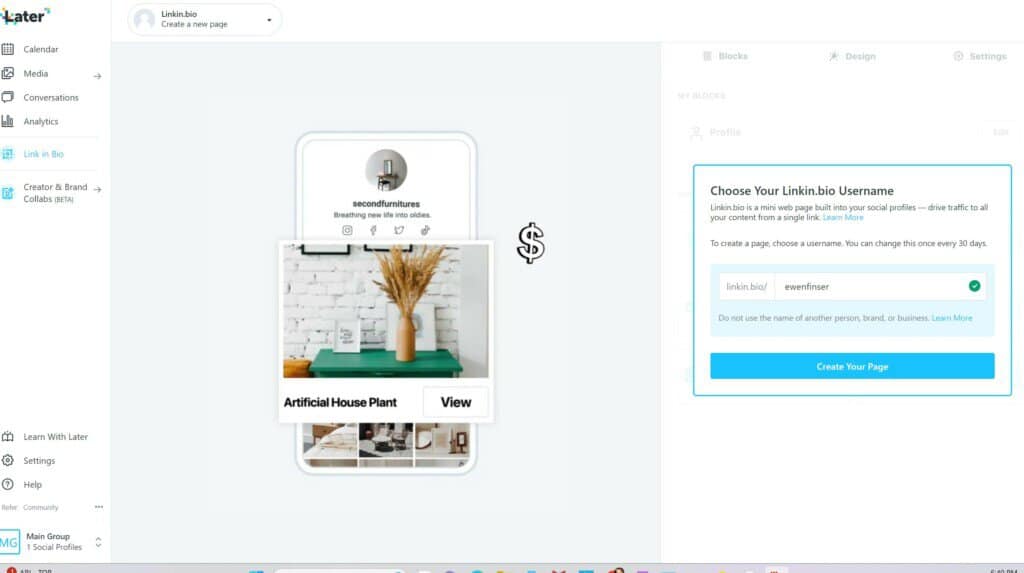 What Social Media Platforms Does Later Support?
This was a critical factor for me because we have specific distribution strategies for different brands. It doesn't make sense to have multiple management platforms for one brand, in most cases.
With that said, here are the support Later platforms:
| Social Media Platform | Types of Posts |
| --- | --- |
| Facebook | Photos, Status Updates, Links, Videos, Live Videos, Stories |
| Instagram | Photos, Videos, Carousel/Album Posts, Stories, IGTV |
| Twitter | Tweets, Replies, Retweets, Media Tweets, Quote Tweets |
| LinkedIn | Status Updates, Photos, Links, Videos (Business, not Personal Accts), Articles, Job Postings |
| Pinterest | Pins, Idea Pins, Video Pins |
| TikTok | Videos, Duet, Stitch |
What Platforms Does Later NOT Support?
There's some notable omissions from the above list, so here are the top "missing" integrations:
Threads (as of this writing, but I expect this to change in 2023 assuming Threads growth holds)
YouTube (including YouTube Shorts)
Snapchat
Mastodon
WordPress
Tumblr
RSS Feeds
Analytics for LinkedIn
Twitch
Vimeo
Google SSO
What stood out to me here was the lack of video support (in general), so if YouTube, Snapchat, Twitch or Vimeo is part of your distribution stack, you may want to consider a different platform. Or, at least bake this into your analysis and know the limitations.
The Pros and Cons of Using Later
As with any tool, Later comes with its own set of advantages and disadvantages. Here are some things to consider:
Pros
Supports cross-posting on different social media channels.

Provides a feed preview feature for Instagram.

Offers a free plan that allows you to schedule up to 30 posts each month.

Easy to use, making it suitable for beginners.

Provides detailed analytics to help you track your social media performance.
Cons
The app does not support auto-posting for Instagram Stories and TikTok videos. Instead, it sets reminders for these posts.

The free plan comes with limited analytics.
Later Pricing
Later offers a free plan that allows you to schedule up to 30 posts per month on a single social media profile.
For more advanced features and the ability to manage multiple profiles, Later offers paid plans ranging from $7.50 to $41.00 per month.
Later Social Media Scheduling Alternatives
Later certainly isn't the first social media management app to hit the market. I'm betting it won't be the last. Here are some of the top competitors to Later than I personally use, considered, and have implemented at various times for our brands:
SocialBee [My Personal Budget Pick]: This tool offers features for post scheduling, content categorization, and evergreen recycling. SocialBee also provides social media analytics, audience analysis, and competitor research tools. It offers the most features for the best pricing. This is the platform we use for managing our starter brands in masse. Full SocialBee Review & Guide.
MissingLettr [Best for Solopreneurs]: Known for its automated social campaigns, MissingLettr can take your blog post and create a year's worth of social media updates, spreading out the shares to drive traffic to your blog. It also provides analytics and allows for hashtag and quote extraction. Full Missinglettr Review.
Social Pilot [My Personal Favorite for Large Teams]: This tool offers features for scheduling, monitoring, and analyzing social media performance. Additionally, it provides a CRM feature for better customer engagement.
Sendible [My Personal Favorite for Social Listening]: Sendible integrates with a wide range of social media platforms and provides a single dashboard for managing all your accounts. It offers features for scheduling posts, monitoring social media conversations, and measuring performance.
Tailwind [My Personal Favorite for Pinterest Growth]: If Pinterest and Instagram are key to your social media strategy, Tailwind could be a good choice. It offers features specific to these platforms, such as bulk image upload, hashtag suggestions, and a smart schedule that recommends the best times to post.
Sprout Social [My Top Pick for Agencies Managing Other Clients Accounts]: This tool offers features for scheduling, monitoring, and analyzing social media performance. Additionally, it provides a CRM feature for better customer engagement.
Hootsuite: A popular choice, Hootssite offers a wide range of features for scheduling posts, monitoring social media activity, and analyzing performance across multiple social media platforms.
Buffer: Known for its user-friendly interface, Buffer allows you to plan and schedule your social media posts. It also provides analytics to track your performance.
Agorapulse: Agorapulse offers a wide variety of features such as scheduling and publishing posts, social listening, and reporting. It also includes a CRM tool for managing your social media contacts.
CoSchedule: Best known for its content marketing features, CoSchedule also offers social media management tools. You can schedule posts, monitor social media activity, and analyze performance.
Zoho Social: Part of the Zoho suite of business tools, Zoho Social provides features for scheduling posts, monitoring keywords, and analyzing performance. It also integrates with other Zoho tools.
Post Planner: This tool focuses on helping you plan and schedule your social media posts. It also provides a content recommendation feature to help you find high-quality content to share. Full Post Planner Review.
Is Later Worth It?
Based on my review, Later is definitely a top tier social media tool.
Whether you're a solo entrepreneur or a social media manager handling multiple accounts (Instagram, Pinterest, Facebook, Twitter, LinkedIn, TikTok), Later can be a valuable tool in your content marketing arsenal.
However, like any tool, its effectiveness largely depends on your specific needs and how well you leverage its features. The big gap here might be for video creators.
For example, we like to repurpose our YouTube videos in YouTube Shorts and TikToks. With Later, we can effectively plan our TikTok strategy but without YouTube Shorts support it's a bit less effective from a time saving perspective.
If you're unsure whether Later is the right tool for you, we recommend taking advantage of the free plan to test it out before committing to a paid plan.
Later Review: Final Thoughts
I really enjoyed using Later. Later is a powerful social media scheduling tool that can help you save time, stay organized, and boost your social media performance.
While it comes with a few drawbacks including some real limitations around video distribution, its range of features and user-friendly interface make it one of the top options in the market I've tested for the primary core social media platforms.
Specifically, Later seems very well optimized for Instagram and Facebook. This makes sense because it originally started as an Instagram scheduler & management tool.
If you're interested in trying out Later, you can sign up for a free plan here.
Do you have any experience with Later or other social media scheduling tools? Let us know in the comments!