Last Updated on June 21, 2023 by Ewen Finser
In our post, we will provide you with an in-depth Post Planner review to help you assess for yourself whether this social media software meets your needs.
If you're an entrepreneur, there's a good chance you'll need a social media app that's easy to use, comes with a smooth learning curve, and boasts a variety of useful features.
Ideally, this kind of tool should be so intuitive that virtually anyone can pick it up and use it.
But, as you may already know, this isn't always the case with digital marketing software. Unfortunately, more often than not, these sorts of programs are needlessly complicated.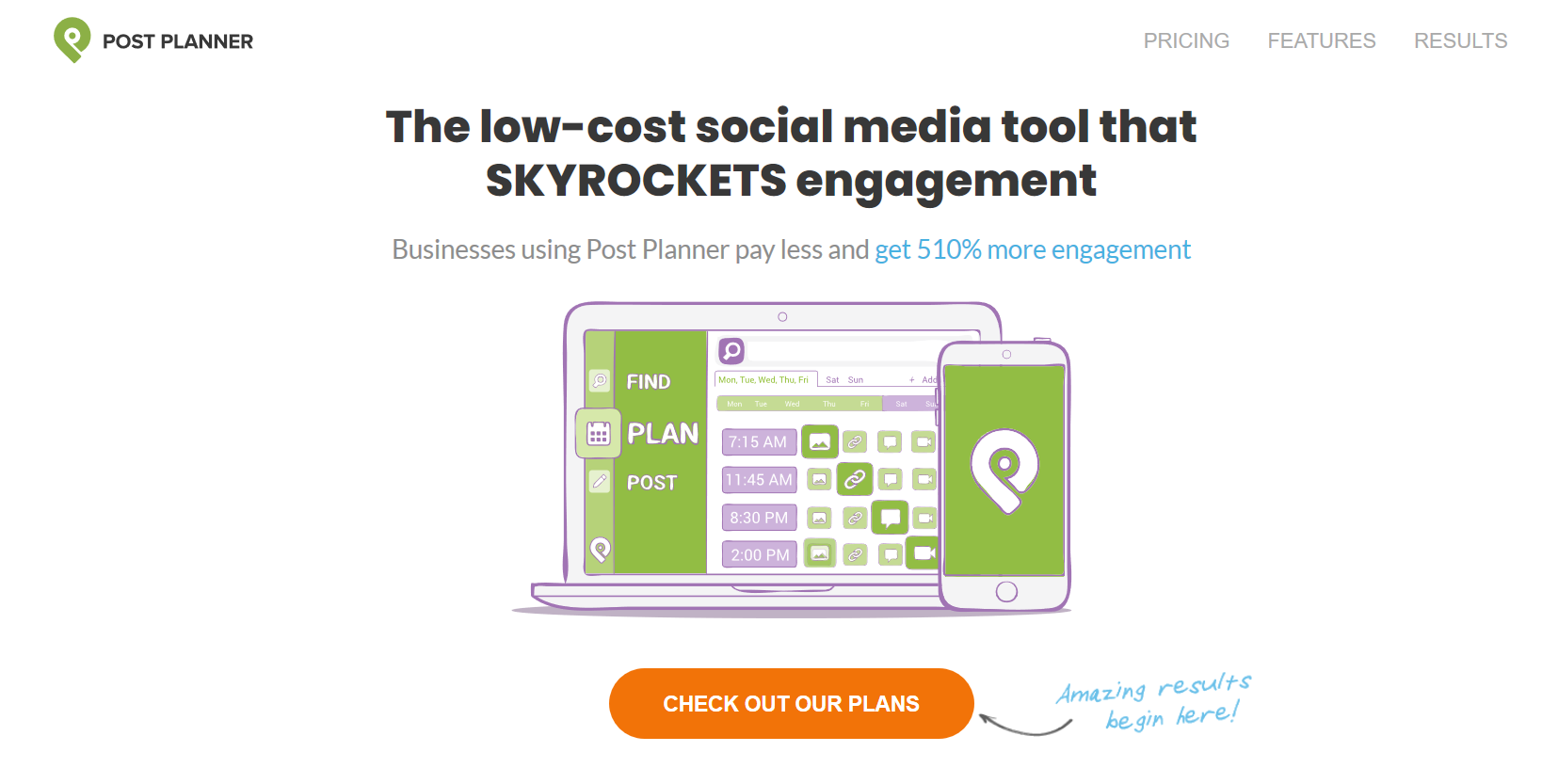 This is where 'Post Planner' comes to the rescue.
Post Planner is a fabulous app explicitly designed to help small business owners manage their social media tasks. It boasts an intuitive interface that allows entrepreneurs and content managers alike to source (content curation), schedule, and publish engaging content on their social media pages.
Let's dive in!
Post Planner Review: Who's Post Planner?
As we've just said, Post Planner is a fabulous social media marketing solution. It's a platform 'created by social media marketers for social media marketers.'
Post Planner makes it easy for entrepreneurs to manage their social media marketing campaigns (especially on Facebook and Twitter). Their combination of easy-to-use tools and invaluable insights allows even the greenest among us to start using social media to cultivate predictable, measurable, and profitable results. Post Planner provides users with a whole host of features for boosting engagement on social media and extending your reach (all within a relatively quick time frame).
Let's take a look at some of Post Planner's most impressive features…
The Post Planner: It can be challenging to feed your social media channels with constant streams of content. But, Post Planner helps you automate this process. You'll get access to a social media publishing calendar that's tailored flawlessly to suit your needs. This tool pairs the perfect content to publish at the best time(s) for the highest possible engagement with your audience.
You just pick the video(s), photo(s), status updates, and/or links you want to publish. Then, schedule them to publish at the optimum time slot for maximum engagement (don't worry, Post Planner calculates this for you).
You can quickly see how this process automates your posts to provide followers with a variety of content. That way, your audience will never get bored with what you have to say. Simple, right?
Not to mention, Post Planner also optimizes your posts for both Facebook and/or Twitter. This helps to ensure everything is in order for making the most impact on your chosen social media channel. You can achieve all this with just a single click — how awesome is that?!
You can also schedule the time your content goes live on your social media feeds. Users report that within as little as two hours, you could plan and automate a whole month's worth of social media content!
We mentioned briefly that you can post both links and images, so I want to circle back to that for just for a sec. You can also opt to 'post a link as an image.' For those of you who don't know, people on Facebook respond far better to images than direct links on Facebook. So, it goes without saying, the 'post link as an image' feature will come in handy.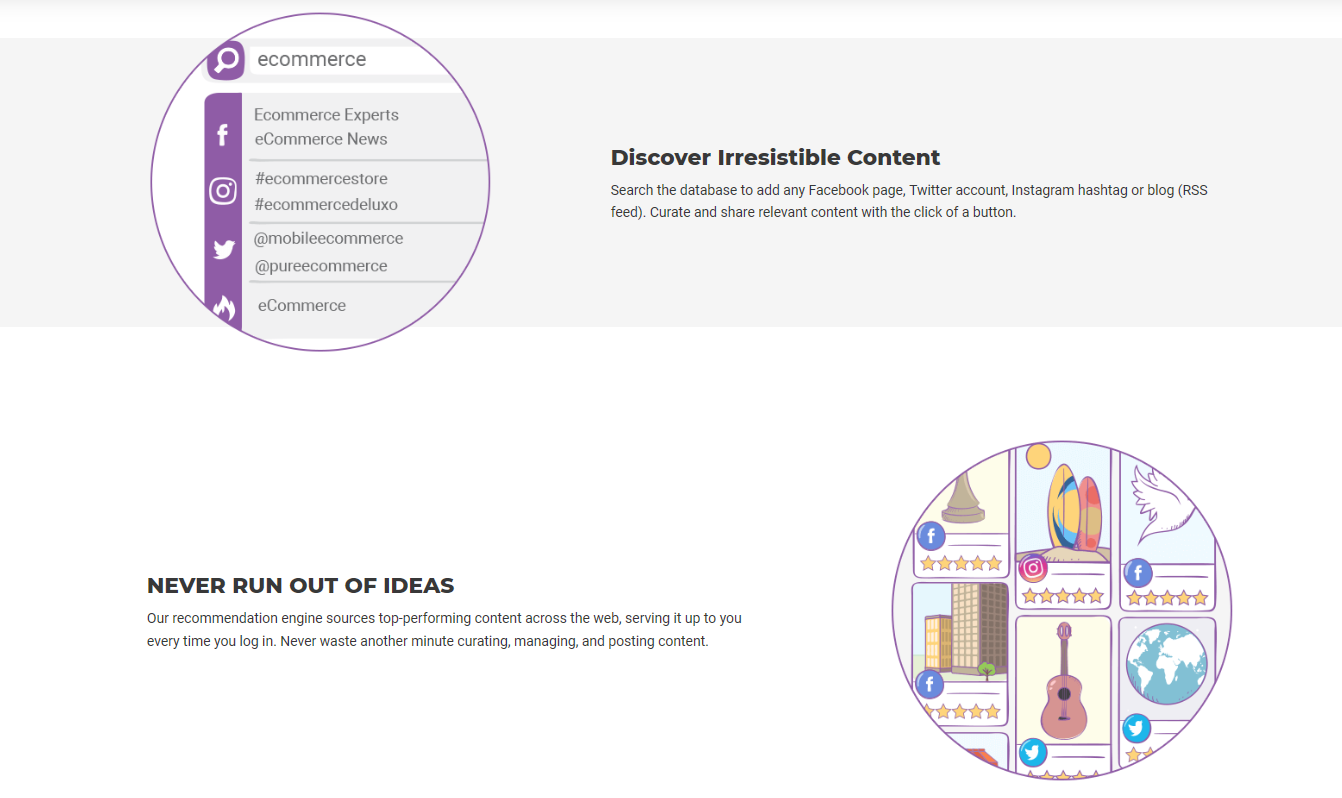 Find Top-Performing Content
You can search Post Planner's database to find the top-performing content for virtually any keyword. You can then publish this content directly to your business's Facebook, Twitter, or blog (RSS feed). The same goes for Instagram hashtags. This allows you to curate and share posts relevant to your audience with just a click of the button. Post Planner rates all the content on its database, so you know you're always publishing high-converting stuff.
The Status Idea Engine
In addition to finding high-performing content, you can also use the status idea engine to inspire your own status updates. This works wonders for publishing quick status updates when you're stuck for fresh ideas! They provide a seemingly endless list of questions and status topics for you to edit and publish.
Targeting
This is one of Post Planner's more sophisticated features. You can set a target audience for the posts you've scheduled. This work wonders for ensuring your content reaches your 'ideal customers.'
Post to The List
If you're an administrator for lots of Facebook pages and groups, you might want to share the same or similar content to all of them. This is where Post Planner's 'post to the list' feature comes into its own. Simply create different lists and then share (or queue) the same content on all of them. Easy, right?
Time Zone Updates
The most complicated thing about social media strategy is the time-zone difference of your audience. This is especially true if you boast an international customer base. For instance, if you're a UK entrepreneur wanting to publish a "Good Morning" post on Facebook and Twitter, you might post an image containing an inspirational message at 7 am GMT. But, for countries other than the UK, like the Sates, the time difference is monumental!
Needless to say, this poses a challenge for meeting the needs of each and every one of your audience.
But, with PostPlanner's auto time-zone conversion tool, when you schedule a post to go live at 7 am, it will appear at 7 am for each member of your audience. It doesn't matter what time zone they're residing in, the post will populate at 7 am wherever they are in the world! Pretty neat, huh?
The Benefits of Using Post Planner
One of the best things about Post Planner is that it provides you with all the info you need to find high-performing content to publish. They present you with data on all the following:
Social media accounts
Hashtags
Topics
These are all ranked by vitality. That way, you can better predict how much engagement you'll receive on your social media marketing campaigns.
This is just one of the many things Post Planner does to fulfill its promise of boosting social media engagement by 650% more than any other social media tool on the market!
Post Planner integrates seamlessly with both Facebook and Twitter. Unless you've been living under a rock, you'll know that Facebook has for a long time been one of the best channels for driving traffic and boosting brand awareness. Similarly, if you're a blogger wanting to increase their readership, Facebook also comes in handy for connecting and engaging with readers.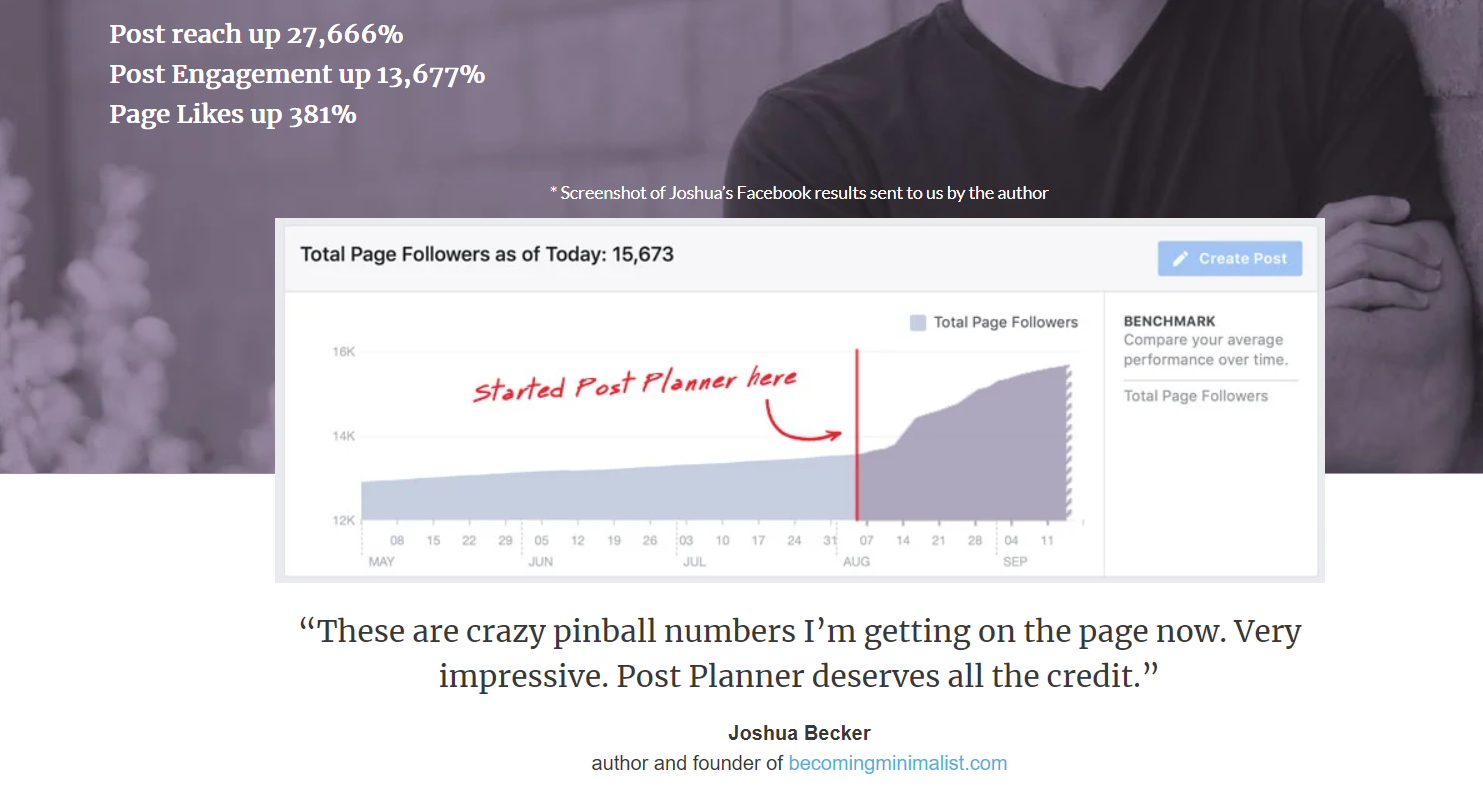 In addition to Facebook and Twitter, you can also handle the RSS automation feed for your blog. Setting up your RSS feed to send posts automatically is pretty straightforward. You just need to select the page or group, add the feed URL, and voila, you're done.
As we've already alluded to, Post Planner offers users an easy-to-use dashboard. It's from here where they can view, edit, schedule, and manage all of their social media posts. We love that the purpose and location of these menus are immediately apparent to the user.
It's also from the dashboard where you can run analytics reports and evaluate your previous posts against a variety of metrics. When you combine this with the fact you can collaborate with other team members here too, you get the feeling Post Planner has all the hallmarks of providing a more streamlined social media management experience.
Let's circle back to Post Planner's analytics reports for a sec. You'll get access to a variety of engagement metrics. Every interaction you have on social media is treated as a data point, so you can use this info to continually refine your marketing strategy.
This works wonders for monitoring the success of your Facebook and Twitter campaigns. This data provides everything you need to decide whether to re-post your content on other social profiles, pause a campaign, adjust your target audience, etc.
In short, Post Planner is a one-stop-shop for entrepreneurs needing to manage their social media content from the convenience of a single platform. Gone are the days where you had to log into each of your social media handles to schedule your posts.
Instead, you can do everything from inside Post Planner. You can utilize the Post Planner app directly through Facebook. You don't need to login to a third-party website, which again is another way Post Planner honors your time.
Post Planner comes with a built-in post scheduling tool. Here you can choose a specific time and date to publish your content. If you have evergreen posts you want to recycle, there's even a recycle feature, which makes it a breeze to revive your best-performing pieces!
Post Planner's Main Drawbacks
Like most other social media marketing software, Post Planner isn't without its drawbacks. From what we can see, the majority of negative reviews come from users wanting to see integrations with other social media channels. For instance, LinkedIn and Instagram — as Post Planner only works with Facebook and Twitter. At the time of writing, you can't connect with any other social media networks other than these two.
Some also say Post Planner's content discovery tool could be better. Often this feature only displays recycled content; this can sometimes make it tough to find fresh (yet engaging) content to share.
More recently, we've seen a few users complain about the quality of Post Planner's customer support and the random cancellation of payment plans. This seems a touch concerning, so we suggest doing your own digging on this!
Other than that, the majority of complaints center on the standard of Post Planner's analytics. For instance, on individual posts, you can't receive in-depth analytics. All you'll get is the number of shares, likes, comments, etc. They don't provide any marketing-related data. Instead, you'll have to rely on Facebook's and Twitter's in-house insights to offer data on user engagement.
There also aren't any aggregate statistics for your posts (weekly, monthly, etc.) available. As such, you'll have to pair your social media marketing efforts with a tool like Google Analytics to get this sort of info.
The Technical Details
You can use Post Planner on Windows, Mac, and other web-based devices. So, there's a good chance you'll have a gadget that's compatible with the Post Planner app.
We also love that Post Planner is a cloud-hosted solution. This means you can access it from anywhere, at any time, as long you have an internet connection, you're good to go!
How Much Will Post Planner Set You Back?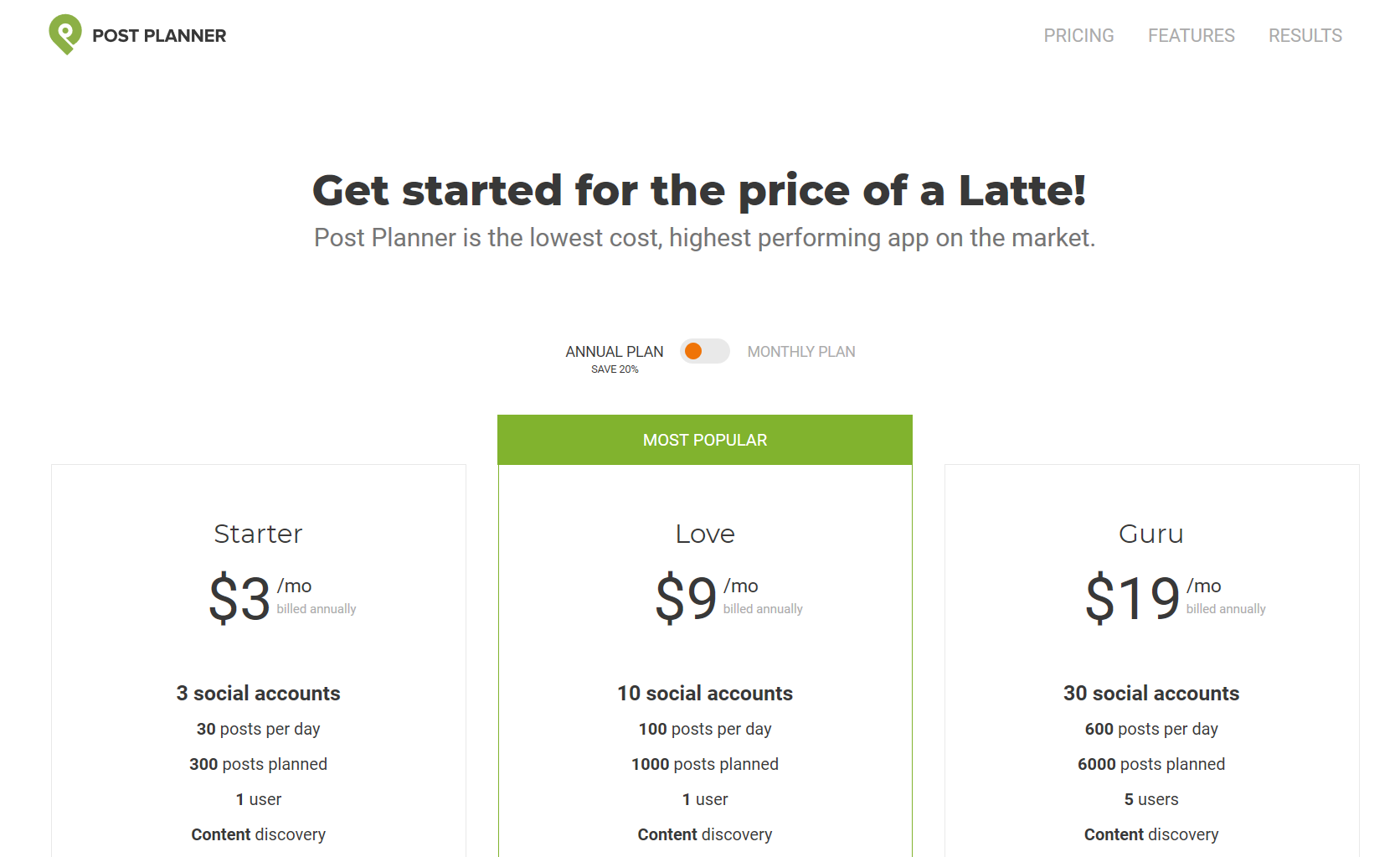 For you, this is probably the most crucial section of this review. Post Planner could be the most powerful social media marketing software on the planet. Still, if it doesn't compliment your budget, then it'll be a no-go.
But, we'll let you into a secret…we think Post Planner's paid-for plans are incredibly reasonable for media marketing.
Let's look at them in a little more detail…
The Starter Package
$3 a month (both on the month-to-month and annual plan)
This is what you'll get for your money:
You can connect and publish on up to three social media accounts
You can publish a maximum of 30 posts per day across all your connected social profiles.
You can schedule 300 posts (this is the number of posts you can have in your queue at any one time)
You can register one user to access, create, and publish posts from your Post Planner account.
The Love Package
$9 a month billed annually or $11 month-to-month. Great for small businesses.
You get the same number of users in the Starter Package, but you can also:
Connect up to ten social media accounts
Publish up to 100 posts a day
Schedule a maximum of 1,000 posts
The Guru Package
$19 a month billed annually or $24 month-to-month.
This is what you'll get:
You can register up to five team members
You can connect a maximum of 25 social media profiles
You can publish up to 500 posts a day and schedule 5,000 posts at any one time.
The Agency Plan
$99 a month billed annually or $125 month-to-month
This is what you'll get with Post Planner's most comprehensive plan:
You can register 12 team members
You can connect up to 100 social media profiles
You can publish 200 posts per day and schedule an unlimited number of posts

Of note, there's no traditional "Free Plan" of record.
Post Planner: How it Works
Okay, so let's take a look at how Post Planner works in a little more detail. Once you're logged into Post Planner's dashboard, you'll want to set a few things up via the 'Settings' tab.
You'll find this towards the bottom of the left sidebar. It's here where you'll find the following settings:
Social Networks
This is where you can connect your Twitter and Facebook profiles with your Post Planner account. You can highlight the handles you want to activate and 'grey-out' those you don't want to connect with.
Side note: This comes in handy if you manage multiple Facebook and Twitter business pages.
Queue Time
You can also set the time for queuing your posts. That way, you don't have to set the time manually when you go to schedule an upcoming post.
Team
If you've opted for one of the higher tier payment packages, you can grant team members access to your Post Planner account. You can do this in the 'team' section by inserting their email addresses (email opt-in).
Once you've done that, you can then specify the posting and editing access you want to grant each team member. So say, for example, you want a specific employee only to have access to individual social media profiles, you can control that.
Sharebar
The Sharebar is a unique Post Planner feature. This empowers content managers to create a share bar you can add at the top of every post you share. This works wonders for boosting brand and post awareness.
Profile
You can edit all your basic 'profile' info here, including things like:
Your full name
Email
Your industry
Your company name
As you can see, this isn't a long process. You'll be able to fill this out within seconds.
Defaults
This is where you can select your:
Your default time zone
The social profile you'll post to by default
Simple, right?
Account
As you've probably gathered, this is where you handle your account settings, like the current payment plan you're on and your upgrade options.
How Do You Find Shareable Content on Post Planner?
Yes, you can create, schedule, and publish your own social media posts…and we recommend that you do so. In fact, Post Planner has a useful integration with Canva, where you can add your own pro-looking graphics to your posts. But, the best feature of Post Planner is its 'Find' feature.
We've mentioned this elsewhere in this review, but we thought you might want us to layout how to use this tool. So here it is…
Okay, so in the left sidebar in your dashboard, this is the first tool you'll find. You can use this to source all sorts of engaging articles and statuses relevant to your niche(s). You can then share this top-notch content on your social media profiles.
The principle is simple. You harness other people's online popularity to make your brand more visible. So, by sharing accessible content, you, in turn, become part of that hype by providing your audience with content they actually want to consume.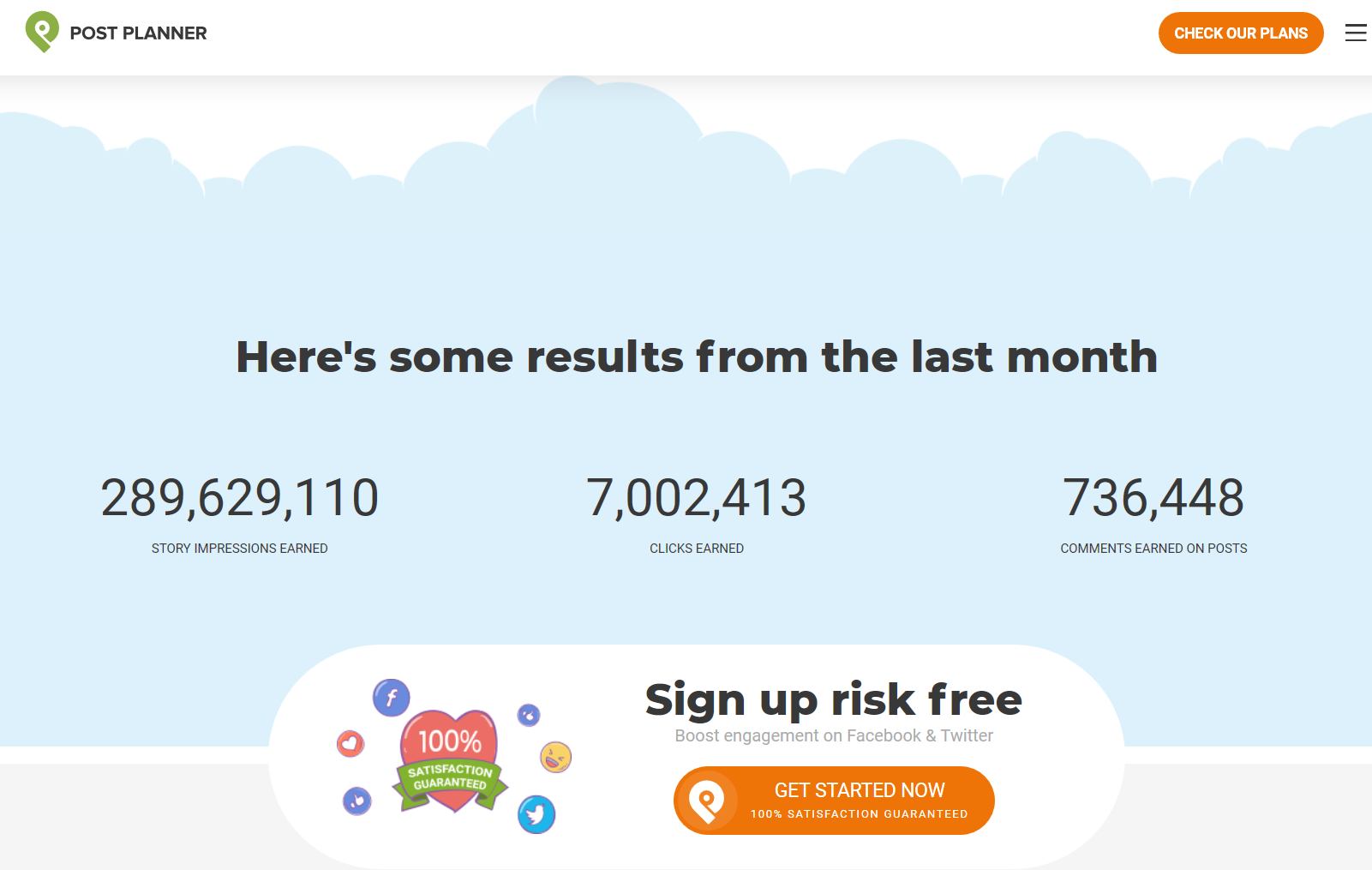 You can filter your search for content and narrow down your options by selecting the most appropriate category. This comes in handy for finding pieces that are more relevant to the needs of your business. Alternatively, you can search by 'Status Ideas' or peruse through your saved content, which you can find under the 'My Content' tab.
Then once you've stumbled across the content you think your audience will enjoy, just hit the "Share" button. You should see this icon appear when you hover over the potential article. You can then add a caption to accompany the content, select the social media profile you want the content published to, and then select "Add to Plan."
It's also worth noting, you can create custom content folders. This is a handy feature that permits you to collect and organize your favorite niche content. What you might not want to share immediately, you can refer back to and share at a later date — handy, right?
How Do You Plan Your Social Media Posts on Post Planner?
Now let's take a look at the second tab located on the left sidebar. This is labeled 'Plan.' From here, you can set up the default posting times for your scheduled posts. You have the option of setting up different posting schedules. It stands to reason, the timing of your social media posts might differ from weekdays and weekends. So, you'll undoubtedly find that this comes in handy!
Not to mention, you can also choose what types of content you publish at particular times. For instance, you might only want to post photos at 7:00 am, articles at 11:30 am and text at 7:30 pm. These scheduling tools are based on the time zone setting we previously mentioned. You can configure this under the 'Settings' section, followed by the 'Defaults' tab.
What is Post Planner?

Post Planner is a web-based social media management software. It enables users to share content and schedule posts on Facebook and Twitter.
Is Post Planner a Good Tool for Social Media Marketers?
Yes, it is with Post Planner, you can stop running around on social media and give yourself the gift of social marketing intelligence.
It's the gift every marketer wishes for – better engagement, traffic and sales.
What is the most popular purchased plan for Post Planner?

How to Review and Edit Your Published and Shared Posts
To review and edit your published and shared posts, you'll have to select the "Post" tab on the left sidebar. This is where you can view your scheduled posts, change the order of your content, edit posts, etc.
This is where you'll also get an insight into how well your posts are doing. For each piece, you'll see icons displaying the number of likes, shares, reshares, and replans you've achieved.
Is Post Planner the Right Social Media Marketing Tool for You?
Before you go ahead and purchase any social media marketing tool, you need to carefully consider whether it's the best fit for the needs of your company. Don't just blindly invest in popular software. Instead, spend time listing all the features you need to help run your social media marketing campaigns. Then look at whether the functionality offered by Post Planner meets your requirements.
In our opinion, their lowest tier plan of $3 a month is certainly worth trying. Then if you decide you like the interface and the general functionality you may choose (later down the road), it's worth upgrading your payment plan. If you decide to do this, you'll then get access to Post Planner's more advanced features, which may come in handy as your business expands.
Out of the hundreds of social media management apps on the market, Post Planner is hands down one of the simplest to sign up for. You can start using this software to its fullest within minutes!
So, in short, yes, we think Post Planner is software worth investing in. BUT, if you want to build a social media presence outside of Twitter and Facebook, this tool isn't for you.
It's also worth bearing in mind, Post Planner sticks to the bare essentials. So, as we've already mentioned, you'll still need other software like a third-party analytics platform to help monitor and manage your social media marketing campaigns.
Have you ever used Post Planner before? If so, what was your favorite feature? Did you think anything was lacking? Would you recommend this tool to a fellow entrepreneur? If so, we would love to hear from you in the comments box below. Let's kickstart the conversation. Speak soon!
Recommended Reads: