Last Updated on June 21, 2023 by Ewen Finser
In this post we will comparing Agorapulse vs Hootsuite find out which one is best!
Agorapulse and Hootsuite are both social media marketing tools that can help even the most non-technical business owner manage social network profiles on the top sites like Facebook, Twitter, Instagram, LinkedIn, and Google + with ease all from one dashboard.
Imagine as a busy owner having to log in to each account every day individually to check notifications, view and reply to messages, and post thoughtful content to connect with your audience; you would spend all day online! You don't have time for that; you have a business to run.
The Plan for Review: Agorapulse vs Hootsuite
At first glance, their differences are minimal; both have unique names, serve the same purpose, and claim to be user-friendly. So, as someone new to the social media marketing game, which platform should you choose?
Let's find out together. I'm a business owner that needs to spend less time managing my social media presence and more time growing my business, so I'll save you some time do the research to find the best one. I'll also rely on my "Tech Troop," a group of my online friends that know how to leverage technology to make money online, to find out which one they would recommend.
For both Agorapulse and Hootsuite, I'll briefly describe their features and provide a general overview. Then together we can compare the two to find out which one is the best fit for you.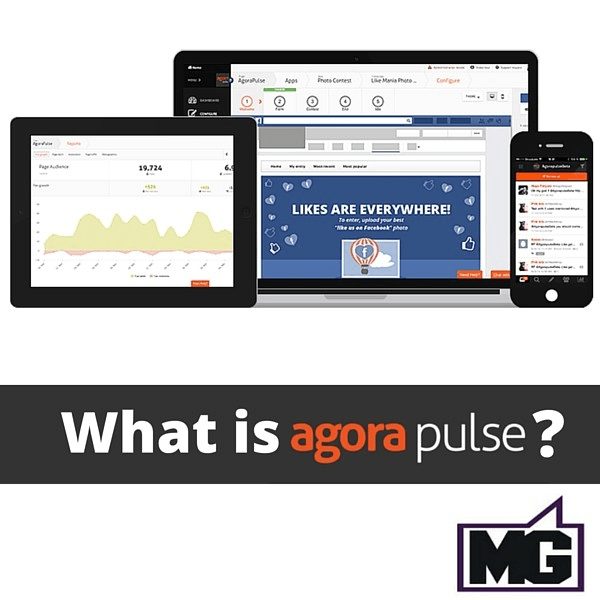 The first marketing message I'm greeted with on their homepage is "Social Media Management Simplified: Harness your social media content and engagement with the easiest and most affordable social media management tool for teams and agencies."
The words easy and affordable quickly caught my eye; so far Agorapulse is speaking my language.
Agorapulse Social Media Management Software Features
There are six features Agorapulse lists to sell you on its social management platform. They include: Engage, Publish, Listen, Collaborate, Report, and Audience.
1. Engage
Agorapulse will gather every inbound notification, comment, and message from your social media profiles and combine it into one dashboard.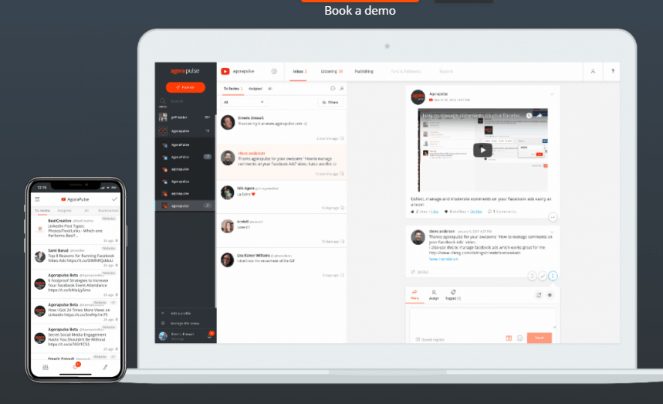 Using this feature, you can:
Review, assign, reply, or tag these items without logging in to each profile
Keep up-to-date about important conversations happening about your brand
Provide outstanding customer service by providing quick turnaround to customer inquiries
See comments as they arrive on platforms like Facebook and Instagram to ensure an immediate response to both praise and criticism.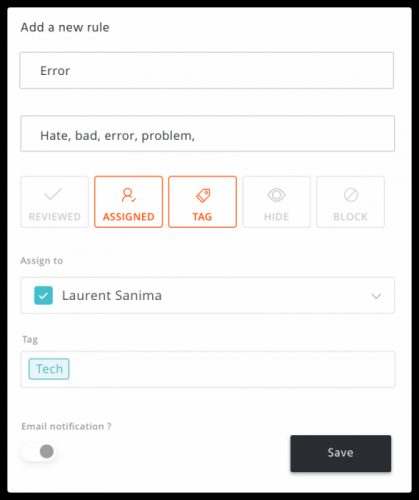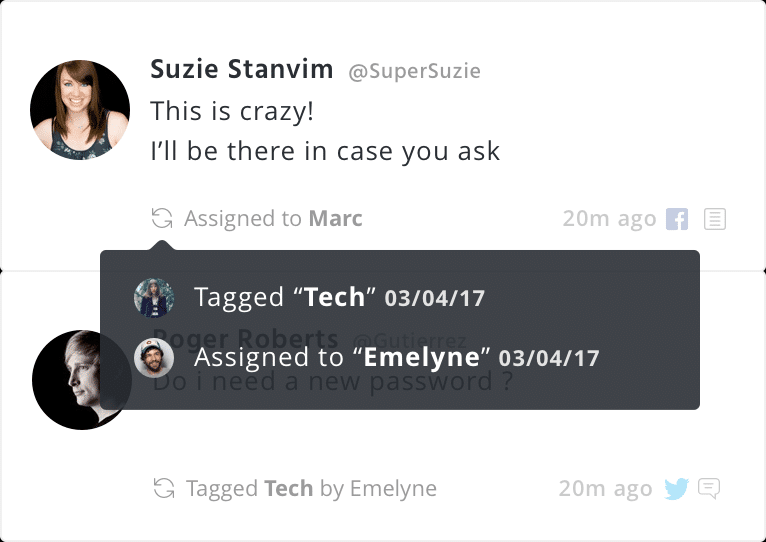 My favorite part of this "Engage" feature was the traffic controller option that will automatically manage spam and helps direct questions to the right people on your team. This currently takes up a lot of my time, and to trash spam and delegate tasks quickly sounds lovely.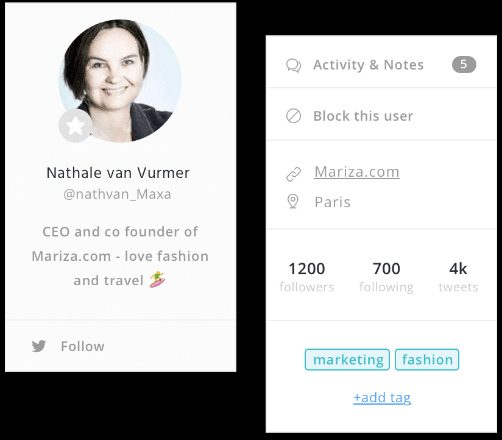 I also like how Agorapulse includes the name and profile of each person that sends you a message in your inbox. This information gives you the proper context so that you can respond immediately in an appropriate way.
For example, is your most recent dissatisfied customer a raving loon or is it an influencer in your industry with thousands of followers? That context is critical when responding to both criticism and praise.
Speaking of your audience, Agorapulse also offers a real-time collaboration tool so you can see when your team is addressing a customer inquiry. Instead of asking your employees if they have responded, you can see for yourself.

2. Publish
If you have attempted social media marketing on your own, you understand how time-consuming and annoying it can be. You first must find something interesting to share, open multiple tabs on your screen, login to each social media account (multiple channels), and then try and remember the blessed password for each one because of course there's at least one you can't remember.
It's time to stop the madness.
Agorapulse and tools like it simplify this publishing dilemma by creating a multi-platform management system so you can edit, draft, schedule, and post all in one place. It looks like this: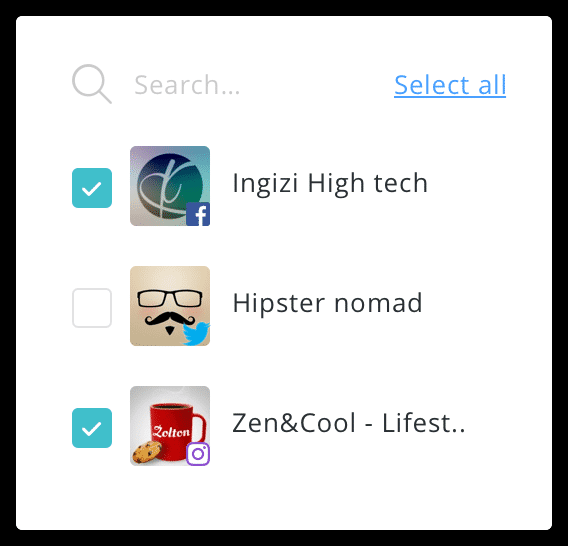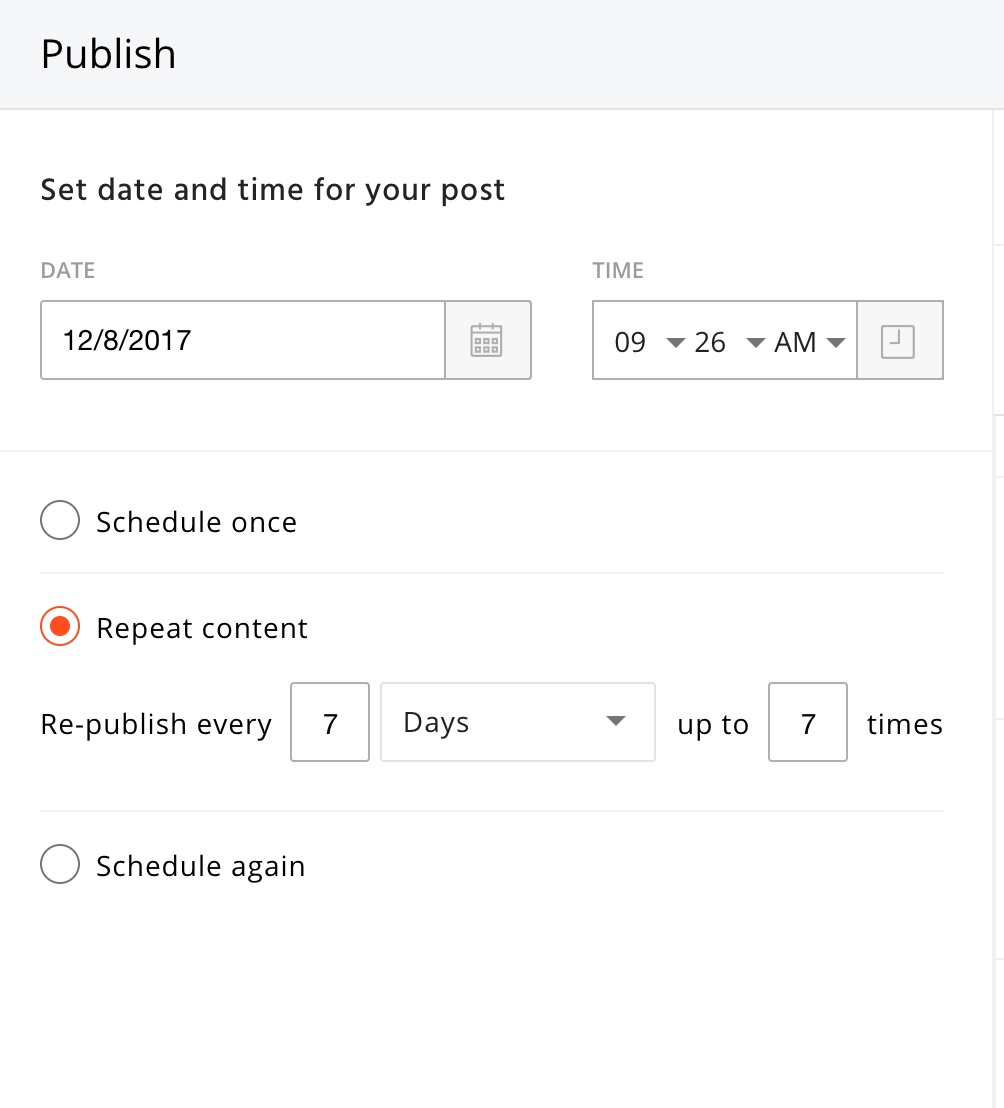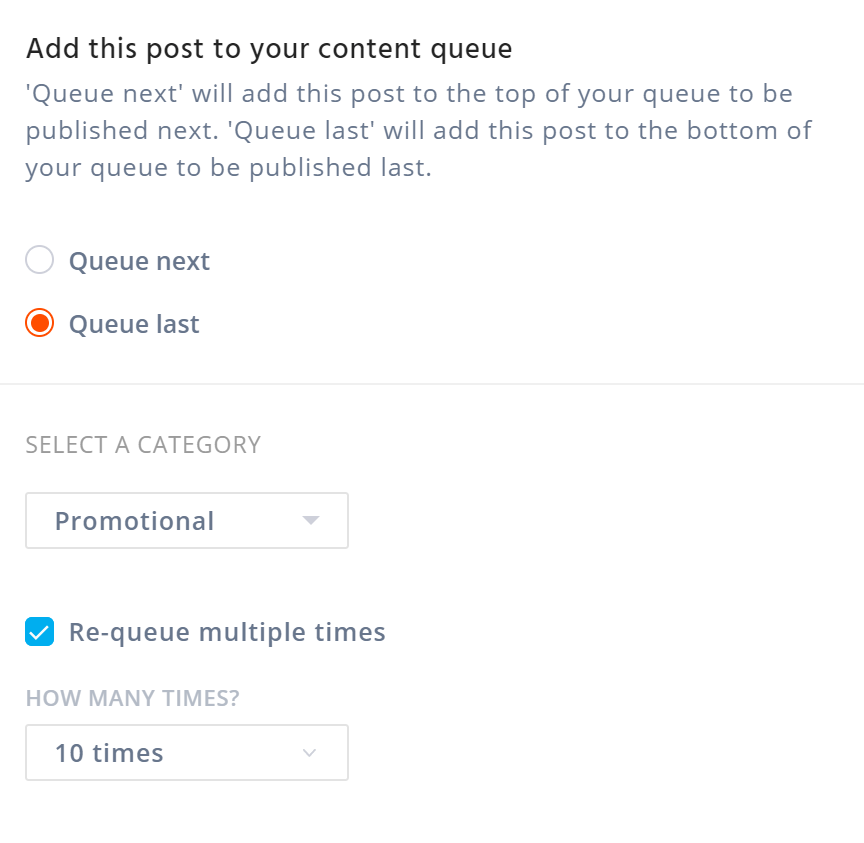 With a few thoughts and clicks you can publish to Facebook, Twitter, LinkedIn, Google +, and Instagram all from one place. Close the tabs and put your password cheat sheet away, this is so much easier.
You can see in the "Publish" image in the center you can strategically plan your content, so it coincides with the time of year or a certain point in your sales cycle. You decide how you want to structure your content, just put in a time and date for it to appear on your social media profile pages.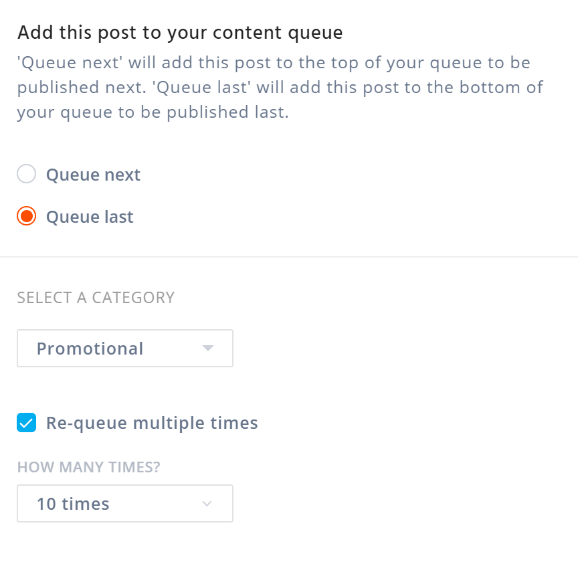 For social messages you want to deliver on a regular basis there is an "evergreen" option that allows a piece of content to re-queue multiple times (even in different queue categories), which is just the technical way of saying you want it to social media post more than once.
This option works well when you are limited with the amount of original content you like to share, or if you are promoting something like an event or sale you want your customers to know about.
No matter what platform you use to publish on your social media profiles, never post without previewing it first! Agorapulse offers a previewing option that allows you to see what your tweets and posts will look like before they appear online to ensure there are no errors in the messaging and the images display correctly.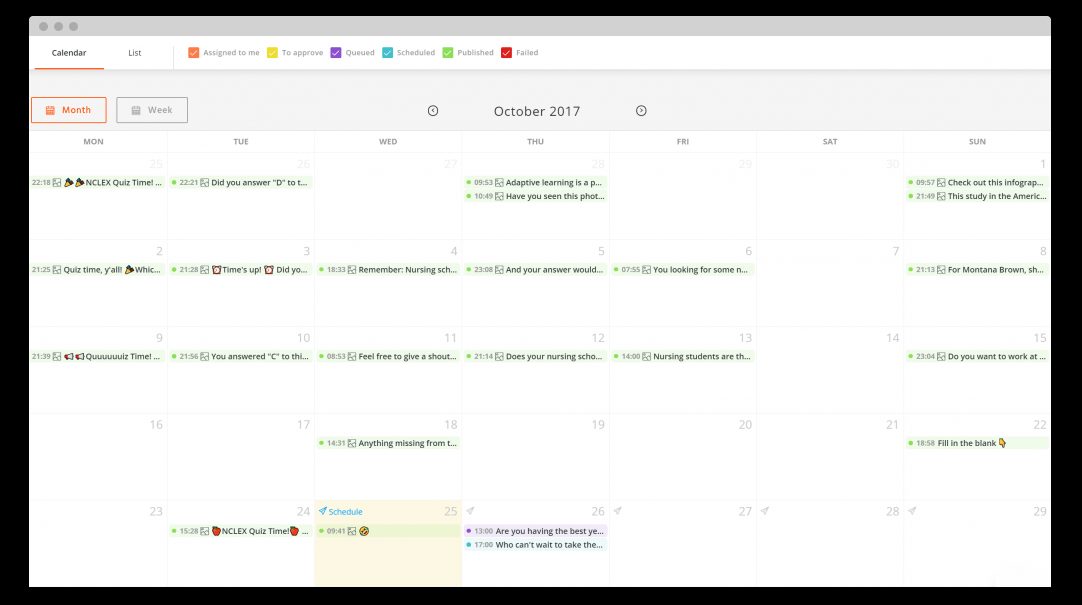 Agorapulse's content calendar will help you organize your content marketing plan, and it provides the visual you need to get a glance regarding the status of your social media marketing campaign.
There is also a labeling option under the "Publish" feature that allows you to assign custom tags to your content, so you can track which posts are most effective.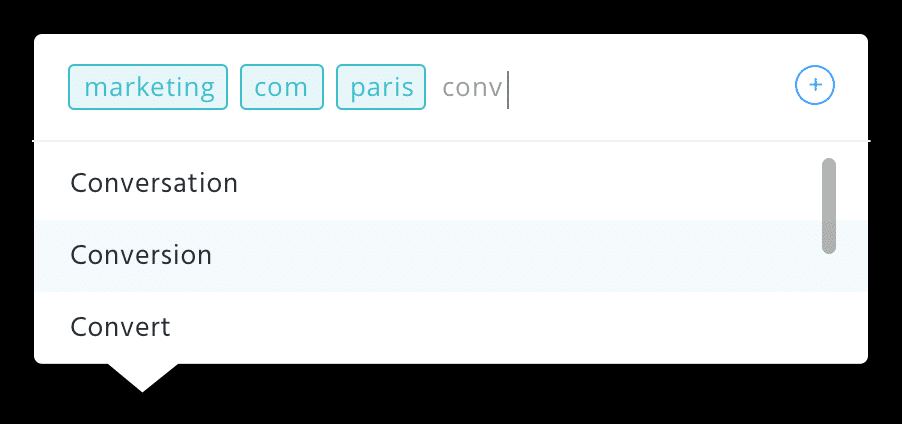 3. Listen
You create and share content on social media to get people to interact with your brand online. When people have praise, criticism, or questions about your business, it's essential you respond appropriately in real time.
Agorapulse makes that easy by tracking each time your brand is mentioned in a comment on social platforms.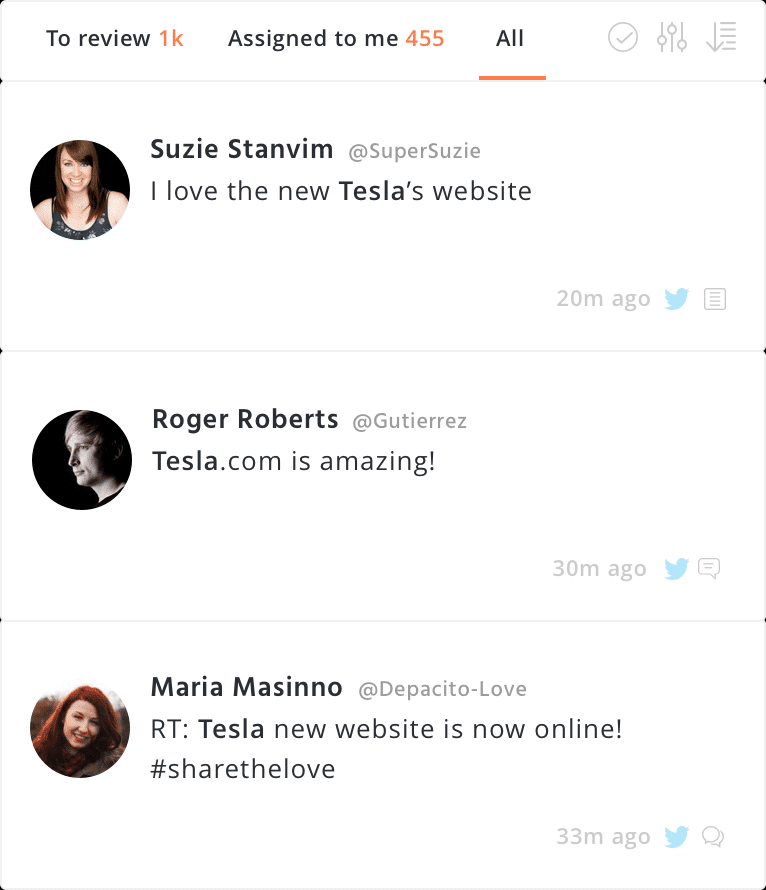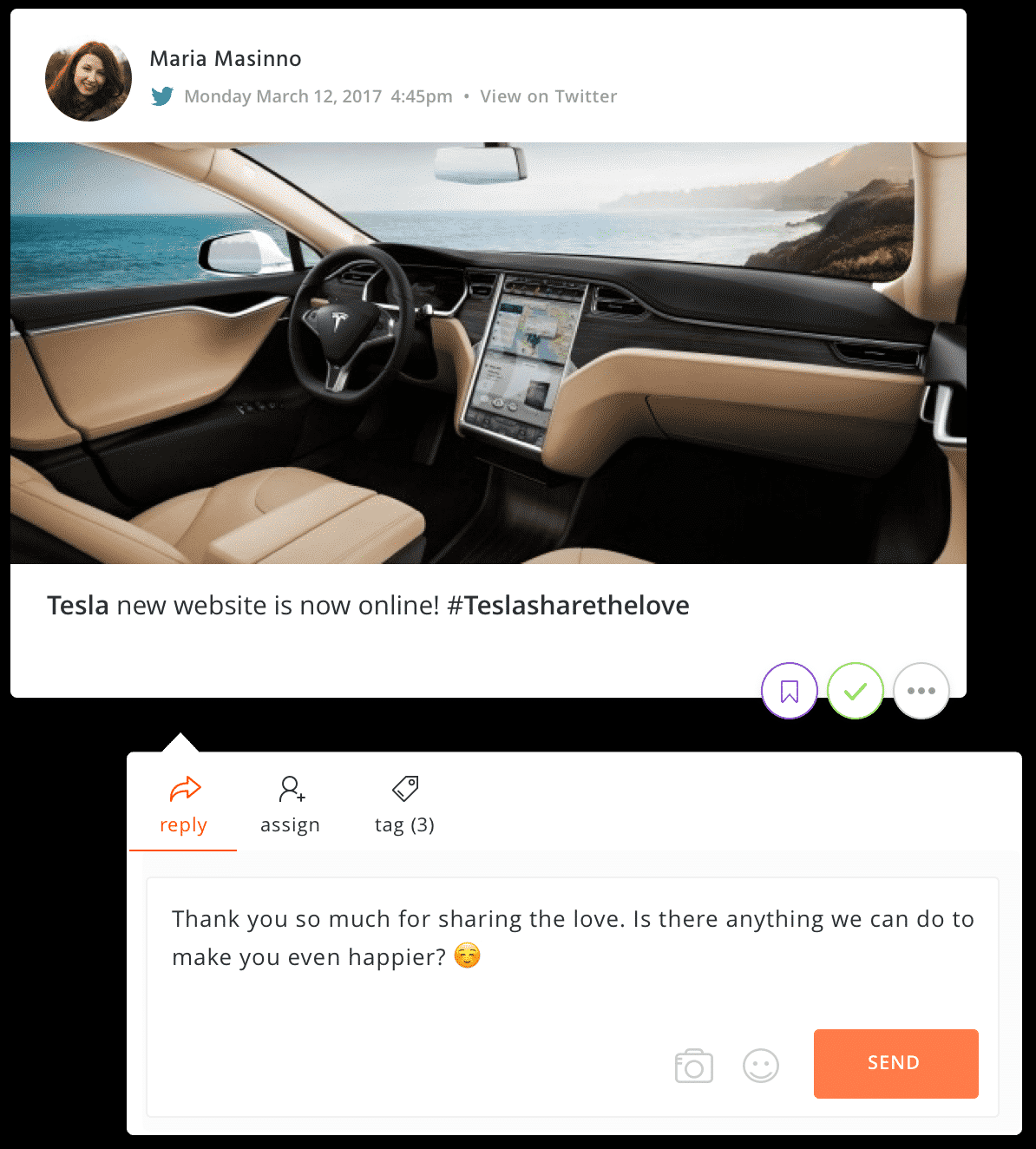 With the Agorapulse "Listen" feature, you can:
Find out when public accounts mention your account on Facebook.
Search posts with hashtags and keywords relevant to your brand.
Track trends on each platform (i.e., Facebook, Instagram) to stay current.
Monitor posts to address issues as they happen as a public relations tool (social media monitoring).
Seek out brand ambassadors and influencers to help engage your audience.
Manage your content strategy by tagging items.
Assign team members to respond to social media posts and then manage their response times.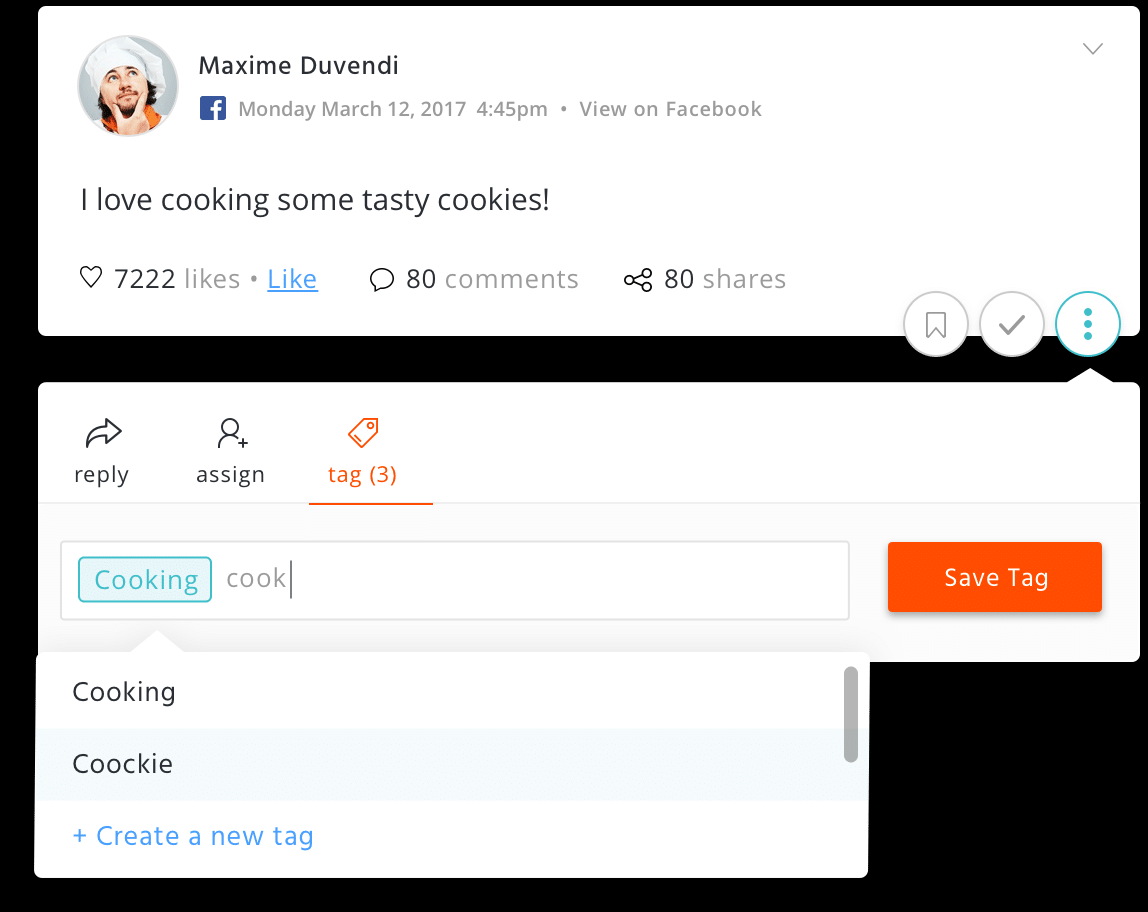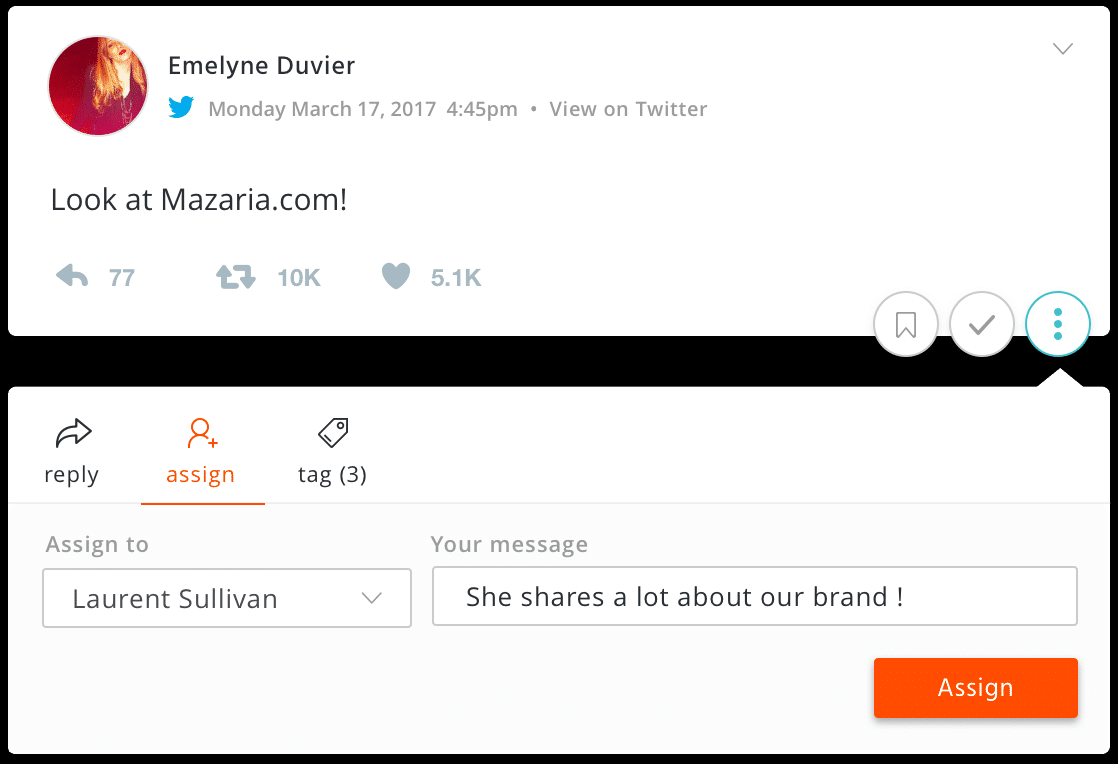 4. Collaborate
Managing the social life of your brand should be a group effort. After all, you got into business to make money, not just talk about what you do online. The "Collaborate" feature will help you delegate social media marketing tasks, and help you keep track of how you appear online to your customers.
With this feature you will:
Collaborate in real time

Assign roles to your team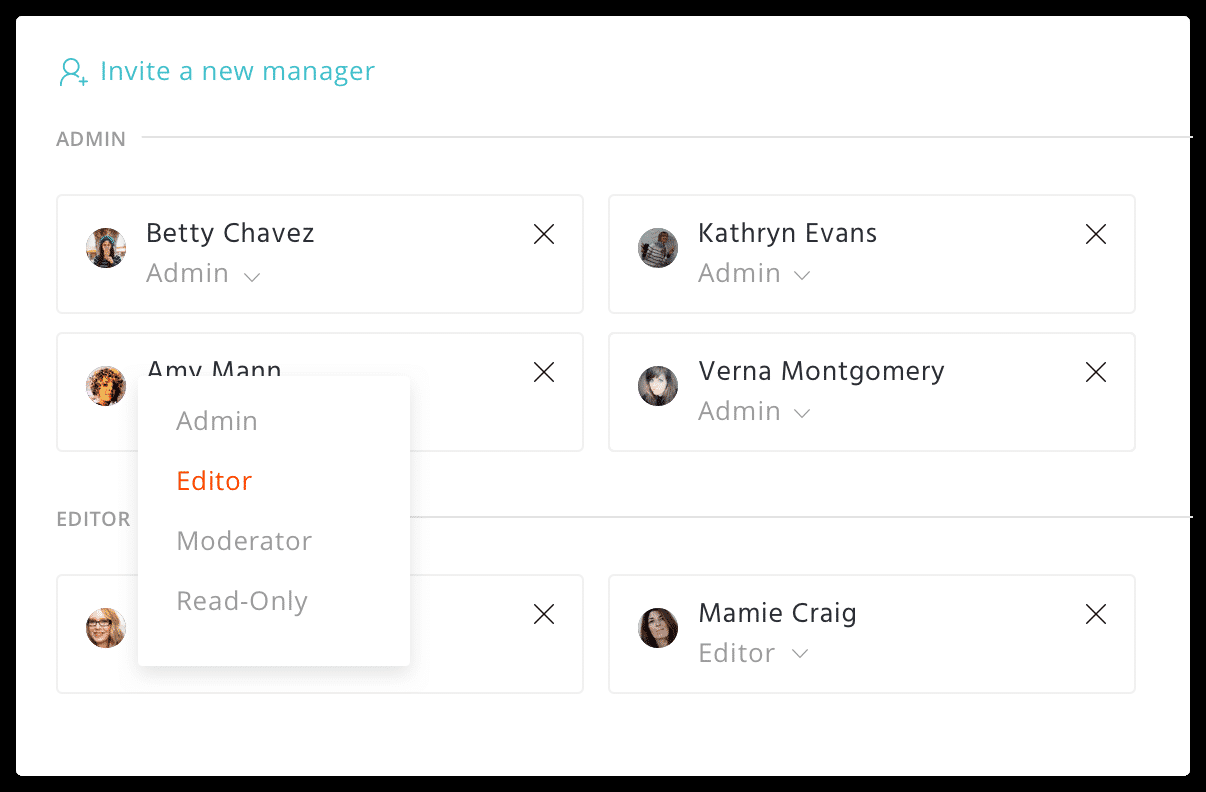 Manage your employees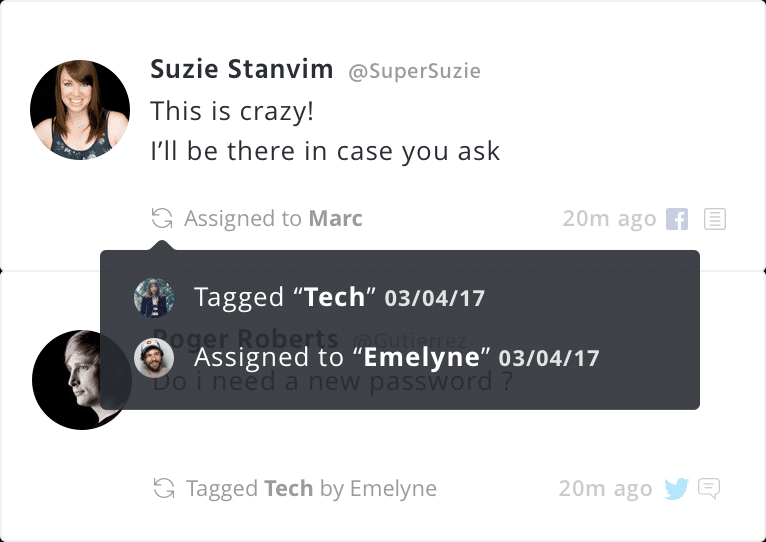 Create and manage a content calendar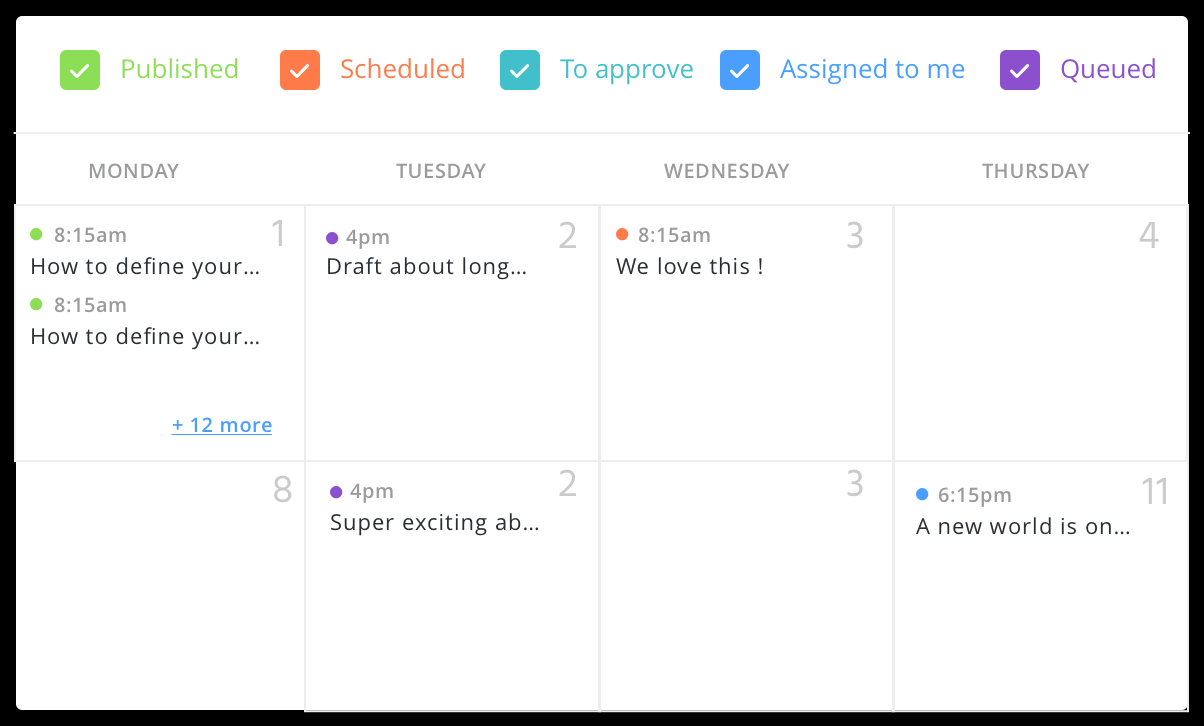 Delegate tasks by employee and share information easily with your team.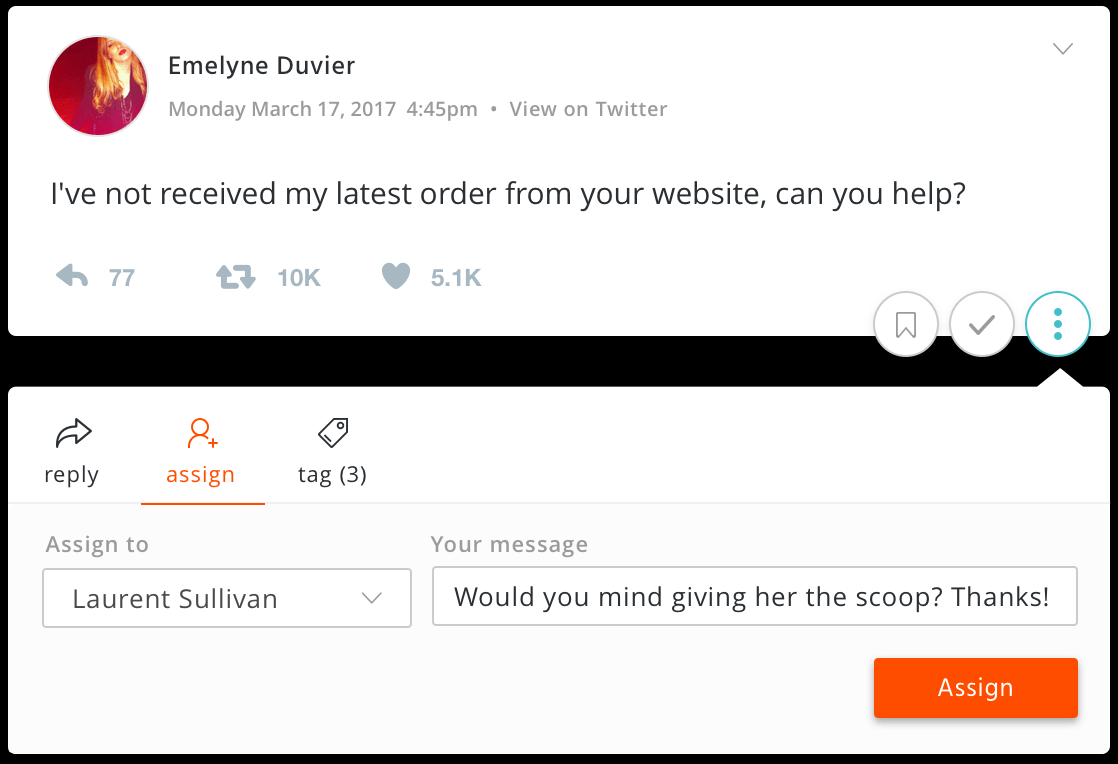 Motivate your employees by "gamifying" their performance through response data.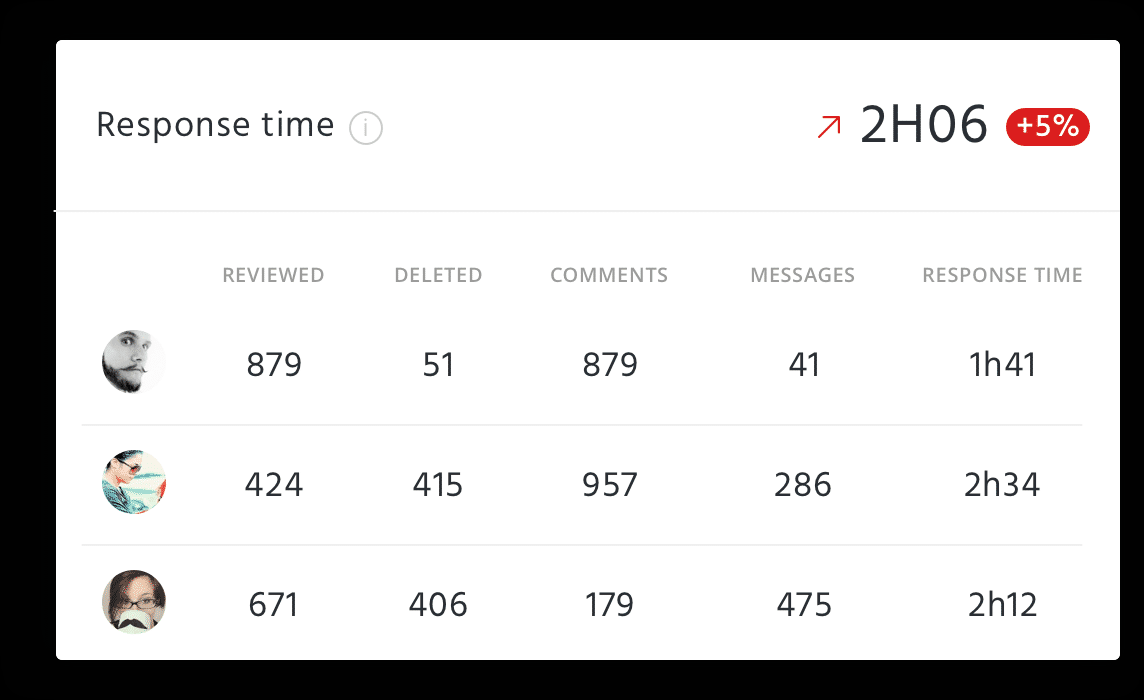 So far, this has been the most impressive feature in my opinion. I want a tool that will help me delegate tasks to my team, so I can spend more time doing the work I love instead of managing customer inquiries or how it appears online.
5. Report
Business owners that are new to social media tools have the same concern: will they receive a return on their social media marketing investment. Agorapulse's "Report" feature will give the data you need to prove to yourself, client, or team that your efforts online are creating the buzz and return for your brand as intended.
Using this feature, you can:
Highlight the return on investment based on customized parameters: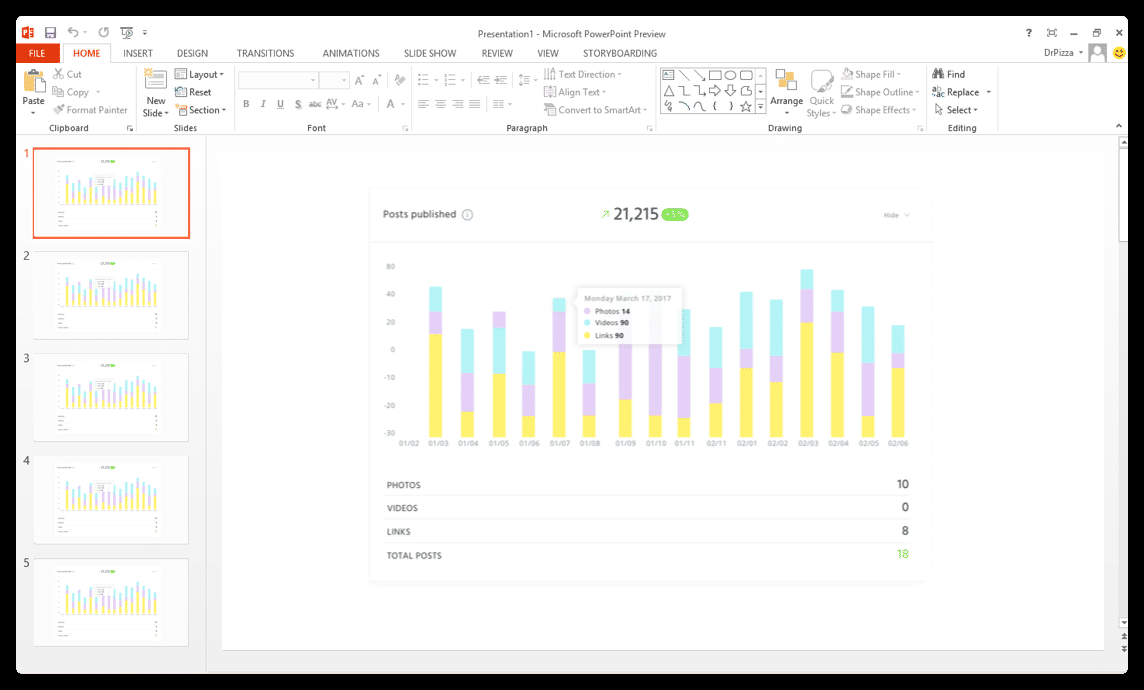 Find out what your customers "liked" and get more in-depth analytics and insights about your audience based on how they responded to hashtag, content tags, and other data. This information will help inform your content strategy, gauge engagement, and will provide the critical benchmark data to show how you compare with your competitors on each platform.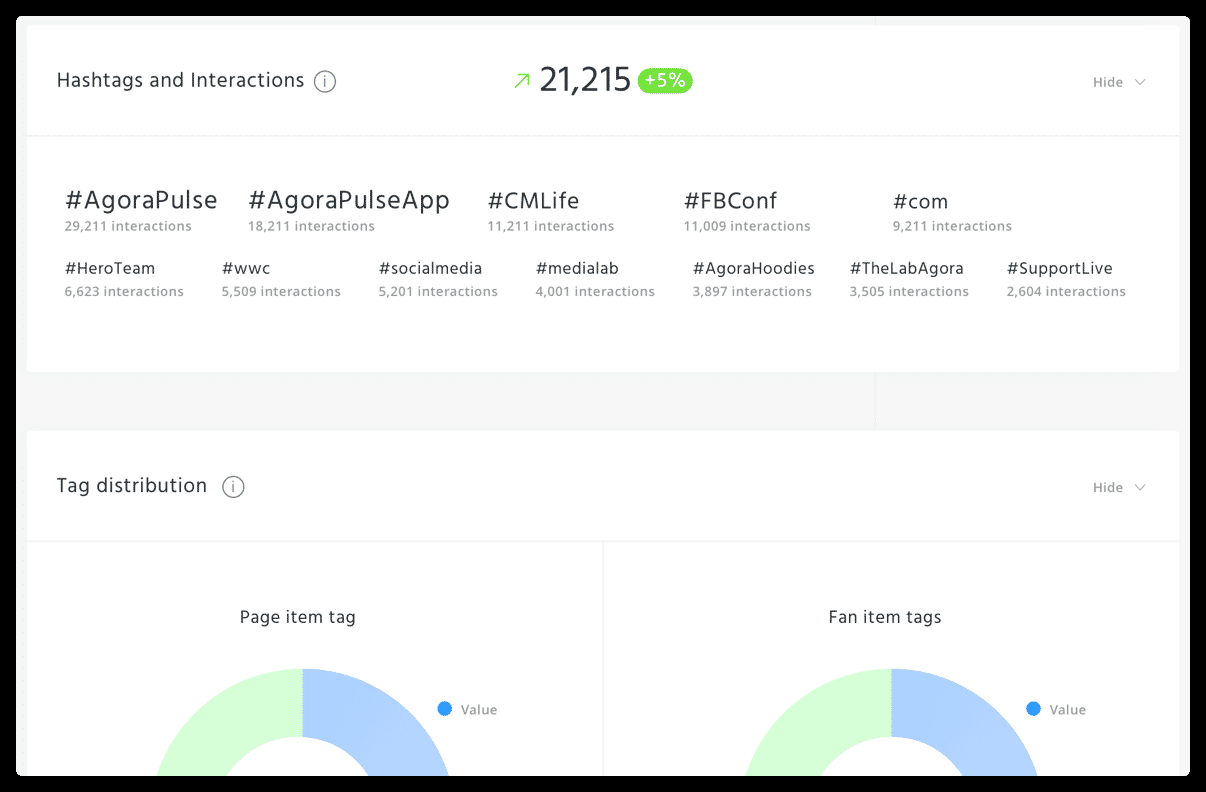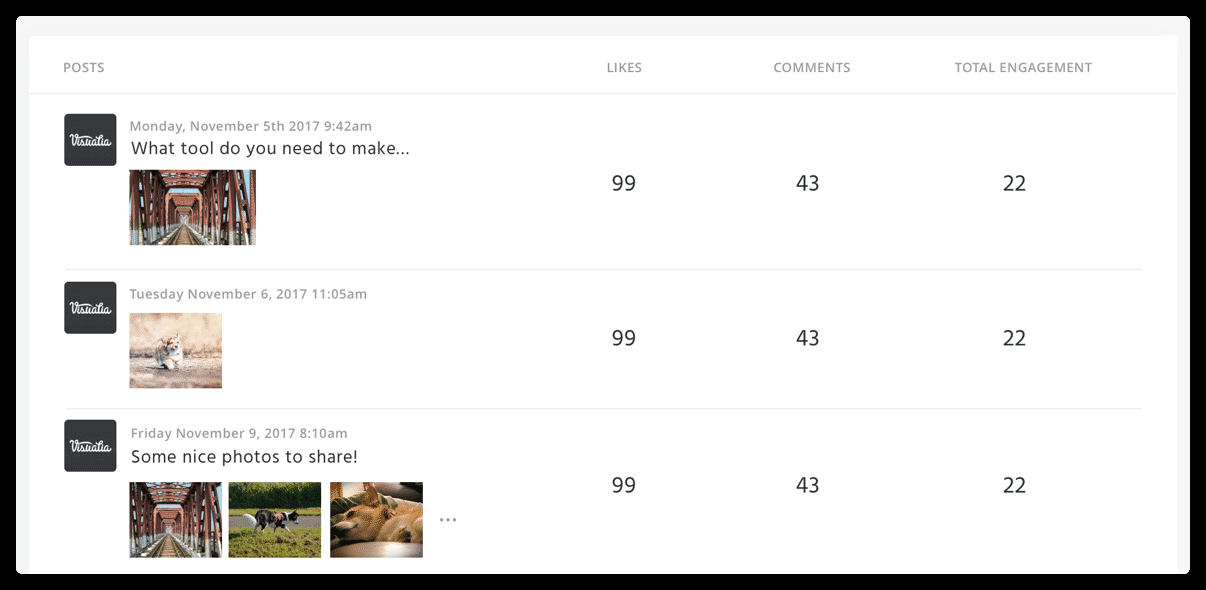 These images above are so important. Instead of investing money into social media marketing and hoping it works, these reports give you the data to show which efforts are working, and how to improve.
6. Audience
The last feature is the most important: it helps you connect, manage, and understand your audience.
For each social platform, Agorapulse will identify and rank fans influencers and ambassadors of your brand.
Agorapulse also offers a built-in CRM (customer relationship management software) to manage your prospects, clients, and influencers. This data can be filtered and sorted to help inform your marketing strategy.

The "Audience" feature also allows you to track the conversation you have with every follower…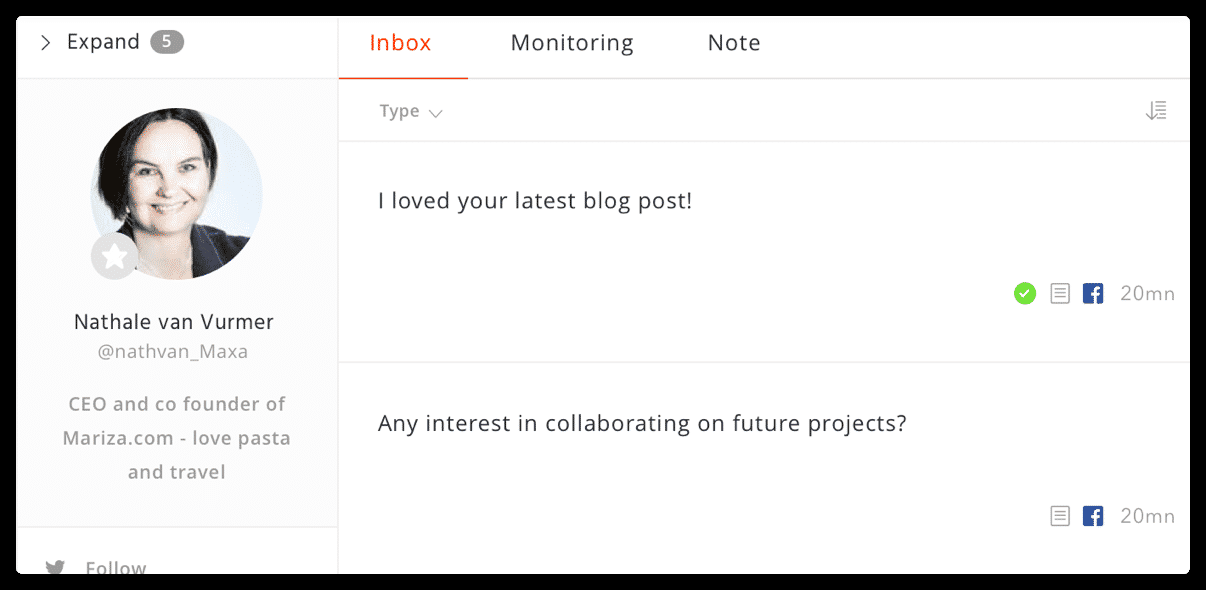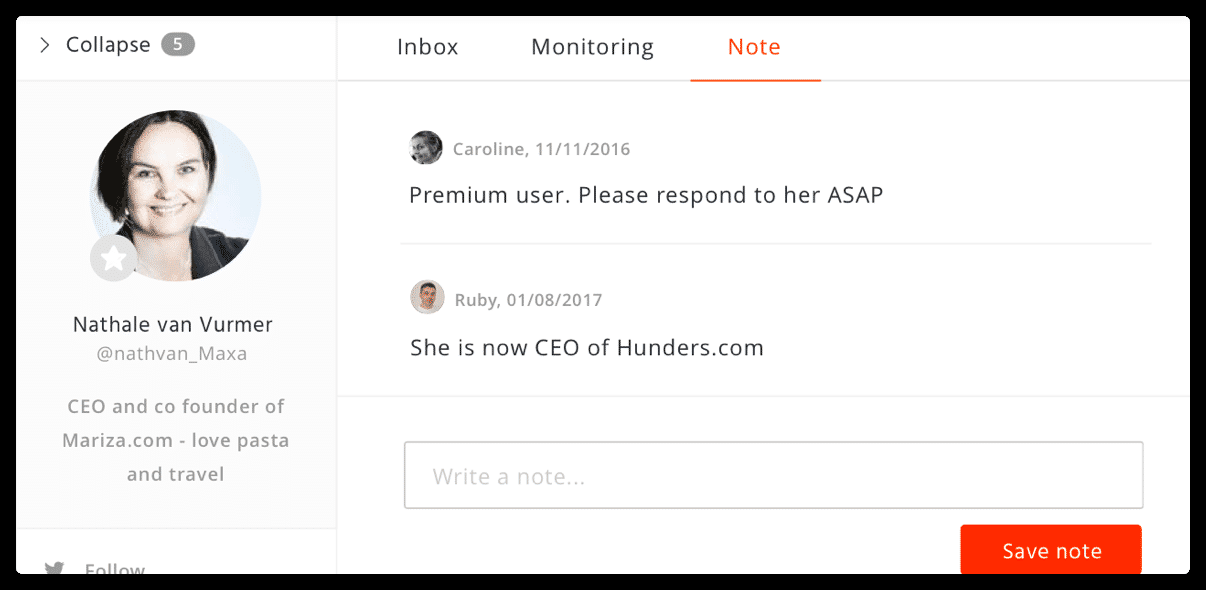 …and it allows you to add notes so internally you can share information about your followers with your team.
That wraps up the features for Agorapulse! So, how much does it cost? Well, that depends.
As you can see the price depends on the size of your business, and how many profiles you need to manage. Each plan offers all the features I discussed above, plus some additional benefits you can check out by visiting the pricing section of their website. It's important to note the price points above are discounted 10% if you choose an annual plan over a monthly one.
So, for the sake of sanity and time, here are the pricing plans with the three best features to give you a glance at how your business would fit into the pricing structure listed above. I will not list all the benefits included in each plan, for that you can look above or visit the pricing section of the website or check the graphic above.
Option #1: Best for freelancers
For $49/month (or $39/month on the annual plan) you receive:
Three social profiles with the option of additional profiles for $15/month
One team member access to Agorapulse, $39 per additional team member
Social inbox to keep all social media platform content in one mailbox
Option #2: Ideal for small businesses
For $99/month (or $79/month on the annual plan) you receive:
Ten social profiles with the option of additional profiles for $12/month
Three team member access, $39 per additional team member
Ad monitoring feature (up to 10), advanced sync, and Facebook apps (up to 10,000 participants)
Option #3: Perfect for agencies who manage several social profiles on behalf of clients
For $199/month (or $159/month on the annual plan) you receive:
25 social profiles with the option of additional profiles for $9/month
Six user access with $39 for each additional member
Advanced sync, ad monitoring (up to 40), and Team workflow
Option #4: Enterprise option, this works best for the large organizations
For $299/month (or $239/month on the annual plan) you receive:
40 social profiles with the option of additional profiles for $6/month
12 user access with $39 for each additional member
Ad monitoring feature (up to 100) and Team workflow
All these plans include unlimited scheduled posts per profile, a chrome extension, mobile app, content queue, content scheduling, Facebook ROI calculator, automated moderation, and evergreen content management.
What does the Tech Troop think?
Tech Troop Review
Here are the top three reasons the Tech Troop recommends using Agorapulse:
It's easy to use. Several reviewers commented on how it's easy to set up and publish posts using the content queue with some saying they didn't have much of a learning curve if any.
Agorapulse is a time saver by having all the comments and replies appear in the social inbox.
Many reviewers praised Agorapulse the in-depth analytics feature of the overall social marketing reporting feature. They said it was easy to use and customize the reports, and they liked the ability to export the data into a format that worked for them.
Some User Complaints
Several reviewers claim the user interface is cumbersome
Some reviewers complained that they can't post multiple images and would like the ability to drag and drop posts to different dates.
One reviewer said it would be great it Agorapulse included an auto-populate UTM tracking and re-queueing for other social media.
By now you should have a feel about whether Agorapulse could work for your business. As any savvy owner know, it's wise to shop around, so let's review Hootsuite the same way before you make a choice.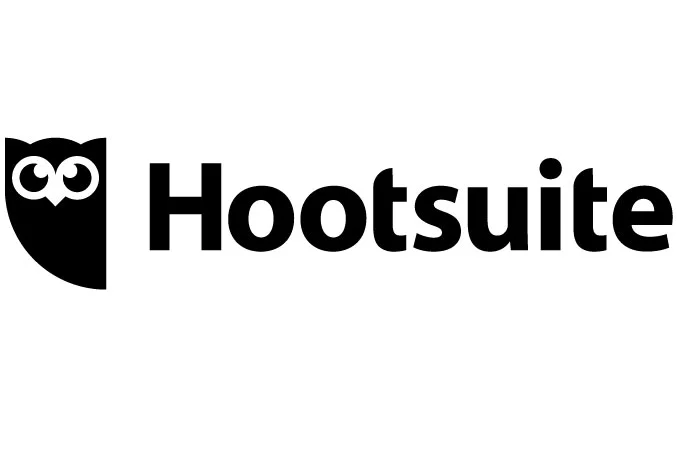 Hootsuite is a social media management platform that gathers your social media profiles into one social media dashboard for easy marketing management. As an owner, you and your marketing team can use this dashboard to collaboratively schedule posts on LinkedIn, Facebook, Twitter, Instagram, Google + and other social media websites via desktop, web, and mobile platforms.

Like Agorapulse, Hootsuite offers analytic tools like reporting and data management to help track industry trends and what your competitors are up to online.
Let's Talk Hootsuite Features
The seven core features of the Hootsuite platform include scheduling, social media monitoring, content curation, analytics, team management, security, and boosting.
Scheduling
To promote my business, I want to share with my social media audience a post each day that is interesting to them to keep their attention to my brand. What I don't want is to log into five separate platforms to do so.
That's why tools like Hootsuite and Agorapulse are so great; they post it for you at the same time of day, so you look like a marketing guru. Hootsuite's scheduling feature looks like this: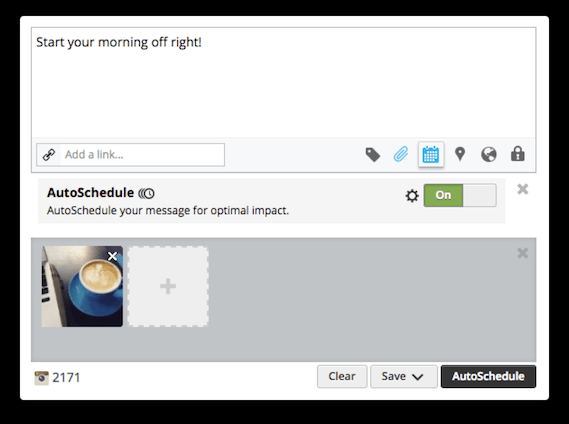 Scheduling a post is easy with Hootsuite. First, you find a post that you would like to share with your audience and insert the link into your calendar. You have the option of just sharing the link, or you can add text to it which Hootsuite will save and post across all your social media platforms.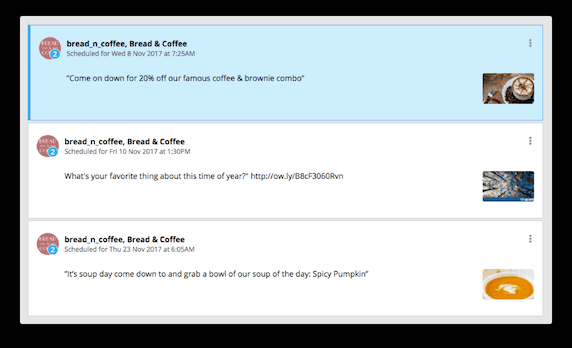 Hootsuite's bulk scheduling feature allows you to upload and schedule hundreds of messages at once. This eliminates the daily annoying task of logging in to several media profiles to post and gives you a better overview of the content you plan to share.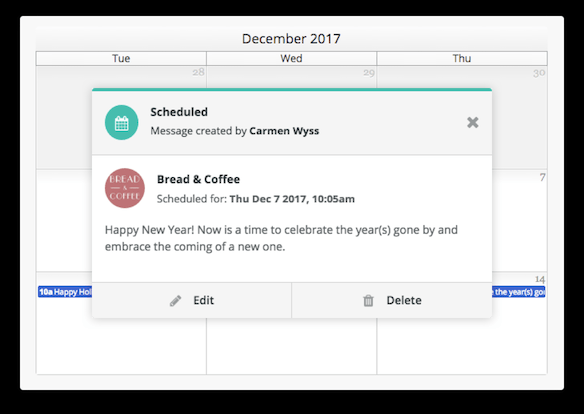 Speaking of planning, you can check in with your team to see your social content at a glance in a variety of formats: list, daily, weekly, or a monthly view.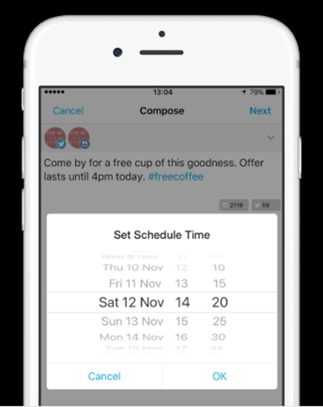 The Hootsuite mobile app can help you manage this content schedule from anywhere, so your content stays fresh and relevant. The app allows you to easily edit, approve, and manage scheduled messages wherever your business takes you.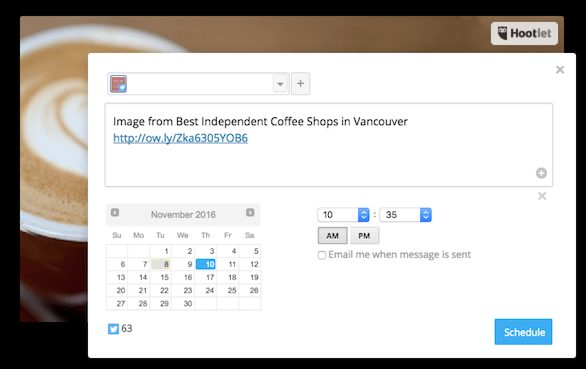 Another cool feature of Hootsuite is their "Hootlet Extension" that allows you to schedule content while surfing the web with their Chrome extension.
2. Social Media Monitoring
One of the main reasons people use marketing tools like Hootsuite is to keep up with the online social channels chatter about their brand. With Hootsuite's "Monitoring" feature you can easily keep track of this vital customer feedback using:
Custom streams of social content that you can organize in tabs that you find useful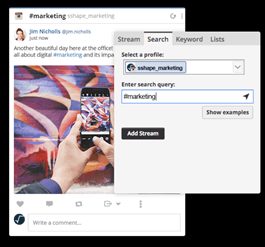 Monitoring filters that allow you to find and filter social conversations by keyword, hashtag, and location so you can see what people are saying about you and your competitors. As a bonus, this feature is available in multiple languages.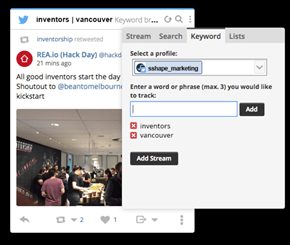 The team assignment feature lets you assign posts to your team members, so posts about your brand are addressed within a reasonable timeframe.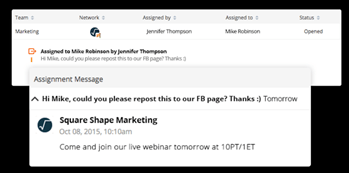 Hootsuite offers a wide selection of monitoring apps to help manage how your brand appears online. These apps can help review site ratings and monitor your brand's tone of voice online.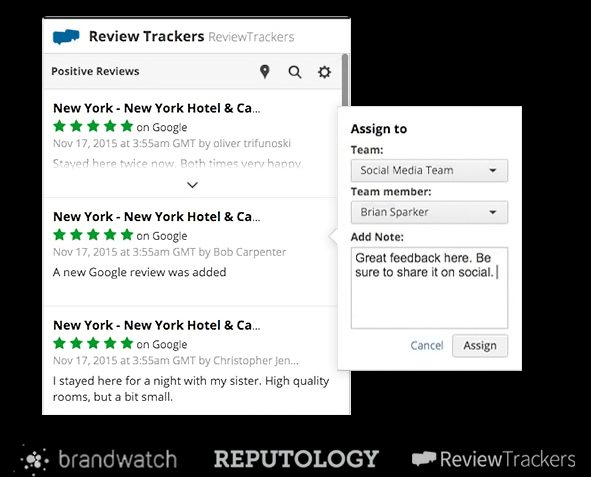 3. Content Curation
The content creation feature by Hootsuite offers custom streams by hashtag, location or keyword to help you find the best content to share with your audience. Once you find this fantastic content you want to share, you can save it to your content library making it easy to approve, tag, search, and use.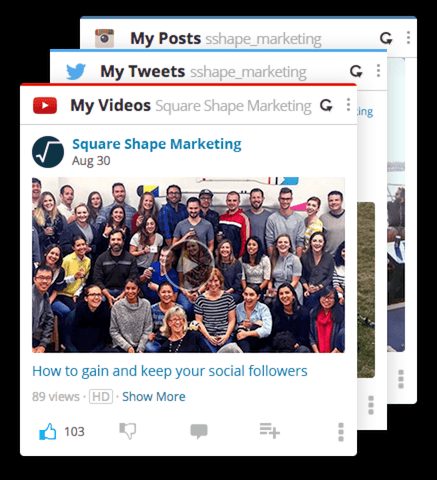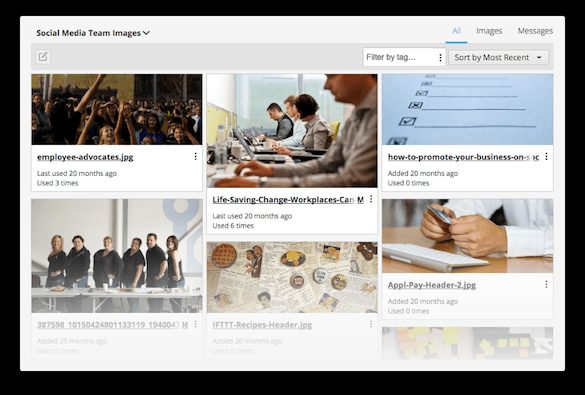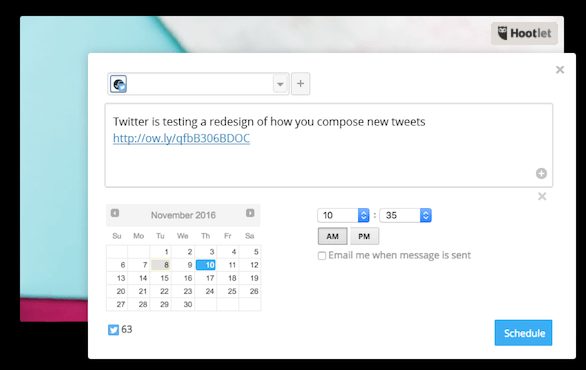 When you are online and find a great piece of content, the Hootlet Extension allows you to post it to all your social media accounts instantly or you can schedule it for a later date, all without logging in to each profile.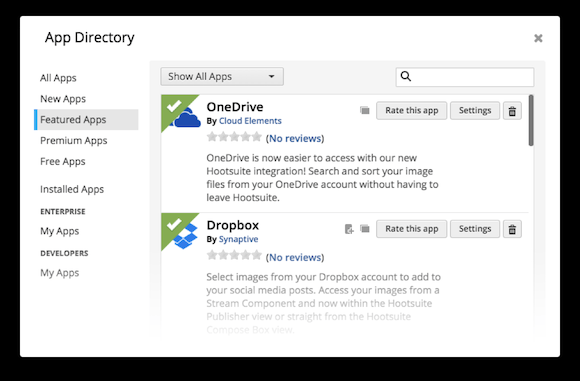 Curated content, which is original content you have created to share on behalf of your brand that is stored in your cloud service– including Microsoft OneDrive, Dropbox, Google Drive, Box, and others– is easily accessed via Hootsuite's dashboard.
Other benefits of the "Content Curation" feature include content apps that allow you to connect the content tools you already use through its app directory; the content calendar previously mentioned, and the content approval function that will enable you to designate team leaders to approve ongoing content.
4. Analytics
Whenever you spend money marketing your brand, you want to see a return on your investment (ROI). Social media marketing is no different, and Hootsuite's Analytics can help give you the data you need to gauge that all-important ROI on your digital marketing efforts.
Hootsuite Analytics will:
Give you an overview of your key metrics to track trends and measure growth
Allow you to create a customized analytic dashboard to learn users engage with your content
Export your reports to Excel, PowerPoint, PDF, and CSV formats to prove your social ROI
Track the performance of your team based to see how long it takes them to respond to posts
Connect your brand to apps and integrations that will help you get more profound insights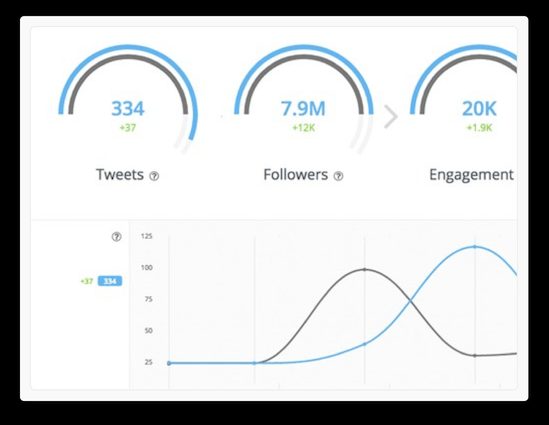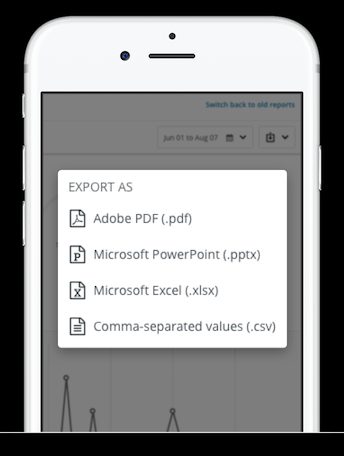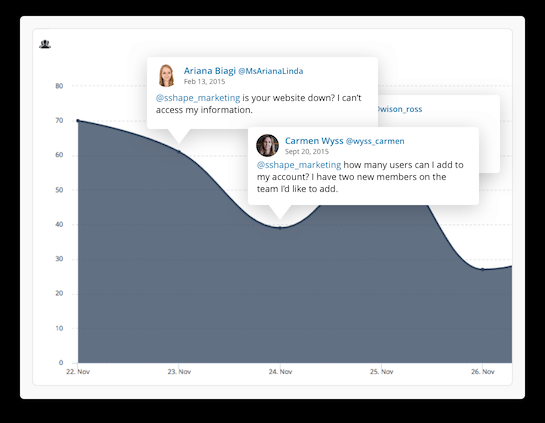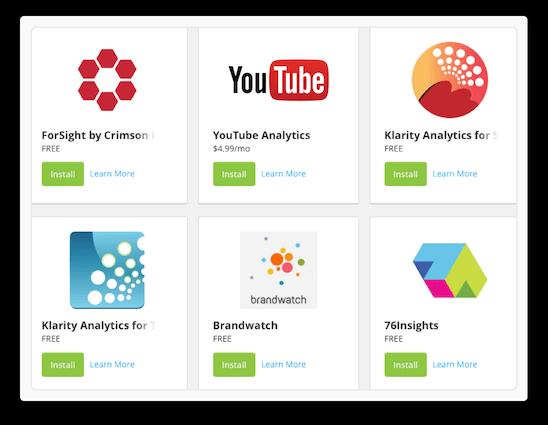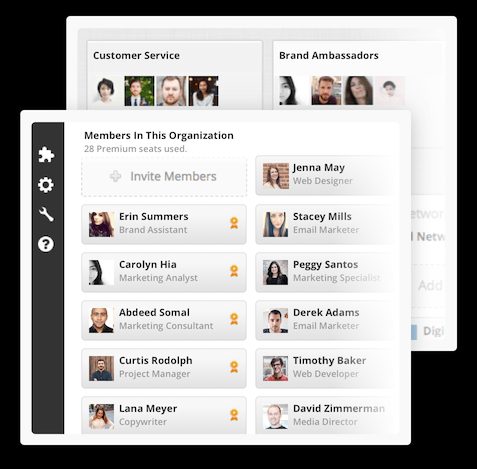 5. Team Management
Hootsuite makes it easy for you to collaborate with your team using the social media dashboards. By setting up a Hootsuite team you have control over your social media passwords, so your social media presence is protected while managed by your organization.
Using this dashboard, you set team permissions granting specific employee access to the profiles and networks based on your discretion. These custom permission levels ensure the right employees are responding on behalf of your brand.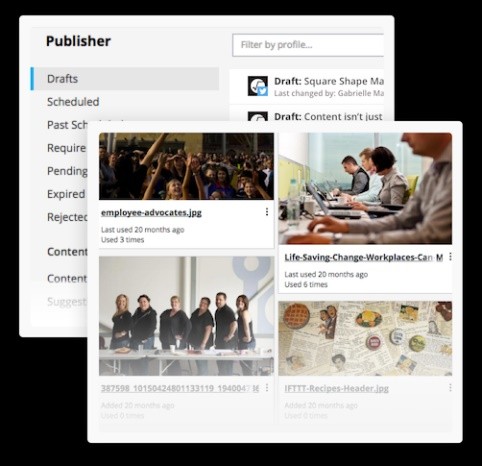 The "Team Assignment" feature also allows you to assign social media tasks to the appropriate team, department or region, and it gives them access to the content library, so they have the on-brand social content and assets you want them to share.
6. Security
With many people working to promote your brand online, you want to make sure your social profiles are secure.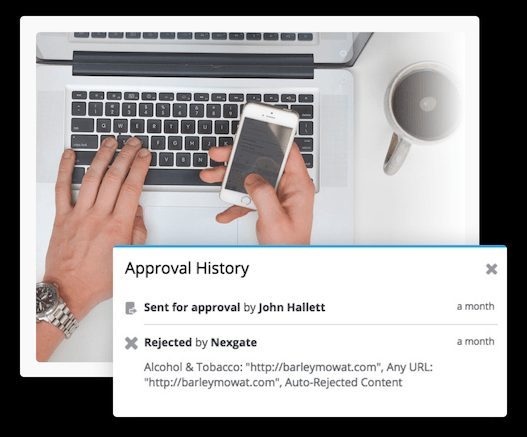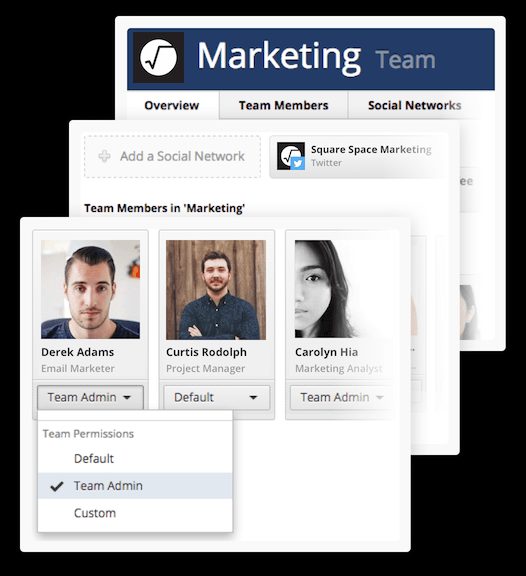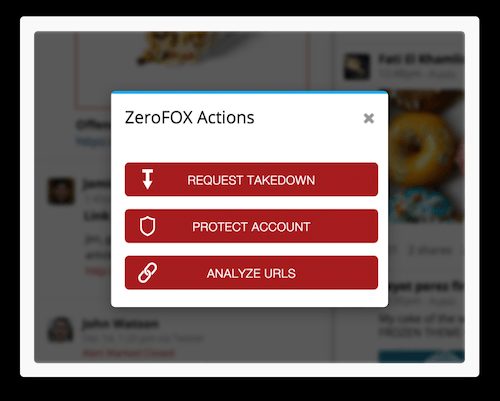 Hootsuite helps protect your online brand by:
Setting custom permission levels that limit employee access and require approval workflows before posting.
Alerting you to any suspicious activity on your account, so issues are addressed immediately.
Making sure your brand meets regulatory standards issued by FINRA and HIPAA through integrations with Proofpoint, ZeroFOX, Smarsh, Global Relay, and Actiance.
7. Boost
The last feature is probably one of the most important when it comes to promoting your brand online: the ability to boost your content.
What does that even mean? "Boosting" a post means you pay to advertise your content on sites like Facebook or Instagram.
Hootsuite can help manage this "boosting" process by setting custom rules on your posts—like to who, for how long, and how much—to automatically boost your top-performing content. It looks like this: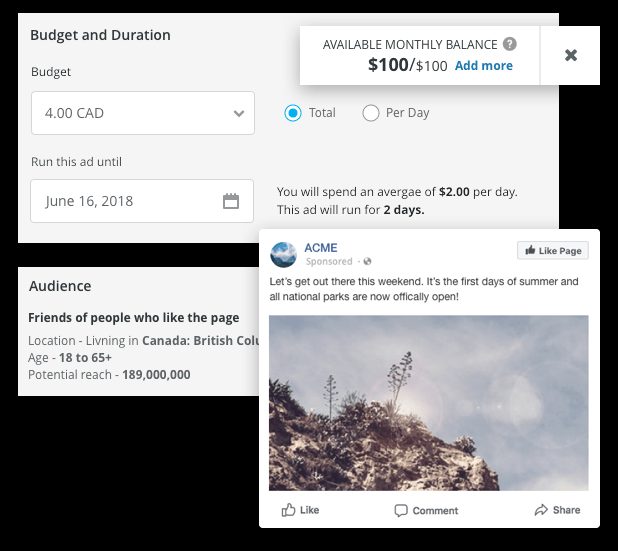 Boosting posts like this will help your content stand out from the content your competitors share, and it will expand your reach in terms of audience. You pay to boost the posts, and Hootsuite helps manage the process.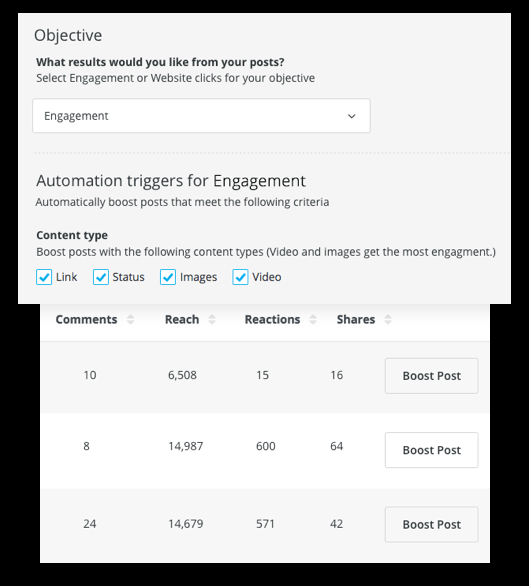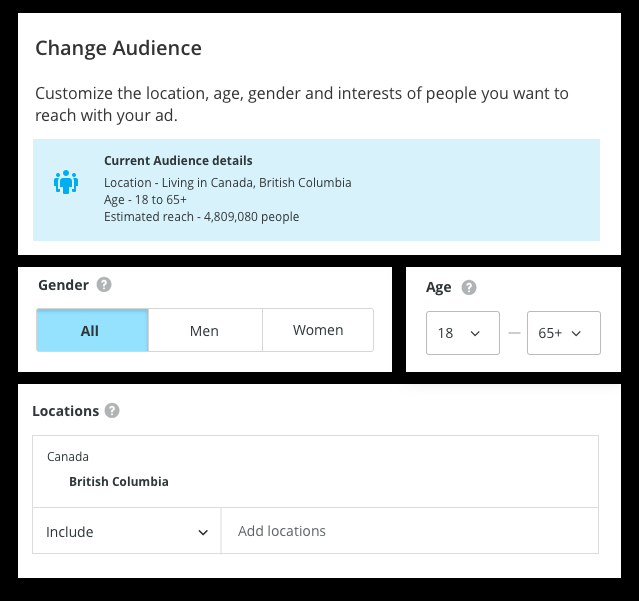 It's up to you whether you choose to boost a post or not, but many owners like the ability to customize their audience to discover new markets.
Now that we've cover Hootsuite's features, it's time to talk money.
Hootsuite Pricing Options
Here is a glance of their pricing plans: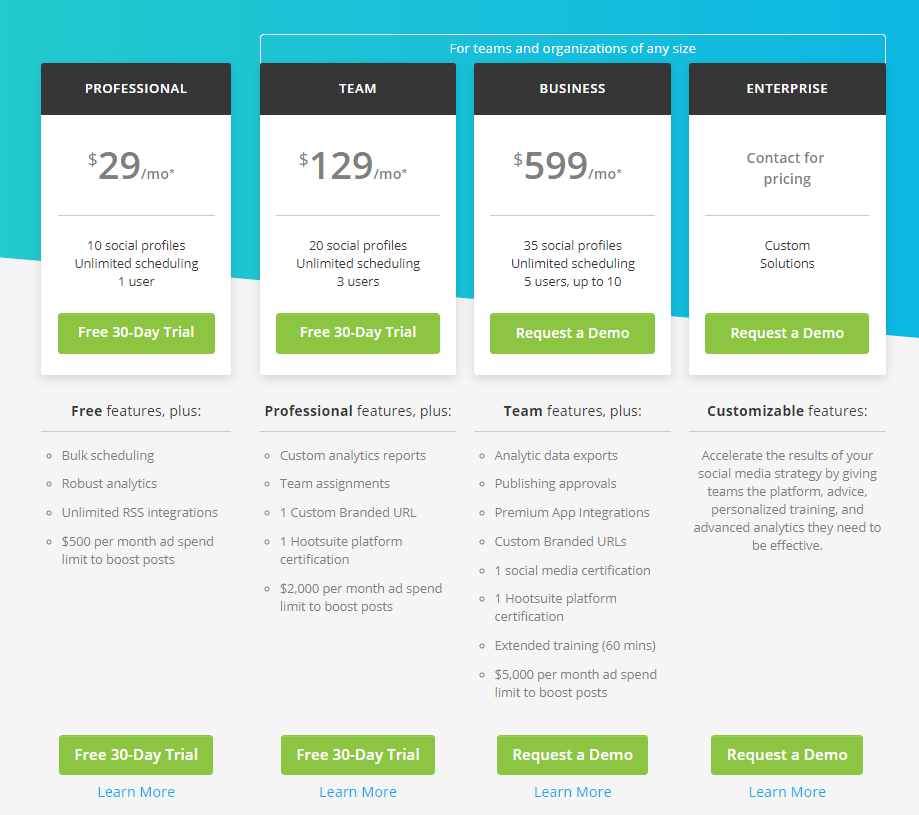 Hootsuite has a tiered pricing structure based on your plan type starting at $29/month billed annually for a Professional plan, then ranging up to $599/month, also charged annually, for a Business plan. For Enterprise organizations, there is a custom price structure.
As you can see from the graphic above, the first two plans, Professional and Team, offer a free 30-day trial, while the other two require a commitment first. As the plans increase in value, you receive the benefits of the previous plan, plus additional perks.
Hootsuite also offers a "Limited Free Plan" that includes three social profiles, 30 scheduled messages, and one user. This option is excellent for new users that want to give Hootsuite a test drive before committing to the service long-term.
Option #1: Best for freelancers
For $29/month billed annually you will receive:
Ten social profiles in one place, with one password, with unlimited scheduling
One user
Unlimited RSS integrations to find content from trusted sources to post, review, or share later.
$500 per month advertisement spend limit to boost posts
Unlimited RSS integrations
In-dash live chat support
Option #2: Ideal for small businesses or small marketing agencies
For $129/month billed annually you will receive:
20 social profiles with unlimited scheduling
Three users
Custom analytic reports
Team assignment
One custom branded URL and 1 Hootsuite platform certification
$2,000 per month ad spend limit to boost posts
Option #3: Perfect for larger agencies who manage several social profiles on behalf of clients
For $599/month billed annually you will receive:
35 social profiles with unlimited scheduling
Five user access with up to 10 possible users
Analytic data exports
One social media certification and 1 Hootsuite platform certification
$5,000 per month ad spend limit to boost posts
Premium app integrations
Publishing approvals
Option #4: Enterprise option, this works best for the large organizations
Hootsuite customizes the Enterprise plans by the organization so features and costs will vary. For more information, they ask that you request a demo.
Here's a graphic that promotes some of the features of the Enterprise option: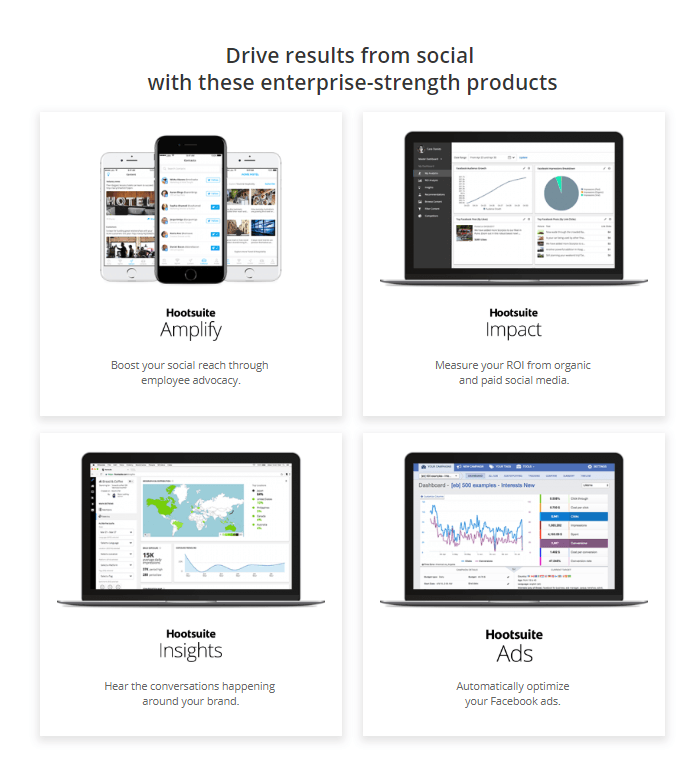 The premium plans offer advanced features such as security, team collaboration, audience engagement, and social analytics. Compatible social networks include Twitter, LinkedIn (including Pages, Profiles, and Groups, Foursquare, Facebook (including Events, Groups, Profiles, and Fan Pages, as well as Google+ and WordPress. Hootsuite also connects your profile with other platforms using third-party apps like Vimeo, Via.me, Instagram, Evernote, MailChimp, Storify, Edocr, Slideshare, Flickr, Tumblr, StumbleUpon, and Reddit.
What does the Tech Troop think?
Tech Troop Review
Here are the top three reasons the Tech Troop recommends using Hootsuite:
Integrations: Hootsuite integrates with a large number of networks and apps making it easy to manage a significant social media marketing presence.
Reviewers loved the multi-column layout Hootsuite offers and the ability to filter this data.
Many reviewers love how Hootsuite makes multi-platform scheduling so easy. They especially love how you can assign your content postings by both date and time.
Some User Complaints
The user interface can be unintuitive and sometimes "buggy."
Some reviewers felt the included reports were basic and were frustrated they had to spend additional money to create customized reports with their data.
Hootsuite does not offer the social inbox workflow like Sprout Social or Agorapulse which reviewers saw as a weakness. They did concede that the Hootsuite team role management function compensated well for this missing feature.
Is Hootsuite the right tool for you, or did you think Agorapulse was better for your business?
There is so much information to review when exploring social media marketing options, so I encourage you to check out their respective websites to learn more before committing to one or the other.
In the meantime, check out this great comparison chart by Tech Expert Ian Anderson Gray. His blog, iag.Me is an excellent resource for all things social media. Here is his detailed blog post about social media management tools that I used as reference in this review. Good luck!
Related Reading on Social Media Management Tool Options: