Last Updated on May 2, 2023 by Ewen Finser
In this post, you'll learn what Design Pickle Review is, who Design Pickle is best for and how to get the most out of the graphic design service and more.
Time and again, as an entrepreneur, you'll need to create and use professional-looking graphic designs, Whether you are a professional designer or not, it's a fact.
What do you do if you need to create beautiful infographics? Or some Graphic Design work for Facebook, Twitter, or any other social media platform? A cover photo for your business pages? Images for your sales pages? T-shirt designs? Imagery for your online ads? You get the idea.
As you can see, there are a million and one instances where you might need to use high-quality graphic designs, a dedicated designer or graphic designing teams.
Cue, Design Pickle.
This creative service can handle all the tasks we've just listed and much more around digital marketing.
So, let's take a look at what Design Pickle has to offer in more detail…
Who's Design Pickle?
Design Pickle is a one-stop-shop for all of your graphic design needs. Russ, the founder of this creative service, has worked tirelessly to build a productized service.
As a Design Pickle customer, you get access to everything you could possibly need to handle all your small-scale graphic design projects without the need of using complicated tools like Adobe Photoshop. Best of all, you can manage everything from the convenience of one easy-to-use dashboard.
You'll get access to an unlimited number of designs for one flat-rate monthly fee of $399. This entitles you to unlimited graphic design projects and unlimited revisions by a professional designer. Pretty neat, right?
What Does Unlimited Mean?
Okay, so what does "unlimited" actually mean?
Design Pickle claims to offer its users:
"Unlimited graphic requests."
"Unlimited graphic revisions."
"Unlimited brands."
This is how it works.
You're assigned one graphic designer to your Design Pickle account. You're matched with an artist who complements your graphic or visual editing.
They work for you full time. Yes, it's more expensive than hiring a fancy agency or a top-notch freelancer. Still, this service doesn't come with the usual headaches associated with these sorts of arrangements. As such, it's a bit of a trade-off between cost and practicality.
You're also assigned an account manager. They'll check on the progress of your orders a couple of times a week to ensure everything's running as smoothly as it should be.
You should note: you aren't the only client they work with, so expect your jobs to be completed at different rates (but all for the same flat rate monthly fee). The speed of their turn around times largely depends on how busy your graphic design is.
But generally speaking, users report that Design Pickle usually completes around two to three graphic design jobs a day — which is pretty impressive stuff!
It almost goes without saying, you'll also have to take the complexity of your requests into consideration. I.e., simple jobs won't take as long as more complex ones. Make sense?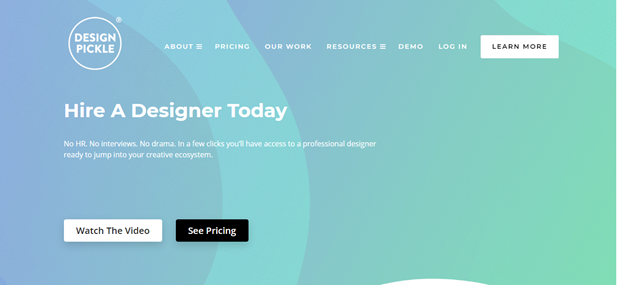 Design Pickle Review: Is it Worth the Cost?
There's a good chance you're reading this review to find out whether you'll pay more with Design Pickle than its competitors.
Consider the following scenarios:
Does it make better sense to handle your own graphic design tasks?
Is it cheaper for you to hire a graphic designer via an online freelancing platform?
Does Design Pickle work out to be the best value for money?
Okay, let's break this down.
If you want to commission the design of a professional blog header, I think we can agree this will cost you anywhere between $10 to $100. But in theory, there's no need to spend more than $30 on such a task!
So, let's say you need two of these sorts of jobs done in a typical day, this would set you back $40 a day, or $1200 a month.
So, yes, for $399 a month, Design Pickle is excellent value for money.
In a nutshell, Design Pickle is way cheaper than hiring an in-house graphic designer. But, more expensive than paying freelancers on networks like Fiverr…(that's if you don't have enough work to keep a designer busy).
Once you start spending around $300 to $400 a month on professional designers, it's time to make the switch to Design Pickle. Period.
The Benefits of Using Design Pickle
It's not just the price of the service, which makes Design Pickle stand out from the crowd; there are tons of other perks!
For instance, another huge benefit is how easy Design Pickle is for customers to use. Design Pickle's artists are well-renown for picking up the styles and tastes of their clients very quickly. As such, they're able to turn around orders faster and to the satisfaction of the customer.
Whereas, if you hired a designer from a network like UpWork, you would have to spend a huge amount of time and effort describing the job. That's also not including the fact you have to go through the complicated process of wading through applicants. Urgh. Needless to say, Design Pickle provides a solution that's way less time-consuming.
It's also worth noting, Design Pickle has access to an impressive library of stock images and graphics. As such, you don't have to fork out extra cash to purchase high-quality stock photos or go to the effort of sourcing free ones for yourself. Instead, Design Pickle finds the right image for you and modifies it to suit the instructions in your brief.
For your ease, we've briefly listed some of the other key benefits of using Design Pickle:
It's effortless to submit and track your graphic design projects.
Users report that communications between them and the artist have been both prompt and clear.
On the whole, you get precisely what you ask for.
Users say that Design Pickle's graphic designers are quick to make adjustments​.
Deliverables include editable formats of the finished work.
Users also love that they can fill up their request queue safe in the knowledge that their orders are being worked through methodically.
Let's just circle back to receiving editable formats for a sec. Sometimes it's just faster to make a few tweaks yourself than to send it back to the designer and wait for them to handle it. This is especially true if the edits take less than ten minutes!
It's worth noting if you hired the services of a freelance graphic designer from a network like Fiverr, you'd have to pay extra to receive the editable files. Urgh. Sometimes as much as an additional $20! So, for those of you who don't realize it, this perk is a pretty big deal! It's just another feature Design Pickle offers that puts it heads and shoulders above its competitor.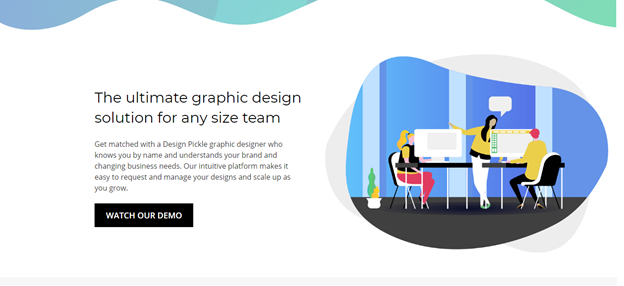 Design Pickle's Drawbacks
Like any online service, Design Pickle isn't without a few drawbacks. For instance, it isn't the best service for handling overly complicated design projects. If that's what you need, then you're probably better off shelling out for the work of a high-quality and reputable graphic designer.
The biggest complaint, though, is that Design Pickle shy away from creating logos and branded content! As such, you're not supposed to request these sorts of designs. But, some users have reported successfully submitting orders for logos…but they were told not to ask for logos again ?.
Also, some users complain that once they've submitted an order, it's challenging to re-arrange the brief. This can be a pain for all parties concerned!
Who's Design Pickle Best for?
Like most things in life, Design Pickle isn't for everyone. For instance, if you're new to the online marketing world or you're just starting out, and funds are limited. You probably don't want to splurge your precious cash on a service like Design Pickle. Instead, your money is probably better spent on advertising, keyword research tools, education, etc.
But, if you're already running a profitable business or an agency, Design Pickle could be the perfect solution for graphic design needs. Namely, because it's so flexible!
With the right graphic design, you could better engage with your audience, boost your conversion rates, and enhance your content production — all at a very reasonable price. What's not to love about that?
The real questions to ask yourself are:
Can you afford $399 a month?
Will professional graphics benefit your business and boost your bottom line?
Do you need 20 or more small graphic design tasks completing within a month? If you only need one job completing a week, you'll be paying a lot of money on someone who isn't working. It's a bit like hiring an employee. If you don't provide them with work to complete, they won't do anything!
If the answers to all these questions are yes, Design Pickle is probably a good investment for you.
BUT
As we've mentioned, in the drawbacks section of this review, if you need logos or more advanced designs, Design Pickle isn't the right service for you. Also, if the project you need completing is especially time-sensitive, Design Pickle might not be the best fit. On the whole, most assignments take about a day to complete. But, when your order queue is fully loaded up, you can expect to get anywhere between one and three tasks finished a day (depending on complexity). So, don't forget to bear that in mind!
Top Tip: Some users like to try and keep at least fifteen jobs in their queue. That way, they ensure they're always getting decent value for money from their Design Pickle subscription.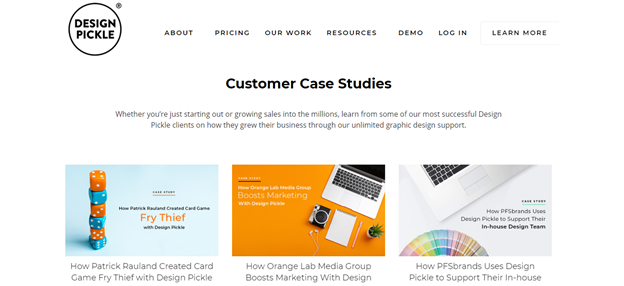 Is Design Pickle User-Friendly?
In short, yes. Their on-boarding process is nothing short of intuitive. Obviously, if you have a very specific vision for one of your projects, you'll have to be relatively detailed with the instructions you provide your artist. After all, they're not mindreaders.
Russ claims to have spent ages working on Design Pickle's onboarding process, and it shows. When you launch Design Pickle's dashboard for the first time, it prompts you to watch seven short videos.
These come in handy for explaining the entire Design Pickle process from start to finish. They also take this opportunity to explain the types of tasks they will and won't handle.
When you submit a task, Design Pickle always asks you to provide images or links to similar designs you like the look of. That way, if you're struggling to put into words what you want, you can still try and communicate your vision to your assigned artist.
The Dashboard
When you log into Design Pickle's dashboard, you'll notice the layout is surprisingly minimalistic, which is one of the reasons why it's so easy to use. It's via this dashboard that you can place an order, so we're going to walk you through the process:
Step 1
This is where the majority of stuff happens:
Name of Request: Don't be lazy with this step. Carefully consider how you'll label your request. You want to ensure you'll understand what content the order points to…even in a few year's time. Trust us, when you're scrabbling around trying to find these old files, you'll regret not providing your requests with meaningful names. Needless to say, this makes scanning through your queue for past projects much more accessible.
File Size and Dimensions: This is the most intimidating of all the options. You don't want to pick a file size that's too small or too large. As a general rule, it's much easier to modify larger files than smaller ones. So, if you don't have any specific dimensions in mind, consider submitting something like: "large with a clear background."
Inspiration Box: This is where you can paste links to images that you want to replicate.
Describe what you're looking for: This is the meat and potatoes of the order. So, you'll probably want to spend the most time filling out this box. It stands to reason, the more specific your description, the better the end result. If possible (or necessary), consider breaking the task down into various steps and refer to the images by name (the ones you've just uploaded) to help explain what you want.
What file type do you need?: If in doubt, tick all the boxes and then PSD. As we've already mentioned, unlike the majority of its competitors, Design Pickle doesn't charge you extra for the editable versions of the completed order.
Step 2
Need Photos or a starter graphic?
Yes, you've already uploaded your own demo photos to help guide the artist. However, if you don't already have a stock photo account, Design Pickle will find the images you need to complement your graphic design. If that's something you want, let them know.
Step 3
Upload Any Assets
Some users complain about this part of the process.
Why?
Most Design Pickle customers sync their DropBox account. When you click the 'Add Assets' button, you just drag and drop the images you want to upload into the box. But, unfortunately, you can only upload ten at a time! As such, if your internet connection is poor and/or you're uploading larger pictures, you could be waiting a while!
Some users also note that each time they go to upload files from Dropbox, they have to re-connect their Dropbox account with Design Pickle. But, to be fair, the majority of times, you just need to click the blue box, and this magically solves the problem.
Then once you've finally managed to connect with DropBox, it's then a challenge to upload files from several folders at once. Each time you start a fresh upload, you're directed back to the Dropbox root page. Needless to say, it would be much more convenient to stay in the same folder.
Step 4
Pickle It:
Okay, this is the last step! So, once you're all done and you're happy with the order request, hit the checkbox to confirm. Then go ahead and submit the project. You should then get a confirmation email, and your project will appear in your queue straight away.
Yes, it really is that simple.
The Settings Page
Over on the settings page, you can modify the following info:
Your email address
Whether you opt for an annual or monthly billing plan
Set your preferred file types, so they show as default on your orders.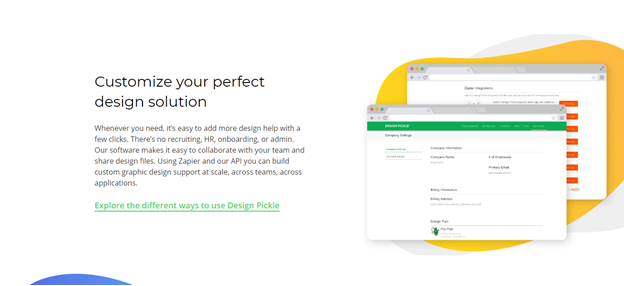 Past Projects
The 'past projects' page doubles up as your work queue. Here you'll find all of your completed and active projects. It's easy to access recent orders, pull them up, and request modifications. (e.g. referencing your established branding, header images, or website design). As you can imagine, it's really convenient to be able to see all your old orders from one place.
Again, this just stresses the point we previously made… the need to name your orders thoughtfully is paramount!
Design Pickle Alternatives
As you probably already know, there are several ways you can commission graphic design projects online. When it comes to picking the right solution for your business, it all depends on both your budget and the complexity of what you need completing.
So, we're going to explore a couple of Design Pickle's main competitors. That way, you'll get a better feel for which service best suits your needs.
UpWork
Sites like Upwork get a bit of a bad rep, and for a good reason. They've even removed their star rating system from the tops of the profiles of their freelancers. This is pretty clearly an attempt at masking how bad the majority of their artists are!
This makes it a challenge to evaluate the competency of the designer. At present, the only thing you can see is how many tasks they've completed! Shocking right?
One of the most prominent complaints customers have with UpWork is the sheer dishonesty that goes on over there. The platform is jam-packed full of liars! There have been loads of reports of freelancers placing a reasonable bid on a project, then once you've accepted their proposal, they raise the price! This is such a headache. You don't want to waste your time and energy haggling on an amount you've already agreed upon!
As such, finding a graphic designer on UpWork that you can directly compare with Design Pickle is near-on impossible. The vetting process is immense, and you'd have to pay much higher rates to have the privilege of working with a competent freelancer. Upwork might also be a better solution for real-time collaboration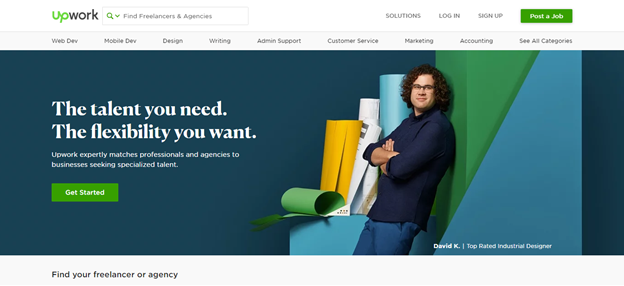 I love Fiverr.
I've used this platform quite a lot myself. As a small business owner who doesn't need lots of graphic design work every day, Fiverr is definitely worth considering.
But, if you find yourself regularly spending around $300 on Fiverr-related design tasks, it's usually worth making the transition to Design Pickle.
Fiverr boasts some extremely talented workers. Many of whom produce top-notch designs at very reasonable prices. But, in comparison to Design Pickle, assignments tend to take much longer for designers to complete. Namely, because the workers with the best reputations have long queues.
Unsurprisingly, when you place a product order, you go to the back of the virtual 'line.' The only exception to this rule is if you're willing to fork out more for a faster turnaround.
While we're on the subject of money, it's also worth noting that the better artists on Fiverr are continually raising their prices. For instance, some logos that were once a fiver a few years ago are now $25. That's a huge markup!
On the whole, the quality of work you'll get from Fiverr is comparable to that of Design Pickle. As such, the majority of Design Pickle customers only resort to Fiverr if they need a graphic design project that's beyond the ability of their dedicated artist.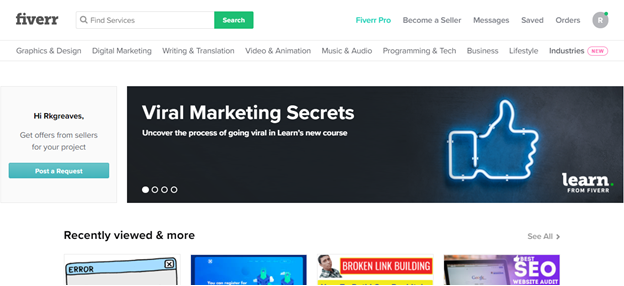 Frequently Asked Questions:
How Do I Hold Or Cancel My Design Pickle Subscription?

To cancel your subscription with Design Pickle just log into your account and select the "Cancel/Hold" at the bottom of the "Company Settings" tab and start the unsubscription process.
How Many Brands Can Use One Account of Design Pickle?

With Design Pickle, you can use as many brands as you want in the same account.
How Do I Contact Desing Pickle Support?

If you have an issue related to the design, you can always talk directly to your designer, if there is an issue you still need help with, you can always contact our Customer Success Team at [email protected]. or click the green circular logo to send us a message. If you want to start a new contract with us, you can see the contact form or email to [email protected].
Design Pickle Review: Our Final Thoughts
If you're a professional online marketer, entrepreneur, author, social media marketer, infographics marketer, etc. there's a good chance that high-quality graphics are integral to the successful running of your business.
You might be at that period of your career where you're handling the majority of your design needs, but your limited time and skills are starting to hold you back.
This is where investing in a single resource where all of your basic graphic design needs are catered for comes into its own. You'll be astounded at how much time you'll save, that you can then use to focus on other money-making activities.
Bottom Line: Like we've already said, if you need twenty (or more), smaller graphic design tasks completed a month, Design Pickle is the service you've been waiting for. We're confident it will meet or exceed all of your day-to-day expectations.
FYI: As we've gone about writing this review, we've found that the majority of negative reviews written about Design Pickle aren't left by users. Instead, they tend to be posted by somewhat jealous competitors! So, be sure to take these comments with a pinch of salt!
If having read this article, you're still on the fence, go ahead and give them a whirl using their two-week-long free trial! This gives you a fabulous insight into the quality of work your designer can produce. You never know, you might be pleasantly surprised at their turnaround times, talent, and quality of communication. What's not to love about that?
Have you ever used Design Pick before? If so, we'd love to hear about your experience, thoughts, and criticisms in the comments box below. We love conversing with our readers, so let's kickstart the discussion. Speak soon!
Further Reads On Design Pickle Alternative Options for Graphic Design Requests: