Last Updated on July 19, 2023 by Ewen Finser
Business owners have many graphic design needs that might not be able to be filled inhouse. Most businesses typically don't have expertise beyond limited Photoshop skills.
Your business needs might be outgrowing that free WordPress template and is now begging for some fresh pop of color and layout via a professionally done web design. Other businesses may require brand identity makeovers, packaging or advertising designs and all these projects can be a hassle for a business owner who needs the job done efficiently, professionally and fast.
Best 99Designs Alternatives TL;DR: For most businesses, the best alternative to 99Designs is going to be the similarly structured DesignCrowd available here.
Free graphics design resources online are a dime a dozen. You can use Canva, Pixl or Hipster Logo Generator to come up with design solutions for your business. However, when it comes to personalization of your brand with a good dose of professionalism, you will require a graphics designer proficient in spec work.
Now, graphics design services do not come cheap. For upscale services you can easily spend thousands of dollars. Enter logo design services like 99Designs. Great mid-points between going high-end with an agency or going the DIY route.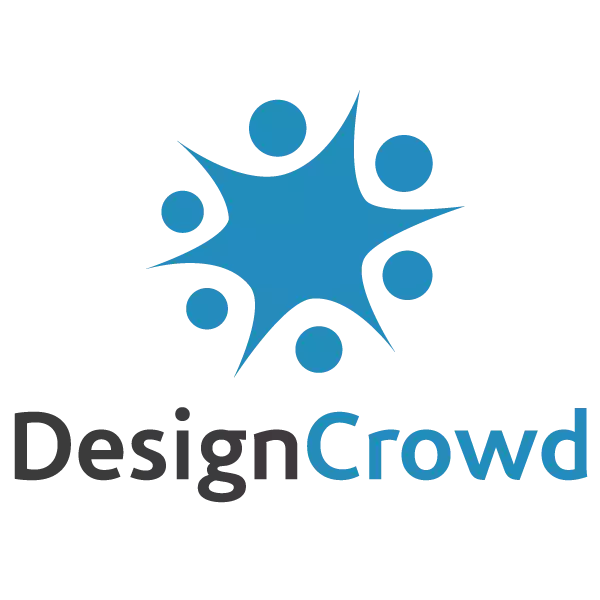 Go with DesignCrowd
DesignCrowd is the MOST similar to 99Designs, but much LESS expensive with more pricing tiers depending on your needs and budget. DesignCrowd actually offers more customization options than 99Designs!
View Plans
We earn a commission if you click this link and make a purchase at no additional cost to you.
The best 99Designs alternatives are:
1. DesignCrowd: Best 99Designs Alternative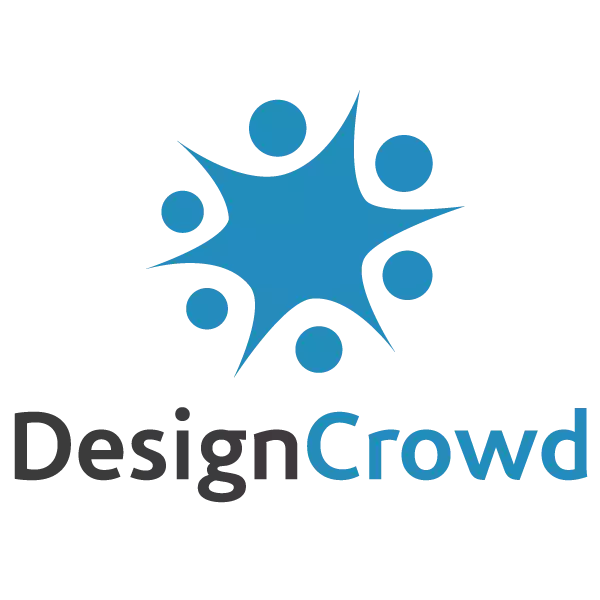 Go with DesignCrowd
DesignCrowd is the MOST similar to 99Designs, but much LESS expensive with more pricing tiers depending on your needs and budget. DesignCrowd actually offers more customization options than 99Designs!
View Plans
We earn a commission if you click this link and make a purchase at no additional cost to you.
DesignCrowd runs on the same premise as 99Designs and is also a crowdsourcing design platform operating with a contest-based system. Their contests though have flexible contest times, and you can choose a 2,5,10 or 15-day contest at no extra cost, unlike the standard 7 day contest time 99Designs allows.
DesignCrowd does not show their prices at the start of the design contest so you might feel like you going in a bit blind. With DesignCrowd the minimum amount required to set logo design contests is $240 for a logo design contest and $340 for website design. This platform curiously adds a small transaction fee to launch a competition which is not common practice with other platforms.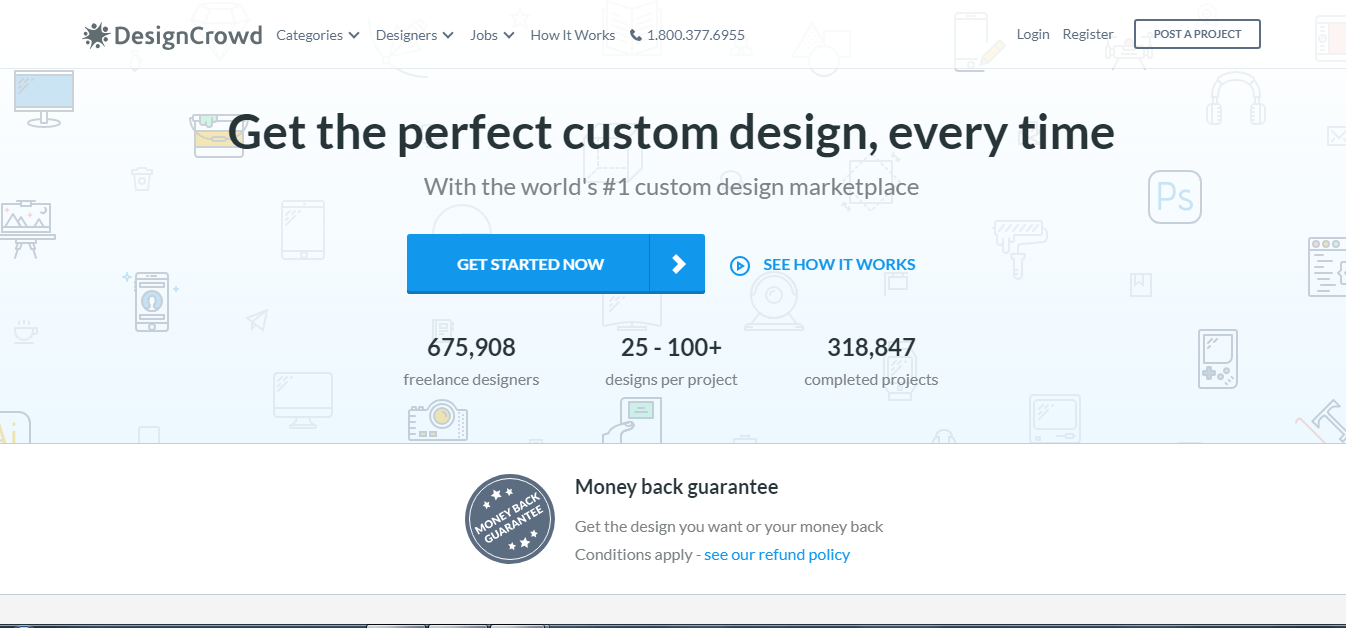 The DesignCrowd platform also requires a design brief that should outline your expectations. It has fewer designers that 99 Designs but a designer list of 460k is still more than needed to give you stellar design results.
Once your design brief and contest is up, you will get loads of input for all types of graphic design ranging from postcards, T-shirt design, business cards, mobile app, logo or web design. From the dozens of results submitted, you can then pick one that works for you. If you are unsatisfied with results, DesignCrowd has a money back guarantee to protect you.
DesignCrowd has an excellent customer support team, to help you meet your design objectives on the platform. Customers have mentioned that this team will at times extend the contest length to ensure that their clients get satisfactory results. DesignCrowd also allows you to invite designers to your project to ensure that misses your contest.
This platform has a filter tool that enables you to filter designers for your project by designer type or country, feedback scores, contests won or entered, or percentage wins. You can easily use these stats to pick the kind of designers you prefer to work with depending on your budget level.
The 99Design website has a very modern, upbeat look to it when compared to DesignCrowd's platform, and their platform is more intuitive too. DesignCrowd though has a lower entry price point but works better with its designer invitation. On 99Designs, you will still get stellar results by just posing your contest.
DesignCrowd: The Good
Fantastic support to help you meet your design objectives
Great designers with excellent attention to detail
More affordable and flexible with contest length than 99 Designs
Money back guarantee if unsatisfied with the contest results
Has an invite feature to invite your favorite designer to your contest
Has an excellent filter feature as well to help you work with your preferred designers.
DesignCrowd: The Bad
Hidden costs
An additional transaction fee for contests
Very aggressive email promotions
Fewer designers and contests on its platform when compared to 99Designs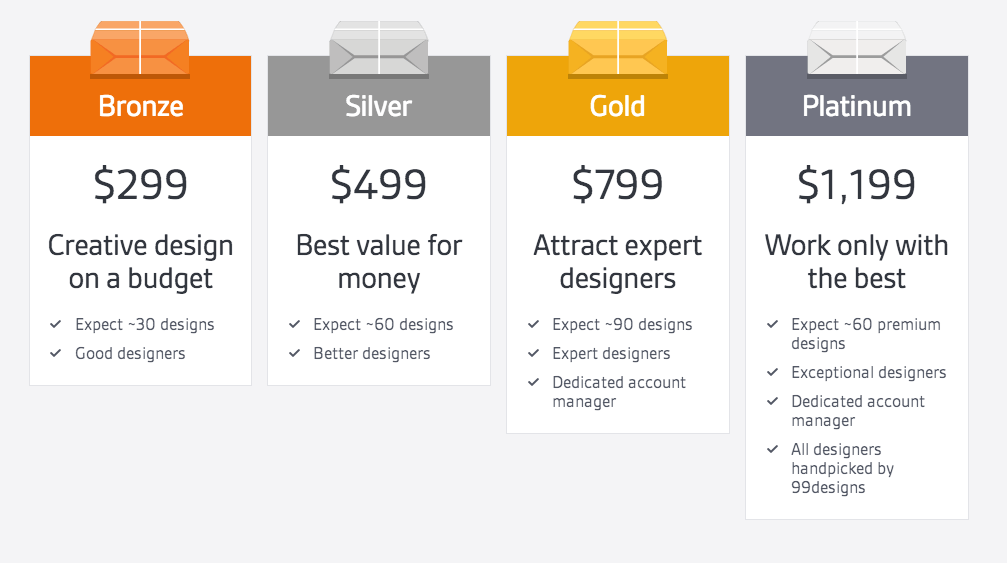 Check out DesignCrowd Pricing Here
2. Fiverr: Cheapest Alternative to 99Designs
Unlike 99Designs or DesignCrowd, Fiverr provides user-generated content to clients. Liken it to a social media site where clients patronize gigs as listed by the sellers. On Fiverr, you can view gigs of any kind job from prank jobs or lawn mowing, but as the platform has matured, more professions like article writing, digital marketing or graphics design have taken precedence on the site.
Fiverr aims to undercut industry costs by enabling freelancers to eliminate the middle man, by working directly with their clients. Fiverr generally refers to the platform's minimum prices for a gig, which is $5. While there are some copycats, there are actually not many websites like Fiverr with a true network effect.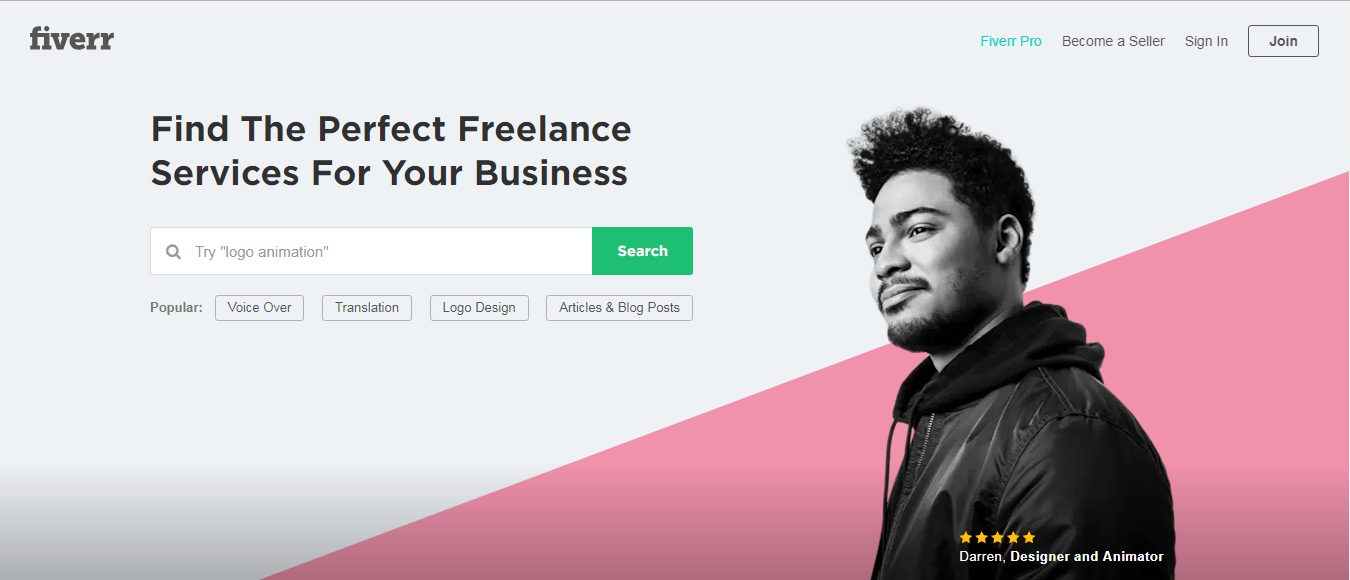 Needless to say in Fiverr you could find yourself paying lower rates for your graphics design jobs. Fiverr though being a jack of all trades of may not offer you the kind of professionalism niche graphic design websites will offer.
On Fiverr, the price of a gig largely depends on the seller, and since the market is open and very competitive, a designer will often list the lowest possible costs to land a gig quickly. The website itself encourages low-cost prices so you are bound to find lower prices on Fiverr than can be found on 99Designs.
On Fiverr, it is essential to study the price of gigs better because the lowest prices often offer bare-bones services. All other vital essentials are tagged as additional costs. For example, essential items like vector files to your design or copyright of designs might require more costs to attain.
You might also be required to pay extra for features like additional revisions or png file formats for a logo set on a transparent background for your website. So eventually costs that looked originally cheap might end up adding up to a hundred at the end of the job.
Fiverr does not have as many graphics designers listed on their website as does 99Designs or DesignCrowd. It is possible that you will get more artistic styles on these niche platforms than you will find them on Fiverr. The search function of 99Designs is designed explicitly with the designer search in mind.
In Fiverr the search criteria caters to a multitude of disciplines and mostly to prices and product descriptions. It will be easier, therefore, to set up a job on graphic design niche sites than it is to search, outline the job specifications and set it up on Fiverr.
Fiverr though focuses on many interdisciplinary projects so you could have all your business's needs taken care of all under one platform.
Fiverr: The Good
You could land yourself an excellent service provider, who will cater to a wide variety of your business needs beyond graphics design
Affordable services
It is easier to forge working relationships with your preferred graphics designer on this platform
Oct 2019 UPDATE: Fiverr's new Pro Plan actually curates higher quality talent for $150 here. Clearly less expensive than 99Designs AND DesignCrowd, but you don't have to sift through hundreds of lower end producers.
Fiverr: The Bad
There is the danger of place orders on inactive gigs which make the turnaround longer and tie up your money in the process.
You could settle for an inexperienced seller or one with an exaggerated portfolio of their skills.
Not as many graphics designers as other platforms
You have to study the details of the gigs to avoid hidden costs.
99Designs vs Fiverr vs DesignCrowd comparison table
Feature
99Designs
DesignCrowd
Fiverr
Niche
Graphics design
Graphics design
Mixed
Working mechanism
Contest + a design brief
Contest + plus a design brief

Invite your preferred designers to your contest
Find + hire a freelancer

Post a request and await offers
Costs
Flat rates dependent on the length of contests
Flat rates dependent on the length of contests
Freelancers set the prices of the gig.
Graphics designers available on the platform
+1,000,000
+ 460,000
+7,000
Honorable Mentions: Other Design Services Worth Discussing
There are a few other options to check out if DesignCrowd or Fiverr doesn't suit your needs:
DesignEvo: Realtively new on the scene, but I LOVED the trial run I took with them. DesignEvo is actually a DIY design software tool that is dead simple to use and specifically built for professional logo generation. For a one-time fee of only $24.99 or $49.99, DesignEvo is a good price point that is slightly more than you might find on Fiverr but not as expensive as 99Designs. Plus, you can use the tool forever and easily modify your logo (otherwise hiring a designer to re-do it is also like paying for a new logo).
DesignHill: DesignHill is another contest based platform, featured 4 tiers of content pricing from $199 to $999. At the low end, $199 gets you 20+ design submissions and increasing by gradients of 20 designs up to 80+ for the $999 package. BUT, like DesignEvo, DesigHill also has a logomaker that uses Artificial Intelligence to generate logo concepts (I recommend the $65 tier here). Overall, a great logo design solution to check and compare pricing against the other options.
About 99Designs
Thanks to crowdsourcing sites like 99Designs, you really do not have to the go the whole 9 yards and hire a graphics designer directly or spend a fortune on a design agency. 99Designs is one of the largest online platforms that connect people to creative graphic designers at an affordable fee.
The design contest platform enables you to crowdsource your business's graphics design needs by starting a design contest that pits the most creative professionally against each other for a reward.
It's certainly an intriguing business model for generating the best design ideas. 99Designs' logo contest process begins when you join the platform and submit a design request and ends when you select a winning design and the designer delivers final copy. And without 99Designs, we wouldn't have all of these great 99Designs alternatives!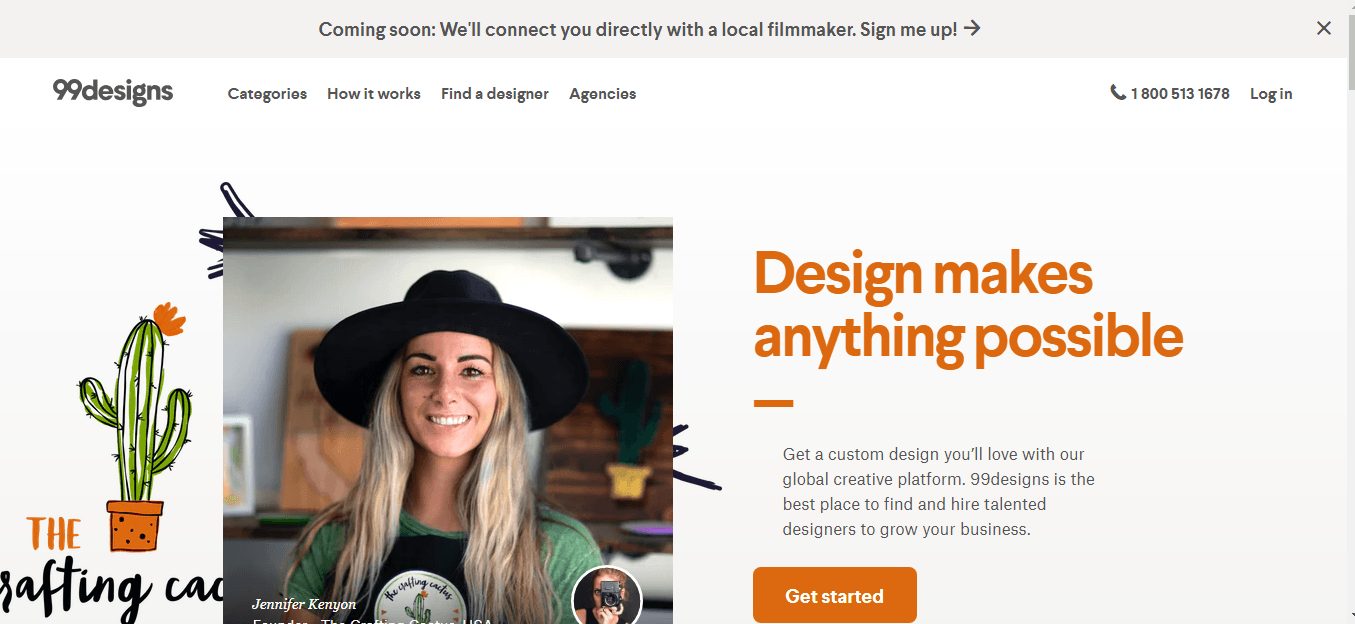 Depending on how lucrative your reward is, you will, in turn, receive tons of design ideas from the marketplace, and all you have to do is sit back and choose what appeals to you the most.
You can run any kind of creative design contest at 99Designs, ranging from book cover designs to website logo designs or custom WordPress theme design. All you need to do is set a budget and study the design ideas, then settle on what works.
99Designs had a less publicized readymade store for logos, with tons of pre-made logos for all industries under the sun. You could have had your logo choices customized in terms of text and color to fit your business's requirements too. The logo designs were affordable and gave blogs, websites or businesses instant credibility with their pixel-perfect nature. They, unfortunately, shut this logo store down, preferring to restructure their design contests prices, and refocusing them on unique design elements like bundled options.
99Designs has the highest brand awareness share in this market, with a team of over a million designers on one platform.99 Designs make the design contest launch very easy. It even gives you a logo gallery to help you establish your design preferences. This process assists a buyer who might find it hard to articulate their designs needs with words. It creates a visual image through proven samples.
99Designs: The good
The platform is affordable
Graphics design costs tend to eat into a web design budget more any other cost, which is why most website or blog owners go for templates. However graphic design has a human element to it that turns abstract brands to visual magic, something computers are not very skilled at. Getting a custom look for a small business may be way out of budget but 99Designs bridges that gap by offering an alternative without too much of a hassle or expense.
Design choices
99 Designs has a platform that offers a wide selection of designs for your choice. This eliminates the need for sifting through tons of resumes, to find a designer whose style you like.
Quick turnaround times
Once your brief is submitted, you will have design choices within as little as 24 to 48 hours. They provide a unique viewing link to assist you to get feedback from business partners, friends or colleagues. The revision process is pretty fast and hassle-free too.
Guarantee
99Designs holds your money in escrow until you have the final product. You will have no fear of scams or poor quality work, and it protects the professional designers from having to deal with shoddy or demanding clients. If you by any chance get poor design choices, 99 Designs will not require you to pay.
99Designs: The bad
Briefs
Perhaps the most significant pain point of this platform is articulating complex symbolism or concepts in a design brief. A bad design brief rarely gets good design choices. Consider also that you have to communicate all your requirements including color choices, textures symbolism and general look in a brief to get good designs. Unfortunately, the large market has designers who know little of your native language. This process can be daunting and at times discouraging to the users.
Hard to build relationships
their old school design contest idea tends to ruin the ability to forge relationships with designers you like.
The inflexibility of design contest time
Your contest is allowed a 7-day run. If you need more choices, you will have to pay more. If you need shorter deadlines you have to pay more too.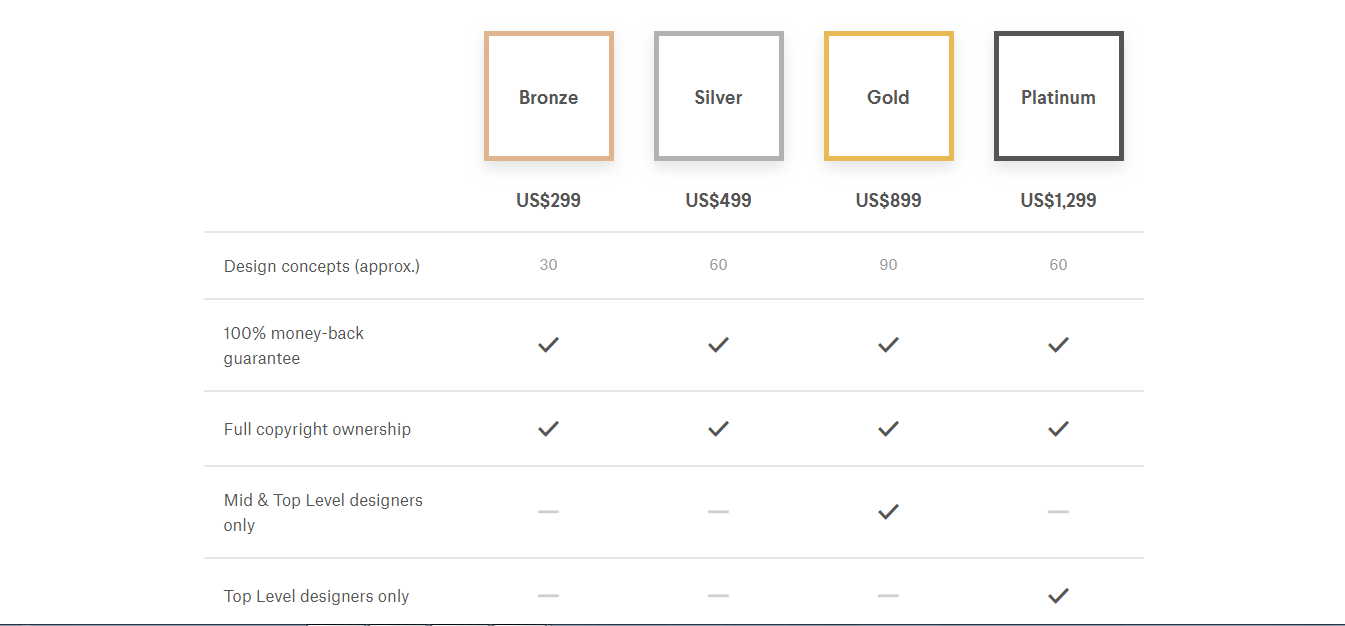 The Final Word: So What is the Best Alternative to 99Designs
99Designs definitely has the largest pool of graphic designers in the design community, and you are destined to get top-notch quality from this platform. DesignCrowd is more flexible in terms of contest days, more affordable and is more versatile, allowing you to invite designers and graphic artists to your contest.
Fiverr, on the other hand, could be affordable but the designer pool here is way smaller. It is also a jack of all trades.
Bottom Line: If you want a more affordable a versatile service than 99Designs, start your DesignCrowd project here.
Still too expensive? Give Fiverr a try here then. They've upped their game recently.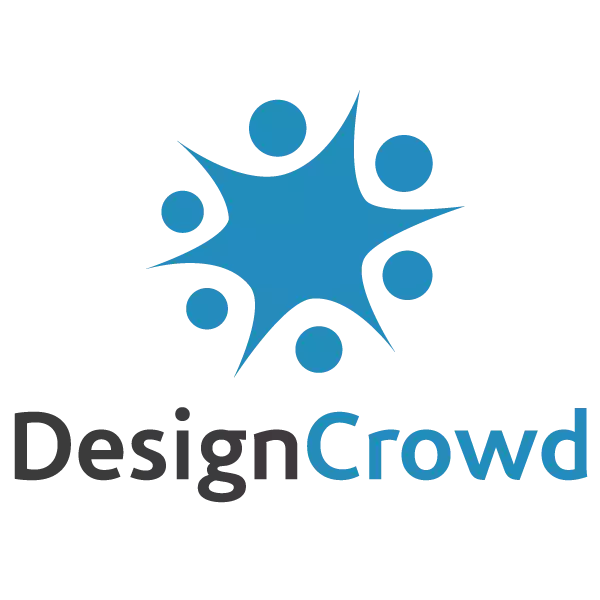 Go with DesignCrowd
DesignCrowd is the MOST similar to 99Designs, but much LESS expensive with more pricing tiers depending on your needs and budget. DesignCrowd actually offers more customization options than 99Designs!
View Plans
We earn a commission if you click this link and make a purchase at no additional cost to you.
Here are related articles you may be interested in: