Last Updated on April 22, 2023 by Ewen Finser
It's not easy to choose the right email marketing software or contact a relationship manager. There are always debates about which one is the best—Constant Contact vs Hubspot.
One of these tools may be better for your needs than the other, but it can be hard to tell which one will be without first trying them out yourself or you can just let us help you out. In this article, I'll break down their differences and let you know what I think about each service.
Having the best email marketing software and CRM for your needs will make a big difference in your marketing results. Use the information below to make an informed decision on which one is right for you.
Main Differences Between Constant Contact vs HubSpot
The main differences between Constant Contact vs HubSpot are:
Constant Contact doesn't focus on educating its customers, whereas HubSpot has a lot of training material
Constant Contact has a limited autoresponder, whereas HubSpot is a complete solution
Constant Contact focuses on what they do instead of holding events, whereas HubSpot is well-known and holds events
Constant Contact does have a refund policy, whereas HubSpot does not offer refunds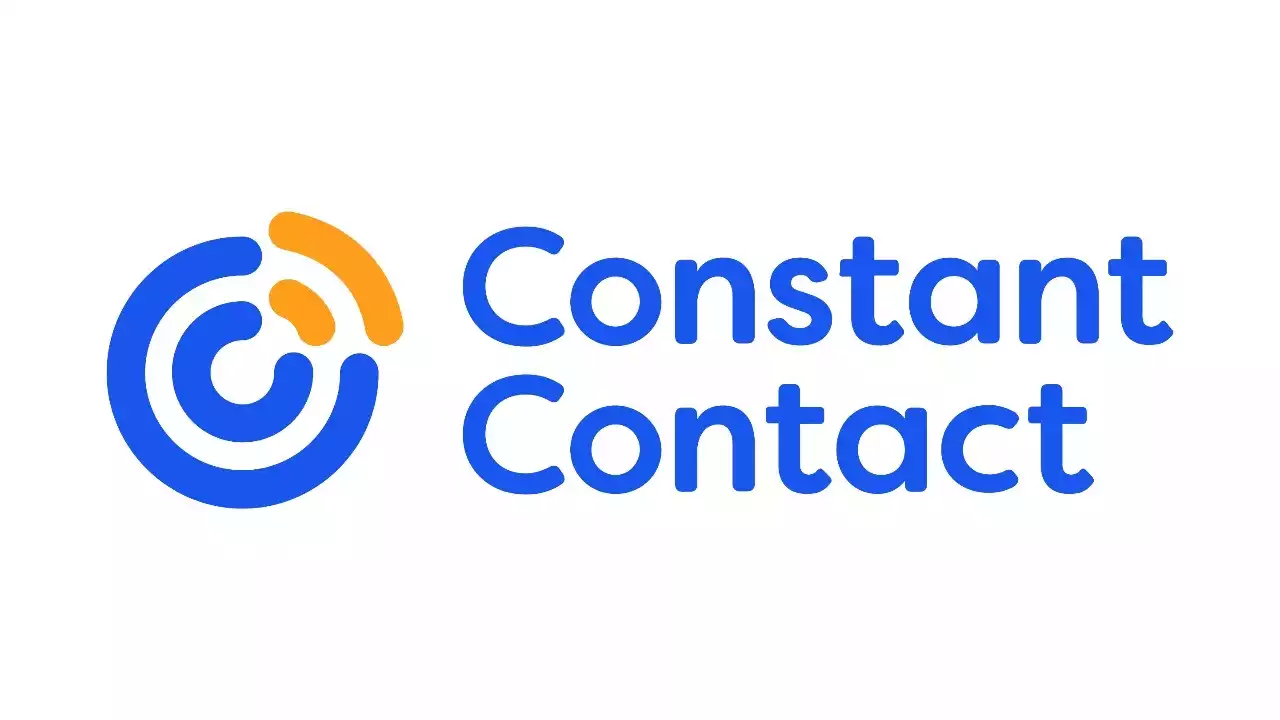 Email Marketing and More, Made Easy | Constant Contact
Whether you're launching an email marketing campaign to engage customers, building an awesome website in minutes, uploading products to your online store, and more, all in one place.
Get 40% Off Now
We earn a commission if you click this link and make a purchase at no additional cost to you.
Constant Contact vs Hubspot: Constant Contact Overview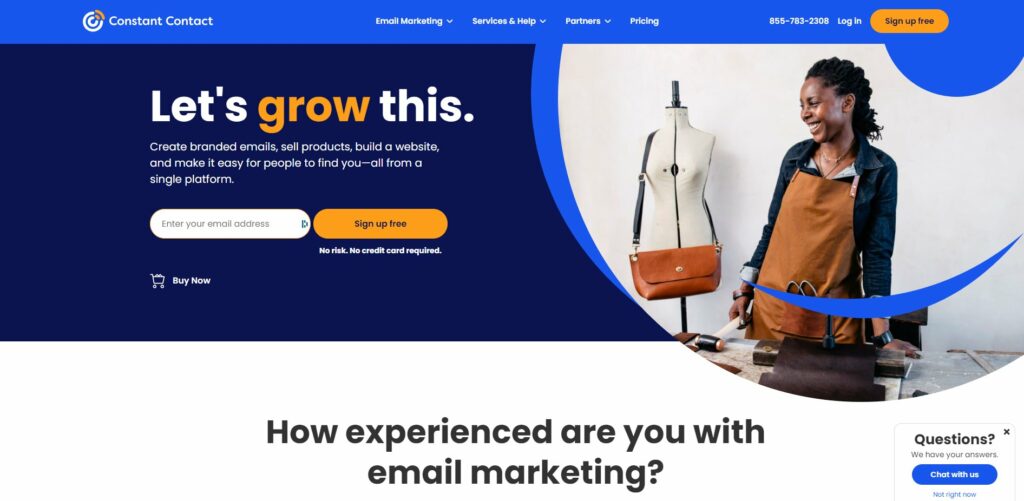 Many people find Constant Contact to be a great beginning software for small businesses. Constant Contact provides the user with many tools including, email marketing, social media management, website design, and hosting. This is both an email marketing and social media marketing company making Constant Contact one of the best choices for a startup company.
Constant Contact was founded in 1995 in Massachusetts but didn't take its current name until 2004. It used to be known as Roving Software. What people like most about Constant Contact is that it is easy to get started with. Most people that use it said it didn't take them a long time to get up and running so they could start marketing their business.
Getting Started & Using Constant Contact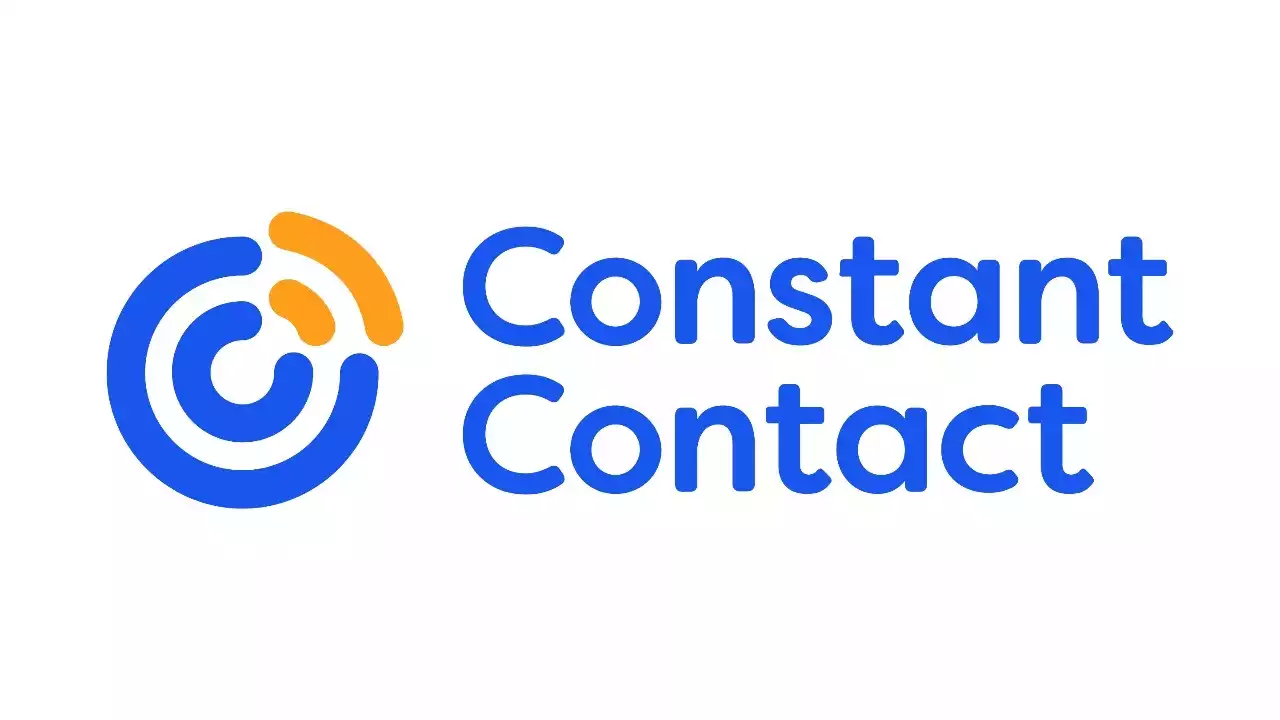 Email Marketing and More, Made Easy | Constant Contact
Whether you're launching an email marketing campaign to engage customers, building an awesome website in minutes, uploading products to your online store, and more, all in one place.
Get 40% Off Now
We earn a commission if you click this link and make a purchase at no additional cost to you.
It's easy to get started with Constant Contact. You just need to create an account and find the right plan for you. There are training videos to help get you started, so you don't have to worry about feeling around in the dark to figure everything out.
Keep in mind that they offer a free 60-day trial, so you'll be able to see if you like the way their product works. Also, don't forget that their pricing doesn't go up as quickly as HubSpot's does.
Pricing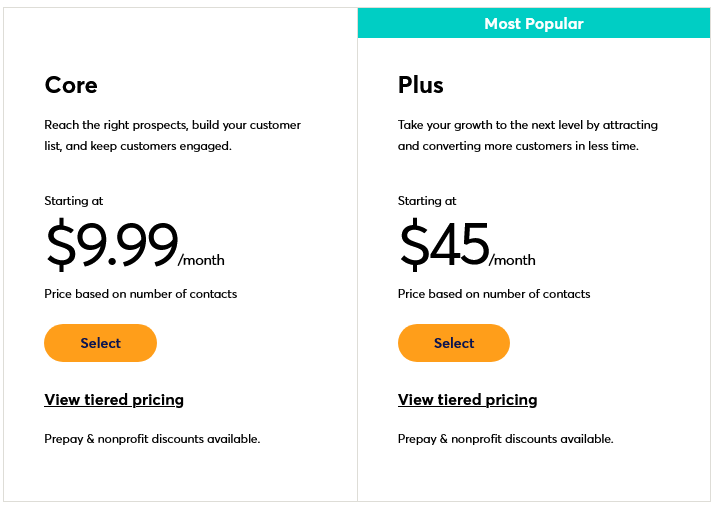 You can get started with Constant Contact for as little as $9.99 per month. This is for using their email marketing service without automation, so if you want to use more of their tools, the price goes up to $45 per month and then $195 per month.
The more contacts you have, the more money you'll put out. There are many programs that operate this way, so it's not something that should be a dealbreaker.
Keep in mind that if you decide to prepay for 12 months, you are able to get a discount of up to 15%.
Customer Support
If you need help with your products, there are a lot of ways to get the support you need.
Constant Contact gives you a good base of video tutorials to help you figure out how to get started and solve the most common problems. If you still can't figure out what you're trying to fix, there are options to chat with customer service as well as a call option.
Constant Contact vs Hubspot: HubSpot Overview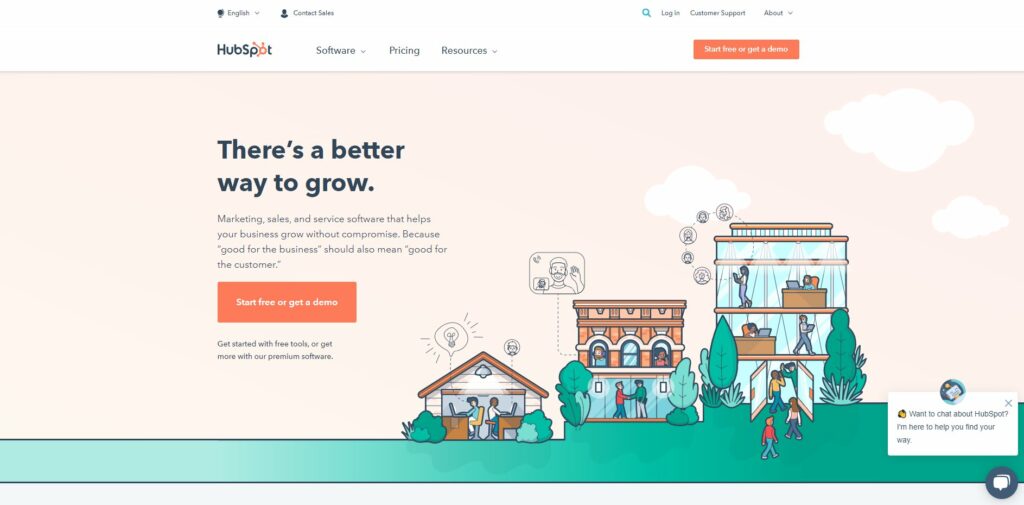 HubSpot was founded in 2006 by Brian Halligan and Dharmesh Shah, who both attended the Massachusetts Institute of Technology (MIT). They initially started this business as an onsite search engine optimization company but have since grown exponentially to become one of the best marketing automation software around today.
In 2015 they were named number 33 on the Inc 500 list for fastest-growing private US businesses with millions in revenue annually, making it clear why Contact Contact vs HubSpot are always being compared. HubSpot is revolutionizing the way businesses market themselves online.
HubSpot is a complete system that includes marketing, sales, and customer service tools, as well as other features such as blogging and website design templates. Hubspot also has an industry-renown blog for businesses to learn about different aspects of the business world, from social media strategies all the way to how they can use their software more effectively.
There are constant updates taking place on this site, so you'll never get tired of learning information there.
Getting Started & Using HubSpot
HubSpot has a 14-day free trial that you can sign up for, and then from there it's easy to get started. Since it is so easy to begin building your list and setting up automation, their hope is that you get started, love it, and keep going.
If you just want to start with email marketing, you won't have to put out too much money. Starting at $45 per month for up to 1,000 subscribers, you can start building without breaking the bank.
If you want to add on other services, then you have even more work to do and more money to fork over.
Pricing

Keep in mind that HubSpot isn't best for small businesses. Their pricing structure gets steep pretty quickly after the $45 per month option we talked about above.
If you want to go from the Starter to the Professional plan—you're looking at $800 per month. For this steep price, you do get a lot of great marketing tools that help you automate your business, but many people don't have that much money in the budget or marketing and sales unless it's a larger business.
Customer Support
If you're not at least at the Professional level for HubSpot, you don't have access to customer support via phone. You can, however, use email or chat as long as you're on the Starter plan. If you're still on the free plan, you won't have access to any support except for the community section of the support as well as help articles.
Constant Contact vs HubSpot – Which Is Better?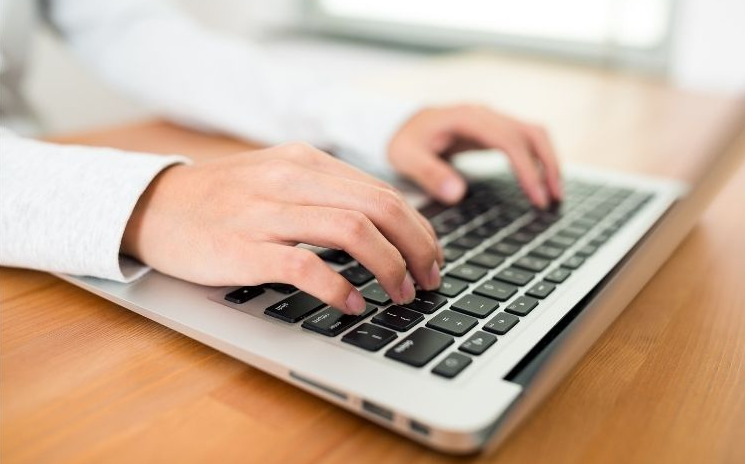 HubSpot has a great reputation, and since they hold live events and other things, many people might immediately want to go with them.
The problem is that if your business isn't big enough, that might not be a good option for you. Constant Contact slowly scales up its price and still provides a good product, so if you're only starting out with your business or don't have a big budget, it's likely the best option for you.
Ease of Use & Navigation
Even though the pricing on Constant Contact is better than HubSpot, HubSpot does make it very easy for its users to create campaigns and amp up their marketing and sales efforts.
You truly get a full suite of tools that you need to make your business run smoothly. If you have a big enough budget and want a product that is easy to use, then this is a good option for you.
Support
Both companies have good customer support, but HubSpot only offers their best phone support to those on the Professional or higher plan.
Keep in mind that you might not need that much support if you're with Constant Contact because of their huge library of helpful videos that walk you through each step of the process.
Do I Need One of These Services?
Having an email marketing service and a contact relationship manager is unavoidable in this day and age. If you aren't talking to your customers—your competition is talking to them.
According to studies and polls, email has a median 122% ROI, which blows other forms of marketing out of the water. If you don't use it, you're greatly missing out. Having a platform that makes it easy for you to tap into this highly lucrative marketing method is a must for serious business owners big and small.
Other Alternatives to Consider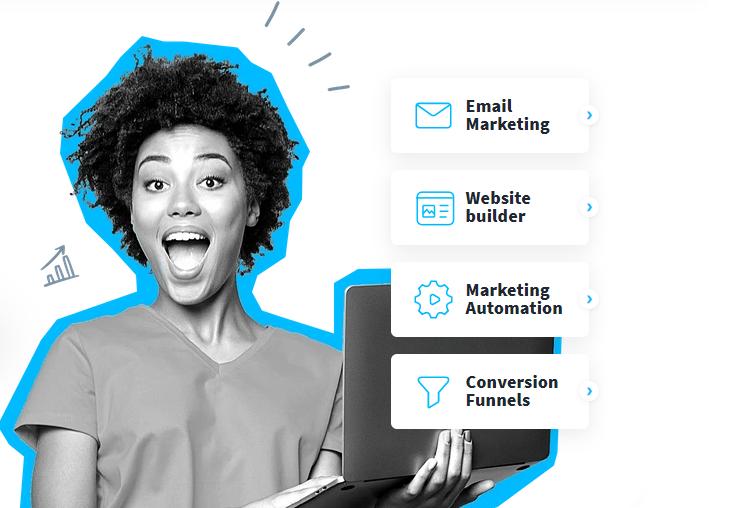 If you've got this far and neither of these services sounds right for you. Here are some options to consider:
GetResponse – You can start out at only $15 per month and their services are very easy to ease. If you want to scale up, there are plenty of other tools you can use.
Convertkit – You can get started at $0 per month for your first 1,000 contacts. Many businesses don't grow their email lists very fast so you could keep more money in your pocket each month you're with Convertkit.
AWeber – AWeber is a trusted name in autoresponders and they have a free plan you can use until you're ready to go to their Pro Plan. It's easy to build automated campaigns with this service.
FAQs
Question: What is Constant Contact Used For?
Answer: Constant Contact is usually used by small businesses to generate and nurture leads to increase sales and productivity.
Question: How Effective is Constant Contact?
Answer: Constant Contact has a very high deliverability rate, so you can trust them to get your message to your subscriber list.
Question: What Exactly does HubSpot do?
Answer: HubSpot is a customer relationship manager that helps businesses with their sales and marketing processes. Their goal is to make it easier for sales and marketing to work together to increase revenue.
Bottom Line: Which Is Better?
In the battle of Constant Contact vs HubSpot, we have to go with Constant Contact. Unless you're a big business, you don't want to spend a big part of your profit simply paying for tools with HubSpot to keep your business going.
If you are a bigger business, then it might make sense for you. For most people, however, Constant Contact will be a fine fit, and you'll get everything you need without breaking the bank.
[interact id="61950894e81e4200184210da" type="quiz" mobile="false"]