Last Updated on June 25, 2023 by Ewen Finser
If you are trying to figure out if Writesonic is really worth the monthly investment, this article is for you.
AI tools are ALL over the place right now, with new ones popping up every day. So where does Writesonic fit into the generative AI landscape?
This was the question I had, so I went ahead and signed up for their credit based plan to see how it worked.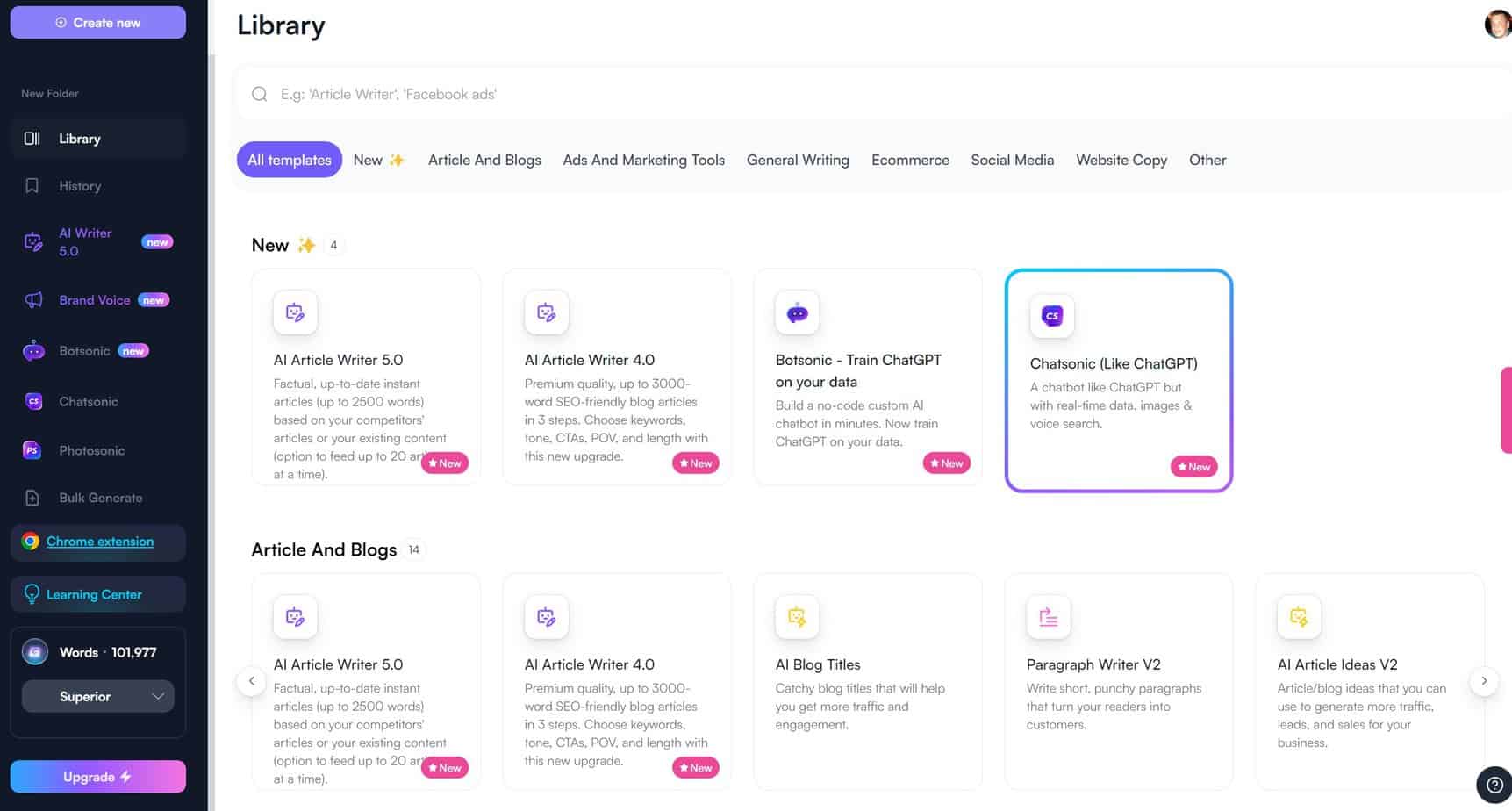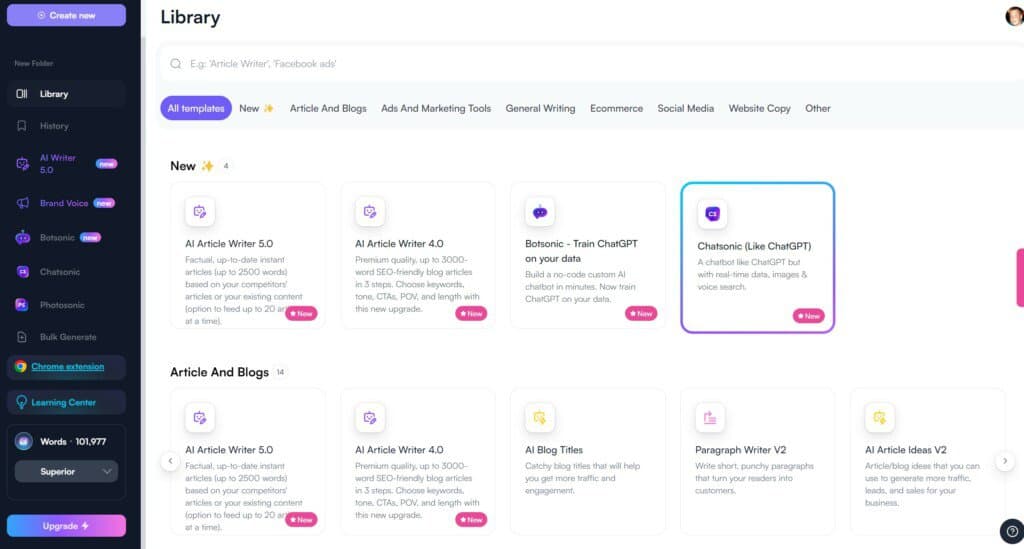 What is Writesonic?
Writesonic isn't easy to describe in a sentence because it does many things can can be used by almost any business to expedite the creative process.
The best way I can describe Writesonic is like a more user friendly and precise wrapper for OpenAI.
As the name suggests, it is great for generative content use cases (and this is most of what I've tested). But within this spectrum it can generate images and run specific (highly proven) prompts for specific types of business.
For example, an Amazon ecommerce business benefits from the product listing description module. Social media planners from the content scheduler.
And for advanced users, Writesonic can even import "tone" merely by ingesting the cumulative content from your brand's URL.
You can even create your own Bot, based on parameters set within Writesonic.
Similarly, you can import specific research papers, documents, links, and sources to have greater control over accurate outputs. This is where I think Writesonic really shines, standing out from the competition!
Writesonic History
Like almost all of the generative AI tools, Writesonic's story isn't a long one, BUT it was one of the more successful launches to date…
Launched in 2021 by founder Samanyou Garg. In a short span, the tool has amassed over 200,000 users, demonstrating its popularity in the market. Writesonic is designed with the aim of simplifying the content creation process, whether it's crafting captivating blog posts, persuasive emails, or impactful social media content.
The secret sauce behind Writesonic's capabilities is the integration of OpenAI's GPT-3+ technology, which is known for its adeptness at generating human-like text. Writesonic leverages this technology to churn out content that not only reads fluently but also resonates with the target audience.
Writesonic's Capabilities
Writesonic's versatility is one of its most appealing aspects. Whether you're looking to draft marketing content or long-form blog posts, Writesonic has got you covered. Let's take a closer look at some of its key features.
User-Friendly Interface
Writesonic's interface is designed for simplicity and ease of use. It offers a clean and intuitive dashboard that clearly displays all the available features, making it easy for users to navigate and select the tools they need. Moreover, it provides an array of video tutorials to guide users through the various functionalities.
Short-Form and Long-Form Content
Writesonic is adept at generating both short-form and long-form content. Whether you need catchy headlines for your social media posts or comprehensive articles for your blog, Writesonic can deliver. The tool can automatically generate an entire article based on a title, with the option for users to customize the content as needed.
Customizable Pricing Plans
Writesonic understands that each user has unique needs and budget constraints. Therefore, it offers customizable pricing plans that cater to varying requirements based on usage. Users can choose from a range of packages, from economy to premium, based on their content quality requirements and budget.
Quick Content Generation
Time is of the essence in content creation, and Writesonic respects this. The tool is designed to generate content quickly, saving users valuable time. In a matter of minutes, Writesonic can churn out a range of text, making it a handy tool for those facing tight deadlines.
Plagiarism-Free Content
Writesonic ensures that the content it generates is plagiarism-free. This is crucial in maintaining the integrity of your content and avoiding potential legal issues. However, it's important to note that, like any AI tool, Writesonic is not infallible and users should still perform their own plagiarism checks to ensure content originality.
Putting Writesonic to the Test
While the features of Writesonic sound promising, the true test of any tool lies in its performance. For this review, I put Writesonic to the test by generating various types of content, from blog posts and article summaries to Twitter ads and YouTube copy.
My Content Generation Process
The content generation process with Writesonic is fairly straightforward. You start by creating a project, selecting a template, and providing a title and some keywords. You can even add phrases or an entire product description for a more detailed outcome. Once you've input your requirements, Writesonic generates the content in a matter of seconds.
The quality of the generated content was fairly decent when I first tested on their Article Generator 3.0, with easy readability and good sentence structure. However, the content did lack a certain human touch, and a few edits were required to enhance the tone and feel of the content. Additionally, there were minor plagiarism issues, but these were largely manageable with some manual editing.
With the launch of Article Generator 4.0 and now 5.0, the content quality has increased significantly. Specifically, I like the new abilities to import custom references and/or use specific articles as source material for the generative output. This helps keep the hallucination to a minimum and the facts (mostly) accurate.
It's still not a perfect output however and not "publish ready" for any of our content brands.
Editing Capabilities
While Writesonic's AI does a commendable job at generating content, it's important to note that the content it produces will still need some editing. This is where a human touch can make a difference. From my experience, the output from Writesonic served as a good draft that could be polished and refined to match my specific writing style and standards.
Writesonic Pricing Overview
Writesonic offers a flexible pricing structure, making it a budget-friendly option for many users.
It offers a free trial that provides 2,500 premium words, allowing users to test out the software before committing to a paid plan.
The paid plans start from as low as $15, making Writesonic one of the most affordable AI writing tools on the market.
That said, power users may find themselves upgrading quickly to higher plans. I've personally been sitting around $99/month (200,000 words), but I'm using it with custom research docs and 5+ citations. Interestingly, Writesonic charges a fractional rate to ingest research material like this, in addition to the normal generative output rate.
Weighing the Pros and Cons
Like any tool, Writesonic has its strengths and weaknesses. Here's a quick rundown of the pros and cons I observed during my review:
Writesonic Advantages
User-friendly interface with tons of video tutorials.

Capable of generating both short-form and long-form content.

Customizable usage based pricing plans and output quality.

Quick and efficient content generation.

Excellent and innovative usage of specific designated sources and reference docs
Ability to create your own Bot
Ability to create a repeatable "brand voice" or "tone" based on an existing corpus of content (e.g. your site URL).
Writesonic Disadvantages
The sentence structure can sometimes come across as robotic.

Some amount of manual adjustment may be required.

The user interface can be confusing for beginners.

Some generated content may contain a small percentage of plagiarism and will need manual editing.

Not all of the modules are equally usable (I question the existence of some).
Can sometimes time out or burn credits despite generative "stall outs" (it looks like I'm still getting charged for these).
Comparing Writesonic with Alternatives
Writesonic isn't the first AI copywriting and content solution to hit the market and it won't be the last.
While I personally haven't tested every single option out there, here are some that I HAVE and could be considered near peers in most respects.
I don't have access to any inside data, but of these competitors I'd estimate that Jasper, Copy.ai, and Rytr are the "top 3" competitors by market share right now.
Jasper is more specifically a long form content generator, with the ability to generate creative scripts, long form articles, and even books.
In contrast, Copy.ai is best suited for marketing copy, although it's popular for other content purposes as well.
Rytr is more popular for it's integrations across web surfaces (browser add-ons an document apps), but best suited for shorter prompts and paragraph generation.
With this in mind, Writesonic stands out as a broader, multi-purpose AI engine. It stands out with it's ability to let YOU create your own bots, brand voice, and customizations in a user-friendly way (unlike ChatGPT). I see it as the "Swiss army knife" of the group.
The Final Verdict: Is Writesonic Legit?
Writesonic is a powerful AI writing tool that offers a plethora of features at an affordable price point.
It's a reliable assistant for content creation, whether you're a business owner, a marketer, or a freelance writer.
However, like any AI tool, it's not perfect and will require some manual editing to refine the content it generates.
If you're in the market for a user-friendly, budget-friendly, and efficient AI writing tool, Writesonic is definitely worth considering. Give it a spin and see if it meets your content creation needs!
My Bottom Line: So far, Writesonic is the most advanced, scalable and accurate of the AI written content tools I've tested.