Last Updated on April 20, 2023 by Ewen Finser
Main Differences Between ActiveCampaign vs Infusionsoft
The main differences between ActiveCampaign and Infusionsoft are:
ActiveCampaign is much less expensive than Infusionsoft
ActiveCampaign is much easier to use than Infusionsoft
Infusionsoft charges a hefty setup fee, whereas ActiveCampaign does not
ActiveCampaign offers free support & training, whereas Infusionsoft charges consulting fees
ActiveCampaign offers muli-channel attribution, whereas Infusionsoft does not
ActiveCampaign integrates with more third-party tools than Infusionsoft
ActiveCampaign SCALES
Take the best email automation and mix it with all the best parts of a CRM. Result: ActiveCampaign. While I call it a "lite CRM", AC is no lightweight. I've been with them for years and LOVE the endless integrations and expandability.
Try ActiveCampaign FIRST
We earn a commission if you click this link and make a purchase at no additional cost to you.
Picture this…
Using Salesforce for your CRM needs. See yourself or team members having to log on to Aweber to dispatch newsletters. Imagine juggling to design landing pages with LeadPages and trying to keep prospects and leads followed up on and engaged with yet another service like GetResponse.
Perhaps you are also dabbling in marketing automation over at ConvertKit (using autoresponders).
Is that you?
It can be terrible.
Trying to make all five platforms work in tandem can not only be time-consuming and inconvenient, but the services tend to not play that well together — not as seamlessly as one would hope, making the whole operation even more frustrating.
With a ton of tasks to cover in as many campaigns, digital marketing can feel overwhelming.
That would be especially the case if you resolved to go at it manually.
But you do not have to, not even when you have a brick-and-mortar company or B2B business with a seemingly tough-to-digitize marketing and sales process.
Using the best online marketing software can help you cover more ground in less time and with fewer people. Yet you can earn a higher ROI, faster.
An all-in-one email marketing company like Infusionsoft or ActiveCampaign can help marketers save time and engage leads with email automation. Marketers can also gather a ton of valuable customer-specific data for targeting with a comprehensive, built-in customer relationship management system (CRM), as well as boost sales and marketing ROI with streamlined workflows.
But between Infusionsoft and ActiveCampaign, which is the best all-in-one email marketing, sales, CRM, and marketing automation vendor?
This ActiveCampaign vs Infusionsoft review will focus on 11 key areas, so you can decide which top email automation software is worth your money… and learning curve.
ActiveCampaign vs Infusionsoft (Keap) Features and Benefits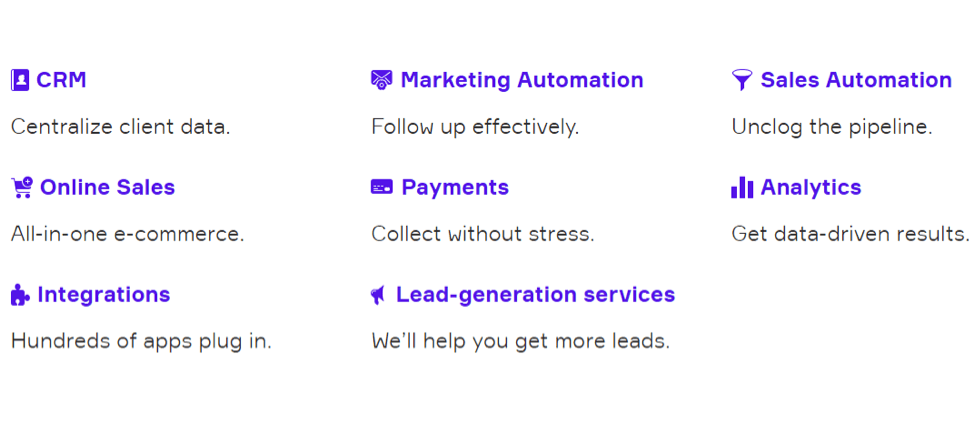 Infusionsoft email marketing automation platform features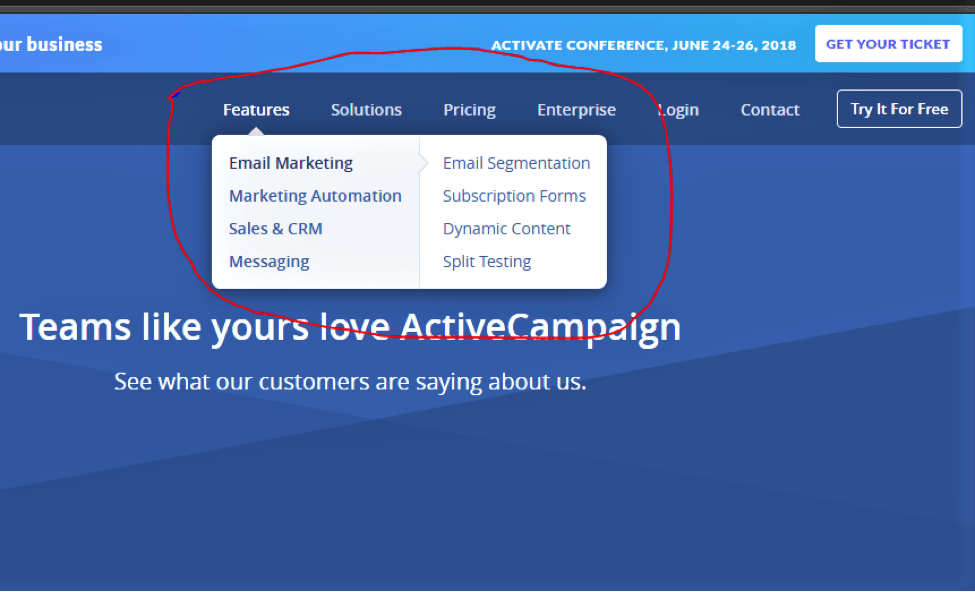 ActiveCampaign email marketing automation features
Signing Up
ActiveCampaign follows the way of most Software-as-a-Service (SaaS) companies; you can sign up online and fast. No calls. No personal contact. Around the clock. And signing up is straightforward—no charges, too.
Infusionsoft is another story.
You'd have to call in to have an Infusionsoft representative open an account for you. While that is certainly inconvenient, it might make sense given the investment that follows.
Setup and Ease of Use
Infusionsoft has a mandatory, one-time setup fee they charge to onboard new users.
It used to be a whopping $1,999 but recently slumped down to $299. Still, why a company has to force a user to pay to learn their SaaS product is certainly more than a little ironic. It may feel like paying to have a decent customer experience, which should be a free-of-charge, core component of any product or service.
On the other hand, the investment probably attracts only those that are committed to using the program and determined to generate ROI.
The $300 will get you one-on-one coaching sessions with an Infusionsoft Getting Started Coach. You'll get 5 calls at different times during the first couple of days. And one call can last up to an hour, so you'll want to create time for each.
The onboarding process will, however, feel necessary for most people. Infusionsoft can be a sophisticated piece of software. It can take perhaps too long to corner its longer and steeper learning curve without expert help compared to a few Infusionsoft alternatives in the market now.
So for marketers that want to make the most out of email marketing, marketing automation, sales pipeline and CRM features as fast as possible, the Kickstart arrangement can be ideal.
However, you have to commit to a 1-year contract right out the sign-up page. Not only that, but you can't leave before that time elapses. If you do, you'd have to pay an early termination fee equivalent to 25% of your total annual subscription fee.
ActiveCampaign, on the flip side, is quite easy to use from the get-go. It comes with a clean dashboard with all the nuts and bolts organized along the top-placed taskbar, so you know what to do next without much training.
The Infusionsoft alternative is also has a more visual automation workflow for marketing campaign design and easy to get around. Even now that Infusionsoft has updated their look and feel. But with a ton of enterprise-grade features for small business use, Infusionsoft can't be blamed—not too much.
What if you wanted to import your email marketing data from another service such as ConvertKit, GetResponse or Ontraport?
Infusionsoft does not allow you to import such data while ActiveCampaign does. Simply hit import on your ActiveCampaign dashboard and you'll get the option to upload a CSV export or Ms. Excel file.
Customer Service and Support
Both have some of the most knowledgeable, responsive and available customer support ninjas around. However, phone support is only available with the higher-paid pricing packages in both cases.
If you need more hand-holding to make it work, Infusionsoft support is particularly helpful, availing knowledgeable staff 24/7 compared to ActiveCampaign's at 24/5.
You can contact Infusionsoft via email, use Help Center, and even seek help from its community forum and Facebook group members. Alternatively, you can use the program's searchable database to find a Certified Partner.
A major advantage of Infusionsoft is its big marketplace of experts such as developers, coaches, and integration consultants. But then again, third-party support means more expenses in Infusionsoft running and maintenance costs, which ActiveCampaign can help you save on.
Most Infusionsoft alternatives do not offer much of a marketplace. But you likely won't need to find specialized help to figure out how ActiveCampaign works.
Besides, ActiveCampaign comes with contextual help built into its pages, so you can get snippets of help as you set up your campaigns on its largely visual campaign builder.
And while on campaign builders…
Email Marketing
Infusionsoft offers a solid Campaign Builder.
Expect the flow-chart style tool to be endlessly free-form. It allows for building both simple and branched automations.
Infusionsoft campaign builder
You can even import pre-built campaigns.
Simply fetch them straight from the marketplace and drag-and-drop them into your campaign dashboard. You can also modify the campaigns to suit your targeting needs.
Also, you can decide to broadcast email campaigns that are personalized to a particular lead's needs.
For example, sending them a birthday offer on their big day or a reminder to complete checkout if they abandoned a shopping cart for several hours or days.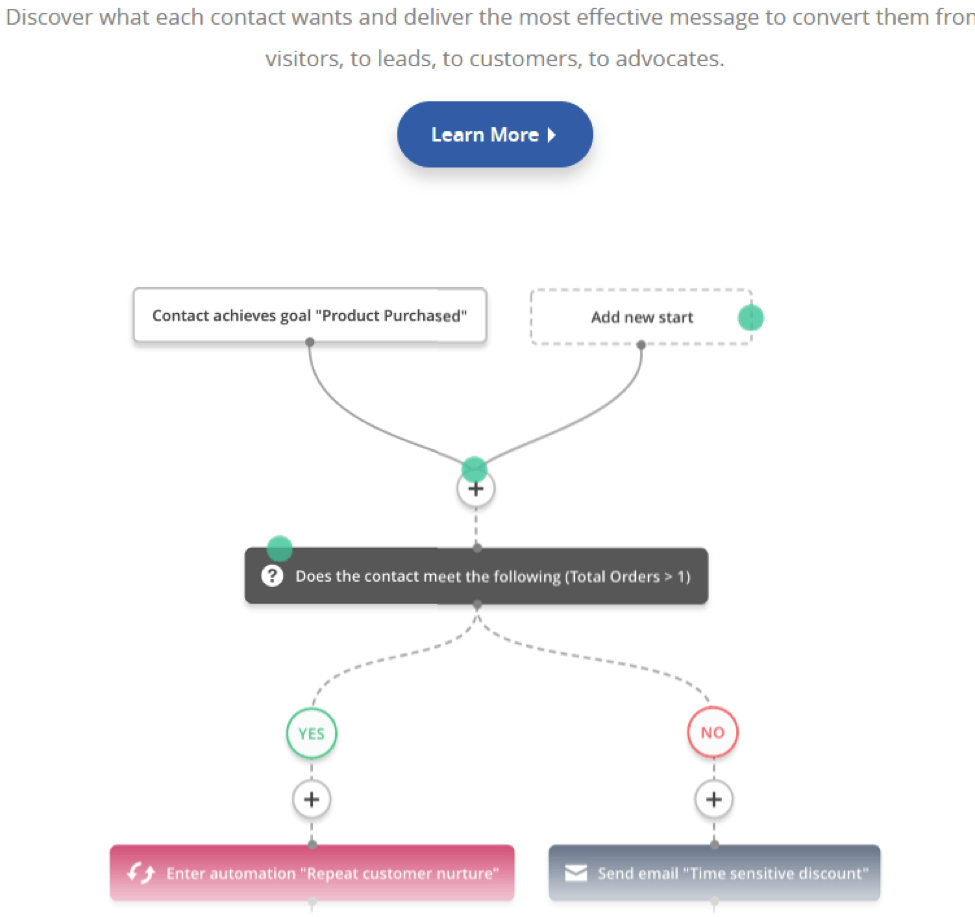 ActiveCampaign campaign builder—a delightfully easy to use builder
Clearly, Infusionsoft's campaign editor is not the most visually appealing of the two.
But you get a ton of flexibility when choosing when and how to send out email broadcasts using Infusionsoft. The new version now ensures you can set up what time your emails go out to leads, customers or other types of contacts.
Like ActiveCampaign, you can now set the email automation software to send emails to reach your contacts at the same time of day no matter their time zones. That means you can reach out to contacts at the right times across the board, increasing chances to get more email opens, click-through rates and conversions.
For example:
If your market research has shown your target audience or contacts open emails and convert best on Tuesdays between 1:30 pm and 3 pm, you can set both ActiveCampaign and Infusionsoft campaigns to go out at that time.
The automation software will even delay delivery to a contact in a different time zone until between 1:30 pm and 3 pm in that time zone.
Even better, Infusionsoft uses tags to help marketers segment their contacts. ActiveCampaign also does, only that with Infusionsoft you can categorize the segments.
That way, Infusionsoft users can easily classify their contacts into more targeted groups at different stages of a marketing sales funnel or sales pipeline.
For example:
You can tag a contact (new subscribers) who just signed up for a newsletter with "Subscribed to Newsletter", which will reflect in the program's CRM. That way, you can decide to send email broadcasts only targeted to people who signed up for your newsletter—the goal being to provide the prospects with more information to qualify them further.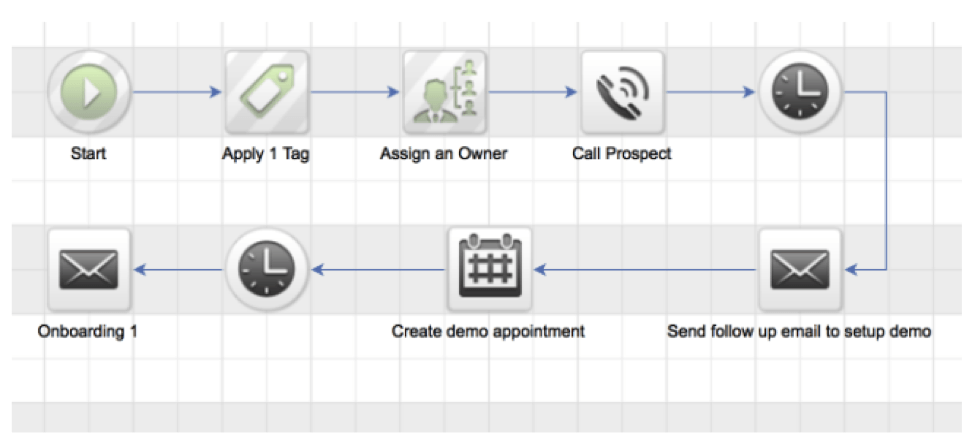 Example of an Infusionsoft automation sequence
As far as marketing automation tools go, both email automation programs will let you set triggers and goals that work with inbuilt email templates and a robust landing page builder.
And while not as sleek as GetResponse delivers, ActiveCampaign email templates look and feel more appealing than Infusionsoft's. The latter's templates are just functional compared to the competition.
Fresh Pick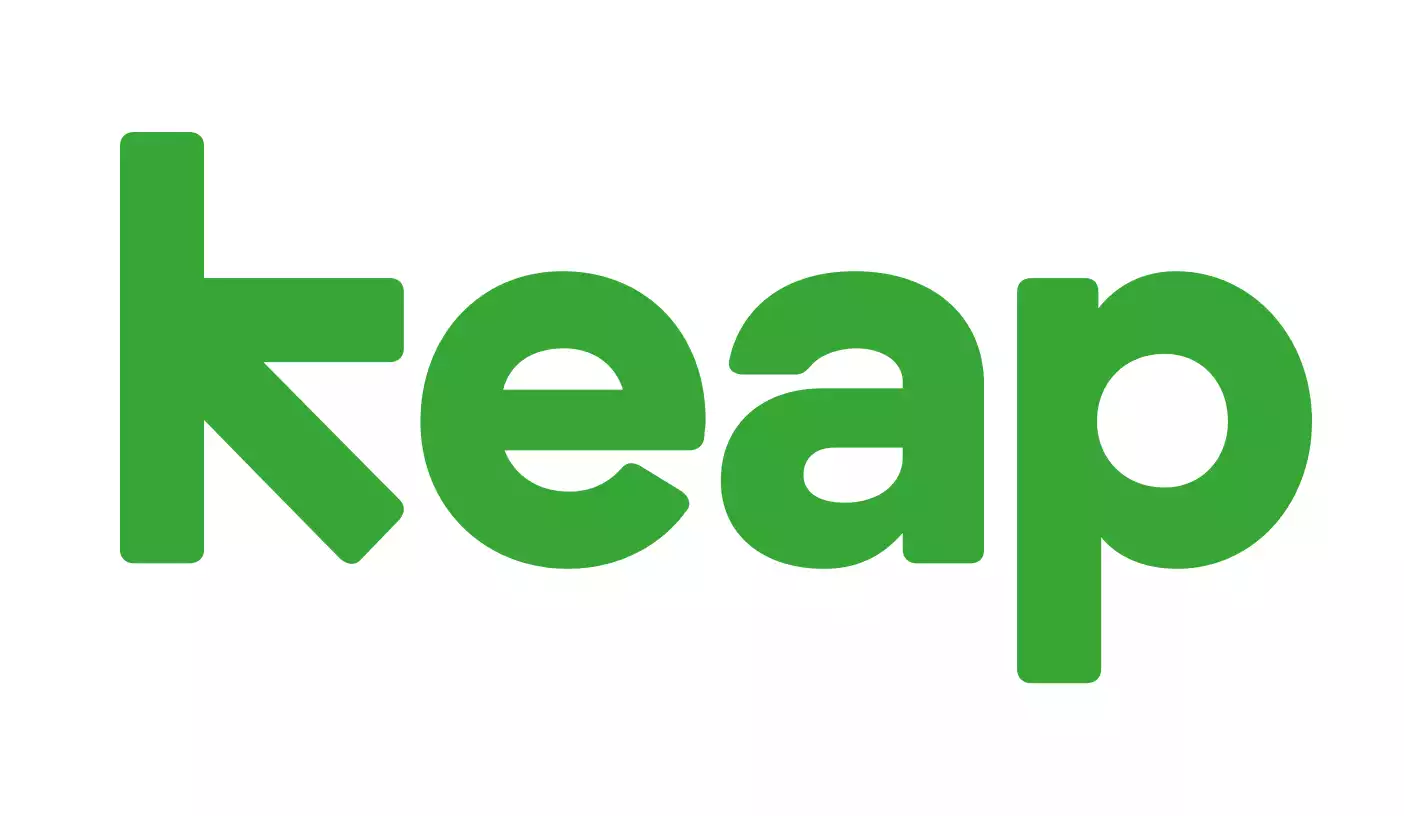 Have You Heard About Keap?
Infusionsoft is better now. Keap is the new name and the system is MUCH easier to use. Fully customizable, expandable based on what you need from basic email automation to advance sales CRM and landing page builder.
Try for Free
We earn a commission if you click this link and make a purchase at no additional cost to you.
CRM
Both ActiveCampaign and Infusionsoft come with inbuilt CRM functionalities that work in tandem with other automation features, especially the triggers/goals you set, to truly automate your online marketing drives.
What that means is every customer is positioned along a sequence based on the actions they take on your website.
Every time they interact with any aspect of your website, blog, landing page, shopping cart and so on, the program moves the contact along the sequence. And all the contact's interactions with your website or lead magnets are kept in your CRM software.
While both companies offer lead scoring, Infusionsoft has the more detailed CRM of the two.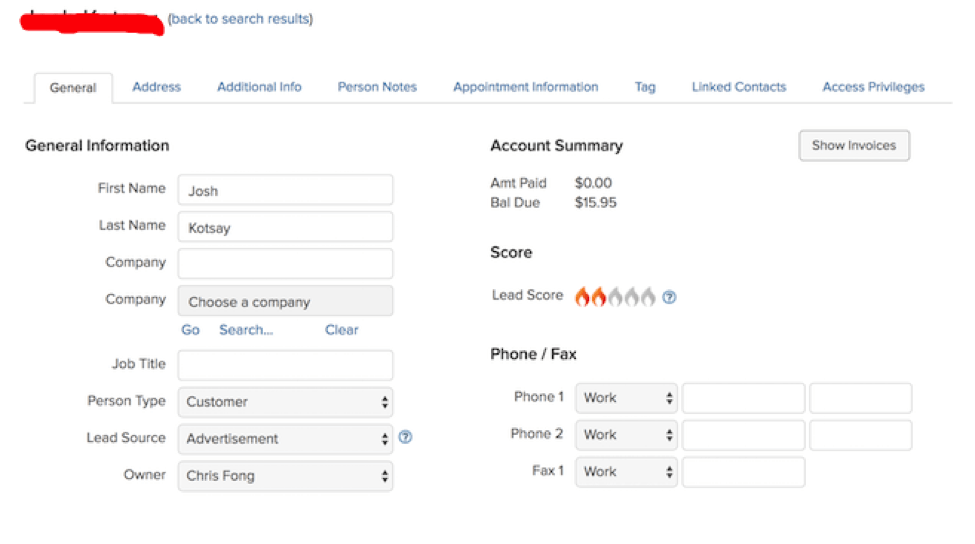 Source: Smart Business Trends
Infusionsoft's CRM collects a ton of data which you can easily access by clicking on a particular contact's profile. That means you may find Infusionsoft offers more valuable segmenting data than ActiveCampaign to help you further target and personalize email copy and offers to a particular contact.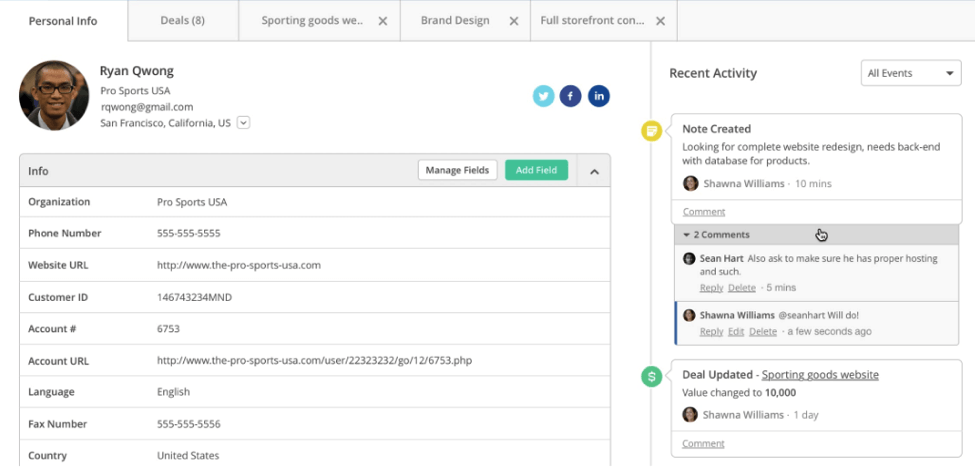 Source: ActiveCampaign
By recording a specific contact's interactions with your website (triggers/goals), for example, either program will help you personalize offers and increase chances of converting a lead to a buying customer by helping you understand what a particular lead is looking for.
Marketing Automation
But ActiveCampaign takes onboarding, CRM, and automation a step further.
Infusionsoft does not come with SMS message support built-in while ActiveCampaign does. You'd need to purchase a separate plan through a third-party integration to have SMS work with Infusionsoft.
Here's something else…
Immediately you sign up for an ActiveCampaign account, the program automatically starts to record individual leads' actions immediately. In fact, it'll "search" a prospect's contact details based on the information they fill into a leads form on your website.
That's not all.
ActiveCampaign can check your system history, the visitor's web browsing habits and history data to "see" how that particular contact has interacted with you in the past. If there is a such a trace, ActiveCampaign will automatically add that information to your CRM as well.
That is something Infusionsoft does not do.
Going forward, the type of content upgrades a contact will receive in subsequent correspondence will depend on the type of interaction they had with your website, blog, landing page, and so on.
For example:
If a contact browses a certain blog post, the program can automatically pop up a form offering the person an opportunity to learn more about the product or service they were reading about by signing up to receive a newsletter or relevant e-book.
And if another contact clicks to view your product's demo on your website, the automation software can kick in and follow up the request by assigning a team member the task.
Subsequently, ActiveCampaign or Infusionsoft can assign another team member, a salesperson, to contact the demo-viewer a few days later with a closing offer. All you need do is set these steps up in the campaign builder from the beginning.
However, you can still modify your campaigns as time goes by and you learn what works for your contacts and business.
A/B Testing
And you can learn what works much faster by using ActiveCampaign's split testing feature.
Infusionsoft does not offer A/B testing natively. Not for emails. And definitely not for marketing automation sequences. While rumors had it split testing features would run in the newest Infusionsoft update, that is yet to happen.
But ActiveCampaign makes it easy to test the effectiveness of different aspects of your campaign like automation sequences, landing pages, email messages/copy, and email delivery times. So the program empowers you to not only test email broadcasts, but also automations.
However, you can find an Infusionsoft split testing integration in the marketplace.
E-commerce Features
Split testing is especially helpful if you are running an online store or ecommerce website.
For small businesses looking for a powerful email automation service with e-commerce features, Infusionsoft may be the better option for several reasons.
First, the updated version of Infusionsoft allows users to not only view due payments but to invoice clients from within as well.
Second, Infusionsoft Payments helps accept payments everywhere using the mobile app and the best card payment platforms like Visa, MasterCard, American Express and Discover.
That's not all:
To help boost sales, you can segment promotions by coupon codes, events, location, holidays, date, purchase history, and more.
Still, you can integrate the best ecommerce platforms for small businesses such as Shopify and WooCommerce without hassles.
And you'd not be done, yet.
Infusionsoft Payments supports and integrates with online order and billing tools such as QuickBooks and Xero accounting software. That way you can also keep on top of your sales cycle.
There's more.
You can sign up for Infusionsoft lead generation services if you need a fully managed social media advertising solution to help you with Facebook ads (e.g. targeted ads for abandoned cart triggers). The company will help populate lead capture forms (opt-in forms) within Facebook.
You'd not need to import the data into Facebook because the data is seamlessly submitted to your Infusionsoft app. From the application, Infusionsoft will automatically trigger the follow-up campaign you choose.
Well…
You might not generate invoices that are as sleek as a third-party integration like Zoho would, but they work fluidly. So you can skip another integration, have order forms ready, support shopping carts in your online store, make online sales and receive payments all in one place.
However, Infusionsoft lets small businesses and business owners choose to integrate ecommerce and sales pipeline marketing automations.
This is not included in the base $80 per month, 500 contacts package, so you'd need to upgrade (More on this in "Pricing" below).
On the other side, ActiveCampaign does provide ecommerce tools as opposed to a short while ago.
You can use auto-tagging in several ways including retrieving CRM stored tags so you can identify a contact's interest and send them targeted offers. Or you can tag them after they take an action, such as purchasing an item so you can know whether the contact is a returning customer or is buying for the first time.
Another scenario:
If a contact's browsing data shows they have visited your product page severally, ActiveCampaign's ecommerce marketing tool functionality will kick into action and automatically send that contact a limited-time offer or promo code to encourage a purchase.
Then you can use that information to target the same contact with promo or loyalty codes in the future. Note that you'd need a third-party ecommerce solution to generate the coupon codes.
You can also use personalized email, site and text messaging to deliver timely offers based on a contact's behavioral data.
And if you want to import ecommerce data from another ecommerce platform, ActiveCampaign lets you do that by integrating with several players as shown here: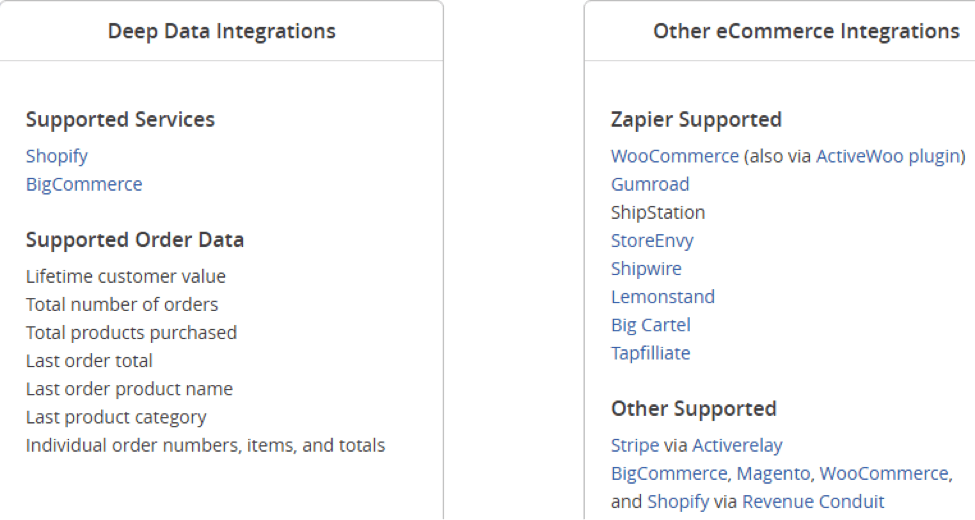 ActiveCampaign ecommerce data integrations
Here's what else you can integrate with Infusionsoft and ActiveCampaign.
Integrations
If you are upgrading from an email marketing platform like Unbounce or ConvertKit, you can search the Infusionsoft marketplace for an integration or hire an Infusionsoft Certified Expert to work the two together.
Or you can have the developer work with Infusionsoft's API to help you further customize how your account works and supports your contacts.
If you do not want to go the API/development route, Infusionsoft offers more than 200 integrations you can grab from its marketplace. For example, you can get PlusThis Addon to add email split testing capabilities to Infusionsoft—but that would cost you a separate fee.
Still, you can add more customization by hooking up a Zapier integration to your account.
You can get an ActiveCampaign Gmail extension for Chrome to help you work out of your Gmail account. It also provides a mobile app. That way you and your team can access your contacts using your browser and mobile devices from anywhere.
And while ActiveCampaign offers fewer third-party integrations right out the gate, it also integrates with Zapier and IFTTT. Meaning you'd have a lot more options provided your preferred integration works with Zapier of IFTTT platforms.
In fact, ActiveCampaign's decision to ship with fewer integrations make it more affordable since you only get to use and pay for integrations you choose to add on.
That, instead of having bloatware pushed down your throat like Infusionsoft does right from start (and factors into its pricing).
Reporting
ActiveCampaign's visual appeal also shows up when it comes to data visualization within the application.
It displays charts, graphs, and other visual methodologies to help users analyze progress, measure ROI, and determine the next actions to take.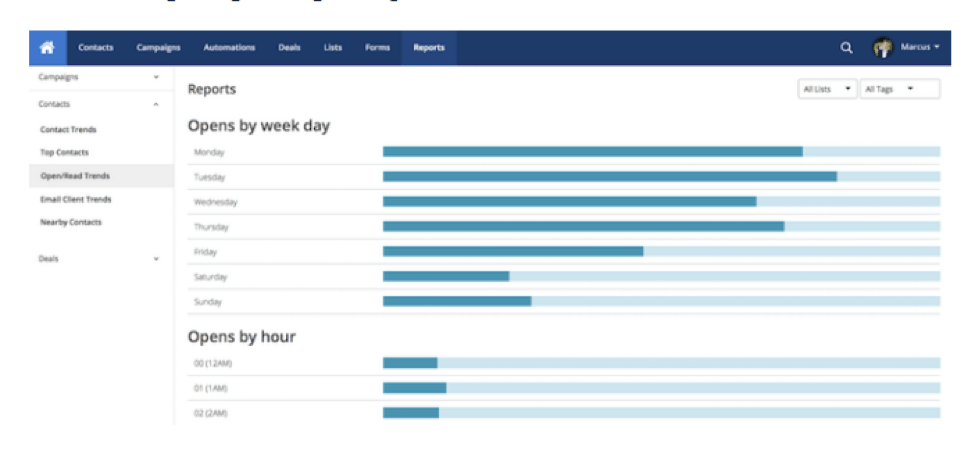 Credit: Venture Harbour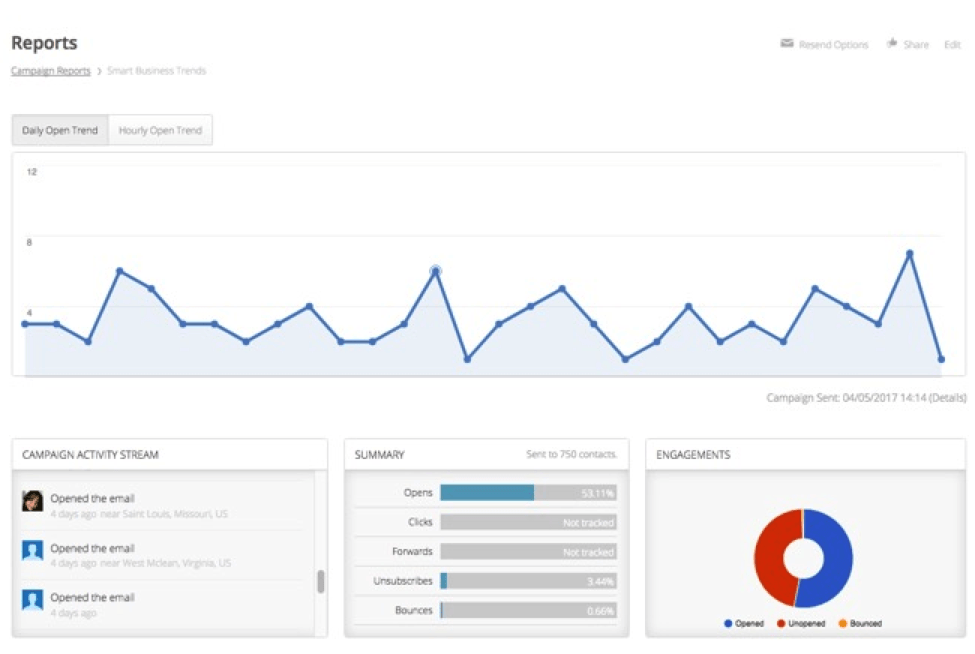 Credit: Smart Business Trends
Infusionsoft's update has introduced better a much sleeker way to visualize similar data.
Now you can access administrative, inbound marketing, sales, as well as order and billing reports from the dashboard in a few clicks.
Here's a shot to help you visualize that: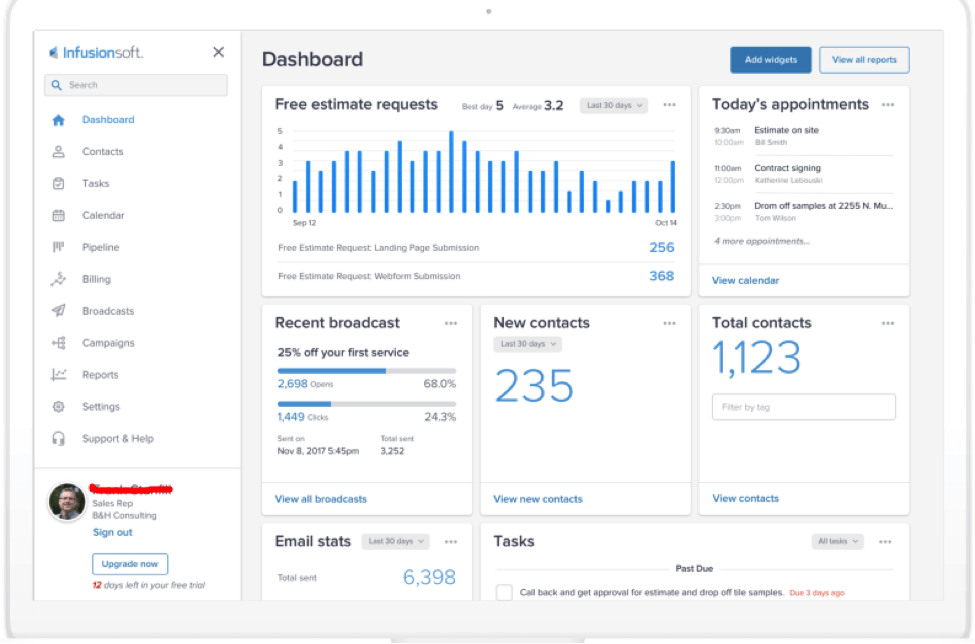 Infusionsoft dashboard screenshot by Infusionsoft
Which email automation service will appeal to you is a question only you can answer.
Service Provider Pricing and Scalability
One of the biggest Infusionsoft updates is new prospective users will now have 14 days to "test-drive" Infusionsoft.
That's new.
And super helpful, since you can take advantage of the trial period to decide which, between Infusionsoft and ActiveCampaign is most ideal for your small business.
As earlier covered, Infusionsoft's onboarding fee has come down from a mandatory $1,999 to a less stunting $299. This is a one-time setup fee. And the company claims it is an investment you'll want to make so you can quickly get acquainted with how Infusionsoft works from a dedicated onboarding expert.
The coach you get will walk you through setting up your profile and how to create a custom campaign with Infusionsoft's Campaign Builder from scratch.
Concerned whether Infusionsoft pricing is modeled around scalability?
Infusionsoft base plan starts at $80 per month for 500 contacts.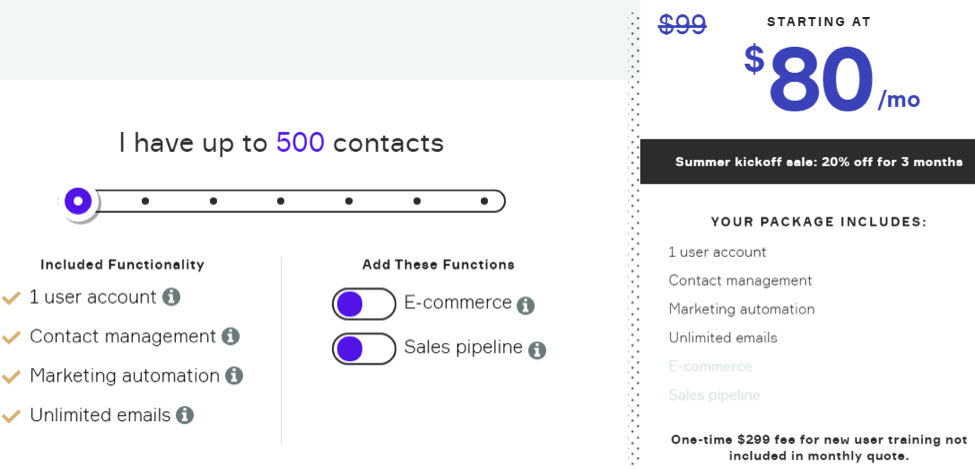 Infusionsoft base pricing package without ecommerce and sales pipeline integration
And here's the same plan with ecommerce and sales pipeline integrated: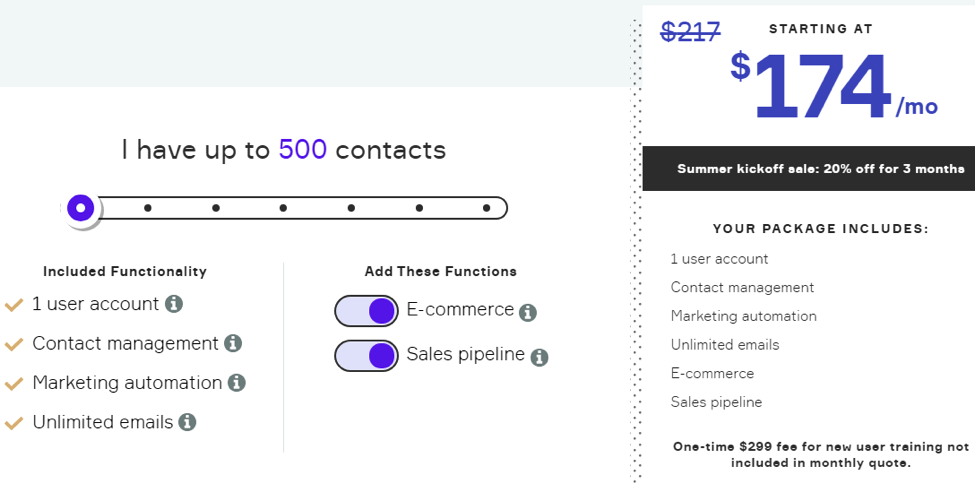 You can log on to Infusionsoft's pricing page, drag the contacts knob to the number of contacts you have in your CRM or are looking to have, and find out how much it will cost you—minus other integrations you might choose to add on.
Fresh Pick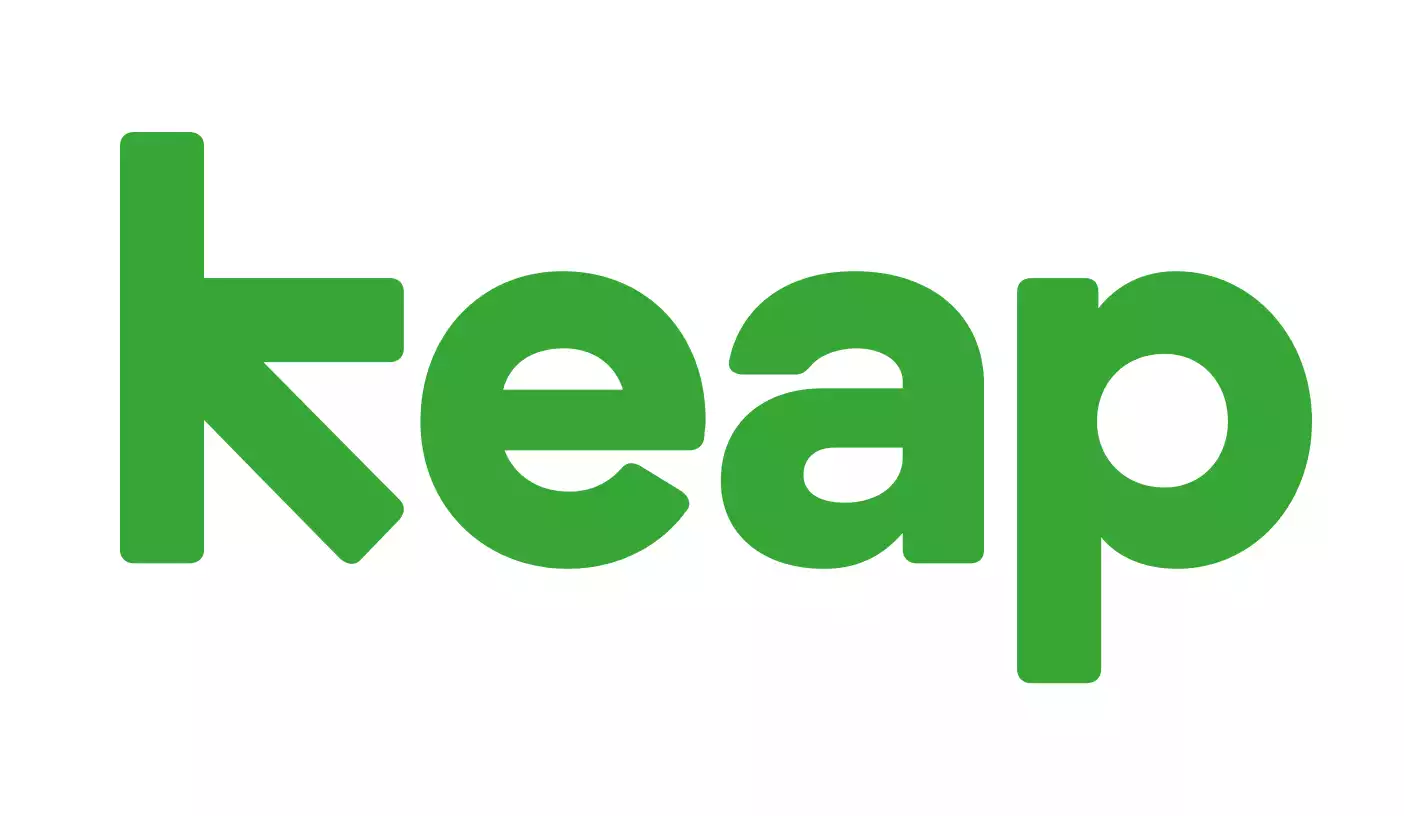 Have You Heard About Keap?
Infusionsoft is better now. Keap is the new name and the system is MUCH easier to use. Fully customizable, expandable based on what you need from basic email automation to advance sales CRM and landing page builder.
Try for Free
We earn a commission if you click this link and make a purchase at no additional cost to you.
ActiveCampaign offers an even more flexible pricing plan. There are no set up fees. You get a 14-day trial to test the platform.
And the base plan starts at $9 per month (paid yearly, so $111 upfront) for 500 contacts.
There's an offer for free migration from another platform as well.
Check it out: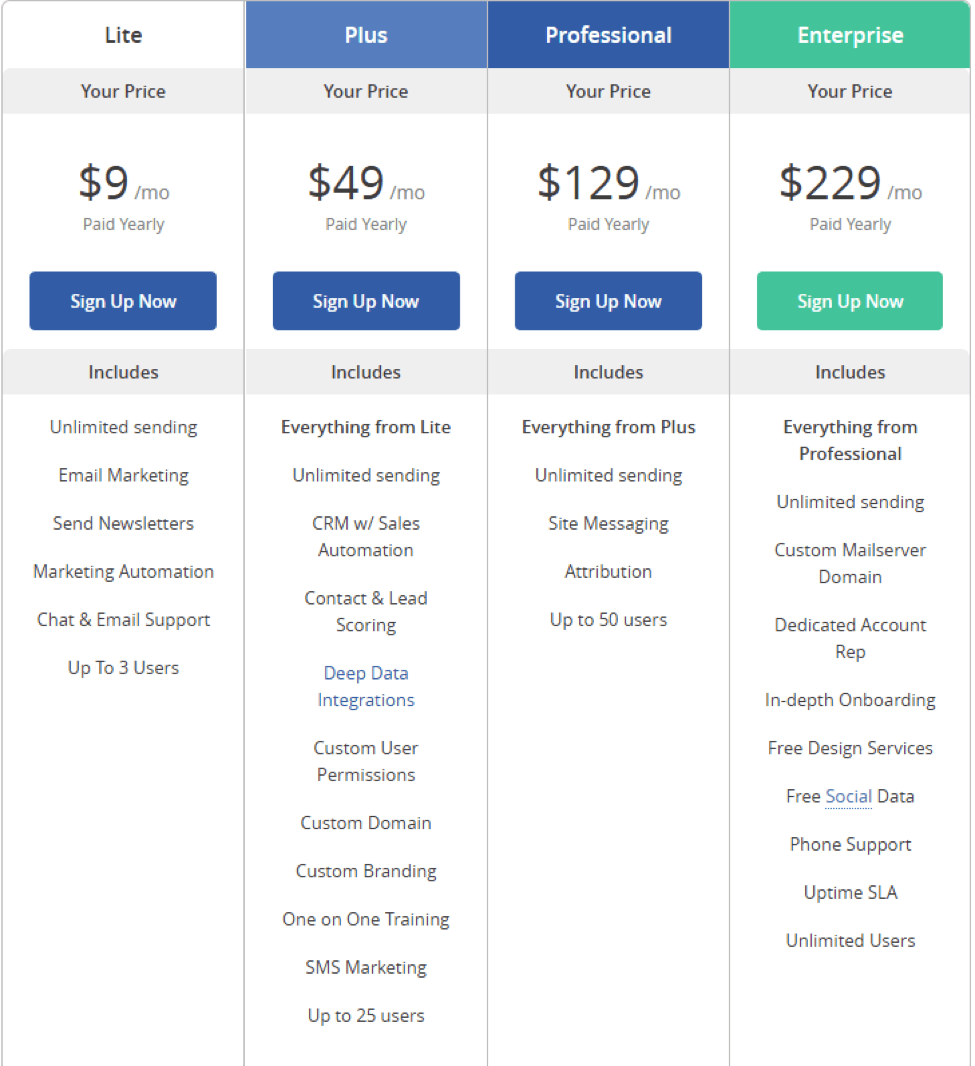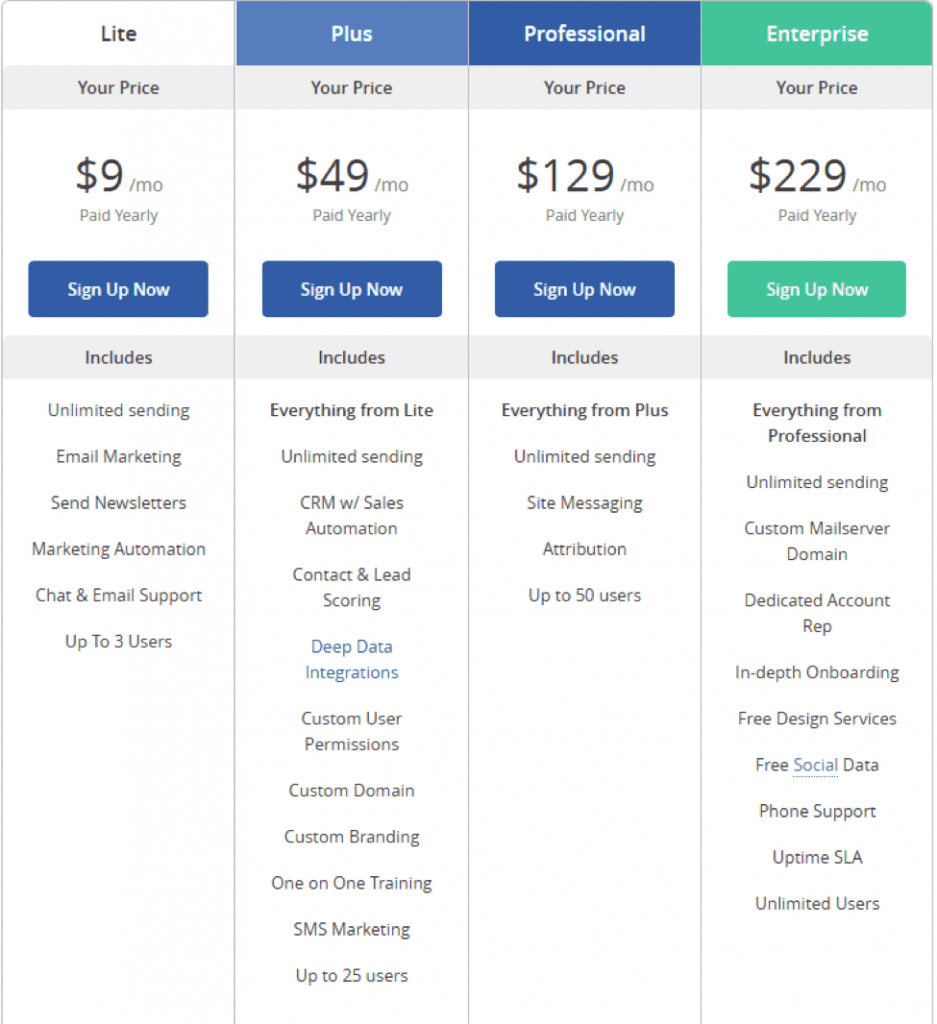 ActiveCampaign vs Infusionsoft: So, which is the best email automation company?
ActiveCampaign's ease of use, flexible pricing, and feature benefits reflect the segment of the small business email marketing, sales, and CRM, as well as marketing automation the company targets.
Is ActiveCampaign email and marketing automation for you?
If you are:
Single user or have a tiny marketing and sales team
Do not need ecommerce features
Are on a budget; little or no professional training budget, can afford a relatively small upfront investment, and turnaround less than $150,000 in revenue per year
Then ActiveCampaign could serve you just right.
Is Infusionsoft email and marketing automation for you?
Infusionsoft is your best email marketing and automation provider for you if you:
Need a powerful, all-in-one email automation platform with ecommerce and sales pipeline support
Have a relatively large SME with considerable marketers and salespeople
Have a dedicated budget for training, third-party support, and upfront investment
So, when choosing the best all-in-one email marketing service you'll want to consider where you are in terms of business growth and expected growth trajectory before committing to either vendor.
Bottom Line: I personally prefer the flexibility and ease of use that ActiveCampaign offers. Not to mention the much better pricing plans here.
Over to you.
Further Reading on Email Marketing Software