Last Updated on April 22, 2023 by Ewen Finser
In this review, we are going to discuss all of the features on offer, as well as the pricing, and pros and cons of both Sendinblue vs Ontraport, to help you decide which one is the right tool for your business.

Email marketing is not a new concept, but as marketing automation technology develops, and platform software becomes more and more advanced, we can now (thankfully) automate our email marketing.
Marketing automation is a beautiful thing. Not only can it save you hours of time each day, but it can also give your business a huge boost with just a couple of clicks.
This Sendinblue vs Ontraport comparison will walk you through two of the leading marketing automation tools so that you can see what they offer and how they can benefit your business.
Although email marketing is old news, it's still becoming more and more popular as each year goes by, and is 40 times more effective at acquiring new customers than Twitter or Facebook, especially with new automation options.
So if email marketing is not already a big part of your overall marketing strategy, you should strongly consider it.
It's never too late to start, and this could have a big impact on your business growth.
Ready? Great! In this review, we are going to discuss all of the features on offer, as well as the pricing, and pros and cons of both Sendinblue and Ontraport, to help you decide which one is the right tool for your business.
Bottom Line Up Front: Overall, they are both great automation tools, but in our opinion, Sendinblue offers better value here for users and great features, so if it's just marketing automation and CRM platform you are after, then go for Sendinblue.
The Main Differences Between Sendinblue vs Ontraport
The main differences between Sendinblue vs Ontraport are:
Sendinblue has a free basic plan available, whereas Ontraport doesn't offer a free pla
Sendinblue allows you to have unlimited contacts on all plans, whereas Ontraport has limits on the number of contacts you can have with each plan
Sendinblue does not let you have membership sites, whereas Ontraport has this feature
Sendinblue has an "expensive" plan for only $66/month, whereas Ontraport is much more expensive with plans starting at $79/month
Sendinblue needs additional software to sell products, whereas Ontraport has eCommerce features
Sendinblue vs Ontraport: Sendinblue Review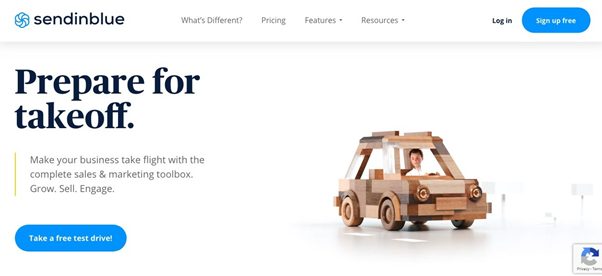 Sendinblue is a full sales and marketing automation solution that you can use to grow your business, regardless of whether you are just getting started, or are a well-established business.
It provides you with everything you need to communicate and build relationships with your audience and customers in a professional and personalized way, as well as providing all the tools to convert your web visitors into loyal customers.
The Key Features of Sendinblue Automation Service
Email Marketing
SMS Marketing
Chat
CRM
Marketing Automation (autoresponder with advanced tagging)
Transactional Email
Segmentation
Landing Pages
Signup Forms
Facebook Ads
Retargeting
Open and Click-Through Reports
Email Heat Map
A/B Testing
Real-Time Statistics
Send Time Optimization
API (and API integration options)
Plugins
Email Marketing with Sendinblue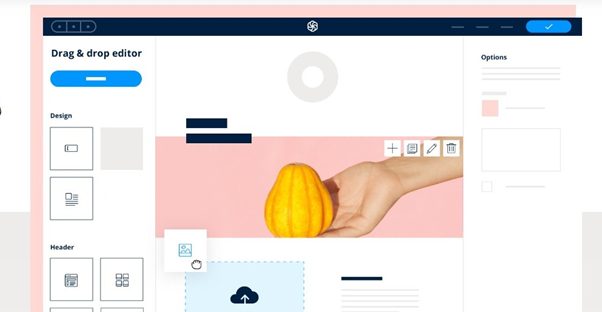 Sendinblue makes it easy to create beautiful, professional emails using their drag and drop editor via their automation platform.
You can start from scratch, or choose a premade template from the professional template library (simply copy and paste) and customize it with your own images, colours, elements, and fonts. There are over 70 free professionally designed, mobile-responsive templates to choose from, so there will always be something to suit your needs.
To help you engage with your subscribers (users) you can easily personalize the content of your emails using custom fields. Personalization can increase your open rates by up to 26%, so it's well worth taking advantage of this feature. You can personalize the email subject line, as well as the recipient's name, date of birth, location, gender preference, or any other relevant information you may wish to collect from your audience when they subscribe.
Sendinblue allows you to have unlimited lists and recipients, so you can group your contacts in any way you choose. This allows you to create segments based on things like their purchase history and location to make sure people are receiving emails relevant to them.
Once you have a message ready to send you can experiment with A/B testing to optimize your conversions (and conversion rate), and you can send your campaigns out at the perfect time by taking advantage of the machine-learning powered send time optimization feature to ensure your open and click-through rates are as high as possible.
SMS Marketing
If you have a message that you need to get out to your audience quickly then Sendinblue's SMS marketing features can help you. You can promote a last-minute sale or special offer to your audience by sending a bulk SMS broadcast to either your entire database or just the segments or groups that you choose.
You can monitor how well your SMS campaigns are performing with the key engagement metrics provided, which allow you to see what's working well, as well as what you can improve on.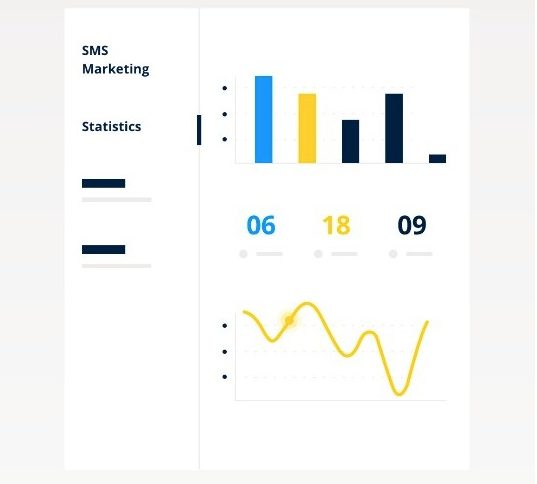 Chat
Sendinblue lets you engage with your visitors in real time while they are on your website, by using their chatbox. The chatbox is easy to set up by simply pasting a snippet of code into the header of your site, and it can be personalized with your brand colours, business name, and logo so that you customers can recognize it straight away.
The chatbox allows you to answer questions from customers and leads in real-time, and you can even see which page of your website the customer is browsing which allows you to assist them with their query as quickly as possible.
To ensure no customer chats get missed you can choose to assign different chat conversations to different members of your team to optimize response times and ensure no one is left hanging.
CRM
One of Sendinblue's most useful features is that it has a powerful built-in CRM, which enables you to organize your customer data and track all of your customer interactions. The CRM itself is cloud-based, so there is no need to install anything, you can simply upload an existing contact you have and you are ready to go.
Using the CRM allows you to centralize all of your customer information, and you can make notes and keep track of every meeting, email, or phone conversation you have with each contact. You can also upload any documents that are relevant to the contact profile, to save you searching for documents in other files, so you have everything you need at hand for each customer you speak to.
You can organize your customers into different lists, and even sort them by their stage in your conversion funnel, and to help you stay on top of things you can create tasks with deadlines within the CRM, and assign them to different members of your team, so you can be sure everything is followed up.
Marketing Automation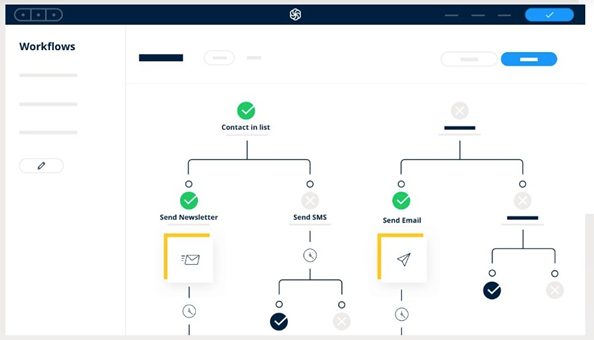 Sendinblue's marketing automation software saves you hours of time, and ensure nothing gets forgotten by allowing you to create automated workflows that trigger actions at just the right time. Some of the things you can automate include welcome emails, newsletters, SMS messages, transactional emails, and even entering and updating details on the customer database.
Advanced workflows can provide automated experiences for your customer that feel personal, despite the fact that it's all happening on autopilot.
You can track customers by using the lead scoring features as they move through your sales funnel, which scores them with points for actions they take, such as visiting certain pages on your website or signing up for your newsletter.
You can split-test all of your automation sequences with the A/B testing features, which will allow you to optimize your workflow.
Signup Forms
To help you reach more people and gain subscribers, you can create beautiful signup and opt-in forms using Sendinblue. The signup forms are easy to build, and you can build them without the need for any coding knowledge using the drag and drop page builder. You can customize the colours, images, and fonts, and you can even include your logo.
You can use the forms to collect any information you like about your customer, so you can include as few or as many fields as you like. You can also include dropdown lists with options for your customers to choose from that will help further down the line with your customer segmentation.
Signup forms can be placed anywhere you like, all you need to do is use the embeddable HTML and you can place a link to the form on your website, in your emails, on your social media, or anywhere else you might like to include it (ideal for multi-channel marketing). The additional social media functionality is a great bonus if you are active on social media channels, not always something prioritized with email marketing platform tools.
Landing Pages
You can easily create custom landing pages with Sendinblue using the pre-built templates or the drag and drop landing page builder. The landing pages can be used for any purpose, such as collection emails, advertising a promotion, or even promoting events. You can include targeted call to actions and add any form fields you want to include, which are then automatically uploaded into your CRM.
After someone has filled in their details on your landing page, you can choose to redirect them to another landing page with more information, or simply send them to a thank you page to thank them for signing up.
Facebook Ads
If you would like to advertise your brand to a wider audience, a great way to do this is through Facebook ads. Your adverts can be built within Sendinblue, and you can easily add any images and text that you would like to include. You can choose who your advert is shown to by either using your own contact list or taking advantage of Facebooks 'lookalike' audience feature that helps you to target a similar audience of people who are not already familiar with your brand.
Next, you just need to decide on your budget, and how many days you would like to run the ad campaign for, and Sendinblue will take care of the rest. Sendinblue keeps track of your ads performance so you can see how you are doing and if anything needs to be improved.
The Benefits of Using Sendinblue
Sendinblue offers advanced email marketing and marketing automation features that are accessible to businesses of all sizes
Send out urgent messages to your audience with SMS messaging features
You can personalize all of the emails and messages you send out to your customers, but use advanced automation to create workflows that give customers a personal experience while your business runs on autopilot
An inbuilt CRM lets you store all of your customer data and information in one place. Reminders and follow-ups can be set for your team members so that nothing gets forgotten
Easily install Sendinblue's chatbox on your website and chat to customers in real-time while they browse your website so you can help them with anything they need
Easily build signup forms and landing pages to grow your list
Build facebook ads and retargeting ads within Sendinblue, and monitor their performance on the performance dashboard
There is a free plan available for small businesses just starting out
The Downsides to Using Sendinblue
There aren't really any downsides to using Sendinblue, it's an al all-around great tool. There have been reports from some customers that the customer support is a little slow, but that's the only downside we can think of.

Sendinblue has a free plan, as well as four paid plans at various levels to choose from depending on your needs and the size of your business.
The free plan is available to everyone, with no card details required. This plan has the basic features and allows you to have unlimited contacts, and lets you send up to 300 emails a day. It doesn't include some features such as chat, facebook ads, landing page builder, and certain reports.
The first of the paid plans is the Lite plan, which costs $25/month, or $22.50/month if paid annually. This plan has the same features as the free plan, but lets you send up to 40,000 emails each month, with no daily sending limit.
Next up is the Essential plan which is $39/month, or $35.10/month paid annually. The essential plan includes the features from the Lite plan, as well as letting you send up to 60,000 emails per month. The Sendinblue branding is also removed from any emails you send. This plan also includes advanced reporting and statistics, and phone support (customer support).
The Premium plan is the most popular option and costs $66/month, or $59.40 with annual payment. This plan includes everything from the Essential plan, plus the ability to send up to 120,000 emails per month. This plan also includes Facebook ads, landing pages, Marketing automation, chat, and multi-user access.
There is also an Enterprise plan if you need more than these plans. You can get in touch with Sendinblue to find out more about this plan.
To get started with Sendinblue for free, and view the full plan comparison table, click here.
Sendinblue vs Ontraport: Ontraport Review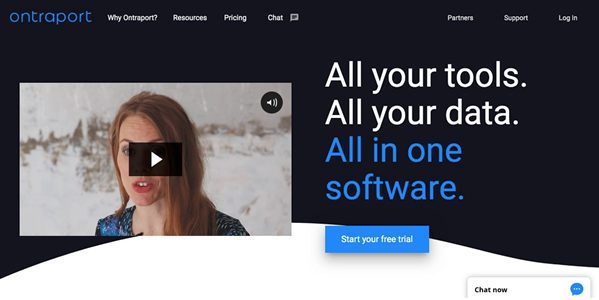 Ontraport is a full suite of marketing tools with automation features and smart analytics that help you to grow your business on autopilot. All the tools you need to grow your business are in one place without "needing" any third-party integration tools, and everything works seamlessly together so if you're using Ontraport, it's the only marketing software you will need.
The Key Features of Ontraport
Email Marketing
Marketing Automation Platform
Landing Pages
Marketing Analytics
Referral Programs
CRM
Process automation
Membership Sites
SalesForce Automation
Ecommerce
Email Marketing with Ontraport

Ontraport's email marketing features let you easily create and send emails to your leads and customers (lead generation). It's easy to build emails within Ontraport, using their drag and drop page builder, or one of the free optimized templates available. All of Ontraport's email templates are mobile responsive, so they will look great on any device, and you can even split test your emails, to see which ones perform best.
Ontraport uses a private IP setup which ensures a consistently high delivery rate for your emails, and automated email re-engagement helps to remove old and inactive contacts while allowing you to re-engage with your active contacts.
Contact segmentation allows you to make sure the right contact is receiving the right emails, and automation features allow you to save time and automatically assign contacts to the right email lists when they subscribe.
As well as email, you also have the option to reach your customers by SMS and postcards, so any urgent messages or appointment reminders can be sent out quickly and personally.
Marketing Automation Service
Ontraport's marketing automation software lets you automate your entire marketing journey, from the moment they sign up, to when they purchase, so your business can run while you sleep.
You can automate any part of your customer journey, and easily create fully automated funnels using Ontraport's pre-built funnel templates. Emails, SMS messages, landing pages, and digital ads can all be used together in the automation sequence, so you can design the journey that works best for your business.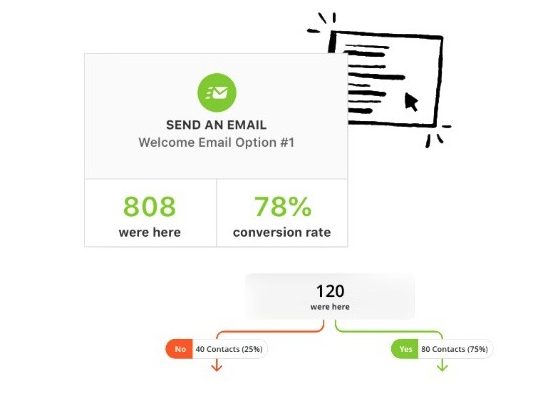 Landing Pages
It's easy to create landing pages, so you won't need to hire a developer. You can build your landing pages from scratch using Ontraport's intuitive drag and drop interface, or you can choose from the library of templates available.
As well as using your landing pages for sign-ups and offers, you can also sell products by using Ontraport's built-in forms. You can take payment on the page without the need for third-party payment gateways, and you can even include one-click order bumps to boost your revenue.
You can easily analyze your results with the built-in analytics features, and you can split test your landing pages too so that you can work to optimize and increase conversions.
Marketing Analytics
Ontraport provides advanced reporting and analytics, with visual reports and tracking features that allow you to view the performance of your marketing campaigns in real-time. These features allow you to see where your best customers are coming from, as well as giving you the ability to view engagement with your campaigns. You can also generate lifetime value reports for your customers, so you can see who is spending the most money and where.
CRM Integration
Ontraport's inbuilt CRM lets you manage all your leads from one place, and keep a detailed history of your interactions with each customer. The CRM enables you to view customers lead score, purchase history, engagement, and more, all from one place.
You can segment your contacts in any way you wish, and you can also tag contacts based on their behaviour so you can easily send the right information to the right people.
The CRM makes it easy for sales teams to manage their pipeline, as it is presented visually, and team members can simply drag and drop their lead into the next stage of their pipeline.
Membership Sites with Ontraport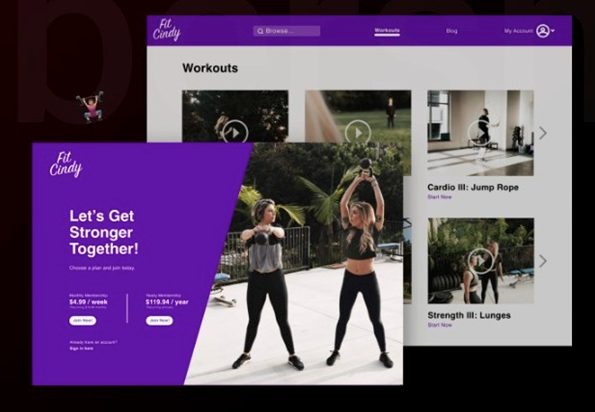 If you run a membership-based business or have a membership element to your business, then Ontraport is a great tool this type of integration, since it has membership capabilities built-in that work seamlessly with all of the other features. In short, Ontraport makes it easier to integrate LESS, as everythign works seamlessly under one roof.
You can build your membership site on WordPress, and connect it to Ontraport via the WordPress plugin. You can then set up and automate your membership sales funnels on Ontraport, and when new members sign up they will automatically be onboarded. This lets you run your entire membership business from one place.
Ecommerce
Sendinblue has ecommerce features that allow you to sell products and services without the need for any additional software. You can sell products, manage payments, and store your customer's order history all from one place.
You have the option to add upsells and order bumps to your sales pages, and once a customer has made payments, you can easily redirect them to a thank you page, or another page of your choice, such as your website.
The Benefits of Using Ontraport
You can run your entire business from Ontraport without the need for any other software apart from your website if you need one.
You can integrate your WordPress membership site with Ontraport, and run everything from one central place (exccellent WordPress integration overall)
Your entire business can run on autopilot if you want it to, with advanced automation and lead scoring
Ontraport allows you to sell products and services without the need for any other software
The drag and drop page editor makes it easy to build your pages, forms, and emails
There is a 14-day free trial with no credit card required
You can split-test entire campaigns to see which one converts best

Why Go With Ontraport Here?

A more robust full-scale CRM solution (integrates with everything), visual data analytics, and deep automation and tagging. You can start with a more basic CRM, but eventually you'll need something like Ontraport to continue scaling.

Try Ontraport Free

We earn a commission if you click this link and make a purchase at no additional cost to you.
The Downsides to Using Ontraport
The main downside to Ontraport software is the price, as it may be unaffordable to some smaller businesses just getting started, however, is it good value when you consider everything that is included. The other downsides are that the number of contacts you can have is capped for each plan, so if you have a lot of contacts it can get expensive quickly.
Ontraport Pricing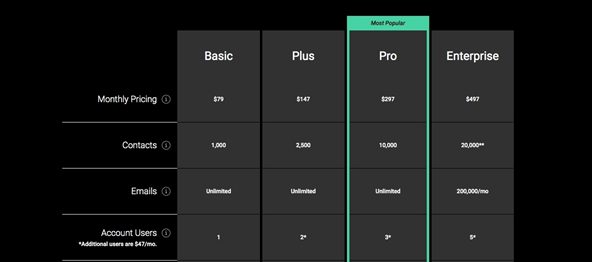 Apart from the 'Basic' plan, which doesn't include some important features such as memberships, automated task management, the rest of Ontraport's plans include all of the key features, so the main difference between the plans is the number of contacts you can have.
The Basic plan costs $79/month for up to 1000 contacts, the Plus plan costs $147/month for up to 2,500 contacts, the Pro plan costs $297 for 10,000 contacts, and the Enterprise plan costs $497 for 20,000 contacts.
To see the full features comparison list and try Ontraport for two weeks completely free, click here.
Frequently Asked Questions:
Sendinblue vs Ontraport – Which One is Better?
As you can see, both Sendinblue and Ontraport are fantastic marketing automation tools that can help you grow your business, but they are quite different from each other in a few ways, so depending on your needs, one of these tools will suit you better than the other.
If it's the value you're looking for, then look no further than Sendinblue. Sendinblue gives you everything you need to market your business at a very affordable price, and there's even a free basic plan for anyone who needs a CRM when they're just starting out.
The main thing that sets Sendinblue and Ontraport apart is that Ontraport has some additional features: Memberships and eCommerce, so if your business needs either of these features then Ontraport could be a great option for you.
Although it is considerably more expensive than Sendinblue, Ontraport packs a lot of value into its plans, as you won't need any other software apart from your website to run your business.
Bottom Line: Overall, they are both great automation tools, but in our opinion, Sendinblue offers better value here for users and great features, so if it's just marketing automation and CRM platform you are after, then go for Sendinblue.

Our Pick

I Personally Prefer Sendinblue

You might not have heard about Sendinblue, but you SHOULD. It has the big box API tools of a SendGrid, the sales automation of an ActiveCampaign, but the user-friendliness of a ConvertKit. Plus, it's relatively cheap in comparison to each.

Try Sendinblue Here Save 50% for Black Friday!

We earn a commission if you click this link and make a purchase at no additional cost to you.
You can try Sendinblue here for free to see if you like how their applications work. If you would like to give Ontraport ago, you can try them out for free for two weeks, with no credit card required.
Recommended Reads: